Charles Hepburn Scott
(m Jean Smith Melvin)
November 29 1886 - June 28 1964

It is not too much to say that Charles Hepburn Scott was one of the most important artists in Vancouver history. He was an excellent artist and draughtsman, with a vast range of output in a number of mediums. He was born in Newmilns, Ayrshire, Scotland. After taking his art training in Glasgow, graduating from the Glasgow School of Art in 1909, Scott moved to Canada and took up the position of Art Supervisor for Calgary schools from 1912 to 1914.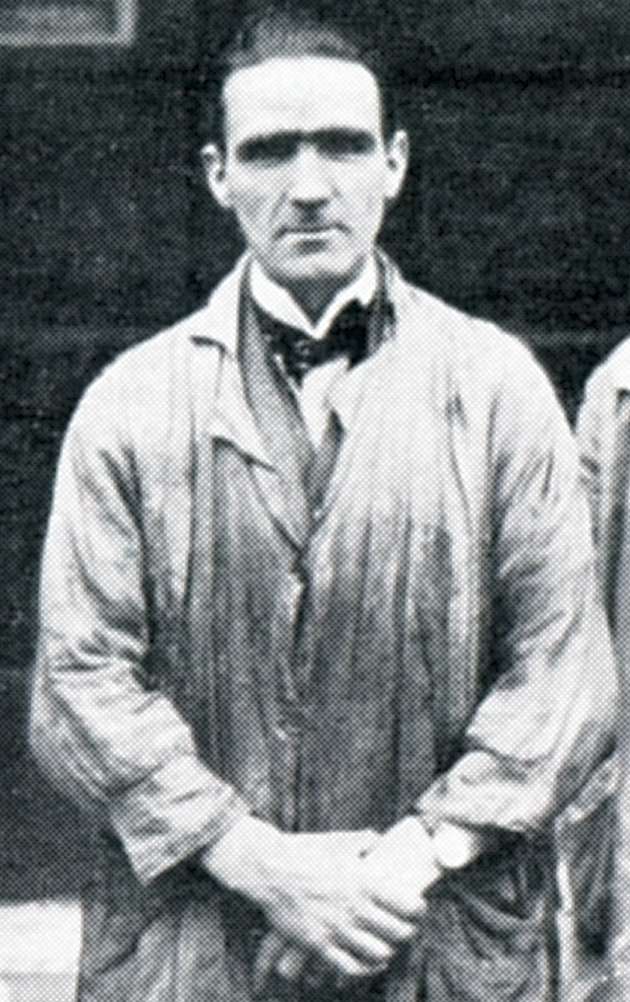 He moved to Vancouver to be Art Supervisor for the city's schools, a position he held from 1914 until 1925. His first annual report to the School Trustees in December 1914 details his early observations and plans for teaching art in the City.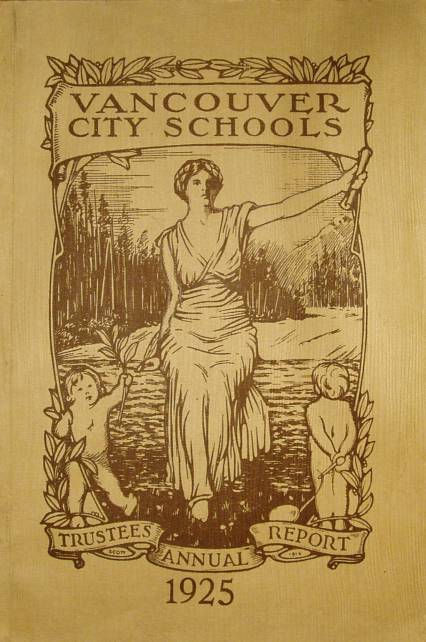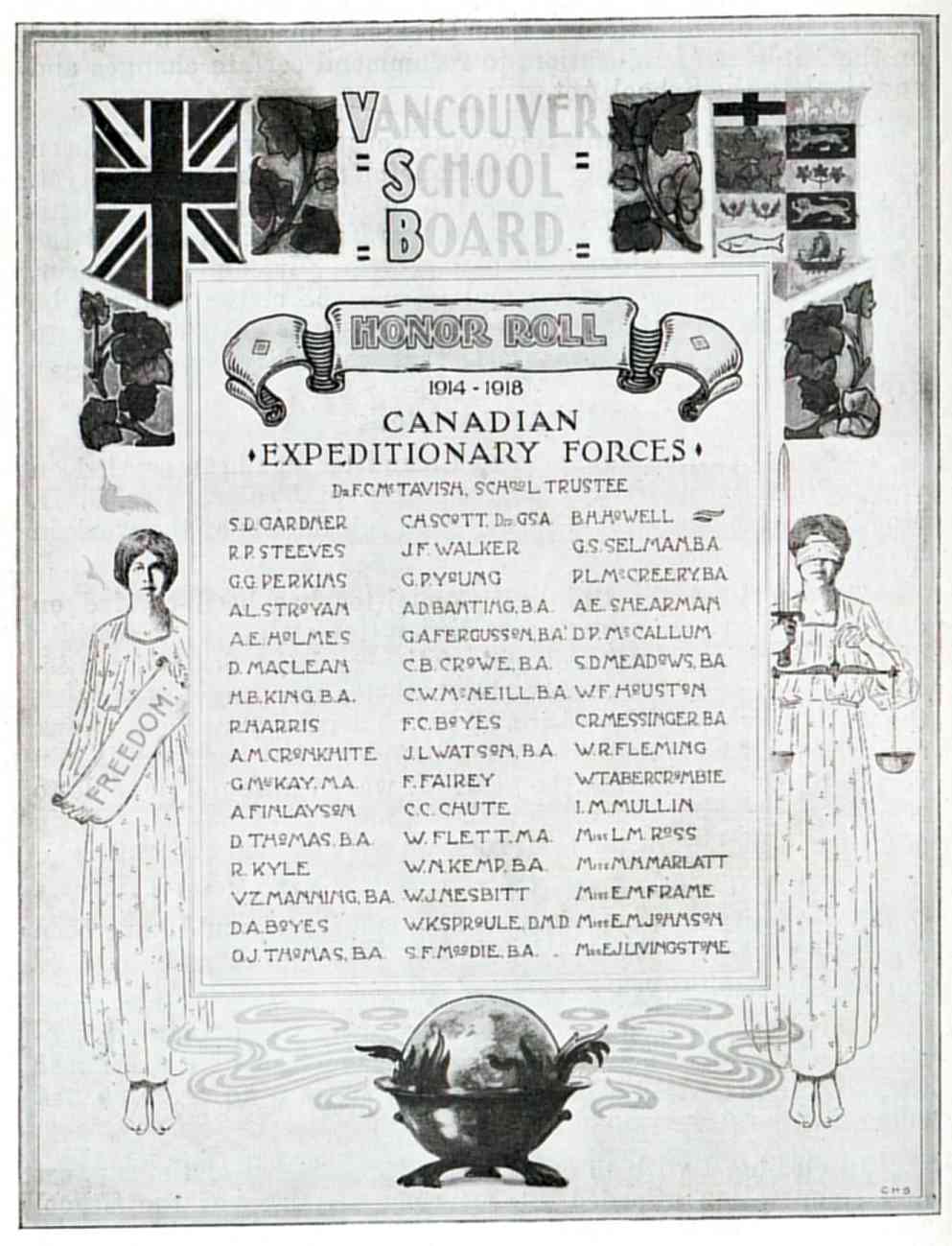 1918 VSB Honour Roll

He served overseas in the Canadian infantry in World War One, from 1915 to 1918, where he was wounded on the Western Front. He returned to Vancouver, where he returned to his job with the Vancouver School Board, as noted in his report on drawing in the 1919 Trustees Annual Report.

He illustrated the Honor Roll of the Vancouver School Board published in The Gold Stripe, Volume One, Christmas 1918.

In 1920 Scott was appointed to the Organizing Committee of the B.C. Art League, the group formed to promote the creation of an art gallery and art school in British Columbia.

In 1924 Scott joined W.P. Weston and S.P. Judge in writing the textbook "Drawing & Design - A Teacher's Manual", subtitled as "Manual of Drawing and Design for Elementary and High Schools". This was an authorized text for the Department of Education in British Columbia. At this time Scott was still Supervisor of Art for the Vancouver School Board.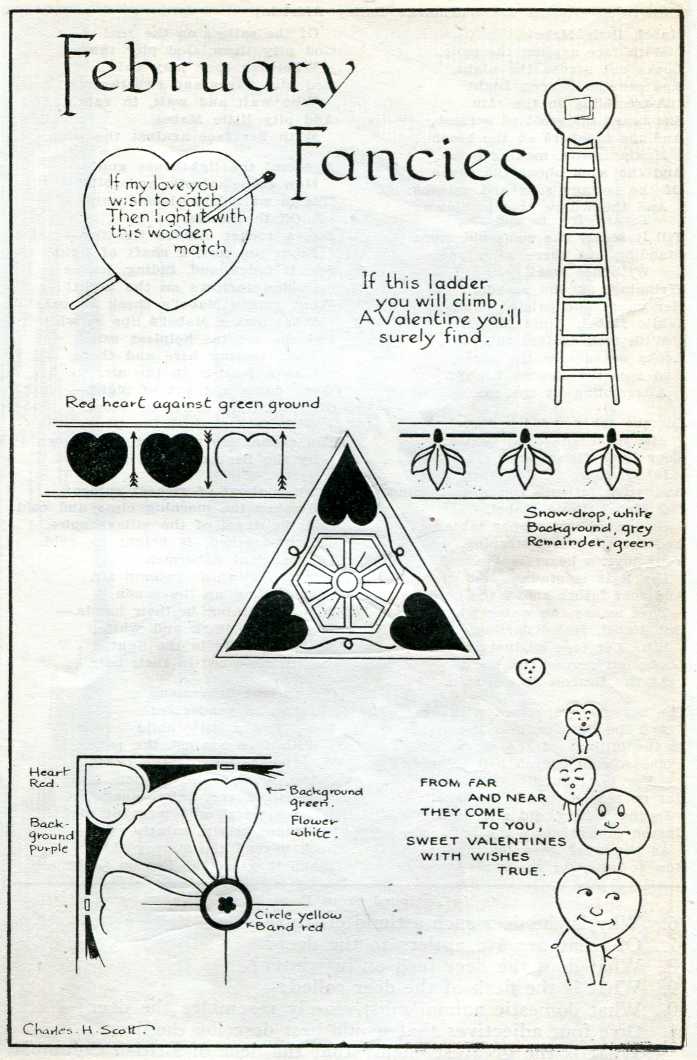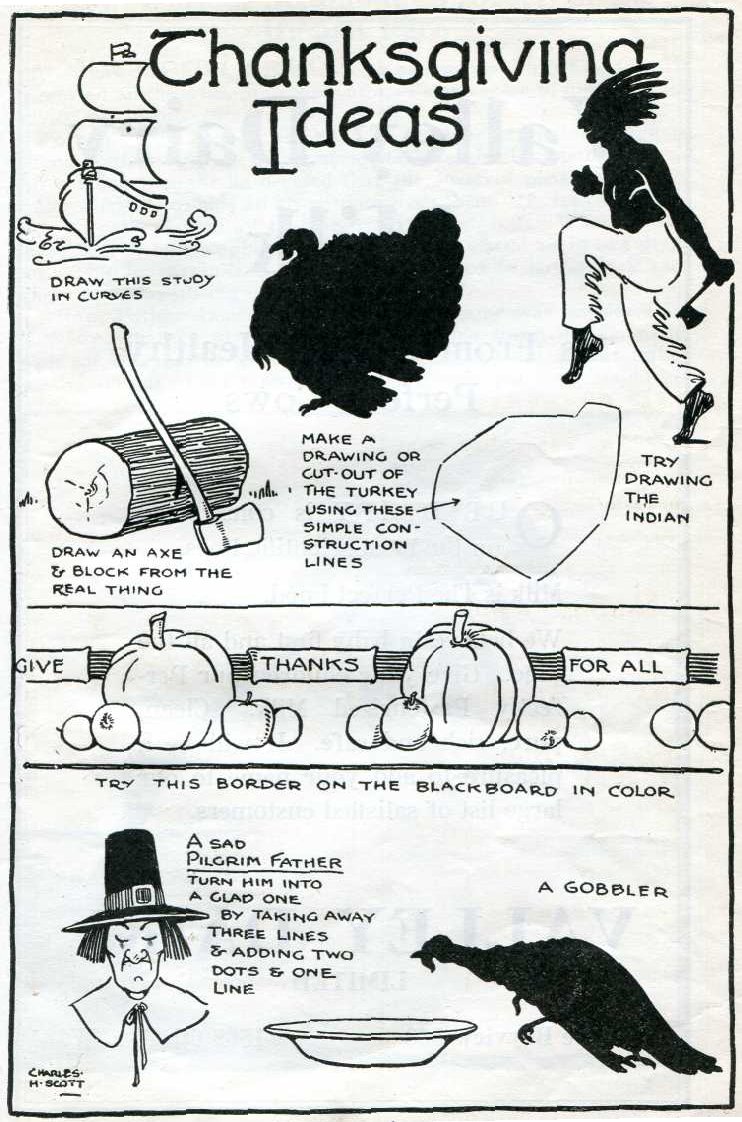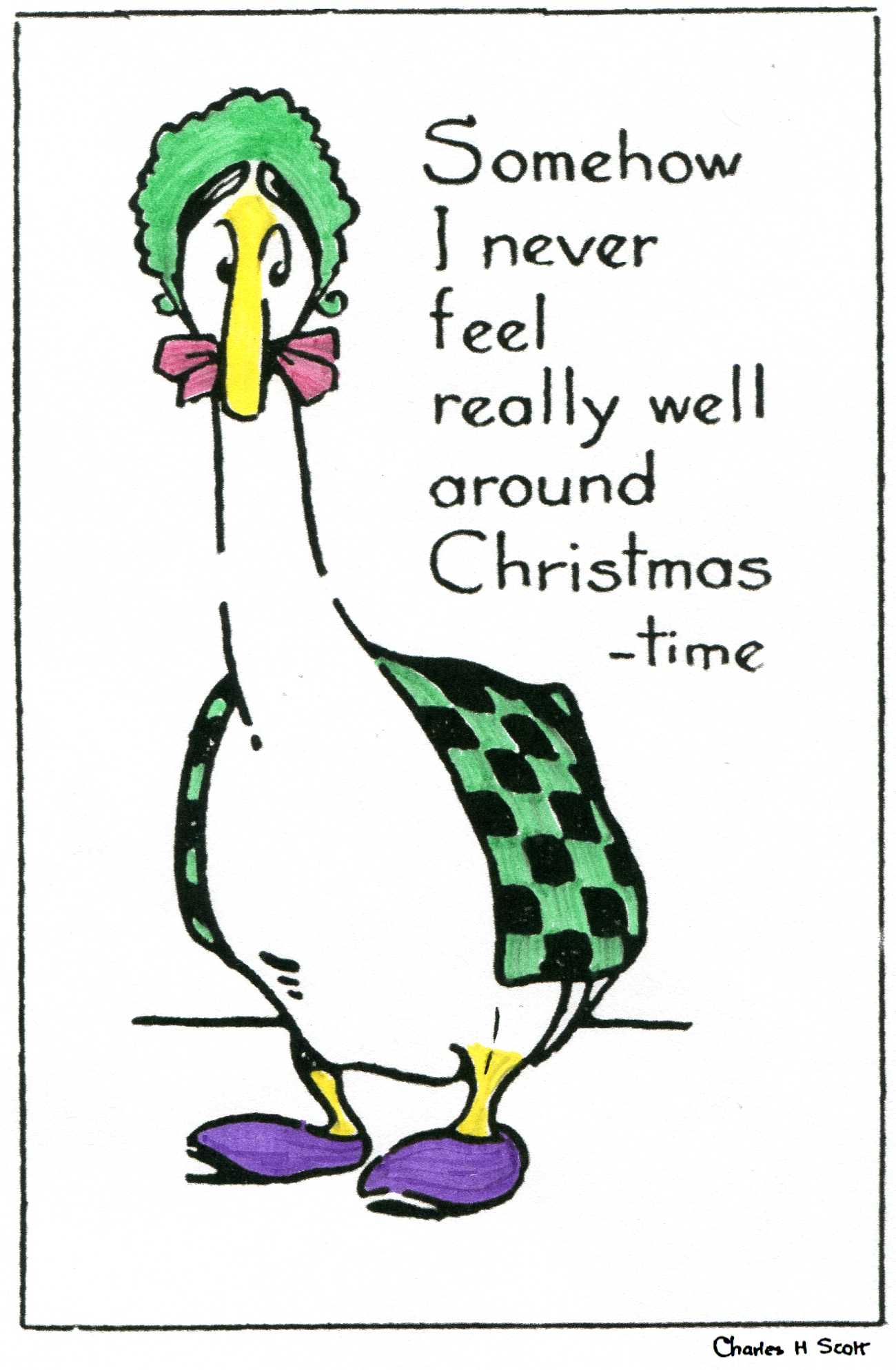 Illustrations for School Days magazine

Scott provided a number of full page illustrations for School Days magazine, published by the Vancouver School Board for elementary school students.

Scott exhibited at the Vancouver Exhibition in 1926, and with the Island Arts and Crafts Society in 1927 and 1928.

Scott's most substantial and long-lasting contribution to art in Vancouver was his tenure as Director of the Vancouver School of Decorative and Applied Arts. Scott took up the position shortly after the school opened in 1925, and then led the school through thick and thin for many years - through the depression, the Second World War, the return of the veterans, and the start of the baby boom. He kept the doors open, the students painting, and the graduates going out into the world to start their careers, until he himself retired in 1952.

Scott was married to Jean Smith Melvin, the sister of Grace Melvin, who was head of the school's design department for a number of years.

Scott had a solo exhibition in 1925 at the Art-Craft Gallery, 2716 Granville St. This was actually a furniture store, founded in 1925 by John M. Allan.

Scott exhibited with the Royal Canadian Academy of Arts beginning in 1926, continuing until 1952.

In 1927 Scott wrote an article titled Things As They Are, published in the second annual edition of The Paint Box, the art school's student annual, published by the Student's Club.

In 1928 Scott gave a lecture, sponsored by the Vancouver Institute, titled Modern Movements in Art. He gave another lecture for them titled Etchers and Etchings in 1939.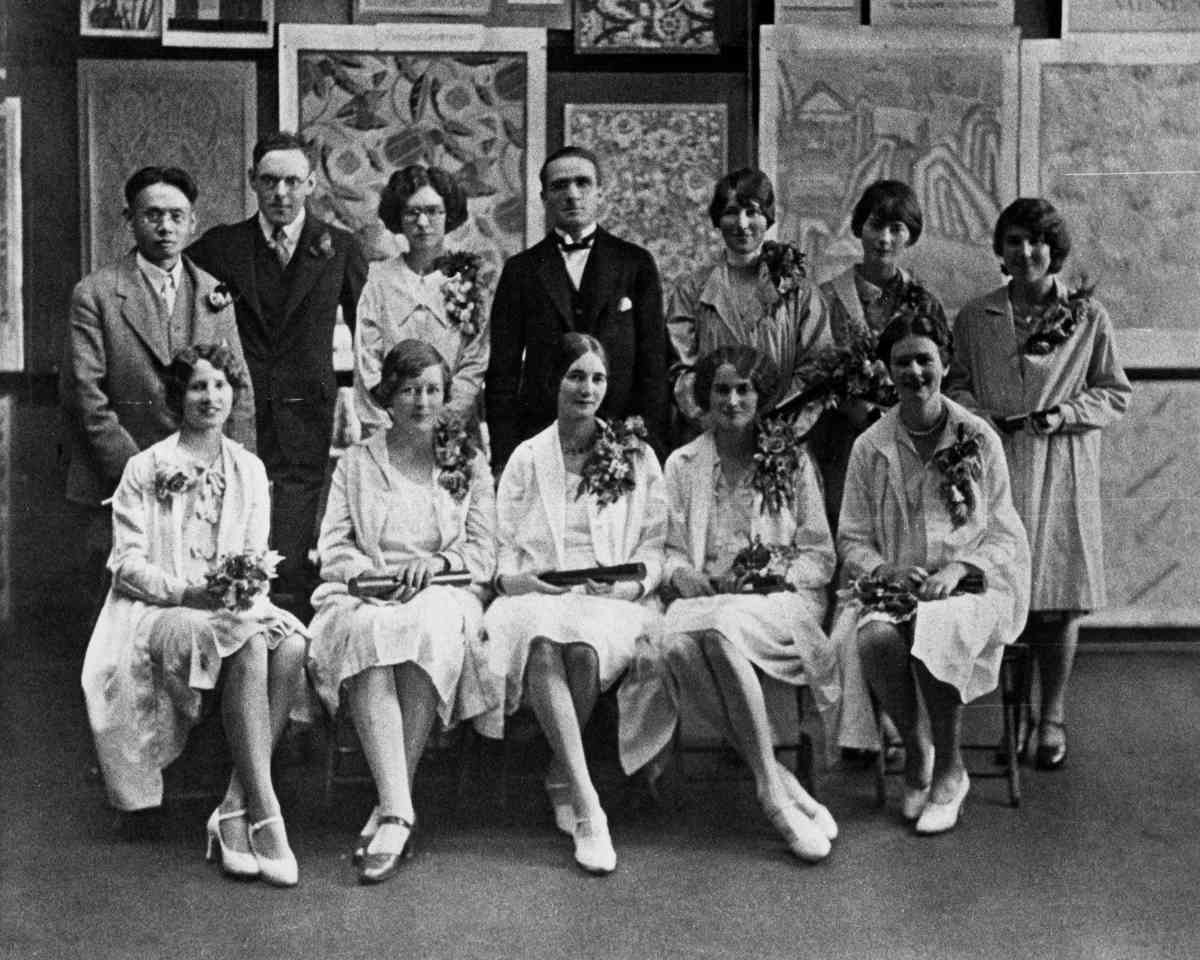 1929 Graduating Class

In June 1932 Scott wrote A British Columbian School of Art for the B.C. Teacher magazine. This article was perhaps the first to note that there was some controversy about the art school, which eventually led to the foundation of the B.C. College of Arts in 1933.

Throughout this period Scott also kept up his artistic output, completing many oil paintings, watercolours, drawings in pencil and pen and ink, and a number of etchings, including a series of classical architecture scenes taken from his travels in Europe. In 1932 a folio of eight of his pen and ink drawings was published as Drawings of the B.C. Coast, receiving high praise from Walter J. Phillips who reviewed the publication for a periodical in Winnipeg.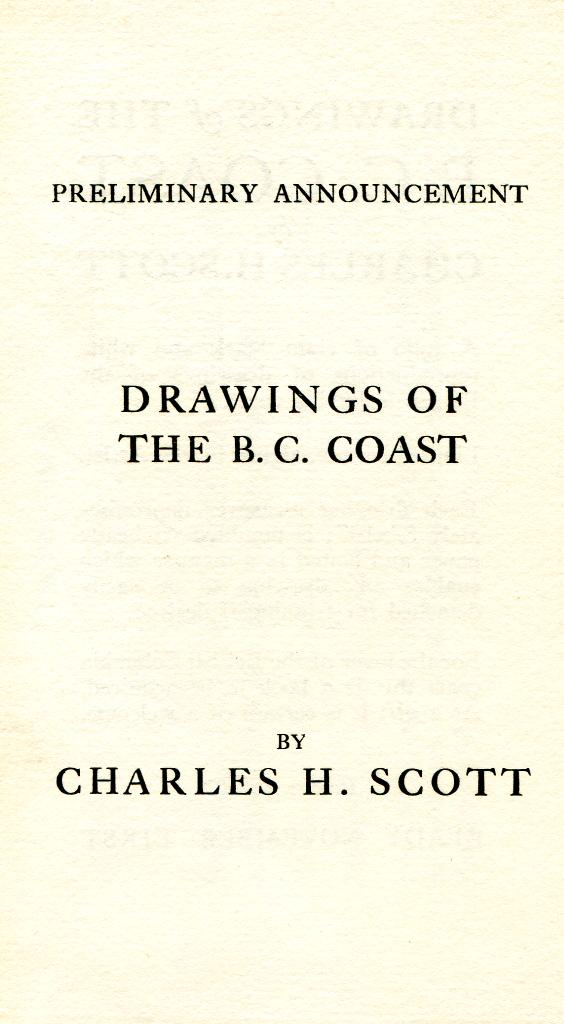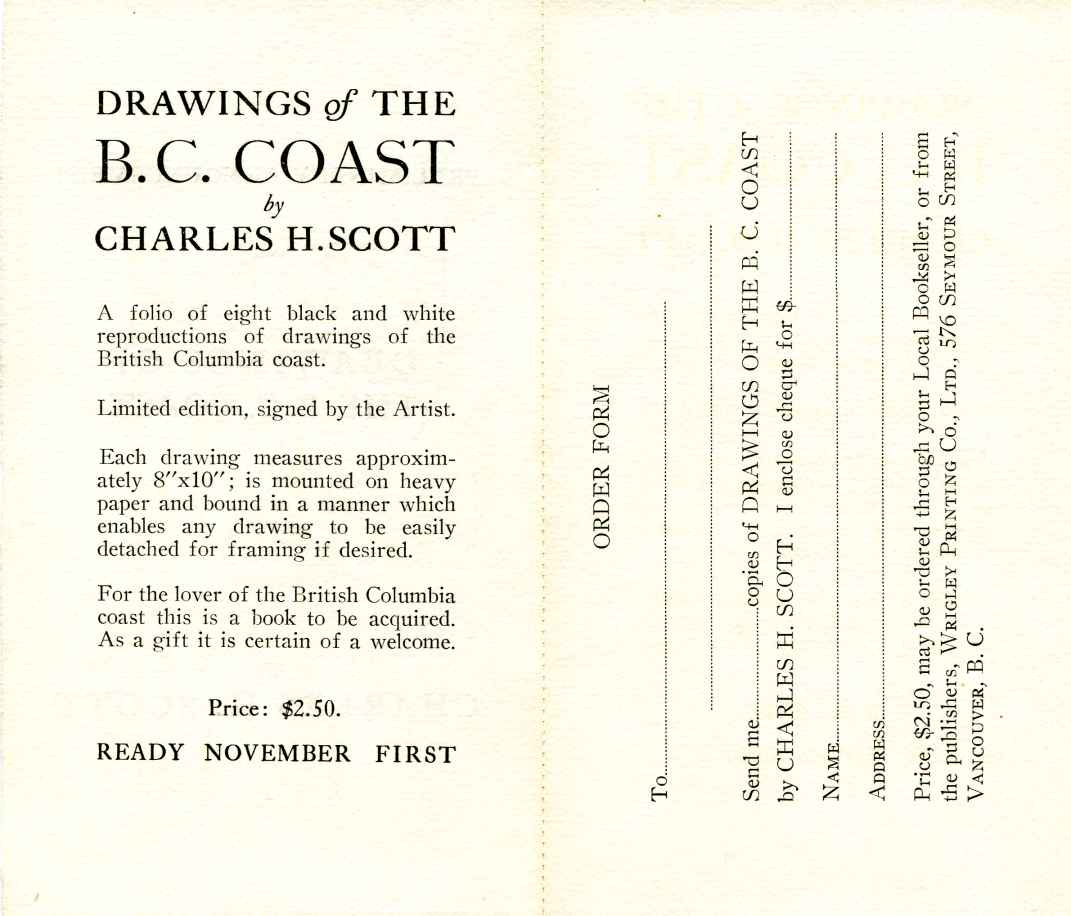 Preliminary announcement for Drawings of the B.C. Coast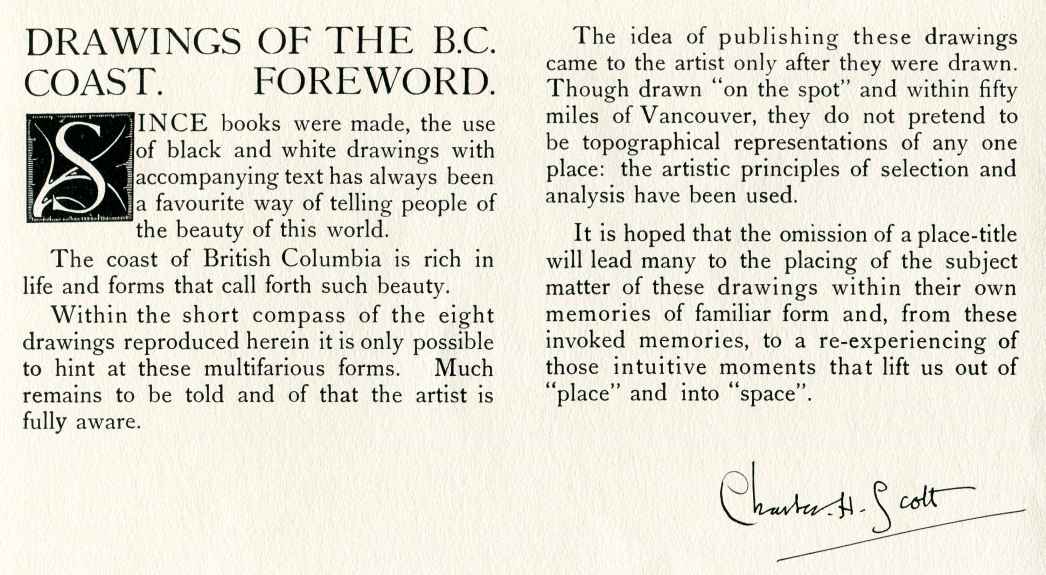 Foreword for Drawings of the B.C. Coast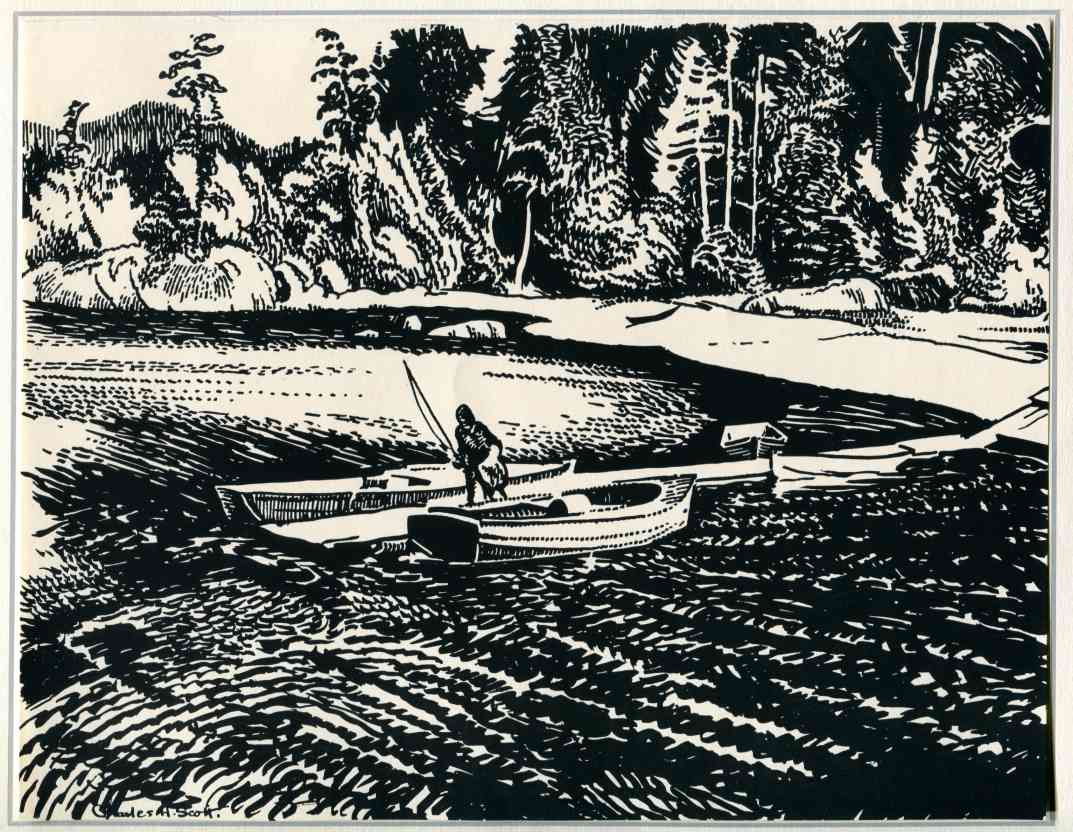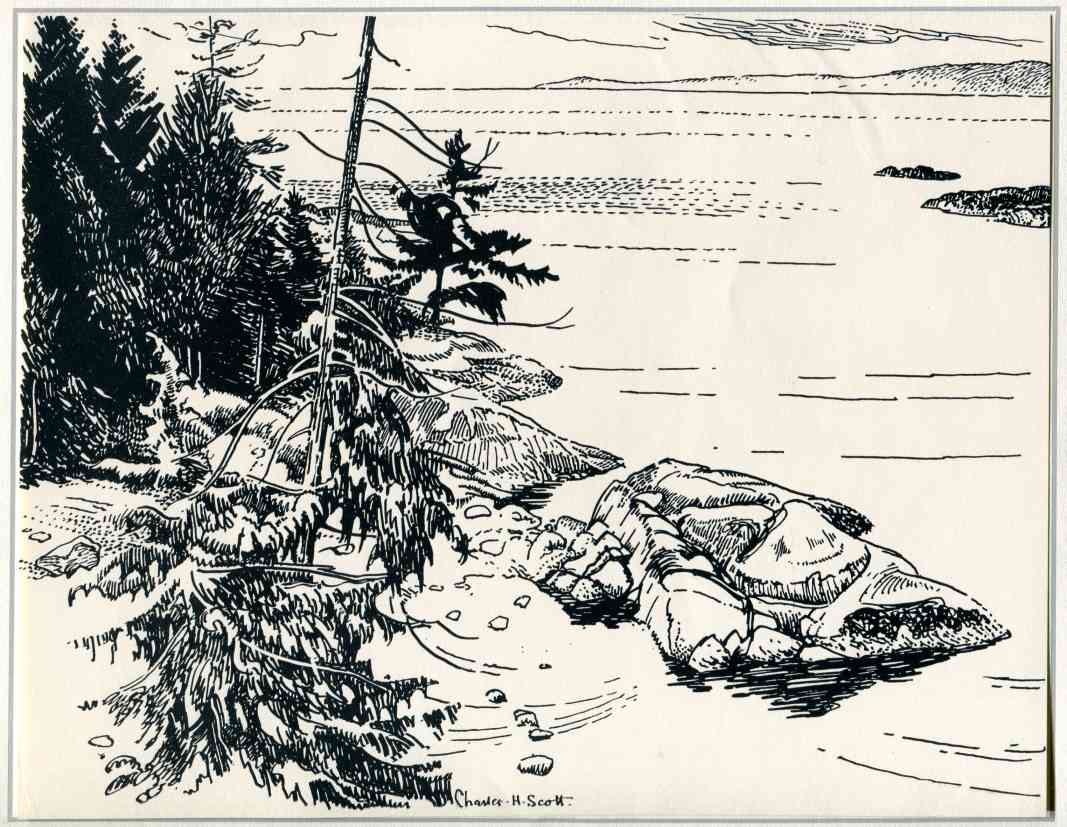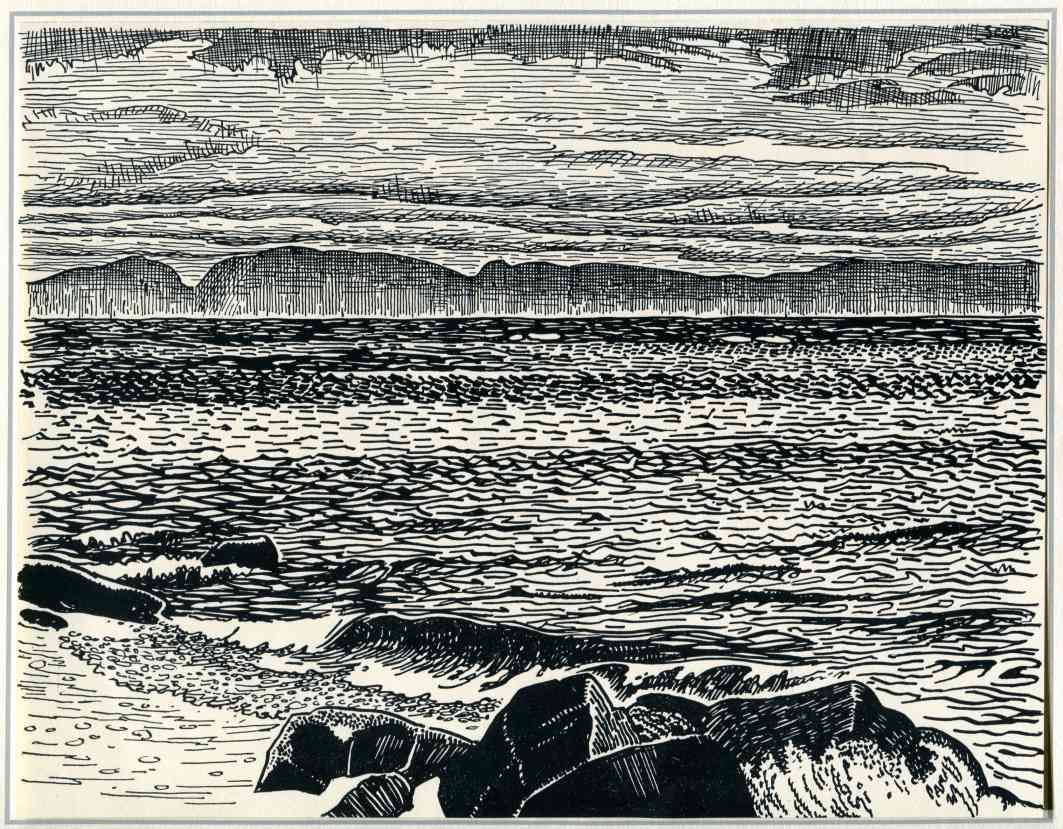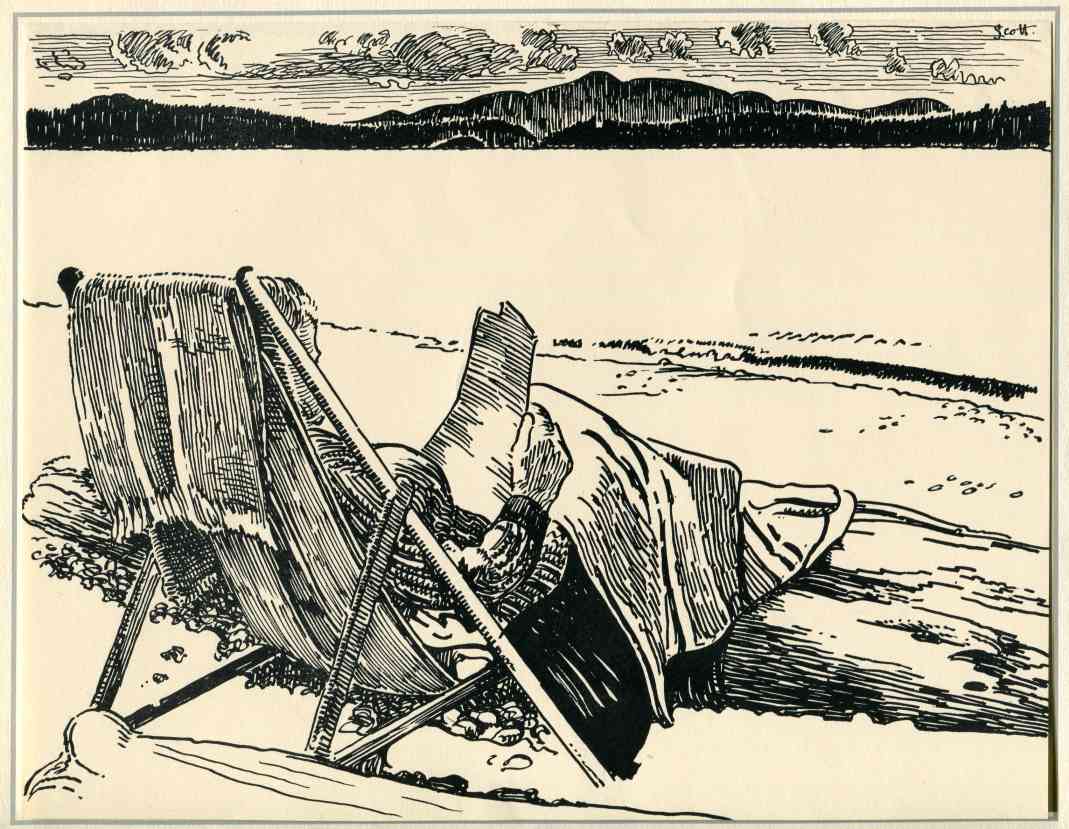 Images from Drawings of the B.C. Coast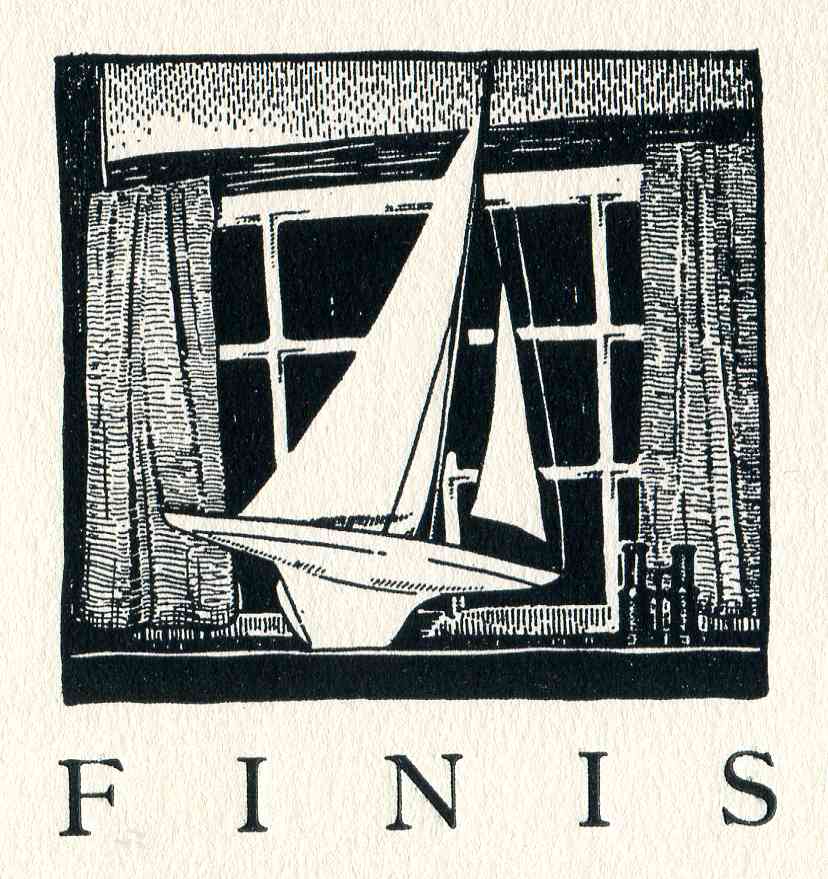 Finis for Drawings of the B.C. Coast

He exhibited in the Seattle Art Museum's annual Northwest Artists exhibitions in 1934, and much later in 1961 and 1962.

Scott exhibited for many years in the annual B.C. Artists exhibitions at the Vancouver Art Gallery, from 1932 to 1950, 1954, 1956-57, and 1960-61.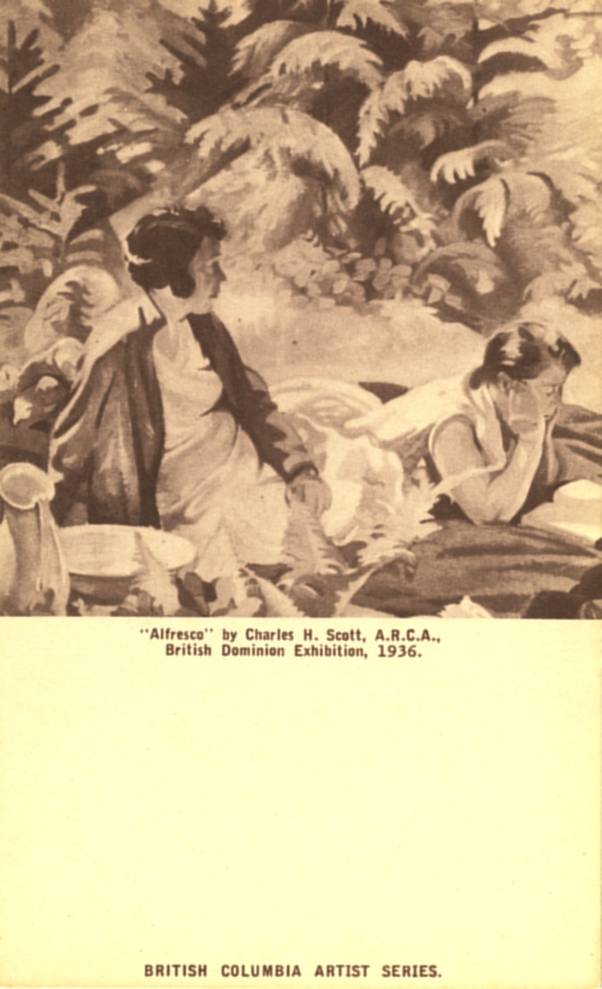 Scott also had solo exhibitions, including "The Spirit of Savary" in 1935, a collection of watercolours painted on Savary Island during his many visits there.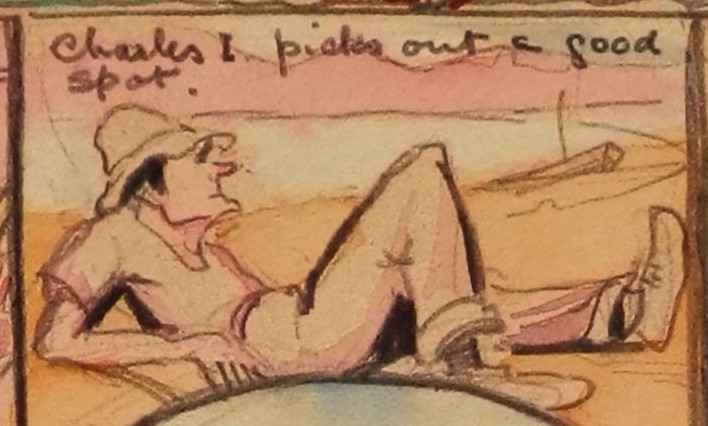 From the Savary Pudding, 1939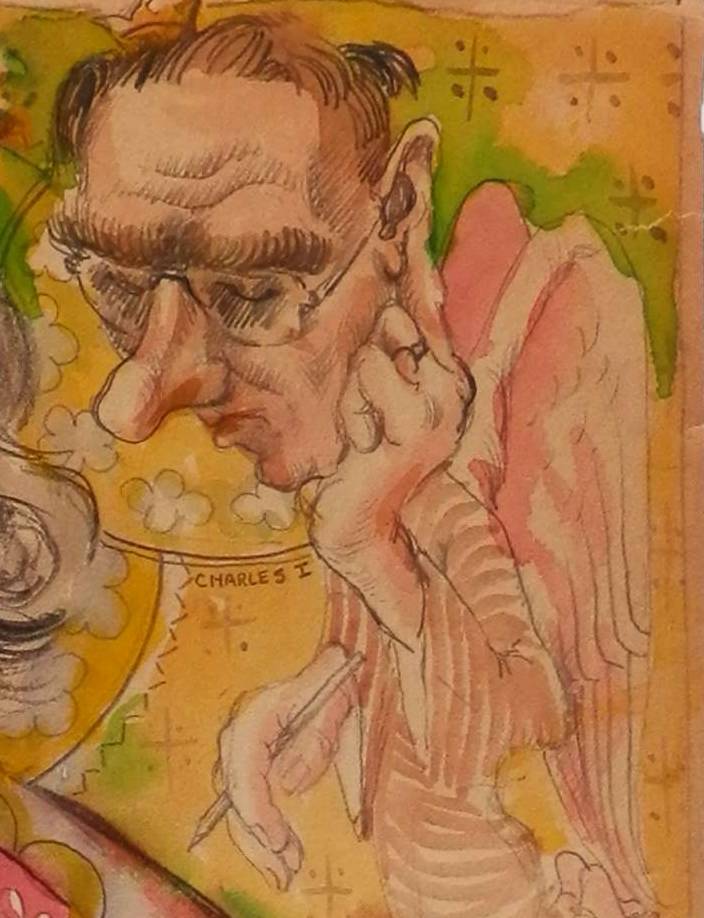 From the Savary Pudding, 1939

Scott exhibited internationally as well, and Who's Who in Northwest Art, 1941, noted that he had exhibited at the Canadian Wembley Exhibition, the Dominion Overseas Exhibition, and the Canadian Coronation Exhibition, London.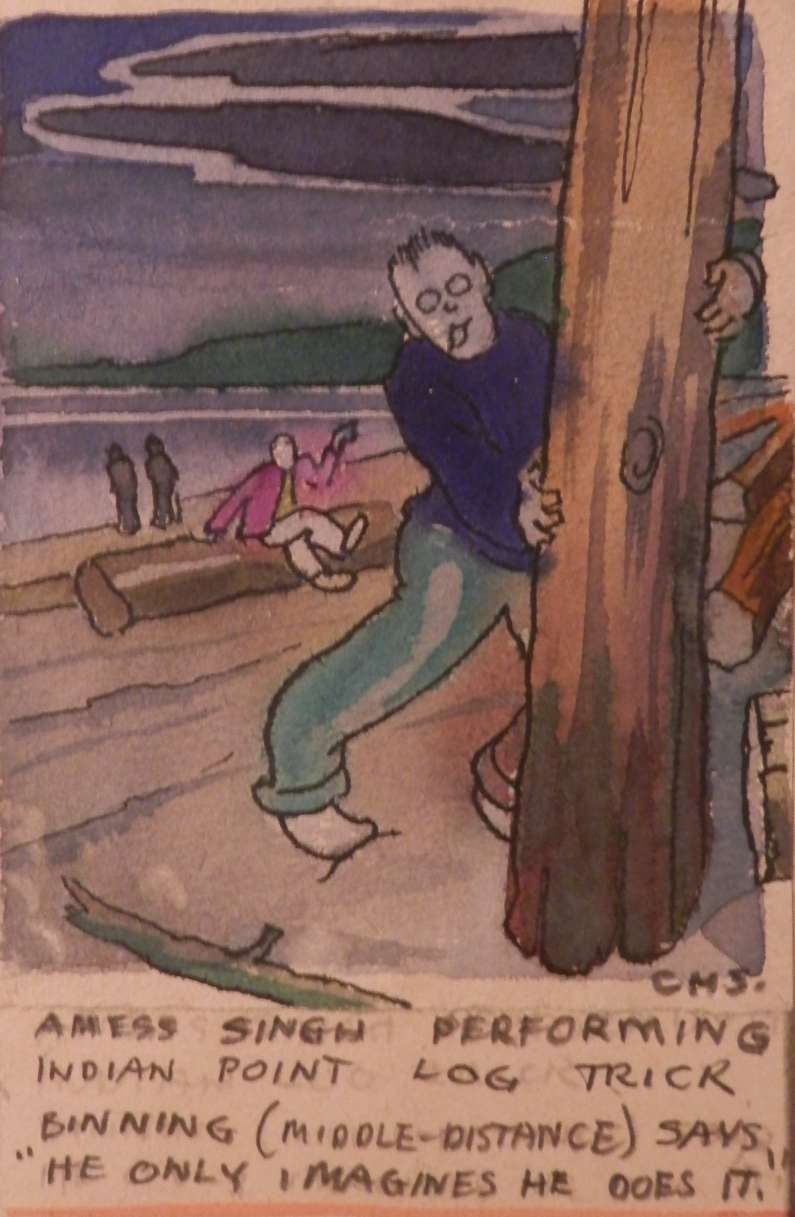 Watercolour by Scott of Fred Amess and B.C. Binning.

In 1935 Arthur Lismer, one of the members of the Group of Seven, was traveling through Western Canada on a lecture tour with more than one purpose, and he noted in a confidential report to the National Gallery his comments about Scott teaching at the Vancouver Art Gallery:
"In Vancouver the Art Gallery classes under the direction of Mr. Charles H. Scott, principal of the Vancouver School of Art and Design, are a lively and stimulating expression of child art study. They are well organized with a competent and interested staff."

Lismer further noted in that report:
"Mr. Scott is making excellent use of the grant given to the Art Gallery in Vancouver by the Canadian Committee of the Carnegie fund."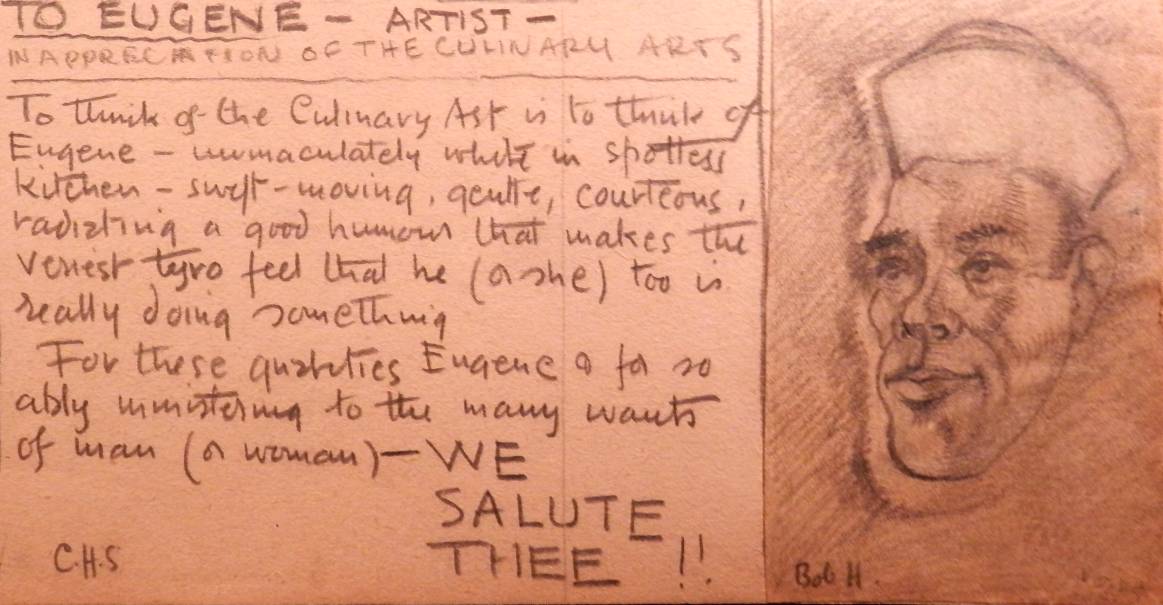 Tribute by Charles H. Scott, portrait by Bob Hanlon.

The Spring 1936 edition of The Smock Pocket, the Vancouver School of Art Graduates' Association newsletter noted that Scott was the Honorary President of that group. It also noted that Scott was one of three jurors for the association's Fourth Annual Exhibition.

In 1936 Scott donated his "large framed picture" titled "Summer Day" to the Art, Historical and Scientific Association of Vancouver.

In 1940 Scott wrote Vancouver School of Art, a history of the art school to that date, that was published by the Vancouver School Board in FIRST FIFTY YEARS: 1890 - 1940 VANCOUVER HIGH SCHOOLS.

In 1941 he had work in the RCA's 62nd Annual exhibition, held at the Art Association of Montreal.

Image for exhibition catalogue 1945

Scott was on a list titled "Leading Vancouver Artists," provided to the Labour Arts Guild on April 10, 1946 by the Vancouver Art Gallery to assist in the Guild's call for entries to the second annual B.C. At Work exhibition.

In 1946 - 1947 he had work in a Federation of Canadian Artists travelling exhibition, and wrote a short statement to explain his work in the show.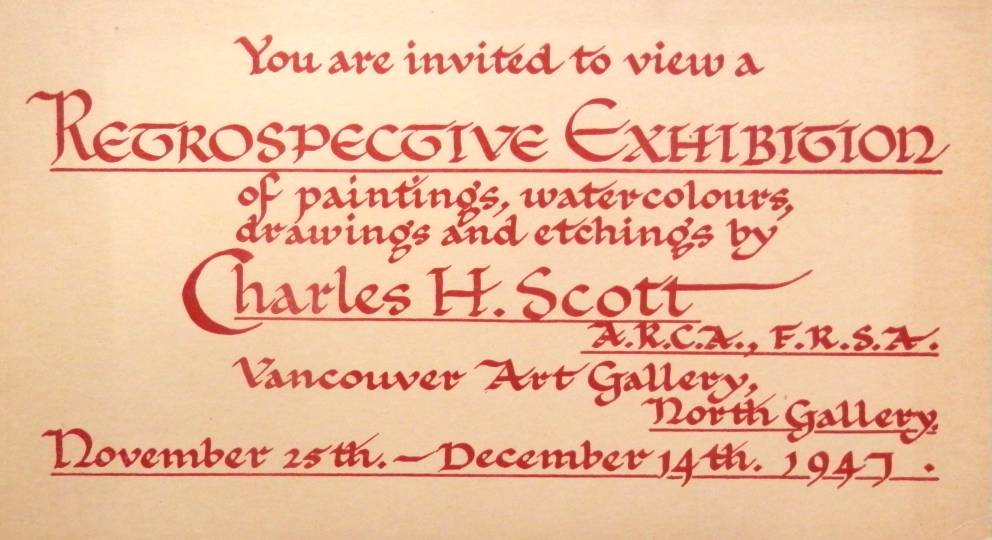 Calligraphed invitation, courtesy Vancouver Art Gallery Library & Archives

Scott wrote A Short Art History of British Columbia in 1947, published in the art school's annual Behind The Palette, in which he discussed major artists and art groups and institutions in B.C.'s history.

Scott exhibited with the B.C. Society of Fine Arts in many of their annual exhibitions, from 1915 to the Society's final exhibition in 1967.

The Vancouver Art Gallery held additional solo exhibitions of his work in 1947, 1959, and 1989.
In 1958 Scott wrote an introduction to one of the exhibition sections in 100 Years of B.C. Art, and also had two paintings in the exhibition.

Scott was a Protestant, and played golf for recreation. He died in Vancouver in 1964 at the age of seventy-seven.
Exhibitions
SOLO EXHIBITIONS
GROUP EXHIBITIONS

DATE
EXHIBITION
ARTWORK
1915 April
BCSFA Works by Members
Portrait
Portrait
Portrait
Sketch Portrait
The Old Mill, Bruges
Neutral
Old Doorway, Rothenburg
The Courtyard, Rothenburg
The City Gate, Rothenburg
Summer Night, Hildesheim
1916 September
BCSFA Annual Exhibition
Sarah
1920 September 18 - 25
BCSFA Annual Exhibition
Portrait
The Laughing Girl
Portrait of Bernard McEvoy, Esq.
Beating the H.C. of L.
"Molly"
The Reader
The Hockey Player
Footlight Study
Summer Idyll
Reverie
1921 Sept. 19 - 24
BCSFA 13th Annual
The Pergola
"A Garden is a Lovesome Thing"
W.P. Weston, Esq.
Twilight in the Bow Valley
Summer Afternoon
1922 Sept. 16 - 23
BCSFA 14th Annual
Winter
Summer Moon
The House in the Woods
Goodnight to Vernon
Southland
Kiku San
Springtime
February Flats
Portrait
1923 May 12 - 19
BCSFA 15th Annual
November
Winter in the Country
Winter in the City
The Shack
1924 May 3 - 17
BCSFA 16th Annual
Study of a Head
1926 May 8 - 15
BCSFA 18th Annual
Via Giovanni Dupre, Siena
Rue de l'A'no Aveugio, Bruges
Ponte Vecchio, Florence
Porte d'Ostende
L'Eglise, Damme
1927 June 10 - 25
BCSFA 19th Annual
Snow Caps, Howe Sound
White Mountain
Cloud Form, Howe Sound
Summer Light
"Linkie"
Entrance to Fraser Canyon, Yale B.C.
1929 May 18 - June 8
BCSFA 21st Annual
Reflections
Sketch
Sketch
Sketch
Sketch
Sketch
Sketch
1929 Nov. 16 - 30
BCSFA Winter Exhibition
Bridge River Country
Rolling Land
Romance
Colour Harmony
Grizzly Bear Country
Old Charlie
Rain
1932 May - July
VAG All Canadian Exhibition
The New Bridge
The City School
Siena
Old Cannongate, Tolbooth, Edinburgh
1932 Oct. 5 - 30
VAG B.C. Artists 1st Annual
Alfresco
Spring Song
Evening in the Cabin
Smuggler's Cove
1933 May 20 - 31
VAG Palette & Chisel Club Exhibition
Evening in the Cabin
Smuggler's Cove
1933 June 3 - 11
VAG BCSFA 23rd Annual Exhibition
Allium & Tulip
Iris & Lychnis
Primula & Azalea
Rhododendron & Lupin
1933 Sept. 22 - Oct. 15
VAG B.C. Artists 2nd Annual
Ships of Yule
Contentment
1934 Sept. 21 - Oct. 14
VAG B.C. Artists 3rd Annual
Anno Domini 1934
Joyce at Savary
Maligne Lake, Jasper
1934 ? - ?
VAG B.C. Artists Edmonton Exhibition
Joyce at Savary
1936 Sept. 18 - Oct. 11
VAG B.C. Artists 5th Annual
Anna of the Orchard
Kootenay Glamour
Storm Overhead
1936 Oct. 15 - 20
VAG B.C. Artists Chilliwack Exhibition
Storm Overhead
1937 April 16 - May 1
BCSFA 27th Annual
Winter Twilight in the Garden
Mountain Creek
Space, Light and Air, Lulu Island
High Noon
June Caprice
Souvenir of Old Flanders
1938 April 29 - May 15
BCSFA 28th Annual Exhibition
Riggs Island, Buccaneer Bay
Island Marge
The Benchlands, Kootenays
1938 Sept. 16 - Oct. 9
VAG B.C. Artists 7th Annual
Moraine Lake
Massive Range
1939 June 9 - 25
BCSFA 29th Annual
Canadian Youth
1940 May 17 - June 2
BCSFA 30th Annual
Come Wind, Come Sun
Western Pioneer
The Rolling Road to Ladysmith
Morning Sunlight
1940 Sept. 20 - Oct. 13
VAG B.C. Artists 9th Annual
Sand Dunes At Savary
Country Boy
1941 May 10 - June 1
BCSFA 31st Annual
Form Relationships
Rocky Mountain Garden
The Rolling Road to Ladysmith
Beach Maiden
Nude
Sitting Nude
Employment Agency
Reclining Nude
1941 Sept. 26 - Oct. 19
VAG B.C. Artists 10th Annual
Light and Space, Cariboo
1942 May 15 - 31
BCSFA 32nd Annual
Landscape
Fishing Lodge, Cariboo
Drawing
1942 July 7 - Sept. 2
VAG B.C. Artists 1st Annual Summer
Alfresco
The Garden of Eden, Banff
1942 Nov. 3 - 15
FCA Red Cross Benefit
(no information available)
1943 May 15 - June 6
BCSFA 33rd Annual
Quiet Glory
Peto Glacier
Summer Moon, Mt. Edith Cavell
Church in the Cariboo
The Sun Bathers
Michael Fell
1943 July 2 - Aug. 25
VAG B.C. Artists 2nd Annual Summer
Canadian Youth
Michael Fell
1943 Sept. 25 - Oct. 20
VAG B.C. Artists 12th Annual
Garden of Eden
Col. J.P. Fell
1944 May 13 - June 4
BCSFA 34th Annual
Chief Khahtshlano (Prop. Kitsilano H.S.)
Homage to Victory Gardeners
Quiet Mountain
1944 July 4 - Aug. 30
VAG B.C. Artists 3rd Annual Summer
The Garden of Eden
Chief Khahtshlano (sic)
1944 Sept. 23 - Oct. 22
VAG B.C. Artists 13th Annual
Rev. A.M. Sanford, B.C. B.D. D.D.
1945 May 18 - June 10
BCSFA 35th Annual
Skaha Lake, Penticton, B.C.
Self Portrait
The Orchard Maiden
1945 July 3 - Aug. 26
VAG B.C. Artists 4th Annual Summer
Skaha Lake, Penticton
Self Portrait
1946 May 31 - June 23
BCSFA 36th Annual
Early Spring in the Garden
Penticton Valley from Mt. Munson
1946 July 2 - 28
VAG Jubilee Exhibition
Alfresco
1946 Sept. 21 - Oct. 13
VAG B.C. Artists 15th Annual
The Accordionist
1946 - 47
Federation of Canadian Artists
Travelling Exhibition #2
Cloudburst Mountains
Red Mountains, Garibaldi Area
Vancouver Skyline
Mist, Snow and Ice
Mt. Garibaldi, Southern Slope
Musqueam Reserve
Kootenay Glacier
Pyramid Mountain, Garibaldi Park
1947 May 9 - June 1
BCSFA 37th Annual
Timberlands
Suburbia in Cubism
Whaling Station Bay, Hornby Island
1947 July 8 - 27
VAG B.C. Artists Summer Exhibition
Timberlands
1947 Sept. 20 - Oct. 12
VAG B.C. Artists 16th Annual
Morning Tea
Interior
1949 May 3 - 22
BCSFA 39th Annual
The Merry Jetty
Pacific Coast
Sunshot Snows
January Snow
1950 April 25 - May 14
BCSA 40th Annual
Portrait 1920
June Morning
1950 Nov. 28 - Dec. 17
VAG B.C. Artists 19th Annual
Spring Song
Woods and Path
References - SOLO EXHIBITION CATALOGUES
Refer to BIBLIO.
References - GROUP EXHIBITION CATALOGUES
SEATTLE ART MUSEUM - NORTHWEST ARTISTS EXHIBITIONS 1914 - 1975
Refer to NWA BC artists by exhibition
Refer to NWAA BC artists alphabetically

SOUVENIR CATALOGUE OF EXHIBITIONS
OPENING THE NEW VANCOUVER ART GALLERY (refer to VAG51)

3rd BC GRAPHIC & CANADIAN SOCIETY OF GRAPHIC ART (refer to BCG57)

100 YEARS OF B.C. ART (refer to VAG58) Includes introduction to Early B.C. Painting and Sculpture by Scott
Two works by Scott in the exhibition

B.C. PAINTINGS BURNABY 58 (refer to BAG58)

SEATTLE ART MUSEUM - 47th ANNUAL NORTHWEST ARTISTS EXHIBITION (refer to SAM61)

SEATTLE ART MUSEUM - 48th ANNUAL NORTHWEST ARTISTS EXHIBITION (refer to SAM62)

SPRING EXHIBITION - FCA - BC REGION (refer to FCA64)

4th BURNABY NATIONAL PRINT SHOW (refer to BAG67)

THE ETCHING REVIVAL (1852 - 1936)
Collections of the Art Gallery of Greater Victoria Number 8
Not dated, no ISBN; 24 pages; includes Introduction (author not listed)
Brief biographical information on artists including Charles H. Scott and E.J. Hughes
C.P.R. Hotel, Vancouver 1927 in exhibition, not illustrated in catalogue

CONTEMPORARIES OF EMILY CARR IN BRITISH COLUMBIA (refer to SFU74)

PRINTMAKING IN BRITISH COLUMBIA 1889-1983 (refer to AGGV83)

VANCOUVER: ART & ARTISTS 1931 - 1983 (refer to VAG83)

OUR CHANGING LANDSCAPE (2008) (refer to BAG08)
References - GENERAL
VANCOUVER CITY SCHOOLS - TRUSTEES ANNUAL REPORT 1914
12th Annual Report; Published by the Board of School Trustees, City of Vancouver
100 pages illustrated; soft cover illustrated with 1915 drawing by Scott
Includes Report on Drawing by Scott
Possibly the earliest published writing by Scott in Vancouver (after 4 months in the city).

VANCOUVER CITY SCHOOLS - TRUSTEES ANNUAL REPORT 1915
13th Annual Report; Published by the Board of School Trustees, City of Vancouver
108 pages illustrated; soft cover illustrated with 1915 drawing by Scott
Includes Report on Drawing by Scott, page 44, written just before his departure to Europe with the C.E.F.
and VSB Honor Roll by the Editor, re Scott painting for Canadian Expeditionary Force (illustrated full page).
Also complete statistics on students, attendance, buildings, teachers, courses, etc.

VANCOUVER CITY SCHOOLS - TRUSTEES ANNUAL REPORT 1919
17th Annual Report; Published by the Board of School Trustees, City of Vancouver
106 pages illustrated; soft cover illustrated with 1915 drawing by Scott
Includes Report on Drawing by Scott
First report by Scott after his return from World War One.

THINGS AS THEY ARE by Charles H. Scott
The Paint Box, Vol 1 Number 2, June 1927; VSDAA

THE PICTURE AND THE POINT OF VIEW by Charles H. Scott
B.C. Teacher magazine, September 1927

A BRITISH COLUMBIAN SCHOOL OF ART by Charles H. Scott
B.C. Teacher magazine, June 1932

Attendee at the 1935 Vancouver School of Art Summer Camp
(refer to SUMMER SKETCHING CAMP - SAVARY ISLAND)

THE SAVARY PUDDING folio by Frederick A. Amess, private collection.
Original drawings, paintings and text by Amess, C.H. Scott, Grace Melvin,
H. Mortimer Lamb, Plato von Ustinov, and other students and visitors.
June 1935 (various dates), June 1939 (various dates)
52 loose 12"x18" sheets of brown sketch paper

FIRST FIFTY YEARS 1890 - 1940 VANCOUVER HIGH SCHOOLS
Published by Vancouver School Board, 1940
No ISBN, hardcover, 160 pages. Illustrated b&w photographs.
Includes history of Vancouver School of Art by C.H. Scott

ART TEACHING IN BRITISH COLUMBIA by Charles H. Scott
The School magazine, March 1940, pp. 613-616

WHO'S WHO IN NORTHWEST ART (refer to WWNA41)

A SHORT ART HISTORY OF BRITISH COLUMBIA by Charles H. Scott
Behind The Palette, 1947; VSA

A Personal Response to the B.C. Scene by (editor)
Canadian Art magazine, Vol. 5 No. 4, Spring-Summer 1948, p. 196-97; 2 illustrations

BRITISH COLUMBIA - A CENTENNIAL ANTHOLOGY (refer to BCCA58)

ROYAL CANADIAN ACADEMY OF ARTS - REPORT FOR 1964-65
1965; no ISBN; 14 page pamphlet
List of officers, members, academicians deceased, President's Report, balance sheet
Includes obituary for Scott

THE FINE ARTS IN VANCOUVER, 1886 - 1930 (refer to THOM69)

Represented by The Gallery of the Golden Key (refer to GGK)

CREATIVE CANADA - Volumes One & Two (refer to CC71)
Includes one full column of abbreviated information about Scott

THE MOUNTAINS AND THE SKY by Lorne E. Render
1974, Glenbow-Alberta Institute; published by McClelland and Stewart West
ISBN 0-7712-1001-2; 224 pages, illustrated throughout in colour and b&w
Includes biographical information on Scott and 4 of his paintings illustrated

ISLAND ARTS AND CRAFTS ASSOCIATION - List of Exhibitors

THE DICTIONARY OF BRITISH ARTISTS 1880 - 1940 (refer to DBA76)

ROYAL CANADIAN ACADEMY OF ARTS -
EXHIBITIONS & MEMBERS 1880 - 1979 (refer to RCA81)

ARTISTS IN CANADA 1982 - UNION LIST OF ARTISTS' FILES (refer to AIC82)

MONTREAL MUSEUM OF FINE ARTS -
SPRING EXHIBITIONS 1880 - 1970 (refer to MM88)

DEAR NAN - Letters of Emily Carr, Nan Cheney and Humphrey Toms
1990, edited by Doreen Walker; 436 pages
University of British Columbia Press; ISBN 0-7748-0348-7
250 letters transcribed, includes extensive biographical notes, excellent index
Numerous references to Scott, apparently disliked by both artists.

VANCOUVER ARTIST: Charles Hepburn Scott
1996 September; by Michael Clark, Emily Carr Institute of Art + Design.
Visions newsletter, Volume 3 Issue 1, page 2.
One page biography with 1 illustration of his work.

ART BC: MASTERWORKS FROM BRITISH COLUMBIA (refer to ARTBC00)

BIOGRAPHICAL INDEX OF ARTISTS IN CANADA (refer to BIAC03)
13 references listed for Scott.

A DICTIONARY OF CANADIAN ARTISTS (refer to M)
One and a half pages of references to the artist.

THE FECKLESS COLLECTION (refer to FECK18)

VANCOUVER PUBLIC LIBRARY - B.C. ARTISTS FILES (refer to VPL)

GREATER VANCOUVER ART GALLERIES 1954-2020 (refer to GVAG20)
2 references to Scott.

B.C. VITAL STATISTICS ON-LINE death (refer to BCVS)
Clippings
"The Art Classes were placed under the immediate direction of Mr. Scott, and the students had reference to him before taking any particular class. They were allotted to the classes best suited to their needs and abilities, and the Art Classes now form the nucleus of a successful Art School, with graded courses covering the principal branches of Art Work."
From Prevocational and Night Classes by Graham A. Laing
Vancouver City Schools Trustees Annual Report 1915

"Charles H. Scott in his crayon drawing of "Sarah" presents us with an Indian face depicted with much solidity and (resemblance?); it also display considerable character."
From "With The B.C. Artists" by "A Visitor"
Vancouver Province, September 27 1916

"Though but a small organization, numerically considered, the B.C. Society of Fine Arts has had the honor of contributing its quota of members to engage in the determined and now successful fight for freedom and civilization. It may be said that all those belonging to this artistic fraternity have helped in various ways, but those marked out for special recognition are:
C.H. SCOTT - A student of South Kensington, and afterwards in France and Belgium, he was employed when he came to Vancouver, as supervisor of drawing by the School Board, a position he filled with much credit. Enlisting in the Canadian Expeditionary Force, he left B.C. in the early days of the war, and was wounded on the Western Front, where he bravely distinguished himself."
From Honor Roll - B.C. Society of Fine Arts
The Gold Stripe, Volume One, Christmas 1918

"There is a pastel head of a girl by C.H. Scott which has been much admired. Though a small picture it is full of life and expression."
From "Local Work is on View" by Bernard McEvoy
Vancouver Province, October 2 1919

"The committees which will be recommended to the League were named as follows: ... C.H. Scott ..."
From "B.C. Art League Committees Are Active"
Western Woman's Weekly, October 9 1920

"The other picture that most appeals to me is No. 107, "Twilight in the Bow Valley," by Charles H. Scott. It is a poem in greens, the greens of old trees, water, a shaded moon and the peace of an autumn evening. ... "
From "Pictures at B.C. Fine Arts" by J. Butterfield
Vancouver Province, September 19 1921, page 12

"In the fascinating line of garden landscape C.H. Scott, B.C.A., had a couple of watercolours that were full of summer sunshine and exhibited a technique at once masterly and pleasing."
From "By the Way in Art" per B.C. Art League
Vancouver Province, Thursday October 6 1921, page 12

"The trend towards modernism is perhaps most emphatic in the five striking paintings by Charles H. Scott. It shows that he has entirely forsaken the old paths and now prefers that which is symbolic to that which is anything approaching to an actual portrayal of nature. There is no mistaking the fact that these five pictures give initiated observers certain sensations of grandeur and sublimity. Moreover, it can not be doubted that they are resplendent in gorgeous color. They may also be considered decorative in effect, but the opinion of the unbiased Philistine observer will probably be that they go a little too far in the direction of a wilful obscurity."
From "B.C. Society of Fine Arts" by Bernard McEvoy
Vancouver Province, April 28 1928

"Charles H. Scott, head of the Vancouver School of Decorative and Applied Arts, is a Scotch artist of sound and thorough training. He is building up a live and vigorous school of art, with a large enrolment of students, that will result in a group of interesting and competent painters on the West Coast."
From Canadian Landscape Painters, Albert H. Robson; page 190
The Ryerson Press, Toronto, 1932

" ... nearly all our present painters of any distinction are also teachers. They include Charles H. Scott, the Director of the Art School ... "
From "BRITISH COLUMBIA ART - Significance of First "All British Columbia Show" by Harold Mortimer Lamb
Saturday Night, December 10 1932

"This year Charles H. Scott, director of the Vancouver Art School, has chosen Savary Island for the third annual summer session, and pupils will leave June 9, returning to Vancouver on June 20."
From "In The Domain of Art" by Reta W. Myers Vancouver Province, May 5 1934

"WHAT was Mr. Scott doing on the top floor Friday nite? We object! And so does our Chaperone. Which reminds us, why is Mr. Twizell on the top floor, and what excuse has he to offer for this one? And what about these mysterious car trips? We are thirsty too. What's wrong with our local Tarzans? Next time we'll ask the mates when speed is required in transporting the raft."
From "Complaints!!"
Savary Pudding, June 15 1935

"Spirit of Savary at Art Gallery"
Vancouver Province, November 9 1935

"Owing to pressure of other work. Mr. Charles H. Scott, who has voluntarily edited the Gallery Bulletin since its inception in 1933, feels it incumbent on him to relinquish his position. Beginning with this issue, Mr. A.S. Grigsby will assume the Bulletin's editorial duties."
Vancouver Art Gallery Bulletin, Vol. 4 No. 3 November 1936

"There is much work that is excellent and pleasing. Among the oils ... C.H. Scott with more landscapes; ... are all highly creditable."
From "Fine Showing By B.C. Artists Follows Conventional Lines" by E.N.B.
Vancouver Province, April 30 1938

"Winner jubilant. Angry mob storms ship deck with cries of Unfair! Fake! Phooey! Mid-Pacific - By Direct Wire - An unknown farmer from Marpole burst into the nation's headlines yesterday when happy, carefree Chuck Scott was told he had won the Grand Camp Sweep. But just as the triumphant smile had crashed across his olfactory promontory and assaulted his lower jaw into a howling retreat from his gleaming upper bridgework, cries arose from below as an angry mob stormed the deck where he stood. They shouted loudly of unfair play. Scott, they claimed, had had inside information. The prize, they asserted, belonged to the popular Deacon Arthur Mortuary who had been clocked two minutes too soon.
MUTINY OVER THE BOUNTY
A puzzled, hurt look like a cold wind, sweeping clouds across mountain and chasm, twinged Chuck's sturdy features, a tear gathered, his pine-clad brows, as if bearing too great a weight of human sorrow, fell over his incredulous eyes. He faced the crowd, firm as a haggis, and asked paintively - "Who! ME?" "
From "Scott Wins Sweep"
Savary Pudding, June 3 1939

"Happy Chuck Scott, thrust over night down the public throat, was interviewed today.
"I will hang on!" he states. I am glad I did not sell out my half-interest for five thousand. I shall now send my two daughters to college. I can now buy the little house by New Westminster I have longed for and have two eggs for breakfast. And, he added as an afterthought, "Who is this Deacon Mortuary?" "
From "Farmer Remains Adamantine"
Savary Pudding, June 3 1939

"Mr. Scott delivered an interesting lecture on Friday evening before a tired audience. Two persons were completely bowled over by the speaker's eloquence & were later put to bed where they slept more comfortably."
From "Lecture on Art"
Savary Pudding, June 3 1939

"With all this beauty round us we all feel that the men could do a little painting up. May we suggest:
1. Plucked and arched eye-brows for the Scott
2. Sanguine finger and toenails for Mr. A-mess
3. Hot oil and Henna rinse for Shaggy-Shad
4. A pin-curl special for Mr. Mortuary
5. Rubinsteinís Plastic Pack for More Míduke Lamb
6. AND ONE THING WE ARE SURE OF Ė (to reduce the Fire Hazard)
the Baronís eyelashes singed, dimples blacklisted, perhaps Solitary Confinement."
From "BEAUTY SUGGESTIONS"
Savary Pudding, June 6 1939

"Other works accepted include: ... an oil and a watercolour by Charles H. Scott, A.R.C.A. ..."
From "Western Artists Capture Interest At Toronto Show" by Palette
Vancouver Province, November 20 1941

"Charles H. Scott, A.R.C.A., presents in a richly painted landscape a new and most successful innovation in treatment."
From "B.C. Society of Fine Arts Display Sets New High Mark" by Palette Vancouver Province, May 16 1942

"Among those contibuting paintings and drawings are: ... Chas. H. Scott, ARCA ... "
From "Noted Artists Offer Paintings For Red Cross" Vancouver Province (presumed), November 1942

"Among other prominent exhibitors are ... Charles H. Scott ... "
From "Summer Show at Gallery Major Event for Art Lovers" by Palette Vancouver Province, July 7 1943

"As a result of a ballot taken in respect of nominations previously secured by public announcement, three artist members, Mr. Lawren Harris, Mr. C.H. Scott, A.R.C.A., and J.W.G. Macdonald, headed the poll by large majorities."
From "Re: 13th Annual B.C. Artists' Exhibition" by A.S. Grigsby
Memo to VAG Council Meeting, October 20 1944

"The Society membership has been constantly strengthened in the succeeding years by the addition of other members, which included in the early years C.H. Scott ... "
From "B.C. Society of Artists - A History" by J.D. Parker
B.C. Society of Fine Arts 40th Annual Exhibition Catalogue, 1950

HOME