Edward John Hughes
February 17 1913 - January 5 2007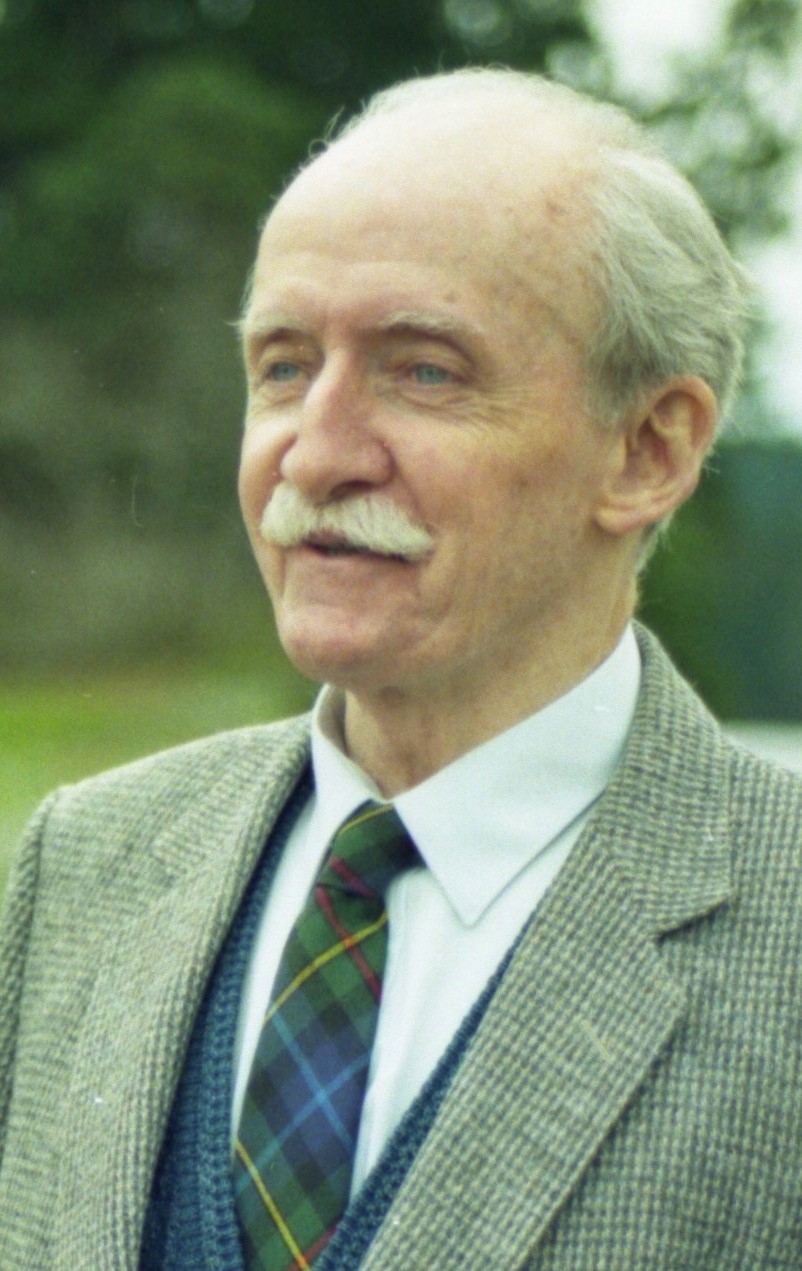 E.J. Hughes 1996
Photograph by Sarah Amos, used with permission.


Edward John Hughes was one of the most long-lasting and individualistic artists in B.C. art history. He was an accomplished, producing, full-time professional artist for over seventy years, and produced a body of work that is outstanding. The solo retrospective exhibition of his work at the Vancouver Art Gallery in 2003 truly showed his stature as a chronicler of the West Coast, and of British Columbia.

He was born in North Vancouver on February 17 1913, although the family lived in Nanaimo. He returned to North Vancouver in 1923, and attended art classes with Mrs. M.O. Verral.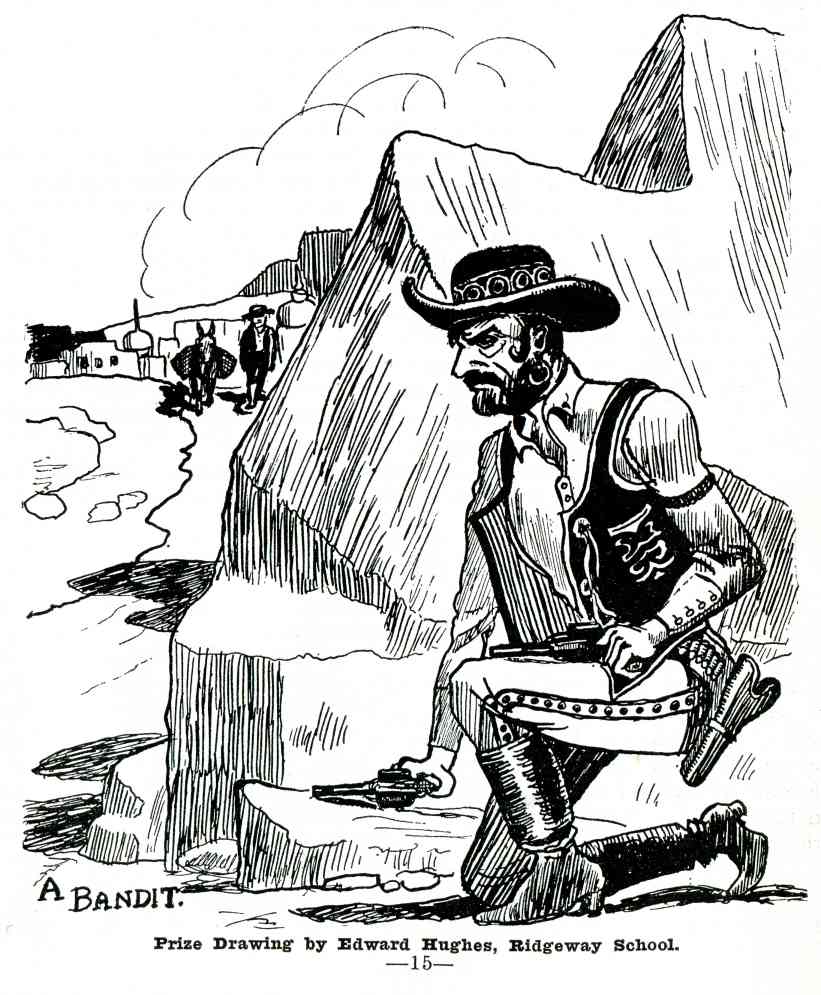 Pen & ink illustration, School Days magazine, 1925

In 1929 he entered the Vancouver School of Decorative and Applied Arts.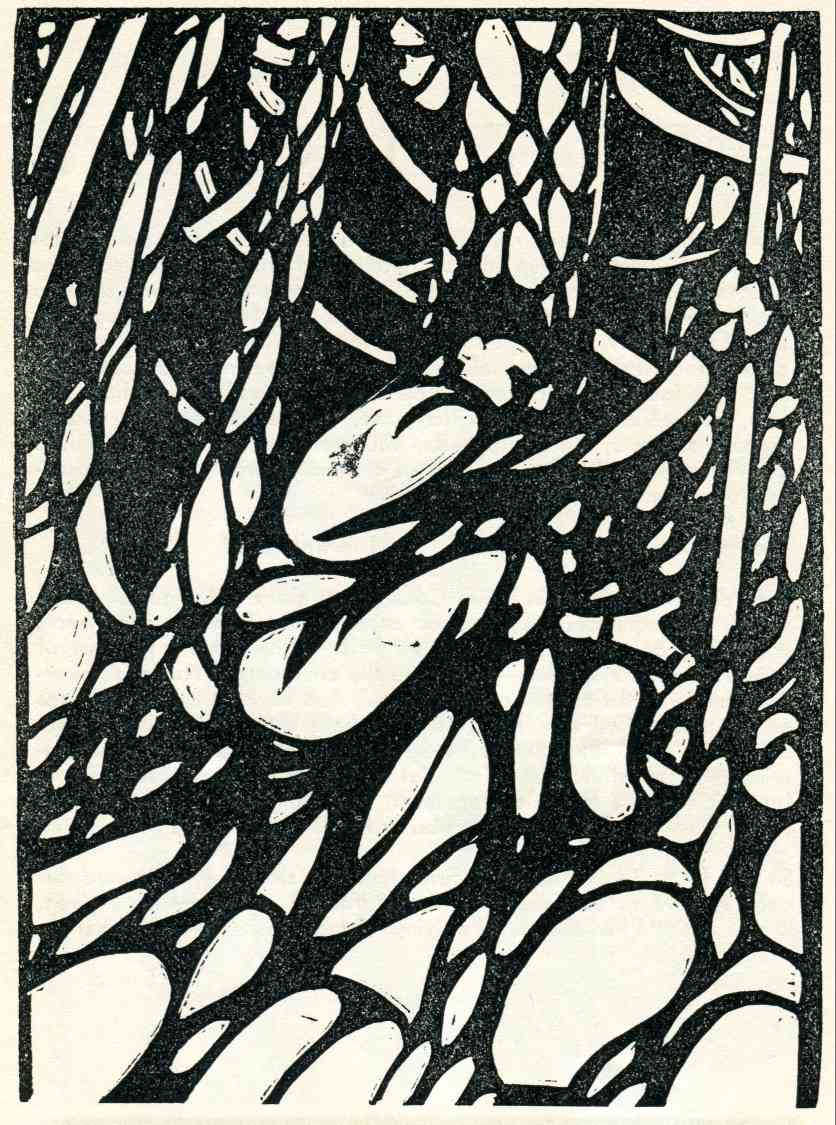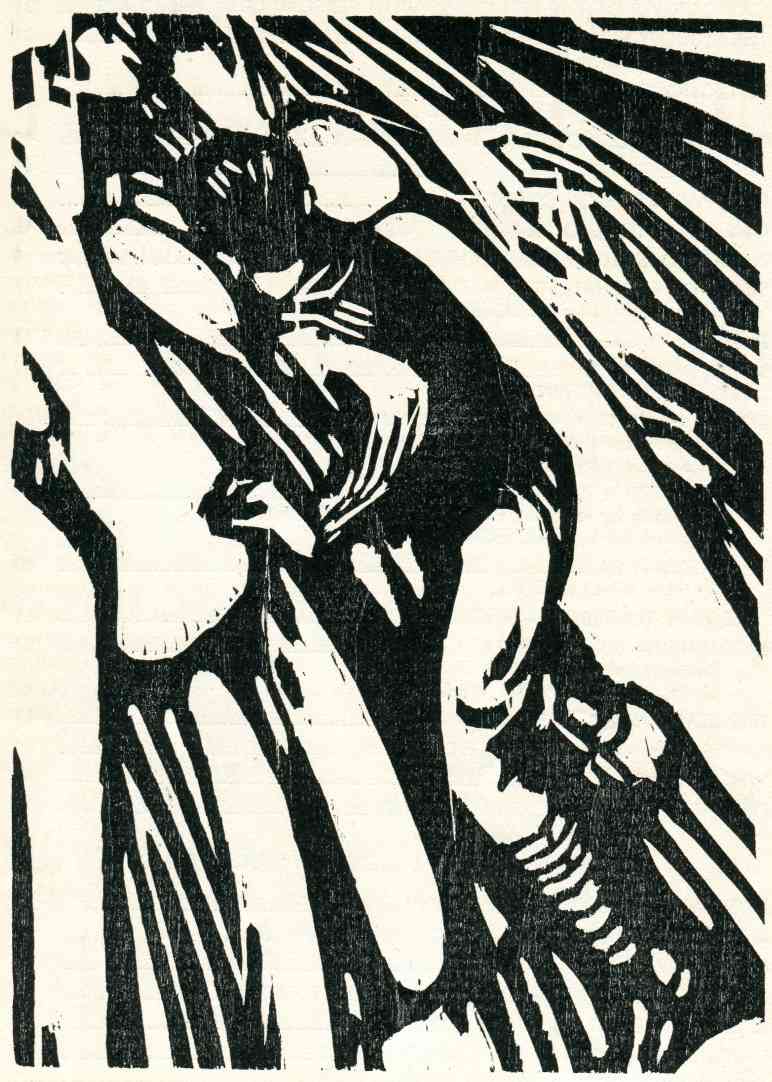 Linocut illustrations, The Paint Box, 1930

He received his diploma in 1933, then completed post-graduate studies at the school in 1934 and 1935. His pencil portraits of the 1935 Graduating Class were published in the school's 1935 annual, Behind The Palette.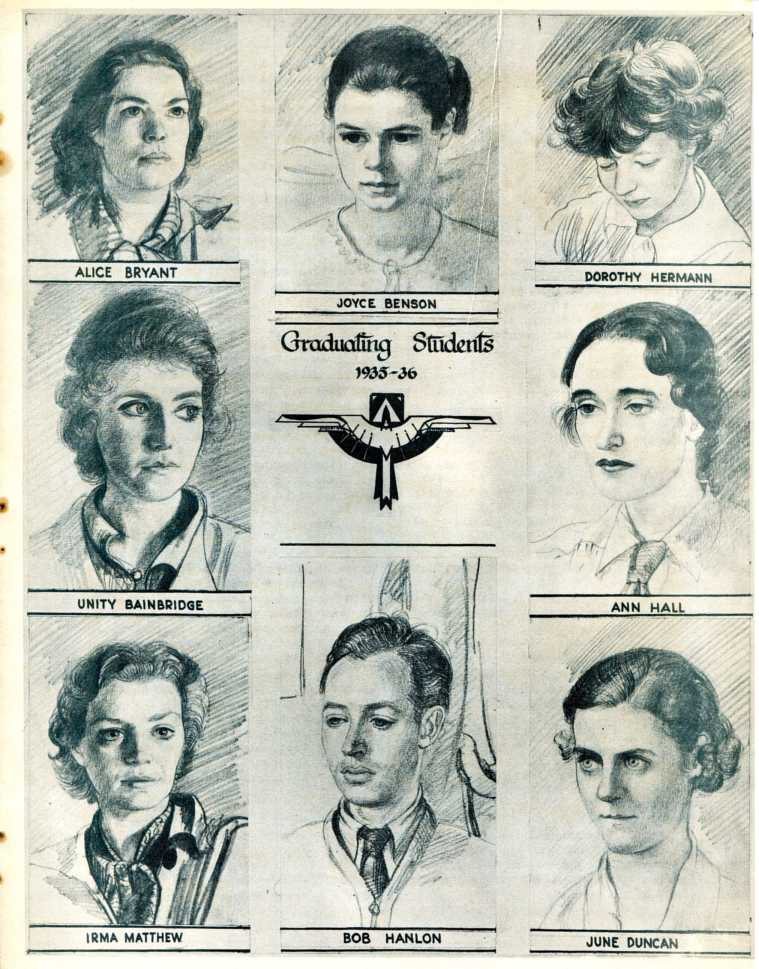 Pencil portraits, Behind the Palette, 1935

The Spring 1936 edition of The Smock Pocket, the Vancouver School of Art Graduates' Association newsletter, noted that Hughes and and Orville Fisher "are now working on their second murals for the First United Church. The original ones (size 9' x 30' each), drew much favorable comment. They have also had an exhibition of etchings in the Gallery. The number of sales passed all previous Gallery records."

Hughes and Fisher were sharing a studio on the 10th floor of the Bekins Building. They joined in a partnership with Paul Goranson and completed murals for the Malaspina Hotel in Nanaimo, and for the B.C. Pavilion at the 1939 Golden Gate Exposition in San Francisco.

In 1939 Hughes enlisted in the Royal Canadian Artillery. In 1942 he was appointed as an official Canadian War Artist, and completed many paintings before his demobilization in 1946. He was the first Canadian war artist appointed in World War Two, and the last to quit working. He returned to the West Coast and lived in Victoria, B.C. where he continued to paint pictures of the local scenery, steamboats, islands, and ocean. He wasn't making much money from his work after the war, and when the Vancouver Art Gallery asked him for permission to put on a solo exhibition of his work in 1949, he replied that he couldn't afford to even ship his canvasses from Victoria to Vancouver, let alone frame them. The Gallery replied that he should simply roll them up and ship them C.O.D. to the Gallery, where they would be framed at no cost to the artist. Hughes apparently did not take them up on the offer.

He submitted two pencil drawings to the 1949 B.C. Graphic exhibition at the Vancouver Art Gallery, both of them were selected for the exhibition.

He exhibited paintings with the Royal Canadian Academy of Arts in 1950, 1968, and 1970.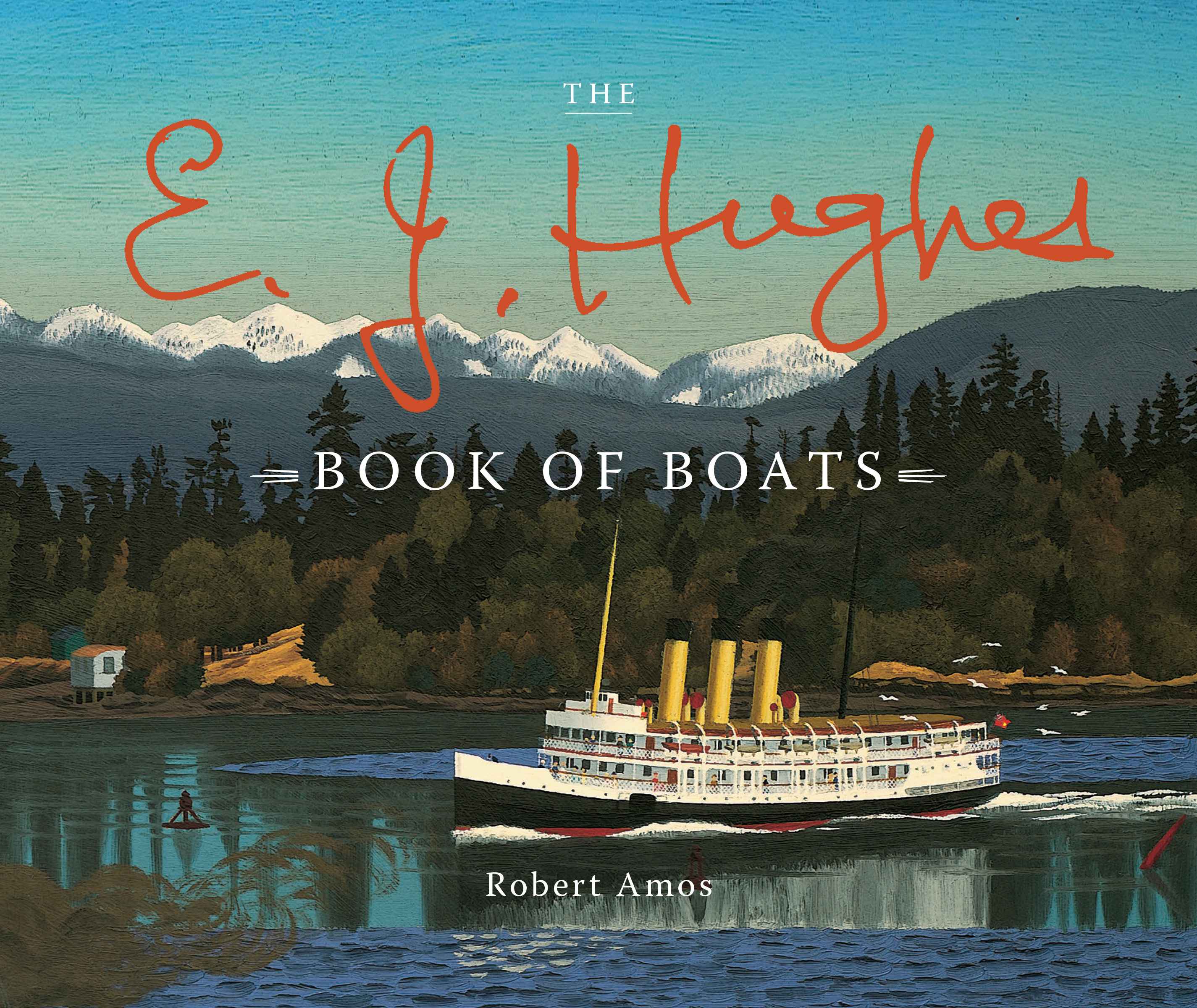 Cover photograph "The Books of Boats" provided courtesy of Touchwood Editions.

In the decades since then, Hughes work has increased significantly in value, with auction prices for his large canvasses having reached over $2,000,000.00. He lived on Vancouver Island until his death in 2007 at the age of 93, leaving behind a lengthy record of creative vision and achievement.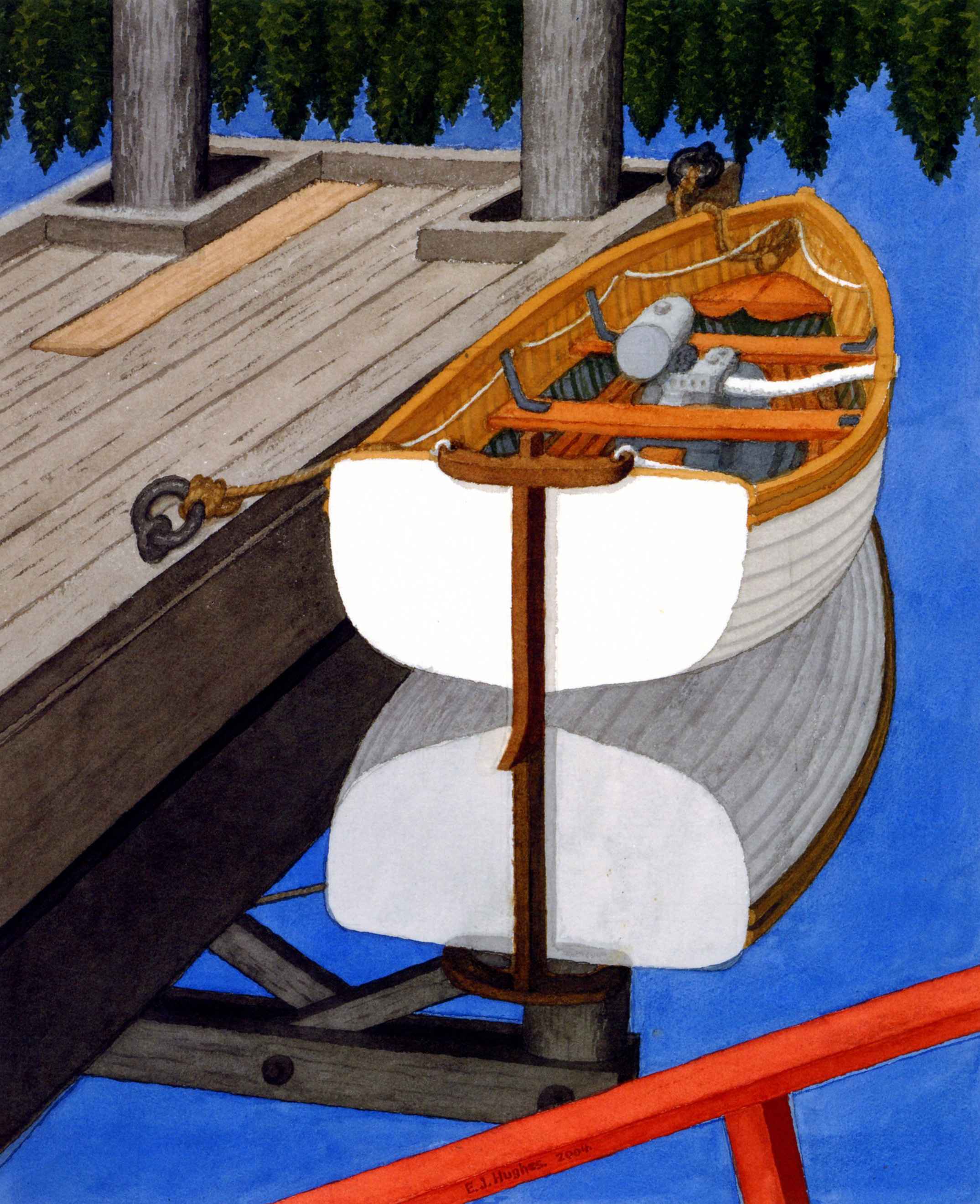 Village Wharf, E.J. Hughes 2004
From "The Books of Boats". Photograph provided courtesy of Touchwood Editions

Additional exhibitions:
B.C. Artists at VAG: 1951-52, 1954
Exhibitions
SOLO EXHIBITIONS
GROUP EXHIBITIONS
DATE
EXHIBITION
ARTWORK
1935 Dec. 6 - 15
VAG Goranson, Hughes, Fisher
(?)
1936 Feb. 21 - Mar. 5
PASOVAS Annual Group Show
(drypoints)
1936 August 11 - 23
VAG Goranson, Hughes, Fisher
Sancho
Low Tide at Grantham's Landing
Trees on Savary Island
Hopkins Landing
Siwash Rock
Orville & Paul
Harbour Princess in Drydock
Howe Sound from Gospel Rock
Derelict in Coal Harbour
On the Beach at Savary Island
1936 Dec. 8 - 20
VAG Christmas Black & White Exhibition
Trees on Savary Island
1936 December 8 - 20
VAG Goranson, Hughes, Fisher
Derelict in Coal Harbour
Orville and Paul
Hopkins Landing, Howe Sound
Howe Sound from Gospel Rock
Collie Dog
On the Beach at Savary Island
Siwash Rock
Trees on Savary Island
Low Tide at Granthams Landing
"Harbour Princess" in Drydock
Tree Study
1937 April 16 - May 1
BCSFA 27th Annual
Near Second Beach
The Lighthouse on Prospect Point
1937 Dec. 3 - 19
VAG Goranson, Hughes, Fisher: Prints
1949 Oct. 8 - 30
VAG B.C. Artists 18th Annual
Farm Near Courtenay
1949 Nov. 22 - Dec. 11
VAG First B.C. Graphic
Qualicum Beach
Indian Church, North Vancouver
1950 June 20 - July 9
VAG First Quarterly Group Exhibition
Indian Church, North Vancouver
Houses, Qualicum Beach
Steamer Approaching the Wharf, Nanaimo
Street Scene, Courtenay
Rock Formation, Gabriola Island
Courtenay River Landscape
1950 Nov. 28 - Dec. 17
VAG B.C. Artists 19th Annual
Tugboats, Ladysmith Harbour
Coutrenay, B.C.
References - BIBLIOGRAPHY
Refer to BIBLIO.
References - GROUP EXHIBITIONS
SOUVENIR CATALOGUE OF EXHIBITIONS OPENING
THE NEW VANCOUVER ART GALLERY (refer to VAG51)

100 YEARS OF B.C. ART (refer to VAG58)

ARTE CANADIENSE (refer to NGC60)

SUMMER BUBBLE (refer to BAG70)

SCAN: SURVEY OF CANADIAN ART NOW (refer to VAG72)

PRINTMAKING IN BRITISH COLUMBIA 1889-1983 (refer to AGGV83)

VANCOUVER: ART & ARTISTS 1931 - 1983 (refer to VAG83)

IMAGES OF THE LAND - CANADIAN BLOCK PRINTS 1919 - 1945 (refer to GLEN84)

64 - 94 CONTEMPORARY DECADES (refer to ECU94)

BEYOND THE CANVAS - Artists, Stories and the Sea (refer to VMM00)

A MODERN LIFE: Art and Design in British Columbia 1945-1960 (refer to VAG04)

OUR CHANGING LANDSCAPE (2008) (refer to BAG08)

VISIONS OF BRITISH COLUMBIA (refer to VAG09)

SHORE, FOREST AND BEYOND - ART FROM THE AUDAIN COLLECTION (refer to VAG11)
References - GENERAL
Attendee at the 1935 Vancouver School of Art Summer Camp
(refer to SUMMER SKETCHING CAMP - SAVARY ISLAND)

THE SAVARY PUDDING folio by Frederick A. Amess, private collection.
Original drawings, paintings and text by Amess, C.H. Scott, Grace Melvin,
H. Mortimer Lamb, Plato von Ustinov, and other students and visitors.
June 1935 (various dates), June 1939 (various dates)
52 loose 12"x18" sheets of brown sketch paper

BRITISH COLUMBIA - A CENTENNIAL ANTHOLOGY (refer to BCCA58)

MACLEAN'S MAGAZINE - B.C. CENTENNIAL ISSUE (refer to MAC58)

THE ETCHING REVIVAL (1852 - 1936)
Collections of the Art Gallery of Greater Victoria Number 8
Not dated, no ISBN; 24 pages; includes Introduction (author not listed)
Brief biographical information on artists including Charles H. Scott and E.J. Hughes
Trees on Savary Island 1936 illustrated

CREATIVE CANADA - Volumes One & Two (refer to CC71)
Includes one full column of information on Hughes.

HIGH REALISM IN CANADA by Paul Duval
1974, ISBN 0-7720-0697-0, 176 pages, publisher Clarke Irwin
Extensively illustrated in colour and b&w
Includes index of reproduction and general index
Good chapters on Eric Freifeld, E.J. Hughes and Ernest Lindner

THE SHELL CANADA COLLECTION (refer to SHEL77)

VISUAL ARTS BRITISH COLUMBIA (refer to VABC77)

BRITISH COLUMBIA ART COLLECTION 1974-80 (refer to BCAC80)

ROYAL CANADIAN ACADEMY OF ARTS -
EXHIBITIONS & MEMBERS 1880 - 1979 (refer to RCA81)
List 5 paintings by Hughes in 3 exhibitions.

ARTISTS IN CANADA 1982 - UNION LIST OF ARTISTS' FILES (refer to AIC82)

MURALS FROM A GREAT CANADIAN TRAIN by Ian Thom
1986, bilingual, published by Art Global / Libre Expression
192 pages, illustrated throughout in colour and black and white
History of the murals commissioned for the Canadian Pacific Railway's Park Cars
Includes works by E.J. Hughes, W.J. Phillips, A.Y. Jackson

ART BANK CATALOGUE (refer to AB87)

MONTREAL MUSEUM OF FINE ARTS -
SPRING EXHIBITIONS 1880 - 1970 (refer to MM88)

THE ALMA MATER SOCIETY ART COLLECTION
University of British Columbia 1948 - 1988
No ISBN, 64 pages, illustrated in colour and b&w
Includes history of the collection, artist biographies

A DICTIONARY OF CANADIAN ARTISTS (refer to M)

VANCOUVER ARTIST: E.J. HUGHES
1997 January; by Michael Clark, Emily Carr Institute of Art + Design.
Visions newsletter, Volume 3 Issue 2, page 6.
One page biography with 2 illustrations of his work.

CANVAS OF WAR - Painting the Canadian Experience 1914 to 1945
2000, by Dean F. Oliver, Laura Brandon; Foreword by J.L. Granatstein
Douglas & McIntyre Ltd., ISBN 1-55054-772-0
178 pages illustrated in colour and b&w
Includes reproductions of Hughes' paintings, biographical information.

ART BC, Masterworks From British Columbia by Ian M. Thom
2000, Douglas & McIntyre Ltd., ISBN 1-55054-808-5
232 pages illustrated in colour and b&w
Includes historical essays, biographical notes, index.

CANADIAN ART - FROM ITS BEGINNINGS TO 2000 (refer to CAN00)

BIOGRAPHICAL INDEX OF ARTISTS IN CANADA (refer to BIAC03)
17 references listed for Hughes, including CC1, M, and RCA listed above.

THE BOW - LIVING WITH A RIVER, edited by Gerald T. Conaty
Includes essays by G.T. Conaty, Daryl Betenia, Catharine Mastin
2004; ISBN 1-55263-634-8; Glenbow Museum, published by Key Porter Books Ltd.
160 pages, hardcover; extensively illustrated with artwork and historical photographs
Includes essays, select artist biographies, art and general bibliographies, index
Artwork by western artists includes Hughes

WATERFRONT by James P. Delgado, Executive Director, Vancouver Maritime Museum
"The illustrated maritime story of Greater Vancouver"
Published by Vancouver Maritime Museum and Stanton Atkins & Dosil Publishers
2005, ISBN 0-9732346-5-2, 186 pages hardcover first edition with dust jacket
Includes list of sources, index, credits, acknowledgements
Extensively illustrated in colour and black and white with art and photographs
Artwork reproduced from Atkins Feckless Collection includes print by Hughes

ARTISTS IN THEIR STUDIOS (refer to AIS07)

Vancouver School of Decorative & Applied Arts - List of Students

VANCOUVER PUBLIC LIBRARY - B.C. ARTISTS FILES (refer to VPL)

THE FECKLESS COLLECTION (refer to FECK18)

GREATER VANCOUVER ART GALLERIES 1954-2020 (refer to GVAG20)
4 references to Hughes.
Clippings
"The three artists, Paul Goranson, Orville Fisher, and Edward Hughes, are young British Columbia men "who are contributing a lively note to the Art of B.C. ... "
From "Art Exhibit in Faculty Room of Library"
The Ubyssey, February 1936

"... artists invited to join the club for the exhibition include: . . . E.J. Hughes ... "
From "PASOVAS EXHIBIT - Pioneer Art Students' Show"
Vancouver Province, February 21 1936

"Dry-points are shown by E.J. Hughes, Paul Goranson and Orville Fisher, three gifted young men whose recent exhibition in the Art Gallery will be remembered by visitors."
From "FINE PASOVAS ART EXHIBITION"
Vancouver Sun (?), February 21 1936

"The twin contributions each of E.J. Hughes, Paul Goranson, and Orville Fisher, in black and white, are exceptional. ... "
From "PASOVAS CLUB - Annual Display on View at Art Gallery"
News Herald, February 1936

"Orville Fisher, Edward Hughes, and Paul Goranson became known all over Canada through their mural paintings in the First United Church, while their exhibition of Dry Points and Etchings in the Art Gallery last December were widely praised."
From "GRADUATES IN ART" by Cintra
(unknown newspaper), April 25 1936

"Ed Hughes' "Trees on Savary Island" ... would look well in a home."
From "Buy a Picture for Christmas"
Vancouver Sun, December 1936

"The Goranson-Fisher-Hughes' exhibition in the Reproduction Room has a special interest, because this year the young artists are showing colored lino-block prints in place of the black-and-whites that featured their earlier Gallery exhibitions."
From "Buy a Picture for Christmas"
Vancouver Sun, December 1936

"A PENSIVE CLARITY - E.J. HUGHES" by Anthony Robertson
Essay and six works reproduced (including front cover image)
VANGUARD, "Published by the Vancouver Art Gallery", December 1981/January 1982, pages 10 - 15.

"ART FOR STUDENTS' SAKE" by Robin Laurence
"Begun in 1948, the AMS art collection has grown into a significant repository for Canadian art."
TREK, "The magazine of the University of British Columbia", Fall 2007, pages 24-27
Essay, history of collection and works illustrated incl. Hughes' Abandoned Village, Rivers Inlet.




HOME