Frederick Arthur Amess
April 7 1909 - December 31 1970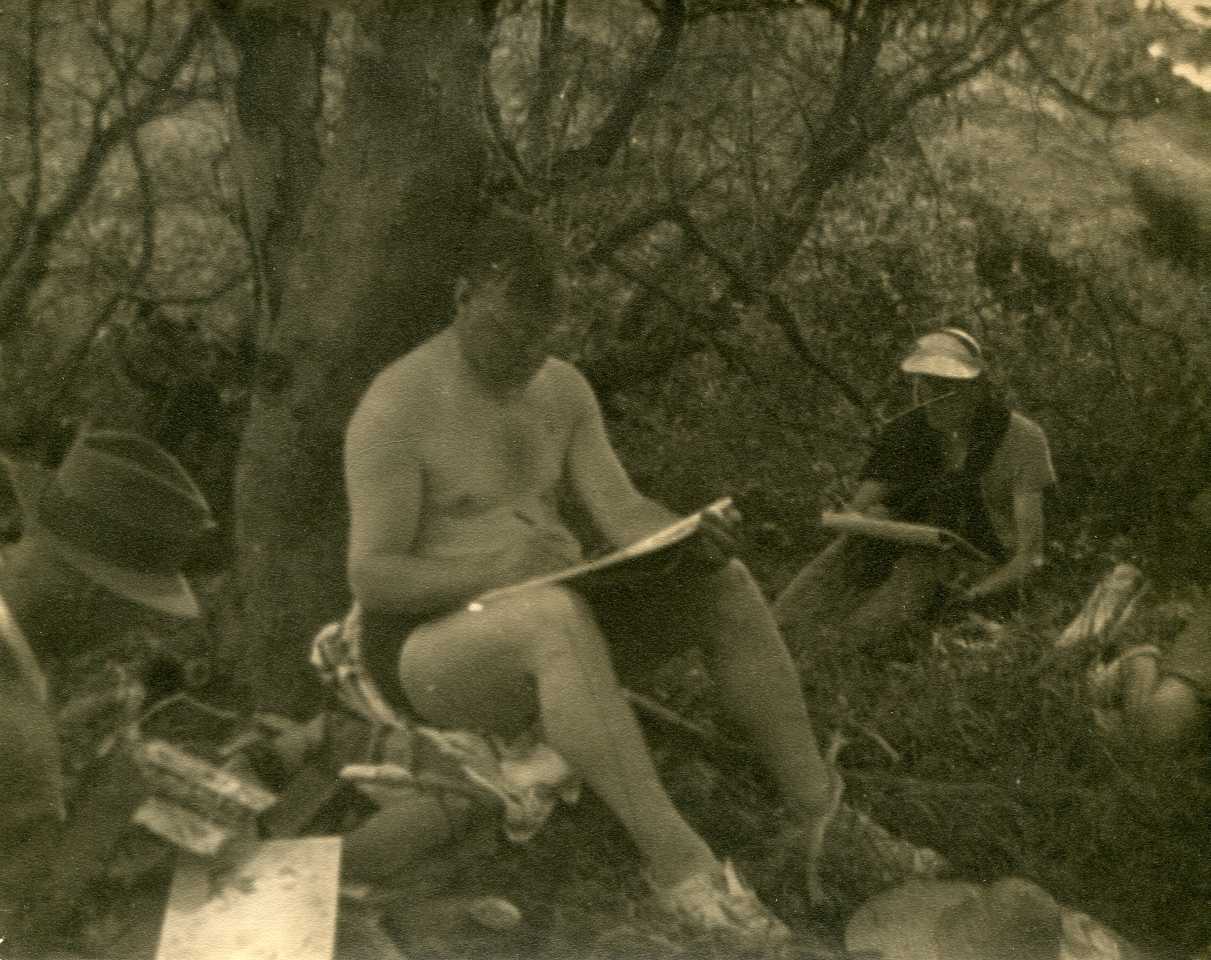 Amess sketching on Savary Island

Frederick Amess was born in London, England. His father's name is noted on Amess's death certificate as Robert James Amess (not J.H.O. Amess). The family arrived on the West Coast in 1911. Amess graduated from the South Vancouver High School. He was a founding student at the Vancouver School of Decorative and Applied Arts when it opened in 1925, and was in its first graduating class in 1929.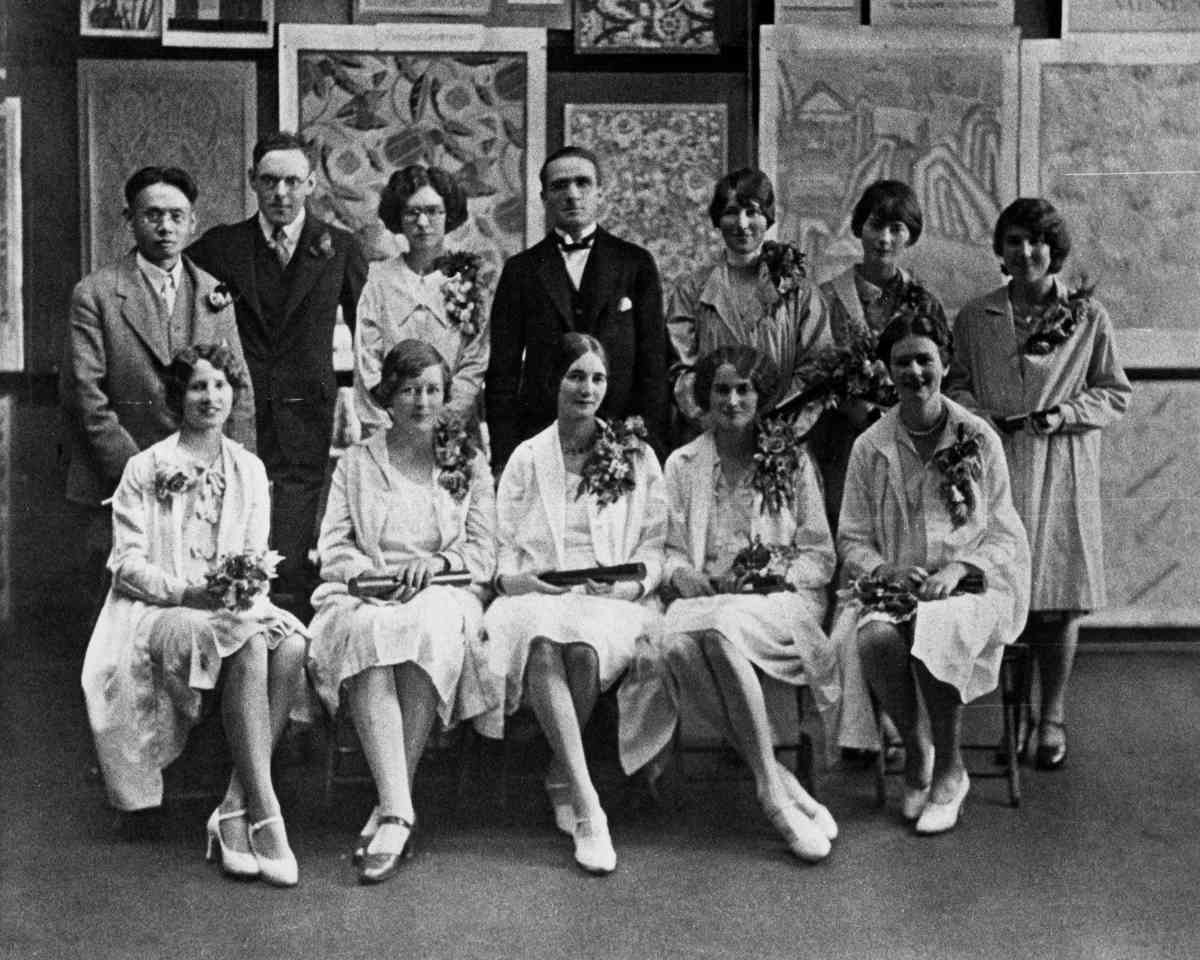 1929 Graduating Class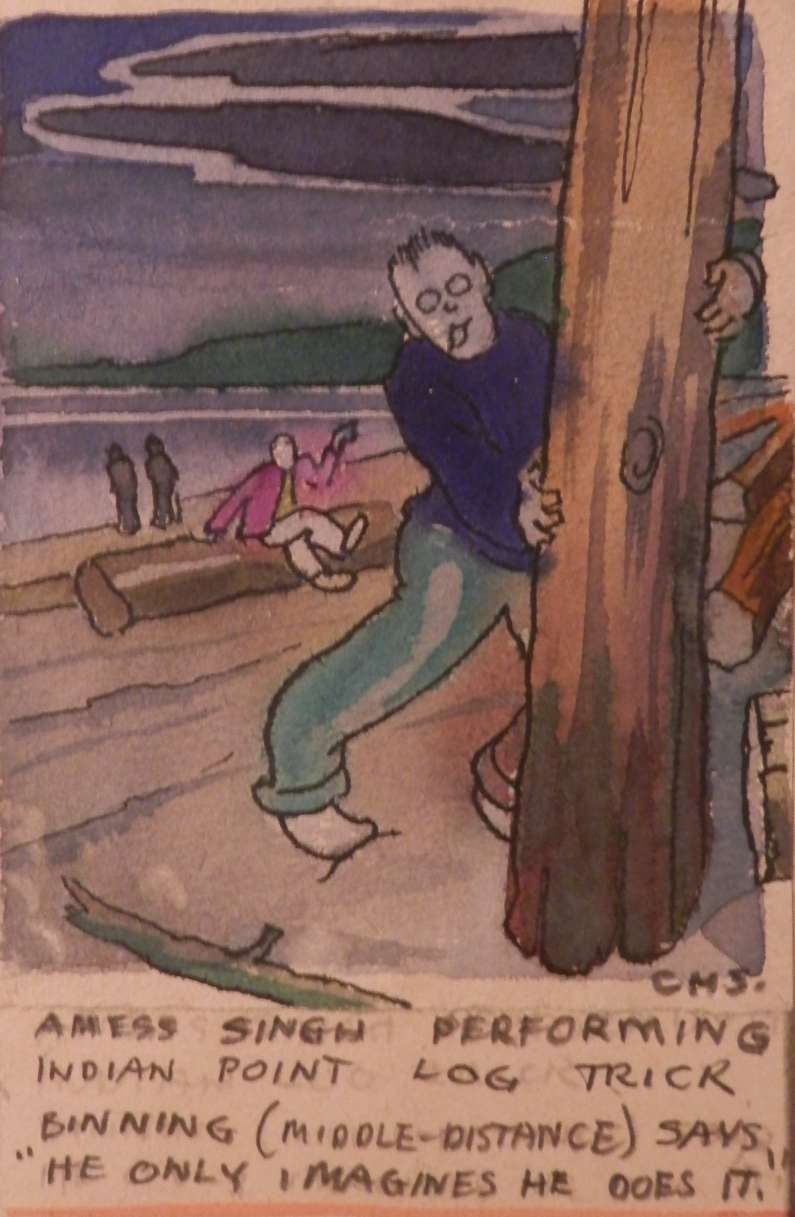 Watercolour by Scott of Fred Amess and B.C. Binning.

He exhibited in the Seattle Art Museum's annual Northwest Artists exhibition in 1934.

In 1939 Amess held the position of Evening School Supervisor at the art school, and wrote an article for Behind The Palette, the Vancouver School of Art Annual for 1939-40, titled Evening School, in which he discussed the courses given in the evening classes, and student activities such as production of Behind The Palette. With the outbreak of war in Europe making the headlines in the daily newspapers and on the radio, Amess wrote that "the fever of destruction" must be counteracted by "the stimulus of creation".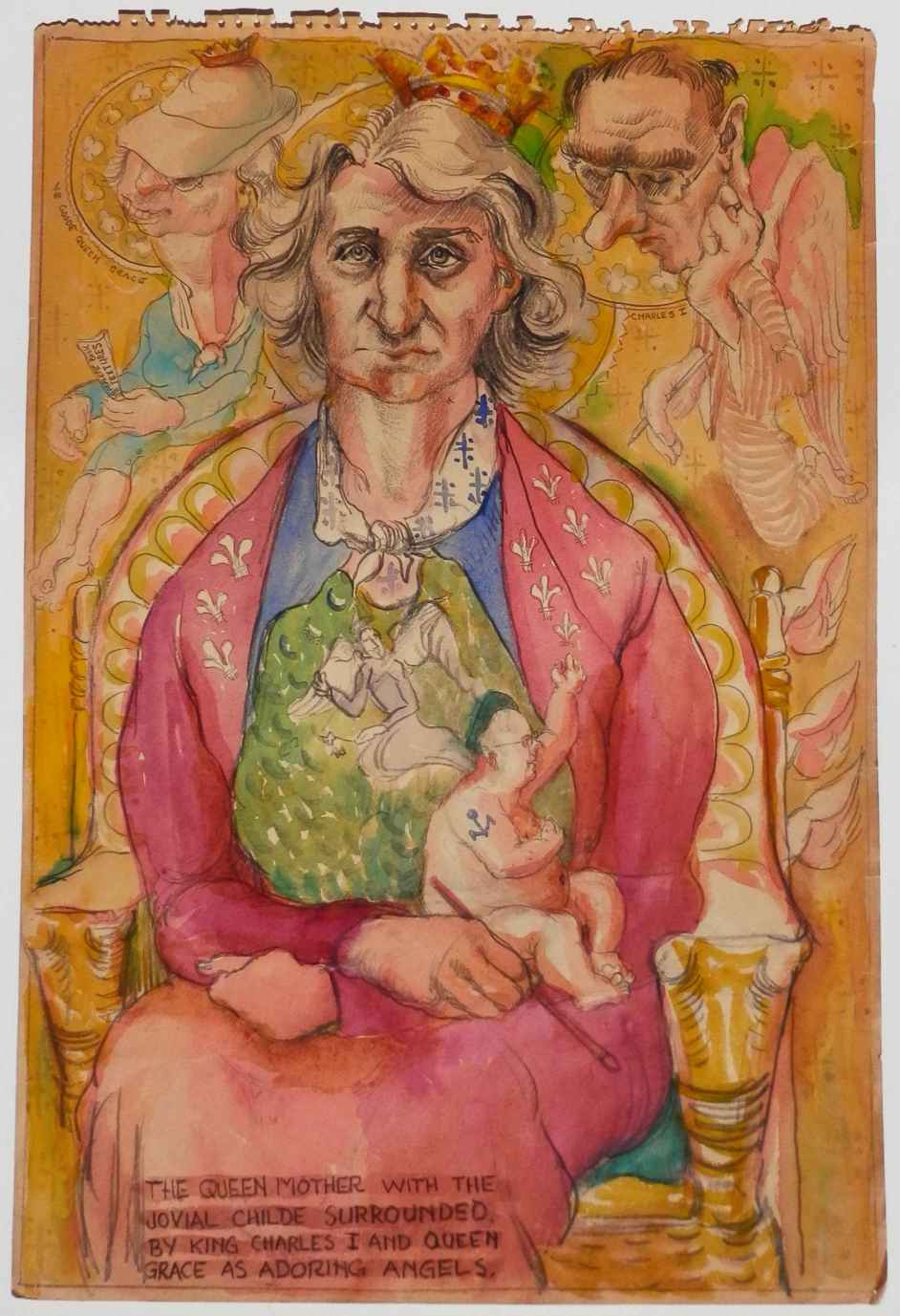 Watercolour with Fred Amess illustrated as an infant.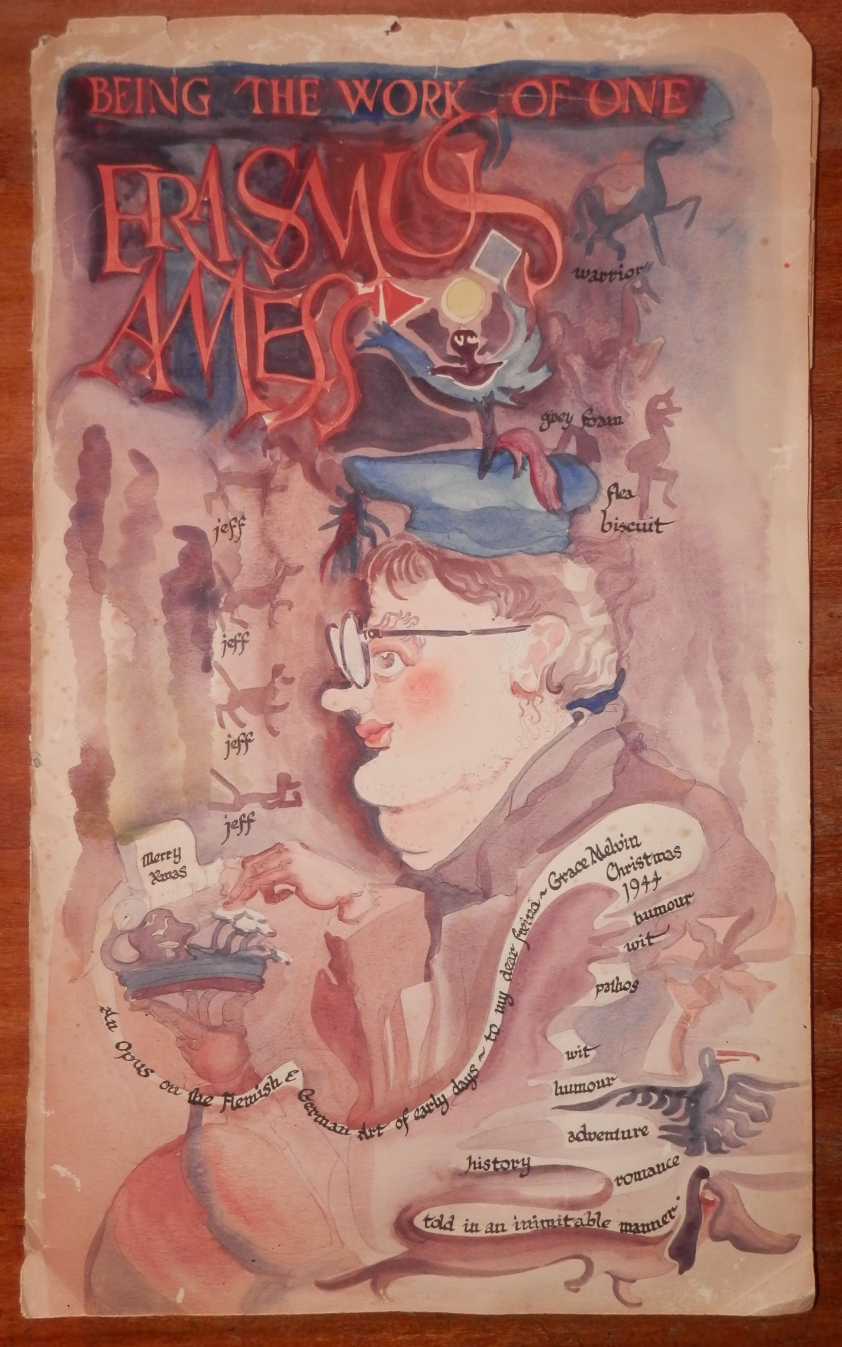 Self-portrait.

His watercolour "Artists in a Wind" won the inaugural W.H Malkin Silver medal in 1940.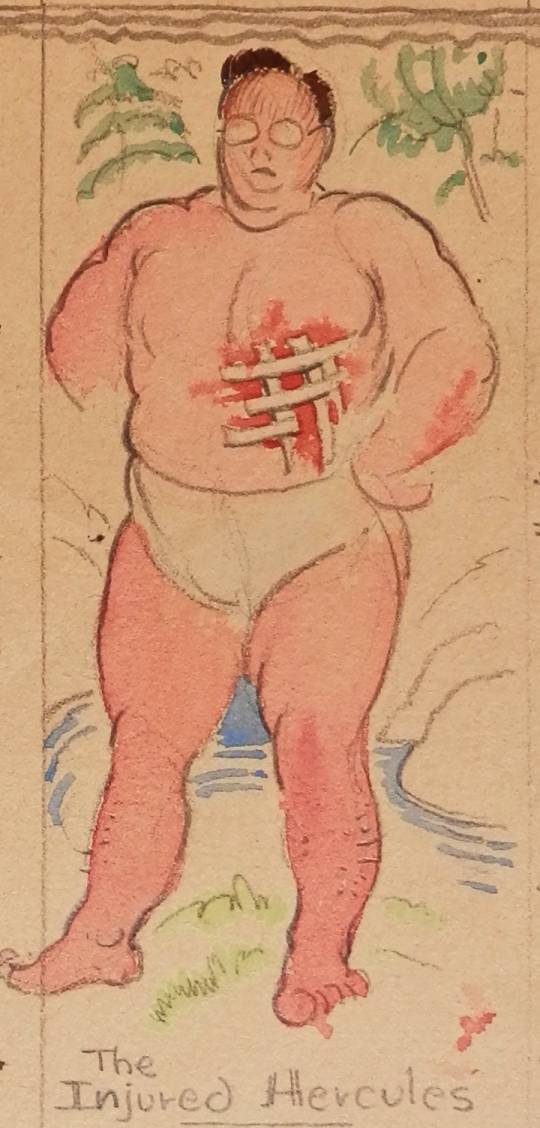 The Injured Hercules.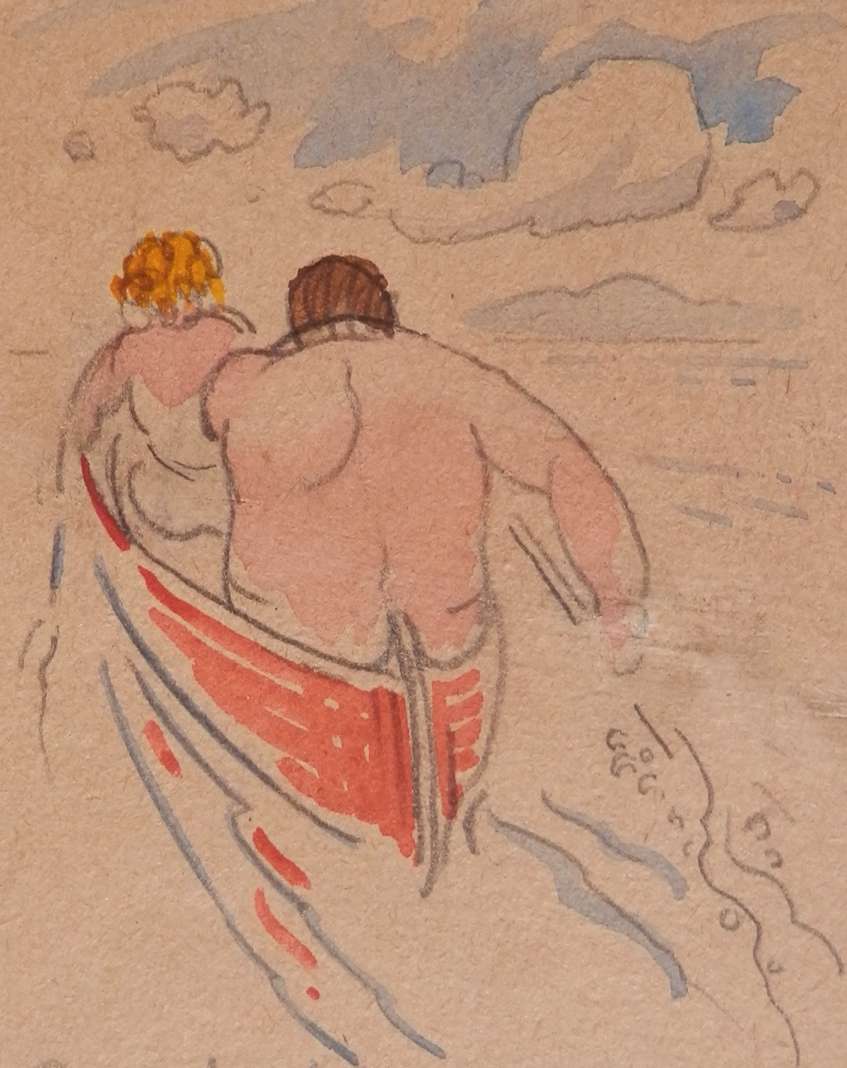 Watercolour of Fred Amess and Mollie Lamb.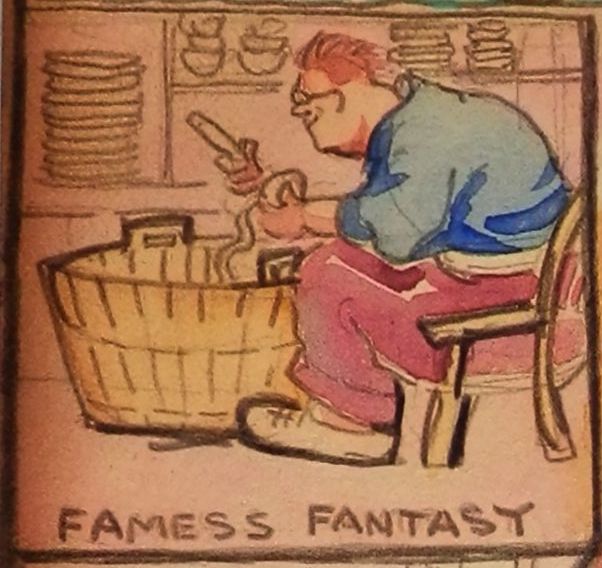 From the Savary Pudding, 1939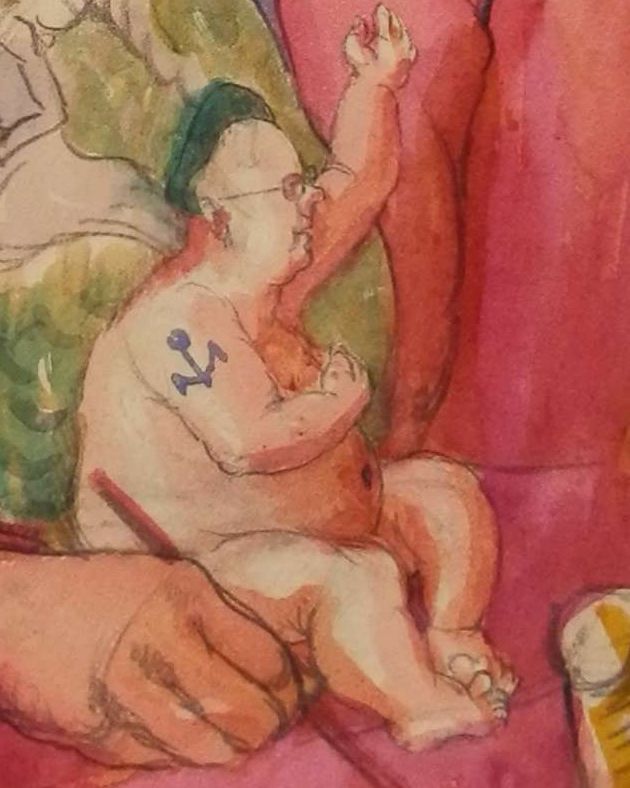 From the Savary Pudding, 1939

Amess married fellow artist Elizabeth (Betty) Elliott in Caulfeilds, West Vancouver, on June 21, 1941.

Amess was a Founding Member of the Federation of Canadian Artists in 1941.

Amess was on a list titled "Leading Vancouver Artists," provided to the Labour Arts Guild on April 10, 1946 by the Vancouver Art Gallery to assist in the Guild's call for entries to the second annual B.C. At Work exhibition.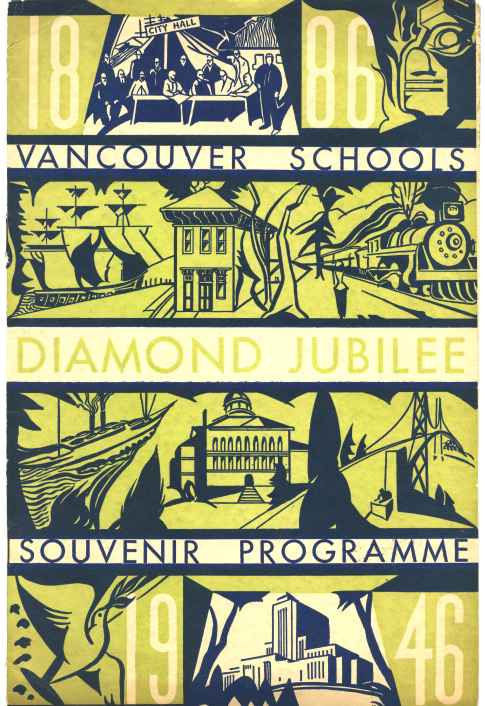 Amess did the cover images for the 1946 programme for the Vancouver School Board Diamond Jubilee.

He exhibited artwork in numerous B.C. Artists exhibitions at the Vancouver Art Gallery beginning in 1932.

He entered four pen and wash drawings to the 1949 B.C. Graphic exhibition at the Vancouver Art Gallery, but none of them were selected for the exhibition as they "did not come in".

Amess was a charter member of the B.C. Industrial Design Committee.

He had solo exhibitions at the Vancouver Art Gallery in 1950 and 1951, as well as a duo show in 1941. He also showed work at the National Gallery, Ottawa, and at the Seattle Art Museum.

He exhibited work with the B.C. Society of Fine Arts from 1929 to 1961. He won two awards of merit for his work. He also won a Bronze Medal from an exhibition at the Vancouver Art Gallery.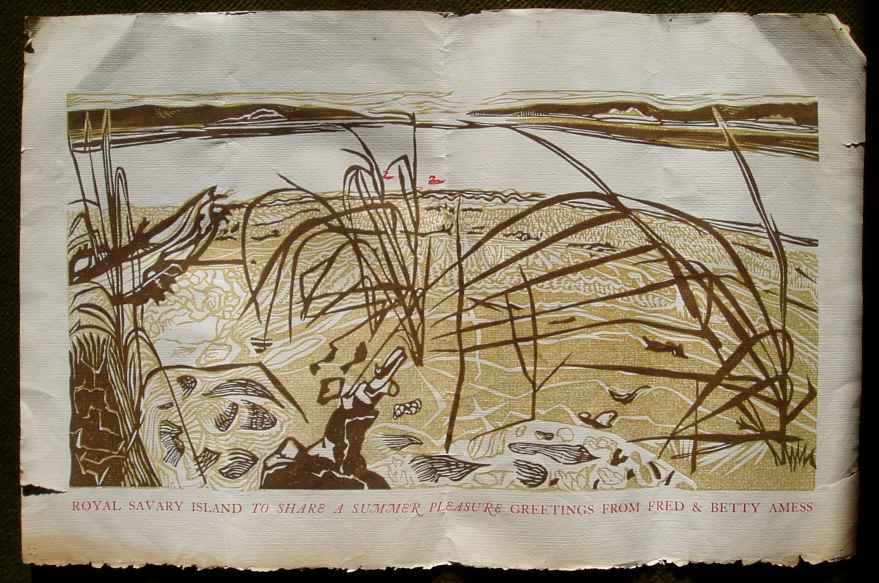 Amess took over as director of the Vancouver School of Art when Charles H. Scott retired. Amess died in North Vancouver in 1970, aged 61.
Exhibitions
SOLO EXHIBITIONS
GROUP EXHIBITIONS

| | | |
| --- | --- | --- |
| DATE | EXHIBITION | ARTWORK |
| | | |
| 1929 Nov. 16 - 30 | BCSFA Winter Exhibition | Housie Housie, Hastings Park |
| | | The Barker |
| 1930 Aug. 22 - Sept. 6 | CNE Fine Arts | Dock Workers (mural sketch) |
| 1930 Nov. 27 - Dec. 7 | PASOVAS Art Club Exhibition | Pen and Ink |
| | | Christmas Decoration |
| | | Cold Water Stream |
| | | Sunlight, Grouse Mountain |
| | | Seymour Valley |
| | | Granite Falls |
| | | Olson Lake |
| | | Firewood |
| | | Burrard Inlet |
| | | Theodosa Valley |
| | | Portrait |
| | | |
| 1932 May - July | VAG All Canadian Exhibition | A Mill on the Fraser |
| 1932 Sept. 17 - 30 | PASOVAS Club Exhibition | "Haystack" |
| | | "The Raising of the Totem" |
| | | "Sunspot" |
| | | "Donkey Engine" |
| | | Sketch |
| | | Sketch |
| | | Sketch |
| | | Sketch (red conte) |
| 1932 Oct. 5 - 30 | VAG B.C. Artists 1st Annual | The High Dive |
| | | The Street Scene |
| 1933 May 3 - 18 | VAG VSAGA 1st Annual Exhibition | Buccaneer Bay |
| | | The Canal |
| | | Yacht |
| | | The Old Barn |
| | | Tom |
| | | At Work |
| | | Studio Corner (Pen and Ink) |
| | | In a Chinese Vegetable Garden (Lithograph) |
| | | Unemployed (Dry Brush) |
| | | The Mourner |
| | | Studio Corner |
| 1933 June 3 - 11 | VAG BCSFA 23rd Annual | Hello! |
| | | Deadman's Island |
| 1933 Sept. 22 - Oct. 15 | VAG B.C. Artists 2nd Annual | Hot Hills |
| | | Wind Twisted Trees |
| 1934 Sept. 21 - Oct. 14 | VAG B.C. Artists 3rd Annual | The Record |
| | | Torture and Calm |
| | | Sketch, Savary Island |
| 1935 Sept. 20 - Oct. 15 | VAG B.C. Artists 4th Annual | Summer Fallow |
| | | The Main Drag |
| 1936 June 26 - July 12 | VAG BCSFA 26th Annual | The Old Fisherman |
| 1936 Sept. 18 - Oct. 11 | VAG B.C. Artists 5th Annual | Mural Panel (Detail) |
| 1938 Sept. 16 - Oct. 9 | VAG B.C. Artists 7th Annual | Homeward Bound |
| 1939 June 9 - 25 | BCSFA 29th Annual | Fantasia |
| | | Steveston |
| 1939 Sept. 15 - Oct. 8 | VAG B.C. Artists 8th Annual | Stack |
| | | H. Mortimer Lamb, Esq. |
| | | Cottage at Savary |
| | | Wind |
| 1940 Sept. 20 - Oct. 13 | VAG B.C. Artists 9th Annual | The Net |
| | | Artists in a Wind |
| | | Farmyard |
| | | Windy Hope |
| 1941 May 10 - June 1 | BCSFA 31st Annual | Float, Kamloops |
| | | On the Fraser |
| | | Siesta |
| 1941 Sept. 26 - Oct. 19 | VAG B.C. Artists 10th Annual | Ballet Rerhearsal |
| 1942 May 15 - 31 | VAG BCSFA 32nd Annual | Mission |
| 1942 July 7 - Sept. 2 | VAG B.C. Artists 1st Annual Summer | Ballet Rehearsal |
| | | Artists in the Wind |
| 1942 Sept. 25 - Oct. 18 | VAG B.C. Artists 11th Annual | The Artist and his Model |
| | | Sitting Pretty |
| 1943 July 2 - Aug. 25 | VAG B.C. Artists 2nd Annual Summer | The Artist and his Model |
| 1943 Sept. 25 - Oct. 20 | VAG B.C. Artists 12th Annual | The Young Dancer |
| 1944 Sept. 23 - Oct. 22 | VAG B.C. Artists 13th Annual | Hope |
| | | Equestrian |
| | | Tangle |
| 1945 May 18 - June 10 | BCSFA 35th Annual | Sheepfold |
| 1945 July 3 - Aug. 26 | VAG B.C. Artists 4th Annual Summer | Sheepfold |
| 1945 Sept. 22 - Oct. 21 | VAG B.C. Artists 14th Annual | Portrait |
| | | Cariboo Pattern |
| 1946 July 2 - 28 | VAG Jubilee Exhibition | Valley Farmer |
| 1947 Sept. 20 - Oct. 12 | VAG B.C. Artists 16th Annual | No. 8 |
| | | Savanah |
| 1948 Sept. 18 - Oct. 10 | VAG B.C. Artists 17th Annual | Beach |
| 1949 Oct. 8 - 30 | VAG B.C. Artists 18th Annual | Beach |
| 1949 Nov. 22 - Dec. 11 | VAG First B.C. Graphic | Ballet Rehearsal (did not come in) |
| | | Ballet (did not come in) |
| | | Woods (did not come in) |
| | | Northland (did not come in) |
References
SEATTLE ART MUSEUM - NORTHWEST ARTISTS EXHIBITIONS 1914 - 1975
Refer to NWA BC artists by exhibition
Refer to NWAA BC artists alphabetically

Attendee at the 1935 Vancouver School of Art Summer Camp
(refer to SUMMER SKETCHING CAMP - SAVARY ISLAND)

THE SAVARY PUDDING folio by Frederick A. Amess, private collection.
Original drawings, paintings and text by Amess, C.H. Scott, Grace Melvin,
H. Mortimer Lamb, Plato von Ustinov, and other students and visitors.
June 1935 (various dates), June 1939 (various dates)
52 loose 12"x18" sheets of brown sketch paper

EVENING SCHOOL
Behind The Palette, Vancouver School of Art Annual 1939-40

WHO'S WHO IN NORTHWEST ART (refer to WWNA41)

VANCOUVER SCHOOLS DIAMOND JUBILEE SOUVENIR PROGRAMME
1946; 4 pages; published by Vancouver School Board
Cover images by Fred Amess

The Art In Living Group by Fred Amess
Canadian Art magazine, Vol. 5 No. 1, October-November 1947, p. 13, 52; 1 illustration

SOUVENIR CATALOGUE OF EXHIBITIONS OPENING THE NEW VANCOUVER ART GALLERY (refer to VAG51)

BRITISH COLUMBIA - A CENTENNIAL ANTHOLOGY (refer to BCCA58)

100 YEARS OF B.C. ART (refer to VAG58)

CREATIVE CANADA - Volumes One & Two (refer to CC71)
2/3 column of information on Amess.

ARTISTS IN CANADA 1982 - UNION LIST OF ARTISTS' FILES (refer to AIC82)

PRINTMAKING IN BRITISH COLUMBIA 1889-1983 (refer to AGGV83)

VANCOUVER: ART & ARTISTS 1931 - 1983 (refer to VAG83)

A DICTIONARY OF CANADIAN ARTISTS (refer to M)
Half-page bio on the artist & numerous references.

BIOGRAPHICAL INDEX OF ARTISTS IN CANADA (refer to BIAC03)
3 references cited for Amess.

VISIONS OF THE WEST COAST - ROBERT ALLER & HIS COMMUNITY (refer to UVIC05)

OUR CHANGING LANDSCAPE (2008) (refer to BAG08)

VANCOUVER PUBLIC LIBRARY - B.C. ARTISTS FILES (refer to VPL)

CITY & PROVINCIAL DIRECTORIES 1933-34 (refer to DIR)

THE FECKLESS COLLECTION (refer to FECK18)

GREATER VANCOUVER ART GALLERIES 1954-2020 (refer to GVAG20)
1 reference to Amess.

B.C. VITAL STATISTICS ON-LINE marriage, death (refer to BCVS)
Clippings
"In addition some of the graduates of the school, notably Vera Weatherbie, Fred Amess, and Irene Hoffar show great promise, and their work has already been well perceived at exhibitions in Eastern Canada." (continues)
From "BRITISH COLUMBIA ART - Significance of First "All British Columbia Show" by Harold Mortimer Lamb
Saturday Night December 10 1932

"The other large canvas is by Fred Amess and represents a log hut in the woods."
From "Pasovas Club Has Splendid Annual Show" Vancouver Province, November 6 1934

"Among the larger paintings on display is Frank (sic) Amess' "Woodland Temple," mural-like in style, and with unusually fine light-and-shadow effects."
From "Pasovas Art Show" Vancouver Sun, November 6 1934

"I do not find Robertsons medium suitable for oil painting - "
From "Overflow from first column" by Amess
Savary Pudding, Volume 2, Number 8, 1935

"With all this beauty round us we all feel that the men could do a little painting up. May we suggest:
1. Plucked and arched eye-brows for the Scott
2. Sanguine finger and toenails for Mr. A-mess
3. Hot oil and Henna rinse for Shaggy-Shad
4. A pin-curl special for Mr. Mortuary
5. Rubinstein's Plastic Pack for More M'duke Lamb
6. AND ONE THING WE ARE SURE OF – (to reduce the Fire Hazard)
the Baron's eyelashes singed, dimples blacklisted, perhaps Solitary Confinement."
From "BEAUTY SUGGESTIONS"
Savary Pudding, June 6 1939

"Mobs reach veranda of famous Royal Savary. Parade of picketeers among deck chairs of wealthy holideers. Refuse order of please for immediate dispersal – much to discomfort of millionaire loungers.
NOVEL METHODS USED BY PIXILATED PICKATEERS
Famous Moscow "March of the Women" recalled as women wearing yellow signs and leading a red lamb at head of parade march through resort. Government fears influence of strange man god. Women said to prostrate themselves before two-ton idol. Fanatical scenes of cult worship as "Save Amess" campaign roars. Said to recall images of ancient Buddha in China. Wields weird power."
From "SAVE AMESS CAMPAIGN BECOMES PUBLIC MENACE"
Savary Pudding, 1939

"To the wild cheering of a hoarse-throated audience Baron Von Ustoff refused to be thrown by King Kong Freddie. Mr. Ustoff poured blood in a charming matched two piece suit of shipdeck grey."
From "BEHEMOTHS BATTLE TO DRAW ON SHIPDECK"
Savary Pudding, 1939

"Miss Melvin, running for Glasgow veterans beats Beefy Marpole Freddy to tape in shipdeck 10-length handicap."
From " "GRACE" before "MEAT" "
Savary Pudding, 1939

"Artists represented in the group comprise the following ... Fred Amess ... "
From "Maritime Art Association" Vancouver Art Gallery Bulletin, November (?) 1939

"The special silver medal awarded for the first time by W.H. Malkin, president of the Art Gallery, has been awarded to Fred A. Amess, supervisor of night classes at the Vancouver School of Art for his painting "Artists in the Wind." English by birth, Mr. Amess graduated from the South Vancouver High School and was one of the originial students at the Vancouver School of Art. He later studied in London and Paris."
From "Major Art Award to CASF Officer At B.C. Artists' Annual Exhibit"
Vancouver Sun, October 7 1940

"Fred Amess in "Mission" scores high, too, in a new vein."
From "B.C. Society of Fine Arts Display Sets New High Mark" by Palette Vancouver Province, May 16 1942

""The Artist and His Model" by Fred A. Amess has humor and liveliness but lacks the unity and plastic sense we expect from this talented painter."
From "Colorful Display Presented In Exhibition By B.C. Artists" by Palette
Vancouver Province, September 19 1942

"Fred Amess shows an interesting composition in "Artist and His Model". The pyramidical arrangement is powerful against the distant sky. The pleasure this painting gives lies in its pattern of creamy blues, greens, and yellows, sharpened by a concentrated placing of bright red."
From "Speaking of Art" by Browni Wingate
News Herald, September 28 1942

"Hung side by side, and yet in harmony, the visitor can enjoy on the same wall such varied products as "The Dancers" by Fred A. Amess ... "
From "Summer Show at Gallery Major Event for Art Lovers" by Palette Vancouver Province, July 7 1943

"This section, which is above the average in quality, also includes ... Fred Amess' study of horses in "Caribou (sic) Pattern," ..."
From "Graphic Arts and Sculpture Place in Gallery Exhibition" by Palette
Vancouver Province, September 24 1945

"It was '43 I think, when I was last in Trail, to see the first exhibit of Vancouver artists, sponsored by James L. (sic) Amess, of B.C. Fine Arts association, Vancouver, Mrs. Mildred V. Thornton, Bess Symons, Fred Amess and the writer. ... "
From "LIKES WESTON", by "Allan P. Allsebrook"
Trail Daily Times, March 1948

"The Water Colours of Fred Amess" by Charles H. Scott
Canadian Art magazine, 1951, Vol. 8 No. 3 p. 128-29

HOME