Federation of Canadian Artists
1941 - current

The Federation of Canadian Artists was founded in 1941 following the Kingston Conference, organized by Andre Bieler, an artist, and Harry McCurry, Director of the National Gallery. The group attempted to address the role of the artist in society on a nation-wide basis, while trying to reduce the isolation of many Canadian artists. With World War II in progress and the Depression over, it was an opportune time for an artists cooperative to form.

In 1946 - 47 the FCA - B.C. Region, organized a travelling exhibition, in cooperation with the University of British Columbia Department of Extension, that went to galleries in Vancouver, New Westminster, Port Alberni, Duncan, Kamloops, Vernon, Kelowna, Grand Forks, Rossland, Nelson, and Creston. The five artists represented in the exhibition were Stanley Brunst, Lawren Harris, Charles H. Scott, Jack Shadbolt, and Cliff Robinson.

The Art in Living Group was an "offspring" of the Federation of Canadian Artists, that was founded after WWII.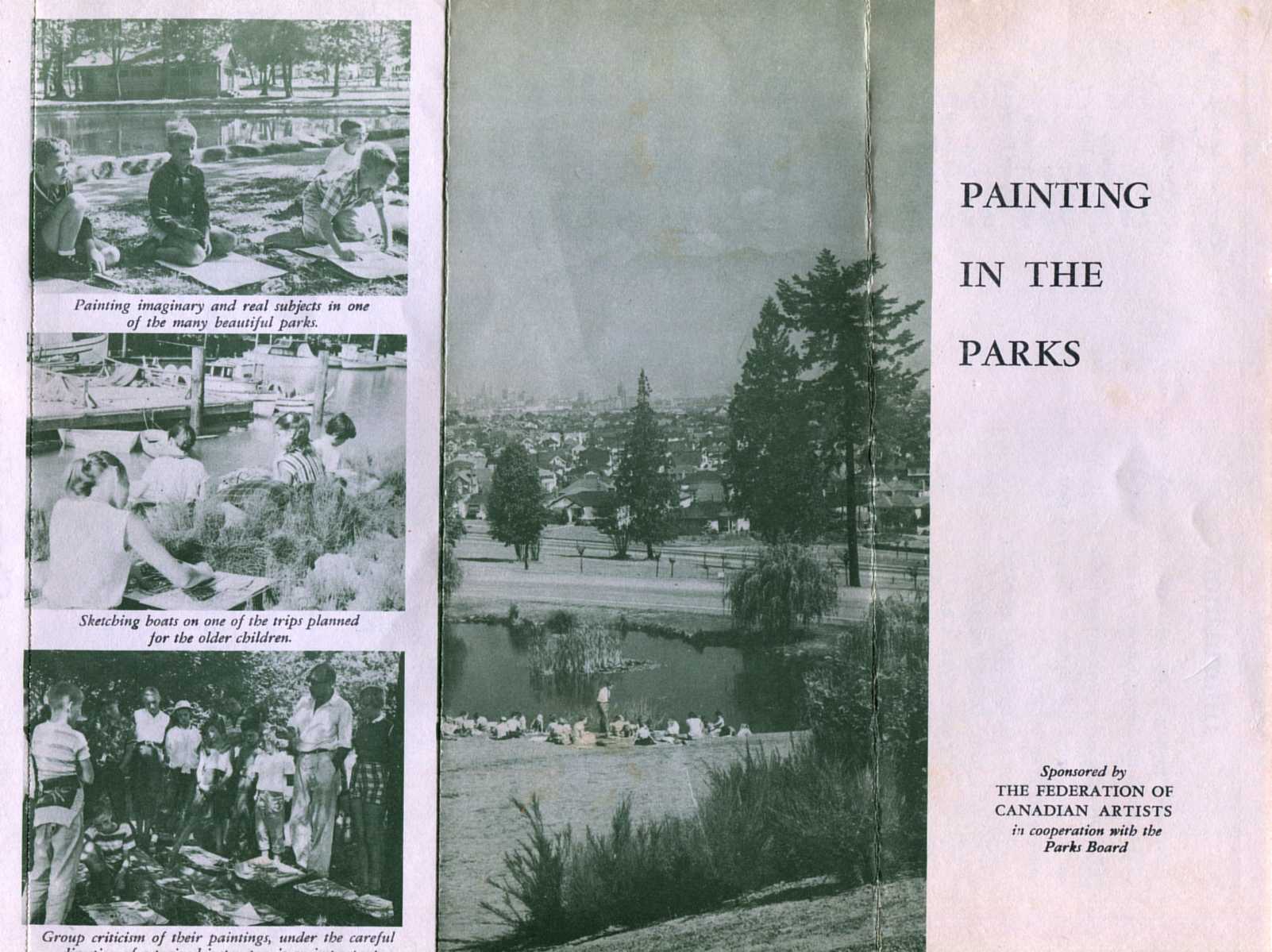 1957 Painting in the Parks programme

The B.C. Region of the FCA was also founded in 1941, and still maintains an active presence in Vancouver at their gallery on Granville Island at 1241 Cartwright Street, where they hold frequent solo, group, and invitational exhibits, supplemented by a publication titled Art Avenue.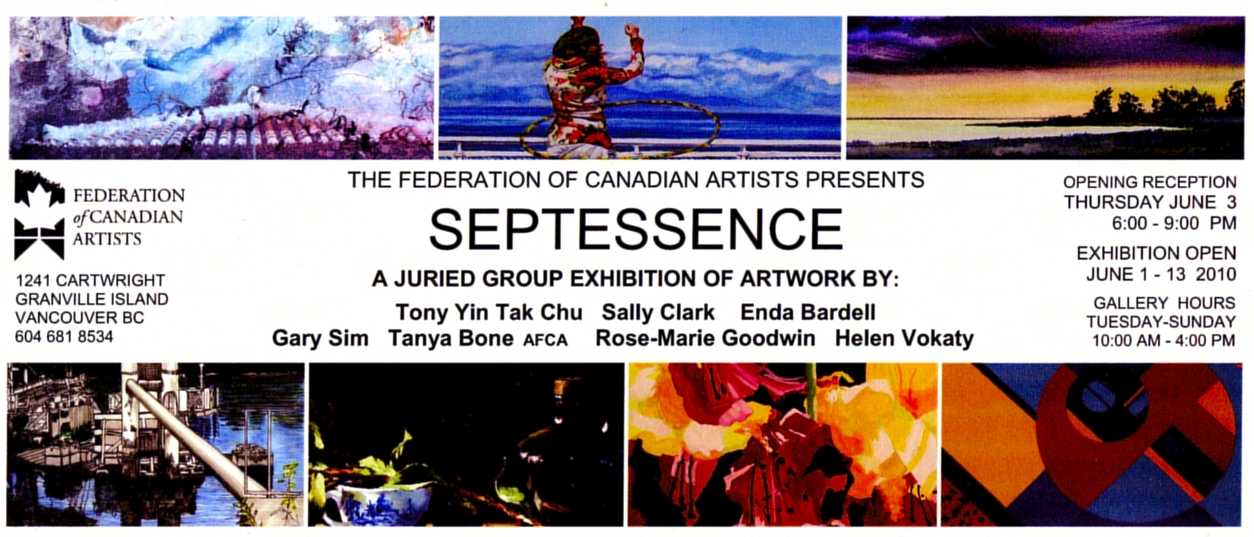 A 2010 club card for a group exhibition

In 2010 there were a number of chapters active in the B.C. Region, including Comox, Victoria, Nanaimo, Arrowsmith, Central Okanagan, and North Okanagan.
Exhibitions
Clippings
"Noted Artists Offer Paintings For Red Cross" Vancouver Daily Province (presumed), November 1942

"An important event also is the forming of a Vancouver Island region of the Federation of Canadian Artists under chairmanship of the Hon. Mark H. Kearley of Metchosin. Last June the organization on the Island numbered a dozen members, but by the new year had jumped to 150."
From "Collection of Eastern Artist Features Art Gallery Display" by Palette Vancouver Daily Province, January 24 1945

"The B.C. Region of the Federation of Canadion Artists has been engaged for the past five years in Province-wide activities. Included in these activities are the sending of small travelling exhibitions of Art to the Interior towns of the Province in co-operation with the University's Department of Extension; the planning and financing of a campaign to further the Community Centre Art Brief, and co-operation with the Parks Board of the City for an Art Festival Week in Stanley Park during the summer. Excellent work has also been done by a group of Federation members known as the Art in Living Group."
From "A Short History of Art in British Columbia" by Charles H. Scott
Behind The Palette 1946-47 issue

"Artists and Laymen" by Robert Ayre
Canadian Art magazine, 1947, Vol. 4 No. 4

"Certainly, we had none of the fantastic, grisly abortions sent round to Trail, Rossland and other interior points from time to time by the so-called "Federation of Canadian Artists!" (and we would have shown none). "
From "LIKES WESTON", by "Allan P. Allsebrook"
Trail Daily Times, March 1948

HOME