Art & Artists in Exhibition: Vancouver 1890 - 1950
Mildred Valley Thornton
(married John Henry Thornton)
May 7 1890 - July 27 1967
Saskatchewan Women's Art Association (Charter Member)
Fellow, Royal Society of Arts (1954)
Mrs. Mildred Valley Thornton was born Mildred Valley Stinson in Dresden, Ontario in 1890. She studied art at the Oliver College, Michigan; under J.W. Beatty and G.A. Reid at the Ontario College of Art, and at the Chicago Art Institute. She was a Charter Member of the Saskatchewan Women's Art Association. She began painting professionally in the 1920s after moving to Regina with her family. She moved to Vancouver in 1934 where she was very active in the local arts scene.

She exhibited paintings in exhibitions held by the Royal Canadian Academy of Arts in 1932, 1934, and 1941. She also showed work at the Canadian National Exhibition in Toronto in 1931 and 1932; the Ontario Society of Artists; and with the Art Association of Montreal in 1933.

She had work in the B.C. Artists exhibitions at the Vancouver Art Gallery from 1934 to 1950.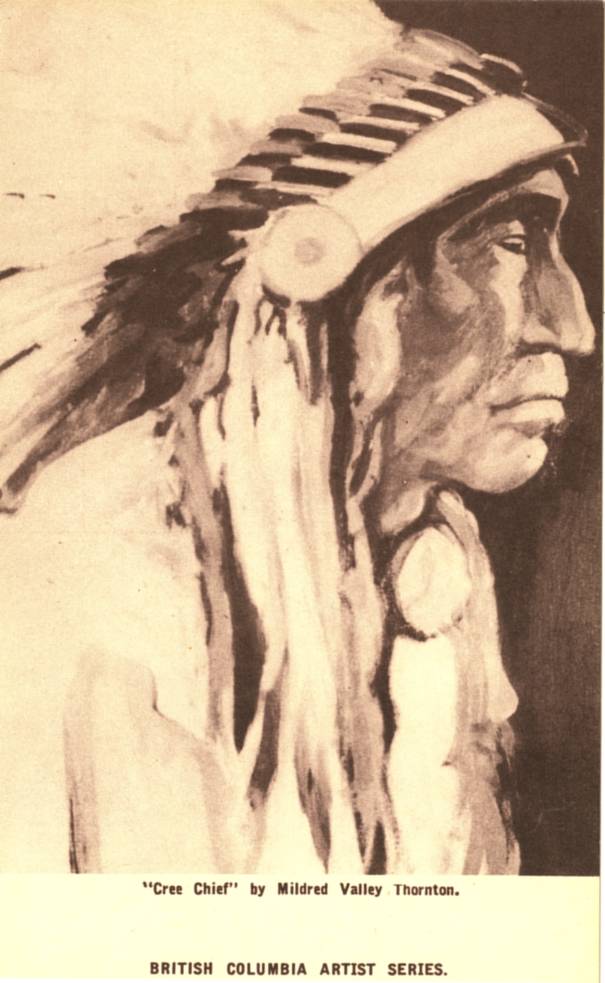 She had an extensive solo exhibition (88 paintings) at the Vancouver Art Gallery in 1936.

She on a list titled "Leading Vancouver Artists," provided to the Labour Arts Guild on April 10, 1946 by the Vancouver Art Gallery to assist in the Guild's call for entries to the second annual B.C. At Work exhibition.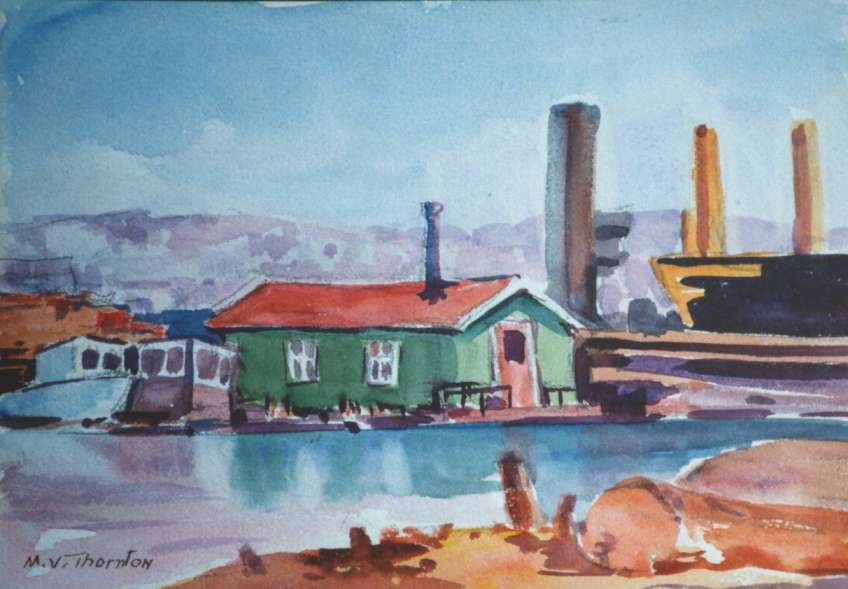 Thornton exhibited with the B.C. Society of Fine Arts in their annual exhibitions, including 1942, 1943, 1944, 1945, 1946, 1949, from 1950 to 1955, and from 1957 to 1959.

Thornton was the art critic for the Vancouver Sun daily newspaper from 1943 to 1959. She was on the Hanging Committee for the 1944 B.C. At Work exhibition at the Vanocouver Art Gallery.

She painted a series of large portraits of native chiefs over the years, and the Squamish Band has been collecting these to hang in the Band's boardroom in North Vancouver.

She died in Vancouver in 1967 at the age of seventy-seven.
Exhibitions
SOLO EXHIBITIONS
| | | |
| --- | --- | --- |
| DATE | EXHIBITION | LOCATION |
| | | |
| 1936 August 4 - 16 | Solo Exhibition | VAG |
| 1941 Nov 18 - 30 | Solo Exhibition (48 pictures) | VAG |
| 1949 May 24 - June 5 | Solo Exhibition (47 pictures) | VAG |
GROUP EXHIBITIONS

References - BIBLIOGRAPHY
Refer to BIBLIO.
References - GROUP EXHIBITIONS
100 YEARS OF B.C. ART (refer to VAG58)

CONTEMPORARIES OF EMILY CARR IN BRITISH COLUMBIA (refer to SFU74)

AN EXHIBITION OF OUR COLLECTION OF
EARLY WESTERN CANADIAN WATERCOLORS (refer to UL78)

BRITISH COLUMBIA WOMEN ARTISTS 1885-1985 (refer to AGGV85)

EARLY BRITISH COLUMBIAN WOMAN ARTISTS (refer to HG95)
References - GENERAL
WHO'S WHO IN NORTHWEST ART (refer to WWNA41)

VISUAL ARTS BRITISH COLUMBIA (refer to VABC77)

ROYAL CANADIAN ACADEMY OF ARTS -
EXHIBITIONS & MEMBERS 1880 - 1979 (refer to RCA81)
Lists 4 paintings exhibited by Thornton 1932-41

ARTISTS IN CANADA 1982 - UNION LIST OF ARTISTS' FILES (refer to AIC82)

MONTREAL MUSEUM OF FINE ARTS -
SPRING EXHIBITIONS 1880 - 1970 (refer to MM88)

BIOGRAPHICAL INDEX OF ARTISTS IN CANADA (refer to BIAC03)
8 references cited for Thornton.

THE GRANDE DAMES OF THE CARIBOO (refer to FOW13)

GREATER VANCOUVER ART GALLERIES 1954-2020 (refer to GVAG20)
1 reference to Thornton.

VANCOUVER PUBLIC LIBRARY - B.C. ARTISTS FILES (refer to VPL)
Clippings
"Mildred Valley Thornton's "B.C. Mining Town, Bralorne" is uncompromisingly vigorous, rich and vital in color and thoroughly of the west."
From "B.C. Society of Fine Arts Display Sets New High Mark," by Palette Vancouver Daily Province, May 16, 1942

"Among other prominent exhibitors are ... M.V. Thornton ... (continues)
From "Summer Show at Gallery Major Event for Art Lovers," by Palette Vancouver Daily Province, July 7, 1943

"It was '43 I think, when I was last in Trail, to see the first exhibit of Vancouver artists, sponsored by James L. (sic) Amess, of B.C. Fine Arts association, Vancouver, Mrs. Mildred V. Thornton, Bess Symons, Fred Amess and the writer.(continues)"
From "LIKES WESTON", by "Allan P. Allsebrook"
Trail Daily Times, March 1948

"Mildred Valley Thornton's Indian dance, with a telling native design in the upper part of the canvass (sic), is easily her best picture. She has entered with much liveliness into free interpretation of her subject matter."
From "Lively Spirit Pervades B.C. Artists' Exhibition" by Palette. Vancouver Daily Province, May 3 1949