David Spencer Ltd. Department Stores
1873 - 1948
Victoria, Vancouver, New Westminster, Nanaimo, Courtenay, Duncan, Chilliwack, Mission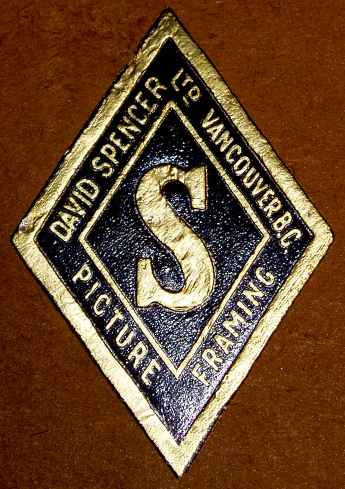 The Spencer "Diamond S" logo
"Diamond S" was the name of the Spencer ranch near Clinton.

David Spencer founded his early chain of British Columbia department stores in Victoria in 1873. He opened a store in Vancouver in 1906, and in December 1926 it was expanded into a major 9-storey building on Hastings St. at Richards.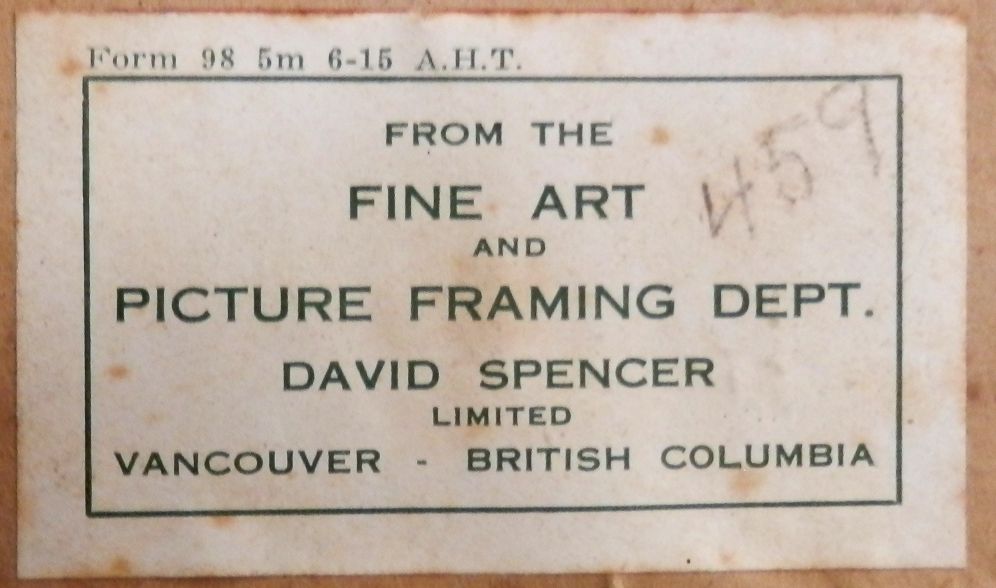 A 1916 Spencer framing label.

For a number of years they published a pamphlet titled Store Topics, mostly intended as information for the staff and employees of the company.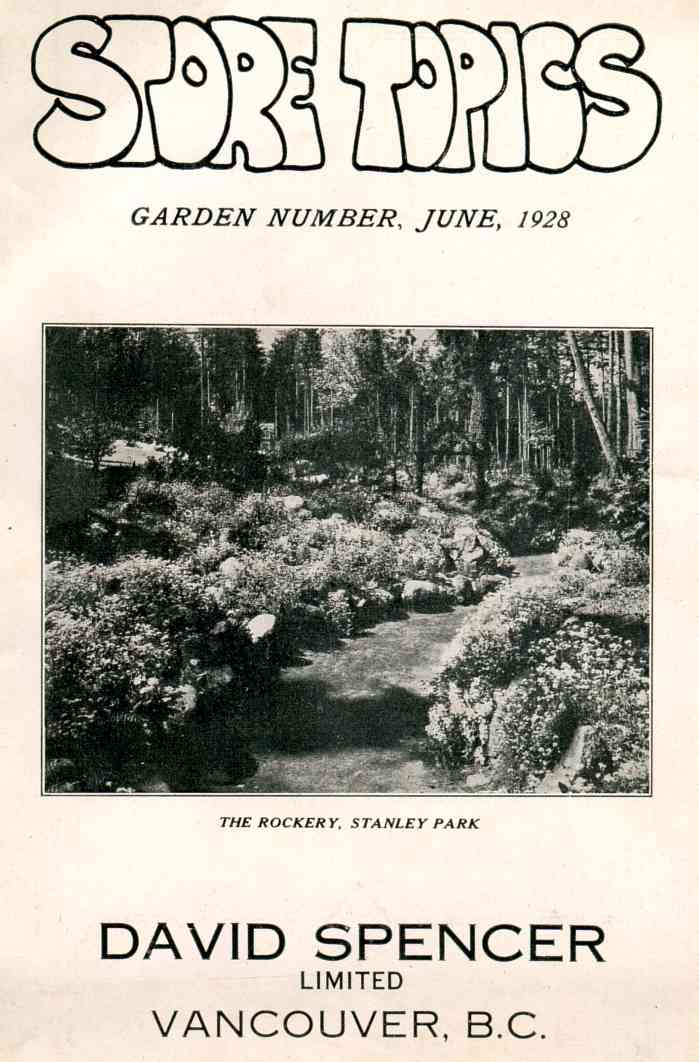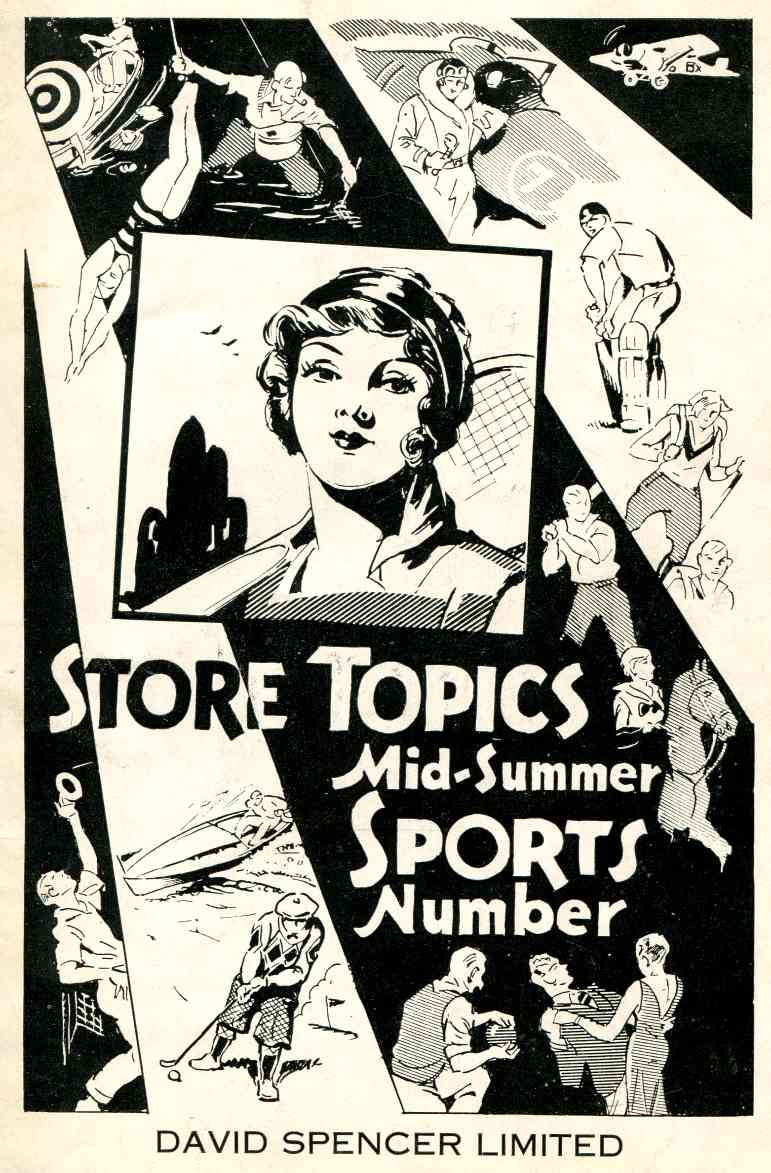 A sampling of Store Topics front cover images 1928-1930.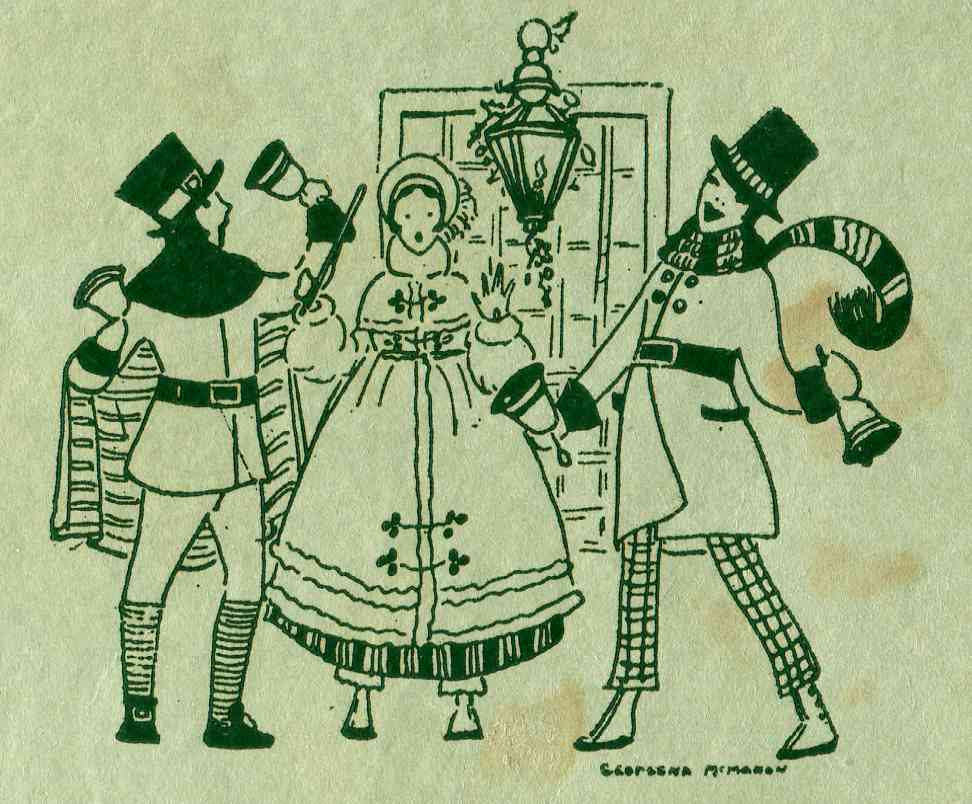 Store Topics cover image 1929 (detail).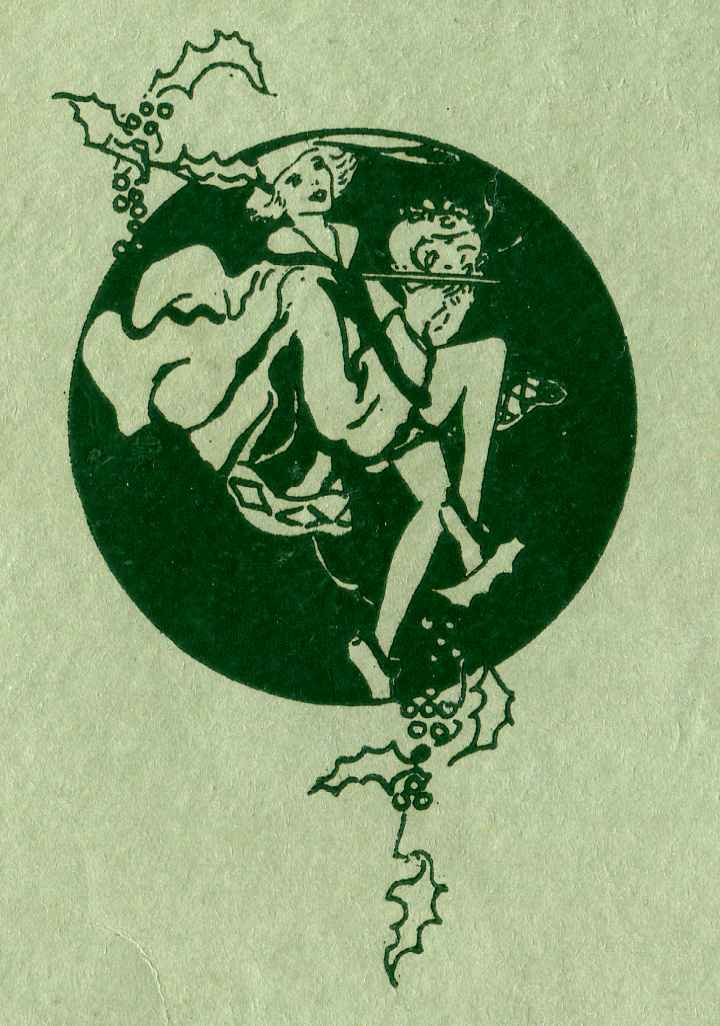 Store Topics back cover image 1929.

Interestingly, the Christmas number of December 1929 had an article noting that artist Edward J. Cherry had been an employee at Spencer's prior to Cherry's departure to Europe to fight in World War One. He donated one of his etchings for reproduction in the journal.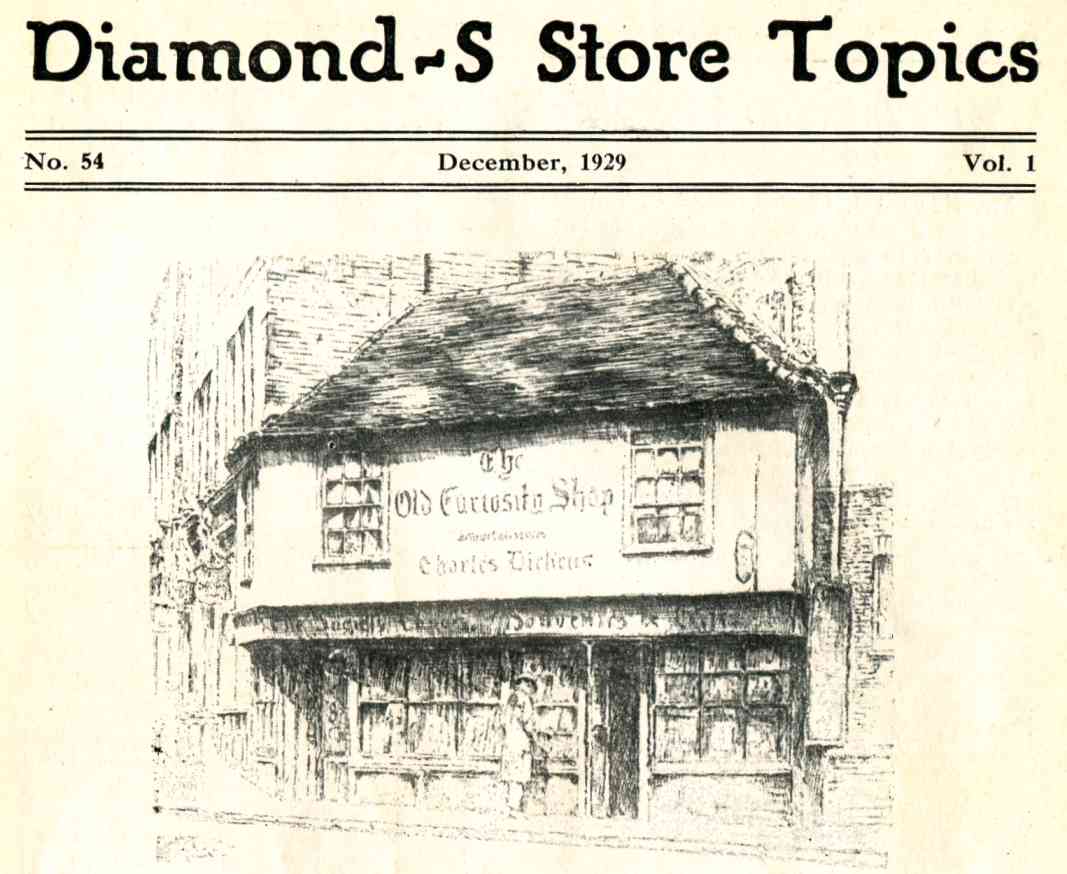 E.J. Cherry etching The Old Curiosity Shoppe.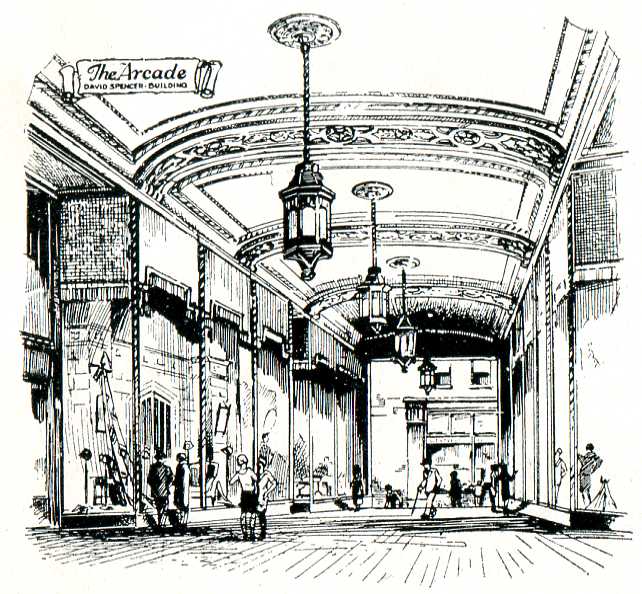 A small drawing of Spencer's Arcade in the Hastings St. store.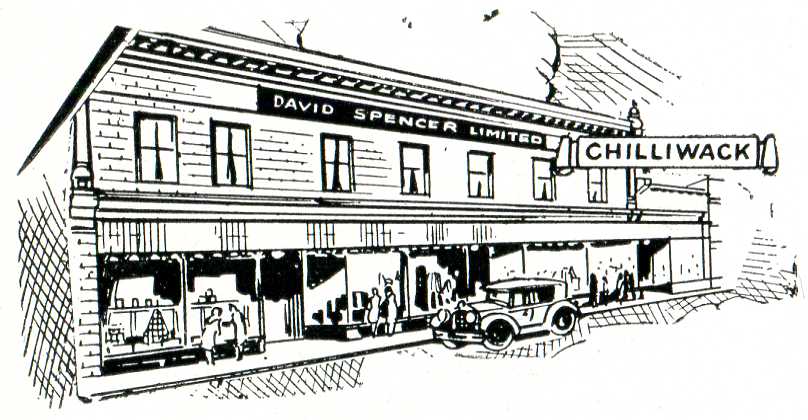 A small drawing of Spencer's Chilliwack store.


Silhouettes of the Toy Parade by Mrs. Oke.


A cartoon by Jack Wright.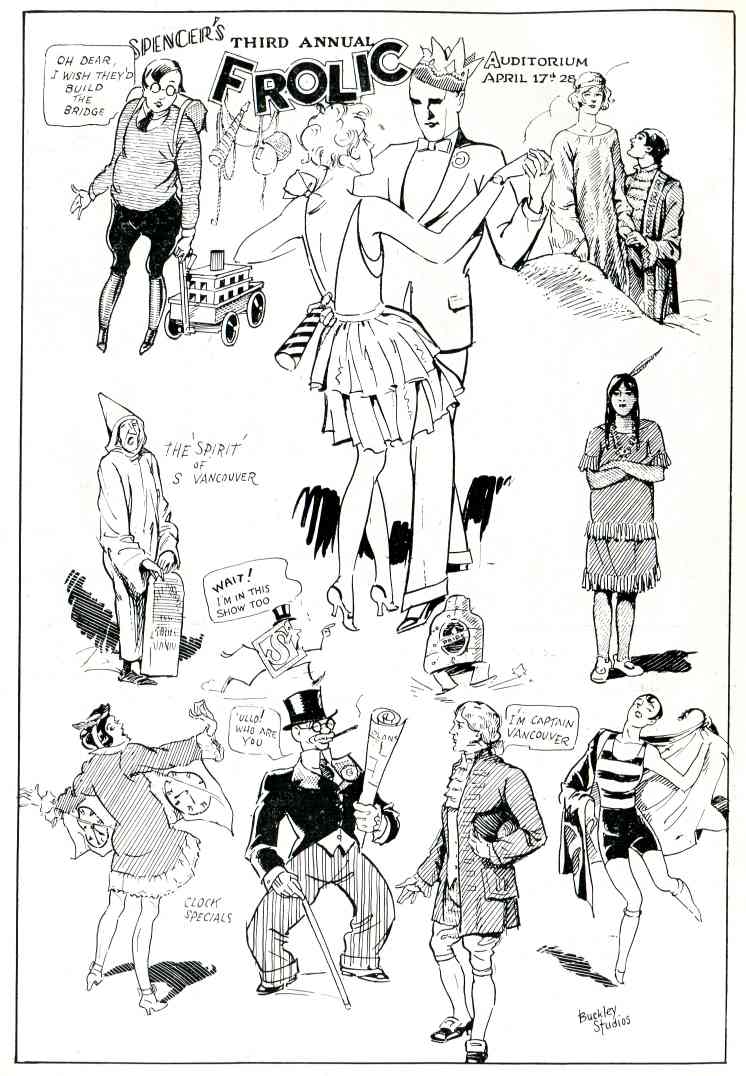 A cartoon by Buckley Studios of a summer event.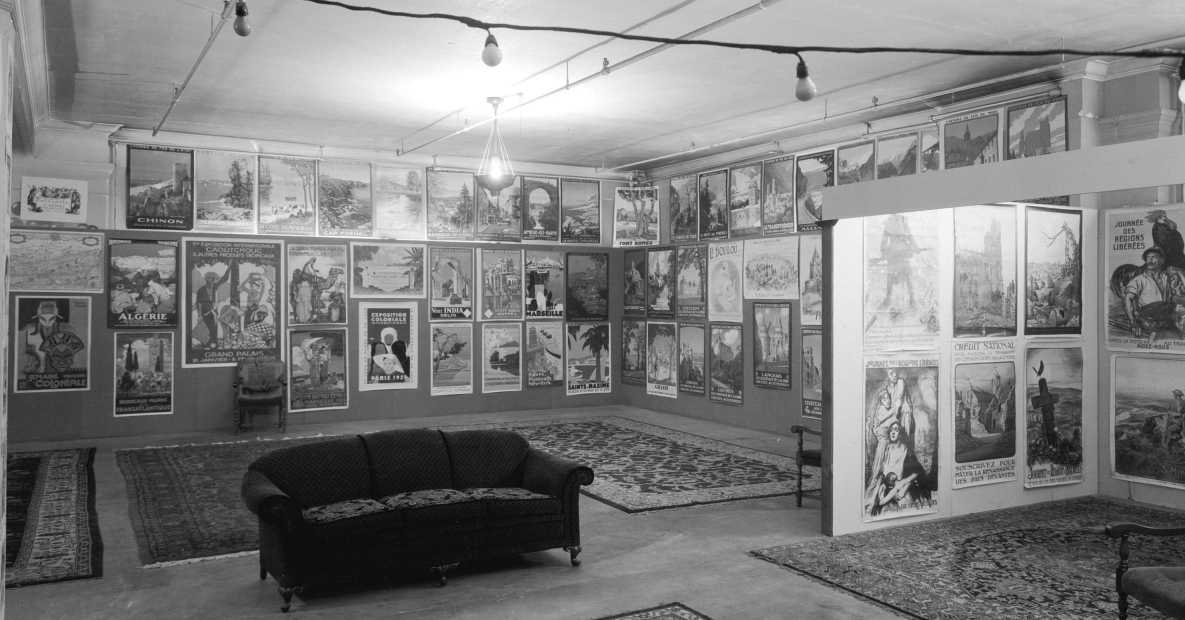 A 1931 poster exhibition.

Spencer was a supporter of the arts, and held at least two important but now little-remembered exhibitions of BC art in 1930 and 1936. The Golden Jubilee exhibition was (to the author's knowledge) the largest art exhibition held in Vancouver up until 1968.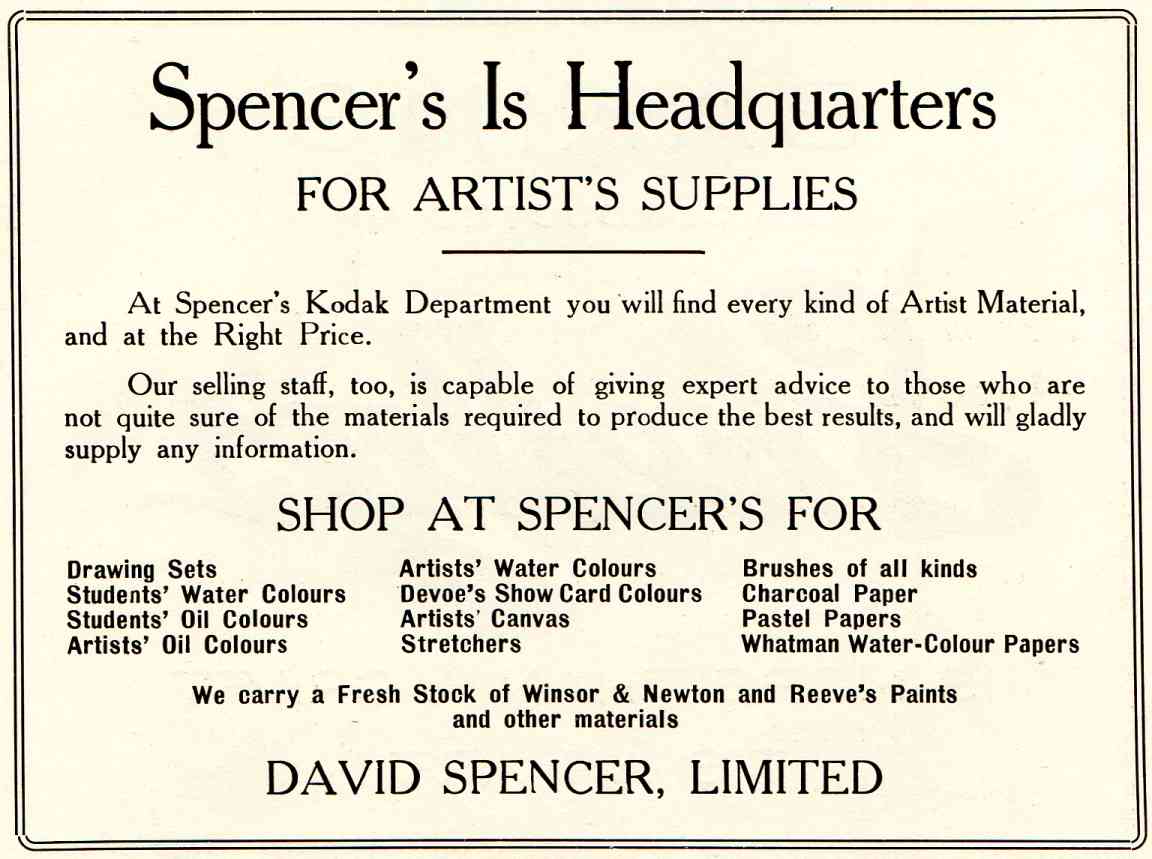 1926 advertisement in The Paint Box

The store also sold the work of local artists and artisans. Maud Sherman painted small watercolour / pen and ink greeting cards for the store in the 1930s, as well as carved and painted wood brooches depicting birds and animals.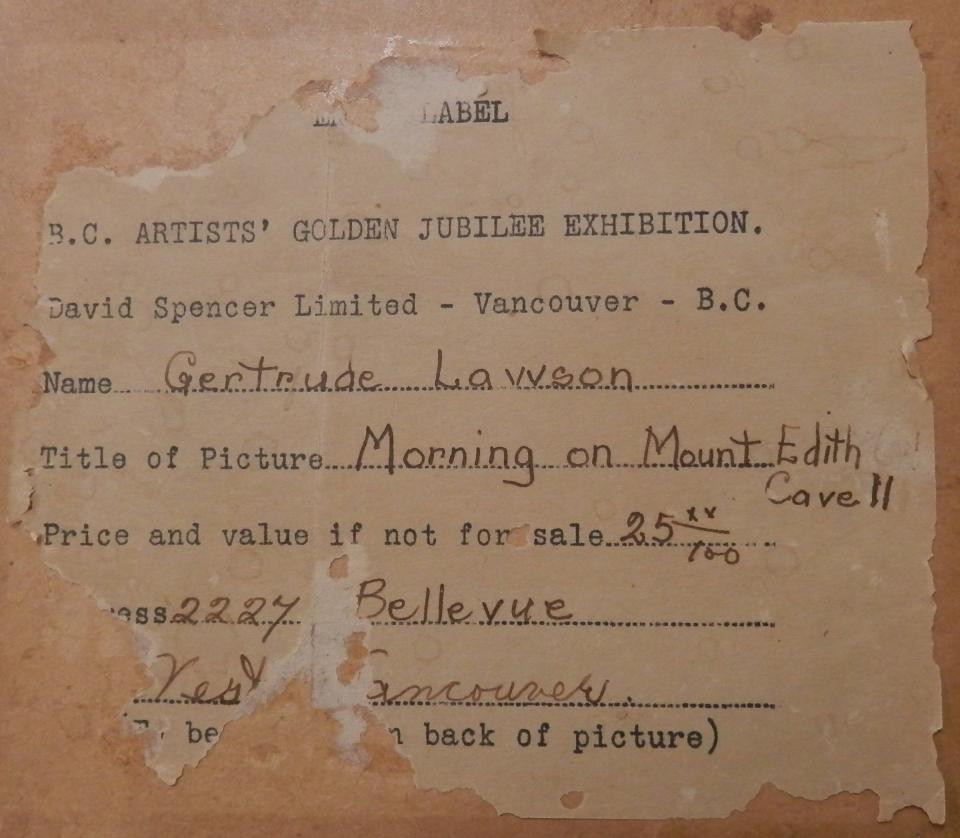 1936 Spencer's framing label, courtesy West Vancouver Museum and Archives

On December 1, 1948, the entire chain of nine stores was sold to the T. Eaton Company.
Exhibitions
| | | |
| --- | --- | --- |
| DATE | LOCATION | EXHIBITION |
| | | |
| 1930 March 17 - ? | David Spencer Vancouver | All-British Columbia Art Exhibition |
| 1936 August 18 - 28 | David Spencer Vancouver | B.C. Artists' Golden Jubilee Exhibition |
| 1944 April ? - ? | David Spencer Vancouver | Contemporary British Paintings |
References
David Spencer Ltd. Store Topics issues 45, 54, and 57.

Vancouver Centennial Bibliography

The Chuck Davis History of Metropolitan Vancouver

Refer also to art and framing stores of Vancouver.
Clippings
Some Interesting People You Know by Editor
David Spencer Limited Store Topics, Christmas Number December 1929
Issue includes etching The Old Curiosity Shop by E.J. Cherry illustrated.

Acknowledgments by Editor
David Spencer Limited Store Topics, Christmas Number December 1929

"An "All-British Columbia Art Exhibition" will open at David Spencer Ltd. on March 17."
From "Art Notes" by John Radford
Vancouver Sun, March 1 1930

"Some 400 pictures will hang on the walls of the specially constructed art gallery, third floor David Spencer Ltd., when Sir Neville Wilkinson opens the Golden Jubilee Art Exhibition by British Columbia artists, at 3:30 p.m., Tuesday afternoon."
From "400 B.C. Pictures in Jubilee Art Show"
Vancouver Sun, August 15 1936

"Princess Alice also paid an informal visit to an exhibition of contemporary British paintings in the David Spencer store art gallery Friday. These paintings have been brought to Canada by Alex. Fraser, London art dealer, to sell in aid of the British was effort. Princess Alice, who had known Mr. Fraser in London, showed great interest in the project. "I do hope you are successful" she said."
From "Princess Alice Buys Painting By City Man"
Vancouver Province, April 19 1941

"Recently the Puppeteers' Club of Gordon House Community Centre, under direction of Beatrice Lennie, Vancouver sculptor, put on seven performances a day of "Punch and Judy" in the window of David Spencer's Ltd. on Hastings street. Chief purpose of the entertainment was to advertise the Community Chest drive. The show was combined with a window display of arts and crafts by different groups at Gordon House Community Centre."
From "Graphic Arts and Sculpture Place in Gallery Exhibition" by Palette
Vancouver Province, September 24 1945




HOME