John I. (Jack) Innes
(incorrectly Innis)
March 17 1863 - January 13 1941
Ontario Society of Artists (elected 1904)
B.C. Society of Fine Arts (Member 1921 - 1922)
B.C. Art League (Convenor, organizing committee 1920)

John Innes was born in London, Ontario in 1863, the son of George Mignon and Elizabeth Ann (Clarke) Innes. He died in Vancouver in 1941, after a long and distinguished career as an artist, author, illustrator, cartoonist, publisher, and correspondant. His artwork was published extensively throughout North America for many years, and during his employment in New York City for the Hearst publishing company.

He was an early and important artist in British Columbia history, arriving here in the early 1880s after surveying for the Canadian Pacific Railway then under construction. He served in the Boer War with the Second Canadian Mounted Rifles, awarded a medal and three clasps.

He painted and worked as a commercial artist in Vancouver from 1913 until his death in 1941, in addition to his fine art painting career. He had a one-man exhibition at the Hotel Vancouver in 1915, showing sixteen canvasses in an exhibition titled "Chunks of the Western Epic". This exhibition also traveled to Montreal, Leipzig, and London. He also exhibited a show titled "The Epic of Transportation".

He exhibited with B.C. Society of Fine Arts in September 1921, the Ontario Society of Artists, the Royal Canadian Academy, and at the 1904 Louisiana Purchase Exhibition in St. Louis. He designed posters for the 1919 Victory Loan campaign in British Columbia.

Innes was a major contributor to the 1918 and 1919 issues of The Gold Stripe, published in Vancouver to honor the men who fought in "The Great War". In addition to his many pen & ink illustrations in the two volumes, there is a short biography of Innes titled "John Innes - Author, Artist, Soldier, Cowboy". The article includes a photograph of Innes.

In 1920 Innes was a founding member of the B.C. Art League. He was listed as a member of the B.C. Society of Fine Arts for only two years, 1921 and 1922. He showed work in the B.C. Artists annual exhibitions in 1932 and 1938. In 1926 Innes contributed two pen and ink drawings to the limited edition publication Chinook Days, by Tom McInnes.

Beginning in early 1926 Innes illustrated a series of captioned drawings titled "The Romance of British Columbia" that was published as a serial in Vancouver newspapers. The series was sponsored by Shelly's Bread, the three illustrations below show some of their advertisements in the Vancouver School Board publication "School Days" in February, March, and April 1926.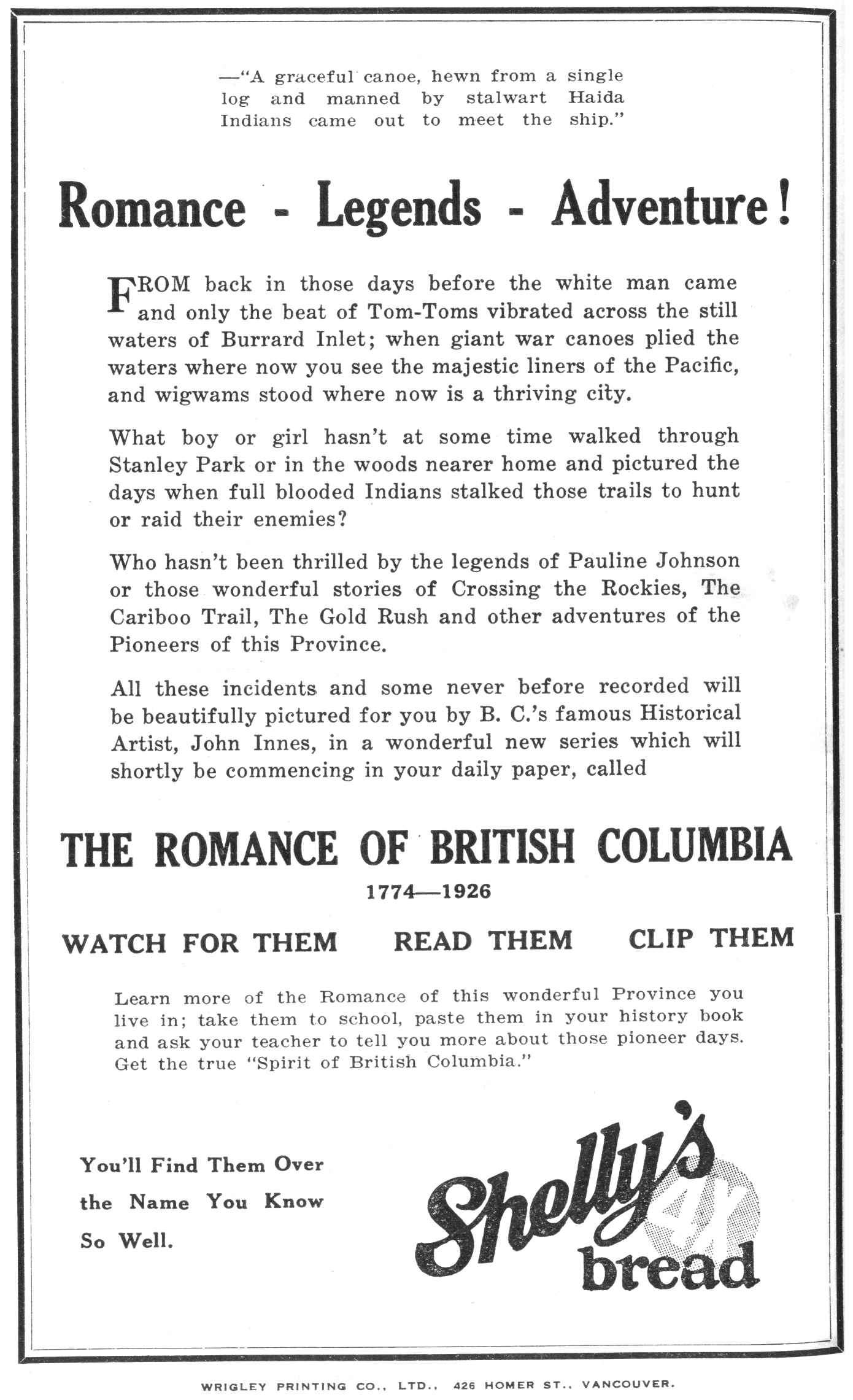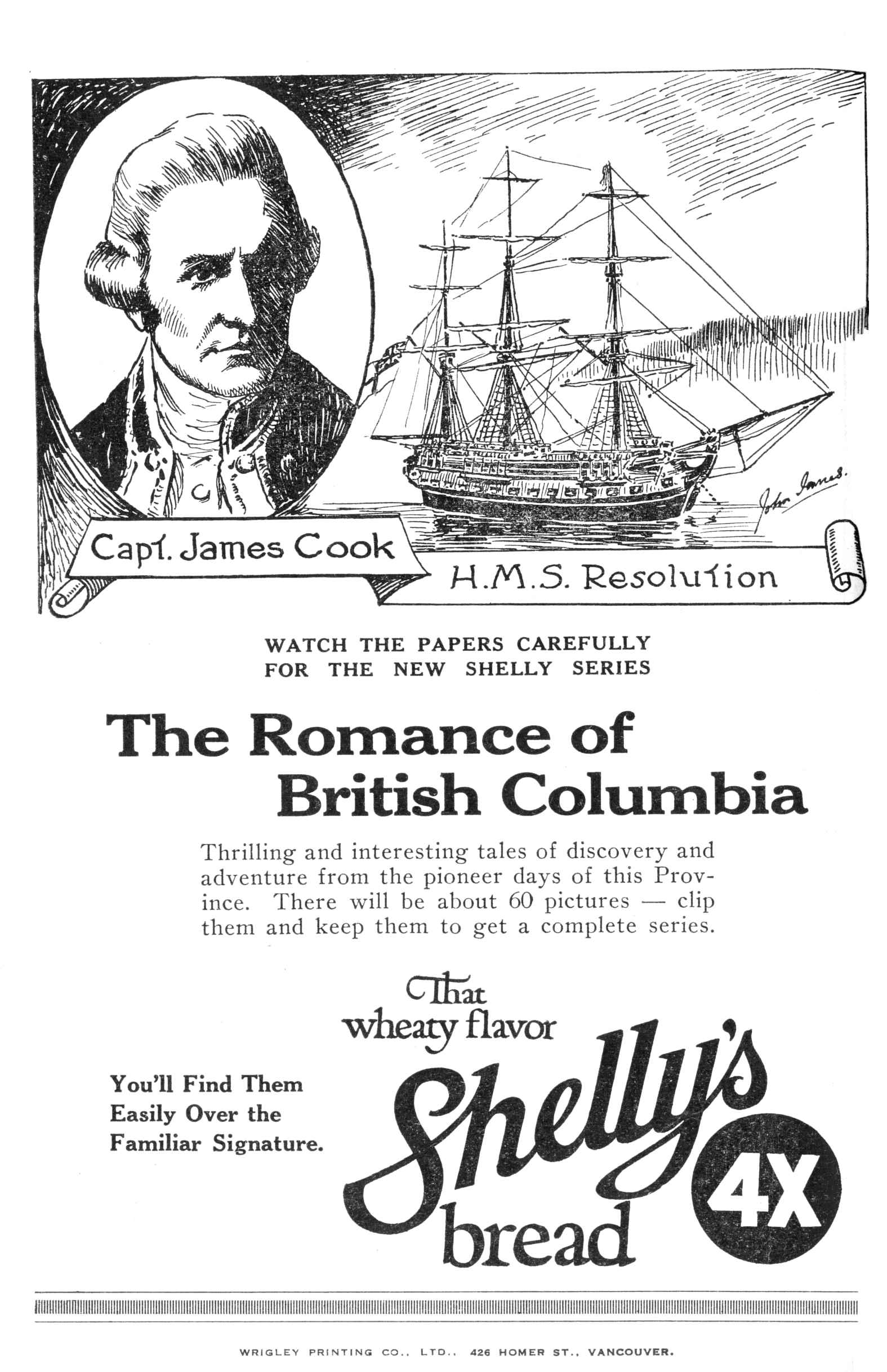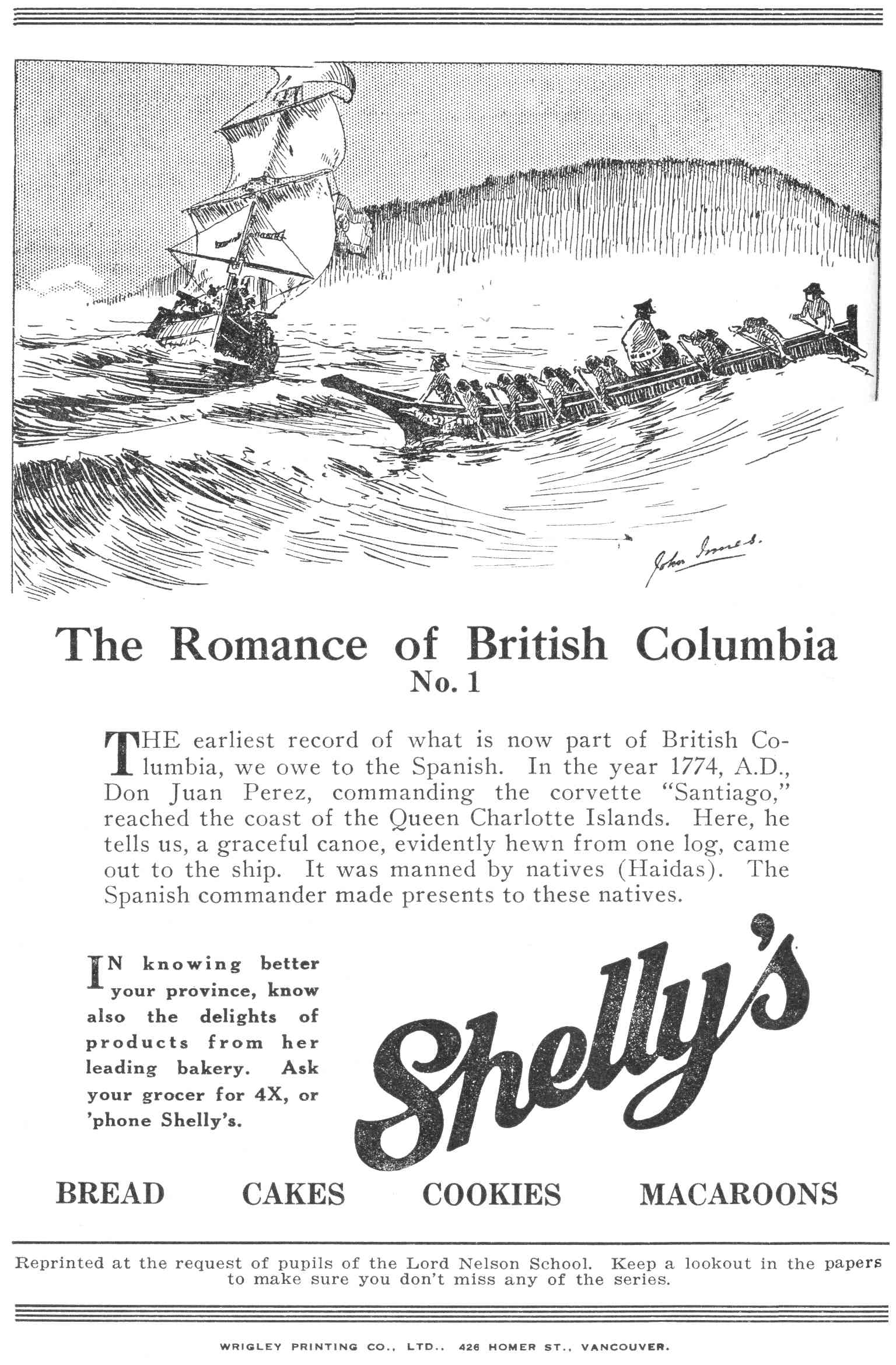 By 1928 Innes had found a sponsor who provided the funding that enable him to complete his art epic, partially displayed earlier in "Chunks of the Western Epic", that resulted in reproductions of the series being used as illustrations for The Epic of Western Canada published in 1928, and for From Trail to Trail - the Epic of Transportation, published in 1930. Innes had a solo exhibition of eight paintings at the Vancouver Art Gallery in 1933. Following the exhibition the paintings were hung at the University of British Columbia.

The Epic of Western Canada was exhibited in Vancouver, Montreal, Leipzig, and London, England.

In 1932 he was a signatory to an agreement to boycott the National Gallery of Canada in Ottawa for their exhibition and purchase policies related to Canadian artists.

He also showed work in the B.C. Artists Christmas exhibition at the Vancouver Art Gallery in 1933.

In 1936 Innes provided an extensive range of illustrations for the school reader The King's Wish, the third volume of the Far Horizons series published by J.M. Dent & Sons of Toronto. He provided one full page colour frontispiece entitled "White Cloud", seven full page and one half page pen and ink drawings, and over forty page header and page break pen and ink drawings. A number of chapter and page footer drawings in the book may be by Innes or by others. The wide range of subject matter illustrated by Innes show him to be an accomplished master of pen and ink drawing, Fairies Dancing Just Before Going to Sleep for the Winter is an excellent example of his work.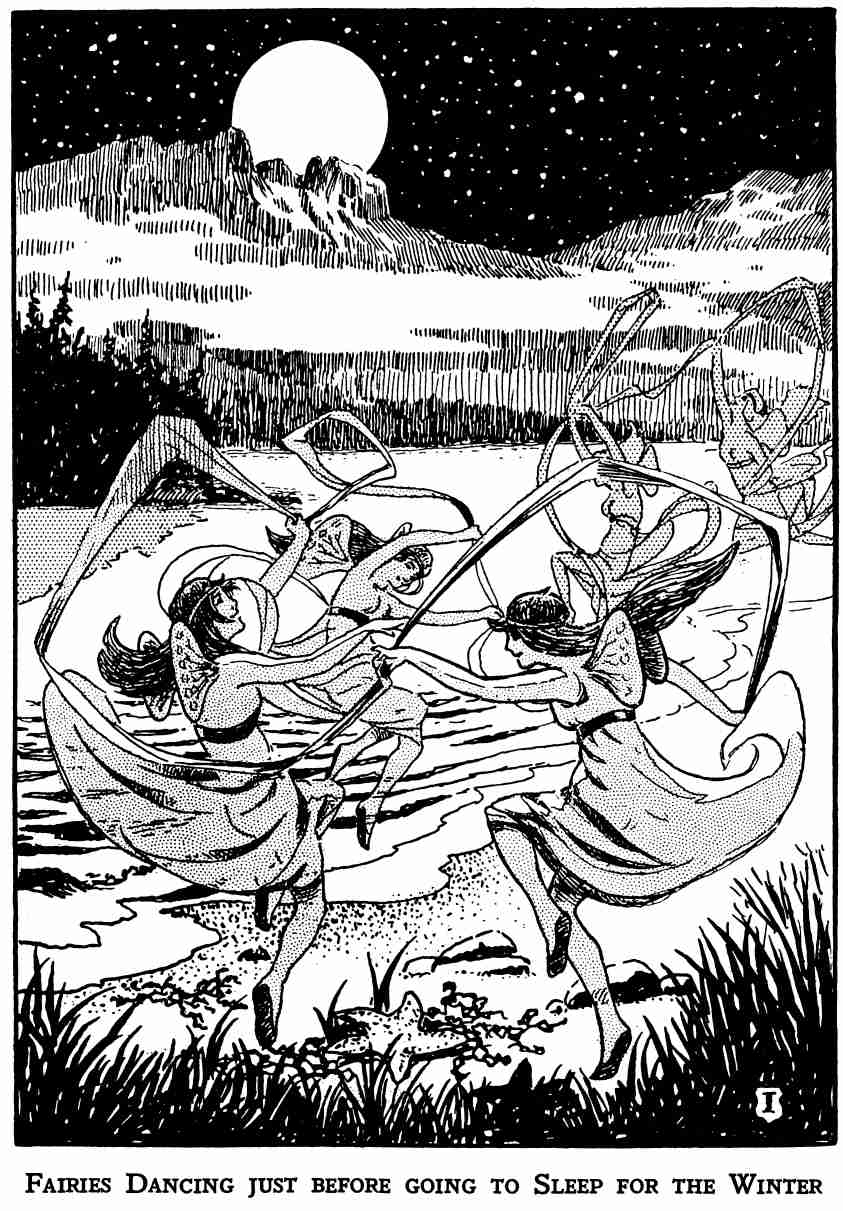 In The King's Wish Innes alternately signed his drawings in full as "John Innes", usually underlined, or with a monogram. The monogram is a black capital I, in a white field surrounded by an outline that is somewhat shield shaped, flat on top and pointed at the bottom. This stands out when signed on white areas of a drawing, alternately the inner white field and the capital I stand out when signed in a black or shaded area of a drawing.
Exhibitions
SOLO EXHIBITIONS
| | | |
| --- | --- | --- |
| DATE | EXHIBITION | LOCATION |
| 1915 | Chunks of the Western Epic | Hotel Vancouver |
| 1930 ? - Mar. 1 - ? | From Trail to Rail | Hudson Bay Company |
| 1933 November 14 - 26 | Eight Paintings | Vancouver Art Gallery |
GROUP EXHIBITIONS

| | | |
| --- | --- | --- |
| DATE | EXHIBITION | ARTWORK |
| | | |
| 1932 Oct. 5 - 30 | VAG B.C. Artists 1st Annual | Children of Immensity |
| 1933 Dec. 1 - 17 | VAG B.C. Artists Christmas Exhibition | Fading Day |
| | | English Bay Winter |
| | | His Family Tree |
| 1936 Aug. 18 - 28 | David Spencer B.C. Artists' Golden Jubilee | (artwork) |
| 1938 Sept. 16 - Oct. 9 | VAG B.C. Artists 7th Annual | June 24th, 1789 |
| | | Gates of Morning |
| | | In the Path of the Thunder Bird |
| 1946 July 2 - 28 | VAG Jubilee Exhibition | June 24th 1792, Martinez Claiming the Pacific Northwest for Spain |
| | | Old Red Cart |
| | | The Covered Wagon |
References - MONOGRAPHS
Refer to BIBLIO.
References - GROUP EXHIBITIONS
100 YEARS OF B.C. ART (refer to VAG58)

4th BURNABY NATIONAL PRINT SHOW (refer to BAG67)
References - GENERAL
THE GOLD STRIPE - VOLUME ONE
1918, Christmas. Published by the Amputation Club of B.C., Vancouver
216 pages (including text, advertisements and photographs)
Heavily illustrated by many early Vancouver artists.

THE GOLD STRIPE - VOLUME TWO
1919, May. Published by the Amputation Club of B.C., Vancouver
220 pages (including text, advertisements and photographs)
Heavily illustrated by many early Vancouver artists.

CHINOOK DAYS, by Tom McInnes (author of Roundabout Rhymes)
1926; illustrated by Josiah Smith (9 drawings) and John Innes (2 drawings).
1,000 copies printed for the opening of Grouse Mountain Highway and Scenic Resort.

WHO'S WHO IN NORTHWEST ART (refer to WWNA41)

THE FINE ARTS IN VANCOUVER, 1886 - 1930 (refer to THOM)

EARLY PAINTERS AND ENGRAVERS IN CANADA (refer to H70)

CREATIVE CANADA - Volumes One & Two (refer to CC71)
Includes on full column of information on Innes.

THE MOUNTAINS AND THE SKY by Lorne E. Render
1974, Glenbow-Alberta Institute; published by McClelland and Stewart West
ISBN 0-7712-1001-2; 224 pages, illustrated throughout in colour and b&w
Includes biographical information on Innes and one of his paintings illustrated

ROYAL CANADIAN ACADEMY OF ARTS -
EXHIBITIONS & MEMBERS 1880 - 1979 (refer to RCA81)

ARTISTS IN CANADA 1982 - UNION LIST OF ARTISTS' FILES (refer to AIC82)

A DICTIONARY OF CANADIAN ARTISTS (refer to M)

A NEW CLASS OF ART - The Artist's Print in Canadian Art, 1877 - 1920
1996, Rosemary L. Tovell, ISBN 0-88884-655-X; published by National Gallery of Canada
Technically an exhibition catalogue of travelling show, but has extensive information.
Illustrated; includes endnotes; list of works; selected references; index
An excellent overview of an important period of Canadian printmaking
Includes information on Innes with one etching illustrated

BIOGRAPHICAL INDEX OF ARTISTS IN CANADA (refer to BIAC03)
9 references listed for Innes, including CC1, Harper, M, and RCA listed above.

VANCOUVER PUBLIC LIBRARY - B.C. ARTISTS FILES (refer to VPL)

CITY & PROVINCIAL DIRECTORIES 1894-95/1919-20/1923/1925-31 (refer to DIR)

GREATER VANCOUVER ART GALLERIES 1954-2020 (refer to GVAG20)
1 reference to Innes
Clippings
"John Innis (sic) and J.P. McConnell, two well-known journalists from Toronto, are in the West. ...
From "(untitled)"
News-Advertisor, July 1 1905

"The committees which will be recommended to the League were named as follows:
Organization Committee: John Innes (convenor) ..."
From "B.C. Art League Committees Are Active"
Western Woman's Weekly, October 9 1920

"Those who knew the Canadian West in the olden days will doubtless find memories vividly recalled by the exhibition of paintings now being held at the Van Dyck gallery at Jas. A. Ogilvy's , Limited. These pictures, from the brush of John Innes, are loaned by the Hudson's Bay Company. ... (continues)"
From "Western Memories" by S. Morgan Powell
Montreal Star, January 23 1930

"From Trail to Rail" by John Innes is still on exhibition at the Hudson Bay Company."
Art Notes by John Radford, Vancouver Sun March 1 1930

"In the person of John Innis (sic), British Columbia has a unique and interesting artist. Innis was born in Quebec, and in his younger days spent many years in the West as a cowpuncher and bronco buster, taking part in the stirring life of pioneer days on the prairies. Later, when a newspaper artist in Toronto, he found time to produce a portfolio of prints depicting the life of the bronco. Settled now for the past twenty years in Vancouver, he has devoted his time to painting colourful records of pioneering days on the coast. A series of his mural paintings, dealing with discovery and settlement of the Province of British Columbia, has been placed in the library of the University of British Columbia."
From Canadian Landscape Painters, Albert H. Robson; page 190
The Ryerson Press, Toronto, 1932

" ... the 118 artists who have signed the agreement to date ... include ... John Innes ... "
From "Canadian Artists Unite to Boycott National Gallery," by The Canadian Press Montreal Gazette, December 8, 1932

"A series of eight paintings depicting scenes in the early history of British Columbia" commissioned by the Hudson's Bay Company "through the efforts of the Native Sons of B.C. Post No. 2."
From "Innes Pictures" by (unknown), News Herald, November 17 1933

"Many other well-known artists are represented, including ... John Innes ... " (more)
From "Bargains in Art" Vancouver Sun, December 1, 1933

Obituary, Vancouver Province, January 13 1941

Artist - Native of London, Dies.
by John Bruce Cowan, The London Free Press, January 14 1941

John Innes - Rugged Individualist In Art of The New World
by John Bruce Cowan, Vancouver Province, April 6 1945

John Innes - Painter of the West
by John Bruce Cowan, The London Free Press, April 1 1967




HOME