Lillian Irene Hoffar
(m Neville Reid)
September 2 1908 - July 22 1994

Irene Hoffar was a member of P.A.S.O.V.A.S., the Pioneer Art Students of Vancouver Art School, an artist's group formed in 1930 from the students who entered the Vancouver School of Decorative and Applied Arts in its first year and a half of classes in 1925 and 1926.

Hoffar started classes at the VSDAA in 1925, and was in the first graduating class in 1929, later exhibiting in the PASOVAS group exhibition at the B.C. Art League gallery in 1930.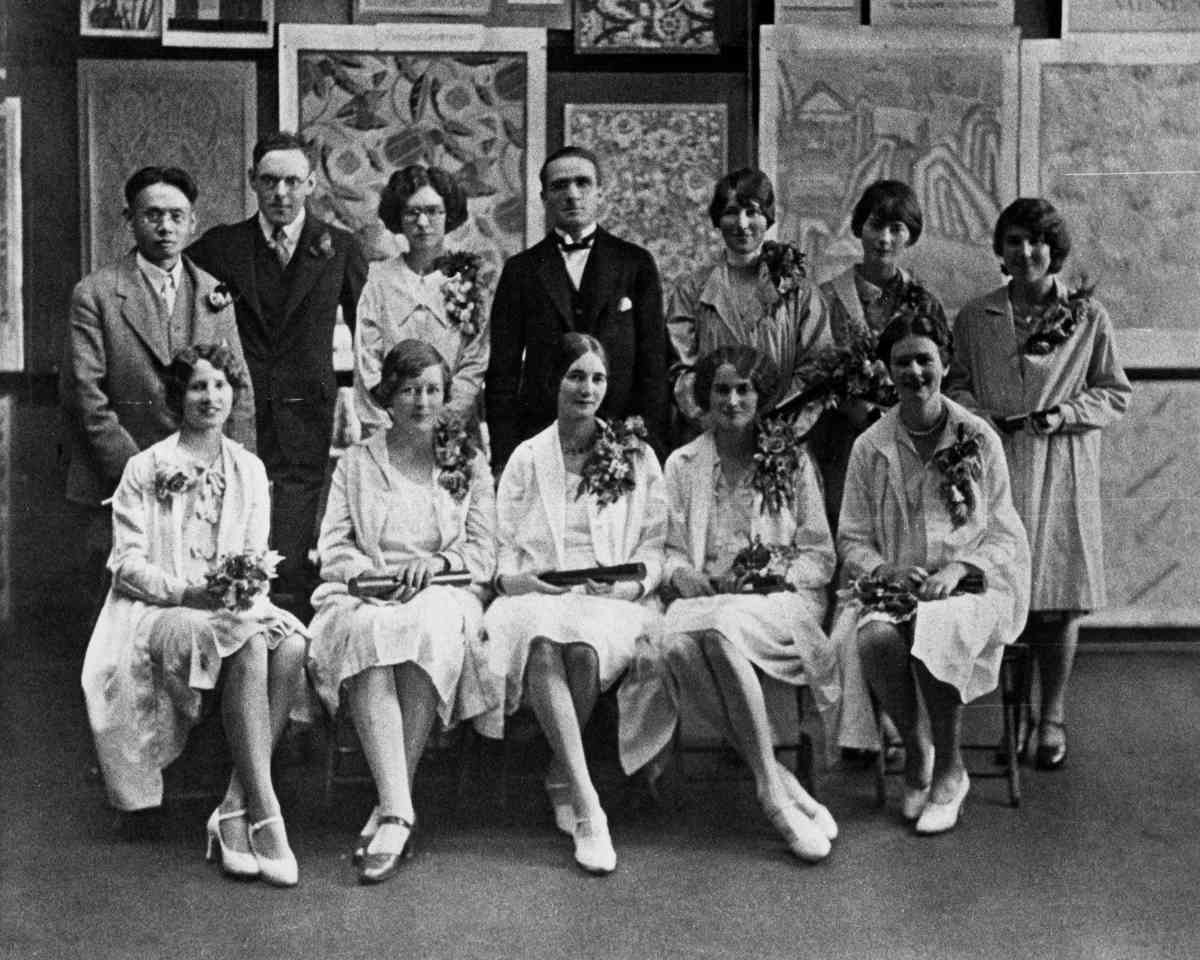 1929 Graduating Class

In the catalogue for the 1929 Winter exhibition of the BCSFA, there are entries for G. Hoffar and J. Hoffar. It is possible that both of these listings are typographic errors for Irene Hoffar, especially since the exhibition catalogue had a few other errors in the listings.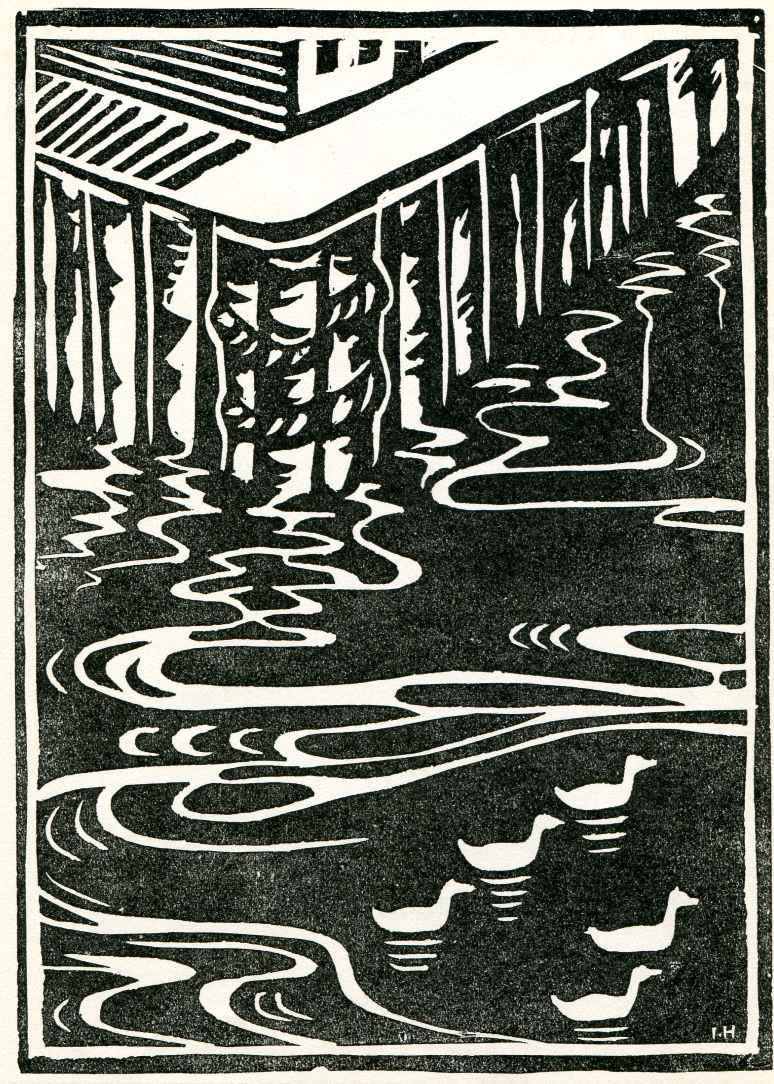 Linocut illustration, The Paint Box, 1930

After graduation she took post-graduate studies at the art school, and then travelled to England with Vera Weatherbie for further post-graduate studies at the Royal Academy Schools, London, England. On her return to Vancouver she opened a studio and did portraits, murals, decorative panels, and even the interior of a yacht.

She exhibited in the Seattle Art Museum's annual Northwest Artists exhibitions from 1930 to 1943.

She taught drawing and painting at the Vancouver School of Art from 1933 - 1937. On October 28 1933 she married Neville Leighton Reid in Vancouver, and subsequently exhibited as Irene Hoffar Reid. Reid was listed as an Insurance Agent on the marriage certificate.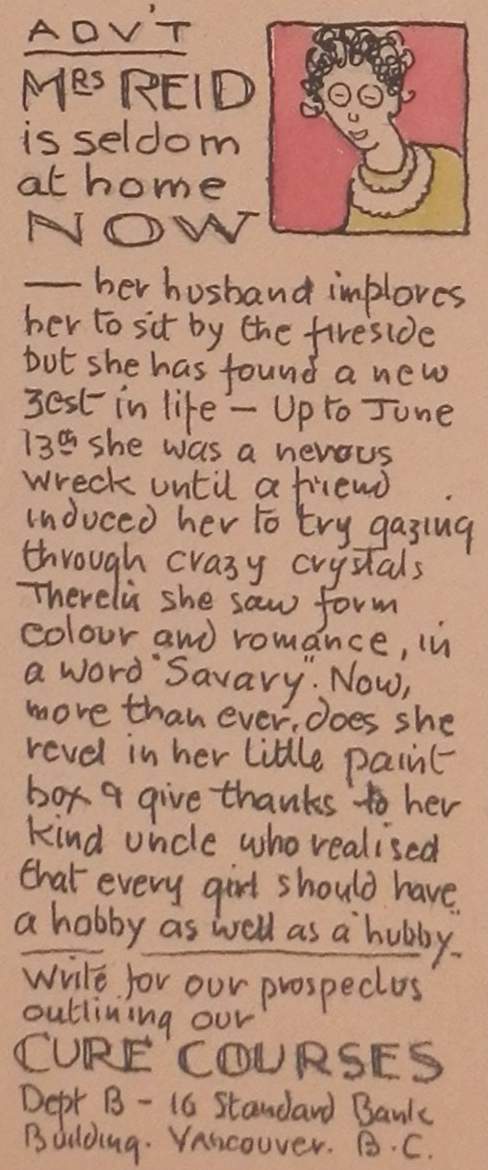 Article and illustration, The Savary Puddin, 1935

In 1936, the Spring issue of The Smock Pocket noted that "A portrait by Mrs. IRENE HOFFAR REID, '29, was purchased and presented to the Art Gallery to augment the Permanent Collection. This is the first honor of this kind to be bestowed on a Graduate." The newsletter also noted that Reid was sharing a studio with Margaret Carter at 581 Granville Street.

Reid had work in the PASOVAS group exhibition in 1936, at the Vancouver Art Gallery. She also exhibited work at the National Gallery of Canada, the Seattle Art Museum in 1930, and the Canadian National Exhibition, Toronto, in 1932.

She exhibited work in the B.C. Artists' exhibitions from 1932 to 1950.

She exhibited with the B.C. Society of Fine Arts in their annual exhibitions from 1940 onward. She was President of the society when it finally ceased to operate in 1967, after the few remaining members voted it out of existence following an unsuccessful membership campaign.

She submitted four charcoal drawings to the 1949 B.C. Graphic exhibition at the Vancouver Art Gallery, two of them were selected for the exhibition. She was living in Vancouver. In 1967 she was awarded the Canada Centennial Medal for her contribution to the arts.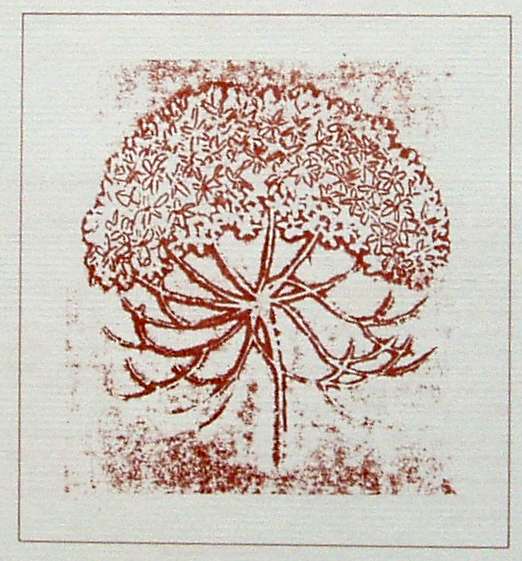 SOLO EXHIBITIONS
| | | |
| --- | --- | --- |
| DATE | EXHIBITION | LOCATION |
| | | |
| 1974 April 8 - May 4 | Solo Exhibition | Studio Shop & Gallery, W Van |
Group Exhibitions
References - BIBLIOGRAPHY
Refer to BIBLIO.
References - GROUP EXHIBITIONS
SEATTLE ART MUSEUM - NORTHWEST ARTISTS EXHIBITIONS 1914 - 1975
Refer to NWA BC artists by exhibition
Refer to NWAA BC artists alphabetically

SOUVENIR CATALOGUE OF EXHIBITIONS OPENING
THE NEW VANCOUVER ART GALLERY (refer to VAG51)

3rd BC GRAPHIC & CANADIAN SOCIETY OF GRAPHIC ART (refer to BCG57)

100 YEARS OF B.C. ART (refer to VAG58)

SPRING EXHIBITION - FCA - BC REGION (refer to FCA64)

PLANTAE OCCIDENTALIS - 200 Years of Botanical Art in British Columbia
1979, By Maria Newberry House, The Botanical Garden, U.B.C., Technical Bulletin No 11
Exhibition catalogue, illustrated; list of works; ISSN 0703-1432
Includes one work by Reid, Spear Thistle, ill. in colour p.62.

VANCOUVER: ART & ARTISTS 1931 - 1983 (refer to VAG83)

BRITISH COLUMBIA WOMEN ARTISTS 1885-1985 (refer to AGGV85)

FIRST CLASS - Four Graduates From The Vancouver School of Decorative and Applied Arts
1987, Letia Richardson, The Floating Curatorial Gallery at Women in Focus
ISBN 0-921823-03-7
Exhibition catalogue; includes survey essay of women artists in Vancouver:
Chronologies of Lilias Farley, Reid, Beatrice Lennie, and Vera Weatherbie.

EARLY BRITISH COLUMBIAN WOMAN ARTISTS (refer to HG95)

GENERATIONS - FIVE DECADES OF ART IN WEST VANCOUVER 1912 - 1962 (refer to WVMA99)

SHIFTING MARGINS: EMILY CARR and IRENE HOFFAR REID (refer to BAG13)

88 ARTISTS FROM 88 YEARS (refer to ECU17)
References - GENERAL
Attendee at the 1935 Vancouver School of Art Summer Camp
(refer to SUMMER SKETCHING CAMP - SAVARY ISLAND)

THE SAVARY PUDDING folio by Frederick A. Amess, private collection.
Original drawings, paintings and text by Amess, C.H. Scott, Grace Melvin,
H. Mortimer Lamb, Plato von Ustinov, and other students and visitors.
June 1935 (various dates), June 1939 (various dates)
52 loose 12"x18" sheets of brown sketch paper

WHO'S WHO IN NORTHWEST ART (refer to WWNA41)
Short entry for Hoffar.

BRITISH COLUMBIA - A CENTENNIAL ANTHOLOGY (refer to BCCA58)

THE FINE ARTS IN VANCOUVER, 1886 - 1930 (refer to THOM69)

VISUAL ARTS BRITISH COLUMBIA (refer to VABC77)

BRITISH COLUMBIA ART COLLECTION 1974-80 (refer to BCAC80)

ARTISTS IN CANADA 1982 - UNION LIST OF ARTISTS' FILES (refer to AIC82)

BY A LADY, Celebrating Three Centuries of Art by Canadian Women by Maria Tippett
1992, Viking, ISBN 0-670-84458-6
226 pages, illustrated in colour and b&w, list of illustrations, index
References to Reid on pages 70 and 85

A DICTIONARY OF CANADIAN ARTISTS (refer to M)

VANCOUVER ARTIST: Irene Hoffar Reid
1999 April; by Michael Clark, Emily Carr Institute of Art + Design.
Visions newsletter, Volume 5 Issue 3, page 6.
One page biography with 3 illustrations of her work.

BIOGRAPHICAL INDEX OF ARTISTS IN CANADA (refer to BIAC03)
2 references to Reid

THE FECKLESS COLLECTION (refer to FECK18)

GREATER VANCOUVER ART GALLERIES 1954-2020 (refer to GVAG20)
2 references to Reid

CITY & PROVINCIAL DIRECTORIES 1933-34 (refer to DIR)

B.C. VITAL STATISTICS ON-LINE marriage (refer to BCVS)

https://en.wikipedia.org/wiki/Irene_Hoffar_Reid
Clippings
"In addition some of the graduates of the school, notably Vera Weatherbie, Fred Amess, and Irene Hoffar show great promise, and their work has already been well perceived at exhibitions in Eastern Canada."
From "BRITISH COLUMBIA ART - Significance of First "All British Columbia Show" by Harold Mortimer Lamb
Saturday Night, December 10 1932

"Many other well-known artists are represented, including ... Irene Hoffar ... "
From "Bargains in Art" by D.S.M. Vancouver Sun, December 1 1933

"Irene Hoffar Reid's sketches show definitely her change in style and indicates that she has not yet masterd her new ideas."
From "Pasovas Club Has Splendid Annual Show" by R.W.M. Vancouver Province, November 6 1934

"Irene Hoffar Reid is represented with a number of striking paintings in the oils section, including a rather unusual study of "Autumn.""
From "Pasovas Art Show" Vancouver Sun, November 6 1934

"... Irene Hoffar Reid ... are all represented."
From "PASOVAS EXHIBIT - Pioneer Art Students' Show"
Vancouver Province, February 21 1936

"The oils are an interesting group, notably ... and "The Storm," by Irene Hoffar Reid, the latter being distinguished for its strong color value."
From "FINE PASOVAS ART EXHIBITION"
Vancouver Sun (?), February 2 1936

"Margaret Williams, Irene Hoffar Reid, Maud Sherman, and others, attain that effect which contrasting colors afford ... "
From "PASOVAS CLUB - Annual Display on View at Art Gallery"
News Herald, February 1936

"On the walls of the studio shared by Margaret Carter and Irene Hoffar Reid are murals, landscapes, portraits in oils and conte, the latter a medium much used by the Old Masters."
From "GRADUATES IN ART" by Cintra
(unknown newspaper), April 25 1936

"Mrs. Irene Hoffar Reid, West Vancouver, receives the Association Bronze Medal for work in black-and-white of a high order of merit for her drawing, "The Valley." Mrs. Reid is one of the original students of the Vancouver School of Art."
From "Major Art Award to CASF Officer At B.C. Artists' Annual Exhibit"
Vancouver Sun, October 7 1940

"Irene Hoffar Reid is better than ever in her three captivating compositions."
From "B.C. Society of Fine Arts Display Sets New High Mark" by Palette Vancouver Province, May 16 1942

"Among other prominent exhibitors are ... Irene Hoffar Reid ... "
From "Summer Show at Gallery Major Event for Art Lovers" by Palette Vancouver Province, July 7 1943




HOME