Canadian Group of Painters
1933 - mid-1960s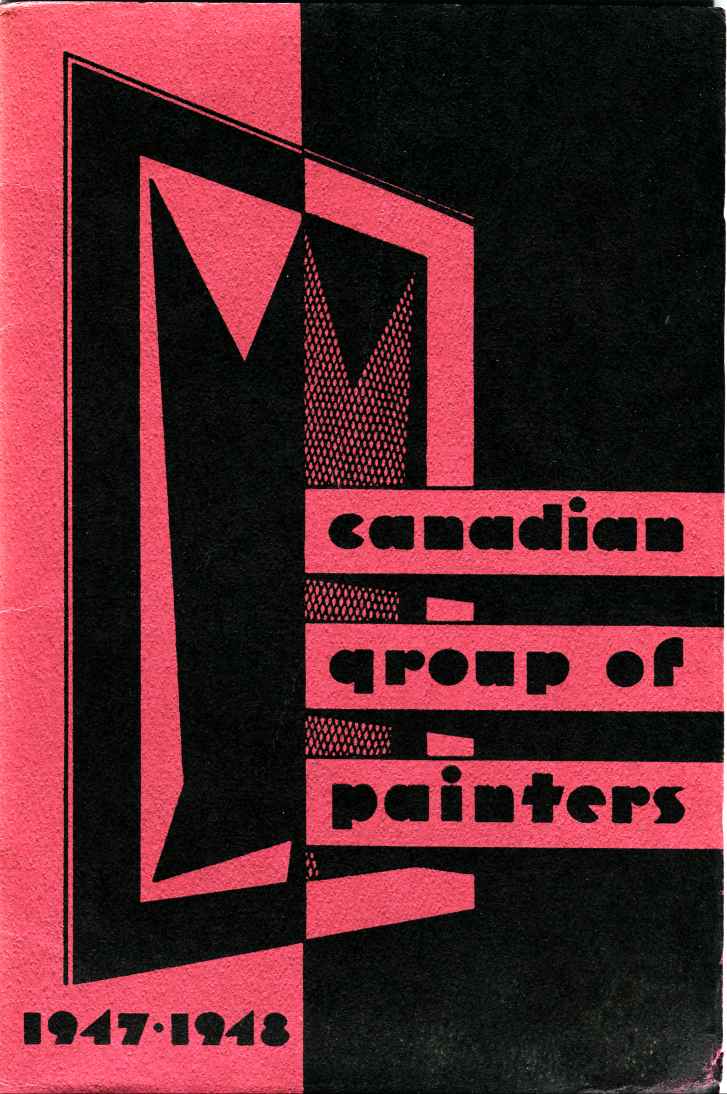 Catalogue for the 1947-48 exhibition at the AGO and AAM.


The Canadian Group of Painters was formed by a group of artists who wanted to expand across Canada, beyond the scope of provincial artists' groups, to establish wide-spread support for the "new" ways of painting first expressed by the members of the Group of Seven.

The LETTERS PATENT, Incorporating (without Share Capital) the Canadian Group of Painters, was filed on March 23, 1936 and recorded March 28, 1936. The application was filed by A.Y Jackson, Lawren Harris, Arthur Lismer, Frank Carmichael, A.J. Casson, F.H. Varley, Edwin Holgate, and L.L. Fitzgerald.

The application listed the "purposes and objects" of the group as:
"(a) To promote closer co-operation among the artists of Canada who have for a period of years expressed a sympathetic kinship in their interpretation of the Canadian environment of landscape and portraiture and the encouragement, improvement and cultivation of such interpretation."
(b) To hold exhibitions in the principal cities of Canada and elsewhere."

The document was created three years earlier, being signed and sealed by Lawren Harris on December 12, 1933 at Toronto, and slowly "made the rounds" to the other original members of the group, with subsequent seals applied through 1934 and 1935, until finally L.L. Fitzgerald sealed it on January 6, 1936, at Winnipeg.

Somewhat ironically, the first exhibition of the Canadian Group of Painters was given at Atlantic City, spnonsored by the Heinz Corporation. The exhibition catalogue included a complete list of all 57 varieties of pickles and relishes that Heinz was famous for.

Although predominantly comprised of Eastern Canadian artists, founding members from British Columbia included Charles H. Scott, W.P. Weston and Frederick Varley (who was living in Vancouver in 1933).

The Group had a number of traveling exhibitions in Vancouver, including 1936, 1943 (39 pictures), 1945 (46 pictures), 1946 (28 pictures), March 1948, and September 1948 (40 paintings).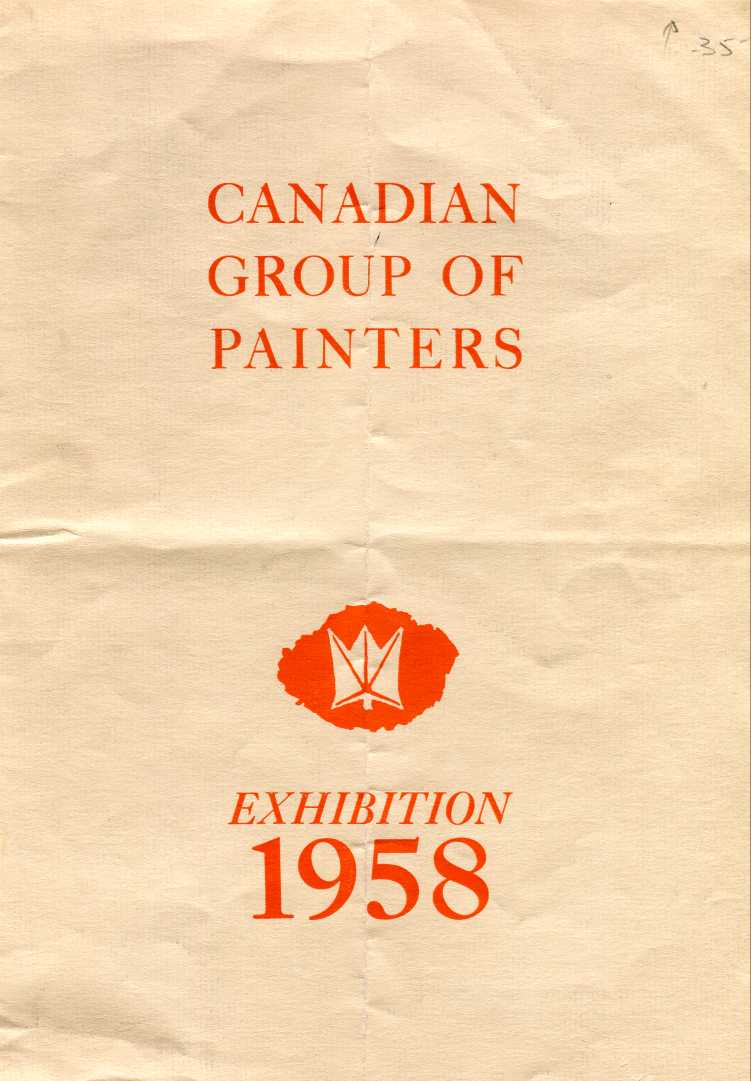 Catalogue for 1958 exhibition at the Vancouver Art Gallery.
In 1958 funding was provided for the group's annual exhibition to travel to Vancouver, where it was exhibited at the Vancouver Art Gallery, in conjunction with British Columbia's 100th Anniversary celebrations.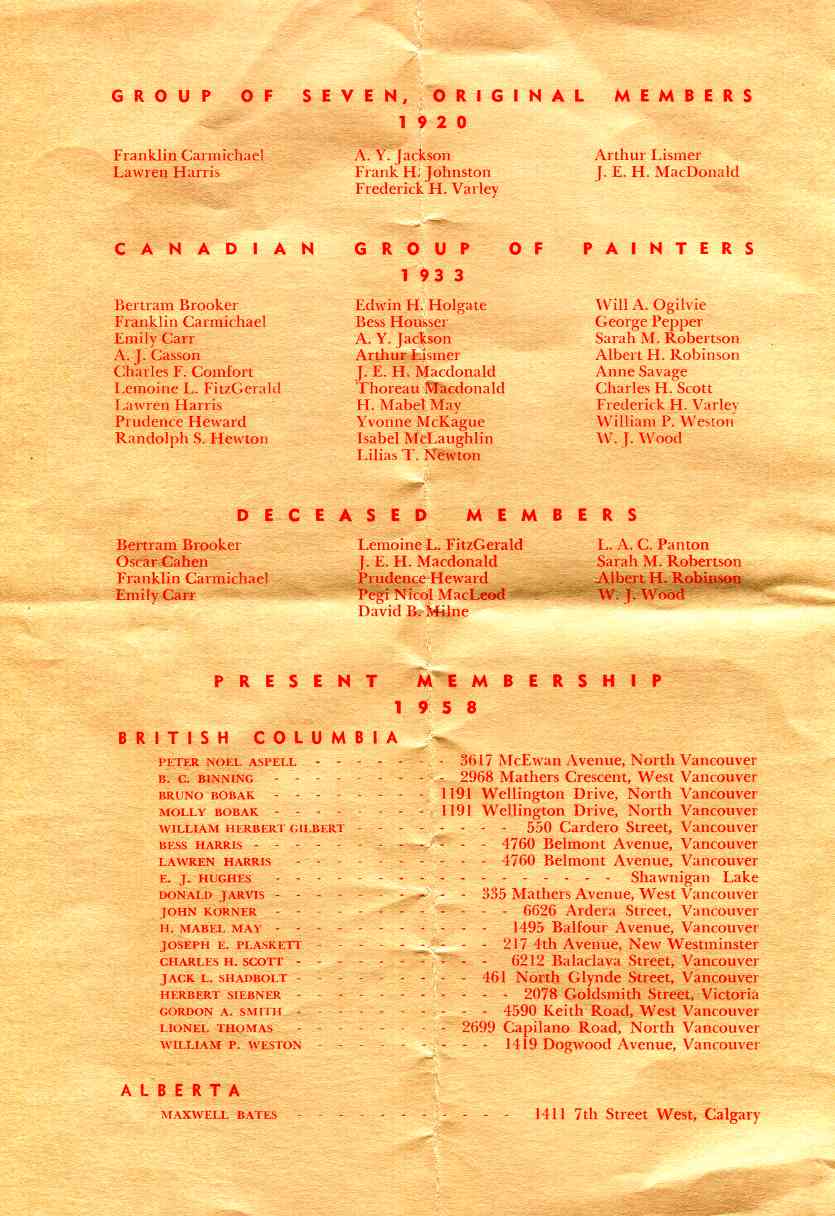 Member information from the 1958 exhibition catalogue.
Exhibitions
| | | |
| --- | --- | --- |
| DATE | EXHIBITION | LOCATION |
| 1936 Oct. 13 - 25 | Group Show Travelling | VAG |
| 1943 Jan. 15 - Feb. 4 | Group Show Travelling | VAG |
| 1945 Jan. 3 - 21 | Group Show Travelling | VAG |
| 1946 Dec. 3 - 1947 Jan. 5 | Group Show Travelling | VAG |
| 1948 Mar. 7 - 21 | Group Show Travelling | VAG |
| 1948 Aug. 31 - Sept. 12 | Group Show Travelling | VAG |
References
FOUR DECADES - The Canadian Group of Painters and Their Contemporaries by Paul Duval
1972, ISBN 0-7720-0553-2, 192 pages, large format hardcover
Extensively illustrated in colour and b&w
Includes chapter "B.C. Emergence" (12 pages); index of reproductions, general index
Clippings
"Canadian Artists' Show" by Frank Bagnall
Saturday Night October 21 1933 "Canadian Artists' Work is Displayed" by (unknown)
(unknown newspaper) October 14 1936 "Stimulating Show Presented by Canadian Painters Group"
Vancouver Daily Province January 14 1942


HOME