Margaret Adelaide Williams
January 6 1902 - February 26 1981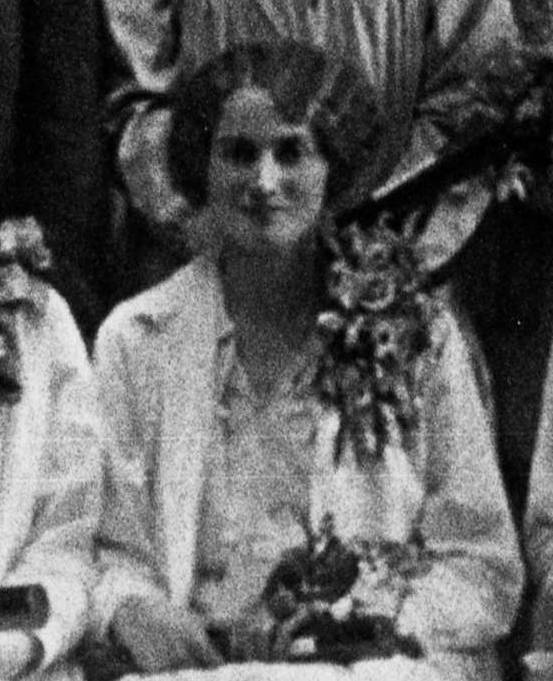 From 1929 graduating class photo


Margaret A. Williams was born in Fort Qu'Appele, Saskatchewan. She was a member of P.A.S.O.V.A.S., the Pioneer Art Students of Vancouver Art School, an artist's group formed in 1930 from the students who entered the Vancouver School of Decorative and Applied Arts in its first year and a half of classes in 1925 and 1926.

Williams started classes at the VSDAA in 1925, while living at 1901 Pendrell Street in Vancouver, and was in the art school's first graduating class in 1929. She later exhibited in the PASOVAS group exhibition at the B.C. Art League gallery in 1930.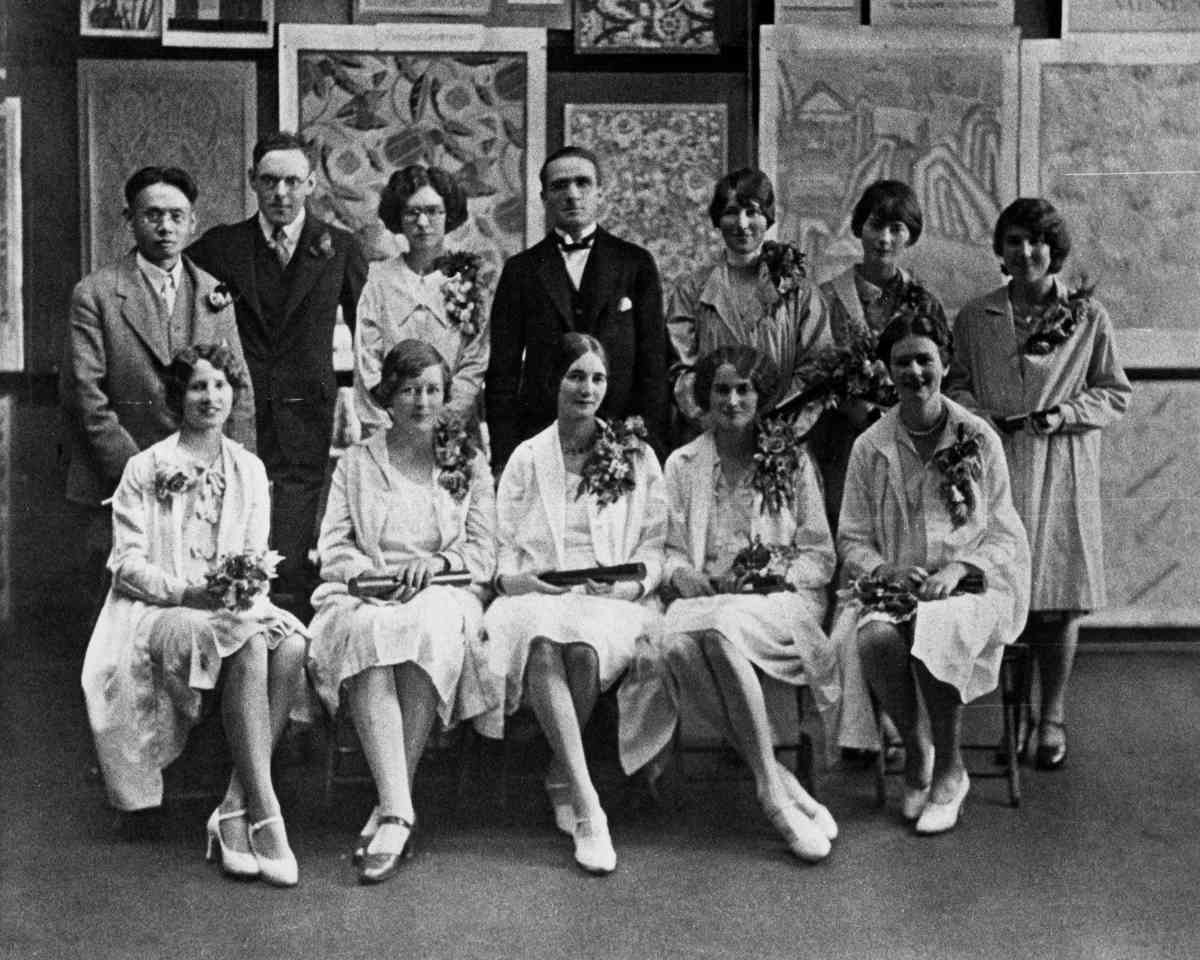 1929 Graduating Class

Williams was the Editor of the first issue of The Paint Box, Spring 1926, the VSDAA's school annual, which had a number of her articles, such as " 'Neath Southern Skies", a little anecdote about taking classes at the San Diego Academy of Fine Arts, and a short untitled poem:
We're a Cosmopolitan, Metropolitan, Neopolitan class,
An Occidental, Oriental, accidental mass,
And we endeavour, failing never,
'Cause we're clever, to succeed,
Art for Art's sake, Art for Pete's sake,
Art for my sake is our creed.
She also wrote the Class Report for Class A, a long article about Japanese prints, and another short poem titled "In Memory of a Family Party".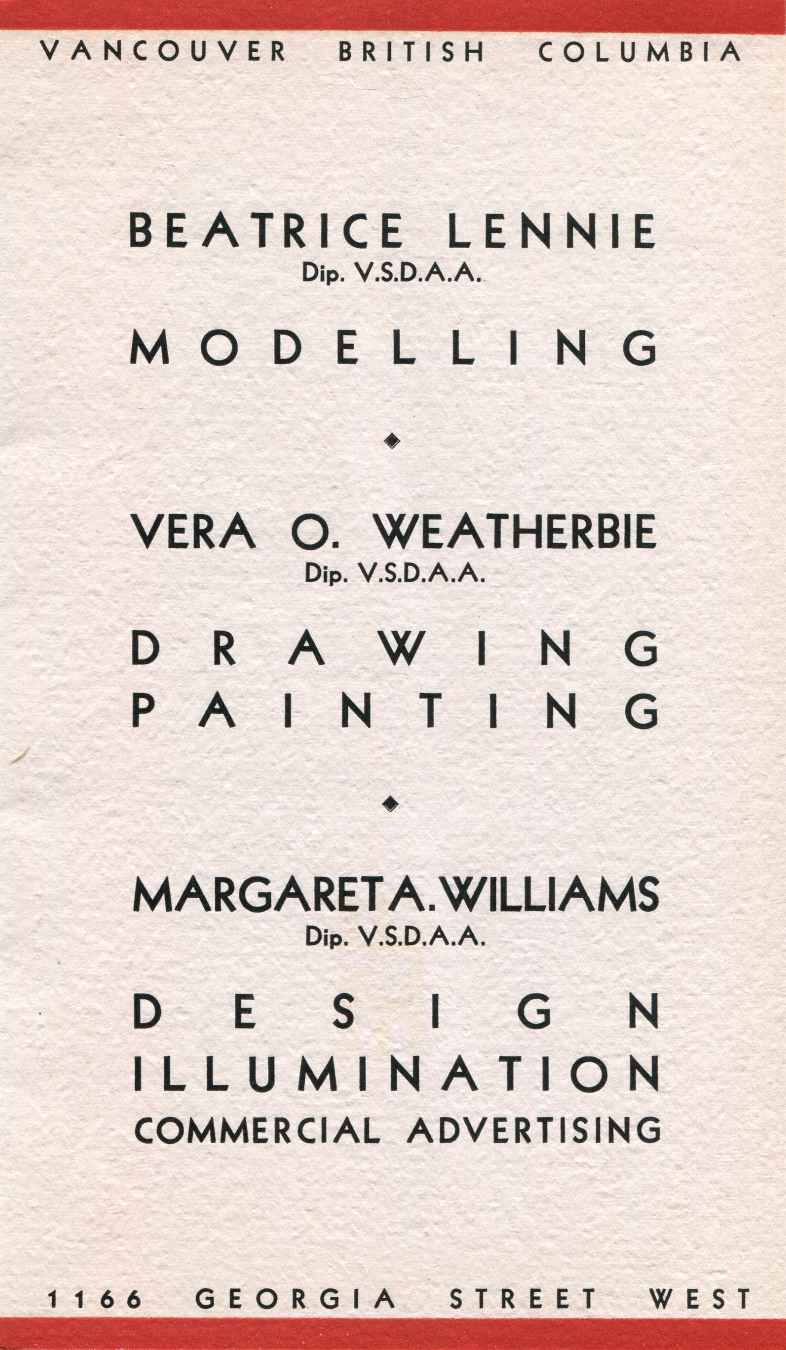 B.C. College of Arts Prospectus 1933

Williams was hired as an assistant instructor at the B.C. College of Arts, founded in 1933 by Frederick Varley and Jock Macdonald. In 1933 she was living in West Vancouver.

In 1934 she had work in the RCA's 55th Annual exhibition, held at the Art Gallery of Ontario.

She exhibited in the Seattle Art Museum's annual Northwest Artists exhibition in 1934.

She joined the B.C. Society of Fine Arts, was listed as a member in exhibition catalogues from at least 1936 to 1967, and exhibited in their annual exhibitions from 1936 to 1951.

Williams was a founding member of the Federation of Canadian Artists in 1941, and founding B.C. Secretary of the group. She donated artwork to an FCA fundraising exhibition for the Canadian Red Cross at the Vancouver Art Gallery in 1942.

In 1947 Williams was employed as Assistant to the Curator at the Vancouver Art Gallery. She exhibited work in the annual B.C. Artists exhibitions in 1932, 1933, 1934, 1936, 1937. She may have also exhibited work with the Island Arts and Crafts Society in 1925.

Williams died in 1981 at the age of 79. She was single, and living at 1840 Robson Street, her occupation noted as "artist" at the Vancouver School of Art.
Exhibitions
| | | |
| --- | --- | --- |
| DATE | EXHIBITION | ARTWORK |
| | | |
| 1930 Nov. 27 - Dec. 7 | PASOVAS Art Club Exhibition | Evening, Fraser River |
| | | Bunnies |
| | | Garibaldi Booklet |
| | | Elephant Candlesticks |
| 1932 Sept. 17 - 30 | PASOVAS Club Exhibition | Illumination: Persian Poem |
| | | Illumination: Day Dream |
| | | Illumination: Day Dream |
| | | Illumination: Initial Letter |
| | | Marionette Designs: "The Miracle" |
| | | Page of Commercial Art |
| | | Christmas Card Designs |
| | | Cariboo Highway Poster |
| | | Puppet Poster |
| | | Radio Poster |
| | | Decorated Box |
| 1932 Oct. 5 - 30 | VAG B.C. Artists 1st Annual | Illumination on Vellum |
| 1933 May 3 - 18 | VAG VSAGA 1st Annual Exhibition | Beaux Arts Poster |
| | | Design for a Ladies' Powder Room |
| | | Design of Mask |
| | | Silk Mask |
| 1933 Sept. 22 - Oct. 15 | VAG B.C. Artists 2nd Annual | Log Cabin, Interior |
| 1934 Sept. 21 - Oct. 14 | VAG B.C. Artists 3rd Annual | The Lone Tree |
| | | Rocky Coast |
| | | Grey Day, Keats Island |
| 1934 ? - ? | VAG B.C. Artists Edmonton Exhibition | Grey Day, Keats Island |
| 1936 Feb. 21 - Mar. 5 | PASOVAS Annual Group Show | Summer Afternoon, Qu'appelle Valley |
| 1936 June 26 - July 12 | BCSFA 26th Annual | The Mound, Lynn Valley |
| | | Mountains of Lynn |
| | | Rocky Coast, Howe Sound |
| | | Haven |
| | | February Day |
| | | Cottage Window |
| 1936 Sept. 18 - Oct. 11 | VAG B.C. Artists 5th Annual | Westward |
| | | Cloisonne |
| | | Clouds in the East |
| | | Primroses |
| 1936 Oct. 15 - 20 | VAG B.C. Artists Chilliwack Exhibition | Cloisonne |
| | | Clouds in the East |
| 1937 Sept. 17 - Oct. 10 | VAG B.C. Artists 6th Annual | Low Tide, Roberts Creek |
| 1938 April 29 - May 15 | BCSFA 28th Annual | Afternoon Rest |
| | | Sketch, Dahlias |
| | | Sandy Cove |
| | | Back of Beyond |
| | | Farm Doorway |
| | | Clouds Over the Gulf |
| 1940 May 17 - June 2 | BCSFA 30th Annual | Sketch, Lake of the Woods |
| 1942 May 15 - 31 | BCSFA 32nd Annual | Desert Sketch |
| | | Sketch, Nevada Desert |
| 1942 Nov. 3 - 15 | FCA Red Cross Benefit | (no information available) |
| 1943 May 15 - June 6 | BCSFA 33rd Annual | Crescent Island |
| 1943 July 2 - Aug. 25 | VAG B.C. Artists 2nd Annual Summer | Crescent Island |
| 1945 May 18 - June 10 | BCSFA 35th Annual | Nevada Landscape |
| | | Nevada Desert |
| | | Rattlesnake Hill |
| 1945 July 3 - Aug. 26 | VAG B.C. Artists 4th Annual Summer | Nevada Landscape |
| 1946 July 2 - 28 | VAG Jubilee Exhibition | Desert Landscape |
| 1950 April 25 - May 14 | BCSA 40th Annual | Desert Landscape |
References
SEATTLE ART MUSEUM - NORTHWEST ARTISTS EXHIBITIONS 1914 - 1975
Refer to NWA BC artists by exhibition
Refer to NWAA BC artists alphabetically

100 YEARS OF B.C. ART (refer to VAG58)

ROYAL CANADIAN ACADEMY OF ARTS -
EXHIBITIONS & MEMBERS 1880 - 1979 (refer to RCA81)

BRITISH COLUMBIA WOMEN ARTISTS 1885-1985 (refer to AGGV85)

FIRST CLASS - Four Graduates From The Vancouver School of Decorative and Applied Arts
1987, Letia Richardson; The Floating Curatorial Gallery at Women in Focus
Exhibition catalogue; ISBN 0-921823-03-7
Includes survey essay of women artists in Vancouver.

88 ARTISTS FROM 88 YEARS (refer to ECU17)

B.C. VITAL STATISTICS ON-LINE (refer to BCVS) death certificate
Clippings
"Margaret Williams and Dorothy Hensman are also represented."
From "Pasovas Club Has Splendid Annual Show" Vancouver Province, November 6 1934

"Margaret Williams, Maud Shearman (sic), and Lilias Farley are well represented in the show ..."
From "Pasovas Art Show" Vancouver Sun, November 6 1934

"... Margaret Williams ... are all represented."
From "PASOVAS EXHIBIT - Pioneer Art Students' Show"
Vancouver Province, February 21 1936

"The oils are an interesting group, notably "Summer Afternoon, Qu'appelle Valley," by Margaret Williams ... "
From "FINE PASOVAS ART EXHIBITION"
Vancouver Sun (?), February 21 1936

"Margaret Williams, Irene Hoffar Reid, Maud Sherman, and others, attain that effect which contrasting colors afford ... "
From "PASOVAS CLUB - Annual Display on View at Art Gallery"
News Herald, February 1936

" ... and Margaret Williams shows sketches of the Nevada desert."
From "B.C. Society of Fine Arts Display Sets New High Mark" by Palette Vancouver Province, May 16 1942

"The new executive committee is composed of ... M. Williams ..."
From "B.C. Artists' Display To Calgary For Exhibition" by Palette Vancouver Province, May-June 1942

"Among those contibuting paintings and drawings are: ... Margaret Williams ... "
From "Noted Artists Offer Paintings For Red Cross" Vancouver Province (presumed), November 1942

"Gazing at J.W.G. Macdonald's painting ... are: ... Miss Margaret Williams ... "
From "For and about WOMEN" Vancouver Province, April 22 1950

HOME