Art & Artists in Exhibition: Vancouver 1890 - 1950
Margaret Hilda Carter
June 27 1911 - ?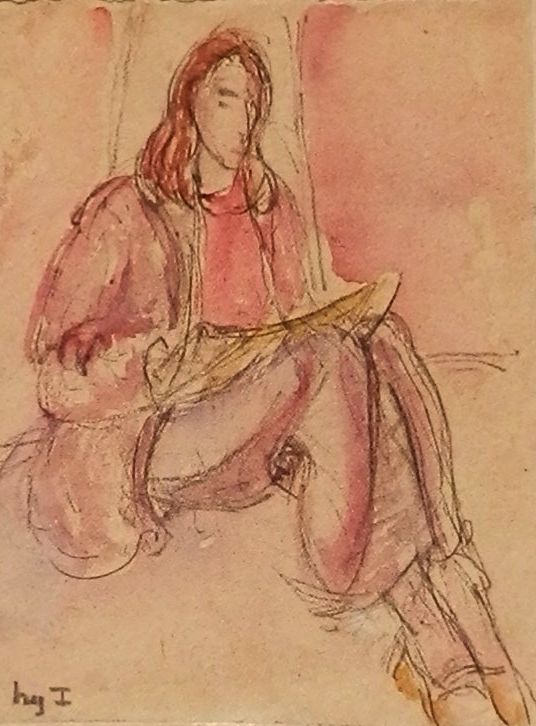 Margaret Carter was born in Vancouver in 1911. She was an early student at the Vancouver School of Decorative and Applied Arts, entering the school in the 1928-29 school year. The 1931-32 Prospectus for the school noted that Carter had passed Third Year Drawing and Painting. She received her diploma in 1932, and later exhibited with the Vancouver School of Art Graduates' Association.

She showed work in the B.C. Artists exhibitions at the Vancouver Art Gallery from 1933 to at least 1951. She won a silver medal at the 1934 B.C. Artists exhibition.

In 1936, the Spring issue of The Smock Pocket noted that Carter was sharing a studio with Irene Hoffar Reid at 581 Granville Street.

She had a two-person exhibition at the Vancouver Art Gallery in 1938 with George Goutiere, and also showed her work at the Seattle Art Museum. She was a volunteer art teacher at a local community center.

In 1945 the artist was listed as living in Creston.

She exhibited work with the B.C. Society of Fine Arts in 1959.

The History of the Arts in White Rock (copyrighted 1993) notes that Carter was deceased at time of publication.
Exhibitions
SOLO EXHIBITIONS
GROUP EXHIBITIONS

| | | |
| --- | --- | --- |
| DATE | EXHIBITION | ARTWORK |
| | | |
| 1933 May 3 - 18 | VAG VSAGA 1st Annual Exhibition | Water Front Drama |
| | | Water Street |
| | | Cathedral Arches |
| | | Sick Girl |
| | | Edith |
| | | The Dead Christ |
| 1933 Sept. 22 - Oct. 15 | VAG B.C. Artists 2nd Annual | Berry Pickers |
| | | Marie |
| | | Profile |
| 1934 Sept. 21 - Oct. 14 | VAG B.C. Artists 3rd Annual | Cabbage Leaves |
| | | Peace |
| | | Fraser Canyon |
| 1934 Dec. 4 - 16 | VAG B.C. Artists Christmas Exhibition | Lynn Valley |
| | | Dawn |
| 1940 Sept. 20 - Oct. 13 | VAG B.C. Artists 9th Annual | Cactus |
| | | Self Portrait |
| 1941 Sept. 26 - Oct. 19 | VAG B.C. Artists 10th Annual | Alley |
| | | Irene |
| 1942 Sept. 25 - Oct. 18 | VAG B.C. Artists 11th Annual | Nanaimo and Charles Street |
| | | Alley |
| | | The White Store |
| | | Isobel |
| | | Backwash |
| 1944 Sept. 23 - Oct. 22 | VAG B.C. Artists 13th Annual | Connie |
| 1945 Sept. 22 - Oct. 21 | VAG B.C. Artists 14th Annual | Sheila |
| 1946 Sept. 21 - Oct. 13 | VAG B.C. Artists 15th Annual | Corner of the Kitchen |
| 1947 Sept. 20 - Oct. 12 | VAG B.C. Artists 16th Annual | Back View |
| 1948 Sept. 18 - Oct. 10 | VAG B.C. Artists 17th Annual | The Elevators |
| | | Roof Tops |
| 1949 Oct. 8 - 30 | VAG B.C. Artists 18th Annual | Cigarette Set |
| 1950 Nov. 28 - Dec. 17 | VAG B.C. Artists 19th Annual | War and Peace |
References
Attendee at the 1935 Vancouver School of Art Summer Camp
(refer to SUMMER SKETCHING CAMP - SAVARY ISLAND)

THE SAVARY PUDDING folio by Frederick A. Amess, private collection.
Original drawings, paintings and text by Amess, C.H. Scott, Grace Melvin,
H. Mortimer Lamb, Plato von Ustinov, and other students and visitors.
June 1935 (various dates), June 1939 (various dates)
52 loose 12"x18" sheets of brown sketch paper

WHO'S WHO IN NORTHWEST ART (refer to WWNA41)

SPRING EXHIBITION - FCA - BC REGION (refer to FCA64)

ARTISTS IN CANADA 1982 - UNION LIST OF ARTISTS' FILES (refer to AIC82)

BRITISH COLUMBIA WOMEN ARTISTS 1885-1985 (refer to AGGV85)

THE HISTORY OF THE ARTS IN WHITE ROCK (refer to WR93)

EARLY BRITISH COLUMBIAN WOMAN ARTISTS (refer to HG95)

BIOGRAPHICAL INDEX OF ARTISTS IN CANADA (refer to BIAC03)
1 reference cited for Carter, WWNA above.

VANCOUVER SCHOOL OF ART - LIST OF GRADUATES & STUDENTS (refer to VSA)
Clippings
"The sea is a molten background
For tall straight trees
With arms that stretch
Upwards and love the breeze
Fronds of green mix with blue
And yield to the beauty
Of the earths evening hues."
From "Tone Pome" by Margaret Carter
Savary Pudding, Vol. 2, 1935

"On the walls of the studio shared by Margaret Carter and Irene Hoffar Reid are murals, landscapes, portraits in oils and conte, the latter a medium much used by the Old Masters."
From "GRADUATES IN ART" by Cintra
(unknown newspaper), April 25, 1936

MARGARET CARTER AND GEORGE GOUTIERE.
"A graduate of the Vancouver School of Art, Miss Carter is exhibiting drawings in wash, conte and charcoal illustrating phases of social life in which she has been interested for some time."
Vancouver Art Gallery Bulletin, Vol. 6, No. 2. October, 1938