Miss Molly Jean Lamb
(Mrs. Bruno Bobak)
February 25 1922 - March 2 2014

Miss Molly Lamb was born in Vancouver in 1922, the daughter of Harold Mortimer Lamb, a businessman with interests in the arts. (an alternate birthplace of Lulu Island is also given).

She studied at the Vancouver School of Arts from 1938 to 1942, including a year of graduate studies.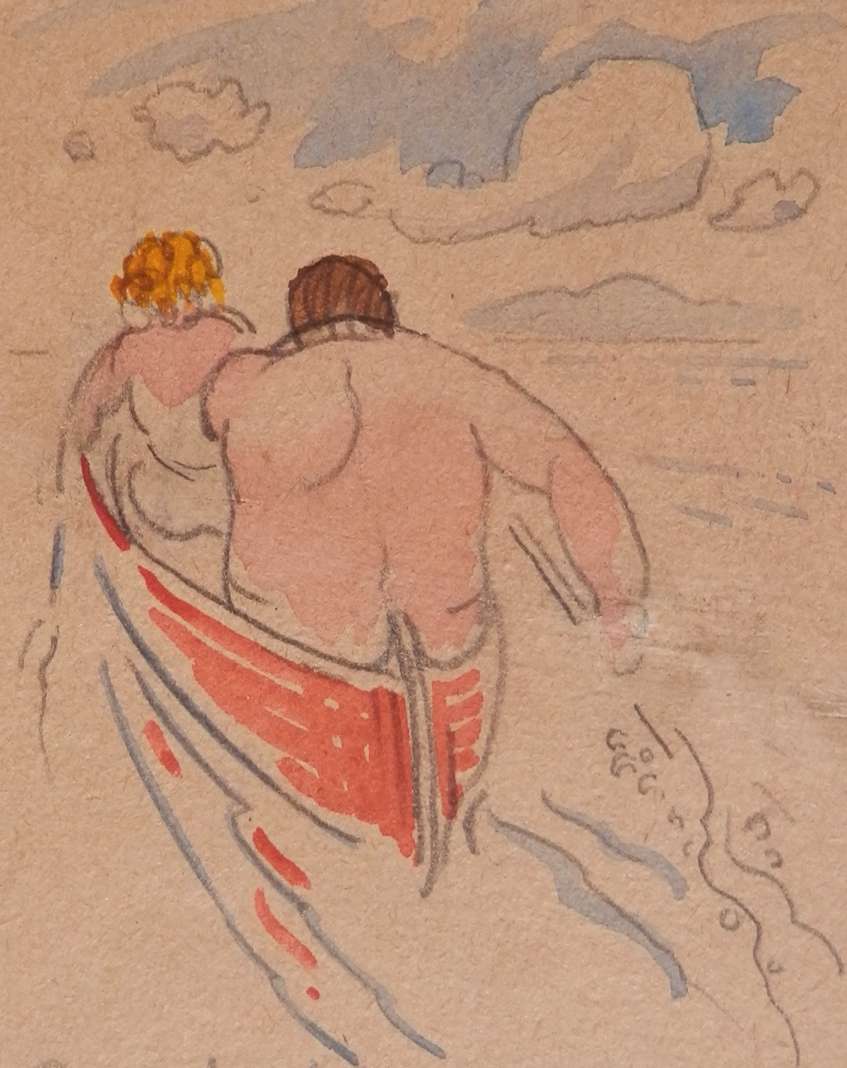 Watercolour of Fred Amess and Mollie Lamb.

She exhibited one painting in the 32nd Annual Exhibition of the B.C. Society of Fine Arts in 1942.

She enlisted in the CWACs in World War Two, and was an official Canadian War Artist from 1945.

In 1945 she met Bruno Bobak and became his wife. They settled in Vancouver after the war. She exhibited in the B.C. Artists exhibitions at the Vancouver Art Gallery from 1940 to at least 1950. She was a Lieutenant in the C.W.A.C. during the war.

She exhibited in the Seattle Art Museum's annual Northwest Artists exhibitions in 1955 and 1959.

Her husband was head of the Design Department at the Vancouver School of Art from 1947 to 1957, while Molly taught painting at the school from 1947 - 1950. They later moved to New Brunswick. In 1993 a major retrospective exhibition of her work was produced by the MacKenzie Art Gallery in Regina, Saskatchewan. The exhibition toured across Canada, and an excellent large exhibition catalogue was produced.

Lamb died in 2014 at the age of 95.
EXHIBITIONS
SOLO EXHIBITIONS
| | | |
| --- | --- | --- |
| DATE | EXHIBITION | LOCATION |
| | | |
| 1942 Feb 17 - March 1 | Solo exhibition (13 drawings) | VAG |
| 1993-94 | A Retrospective | Traveling |
GROUP EXHIBITIONS
References - BIBLIOGRAPHY
Refer to BIBLIO.

See also Harold Mortimer-Lamb biography "The Art Lover" by Robert Amos (q.v.).
References - GROUP EXHIBITIONS
SOUVENIR CATALOGUE OF EXHIBITIONS OPENING
THE NEW VANCOUVER ART GALLERY (refer to VAG51)

SEATTLE ART MUSEUM - NORTHWEST ARTISTS EXHIBITIONS 1914 - 1975
Refer to NWA BC artists by exhibition
Refer to NWAA BC artists alphabetically

3rd BC GRAPHIC & CANADIAN SOCIETY OF GRAPHIC ART (refer to BCG57)

100 YEARS OF B.C. ART (refer to VAG58)

B.C. PAINTINGS BURNABY 58 (refer to BAG58)

ARTE CANADIENSE (refer to NGC60)

BOUQUET - A Selection of Flower Paintings (refer to BAG65.2)

PRINTMAKING IN BRITISH COLUMBIA 1889-1983 (refer to AGGV83)

VANCOUVER: ART & ARTISTS 1931 - 1983 (refer to VAG83)

BRITISH COLUMBIA WOMEN ARTISTS 1885-1985 (refer to AGGV85)

64 - 94 CONTEMPORARY DECADES (refer to ECU94)

GENERATIONS - FIVE DECADES OF ART IN WEST VANCOUVER 1912 - 1962 (refer to WVMA99)

A MODERN LIFE: Art and Design in British Columbia 1945-1960 (refer to VAG04)

THE ORNAMENT OF A HOUSE - FIFTY YEARS OF COLLECTING (refer to BAG17)

88 ARTISTS FROM 88 YEARS (refer to ECU17)
References - GENERAL
THE SAVARY PUDDING folio by Frederick A. Amess, private collection.
Original drawings, paintings and text by Amess, C.H. Scott, Grace Melvin,
H. Mortimer Lamb, Plato von Ustinov, and other students and visitors.
June 1935 (various dates), June 1939 (various dates)
52 loose 12"x18" sheets of brown sketch paper

BRITISH COLUMBIA - A CENTENNIAL ANTHOLOGY (refer to BCCA58)

MACLEAN'S MAGAZINE - B.C. CENTENNIAL ISSUE (refer to MAC58)

CREATIVE CANADA - Volumes One & Two (refer to CC71)
Includes one column of information on Lamb.

CANADIAN ART PRINTS (refer to CAP79)

ROYAL CANADIAN ACADEMY OF ARTS -
EXHIBITIONS & MEMBERS 1880 - 1979 (refer to RCA81)

ARTISTS IN CANADA 1982 - UNION LIST OF ARTISTS' FILES (refer to AIC82)

ART BANK CATALOGUE (refer to AB87)

MONTREAL MUSEUM OF FINE ARTS -
SPRING EXHIBITIONS 1880 - 1970 (refer to MM88)

THE ALMA MATER SOCIETY ART COLLECTION -
University of British Columbia 1948 - 1988
No ISBN, 64 pages, illustrated in colour and b&w
Includes history of the collection, artist biographies

A DICTIONARY OF CANADIAN ARTISTS (refer to M)
2 page biography with numerous references.

BIOGRAPHICAL INDEX OF ARTISTS IN CANADA (refer to BIAC03)
14 references cited for Bobak.

VANCOUVER PUBLIC LIBRARY - B.C. ARTISTS FILES (refer to VPL)

THE FECKLESS COLLECTION (refer to FECK18)

GREATER VANCOUVER ART GALLERIES 1954-2020 (refer to GVAG20)
3 references to Bobak.
Clippings
"Convoy of ten barges cleared Vancouver Harbour last heading for Songhees Reserve and Sechelt, bearing food for starving Indians. This remarkable present day give-away was made possible through the generosity of H. Mortimer Goat. Attractive Molly Ha-Ha gets big war whoop for diplomatic negotiations as Mediator. Goat bearded in den. Millions to charity."
From "MARINE – LATE SAILINGS"
Savary Pudding, 1939

"Molly-Ha-Ha the dapple-dark-loving dare-devil threw all fear to the winds as she slept spook-surrounded on the sand-dunes. Kept warm by generating her own heat until "the rains came" and our Molly retired to the play room wicker basket under the Union Jack, to dream of the Norwegian King and Queen."
From "IN THE FIRING LINE – GIRL RISKS LIFE UNDER THE SHOOTING STARS"
Savary Pudding, June 7 1939

"Crime at Deadman's Gulch. Soft spoken Dick fooled, foiled, and finished. Believed work of notorious Molly ha-ha Gang. Reward."
From "FLASH"
Savary Pudding, June 8 1939

"Molly Lamb in her colorful "Main Street, Nanaimo" takes another stride forward as a promising young artist."
From "B.C. Society of Fine Arts Display Sets New High Mark" by Palette Vancouver Province, May 16 1942

"Paintings by well known artists include ... Molly Lamb ... "
From "Summer Show at Gallery Major Event for Art Lovers" by Palette Vancouver Province, July 7 1943

"Also notable are ... Molly Lamb's two lively compositions."
From "Graphic Arts and Sculpture Place in Gallery Exhibition" by Palette
Vancouver Province, September 24 1945

"'Fame' for Rummy Players in Murals at Gordon House" by Mac Reynolds
Vancouver Sun March 21 1949

"Molly and Bruno Bobak" by Doris Shadbolt
Canadian Art magazine, 1952, Vol. 9 No. 3




HOME