Thomas William Fripp
March 23 1864 - May 30 1931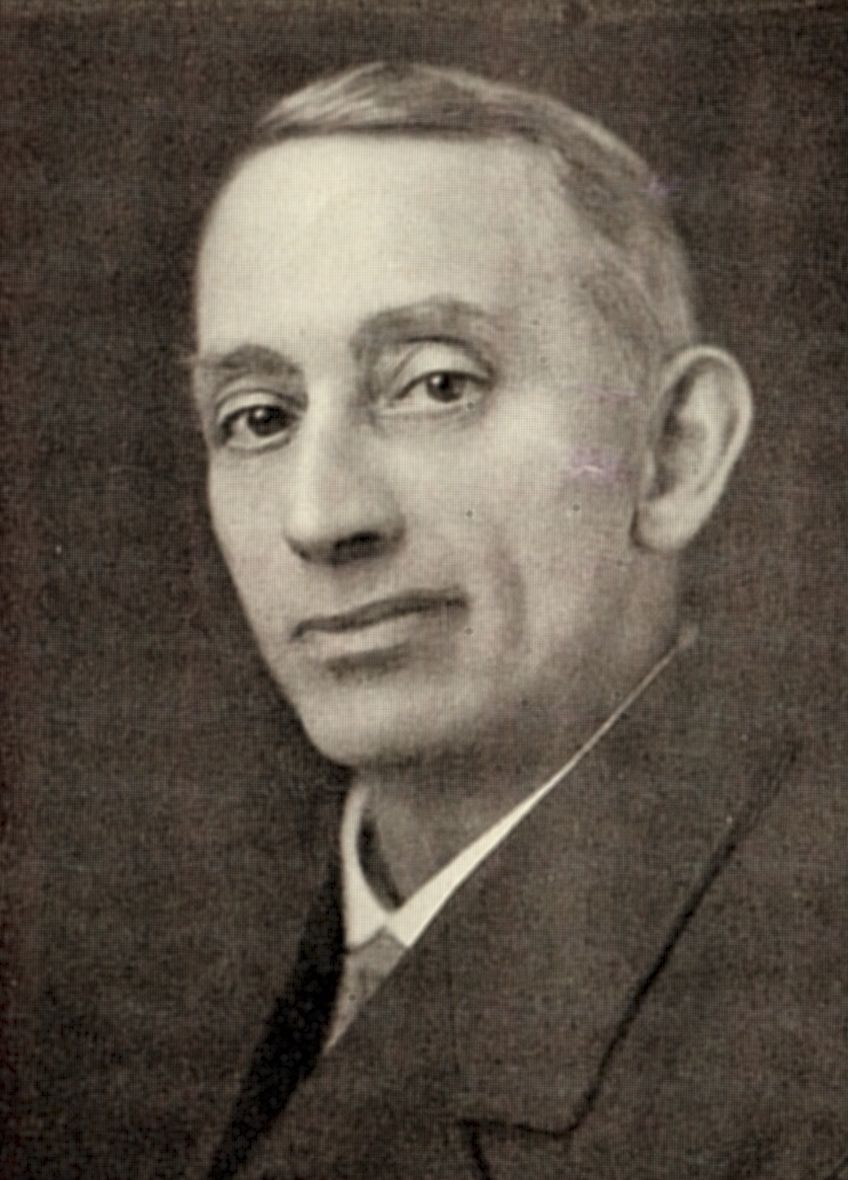 Thomas Fripp was born in London, England, on March 23, 1864. He was the youngest son of George Arthur Fripp, court painter to Queen Victoria. He was a grandson of Nicholas Pocock, one of the founders of the Royal Water Colour Society, England. Fripp completed art training at St. John's Wood Art School, followed by a year in Italy studying in Venice, Florence, and Sienna. He returned to England and took further training at the Royal Academy. He moved to Canada in May, 1893, arriving first in Quebec and then moving to Hatzic, British Columbia.

In 1893 Hatzic would have been a far cry from the civilized centers of London and Europe. The 1899 Wrigley's Directory lists Fripp living in Hatzic, occupation "farmer." The rigours of homesteading were perhaps too much for him, and he moved with his wife to Vancouver. He worked in a Vancouver photo studio, and taught art at Crofton House private girl's school, in addition to having his own art studio.

Fripp showed his work in the first annual exhibition of the Vancouver Arts and Crafts Association in 1900. He was a member of the Vancouver Studio Club formed around the turn of the century. This group became the nucleus for the B.C. Society of Fine Arts (BCSFA) founded in 1908. Fripp jointly served as the BCSFA's first Vice-President with Bernard McEvoy.

Fripp exhibited with the Art Association of Montreal in 1915, 1916, 1917, and 1918.

Fripp exhibited in the 1920 Annual Exhibition of the B.C. Society of Fine Arts, held at the Vancouver School Board offices on Hamilton Street.

Fripp led sketching trips to the B.C. Interior, in 1921 and 1922 at least. In 1922 he led a trip with R.S. Sherman, Maud Sherman, Mabel Bain and others to Pemberton Meadows and Darcy, reported in the Western Women's Weekly in the July 29, 1922 issue under the title "Sketching Trip Enjoyed." In 1922 Fripp wrote a long article titled "The Case of Local Artists", which was published in the column "Artists and Their Doings" in the Western Woman's Weekly in the July 29th issue.

In 1929 Fripp exhibited four paintings in the Citizens' Loan Exhibition of Water Colors sponsored by the B.C. Art League at their "temporary gallery" in the Hudson's Bay Company store at 649 Seymour Street. Fripp also loaned a number of paintings by his father George A. Fripp to the exhibition.

Fripp was one of only three local artists to display work in The Founders Collection, the first exhibition held at the Vancouver Art Gallery when it opened in October 1931, although he was not alive to enjoy the honour.

Fripp was a fairly prolific painter, working mostly in watercolour but occasionally in oil. He specialized in landscapes, expressing the B.C. mountains and coast in atmospheric veils of mist and cloud. He was one of many artists who visited and painted Savary Island, and two of his paintings of the island ("Old Wharf, Savary Island", and "Savary Island") were included in the Special Exhibition of his work at the Vancouver Art Gallery in 1931, the year he died.

He also exhibited with the Royal Canadian Academy in 1928 and in 1930. His work is in the collection of the National Gallery, Ottawa, Government House, Ontario, and Government House, B.C.

He exhibited in the Seattle Art Museum's annual Northwest Artists exhibition in 1930.

Fripp had a long and distinguished career in Vancouver - as an artist, as a teacher, and as an ardent and hard-working contributor to numerous arts groups, including the B.C. Art League, the Vancouver Sketch Club, the Studio Club, the Island Arts & Crafts Society, the Palette and Chisel Club, and the Art, Historical, and Scientific Association of Vancouver. A memorial bronze bust of Fripp was commissioned by the Citizens of Vancouver, sculpted by Charles Marega, and is now in the collection of the Vancouver Art Gallery. Fripp variously signed his work Thomas W. Fripp; Tom W. Fripp; Tom Fripp; T.W. Fripp; and T.W.F.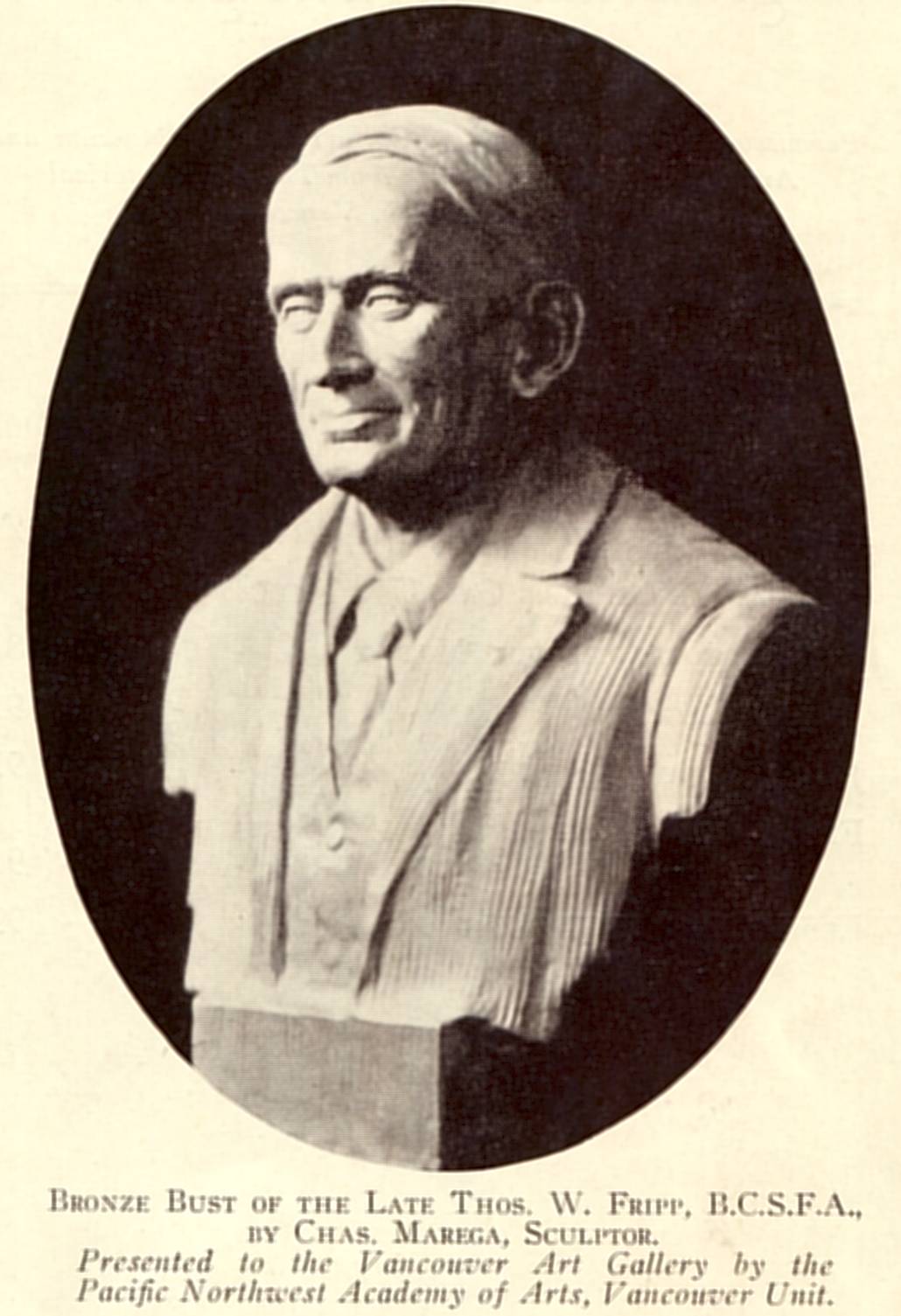 Bust of Fripp by Marega

A memorial exhibition of Fripp's paintings was held at the Vancouver Art Gallery after his death in 1931.

Also, per card file at Vancouver Art Gallery Library:
B.C. Society of Fine Arts: 1926, May 1929, November 1929; 1936; 1960; 1967
Island Arts and Crafts Society: 1912 - 1930
Vancouver Exhibition: 1925; 1930 (representing both BCSFA and Vancouver Sketch Club).
Exhibitions
SOLO EXHIBITIONS
GROUP EXHIBITIONS

DATE
EXHIBITION
ARTWORK
1900 Sept. 25-27
VACA First Annual Exhibition
Cheam Peak
Mt. Baker, Sunset
Southwold, Lincolnshire
English Scene
Hatzic Lake
The Net Mender
Sunset on the Thames
Hatzic Prairie
Autumn Sunset, Hatzic
1909 April 20 - 28
BCSFA First Annual Exhibition
The Quiet Hour
Storm in the Hills
Pitt Lake
Sunrise Over Sumas Mountain
Golden Lakes
Autumn Morn (Hatzic Lake)
Portrait
1909 June 19 - July 17
Studio Club Exhibition of Pictures
A Grey Morning
When the Sun is Low
A Cloudy Day
Low Water, Silver Creek
1909 November
BCSFA Second Exhibition
Passing Clouds
Autumn Glow, Stave Lake, B.C.
Cloudy Day
View from Bridal Veil Falls, Pitt Lake
Jocelyn Fripp
1910 May
BCSFA Third Exhibition
Sunset After a Storm
Beginning of Bush Fire
March
Clearing After Rain
When the Wind Blows in From the Sea
Arbutus, Albert Head, B.C.
Towards Evening, Oak Bay
1912 Nov. 25 - 30
BCSFA Annual Exhibition
Moraine Lake - Laggan
Lake Louise - a grey day
Mt. Sir Donald
Mt. Temple from "Saddle Back"
Asulkan Glacier from Mt. Abbott
Lake Agnes
Snow Flurry, Mt. Aberdeen
Souvenir of Venice
Stave Lake
Carved Panel
1913 June 2
Wanderbund Club Group Exhibition
?
1915 April
BCSFA Works by Members
Consolation Valley
Lake McArthur, Canadian Rockies
Mt. Aberdeen, Laggan
Mt. Babel, Valley of the Ten Peaks
View from Hatzic, B.C.
Mt. Temple from Sentinel Pass
Willows, Hatzic
1917 Sept. 14 - 22
BCSFA Eleventh Exhibition
Along the Coast
A Sunny Day
Willows
The Asulkan Glacier, B.C
Fir Trees
Sentinel Pass, Canadian Rockies
Mt. Sir Donald Glacier B.C.
1920 September 18 - 25
BCSFA Annual Exhibition
Lake Agnes, Canadian Rockies
The Old Barn
Autumn
The Old Bridge, Hatzic Island
Decorative Landscape
Eiffel Mountain, Paradise Valley
The Lions From North Vancouver
The Day's Awakening
View of Mount Sir Donald
1921 Sept. 19 - 24
BCSFA 13th Annual
Autumn Floods
The Stave
Alta Lake, P.G.E. Railway
Wamalkin, B.C.
Sunset, Pitt River
Misty Morn
A Sunlit Shore
Dwarf Pines, Alta Lake
1922 Sept. 16 - 23
BCSFA 14th Annual
Autumn Mist, Cheakamus, B.C
Souvenir D'Arcy
Summit, Gates Lake, Birken, P.G.E.
Moraine Lake, Laggan
Green Lake, P.G.E.
Alta Lake, P.G.E.
Along the P.G.E. near Rethel, B.C.
D'Arcy Evening
Sunset Glow, Anderson Lake, P.G.E.
1923 May 12 - 19
BCSFA 15th Annual
Peep of Mount Whistler, Alta Lake B.C.
Garibaldi Lake
The Black Tusk, Garibaldi, B.C.
Mt. Sir Donald, Glacier, B.C.
A Grey Day, D'Arcy
Towards Evening, Anderson Lake
Anderson Lake, B.C.
Mt. Bident, Consolation Valley, Alta.
Early Morning, Cheakamus, B.C.
1924 May 3 - 17
BCSFA 16th Annual
A Gray Day, Hatzic, B.C.
Lulu Island
A Quiet Evening, P.G.E. Railway
Mount Alpha, from Chee Kye
D'Arcy Glacier, Sunset
Shores of Pitt Lake
Yellow Pine, P.G.E.
Peep of the Lions
The Glacier
1924 Aug. 9 - 16
Vancouver Exhibition Annual Exhibition
Mount Whistler, Alta Lake, B.C.
Yellow Pines, P.G.E. Ry.
Edge of the Lake
1925 May 9 - 16
BCSFA 17th Annual
Mt. Babel
Garibaldi Lake: A Gray Day
View of Mt. Stephen, Can. Rockies
Near the Summit of Mt. Omega, Early Morning
The Upper Squamish, B.C
Along Anderson Lake, B.C.
Harrison Lake, B.C.
Mt. Deltaform (Valley of the Ten Peaks)
Aloutte (sic) Lake, B.C.
"Autumn", Fraser Valley
1926 May 8 - 15
BCSFA 18th Annual
Mt. Fay, Morning Mists
Across the Lagoon, Comox, B.C.
Still Waters, Alta Lake
Part of Glacier
The Sentinels
Sunrise Through Smoke
1927 June 10 - 25
BCSFA 19th Annual
Near Hatzic
Alouette Lake
Valley of Devolation
View on Pitt Lake
Part of the Hermit Range
1929 May 18 - June 8
BCSFA 21st Annual
An Old Orchard, Hope B.C.
Rock, Snow and a Grey Sky
Mt. Cheops, Glacier B.C.
Vanishing Vancouver
The Snows of March
Towards Evening, Jervis Inlet
The Tantalus
Autumn on the Coast (B.C.)
Guardians of Vancouver
Eiffel Mt., Paradise Valley
1929 October
BCAL Citizens' Loan of W/C
Sunset on the Hermit Range
Alta Lake
Mt. LeFroi & Glacier
Mount Blanchard
1929 Nov. 16 - 30
BCSFA Winter Exhibition
Johnstone's Straits
Klemtu, B.C. from S.S. Cardena
Gill Island, B.C.
Seymour Canyon, B.C.
The Rain Storm from S.S. Cardena
Skeena River, B.C.
Chatham Sound, B.C., from the S.S. Cardena
1930 May 31 - June 14
BCSFA Spring Exhibition
Lulu Island
Pitt Lake (tree study)
Rock Study, Mt. Aberdeen
Tranquility
Snow Traceries, Mt. Temple
Along the Coast, B.C.
Mountains and Lakes, B.C.
Up Kutze Inlet
Pitt Lake, B.C.
Yellow Pine, Anderson Lake
Forest and Stream
The Black Tusk, Garibaldi Park
Sechelt
1930 Aug. 6 - 16
VanExh Oil Paintings & Water-colours
Gill Island, B.C.
Chatham Sound, B.C.
Storm Clouds, Jervis Inlet
Mountain and Lake, B.C.
Cheops, Glacier, B.C.
Mountain and Lake, B.C.
1930 Aug. 22 - Sept. 6
CNE Water Colours
Klem-tu, B.C.
Graphic Art
Forest and Stream (charcoal)
1931 October 5 - ?
Vancouver Art Gallery
The Founder's Collection
Pitt Lake, B.C.
Near the Summit - "Omega," Tantalus Range
1932 May - July
VAG All Canadian Exhibition
Mt. Blanchard, Pitt Lake
Mt. Tupper
1936 June 26 - July 12
BCSFA 26th Annual
Mt. Tupper
Glacier, Anderson Lake
1946 July 2 - 28
VAG Jubilee Exhibition
Passing Shadows, Jervis Inlet
After the Storm, Stave Lake
1950 April 25 - May 14
BCSA 40th Annual
Glacier on D'Arcy Range
References - BIBLIOGRAPHY
Refer to BIBLIO.
References - GROUP EXHIBITIONS
SEATTLE ART MUSEUM - NORTHWEST ARTISTS EXHIBITIONS 1914 - 1975
Refer to NWA BC artists by exhibition
Refer to NWAA BC artists alphabetically

SOUVENIR CATALOGUE OF EXHIBITIONS OPENING
THE NEW VANCOUVER ART GALLERY (refer to VAG51)

100 YEARS OF B.C. ART (refer to VAG58)

CONTEMPORARIES OF EMILY CARR IN BRITISH COLUMBIA (refer to SFU74)
References - GENERAL
ISLAND ARTS & CRAFTS CLUB 5th ANNUAL EXHIBITION (refer to IACS14)

Mr. Thos. W. Fripp Museum and Art Notes February 1927, Vol. II, No. 1
Published by the Art, Historical, and Scientific Association of Vancouver.

The Late T.W. Fripp by Greenjacket
Museum and Art Notes June 1931, Vol. VI No. 2; pages 60-61 (includes photograph)
Published by the Art, Historical and Scientific Association of Vancouver

WHO'S WHO IN NORTHWEST ART (refer to WWNA41)

BRITISH COLUMBIA - A CENTENNIAL ANTHOLOGY (refer to BCCA58)

THE FINE ARTS IN VANCOUVER, 1886 - 1930 (refer to THOM)

EARLY PAINTERS AND ENGRAVERS IN CANADA (refer to H70)

CREATIVE CANADA - Volumes One & Two (refer to CC71)
Includes half a column of information on Fripp.

THE MOUNTAINS AND THE SKY by Lorne E. Render
1974, Glenbow-Alberta Institute; published by McClelland and Stewart West
ISBN 0-7712-1001-2; 224 pages, illustrated throughout in colour and b&w
Includes biographical information on Fripp and one of his paintings illustrated

ISLAND ARTS AND CRAFTS SOCIETY - LIST OF EXHIBITORS

ROYAL CANADIAN ACADEMY OF ARTS -
EXHIBITIONS & MEMBERS 1880 - 1979 (refer to RCA81)

ARTISTS IN CANADA 1982 - UNION LIST OF ARTISTS' FILES (refer to AIC82)

PHILLIPS IN PRINT - The Selected Writings of Walter J. Phillips on Canadian Nature and Art
Selected and Edited by Maria Tippett and Douglas Cole
1982, The Manitoba Record Society Publications, no ISBN, 160 pages
Includes short article on Fripp by Phillips, originally published 1926 and 1931.

MONTREAL MUSEUM OF FINE ARTS -
SPRING EXHIBITIONS 1880 - 1970 (refer to MM88)
Exhibited 9 paintings from 1915 to 1918.

A CENTURY OF SCULPTURE (refer to SSBC98)

Not listed in MACDONALD'S DICTIONARY OF CANADIAN ARTISTS VOL. 1 A - F

BEYOND THE CANVAS - Artists, Stories and the Sea (refer to VMM00)

BIOGRAPHICAL INDEX OF ARTISTS IN CANADA (refer to BIAC03)
17 references listed for Fripp.

CITY & PROVINCIAL DIRECTORIES 1899-1923 (refer to DIR)
Clippings
"Of the water colors, it was generally conceded that Mr. T.W. Fripp's drawings simply stood alone, being the only work which may be said to be really representative of the genuine old school of water color, painting and following the traditions of this truly English art; in some of W. Fripp's warm, broad, sunny effect, notably in a charming little sketch of Southwold, and near Streathy, on the Thames (England), one recognizes the influence of a great master who for nearly half a century was closely connected with the water color society."
From "British Columbia Letters, No. IV", by (unknown)
The Canadian Architect and Builder 1900

"Mr. Tom Fripp's "Venetians Threading Beads" is a new departure for him (Ed.: in oil) . . . In water colors, Mr. Ferris showed but four small drawings, while in this class the only other exhibitor was Mr. Tom Fripp whose large drawing "Chill October" is the most important work that artist has shown here. His sketches "Venice" and "Burrard's Inlet," are full of light and atmosphere. In black and white, the same artist was the sole contributor, principally portrait studies in chalk or pencil."
From "British Columbia Letters, No. VII", by (unknown)
The Canadian Architect and Builder 1901

" ... T.W. Fripp ... and several other artists have clearly proved that round Vancouver is a real "artist's country"."
"Vancouver Studio Club Spring Exhibition"
B.C. Saturday Sunset, July 3 1909

"At this moment I am not aware of the arrangements made for art lectures or "gossips" during the exhibition. I hope there will be several. The lecture on watercolors by Mr. Fripp was both interesting and instructive and such lectures tend to make art something more than a means of "home adornment" - a real factor in the building up of a good fabric of society."
"The Studio Club Autumn Exhibition", by Felix Penne,
B.C. Saturday Sunset, October 30 1909

". . . and T.W. Fripp . . . are artists who contribute admirable exhibits."
"Vancouver Studio Club", by Felix Penne
B.C. Saturday Sunset, November 6 1909

"Among its members ... is Thos. W. Fripp, a son of the eminent water colorist of the same name ... "
From "Art in British Columbia", by Bernard McEvoy
Opportunities Magazine, 1910

"The pictures showed up strongly against the buff-toned walls and the miniatures and photos were arranged on flower-decked tables. The principal exhibitors were ... Mr. Fripp ...
&nbsp &nbsp &nbsp From (Wanderbund Club Exhibition)
&nbsp &nbsp &nbsp Vancouver Sun, June 3 1913

"The exquisite finish and refined character of Mr. Tom Fripp's watercolors are known beyond the limits of Vancouver. He is one of the few artists in the present exhibition who seem to have arrived at a definite style and whose pictures, to use a phrase common with art dealers, are "signed all over". He has five small pictures of a high class in the present exhibition."
From "With The B.C. Artists", by "A Visitor"
Vancouver Daily Province, September 27 1916

"The work of a painter of mountains in another medium is seen in the masterly water-colors of Mr. Tom Fripp, who carries out and improves upon the traditions of the Royal Watercolor Society of England, of which his father was a distinguished member. There is a delicacy and refinement in Mr. Fripp's method, combined with a poetic sense of the grandeur of his subjects, which make his work very attractive, and the examples which he shows in the present exhibition can not fail to arrest the beholder by their marvellous execution and finish."
From "Local Work is on View" by Bernard McEvoy
Vancouver Daily Province, October 2 1919

"For some time the meetings and exhibitions of the club were held at the studio of Miss Wake, but about two years ago an independent studio was secured at the present quarters, 342 Pender street west. This location has become known for its art associations, the building having also contained the studios of such well known artists as Mr. Thos. W. Fripp, Miss Margaret Wake, Miss Isabel Weir, and Mr. Norman Hawkins."
&nbsp &nbsp &nbsp From "Sketch Club Is Well Organized" by I.B.
&nbsp &nbsp &nbsp Vancouver Province, July 17 1920

"The work arranged was varied and interested. Mr. Tom Fripp showed some of his beautiful landscapes, including "Lake Louise", "The Lions", from North Vancouver, "A Grey Day On The Coast", and "Old Hatzic Bridge", also a very finely executed landscape in charcoal."
From "Vancouver Sketch Club"
Western Woman's Weekly, October 9 1920

"... one is rather glad to see some of the earlier apostles of art in our midst still sticking to their good old style. This is especially noticeable in the magnificent mountain pictures by Thos. W. Fripp, who has five in the present show, all of them of a covetable nature, but even here there is a touch of modernism in this artist's "Mount Lefroy Glacier," No. 59."
From "B.C. Society of Fine Arts" by Bernard McEvoy
Vancouver Daily Province, April 28 1928

"In the two pictures, "After the Storm" and "Passing Shadows," Mr. Tom Fripp has shown his singular facility in depicting the soft beauty or the rugged grandeur of our rivers, lakes and mountains. In delicate mists and vapours he draws a veil over the landscape's more rugged features. Yet, not alone of mountains, but of woodland streams can Mr. Fripp's brush write poetry, and we hope the Museum may be able to acquire an example of these also."
From "The City Art Gallery", by G.H. Lardner
Museum and Art Notes, Vol. IV, No. 1. March 1929

"Tom Fripp at his best, with seven of his water colors at astonishingly low prices which in London would fetch double the money, should receive the notice of collectors. His "Near the Head of Pitt Lake, B.C." has the note of grandeur he has attained in his interpretation of our mountains, and so has the other big one."
From "B.C. Society of Fine Arts", by Diogenes
Vancouver Daily Province, November 13 1930

"Art Gallery Will Receive Memorial"
Daily Province October 1931 by (unknown)

"Fripp Bust to be Presented"
Vancouver Sun October 1931 by (unknown)

"Loan Exhibit to Open in Gallery"
Vancouver Star Nov. 30 1931 by (unknown)

"Fripp's Pictures"
Vancouver Province Dec. 16 1931 by Diogenes

"In the World of Art"
Vancouver Sun Dec. 19 1931 by Doris Milligan

"Thomas W. Fripp may well be considered one of the most pioneer artists of British Columbia. Born in London, in 1864, he migrated to the Western Province in 1893, where, for a few years, he worked at the arduous task of clearing a bush farm. Before coming to Canada he had studied art with his father, G.A. Fripp, R.W.S., and also in France and Italy. An accident which injured his hand led him to give up farming and return to his painting. For thiry years he was active as a water-colour painter, producing many pictures of the mountains and Pacific Coast. He was a founder member and first president of the British Columbia Society of Artists, organized in 1917 (sic). His death, in 1931, removed an artist who deserves a place of importance in the history of art in British Columbia."
From Canadian Landscape Painters, Albert H. Robson; page 188
The Ryerson Press, Toronto, 1932

"Fripp Pictures Placed On View"
News Herald May 11 1940 by (unknown)

"Artist Family's Pictures Shown"
Vancouver Sun May 13 1940 by (unknown)




HOME