John Francis Bursill
(pen name Felix Penne)
1848 - February 5, 1928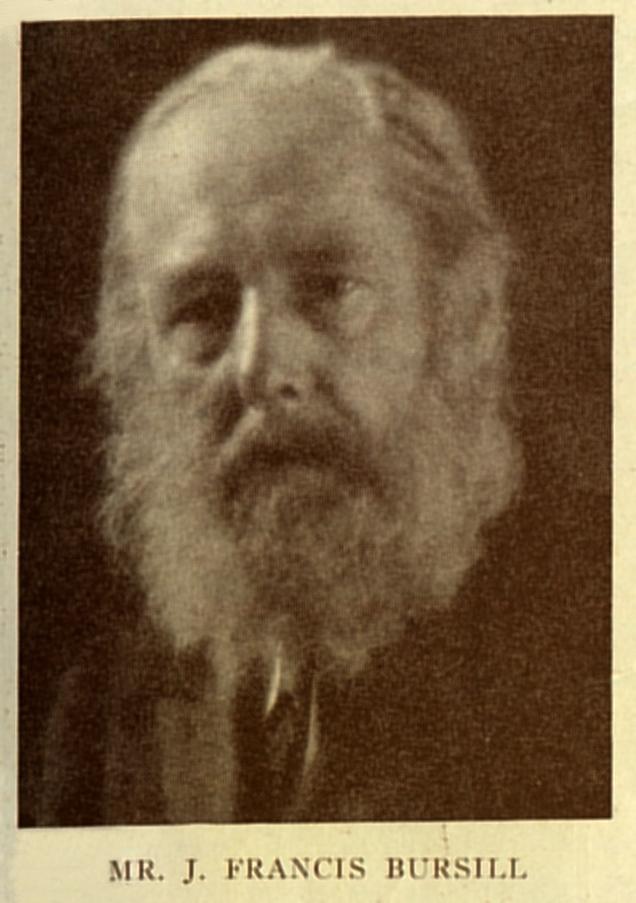 John Francis Bursill was an English journalist from Fleet Street, who arrived in Vancouver in 1908. Over the years he wrote newspaper columns for a number of publications including:
News-Advertiser
Saturday Sunset
South Vancouver Chinook
Vancouver World ("Window")
Vancouver Sunday Sun ("Felix Penne's Column")
Vancouver Sun (daily)
Western Idea

He was the father of F. Noel Bursill.

In 1917 he provided four paintings to the Loan Collection of the Eleventh Exhibition of the B.C. Society of Fine Arts.

Bursill gave four lectures sponsored by the Vancouver Institute:
Shakespeare on the Stage, January 9 1919
The London of Charles Dickens, March 13 1924
The Evolution of the Shakespearean Drama, February 18 1926
London in the Time of Dickens, December 17 1926

He was involved in the foundation of the B.C. Art League, appointed to both the Organization and Publicity committees in 1920.

According to B.C. Vital Statistics on-line he died in Burnaby in 1928 at the age of 79.



Exhibitions
References
THE GOLD STRIPE - Volume One
1918, Christmas. Published by the Amputation Club of B.C., Vancouver
216 pages (including text, advertisements and photographs)
Heavily illustrated by many early Vancouver artists, including Bursill.

JOHN FRANCIS BURSILL: FOUNDER OF THE VAGABONDS CLUB by Jacqueline Hooper
BRITISH COLUMBIA LIBRARY QUARTERLY; July 1968, various authors
Extensive biography of Bursill, numerous references to the group & its members.

B.C. VITAL STATISTICS ON-LINE death (no certificate) (refer to BCVS)

http://eastsidevancouver.blogspot.com/2011/06/john-francis-bursill-forgotten-cultural.html
Clippings
"The committees which will be recommended to the League were named as follows: ... J. Francis Bursill ..."
From "B.C. Art League Committees Are Active" by (unknown)
Western Woman's Weekly, October 9, 1920

"In May, 1908, a new member was introduced in the person of Mr. J. Francis Bursill, better known in this city as "Felix Penne," the columnist of the Vancouver "Daily Sun." In November of the same year, in conjunction with Mr. De Forest, he produced a "Guide and Handbook" to the Museum, for which his son, Mr. Noel Bursill, designed a cover. A reproduction of this was used in the "Museum Notes" for February. Copies of this guide are scarce to-day. The fate of many of the copies was tragic. Mr. Bursill relates how he brought 250 copies of the Guide to the Museum, only to find that the place was closed. Crossing the road to a baker's shop he asked the youth in charge if he could leave the heavy parcel there to be called for later. Permission was given and he returned early next morning to find the boy gone and the proprietor in charge. To the inquiry for the parcel, he returned the surly reply that he had just "chucked it in the furnace!"
"History of the A.H.S.A.V.-Biographical: Founders & Members"
Museum Notes, Vol. 1, No. 2 June 1926




HOME