Art & Artists in Exhibition: Vancouver 1890 - 1950
Alistair Macready Bell
October 21 1913 - December 1997
Atelier Sketch Club
Canadian Society of Graphic Artists (Member 1947-70)(Reg. Rep. 1956)
B.C. Society of Artists (Member 1949 President 1953-55)
Canadian Painters and Etchers (Member 1954)
Canadian Group of Painters (1959-61 President 1960-61)
Canada Council Senior Fellowship (1959)
Royal Canadian Academy of Arts (ARCA 1965)
Printing and Drawing Council of Canada (1976)
Alistair Bell was born in Darlington, England. He came to Canada in 1922, and later arrived in Vancouver in 1928, according to an exhibition registration form provided to the Vancouver Art Gallery.

Bell was a member of the Atelier Sketch Club, a group formed by art students taking Evening Classes at the Vancouver School of Art. The group put together an exhibition at the Vancouver Art Gallery in 1940. As an evening student Bell studied under B.C. Binning.

He exhibited work in the 1944 British Columbia At Work exhibition at the Vancouver Art Gallery.

Bell was on a list titled "Leading Vancouver Artists," provided to the Labour Arts Guild on April 10, 1946 by the Vancouver Art Gallery to assist in the Guild's call for entries to the second annual B.C. At Work exhibition.

He exhibited artwork in the B.C. Artists exhibitions at the Vancouver Art Gallery beginning in 1933, and continuing to at least 1950.

He exhibited with the B.C. Society of Fine Arts in their 39th Annual Exhibition in 1949. Later that year he submitted three works to the B.C. Graphic exhibition at the Vancouver Art Gallery, but only one of them was selected for the exhibition.

Bell had solo exhibitions at the Vancouver Art Gallery in 1942, 1944, 1951 and 1989, the first two shows with his wife. When the Art Gallery expanded in 1951, Bell had the first solo exhibition in the new space, showing a collection of his drawings. The Art Gallery Bulletin noted that this was the first time they were able to display special exhibitions in addition to a "comprehensive review of all sections of the permanent collection".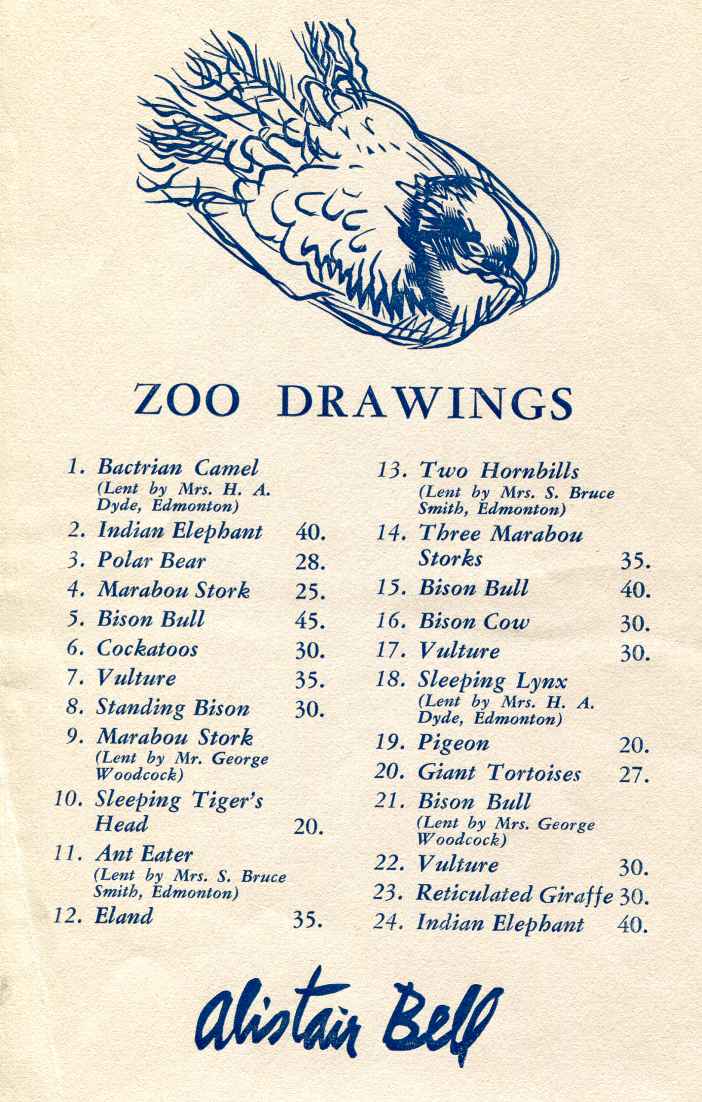 Bell received two senior Canada Council grants - a travel grant in 1959 and a scholarship in 1967. He won the C.G. Jefferys award from the Canadian Society of Graphic Artists in 1956. He exhibited his work extensively, including many international exhibitions and a duo show at the National Gallery of Canada in 1961.

Bell retired from his full-time job at Dominion Bridge in Vancouver in 1967, and began working as an artist full-time. He specialized in graphic works, including woodcuts, wood engravings, etchings, and lithographs. He also worked in watercolour, pencil, crayon, pen, and other medium. He was represented by the Bau-Xi Gallery in Vancouver for many years, and had at least twelve solo exhibitions at their galleries in Victoria, Vancouver and Toronto.

In 1971 the Burnaby Art Gallery mounted a large retrospective of Bell's work dating from 1935 to 1970. The exhibition consisted of 62 artworks. The poster for this exhibition had extensive information on Bell on the reverse side, noting among other things that Lawren Harris was a patron and advisor of Bell's, and that Bell had produced approximately 900 drawings and watercolours, and 100 editioned prints, to that point in time. Bell kept meticulous records about the production of his prints, the numbers sold and the remainder to be printed.

In 1982 Bell donated a huge collection of his work, almost 200 pieces dating from 1935 to 1981, to the Art Gallery of Greater Victoria. This collection was exhibited at the AGGV, with Ian Thom writing the exhibition catalogue. The same year Thom wrote an article about Bell for Artswest magazine, which featured one of Bell's prints on the cover.

The Vancouver Art Gallery Library has a large file on Bell, which includes transcriptions of two interviews with the artist, numerous exhibition catalogues, newspaper clippings, and other material.

Bell's work is held in many collections, including the National Gallery of Canada, the Museum of Modern Art in New York, the Victoria and Albert Museum, London, England, and in many corporate and private collections.
Exhibitions
SOLO EXHIBITIONS
GROUP EXHIBITIONS

References - BIBLIOGRAPHY
Refer to BIBLIO.
References - GROUP EXHIBITIONS
SOUVENIR CATALOGUE OF EXHIBITIONS OPENING
THE NEW VANCOUVER ART GALLERY (refer to VAG51)

3rd BC GRAPHIC & CANADIAN SOCIETY OF GRAPHIC ART (refer to BCG57)

100 YEARS OF B.C. ART (refer to VAG58)

B.C. PAINTINGS BURNABY 58 (refer to BAG58)

2nd BURNABY NATIONAL PRINT SHOW (refer to BAG63)

4th BURNABY NATIONAL PRINT SHOW (refer to BAG67)

BAU-XI GALLERY NORTHWEST DRAWINGS (refer to BX67)

5th BURNABY NATIONAL PRINT SHOW (refer to BAG69)

SUMMER BUBBLE (refer to BAG70)

B.C. ARTISTS' TRIBUTE TO COLIN GRAHAM (refer to AGGV74)

PAPERWORKS: Contemporary works on paper by BC artists (refer to AGGV78)

PLANTAE OCCIDENTALIS (refer to UBC79)

PRINTMAKING IN BRITISH COLUMBIA 1889-1983 (refer to AGGV83)

VANCOUVER: ART & ARTISTS 1931 - 1983 (refer to VAG83)

PROFILES OF A HERITAGE - Images of Wildlife by British Columbia Artists
Published by Centennial Wildlife Society of British Columbia and Liane Davison
1987, no ISBN, Traveling Exhibition Curated by Liane Davison
Sofcover, not paginated, works illustrated in colour and black & white
Includes Foreword by Patricia Bovey, Introduction, biographies, artist statements
Includes early artwork by Louis Springett, Alan Brooks, Edward Scrope Shrapnel, Alistair Bell, Frank Beebe.

SEYMOUR ART GALLERY - A NORTH SHORE BEGINNING (refer to SEY90)

GENERATIONS - FIVE DECADES OF ART IN WEST VANCOUVER 1912 - 1962 (refer to WVMA99)

A MODERN LIFE: Art and Design in British Columbia 1945-1960 (refer to VAG04)

DAILY GRIND EXHIBITIONS (refer to DG07)

OUR CHANGING LANDSCAPE (2008) (refer to BAG08)

THE ORNAMENT OF A HOUSE - FIFTY YEARS OF COLLECTING (refer to BAG17)

88 ARTISTS FROM 88 YEARS (refer to ECU17)
References - GENERAL
PERCEPTION - Journal of the B.C. Art Teachers' Association
1961 May, Volume 2, Number 2, (88 pages - unpaginated), published "twice annually"
Includes biographical summaries and reproductions of 5 woodcuts by Bell and 4 by Sam Black

CREATIVE CANADA - VOLUME TWO, by University of Toronto Press
1972; ISBN 0-8020-3285-0
Includes a full page of concise information about Bell.

VISUAL ARTS BRITISH COLUMBIA (refer to VABC77)

BRITISH COLUMBIA ART COLLECTION 1974-80 (refer to BCAC80)

ROYAL CANADIAN ACADEMY OF ARTS -
EXHIBITIONS & MEMBERS 1880 - 1979 (refer to RCA81)

ARTISTS IN CANADA 1982 - UNION LIST OF ARTISTS' FILES (refer to AIC82)

ART BANK CATALOGUE (refer to AB87)

MONTREAL MUSEUM OF FINE ARTS -
SPRING EXHIBITIONS 1880 - 1970 (refer to MM88)

A DICTIONARY OF CANADIAN ARTISTS (refer to M)

BIOGRAPHICAL INDEX OF ARTISTS IN CANADA (refer to BIAC03)
14 references cited for Bell, including CC2, M, and RCA listed above.

WATERFRONT by James P. Delgado, Executive Director, Vancouver Maritime Museum
"The illustrated maritime story of Greater Vancouver"
Published by Vancouver Maritime Museum and Stanton Atkins & Dosil Publishers
2005, ISBN 0-9732346-5-2, 186 pages hardcover first edition with dust jacket
Artwork reproduced includes Bell print.

VANCOUVER PUBLIC LIBRARY - B.C. ARTISTS FILES (refer to VPL)

AMPHORA - Featured Artist (refer to AMP128)

THE FECKLESS COLLECTION (refer to FECK18)

GREATER VANCOUVER ART GALLERIES 1954-2020 (refer to GVAG20)
5 references to Bell.
Clippings
"Congratulations are due to the Atelier Sketch Club for their ambitious exhibition. This self-organized group of evening school students are meeting every Friday in the Holden building and an invitation is extended to all students to join."
"Evening School", by Fred Amess
From Behind The Palette, Vancouver School of Art Annual 1939-40

"Art Group, Youth Share City Gallery"
Daily Province April 4 1940

"Atelier Sketch Club Takes A Bow"
News Herald April 3 1940