SIM PUBLISHING
Home Publications Artwork News Links About
---
NEWS ARCHIVE - 2020
2019 - 2018 - 2017 - 2016 - 2015 - 2014 - 2013 - 2012 - 2011 - 2010 - 2009 - 2008 - 2007 - 2006 - 2005 - 2004
---
All text, photography and artwork is COPYRIGHT by GARY SIM unless noted otherwise.
---
DEC. 20: SOLSTICE UPDATE


From a recent walk along the English Bay seawall.
It has been a while since the last NEWS posting, it was a very quiet fall season. However, my proposed donations of BC ARTISTS material to the University of Victoria Library and Special Collections has commenced, and three shipments of publications and original artwork have been sent. I compiled a number of spreadsheets listing additional publications for the Archivist's review and selection, and am waiting to hear back from them. Compiling the spreadsheets has been a fair bit of work, but they are useful in a number of ways, including inventory, appraisal, indexing, and insurance.


A selection of Sim solstice greeting cards:
RGBK(Y) Mandala, Frosty Window, First Winter, West End in Winter, Tangled, Snow on Elms
The University of Victoria was selected because they are very interested in collecting material in the field of BC art history. Robert Amos, the well-known Victoria artist, writer, and biographer of E.J. Hughes, donated a huge collection of ephemera to them, and senior Vancouver artist Pnina Granirer also donated a significant amount of her personal archives. Robert encouraged me to contact U.Vic., and they were enthusiastic about receiving donations from my BC ARTISTS collection. So far so good!


A selection of Sim solstice greeting cards:
Angleman & the Lights Tangle, Twin Trees in Winter, Decorated Tree, Peace, Snow, Universolmas
Many thanks are due to all of the people who have supported me this year in my BC Artists project, including:
Touchstones Museum & Gallery, Nelson, for catalogue donations
Robert Amos and Touchwood Editions, Victoria, for research support and donations of E.J. Hughes books
Private donor, North Vancouver, for donation of the Savary Pudding
Private donor, North Vancouver, for donation of art school Prospectii, exhibition catalogues, and artist fond
Vancouver Art Gallery Library and Archives, for research support
Private donor, Ottawa ON, for ongoing support
Vancouver artist Pnina Granirer, for donation of a number of hard-to-find catalogues and publications
Lara Wilson, Director Special Collections/Archivist, University of Victoria, for accepting donations
The Ferry Building Gallery, West Vancouver, for engaging me to lecture on BC ARTISTS
West Vancouver Museum & Archives, for research support
And, especially, thanks to all of the people who have kept going this year despite all of the difficulties and restrictions.
In these pandemic times I hope you are all healthy and well. Best wishes for the holiday season, and a safe and happy new year!
---
OCT. 12: MODERN IN THE MAKING
This large exhibition shows a wide variety of British Columbia art, design, pottery, and jewellery that was hand crafted between the mid-1940s and the mid-1970s by B.C. craftspeople. The exhibition is on at the Vancouver Art Gallery until January 3 2021, and is highly recommended for a visit. The show is accompanied by a very well produced exhibition catalogue, illustrated throughout in colour. The catalogue includes biographical summaries of all artists who are represented in the exhibition.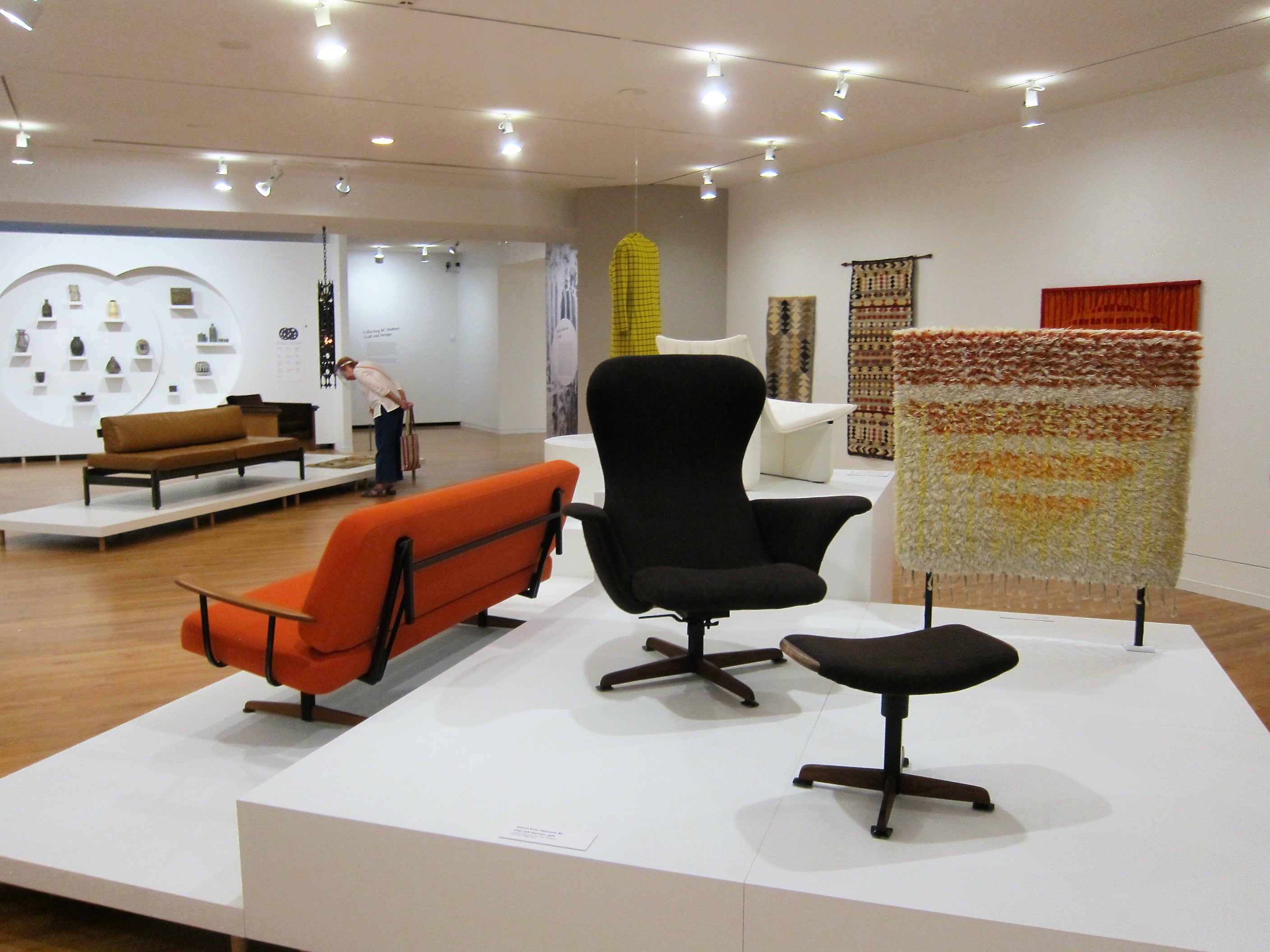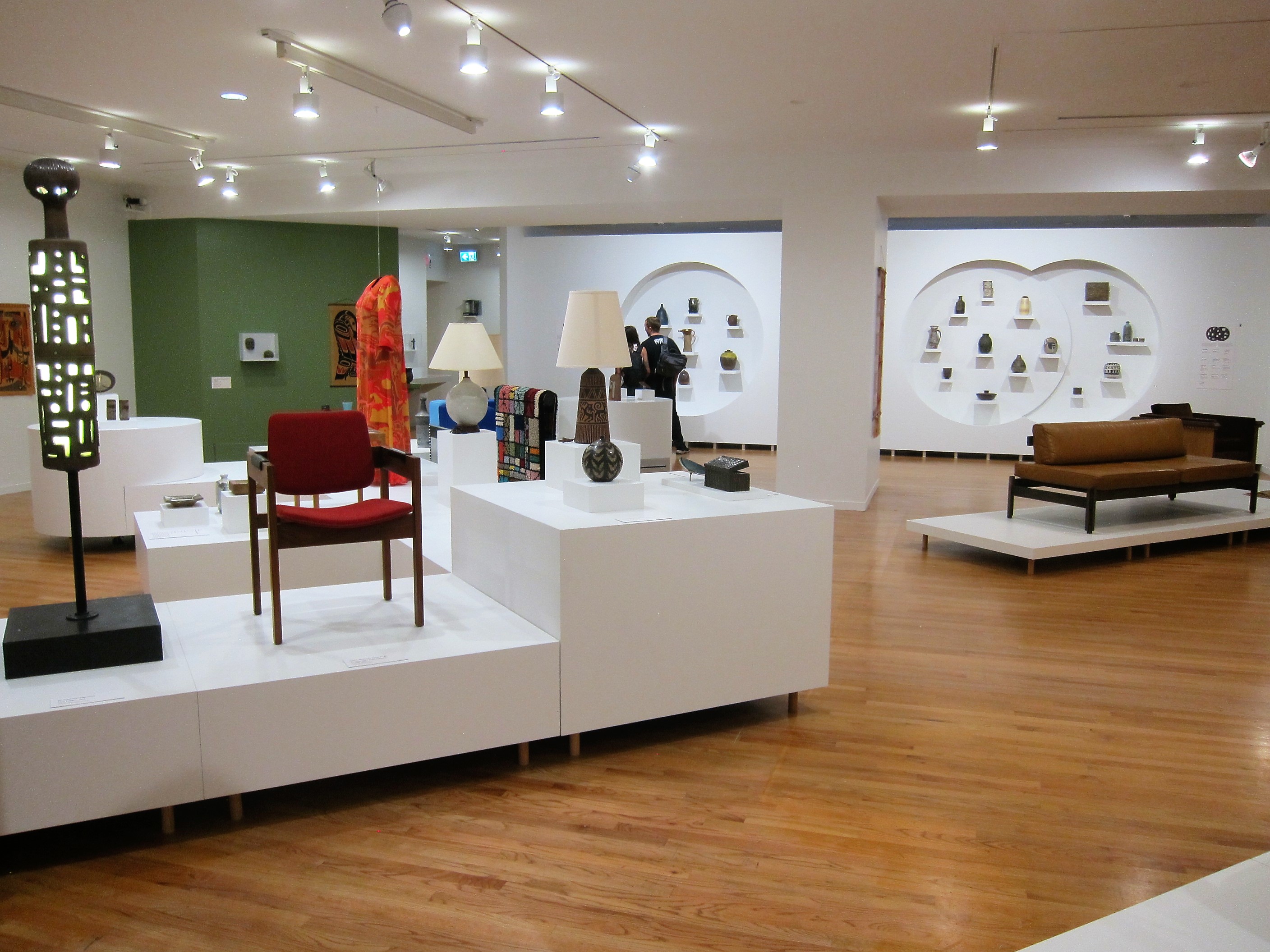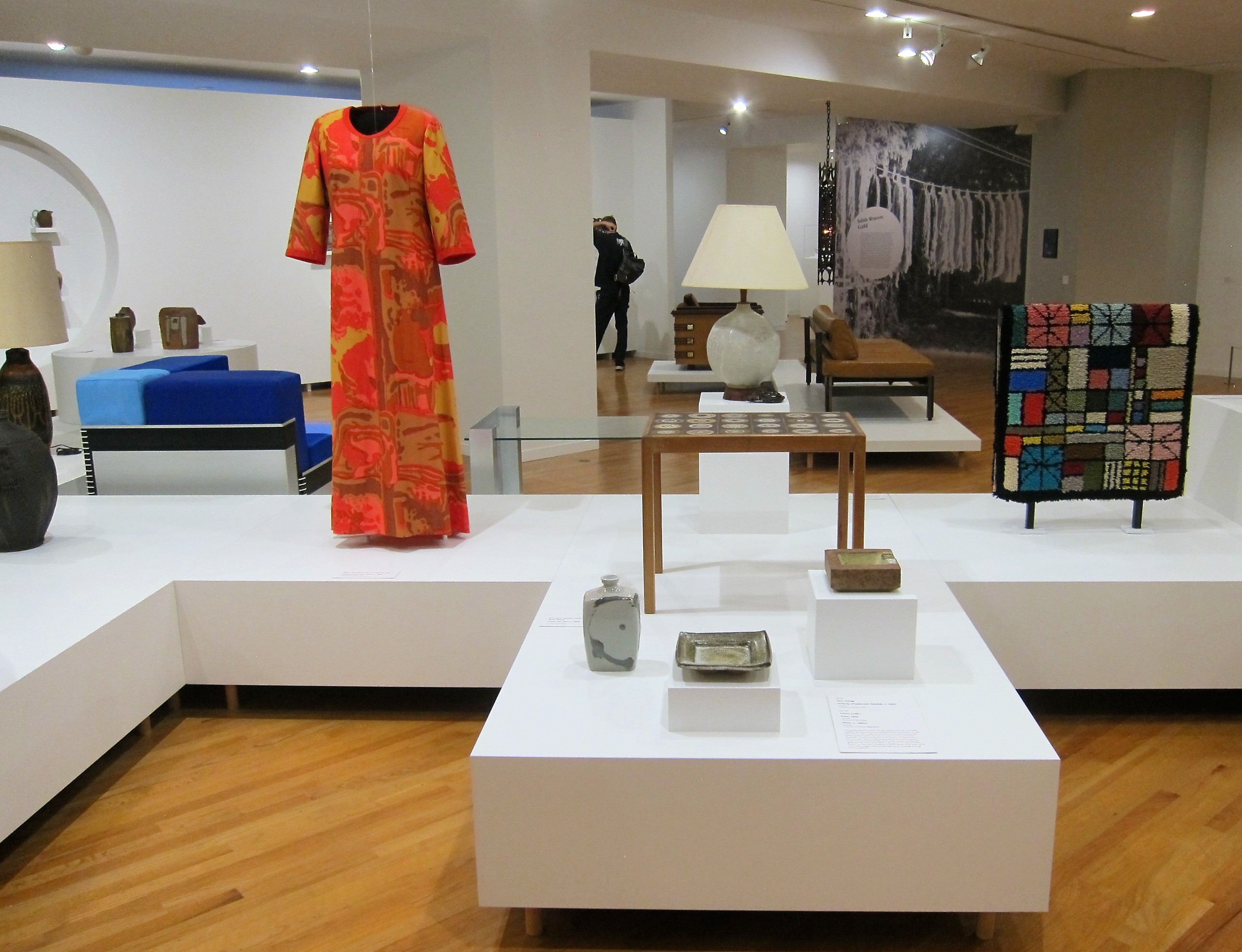 Installation views courtesy Co-Curator Allan Collier.
---
SEPT. 20: THE E.J. HUGHES BOOK OF BOATS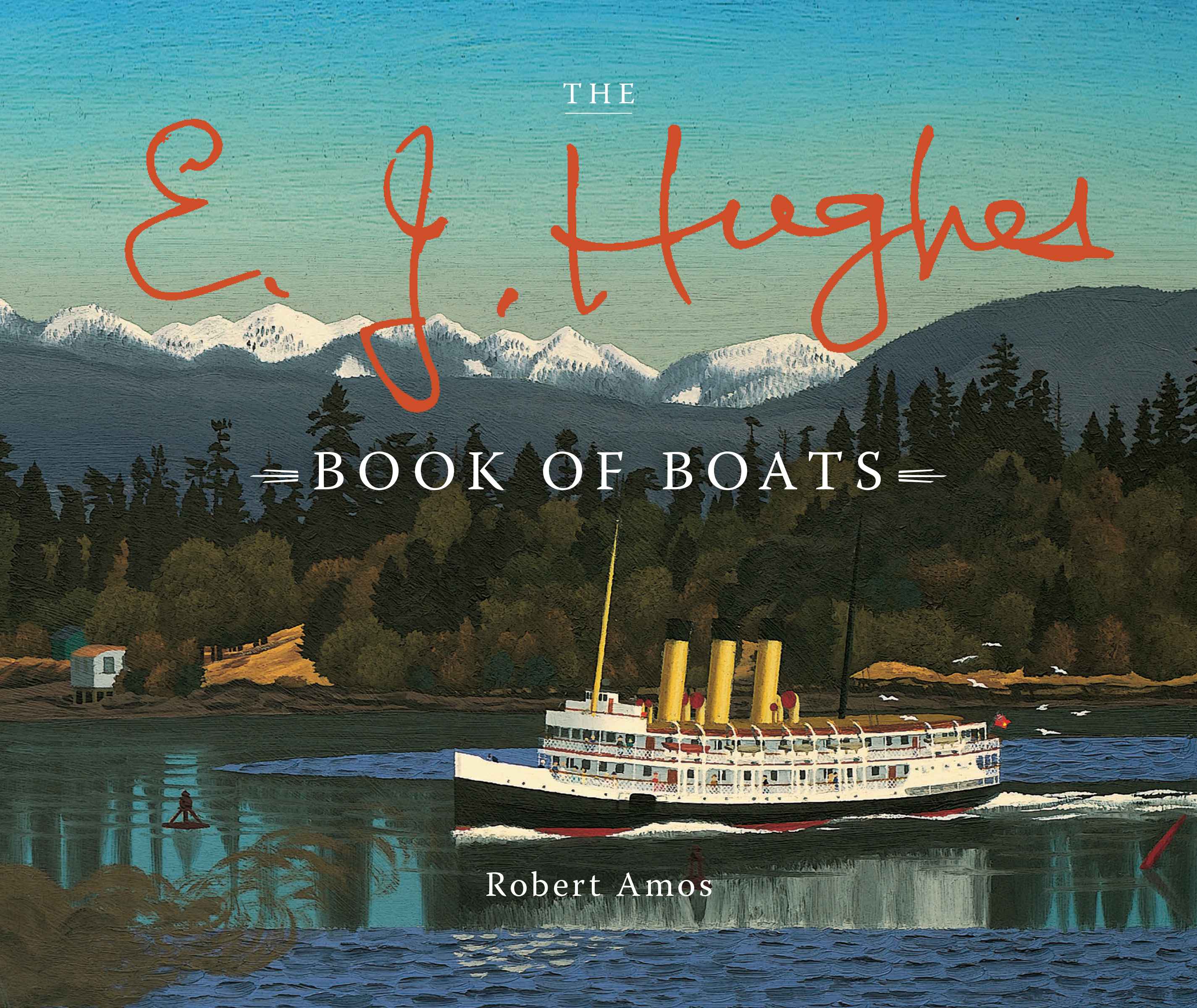 Cover photograph provided courtesy of Touchwood Editions.

I have always had a love of the sea, and of the boats and ships that ply its salty waters. The ocean was part of my growing up in the port city of Vancouver. In bed on foggy nights I could hear the low mournful sound of the Point Atkinson foghorn blowing its warning to sailors, and the same fog crept inland and wrapped our neighbourhood in its salty grasp.

Ferries, fishboats, and recreational vessels have also been a part of my life, starting with sailing on the M.V. Hollyburn (a retired West Vancouver passenger ferry) up the North Arm of Burrard Inlet to Camp Howdy in 1958. Later on I "messed with boats" and at one time or another owned a Laser sailboat, a canoe, and a dory. So, when I first became aware of the art of E.J. Hughes many years ago, I fell in love with it as well. It is fair to say that I can't get enough of it!

THE E.J. HUGHES BOOK OF BOATS (ISBN 9781771513364 hardcover, $22.00 Cdn) written by Robert Amos, has just been published by Touchwood Editions in both a lovely little hardcover book as well as an electronic version. I was very happy to hear from the author that this was coming out, as the coastal artworks by Hughes seem to come alive with all of the craft that he paints with such obvious love.

The book is 88 pages, consisting mostly of illustrations of artwork by Hughes. Although this might seem to be an insufficient number of pages, the focus on boats - big and small - actually allows the book to provide a comprehensive look at this specific topic. The illustrations are accompanied by photographs of Hughes and his family, and places that he painted. Pencil sketches and studies for paintings provide interesting historical background, as does the informative text by Robert Amos. Quotations from the artist's correspondence and interviews give a glimpse of what Hughes was thinking at the time.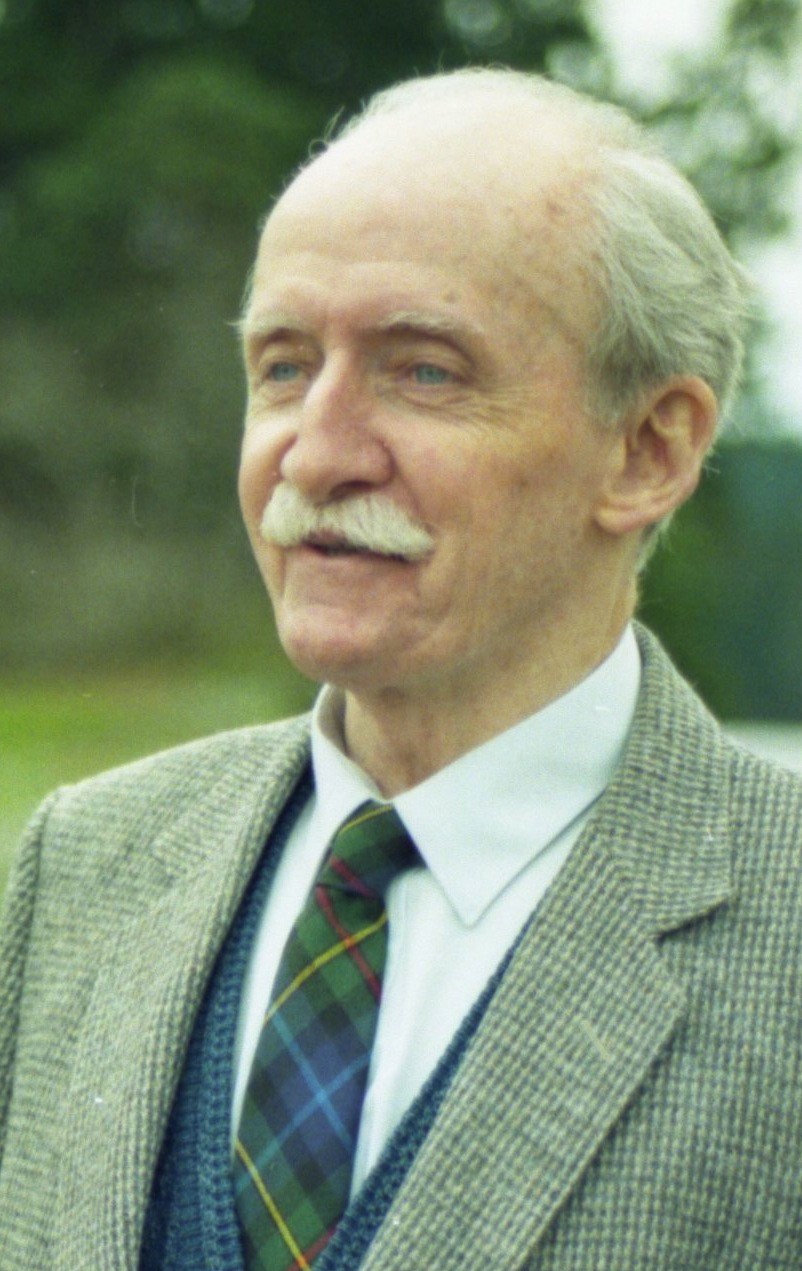 E.J. Hughes 1996, photograph by Sarah Amos.

E.J. Hughes was born in North Vancouver in 1913, but lived in Nanaimo for ten years before returning to North Vancouver to go to school. He had an early interest in art, and took some private lessons from Mrs. M.O. Verral. He enrolled in the Vancouver School of Art, and graduated in 1933, which was followed by two years of post-graduate studies. After working as a team with Paul Goranson and Orville Fisher, Hughes enrolled in the Canadian army in 1939. He was appointed as an offical war artist in 1942, and was demobilised in 1946. After returning to the west coast, he spent most of the rest of his life living on Vancouver Island, where he passed away in 2007.

E.J. Hughes has slowly reached a prominent status in Canadian art, and it is a well-deserved and hard-earned reputation. A growing number of books on Hughes attest to the public's interest in his work. THE E.J. HUGHES BOOK OF BOATS is a valuable and attractive addition to this library.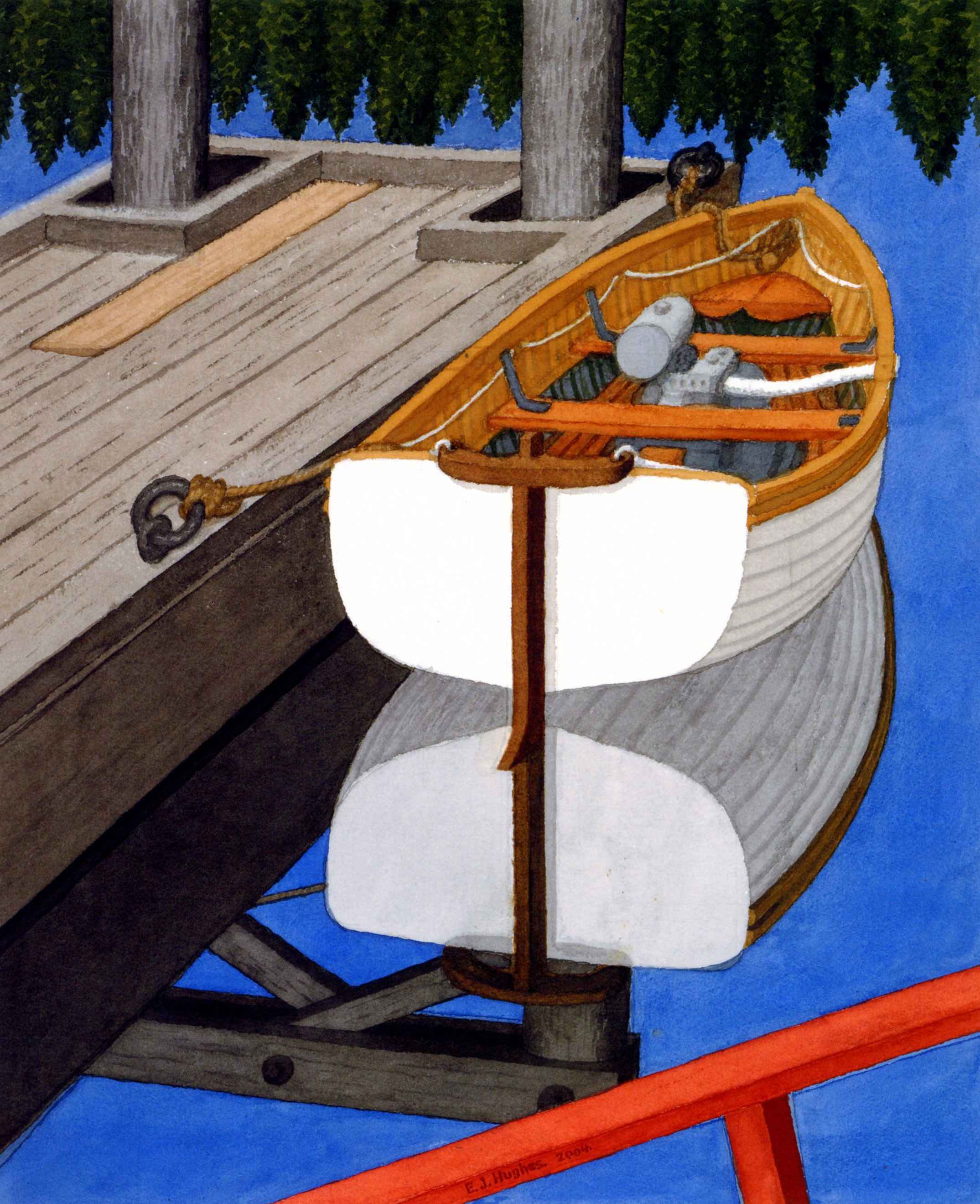 Village Wharf, E.J. Hughes 2004
Photograph provided courtesy of Touchwood Editions
---
SEPT. 19: WE ARE NOT ALONE EXHIBITION AT INTERIOR ART GALLERY
Earlier this year I received an email asking me if I wanted to submit artwork to an upcoming international exhibition titled WE ARE NOT ALONE, which would consist of artists' responses to the global coronavirus pandemic. I thought this was an excellent idea well worth supporting, and donated one of my original Adventures of Noman drawings.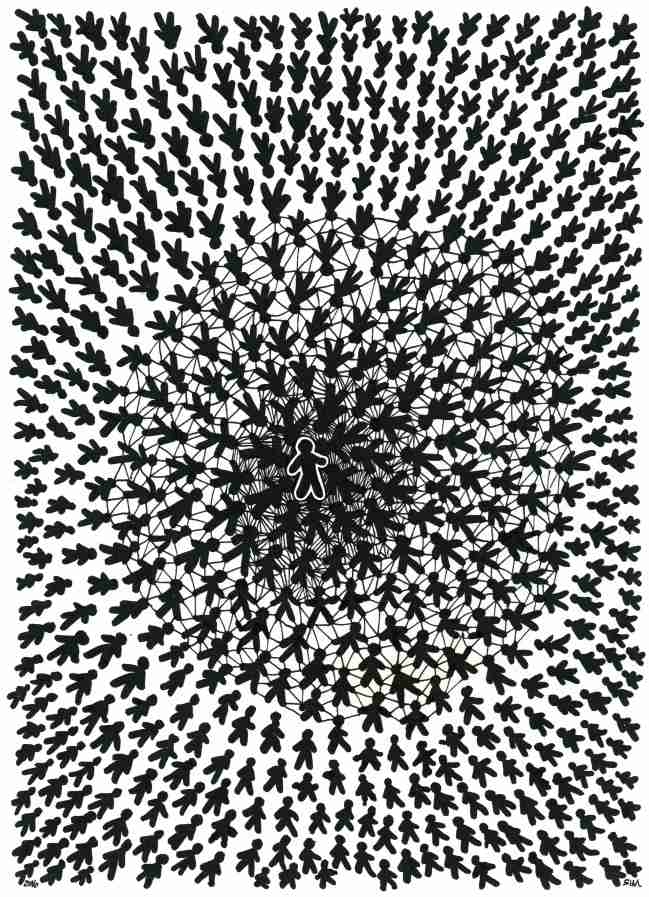 The Adventures of Noman - CONNECTIONS by Gary Sim, 2019
Pen & ink, india ink brushpen on paper.

They received over 250 submissions for the exhibition from over 180 artists, which is quite amazing. The exhibition opened on September 18, and will be on display there until November 8 2020. A website is being written that will be posted soon, and show all of the works in the exhibition. When the exhibition closes in Penticton, it is already booked to be exhibited in Berlin, Germany, and Nice, France, in 2021. More exhibition venues are in the works. All of the artworks were donated by the artists, and will form a permanent collection of the works in the exhibition.
CURATOR'S STATEMENT
This is the first time in our recorded history that everyone on the planet has been impacted by the same thing at the same time, and as COVID 19 continues to wreak havoc across the globe we have been confronted not only with our vulnerability but that of our communities and social structure. We have been reminded of the importance of human and social contact, physical connection and the shared experience. Never before have we faced so much uncertainty, and it is incredible watching the entire human population being brought to a standstill by an enemy that we canít see, touch, smell, taste or hear. Sadly, we are reminded on a daily basis that no one is immune to this pandemic, and we hope this exhibition will help us to get through this time by allowing us to collectively share our stories, celebrate our diversity, mourn our losses and heal as a planet.
---
AUG. 17: SOME OF THE DREAM SNAKES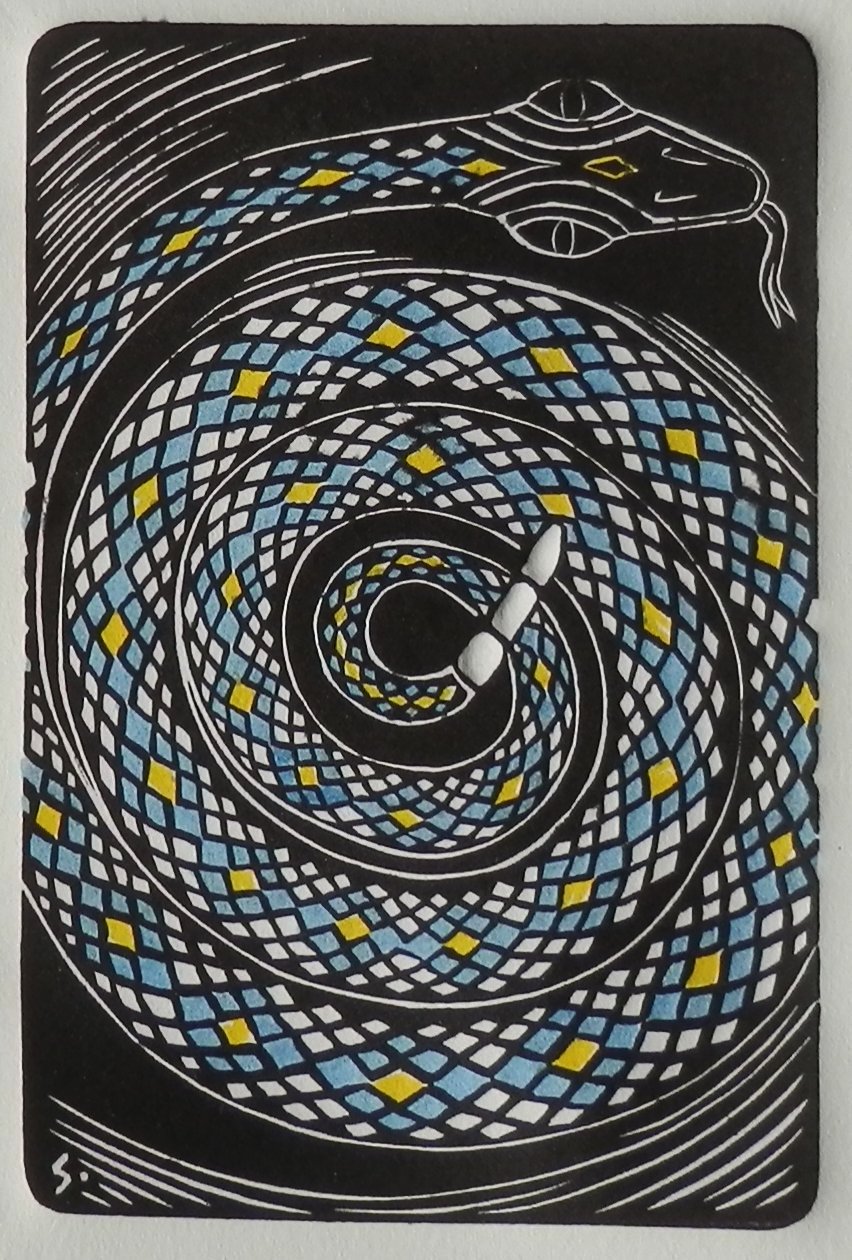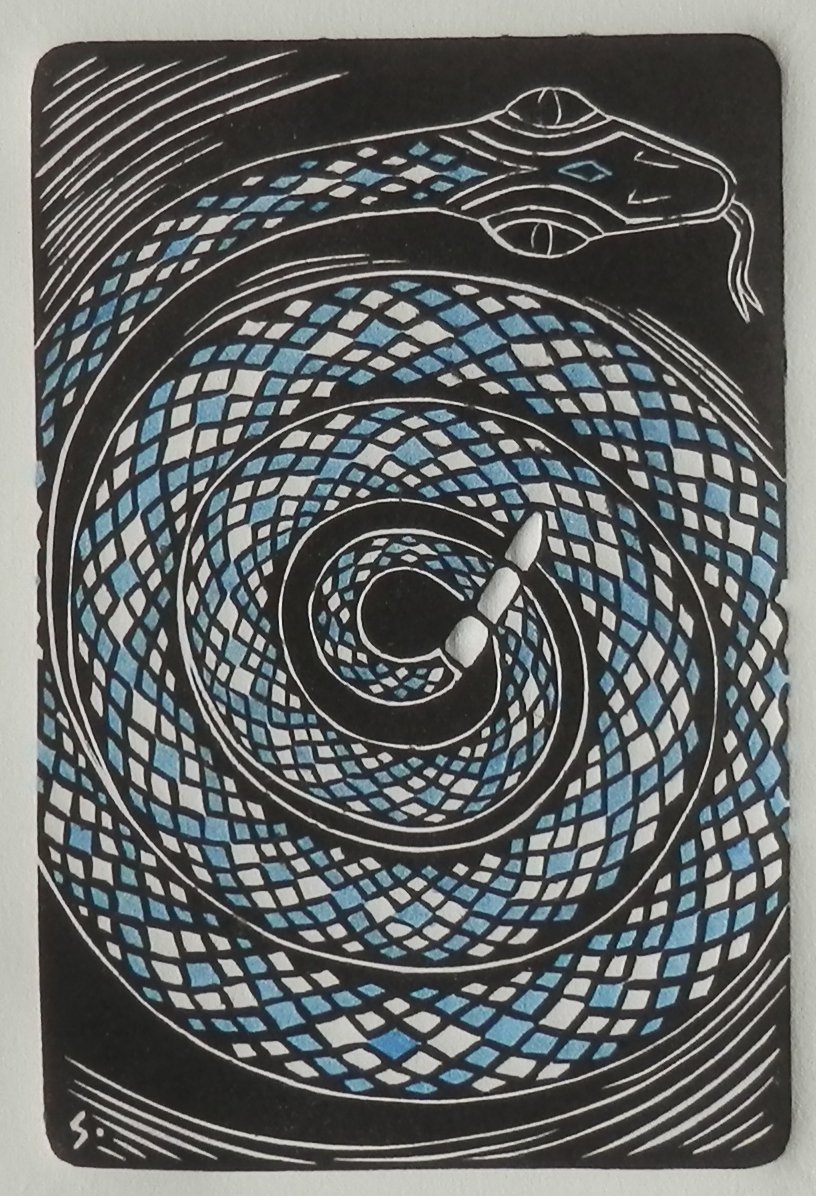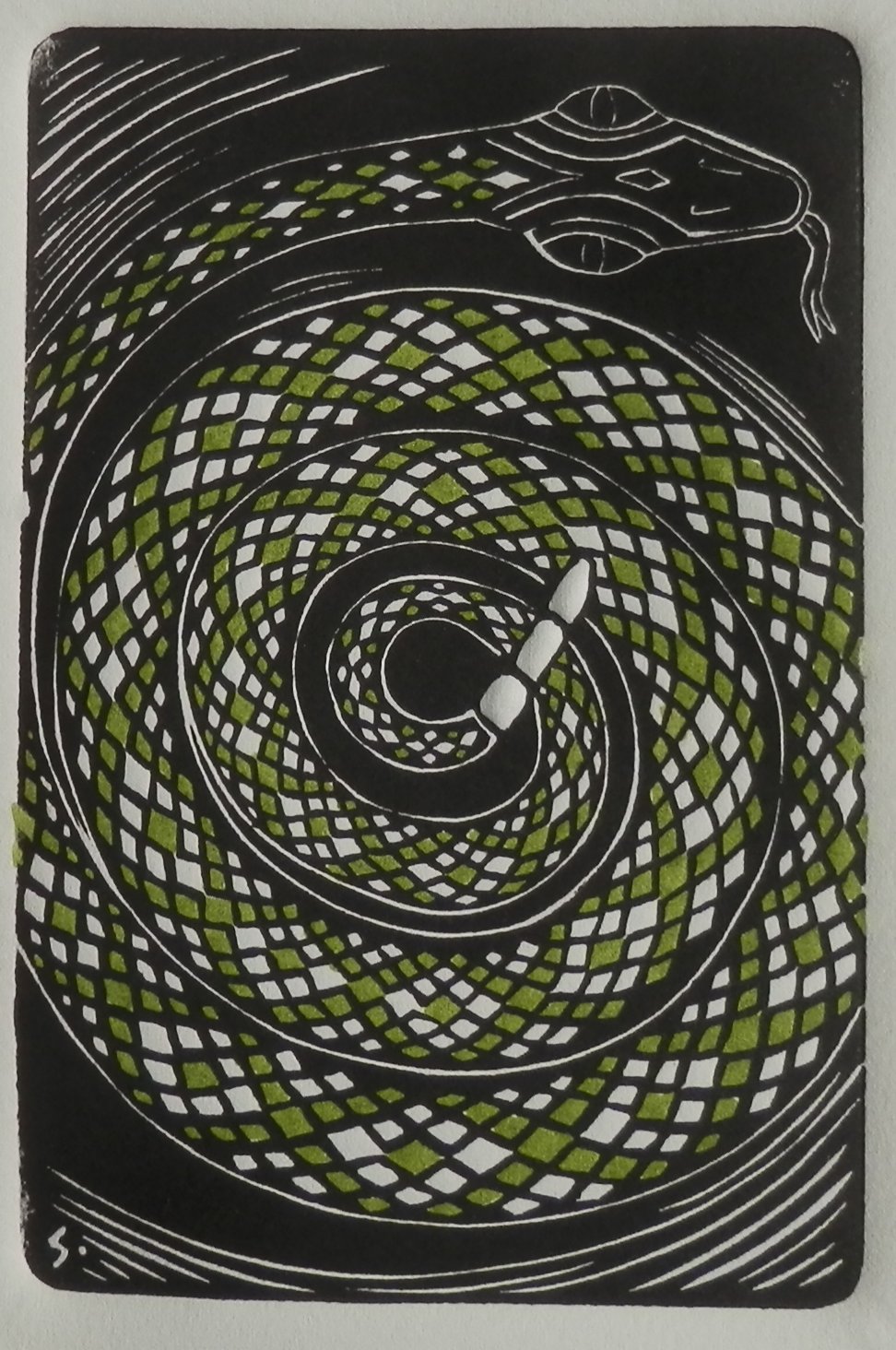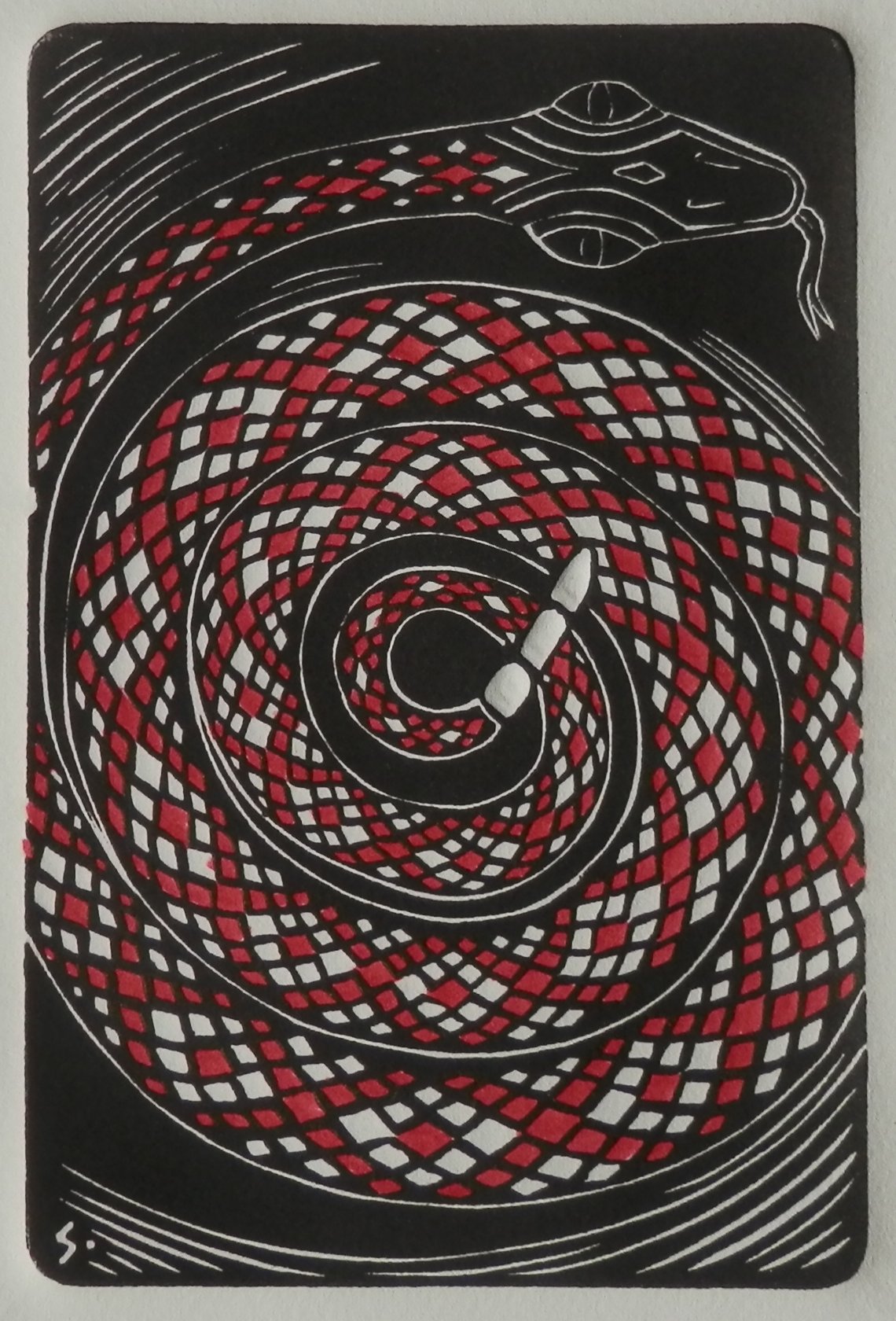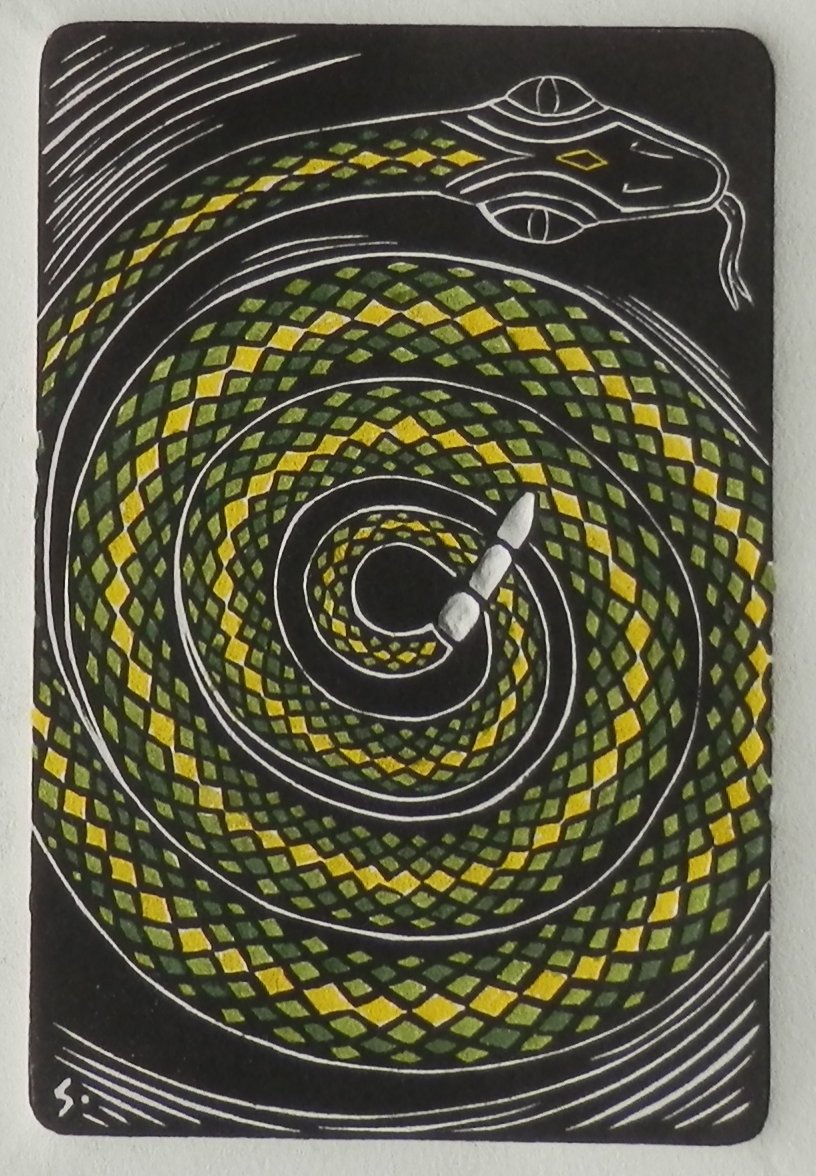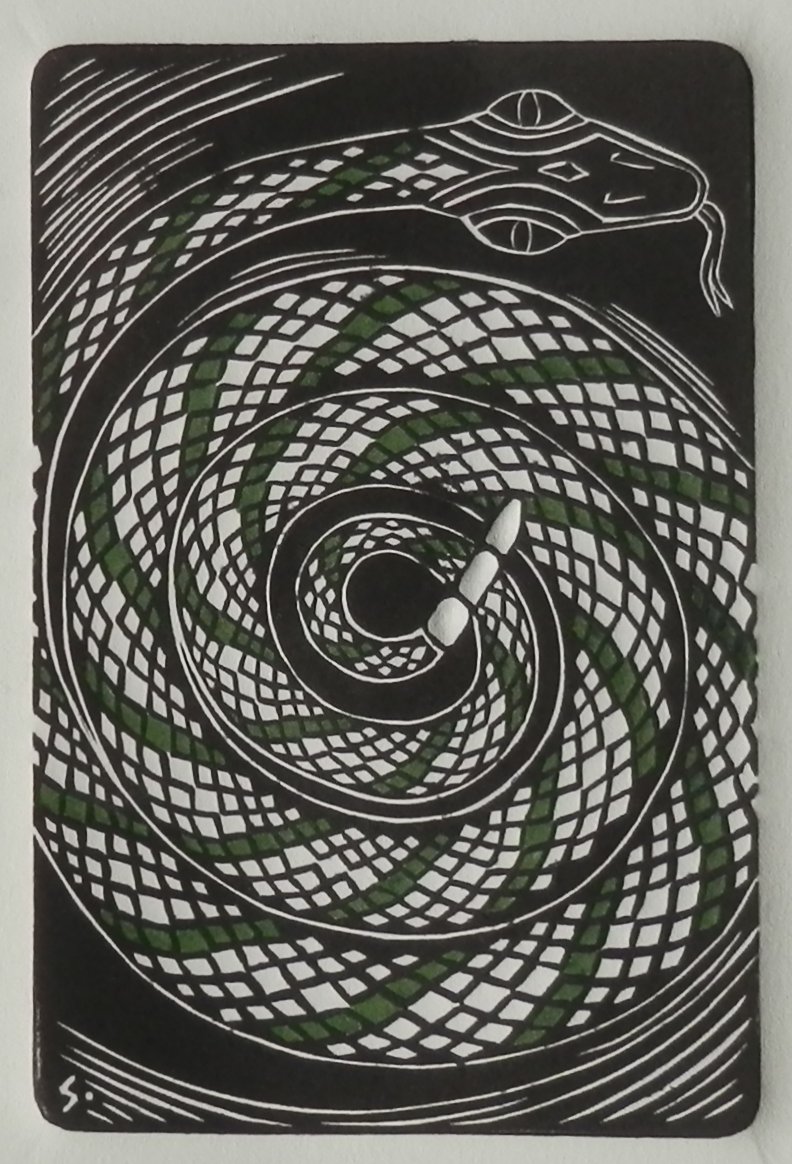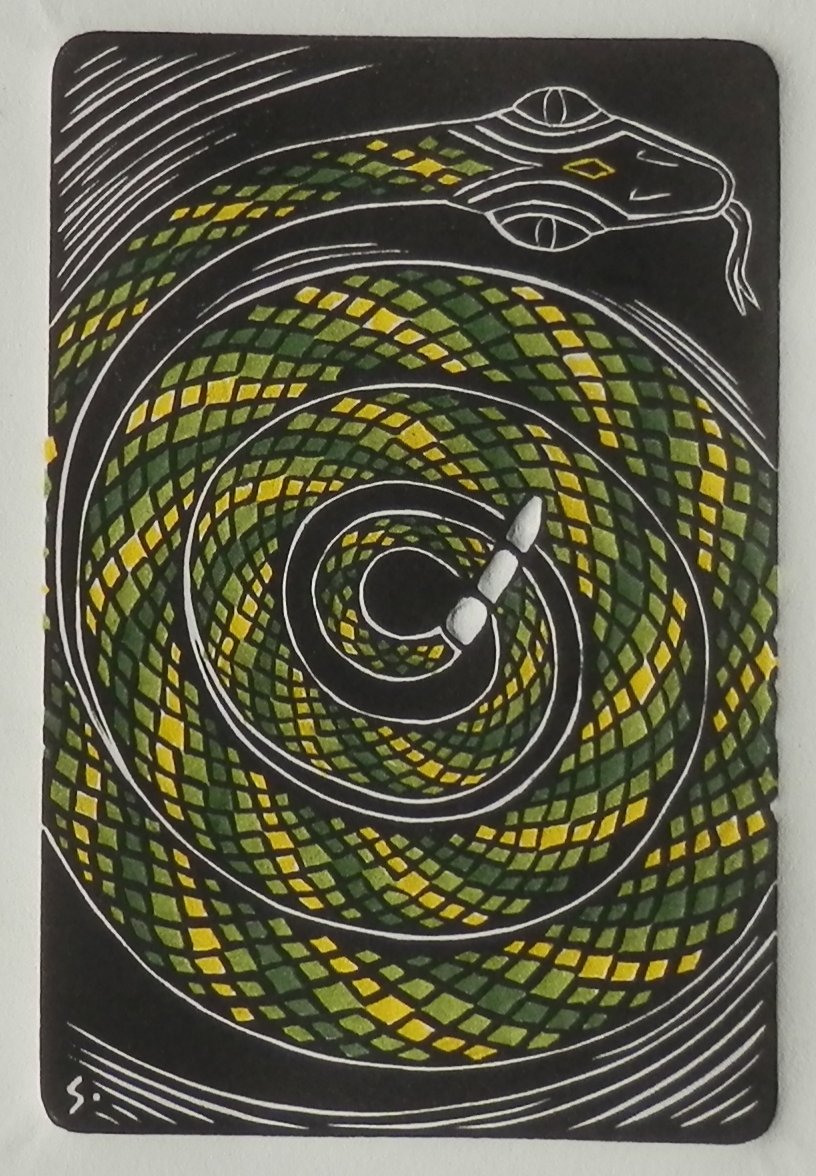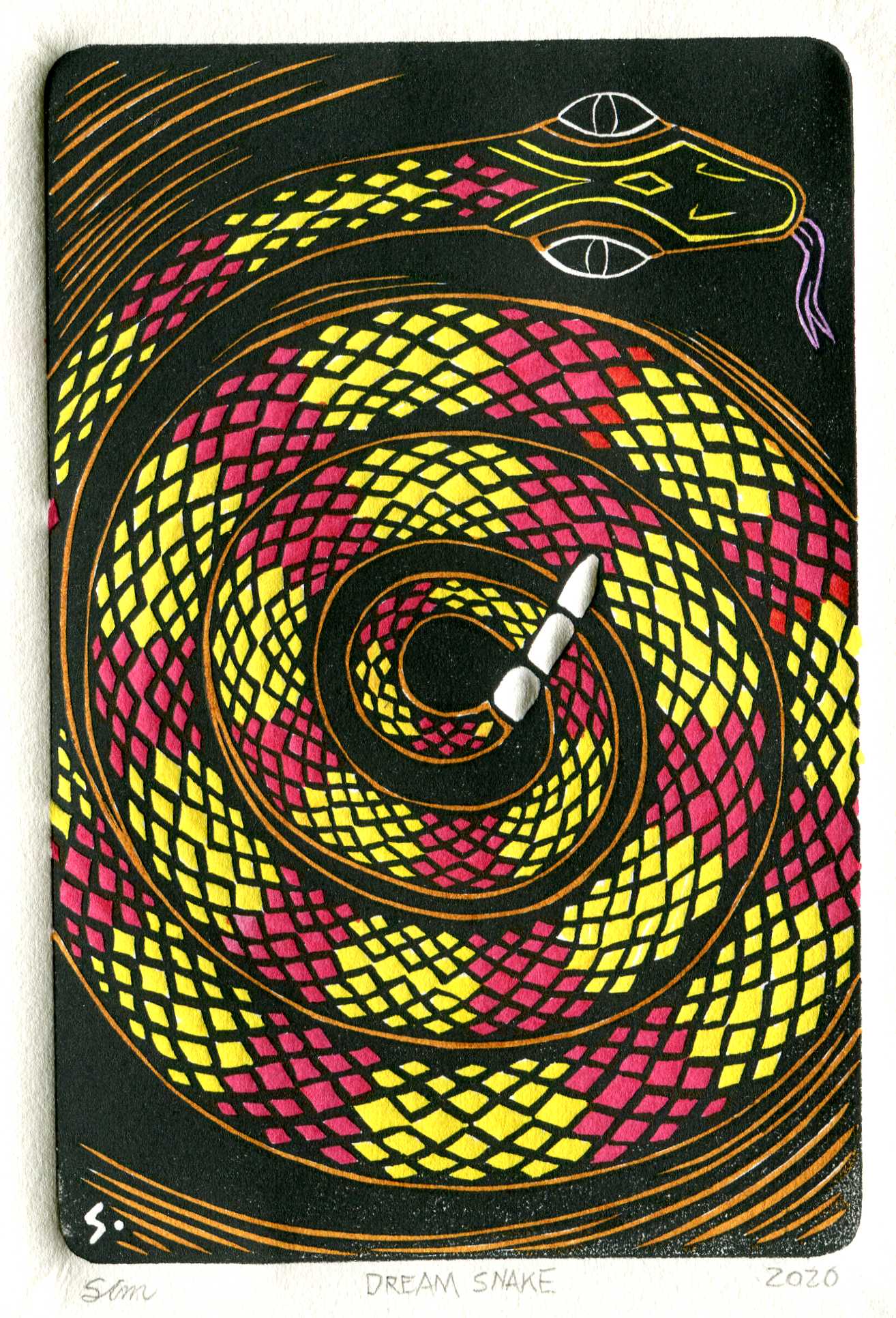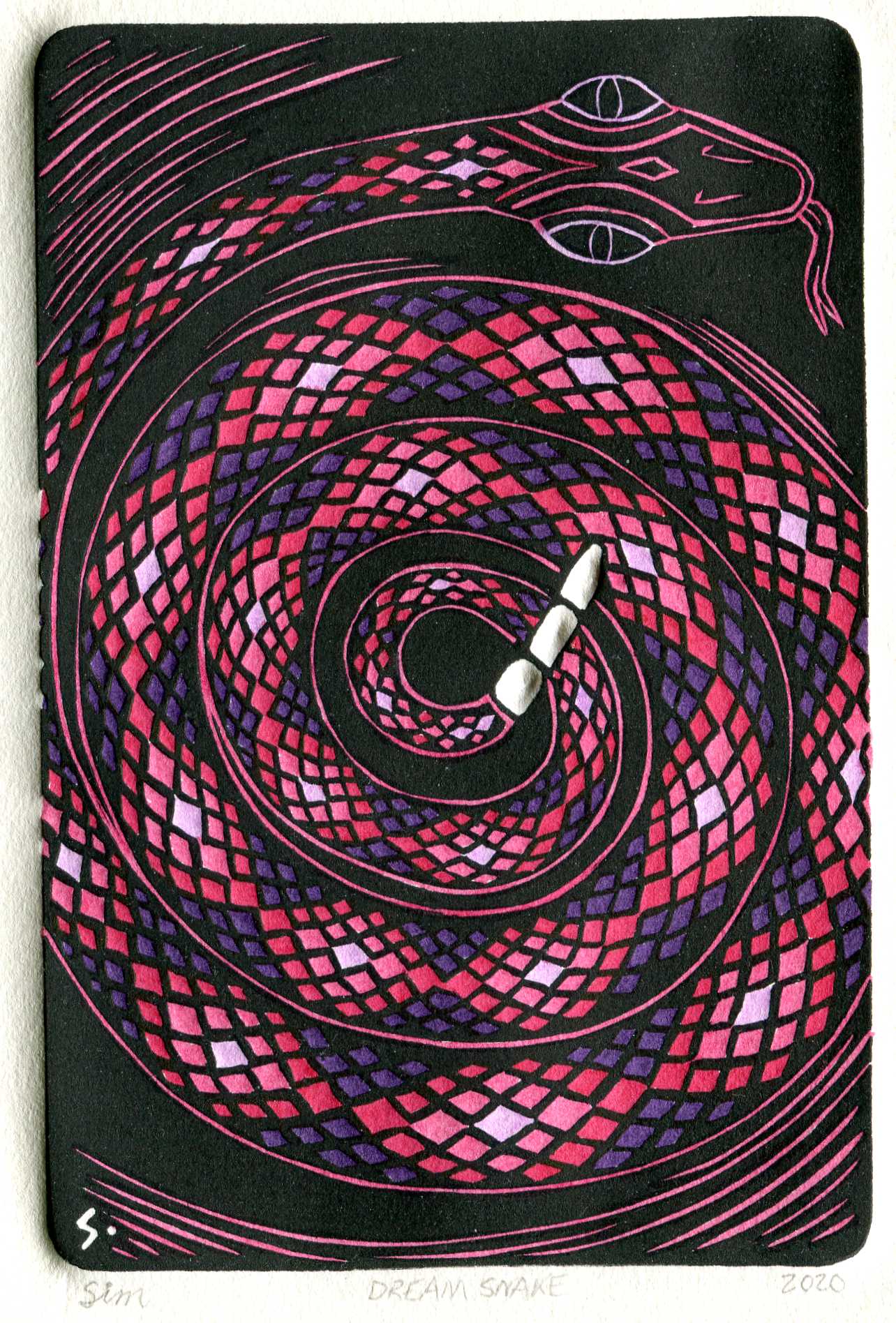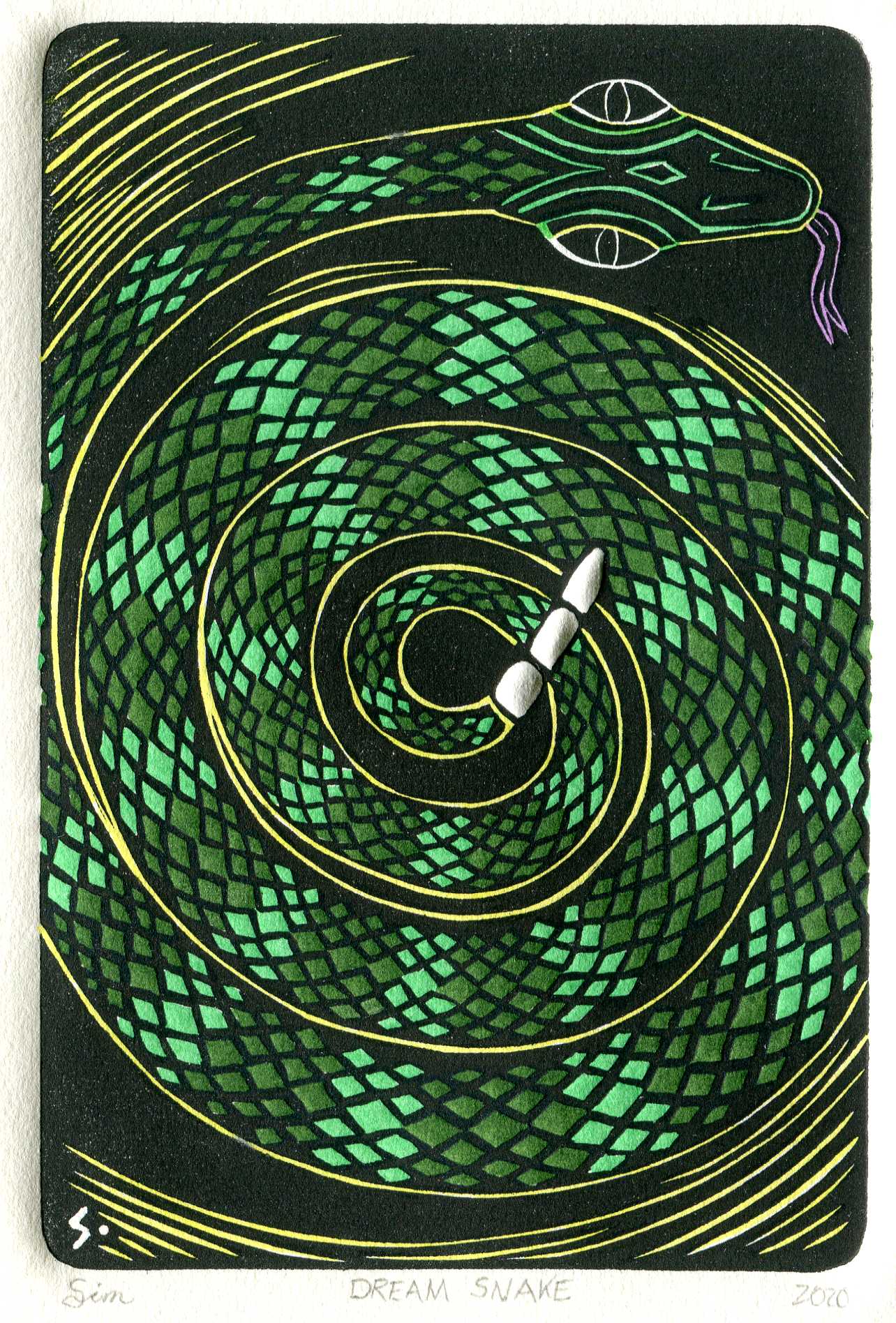 Once I started hand colouring these impressions, I discovered that there are a lot of different ways to colour them: linear, spiral, diamond, and banded in various geometric patterns, as well as in a multitude of colours. I've posted the first batch of them on ETSY.com, please click link in the following news item to view details.
---
AUG. 11: GarySimStudio OPENS ON ETSY
After some research about how to proceed with selling artwork in the current climate of social distancing and event cancellations, I decided to open a store on ETSY.COM. It's quite a powerful sales platform, with (they say) 1.7 millions vendors and billions of dollars in sales. The advantages to me as a seller include: exposure to a global audience that is already using the platform; simple enrollment in a sales plan where ETSY provides a dozen ways for purchasers to buy on-line; automatic weekly payments on sales; and free advertising, with a small commission on sales resulting from the ads. In the first few hours today I had 14 views and 3 visits, before I told anyone about it. I'm still tweaking the store information and adding more artwork for sale. Please click on the link below to visit my new store!



---
AUG. 1: MARIACHI BAND ON BARCLAY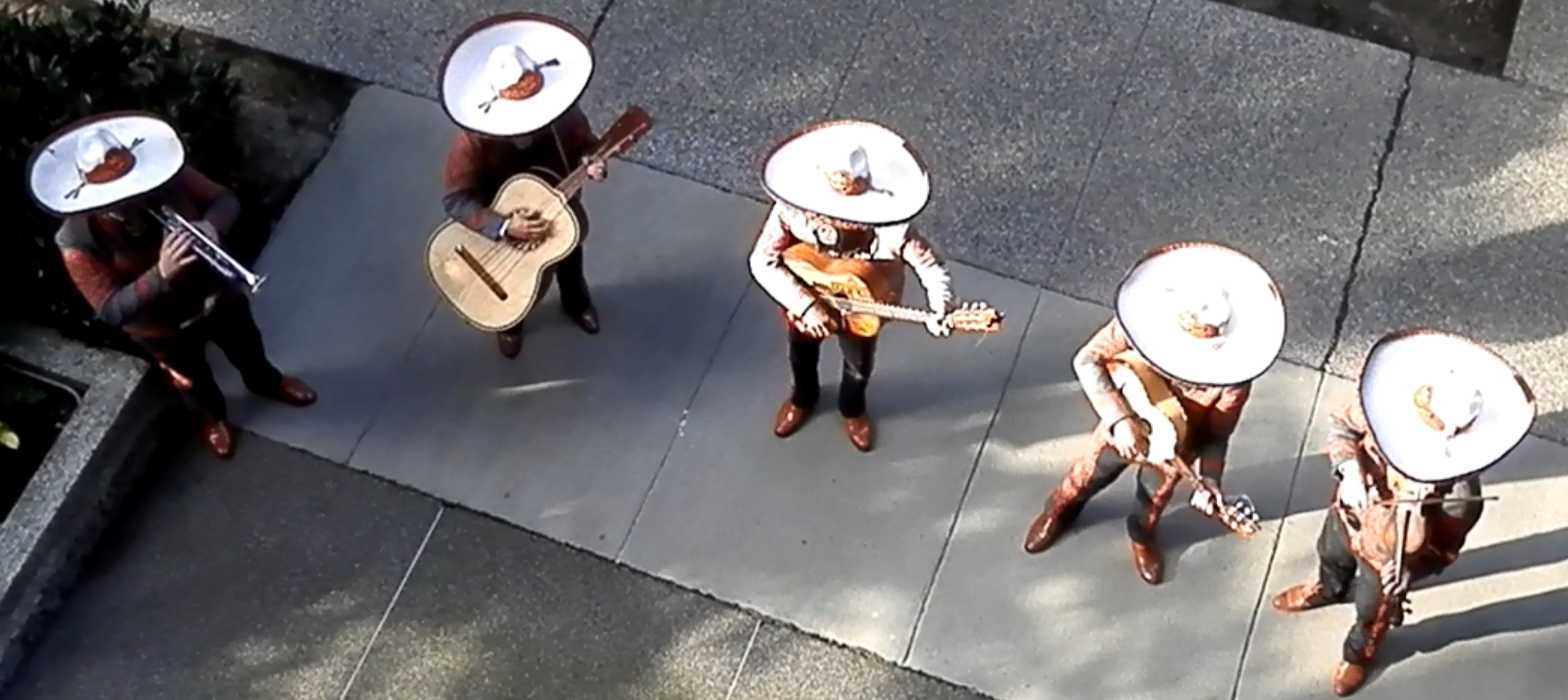 I was sitting at my desk one evening three weeks ago when music started playing outside on the sidewalk. It was a 5-piece mariachi band, serenading a couple who had just announced their engagement. I think the band was LOS DORADOS, although I'm not certain. They played for around 20 minutes or more, and were really good musicians. All the songs were fully arranged with various solos and flourishes, their timing was impeccable, and great vocals. A fabulous free concert! And all best wishes to the happy couple!



---
JULY 15: THE SAVARY PUDDING SURFACES AFTER 80 YEARS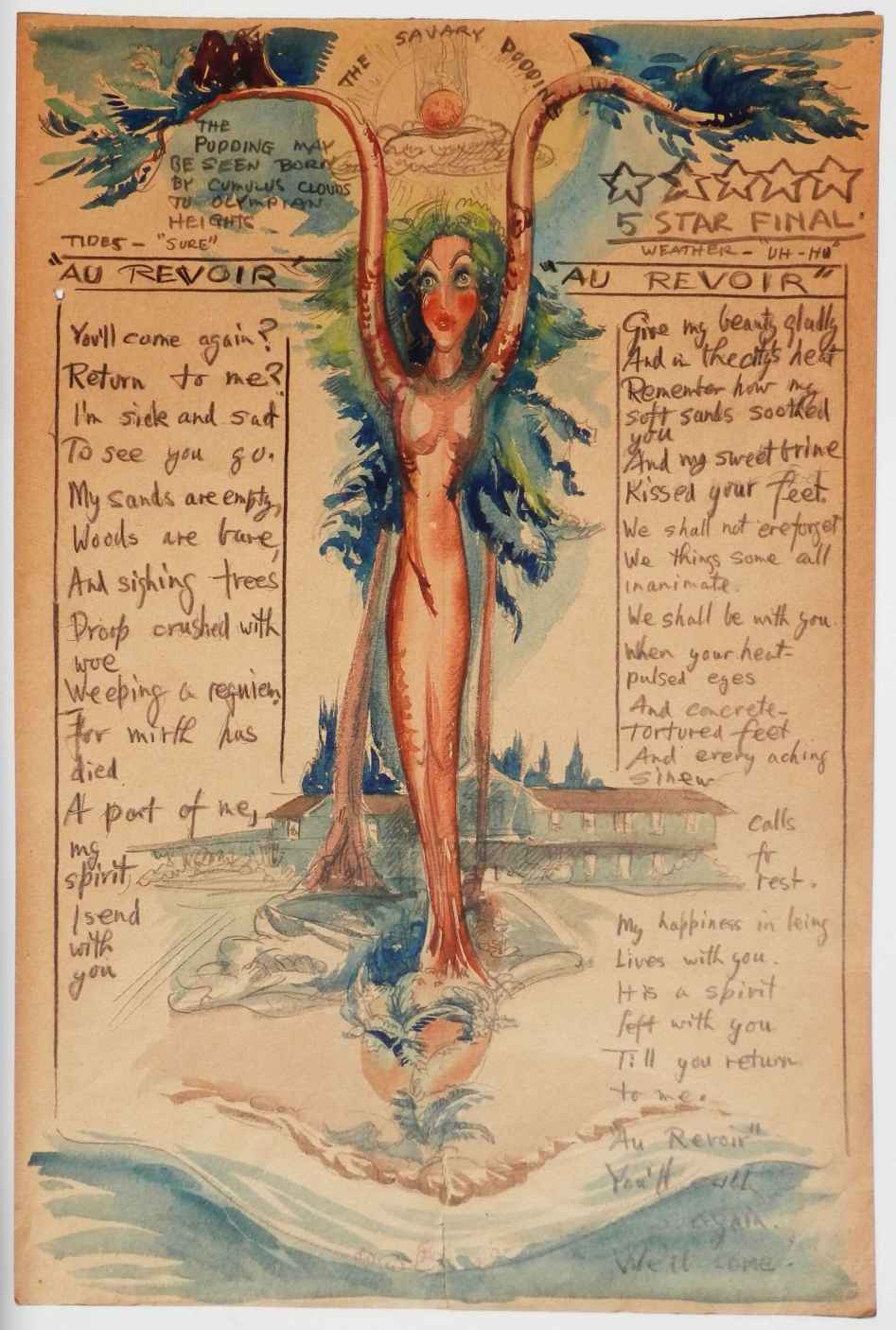 The Vancouver School of Art (now Emily Carr University of Art + Design) used to travel to Savary Island for summer art camps in the 1930s. While there, a daily broadsheet called THE SAVARY PUDDING was written or drawn, then posted on the walls of the Royal Savary Hotel for review. A collection of these was recently brought to my attention, and I am in the process of posting some images and text from the collection.



---
JULY 9: BC ARTISTS PRESS RELEASE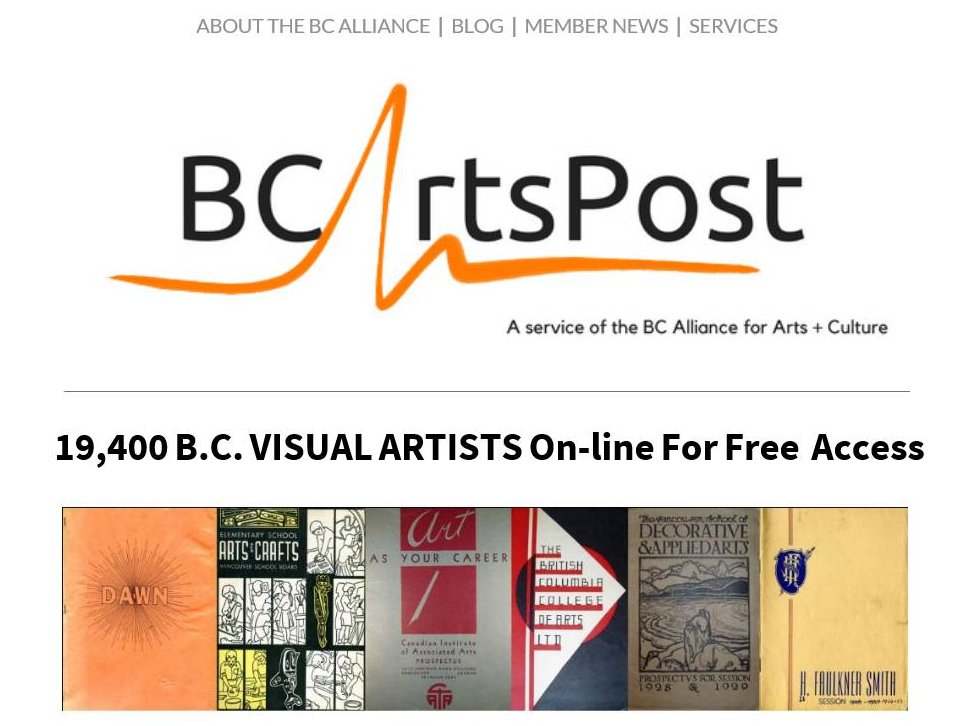 BC ARTS POST
I recently sent out a BC ARTISTS press release through the BC Alliance for Arts + Culture, it is available to read at the website link above. I wasn't expecting all of the CV information to be included, but I don't think it hurt! Now that I've done one of them I'll know better how to do any further news releases. So far, the main result from this news release has been a number of artists getting in touch with me to have themselves listed in BC ARTISTS, which I have done.



---
JULY 8: POSTER FOR ART SHOW
I noticed this little handbill posted on a nearby telephone pole for an exhibition at the Outsiders and Others Gallery at 716 East Hastings St.
---
JULY 7: LOCAL BAR RE-OPENS AS BeSIDE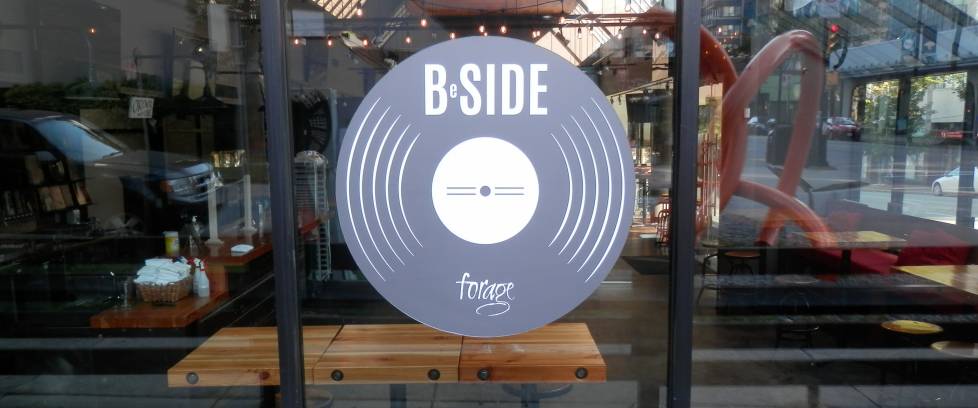 One of the small sorrows of the virus age was that my local brew-pub TIMBER closed permanently a few months ago. I see that the location has re-opened as BeSIDE, affiliated with the hotel's restaurant FORAGE. They don't have a full menu, but wings and ribs, fries and salads along with beer should do the trick. They are currently open from Tuesday to Sunday, 3:00 p.m. to 10:00 p.m., at the corner of Jervis and Robson. Seating has been spaced as required for social distancing.



---
JULY 6: VANCOUVER IS AWESOME BLOG ON BC ARTISTS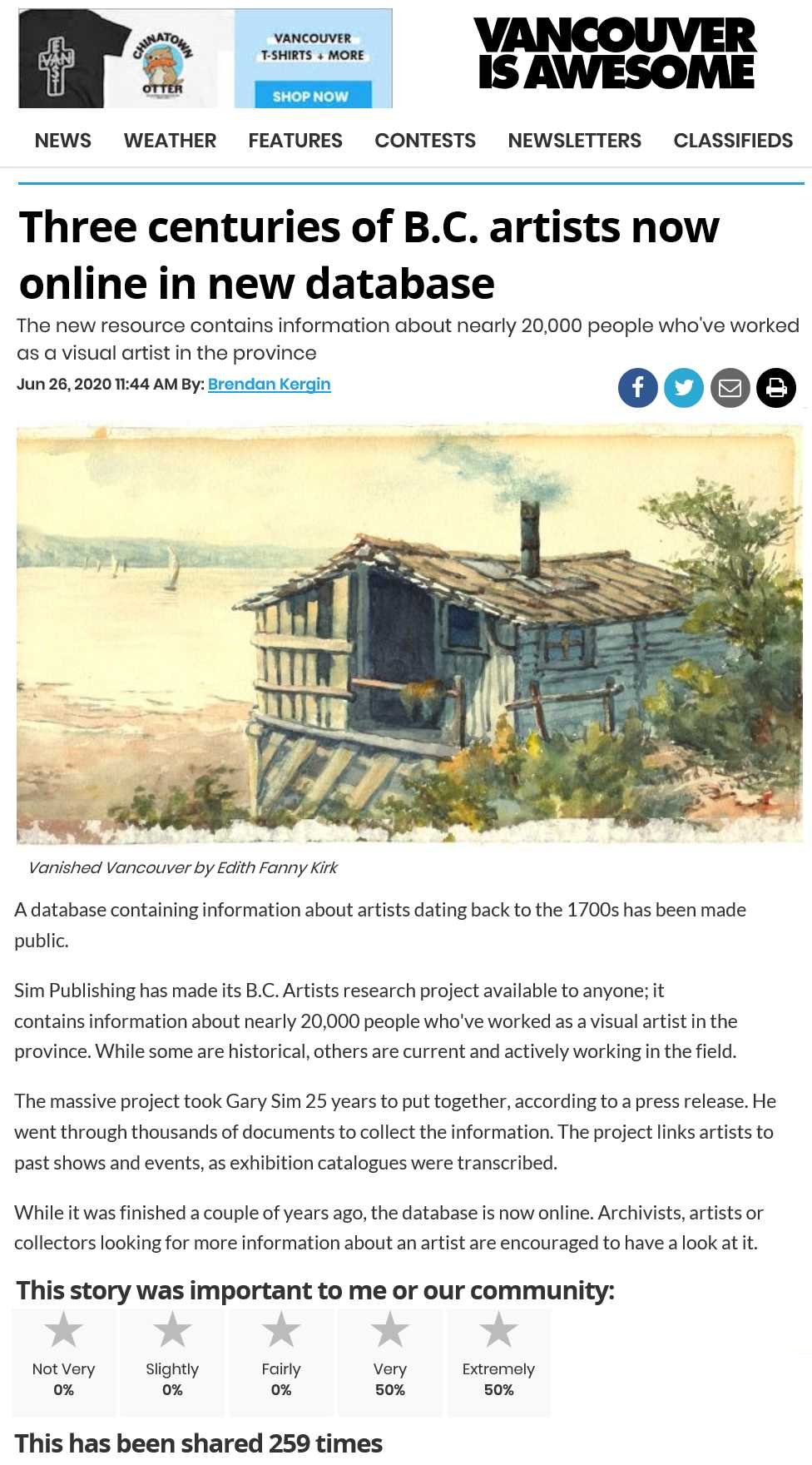 I was browsing the internet and came across this article on the VANCOUVER IS AWESOME blog. As a member of the BC Alliance for Arts + Culture I posted a news release related to putting BC ARTISTS on-line for free public access. It was nice to see Brendan Kergin's post! It was a pleasant surprise to see how many times the article had been shared in the 10 days since it was posted. The power of social media! I hadn't seen the community rating system before, so it was also gratifying to see the story rated as "very" or "extremely" important to the people who took the time to comment and to share the posting. Thank you all very much. Note: the article also included a direct link to BC ARTISTS, the image above has been cropped.
Update: as of August 20 the post has been shared 423 times! Thank you.
VANCOUVER IS AWESOME
---
JULY 1: UBC LIBRARY LINK TO BC ARTISTS PROJECT
I found another on-line link posted to my BC ARTISTS project, this one from the University of British Columbia Library, thank you!
---
JUNE 29: ANOTHER STANLEY PARK WALK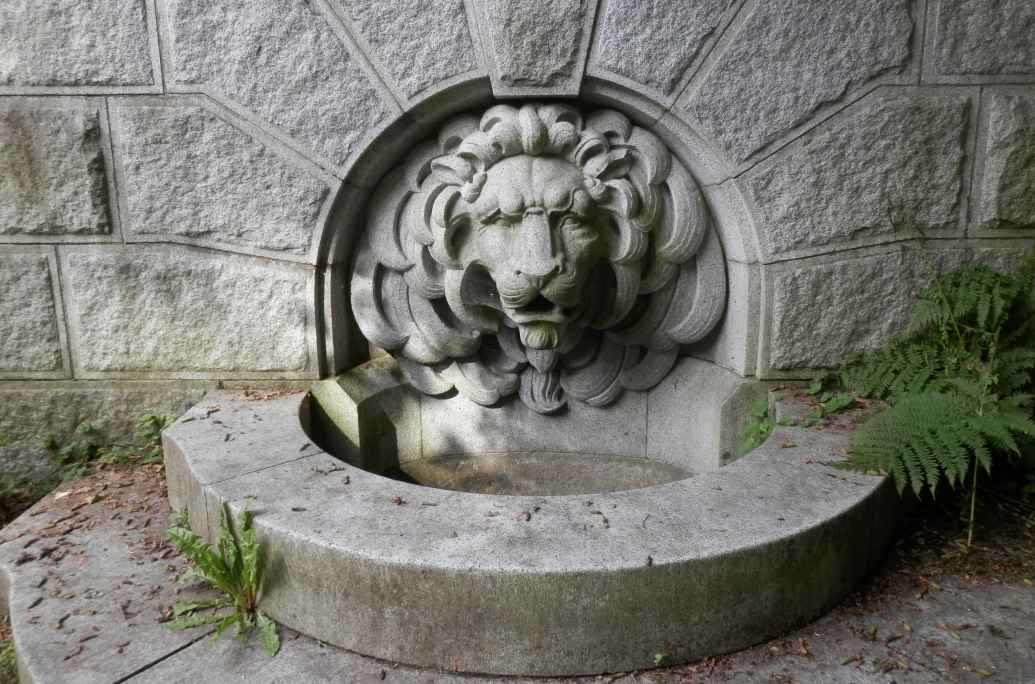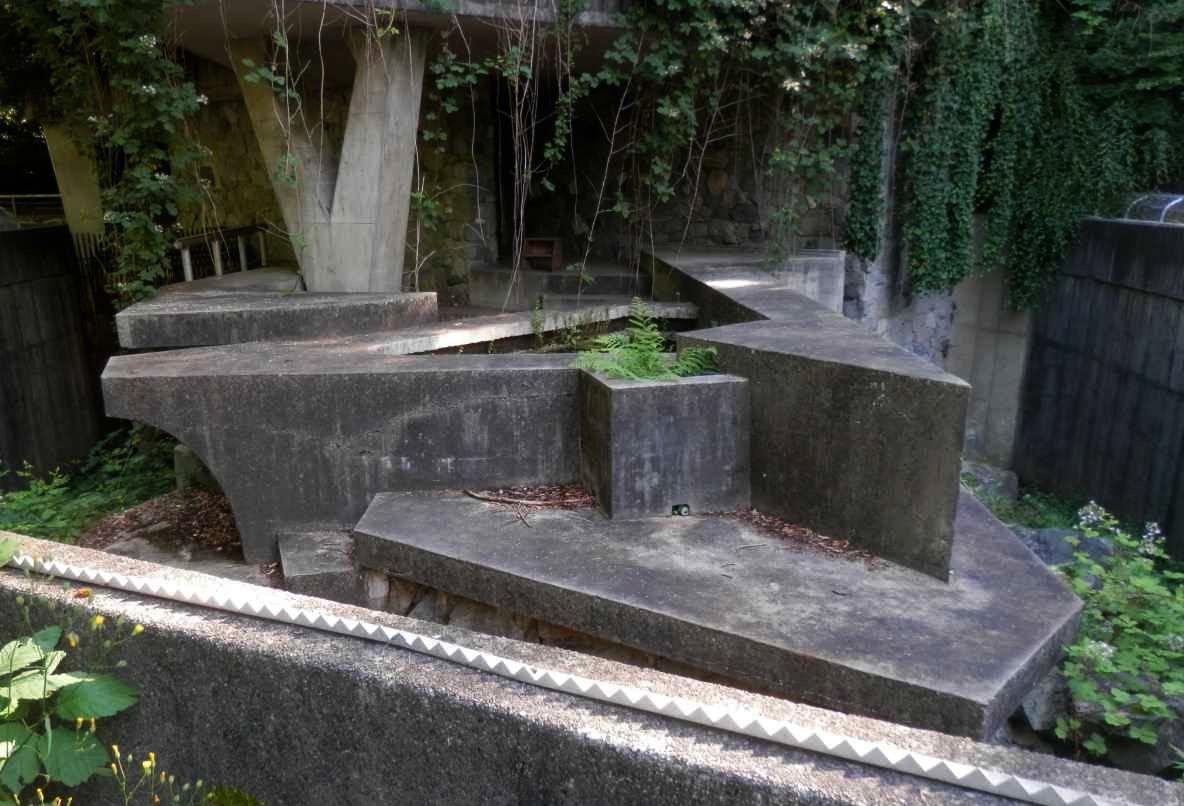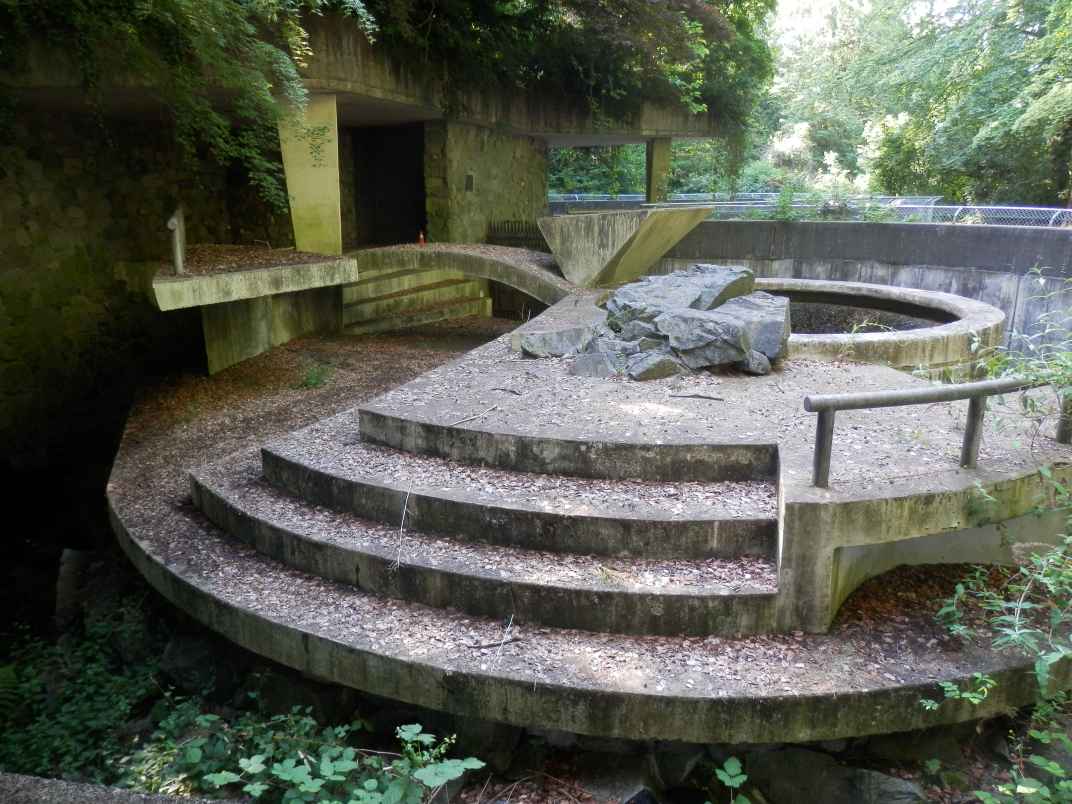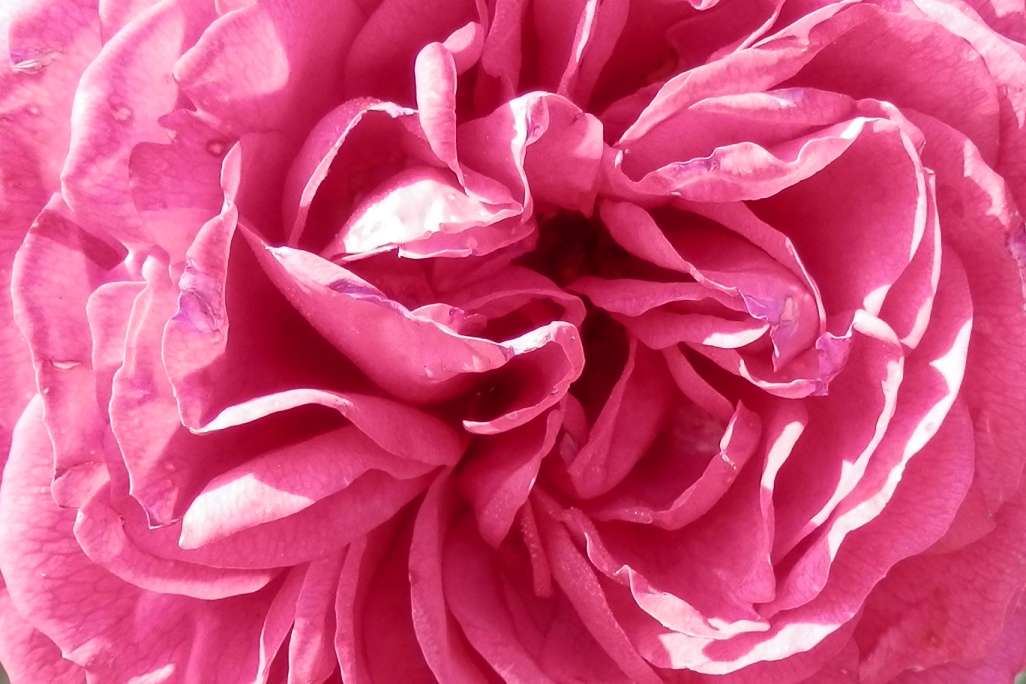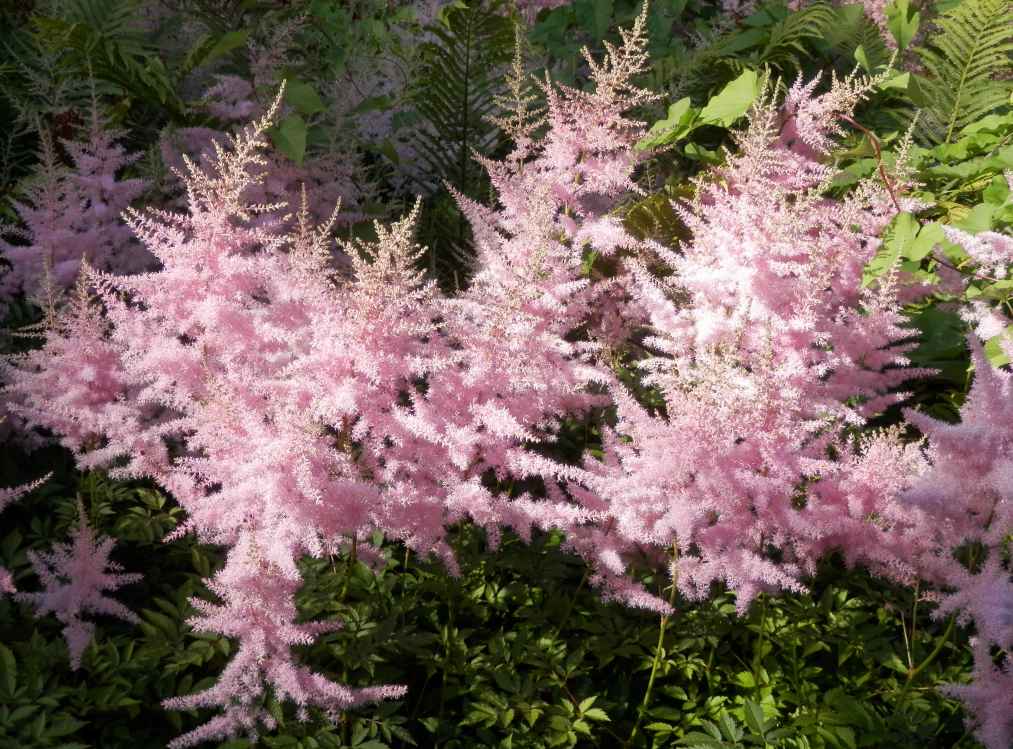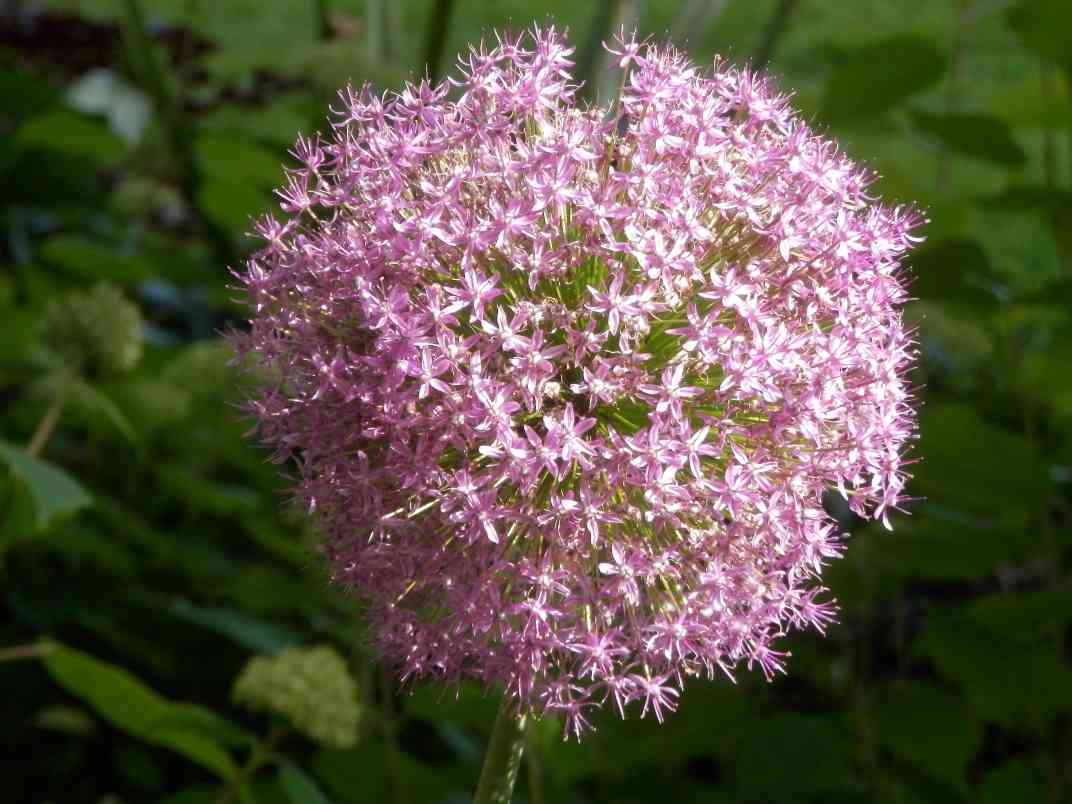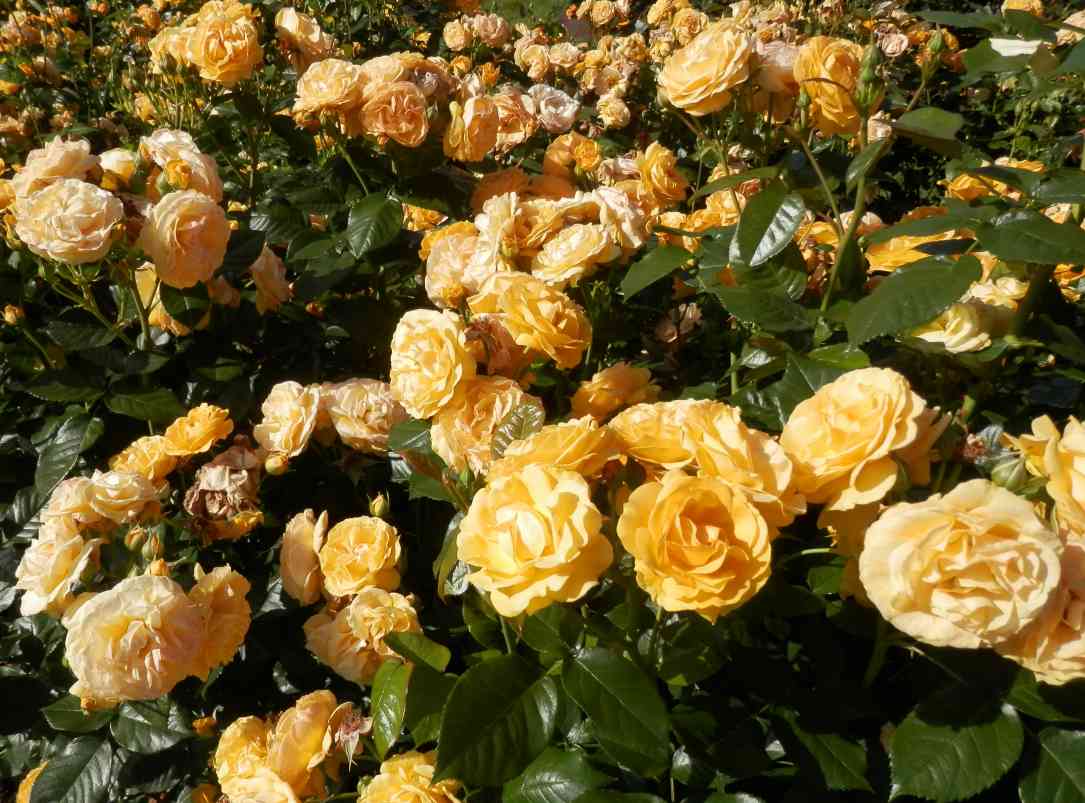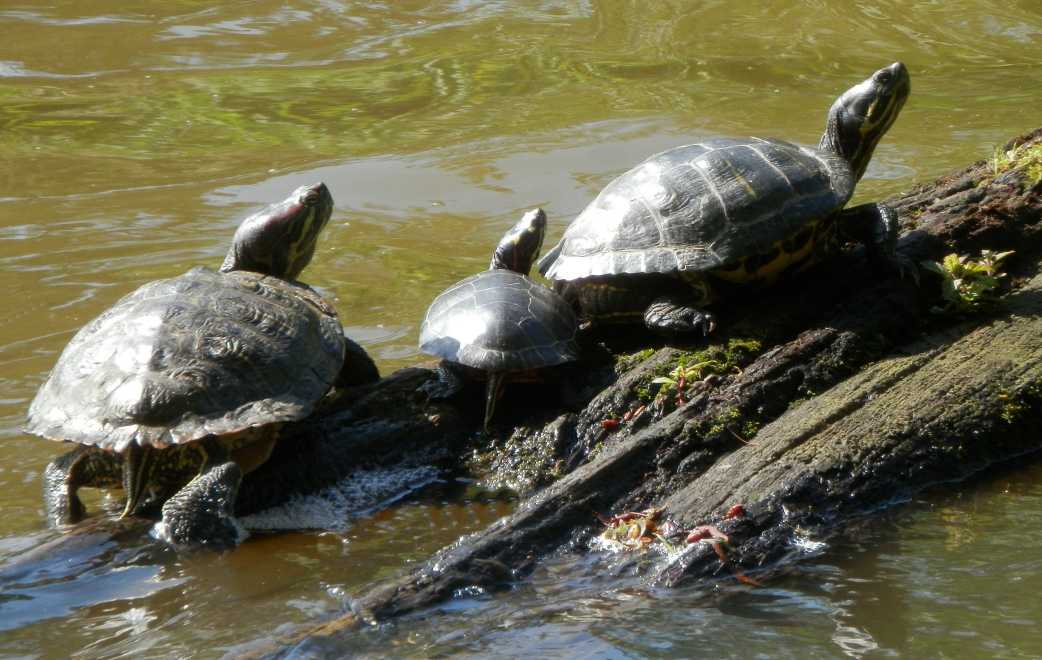 It turned out to be a nice warm sunny morning, so I decided to start the day with a walk in the park. It had actually been quite a long time since I'd gone over and wandered around the old zoo area in Stanley Park, and I had no idea how much of the original zoo was left. It turns out that the only remaining part of the old zoo is the polar bear enclosure (bears arrived 1962). The monkey house is gone, the seal pool is gone, the snakes and birds building is gone, the otter pool and ramps are gone. The Aquarium is the only show left in that part of the park now, not even a popcorn stand. I also wandered through the rose garden, some roses just coming out and other already past their prime, despite this seeming like the first day of summer!



---
JUNE 27: MALASPINA PRINTMAKERS SOCIETY RE-OPENING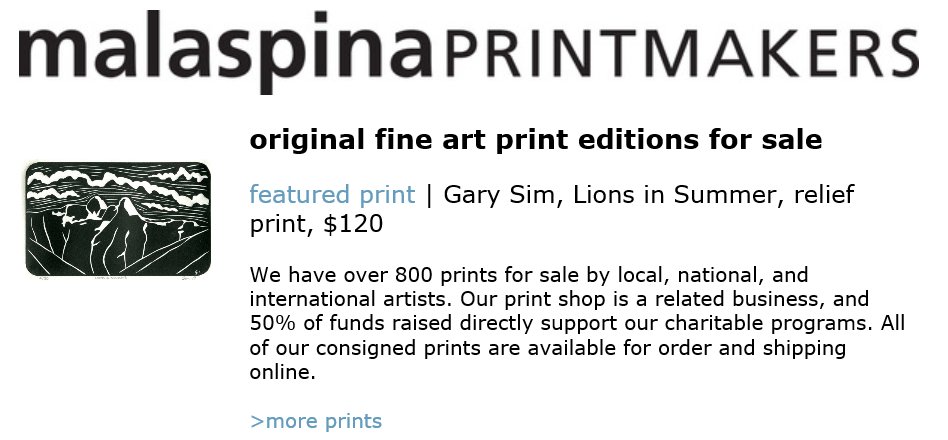 I received an email this morning from Malaspina Printmakers Society on Granville Island, they have re-opened the studio and gallery to artists and to the public. There will be a limited number of visitors allowed in the gallery, and artists must make reservations for studio work. Although the prints for sale will not be viewable in person, they are all posted on the MPS website. I was pleased to see that the feature print in the newsletter was my Lions in Summer print from last year. Refer to MPS website for current opening hours and exhibitions.
MALASPINA PRINTMAKERS SOCIETY
---
JUNE 20: DRAFT CHAPBOOK COVER IMAGES
Working to conceptualize a series of autobiographical chapbooks, divided into different stages of my life, or specific categories of stories to tell. The Early Years will cover up to age 20; Making My Way the next few years of life and work; The Later Years will cover 30 years of architectural work; Some West Coast Tales will include stories about the West Coast Trail, Sombrio Point, Haida Gwaii, and Bamfield Marine Station; Foreign Affairs will include trips to Montreal, the United States, England, and Morocco; and Looking for Maud will be the story of my biographical hunt for an artist's history. Another chapter titled Climbing Mount Waddington is illustrated a couple of news item below this one.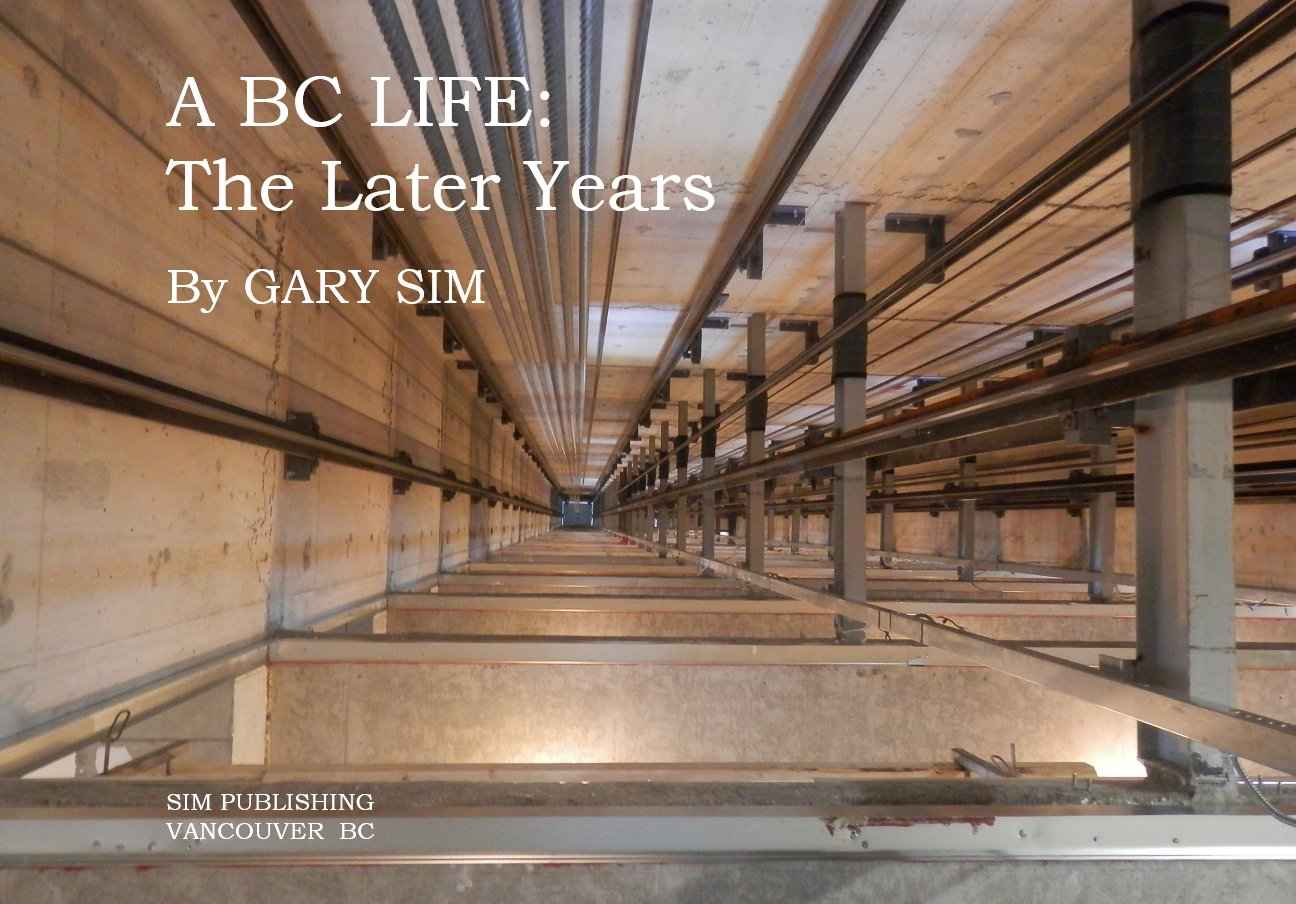 Elevator shaft at The Prime, Surrey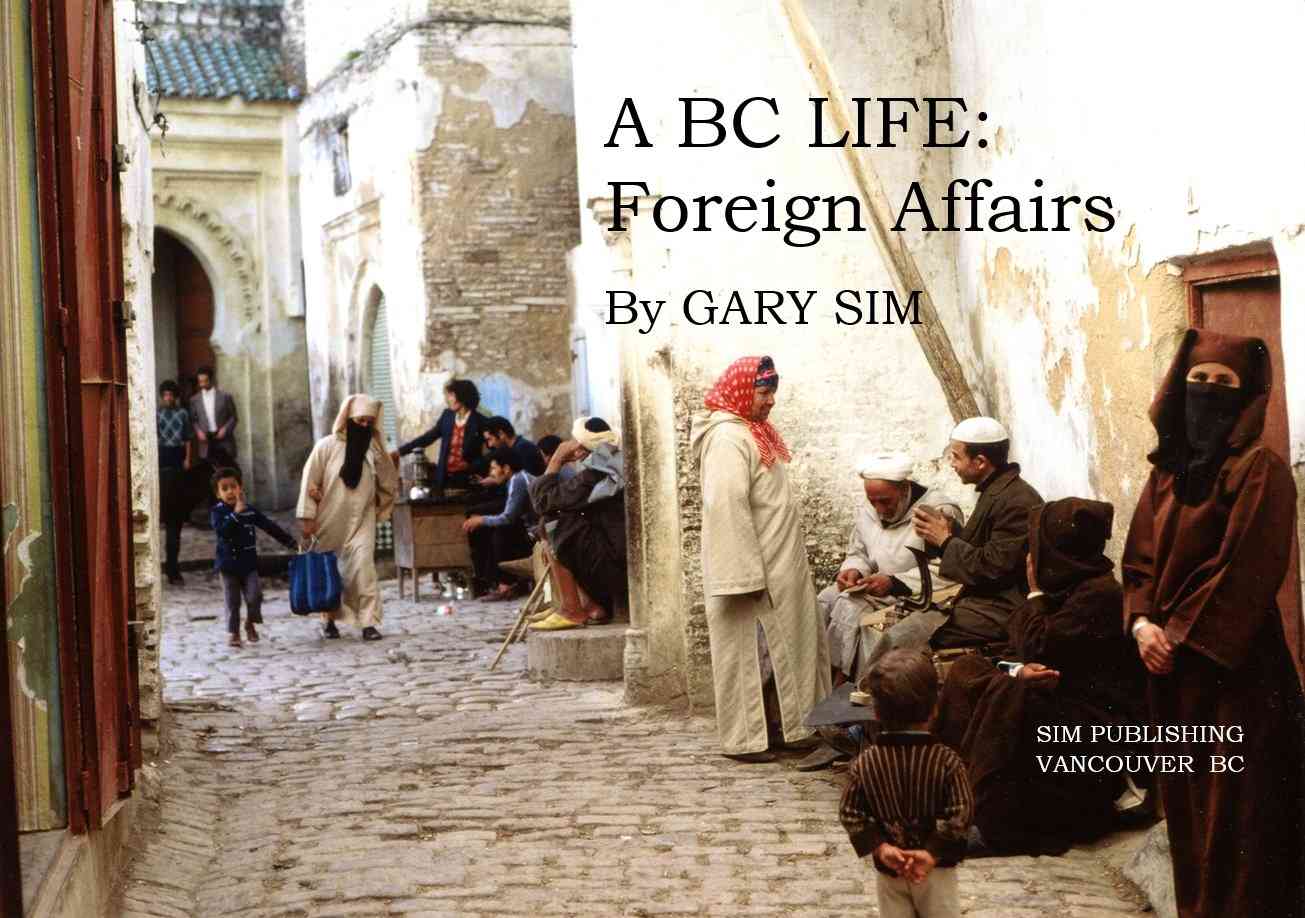 A scene in Fez, Morocco, the oldest walled city in Africa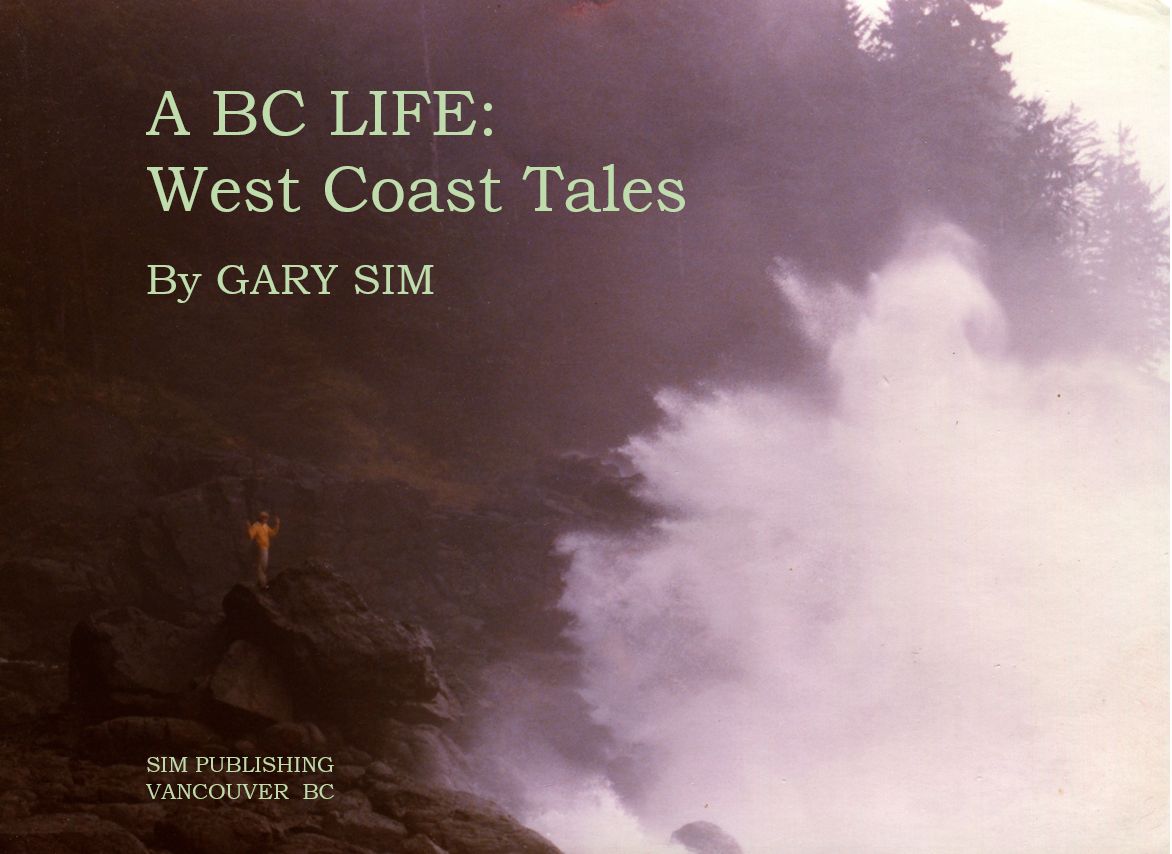 Me almost getting washed away at Sombrio Point, Vancouver Island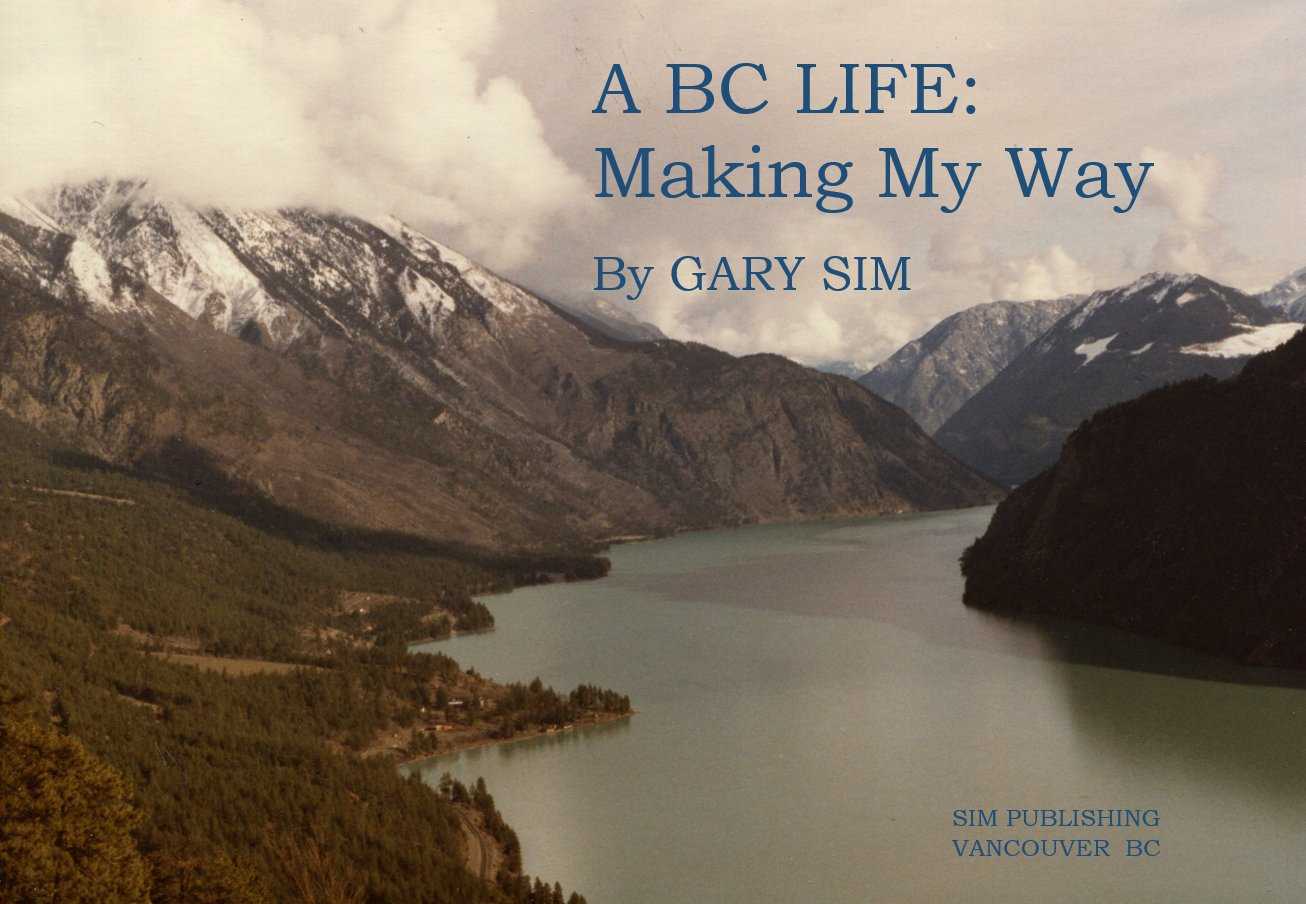 A view of Shalalth BC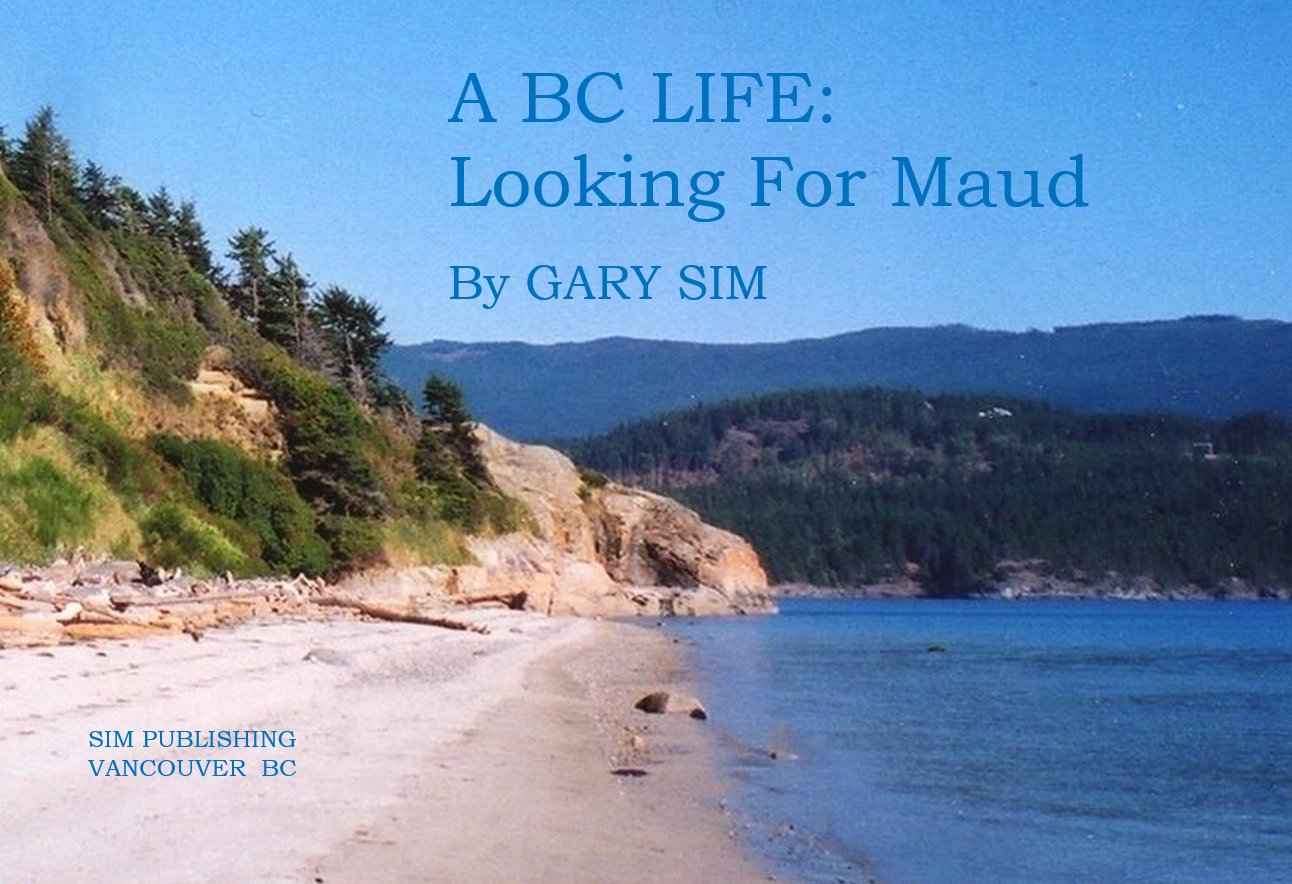 Mace Point, Savary Island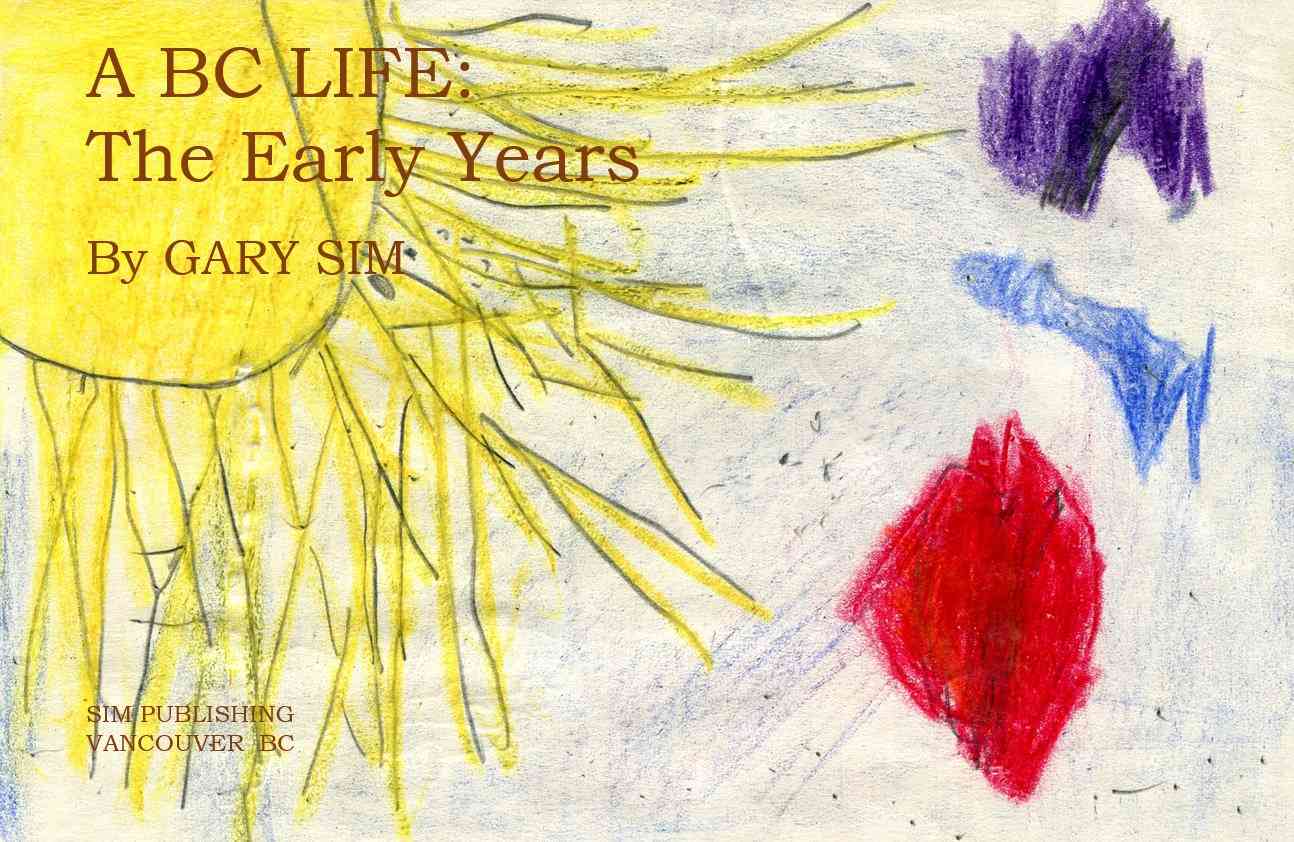 One of my Grade One artworks

---
JUNE 18: A WALK AROUND LOST LAGOON
With the sun out for a change, the air finally a few degrees warmer, and me feeling a little too big around the waist, I went for a nature walk around Lost Lagoon. Lots of baby birds in the water, perpetually cute, and at least six young squirrels were terrorizing the tourists for handouts on the arched bridge.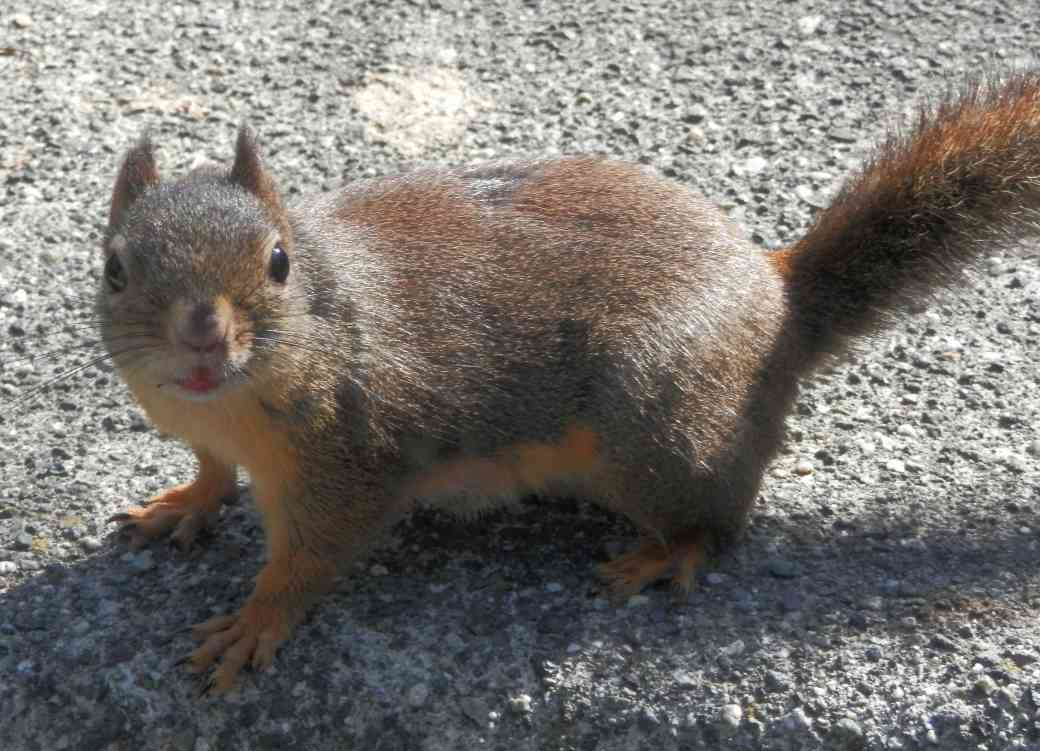 One of a gang of aggressive young red squirrels working the bridge for handouts.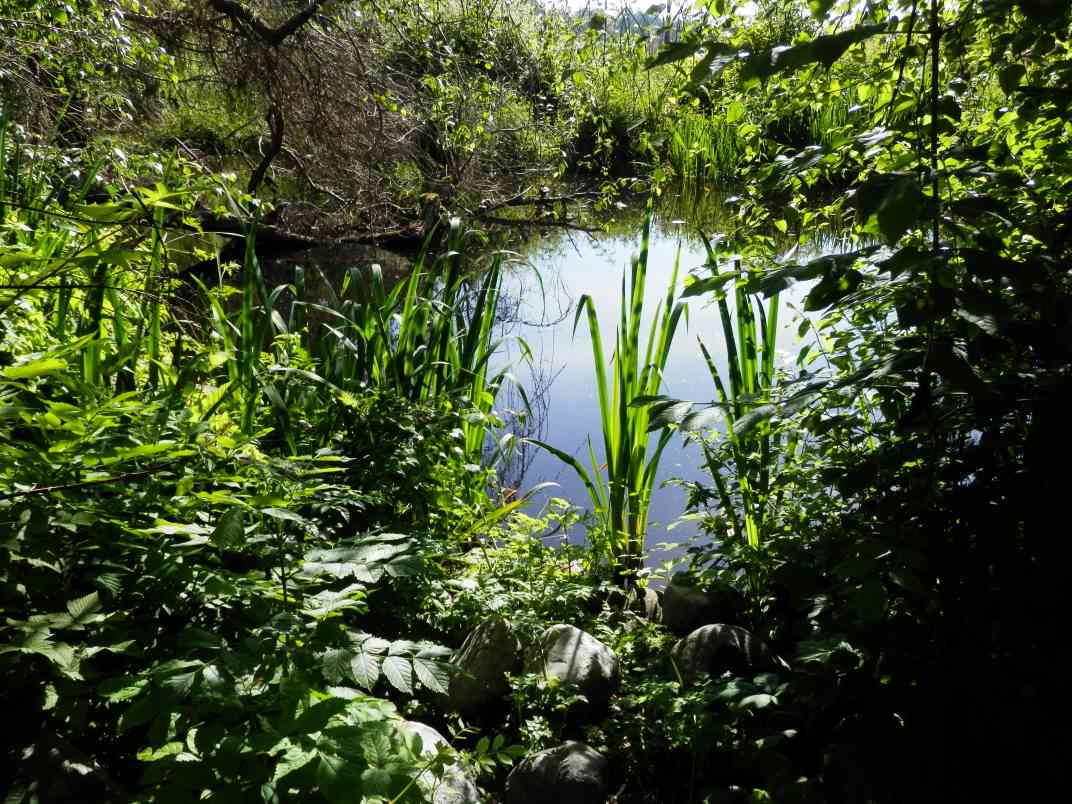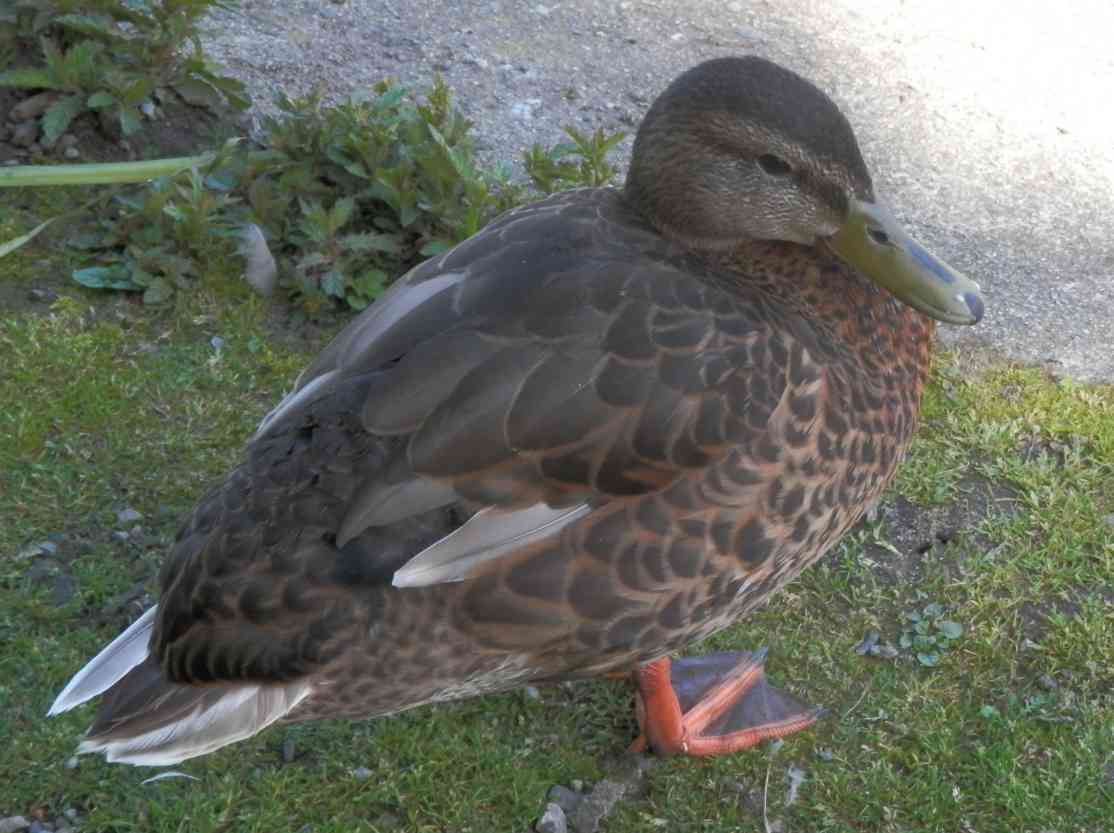 This was a friendly little duck, it waddled over to check me out.
---
JUNE 17: A VISIT TO PNINA GRANIRER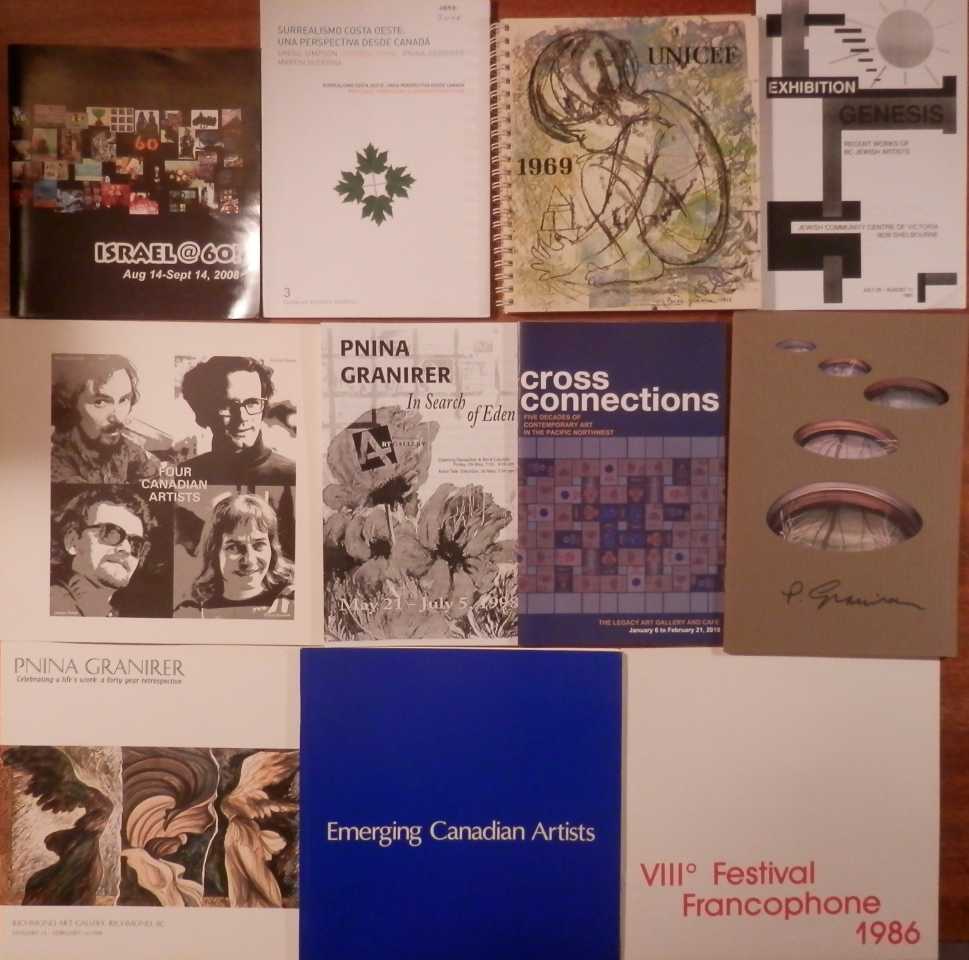 Some of the donation.

I arranged to have a studio visit with Vancouver artist Pnina Granirer yesterday. She wanted to donate a number of publications to me for addition to BC ARTISTS, and the simplest way to do that was go over and have a visit. We gabbed away for over three hours, and she gave me 21 books and pamphlets, and 3 posters. A few of them are for exhibitions of Canadian artists in places like Chile and Yugoslavia, which would be virtually impossible to find otherwise.
PNINA GRANIRER WEBSITE
---
JUNE 16: UPDATE ON LANDMARK ON ROBSON STREET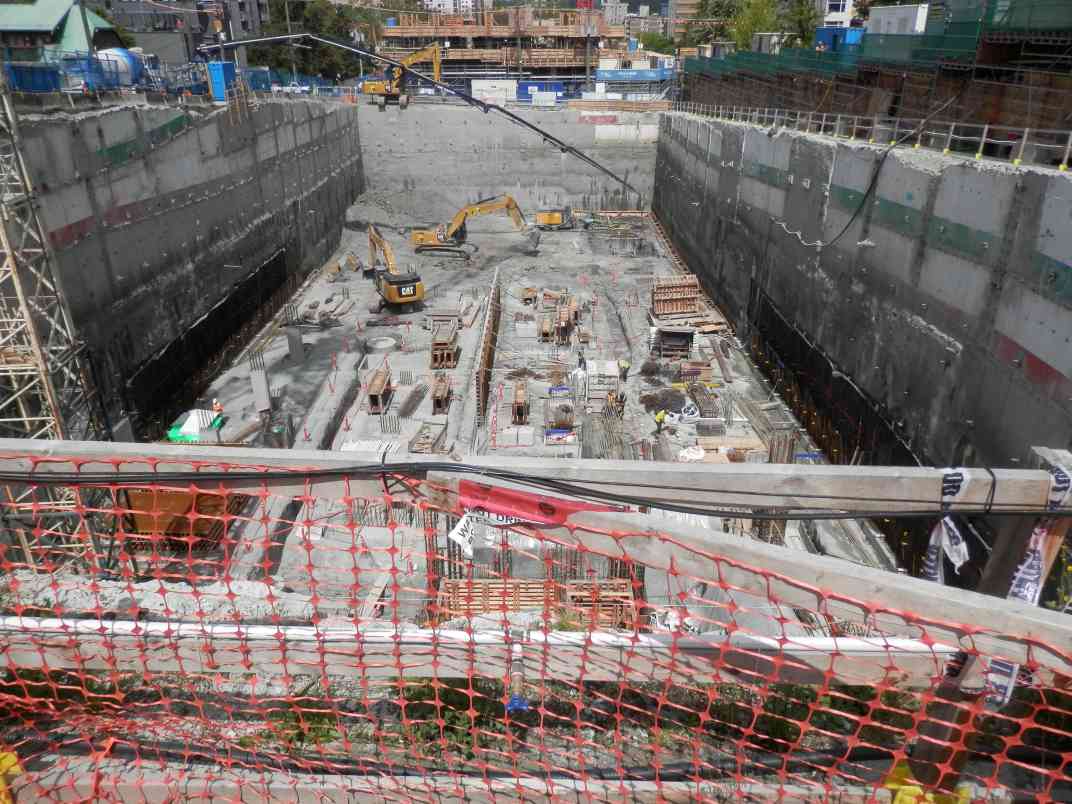 Now that they've dug the hole on Robson Street, they're filling it in. Doesn't make any sense.
---
JUNE 15: WORKING ON A CHAPBOOK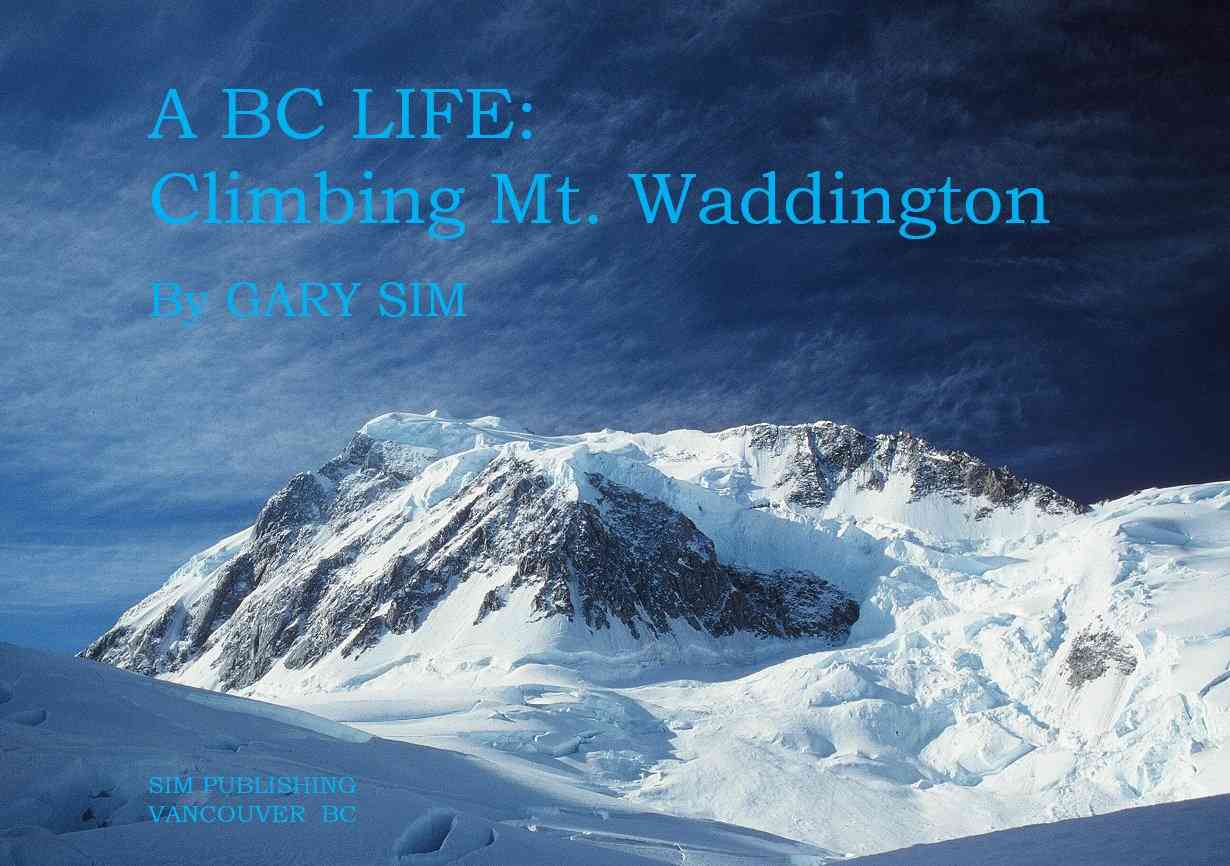 Draft cover layout, photo courtesy Douglas Welch

For some time I've been working on a story about climbing Mount Waddington in 1978. It was quite an amazing experience, with lots of tales to tell, and I had about 180 photographs that I'd taken during the expedition. The five rolls of 36-exposure film were a mix of colour print film (Kodacolour), colour slide film (Kodachrome), and black and white print film (Ilford HP-5). When I started writing, I scanned the old prints that I'd had made shortly after the climb. The prints had aged, and I liked the way they looked. Later, I scanned some colour slides directly from the slides, and these had a much brighter and true-to-colour look.

The project reached a certain point, becoming one of a number of similar documents in progress intended to be merged as a chapter into an auto-biography. I printed it out in colour, and put it aside. Other projects like writing and self publishing Railway Rock Gang came along. The only public mention of the climb was a line item on my website CV in the "education" section. Last year I was contacted by one of the people who had been on the climb, Douglas Welch, who had looked for Waddington on the internet and found my one little note about it.

We got together for a couple of drinks and to catch up on the climb, what we remembered, who we still knew, and so on. He had scanned a number of his own photographs, and showed them to me on his laptop computer. They were really good pictures, such as the one shown above, and he gave me digital copies of them to use as I wished, after I sent him a copy of my writing project. Spurred on by this I slowly started to update, expand, and completely re-format the chapter I'd been working on into an actual book of its own. What was also interesting about meeting Doug again was that we had worked together in 2007 as consultants on the Squamish-Lil'Wat Cultural Centre in Whistler. He had been the theatrical consultant for the 85-seat theatre and stage, and I was doing contract administration for the architects. Despite all of the meetings we were in together, we didn't recognize each other from the climb thirty years earlier.



---
JUNE 8: IMAGES FROM BC ARTISTS POSTED ON ONE PAGE FOR REVIEW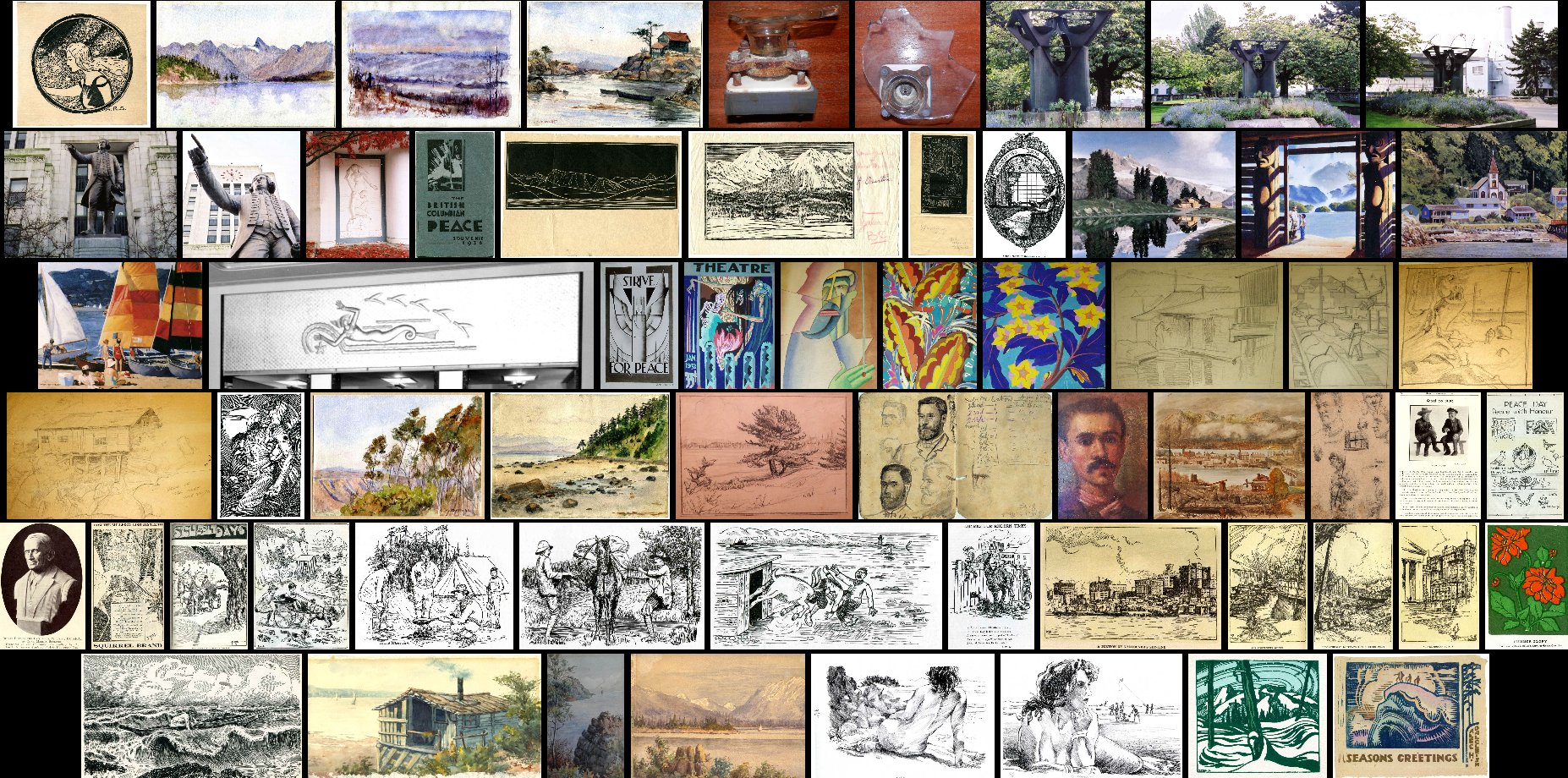 Some of the 700+ images in BC ARTISTS

I finally spent some time putting together links to all images in BC ARTISTS, so that they could be viewed in one file, sort of a visual smorgasbord. All images are linked to files that provide information and context. The are loosely sorted into artist photographs, research photographs, artwork images, and ephemera images.
BC ARTIST IMAGES
---
MAY 21: SIM ARTWORK NOW HOME FROM PACIFIC ARTS MARKET
After four and a half months, I took my artwork back from Pacific Arts Market. The business is a great idea, and they have managed to keep it operating through this difficult time. However, the COVID-19 social distancing and business shutdowns affected them a lot, they quit holding events and workshops, and closed for two weeks in April. I didn't sell a single artwork, so it was a fiscal failure for me but an interesting experiment. And now I have extra gridwall panels for future exhibitions.



---
MAY 18: FLYOVER VANCOUVER


One of the few planes that flew directly overhead

It seemed like a perfect day for the memorial flyover of Vancouver on May 18th, that was held to commemorate the loss of life in the Snowbirds crash in Kamloops. Apparently quite a few small aircraft participated, and from my West End apartment I could hear them buzzing all around the harbour. Only a few went directly overhead, and were difficult to photograph. I wished them all a safe flight back home.
---
MAY 8: FOUR SIM ARTWORKS UP FOR AUCTION
This is a chance to acquire original Sim artwork at a bargain price! Three limited edition prints and a multi-media drawing are now available for on-line bidding at:



LEVIS ONLINE AUCTION

AUCTION IS NOW CLOSED. 3 of 4 ARTWORKS SOLD, THANK YOU!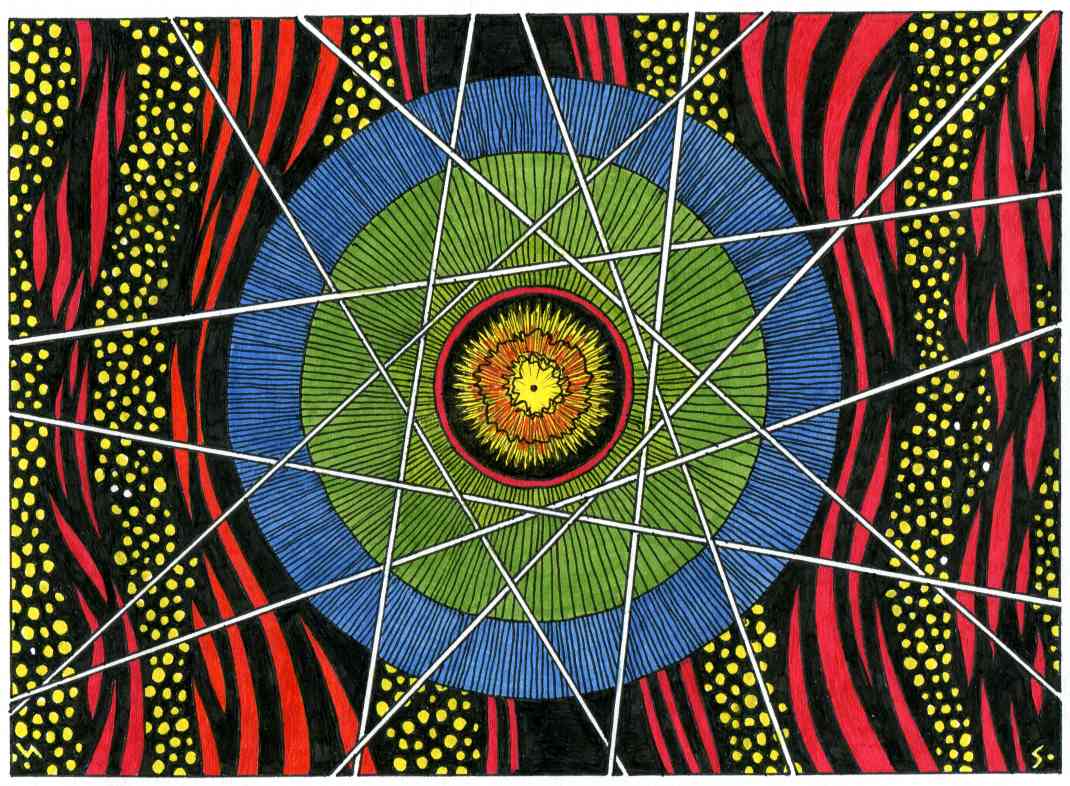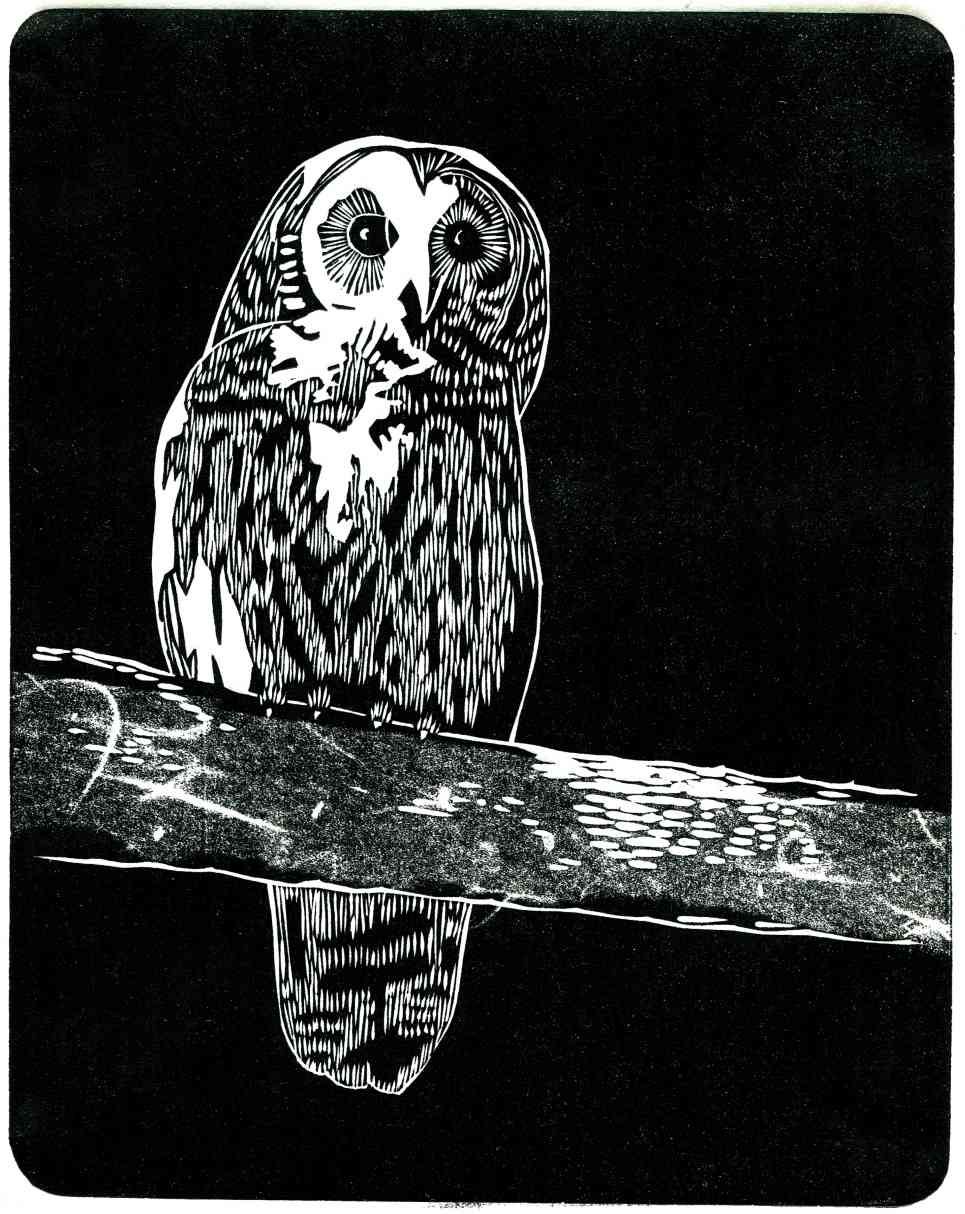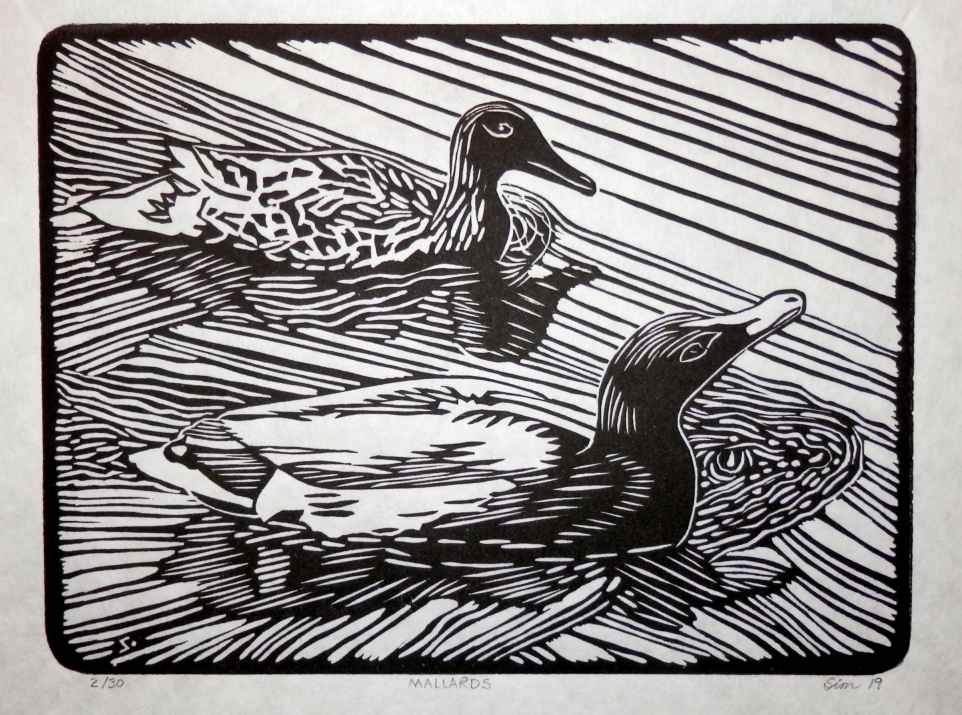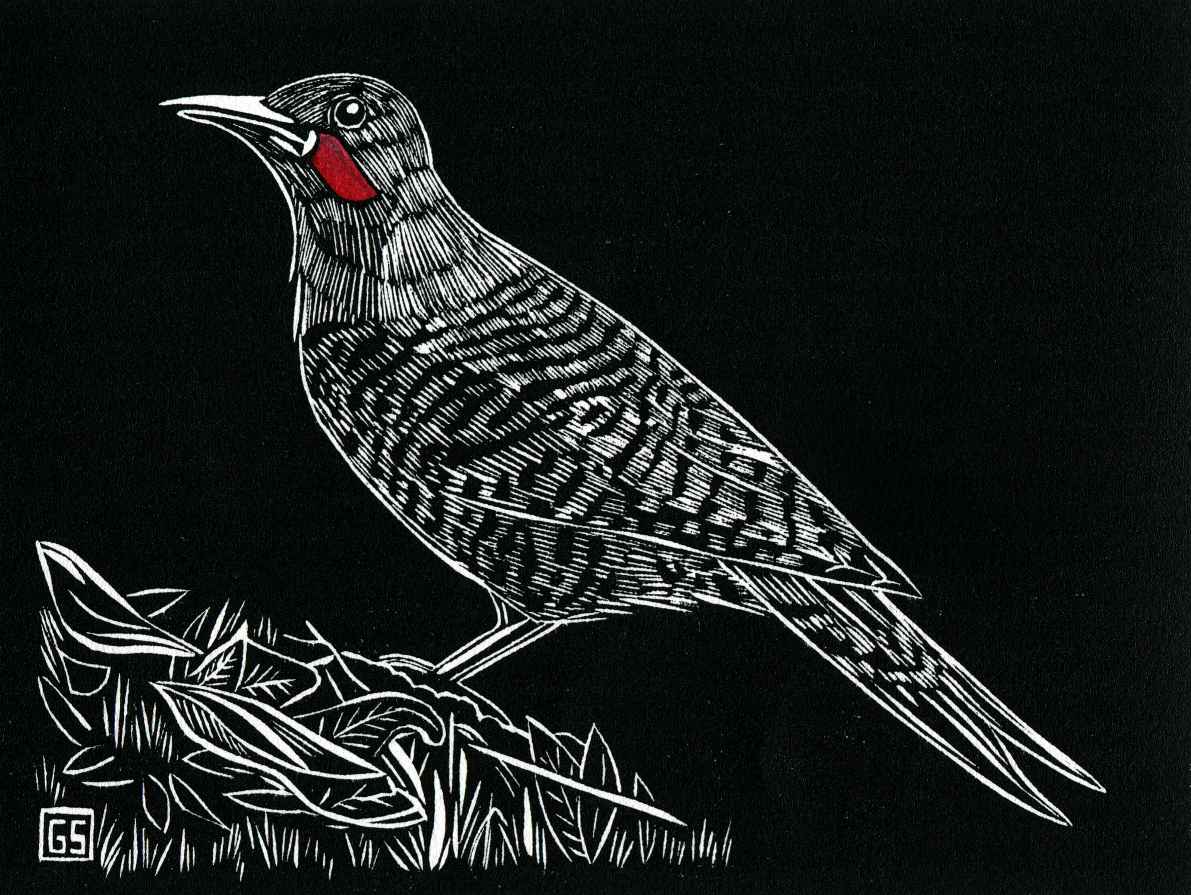 Solstice Greeting Morning Owl Mallards Flicker
---
MAY 8: A "NEW" MAUD SHERMAN WATERCOLOUR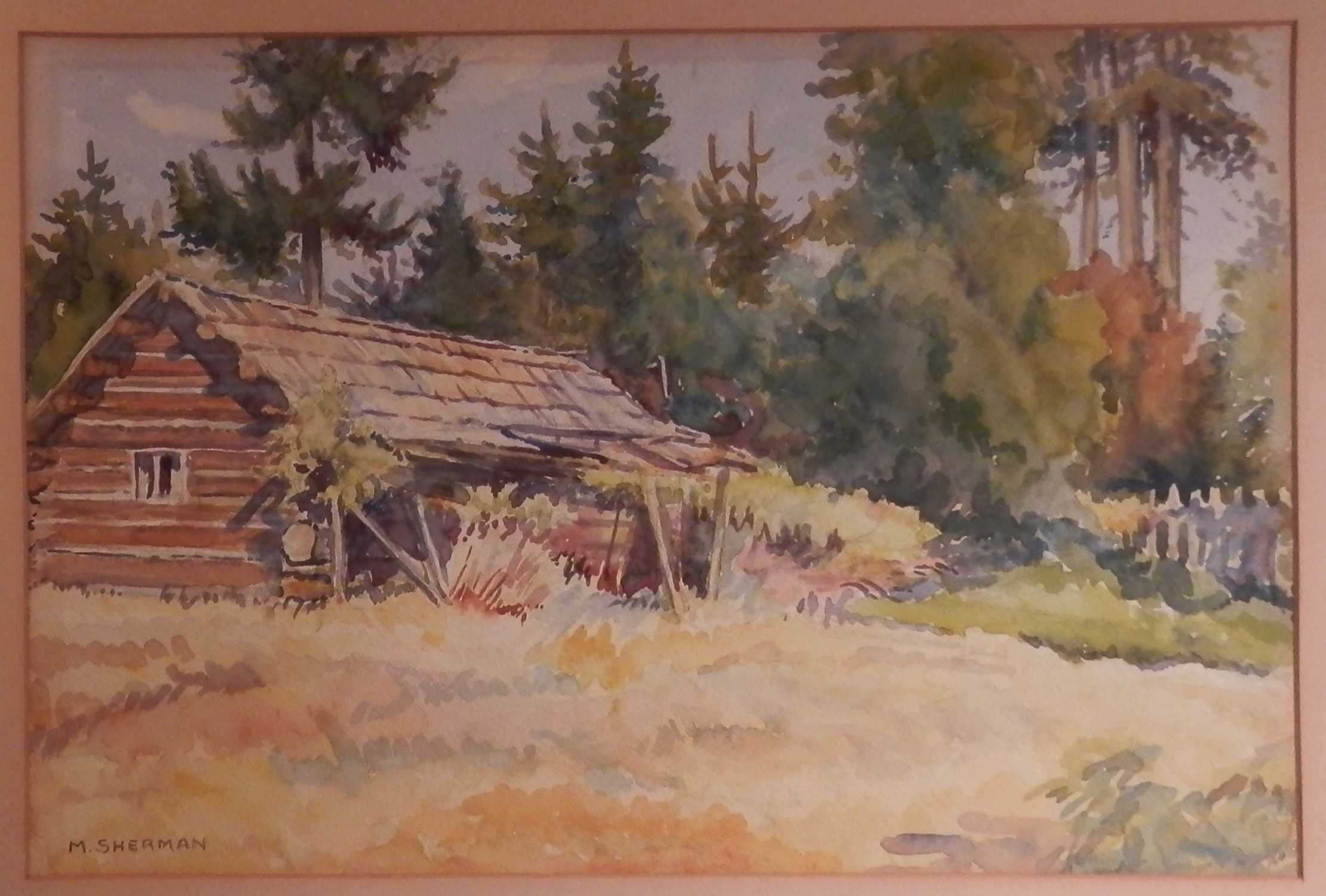 Untitled watercolour by Maud Rees Sherman

A friend that I hadn't heard from in a while phoned me last week, wondering if I would be interested in acquiring a Maud Sherman watercolour from him. I said that I would, and we got together (at 2 meter spacing) to catch up on gossip and exchange money for art. The painting is in a nice old wood frame by Hughes Photo Studio, 2113 West 41st Ave., Vancouver. The business was only at that address from 1932 to 1936, which nicely helps to date the image. So far I've been unable to identify the location of the log cabin.
---
MAY 4: A SMATTERING OF SPRING PHOTOGRAPHS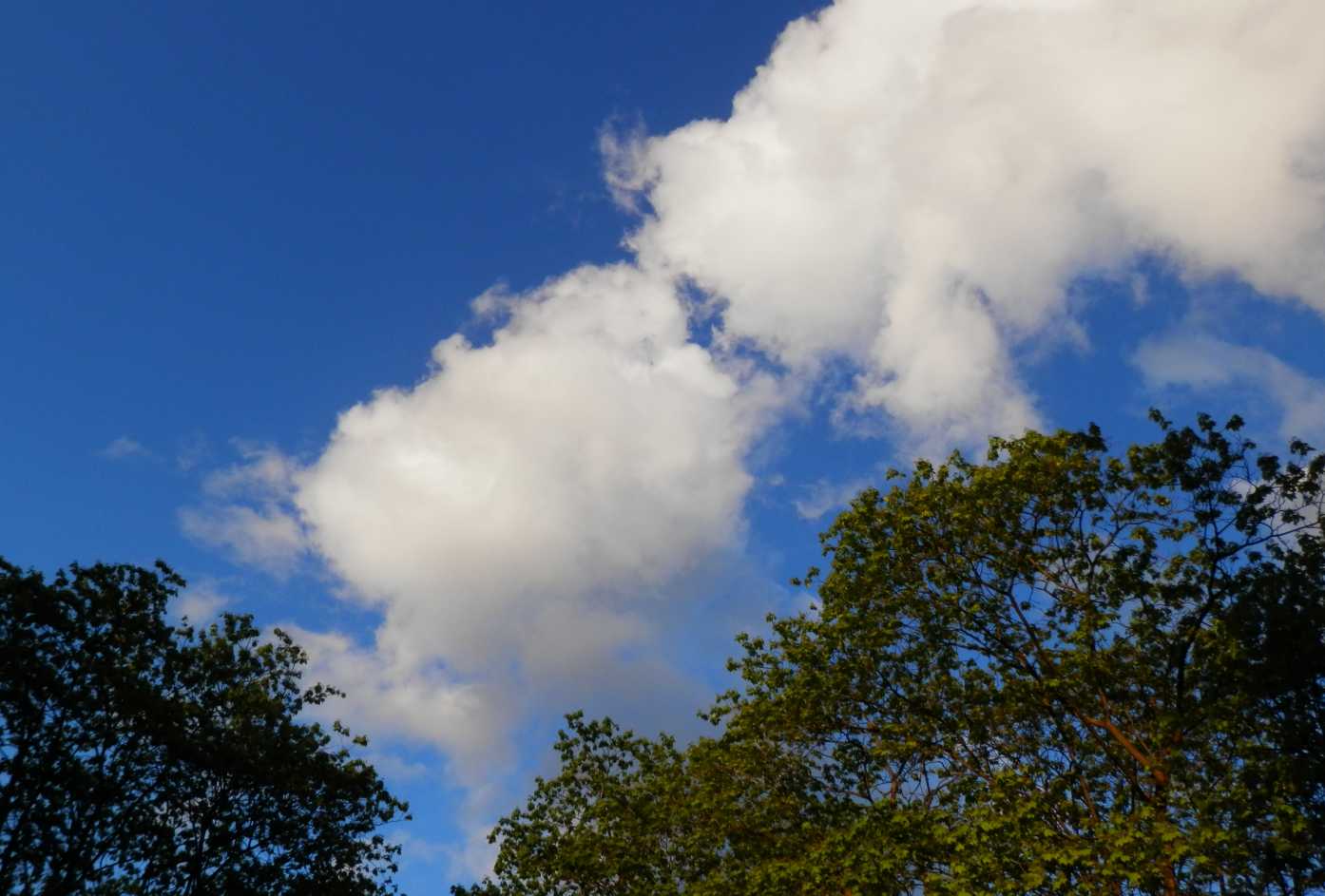 Does the sky look blue again? View from my balcony, late afternoon sun on Cappadocian Maple trees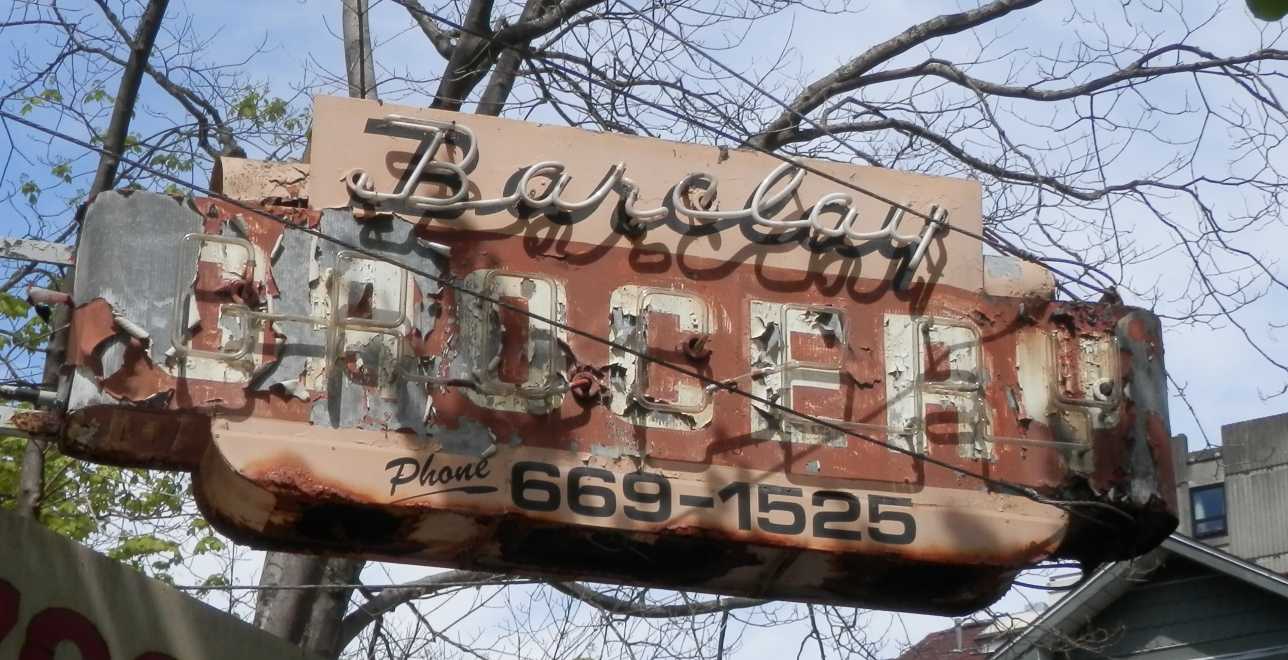 I love this old neon sign on a corner store down the block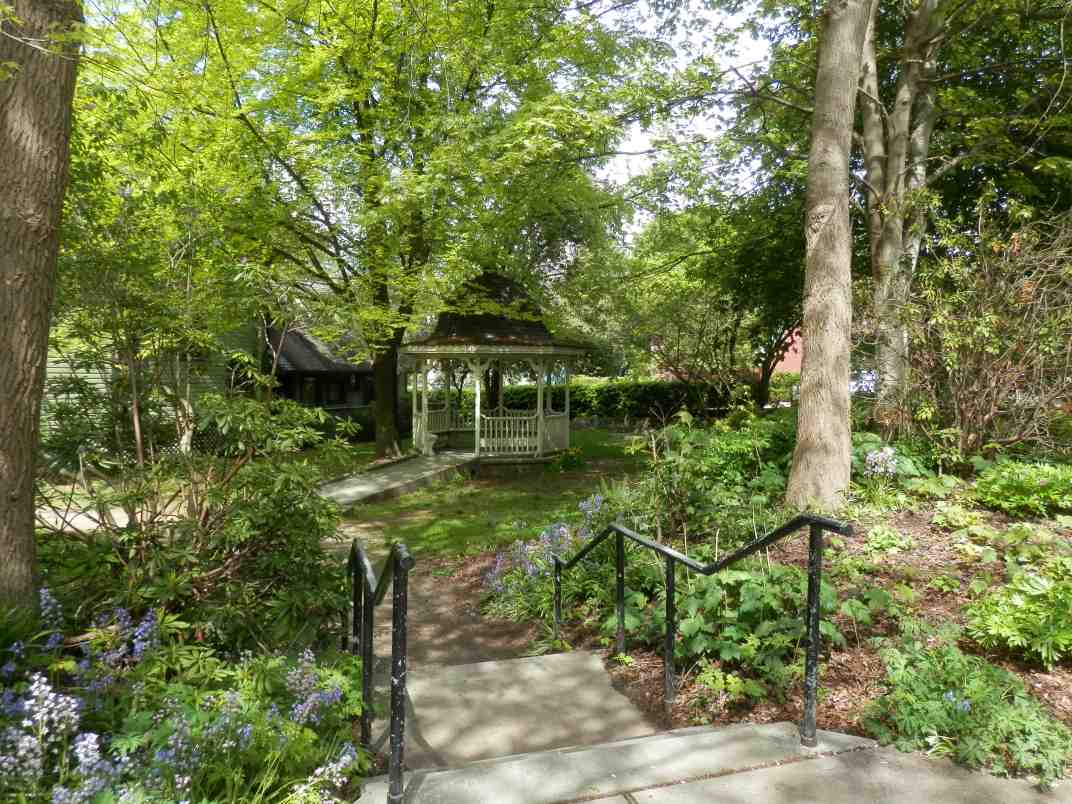 A little gazebo in a park across the road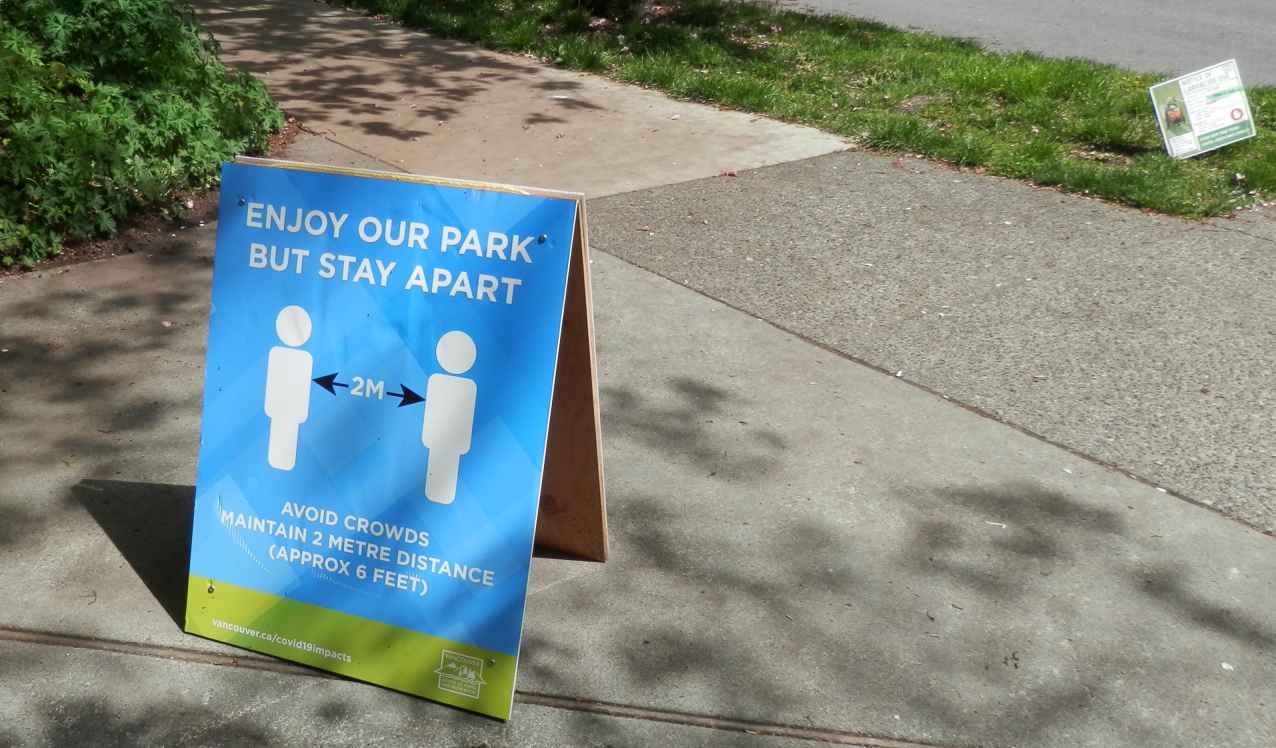 Signs of the times: COVID-19 distancing on the left, invasive japanese beetle larvicide spraying on the right

My Pothos plant after a spray water wash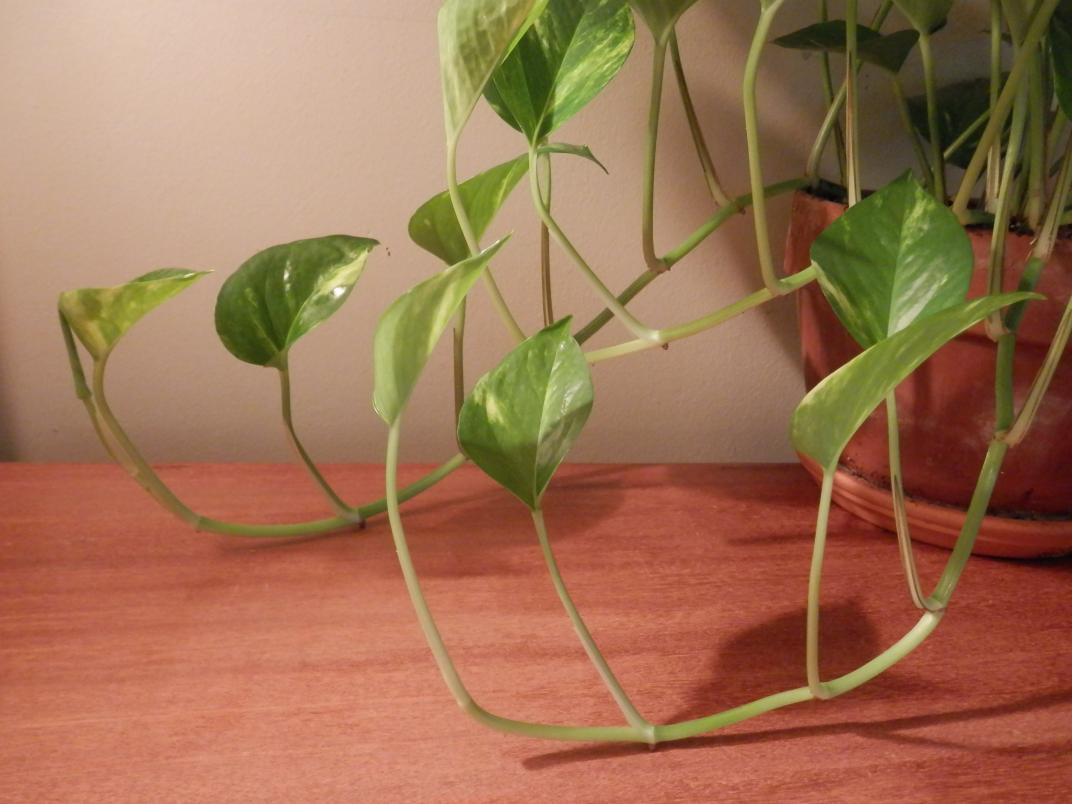 Posing my Pothos plant for a drawing, prior to taking cuttings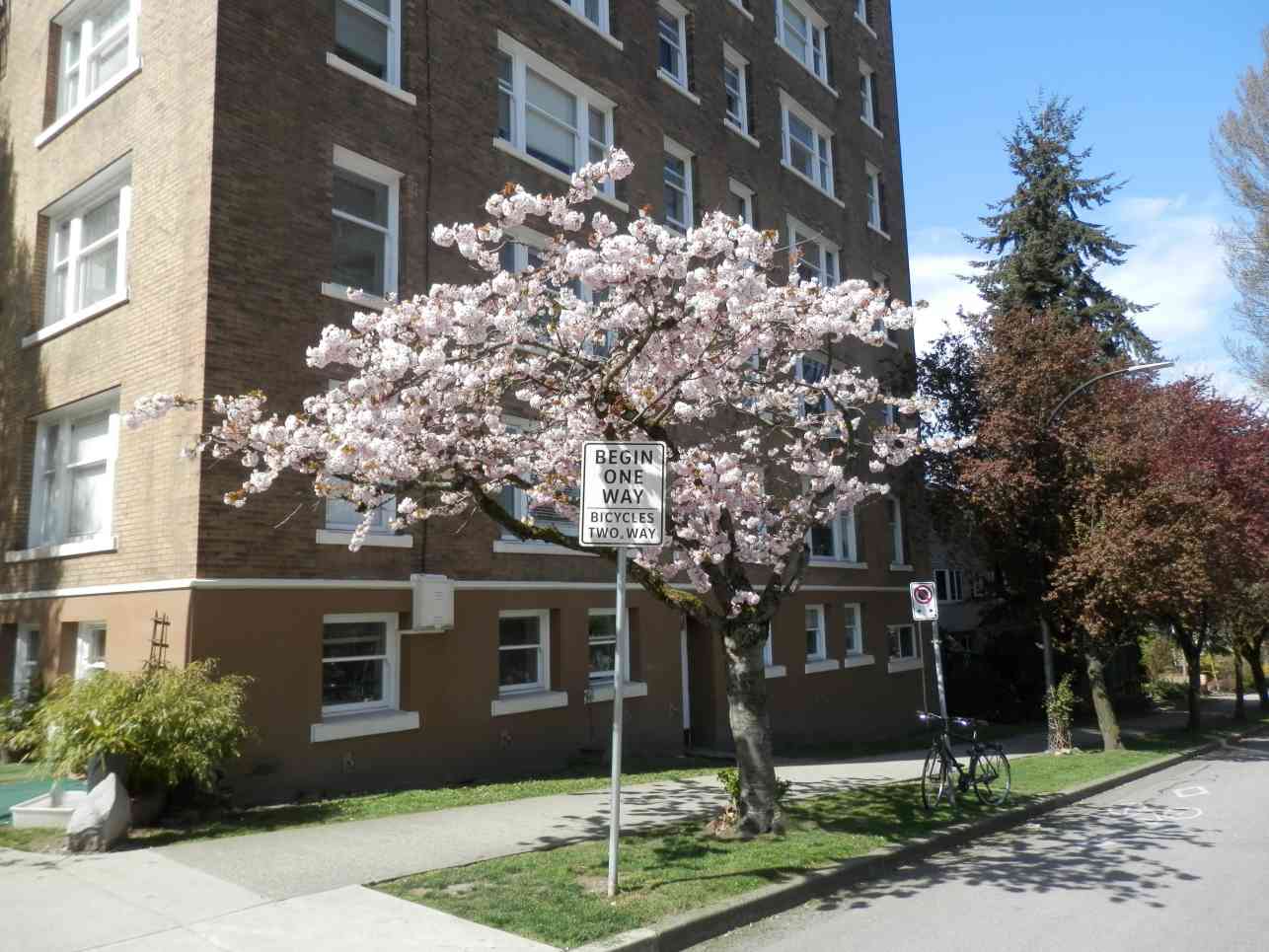 Recent cherry blossoms with stupid and needless traffic control sign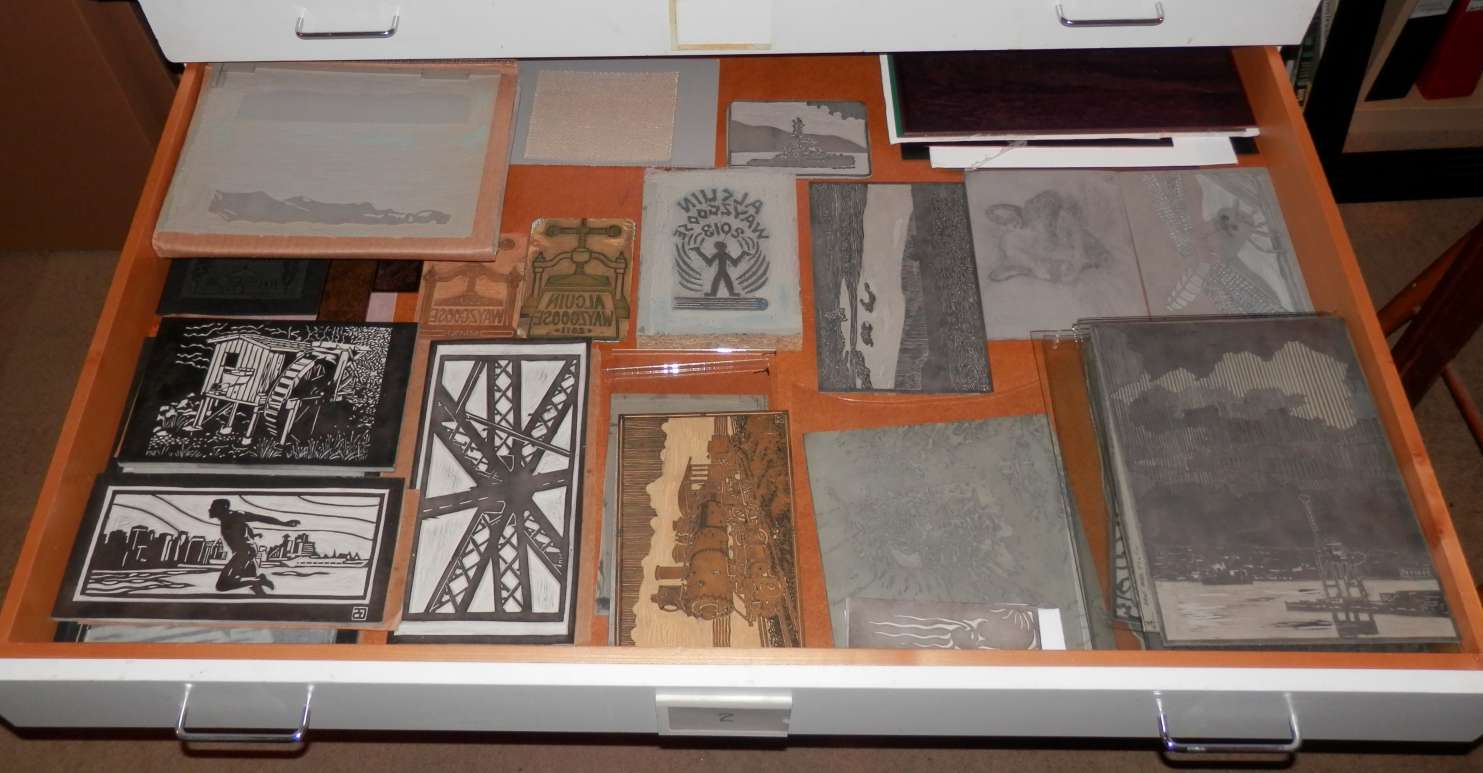 What does a drawer full of relief print blocks look like?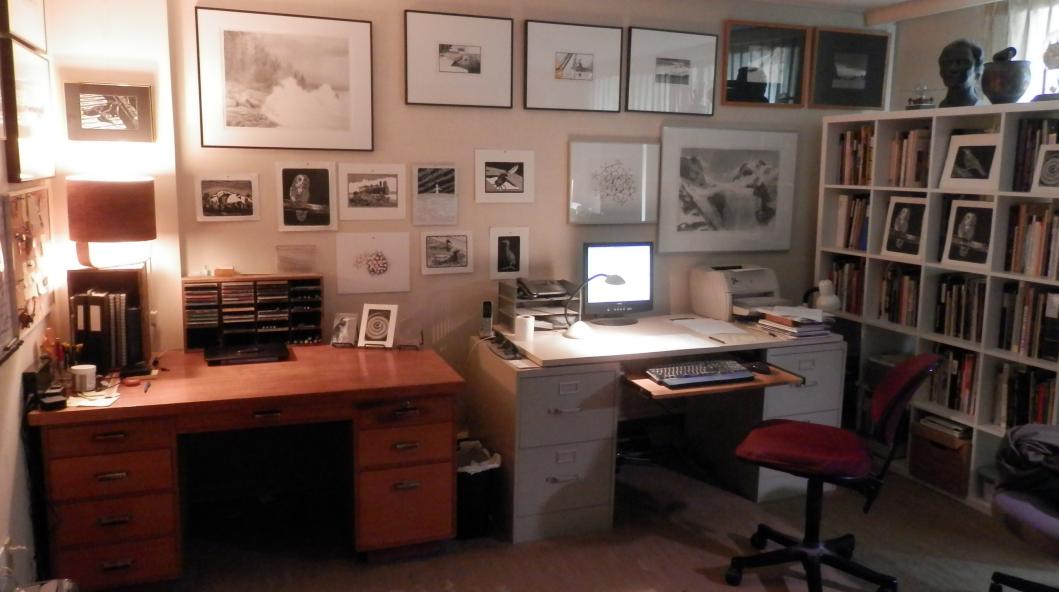 View of the art cave: working on BC Artists, surrounded by artwork and art books
---
MAY 1: BC ARTISTS PROJECT REFERENCED BY VANCOUVER ART GALLERY LIBRARY
The Vancouver Art Gallery Library and Archives recently revised their web page for online references, to add a link directly to Sim Publishing's BC Artists project. This is very much appreciated, the word is slowly seeping out about the project being online, and links like this help a lot.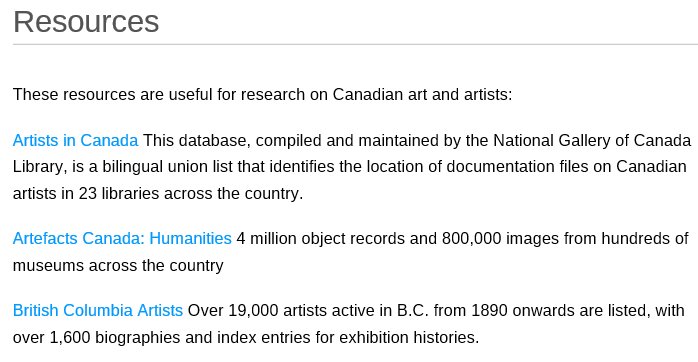 Number 3 on the reference hit parade!
---
APRIL 25: BC ARTISTS PROJECT REACHES MAJOR BENCHMARK
It has been eighteen years since I started writing web pages for what would eventually become my BC ARTISTS project. It began as a list of artists who had exhibited artwork in Vancouver prior to 1950, based on bibliographic references. I started to transcribe exhibition catalogues, and every artist in the catalogue would get their own biography file, listing their artwork.

I kept finding more catalogues, though, and more artists, more artist groups, more exhibition venues. The list of artists kept growing, and so did the number of biographies, as well as the amount of information cumulatively added to the biographies. The index finally reached over 1,700 artists some years ago, and today I just finished transcribing and linking the last catalogue, the Vancouver Art Gallery's 1950 19th Annual B.C. Artists' exhibition.

This catalogue incurred the creation of the last 16 biography files in the original index. Every artist in the index now has their own biography file. Job well done! I have to confess, I didn't think I would spend anything like this amount of time on the project. Just doing the last catalogue and tidying up loose ends took me ten hours of continuous work.

The whole project has taken thousands of hours, cost thousands of dollars, referenced thousands of publications, and listed over nineteen thousand artists. A friend recently referred to me as a "completist" and I thought it was a point well taken. I actually would have finished this part of the project a long time ago, except that I kept making extensive digressions and expansions along the way, such as listing the 17,000+ post-1950 artists in the A to Z index.

Other digressions along the way included:
compiling a list of art school students and graduates up to 1950
transcribing the Island Arts & Crafts Society list of exhibitors
transcribing the West Vancouver Sketch Club list of members
transcribing and adding to the list of Greater Vancouver Art Galleries
indexing the 1977 Visual Artists of B.C. (2,200 artists)
compiling a series of Occasional Papers including Art & Framing Stores of Vancouver

Anyway, I think you get the picture, 'nuf said.
---
APRIL 23: THREE MORE SIM ARTWORKS UP FOR AUCTION
This was a chance to acquire original Sim artwork at a bargain price! Two limited edition prints and a multi-media drawing are now available for on-line bidding at:



APRIL 25 UPDATE: the auction has closed, and I am happy to report that all three of these artworks sold, and will be going to a new home. Thank you to those who bid!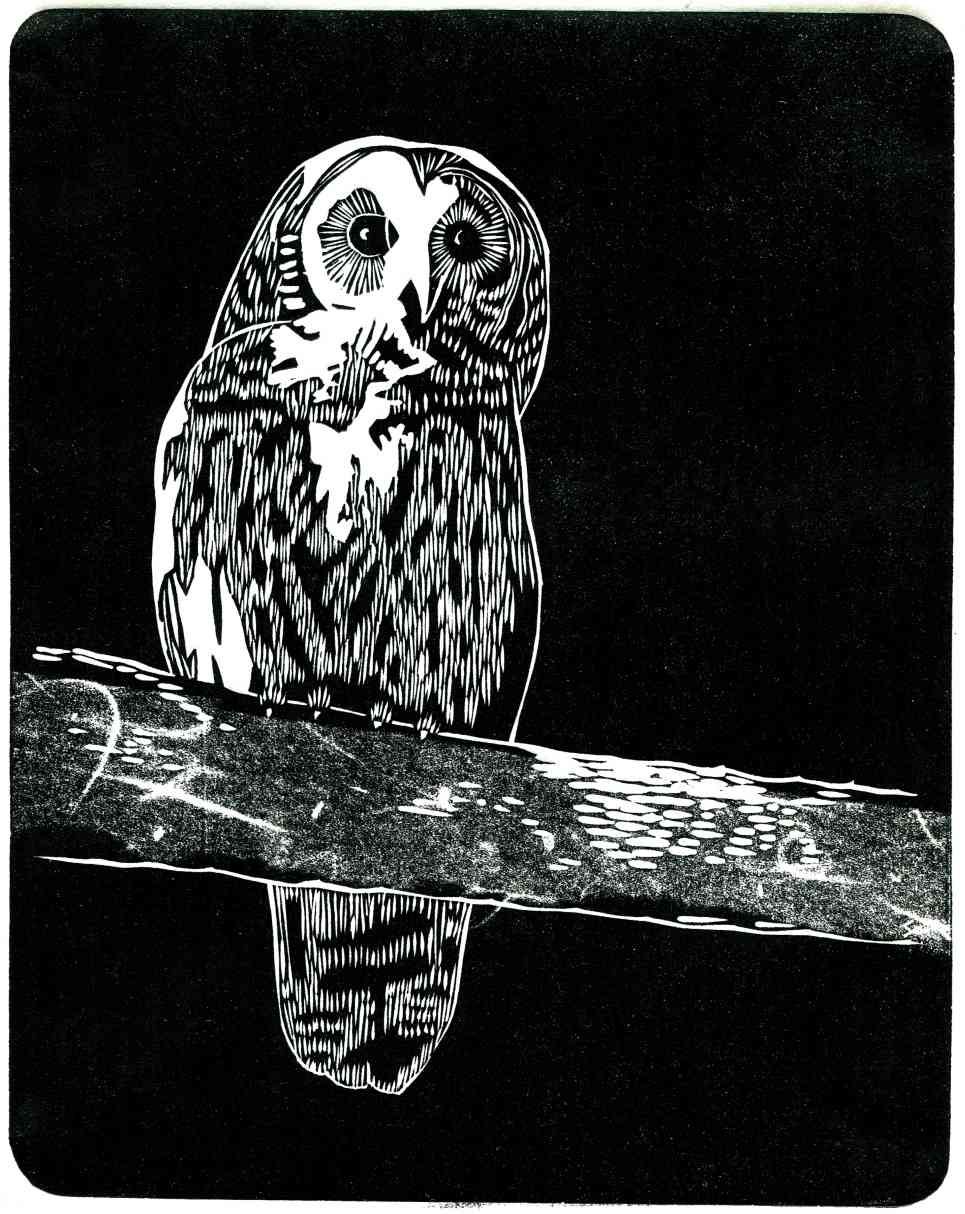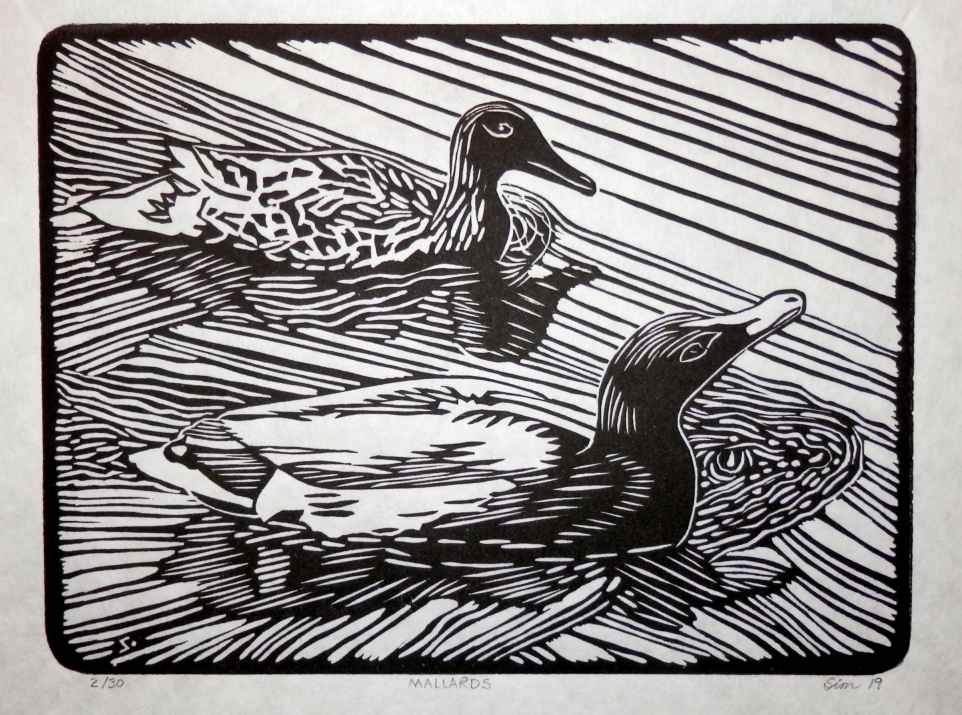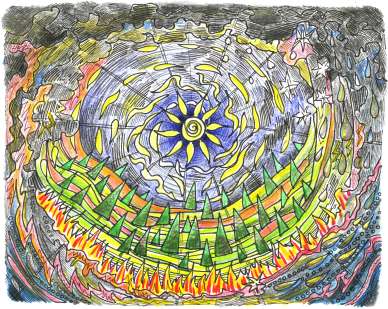 Morning Owl Mallards Time of Change
---
APRIL 12: A PHOTO SHOOT ON ROBSON STREET
I had to go out to put two packages in the mail, so off to the postal outlet on Robson Street, taking a route that would not go by the Haro Park Lodge. I took my camera along in case there were any interesting images. The vast majority of stores are closed now, and many of them have been boarded up with plywood, as if there is going to be civil disorder soon.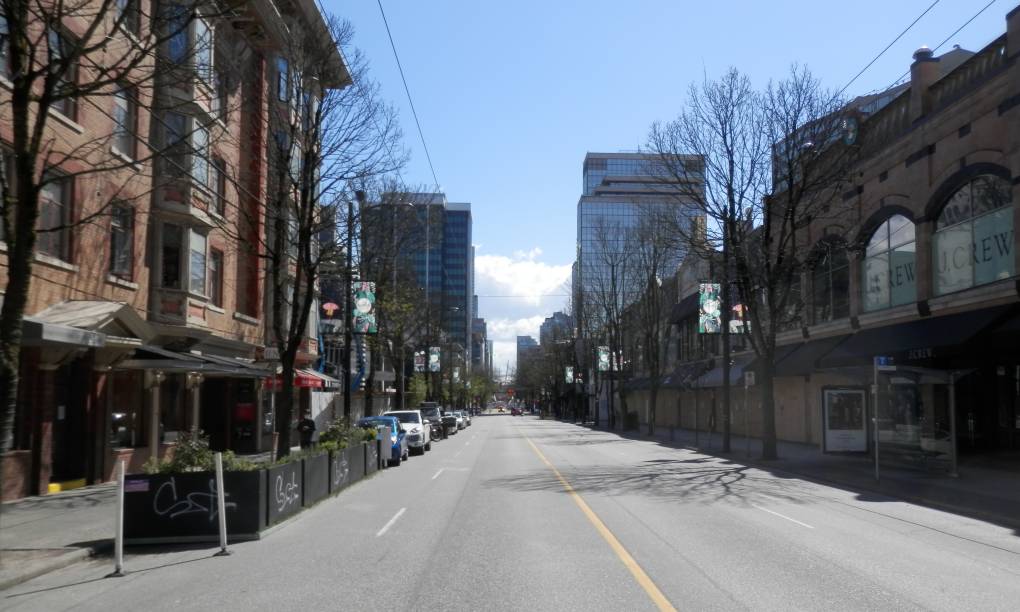 Looking east at 1000-block, everything on the right is boarded up.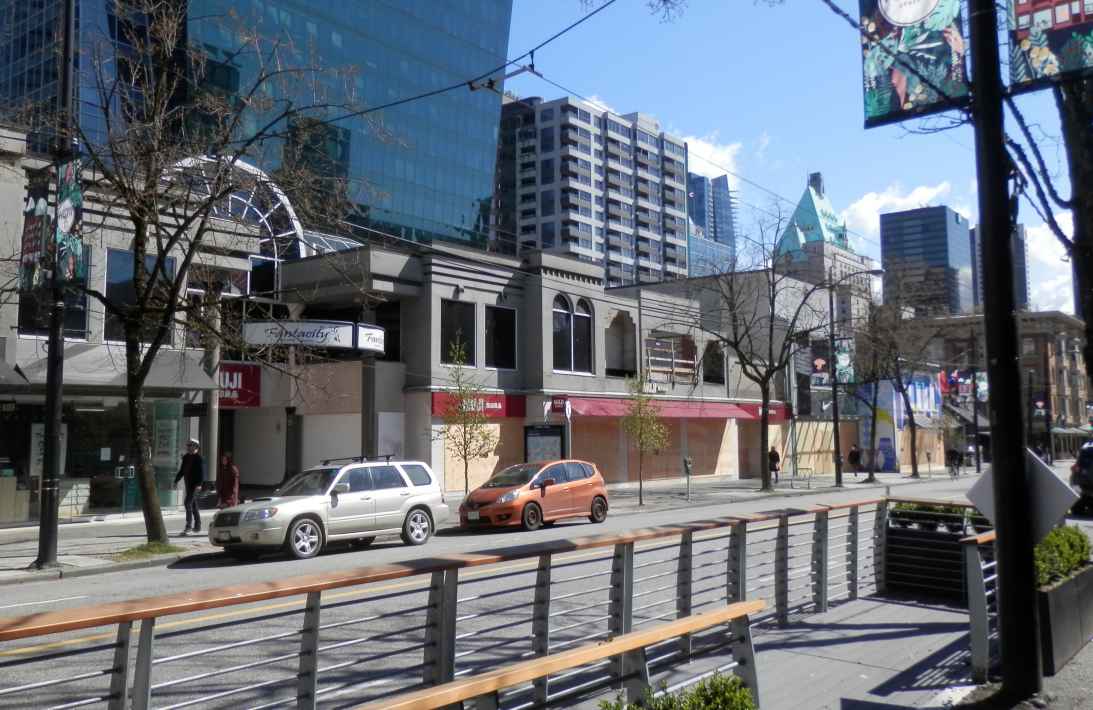 Even the stupid little "parklets" are closed.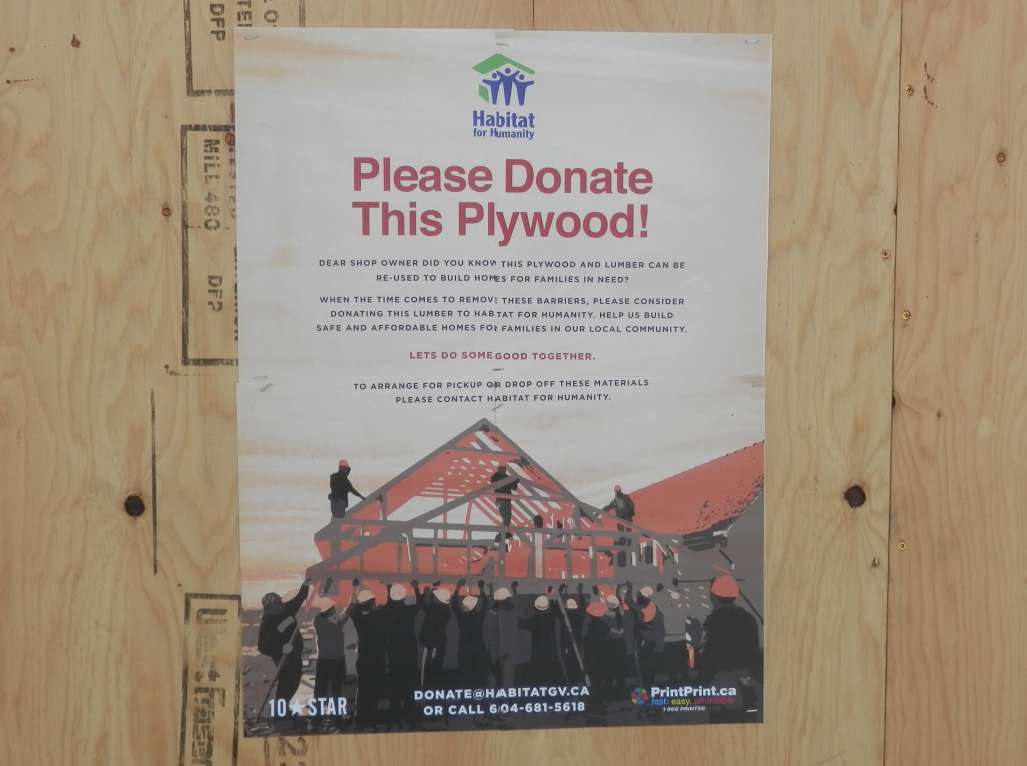 This is a good idea: "one man's hoarding is another man's floor"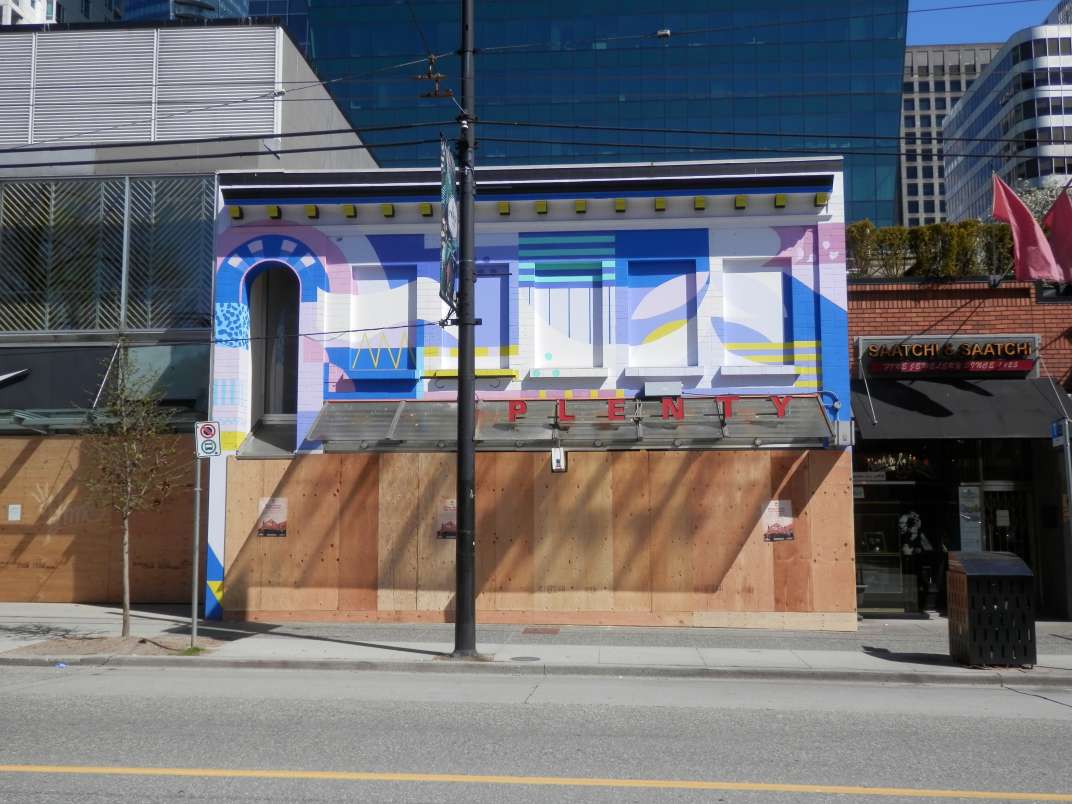 There is a definite lack of "plenty" now.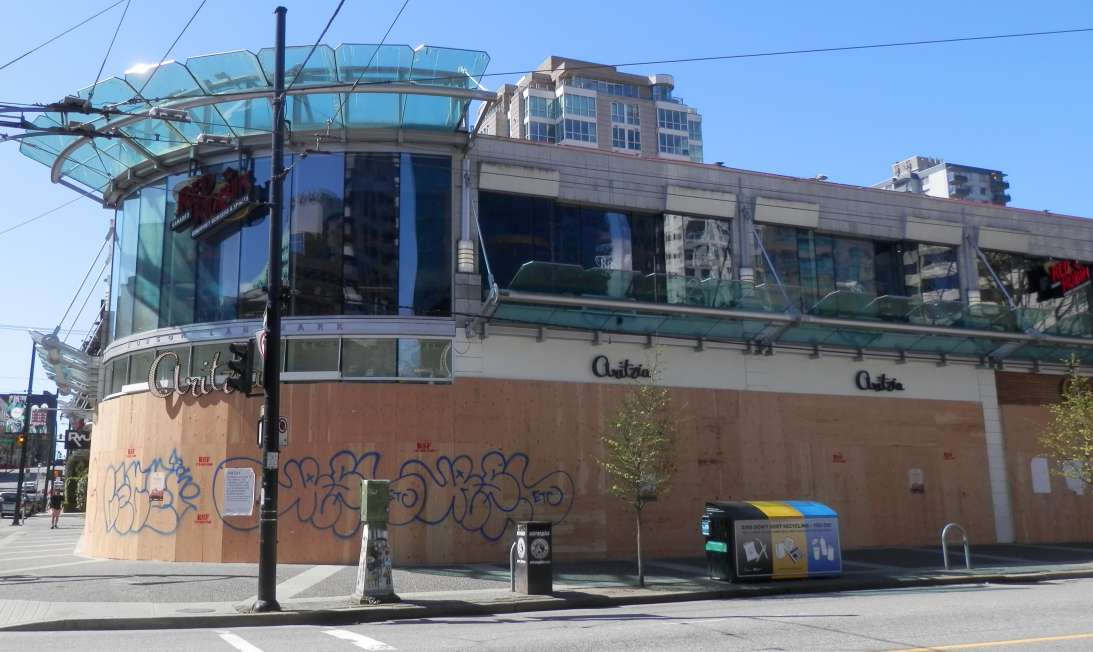 This looks like we've had another hockey riot. Is this really necessary?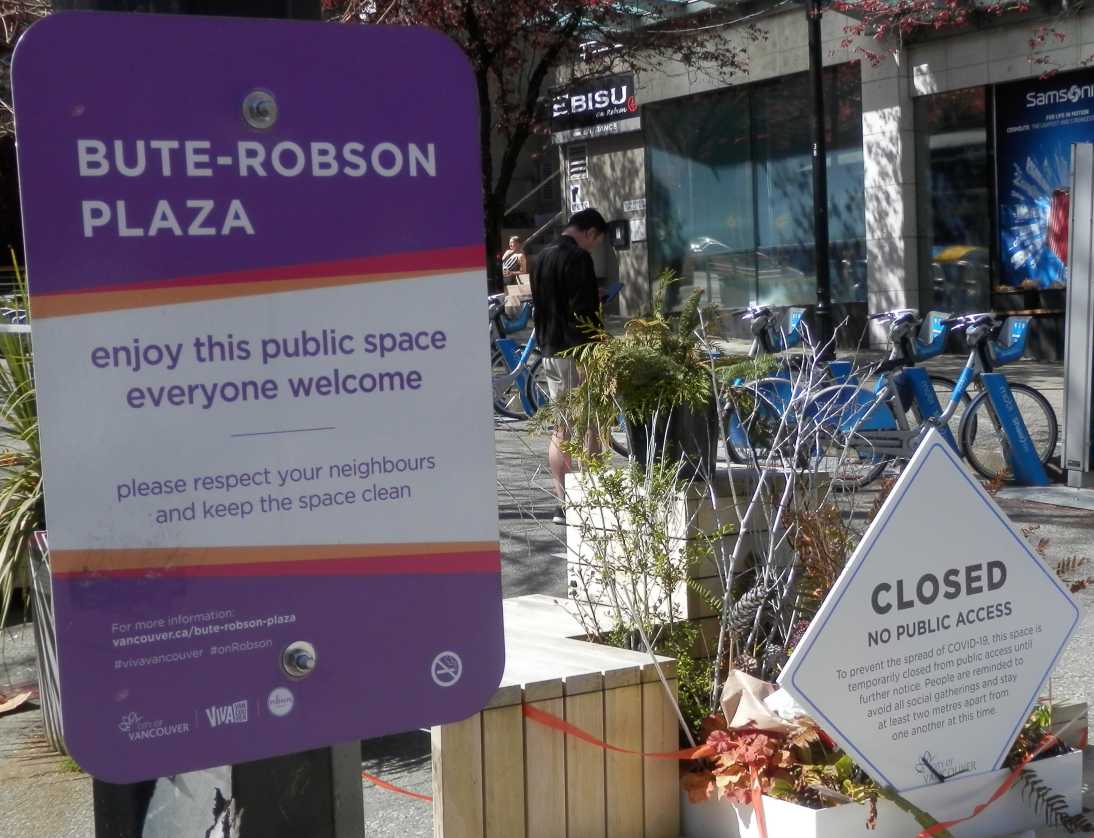 I guess the person putting up "closed" signs didn't have "remove welcome signs" in their scope of work.
---
APRIL 11: GREATER VANCOUVER ART GALLERIES LIST UPDATED
One of the ongoing BC ARTISTS works-in-progress is the input and update for the document Greater Vancouver Art Galleries. This was originally compiled by Bill Jeffries at SFU, but was not completed when work on the document stopped in 2012. Bill gave me a copy of the list, which I heavily annotated over the years to the point where some pages were almost illegible.

I input the first half of it last year, then moved on to other things. I finally spent a couple of days finishing input for the second half. This included going through hundreds of pieces of art ephemera looking for galleries and exhibitions to add to the list, as well as adding scores of links to BC ARTISTS exhibitions and artist biographies.

The list is not complete, and probably can never be complete, but this is as close to a comprehensive list of local art galleries - public and private - as you will find, with particular emphasis on galleries that existed from 1950 to 2010.
---
APRIL 10: PACIFIC ARTS MARKET CLOSED UNTIL FURTHER NOTICE
One day after I paid for another month's renewal at the Pacific Arts Market, I received an email stating that they are temporarily closed, and the store has been boarded up. UPDATE: the store is open again as of April 23.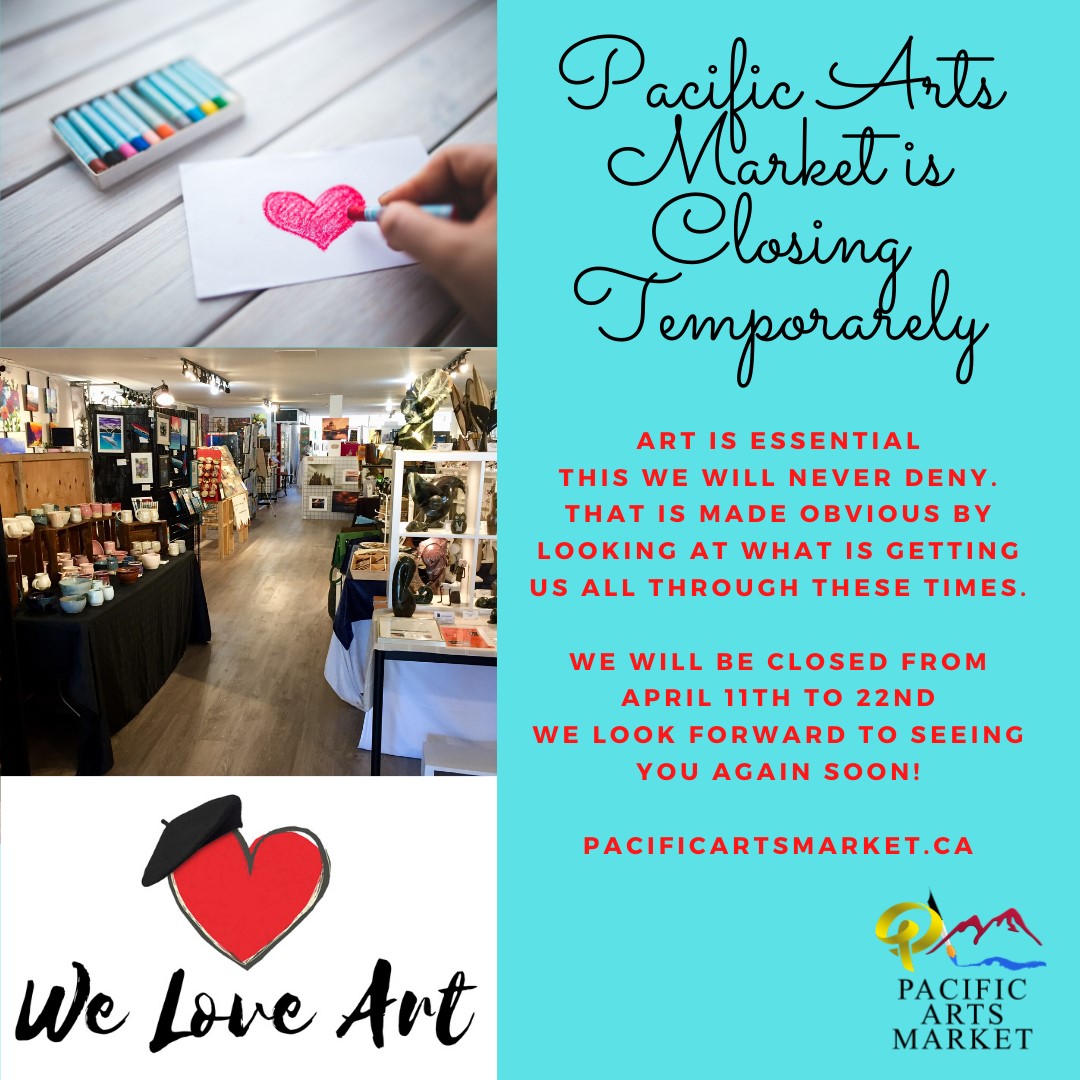 ---

John Kyle drawing
APRIL 9: MAJOR UPDATES TO BC ARTISTS UPLOADED
Another positive result of being self-isolated at home is that I've been able to make a series of updates to BC ARTISTS, transcribing a total of 21 additional early exhibition catalogues from the 1930s and 1940s. With a total of 207 catalogues now fully transcribed and linked to artist biographies, there are over 15,000 artworks individually listed by title, medium, and price (if noted). Another 40 artist biographies were created as part of this work, and many more updated with additional exhibitions and artwork.

Eight of the catalogues are for BC Society of Fine Arts Annual Exhibitions, these new listings complete the annual exhibitions from 1935 to 1950. Five of the catalogues are for the Vancouver Art Gallery's BC Artists annual exhibitions, I am working to complete this series to 1950 as well, and have transcribed 22 of them from 1932 to 1948, with only 6 to go! Sixteen post-1950 catalogues have also been added, and 72 artists newly referenced from them.

Refer to BC ARTISTS 2020 UPDATES page for additional information.
---
APRIL 2: MY PRINTING PRESS FINALLY IDENTIFIED!
One of my earliest news items on this website was the 2004 purchase of a press, that I wanted to use for making linocut relief prints. The only identifying mark on the press was a cast diamond shape, with an indistinct logo or letter in the middle, which could have been a C, D, G, S, or something else entirely like a hexagon. I looked online for a mark like that, and also for presses, nipping presses, book presses, whatever I could think of. No luck, so I gave up.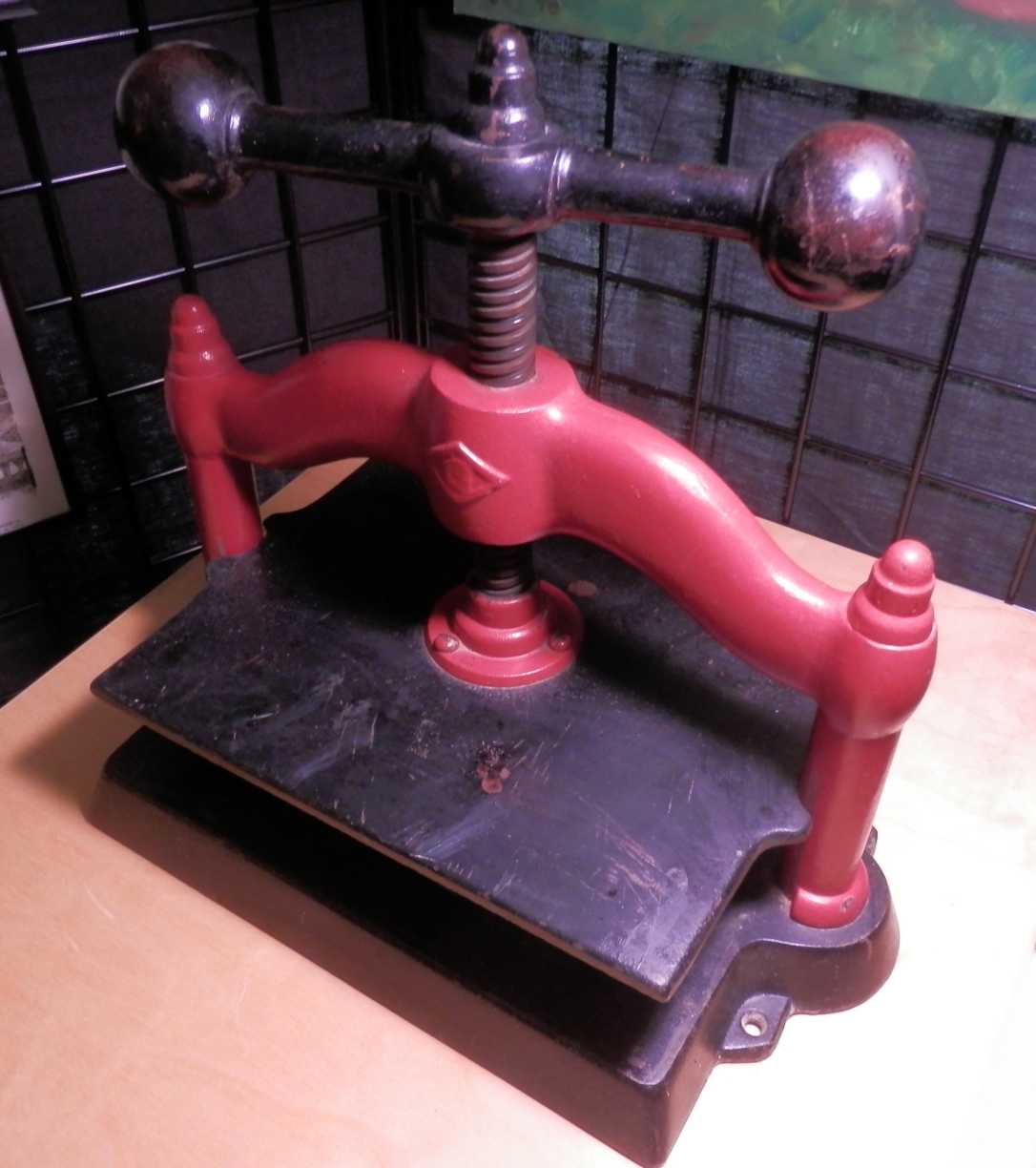 J. Smart Copying Press

This week, stuck at home self-isolating and trying to to keep myself safe from the virus, I was washing my old family frying pan, and wondered about the manufacturer. The bottom had the name SMART embossed on it, and BROCKVILLE ONT as well. In the middle of the bottom is an embossed circle, with a diamond shape inside that, and an obscure letter inside that, which I hadn't noticed before. So, I looked up the name online.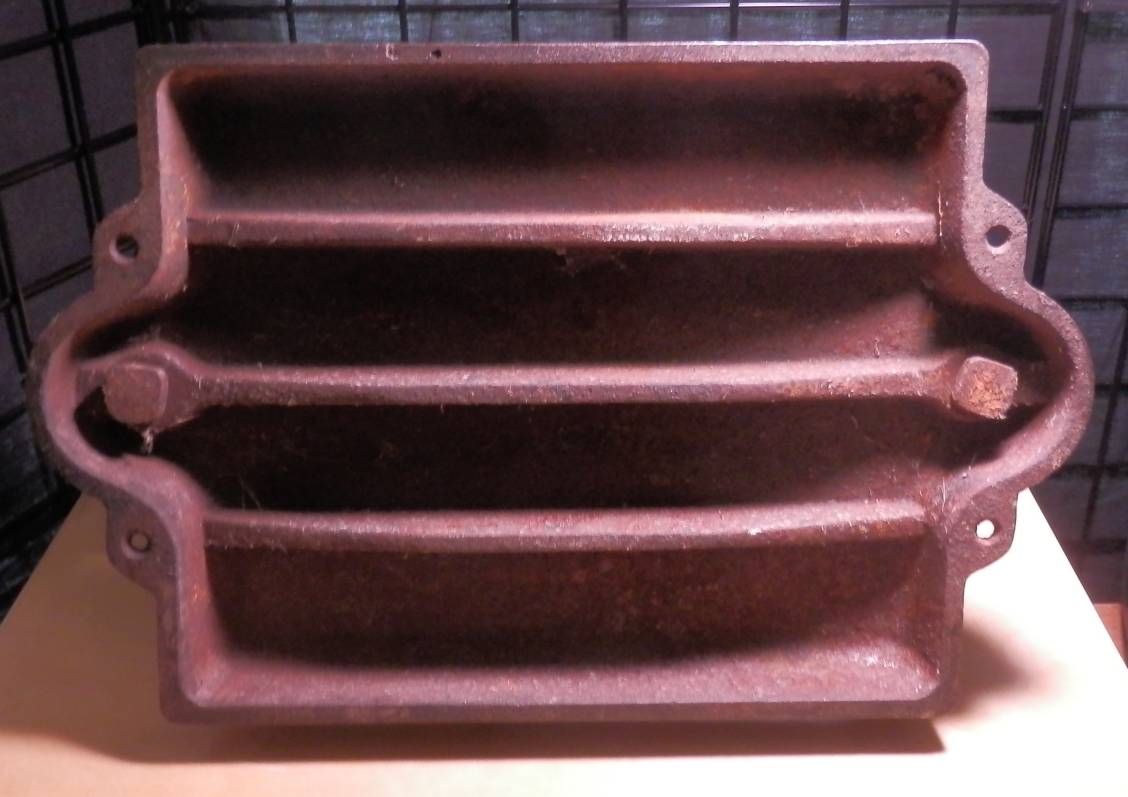 Underside of J. Smart Copying Press

It turns out that J. Smart Manufacturing made both my frying pan and my press! I found an old Smart catalogue online, and in the 1880s they had 5 series of what they called COPYING PRESSES, with a number of different models in each series. A website about cast iron in Canada notes that this logo was only used between 1886 and 1912, which makes the frypan and press each over 100 years old! The letter in the middle is a "G", which stands for Gill, a previous owner of the company. Made in Canada, and still in perfect working order. Smart made a lot of different series of frying pans, but not that many of them seem to have wood handles. The number 9 refers to the diameter of the flat bottom of the frying pan.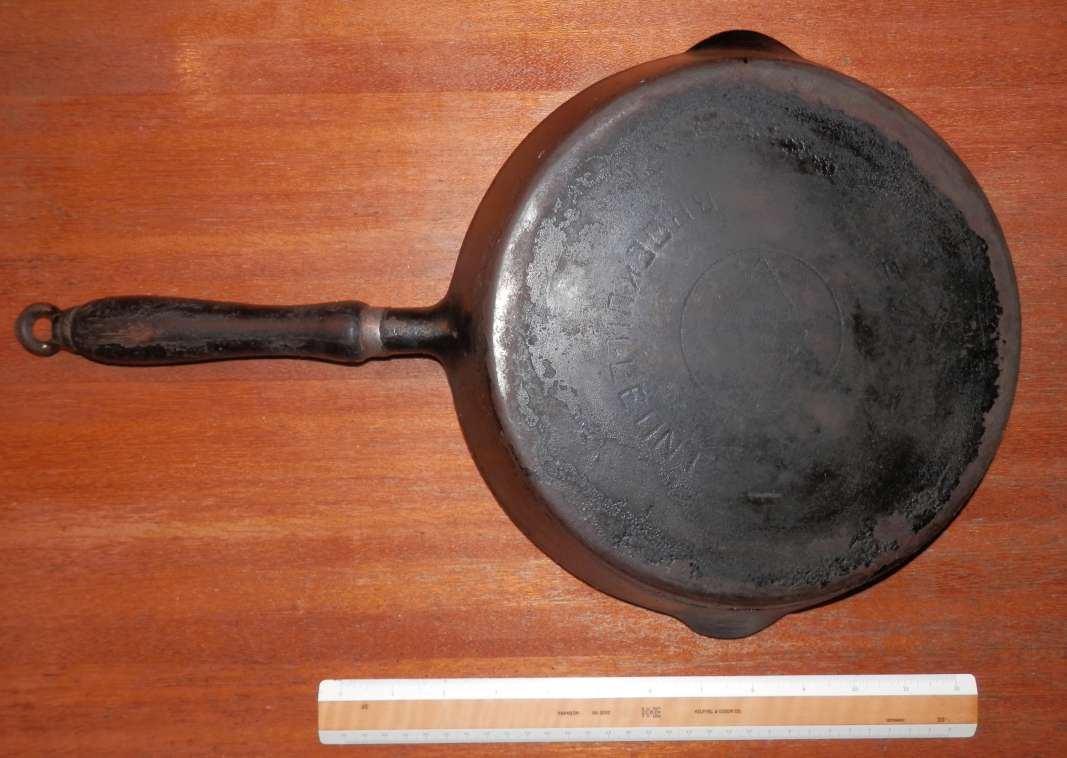 Underside of J. Smart #9 frying pan with 12" rule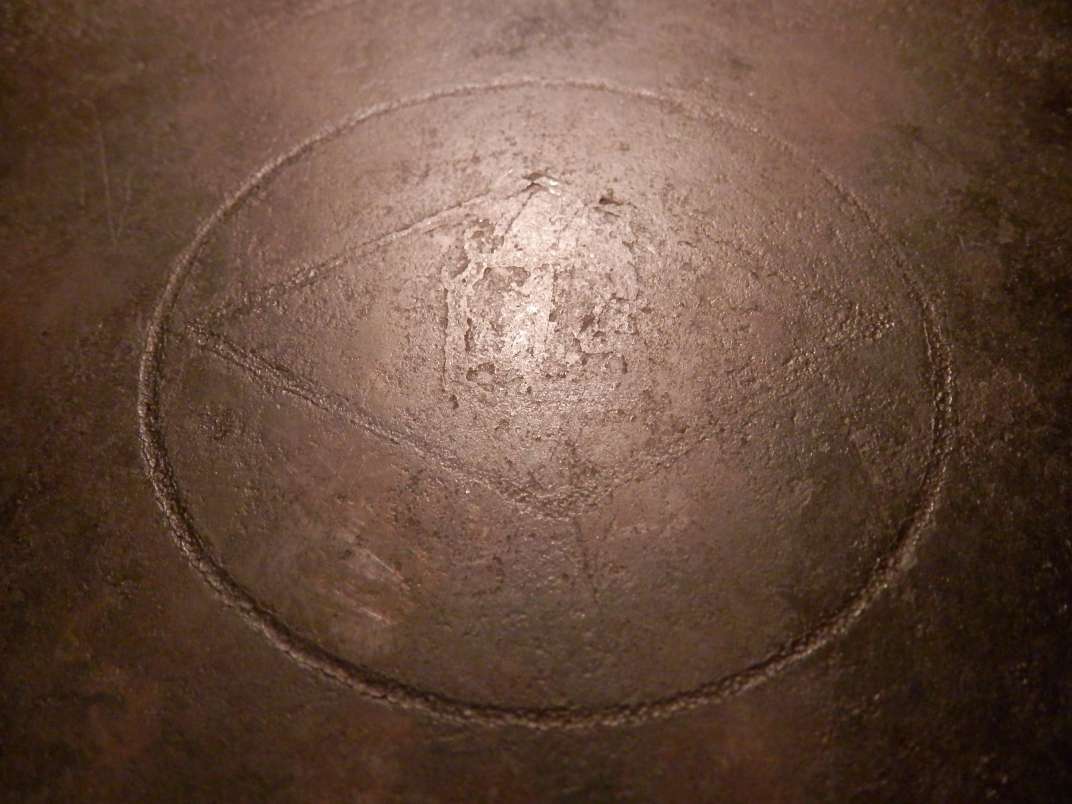 Detail - underside of J. Smart #9 frying pan

It's funny in a way, I've had the frying pan for about 50 years, but it was in my family long before that. I've cooked many meals with it, including the chili I whomped up last week. Since I acquired the copying press I have made well over 1,000 impressions with it, it performs perfectly and reliably, just like the frying pan.
---
MAR. 29: WEST END CHEERING FOR HEALTHCARE WORKERS
A few nights ago, somebody had the idea to have a public cheer, at 7 p.m., for the healthcare workers who are in the front lines of the fight against COVID-19. The first night was a bit quiet, but it has since caught on. Last night's cheer went on continuously for more than 5 minutes, and there was scattered cheering and honking for another five minutes after that. It was quite impressive. The video below is just 40 seconds of the cheering last night, seen (heard) from my balcony on Barclay Street.

Haro Park Lodge, one of the epicentres of the disease hear, is just two blocks away, St. Paul's Hospital 6 blocks, Sunset Towers Retirement Centre is 3 blocks down Barclay, it must be heartening for people in those facilities to hear this!
---
MAR. 18: COVID-19 UPDATE
A lot of things are happening quite quickly now regarding the COVID-19 illness.

It was confirmed by the Ecology Society this morning that my art show and linocut demo this coming weekend at the Lost Lagoon Nature House has been cancelled as part of the overall closures of Vancouver Parks Board facilities. We are all hopeful that this event can be held after the emergency.

With all Vancouver Community and Rec Centres now closed indefinitely, the ART IN THE CITY event on May 1 to 3 is officially cancelled. As well, I was accepted to have work in the West End Community Centre's lobby display case, but with the centre closed that won't happen.

Of course this is not all about ME. Best wishes to those people who now find themselves out of work, all the folks who work in libraries, schools, rec centres, restaurants, bars, museums, etc. Even better wishes to all those people who work in health care services - you will need all the help you can get.
---
Posted MAR. 7: THREE SIM ARTWORKS UP FOR AUCTION AT INVALUABLE.COM
This was a chance to acquire original Sim artwork at a bargain price! Two etchings of Savary Island, and a watercolour of Savary Island, are available for bidding at:



UPDATE: the auction has ended, both etchings were purchased. Thank you!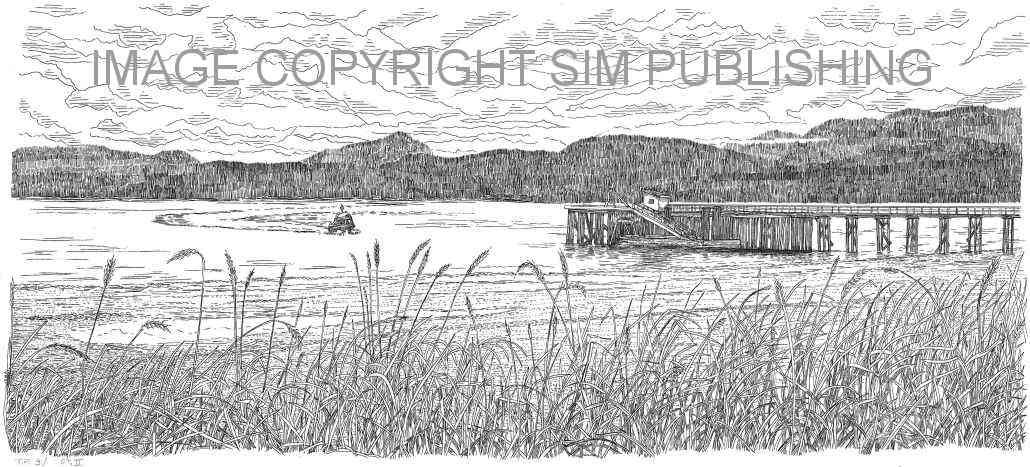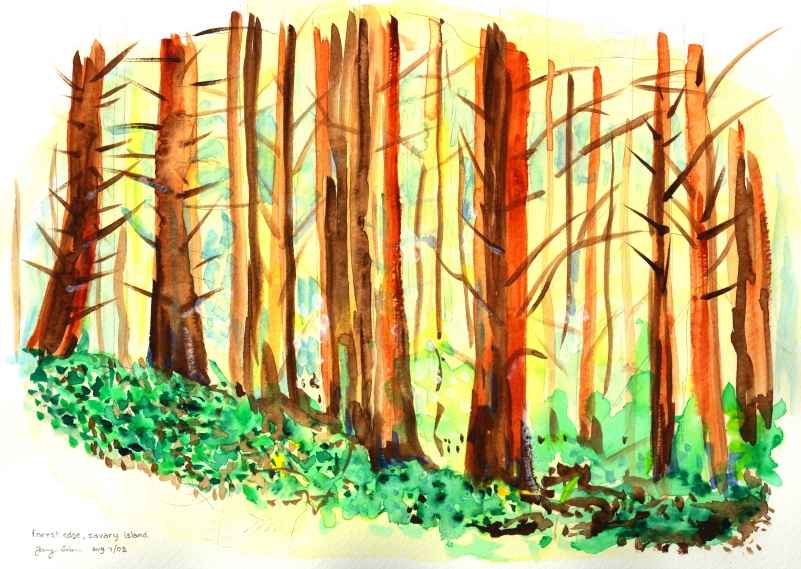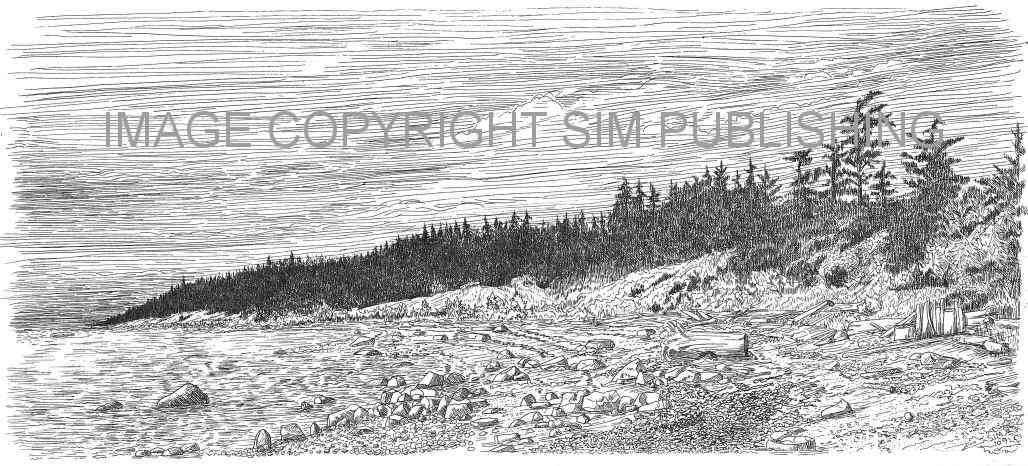 Water Taxi Edge of the Forest Looking West
---
Posted MAR. 5: CANCELLED: NATURE HOUSE ART EXHIBITION & LINOCUT WORKSHOP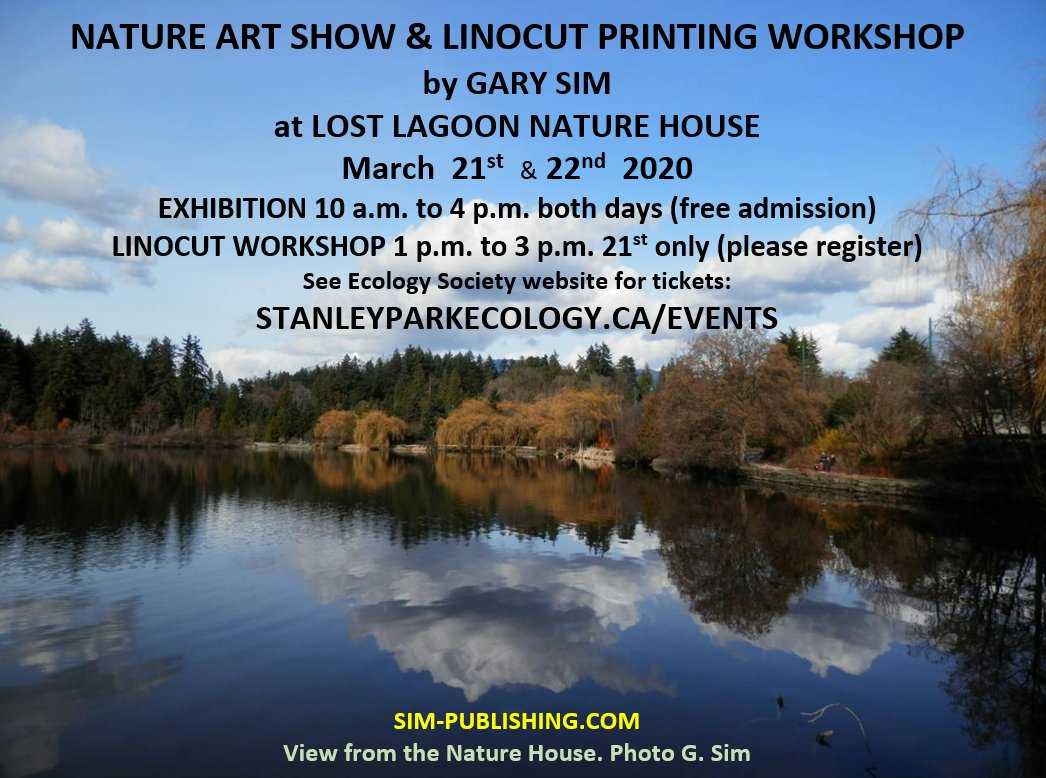 ---
Posted MAR. 3: LINOCUT WORKSHOPS AT PACIFIC ARTS MARKET
---
MAR. 1: TRIAL PROOFS OF NEW LINOCUTS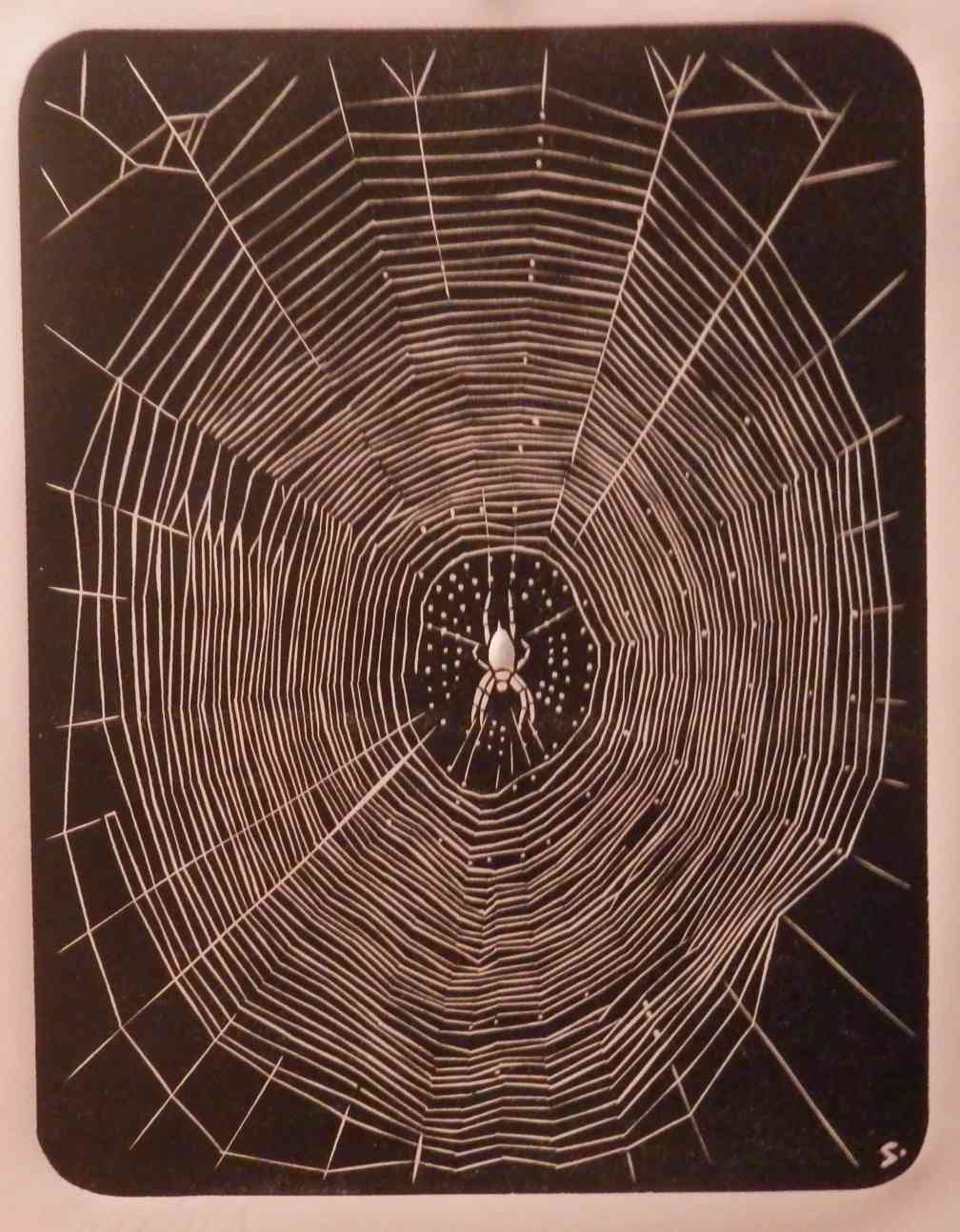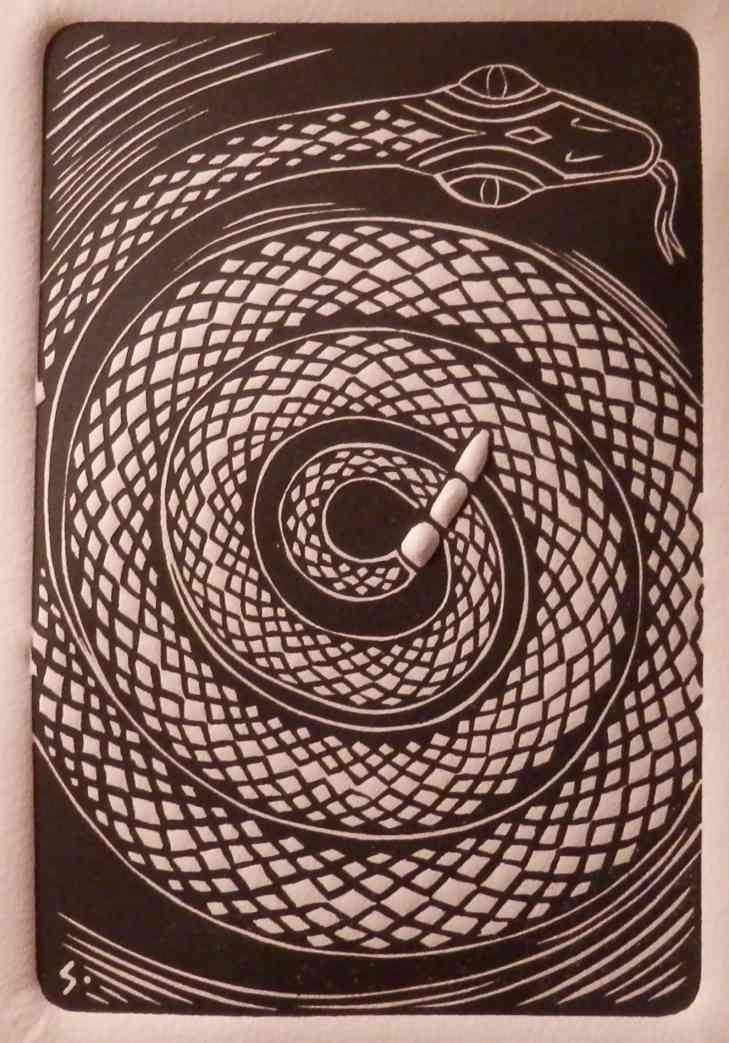 I saw this spider web ten years ago in Barclay Park, it was huge! The snake is imaginary. Test proofs are in progress for these two prints.
---
FEB. 28: SIM ARTWORK DISPLAY AT PACIFIC ARTS MARKET EXTENDED AGAIN
We have renewed our space at the PACIFIC ARTS MARKET for another four weeks, until MARCH 31st. It made sense to keep the display up for a while longer to allow more folks the chance to view it, especially after the amount of work that it took to organize and put it up!

A number of people have been asking about the process used to create the relief prints that are on display, I going to do a workshop and demonstration on linocut printing on March 15 at the market. If you are interested in attending this event (details pending), please email either Sim Publishing or Pacific Arts Market to let us know you are interested.
---
FEB. 26: SIM ARTWORK ACCEPTED TO ART IN THE CITY
I applied for the 2020 ART IN THE CITY event that is being held at the West End Community Centre from May 1 to 3, 2020, and have been accepted. I was part of the inaugural Art in the City event in 2006, so it's been quite a while since I put my work in the show.

Please refer to EVENTS page for more information about the venue and the event itself.
---
JAN. 22: SIM ARTWORK DISPLAY AT PACIFIC ARTS MARKET EXTENDED
We have renewed our space at the PACIFIC ARTS MARKET for another four weeks, until MARCH 3rd. It made sense to keep the display up for a while longer to allow more folks the chance to view it, especially after the amount of work that it took to organize and put it up! A number of people have been asking about the process used to create the relief prints that are on display, we may do a workshop or demonstration on linocut printing in February. If you are interested in this, please email either Sim Publishing or Pacific Arts Market.
---
JAN. 19: FIESTA AT PACIFIC ARTS MARKET
It was FIESTA day at the art market yesterday. The pinata event was quite funny, the pinata was not willing to break open, and it finally had to be beaten to pieces. A fair number of people showed up during the afternoon, and lots of interesting conversations were had.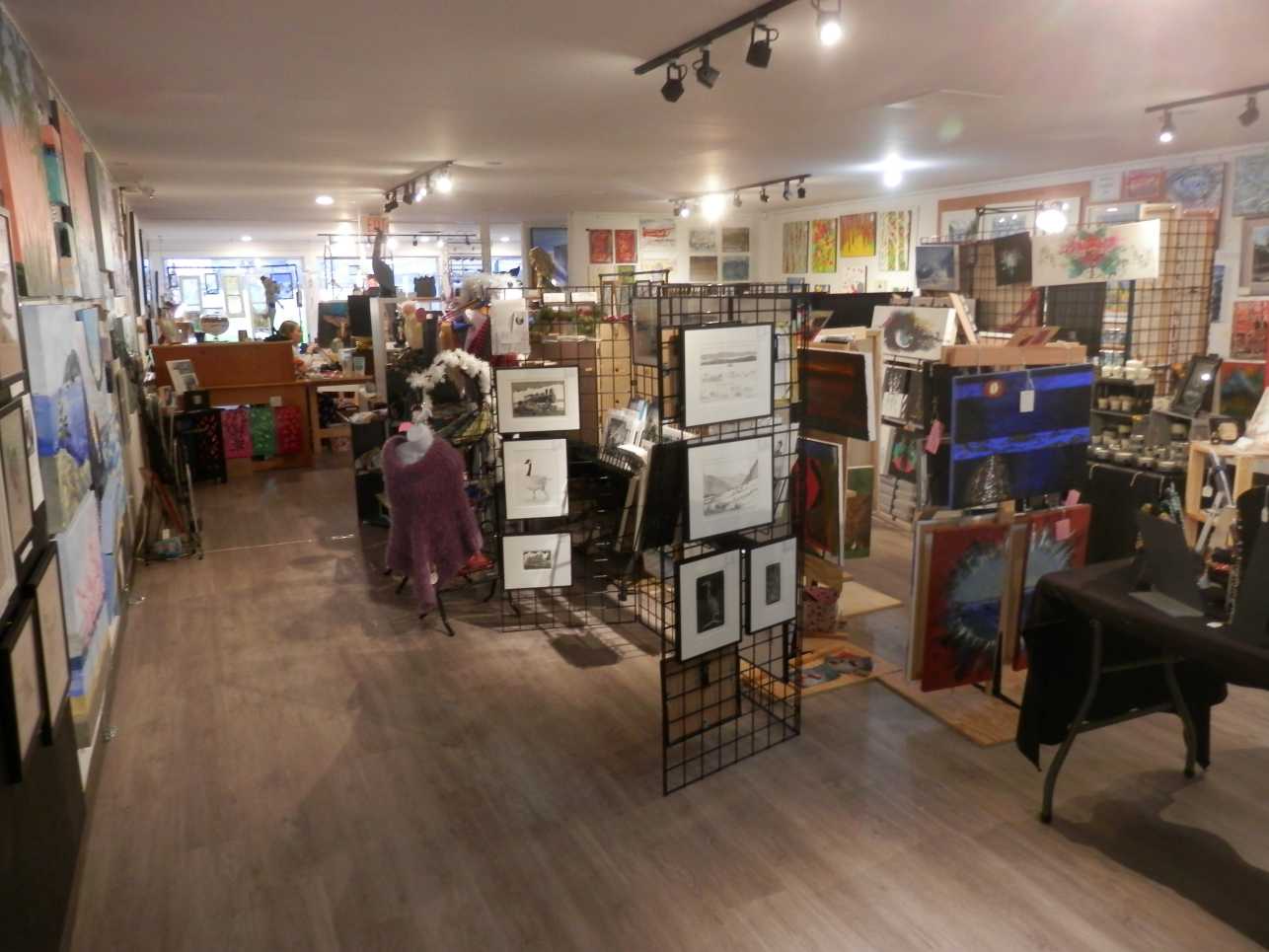 A view of the front half of the art market

The Sim artwork display
---
JAN. 18: ARTIST GORDON SMITH PASSES AWAY AT HOME
Gordon Smith, one of the icons of British Columbia art, passed away at home in West Vancouver, B.C., on Jan. 18. He had a wide variety of output, including prints, drawings, and paintings. Over the decades that he was active his work continuously evolved and changed, he was not content to paint the same thing over and over. He will be missed.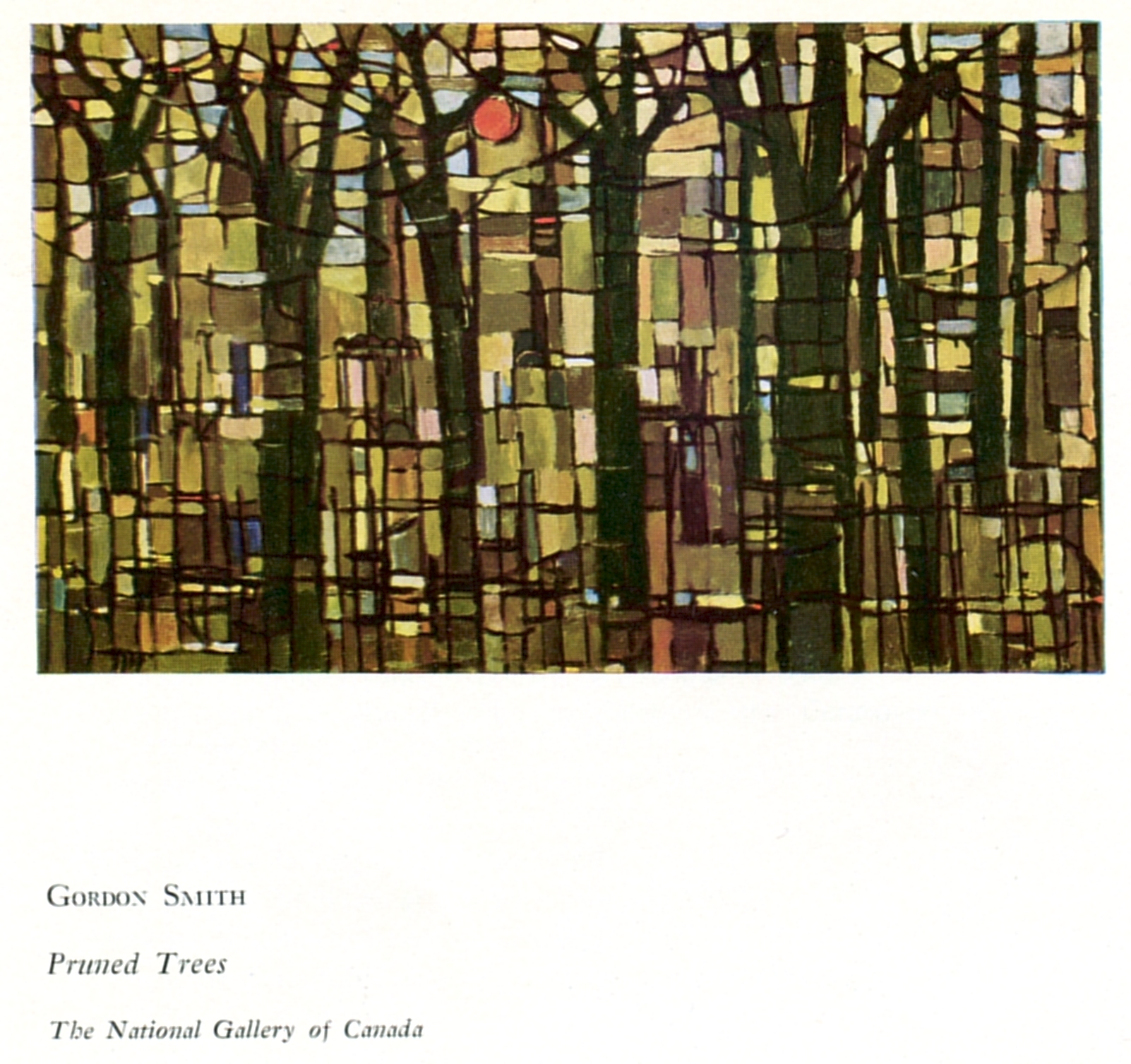 From an article in Canadian Art magazine, 1956
---
JAN. 15: BC ARTISTS NOTED BY BC HISTORICAL FEDERATION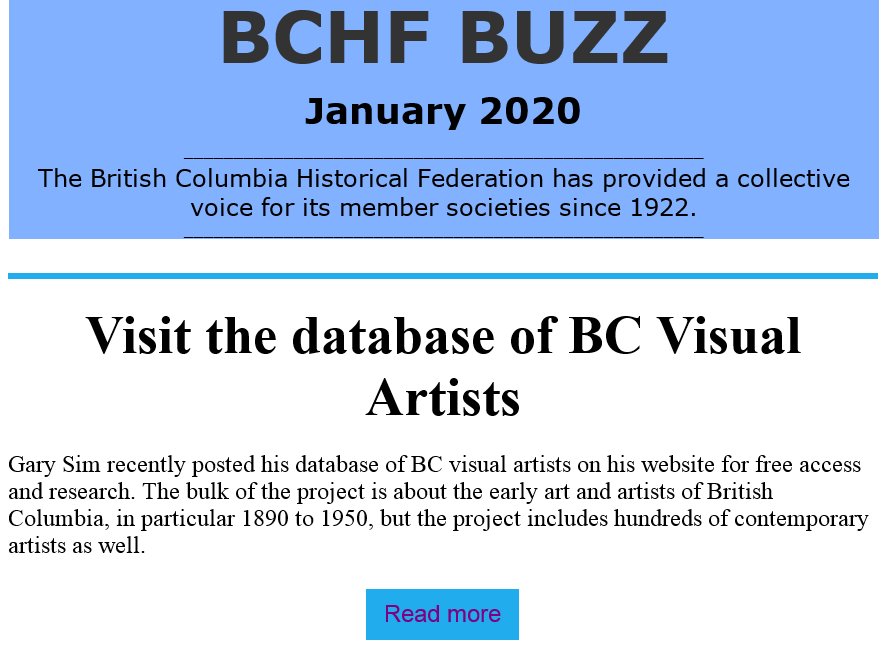 The BC Historical Federation supports all of the historical societies and groups in British Columbia. Sim Publishing has been a corporate sponsor for a few years, and in 2013 was awarded the Federation's Certificate of Merit for BC Artists. They noted the posting in their monthly e-mail newsletter, with a direct link to the project.
---
JAN. 14: THE PATIO IS CLOSED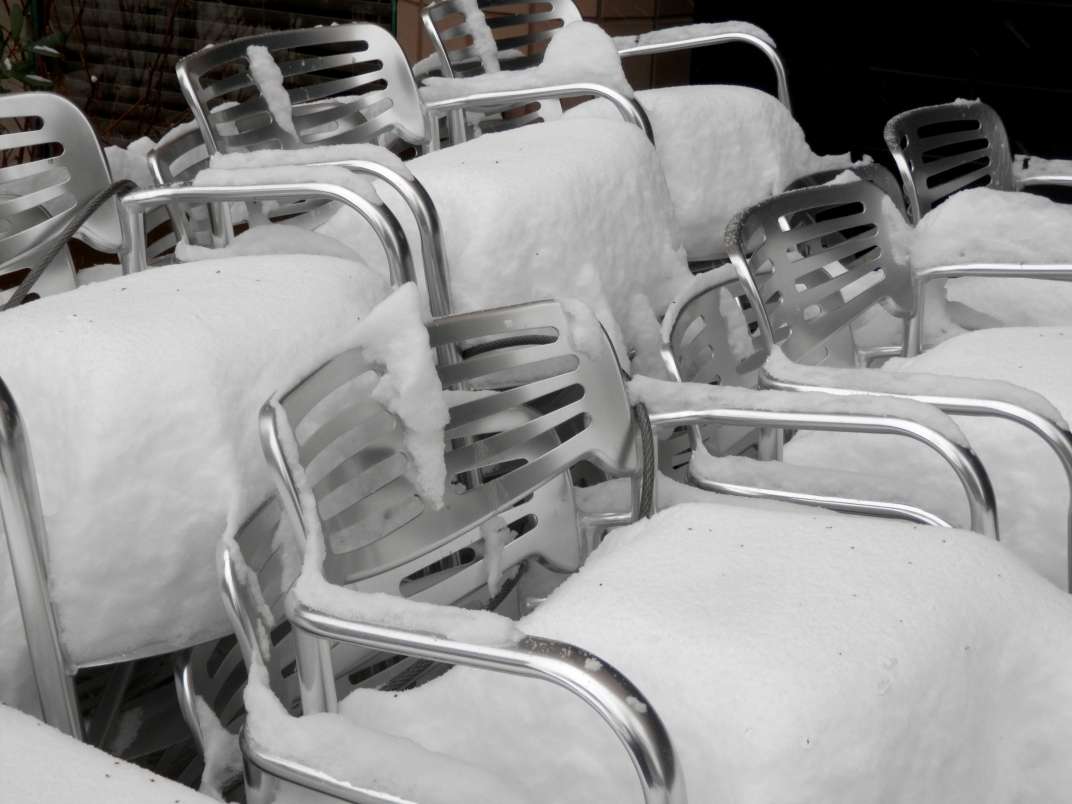 We've had a few bouts of snowfall in the past few days, always an interesting experience. As usual, it started with wet snow falling on un-frozen roads, which turned to wet slime. Then it froze overnight, making a number of free but lumpy skating rinks. Then we got another 6 or 8 inches of snow on top of the ice. It's all very pretty, but public transit falls apart here in the snow, and there was almost no traffic downtown yesterday. Those who did venture out reported that it took an hour to get where they would normally go in 10 minutes.
---
JAN. 13: BC ARTISTS TWEETED BY VAG LIBRARY & ARCHIVES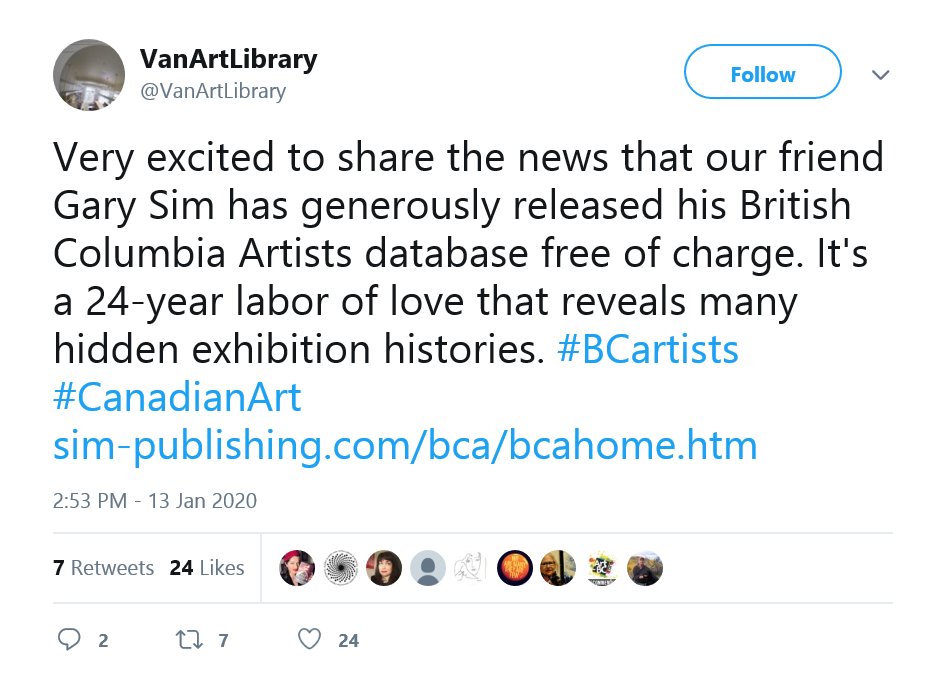 A screen capture of the tweet

Jane Devine Mejia, Chief Librarian at the Vancouver Art Gallery, very kindly posted a tweet about my BC ARTISTS project being on-line. Within an hour there were over 200 "reads" of the tweet. The next day she emailed me to say that there had been 3,300 reads in the first 24 hours! One person in Scotland was quite excited to find the biography of Charles Hepburn Scott, as they are lecturing about him on February 1.

A longer version of the tweet was posted on the Library & Archives blog, per below.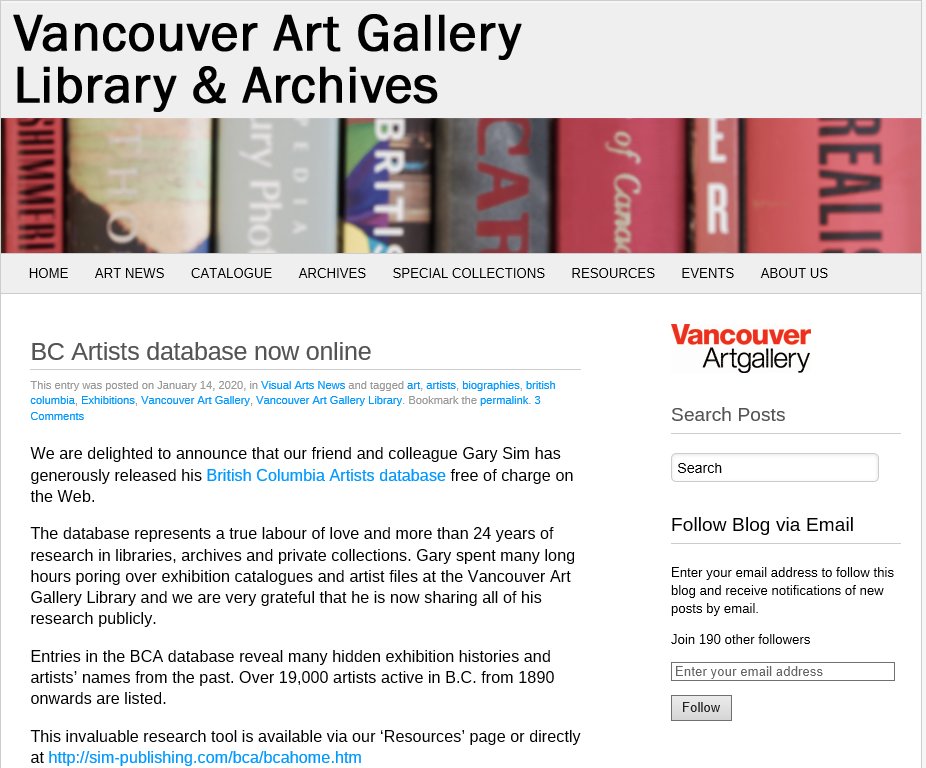 A screen capture of the blog
---
JAN. 10: NEW PRINT MORNING OWL ISSUED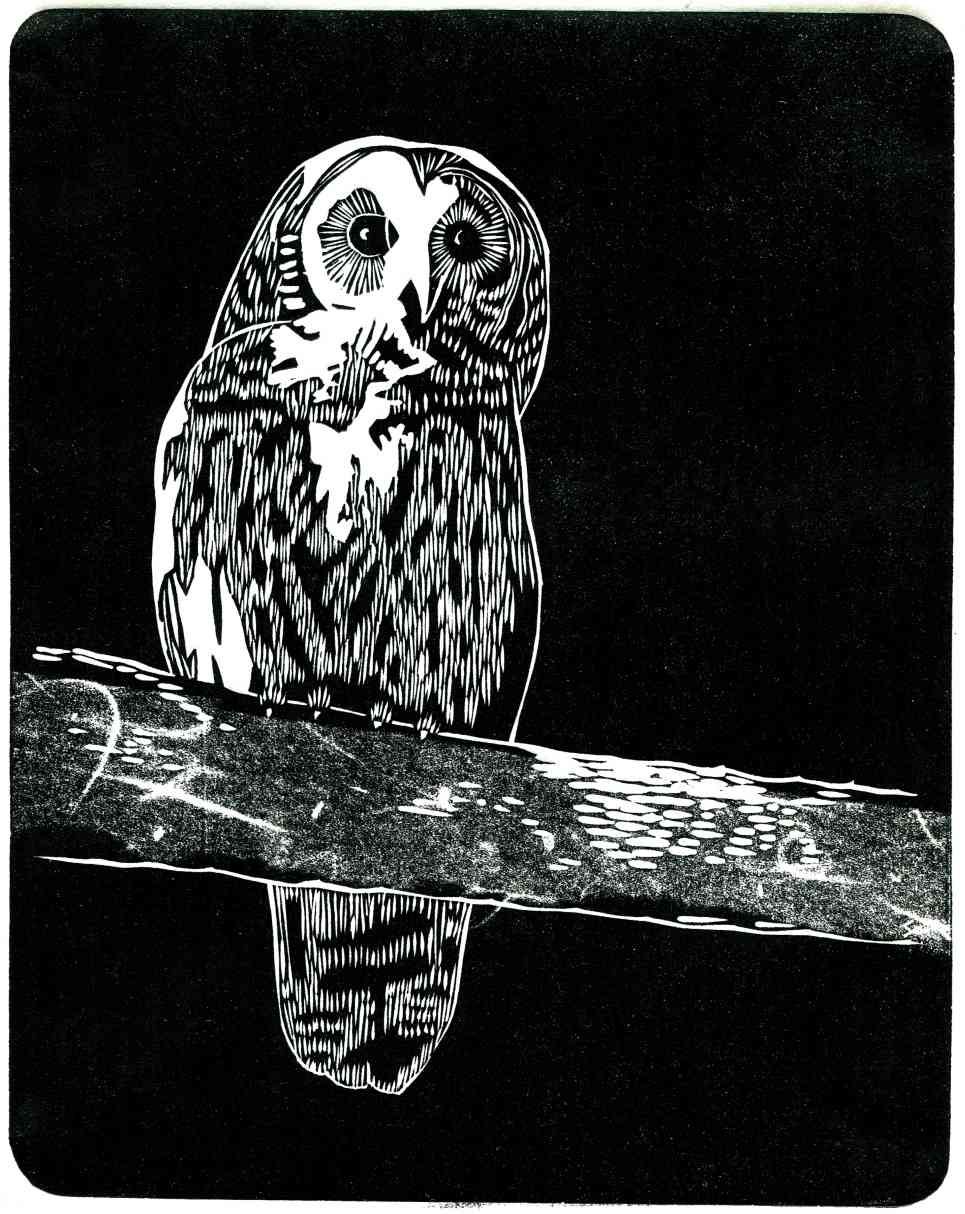 Morning Owl
---
JAN. 8: NEW PRINT SKYLINE ISSUED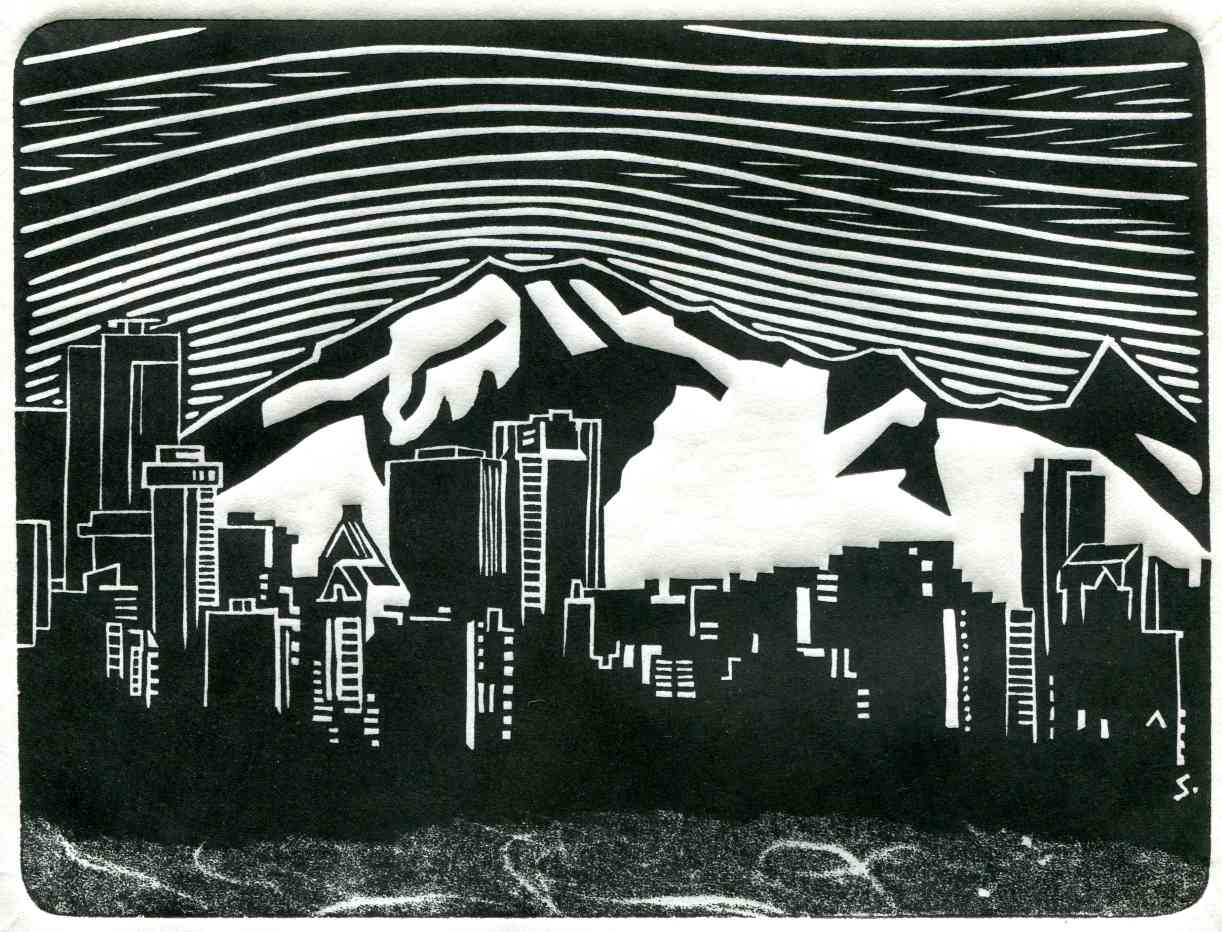 Skyline
---
JAN. 5: NEW YEAR GREETING
Hello! Best wishes to you and yours in this new year / new decade. Sim Publishing is looking forward to a year filled with making new art, marketing, and sales.

The recent upload of BC ARTISTS project to the internet is starting to get responses from various facilities:


We are busy preparing for our display at the Pacific Arts Market starting on Wednesday Jan. 8, see news item below for more information.

Another print titled MORNING OWL has been cut and trial proofed, and will be posted as soon as the ink is dry enough to allow scanning. Another new print SKYLINE is also ready to be editioned. Another design has been laid out and is ready for cutting, although not until after the display is up at the Pacific Arts Market.

We forgot to mention that late last year Sim Publishing donated 60 books and exhibition catalogues to an interior art gallery, to help build their library.

Research is ongoing for the powerpoint presentation at the Ferry Building Gallery in West Vancouver on Feb. 20, from 7 - 9 p.m., on early artists of the North Shore. See events page for more information.
---
DEC. 28: NEW PRINT KOULOU ISSUED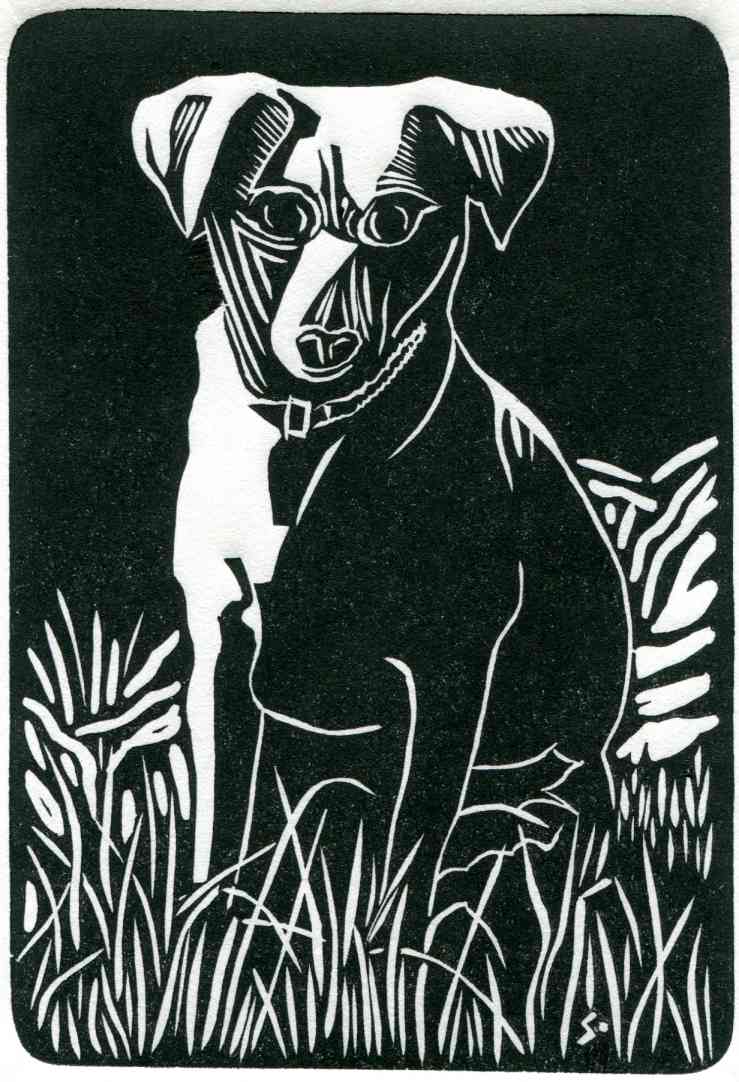 Koulou
---
DEC. 22: SIM ARTWORK AT PACIFIC ARTS MARKET IN JANUARY
After joining the B.C. Alliance for Arts (see item below) I was looking at their website, and noticed an advertisement for artists wanted at the Pacific Arts Market, located at 1448 West Broadway, Vancouver. Since I was going over that way to do something at my credit union, I decided to drop in and say hello.

Although the weather was horribly dark and raining, it was warm and friendly inside, where I met the Crystal, the Manager. I showed her my collection of recent prints, and she was quite interested in representing me. We agreed on a 4-week period, from January 8 to February 4, 2020.

I went by again yesterday to finalize the paperwork, the weather had changed to sunny and cold, which was much better. Crystal was having a Christmas event, complete with Santa Claus and treats. She also plans other events such as paint-in's, workshops, demonstrations, and other holiday happenings. I bought a lovely little original pen & ink drawing by Stephanie B. Creative, matted and framed, for $38.00 ... !

Hope you can drop by in January! See their website for more information.
---
DEC. 21: SIM PUBLISHING JOINS B.C. ALLIANCE FOR ARTS
I have been thinking of joining the B.C. Alliance for Arts for some time, and it finally seemed to make sense to proceed. They provide a lot of services to those involved in the arts. For example, I intend to use their press release service to promote the posting of BC Artists, as they have a massive contact list for distribution. They also have free job postings and classified ads for members, and a members list which I am now on.
---
Home
Copyright 2020