SIM PUBLISHING
Home Publications Artwork News Links About
---
NEWS ARCHIVE - 2019
2018 - 2017 - 2016 - 2015 - 2014 - 2013 - 2012 - 2011 - 2010 - 2009 - 2008 - 2007 - 2006 - 2005 - 2004
---
All text, photography and artwork is by GARY SIM unless noted otherwise.
---
DEC. 28: NEW PRINT KOULOU ISSUED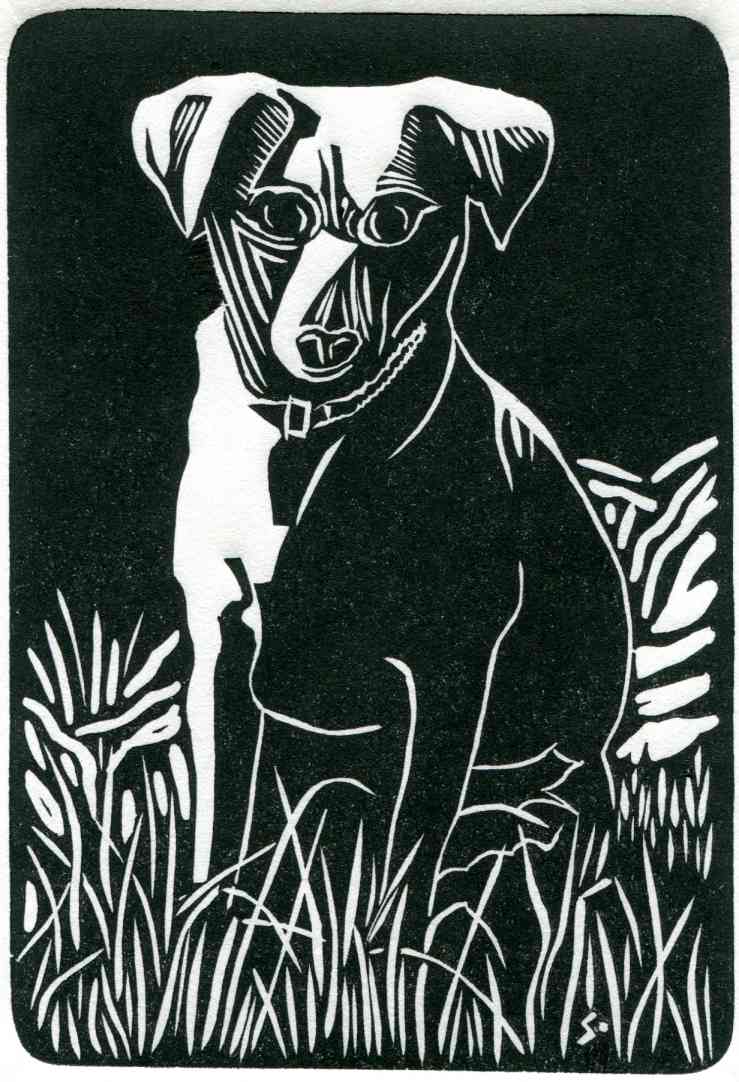 Koulou
---
DEC. 22: SIM ARTWORK AT PACIFIC ARTS MARKET IN JANUARY
After joining the B.C. Alliance for Arts (see item below) I was looking at their website, and noticed an advertisement for artists wanted at the Pacific Arts Market, located at 1448 West Broadway, Vancouver. Since I was going over that way to do something at my credit union, I decided to drop in and say hello.

Although the weather was horribly dark and raining, it was warm and friendly inside, where I met the Crystal, the Manager. I showed her my collection of recent prints, and she was quite interested in representing me. We agreed on a 4-week period, from January 8 to February 4, 2020.

I went by again yesterday to finalize the paperwork, the weather had changed to sunny and cold, which was much better. Crystal was having a Christmas event, complete with Santa Claus and treats. She also plans other events such as paint-in's, workshops, demonstrations, and other holiday happenings. I bought a lovely little original pen & ink drawing by Stephanie B. Creative, matted and framed, for $38.00 ... !

Hope you can drop by in January! See their website for more information.
---
DEC. 21: SIM PUBLISHING JOINS B.C. ALLIANCE FOR ARTS
I have been thinking of joining the B.C. Alliance for Arts for some time, and it finally seemed to make sense to proceed. They provide a lot of services to those involved in the arts. For example, I intend to use their press release service to promote the posting of BC Artists, as they have a massive contact list for distribution. They also have free job postings and classified ads for members, and a members list which I am now on.
---
DEC. 20: TRIAL PROOFS OF NEW PRINT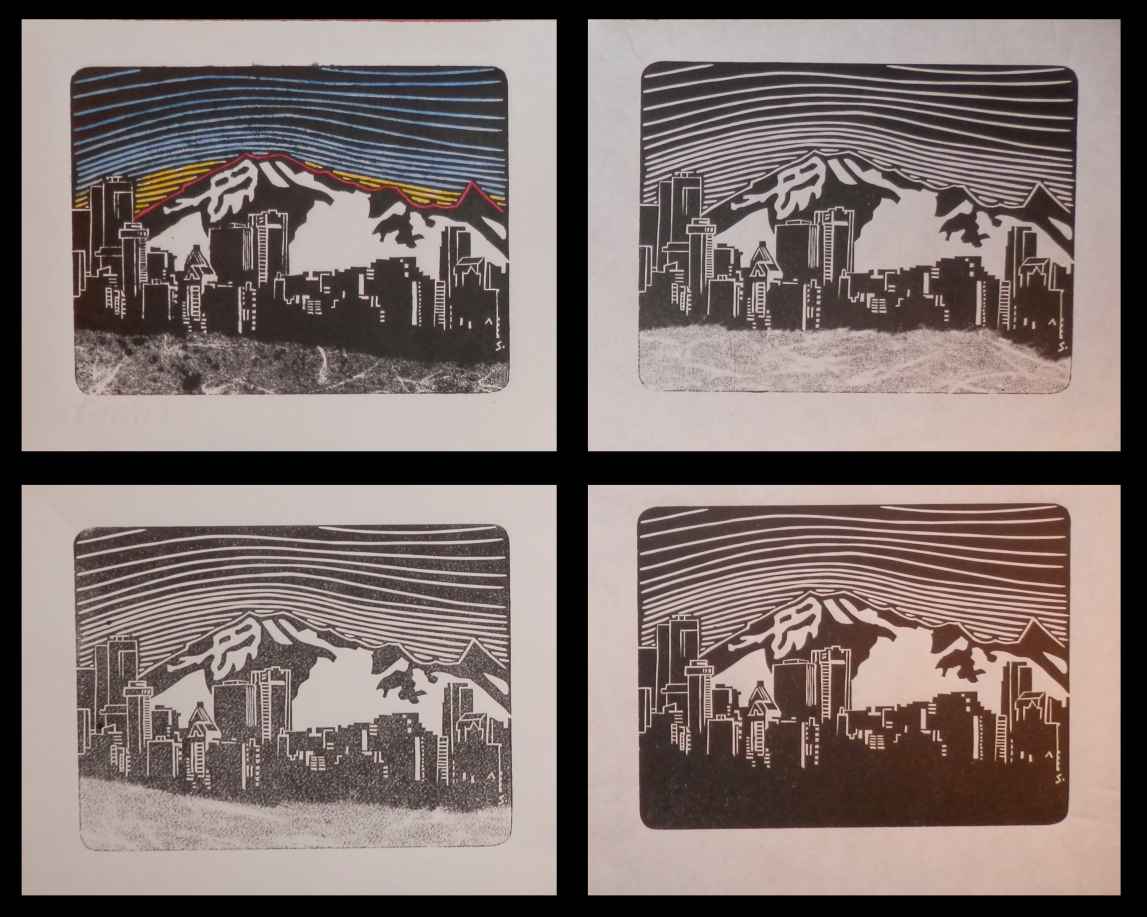 On the Edge

A few years ago I took some photographs of Vancouver from Point Atkinson in West Vancouver. Using the zoom lens foreshortened the view of Mt. Baker in the distance until it loomed over the city, despite being miles away across the border in Washington State. I recently decided to turn the image into a block print. The picture shows 4 of the first 5 trial proofs, using two different papers, printed wet or dry, one hand tinted, and three with a strip of Japanese "unryu" paper laid across the bottom of the print. The Landmark Hotel is now completely demolished (see photo this page) but lives on in this print.
---
DEC. 19: NEW PRINT MALLARDS EDITIONED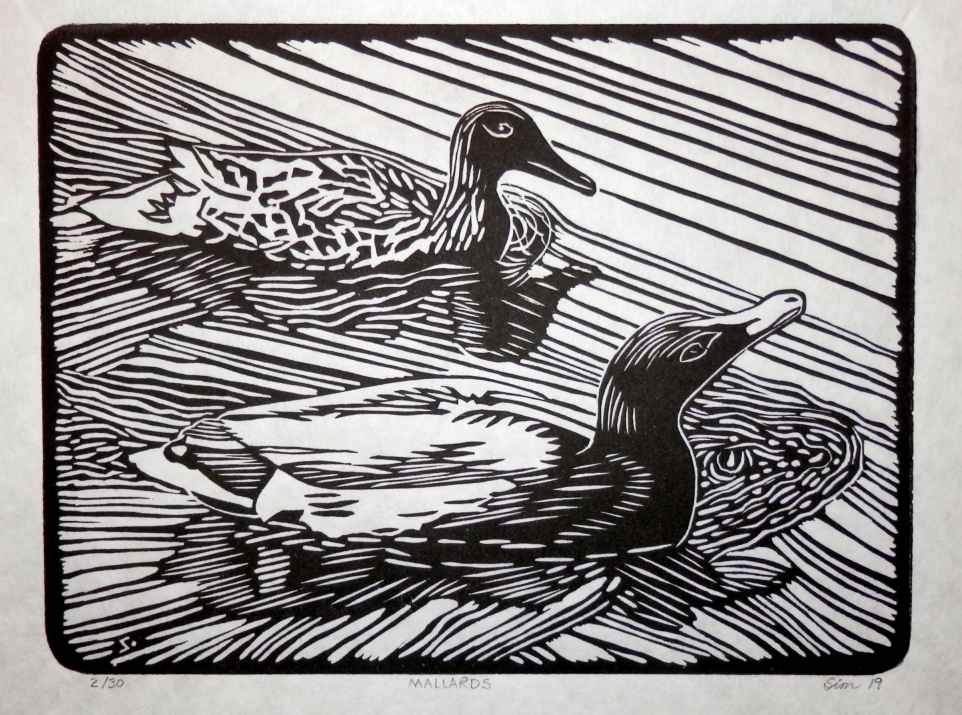 Mallards
---
DEC. 15: BC ARTISTS NOW AVAILABLE FOR FREE
SIM PUBLISHING is pleased to announce that the entire BC ARTISTS project is now available FREE online, courtesy of Sim Publishing. Click on link below to enter.



---
DEC. 1: SEASONAL GREETING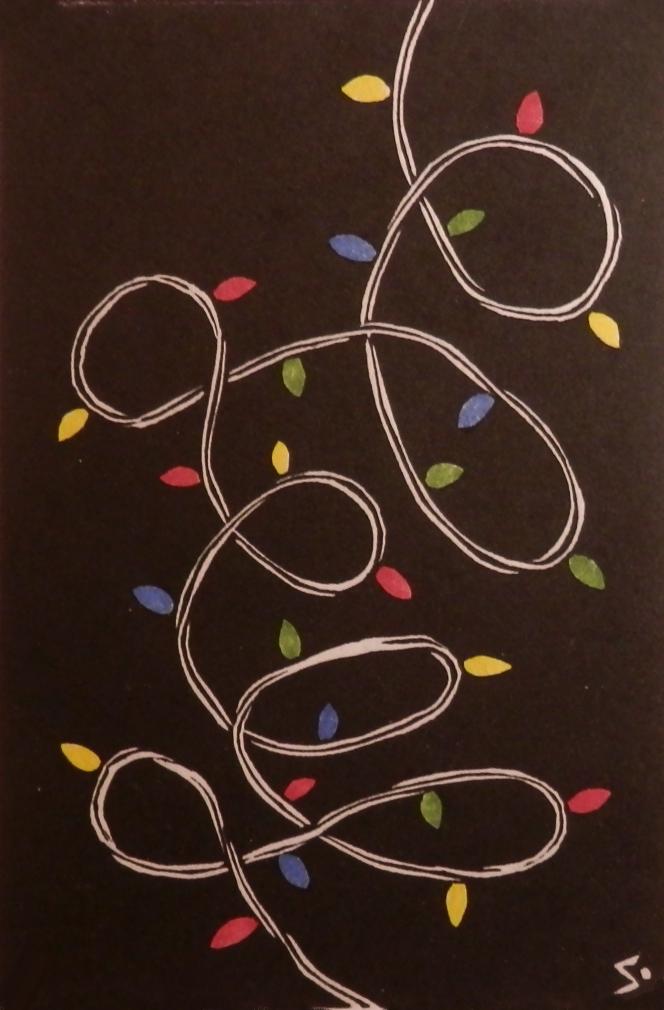 Tangled

It's now slightly less than 3 weeks until the shortest day of the year, a.k.a. the Winter Solstice, so perhaps it's time to put up a few lights ...
---
NOV. 12: A MOMENT OF SILENCE FOR DON CHERRY, PLEASE
Somebody said yesterday that Don Cherry was in hot water for something he said on air, relating to those who come to Canada but don't wear a fake poppy on Remembrance Day. This morning I see that the politically-correct powers-that-be on that sports channel have fired him for his comments. Perhaps at age 85 he might take this chance to retire after a long an interesting career. An article on BBC web referred to him only as a "punster" with no mention of his hockey career.

It is almost funny that the complaints originated from people watching hockey on television. There is nothing moral or meaningful about hockey, it is a brutal bloody game of fighting and continuous physical assault, slathered with advertising, flashing lights and lasers to make it look like a circus. It is gladiatorial combat on ice, only the warriors aren't supposed to get killed because their advertising contracts are worth too much money. Fist fights and team brawls are egged on by the fans, who clearly rank among the most cultured and sensitive folks on earth.

I confess that I do not buy or wear a fake poppy on Remembrance Day, and my reasons include:

In 2011 Canada was ranked as the 12th biggest arms exporter in the world, and the leading supplier of weapons to the third world. That poppy is still covered in fresh blood. It's hypocritical for Canadians to pretend to be peaceful, even for a day.

Every Remembrance Day ceremony includes a display of armed might (soldiers, guns, tanks, warplanes). What's the meaning of that? That we haven't learned and will go at it again?

If the old soldiers selling the bits of plastic actually need the money, our government is not respecting and looking after them as it should.

Where are the poppies made? They sure look cheaper than they did 60 years ago. The society was asked, and they stated that they are now made under contract, without naming the contractor.

Why just one day a year? Let's practice peace every day.

I respect Don Cherry's right to express his opinion. Sometimes I think that he is right, and sometimes that he is wrong. His commentary is usually framed in simplistic bombast, easy for sports fans to understand, like his suits. And, it is not as if the sports channel wasn't aware of his "style" when they hired him, right? I think they're just lacking the, er, well, you know, to stand behind their original decision to hire him, in the face of a little flack.

In looking up the history of the poppy in this matter, there are also veterans who protest against the whole process, as it is used to promote military purposes, and they proposed that a white poppy be the symbol. Black poppies are also used as a symbol by an anti-war group. There are even more colours proposed by other groups.

I would like to be the first to nominate November 12 as our national annual Don Cherry day, a day on which we might contemplate our own hypocrisy. The wolves are howling in the woods, and they are coming for all of us ... ! So, please take a moment of silence to consider the true meaning of democracy while you can, thank you.

Note: Revised Nov. 22. Originally posted as "a minute of silence" now revised to "a moment of silence" in hopes of pre-empting any of the wolves from starting to chew on my throat because I may have inadvertently equated the amount of time (very brief in any case) allotted to the remembrance of Mr. Cherry's plight with that allotted to the veterans.
---
NOV. 9: ANOTHER NOMAN DRAWING & RELATED STUDY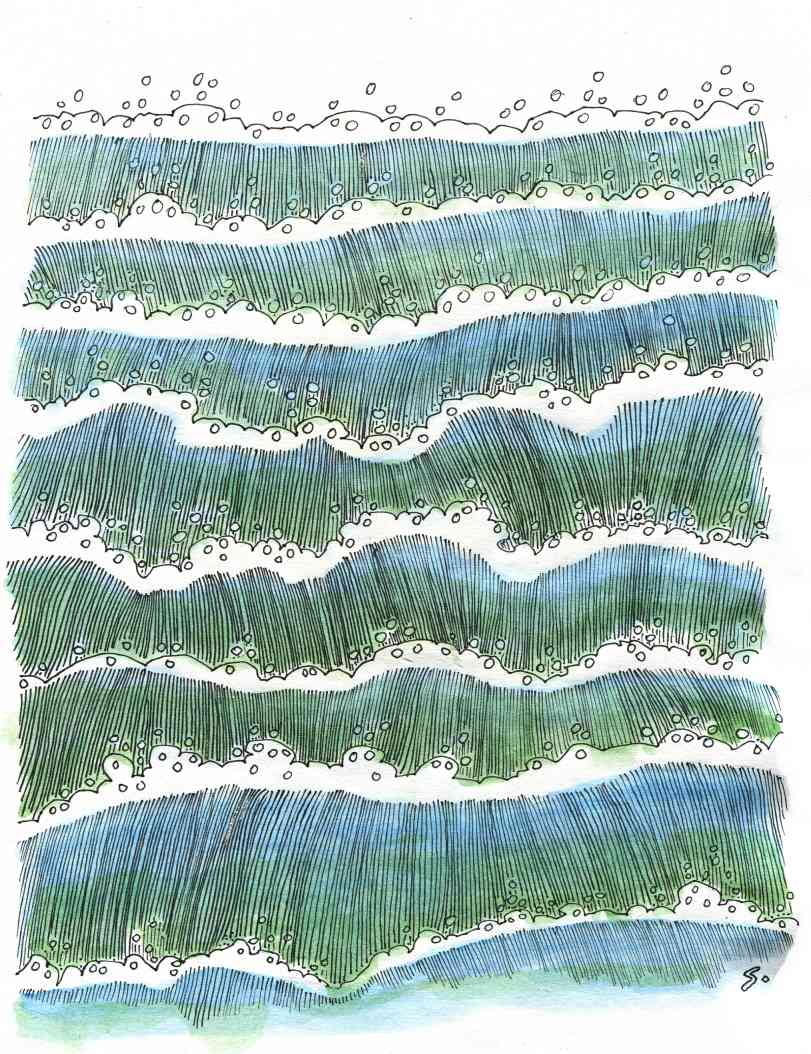 Noman on an Island, Standing Waves.

Another two drawings "hot off the drawing board" ... one more in The Adventures of Noman series, and a pen & ink / watercolour study Standing Waves, done while thinking about doing more work to the waves in the Noman drawing.
---
OCT. 25: IN PASSING: MICHAEL J. CLARK
I was just advised by email from his wife Maureen Shepherd that Michael Clark, formerly Archivist and a Librarian at Emily Carr University, passed away this summer on Aug. 20 while in care at Vancouver General Hospital. With his passing we have lost an artist, a historian, a collector, a researcher, a lover of East Indian cuisine, and a mind that was always curious to know more. I got to know Michael Clark when I visited the ECUAD Library in 1996. I was looking for information about Maud Rees Sherman, an early Vancouver artist that I was researching after buying one of her paintings a year or two prior. She had supposedly been taught by Frederick Varley, one of the Group of Seven.

Michael was surprisingly quite interested in my queries, and brought out some early copies of the art school annuals, originally called THE PAINT BOX. The June 1926 issue had an article by Sherman, titled Places to Sketch, and the 1927 issue had an article titled Design Class in which Sherman wrote about being instructed by Varley in the class. Bingo, that was exactly what I was looking for! Maud Sherman had been a founding student at the art school when it opened in 1925. I shared my excitement with Michael, and he allowed me to have Maud as "my girl" ... it turned out that he had one or two "girls" of his own in the first class, especially Vera Weatherbie, his favorite.

Over the next fifteen years or so, Michael and I shared research results, helped each other with photo identifications, sent each other obscure newspaper clippings, collected whatever bits of art and ephemera came onto the market, and had long curry-filled lunches and dinners sharing our latest treasures and findings. My initial research on Maud Sherman expanded into research into her whole family (a work still in progress titled LOOKING FOR MAUD), and I went from collecting information on one artist to collecting information on the more than 19,000 artists now listed in BC ARTISTS. It is only with the help of people like Michael Clark that I have been inspired to accomplish this. Farewell and safe travels, old friend.
---
OCT. 19: 2019 ALCUIN WAYZGOOSE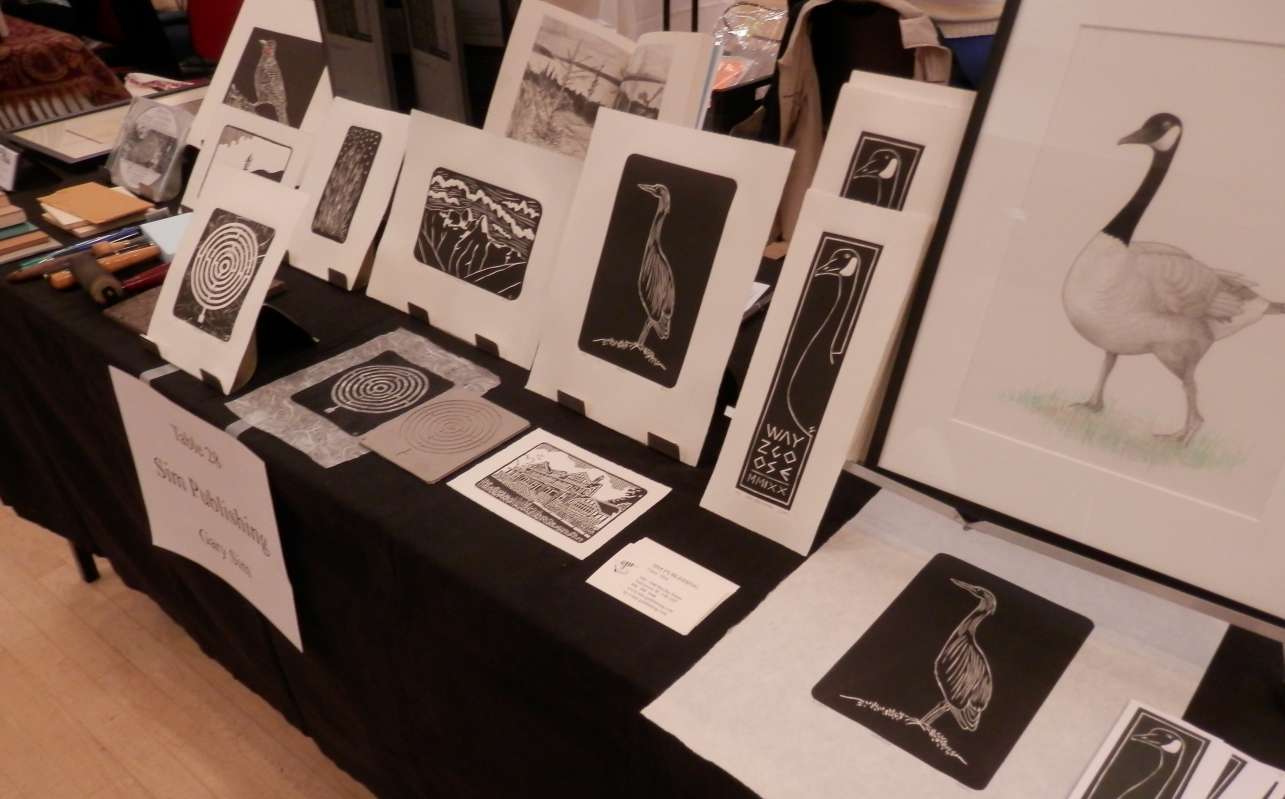 A view of the Sim Publishing table at the event.

The 2019 WAYZGOOSE, a bi-annual letterpress printing fair, was once again hosted by the ALCUIN SOCIETY on October 19 at the Vancouver Public Library, from 10:00 a.m. to 4:00 p.m. The event was well attended throughout the day, with a continuous stream of visitors talking and viewing all of the fabulous letterpress-related work on display. Displays included letterpress printing, paper making, book binding, paper marbling, calligraphy, and numerous other related work.

Sim Publishing was mainly exhibiting a display of recent linocut relief prints, and had a good day ... selling about twelve prints. A small display of relief printing tools and accessories was also on display, which greatly helped to explain the printing process to a number of interested visitors. Sim also cut and printed a Wayzgoose MMIXX letterpress keepsake (with a goose), and gave away bookmarks made from a scan of the keepsake. Those were quite popular.

I absolutely love attending and/or displaying at this event. Not only is it "old home week" for a number of friends and acquaintances to get together, but it is very satisfying to demonstrate linocut relief printing and seeing people being inspired to try it themselves. As well, in the past 15 years of printmaking I have evolved a successful method for achieving excellent prints with "fat black" ink, and am happy to show other printmakers how I achieve my results.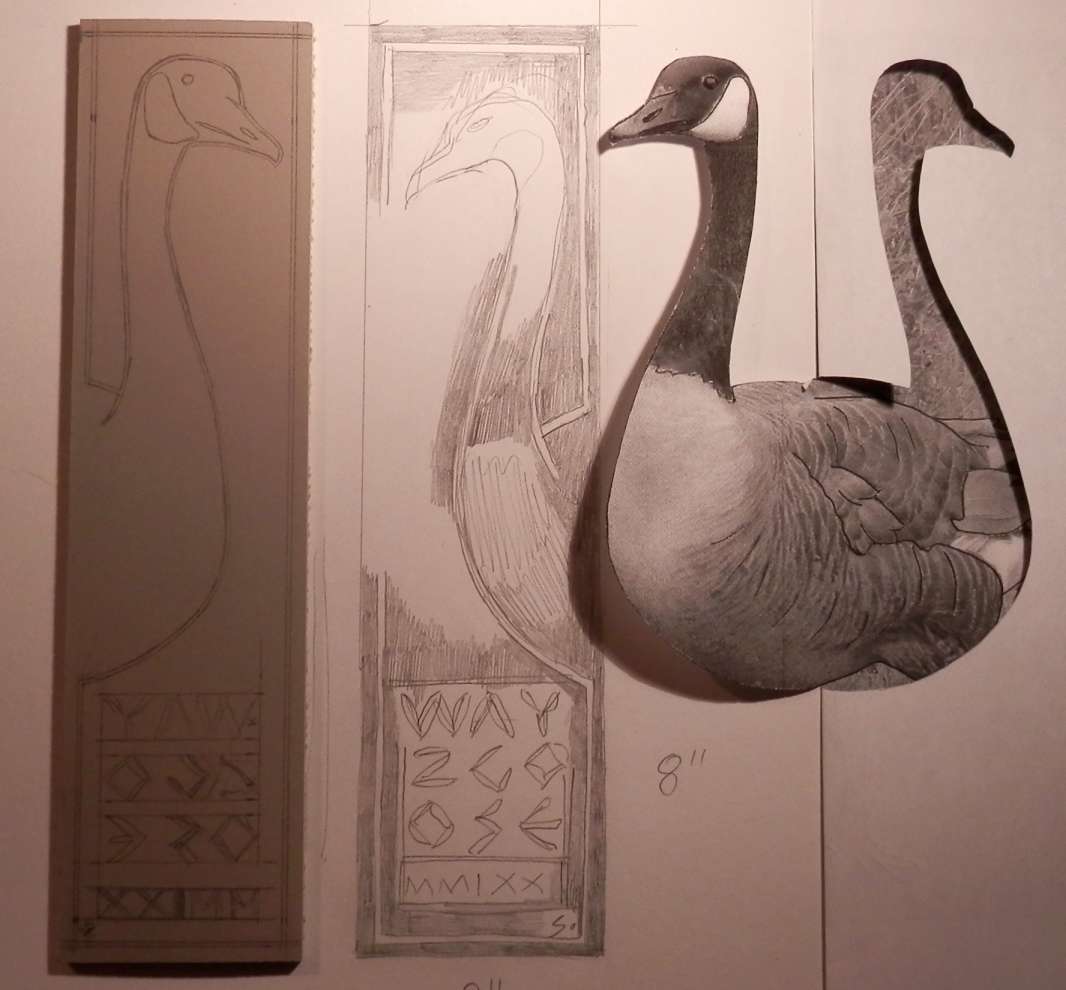 Stages of the keepsake: pencil sketch centre, goose photo right, lino block layout left.
---
OCT. 17: FIVE NEW PRINTS EDITIONED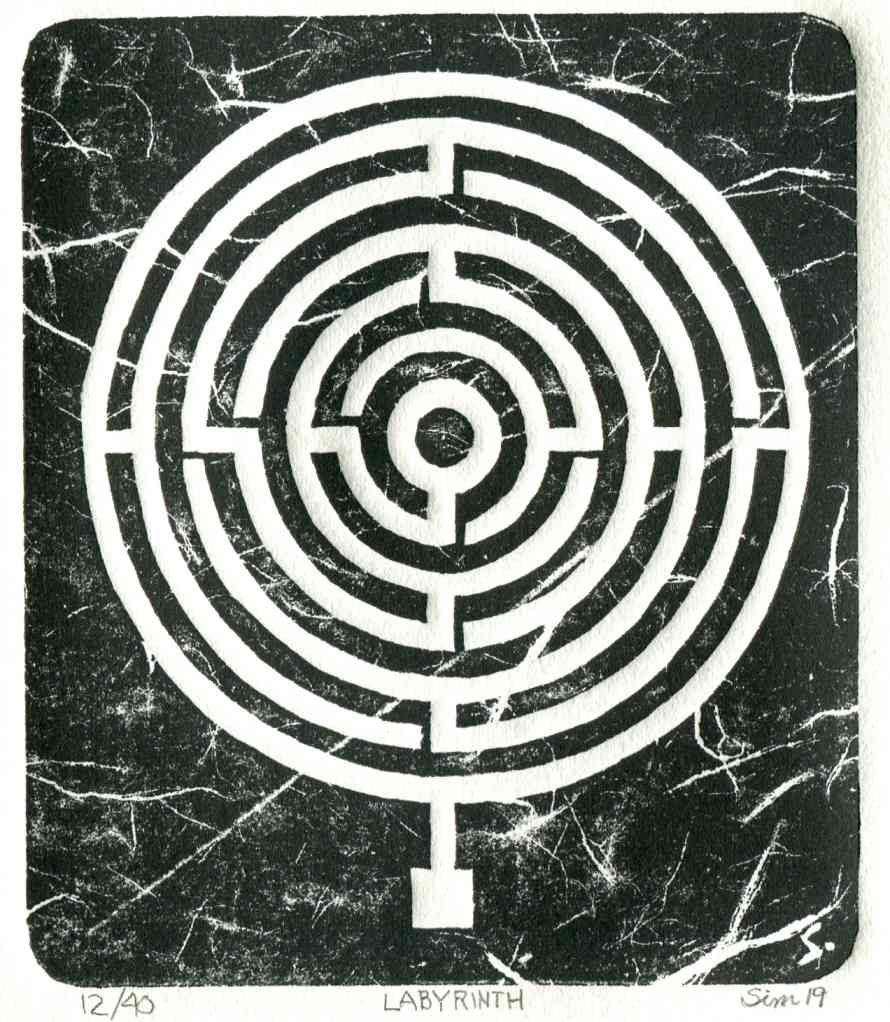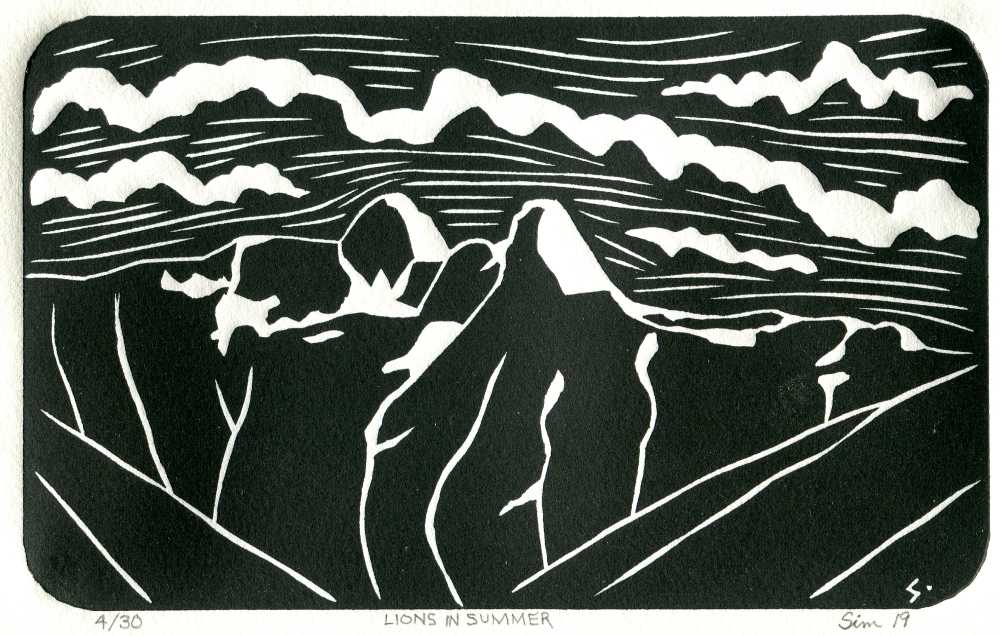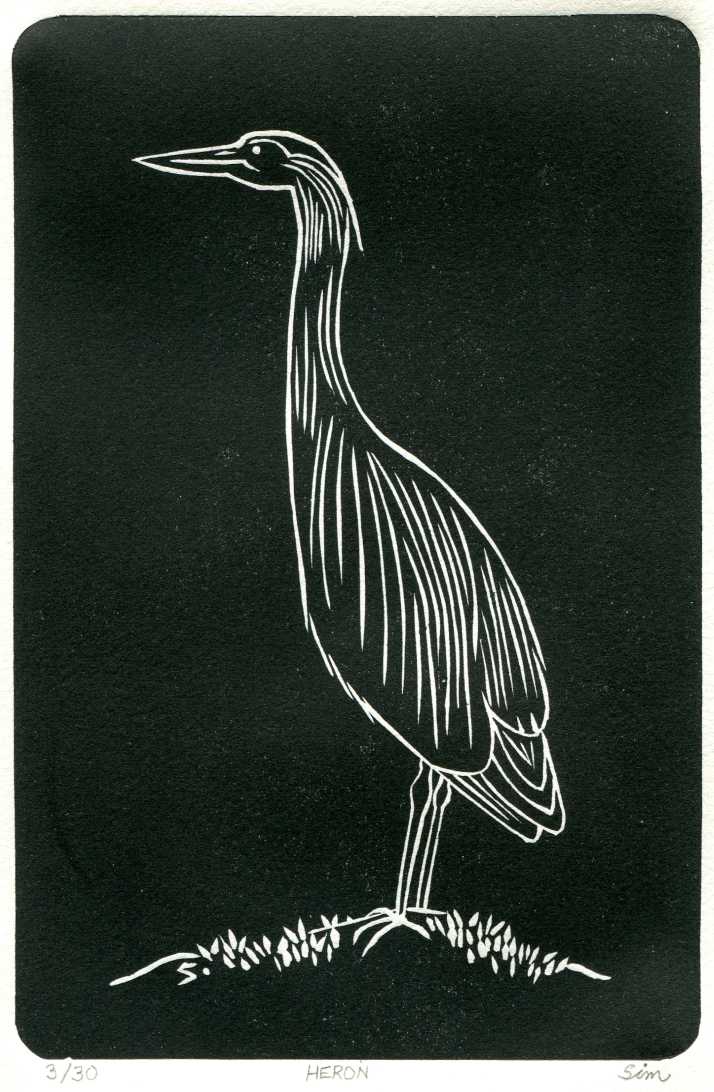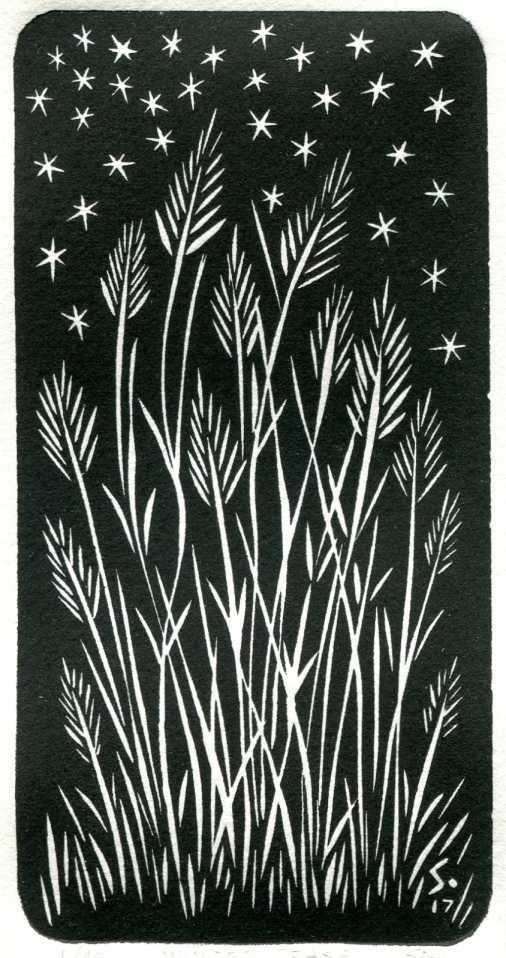 Labyrinth, Lions in Summer, Heron, Wayzgoose MMIXX, Winter Grass

In preparation for the 2019 Wayzgoose letterpress printing fair, I designed and cut some new relief print designs. Please refer to LIMITED EDITION PRINTS for further information on the editions.
---
OCT. 5: CANVAS CORRIDOR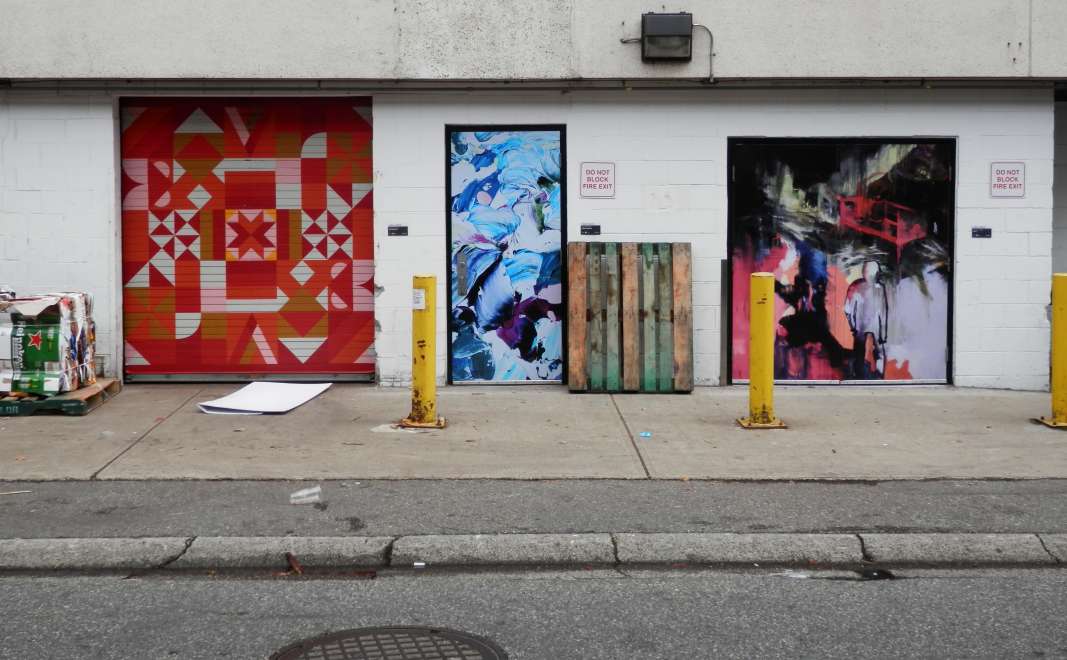 Three painted doors in the Canvas Corridor

A local downtown business improvement association has sponsored a display of 45 painted doors in two blocks of laneway from Bute Street and Burrard, between Alberni and Robson. Quite a few doors were painted, each with a plaque giving the artist's name and the title of the artwork on the door. It is a challenging location to "display" artwork, as numerous loading zones and fire exits break up the walls, and dumpsters, garbage, and palettes can be rolled or piled in the way. It's an interesting project, and there are lots of opportunities for laneway photography.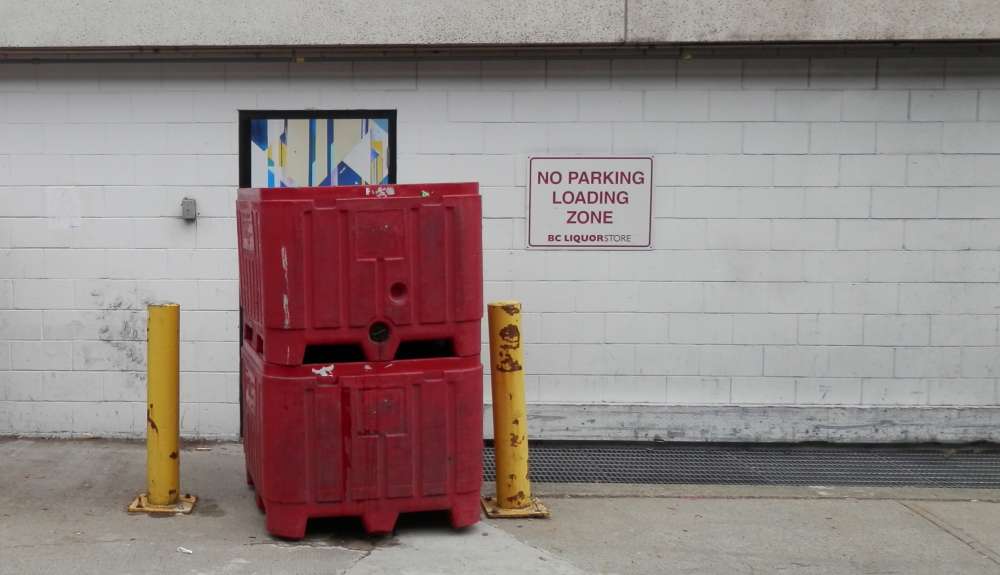 I hope that's not a fire exit.
---
OCT. 5: THE TREE IS GONE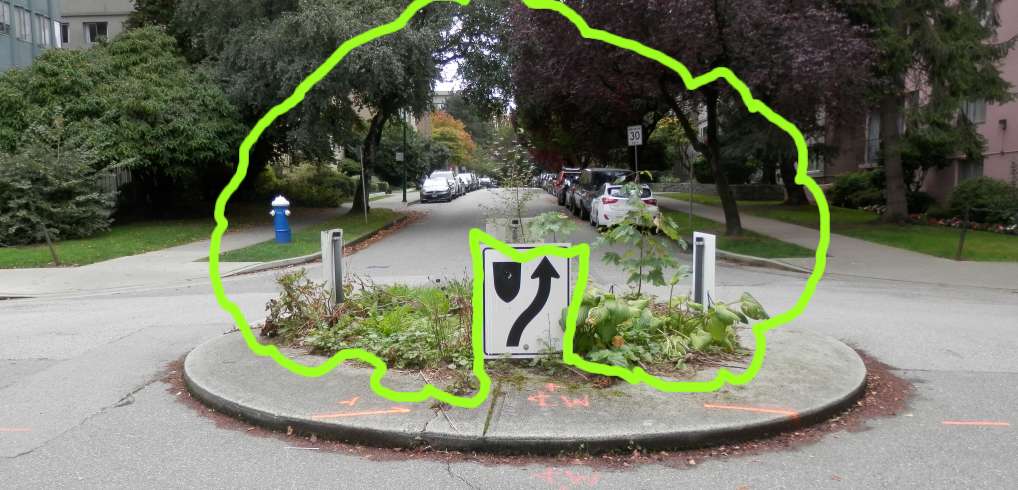 Yellow line indicates approximate prior extent of foliage

The over-eager gardener who was "looking after" the driver-enraging traffic circle in the Jervis/Haro Street intersection has received their just dues. A fast-growing ornamental tree was planted in the middle of it, along with a bunch of shrubs and flowers, and in a few years the entire traffic circle was so overgrown that neither drivers nor pedestrians had proper visibility when entering the intersection. The stump of the tree is about 8" in diameter, yet the tree was only about 8 feet high. Even the four "go around this obstruction" signs block a significant amount of the view. I see the curb is also marked up again to be partially demolished for another underground service that's being upgraded for the endless towers being built.
---
SEPT. 11: VISIT TO FERRY BUILDING GALLERY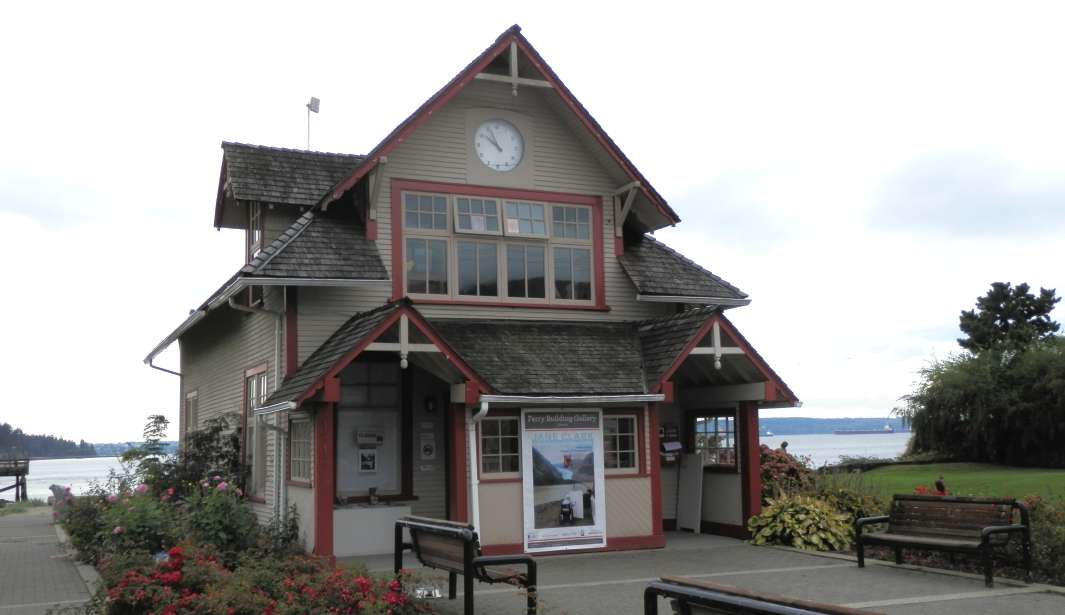 A view of the Ferry Building Gallery, West Vancouver

While in West Vancouver to have lunch with a friend, I dropped into the Ferry Building Gallery to look at their current exhibition. It was by Jane Adams-Clarke, an ecological artistic journey through northern BC, Alberta, and the Yukon. Her son, Bryan Adams, had dropped in to see the show the previous day while in town rehearsing songs for a tour.

While collecting a couple of publications for BC Artists, one of the gallery staff asked me why I was getting them. Then, she asked if I ever do any lectures ... next thing I knew we had tentatively arranged for me to give a lecture at the gallery on February 20, 2020. The talk will be on the early artists and photographers of the North Shore, and should be very interesting. Updated event information will be posted on the EVENTS page.
---
SEPT. 5: THE EMPIRE LANDMARK IS NOW GONE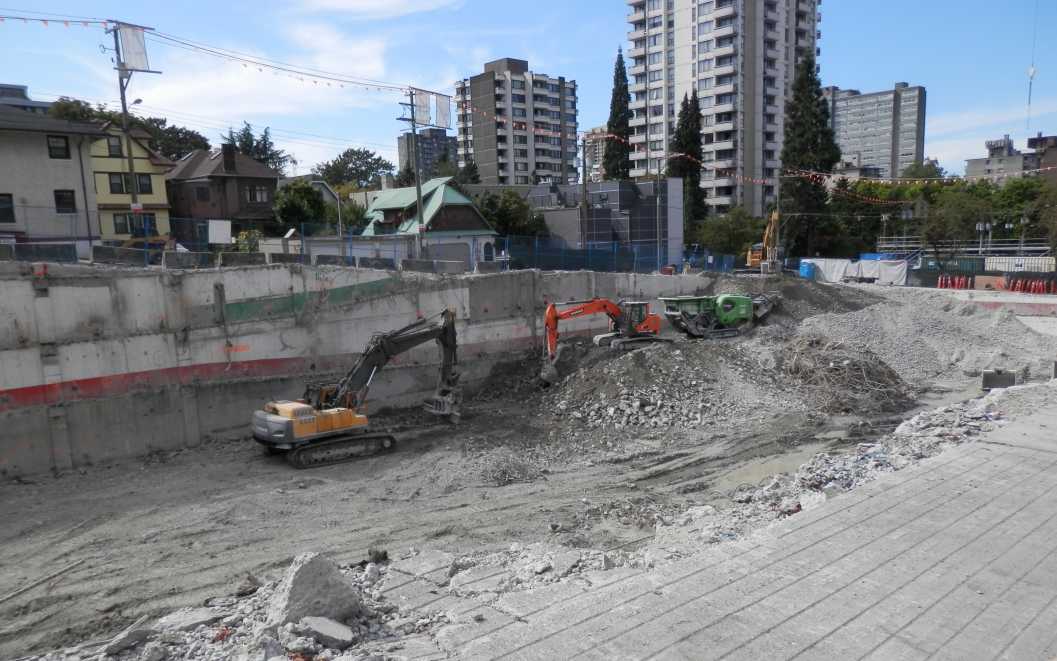 A view of the last piles of rubble being crushed and trucked away

They finally did it, the last load of crushed concrete and twisted reinforcing steel has been hauled away, the demolition contract appears complete. All that remains is the original concrete retaining wall that enclosed the underground parking levels. A crane's block and tackle is visible in the upper right corner of the photo, another construction site is just on the other side of Nicola Street.
---
AUG. 21: SUMMER SKETCHES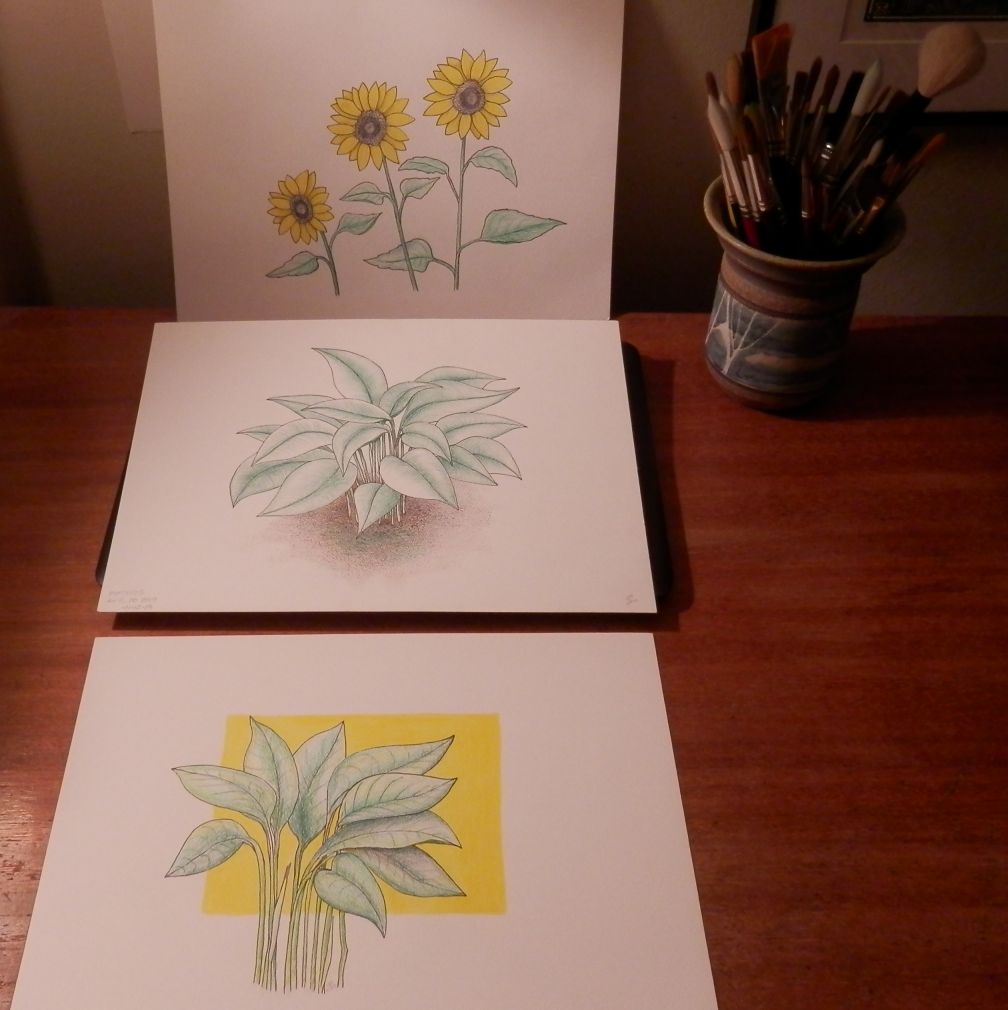 Sunflowers, Pothos, Pothos Study, and a Peter Price "birch tree" vase with watercolour brushes

With time on my hands this summer, I did a number of drawings and sketches to keep things interesting. Three more drawings in the Adventures of Noman were added to the story.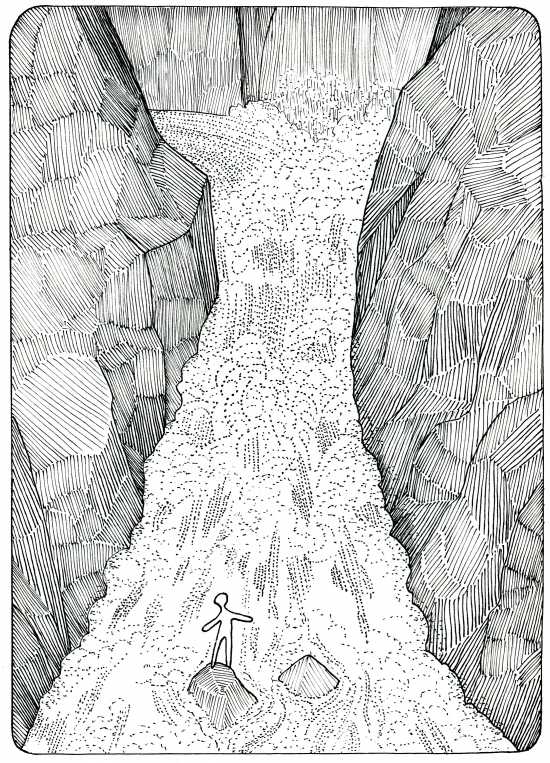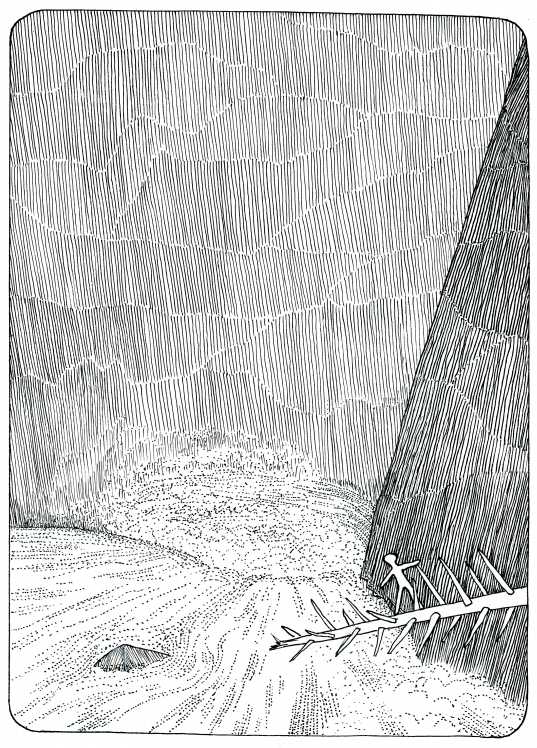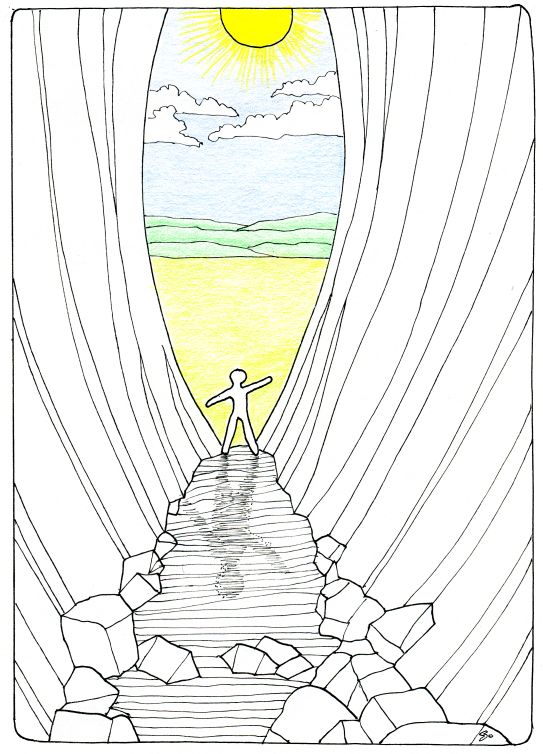 Please see The Adventures of NOMAN: COLLECTION



Two studies of knives that I own.
---
JULY 13: VANCOUVER HARBOUR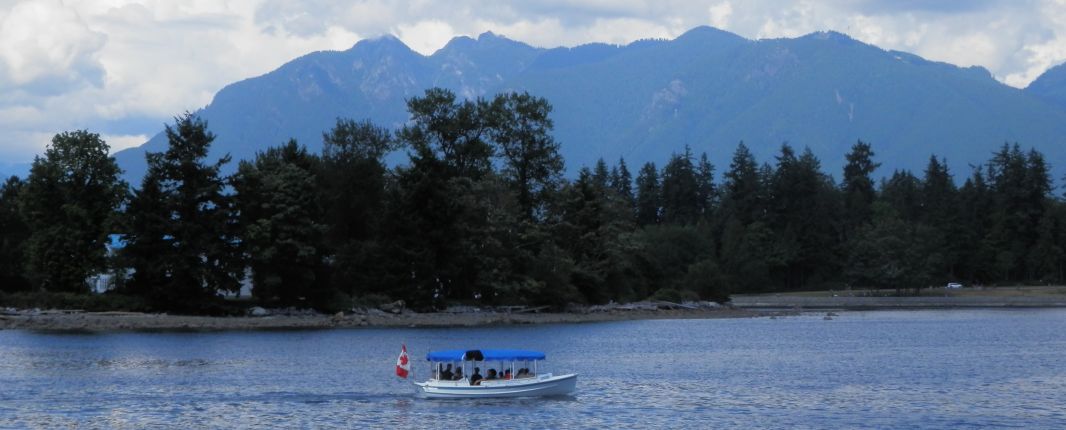 A little electric tour boat going by in Coal Harbour

A visit to the seawall down in Vancouver harbour, about six blocks from the apartment. It's fun acting like a tourist in my own town!


Cruise ship season
---
JULY 11: JAZZ IN BARCLAY PARK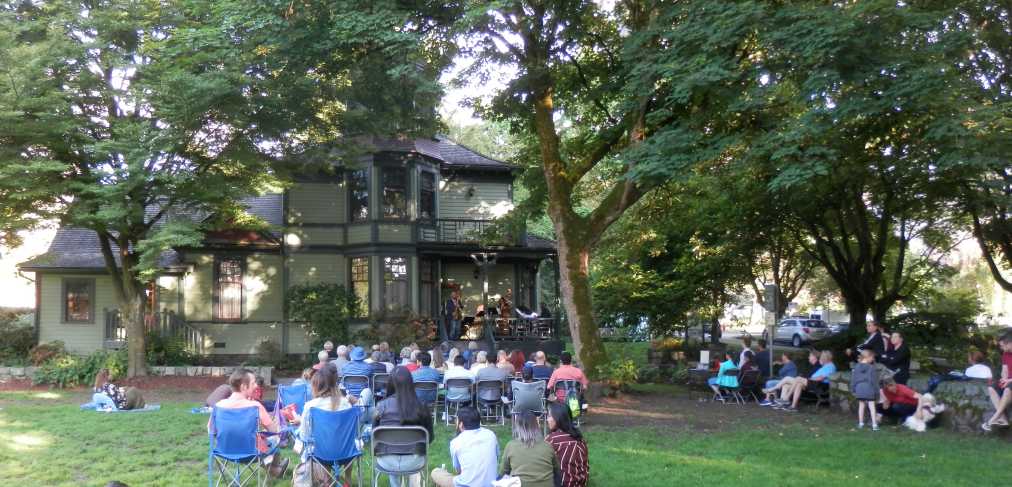 Jazz evening in Barclay Park

The Ben Enriques Trio is entertaining a crowd on a lovely summer evening in Barclay Heritage Park. The SUMMER JAZZ ON THE PORCH series of concerts is sponsored annually by Roedde House Museum. Two other concerts this summer were by the Paul Rushka Trio on June 20, and the Winston Matsushita Trio on August 8. It's a great idea, and for me it's too easy to attend ... I can hear from my apartment when the music starts, and I only have to cross the street.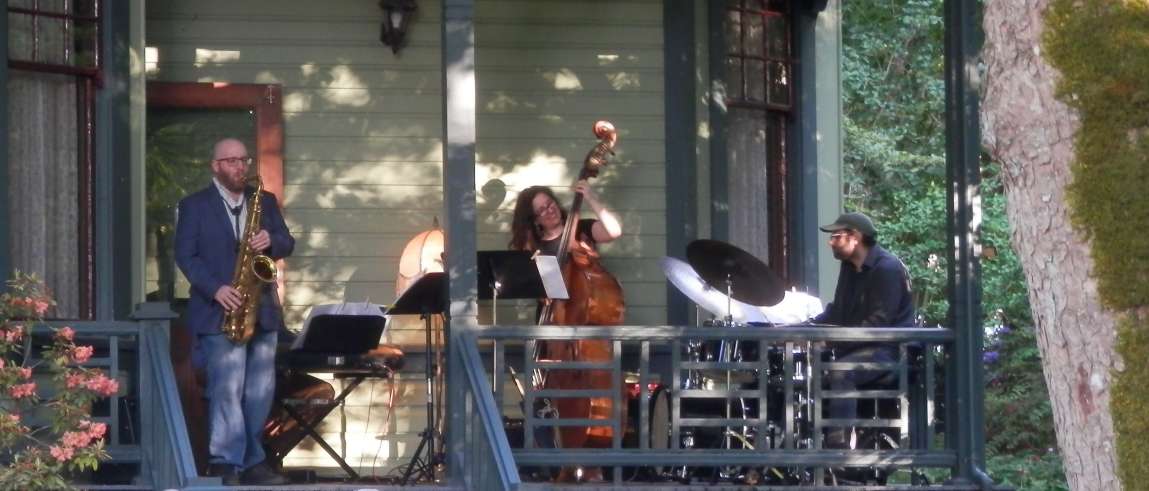 Ben Enriques Trio with a fourth joining them
---
JULY 3: CAPILANO CANYON HIKE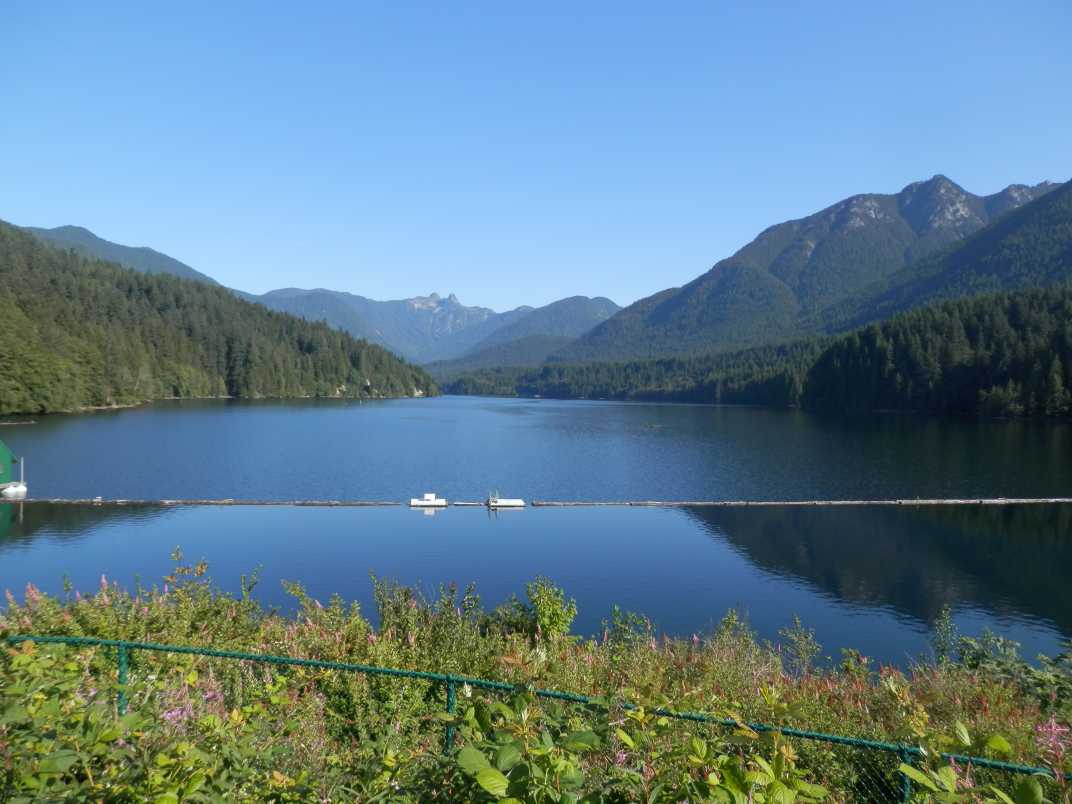 The lost Capilano valley with the Lions in the distance

I decided to go for a hike on the north shore. A friend said that the trail up to Capilano Canyon and the Cleveland Dam could be accessed right from Marine Drive. I caught a bus across the bridge, and started the hike. It was actually quite a long hike, I went up to and across the dam, then all the way back to Marine Drive. My legs were quite sore the next day.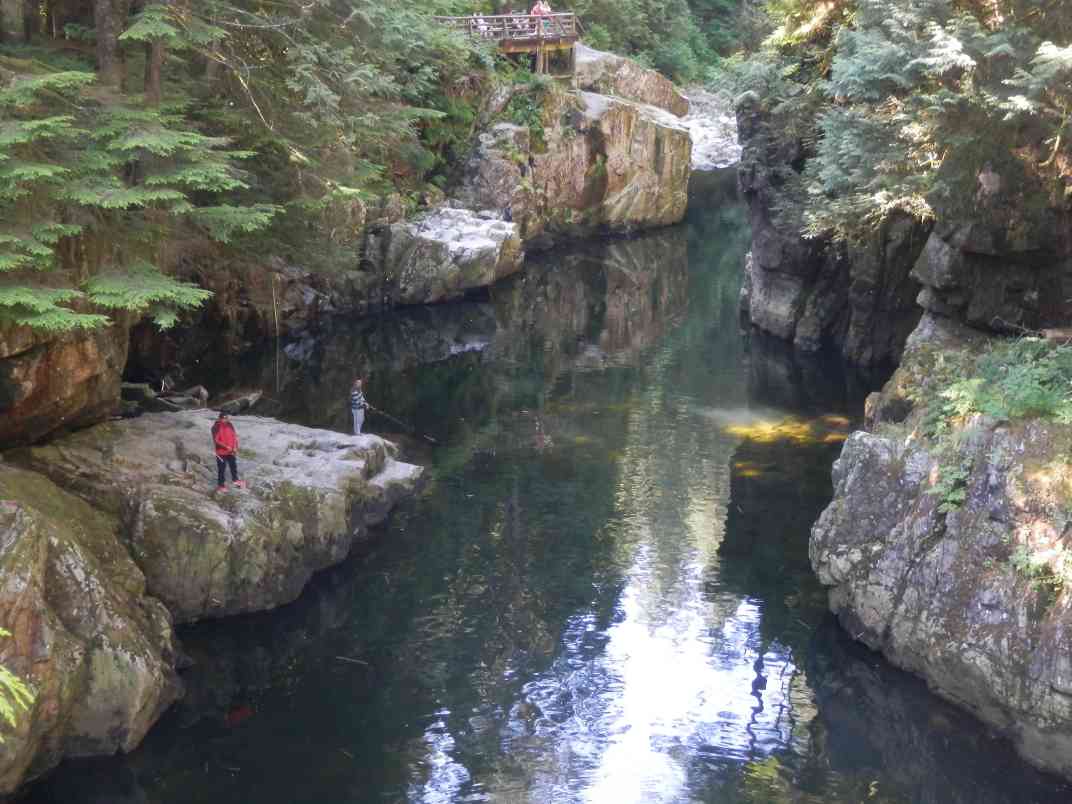 Fishing in the salmon pools
---
JUNE 30: SETTING SAIL ON A NEW COURSE
It's almost funny how things can happen completely unexpectedly. I was at work at (unnamed architect's) office on June 30, trying to clear my desk so that I would have a clear conscience for the upcoming long weekend. That had been a really long week, and I'd spent two full days on site in Surrey doing an ongoing series of code-fire-life safety reviews in a 37-storey residential apartment tower that was under construction. The office was so busy that I was doing them by myself, although usually four people in two teams would be sent to do this task. On Thursday the building passed the critical scissor-stair smoke test for the District Building Inspector, and I pushed myself to complete reviews of all of the suites in the tower.

Unfortunately, work continued to pile up by email and by courier while I was on site, so Friday was a busy office day for me. I started work early, and even worked through lunch, despite the rest of the office inviting me to go out for burgers and beer with them. At about 1:15 I got up to go to the washroom, and met the senior partner at the office door on my way out. He gave me a wierd look, and then out of the blue started ranting at me loudly while waving his arms around in the air:
"I'M SICK AND TIRED OF YOU GOING THROUGH PEOPLE'S DESKS LIKE THIS!!!"
His hair was dishevelled, and he was almost staggering around. I was completely taken aback. He repeated his comment again, perhaps even more loudly:
"I'M SICK AND TIRED OF YOU GOING THROUGH PEOPLE'S DESKS LIKE THIS!!!"
Then, in lieu of a response from me, as I couldn't think of anything to say, he yelled:
"I WON'T STAND FOR IT ANY MORE! I WON'T STAND FOR IT ANY MORE!!"
Then he lurched off down the hall towards his office, muttering away to himself.

At that moment I decided that I was finished work for the week, in fact I was already working overtime due to the long days. I left the office without any further incident, and went up the street to have lunch. Within a short while I had decided to quit work. I went in twice on the long weekend to take my personal possessions home, and finalize my timesheets and expenses. I left the office key and fob and walked out.

The partner's behaviour was grossly unprofessional. He was either drunk or stoned or both, I thought perhaps he was taking a medicine that had conflicted with a lunchtime drink and was suffering from unexpected side effects, but who cares. Although I had personally committed to completing the $60 million dollar project I was working on, I decided that I was not willing to deal with this "issue" or his unacceptable behavior any further.

After further contemplation, I decided that I would take the entire summer off work, to relax, hike, work on drawings and prints, wander around taking photographs or enjoying happy hour at one watering hole or another. Hola!
---
FEB. 28: THE CHOCOLATE MOUSSE IS NOW CLOSED

The storefront

The Chocolate Mousse, along with all the other tenants in this building, were basically evicted or else didn't have their leases renewed. Another "developer strikes again" scenario. The building has been vacant since February 2019, and as of October 2019 nothing has happened. Apparently the new owners either don't know what they're doing or they have so much (laundered) money to piss away that they don't care (about the money or the people they're screwing). As an historical aside, Thompson Berwick Pratt Architects designed the building, and used to occupy the upper floor.
UPDATE: As of July 2020 a FOR LEASE SIGN is in the window of the Mousse. Looks like the effing idiots who kicked everyone out don't know what they're doing. Who would guess?
The Mousse had a large and faithful following of customers, all of the yellow post-it notes on the window were messages from them to the Owners:


"We miss you already"
"Sad! frustrated boo HOO"
"good luck to you always, you will be missed"
"do politician brains qualify for the vacancy tax?"
"there is no store like yours. so sad"
"a very sad day indeed. where will I shop now?"
"love love LOVE you guys"
"Bereft!"
"WHY?"
"My wife and I loved your store"
"God Bless, all the best"
"I feel so guilty. Gregor."
"Bless you and shine on!"
"You'll leave an incredible void in the community"
"we will treasure our kitchen gadgets for years! THANK YOU!!"
"My family, my friends, 25 years!"
"No reason to come downtown any more."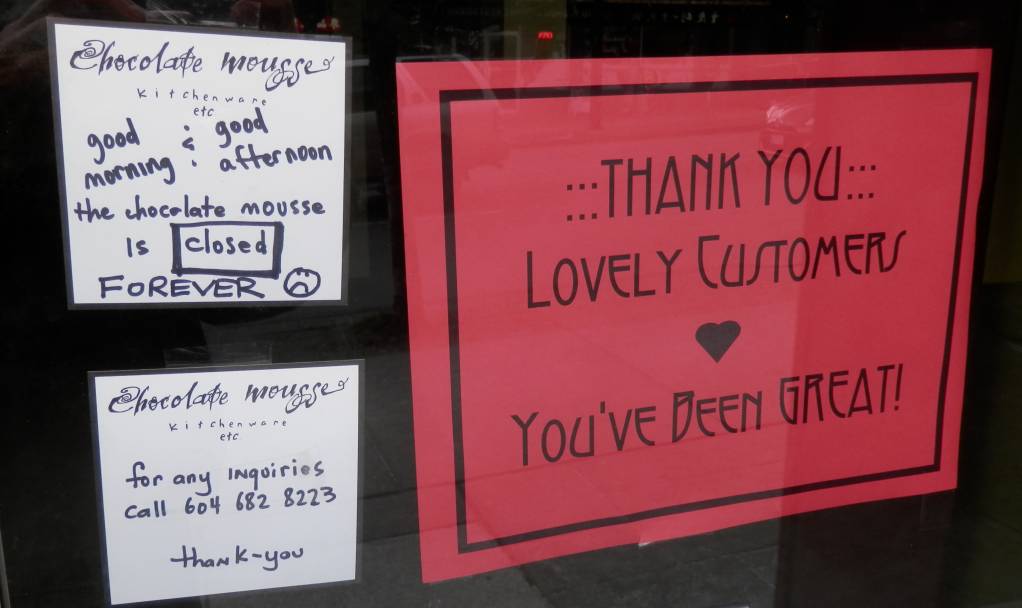 Contact information
---
Home
Copyright 2019 - 2020