SIM PUBLISHING
Home Publications Artwork News Links About
---
NEWS ARCHIVE - 2012
---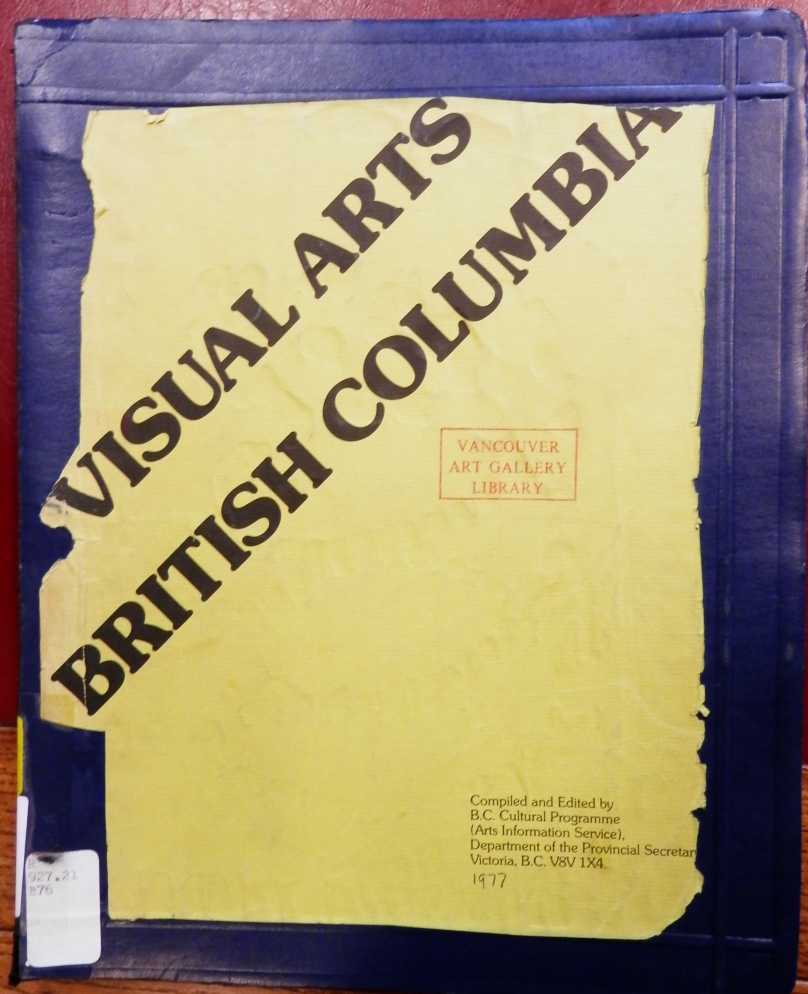 1977 index to BC visual artists
BC ARTISTS Release 1.5 issued
Input has continued to the BC ARTISTS project, with the notable addition of the 1977 VISUAL ARTS BRITISH COLUMBIA publication by the BC Government, which lists over 2,200 visual artists. BC ARTISTS now includes more than 16,000 visual artists in British Columbia, making it by far the most comprehensive artist list available for the Province.

Release 1.5 is now available for purchase for the same price of $175.00 inclusive of shipping and taxes. Existing owners of BC ARTISTS may upgrade to this version (or any subsequent version) for $30.00.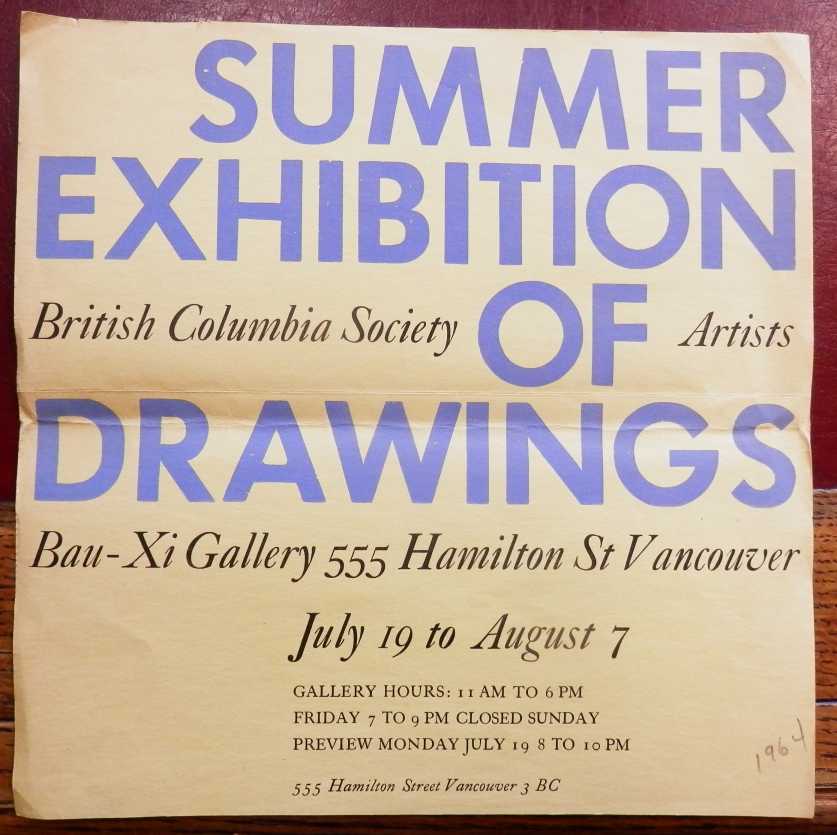 1964 exhibition poster
---
Trip summary 2012
Doing a little spreadsheet of business trips this year, it adds up to 16 trips around BC, involving 30 flights and 12,500 miles flown; 12 car rentals and 2,220 miles driven. Plus oodles of taxi rides. Not one meeting was missed this year, though bad weather would normally cause at least 1 cancellation or delay in that many flights.

Trips were to Haida Gwaii (2); Burns Lake via Prince George (1); Quesnel either by direct flight / via Prince George / or via Williams Lake (7); 100 Mile House either via Williams Lake or by driving from Vancouver (8); Williams Lake by direct flight (1). A smattering of trips to the Cariboo were able to be strung together, but organizing that was harder than expected. A holiday in the Okanagan added another car rental (in that case a MODO car) and another 700 miles driving.

Business trips were mostly one day fly-and-dash expeditions, twelve or fourteen hours from home to home in order to be on site for two to four hours. There were 7 business overnighters, though, and 6 personal nights away from home. When I say I have holidays coming up folks always ask "where am you going" ... ha ha. I'm pretty tired of going through security, hanging around in departure gates, working my way through the throngs ...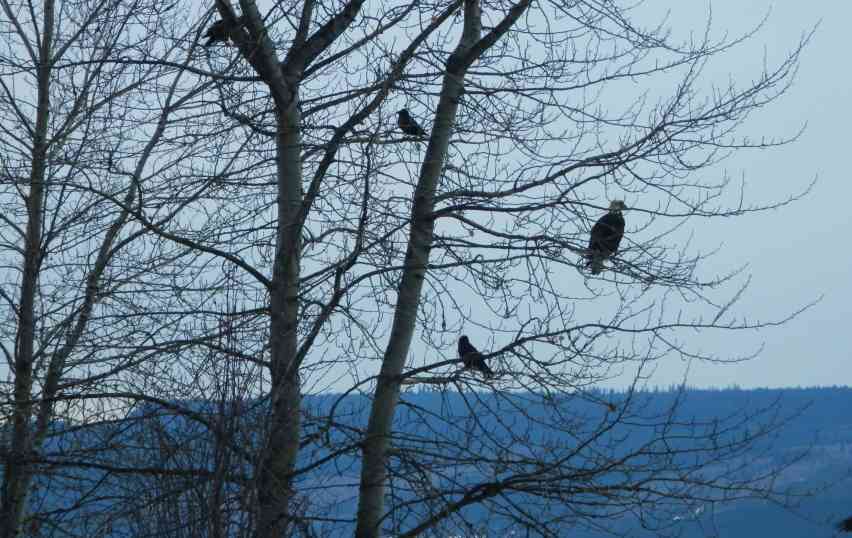 A tree alongside the highway between Quesnel and Williams Lake (where the Fraser River is right beside the road for a short stretch) was unexpectedly full of raptors. At least 3 bald eagles, 2 golden eagles, plus some crows and ravens were in the tree when I drove by. By the time I was able to take a picture the skittish ones had swooped off across the river to join a number of birds that were standing on the far shore (departing wing-tip lower right). A skiff of new snow dusted the Cariboo the day I went through. Fall hits a street tree outside our office building. A tree in Barclay Park.
---
A few more photos from Haida Gwaii: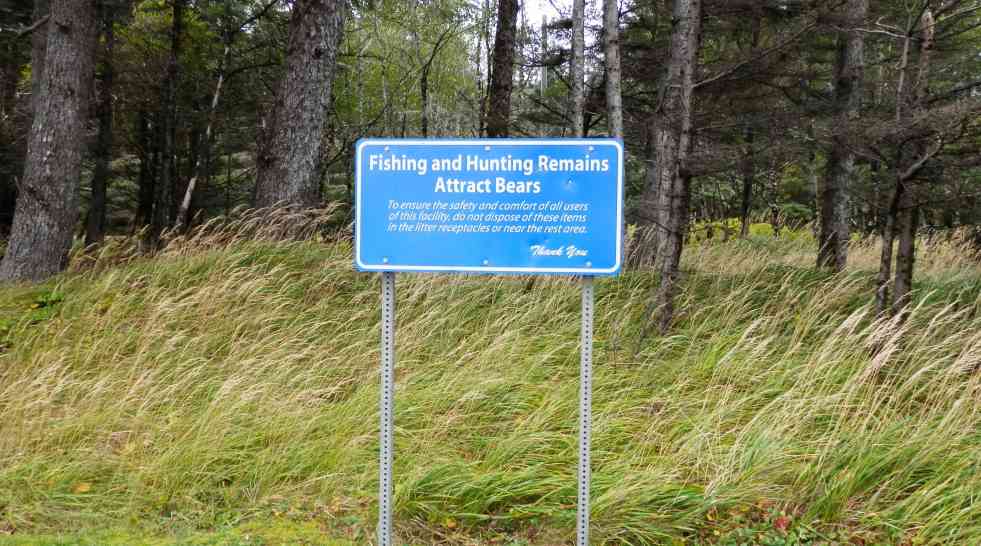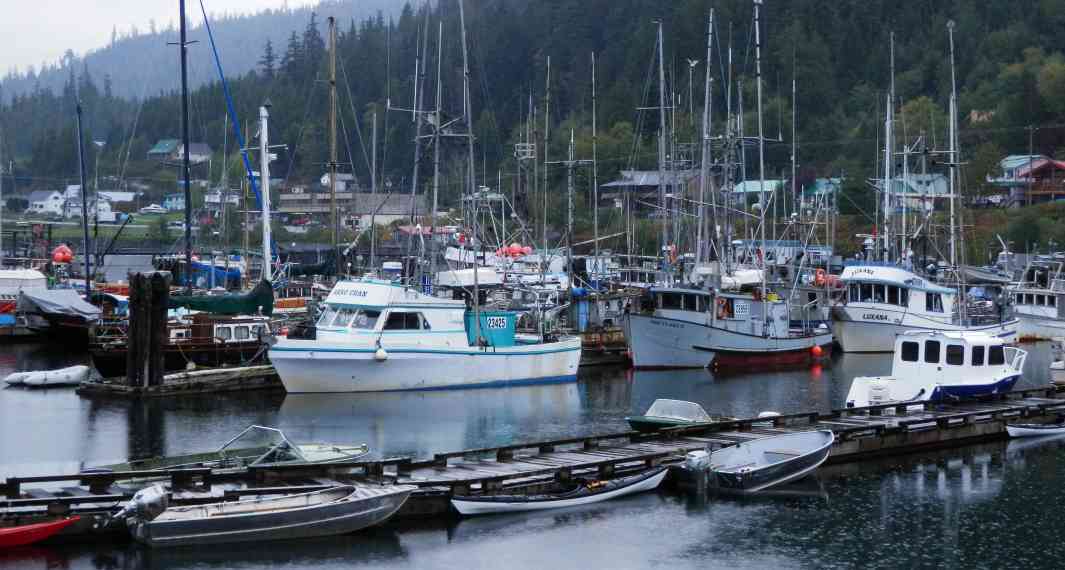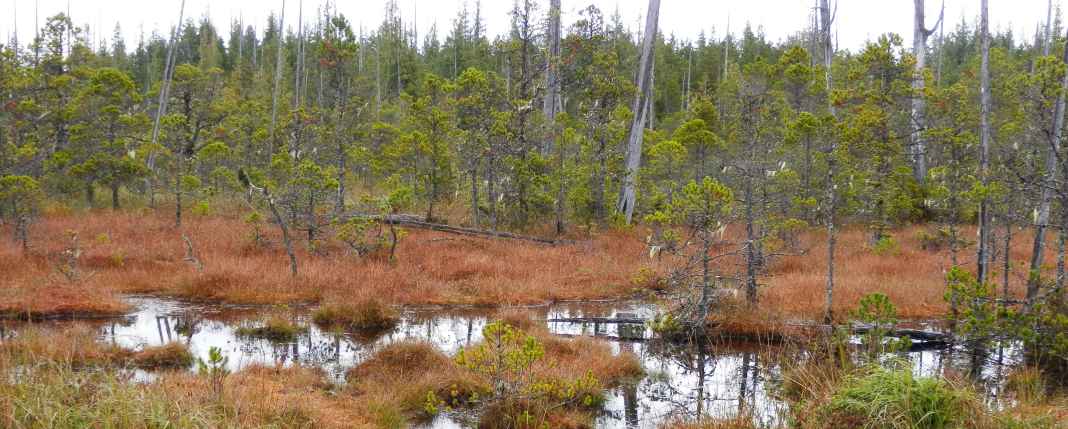 Top to bottom: Looking west towards Masset from Alaska View Lodge; looking north to Alaska across Dixon Entrance; Kumdis River; cliff along highway near Tlell; rest stop south of Tlell; highway north of Skidegate; Queen Charlotte harbour in the rain; swamp south of Masset; tsunami warning sign east of Masset; deer east of Masset.
---
It's beginning to seem like a long year ...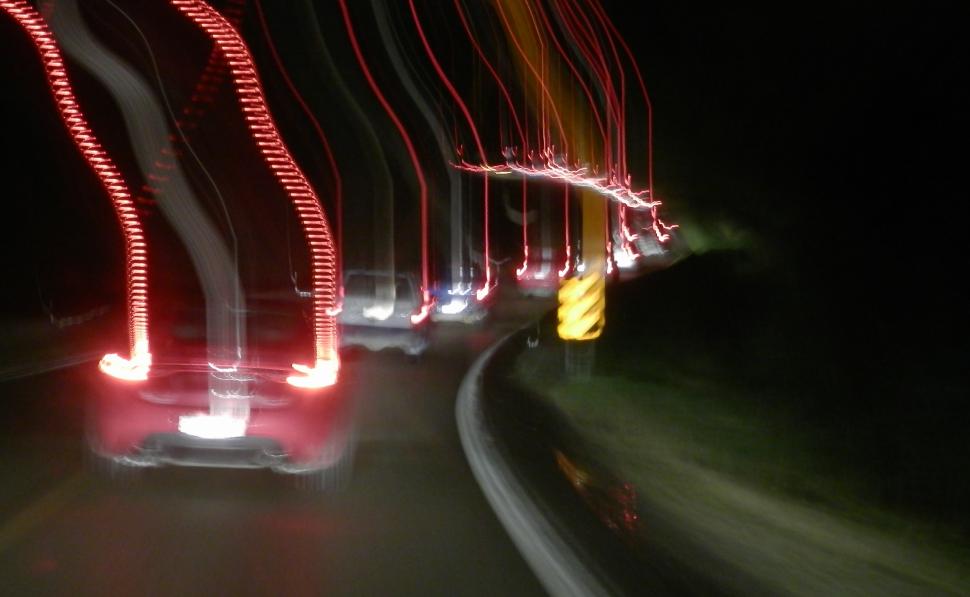 Tsunami evacuation at Masset BC, October 27 2012 (higher ground in sight)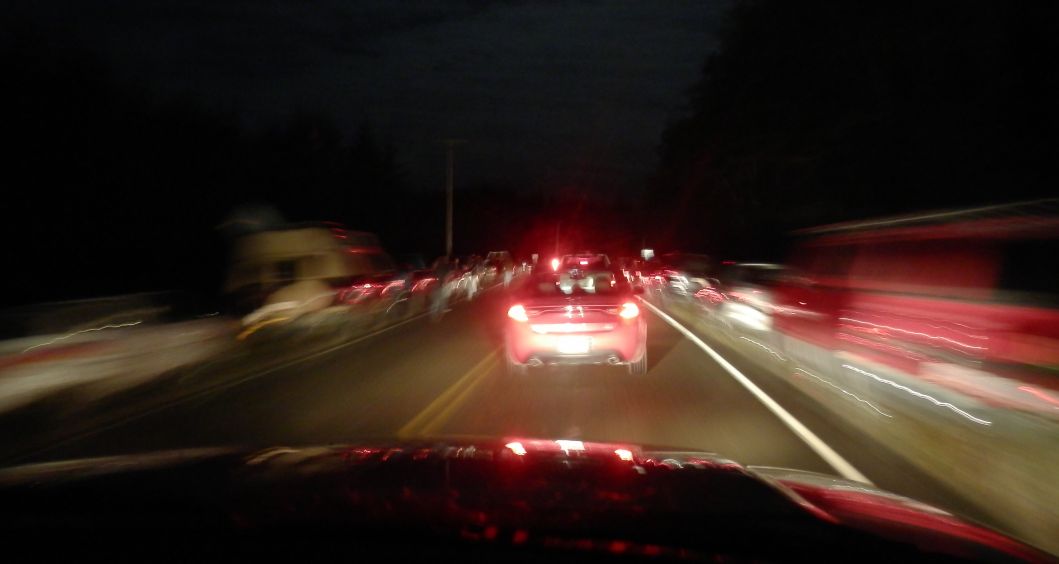 Tsunami evacuation at Masset BC, October 27 2012 (relative safety, cars parked both sides of highway)

As luck would have it, I was in Masset on the night of the 7.7 M earthquake, the 3rd largest (so far) in Canadian history. It was very exciting, as the fishing lodge I was staying at experienced over 80 continuous seconds of shaking, rattling, and rolling. We were about 100 Km from the epicentre, although I'd driven down to Queen Charlotte earlier that day, which was much closer.

For myself and the lodge's Manager/Chef Neil Thomson, the quake started while we were relaxing in overstuffed leather couches in the main lodge's living room. There was a good fire going in the airtight stove, and we could see a white line of surf off in the distance beyond the sliding glass doors that open out onto North Beach, about 10 Km east of Masset, and halfway between Masset and Tow Hill.

The whole building shivered and creaked like a sailing ship at anchor that is riding a passing wave. This was immediately followed by the entire building (and everything in it) starting to shake and vibrate. While this was going on the whole building started swaying from south to north, south to north, over and over. The shaking effect lasted for about 30 seconds, but the swaying went on for about an entire minute. Along the way there were some random shocks and shakes. One of the biggest ones was followed by the lights going out ... for 2 seconds, then back on! Whew!

This was by far the biggest earthquake I'd ever felt, and I even managed to film a digital movie of 66 seconds of the quake action. Neil and I discussed what to do, and we both started surfing internet, television, and cell phones to find out what the story was. Neil's mother was the first to call and give us solid information, although by then we'd started finding stuff on the news.

In retrospect it was surprising that we didn't just hop in the fastest vehicle and get the hell out to higher ground. If a tsunami alert was to be issued, the lodge's phone would ring advising us to flee. A few minutes later the phone rang, it was the evacuation alert. Holy crap! Neil said that we would both flee in his company vehicle, I agreed, and then ran to my cabin to spend a few seconds grabbing useful possessions.

We both got to the SUV about the same time, threw stuff in, and took off down the road with Neil driving. He did a quick stop at the neighbour's place to ensure they had evacuated, then we headed down the 10 Km road to Masset, part one of our evacuation route. There were a bunch of cows on the road, and a bunch of deer on the road, which had to be dodged. We came up behind someone carefully driving the speed limit. Hmmm.

At the junction to Masset there was a continuous line of cars coming over the bridge and turning south on the evacuation route. Suddenly it was bumper to bumper rush hour, yet we were still about 15 kilometres from safety if a tsunami hit. At this point the road simply goes along the east shore of Masset Inlet, and doesn't gain altitude for what seemed like a long long time that night.

Once the road went up a hill some folks pulled over at the side of the road, which started slowing down the evacuation of those who were still trying to get up the hill. We finally pulled over and stopped where we thought it was okay, but were shortly afterwards advised to keep going.

As it turned out, the evacuation area is pretty much out of cell phone range from the nearest repeater, so once the whole village was safe they were almost all out of communication with the outside world. We tuned into CBC radio to keep posted on the news. One man phoned from Masset to report on the quake, be he apparently hadn't evacuated.

We finally reached the evacuation area, and settled in to wait for the all clear. We were allowed to return to Masset about midnight, and we drove back to the lodge. A late dinner was followed by bedtime, and aftershocks around 3 a.m. and at 1 p.m. the next day kept everyone on edge. My flight left a little late, and I had a feeling of relief as the plane lifted off the runway.

Chronological note: the photographs below were all taken prior to Saturday night and the earthquake, with the exception of the deer, which was observed on the way to the airport Sunday.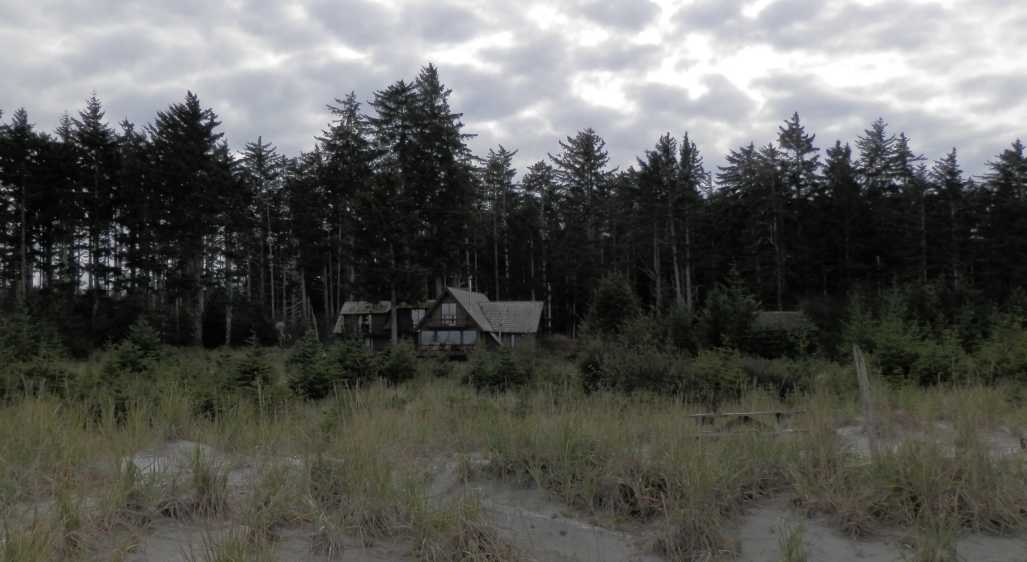 Alaska View Lodge, seen from North Beach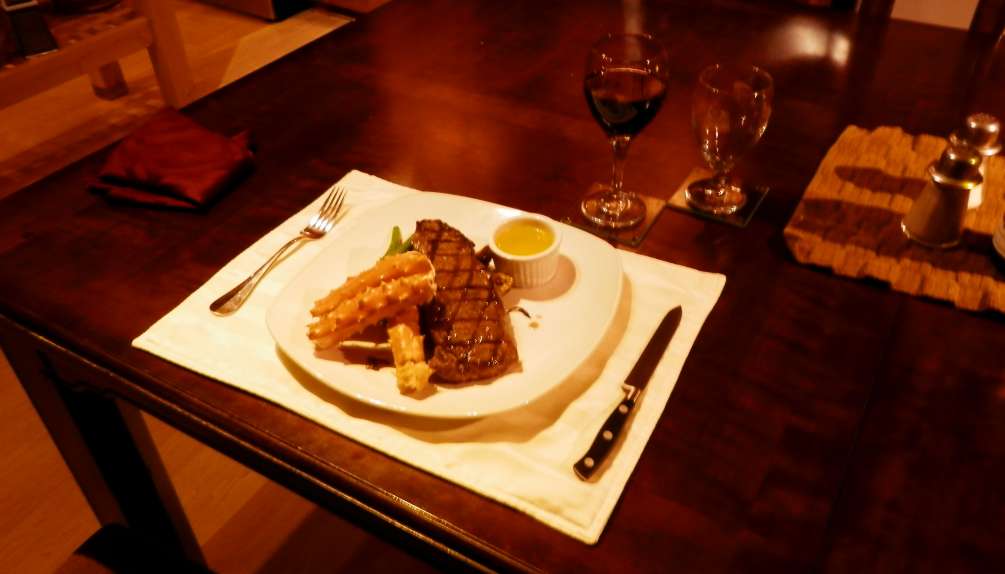 Dinner for one, Alaska View Lodge

After a good hike up Tow Hill and along the rocks around the blow hole, what could be better than a fabulous dinner? Chef Neil Thomson set this feast for me: New York strip loin steak, Alaska King Crab legs, roasted new potatoes, fresh green beans, clarified garlic butter, and a French red (the appetizer, as i somewhat fuzzily recall, was a home made butternut squash soup, accompanied by grilled crostini topped with tapenade) ... ahhhh ...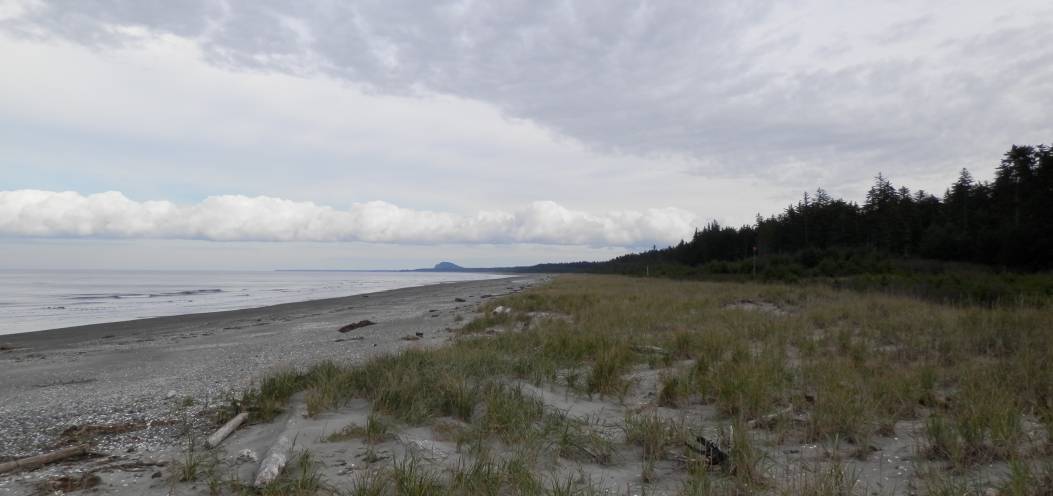 Looking east up North Beach from Alaska View Lodge (Tow Hill in the distance)


Approaching the upper lookout on Tow Hill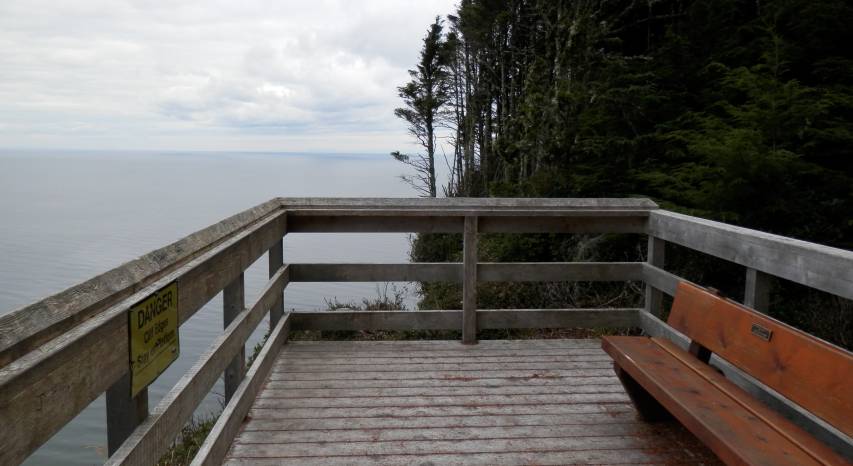 The upper lookout on Tow Hill, view north across Dixon Entrance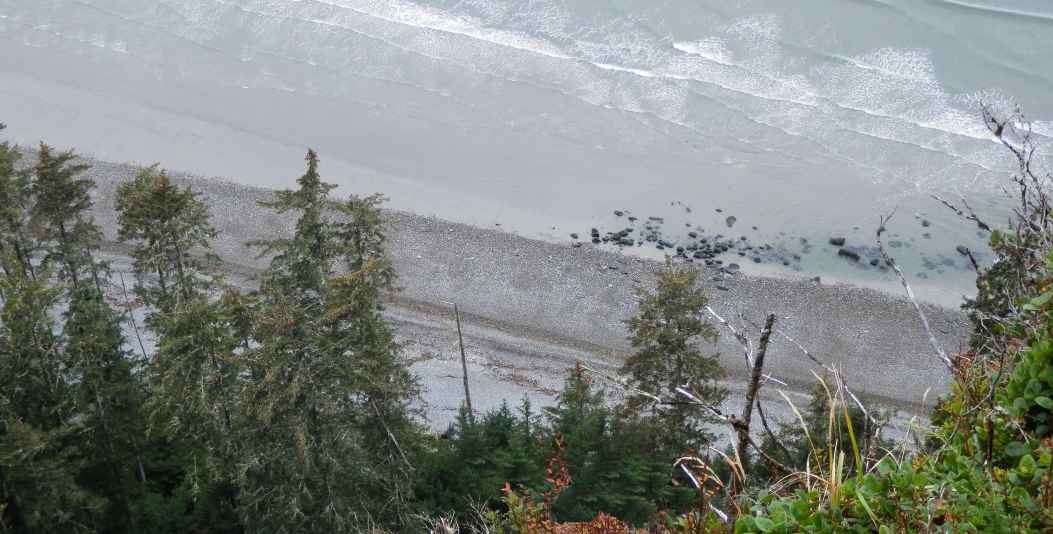 Looking straight down from the Tow Hill lookout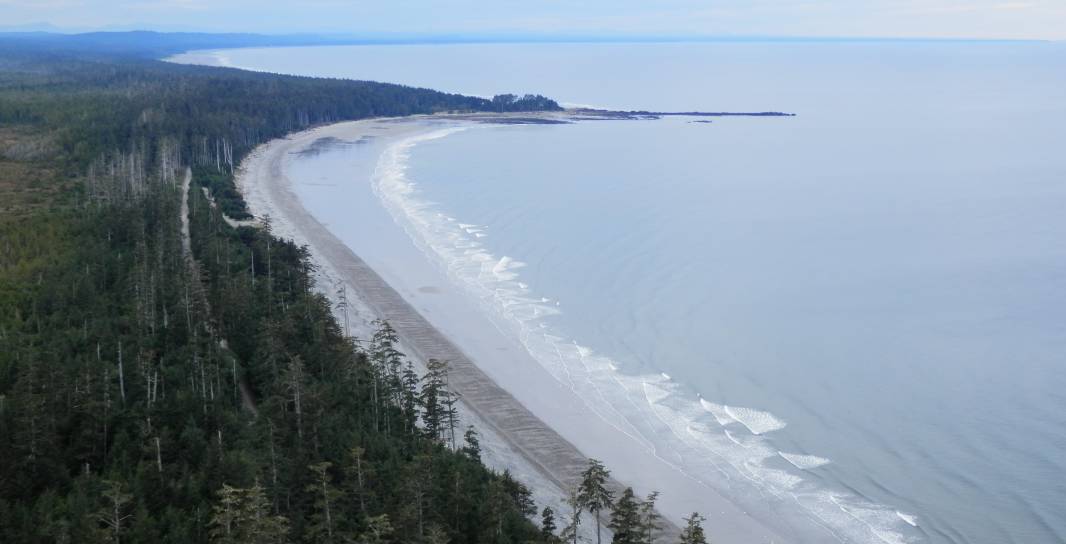 Looking west from Tow Hill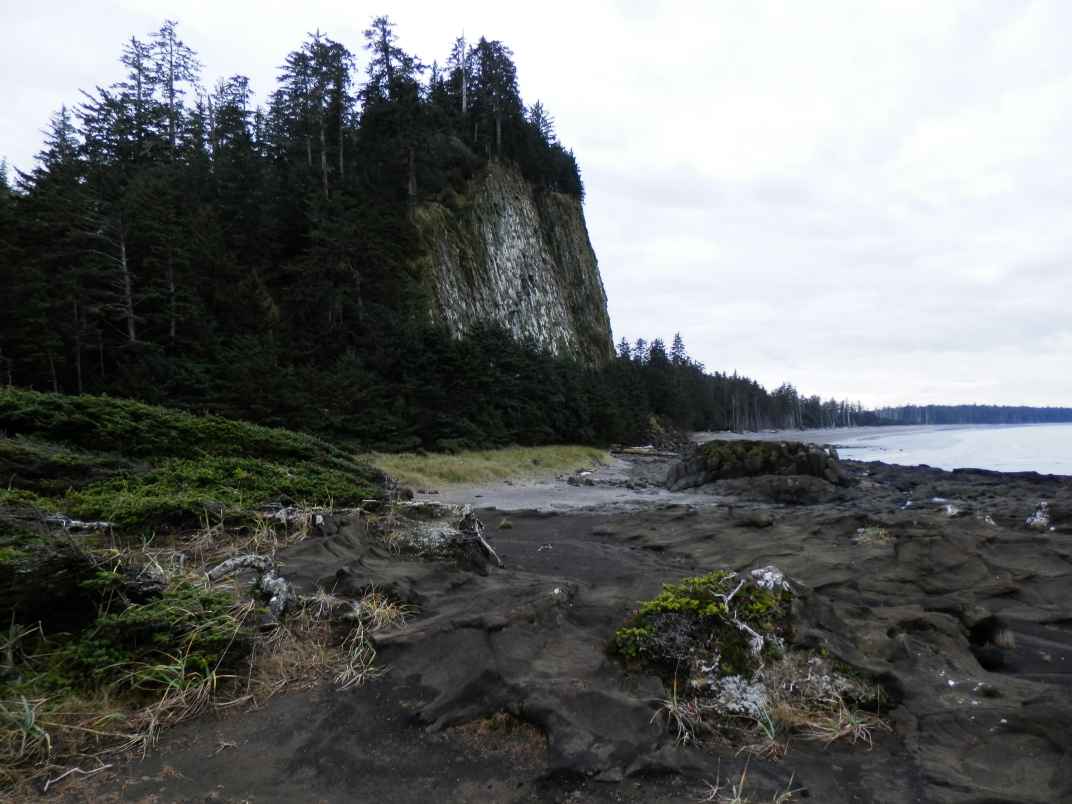 Tow Hill seen from the east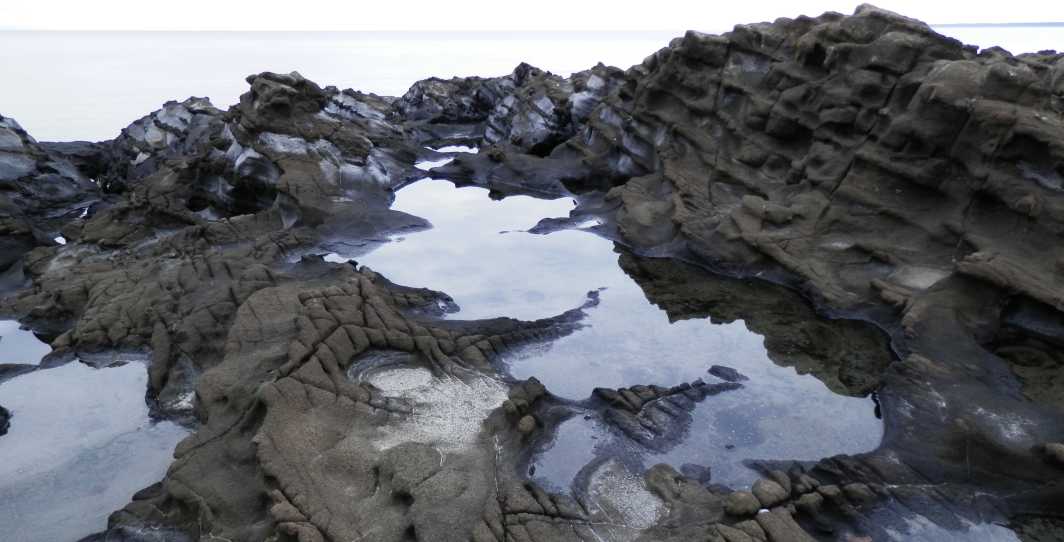 Rock formations at the foot of Tow Hill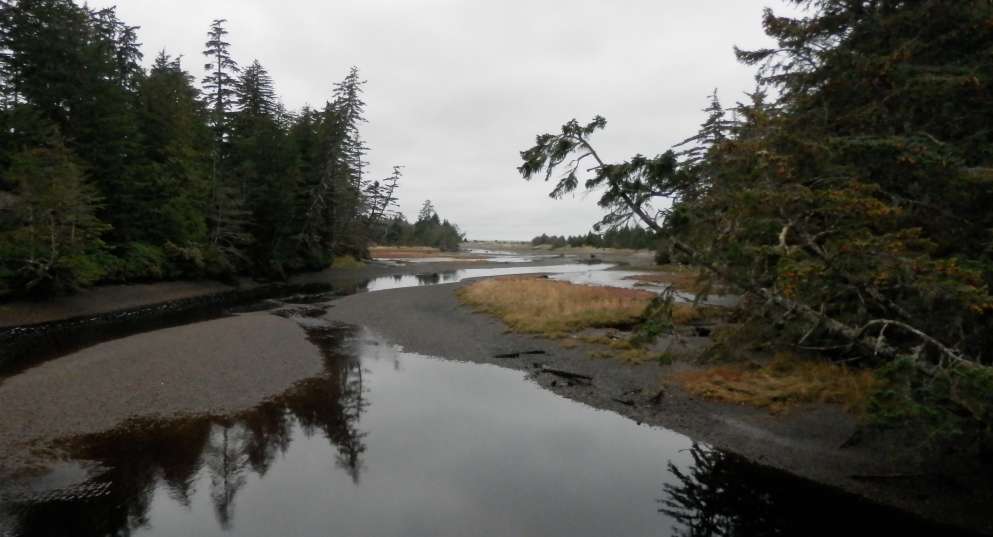 River near Masset


Alaska seen from 50 miles away across Dixon Entrance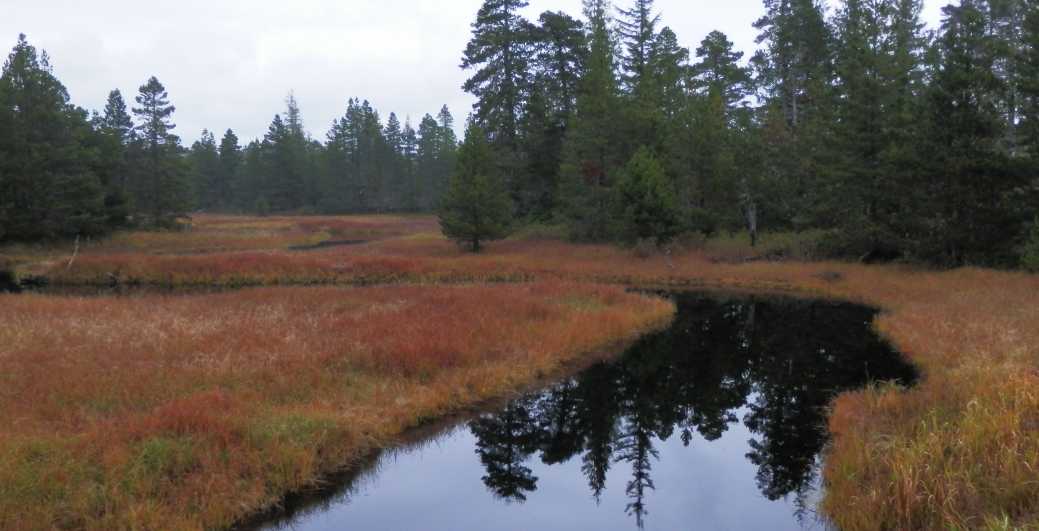 One of the black creeks on the island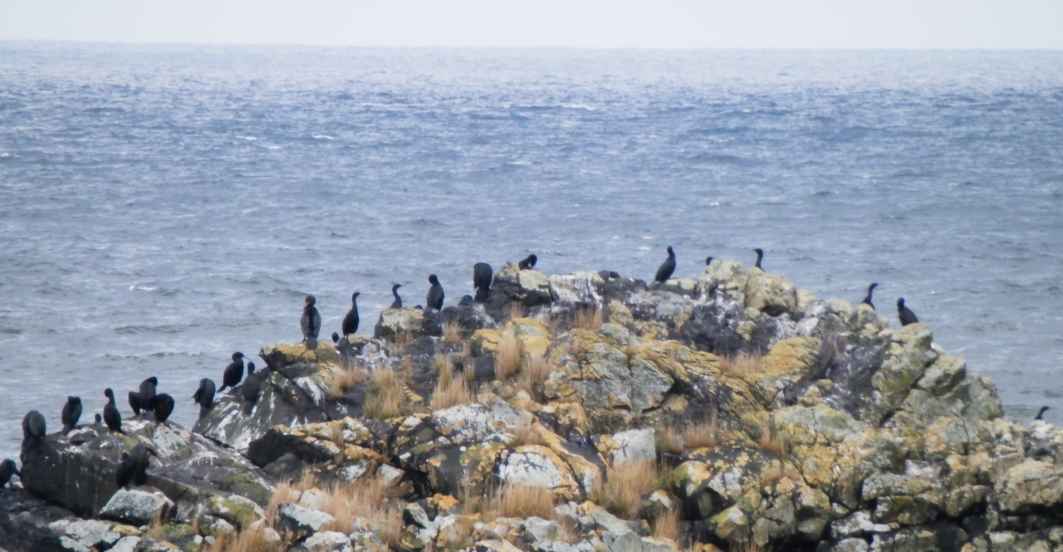 Cormorants on a rock near Skidegate


Skidegate Museum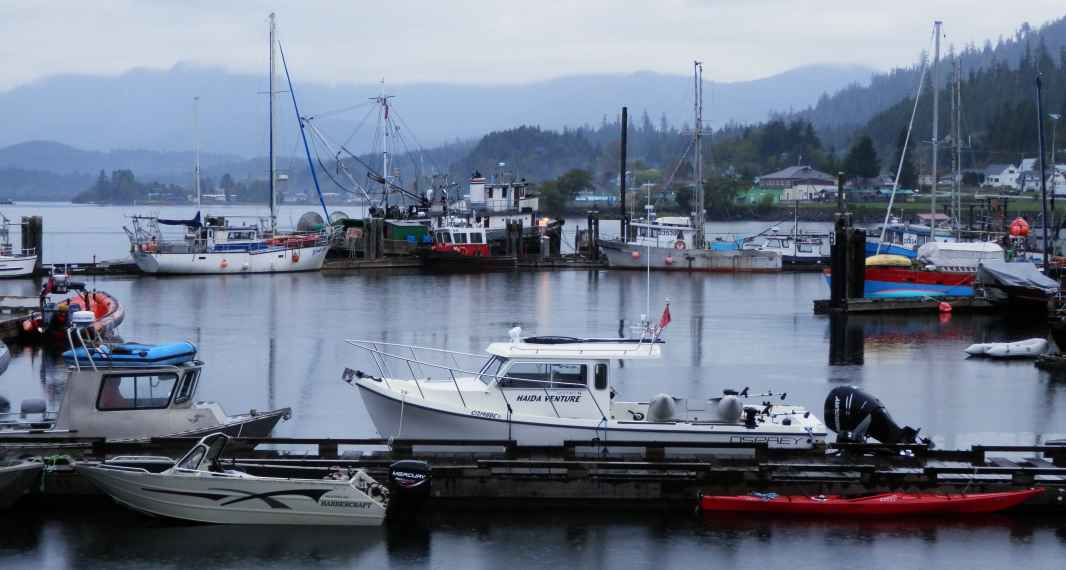 Harbour at Queen Charlotte


Looking across to Sandspit from Skidegate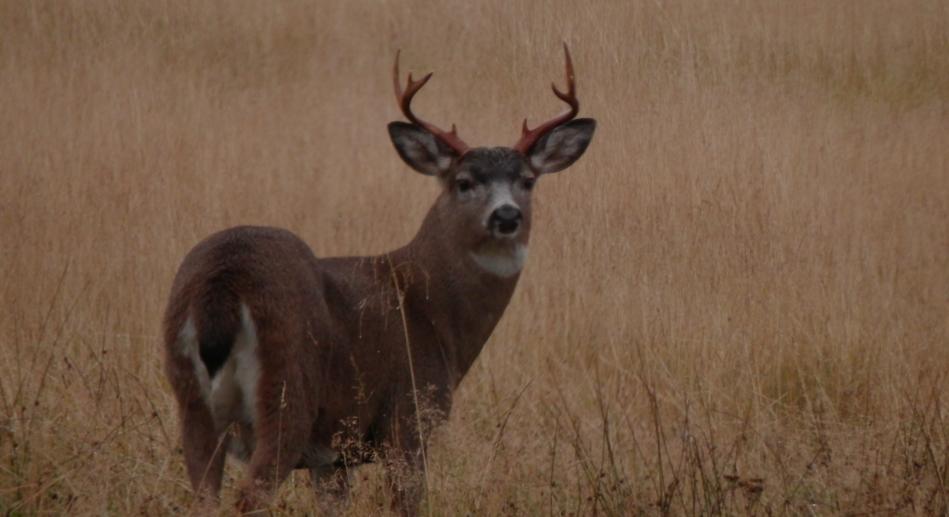 Typical deer on Haida Gwaii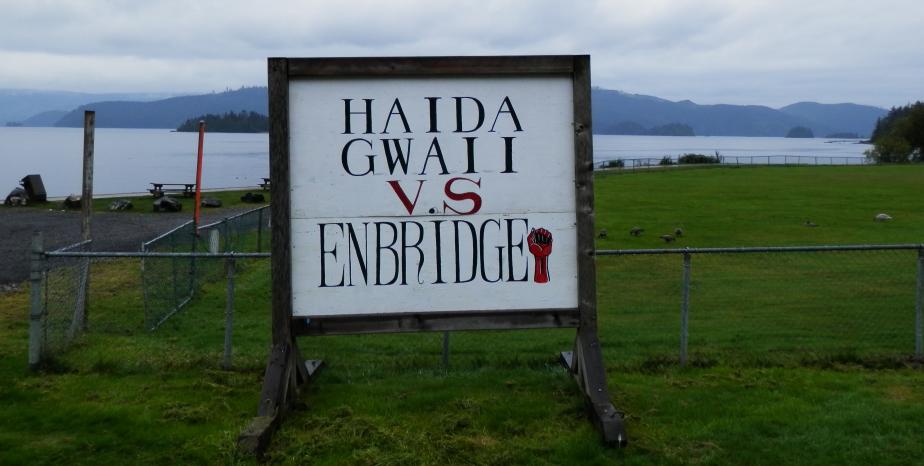 One of many protest signs on the island against oil tankers on the coast
---
Mother Tongue Publishing book launch at Heritage Hall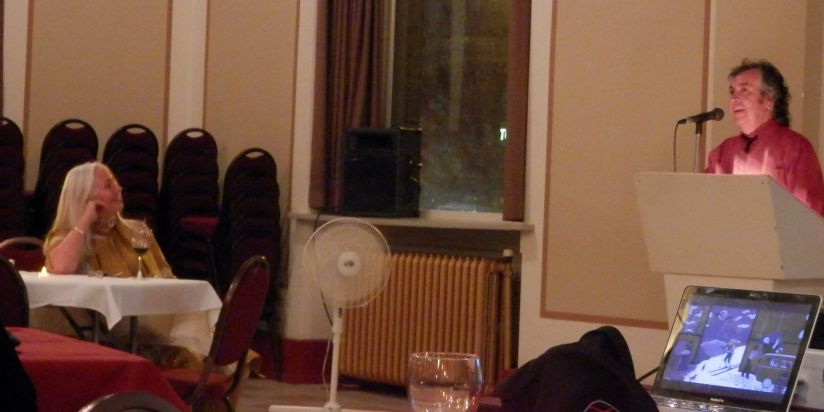 Peter Haase's introduction with Mona Fertig to the left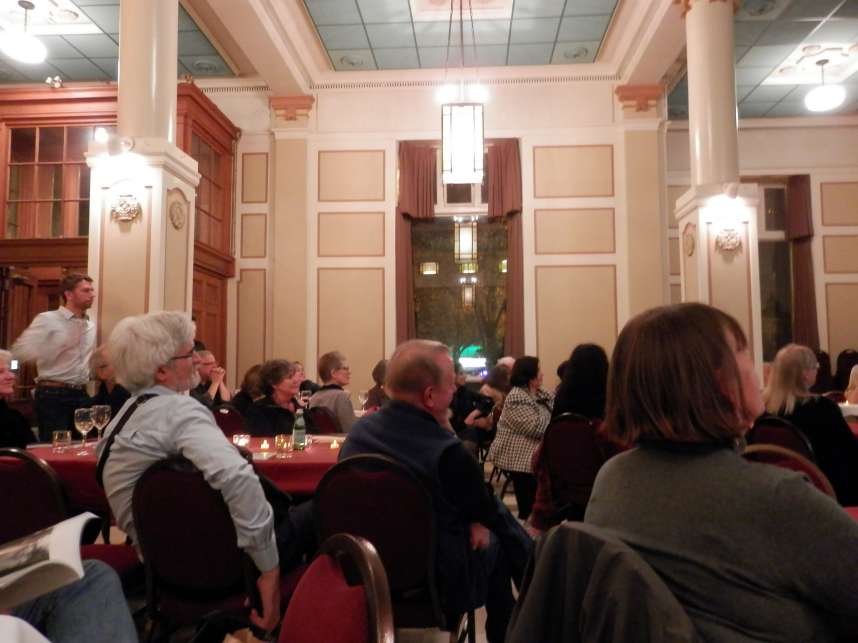 Some of the crowd listening to the opening remarks

The launch of Mother Tongue Publishing's new book 111 West Coast Literary Portraits was held October 11 at Heritage Hall on Main Street in Vancouver. The event was well attended, with numerous of the authors in the crowd. Peter Haase gave the introductory speech, then Mona Fertig spoke, Alan Twigg, and finally the photographer Barry Peterson. Afterwards it was wine, conversation, and hors d'oeuvres.

Some of the displays that were put up for the launch.
---
LINOFEST at the Burnaby Art Gallery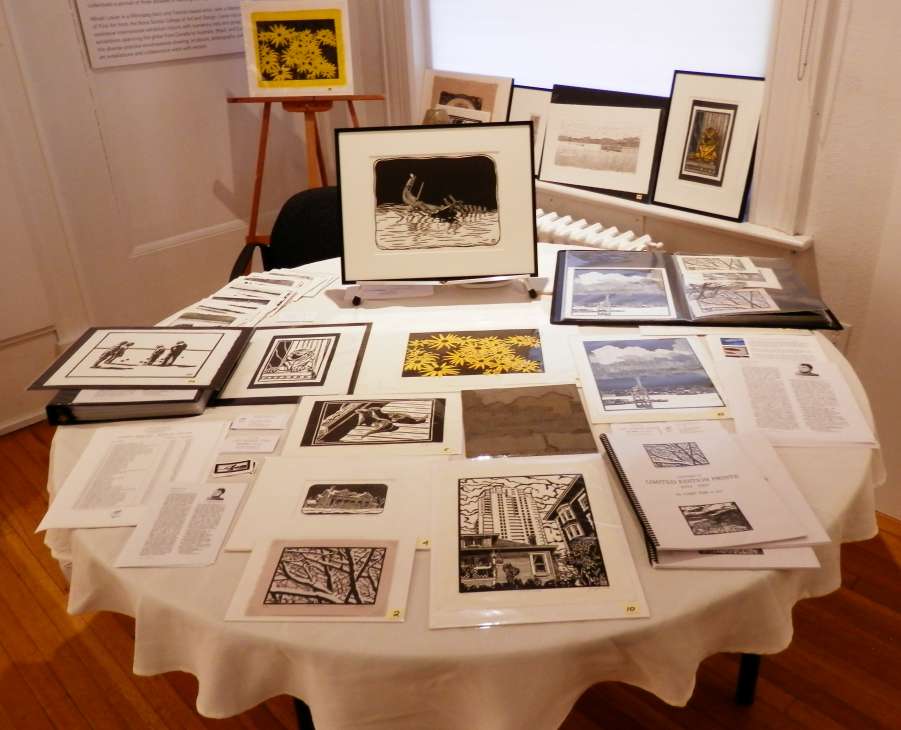 The Sim Publishing display at the Burnaby Art Gallery.

The LINOFEST event on September 29 at the Burnaby Art Gallery was a success. A steady stream of visitors came through all day to see the various displays that were set up for the event by a number of linocut artists. It was a very busy afternoon for me, as I not only had the sales table in the Gallery to set up and look after, but also a demonstration table in the Fireside Room to set up for my hour-long printing lecture and demonstration.

However, all of that went well, with transportation to and from the gallery taken care of with a MODO rental for 7 hours. The talk and demonstration had a number of attentive listeners, who asked some good questions along the way. Visitors at my sales table were all impressed by the images, and I showed them how I created the final image from any number of different starting points. Three prints were purchased by happy customers, and I was paid a speaker's fee for the lecture, so it was a good day all round for Sim Publishing.

Special thanks to management and staff at the gallery, including Darrin Martens, Bob MacIntyre, Shaun Dacey, John Ramsay, Talya Fuchs, and others whose names I didn't get (or can't remember) especially the kitchen volunteers and sales people. All of you made the day run smoothly and calmly, and enjoyable for all.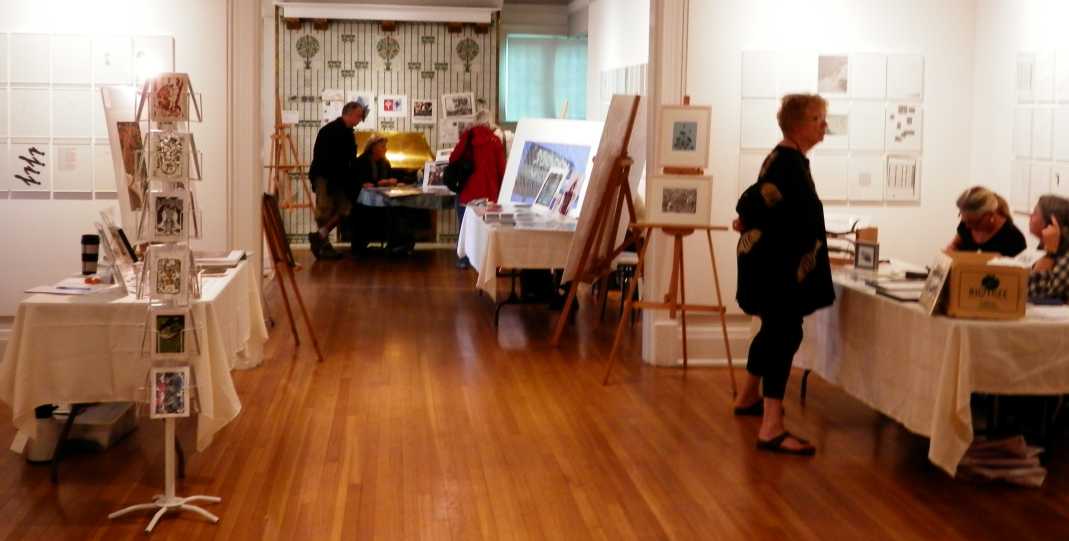 Some of the displays by other linocut artists in the gallery in a quiet moment.
---
... typical traffic jam, Georgia & Pender ...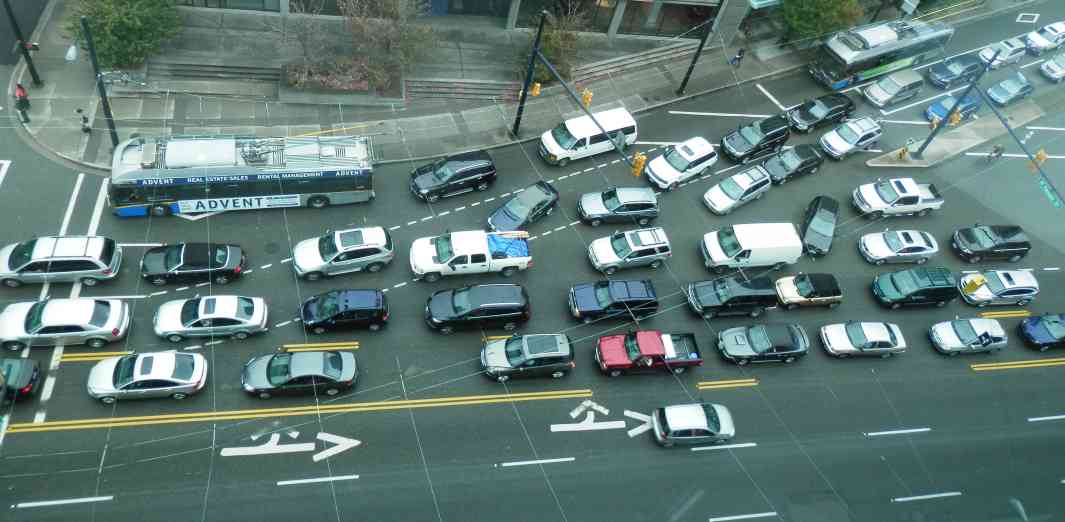 ---
... seen in Williams Lake ...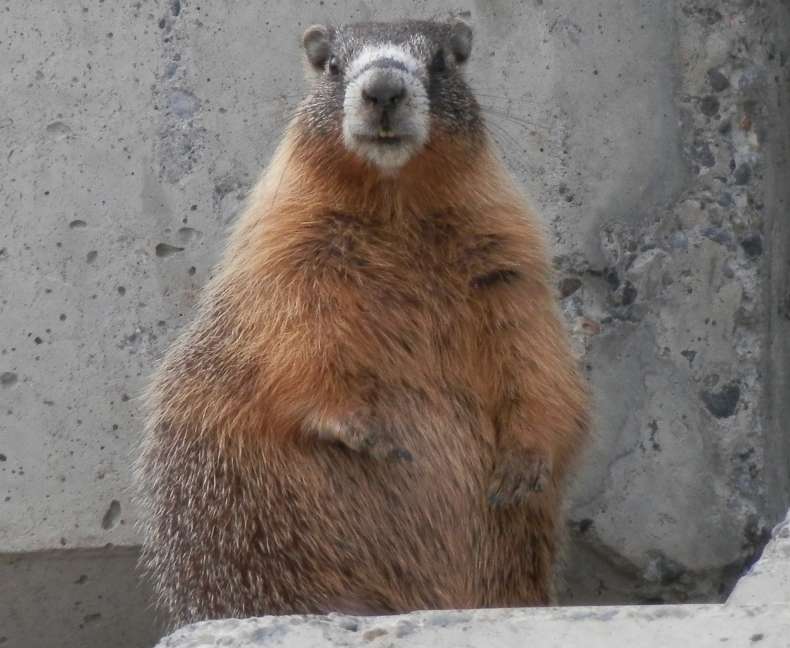 The Yellow-bellied Marmot on guard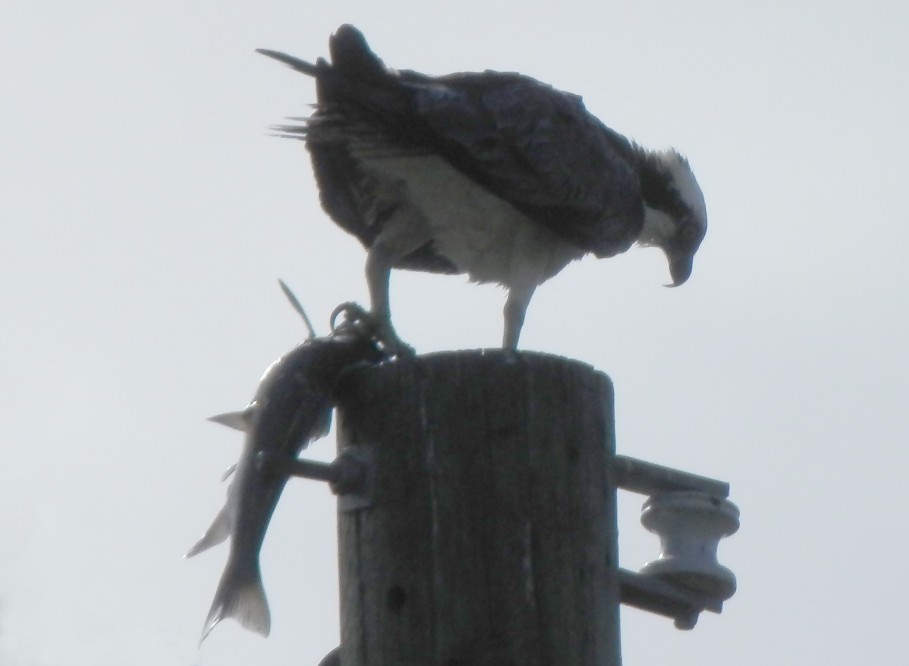 Osprey with fresh fish for dinner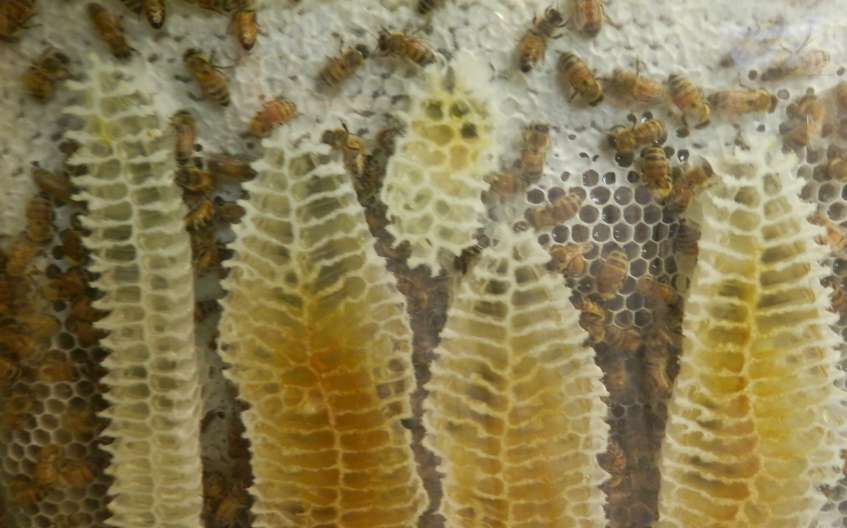 Beehive under glass at Scout Island Nature House
---
... lead type ornaments for sale ...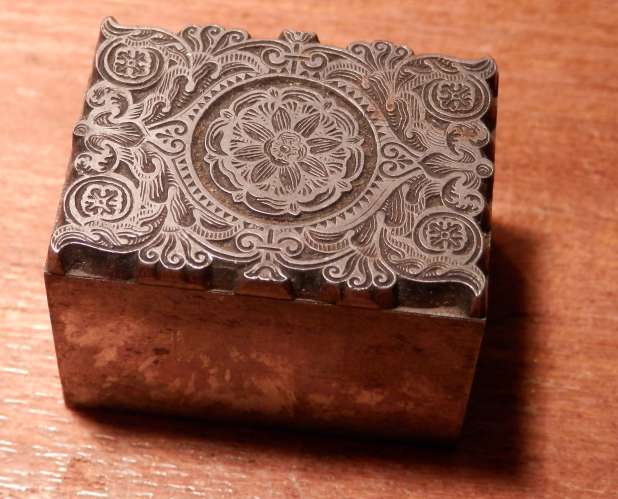 The lead type ornament shown here is from the collection of Gerald Giampa, noted letterpress printer. Following his unfortunate death his letterpress material mostly went to good homes, but some lead type is still available for purchase at Salmagundi West store, 321 West Cordova Street, Vancouver. This ornament is type high (0.918") and 72 point (1" text height), and gives an idea of the excellent work that Giampa did.
---
... seen in Masset, Haida G'waii ...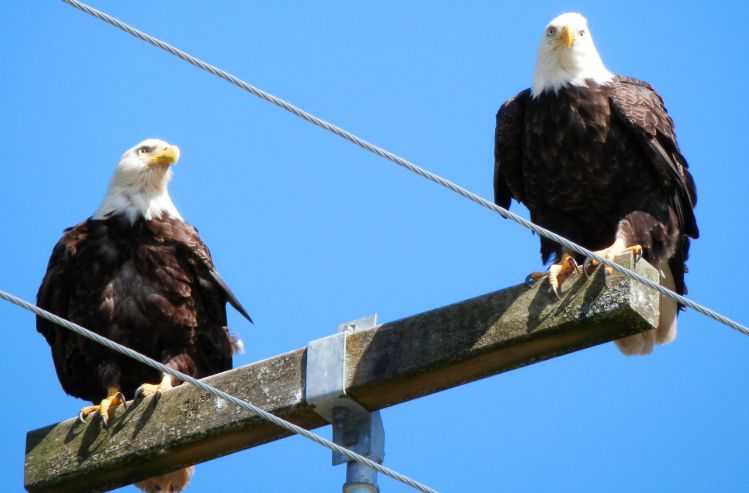 Bald Eagles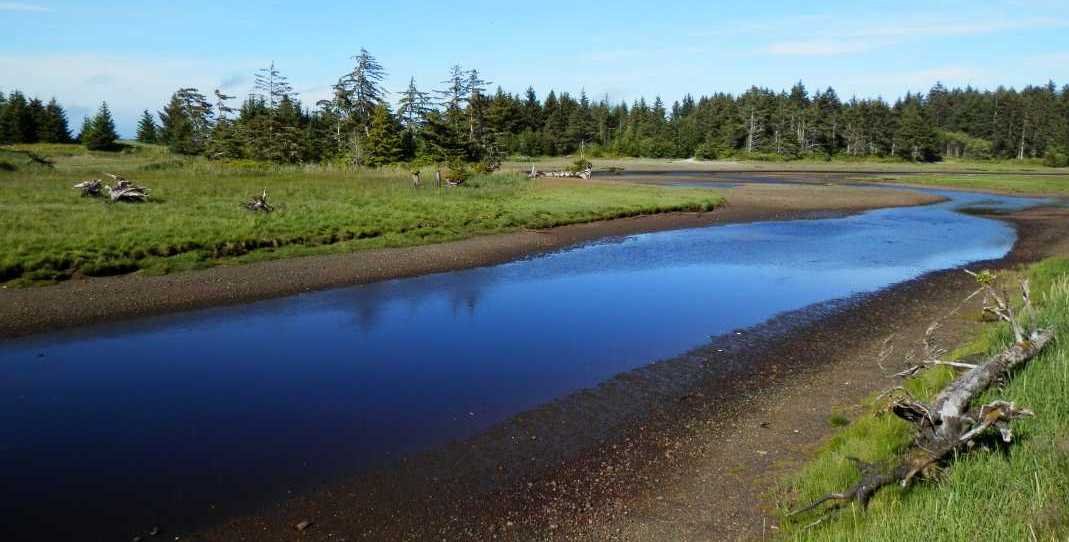 On the road to Tow Hill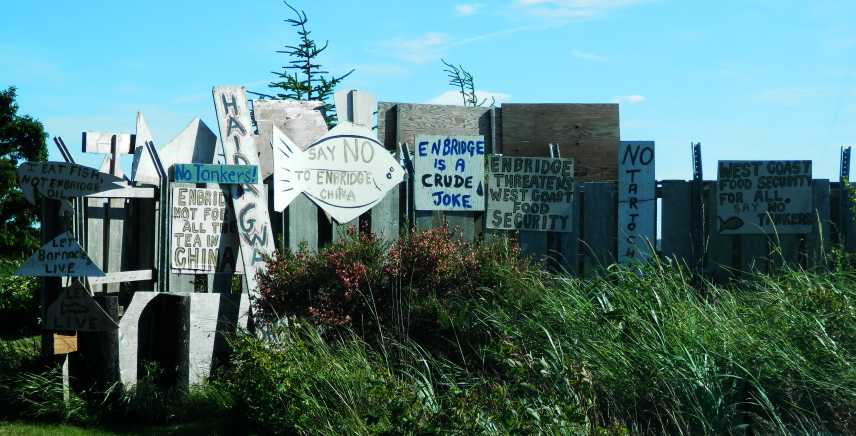 Protest signs at Old Masset


Helijet carrying fishermen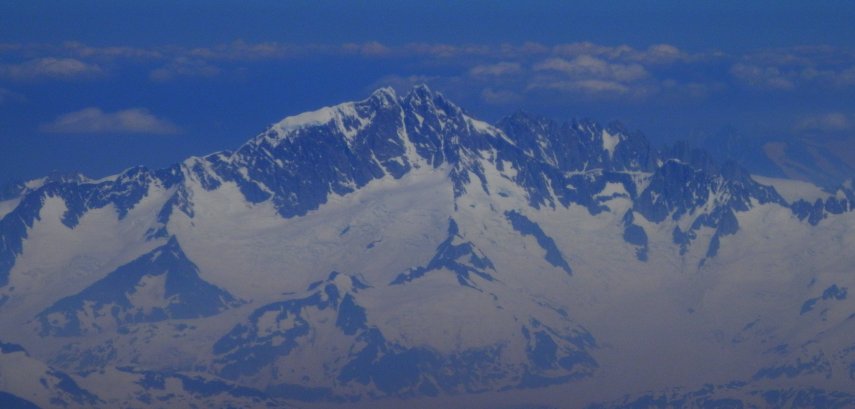 West face of Mt. Waddington seen on flight south to YVR
---
... seen on Green Lake Road, Okanagan ...
---
... tulips in the rain ...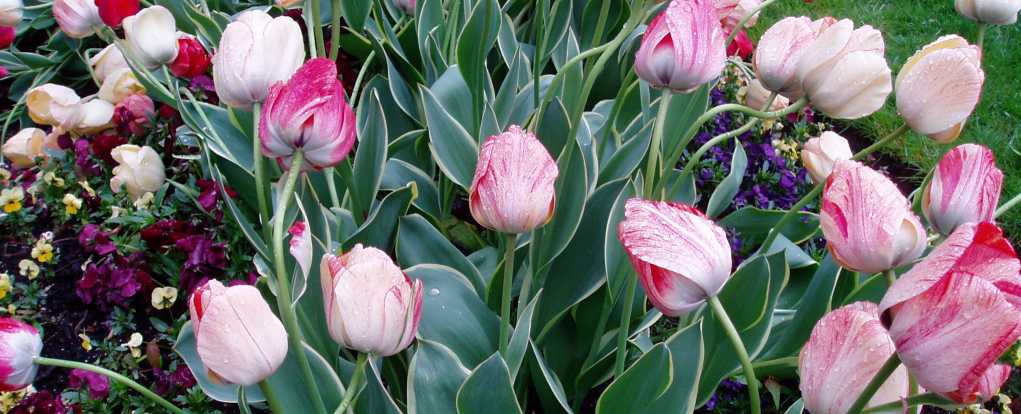 ---
NOPE, BC ARTISTS DID NOT WIN THE MELVA J. DWYER AWARD 2012
The jury has returned their verdict, and the winner is "The Codex Canadensis and the Writings of Louis Nicolas" (676 pages, 88 pages of colour images) from McGill-Queen's/Beaverbrook. Congratulations to the winners for their work. The ARLIS website will be updated with information from the conference in Toronto, including award winners. Perhaps there will be some words of consolation for other nominees.

I must thank Cheryl Siegel, Librarian at the Vancouver Art Gallery, for nominating BC ARTISTS for the Dwyer Award, and for her tremendous support of the project during the past 14 years while I spent hundreds of hours doing research in the art gallery Library. The staff has always been helpful, proactive in offering me information, and in putting forth new fonds for review. Cheryl has been a wonderful cheerleader for the project. Thank you.

In the meantime, whilst waiting for the award to be made, I have (of course) continued to work on BC ARTISTS. Since the nomination was submitted in December, I have indexed 2,400 more artists, added 55 more images, and listed many more publications. Biographical summaries and artist websites are being updated constantly. Work continues on integrating the ART & ARTISTS IN EXHIBITION: VANCOUVER 1890 - 1950 files and interface with the BC ARTISTS files.

In February and March updates paused for a while as I packaged up many copies of BC ARTISTS along with manuals and marketing material, and mailed out an "across the board" update of Release 1.3 to get folks on the same version. Now, having completed that, I am progressing with further bibliographic input, and the addition of numerous images. Essentially, I have a long list of things "to do" to BC ARTISTS, but am proceeding by doing each item on the list in its entirety. Thus, the 2011 Christmas holiday became a marathon of compiling the 430 volume bibliography of BC artist monographs, coupled with a physical rearrangment of the volumes on my shelf as they were catalogued. And so, on to the next item on the list ...
---
IN BELATED APPRECIATION ... OCCUPY VANCOUVER 2011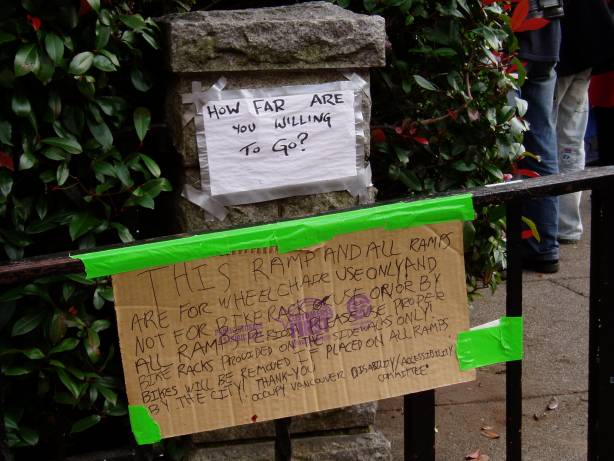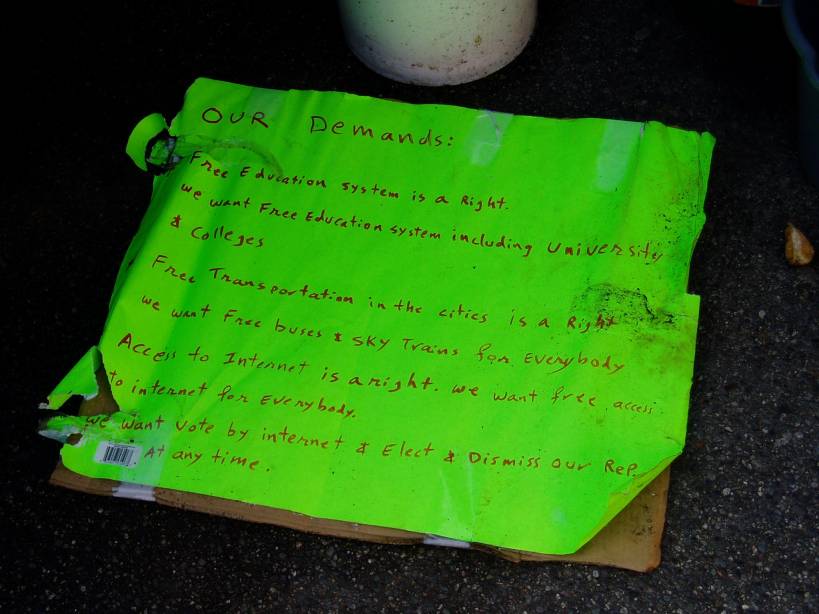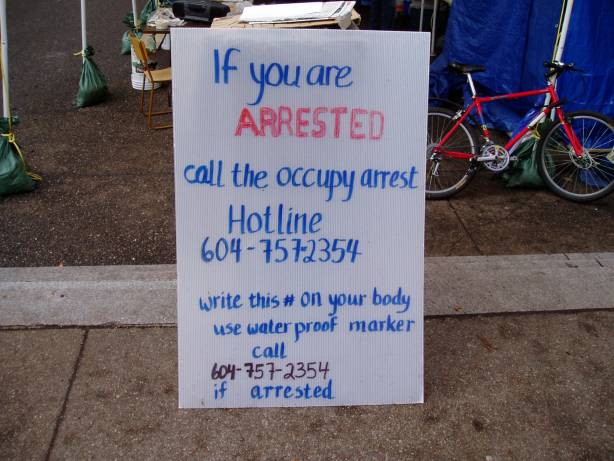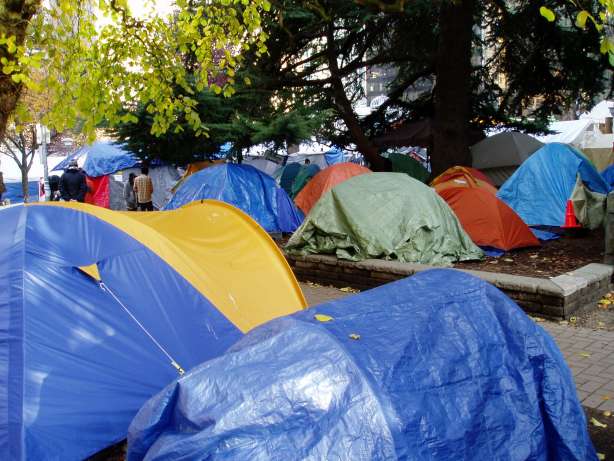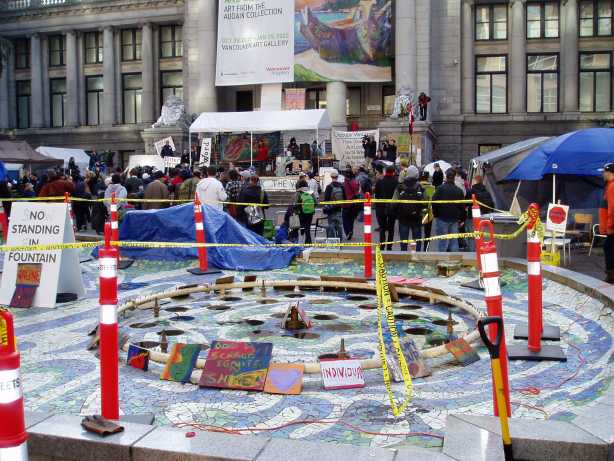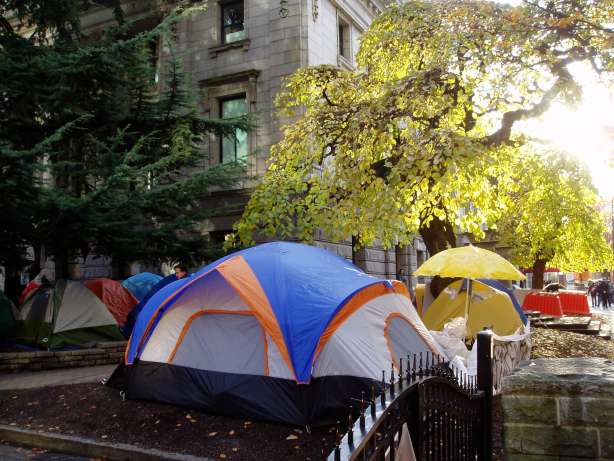 Browsing through some digital photos from last year, I came across a few that I'd taken one day at the Art Gallery on Georgia Street, wandering through the OCCUPY VANCOUVER encampment. The camp was quite neat and tidy, but my visit was after the first "crackdown" by city officials to make the campers provide clear access to all tents "in case of emergency" ...

Signage was much in evidence throughout the encampment. The sign taped to the handrail was a bit ironic, it admonished people not to lock their bikes to the handrail, it was for the use of handicap people only. The sign was taped to the top rail in a way that would actually impair "graspability" and would have better been attached lower down.

Regardless of that kind of nit-picking, I did have to admire the spirit and conviction of those who were protesting. The encampment had the air of a 1960s be-in, with the same common belief that people joining together to help each other out is a good thing. I did have to chuckle a bit at one of the demands on a sign being "access to the Internet is a right" as the Internet is a relatively new-fangled thing that we didn't have back in the 1960s. Some strange events have rolled through this part of town in the past while ... the 2010 Olympics ... the 2011 hockey riot ... OCCUPY VANCOUVER ... what's next?
---
STILL WAITING TO HEAR ABOUT MELVA J. DWYER AWARD 2012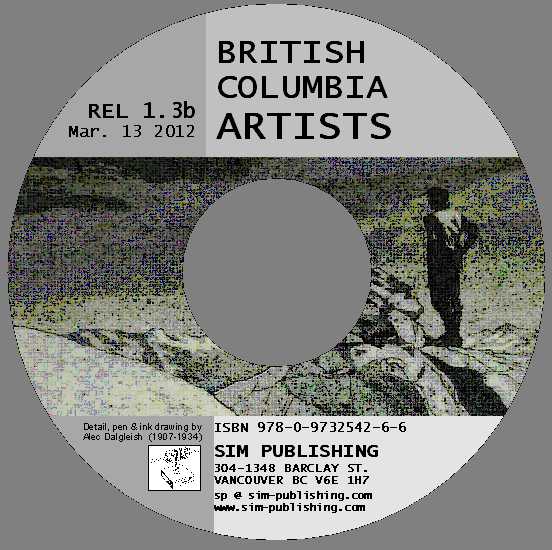 The winner of the 2012 Melva J. Dwyer Award will be announced at the ARLIS Conference at the end of March. The Vancouver Art Gallery Library nominated BRITISH COLUMBIA ARTISTS for this prestigious award, we await anxiously to find out the result. Frankly, we have hope, as there cannot be very many nominated reference works this year that have compiled the equivalent of 3,600 pages of information on more than 13,000 BC artists. If that isn't a worthy project, what is?

In the meantime, Sim Publishing has been mailing out updates to all of the owners of BRITISH COLUMBIA ARTISTS, trying to get everyone onto the same Release 1.3. We are close to completing that task. Much of the past year has been spent adding large amounts of information to the project, and as a result marketing and updating fell behind.
---
BACK TO THE FROZEN NORTH

Another project popped up at work, requiring a site visit to the 100 Mile House hospital. Flying & driving in mid-winter BC can be, well, a bit adventurous. Our flight to Williams Lake was delayed due to "heavy snow and high winds" but we eventually landed after one of the bumpiest approaches I can remember. The drive down to 100 Mile wasn't too bad, as the new snow was all powder and had mostly blown off the road.
---
NEW EXHIBITION OF DRAWINGS, ETCHINGS, & A PRINT AT LE GAVROCHE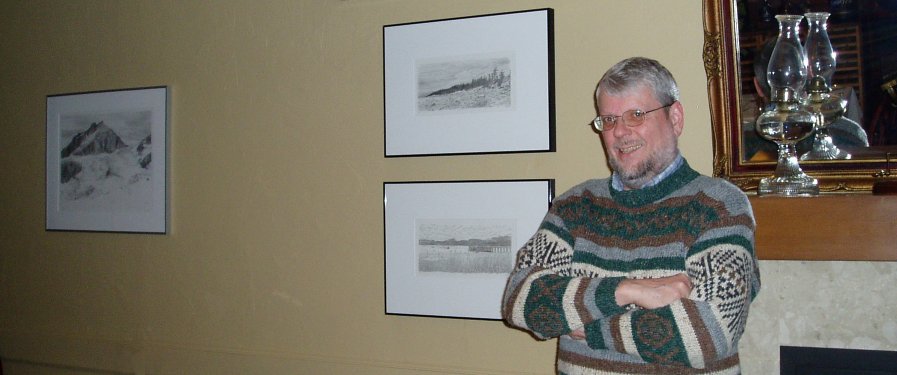 The folks at Le Gavroche Restaurant have redecorated following the holiday season. Part of the new look is an exhibition of recent drawings by Gary Sim, along with two etchings and one linocut print. The fireplace in the main salon is flanked by two drawings and two etchings. The photograph above shows the etchings and one drawing with the artist adjacent. Photo by Shelley.
---
LANDSTRIPES












Some slices of BC from my travels in the past few years ... from top to bottom:
Savary Island, looking north towards Desolation Sound
Georgia Strait, looking west over Gulf Islands to Vancouver Island
Predator Ridge, Okanagan, looking northeast
Sheridan Lake, (frozen) between Little Fort and 100 Mile House
Hillside south of 100 Mile House
Fraser River, south of Lytton
Fraser River, and train south of Lytton
East of Nicola Lake
Fence, south of Cache Creek
Misty road, south of Kamloops
Misty road, west of Merritt
Misty road, south of 100 Mile House
Rocky Mountain foothills, looking west from Williams Lake
English Bay, Vancouver
Coal Harbour, Vancouver
Vancouver Harbour, Vancouver
Sunset, Savary Island, looking north
---
AND SO INTO THE WINTER OF 2011-12 ...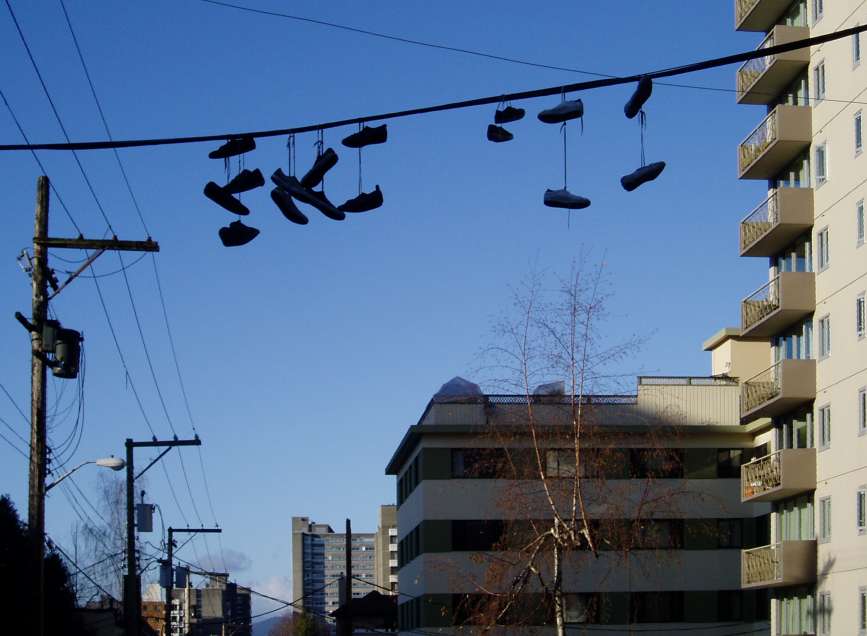 ... guess we put the boots to the old year (cough, sorry) ...
---
DEVICE TO ROOT OUT EVIL (AGAIN) ...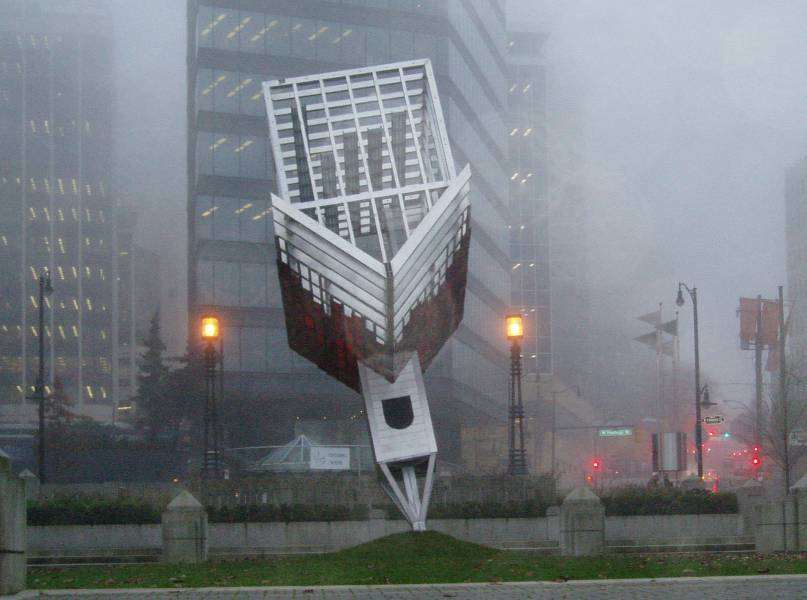 ... I found another batch of photos of this "banned" sculpture, these ones taken on a foul, wet, blowing, cold day ...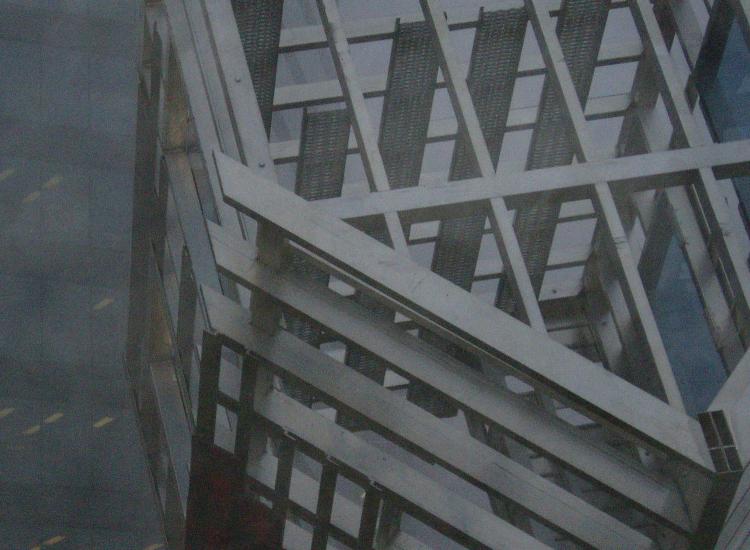 ---
Home
Copyright 2012