SIM PUBLISHING
Home Publications Artwork News Links About
---
NEWS ARCHIVE - 2011
---
SEASONS GREETINGS AT THE BEGINNING OF WINTER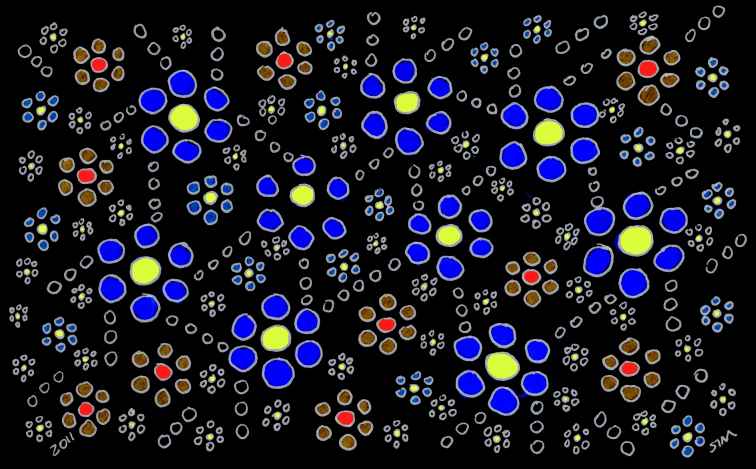 This is a low-res version of my seasonal greeting card for 2011, titled DENOMATOMUS. I attempt to create non-denominational cards, and was thinking about the usual use of the prefix "de-" as in deconstruct or decommission, versus its use in the words denomination or determination where it presumably has a positive use. Also, a word play on atom, suggested by the molecular look of the image, and a word play (noticed later) on noma, a company who makes christmas lights. The image was created as a pen & ink drawing with black ink on white paper, hand coloured. The drawing was scanned, and a negative image created, cropped, tweaked, and printed.
---
THE DOME ROOF - AN EXPENSIVE CROWN OF THORNS?
A view of the dome with its new "crown of thorns" adorning the top. I've heard that a recent cost estimate for the project was $770 million, but so far the city doesn't seem to think it has cost more than a mere half billion bucks. What's a quarter billion bucks between politicians and developers? Anyway, there's no worries about piles of money being left over blowing around in the street when those guys are done. To be picky, similar questions could be asked about the half billion overrun on oly-village, and the half a billion or so overrun on the convention center ... do these contracts come with clauses that approve driving money away in semi-trailer loads ... ? How can these projects all be 50 to 100% over budget? (Interesting pseudo-fact: the budget overruns on those three projects alone would have sustained the province's lost arts funding for approximately 1,000 years).
---
RUSSIAN MISSILE CRUISER ARRIVES ON GOODWILL TOUR

You never know what's going to pull into port these days. On Nov. 8th we saw the Russian Navy guided missile cruiser VARYAG arrive on a goodwill visit. A large portion of the deck area is covered with huge guided missile tubes (apparently 4 or 5 pairs per side - see below), and a very impressive gun is mounted on the bow (arrow). The ship's paint colour is fairly dark, which had us guessing "whose navy" but a google search found the answer. One of the ship's boats is quite large, noted by arrows to the left. The helicopter pad is at the stern, although no chopper was in sight. The ship's crew lined the rail for its arrival, which gave a good sense of scale to the size of the ship. If they let the crew ashore look out Granville Street! Tovarich!

---
MALASPINA PRINTMAKERS 101 PRINTS FUNDRAISER

The Malaspina Printmakers Society fundraiser 101 PRINTS was held October 28 at the Roundhouse Community Center in Vancouver. The photo above shows artist Kitty Blandy giving the opening remarks, with CBC radio's Lisa Christianson center ready to emcee the event, and artist Jocelyn Barrable Segal on the right ready to start marking down the numbers that have been selected.

Sim Publishing donated etchings Looking West and Water Taxi to the event, which were selected about halfway through the draw. The room was full of people viewing the wide range of prints, and enjoying excellent hors d'oeuvres and the live jazz band that was playing.
---
ALCUIN WAYZGOOSE LINOCUT DEMONSTRATION A SUCCESS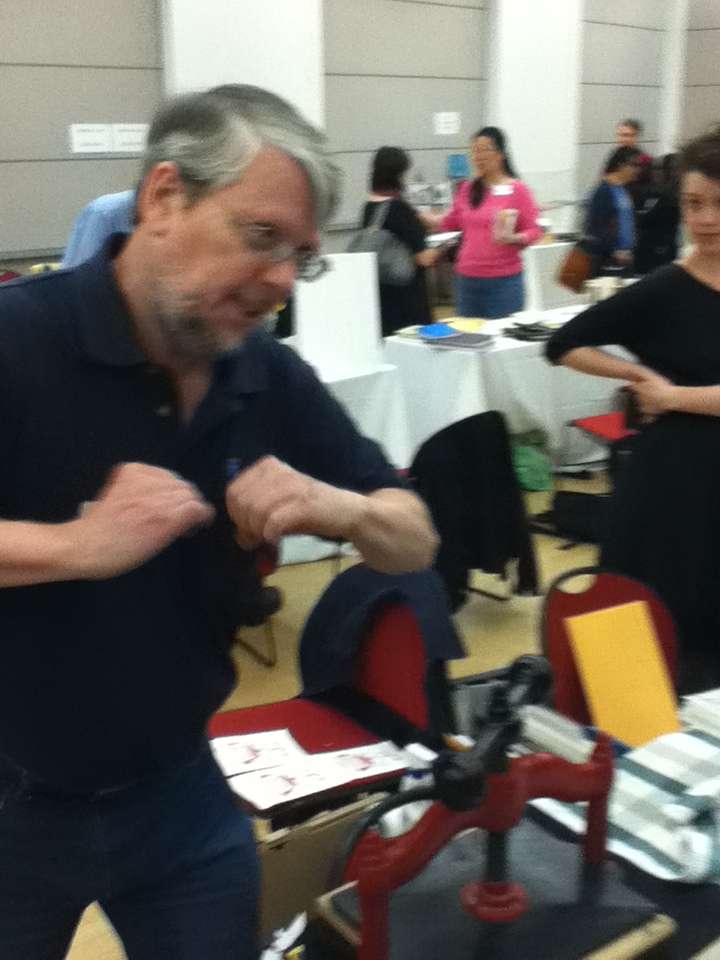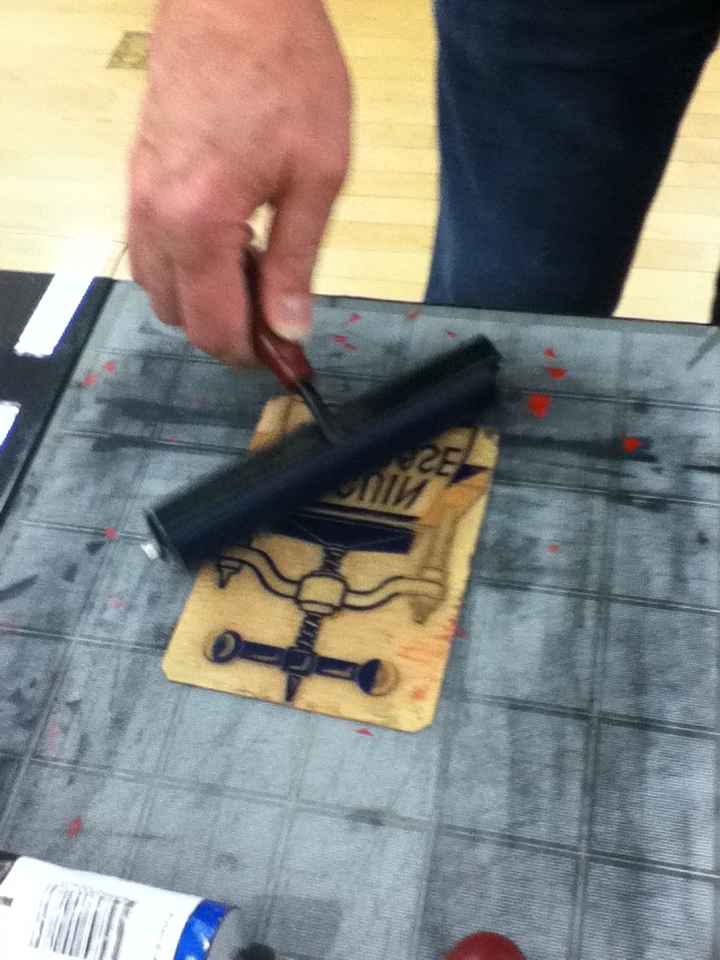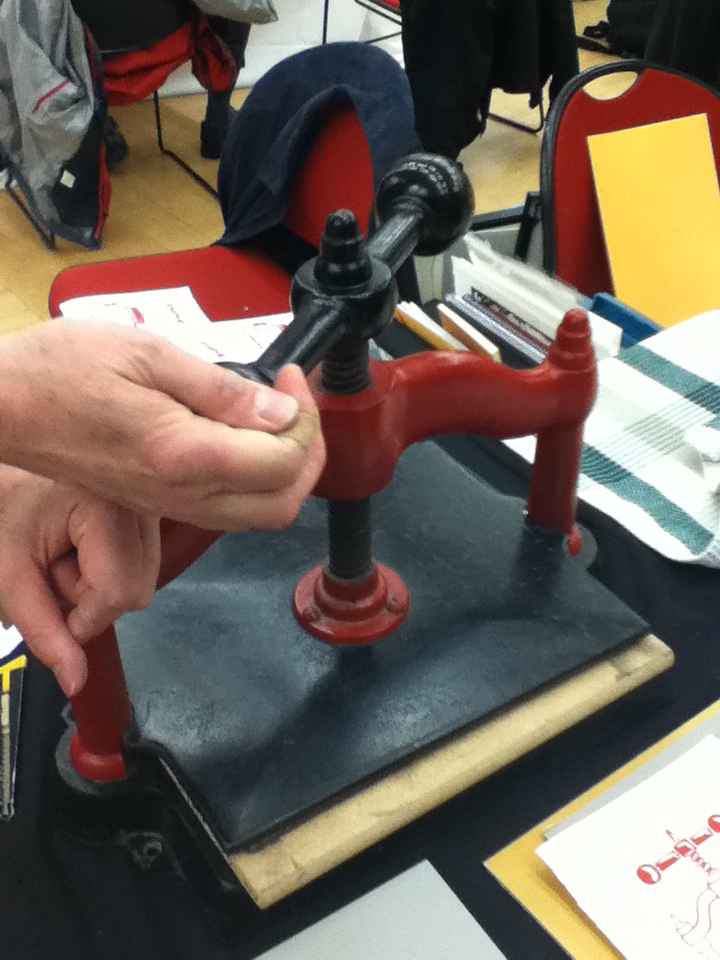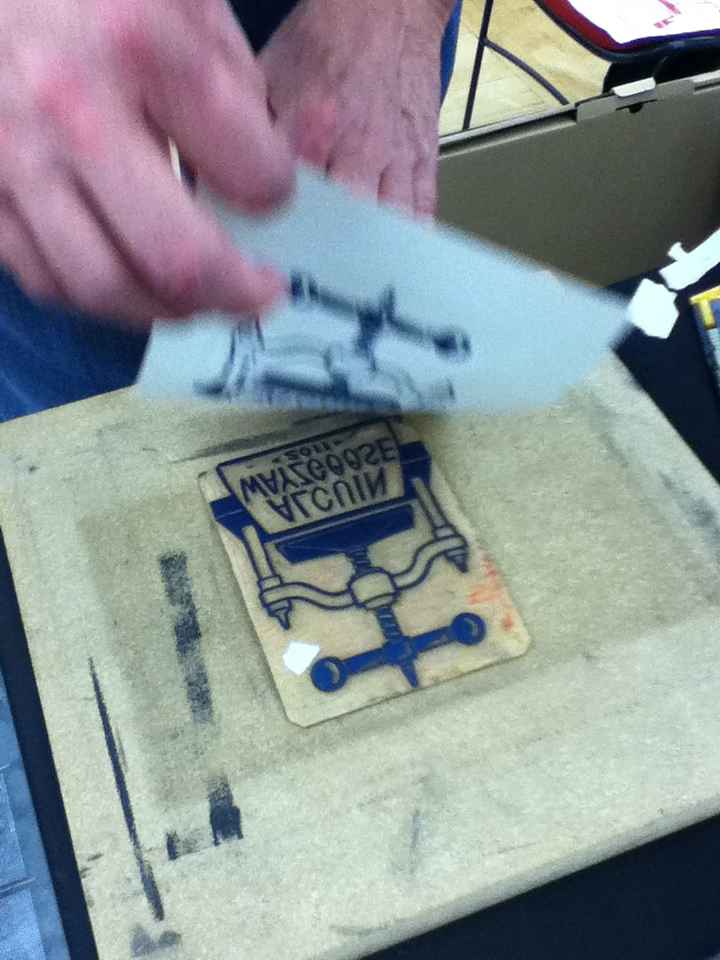 Well, I survived the Alcuin Society's Wayzgoose printing fair. It was a LOT of work and preparation, and I haven't been so tired at the end of a day for a long time. However, many people came by and watched me printing keepsakes (over 50 were printed and given away free). Over 40 people signed up for my e-newsletter and a chance to win a print of Otters on Savary Dock. The print was won by a VPL Librarian, who was very happy to receive it.

The photographs above were taken by Jason Vanderhill, a Director of the Alcuin Society, and are used with permission and thanks. I actually not only forgot to take my camera, but also forgot to take any pictures myself.

From left to right: I am demonstrating the effort required to crank down on my press to make good prints (my very able assistant for the day Kim Koch is seen on the right); rolling ink onto the linocut; pressing a keepsake; and peeling a printed keepsake off the linocut after pressing it. A hand coloured version of the keepsake is below.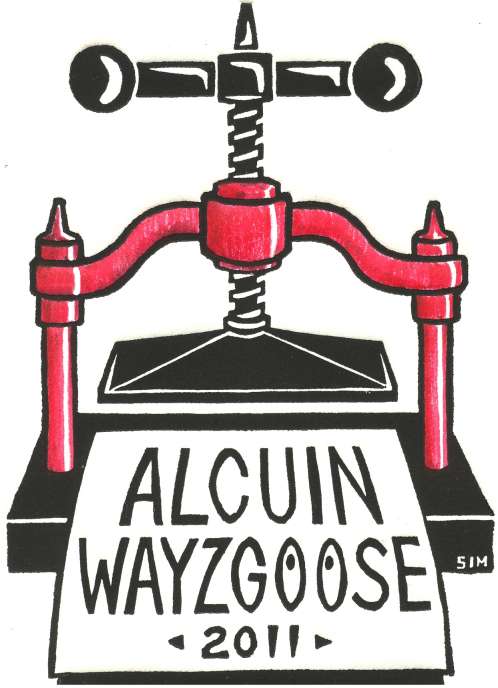 Thanks are due to the Alcuin Society for sponsoring the event, for inviting me to demonstrate linocut printing, and for their ongoing support of the letterpress and print community!
---
LINOCUT DEMONSTRATION UPCOMING OCTOBER 22 AT ALCUIN WAYZGOOSE

(Wayzgoose Printing Fair logo by Alcuin Society, used with thanks)

I have been invited to give a demonstration of linocut printing at the Alcuin Society's Wayzgoose printing fair. This is a celebration of letterpress printing and the book arts. It will be held Saturday Oct. 22 at the main branch (downtown) of the Vancouver Public Library, from 10:00 a.m. to 4:00 p.m. Admission is FREE. Please see WAYZGOOSE for more information about the event.
---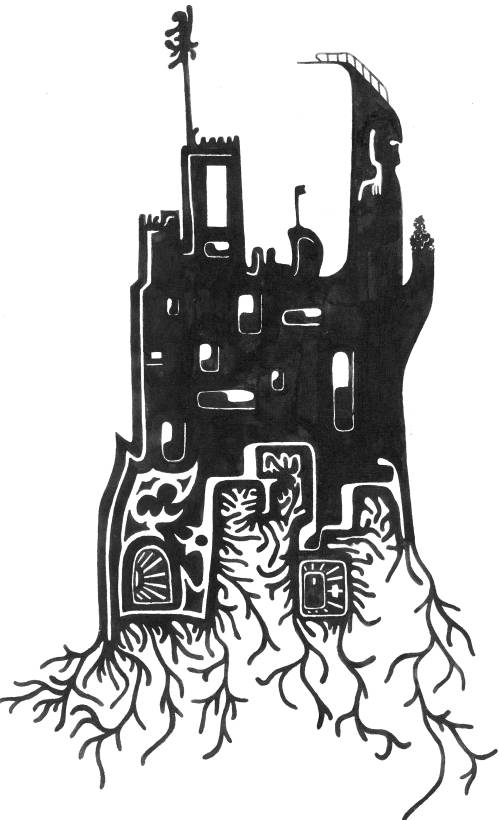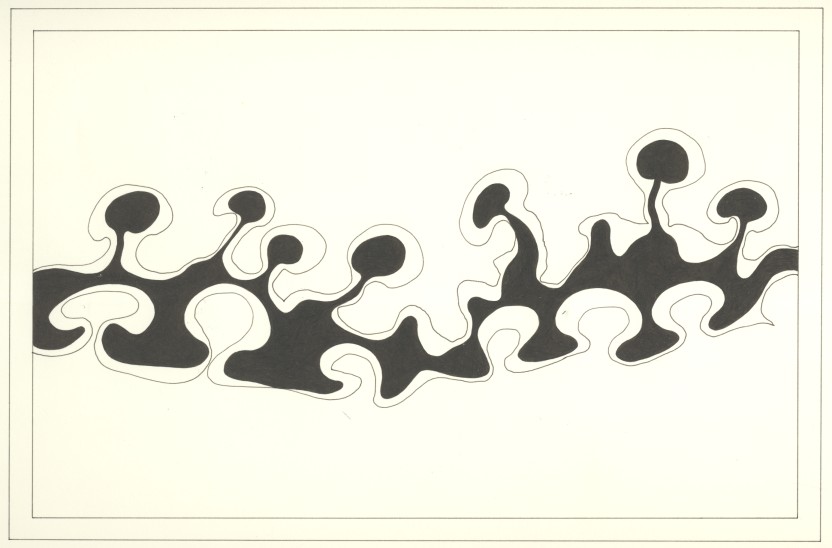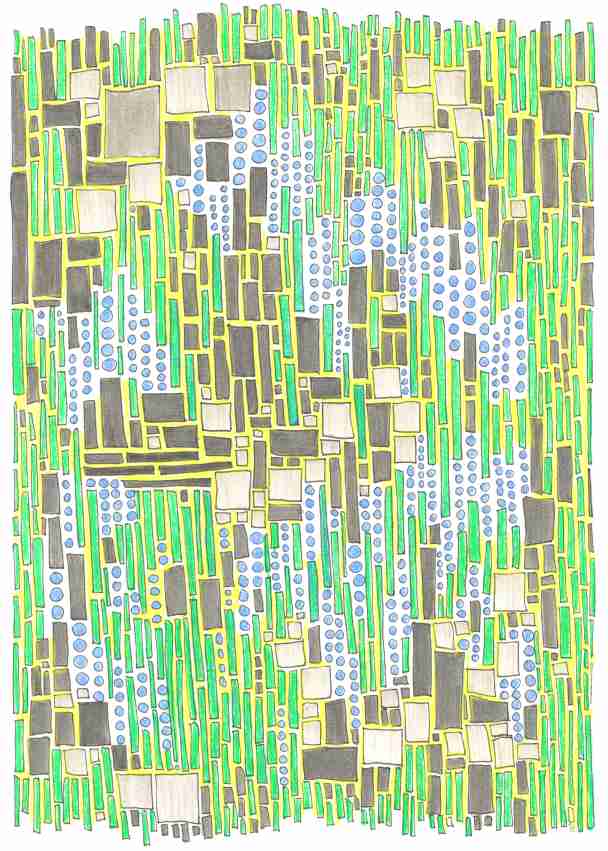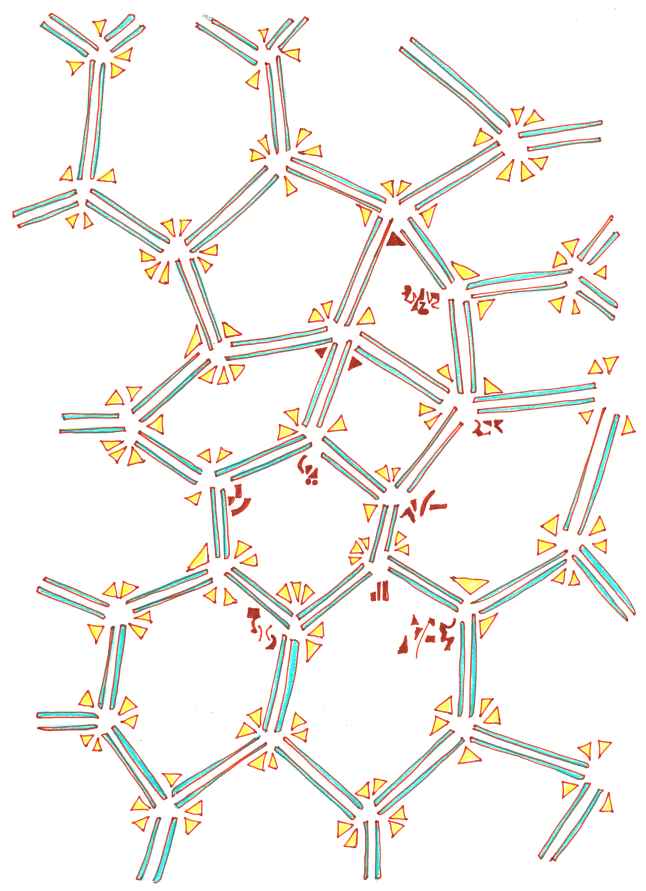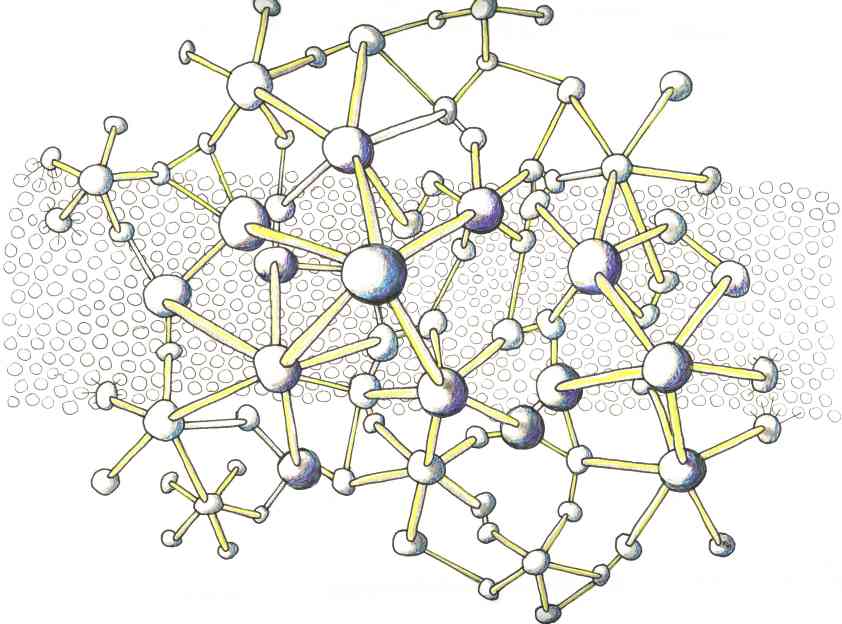 ADDITIONAL DRAWINGS POSTED
Pen & ink, colour pencil drawings

I've posted some more drawings: My Castle on the left was drawn c1968, Abstract Forms c1970, and Grid, Nodes, Connections were drawn in 2009.
---
DEVICE TO ROOT OUT EVIL (revisited)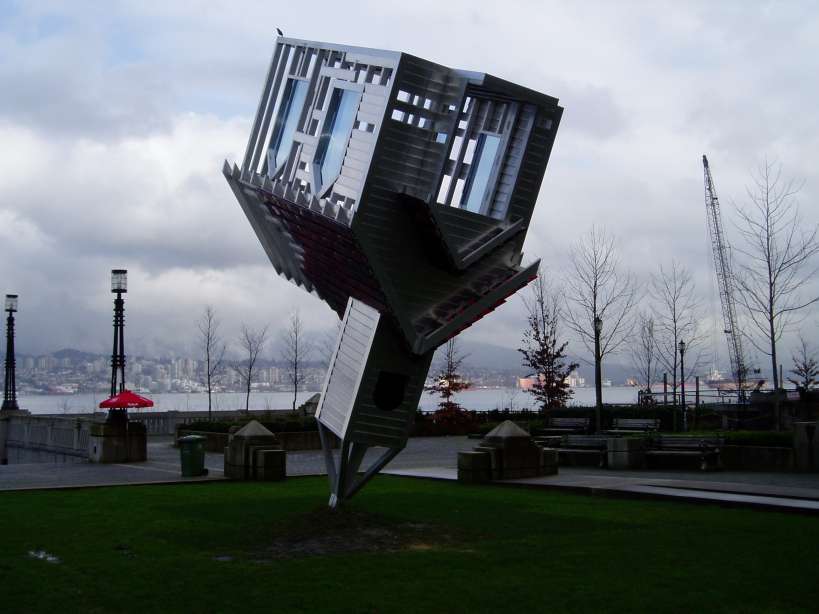 I took a few photographs of this controversial artwork while it was installed along the seawall in Vancouver. The photo above - found whilst rummaging around looking for a different photo - gives a good general view of the sculpture on a stormy day, a starling perches at the top. It seems amazing that public outcry actually kept this artwork from being installed anywhere in the United States. One of the construction cranes working on the shoreline extension project for the convention centre is seen beyond on the right.
---
DESCENT FROM MT. WADDINGTON PENCIL DRAWING IN PROGRESS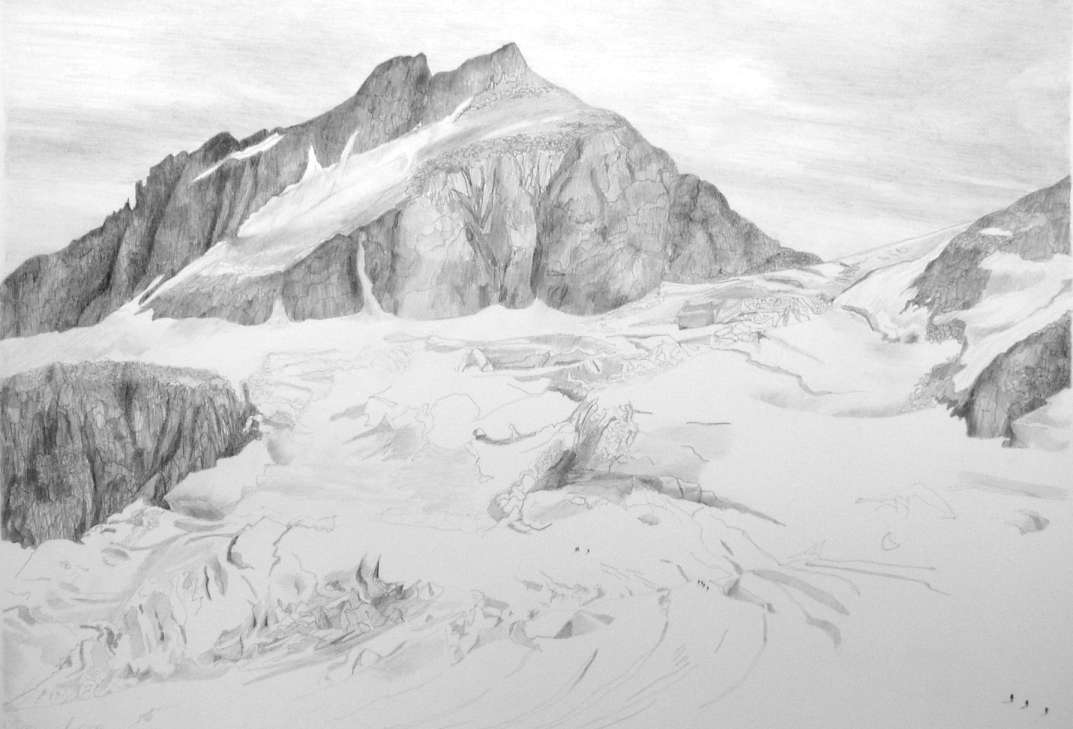 Following close on the heels of the large drawing Mt. Waddington & Scimitar Icefall I am working on a new drawing that shows part of our expedition's descent from Mt. Waddington. In this view, 10,000 foot high Mt. Dickson forms the backdrop for a glacial bowl just above the head of the Scimitar Icefall. There are 3 ropes of climbers seen in the drawing, starting at lower right. This scene is composited from a series of photographs that I took while waiting my turn to rappel down a 400 foot high ice cliff to join the climbers below.
---
MT. WADDINGTON PENCIL DRAWING NEARING COMPLETION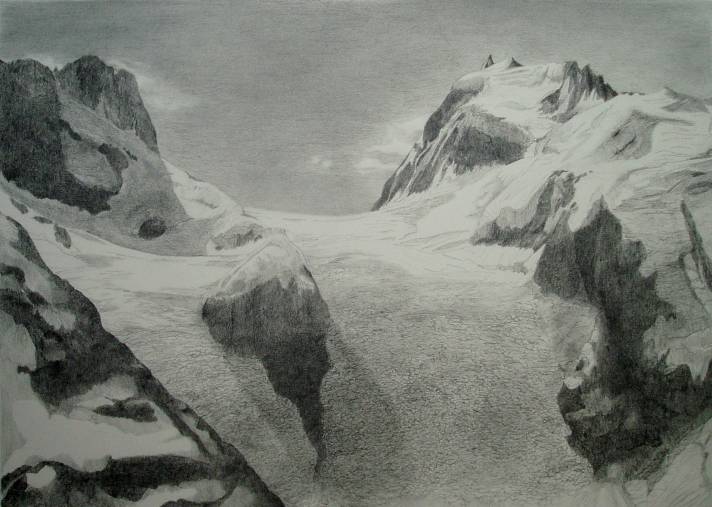 This is the largest artwork I have attempted for some time. It was interesting to draw, as it was really a number of separate drawings done on one sheet. The sky, Mt. Waddington, Mt. Combatant (left), the icefall, and other elements were each drawn in turn. Refer to Mt. Waddington & Scimitar Icefall for more information.
---
MAKING IT! NOW AVAILABLE!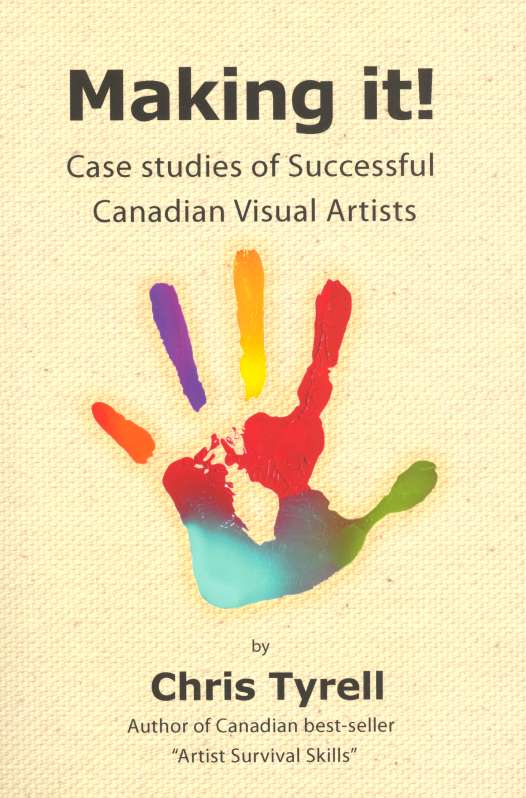 Chris Tyrell's new book MAKING IT! (ISBN 978-0-9809528-1-0, CT Productions) is now available for purchase. I found it on sale at OPUS Art and Framing store, but I'm sure it will be available elsewhere. In it, Chris interviews a number of Canadian (mostly B.C.) artists about their business and marketing practices, highlighting "tips and tricks" that have been successful (or not) in their careers. I was lucky enough to get an entire 10-page chapter to myself. Below are scans of the first two pages of "my" chapter. A black and white version of Eucalyptus was selected as the illustration. Refer also to www.christyrell.ca for more information.



---

OTTERS AT SUNSET
Digital photograph

Down at the harbour at sunset waiting for the "super moon" to rise, a last ray of sunlight slivers through the west end high rises to shine on a single engined Otter, tied up for the day along with the rest of the fleet.
---
ANOTHER UNIQUE VESSEL IN THE HARBOUR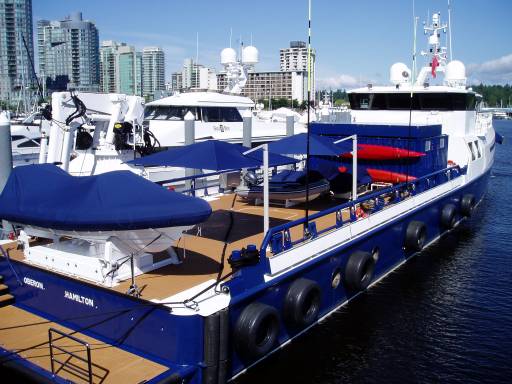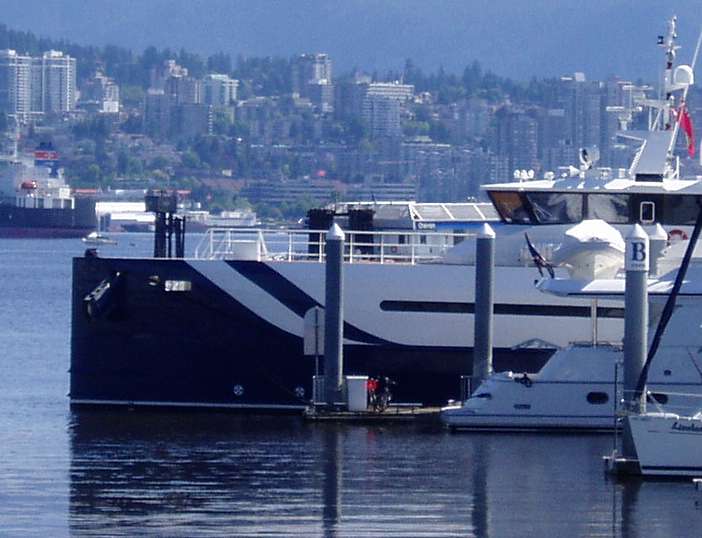 We spotted this ship from our office last week, and wanted to find out more. Roger reported that it was named OBERON, so i googled it and found that it is a one-of-a-kind "super yacht support vessel." It is 50 meters long, with a top speed of 28 knots. The stern crane, with a lifting capacity of 10 tons, is intended for loading and unloading of "water toys" and assorted cargo, in support of super yacht operations. The bow is a patented design called the "Sea Axe."
---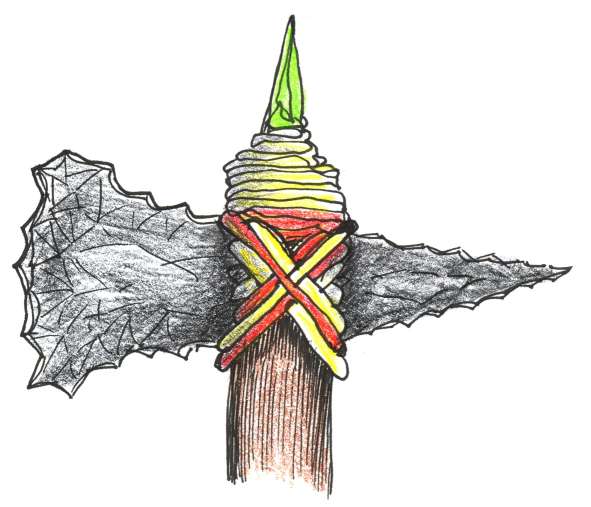 WEAPON STUDIES
Pen & ink, colour pencil drawings

These are some sketchbook doodles drawn while thinking about early handmade weapons. The ideas were an outgrowth from a series of story boards for a movie idea.
---
WEB SITE UPDATED WITH ARTWORK PRICE LIST AND ADDITIONAL ARTWORK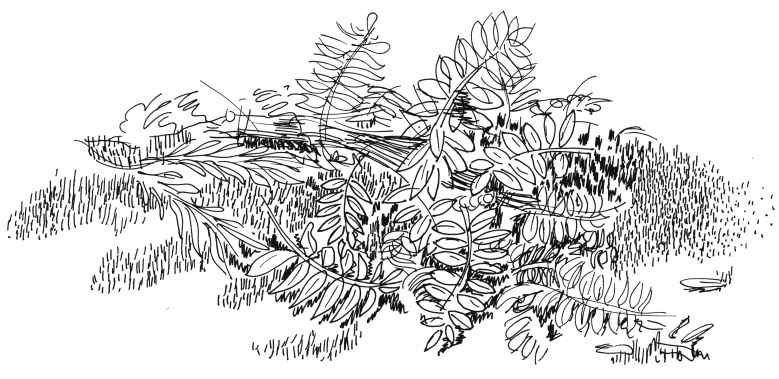 After much text and image editing and uploading, almost all artwork listed on this website is now linked to an overall ARTWORK PRICE LIST, with the exception of Other Work (in progress). This will make it easier to review and compare the artwork prices, where the previous format had each price listed individually on the artwork's web page.

In doing this, I realized that quite a few drawings were not listed on the website, although a smattering of the images have been used to illustrate some pages. New webpages for artwork include the following:

---

... Vancouver harbour in summer, planes and boats and a quad getting a workout ...
---
MIKE HORN'S EXPEDITION SHIP PANGAEA SPOTTED AT VANCOUVER DOCK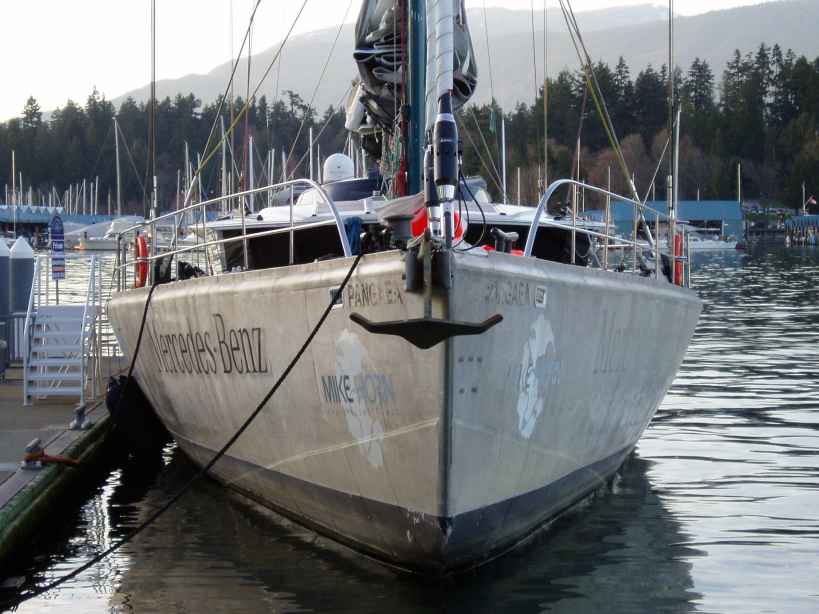 A bow view of Pangaea at dock, sunset March 19, Vancouver.

I went down to the harbour seawall on Saturday night to see if I could see the "super moon" rising. Whilst idling about (moons rise slowly, it seems) I took a few photos of Pangaea moored in Coal Harbour. The ship is on an extended voyage around the world, as part of the vision of Mike Horn, a South African adventurer. Have a look at his entry on Wikipaedia for some of the amazing trips and adventures that he has done, including journeys to the North Pole, around the equator without a motor, around the Arctic Circle on foot, and some climbing in the Himalayas. The ship has just crossed the Pacific, and does not look anything like the local gin cruisers. The lettering on the bow has clearly plowed through thousands of real waves.

A side view of Pangaea at dock, sunset March 19, Vancouver.
---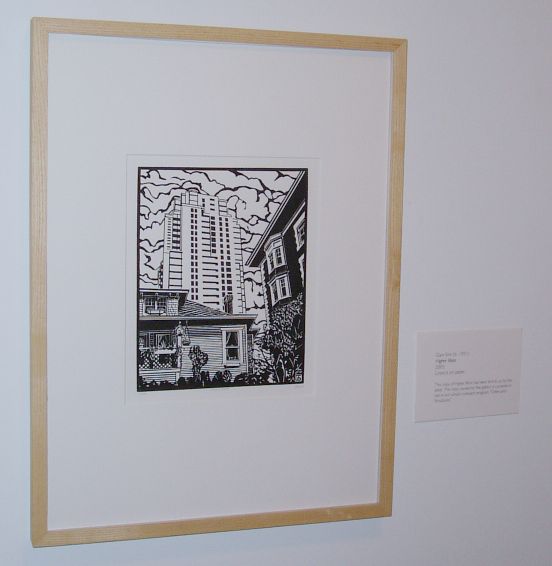 SIM PRINT "HIGHER RISES" IN BURNABY ART GALLERY EXHIBITION
The linocut HIGHER RISES is now on show in the exhibition "Selections from the Permanent Collection: Linocuts" at the Burnaby Art Gallery until April 3. Other prints in the show include work by E.J. Hughes, Paul Goranson, Lionel Lemoine Fitzgerald, and Bob Steele. I was only able to take a photograph of my own work in the exhibition.
---

... an interesting rainbow over North Vancouver, seen across first narrows, beyond the trees of Brockton Point ...
---
"LUNCH WITH A LEGEND" WITH TREVOR LINDEN AT IL GIARDINO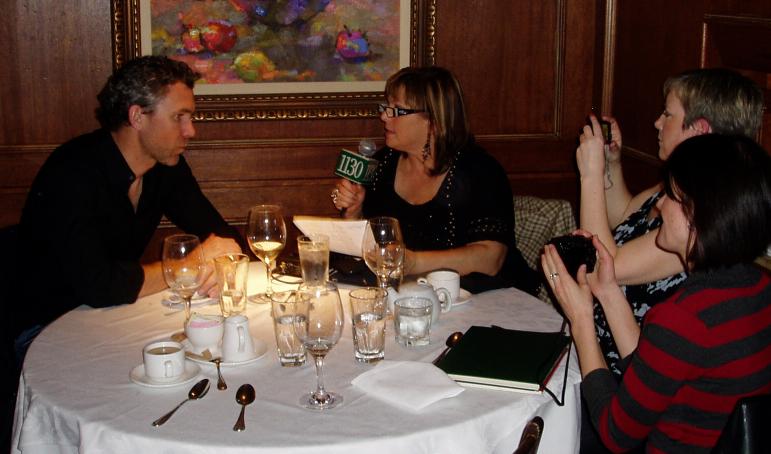 After lunch photos and Kim's imterview.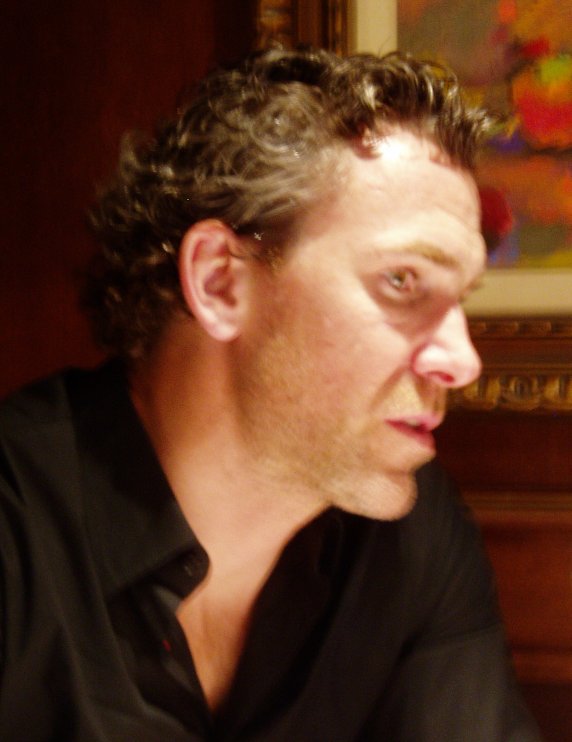 An attempt at an artistic low-light portrait.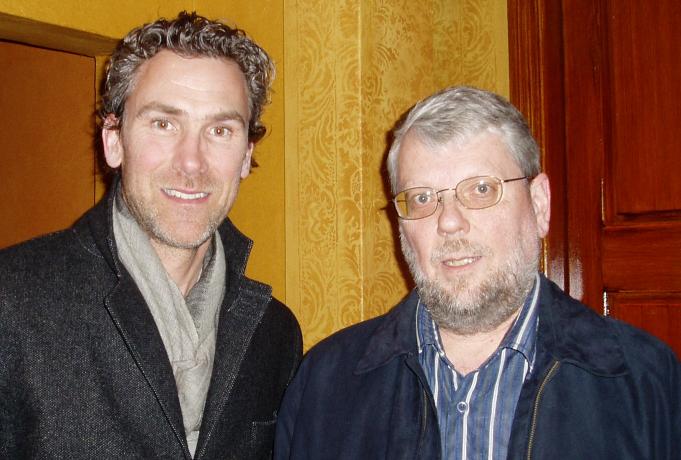 Farewell photos.

Farewell photos.

Out of the blue, I was offered a ticket to have lunch with Trevor Linden at Il Giardino. A table for 5 guests had been auctioned off last year as a fundraiser for the Big Sisters organization. Trevor and I were joined by three ladies who are affiliated with Big Sisters, as well as by News1130 airborne traffic newscaster Kim Seale. Umberto Menghi selected a delicious multi-course lunch for us to savor, accompanied by fine wine and excellent service.
---
MALASPINA PRINTMAKERS SOCIETY 101 PRINTS FUNDRAISER POSTPONED
The Malaspina Printmakers Society fundraising auction 101 Prints originally to be held Thursday March 24 2011, at the Roundhouse Community Arts & Recreation Centre has been postponed until the fall. Two Sim etchings will be available as one lot: Looking West and Water Taxi.
---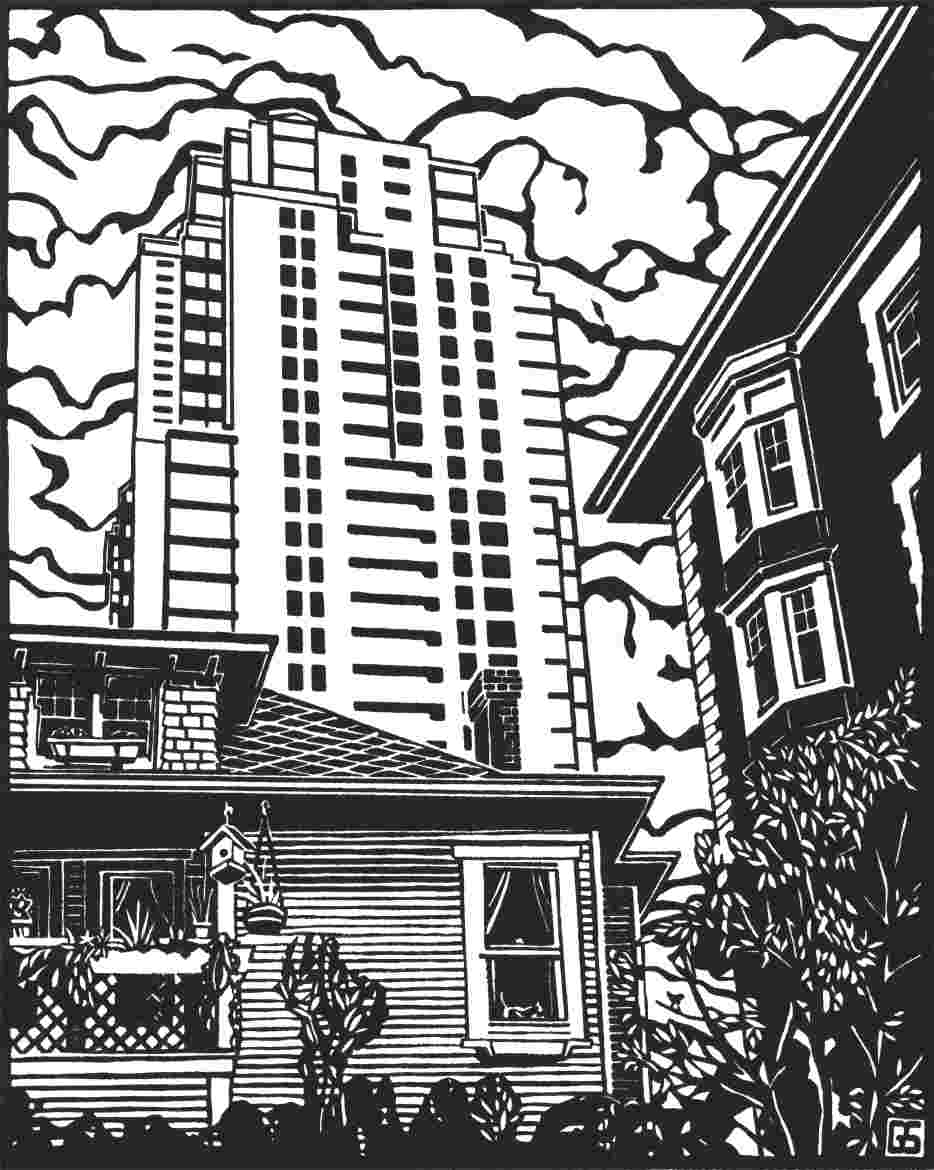 SIM PRINT "HIGHER RISES" TO BE IN BURNABY ART GALLERY EXHIBITION
The linocut HIGHER RISES will be shown in the exhibition "Selections from the Permanent Collection: Linocuts" at the Burnaby Art Gallery from March 4 to April 3. Other prints in the show will include work by E.J. Hughes, Paul Goranson, Lionel Lemoine Fitzgerald, Bob Steele, and others.

The Burnaby Art Gallery has generously donated a number of their early exhibition catalogues to Sim Publishing, for use in updating BRITISH COLUMBIA ARTISTS.
---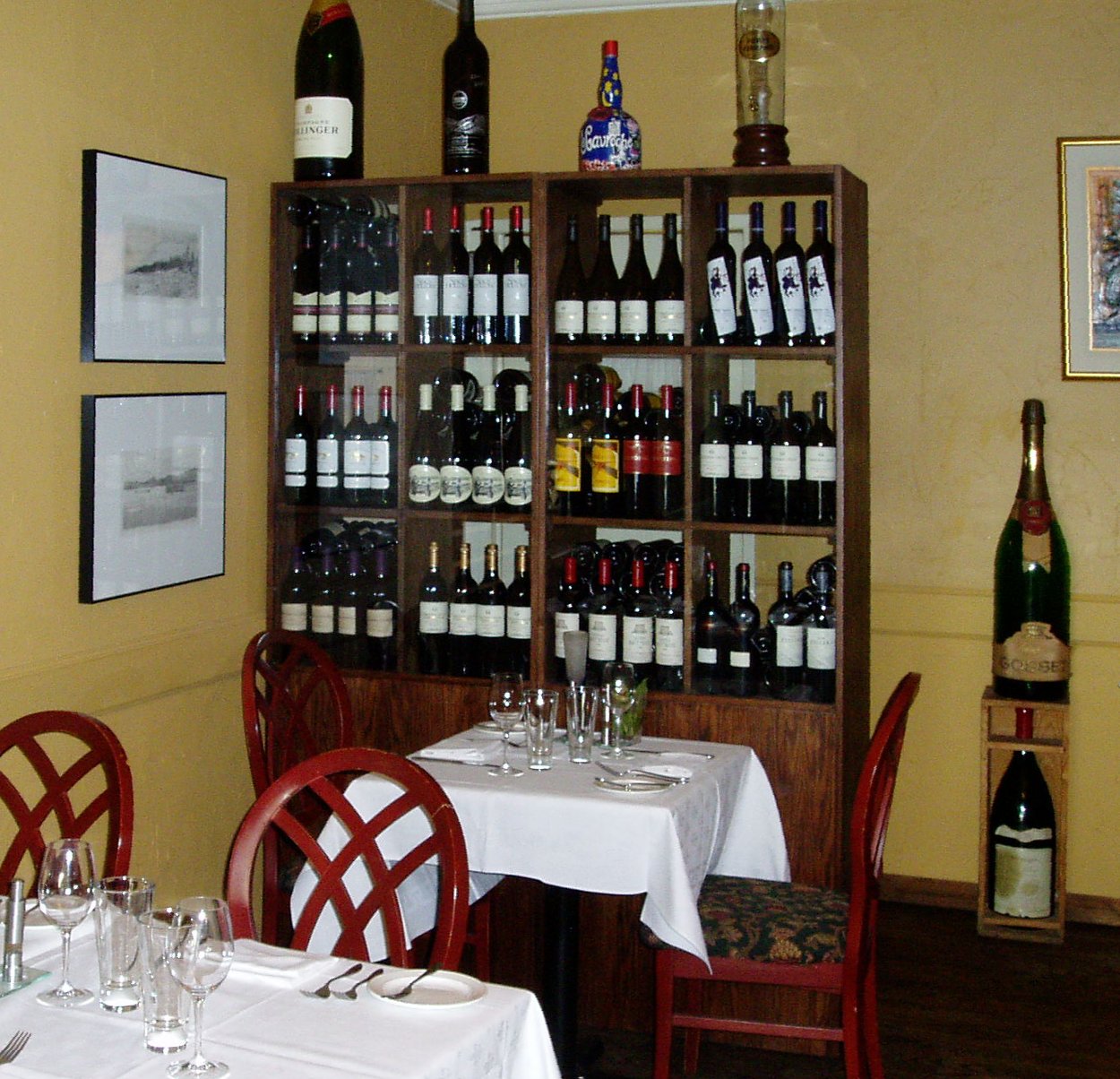 SIM ETCHINGS ON EXHIBITION AT LE GAVROCHE RESTAURANT
Etchings LOOKING WEST and WATER TAXI are on display at Le Gavroche Restaurant, 1616 Alberni Street, Vancouver. The two etchings are seen on the left in this photograph. This new corner seating arrangement is made possible by the new millwork housing the wine bottles, design by Hector Uvence.
---



Although the Vancouver Art Gallery Library nominated BRITISH COLUMBIA ARTISTS for the 2011 Melva J. Dwyer Award, the person in charge of the jury now claims that he "forgot" to register the nomination from the Vancouver Art Gallery. As a result, the project was not even considered for this year's award. Frankly this is hard to believe.
---
"MAKING IT! Case Studies of Successful Canadian Visual Artists"
Chris Tyrell (www.christyrell.ca) has written to say that his new book on marketing for artists is finished and ready to be sent to the printers. Chris hopes that the books will be available by July. A launch party is planned for September. There are 15 chapters that look at various ways for artists to communicate, market their work, and advance their career. I have a 10-page chapter in which Chris discusses how he sees me laying the groundwork now for a successful post-retirement career, using tools like this website, e-mail newsletters, and the BC Art Salon.

A number of artists were interviewed for the book, including Richard Tetrault, Kitty Blandy, Ross Penhall, Jude Griebel, Tiko Kerr, and Marcus Bowcott. From the index pages I've seen it promises to be a very interesting, useful, and valuable reference work for artists.
---
THE SOLSTICE SESSIONS - DIGITAL TWIDDLING ONGOING
The 31 tracks recorded at Saga Recording Studio in December are still in the works for posting, as experimentation continues with digital sound editors, formats, file sizes, sound quality.

Samples will be posted here: Solstice.
---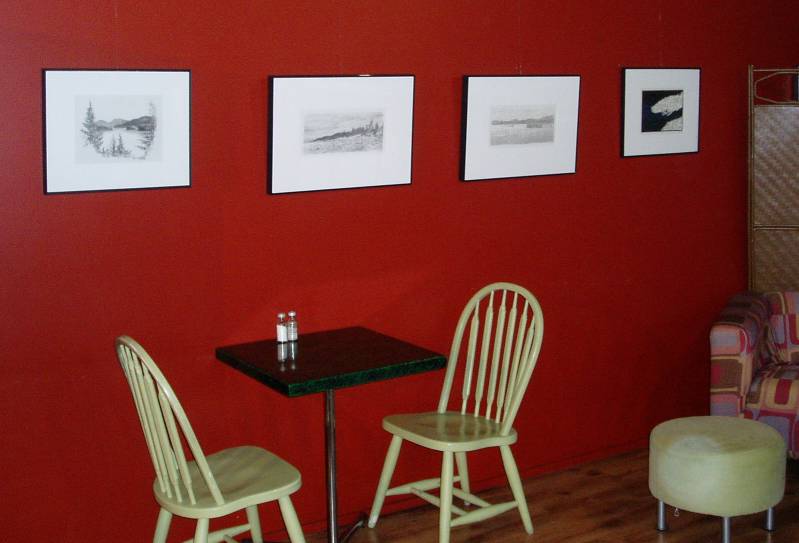 SIM ARTWORK AT DAILY GRIND CAFE, 1500 W. GEORGIA
A small show of work is on display in the cafe behind the pool at 1500 West Georgia Street. Seen above, left to right, are Morning, Egmont (pen & ink drawing), Looking West and Water Taxi (etchings), and Skookumchuck (hand tinted linocut print).
---
BRITISH COLUMBIA ARTISTS NOMINATED FOR 2011 MELVA J. DWYER AWARD
The Vancouver Art Gallery Library has nominated BRITISH COLUMBIA ARTISTS for the 2011 Melva J. Dwyer Award. This is given annually to "an outstanding reference work on Canadian art or architecture." Please refer to BRITISH COLUMBIA ARTISTS page for more information about the project.
---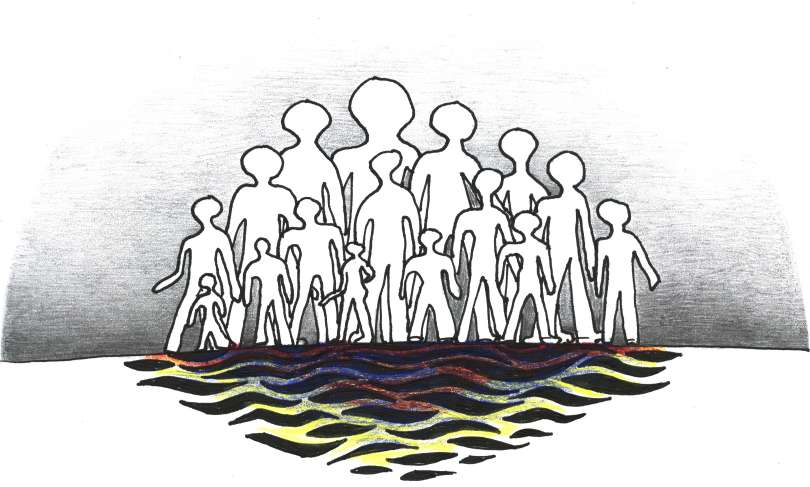 NEW YEARS GREETINGS FOR 2011
---
Home
Copyright 2011