SIM PUBLISHING
Home Publications Artwork News Links About
---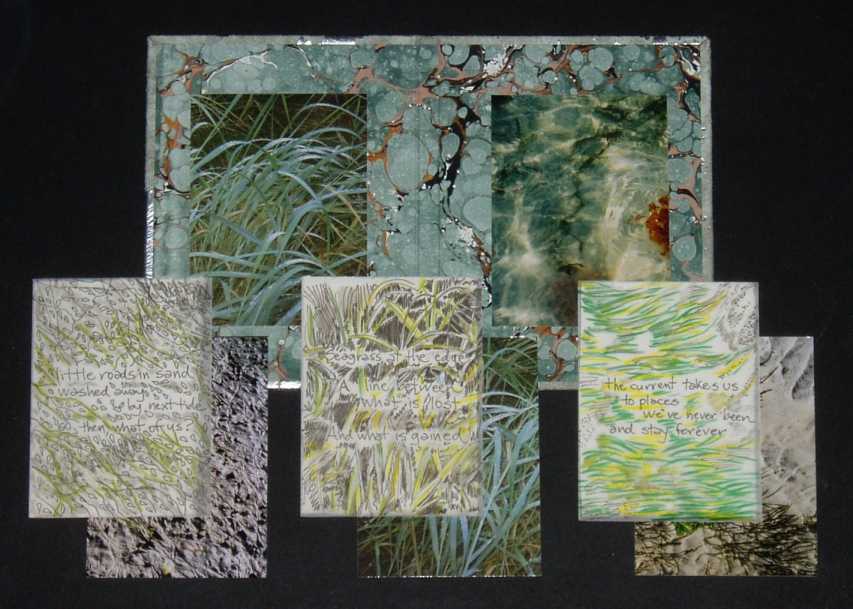 SAVARY HAIKUS (deconstructed)
Original pen & ink drawings issued 2007
Image sizes 3" high x 5" wide (75mm x 125mm)
(Low resolution image illustrated)
This is actually a mixed media work, but it is based on three original drawings with original haikus in each one. The haikus, photographs, and drawings are about the shoreline of Savary Island. I took the photographs while there on vacation a few years ago.

The original drawings are done with Pilot DR pigment ink pens and liquid india ink brushpens. They are drawn on translucent vellum, each drawing folded to enclose a photograph taken on the shoreline. These are enclosed (when not deconstructed) in a handmade book, the cover (top) is made from Italian designer leather, the marbled paper is by Galen Berry, and two more original photographs are glued in. All is framed in a black exhibition wood frame.

Please refer to Artwork Price List for current price.
---
Home
Copyright 2011