SIM PUBLISHING
Home Publications Artwork News Links About
---
NEWS - 2022
2021 - 2020 - 2019 - 2018 - 2017 - 2016 - 2015 - 2014 - 2013 - 2012 - 2011 - 2010 - 2009 - 2008 - 2007 - 2006 - 2005 - 2004
---
All text, photography and artwork is COPYRIGHT by GARY SIM unless noted otherwise.
---
AUG. 2: GALLERIES WEST REVIEW OF BC ARTISTS PROJECT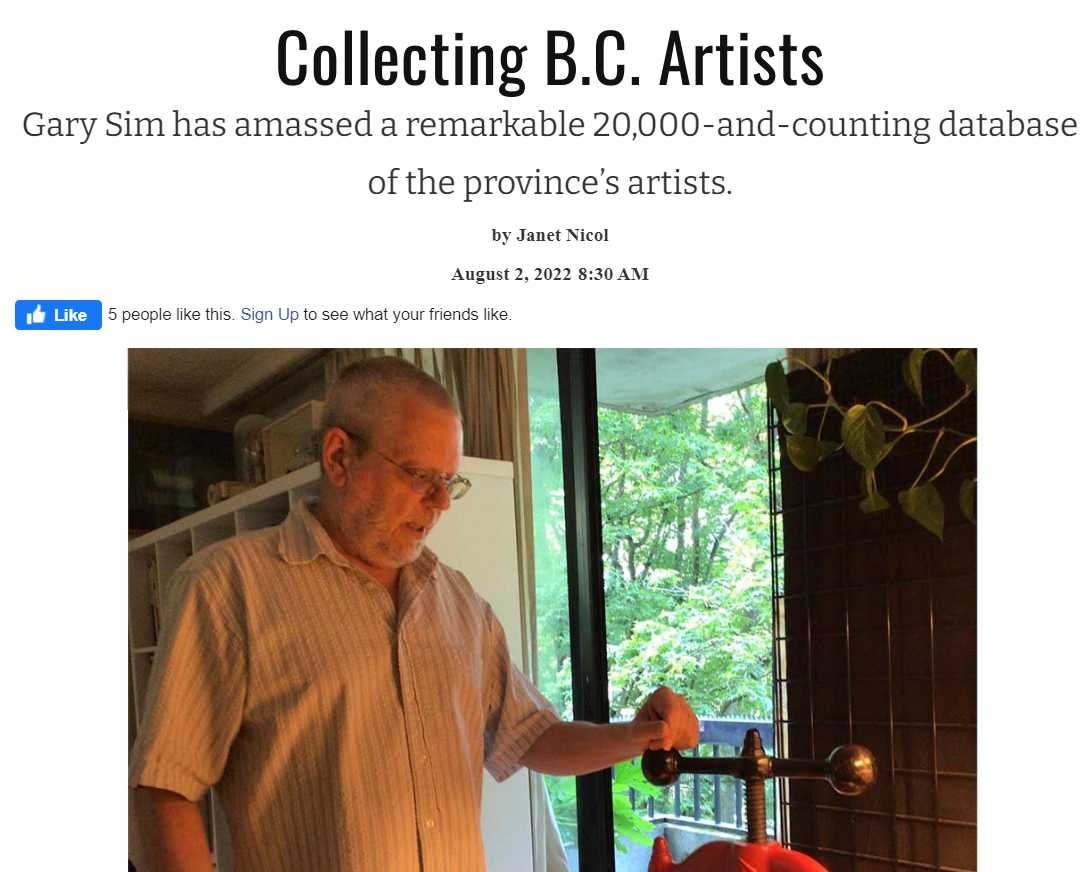 Partial screen capture

GALLERIES WEST ARTICLE ON BC ARTISTS PROJECT

In mid-July I met writer Janet Nicol for the first time. I had gone to visit artist and friend Pnina Granirer at a book signing event for her new book of poetry GARDEN OF WORDS, published by Granville Island Publishing, and Janet came by to say hello to Pnina. Janet and I started talking, and the subject of my BC Artists project arose. She proposed to write an article about it, and Galleries West accepted the proposal. Janet came by my studio for a one-hour interview, and left about four hours later. The article was posted on August 2. Thanks are due to Janet, and to Galleries West Editor Portia Priegert for publishing the article. Special thanks are also due to my friend Charles Christie Hill, Curator Emeritus at the National Gallery of Canada in Ottawa, for his comments in the article. Janet has written hundreds of articles, and in 2019 wrote ON THE CURVE - The Life and Art of Sybil Andrews, published by Caitlin Press, Halfmoon Bay, BC. It turned out that Janet and I also have a common interest in the VANTECH school annual, as well as in L.A. Elliott, who taught the printing and linoleum cutting course at the Vancouver Technical School High School on East Broadway.



---
JULY 31: NEW LINOCUT PRINTS AVAILABLE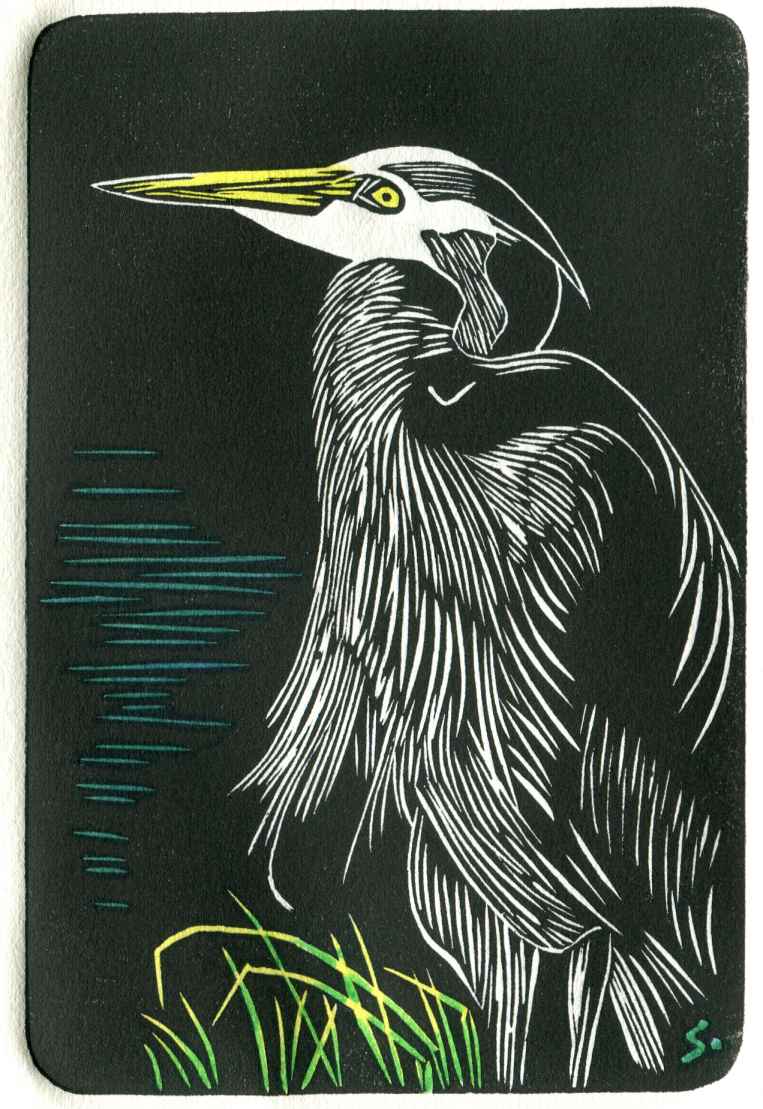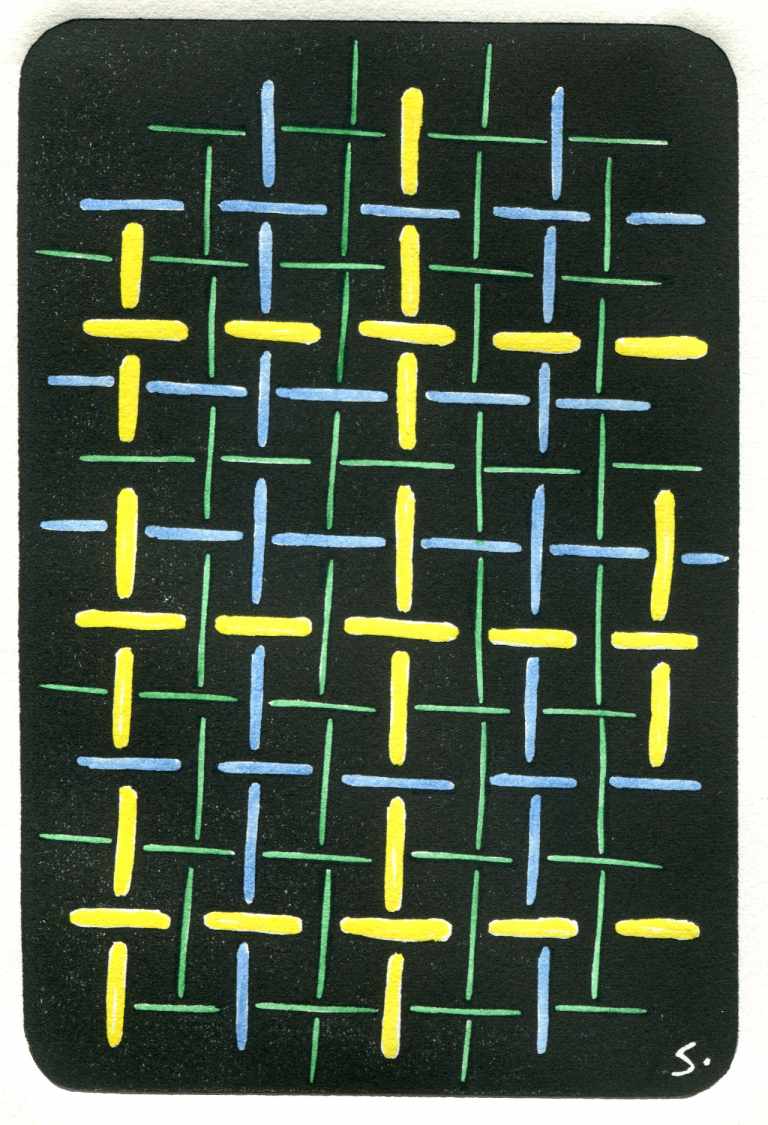 Heron, Lost Lagoon and Fragment

Trying to keep busy during these long summer days, a few new linocut prints are being cut and editioned, including a print of a heron in Stanley Park and an abstract. Another print, Bald Eagle, Masset has gone through 3 trial proofs, and the 4th trial proof is ready to be pulled.



---
JUNE 16: ALCUIN ZOOM LECTURE RECORDED
Link to YouTube video of the lecture and following question & answer session:
---
MAY 24: GARY SIM TO GIVE ALCUIN ZOOM LECTURE

The Alcuin Society presents a talk by Gary Sim:
OUT OF PRINT - Looking for BC artist publications - a 25 year quest
Zoom online talk June 16 2022 at 6:00 PST



Sample publications
---
MAY 14: CONDE LANDALE 1948 - 2022

Conde Landale 2003, reading at the kitchen table, Savary cottage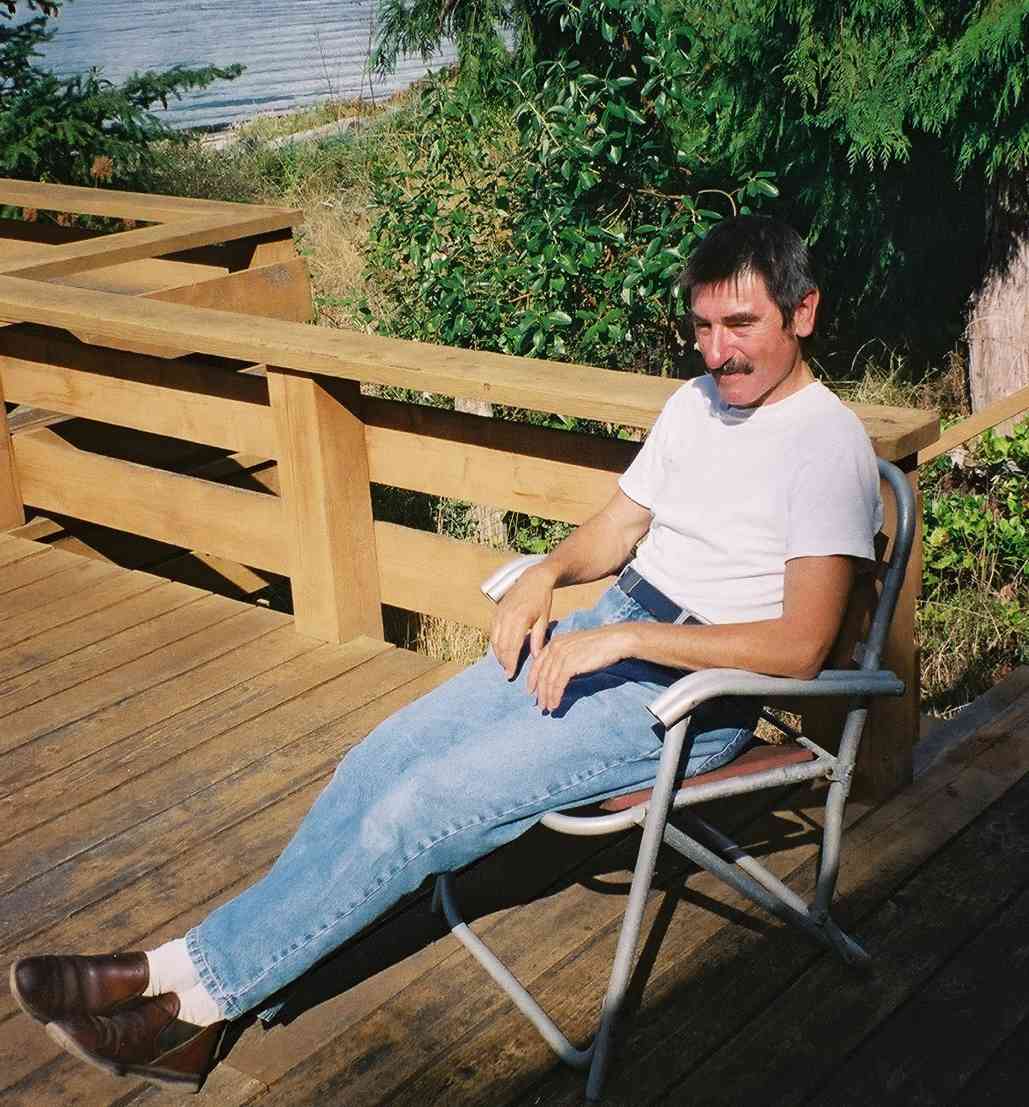 Lounging on the cottage deck

Here is a link to his online obituary, posted by his daughter Audrey:
Obituary

I found out by email that my good friend Conde Landale passed away on May 14 in Maple Ridge Hospital, after losing a fight with cancer. I had no idea that he was sick, so the news was quite a shock to me. Only a few weeks prior to that we were emailing back and forth about going up to Savary Island at the end of the summer.

I first met Conde in 2002, after he phoned me out of the blue to ask "are you the Gary Sim who wrote Looking For Maud ... ?" That was a surprise, as that book has yet to be published. It turned out that he had received a large collection of information on Savary Island from Gladys Bloomfield, who had been working on a book about the island. She was unable to complete the work, and her research material was passed on to the Savary Island Heritage Society with the agreement that they would complete the book and publish it. They did so, and published MAGNETIC ISLE - Gladys Bloomfield's Savary in 2005; ISBN 0-9739209-0-4; 146 pages, illustrated in black and white. I had contacted Gladys some time earlier, and by way of thanks for her help gave her a working draft of Looking For Maud, which is what Conde was asking about.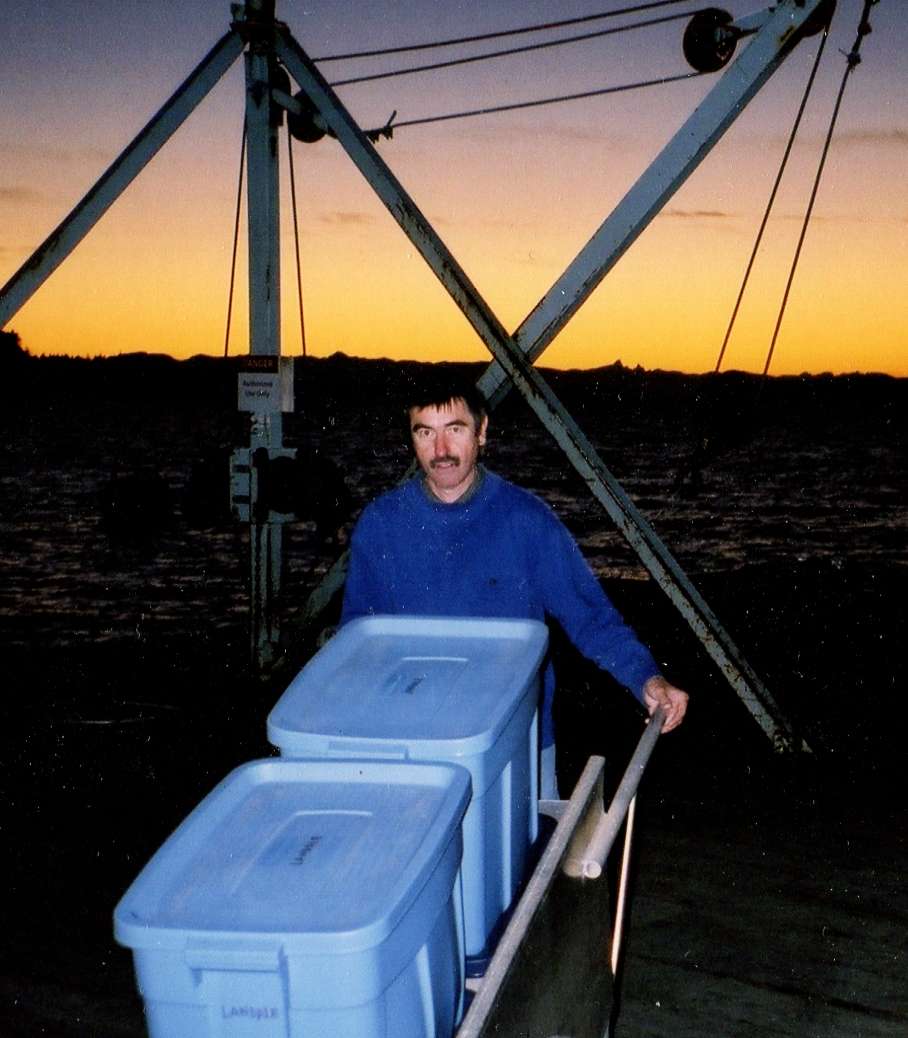 Conde's 2-wheeled tote carrier, and a very late arrival at Savary by chartered water taxi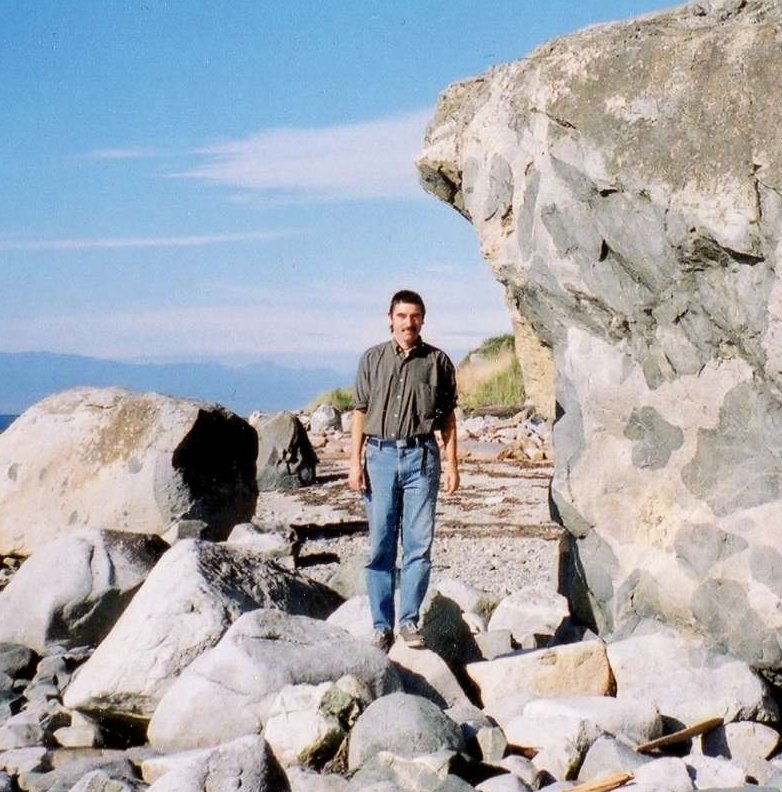 Posing with glacial erratic, south shore

I eventually drove out to Whonnock to meet him, and we got along quite well. I didn't know that the Sherman family was well connected to Savary Island, so I learned a lot about that, and Conde learned about my research into the family. The next year Conde and I went to Savary Island together, where I saw the Sherman family cottage Traumerei, found the sign for Sherman Walk, and toured the locations where I owned paintings of Savary Island by Maud Sherman.

Although Conde was a fairly private person, I eventually found out that he received a PhD in 1987 from the University of Miami, his Dissertation was titled Purification And Characterization Of An Alpha-1,6 Glucan-Binding Protein From Streptococcus Sobrinus, which is a mouthful. He had also been a fisherman and a tugboat captain, the Whonnock wharfinger, a landlord, and President of the Savary Island Heritage Society for many years. He was an ardent historian and researcher, with a keen eye for details and family histories. He drove like a madman when he was heading for the next ferry or water taxi, and wouldn't stop until he was in the lineup. We continued to share research information for twenty years, and got together occasionally for beer and burgers, exchanging emails and phone calls in between (Whonnock and the West End of Vancouver are separated by a lot of inter-urban driving).

My favorite hamburger story is from having lunch with Conde at Bierecraft on Cambie. We both ordered a burger, and the menu listed lots of optional additions like extra pattie, fried egg, bacon, tomato slice, pickle, avocado, cheese, hot peppers, weiner, lettuce, onion rings, and so on. When the server asked if Conde wanted any extras, he reviewed the list and said that he'd like to add all of them! (he was already having a deluxe bacon cheeseburger). The server was impressed, especially when he realized that Conde wasn't kidding. At first I thought he was kidding. Some time later I saw the door to the kitchen open, and our server came out carefully carrying Conde's burger ... it was at least 10 inches high, barely held together with long wood skewers. The cooks stuck their head out the pass to see how it was received. It looked awesome, and Conde slowly and methodically (and happily) ate the entire burger. It was like breakfast, lunch and dinner all at once. I will miss you a lot, old friend. Farewell and safe journey.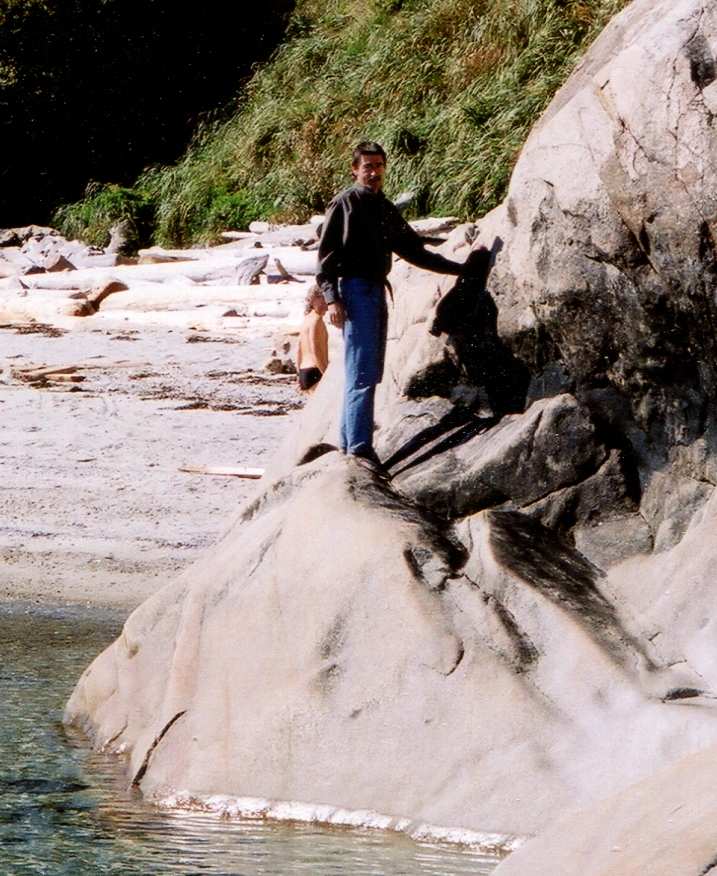 Scrambling around Mace Point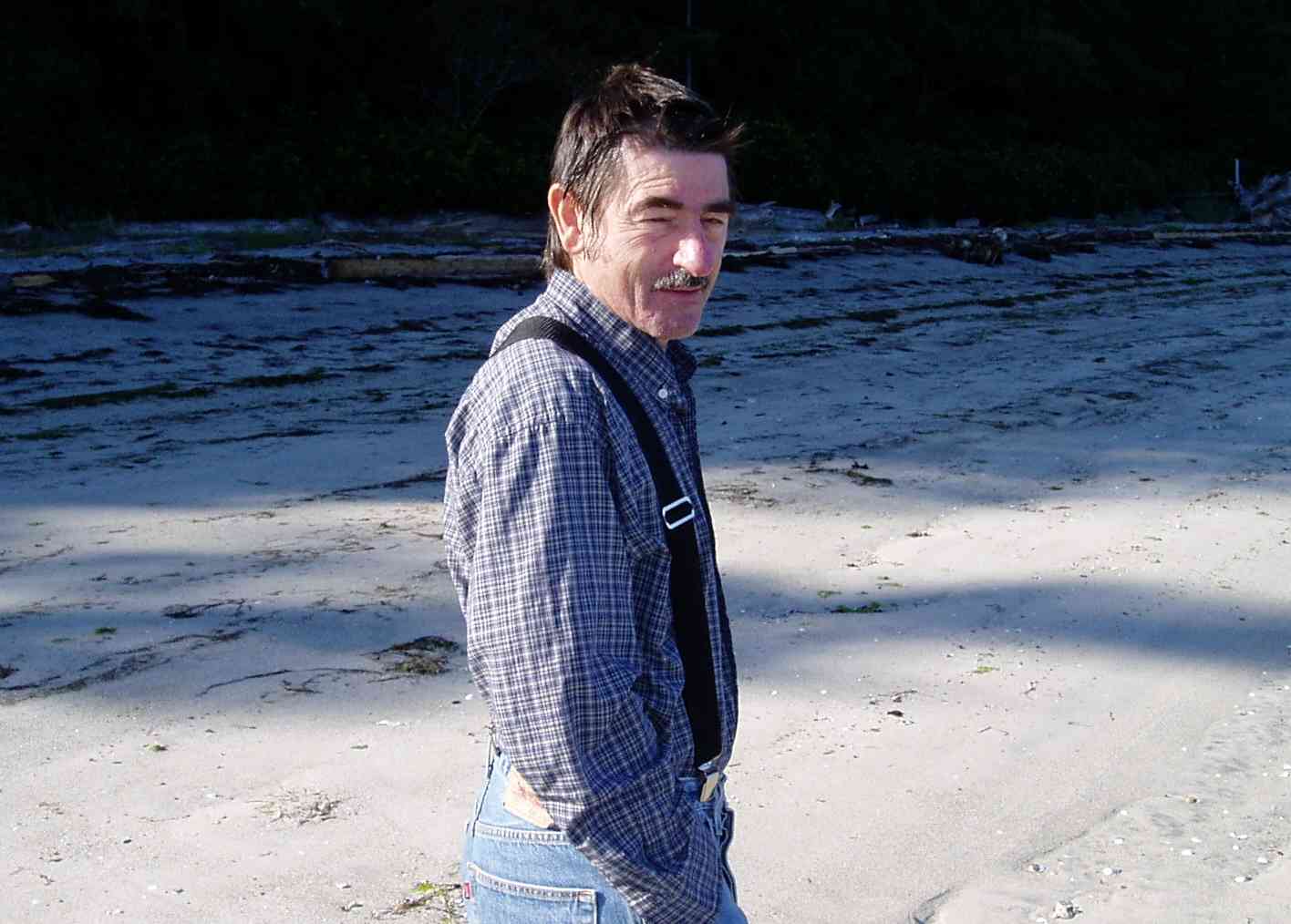 Near First Point
---
MAY 1: MOSKVA FISHBOWL AERATOR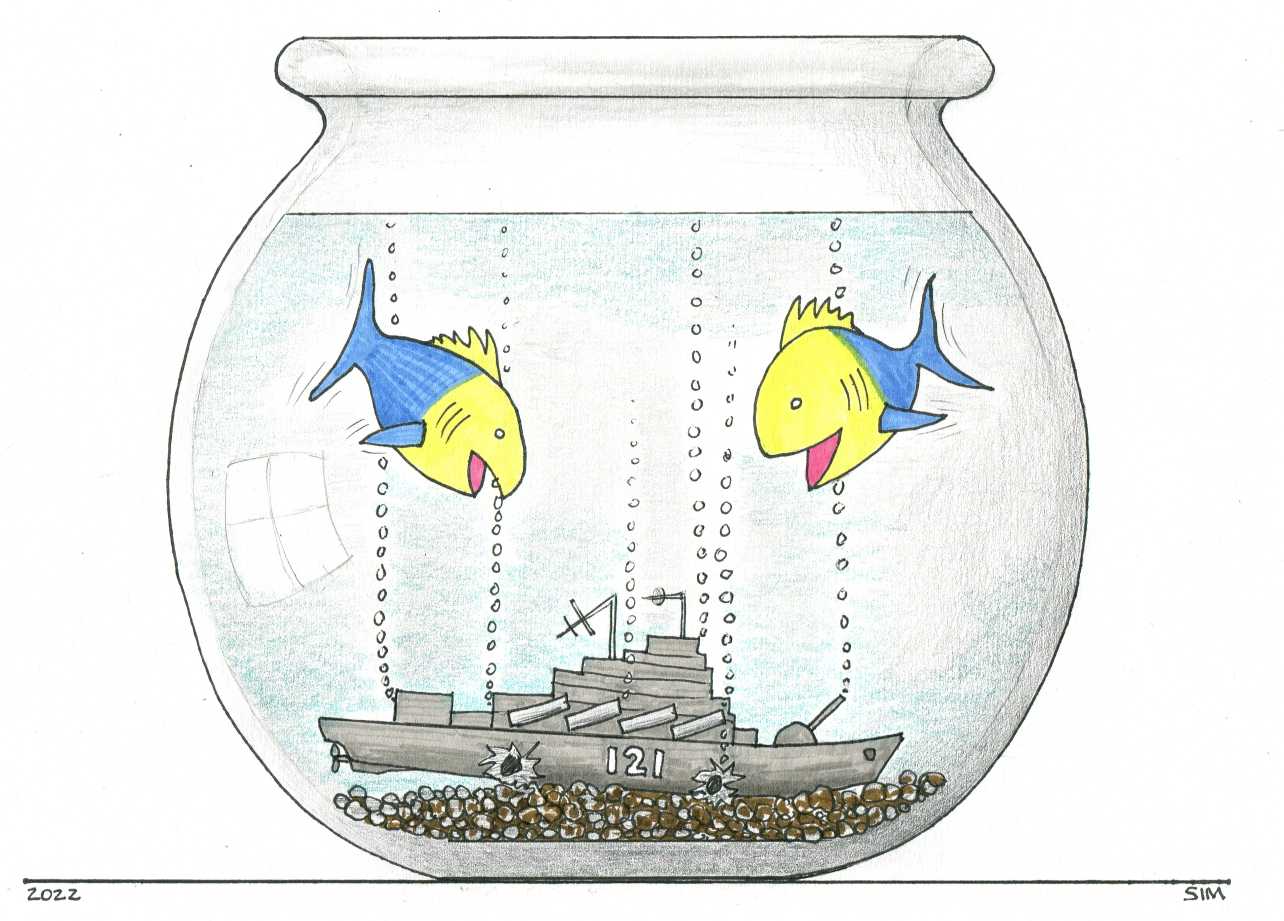 Original pen & ink drawing by Gary Sim

I had another idea about the sunken rus cruiser Moskva. The Krimeline Spokesliar Dimfry Pisskopf stated that the ship sunk in a storm, but photographs of the ship after the attack showed the ocean to be as calm as the water in a goldfish bowl. So, here it is at the bottom of a blue-and-goldfish bowl. I'm thinking of doing another cartoon showing a box of cereal called "CRISPY CRUISER" ... guaranteed to sink in your cereal bowl ... every bite a victory ...Slava Ukraini!



---
APRIL 19: EASTER TRADITIONS COMPARED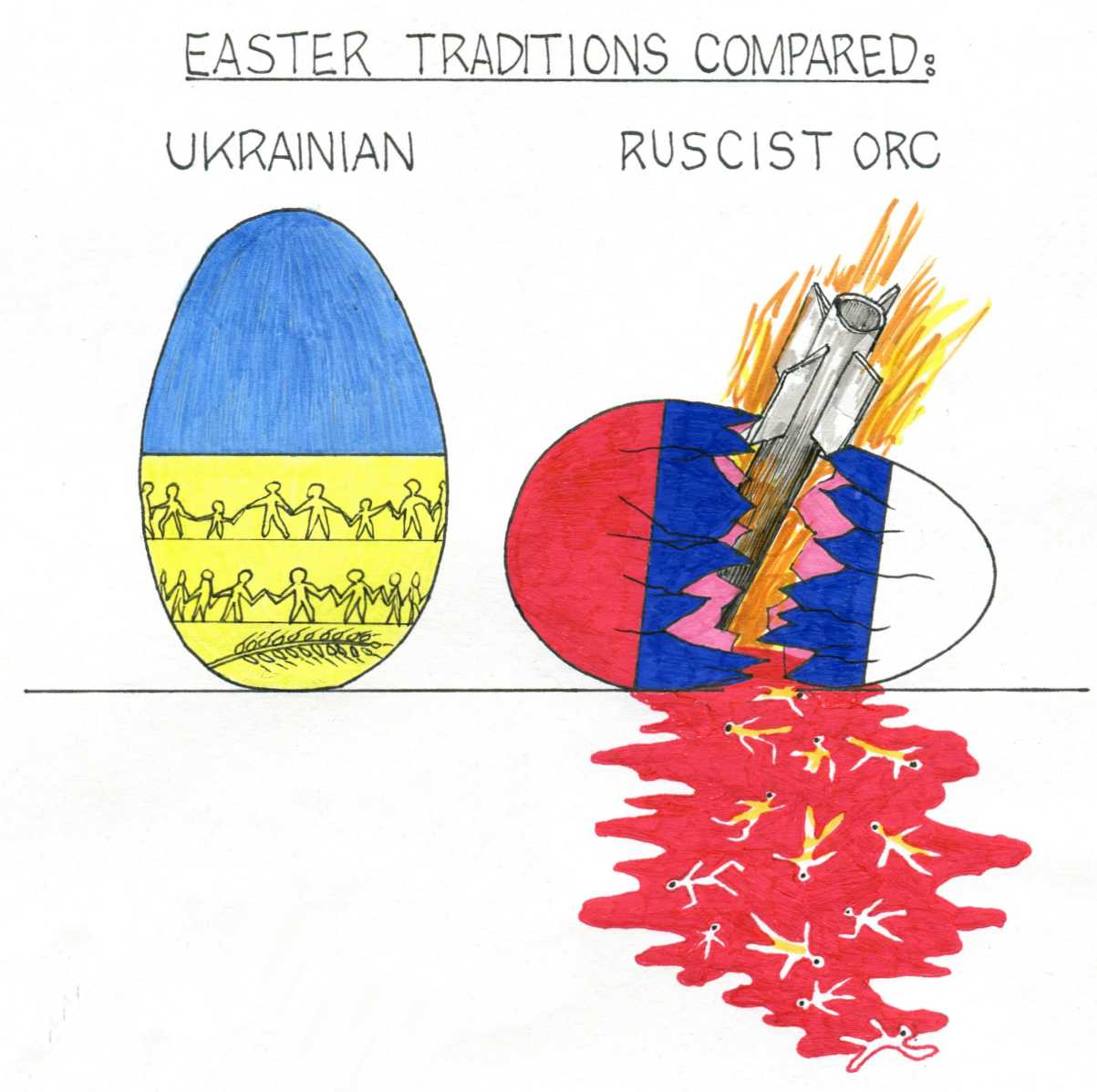 Original pen & ink drawing by Gary Sim

I had this idea on the Easter weekend, but only finished it today. The orc egg is cracked, of course, and 13 executed civilians have poured out of it, marking 100 years of communist progress. None. How would you like your orc egg? Bombed, rocketed, missiled, nuked or just shot and burned? A side order of iodine to go?



---
APRIL 15: MOSKVA SISTER SHIP AT VANCOUVER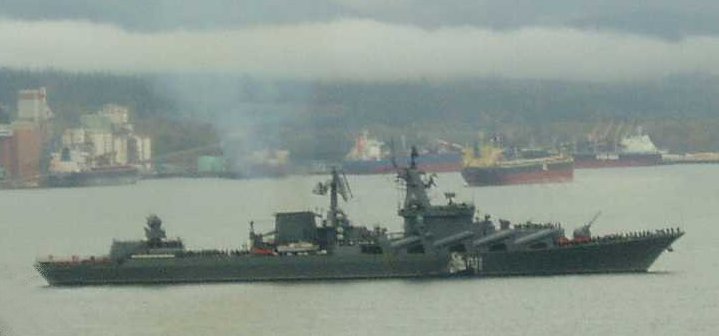 The Varyag visiting Vancouver harbour, photo Gary Sim

The Varyag is the sister ship to the Moskva, which sunk yesterday in the Black Sea after an apparent Ukrainian missile attack. The Varyag is seen here in Vancouver harbour in November 2011, approaching the pier at Canada Place for a "courtesy visit" (probably combined with some spying). Its crew has "lined the rails" as a formality, but they also help give a sense of the size of the ship. I took this photo from the 9th floor of 1500 West Georgia.



---
APRIL 3: SPRING COLOURS AT LOST LAGOON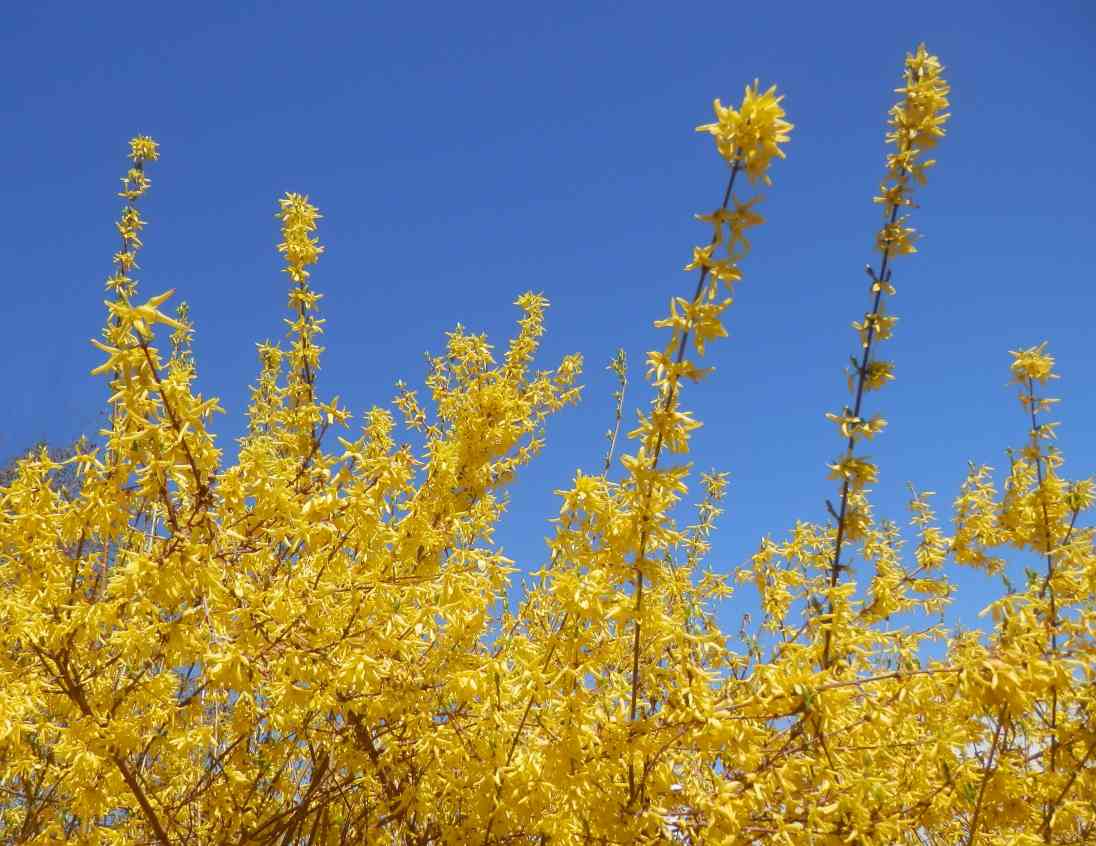 Colours of the Ukrainian national flag expressed in flowers and blue sky
---
FEB. 26: THE INVASION OF THE UKRAINE BY RUSSIA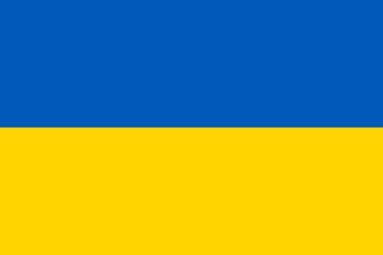 The Ukrainian national flag

Along with many others in the world, I watched the russian military buildup around the Ukraine with apprehension. With their sudden and merciless invasion this past week it is now obvious that the russian leaders are still as primitive and paranoid as Stalin used to be. Best wishes to all Ukrainians for a successful defence of your country against this illegal, naked aggression. Hopefully underpant poisoner putin will learn a lesson that he won't forget. It wouldn't hurt to send a few cruise missiles to the Kremlin just so that they can share some of the destruction, and let the people of russia see what is actually going on.



---
FEB. 19: MORE ROAD DE-ENGINEERING INSANITY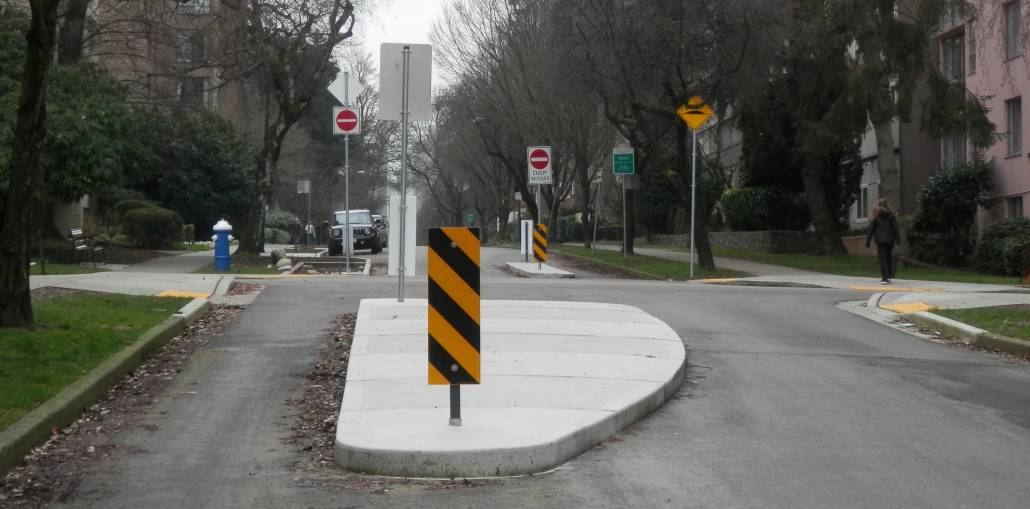 The intersection at Haro and Jervis, completely screwed. See any bicyclists?
Questions: is the little bicyling slot on the left one way or two way?
What route should a bicyclist take through this idiotic maze? Do we need even more signage???

One almost has to admire the City of Vancouver de-engineering department for devoting 100% of their time to making the roads of Vancouver impassible. For the past 120 years this quiet intersection in the West End has been a 4-way courtesy corner, yield to traffic on the right. Not any more. Haro Street is now blocked off as one-way on both sides of the intersection. A driver coming up Jervis from the south of Haro not only has to stop at a new stop sign, but also has to keep going straight, even if they are just picking up Grandpa at Haro Park Lodge a half block away. It's also become a control signage festival, 10 visible, 4 not: new stop signs and warning signs on both sides of Jervis, then a complete infestation of one-way, do not enter, bicycles here, and look out for this needless and stupid curb in the middle of the road (on each end of each curb).

They've also enlarged the curbs, deleting as many parking locations as possible. The city workers who clean leaves off the streets are supposedly at war with the jerks putting in all these curbs. The uncleaned leaves from last fall are still evident in the tiny little passageway on the left allotted for the thousands of bicycles swarming through here continuously. Or at least 1 or 2 a day. You can see the same thing in the photo below, taken one block away. The leaf cleaning trucks are too wide to go down the bike slot. The drivers won't get out and shovel. Duh. Guess we need to spend a few million needless dollars on tinier leaf cleaning trucks. Maybe we can make the hordes of bicyclists do it, if only for their own safety. Or encourage them to sue the city if they slip and fall on gooey wet leaves.
UPDATE: yes, the city has pissed away money on narrower street cleaners, one went down Barclay Street last week, probably because they couldn't get through anywhere else. It is still not narrow enough to solve the problem noted above.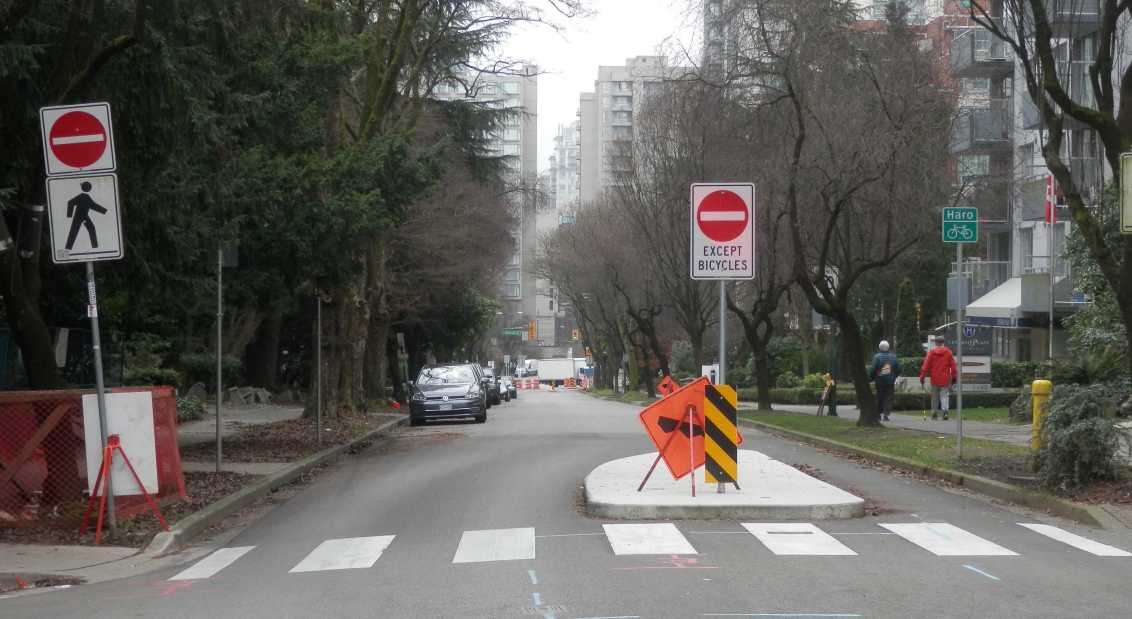 The intersection at Haro and Bute, completely screwed. See any bicyclists?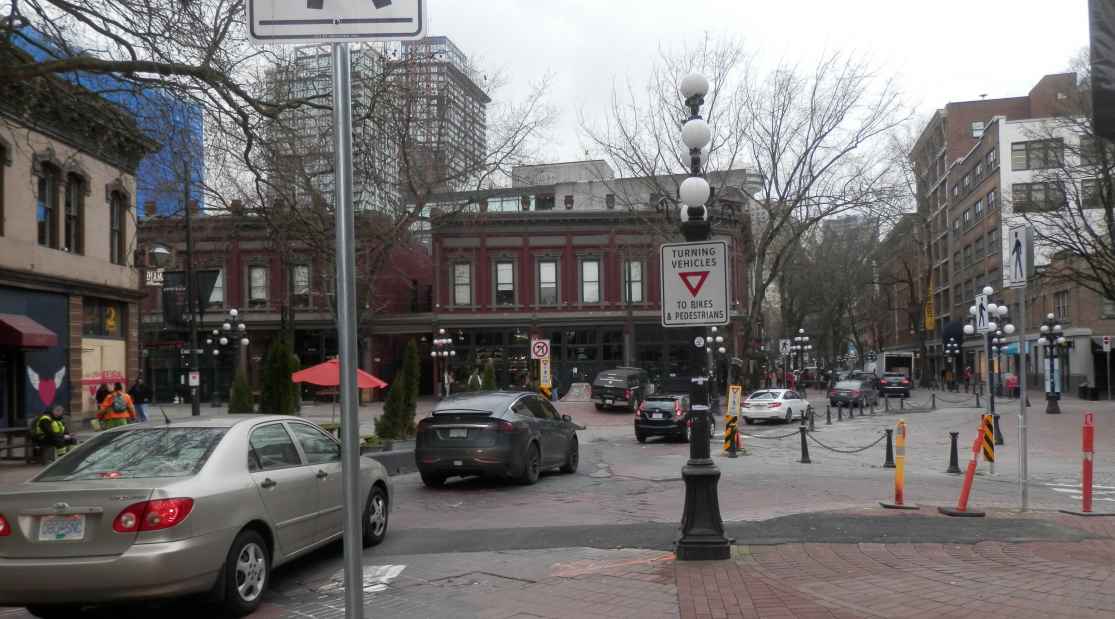 Maple Tree Square, completely screwed

LET'S NOT FORGET THAT THIS IS HAPPENING ALL OVER TOWN ! ! ! Here's a photo from Gastown on Feb. 18 2022. It's basically a typical intersection of two streets crossing, but in this case Alexander comes in from the northeast making it a 5-way corner. It's always been a bit of a challenge getting through Gastown, but in the old days a high-speed bicycle "gran prix" went through here. The city de-engineers have done their best to make it harder for anyone to get through. The road and sidewalk here are now crap. Historical note: the statue of Gassy Jack Deighton, recently destroyed by a mob of angry indians during a march for "respect" ... stood for half a century on the plinth just visible in the middle distance between the the new "no left turn" sign and the VPD "accident response" vehicle.

Alexander Street on the right used to be 2-way, now it's just one way accessed only from the square, which simply increases the traffic in this location. I'm sure delivery drivers forced to navigate the hairpin corner (with obstacles) aren't happy, especially since they previously would have simply accessed that block directly from Main Street. Nor are they happy being stuck in bumper to bumper traffic on a road they don't want to be on. The road in and out of the intersection used to be 2 lanes, now it's just one. Definitely no more parking! Abbott Street on the left was 2-way, you could turn left here for the past 140 years if you wanted. Now it's completely closed off, you now have no choice but to keep going. On a quiet Friday afternoon, all of the drivers and passengers in view have been constrained from 8 lanes of traffic into 3. It's now needlessly bumper to bumper, just because 62.5% of the driving lanes are gone. Nice work, de-engineers. I think these dimwits are incapable of thinking about more than one lane at a time.



---
FEB. 10: BALD EAGLES


Bald eagles, Stanley Park, February 2022

Now that the man-eating packs of coyotes are gone from the park, I was bold enough to extend my walk around Lost Lagoon into the forest. A large bird of prey flew over while I happened to be looking up at the trees. Immediately afterwards, there was a real bird ruckus. I recorded some of the bird cries, but it took me a while to locate the source: 2 bald eagles way up in a tree. The bird that flew over first wasn't an eagle, possibly an owl or hawk, so it seemed like the eagles were perhaps defending their nest. Video with sound as below (no birds visible, just trees and bird sounds):



---
FEB. 10: GREAT BLUE HERON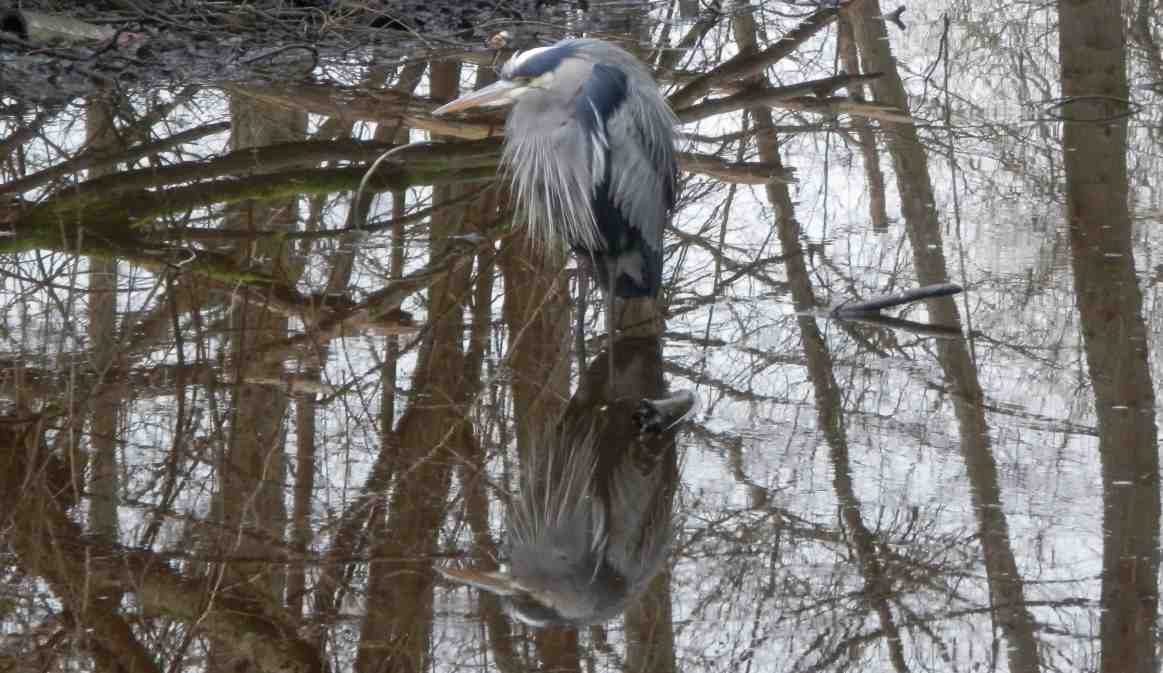 Blue Heron, Lost Lagoon, February 2022

I went for a walk down to Stanley Park and Lost Lagoon. On the way back I noticed this heron had landed on a partly submerged log, and was perhaps waiting for breakfast to swim by. It was tricky to photograph, and it kept looking the other way as if I wouldn't notice it. There was almost no wind, and I kept trying to get a decent photograph of it mirrored in the water.



---
JAN. 21: ROBERT RUSSELL REID 1927 - 2022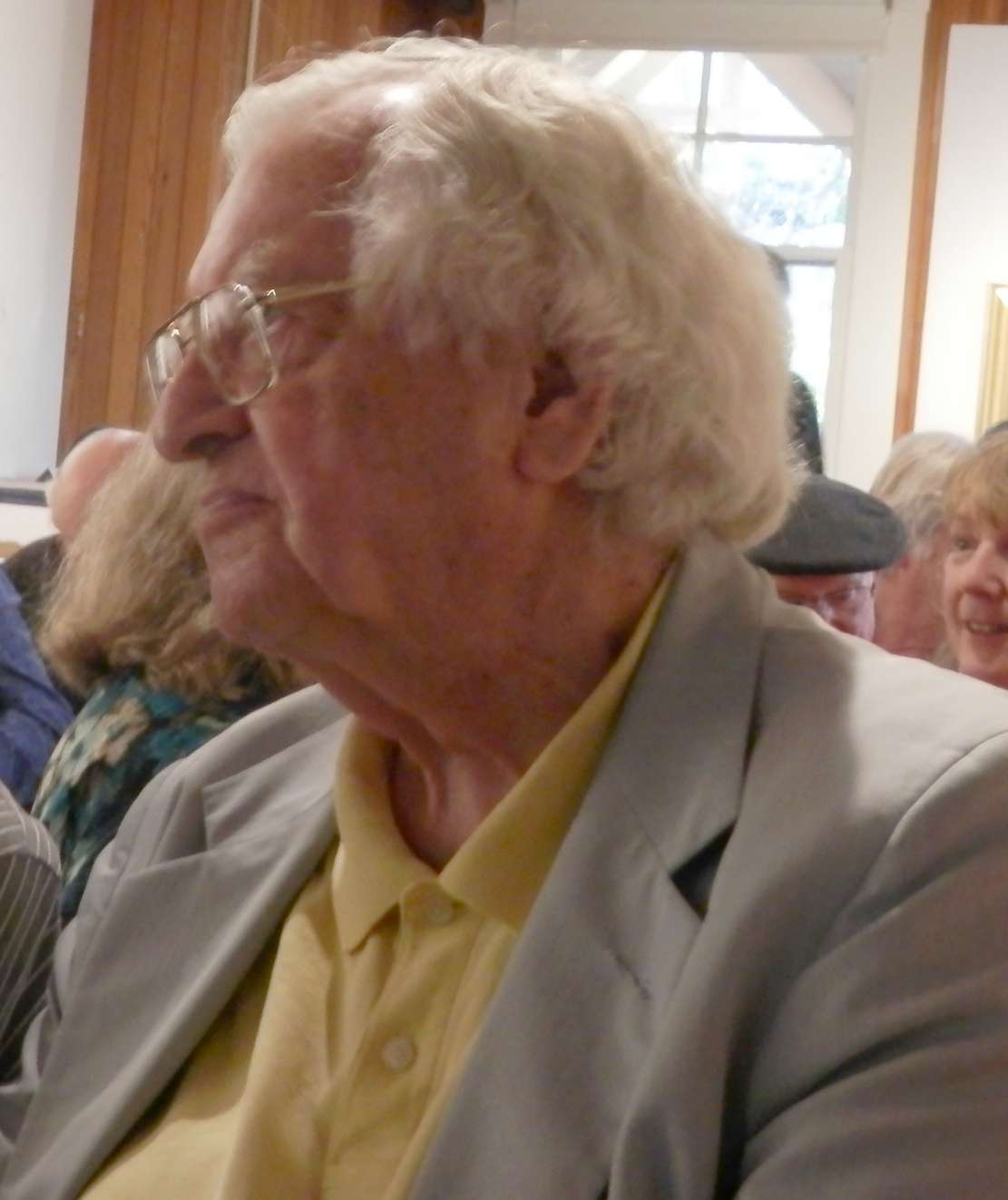 Bob at Ferry Building Gallery booklaunch for Harry & Jessie Webb, June 2014

A friend advised me by email that Robert Reid passed away Jan. 21 at his home in Vancouver, by assisted dying in his 94th year. Thus passed a truly legendary book designer and typographer, and a kind and generous man of many interests. The Alcuin Society's Robert Reid Award is just one sign of his stature. His career in printing spanned more than 70 years, from the 1940s through to the 2020s, from Vancouver to Toronto to New York, and back again. He was involved in many important publications over the years, including the 1958 B.C. Centennial Anthology.

"This is ... a fine copy of Reid's first handprinted pamphlet. It displays many of the qualities of typographic imagination and experimentation that would make him the most important typographer ever to work in Western Canada."
#282. Reid (Robert R.) The 19th Hole. First Shot. Vancouver. Mashie-Niblick Press 1948

"Without Robert R. Reid's collaboration there is no doubt it would not have been attempted. Throughout these three issues his contribution as a designer almost shouts from the pages."
#283. Reid. :p.m. magazine. Vancouver. 1951.

From STIGMA, List 80, Canadian Literature, William Hoffar, Bookseller, 1992

Even the most acerbic bookseller "ever to work in Western Canada" respected Bob.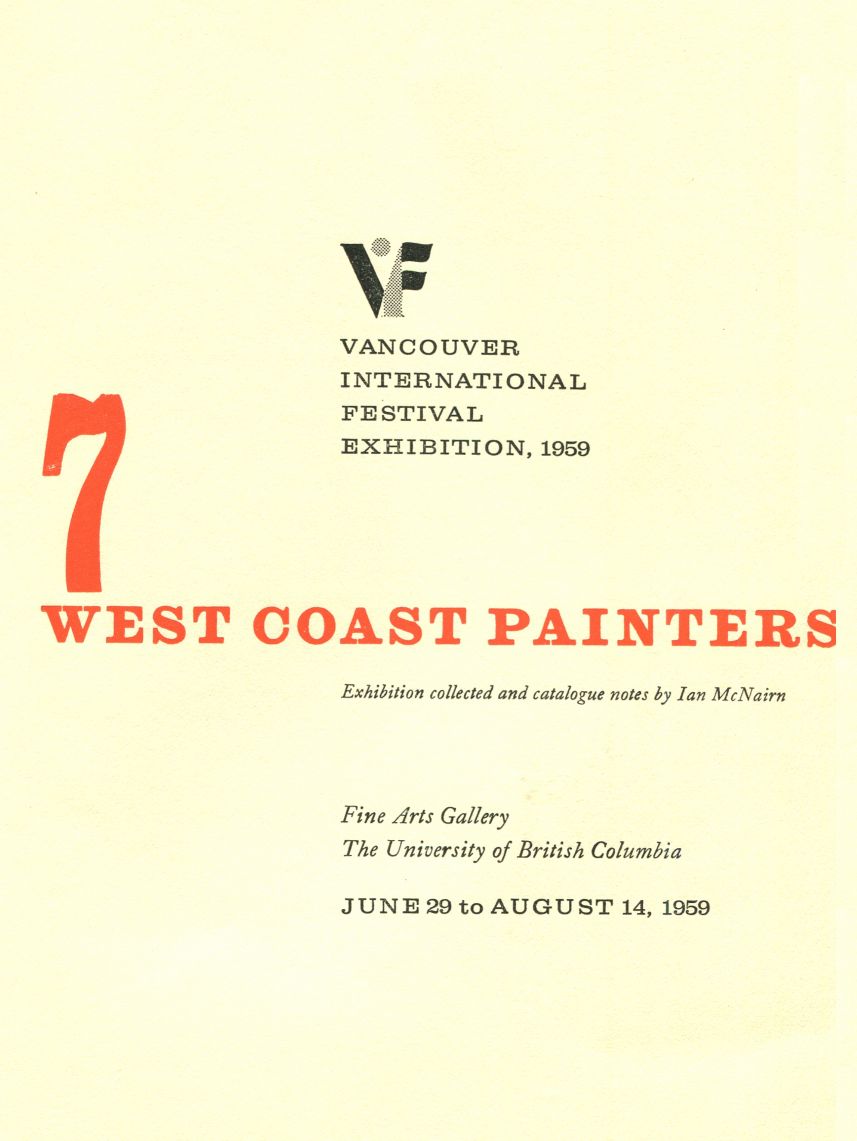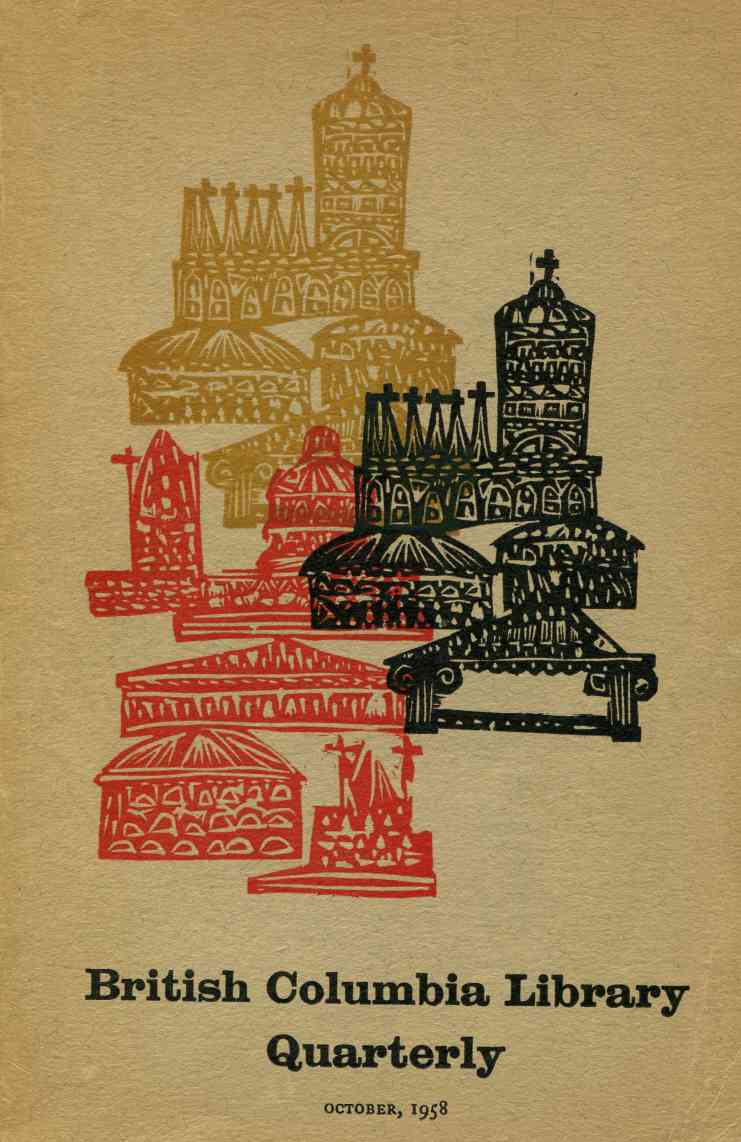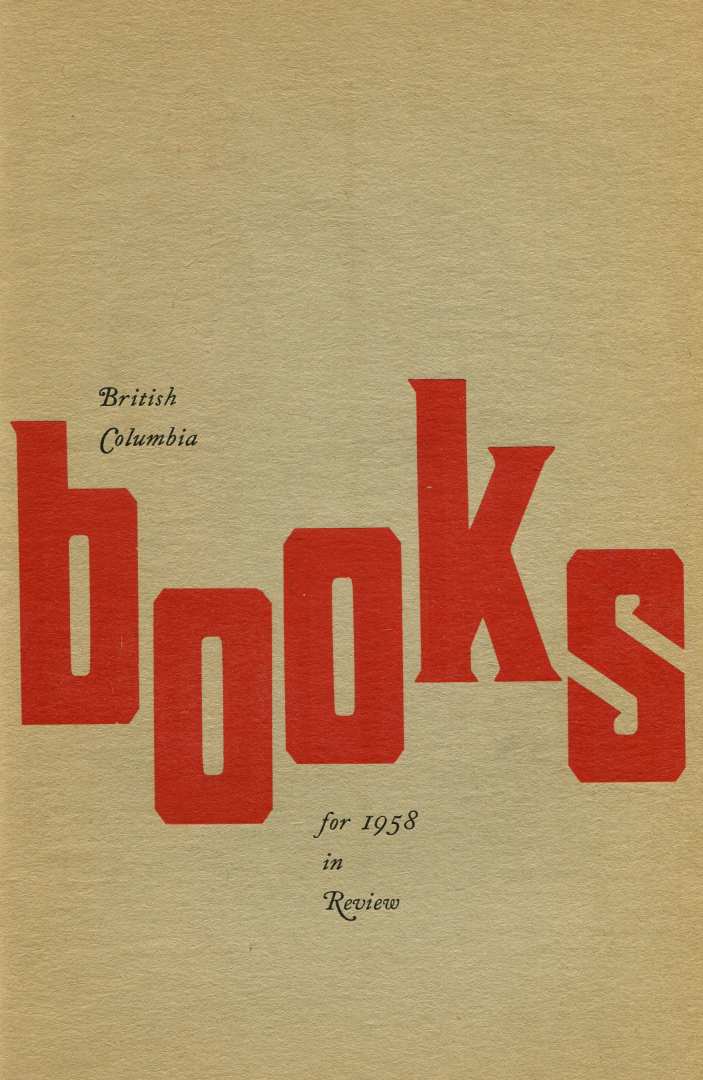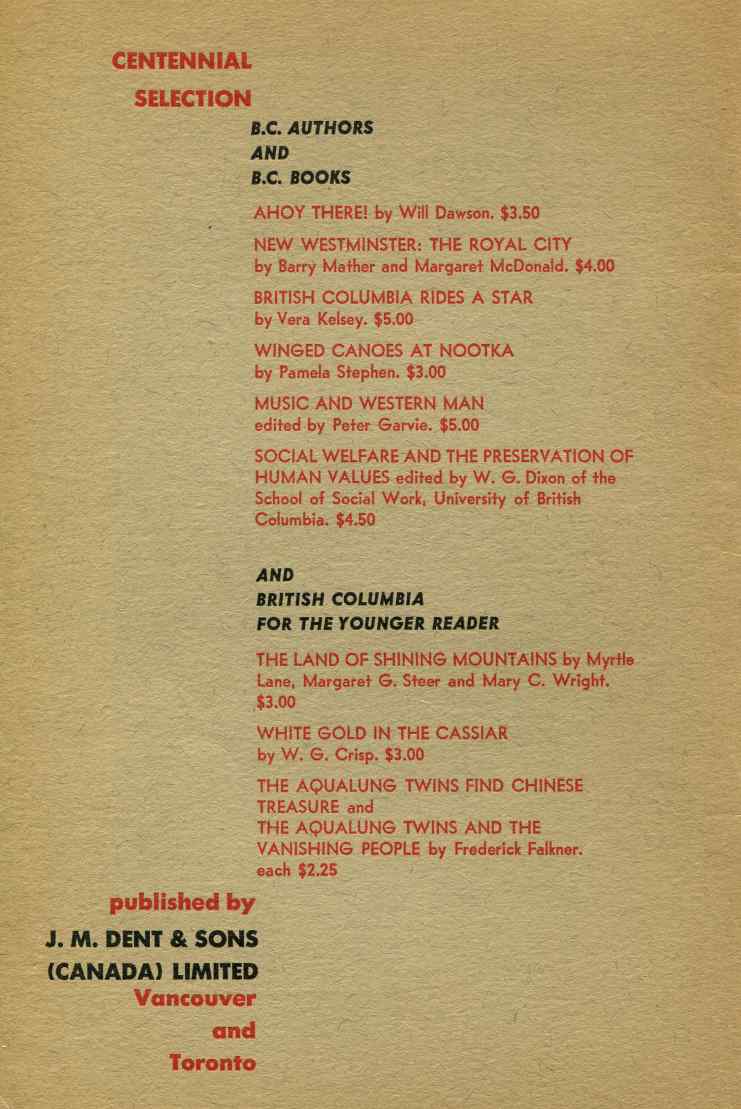 Samples of Reid's work from the 1950s.
Click images for info.
---
JAN. 16: A WALK TO ENGLISH BAY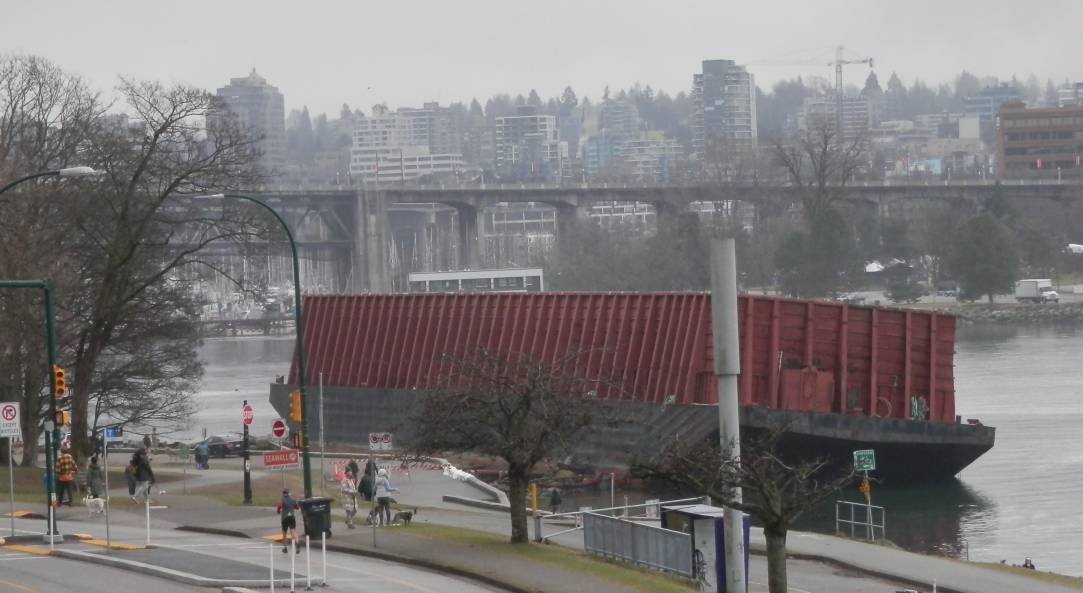 I finally went over to English Bay this morning, for exercise, and to take photos of some public art that I wanted more images of. I found the Lionel Thomas sculpture by accident, while looking for a view from Beach Towers plaza (my apologies for trespassing, I usually try hard not to). For the first time I saw the "barge chilling" in person, it actually looks quite big. They've tried to get it off without luck, maybe it needs to be cut into pieces. Perhaps blasted into smithereens.

This was also the first time that I saw how the City has butchered Pacific in half, with an oversized bike road taking up 2 of 4 lanes, the other two lanes (here, but only one west of Denman) still available for drivers and passengers to use. One lane each way, no parking anywhere. So much for taking the old folks down to watch the sunset. There's a continuous concrete divider between the drivers and riders, visible lower left in the barge photo. How ecologically sensitive! Concrete, asphalt, all the work crews with their jimmies, dump trucks, backhoes, what could be greener?

The parking lot below the road is now useless for parking, it can't be accessed, so they've put some picnic tables on it to make it look like they thought it through (visible in the distance in the middle photo below, empty of course). And they cut the heads off the parking meters that used to earn money for the City. Cool hand luke! I lost track of how many potholes in the road I had to dodge on my walk, or broken sidewalks to navigate, or how many painted white lines at stop signs just aren't there any more ... the City has better things to do ... the war on automobiles!!!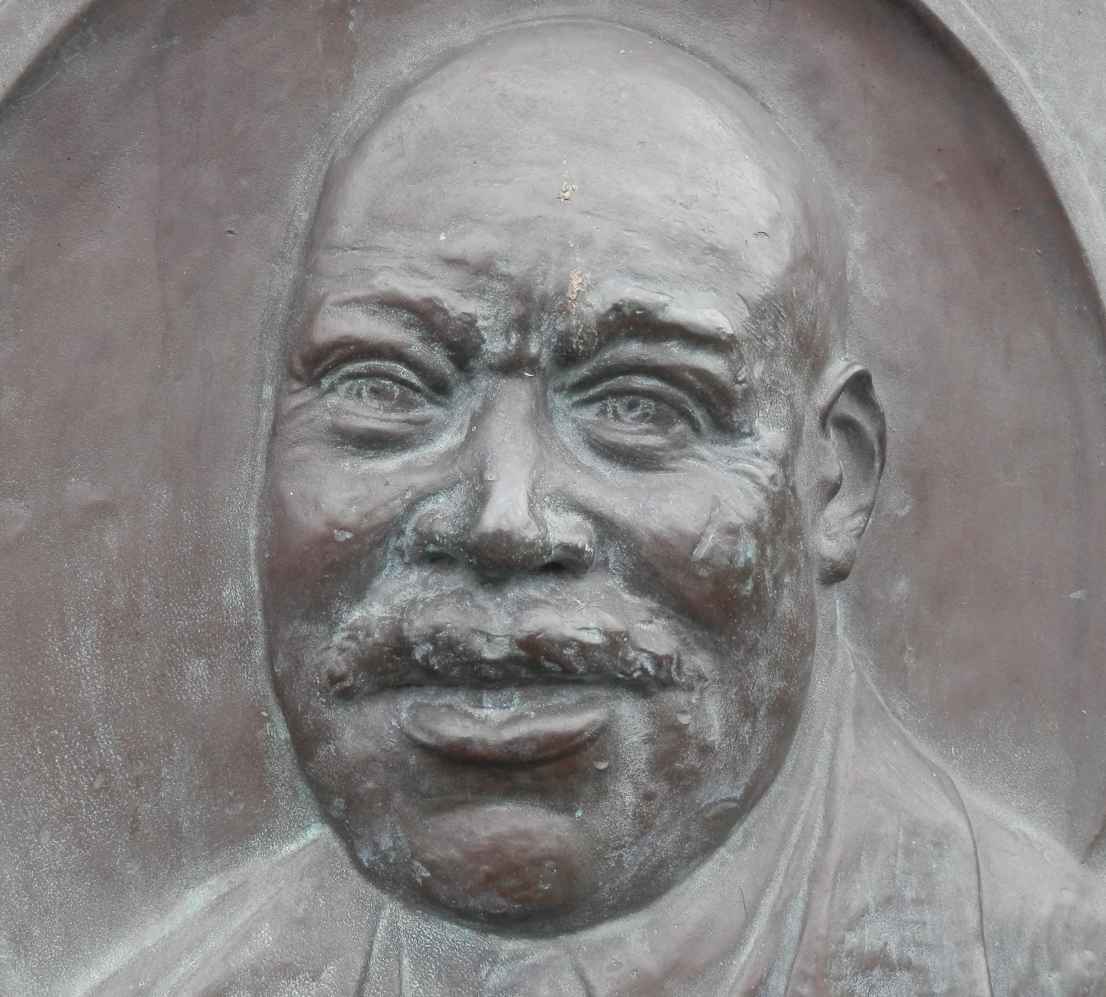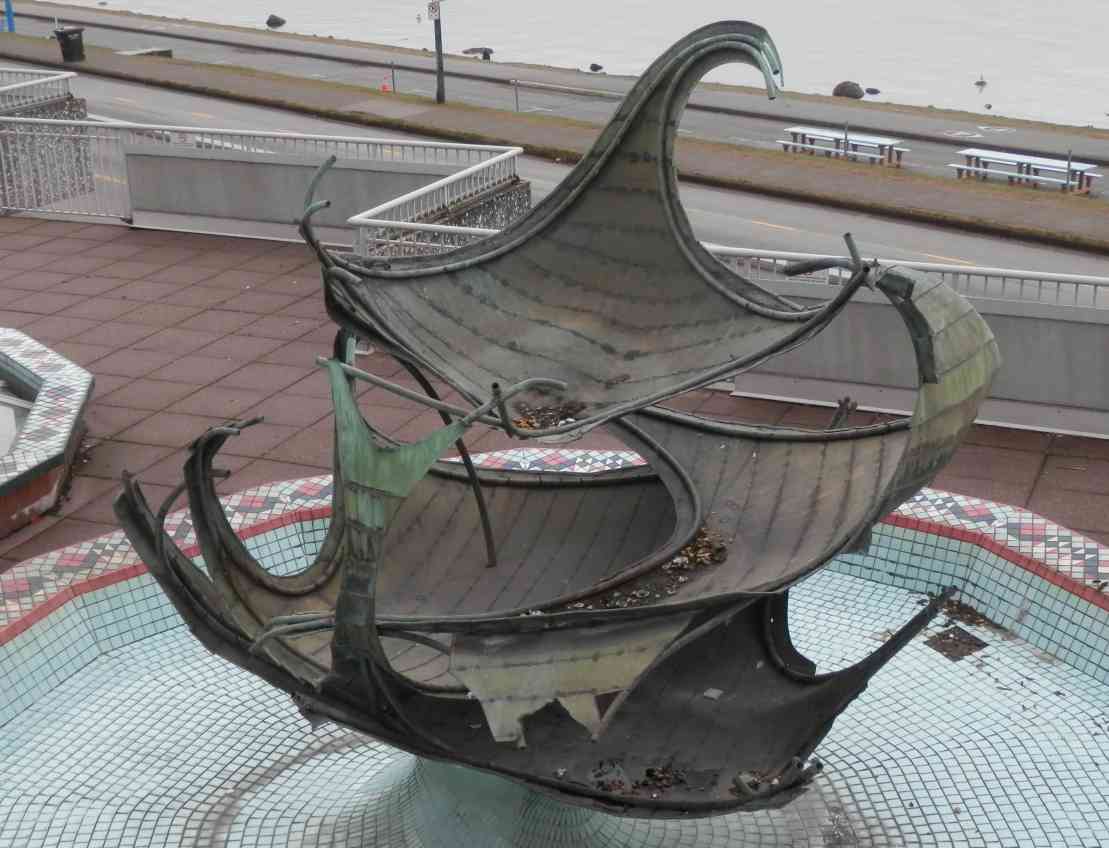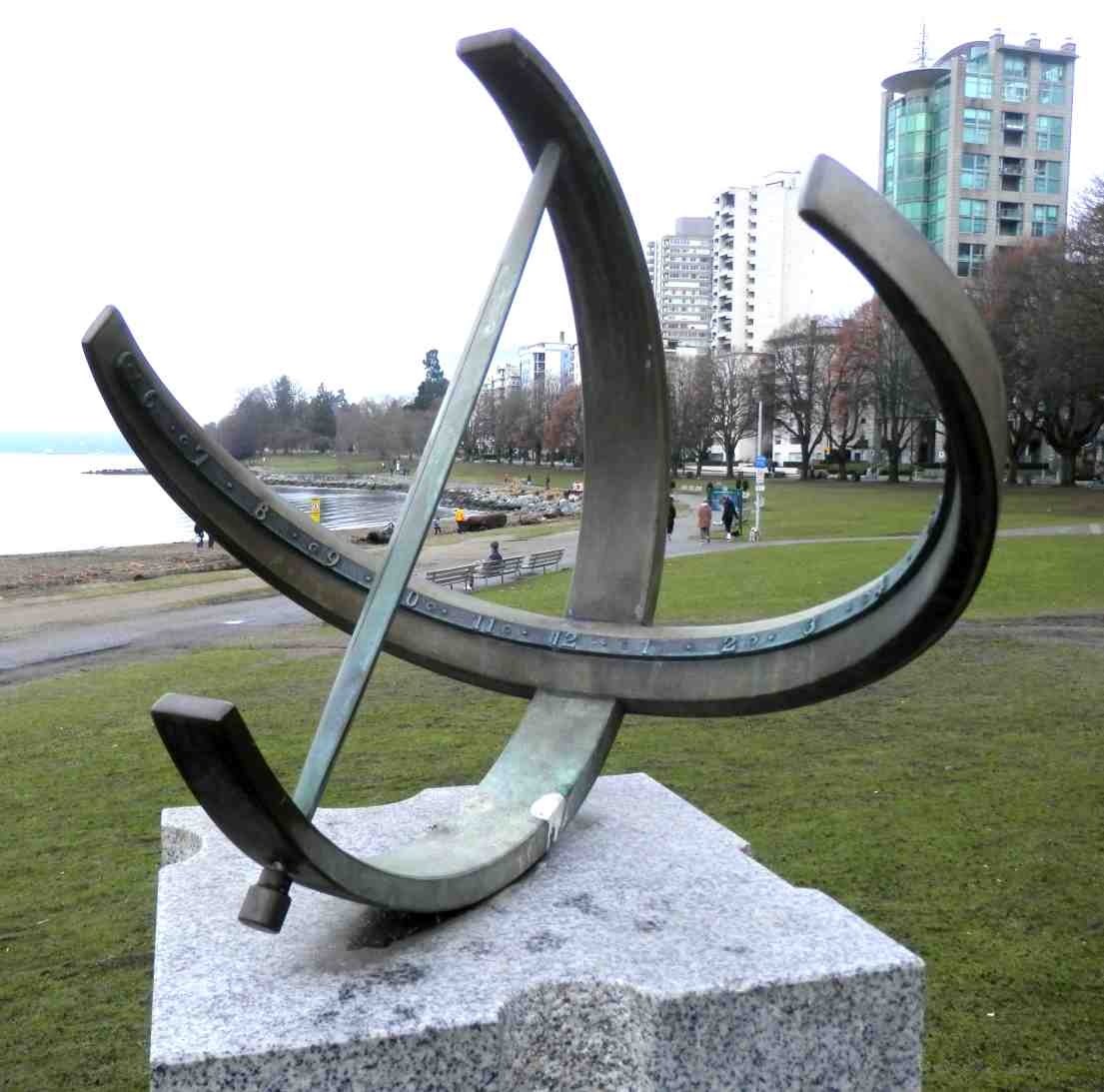 Some of today's pictures: sculptures by Charles Marega, Lionel Thomas, Gerhard Class.
Click images for info.
---
JAN. 10: BC ARTISTS UPDATES


Images added to BC Artists so far in 2022

It seems there is always something to add to BC Artists. I have been going through digital and film photographs that I have taken in the past few decades, which has unearthed a number of interesting images, mostly of public art projects and architecture. Of the 38 images shown here, 30 are Sim photographs. I know that I have many more taken around 2000, when I was on the Vancouver Public Art Committee. I went on tours of numerous public art projects throughout the city, and took a lot of 35mm colour photographs. So far, they have never been displayed or published.



---
JAN. 9: A NEW YEAR BEGINS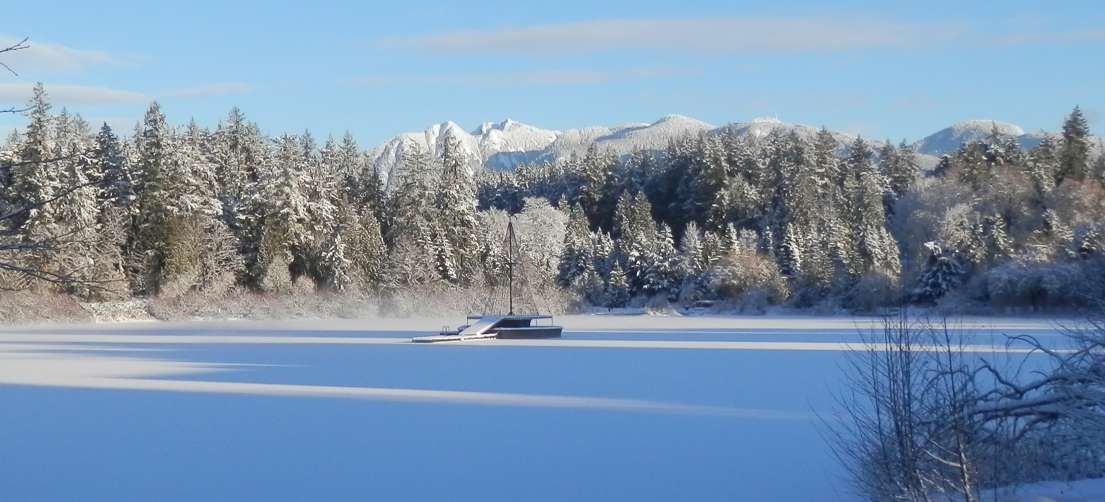 Lost Lagoon in Winter

Best wishes to everyone for the new year. Hopefully the rain storms and forest fires are less destructive this year than last year, and the pandemic will not become worse with a new and more deadly variant. We had a heavy snowfall the night of December 29, and the morning of the 30th dawned clear and sunny, so I went on a walk to the seawall and Stanley Park. It was very scenic, and the powder snow was fun to walk in.



---
JAN. 8: AIRPLANE PHOTOGRAPHS THROUGH THE YEARS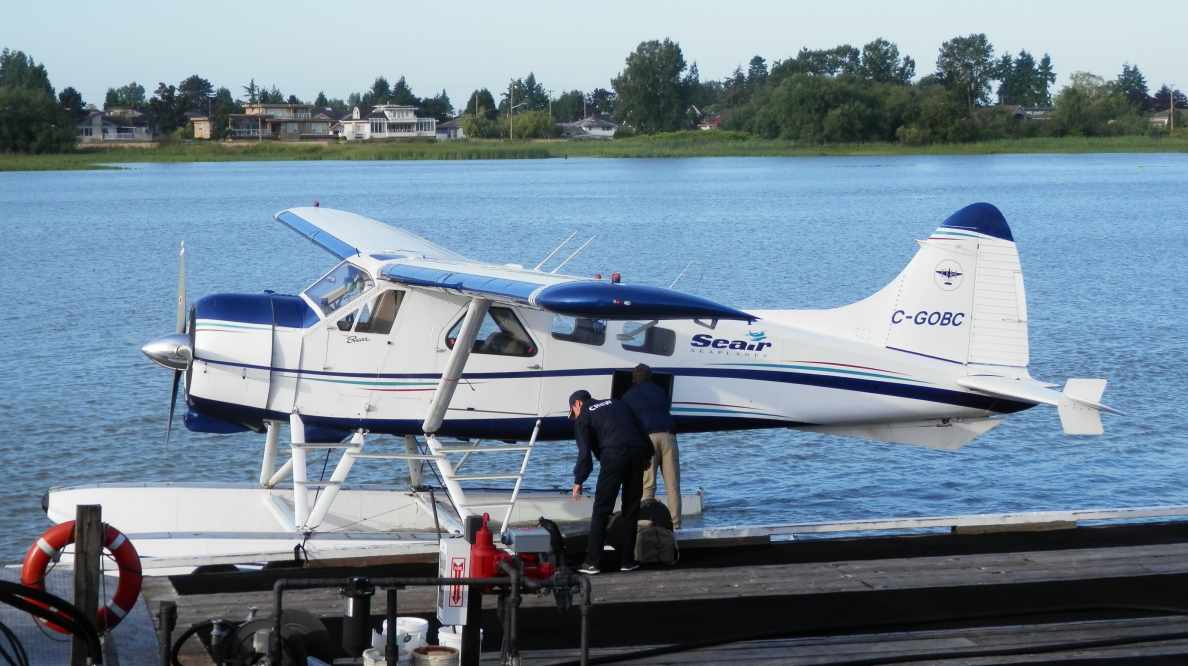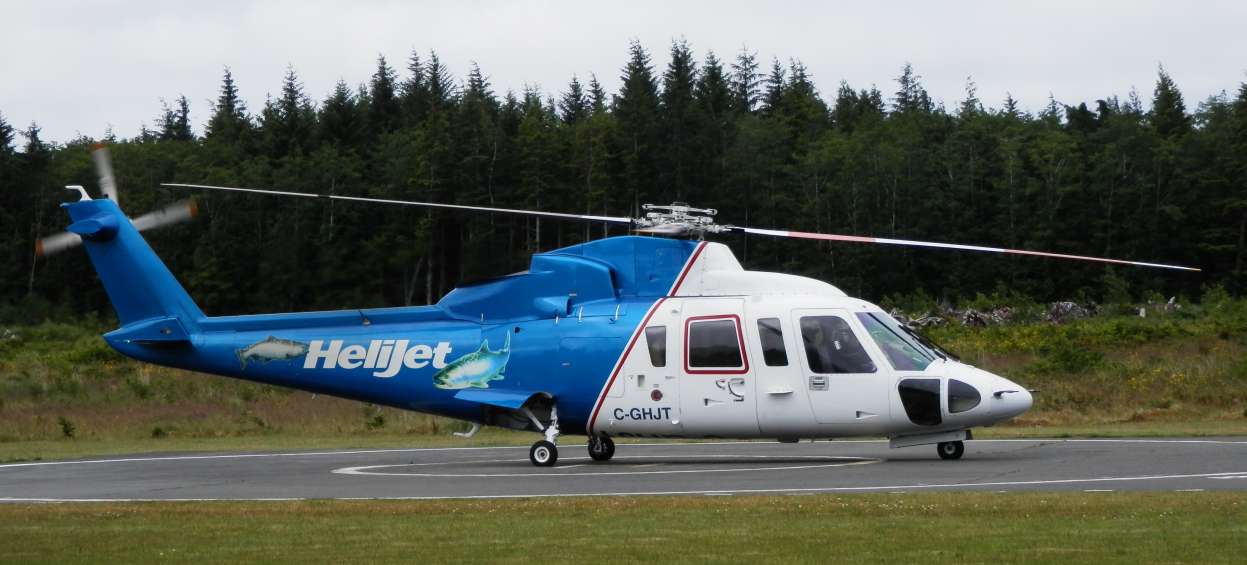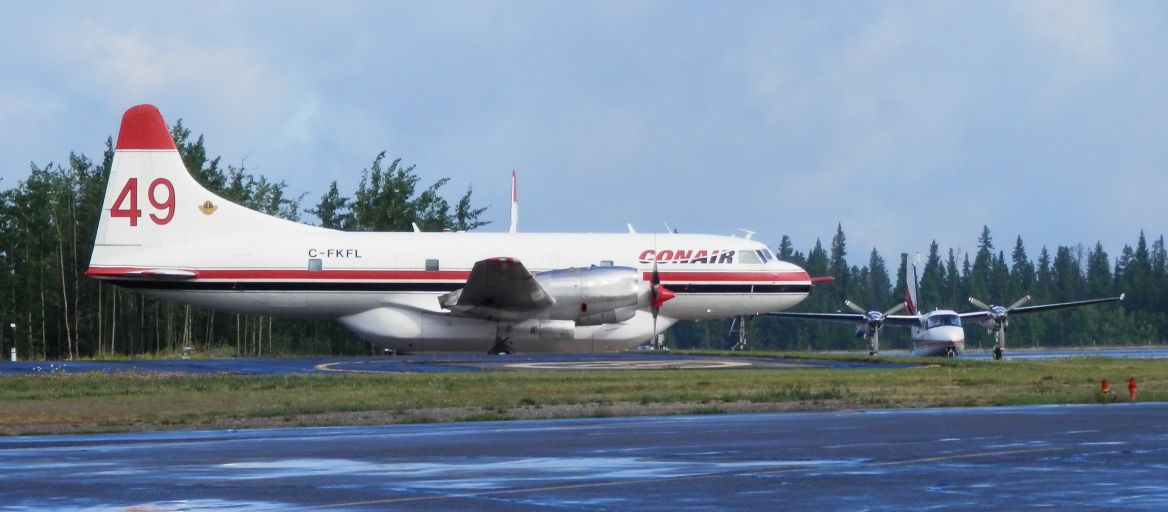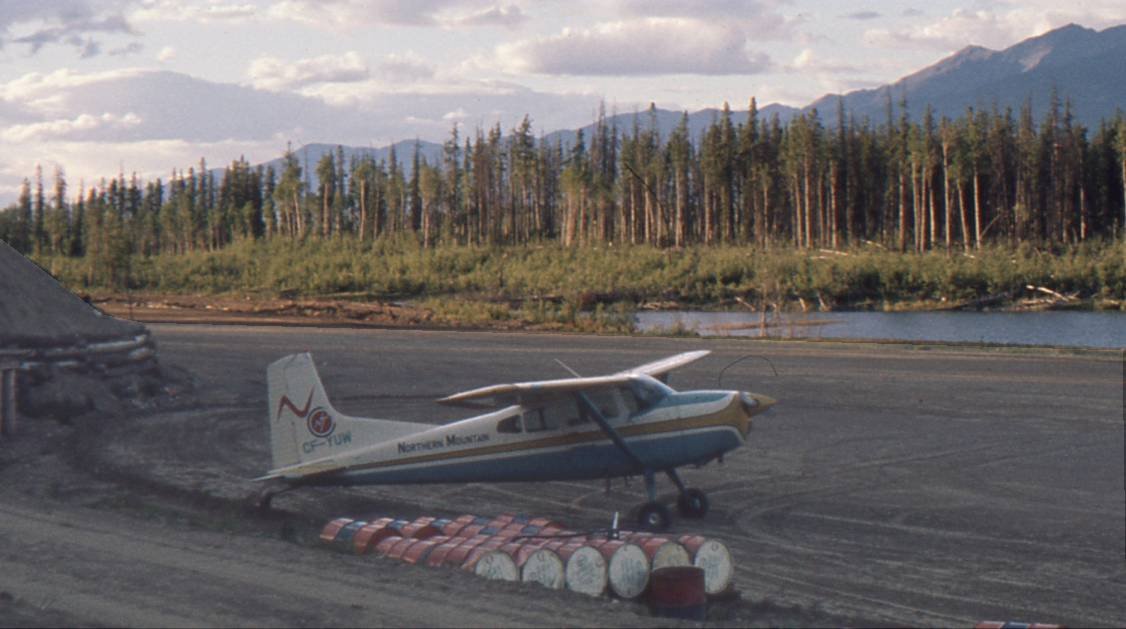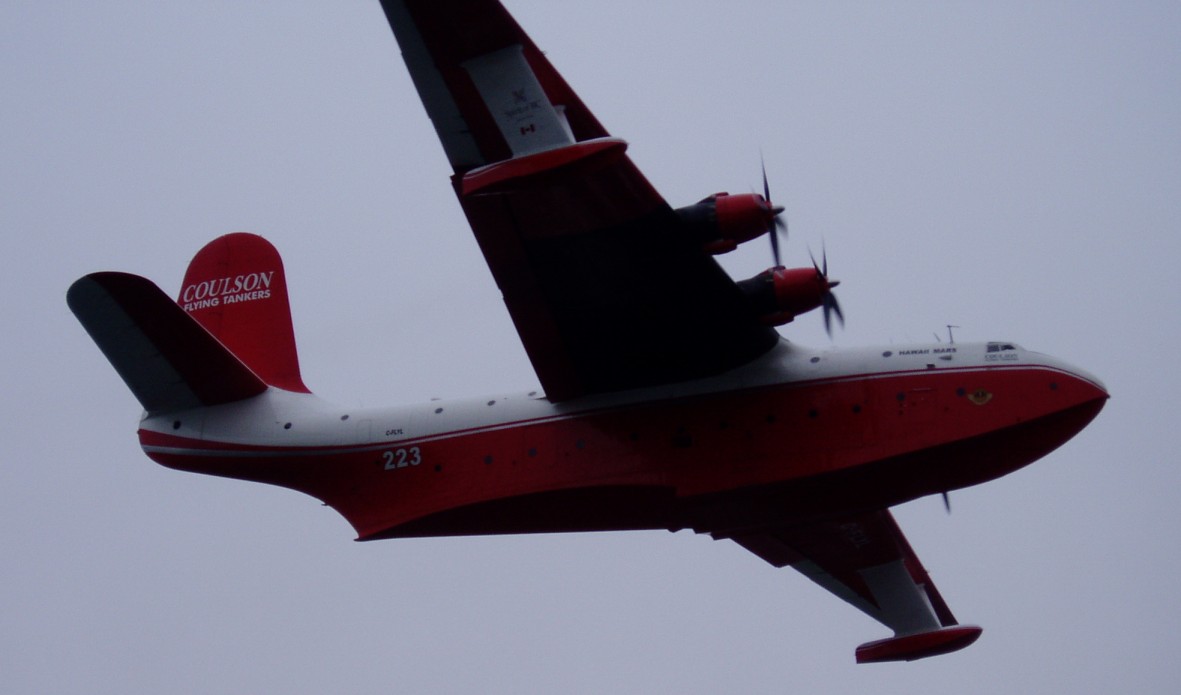 I noted the addition of this page in December 2021, but since then I have added a lot more photographs and information. The web page still needs some more work, I will probably put the photos into chronological or thematic order (float planes, helicopters, fire fighters, jets), more or less.



---
JAN. 1: SEASONAL GREETING 2021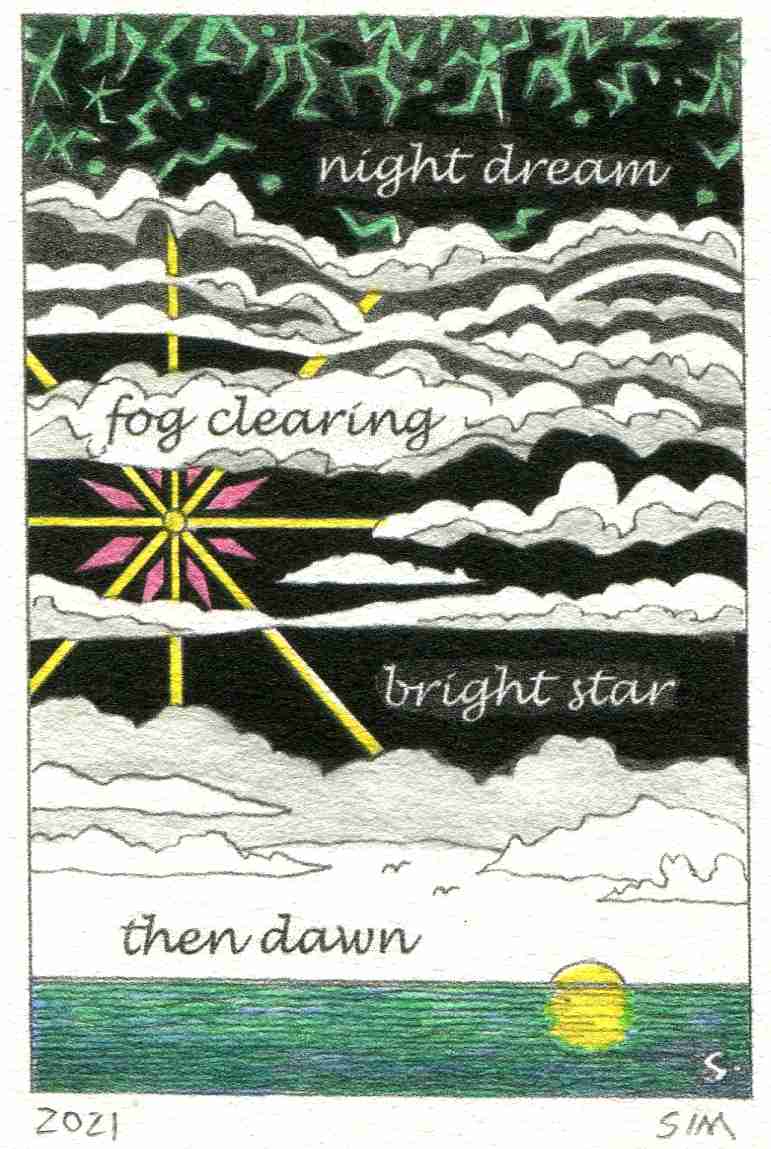 ---
Home
Copyright 2022