SIM PUBLISHING
Home Publications Artwork News Links About
---
NEWS - 2018
2017 - 2016 - 2015 - 2014 - 2013 - 2012 - 2011 - 2010 - 2009 - 2008 - 2007 - 2006 - 2005 - 2004
---
All text, photography and artwork is by GARY SIM unless noted otherwise.
---
JULY 3: DAILY GRIND CAFE TO CLOSE AT END OF JULY
The Daily Grind Cafe, at 1500 West Georgia Street, Vancouver, is closing at the end of July after many years. The developers have struck again, the east end of the 1500 block is scheduled for demolition shortly afterwards. I have been curating visual art exhibitions at the cafe since June 2004, slightly more than fourteen years. The opening exhibition was a solo show of nine original Sim pen & ink drawings, and was on display from June 21 to July 30 2004. At that time the Owner of the cafe didn't want the wall filled with holes from me pounding nails into it to hang art on, so I designed, made, and installed a picture hanging rail at the top of the wall, with slots every two inches to hang pictures through. The system worked quite well for a long time, but recently it hasn't made any difference how many holes I put in the wall.

For the first while I tried to do an exhibition every month or two, then extended the shows to be three or four months long. Eventually I started leaving shows up for a year or so, and swapping out an artwork or two if needed. It was perhaps a wasted opportunity to show more work by myself or others, but it seemed like it was getting to be time to wrap it up. Also, over the course of time the cafe's owners had slowly filled in either side of the exhibition wall with storage on the right, and new coolers and freezers on the left. Finally there was only about twelve feet left out of over thirty feet of wall space that I started with.


Gary Sim inaugural exhibition June - July 2004

LIST OF EXHIBITIONS:

Gary Sim, pen & ink drawings, June - July 2004 (inaugural exhibition)
John Steil, watercolour crayon drawings, August - September 2004 (see photo above)
Famous Empty Sky, Party of the Century collage, September - October 2004
Arlene Byrne, Australian landscape diptychs, October - November 2004
Eight B.C. Printmakers (Andrea Taylor, Gary Sim, Michael Kluckner, Maisie Robertson, George Kuthan,
Gordon Kit Thorne, W.P. Weston, Pat Davitt), December 2004 to January 2005
Branislav Vrbaski, Vancouver photographs, January - March 2005
Aaron Zacharias, paintings, April - May 2005
Agatha Teodorowicz, May - July 2005
Maud Sherman, Places to Sketch, historic watercolours, July - December 2005
Christmas Group Show (Famous Empty Sky, John Steil, Gary Sim), December 2005 - January 2006
Gary Sim, B.C. Sketches, January - June 2006
Eric Allen Montgomery, Memory Boxes, June - September 2006
Gary Sim, Transient Moorage, September - November 2006
Christmas Group Show (Gary Sim, John Steil, Andrea Taylor), November - December 2006
Donna Mair Photography, City Scapes, January - March 2007
Ships Ahoy Group Show (Aubrey N. St. John Mildmay, B.C. Binning, Alistair Bell, Vahid Dastpak, Gary Sim), March - June 2007
Mountains Group Show (Ann Vicente, Bessie Fry Symons, Barbara Leighton, Maud Rees Sherman, Gary Sim), July - September 2007
Christmas Group Show (Gary Sim, John Steil, and Donna Mair), December 2007 - January 2008
Gary Sim, Vancouver Drawings, August - November 2008
Donna Mair Photography, Spring, January - May 2009
Gary Sim, Experiments in self-generating visual rules, drawings, May - July 2009
Gary Sim, On the Inland Sea, hand tinted relief prints, July - September 2009
Thom Kline, Digitally altered photographs, 2010
Gary Sim, Recent Drawings, 2011
Gary Sim & Maud Sherman, BC Scenes, 2016
Gary Sim, Recent Linocut Prints, September 2017 - June 2018

Refer also to DAILY GRIND EXHIBITIONS for more information and photographs of exhibitions.
---
JUNE 30: 4th MERIDIAN - NEW ON-LINE AUCTION
A new on-line auction has been running for a while, based out of Penticton, B.C. It's called 4th Meridian Auctions, and can be accessed at the following website:

www.4thmeridian.ca

The home page refers to it as "A curated online auction for eclectic art collectors with a focus on Western Canadian art and collectibles." That sounds like me! The folks running it have also opened a storefront for the business in Penticton, which will act not only as the auction centre but also as a gallery.
---
JUNE 17: UPDATE ON LANDMARK DEMOLITION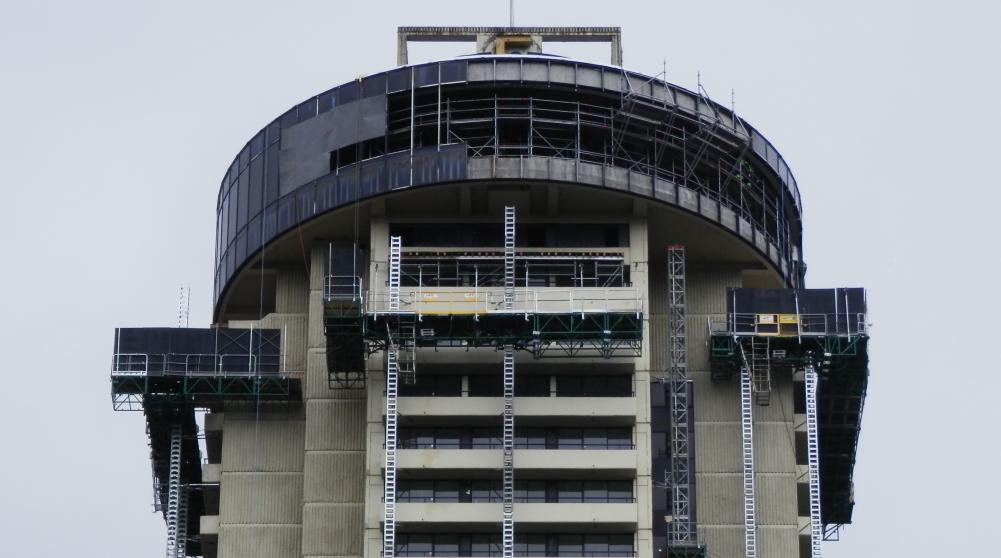 Top-down demolition of the Landmark on Robson is now underway. Some very large pieces of demolition equipment have been brought to site, and the west podium has already been chewed to bits. My earlier complaints about the neon lights on top of it can now be put to rest, at least until the two huge towers taking this one's place get lit up. Meanwhile, the whole neighbourhood is "alive" with construction at least six days a week. Even if a project is not near you, your road will be getting dug up soon for sombebody else's power, water, and sewer.


A block away on Alberni Street, the war is almost over for this building.

---
May 9: CANADIAN BOOK BINDERS & ARTISTS GUILD B.C. - BOOK FAIR MAY 26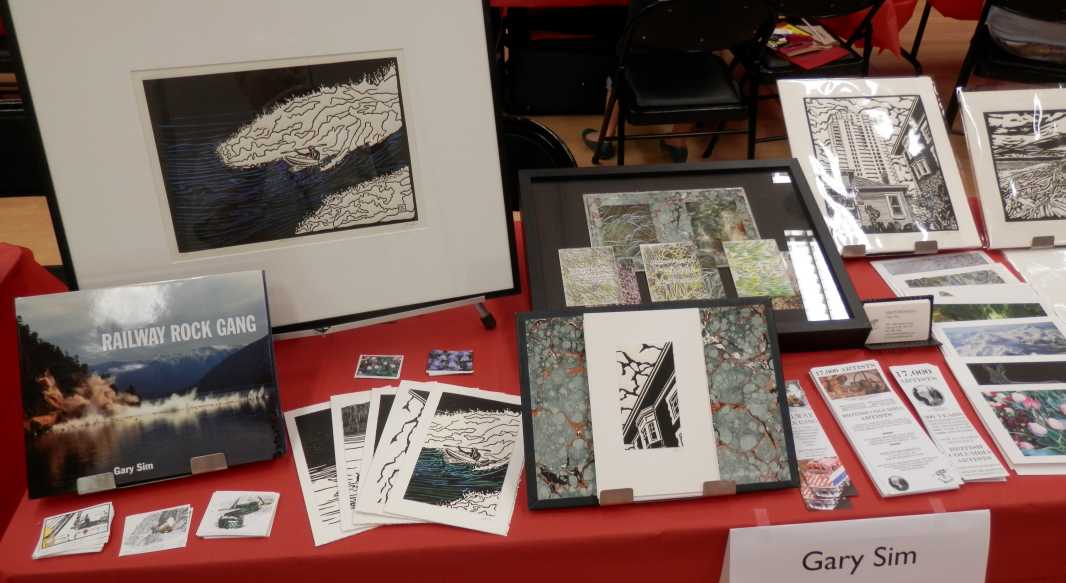 Sim table at the 2014 book fair.

Sim Publishing was asked once again to display work at the bi-annual Book Fair held by the Canadian Book Binders & Artists Guild. The event will be held Saturday, May 26, 2018, from 10am to 3pm, at the Vancouver Public Library (Central Branch) at 350 West Georgia Street, in the Alice Mackay Room, lower level.

Book Fair (click on "Book Arts Fair 2018")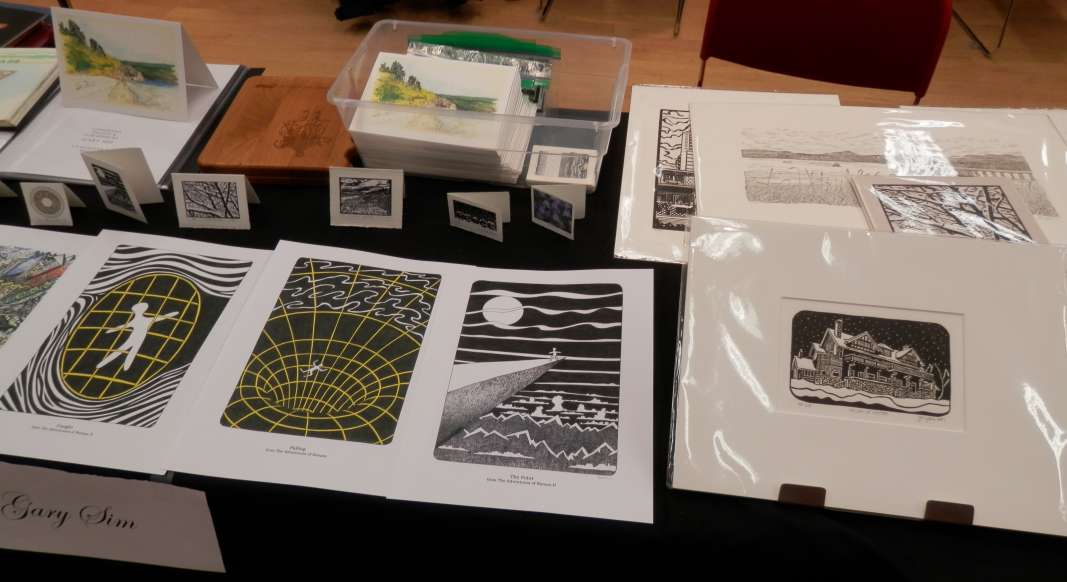 Sim table at the 2016 book fair.
---
May 6: BC ARTISTS EXHIBITION CLOSES AT NATIONAL GALLERY


A view of the exhibition.
Photograph courtesy of the National Gallery of Canada

The bibliographic exhibition B.C. ARTISTS - THE GARY SIM DONATION, that was based on donations to the National Gallery of Canada Library & Archives, has now closed after over three months on display. In addition to a printed catalogue, with both an English and a French version published, the Gallery posted a web page article about the exhibition in their online journal:

Vibrant story of the dynamic art scene in British Columbia: Gary Sim's collection

The author of the online article noted: "The current exhibition, B.C. Artists: The Gary Sim Donation, allowed curator Katherine Stauble to shine a spotlight on a significant, recent donation by collector Gary Sim of almost 1000 publications. "Over the past twenty years, Sim has assembled an outstanding collection of books, periodicals and other publications related to the artists of Western Canada, particularly British Columbia," Stauble writes in her essay about the exhibition. "With documents dating back to 1907, his library recounts the history of art and craft in that province, from frontier times to today, documenting both little- and well-known artists." Stauble says she chose the material based on value or rarity; importance to the NGC collection; significance to BC art history; as well as significance to the Gary Sim collection itself."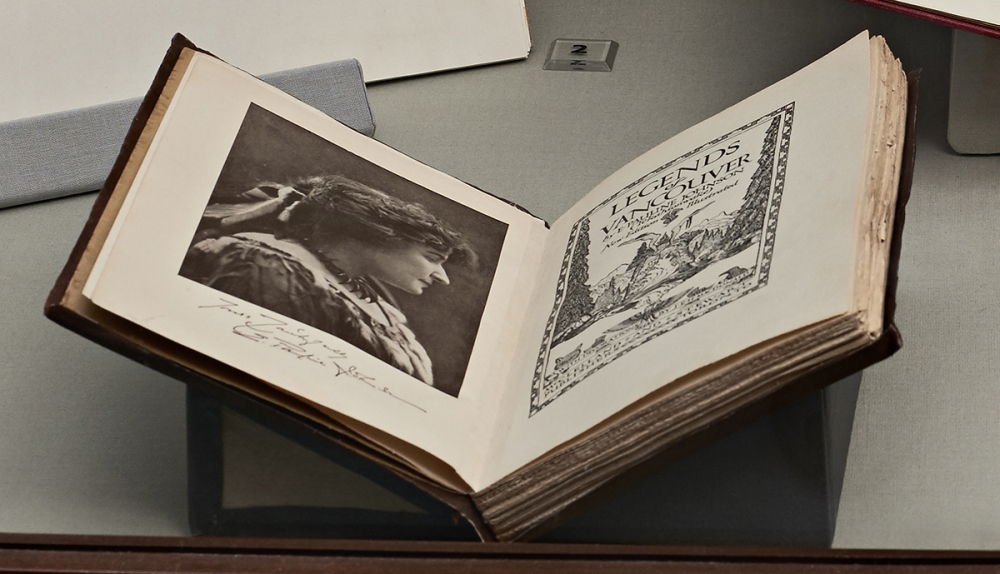 An early edition of Pauline Johnson's Legends of Vancouver
Photograph courtesy of the National Gallery of Canada
---
February 24: A VANCOUVER SNOWMAN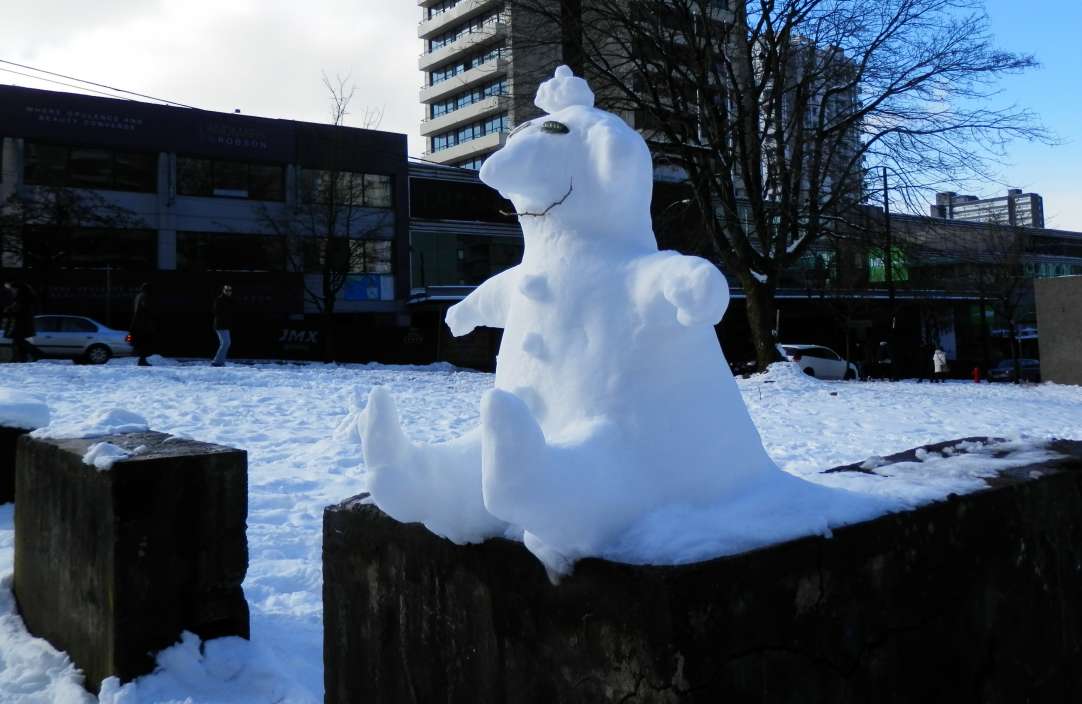 Alas, this nice bit of work didn't last very long.
---
January 23: BC ARTISTS EXHIBITION NOW ON AT NATIONAL GALLERY
Sim Publishing is very pleased to announce that the National Gallery of Canada in Ottawa is sponsoring a bibliographic exhibition at the Gallery from January 23 to May 6, 2018. The title of the exhibition is BC ARTISTS - THE GARY SIM DONATION. An exhibition catalogue has been produced (in English and French) for the show, which will highlight a number of books, exhibition catalogues, and ephemera donated by Sim Publishing to the National Gallery over the past 20 years.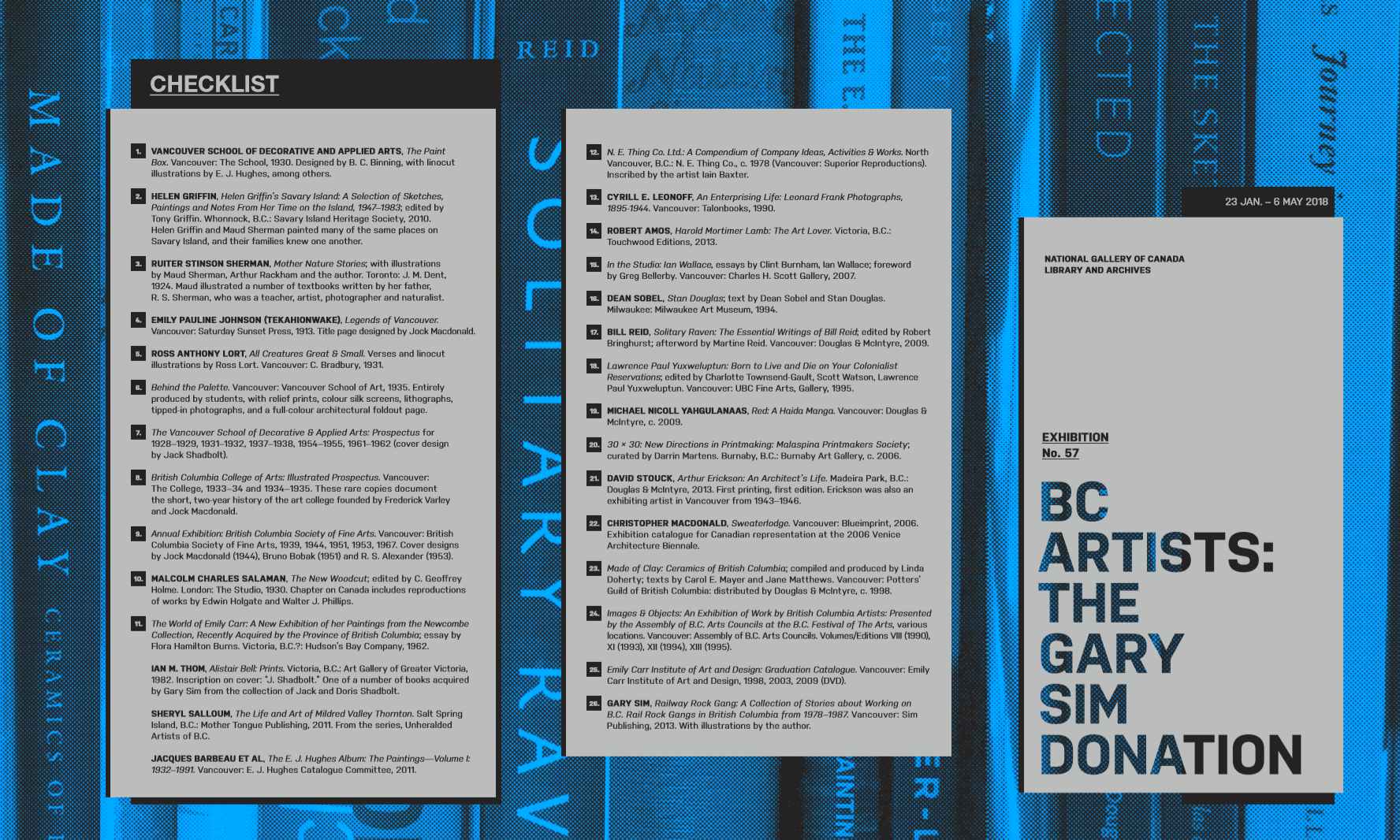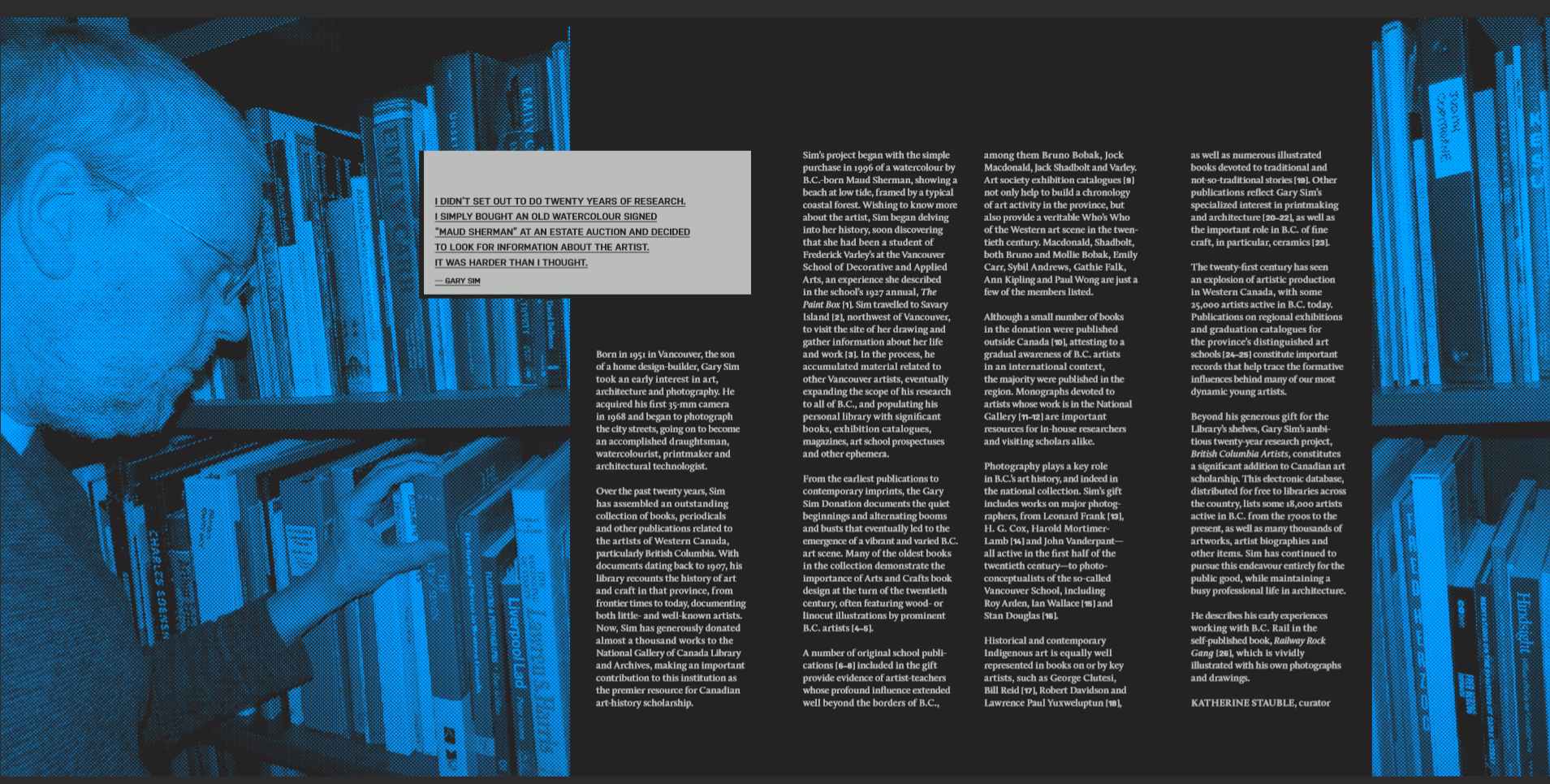 Catalogue courtesy National Gallery of Canada Library & Archives

This is quite an honour, and is a significant achievement and recognition for not only my donations but also for my BC Artists project itself. Earlier donations to the NGC were recognized when my name was added to the "125 YEARS OF DONORS" wall in the Gallery's entry promenade, as well as being listed in an NGC publication of significant donations to the Library and Archives over a ten-year period.

The head of NGC Library and Archives, Cyndie Campbell, asked me a few years ago about my interest in the idea, and of course I said yes, and my large donations of the past three years probably helped this show be approved. At least two or three people at the Gallery worked on the show, partly because the exhibition was scheduled to open quite soon after the decision was made to put it on. Now I have to decide: fly to Ottawa or not?

Refer to BC ARTISTS - THE GARY SIM DONATION for more information.
---
Home
Copyright 2018