SIM PUBLISHING
Home Publications Artwork News Links About
---
NEWS - 2018
2017 - 2016 - 2015 - 2014 - 2013 - 2012 - 2011 - 2010 - 2009 - 2008 - 2007 - 2006 - 2005 - 2004
---
All text, photography and artwork is by GARY SIM unless noted otherwise.
---
JUNE 17: UPDATE ON LANDMARK DEMOLITION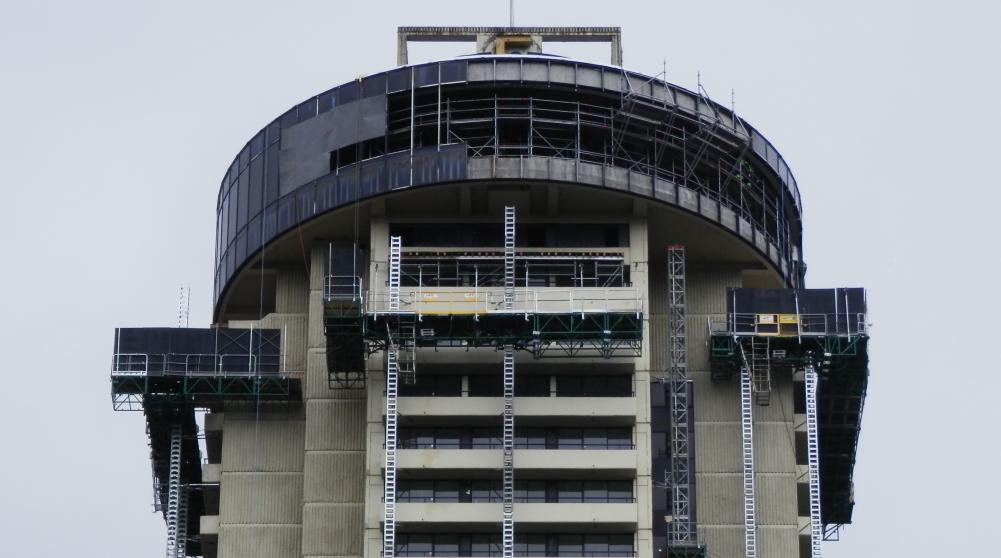 Top-down demolition of the Landmark on Robson is now underway. Some very large pieces of demolition equipment have been brought to site, and the west podium has already been chewed to bits. My earlier complaints about the neon lights on top of it can now be put to rest, at least until the two huge towers taking this one's place get lit up. Meanwhile, the whole neighbourhood is "alive" with construction at least six days a week. Even if a project is not near you, your road will be getting dug up soon for sombebody else's power, water, and sewer.


A block away on Alberni Street, the war is almost over for this building.

---
May 9: CANADIAN BOOK BINDERS & ARTISTS GUILD B.C. - BOOK FAIR MAY 26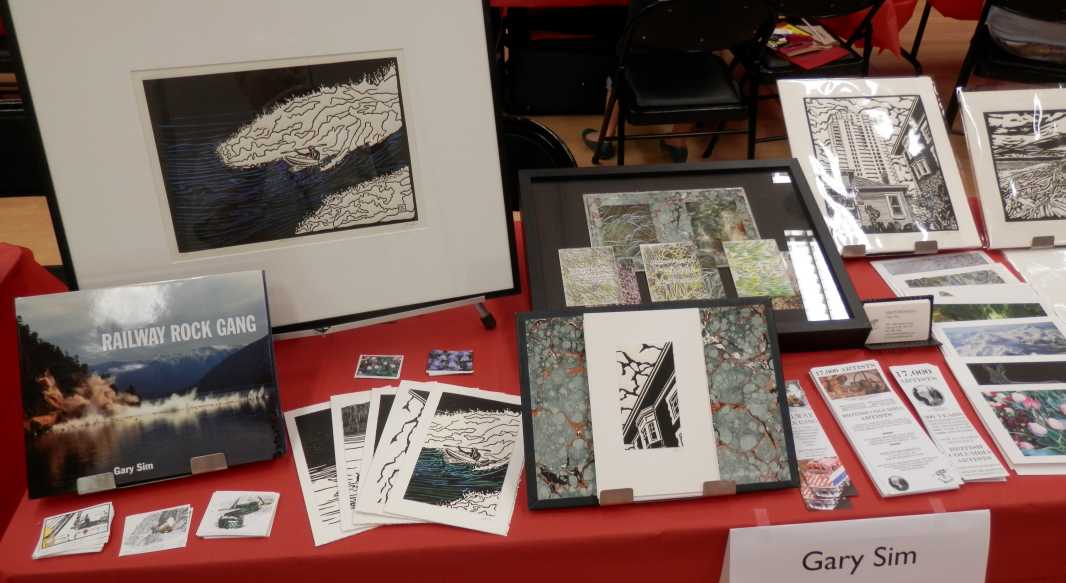 Sim table at the 2014 book fair.

Sim Publishing was asked once again to display work at the bi-annual Book Fair held by the Canadian Book Binders & Artists Guild. The event will be held Saturday, May 26, 2018, from 10am to 3pm, at the Vancouver Public Library (Central Branch) at 350 West Georgia Street, in the Alice Mackay Room, lower level.

Book Fair (click on "Book Arts Fair 2018")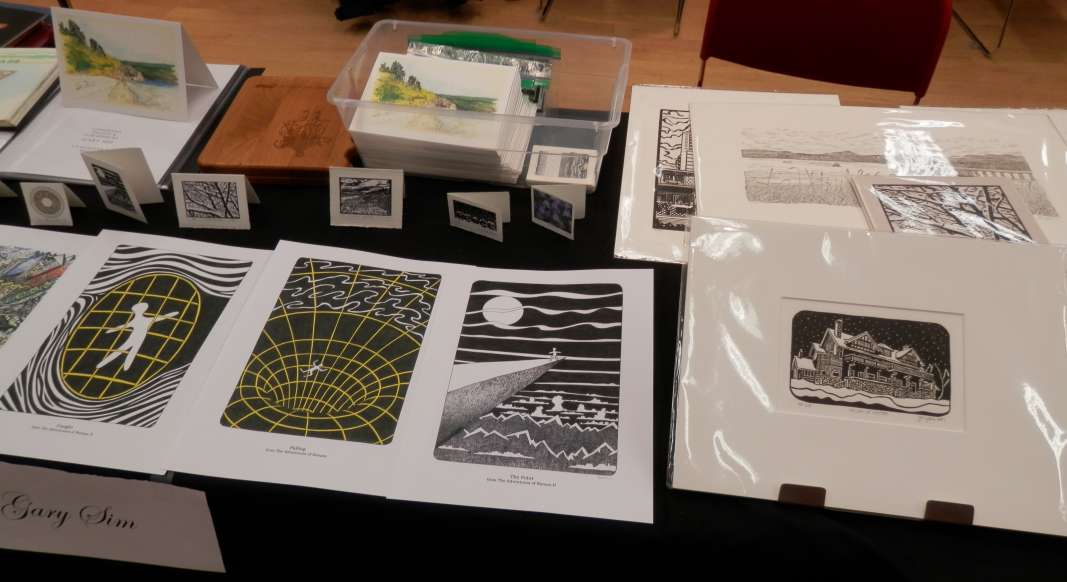 Sim table at the 2016 book fair.
---
May 6: BC ARTISTS EXHIBITION CLOSES AT NATIONAL GALLERY


A view of the exhibition.
Photograph courtesy of the National Gallery of Canada

The bibliographic exhibition B.C. ARTISTS - THE GARY SIM DONATION, that was based on donations to the National Gallery of Canada Library & Archives, has now closed after over three months on display. In addition to a printed catalogue, with both an English and a French version published, the Gallery posted a web page article about the exhibition in their online journal:

Vibrant story of the dynamic art scene in British Columbia: Gary Sim's collection

The author of the online article noted: "The current exhibition, B.C. Artists: The Gary Sim Donation, allowed curator Katherine Stauble to shine a spotlight on a significant, recent donation by collector Gary Sim of almost 1000 publications. "Over the past twenty years, Sim has assembled an outstanding collection of books, periodicals and other publications related to the artists of Western Canada, particularly British Columbia," Stauble writes in her essay about the exhibition. "With documents dating back to 1907, his library recounts the history of art and craft in that province, from frontier times to today, documenting both little- and well-known artists." Stauble says she chose the material based on value or rarity; importance to the NGC collection; significance to BC art history; as well as significance to the Gary Sim collection itself."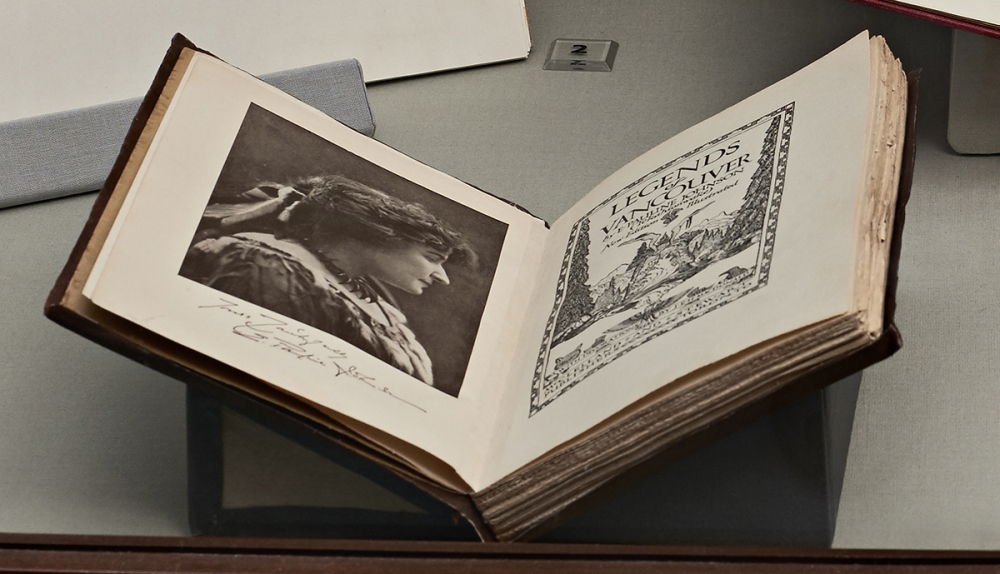 An early edition of Pauline Johnson's Legends of Vancouver
Photograph courtesy of the National Gallery of Canada
---
February 24: A VANCOUVER SNOWMAN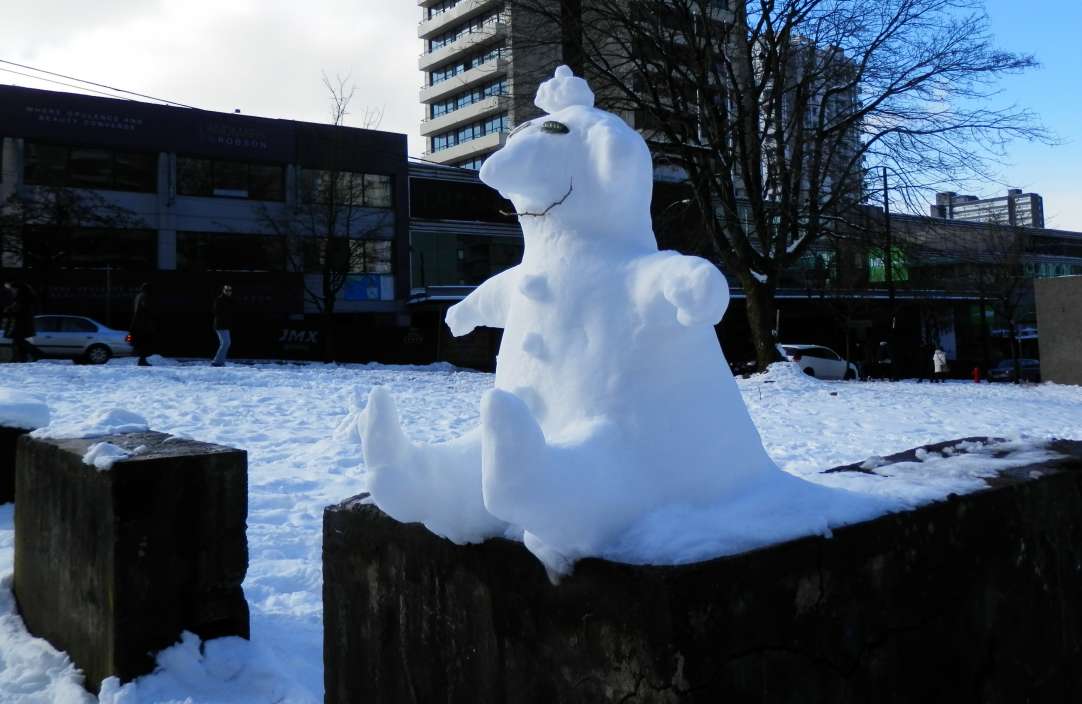 Alas, this nice bit of work didn't last very long.
---
January 23: BC ARTISTS EXHIBITION NOW ON AT NATIONAL GALLERY
Sim Publishing is very pleased to announce that the National Gallery of Canada in Ottawa is sponsoring a bibliographic exhibition at the Gallery from January 23 to May 6, 2018. The title of the exhibition is BC ARTISTS - THE GARY SIM DONATION. An exhibition catalogue has been produced (in English and French) for the show, which will highlight a number of books, exhibition catalogues, and ephemera donated by Sim Publishing to the National Gallery over the past 20 years.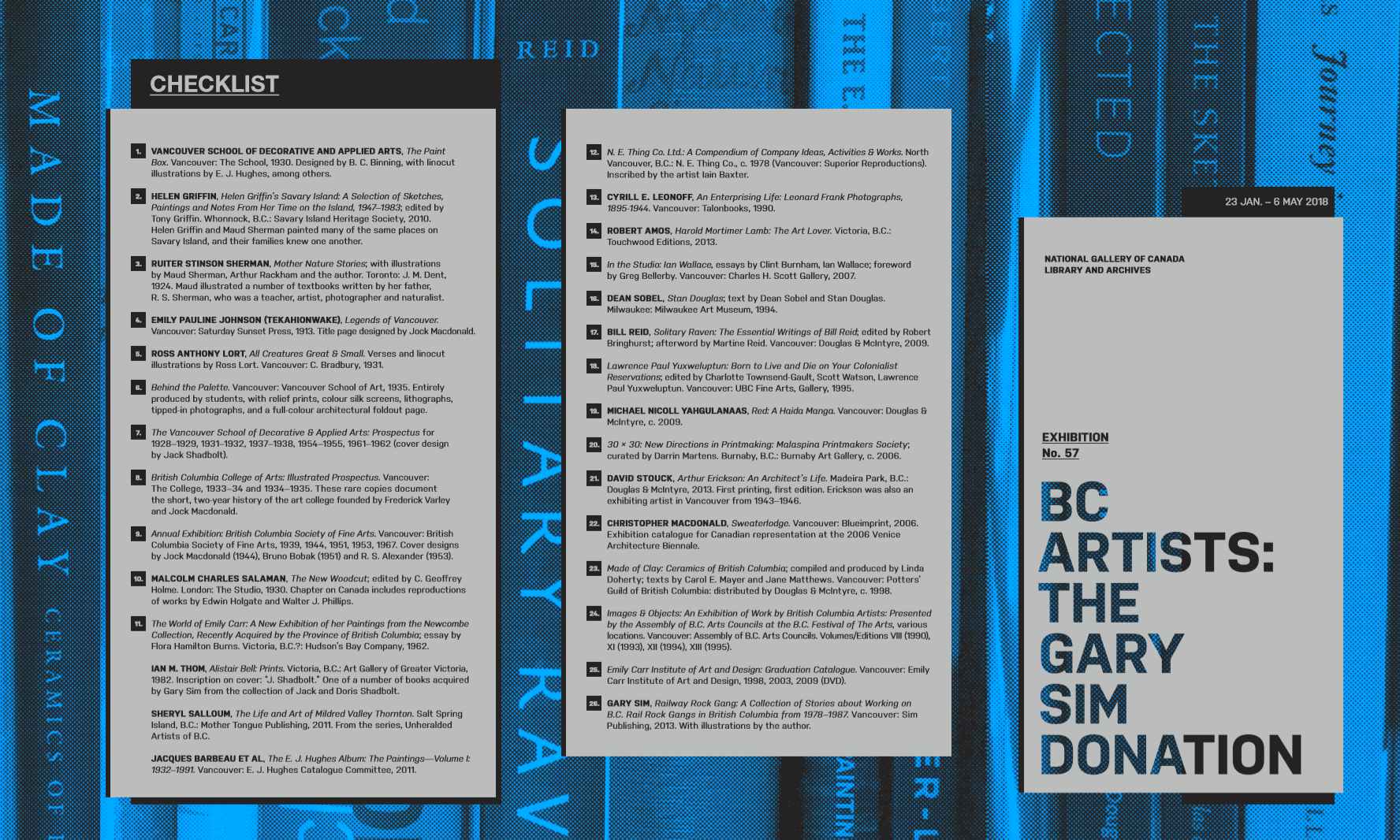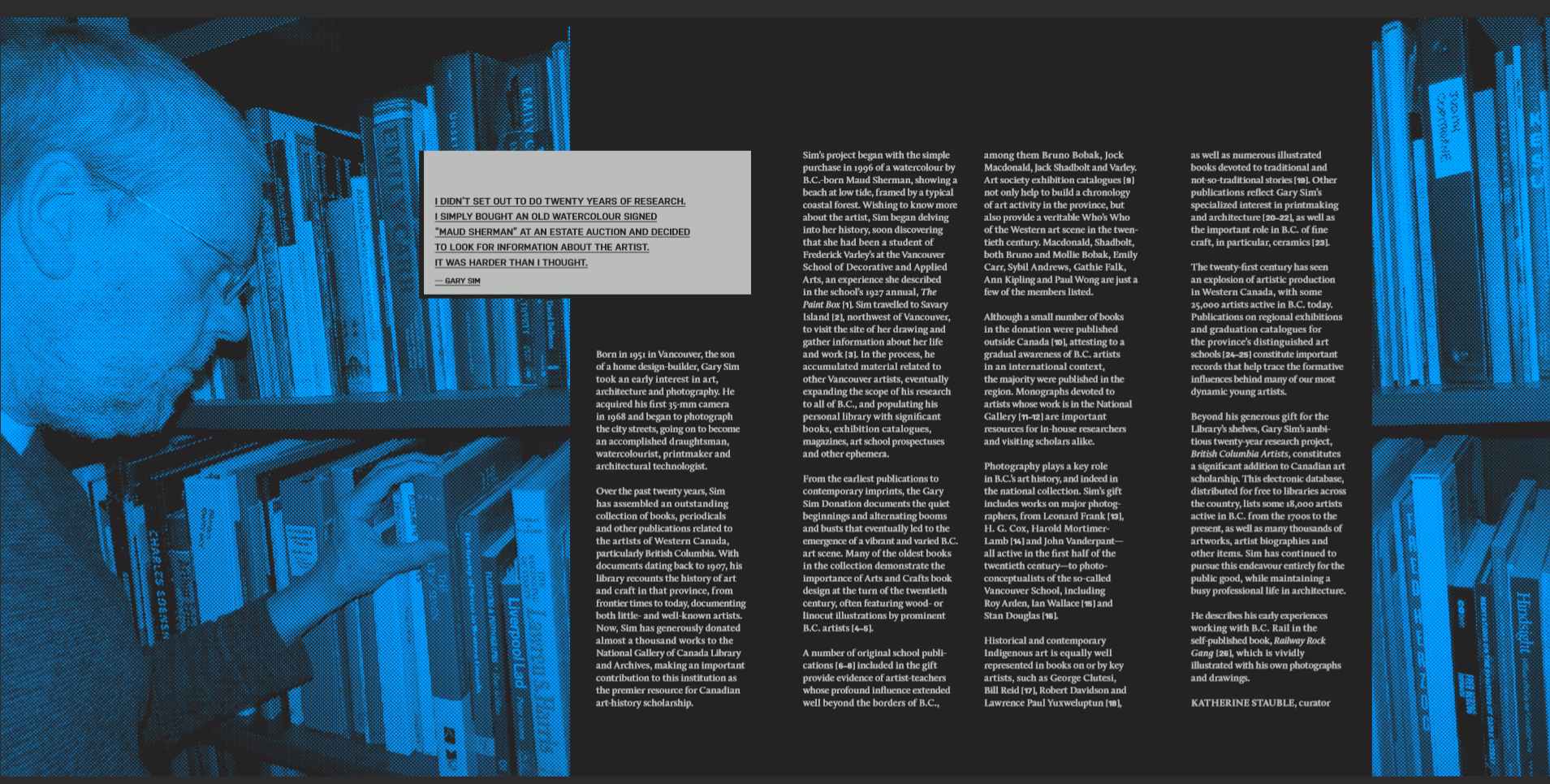 Catalogue courtesy National Gallery of Canada Library & Archives

This is quite an honour, and is a significant achievement and recognition for not only my donations but also for my BC Artists project itself. Earlier donations to the NGC were recognized when my name was added to the "125 YEARS OF DONORS" wall in the Gallery's entry promenade, as well as being listed in an NGC publication of significant donations to the Library and Archives over a ten-year period.

The head of NGC Library and Archives, Cyndie Campbell, asked me a few years ago about my interest in the idea, and of course I said yes, and my large donations of the past three years probably helped this show be approved. At least two or three people at the Gallery worked on the show, partly because the exhibition was scheduled to open quite soon after the decision was made to put it on. Now I have to decide: fly to Ottawa or not?

Refer to BC ARTISTS - THE GARY SIM DONATION for more information.
---
Home
Copyright 2018