SIM PUBLISHING
Home Publications Artwork News Links About
NEWS - 2023
2022 - 2021 - 2020 - 2019 - 2018 - 2017 - 2016 - 2015 - 2014 - 2013 - 2012 - 2011 - 2010 - 2009 - 2008 - 2007 - 2006 - 2005 - 2004
All text, photography and artwork is COPYRIGHT by GARY SIM unless noted otherwise.
---
MAY 22: UPDATES FOR GarySimStudio ON ETSY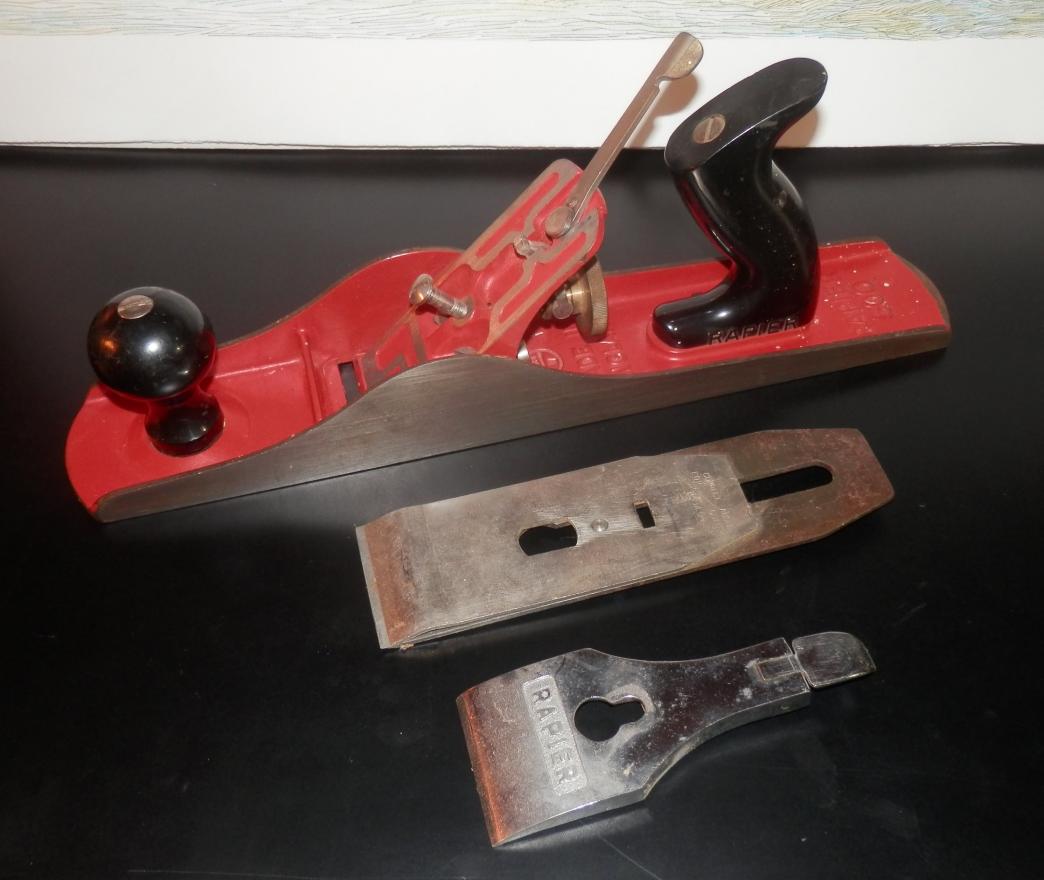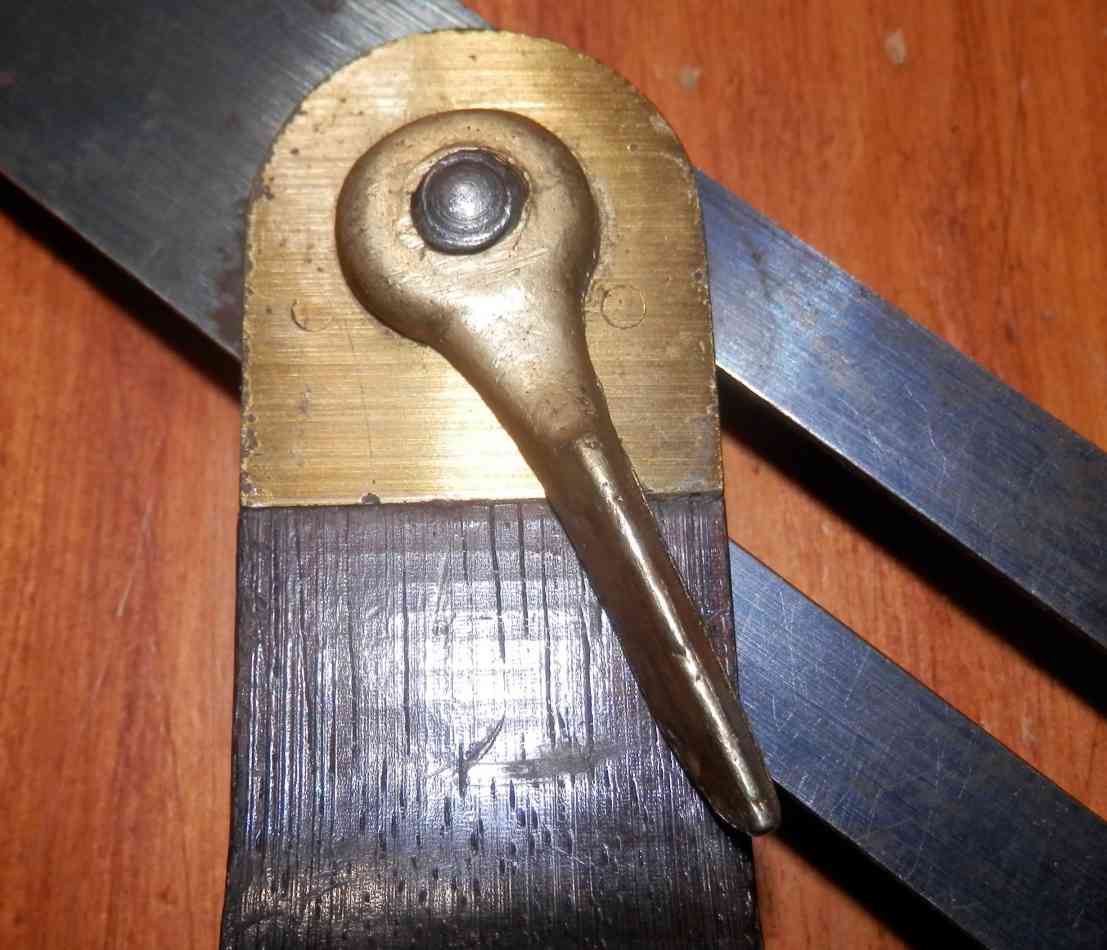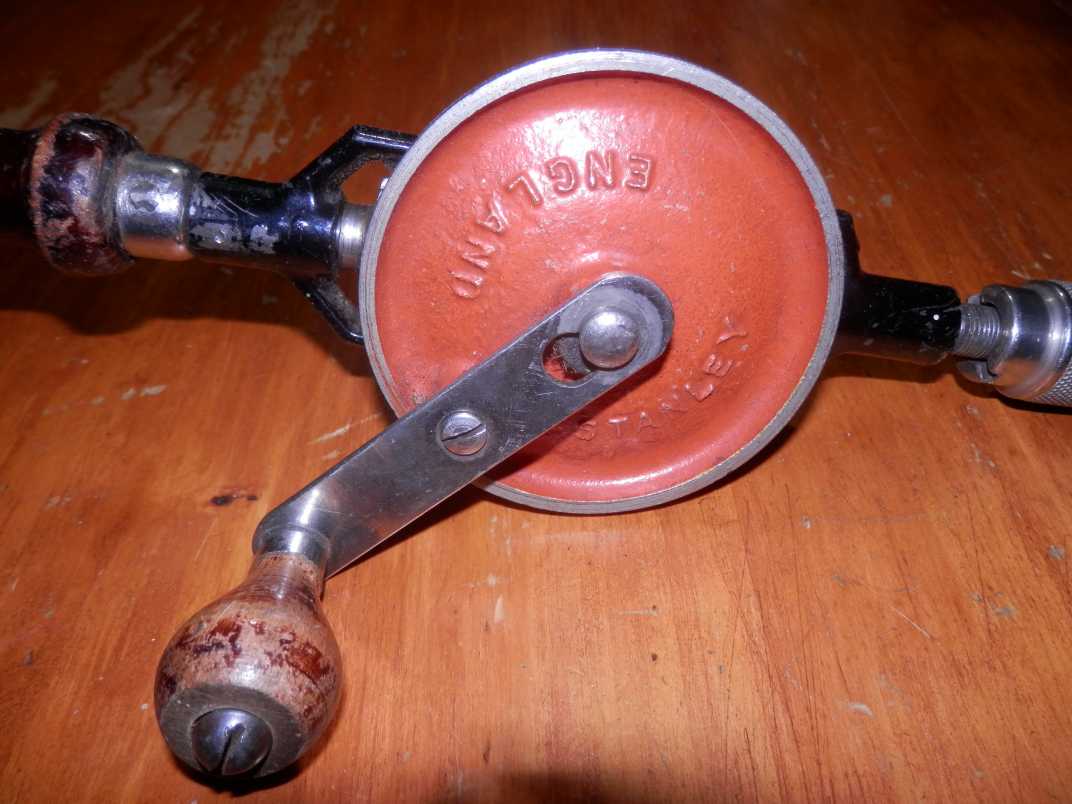 Rapier 500 plane, Stanley "sweetheart" adjustable square, Stanley "eggbeater" hand drill

A number of updates are in progress for various web pages in Sim Publishing and in GarySimStudio, my store on ETSY. Firstly, I am working on adding the link for PURCHASE NOW ON ETSY to all artwork pages on Sim Publishing that I have also posted on ETSY. I am also working to minimize the duplication in pricing that exists on the two websites.

In addition to posting my own drawings and prints, I recently started posting antique tools on GarySimStudio, some of which are shown in these photographs. More are already posted on ETSY, and a number of further postings are in the works. So far I've sold a collection of old files and rasps, and a Stanley No. 5-1/2 bench plane, which is a promising start. Some tools are from my own collection, and some are from an old tool chest that I recently purchased at a thrift store. It was full of more than 70 old tools, a few are more than 100 years old, and most of them are "top of the line" tools that are as useful today as the day they were made.



---
MAY 14: NEW LINOCUT "SEAGULL"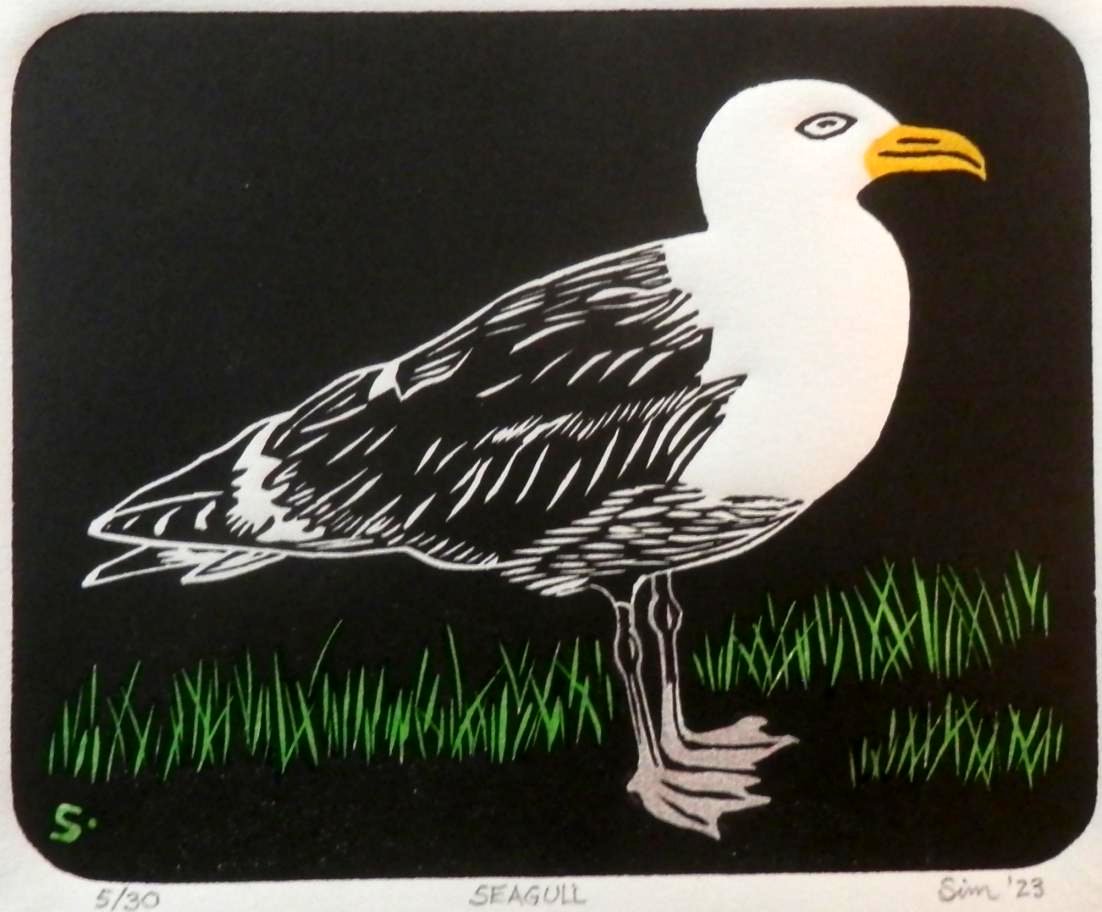 I managed to edition a few impressions of this new relief print in time for Art in the City 2023. It's from a photograph that I took of this seagull last year in Stanley Park. It was just standing there minding its own business. Originally I thought that its feet would be the same colour as its beak, but the bird book says its feet are flesh-coloured, although they looked pretty dirty in my photograph.



---
MAY 12: ART IN THE CITY WAS A SUCCESS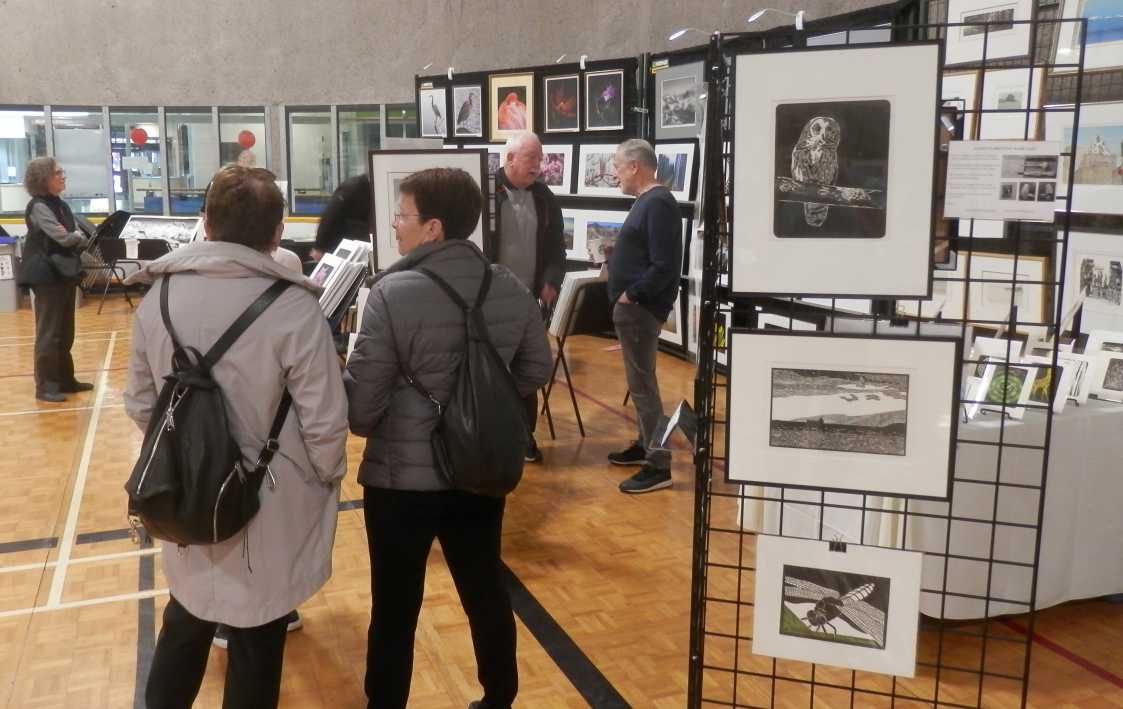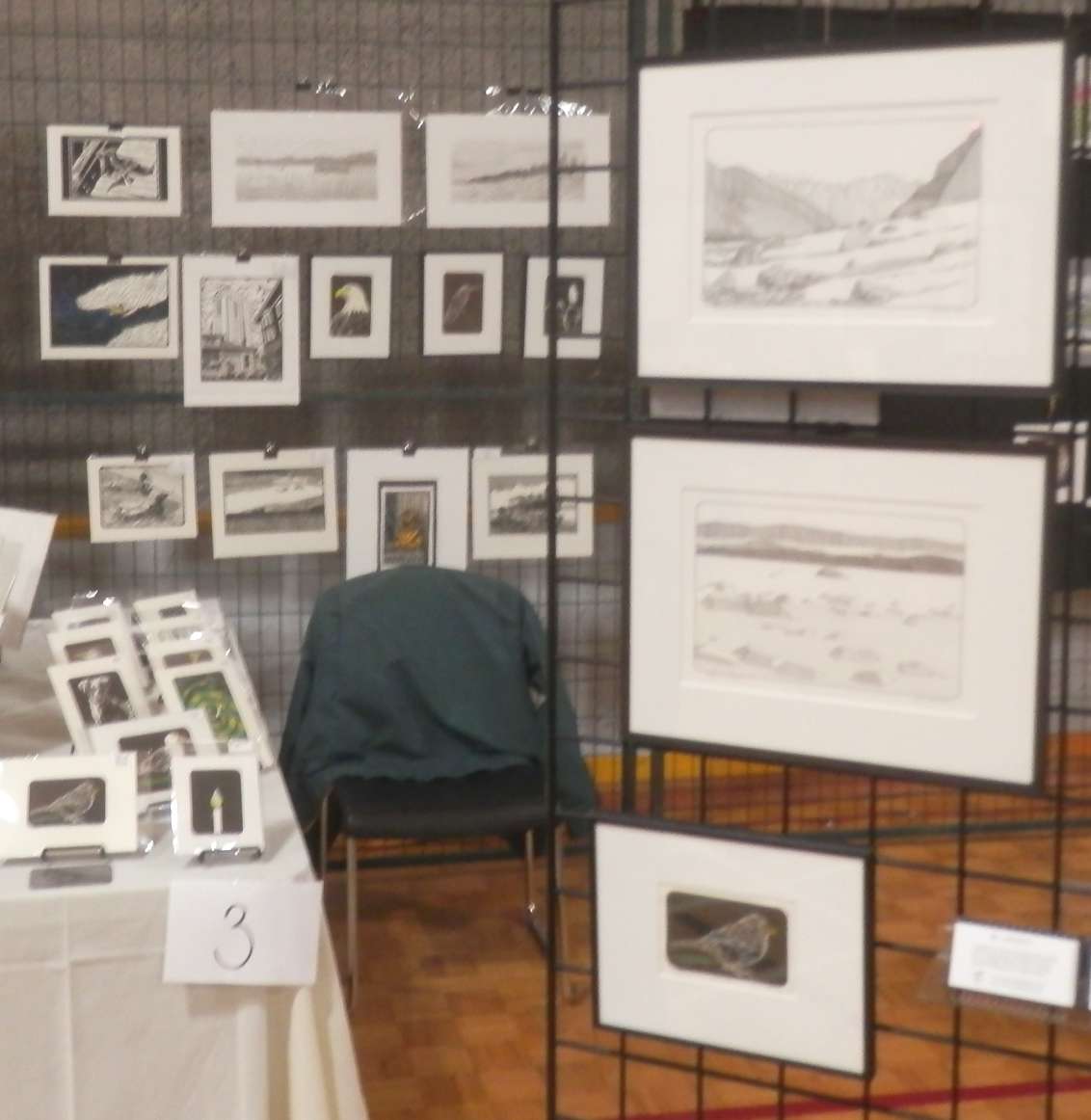 Ken & Helen Pattern and friends plus 3 of my prints; partial view of my half-booth.

A week later the dust has mostly settled ... Art in the City 2023 was successful for both myself and for Ken & Helen Pattern, who shared my booth. Events like this are quite a marathon experience. First, weeks of selecting and organizing artwork to display, and getting everything ready to be moved down to the West End Community Centre on the Friday afternoon. Then, the move and the installation. A bit of a break, then the "Vernissage" opening on Friday evening for two hours.

That was fun, a lot of visitors showed up, our hosts provided a cash bar with wine, beer, pop, coffee, and water, as well as tables of appetizers to nibble on while wandering around the displays. All of the exhibitors got 2 drink tickets along with their exhibitor i.d. There were 50 booths and they all seemed occupied. Quite a wide variety of visual art, prints, and photography, but not much sculpture. Saturday morning I went down a bit early and organized my artwork some more. Again, the whole day was fairly busy, with the odd lull providing a chance to have a sandwich.

Sunday was another busy day from 11 to 4, then began the frenzy of taking it all down, packing it all up, and getting it all home. I managed to do all that and was home by 4:55, collapsing into the nearest comfortable chair with a drink in my hand. I sold out the impressions of Little Bird that I had prepared and taken with me, but forget to take down more of them on Sunday morning. In any case, I also sold two drawings, Nine O'clock Gun and Erratic Shoreline, and a number of limited edition prints including Five Bamboo, Hummingbird, Higher Rises, Dream Snake, as well as one impression of new relief print Seagull that is not yet posted here.

Most the of friends and acquaintances who said that they would see the show did come by to say hello, and a few others that I knew wandered by as well. A lot of people took my business card. Many were very interested in the process of relief printing, linocut especially, although I also described to a few folks how my two copper plate etchings Water Taxi and Looking West were produced. I really love the educational part of these shows, and a printed photograph of my printing press was very useful a number of times.



---
APRIL 10: NEW LINOCUT "FIVE BAMBOO"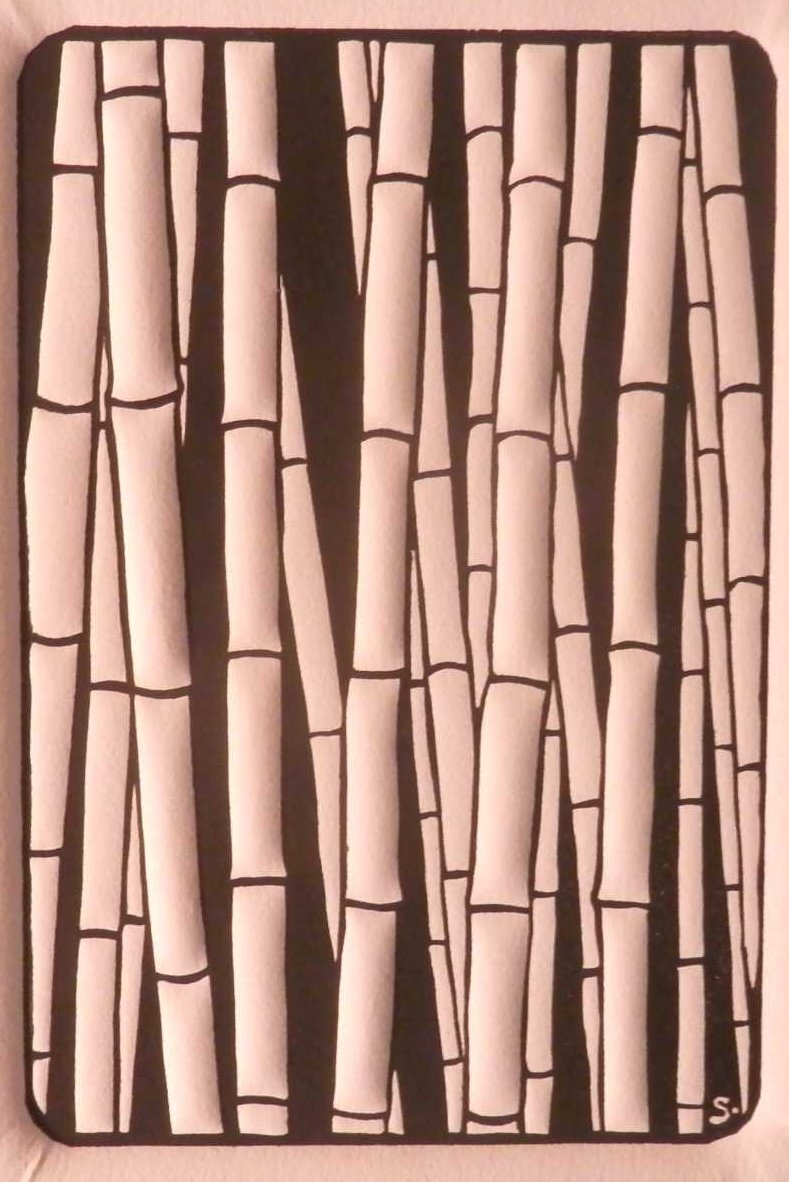 A completed impression of the print

I went for a walk in Stanley Park last week, and wandered into the rhododendron garden. In the middle of it was a stand of giant bamboo, perhaps 30 or 40 feet tall. I took a number of photographs, thinking that there might be a good linocut image. Cutting the block went quite quickly, and the image is easy to print. The five main bamboo stalks are hand-embossed into the damp print paper after the impression is taken out of the press.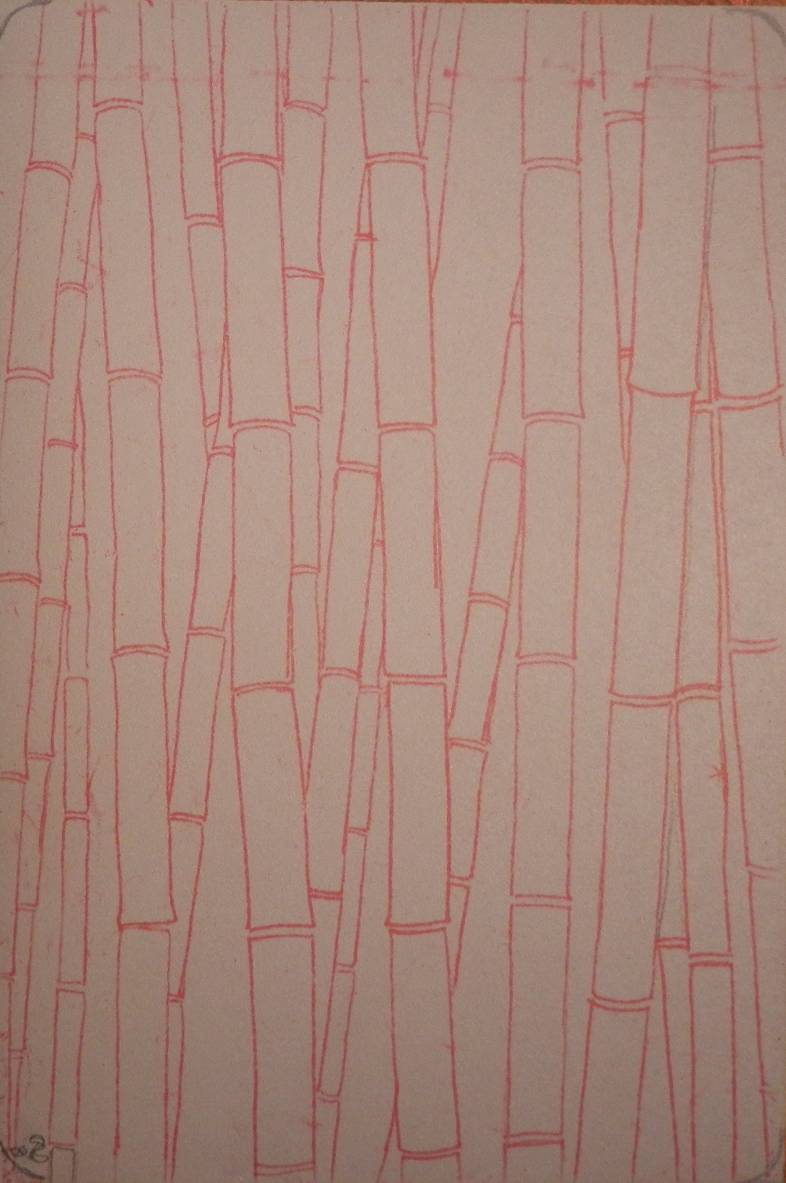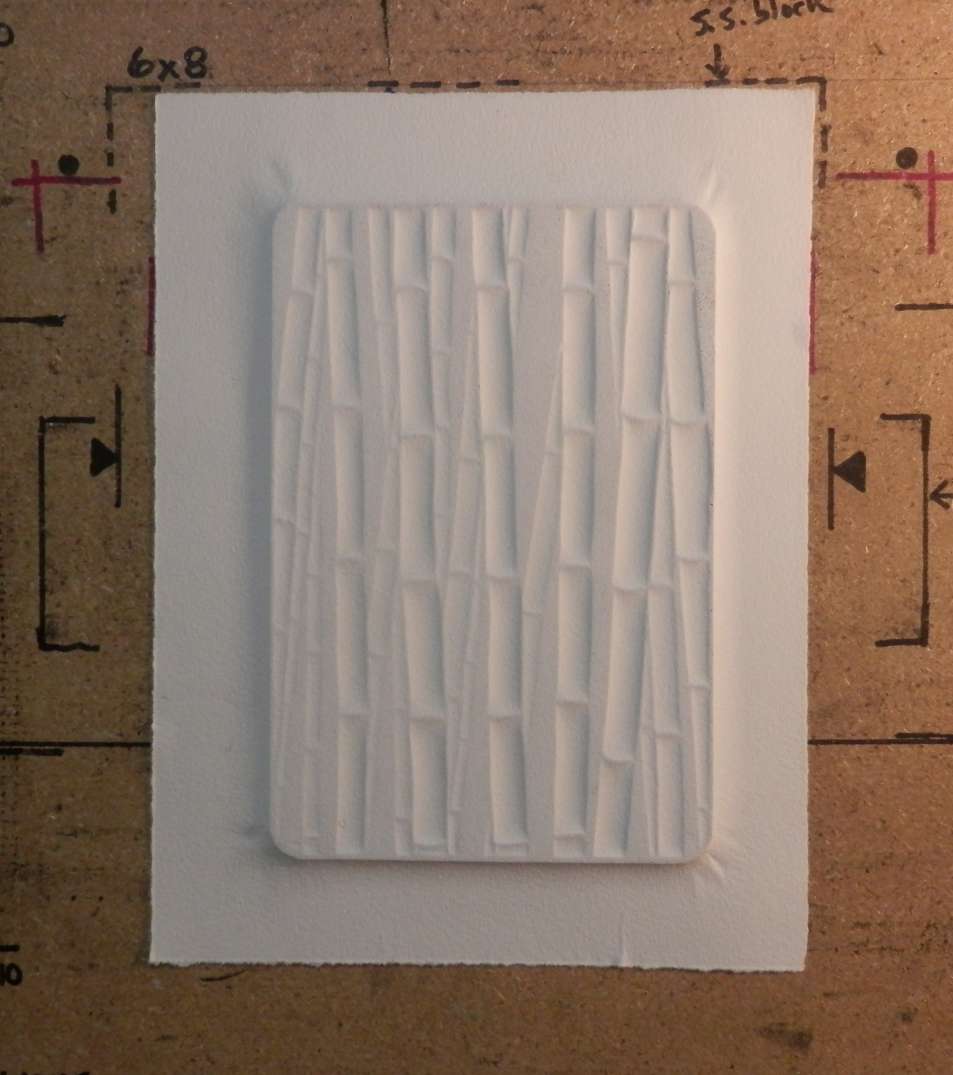 Design in red carbon paper on the block prior to cutting; an impression on the block after inking
---
APRIL 2: ART IN THE CITY UPDATE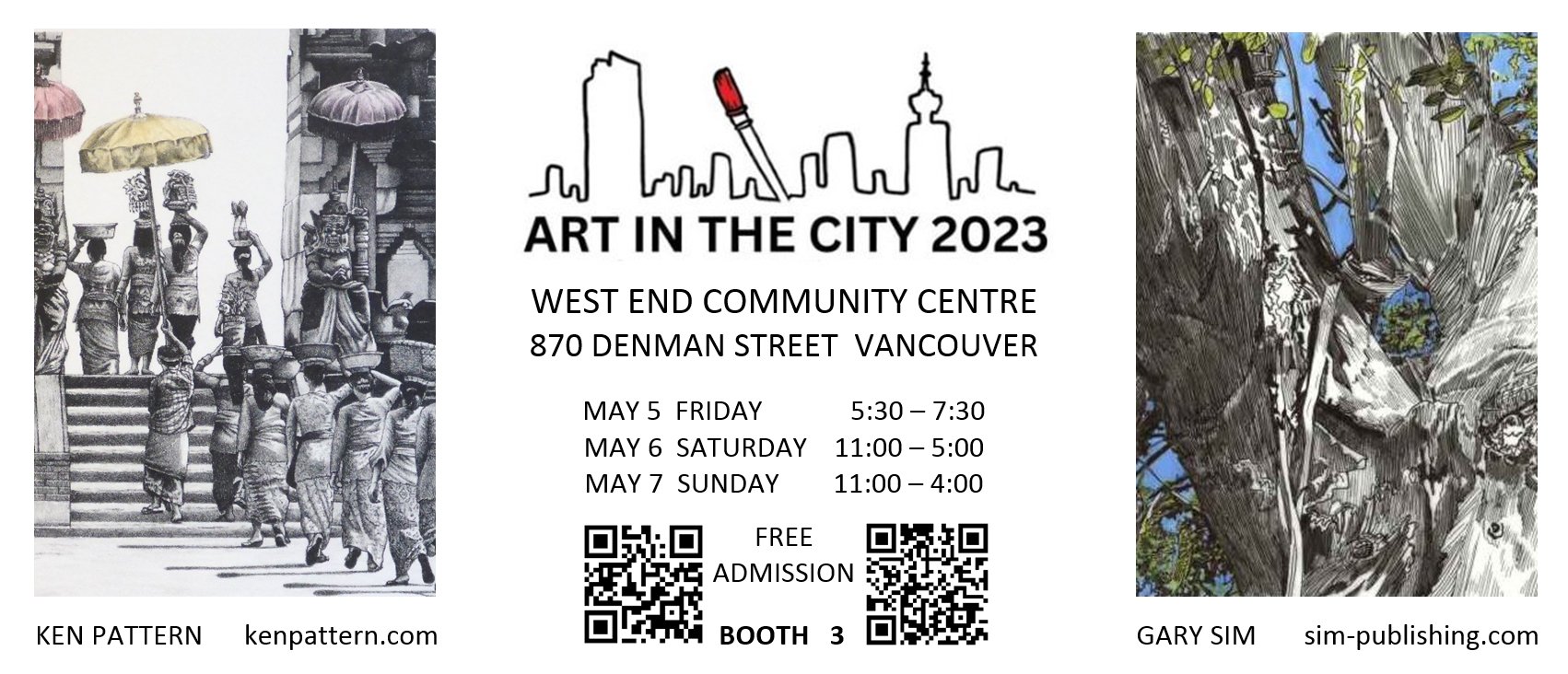 Ken Pattern and I colluded to produce invitation cards for Art in the City 2023. When I created the document, three cards to a page, I decided to do three different sets of images for the cards. Here are two of the versions. The QR code for each of our websites was generated using a free online tool. It should be an interesting event. This is the sixteenth annual Art in the City, I was in the first one in 2006! Hopefully you can drop by to say hello.
---
MARCH 23: NEW LINOCUTS "HUMMINGBIRD", "LITTLE BIRD" and "PENGUINS"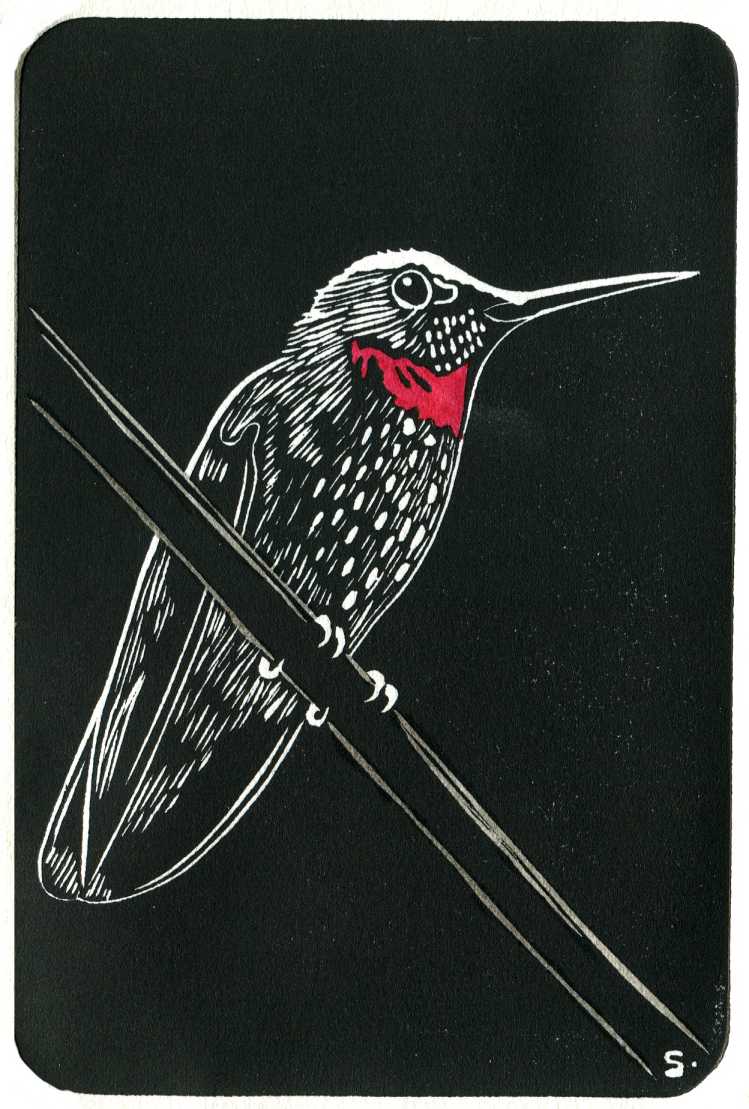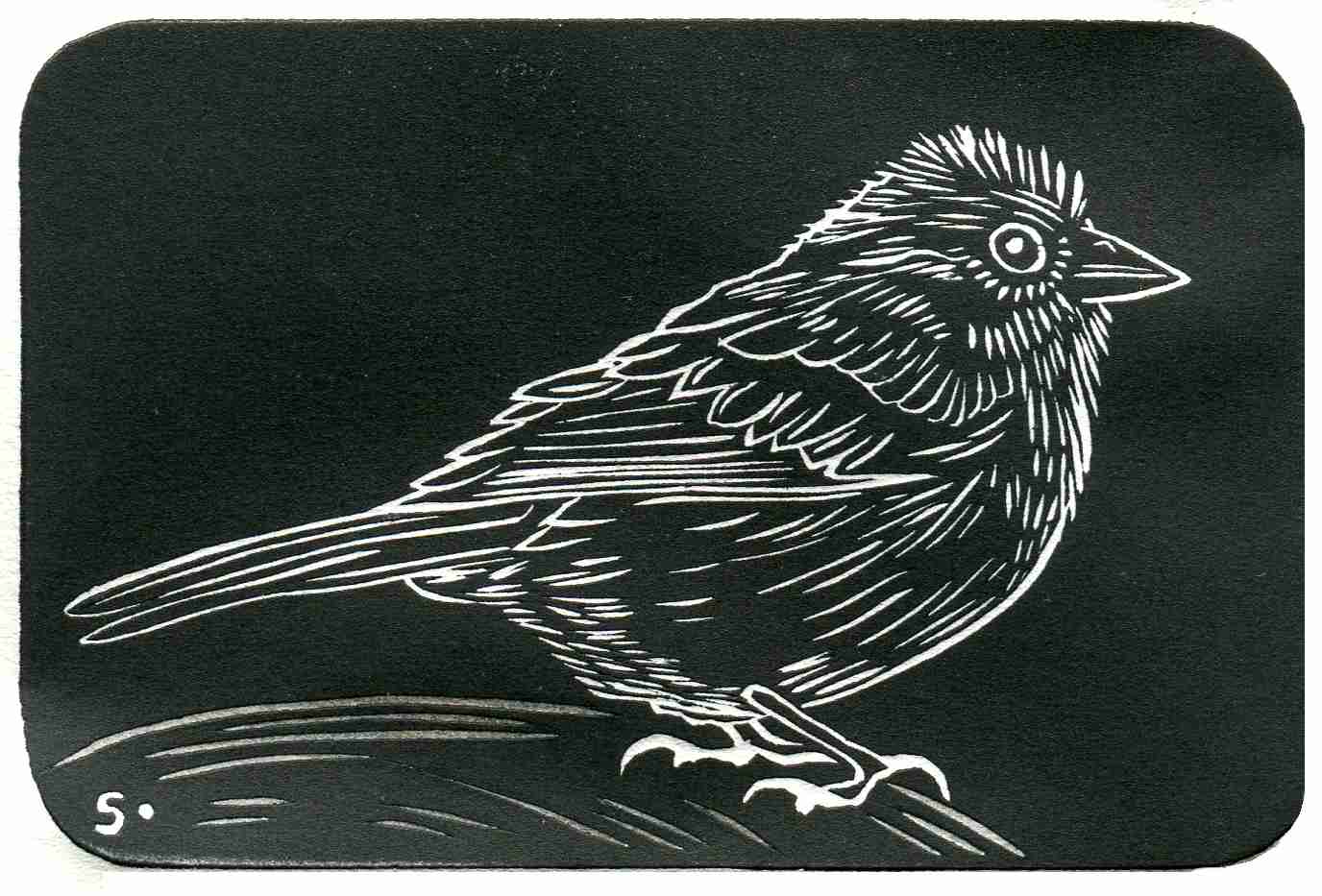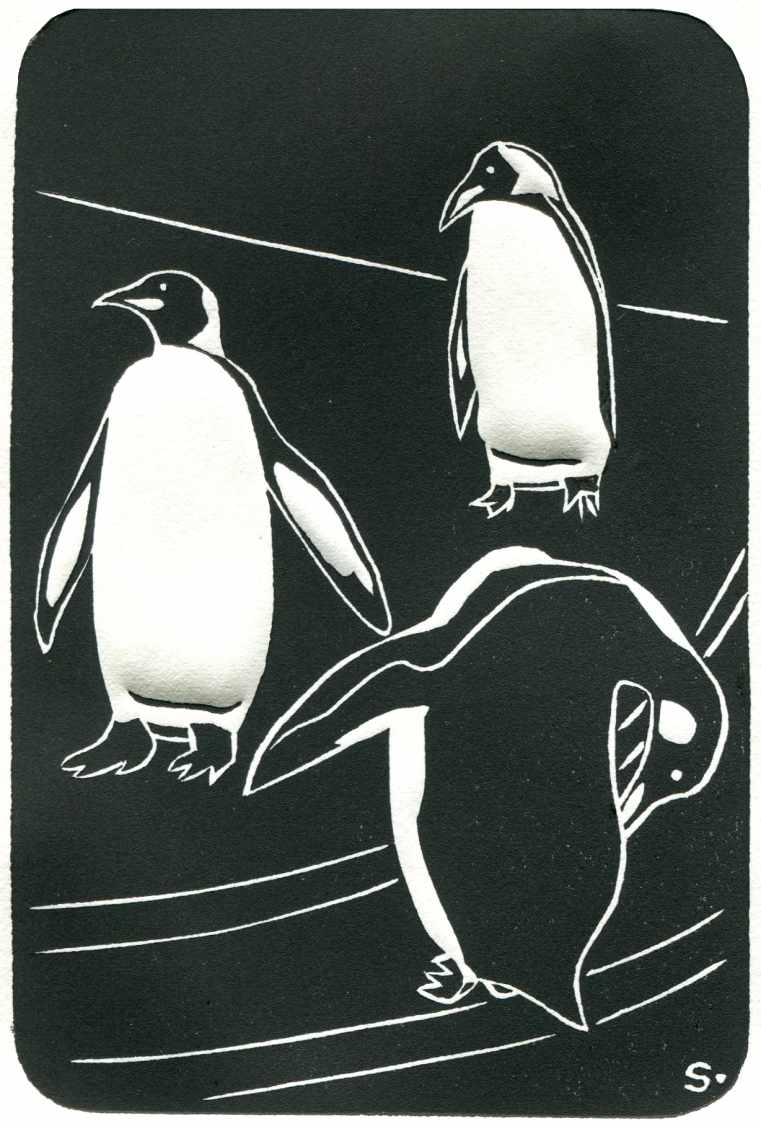 Click on images for edition information.

I have been working on a series of new linocuts. These feature my favorite subject: birds. The hummingbird was seen on Mayne Island a few years ago, it is tentatively identified as Anna's Hummingbird. The "little bird" is from a photo I took in Stanley Park a couple of years ago. It is harder than you think to take a picture of such a small and relatively featureless bird. The penguins are from a family photo taken at Stanley Park about 1964, when there was a zoo.



---
MARCH 8: GARY SIM ARTWORK MOSAIC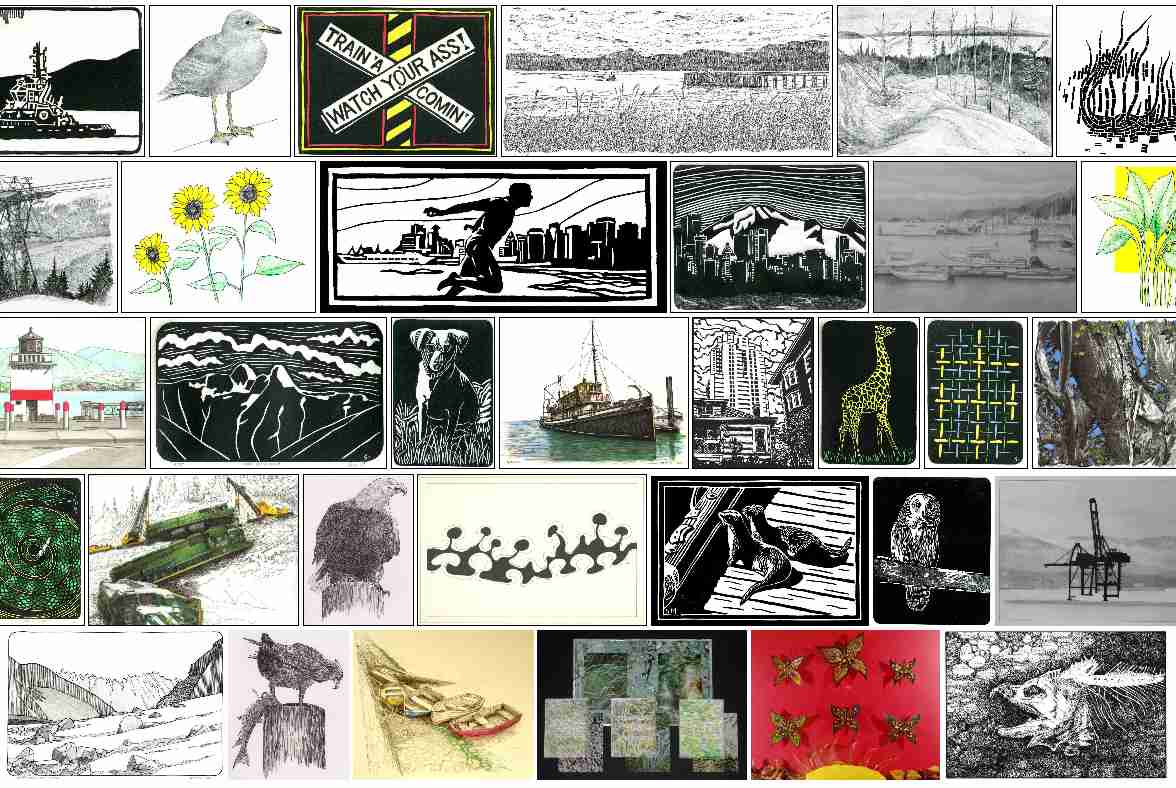 I have been busy working on ways to improve marketing of my artwork. For example, I recently updated all BC Artists A to Z index pages by adding one of my artworks at the top of all 26 pages. These pages are the most heavily visited on my web site, so it was an easy way to get people looking at my art, even if they weren't intending to do so. In the first few days after posting the update, a number of my artwork pages had already been looked at.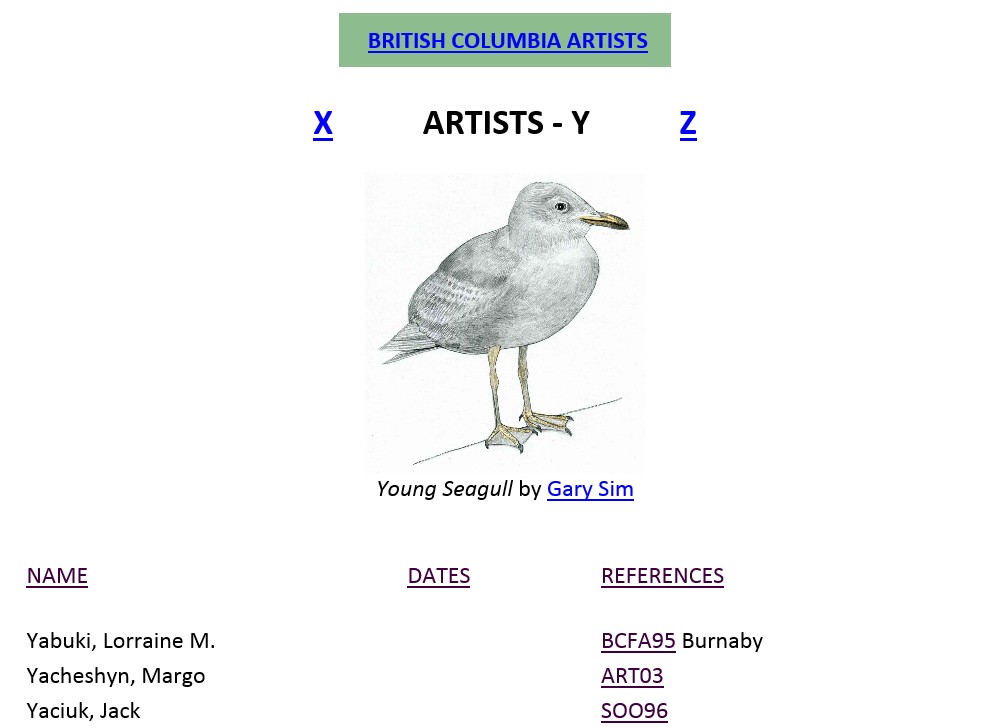 I had previously shown artworks by other artists there, whose last name was related to the index letter, i.e. a Carr postcard image for C, and simply moved those images down the index page to the alphabetical listing for that artist. I also added all my artworks to my biography page, which gave me the idea for this new page showing all of my posted drawings, limited edition prints, and etchings on one page as a mosaic.



---
MARCH 6: ART IN THE CITY MAY 5 - 7 2023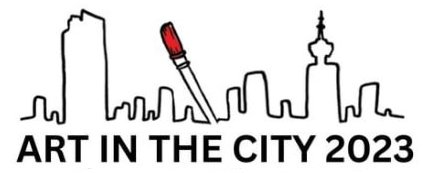 Art in the City returns again to the West End Community Centre in May. This 3-day event will feature a display of art by Gary Sim, who will be sharing a booth with artist Ken Pattern. Stay tuned for more details! Note: in 2006 Sim displayed his artwork in the first annual Art in the City. In 2020 I applied and was accepted to the event, but it was cancelled due to COVID.



---
FEBRUARY 27: ADVENTURES OF NOMAN SLIDE SHOW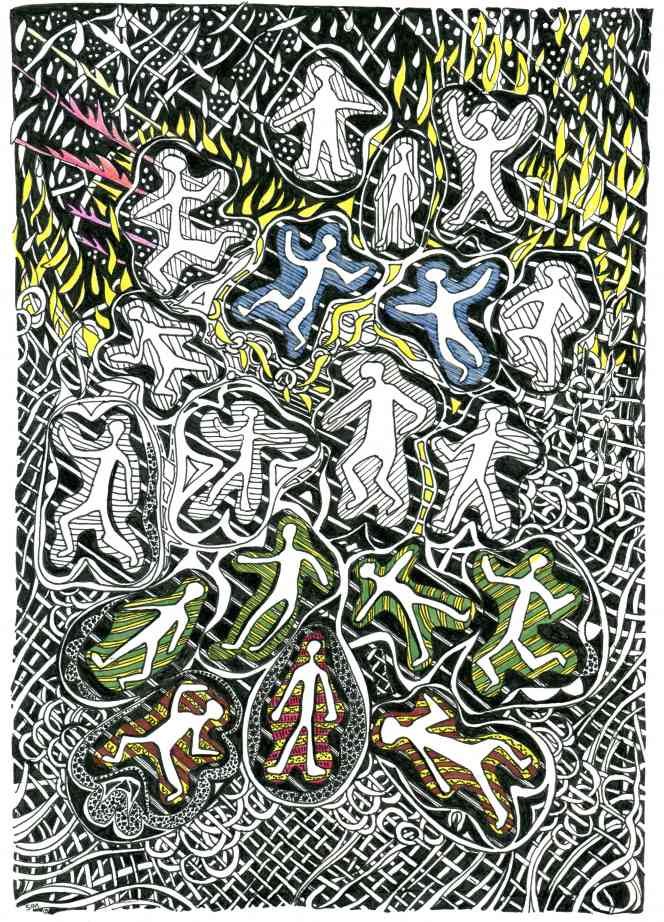 SLIDE SHOW

I thought it might be interesting for visitors to see a Powerpoint slide show, showing some of the "Adventures of noman" series of drawings, with a commentary and some information about the images and what they mean.



---
JANUARY 17: 1922 QUOTE FROM A B.C. ARTIST
Local B.C. artist Thomas W. Fripp wrote a long opinion piece titled "The Case of Local Artists", published in the Western Women's Weekly in 1922. In 100 years it seems that nothing has changed in the Bolshevik world.

"If the rising generation has more refining influences provided by art, music, good literature, wholesome thoughts and higher ideals placed before them we won't have to fear that black death of Bolshevism and Socialism that destroys but builds not, and threatens the very heart of civilization."

Much further back in time, the historian Tacitus referenced much the same thing when referring to a battle: "They made a desert and called it peace."



---
JANUARY 5: LETTER FROM UKRAINE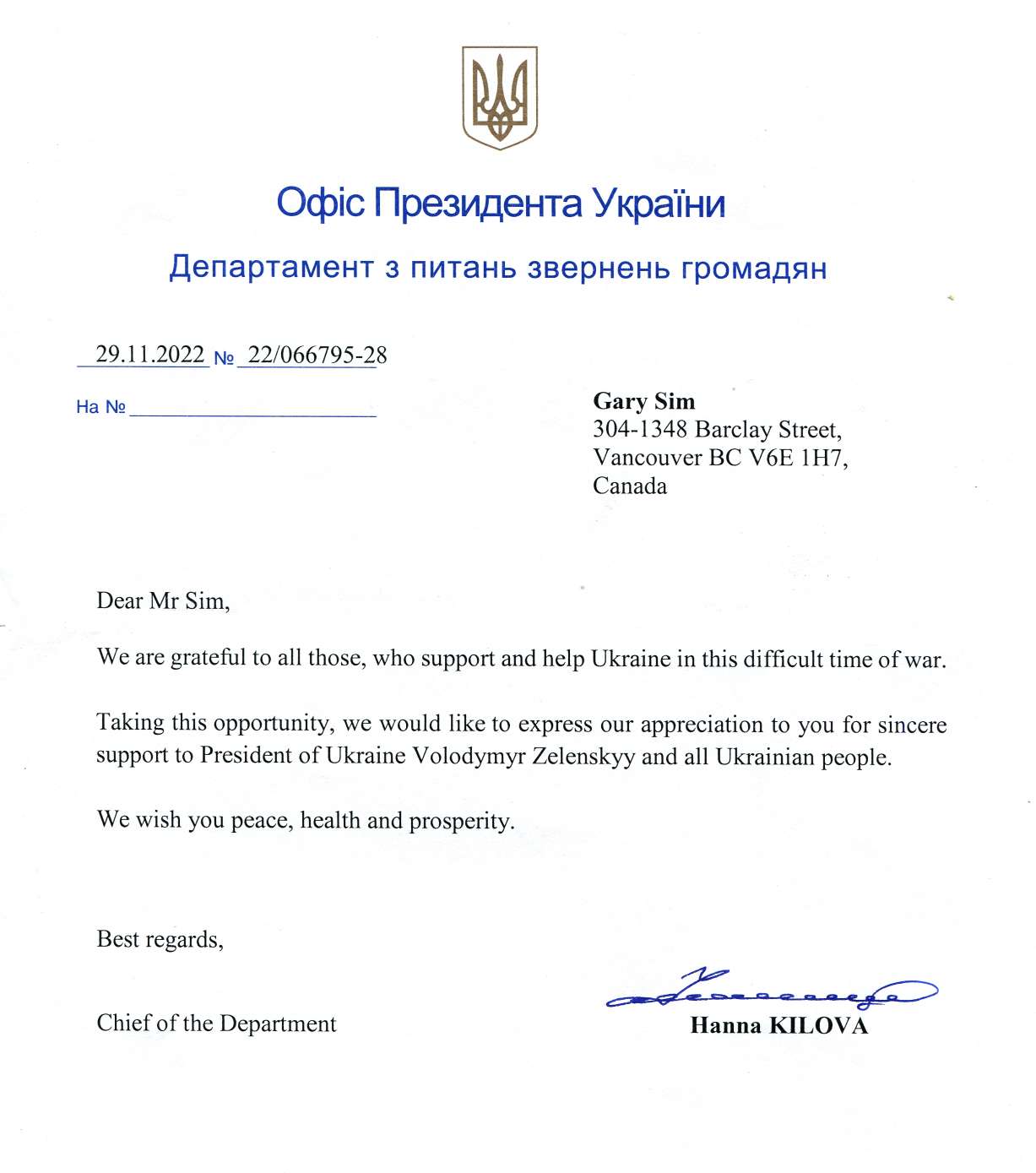 Letter from the Office of the President of Ukraine

In early November I mailed a present to President Zelenskyy in Kyiv: a matted and framed copy of my print A CANDLE FOR UKRAINE, that I issued as my 2022 solstice greeting card. I included a few pages of information and some printouts in the box. So, for the past two months, I've been hoping to get an answer back from Ukraine. Yesterday it arrived! It took 5 weeks to get here from Kyiv, although they sent the letter quite promptly after receiving my package.



---
JANUARY 4: DALFO EXHIBITION PLANNED AT IL MUSEO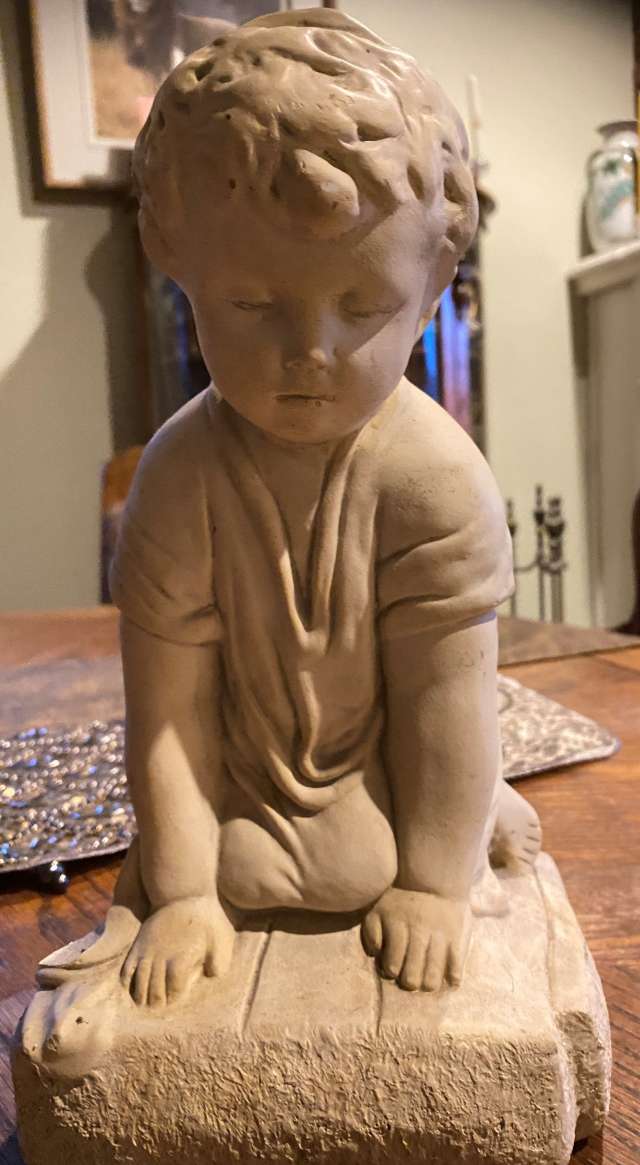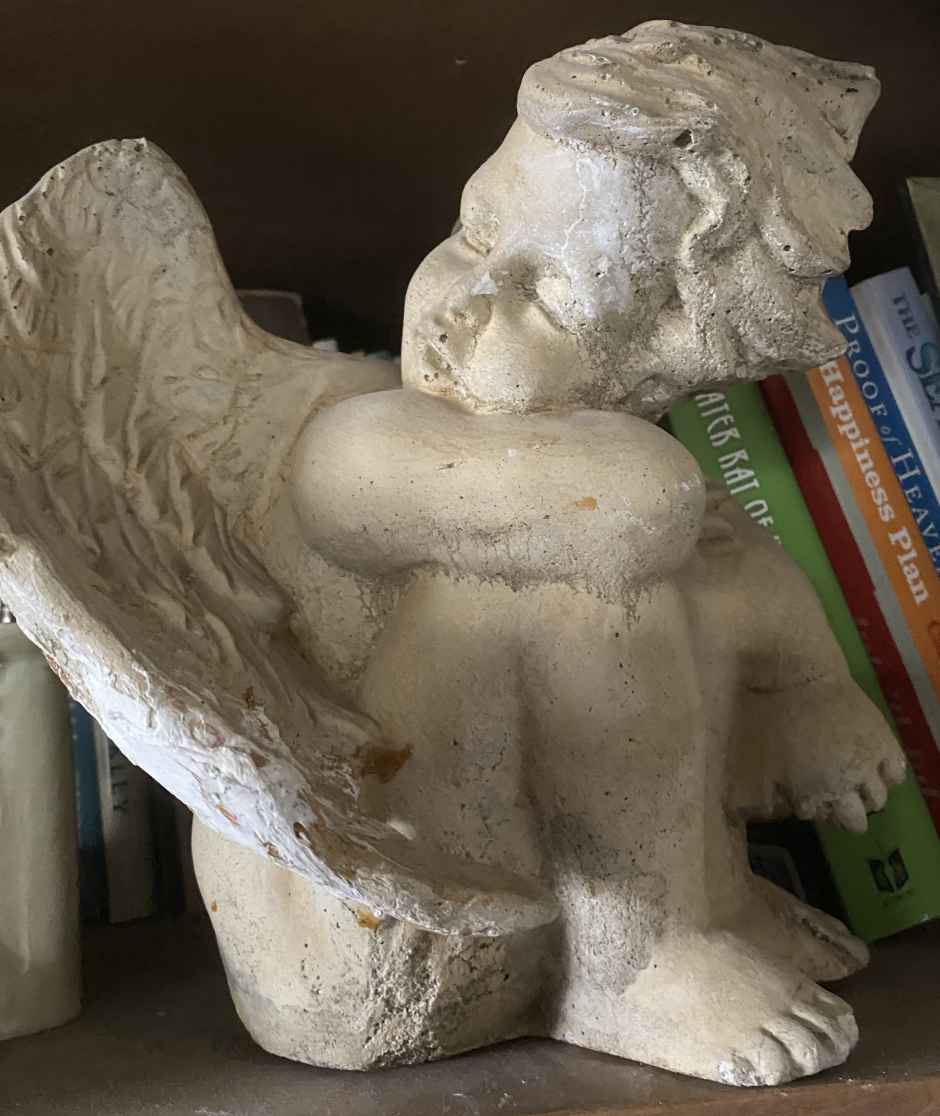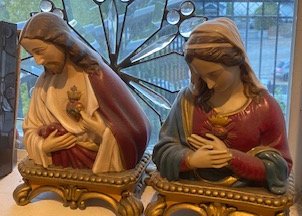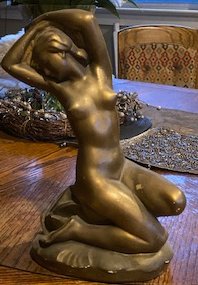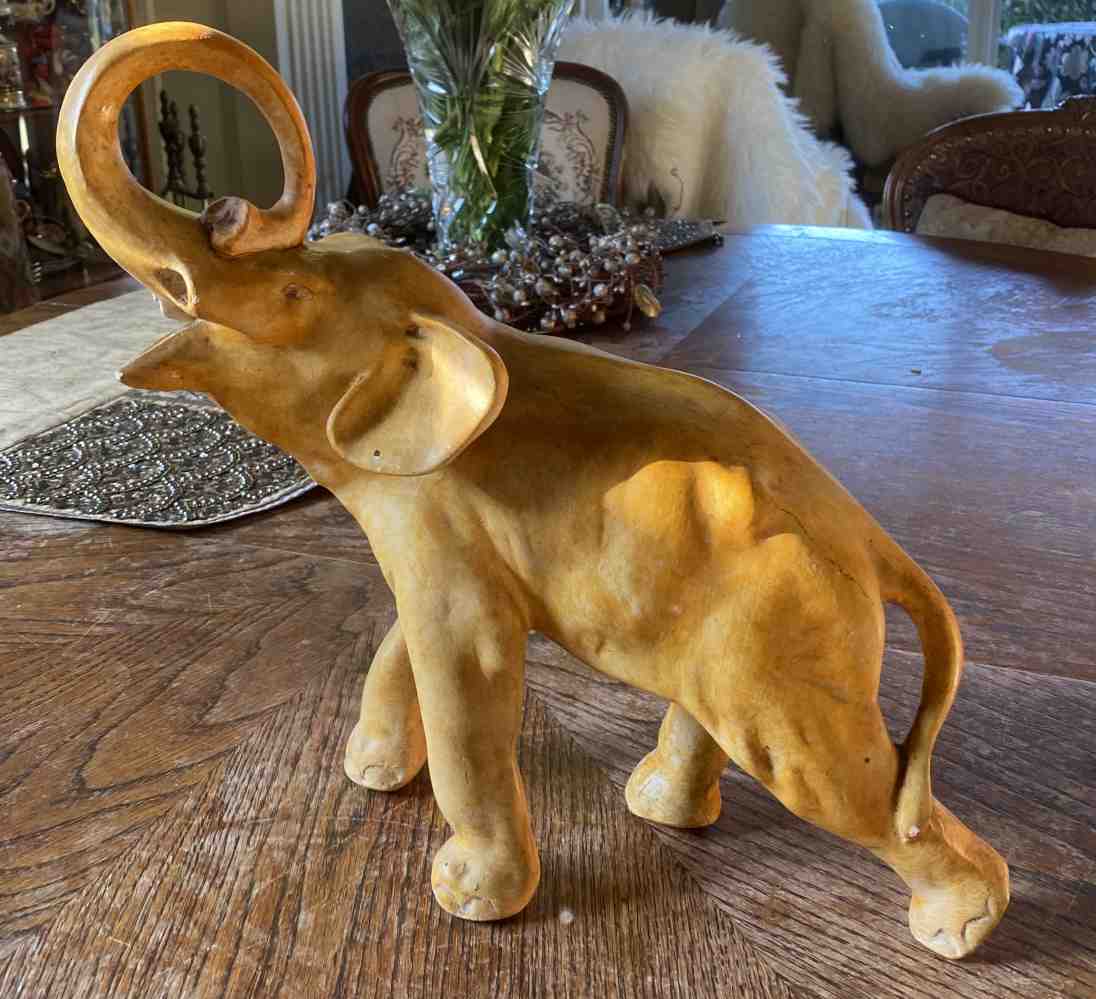 Alfredo Dalfo sculptures

In 2022 I did a lot of research for my ongoing BC ARTISTS project. A major effort was made to find information on early Vancouver sculptor Alfredo Dalfo (1905-1993), tracking he and his family in city directories and Provincial vital statistics through the years. I was able to contact his brother-in-law, and then his daughter, who were both very helpful. Eventually I built up a good biography of the man and his work, with numerous sculptures illustrated. I thought that it was important to do this biographical work because Dalfo had been Charles Marega's apprentice, assistant, shop hand, and model maker for many years, starting in 1918.

It turned out that Il Museo at the Italian Cultural Centre had a collection of 10 works by Dalfo, and the daughter and I had lunch with the Curator Angele Clarke. We discussed the possibility of having a Dalfo exhibition. However, 10 pieces didn't seem to be enough for a good solo exhibition. Over the next few weeks the daughter started sending me photos of sculptures, eventually identifying 20 pieces. Now there would be enough. This week I re-proposed the exhibition to Il Museo, and an agreement was made in principle to have a "short" solo exhibition in 2025!



---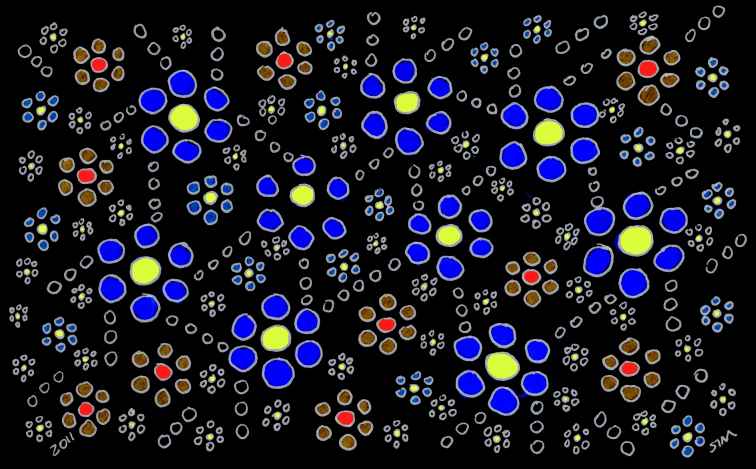 Denomatus, 2012

SOLSTICE GREETINGS is a compilation of 22 years' worth of my solstice greeting cards and prints. There were one or two years when I didn't issue anything, and I am still looking for a few more images to post.
---