SIM PUBLISHING
Home Publications Artwork News Links About
---
NEWS - 2017
2016 - 2015 - 2014 - 2013 - 2012 - 2011 - 2010 - 2009 - 2008 - 2007 - 2006 - 2005 - 2004
---
All text, photography and artwork is by GARY SIM unless noted otherwise.
---
April 22: THE ADVENTURES OF NOMAN - CONTINUED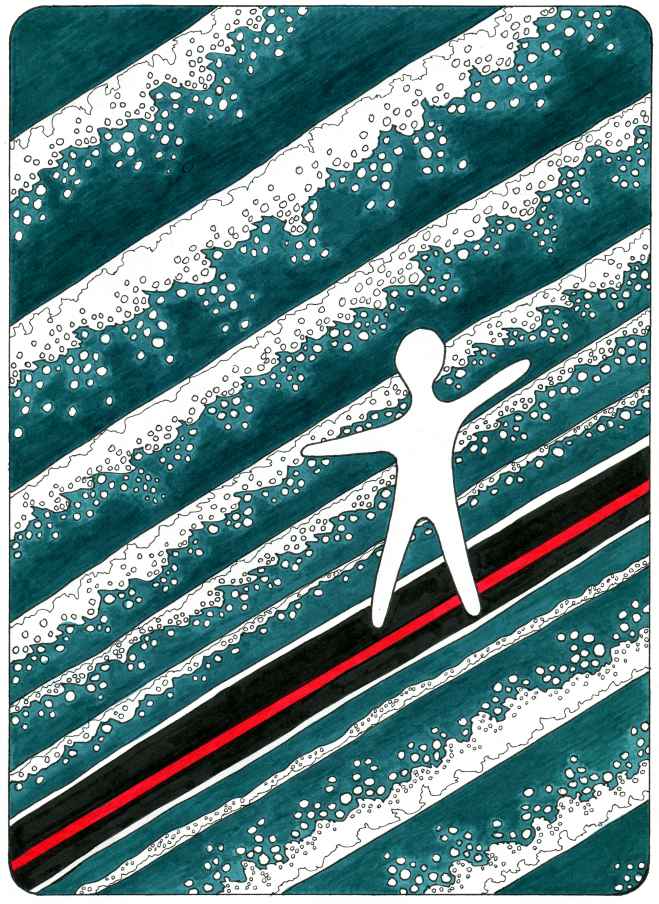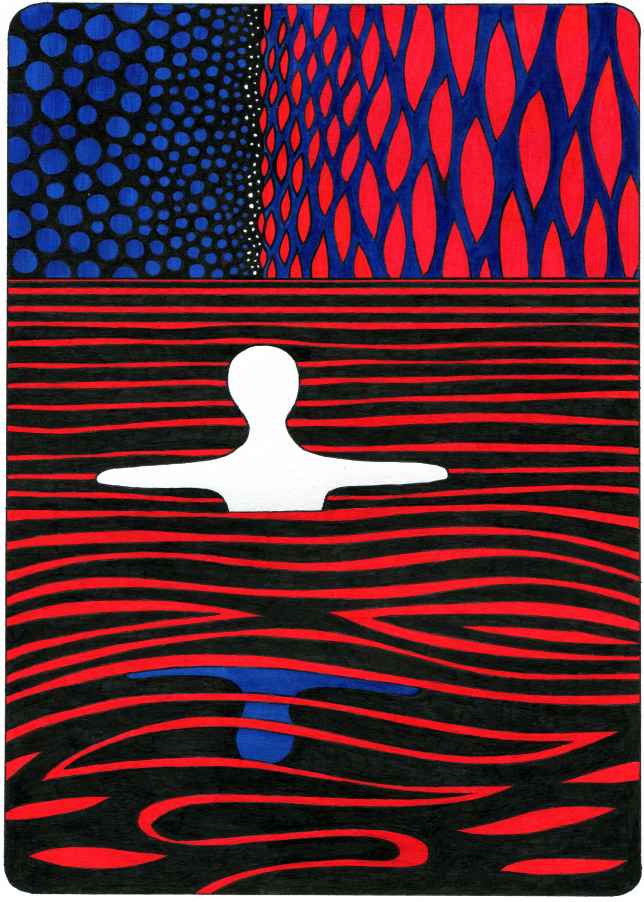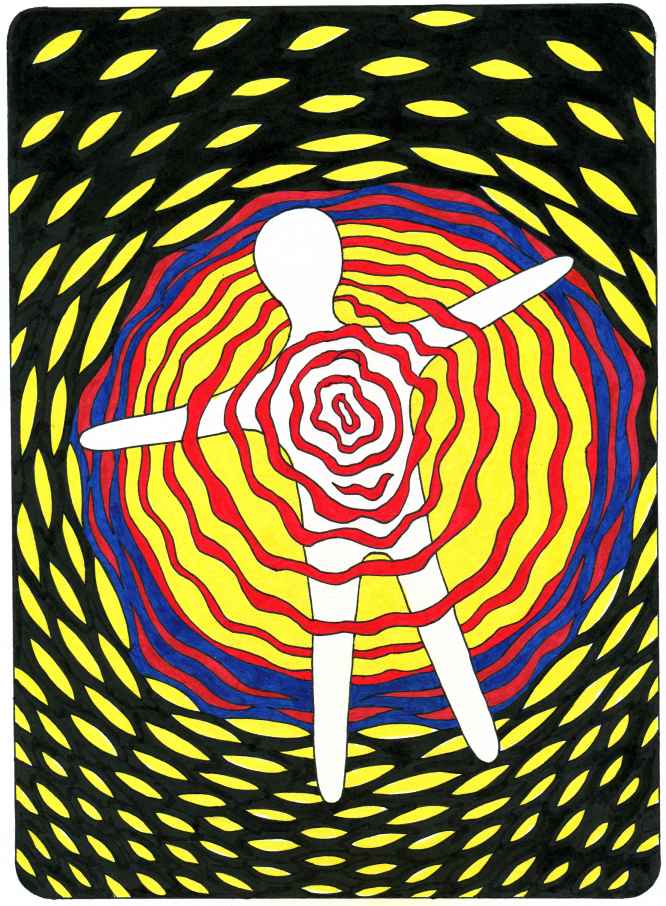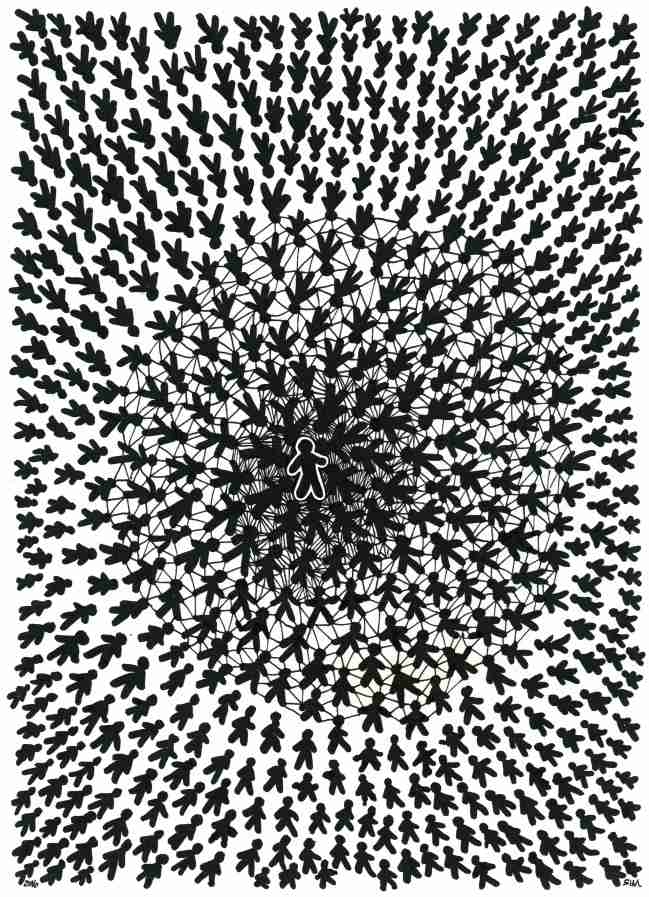 Red Rift / Baptism / Universolman / NomanamoN
This has become the longest-running series of artworks done about a single theme and in a single format. More than thirty have been completed, and a number more are in various stages of completion ranging from the initial pencil scribbled-idea up to well-advanced pen & ink work.
Refer also to The Adventures of Noman series and Drawings for additional images.
---
April 5: LET'S WIPE OUT DECIMATION
I just read an article in a periodical where the author used the term "decimation" to describe the reduction in population of the First Nations people in what is now BC after contact with western "civilization." Another recent article in a different periodical referred to the Incan army as having been "decimated" by the Spanish. Nope, they were wiped out. Nobody seems to know what the word means or how to use it correctly.

Decimation, a Roman army punishment for mutiny or disobedience. The troops to be punished were formed up in ranks, and one soldier in every ten (decima) was summarily executed on the spot. The Incans weren't decimated, they were eradicated, annihilated, crushed, exterminated, cleansed, purged, extirpated, wiped out, terminated, slaughtered. Perhaps "brought to the edge of extinction" or "endangered" as we'd now say, since a few were left to carry on as slaves.
---
March 25: SPRING ART SALE
The Spring Art Sale is on now! 20% off all Sim artwork.
---
March 16: BURNABY ART GALLERY COMMISSIONS RELIEF PRINT
The Director of the Burnaby Art Gallery has commissioned a limited edition relief print for their Fiftieth Anniversary celebrations this summer. It will be a view of the gallery from its front lawn in summer, and will pair with the print commissioned by the Gallery in 2007 (Gallery in Winter).

The edition of 100 is intended to be gifted to supporters and friends of the Gallery, along with copies of the book that is being published to accompany the celebrations. As noted in early news items, I have a short article on Jack Wise in that book, along with a shorter biography of myself.
---
March 14: MOTHER TONGUE TO PUBLISH SIM ARTWORK
Mona Fertig, Mother Tongue Publishing, asked me if she could use a number of my drawings and prints as illustrations in her pending book titled The Summer Book which is to be "launched" in June this year. Of course I said "yes" and was given a list of fourteen images to provide. Another four were requested as the book design was finalized. Each image has a full page to itself, which is great, and a number are being displayed as two-page spreads.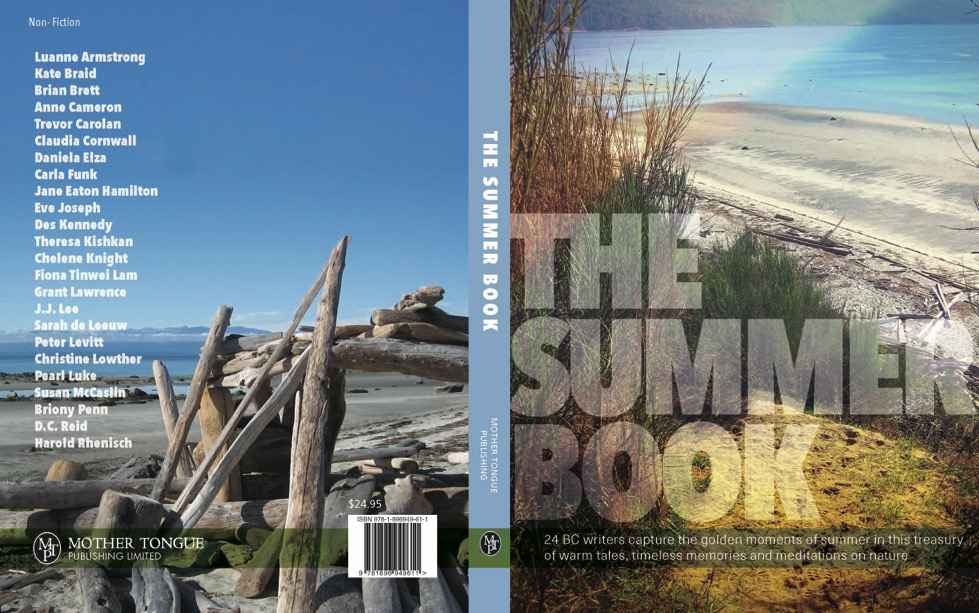 Front and back cover image for The Summer Book
Mona has selected an all-star cast of BC writers for the book, and after reviewing a proof copy of the book I have to say it is going to be a very nice and well-received publication. For more information please see EVENTS page, and MTP website at MTP.
---
March 13: POOP FROM THE MARE OF VANADA
I can't stand it any more. The Mare and his sycophants continue to mess up the city of my birth in every way they can. Road closures for no reason, wiping out traffic lanes for bike lanes that aren't used by anyone, wiping out on-street parking wherever possible, putting up brainless projects like the "suicide fence" on Burrard Bridge, and wasting tens of millions of dollars on traffic-enraging measures like roundabouts and curb extensions that do nothing positive or useful. Don't even get me started on all of the upcoming super-towers that will soon wipe out our views of the mountains forever, and grossly densify entire neighbourhoods with thousands of additional cars, all of which will be stuck in traffic.

Accordingly, I have posted a number of commentaries on the sheer absurdity and self-indulgent fatuousness that characterizes this Mare's "rein." Please see:



POOP FROM THE MARE OF VANADA.

Other articles will follow, including lack of street maintenance, the bike lane messes, the total traffic disaster being created at both ends of Burrard Bridge, and commentary on the rows of 80-story towers soon to arrive on Burrard Street (and all over Coal Harbour, etc). p.s. thanks to the horse squad for the official poop.
---
March 2: TROLLEYS IN THE SNOW
The snow came and went for weeks and weeks this year. Every time it seemed like it was gone, another storm came down from the north and gave us another slippery gooey basting of slimy wet snow. The trolley busses came to a grinding halt for some reason, and sights like this were apparently common all over town. On a day when folks were deciding not to drive, the transit system failed. The skytrain also had difficulties.


Vancouver trolley-busses stuck in the snow on Robson St.
---
Feb. 23: SIM LECTURE AT MUSEUM OF VANCOUVER


Detail, "Vancouver C.P.R." Waitt's VIEWS BRITISH COLUMBIA & ALASKA
Refer to EARLY ART & ARTISTS IN VANCOUVER page.
Composite video and powerpoint presentation compiled by Elwin Xie.
---
Feb. 22: BC ARTISTS UPDATE ISSUED
Works continues on the ditigal bibliographic research project BRITISH COLUMBIA ARTISTS. Recent updates have been published as Release 1.7.2. A large amount of information on early artists was added as a result of research done for the Vancouver History Society lecture (see above).

A review of BC Directories (DIR) from 1886 to 1935 resulted in the addition of almost 100 artists not previously listed, expanding the DIR listing from 3 pages to 15 pages (so far, with 1919 to 1931 still to be input). A page by page review was completed for the seven volumes of Macdonald's Dictionary of Canadian Artists, with 480 BC artists noted of whom over 100 were new to BC ARTISTS. A review of Evelyn McMann's Biographical Index of Canadian Artists is underway.

Ongoing on-line searches at the Royal BC Museum & Archives vital statistics web page continue to provide additional information on artists. In particular, although the DEATH certificates are somewhat unhappy to read, they contain an excellent amount of information about the person, their life and family, that is otherwise almost impossible to find so easily.
---
Feb. 10: EMPIRE LANDMARK - FOR THE RECORD: No. 1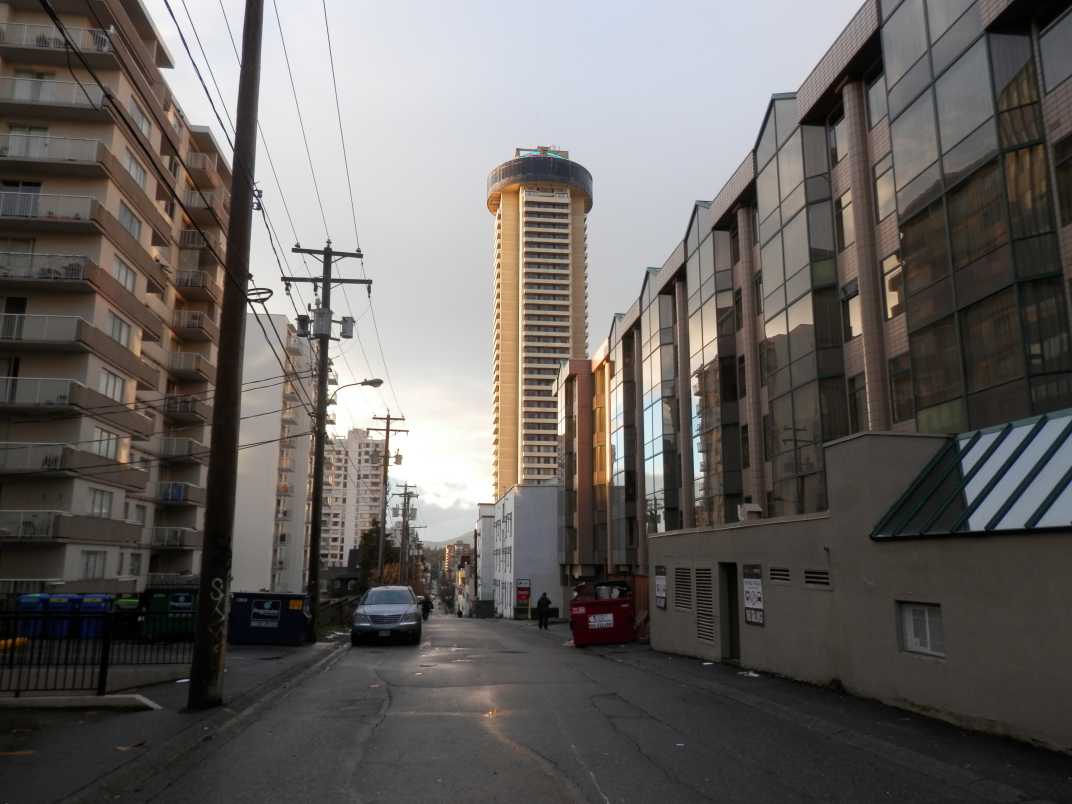 Empire Landmark seen from lane at 1300 Robson St., Feb. 10 2017
Given that the redevelopment signs have gone up around the now-named Empire Landmark (formerly the Sheraton Landmark) Hotel, it's only a matter of time before it gets knocked down. After all, it seems like those signs are just a formality, everything is already figured out.
In the meantime, I thought it would be fun to take some pictures of this long-time iconic and slender tower while it is still here. After the Sheraton hotel chain sold it to asian interests, a huge display of neon lighting was installed on top of the revolving restaurant, resulting in numerous complaints to city hall from residents of the West End. The lighting was modified but not removed, despite not having been done with a permit in the first place. Money keeps talking around town.
The tower will be replaced with two lower towers, each with larger floor plates, as the hotel's floor size is too small to be practical any more.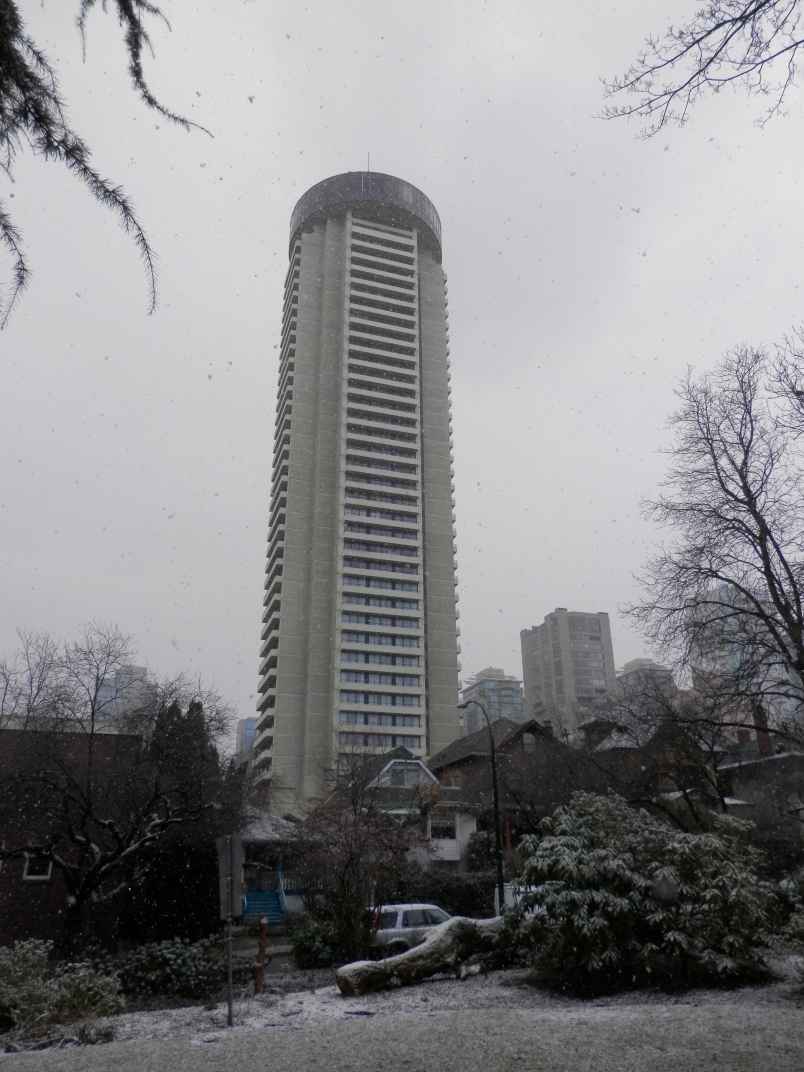 Empire Landmark seen from Barclay Park on Haro St., Feb. 28 2017
A view of the hotel from Barclay Park, 1400 Haro St., with a light powder snow falling. The tree trunk visible at lower right is what remains of a large weeping willow tree that just fell over by itself one night a few months ago.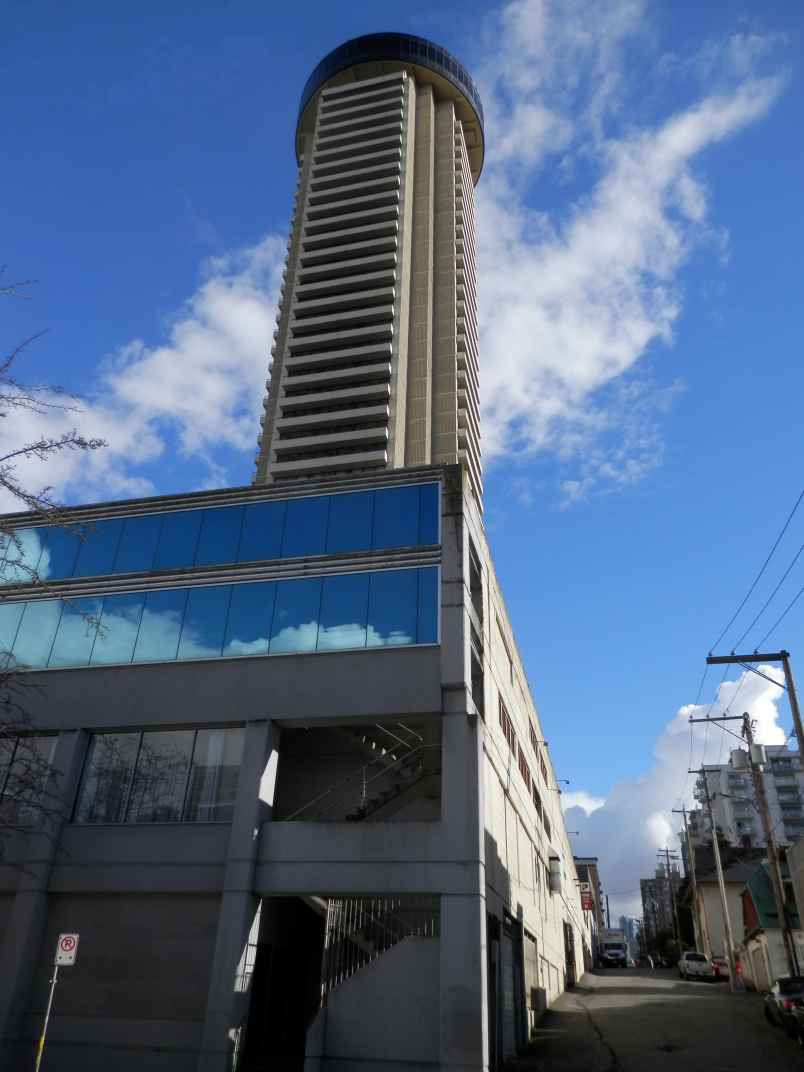 Empire Landmark seen from Nicola St., Feb. 22 2017
---
Home
Copyright 2017