SIM PUBLISHING
Home Publications Artwork News Links About
---
NEWS ARCHIVE - 2015
2017 - 2016 - 2014 - 2013 - 2012 - 2011 - 2010 - 2009 - 2008 - 2007 - 2006 - 2005 - 2004
---
All text, photography and artwork is by GARY SIM unless noted otherwise.
---
Nov. 14: THE DIARY OF MAUD REES SHERMAN
I received an unexpected telephone call two weeks ago from someone I didn't know, who said that he had somthing that he thought I would want. To my incredulous delight, he offered to give me an original hand-written diary by Maud Rees Sherman, dated from 1907 to 1913!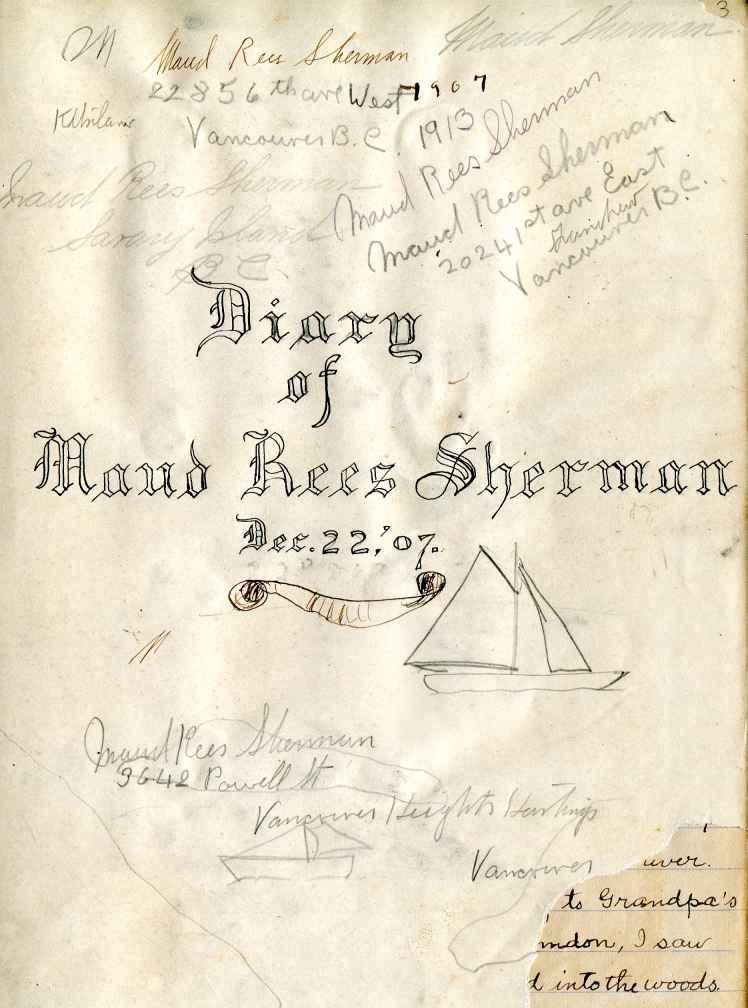 Title page of the diary.
The diary arrived in the mail last week, and it is amazing. There are 198 pages of diary entries, and many little drawings and sketches. There are 10 original photographs "tipped in" to the book, all of them more than 110 years old. The diary begins with a sample entry by Sherman's mother, telling Maud about her birth and the first few years of her life.
A transcription of the Diary has resulted in a 60-page document, including an extensive 10-page index that includes names of over forty people mentioned in the Diary. In addition to numerous entries about everyday life in Vancouver, there are entries for trips to Savary Island and Victoria, Union Steamships, an armed robbery on a streetcar, the 1912 eruption of the Alaskan volcano Novarupta, and the hard winter of 1913.
Although many entries leave the reader wanting more details ("papa is enlarging pictures") taken as a whole the Diary provides a comprehensive look at the life of an upper middle class family living in Vancouver at the time. Household chores are noted along with shopping trips downtown. Almost 30 types of food are mentioned, 22 types of clothing, and 18 different ways to play.
The donor looked up the name on the internet and found my website biography for Maud Rees Sherman, which contains part of my extensive research into the life of this artist and her family. The research has been ongoing for almost 20 years, and this Diary is an amazing gift that sheds significant light on the earliest and hard-to-research part of that story.
Refer also to MAUD REES SHERMAN Biographical Page.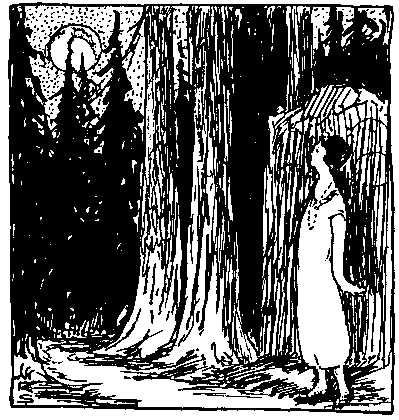 ---
Oct. 26: RECENT NEWS
Summer is gone, fall is here in full force. I had to do another Okanagan trip recently (the 13th), a three-day full-on deficiency review of 288 precast prison cells and 24 precast shower modules. It was actually quite gruelling, having to get into every one of them on three different levels in eight different pod quadrants. It's hard to get to the right place even when you have a plan in your hand.


A view of OCC from across the valley, greenhouse on the left.
Happily I was able to stay with friends in their lovely home up above Okanagan Falls, a very comfortable place to go after a day in prison. Just before dinner on the first day Don pointed out a herd of bighorn sheep grazing in a field in the valley in front of their home. After a while we drove down for a closer look. The herd was all females and young bucks, the rams were up in the hills somewhere nearby, but it was great to see them.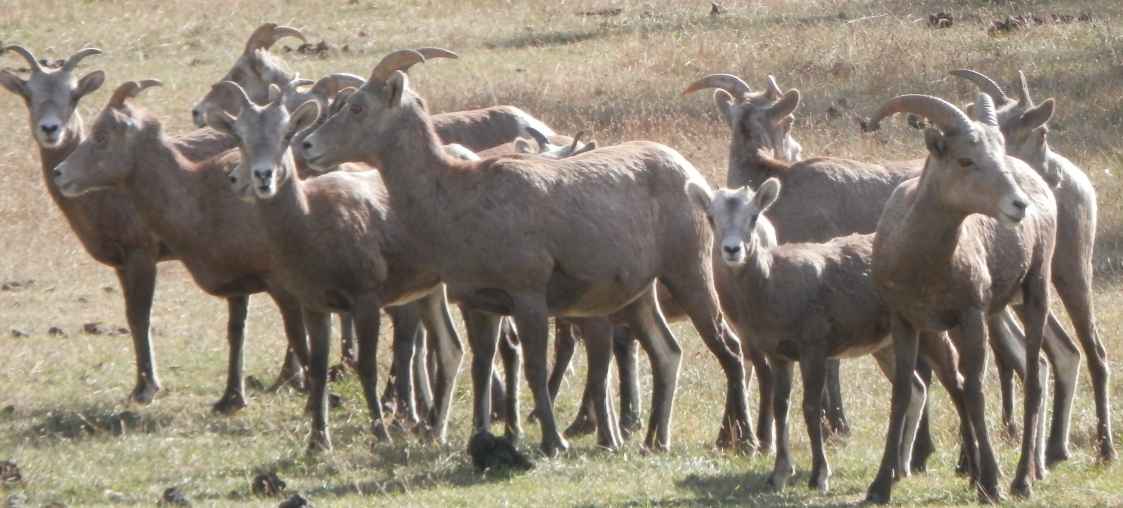 Bighorn sheep grazing.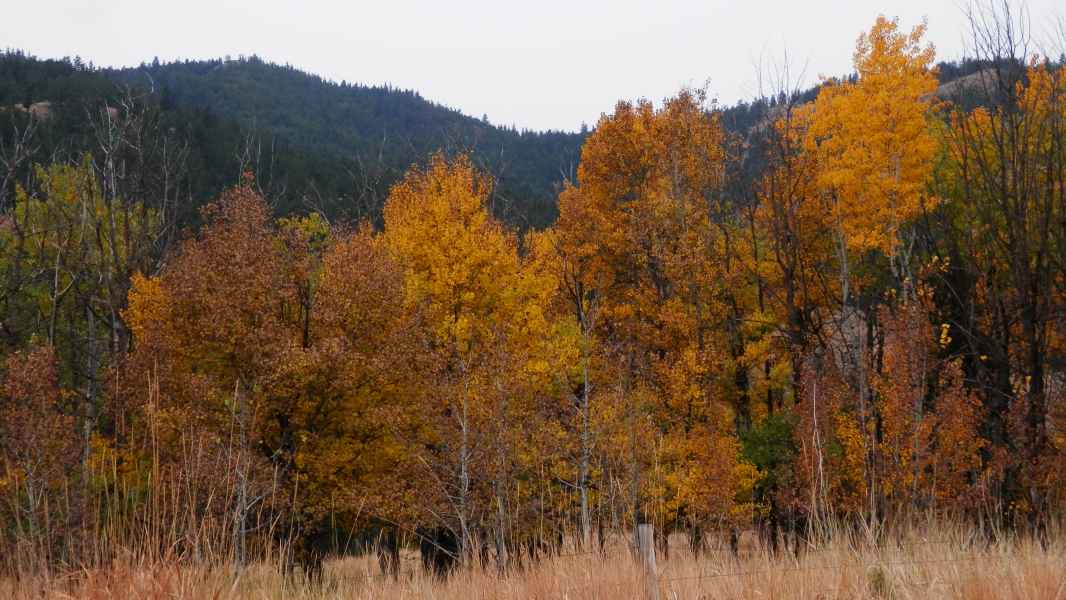 Fall colours on Twin Lakes Road.
I was asked to go up to Covert Farms at the top of Secrest Hill and see if I could take any good pictures of the project. It was overcast with a light rain, so not very good light, but I managed to take some reasonably good ones. From there it was onto the scenic back roads to Willowdale, White Lake, and over the Twin Lakes Road to Highway 3A. After that it was the usual rat-race to the Coast, with semi-trailers and dudes in bloated diesel pickup trucks clogging the road. The light rain turned to rain around Hope then into heavy rain, heavy traffic, and poor visibility all the way to Surrey, making the last part of the drive very stressful and tiring.


Shredded paperwork.
My first shredder ... chewed through about eight large garbage bags worth of old papers, bills, receipts, statements, offers, renewals ... very cathartic. Didn't find much that I needed to keep, and emptied a bunch of boxes and drawers. It took a few days, since I'd shred until it overheated and did an automatic safety shutoff. Then I'd find another pile of old papers and get them ready to shred.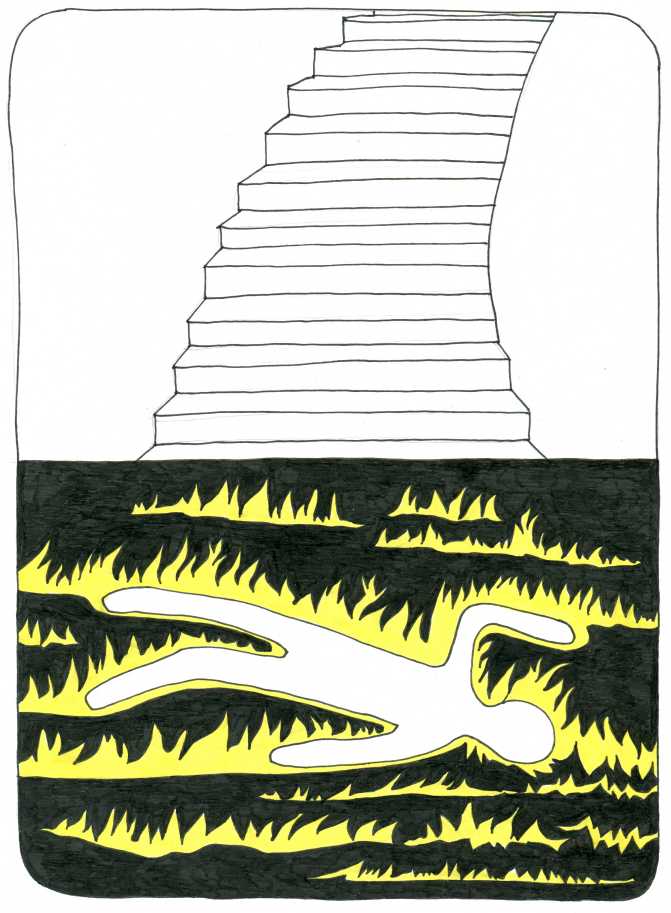 A recent drawing for a graphic novel in progress.
---
Sept. 20: OKANAGAN TRIP 12, ETC.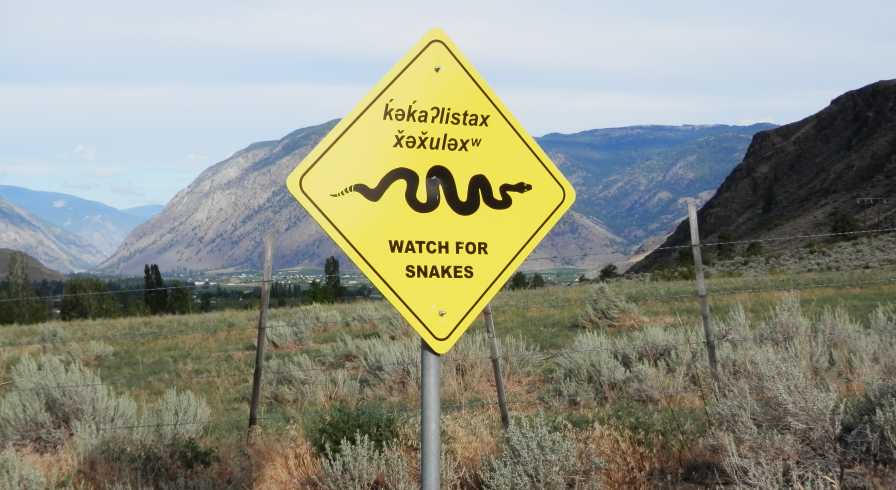 Snake warning at Cawston.
Since getting back from vacation, I've had to make another two trips to the Okanagan for the corrections project, each trip an arduous one-day 900 km. drive up and back, in addition to walking around on site for a few hours doing the field reviews ... typically a 16 to 18 hour day. Total about 10,000 km. driving for work so far this year (in addition to the 12 flights that it took to get to Spokane and back 3 times this year), it is getting rather tiresome. Oh la.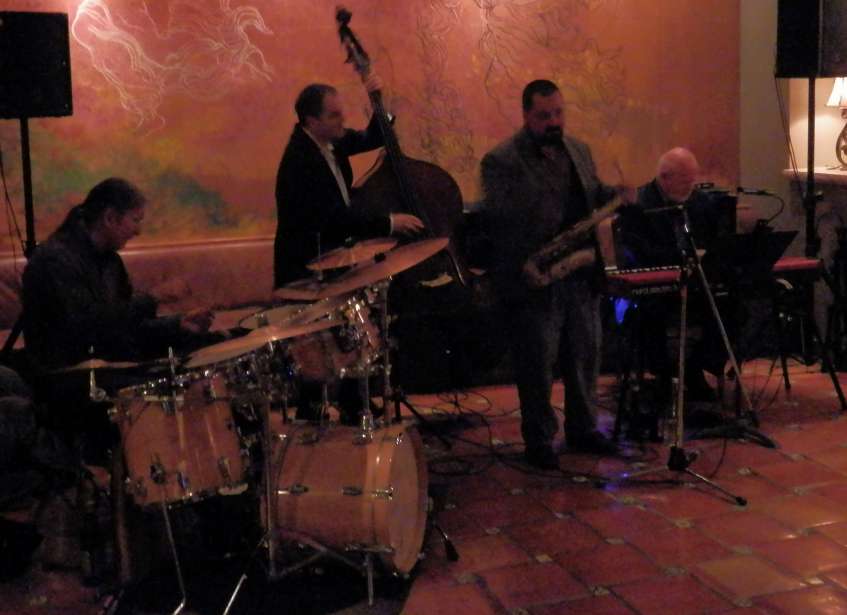 Bob Murphy quartet playing at Cin Cin 25th Anniversary party.
On a more positive note, there are places where I do get respect, and Cin Cin Restaurant is one of them. I was invited to attend their recent 25th Anniversary Party, which was an excellent celebration of their food, drink, and history. Bob Murphy led an excellent four-piece jazz band who really put their hearts into the songs. The Chefs took over a stretch of Robson Street for roasting beef, fish, prawns, scallops, and skewers. After slowly cooking over the fire all day the roast beef tasted fabulous!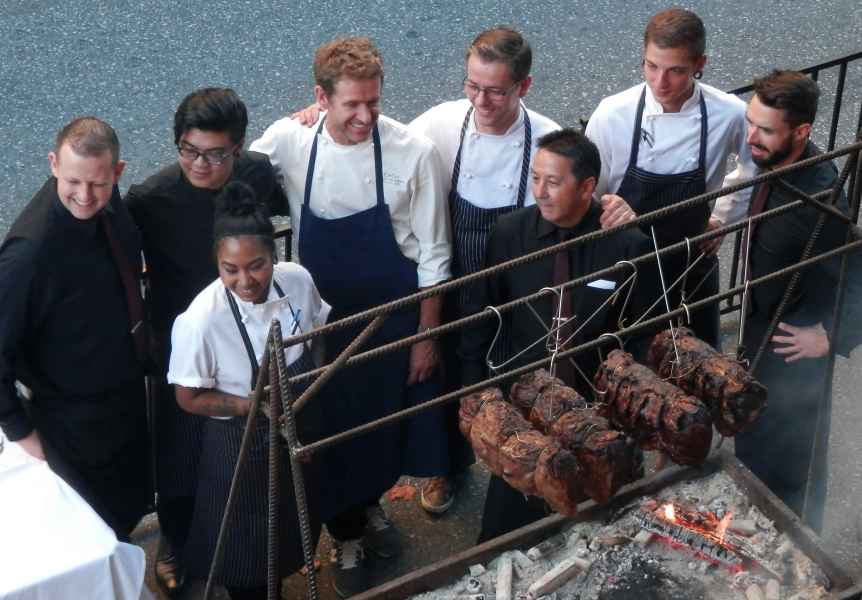 The fire and roasting team.
---
June 15: OFF TO MAYNE ISLAND FOR A VACATION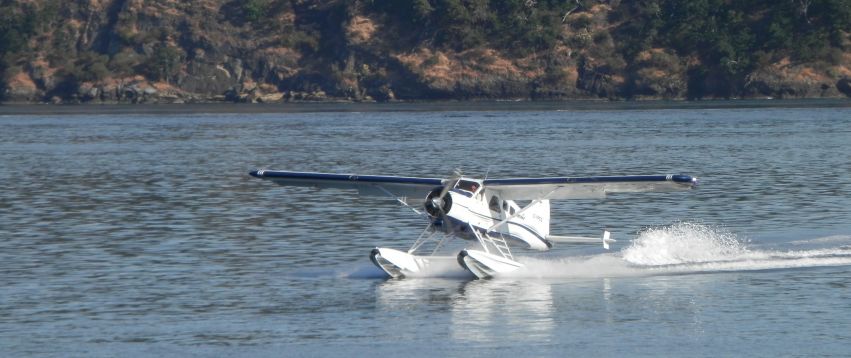 Floatplane arriving.
A couple of friends moved to Miner's Bay on Mayne Island last year, and have been inviting me to visit. I managed to get a three-week long vacation on fairly short notice, and started to plan a getaway. The easiest way to get there was to fly by float plane directly to Miner's Bay from South Terminal, so I booked a flight and got packed. The trip took little more than an hour from door to door, and I was standing on the dock looking out over Active Pass by 8:00 a.m. My friends met me, and we walked up to their house for breakfast.
It didn't take too long to get settled in, then we went for our first tour of the island. After a week we'd done four driving tours, explored half a dozen bays, thrown 2 dinner parties and one art evening, attended the music festival, went to a birthday party, saw a bluegrass band do a private performance, jammed and played ourselves most nights, checked out the pub, and shopped at the farmer's market. I also did a hike to Georgina Point and a hike up Mount Parke. By the end of the week I was exhausted!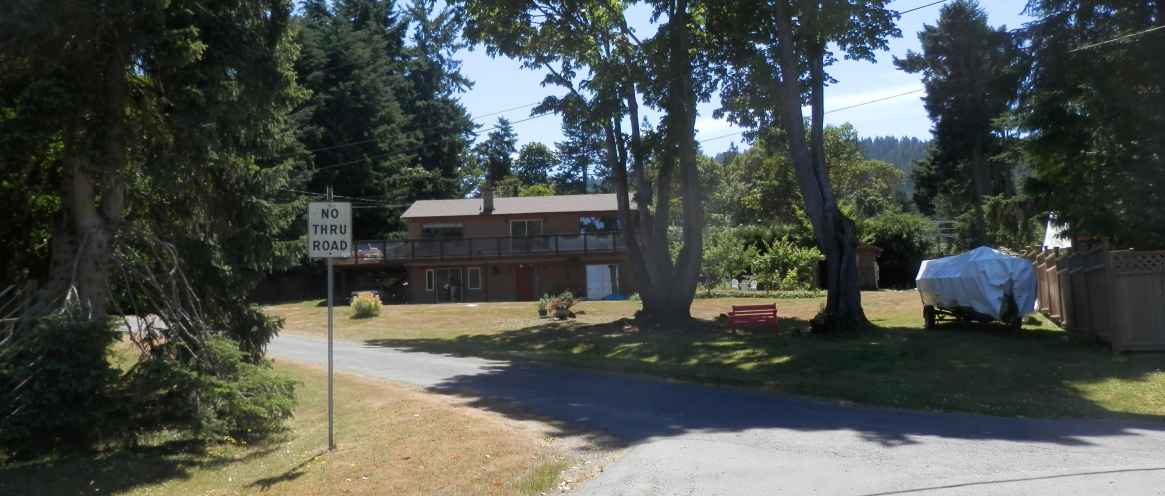 The homestead.
Please refer to MAYNE ISLAND 2015 for more information and photographs.
---
May 14: ART OF THE BOOK LECTURE IN LANGLEY


Lecture and demonstration ready to go, Langley Centennial Museum.
At long last the day arrived for my evening lecture and demonstration at the Langley Centennial Museum in Fort Langley. Since it was scheduled to start at seven, I left Vancouver mid-afternoon to ensure that I didn't get caught in rush hour traffic on the way out. The plan worked, and I arrived about 3:30 on a beautiful warm sunny day. Almost immediately after turning off the freeway at 232nd Street it was lush green fields and forests all around, redolent with the fragrance of cow manure being sprayed as fertilizer.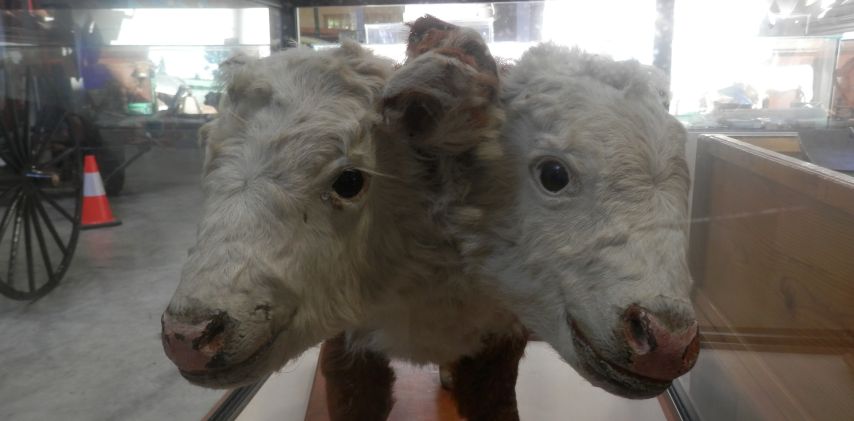 Some days recently I've felt like this.
I checked in with the museum to let them know I'd arrived, but was not able to start setting up until the museum closed to the public in a couple of hours. I noticed that there was a farming museum next door, and walked in for a look. There were actually a lot of interesting exhibits, including an old crop dusting plane hanging from the ceiling, an farmer's rifle collection, lots of tractors, a chainsaw collection, and a stuffed two-headed calf in a glass case.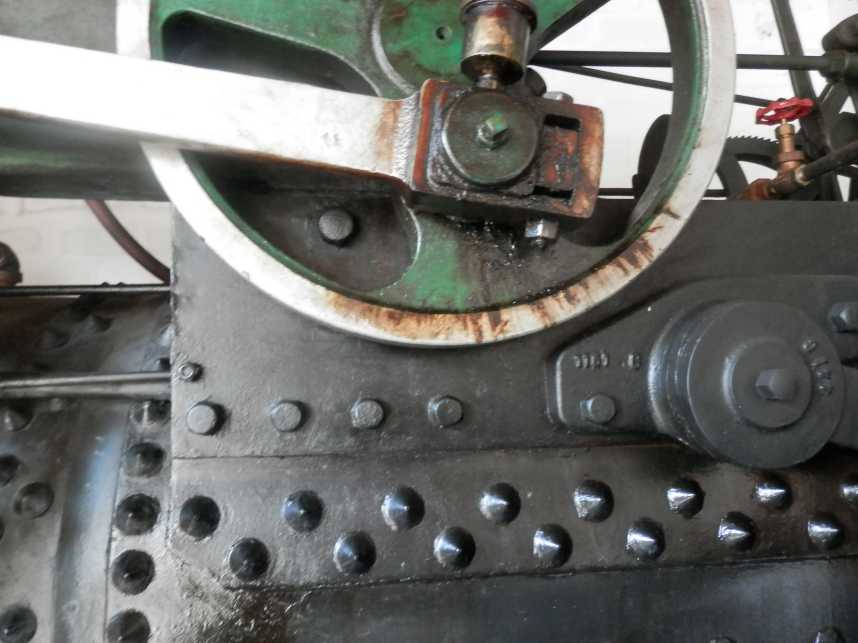 Steampunk wet dream at the B.C. Farm Museum.
After that, I wandered down to the main road, and across the tracks to the Fort Pub for a bit of beer and bite of garlic pork bites (which were excellent, to my surprise). A couple of trains thundered by on the mainline, and the Rocky Mountaineer went by westbound. Lots of rowers and paddlers were taking advantage of the nice weather, going up and down the branch of the Fraser River between Fort Langley and McMillan Island. I doubt if any of them knew that it was the site of a massacre of an estimated 600 Yuculta warriors in the mid 1800's, blasted out of the water by the fort's cannons and finished off by the triumphant Coast Salish who had sought the fort's protection from the raiding Yuculta's.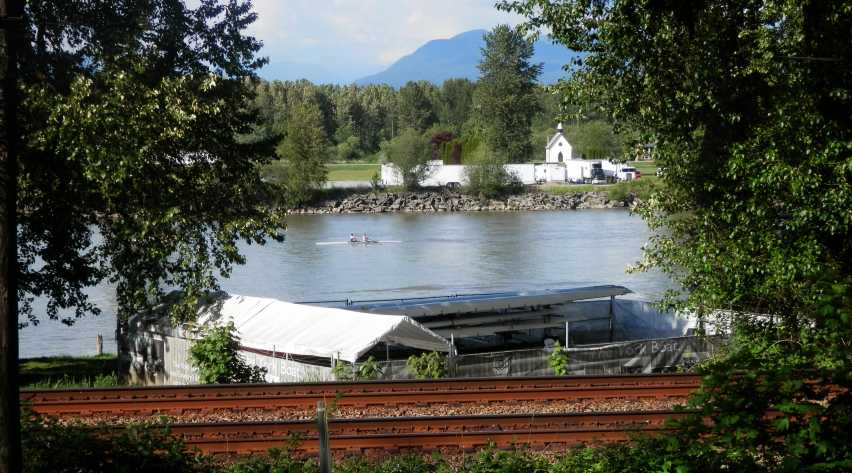 View of the massacre site from the Fort's lawn.
I wandered up to the fort on the way back to the museum, but it was closed, so it was back to the museum to set up. The attendees filtered in, and at seven it was on with the show. I gave a very brief overview of the history of bookmaking, printmaking, and papermaking. I had a lot of paper and other samples with me, cut or torn into smaller pieces, and gave them out as I talked. I showed tools and materials for relief prints, etchings, and wood engravings, and how I use them to make prints. After that I started printing Otters on Savary Dock in green ink for the demonstration. At the end of my talk I gave one of the prints to everyone who wanted one, as well as offering more free material samples and the usual shameless Sim marketing material.
It took a while to pack everything back up and load it into the car. Then it was farewell and thanks to the program organizer Maggie Lukban, Township of Langley Arts and Culture Programmer, and on the road into town. Traffic was quite light compared to daytime, and I managed to get home, unload everything at home, return the MODO car to its parking spot, and get home in exhaustion by just after ten.
---
April 28: OKANAGAN TRIP 6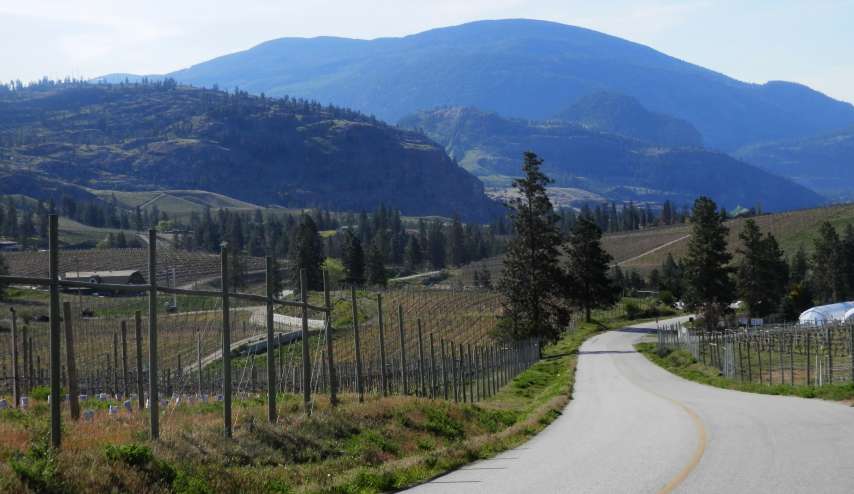 A winding road through wine country.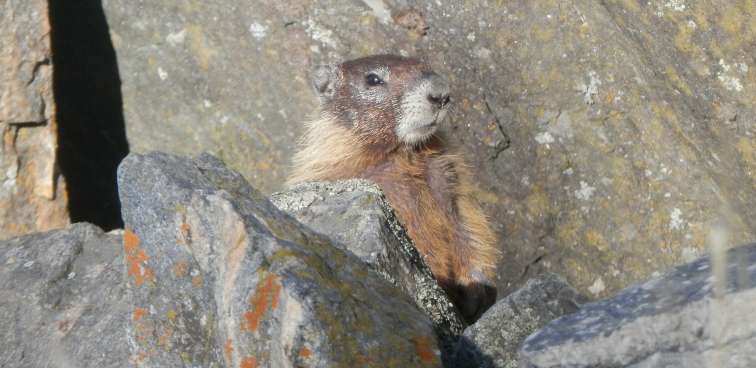 Yellow-bellied marmot at Vaseux Lake.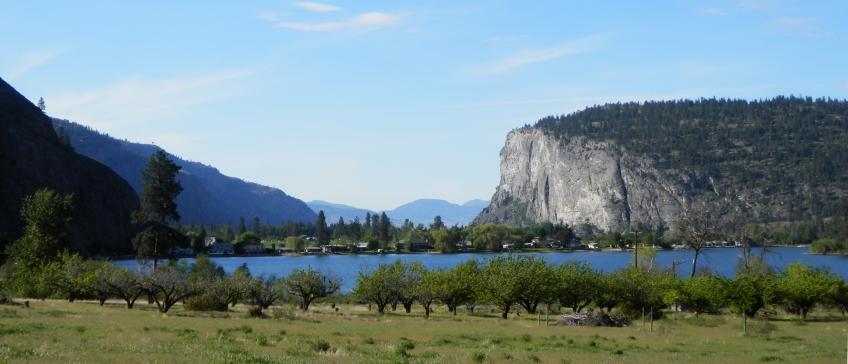 Macintyre Bluff seen from across Vaseux Lake.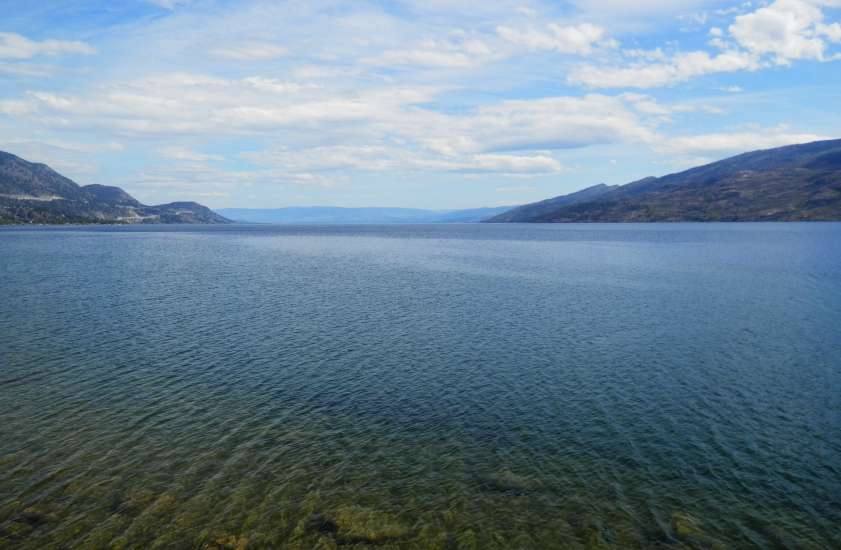 On the way home, Okanagan Lake north of Penticton, looking north.
---
April 14: OKANAGAN TRIP 5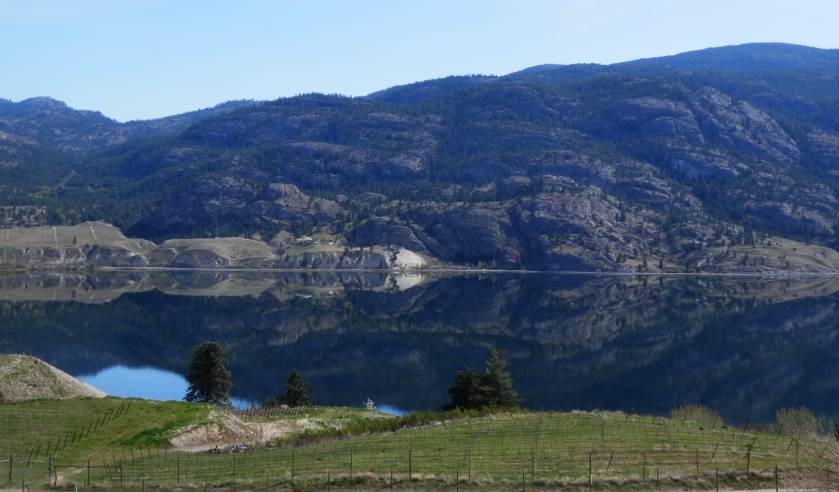 Skaha Lake on the way north up the Okanagan to the Connector.
---
April 02: VIEW FROM MY VANCOUVER PROJECT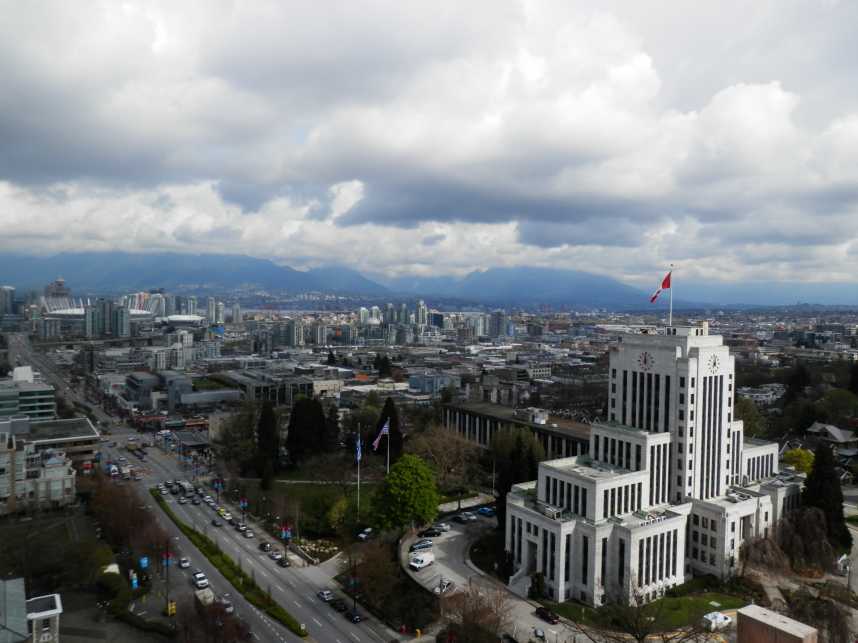 View of City Hall, Vancouver, etc. from Level 20 roof at Plaza 500.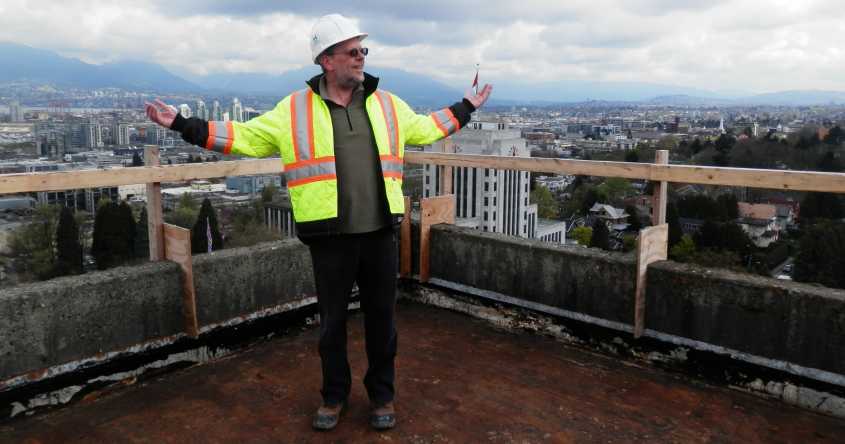 Yours truly, photo courtesy Sal Lucia, Site Super.
---
April 01: OKANAGAN TRIP 4
Another field trip to my project in Oliver. Since it's a secure facility, I cannot post images of the project, so any trips up there that are noted here will only show images of our fabulous BC scenery. I took a slightly different route this time, driving up the Coquihalla to Merritt and then east to the Okanagan and south to Osoyoos. On the way back I took the Hope-Princeton, just under 1,000 km. driving in 48 hours. Spring blossoms were just breaking out in the south Okanagan, and everywhere there were orchards and vineyards resplendant with colour. Coming back over the Hope-Princeton there was some variable weather, including wet snow at Hope slide, rain at Hope, and a nice sunny day in Vancouver upon arrival.


Fresh snow at Hope slide on the way back from Okanagan (I'm not kidding)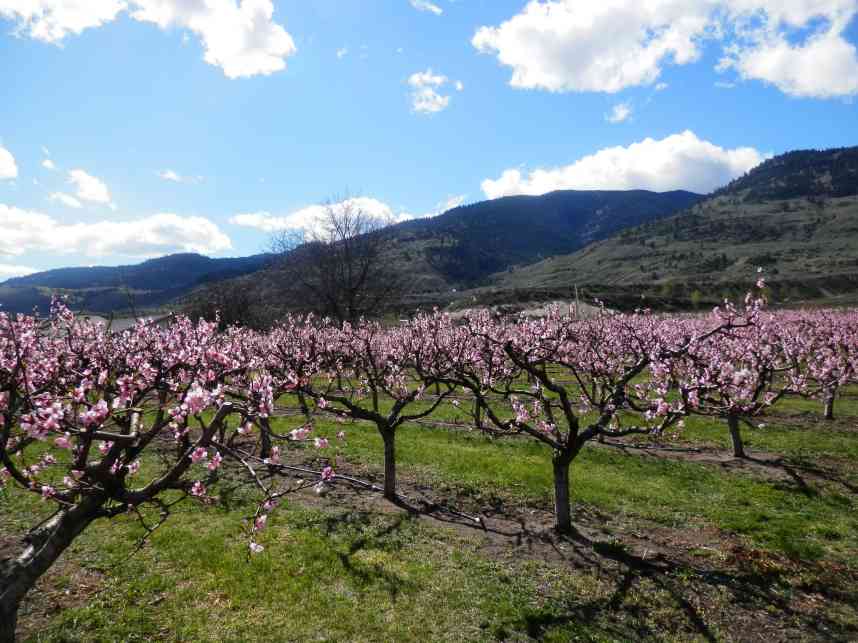 Blossom time in the south Okanagan.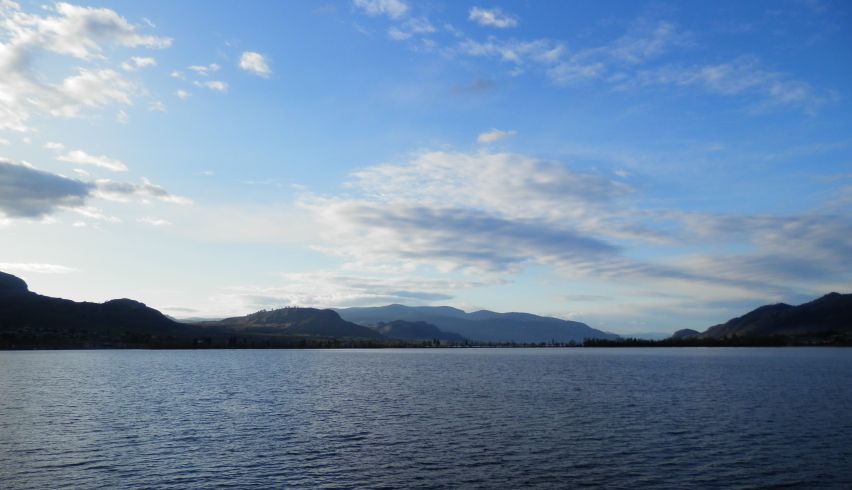 Sunrise over Lake Osoyoos, looking south to Haynes Point.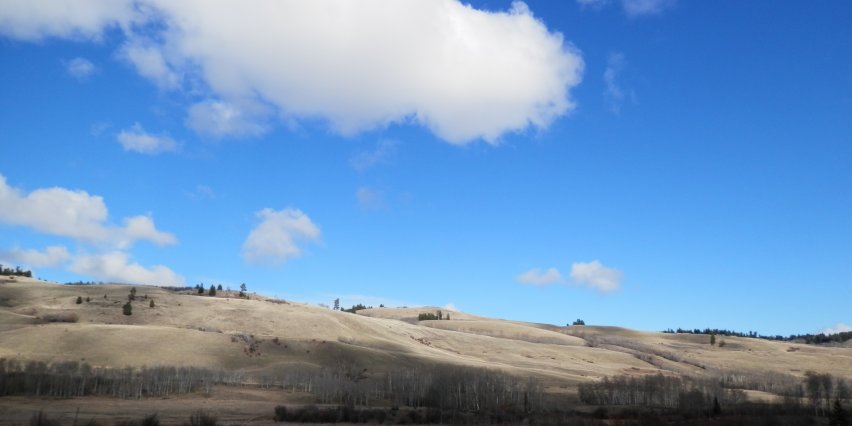 Coming into the Nicola Valley grasslands.
---
Mar. 03: OKANAGAN TRIP 3

Early morning Osoyoos Lake seen from hotel suite.
It's going to be a busy year, project meetings every week alternating between Vancouver and Oliver. Looking forward to summer in the Okanagan ... ! Two more trips to Spokane pending too, I'm hoping to combine the last one with an Oliver site trip for an all-expense paid spring tour of the interior plateaus of Cascadia. I drove up to Osoyoos March 2, stayed at the Walnut Beach Resort (home of "the first licensed beach in Canada") and did a field review the next day. Dinner was at Miradoro Restaurant, fabulous food and ambiance, with my friend Manny running the show. Their outdoor deck is awesome in the summer, a view for miles up and down the valley plus an overhead water mister keeping everyone cool and happy. A somewhat fuzzy morning drive to the Coast the next morning went well, 4 hours froms Osoyoos to the West End, and back to city living.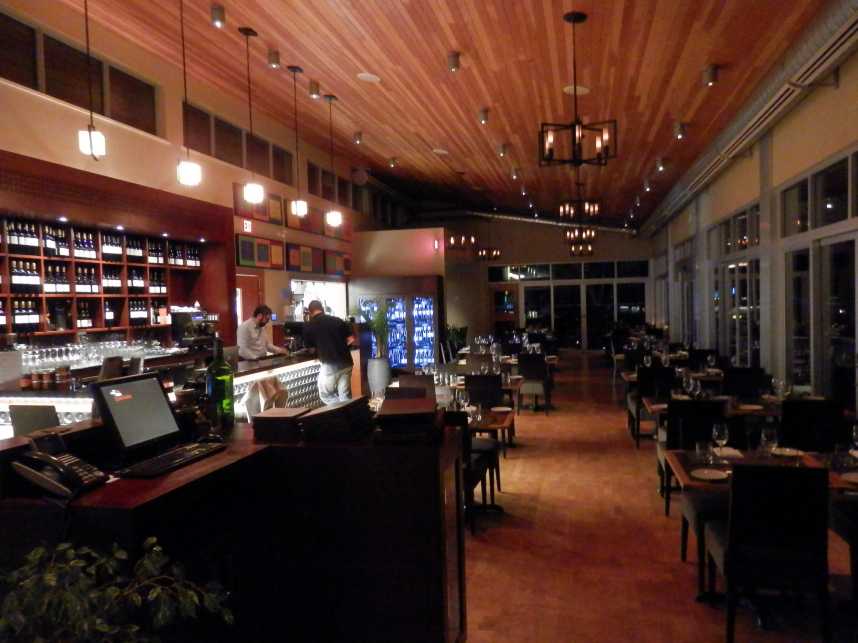 Hanging around Miradoro Restaurant after closing.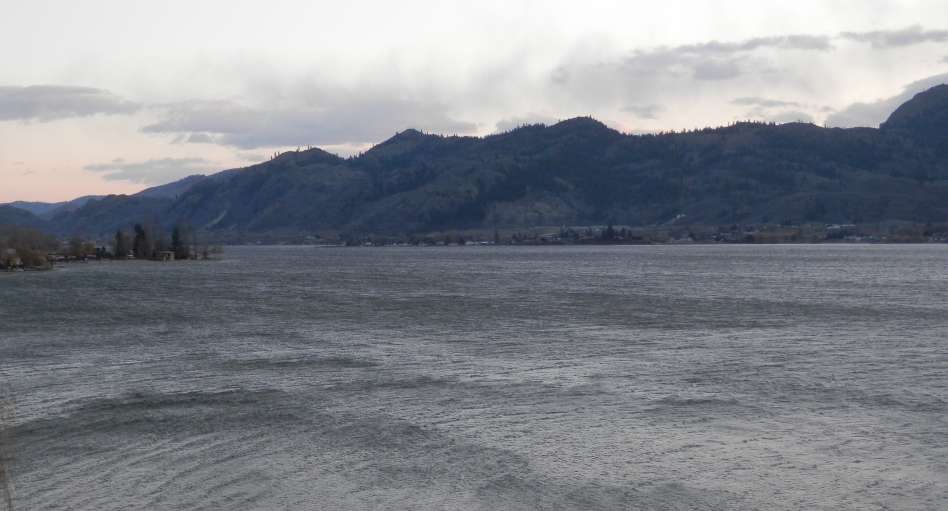 Evening Osoyoos Lake with high winds.

Early morning Osoyoos Lake.


Creek at Manning Park.
---
Mar. 02: ON THE WAY TO WORK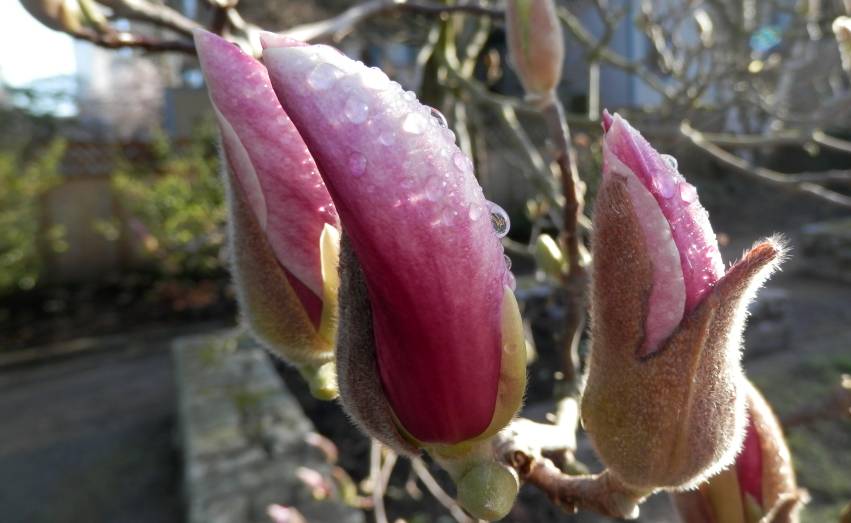 Flowering tree in Barclay Park in early morning sunlight.
---
Feb. 27: BARCLAY STREET NIGHT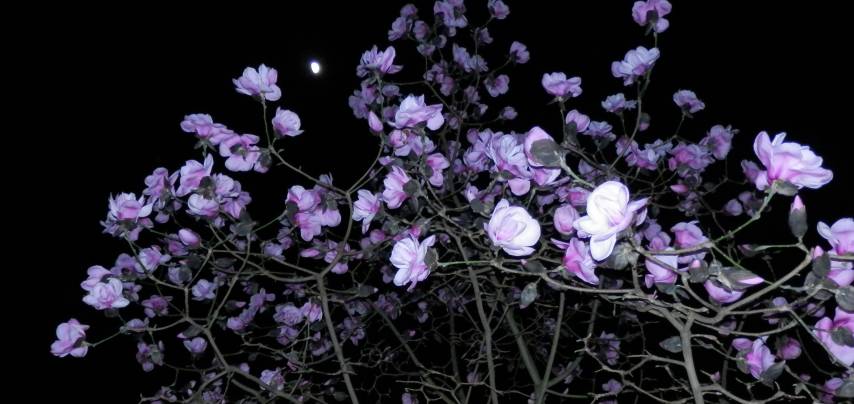 Flowering tree on Barclay Street by the light of a half moon and camera flash.
---
Jan. 01: 2014 IN REVIEW

Well, 2014 didn't turn out exactly like I planned. I wanted to lose weight and get into shape, I didn't expect to be diagnosed with colon cancer and go into VGH for a major operation. That whole thing was a lot of bother, but went well. By fall I was 40 pounds lighter and pedaling sprints around Stanley Park on my bike, so that part of my plan worked out. Along the way I gave two lectures and slide shows on Railway Rock Gang, and continued to market and sell the book. A number of good reviews were published. By the end of 2014, I'd sold 200 copies in 15 months, grossing just under $11,000.00 in sales. At time of writing there are only 60 copies of the book still available.
A number of photographs didn't make it into the book for various reasons (page count, cost) and at first I thought that I would produce an expanded second edition that added those pictures with related stories, and corrected an assortment of typos and editing oddities. However, after getting some good advice, I decided to produce a smaller second volume that has the missing photographs (plus some others found since) and new stories. That way anyone who has the first book will not be getting duplicate material if they buy the second. It will all be additional new and complementary information.
In between required tasks in 2014, a number of drawings were completed, including "Waiting for more crap from china" and a series of drawings based on a hike down the Scimitar Glacier. No new prints were made, though Malaspina Printmakers continues to sell the ones on consignment there fairly regularly. The Burnaby Art Gallery closed down their Art Rental Program, and during the year all my drawings and prints consigned there were returned to me. My art donation to the Burnaby Art Gallery in 2014 was appraised at over $10,000.00, and I was invited to a tea with Gathie Falk in the summer which was quite fun. Bill Jeffries proposed an exhibition of my rock gang photographs to the West Vancouver Museum & Archives, but it didn't seem to fly. It's a good idea, though, so we'll probably try other venues.
For various reasons, the usual number of trips around the province was down, although I did spend a weekend in June in Cloverdale at the BC Historical Federation Annual Conference. I also flew to Victoria in September for a one-day site visit and lunch with friend Dr. Patrick Dunae, and later did a 3-day trip to Oliver for the OCC project. A lapsed passport prevented me from having to go on a field review in Spokane to look at precast concrete modules, but it has been renewed and a trip down there may be pending in January.
A major theme for 2014 was the donation program, and after a lot of work the end results are donations of 800 publications, 50 artworks, copies of Railway Rock Gang and BC Artists, and funding, to a number of organizations across Canada. The proposed donation of the entire BC Artists project has not been accepted in its entirety by anyone, although discussions continue with a few venues and hopefully it will be arranged in 2015.
Work continued on an additional memoir titled "A BC LIFE" with a number of chapters added and old photos scanned. I hired book designer Jan Westendorp to work with me on it, and we made good progress until things went sideways with the health issue. Input continued on the BC Artists project, and a lot of information was added spurred on by the pending donations of material I had yet to reference into BC Artists. That was all challenging but fun in an academic sense. In writing this news item I realize that I have yet to distribute that update to all of the project's owners. Where's my list of things to do in 2015?
---
Dec. 12 2014: DONATION TO NATIONAL GALLERY OF CANADA
A very large donation of books and catalogues on BC artists has been donated by Sim Publishing to the National Gallery of Canada Library, where it will be available to researchers in perpetuity. Approximately 700 publications were selected by the Library from lists of more than 1,500 offered to them, packed, and shipped east. Some of the material is over 100 years old, and a lot of it is rare or limited edition. Many of the publications, and the artists represented in them, are new to their collection, so this donation is a significant upgrade to the representation of BC artists in the National Gallery Library. Sim Publishing is pleased to make this donation on behalf of the artists of British Columbia. It is anticipated that another large donation will be made in 2015.
---
Nov. 23 2014: FIRST TRIP TO OKANAGAN CORRECTION CENTRE
After being appointed work on the OCC project at the end of September, it was mostly office work, shuffling shop drawings around and answering RFI's. Finally it was time to go up and have a look. I rented a MODO car, an easy-to-drive 2013 Nissan Sentra, and hit the road. Weather went from so-so to worse, then got better in the Okanagan. The site visit started at 0700 the next morning, so an early night was in order. I spent six hours on site the next day, it was a cold and windy day. Then, up to Miradoro Restaurant at Tinhorn Creek in mid-afternoon for lunch, where we got snowed in with a sudden four inch deep dump, and ended up staying until after ten. Driving back to the coast the next morning was challenging, going through the slushy remains of the storm over the Hope-Princeton highway. There was heavy rain going through Hope, and then a nice sunny day in Vancouver. Next trip probably sometime in January.

---
Home
Copyright 2015