SIM PUBLISHING
Home Publications Artwork News Links About
---
NEWS ARCHIVE - 2010
---

THE SOLSTICE SESSIONS - RECORDING STUDIO TIME BOOKED
A long-standing urge to do some more recording studio work was finally realized December 21 and 22 at Saga Recording Studios, Vancouver. Two afternoon sessions were booked, and a total of 31 tracks were recorded in the two days. All songs were recorded live in one take, guitar and singing together on most songs.

All tracks were recorded in 24-bit digital sound, then mixed down to 16-bit stereo for recording to CD. The sessions went well, although my fingertips hurt a lot after the first day and made the second day a somewhat painful experience. However, it was worth the effort, and a number of the songs give a good representation of my guitar playing ability.
---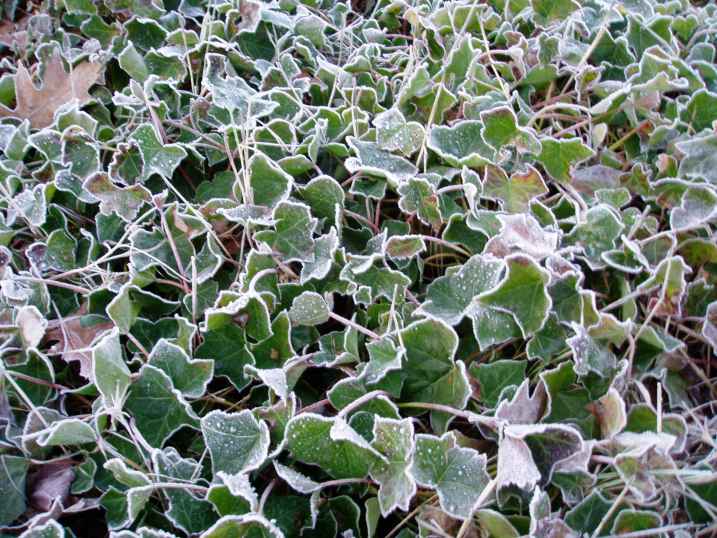 MORNING FROST
Digital photograph

I was out at Peace Arch Hospital in White Rock on a site visit early one morning. The groundcover in the parking lot looked quite interesting the way the frost was outlining the green leaves with silver edges.
---
ETCHINGS DONATED TO MALASPINA PRINTMAKERS SOCIETY 101 PRINTS FUNDRAISER
Two etchings, Looking West and Water Taxi were donated to the Malaspina Printmakers Society fundraising auction 101 Prints, to be held early 2011.
---
BRITISH COLUMBIA ARTISTS PROJECT LISTS OVER 10,000 ARTISTS
An ongoing effort to expand Art & Artists in Exhibition: Vancouver 1890 - 1950 to the current day with BRITISH COLUMBIA ARTISTS has pushed the total number of artists referenced to more than 10,000. Additional references include a number of Artropolis catalogues, Emily Carr University Graduation catalogues, B.C. Festival of the Arts catalogues, and a variety of other volumes.

Please refer to BRITISH COLUMBIA ARTISTS page for more information.
---
ETCHINGS DONATED TO ALCUIN SOCIETY BOOK AUCTION FUNDRAISER
Two etchings, Looking West and Water Taxi were donated to the Alcuin Society to assist in fundraising at their annual book auction on November 13.
---
BRITISH COLUMBIA ARTISTS ISSUED OCTOBER 30 2010
BRITISH COLUMBIA ARTISTS has been issued as a digital finding aid to published reference material on artists of British Columbia. Over 8,000 artists are listed in the huge index.

Please refer to BRITISH COLUMBIA ARTISTS page for more information.
---
Alcuin Society - Vancouver Antiquarian Book Fair
The Vancouver Antiquarian Book Fair was held October 15 and 16 at the main branch of the Vancouver Public Library. It was sponsored by the Alcuin Society, Vancouver, and by all accounts it was a great success. Two rooms were full of booksellers who had come from across the continent with rare and unusual treats, and a good crowd on both days kept everyone busy.

The Jim Rimmer book Leaves From the Pie Tree and related Rimmer ephemera - including the book's letterpress Prospectus - was donated by Sim Publishing to the Alcuin Society as a fundraiser. The book was purchased, to the general happiness of all of the late Jim Rimmer's friends who were present, by Jason Dewinetz of Greenboathouse Press, Vernon. Jason had received Rimmer's printing and typefounding equipment after the printer's death from cancer in January 2010, but - himself an award winning designer and letterpress printer - did not have a copy of Rimmer's autobiographical magnum opus. The entire purchase price will be deposited into the Alcuin Society's endowment fund, which is managed by the Vancouver Foundation, and everyone came away happy from the win-win-win transaction.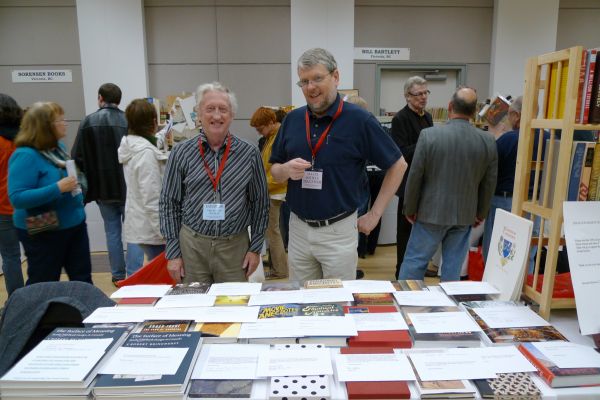 Photograph courtesy Jason Vanderhill, Alcuin Society Director. Used with permission.

Seen manning the Alcuin Society's table are Nicholas Collins, Alcuin Society Director (on the left) looking happy from all the money made during the weekend, and myself. The table is covered with books and bidsheets for the silent auction, from which most items were also sold.

The bookshelves partly seen on the right were full of a large collection of Folio Society (England) books that had also been donated to the Society by a supporter. Priced at $20 but nominally worth up to $100 each, the books almost flew off the shelves to eager purchasers, with $20s being thrust at us almost continuously at times. In the bustle of purchases and packaging the books, the money kept getting stuffed into the most convenient one of my pockets at the moment. Every so often I'd glean through my pockets, pulling out any number of loose bills and handing them over to Nicholas. When the dust settled after the silent auction closed, we'd done well over $3,000 worth of sales in the two days!
---
Book launch at Vancouver Art Gallery Library
I had the honour recently of being invited to the launch of David Bellman's new book: The Innocence of Trees, held at the lovely library of the Vancouver Art Gallery. A number of interesting people were present, including Gary Lee-Nova, Robert Reid, Professor John O'Brian, and Curators Grant Arnold and Petra Watson.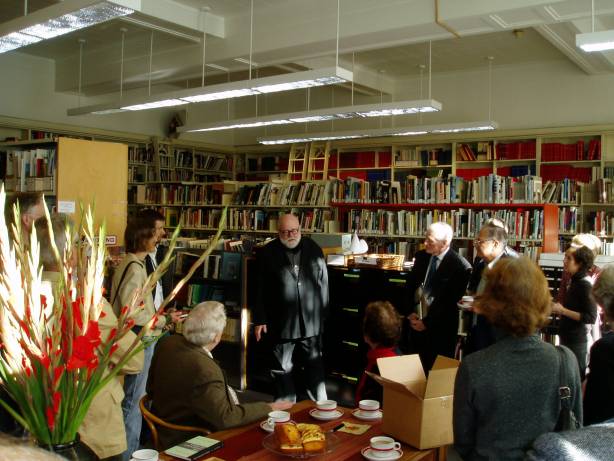 David Bellman is seen in the center of this photograph, extemporizing an homage to artists and art historians past and present. Muffins and cake, tea and coffee, were served to an attentive audience. Robert Reid (seated lower left) designed the book, and John O'Brian (behind flowers at left) wrote an introduction to the book. Ten copies of the book were made available, triple-signed by Bellman, Reid, and O'Brian.
---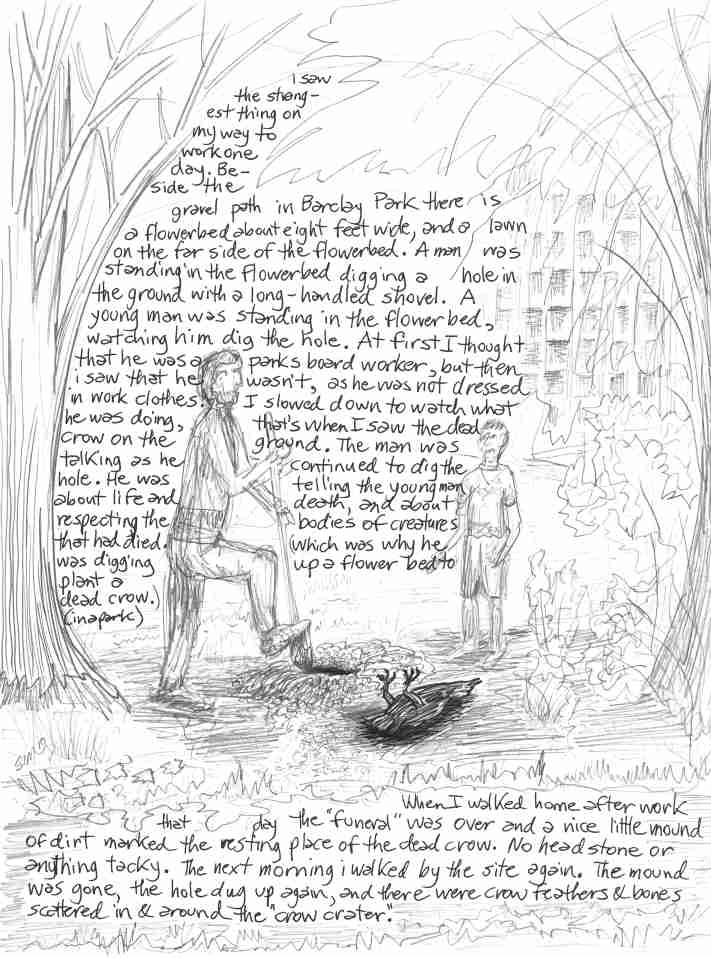 DEAD CROWS IN BARCLAY PARK, PART TWO
Pencil, pen & ink

This is a drawing done from memory, of another unusual sight seen one morning walking to work through Barclay Park. I still find it hard to believe that someone would go into a flower bed in a public park and dig it up to plant a dead crow.

Anyway, after the buried crow was "exhumed / consumed" that night by critters unknown, the "crow crater" remained for some time as a feature of the flower bed. At first the feathers and bones were moved around more, then covered by falling leaves. The leaves tended to be blown, or fall, into the crater, marking its location. Later, when preparing the garden for winter, the parks board gardeners graded the crater flat again. A while later it was dug up again by some animal that thought there was still something edible there. That re-crater remained all winter and until the next spring, when the gardeners once again worked over the bed and raked it flat.
---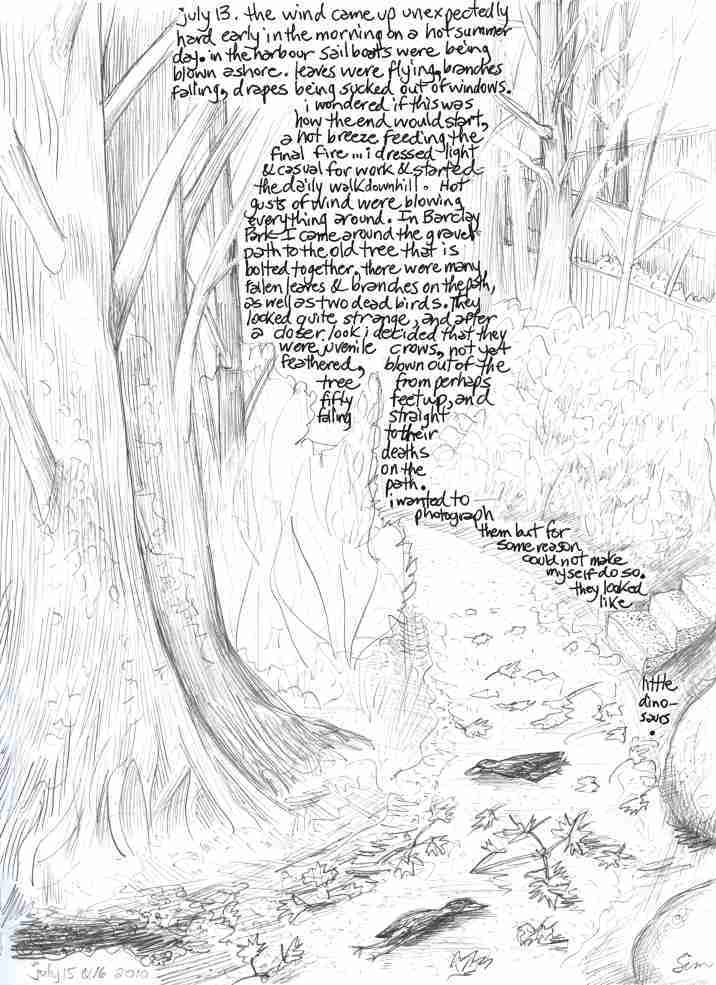 DEAD CROWS IN BARCLAY PARK
Pencil, pen & ink

A pencil drawing done from memory, of a morning walking to work recently through a park. A lot of artists are drawing and painting crows these days, probably because there are so many of the damn things around. Allan Brooks, the early B.C. naturalist and artist, apparently had a passionate hatred for crows and would shoot them whenever he possibly could. You can't do that in the West End any more.

(detail)
---
Seen walking to work on the last day of summer
This spider had really put his heart into weaving this web overnight, and was poised expectantly (hopefully) in the center of the masterwork, waiting for breakfast to arrive. The web was huge, almost two feet high, and I was glad I hadn't walked into it strung across the path. That night the rains came. The next morning there was no sign of the web, and it wasn't what you'd call spider weather any more.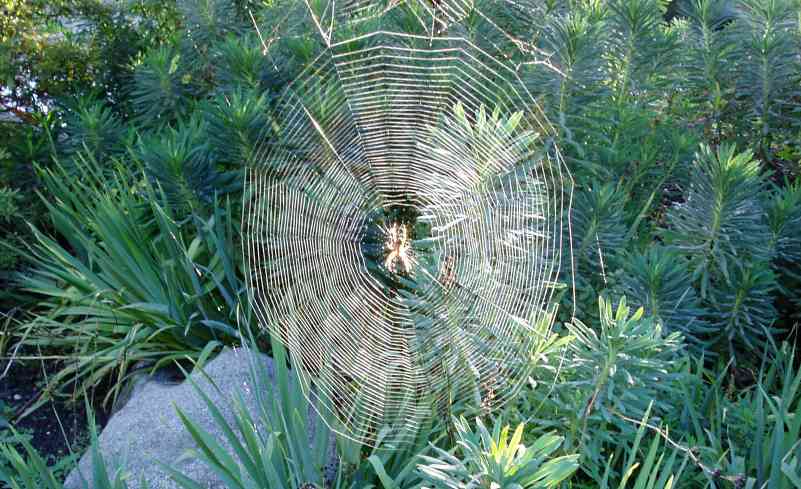 ---
summer day, wind blowing
This is one of a series of photographs taken from my balcony looking straight down onto the sidewalk, on a sunny day, with the wind blowing the trees around quite vigorously. As a result, the shadows are all blurred yet the sidewalk and gravel is quite detailed, producing an interesting abstract effect.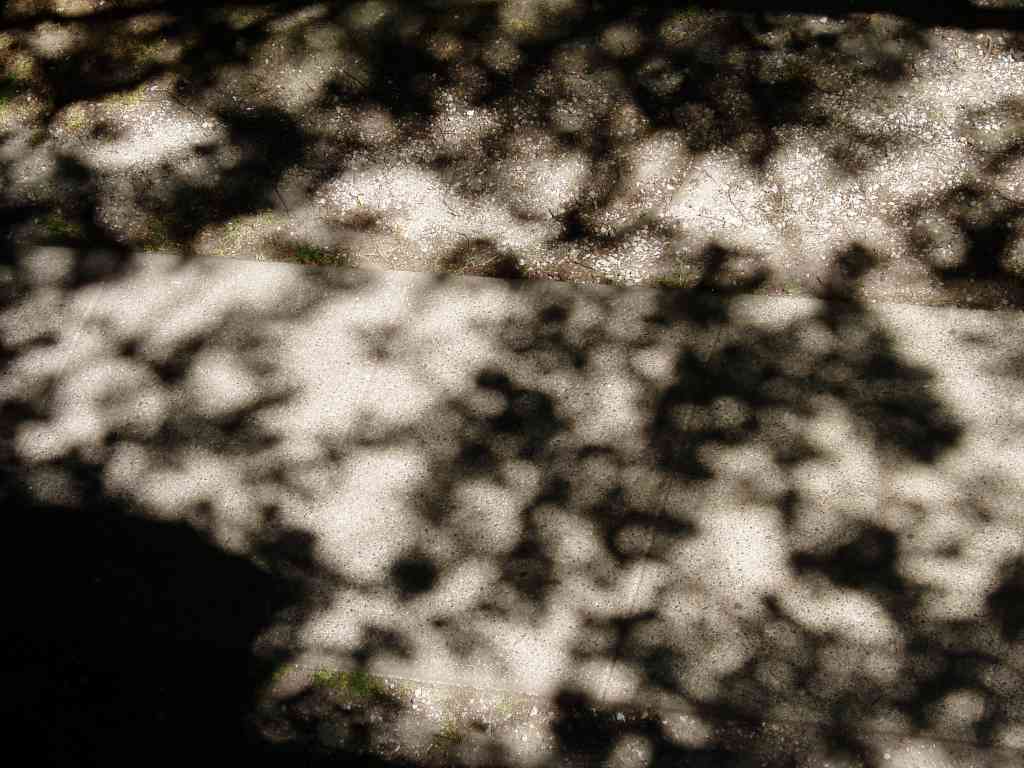 ---
Seen on flight to Williams Lake and back - August 4
The weather was nominally a clear, sunny, summer day. With about 400 forest fires burning in B.C. and a stalled weather system, half the province was shrouded in a thick haze of smoke. In some areas visibility was less than a mile.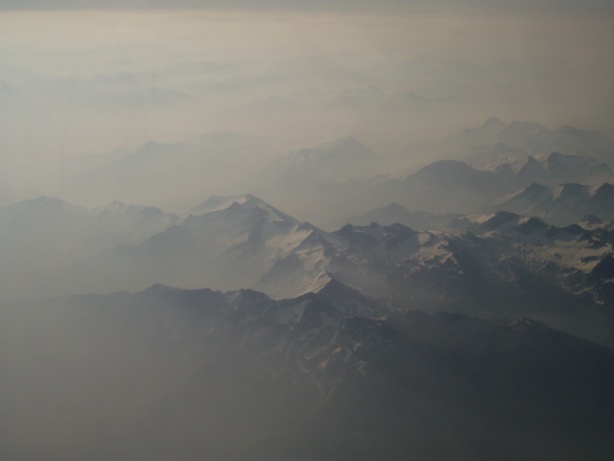 North of Whistler, looking east

Fire fighting helicopters at Williams Lake airport

On arrival in Williams Lake airport there were dozens of helicopters parked all along the runway. They were all there to fight forest fires in one capacity or another. The pilots were all in a briefing meeting when we arrived, but by the time we got our rental car and drove away there were numerous choppers spooling up or taking off into the grey haze.

Bomber loading up with fire retardant prior to takeoff

Our own little Beechcraft 1900C prior to boarding

By 6:30 p.m. when we left for Vancouver the haze of smoke had cleared somewhat, and it almost looked like a normal day, except for all of the helicopters parked everywhere. We had to wait for two to land before we took off, and we just beat the bomber into the takeoff queue.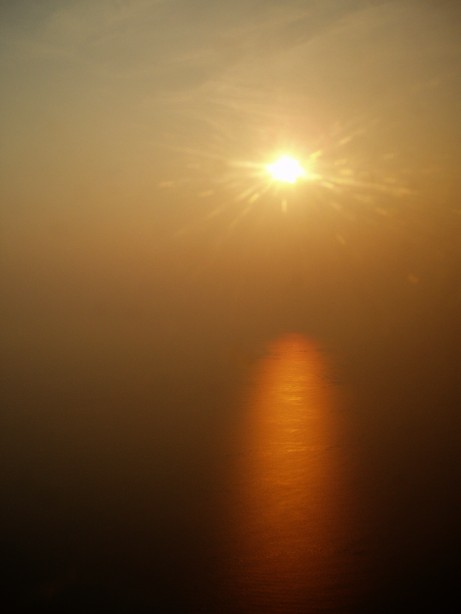 Looking west over Georgia Strait coming into YVR for a landing, at about 2,000 feet
---
Seen on flight to Williams Lake - July 7
Perhaps because of the crystal clear weather, or perhaps because of winds, the pilot of the flight to Williams Lake on July 7 flew a low and extremely scenic route north. After takeoff we went directly up Howe Sound, over Squamish, right past Garibaldi Mountain and Black Tusk, directly over Whistler and Pemberton, over Bralorne and Carpenter Lake, then along the Fraser River and over the Chilcotin Plateau. The flight was not full, so I took up the back three seats in the Beech 1900C and went side to side all the way up looking at the scenery.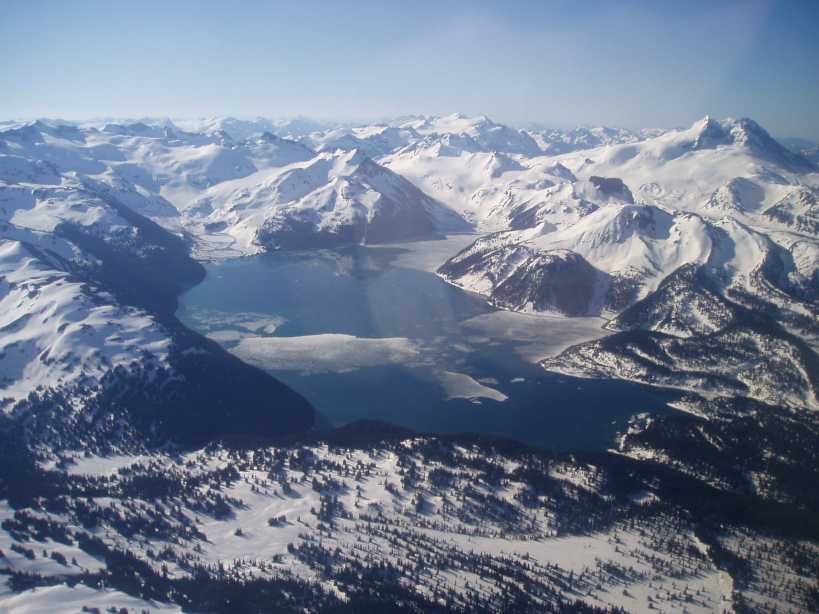 Garibaldi Lake, Garibaldi Mountain, The Barrier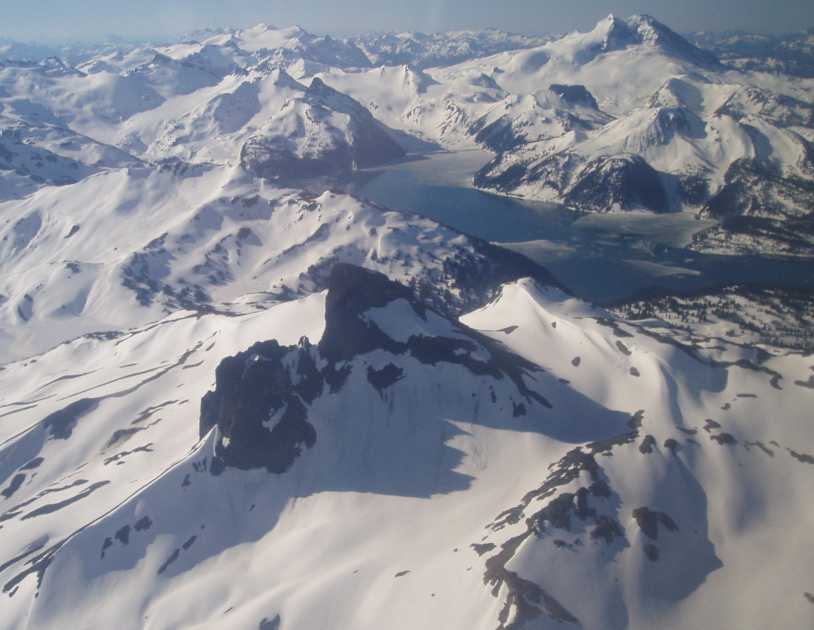 Black Tusk, Garibaldi Lake, Garibaldi Mountain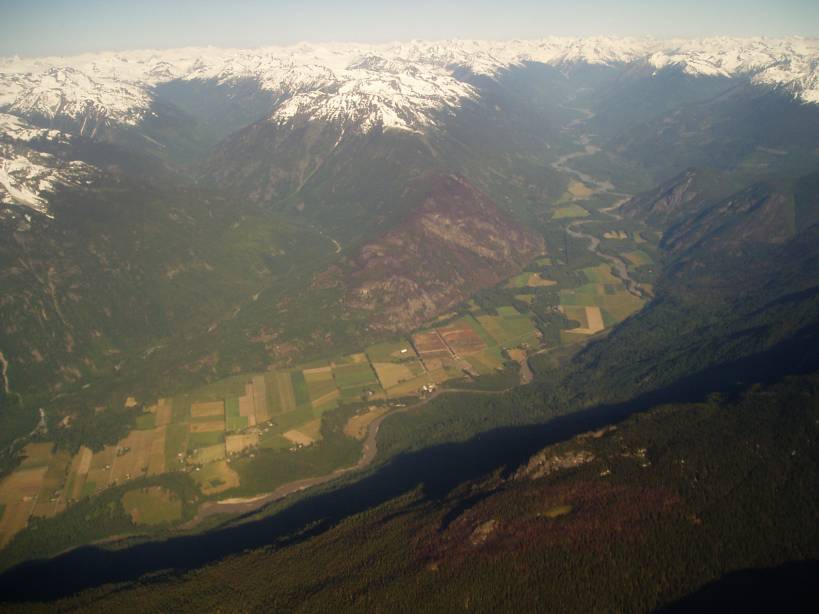 Upper Pemberton Valley, Lillooet River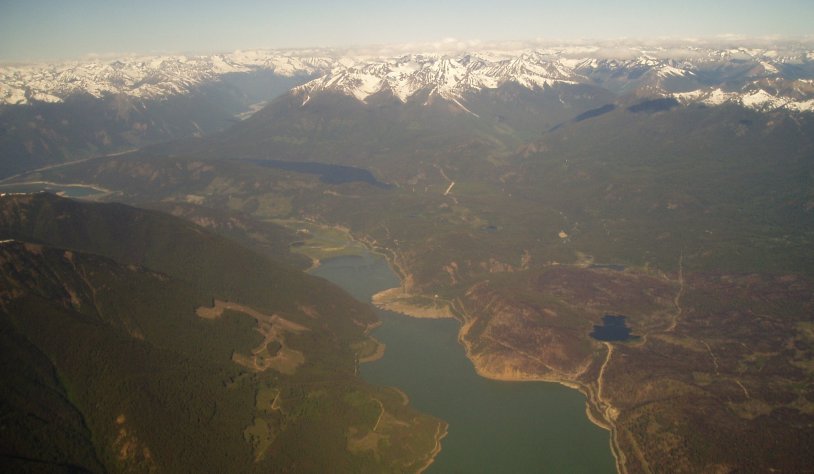 Carpenter Lake (bottom), Gun Lake (center), Downton Lake (left), looking west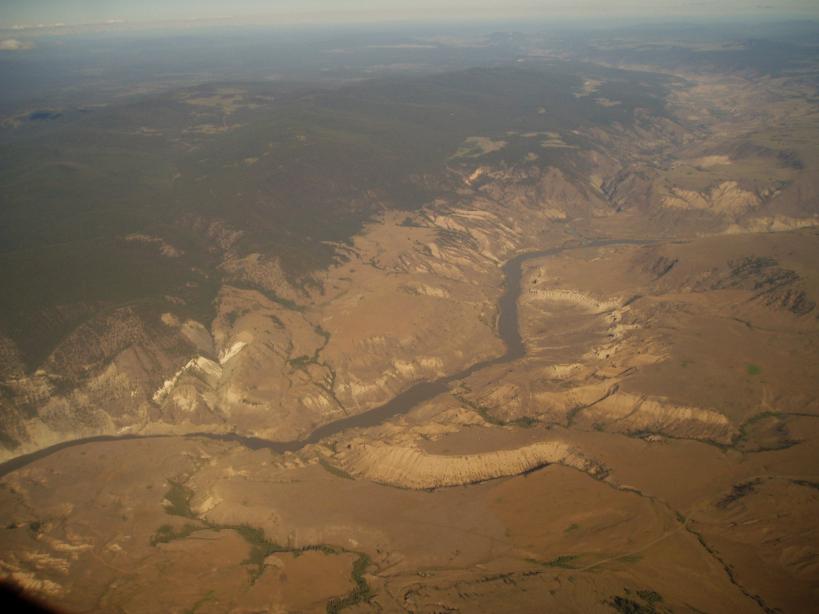 Fraser River near Gang Ranch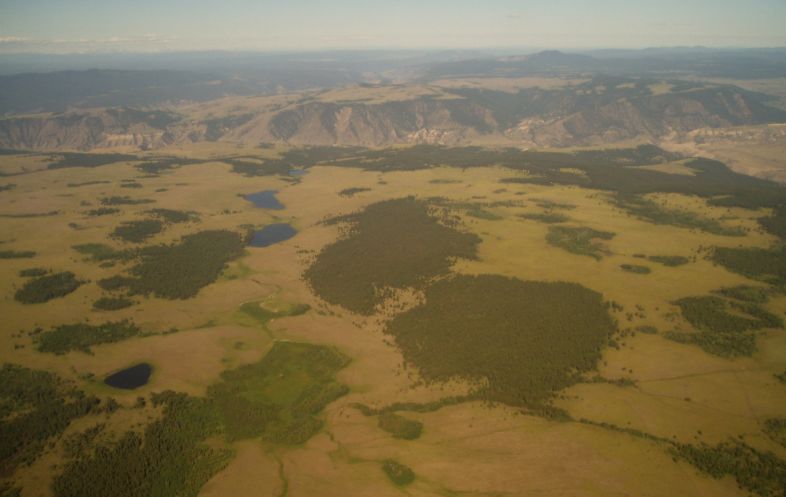 Chilcotin Plateau, Fraser River canyon, looking west
---
Sim interviewed for pending book
Chris Tyrell, author of "The Artists Survival Guide" and long-time editorialist for OPUS Framing & Art Supplies, came by recently to interview me for his next book. I was selected as being a type of artist who produces work "with integrity that sells and who have another job".
---
FCA SUMMER GALLERY OPEN UNTIL AUGUST 15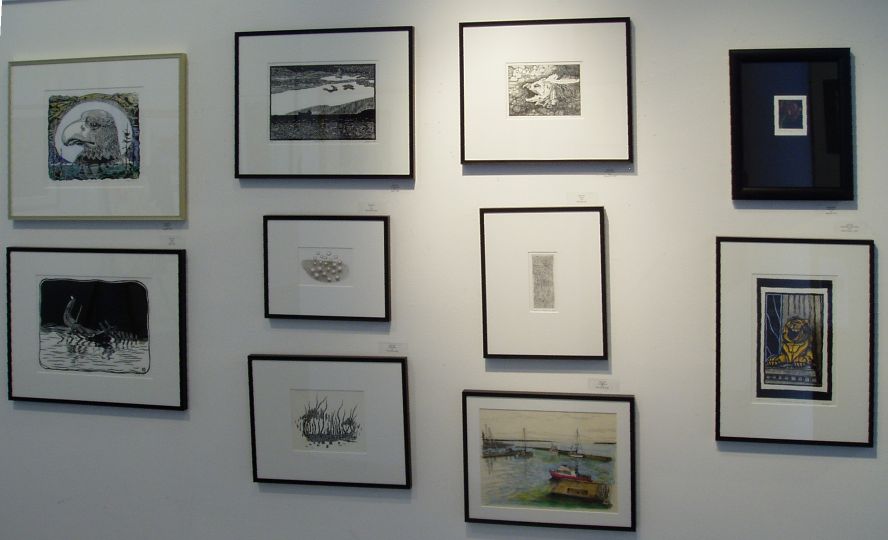 The SUMMER GALLERY is up now at the Federation of Canadian Artists Gallery on Granville Island, 1241 Cartwright Street. A number of Sim artworks are on display on a wall near the front desk. Five Sim prints are also available from the display rack at the front of the Gallery.

The Federation Gallery is at 1241 Cartwright Street, at the east end of Granville Island near the Granville Island Hotel. The Gallery is open Tuesday to Sunday, from 10 a.m. to 4 p.m.
---
THOM KLINE SOLO EXHIBITION AT DAILY GRIND CAFE, 1500 GEORGIA ST.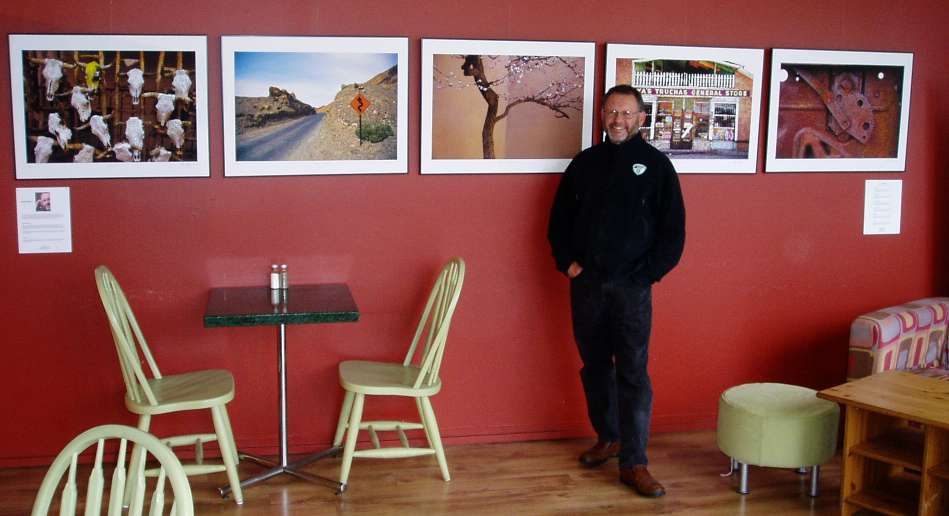 Curator Sim is pleased to begin the seventh year of exhibitions at the Daily Grind Cafe with a solo show of digitally-altered photographs by Thom Kline of North Vancouver. The photographs are selected from a recent tour of the American southwest. Refer also to Thom Kline web site for more information about the artist and to view other works.
---
ARTIST INVITED TO PARTICIPATE IN FCA SUMMER GALLERY
For two months this summer Sim artwork will be on display at the Federation of Canadian Artists SUMMER GALLERY on Granville Island. This long group exhibition will feature a rotating display of up to 15 to 20 of my artworks. Stay tuned for more information about the exhibition.
---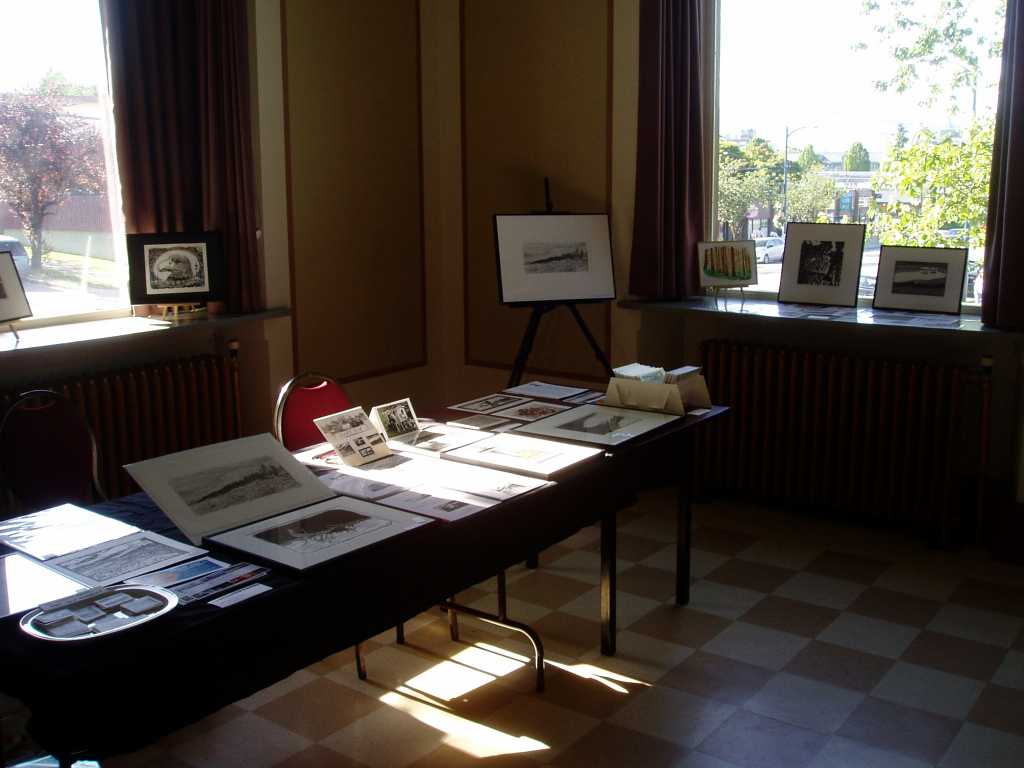 An estimated 600 people visited the MID MAIN ART FAIR on Sunday June 13 2010. The photograph above shows my table in the northwest corner of Heritage Hall, and the photograph below is a view looking east from my table. Both pictures were taken in a quiet moment when I wasn't talking to anyone.

Many thanks to Enda Bardell for the idea, for inviting me, and for all of the work organizing and advertising the Fair.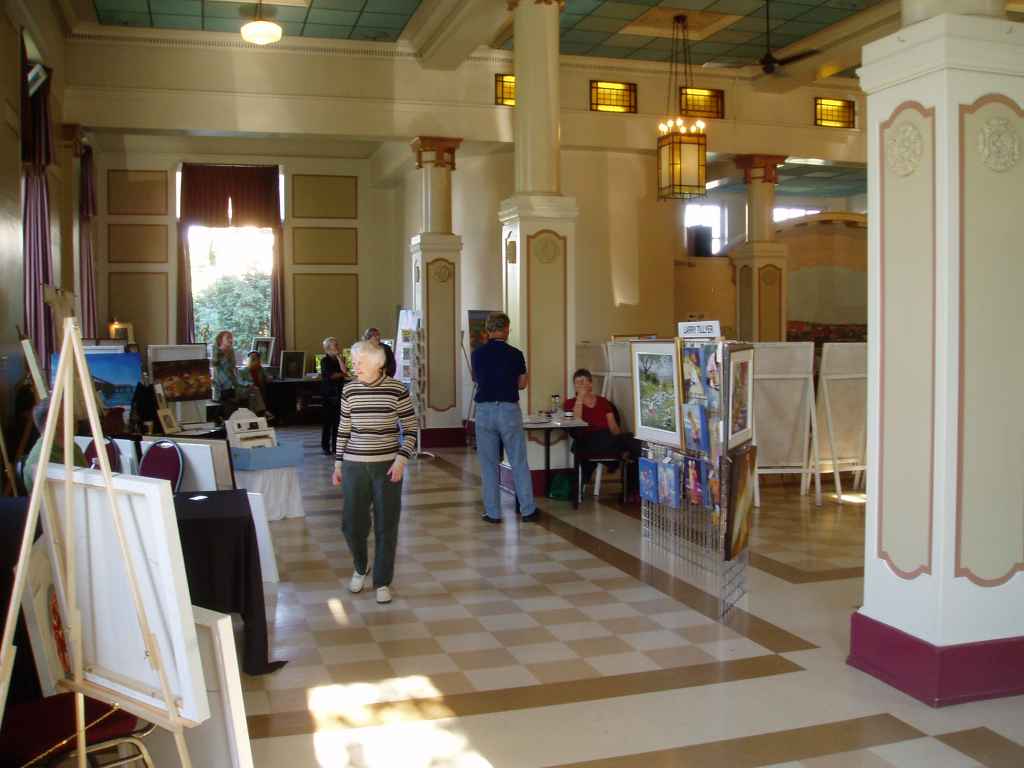 ---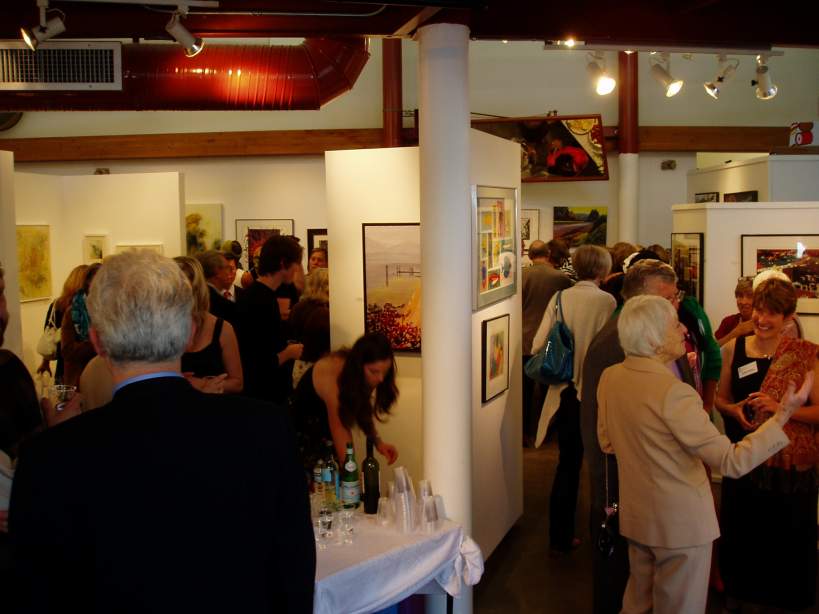 More than 200 people visited the SEPTESSENCE exhibition's opening reception on June 3rd at the Federation of Canadian Artists gallery on Granville Island. The weather cooperated with a lovely sunny evening, and the overflow crowd spilled happily out onto the sidewalk. After much planning the group of seven artists put together an excellent reception, with wine and food for all to enjoy.
---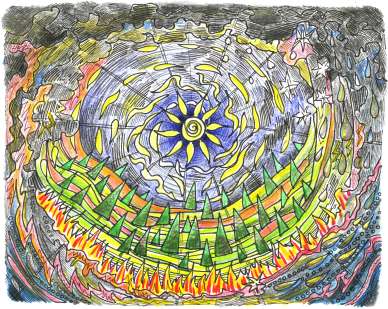 GARY SIM JURIED INTO GROUP EXHIBITION AT F.C.A. GALLERY
EXHIBITION JUNE 1 - JUNE 13 2010
OPENING RECEPTION JUNE 3 . . . 6 - 9 P.M.
A recent group exhibition application to the Federation of Canadian Artists was successful, and my work has been accepted to the second group show of the year at the Federation's gallery on Granville Island. Six other artists will be in the exhibition.

An invitation card is in the works and will be posted when completed. A web page for the exhibition itself will be posted as well.

The opening reception for the exhibition is on Thursday June 3, from 6 p.m. to 9 p.m. The Federation Gallery is at 1241 Cartwright Street, at the east end of Granville Island near the Granville Island Hotel.
---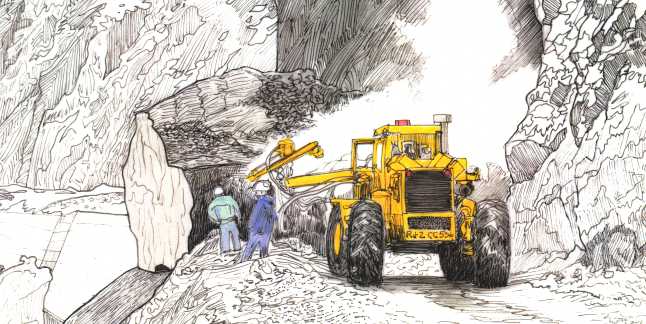 SLIDE MILE 140.3 and LOOKING WEST ACCEPTED INTO
CAPTURING THE CANADIAN SPIRIT EXHIBITION, JANUARY 26 - FEBRUARY 28
OPENING RECEPTION JANUARY 28 . . . 6 - 8 P.M.
Two artworks have now been accepted for exhibition at the juried Federation of Canadian Artists exhibition CAPTURING THE CANADIAN SPIRIT, a display held in celebration of the 2010 Olympic Games in Vancouver. The exhibition opens January 26 and closes February 28.

The drawing is one of a series of pen and ink and india ink brush pen drawings of scenes from the time I worked on the B.C. Rail Rock Gangs in the interior of British Columbia. The etching is from an experimental series on Savary Island engraved on copper plates.

The opening reception for the exhibition is on Thursday January 28, from 6 p.m. to 8 p.m. The Federation Gallery is at 1241 Cartwright Street, at the east end of Granville Island near the Granville Island Hotel.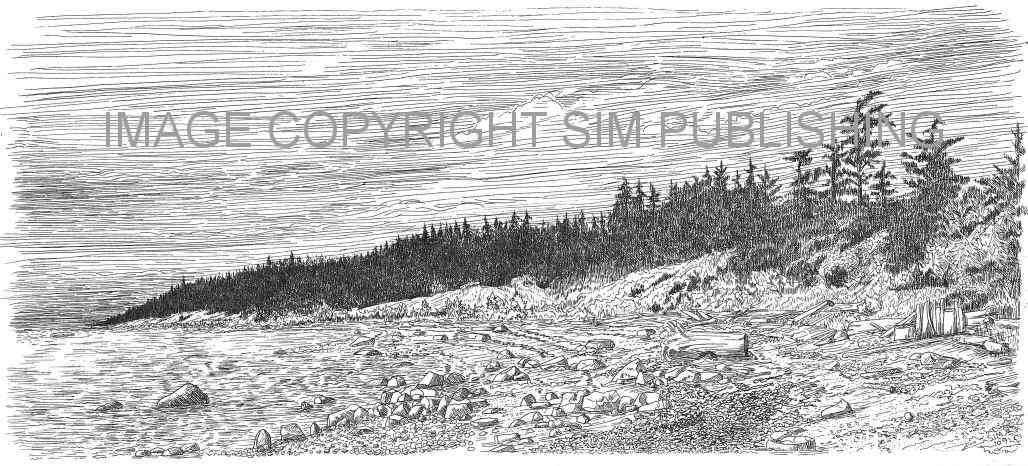 ---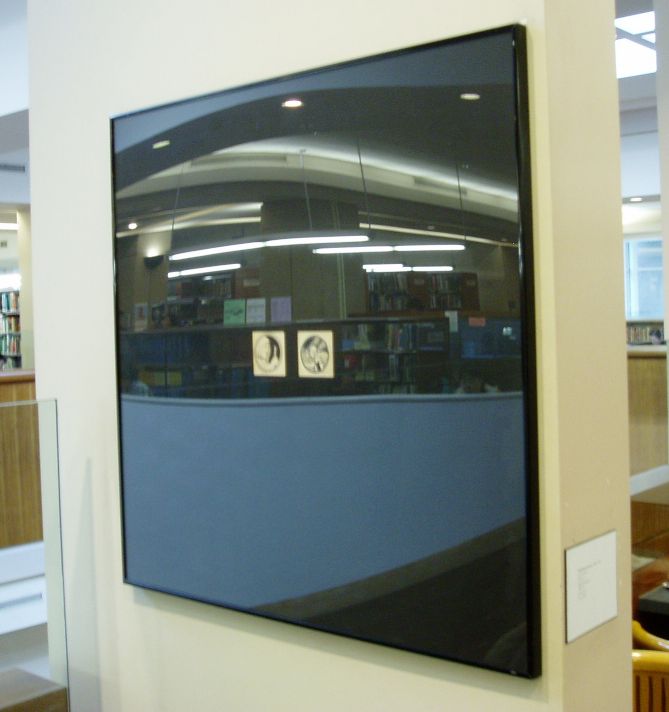 Maud Sherman exhibition ends January 10
The display of Maud Sherman's early original watercolour and pen & ink drawings at the Prittie Library in Burnaby will come down next Sunday. Refer to Maud Sherman for more information about the artist.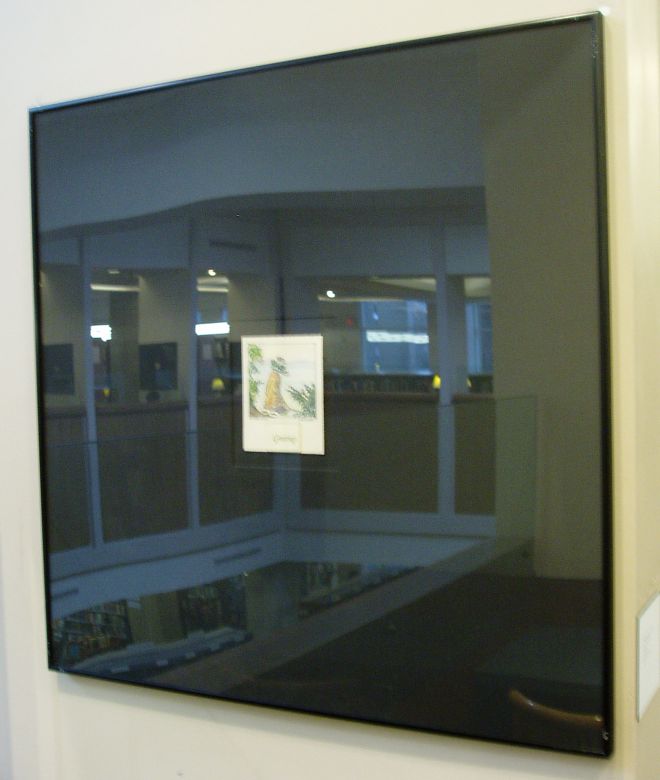 ---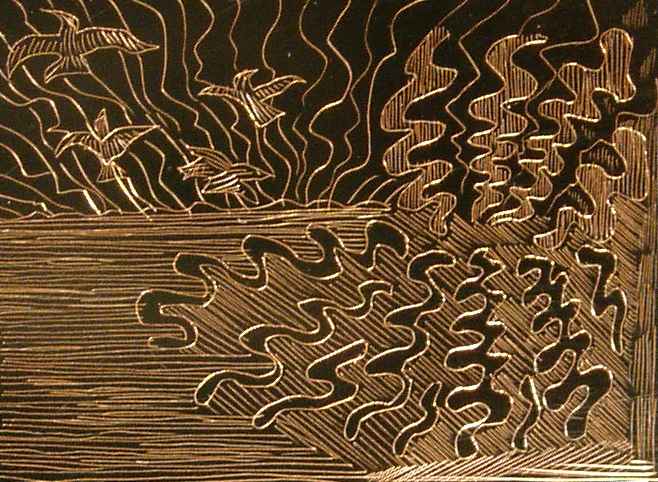 Happy New Year!
Once more into another new year. Artwise, there are is one exhibition with Sim artwork in it ending in early January at Malaspina Printmakers (see News - 2009 for information about the exhibition), and a display of block prints and one etching by Sim is ongoing at the Daily Grind Cafe. Additionally, the exhibition of early artwork by Maud Sherman remains on display at the Prittie Library in Burnaby until January 10.

See below for information about the upcoming CAPTURING THE CANADIAN SPIRIT exhibition at the FCA Gallery.
---


Lifting 705 at Mile 63

Over the holidays RAILWAY TALES, an old project started in 1995, was extensively worked on. It is a collection of short stories, plus drawings and photographs, of nine years I worked on the B.C. Rail Rock Gangs. One of the stories is Patrolling the Budd, another describes the salvage of three locomotives as seen in the photograph above.

Augmenting the stories is an extensive ROCK GANG GLOSSARY, a compendium of more than 600 words, definitions, and slang terms for everything to do with working on the B.C. Rail Rock Gangs. It includes all the terms for the railway, drilling and blasting materials and equipment, heavy equipment, climbing and scaling, that are mentioned in the short stories.
Bowline on a bight.
---
Home
Copyright 2011 - 2019