SIM PUBLISHING
Home Publications Artwork News Links About
---
NEWS ARCHIVE - 2014
---
All text, photography and artwork is by GARY SIM unless noted otherwise.
---
OCTOBER TO DECEMBER 2014: see CURRENT NEWS - 2015
Almost the same day I started doing construction administration on the Okanagan Correction Centre in Oliver, the Plaza 500 Hotel Conversion project started demolition. I went from being fairly slow at work to being swamped and working seven days a week to try and keep up. Accordingly, updating websites became a lesser spare time priority than grocery shopping or doing laundry. Instead of updating this archive news page, I've added the information to the 2015 news page.
---
Sept. 30 2014: TWO PENCIL DRAWINGS JURIED INTO FCA EXHIBITION
The Federation of Canadian Artists has juried two Sim pencil drawings into their exhibition SCENES FROM WESTERN CANADA. The exhibition opens September 30 at the FCA Gallery on Granville Island, and runs until October 12.
OPENING RECEPTION OCTOBER 2nd from 6 to 8 p.m.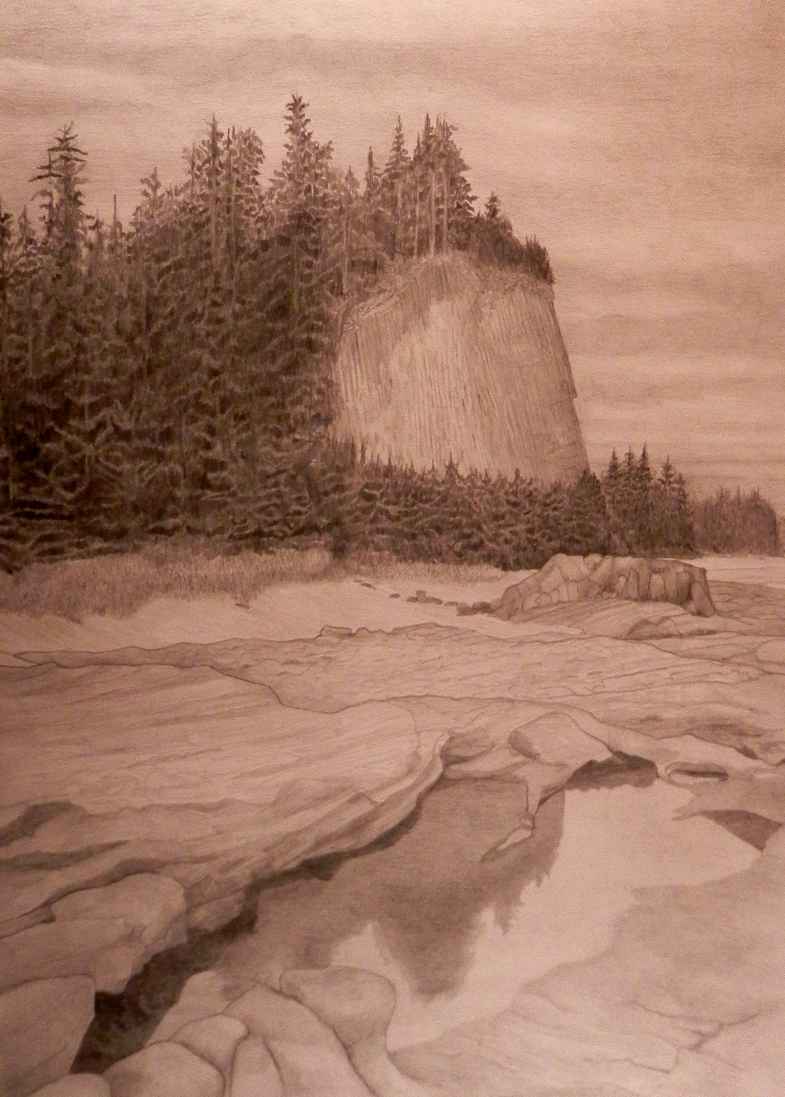 THE SENTINEL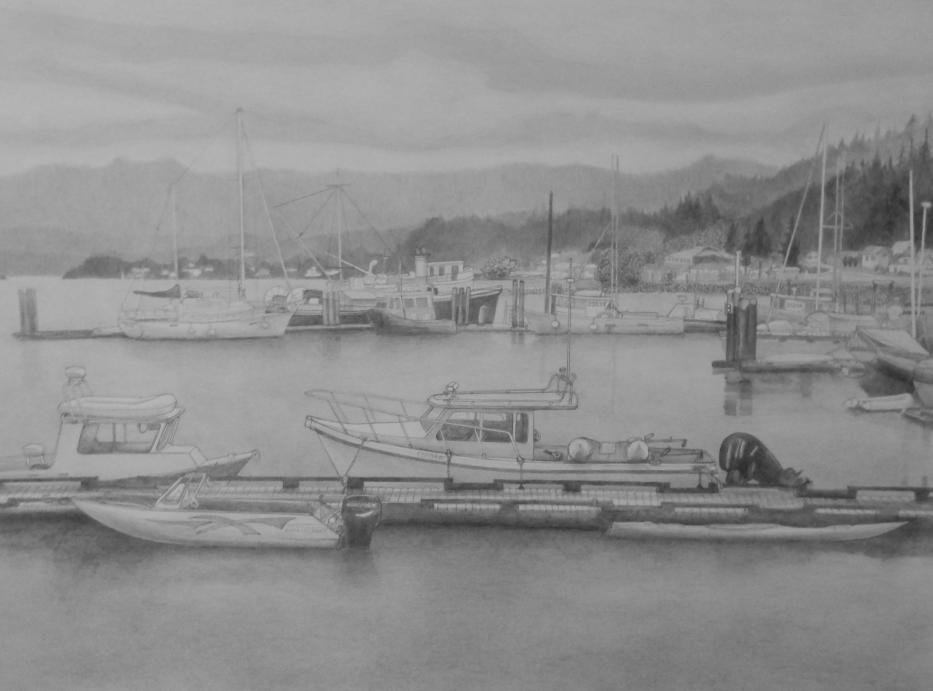 QUEEN CHARLOTTE HARBOUR
---
Sept. 26 2014: SIM DONATIONS
Sim Publishing has made, or is in the process of making, a number of large donations of art, art books & catalogues, and art ephemera to selected public institutions. As usual, I have a number of reasons for making the donations. The donations are from my personal collection of art and my own artwork, while the books, catalogues, and ephemera have been collected as part of my extended research on BC ARTISTS.

The first donation consisted of 30 works of art donated to the BURNABY ART GALLERY. The artwork included a number of pieces by Jack Wise, and a collection of Sim prints to complete the BAG collection of my work. Additional donations may be made for the Gallery's upcoming fundraising event.

The second donation consisted of over 70 rare early BC exhibition catalogues and ephemera, ranging from 1913 to the 1960s, given to the NATIONAL GALLERY OF CANADA, Ottawa. Catalogues include early BC Artists exhibitions at the VAG, as well as BC Society of Fine Arts catalogues, and a number of Annuals and Prospectii from the Vancouver School of Art. Although the NGC Library has a high priority on collecting such material, they have not been able to acquire many originals, and many items on file are only photocopies, or are missing altogether. This donation is a significant upgrade to their material related to early BC art history.

The NATIONAL GALLERY LIBRARY is also reviewing the BC ARTISTS bibliography (280 publications) and monographs (750 publications) pages, as well as an inventory list of 550 additional publications collected by me for use in BC ARTISTS but not yet entered. The entire BC ARTISTS library was offered to them, and a marked-up list of desired publications is pending. At that point the scope of this donation will become clear, but it is likely to be quite large. This donation will be another significant upgrade to the National Gallery's holdings related to BC artists.

Sim Publishing has also offered the digital portion of the BC ARTISTS project to a number of galleries, although nothing yet has been resolved. There will also be quite a lot of books in the BC ARTISTS library after the National Gallery makes its selection, so that will be be offered again to another gallery or library.

A fourth donation, of letterpress-printed and related material, is being given to SIMON FRASER UNIVERSITY SPECIAL COLLECTIONS. About 100 pieces will be included in the donation, ranging from a 1925 Vancouver Poetry Society chapbook up to a letterpressed 2014 calendar. There are many rare and limited edition publications in the collection, including some spectacular work by the famed printer Gerald Giampa, Cobblestone Press.

Other donations this year include the Wise print noted below; various sponsorships and memberships, including "bag sponsor" for the BC Historical Federation annual conference; and ongoing support for the Alcuin Society, Malaspina Printmakers, & Federation of Canadian Artists.
---
Sept. 16 2014: HARRY & JESSIE WEBB EXHIBITION OPENING
The West Vancouver Museum & Archives is showing a lovely exhibition of the work of Harry and Jessie Webb until December 2014. The photograph below is of publisher Mona Fertig showing off the show's banner, hung on the historic Gertrude Lawson residence. A lot of artwork has been squeezed onto the walls of the gallery. Almost all of it is from private collections, and has not been exhibited for decades if ever. Highly recommended to visit West Vancouver to see the show.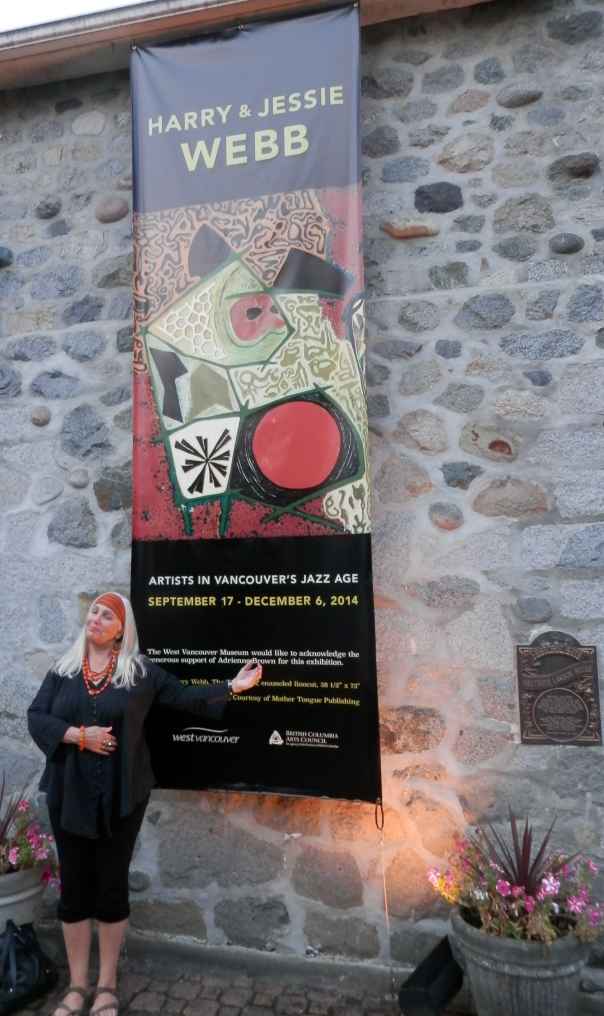 ---
Sept. 5 2014: 101 PRINTS EVENT
Sim Publishing donated limited edition print RAIN FOREST by Jack Wise (1928 - 1996) RCA to this event. The print was one of the first selected during the event. For more information see EVENTS. 101 PRINTS is a fundraiser for Malaspina Printmakers Society.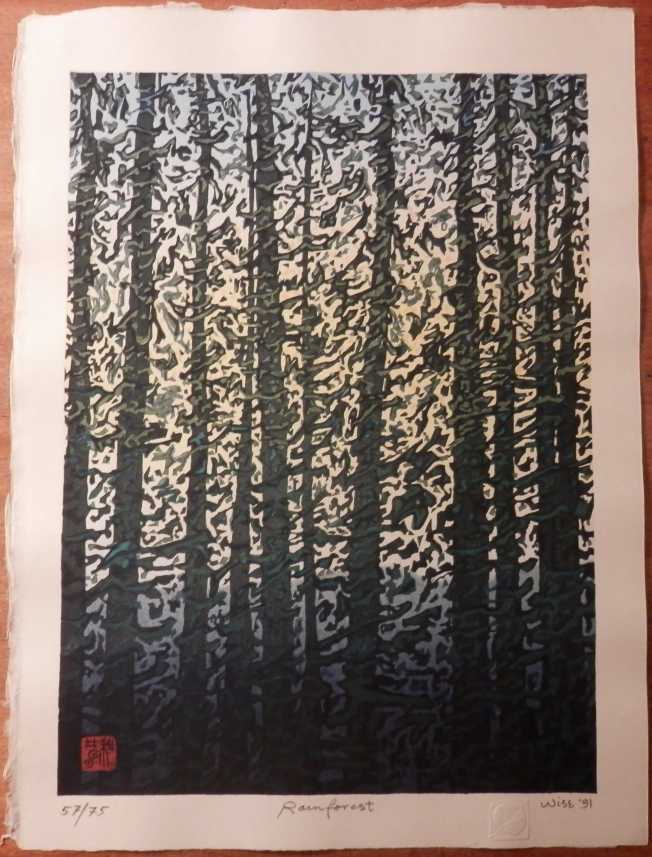 ---
July 23 2014: LETTER FROM THE HONOURABLE JUDITH GUICHON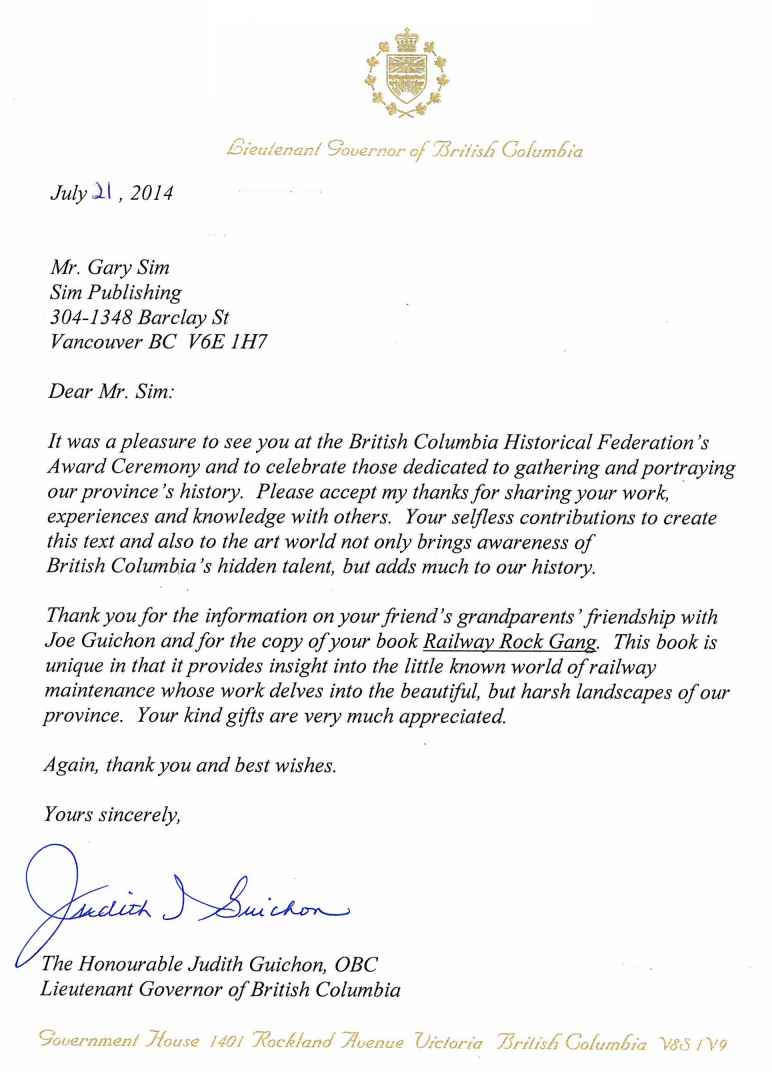 Sim Publishing received a nice letter from The Honourable Judith Guichon, OBC, Lieutenant Governor of British Columbia, this week thanking us for the gift of copies of British Columbia Artists, and Railway Rock Gang, and for the work done to write and publish these two works related to BC's history.
---
July 5 2014: TEA WITH GATHIE FALK AT BURNABY ART GALLERY
As a result of the donation of artwork to the Burnaby Art Gallery noted below, I was invited to attend a special "tea" with the artist Gathie Falk, held in the gallery's historic Fireside Room. Ellen van Eijnsbergen, recently appointed Director of the gallery, welcomed guests including former Director Darrin Martens, Curator Ian Thom, artist Gordon Smith, Vancouver Art Gallery Librarian Cheryl Siegel, and arts writer Robin Laurence. Both floors of the gallery are devoted to the exhibition "Paperworks" by Falk. The show includes both older work and new work, in a variety of mediums, and runs until August 24th. A colour catalogue is available.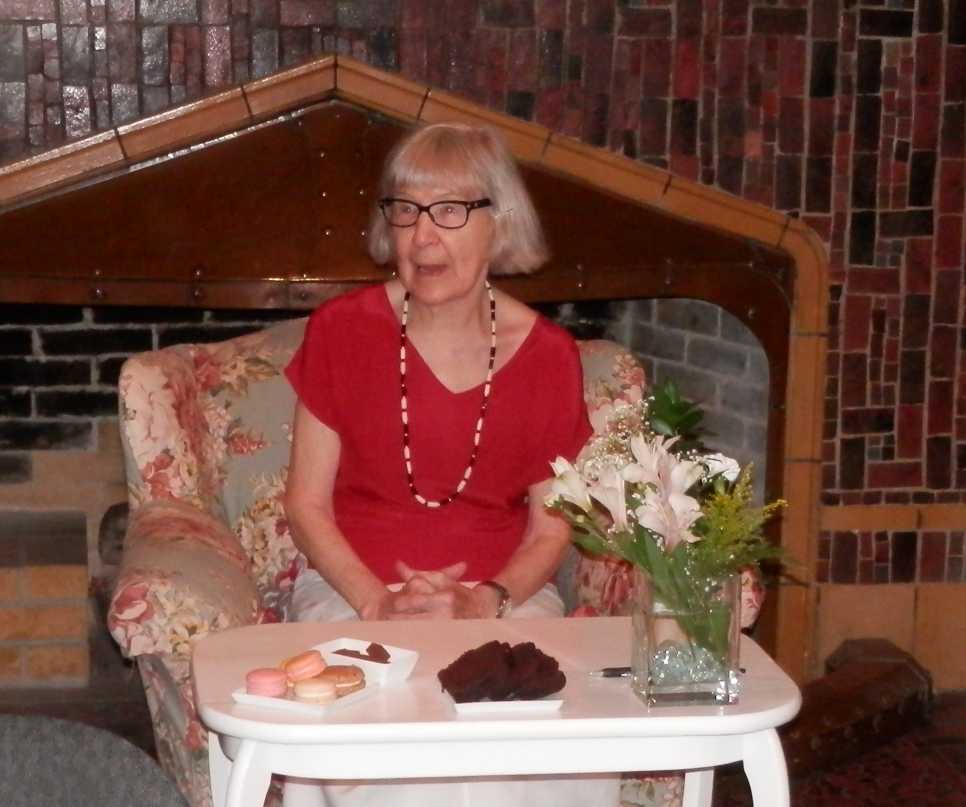 Gathie Falk in the Fireside Room nook.
---
June 21 2014: BOOK LAUNCH - THE LIFE & ART OF HARRY & JESSIE WEBB
The first evening of summer was warm and sunny, an excellent night for a book launch at the Ferry Building Gallery in West Vancouver. Mother Tongue Publishing presented the latest book in their Unheralded Artists of British Columbia series, written by Adrienne Brown, the artists' daughter. The event was very well attended, with numerous interesting people attending, including John Grinnell, Robert R. Reid, Charles Mayrs, Claudia Cornwall, Jan Westendorp, as well as the publisher Mona Fertig. Robert Reid gave an introduction to the life and times in Vancouver, and the author read from the book.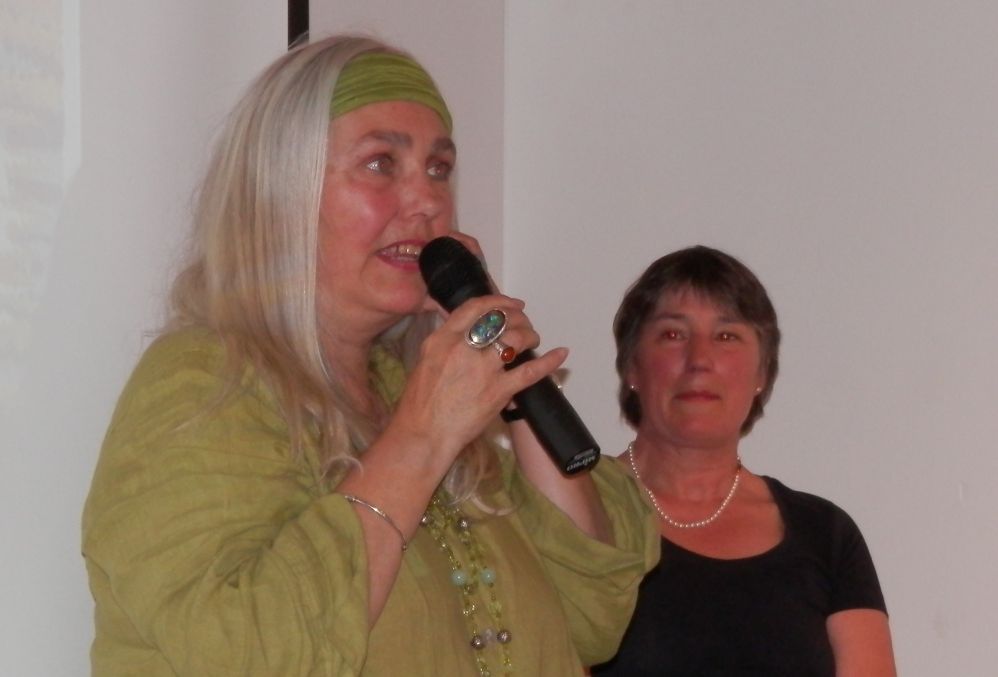 Mona Fertig and Adrienne Brown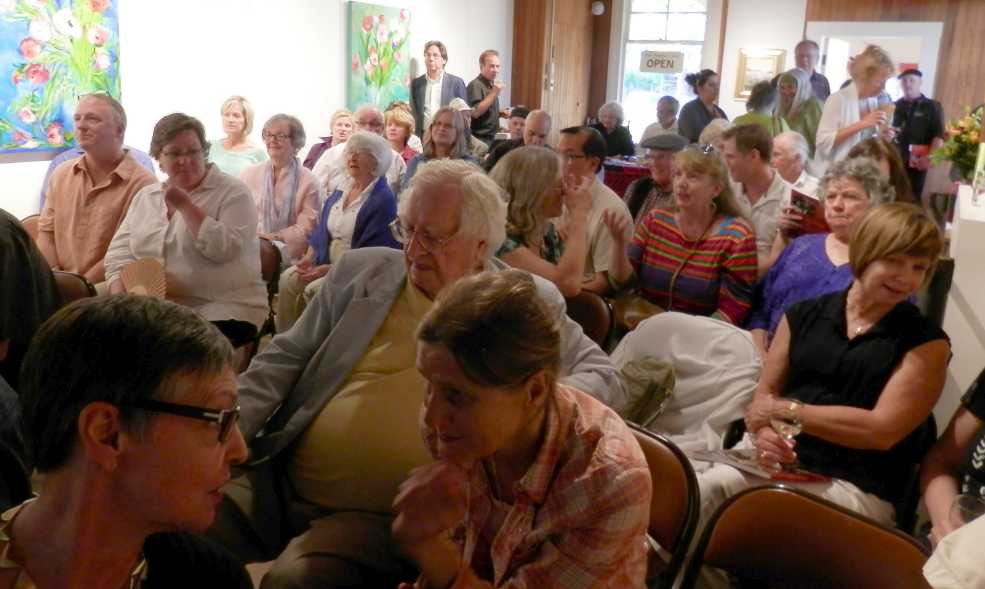 Some of the crowd at the book launch.
---
June 21 2014: CANADIAN BOOKBINDERS & ARTISTS GUILD EXHIBITION AT VPL
My friend Gina Page (CBBAG, Malaspina Printmakers, & Alcuin Society member) invited me to join the Bookbinders & Artists Guild (BC Chapter) at a display of the members' work at the Vancouver Public Library. Sim Publishing signed up for a table, and presented a display of relief prints, etchings, artist cards, art stamps, and (of course) copies of Railway Rock Gang. A selection of shameless marketing materials rounded out the display.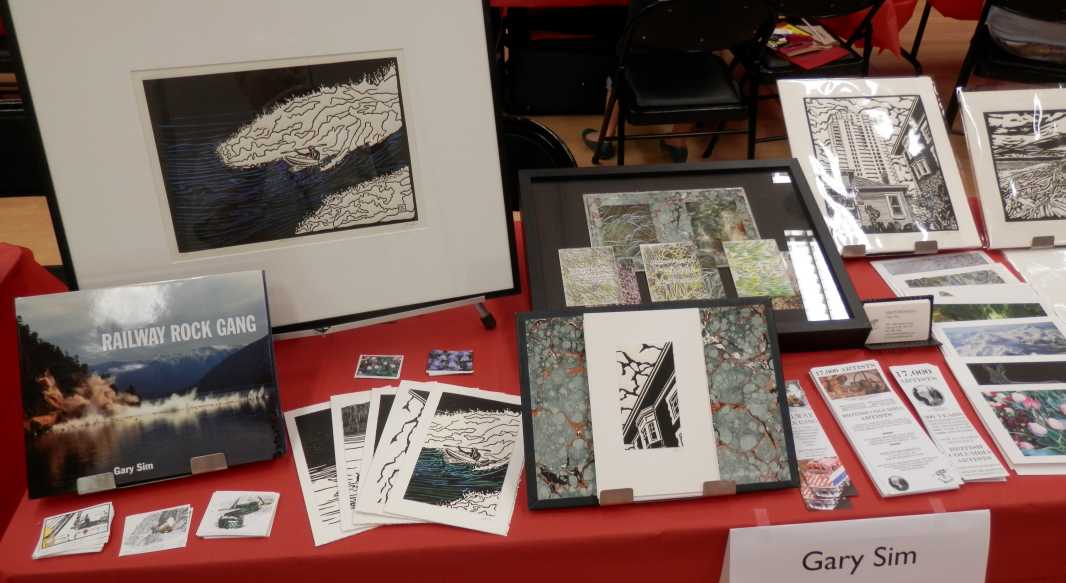 Sim table at CBBAG exhibition.

The event was well attended, with many of the visitors being quite interested in how I did the relief prints and etchings. Other artists displaying work included Gina Page, Mariko Ando, and Charles Mayrs.

Please visit the group's BLOG for more information on the group and their activities.
---
June 6-8 2014: BC HISTORICAL FEDERATION CONFERENCE IN CLOVERDALE
For the second year in a row, Sim Publishing was pleased to be a coporate sponsor of the BC Historical Federation's annual conference, held this year in Cloverdale on June 6 & 7. Our donation was used to purchase all of the delegate's goodie bags. An interesting series of events took place over the two days, including a reception and book awards evening with the Lieutenant Governor The Honourable Judith Guichon, a gala banquet, and tours around Cloverdale.

Rather than drive back and forth to Cloverdale two or three times, I booked a hotel room and stayed in Cloverdale for the whole weekend. On Sunday I took a ride on the restored Interurban car, heading down the track to Sullivan Station and back again. It was quite fun, it had been about 58 years since I'd ridden the Vancouver streetcars.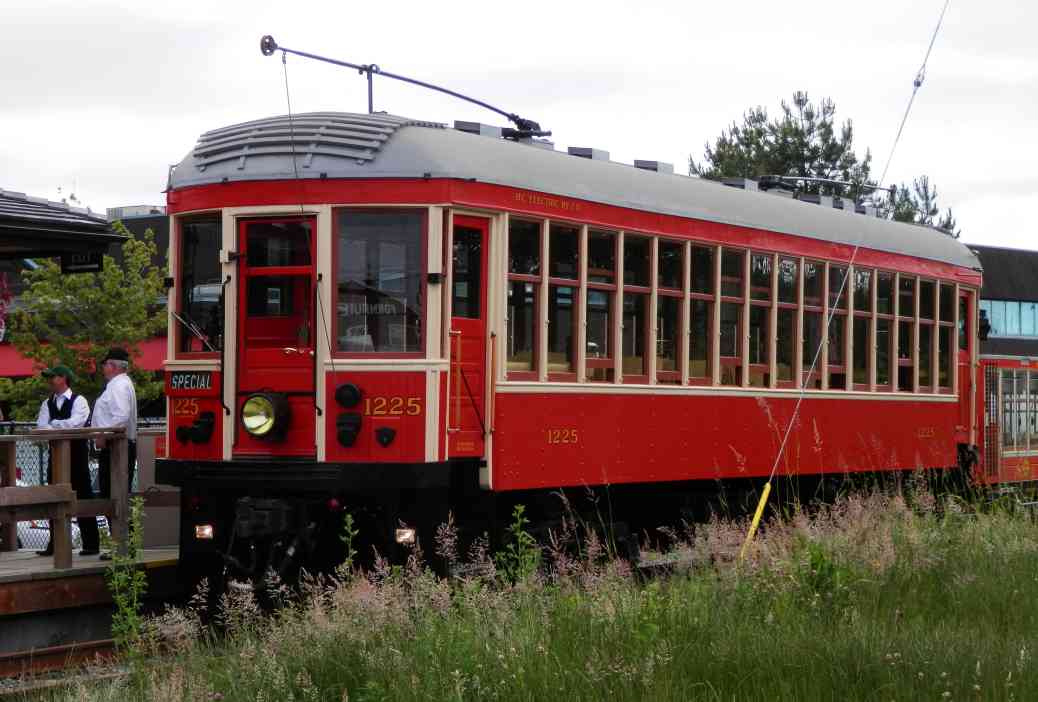 The restored Interurban car, ready for the first trip of the day.
---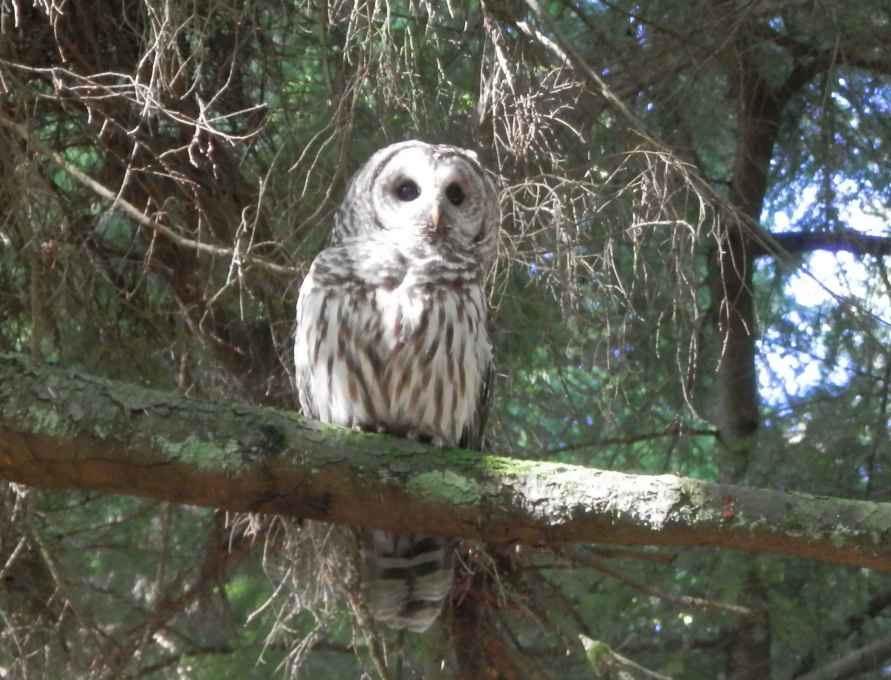 An owl seen in Stanley Park on a recent walk.
---
June 1 2014: BC STUDIES ON-LINE REVIEW OF RAILWAY ROCK GANG
BC Studies recently requested a copy of Railway Rock Gang for review. Robert Turner, noted author on North American railroads, wrote a review that has been posted on-line:


BC Studies review

For more information on the author, please visit his website:


Robert Turner website
---
May 17 2014: DONATION TO BURNABY ART GALLERY
We are pleased to announce that our offer to donate a number of artworks on paper to the Burnaby Art Gallery has been accepted. The donation includes a number of works by Jack Wise, RCA (1928 - 1996), including early pen & ink drawing The Wedding of the King of Hearts (1966), mixed media work Dreams for a Child (1969), and limited edition print Rainforest (1991). A large painting on paper by Lin Chien Shih is included in this collection.

In addition to the works by Wise and Lin Chien Shih there is an almost complete set of limited edition prints and etchings by Gary Sim. The Burnaby Art Gallery previously acquired Sim prints Higher Rises and Snow On Elms, and commissioned Gallery in Winter for their 2007 Christmas card. This donation will complete their collection to include all issued prints.

The entire donation will include over 30 artworks on paper, and is by far the largest donation made to date. The Burnaby Art Gallery has been very supportive of both my artwork and my art research over the past few years, and it is satisfying to make this donation by way of "thanks."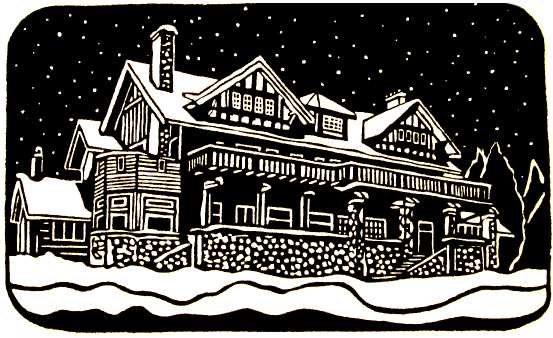 Gallery in Winter
---
May 17 2014: OVERHEARD IN PASSING 02
An older fellow, holding the nozzle of a loud gasoline engine powered pressure washer, is talking to an acquaintance:
"I DON'T KNOW WHAT THEIR PROBLEM IS, I'M STANDING RIGHT BESIDE IT AND IT DOESN'T BOTHER ME!"
---
May 17 2014: OVERHEARD IN PASSING 01
Two young woman have been discussing the problems with their boyfriends for some time. Finally, one sighs and says:
"There must be more to a relationship than just sex."
---
April 11 2014: TIME FOR A CHANGE
Posted July 8
Off to VGH for a "colon re-section" to remove a cancer node that was discovered down there in January & February. My first inside look at the healthcare system in a long time, including colonoscopy, CT scan, X-ray, ECG, and more darn blood tests than I would have thought necessary. Now it's time for a full-blown 4-hour laparoscopic operation, risky but hopeful, followed by 5 days post-op care at VGH JP4, then home to convalesce for a few weeks. The 20 metal staples in the five incisions (3 tool ports, 1 exhaust port, 1 hand port) came out a week later, although I ended up taking them out myself with the tool provided. Biopsy results were "as good as could possibly be expected" so I was sent on my way, with orders to report back in 6 months for another CT scan.
---
April 5 2014: BOOK LAUNCH: GRAYLING, AT RAILWAY CLUB
I was invited to attend the book launch of GRAYLING, a novella written by Gillian Wigmore, published by Mother Tongue Publishing. The event was held at the venerable Railway Club, where a small group of friends helped to celebrate the publication.
---
April 1 2014: MY LECTURE AT MUSEUM OF VANCOUVER CANCELLED
I've had to cancel my long-awaited lecture at the Museum of Vancouver on the evening of April 24th. The talk was to be on the early art history of Vancouver, but unfortunately events beyond my control have precluded it. The good news is that the Vancouver Historical Society is happy to re-schedule it to next year, so stay tuned for updates!

Please note that John Atkin has been scheduled as a speaker that evening. See VHS website for more information.
---
March 31 2014: NEW DRAWINGS POSTED
The following five drawings will be on exhibit at the China Cloud Gallery, 524 Main Street, for the next month or so.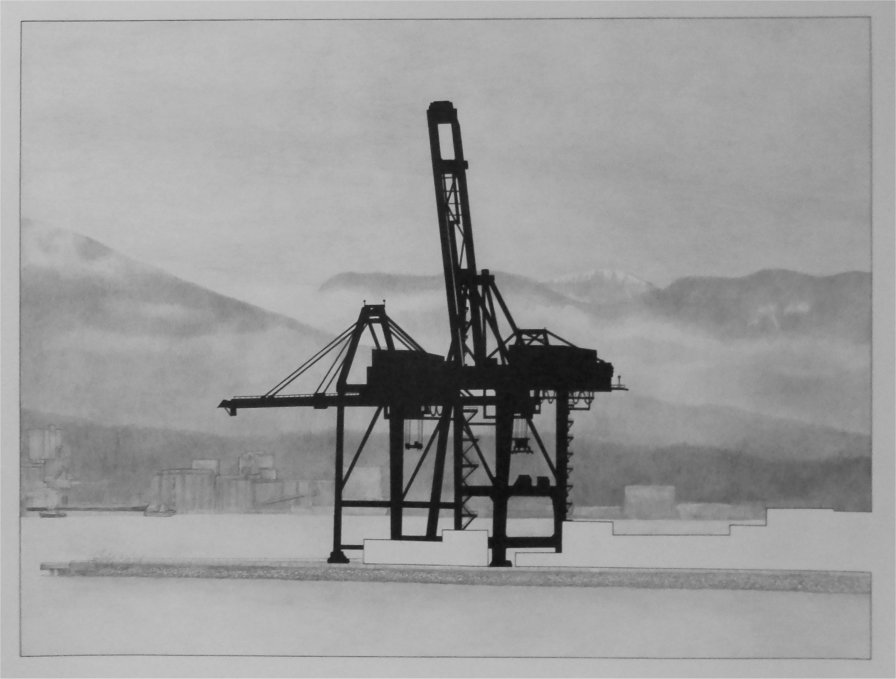 Waiting For More Crap From China.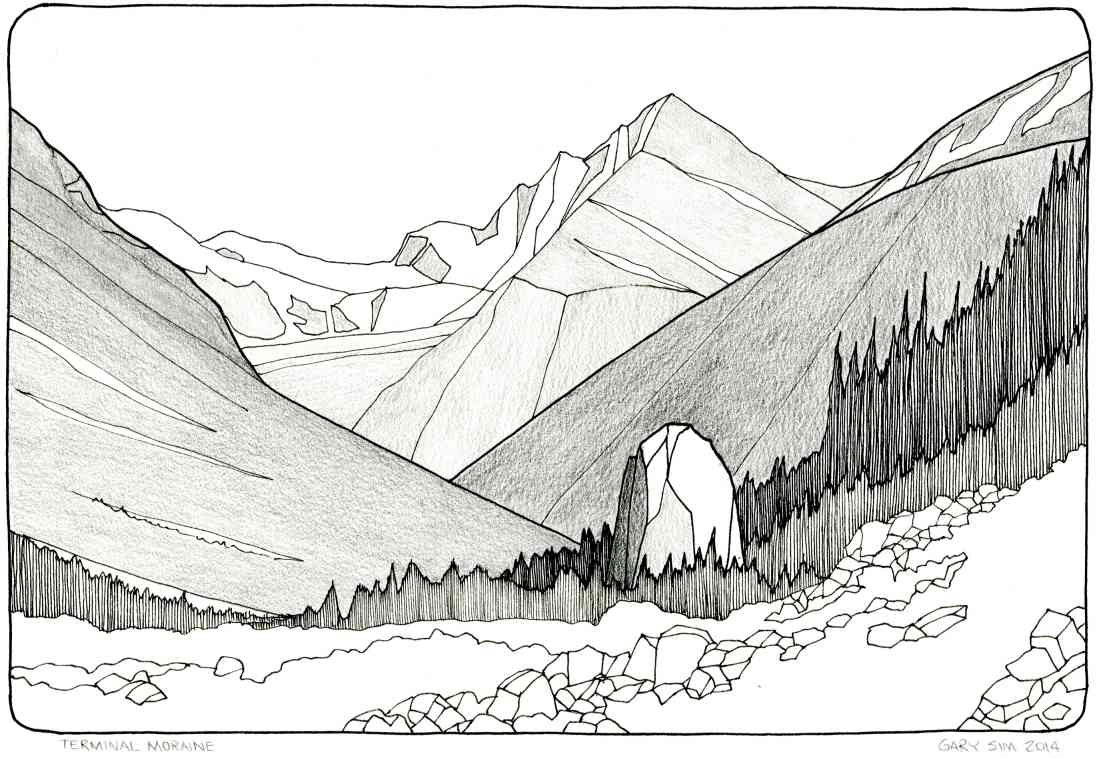 Terminal Moraine.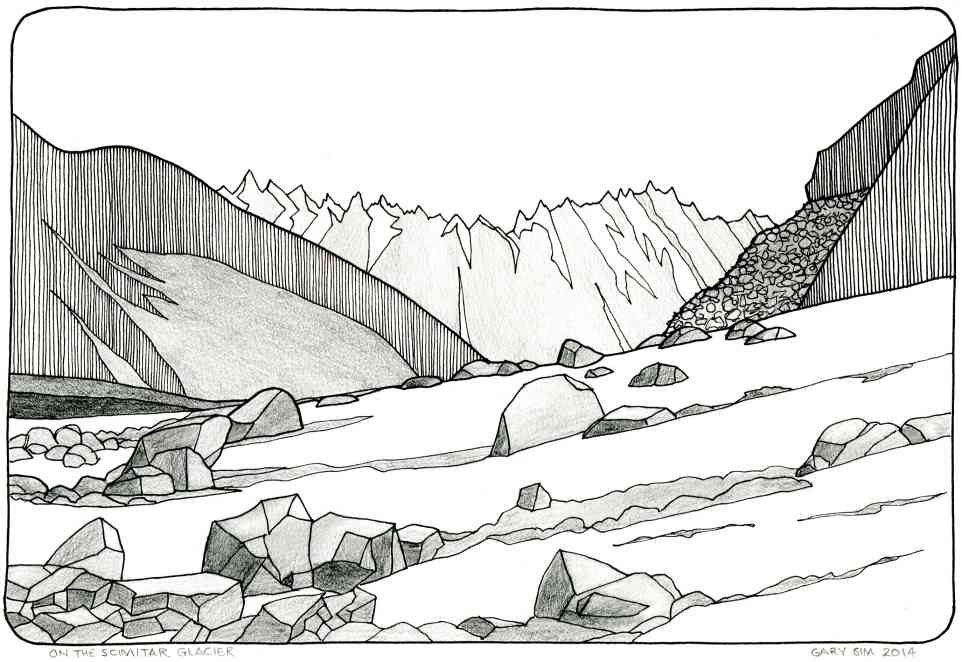 On the Scimitar Glacier.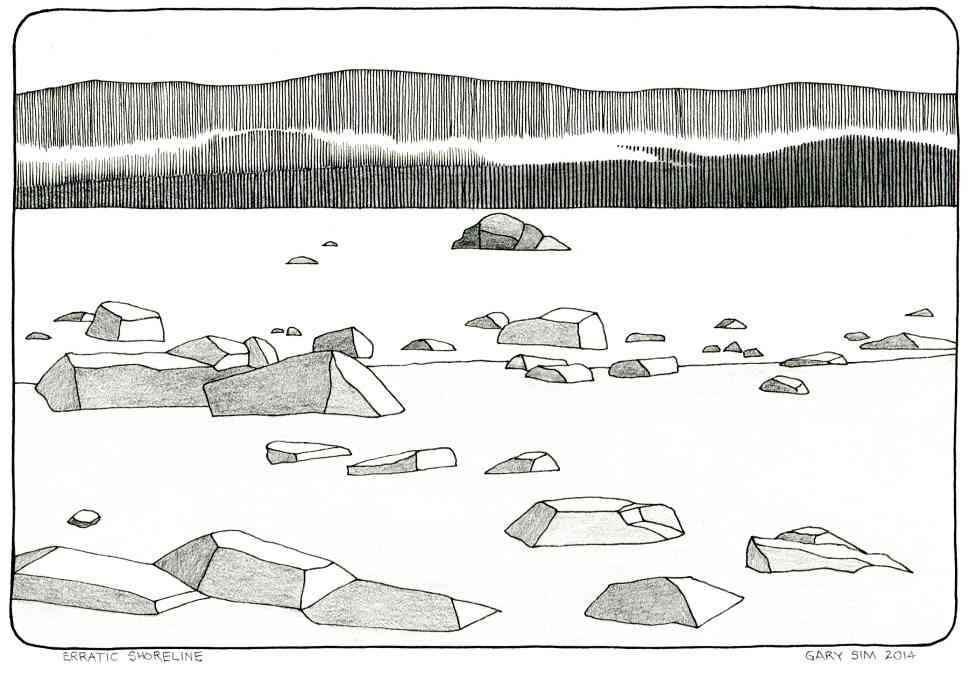 Erratic Shoreline.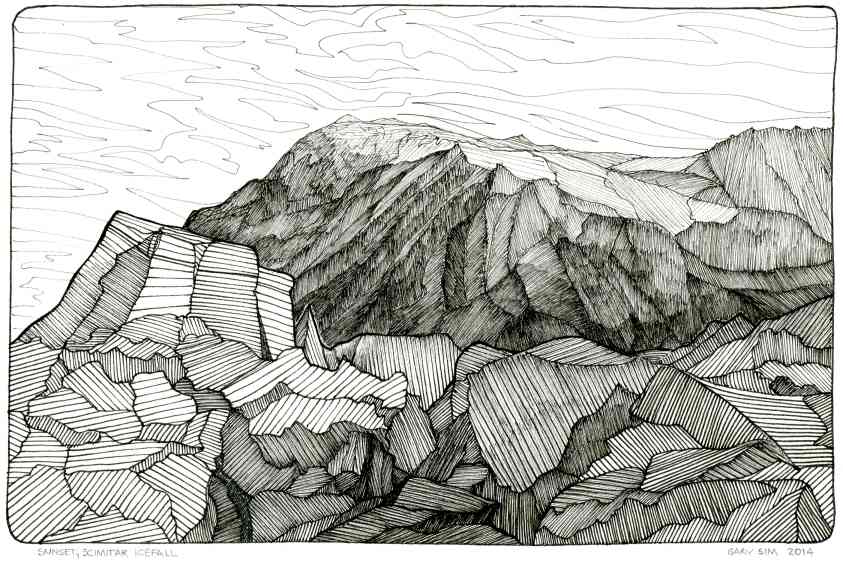 Sunset, Scimitar Icefall.
---
March 21 2014: SPRING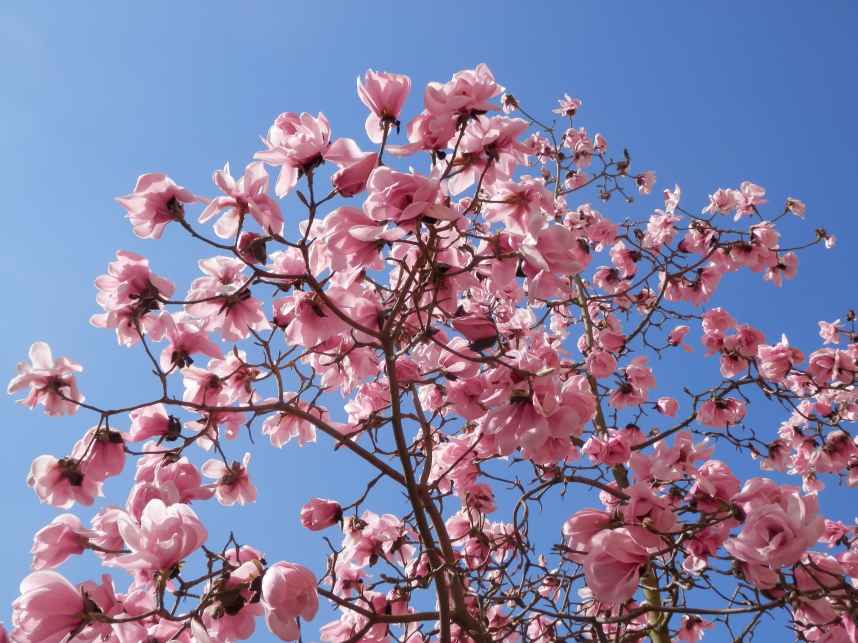 ---
January 22 - 25 2014: WINTER TRIP TO OTTAWA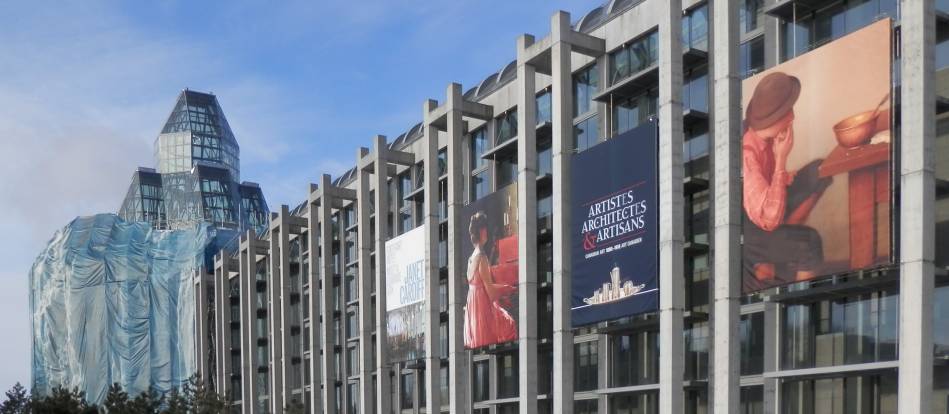 National Gallery of Canada, with Great Hall renovations shrouded at left, first visit on Thursday.

I was invited to see the show ARTISTS, ARCHITECTS & ARTISANS: CANADIAN ART 1890 - 1918 at the National Gallery of Canada in Ottawa by my friend Charlie Hill. He is retiring this year as the senior curator of Canadian art at the gallery, and this will be his last big show there. To honour the invitation - and his generous offer to put me up in his guest suite - I flew out to Ottawa for a quick 72-hour on-the-ground visit.

Please refer to WINTER TRIP TO OTTAWA for more information and photographs.


Gangs of snowplows clearing the runways as I wait to board my return flight on Saturday.
---
January 15 2014: RAILWAY ROCK GANG PRESENTATION AT VPL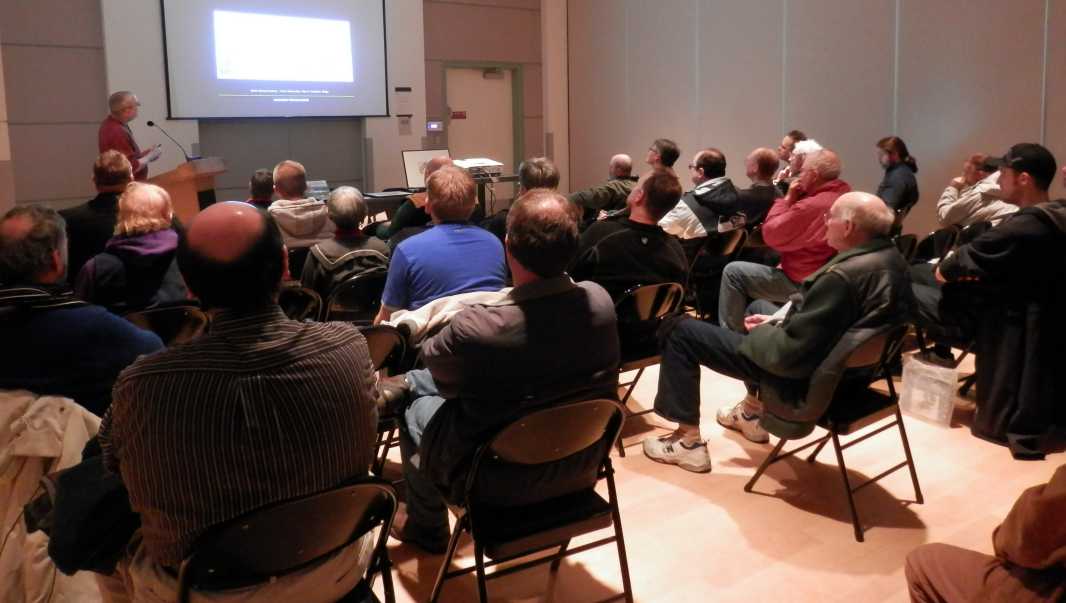 Sim lecturing. Photo Emma Lehto.

Thank you to all of the people who came out to see my talk at the Vancouver Public Library this past Wednesday evening, and special thanks again to VPL for co-sponsoring the event. The event was well attended and the talk went smoothly, without any technical glitches or other distractions. A Powerpoint presentation was created for the talk, containing 140 original photographs of the Rock Gangs at work. Forty of these photographs had never been shown prior to this event, the remainder are published in RAILWAY ROCK GANG. Copies from the first edition of 250 are still available for purchase.


Some of the audience. Photo Emma Lehto.
---
January 01: NEW PENCIL SKETCH

---
December 17: ART AND THE ENVIRONMENT RADIO INTERVIEW
Stephen & Susan Tchudi, hosts of ECOTOPIA on Radio Station KZFR in Chico, California, invited me to talk to them on their program again, this time about art and the environment. The program was split in two, with Asa Mittman of the local university talking about prehistoric art and its relationship to the environment in the first half of the program. I was interviewed about what my perceptions were, and what I might personally do with my own artistic work to portray concerns about pollution, over-population, and similar issues. The interview is posted on the KZFR website:
http://ecotopiakzfr.weebly.com/
Scroll down the page until you reach the interview, then click to listen.
---
December 7: RECENT PRESS & PROMO FOR RAILWAY ROCK GANG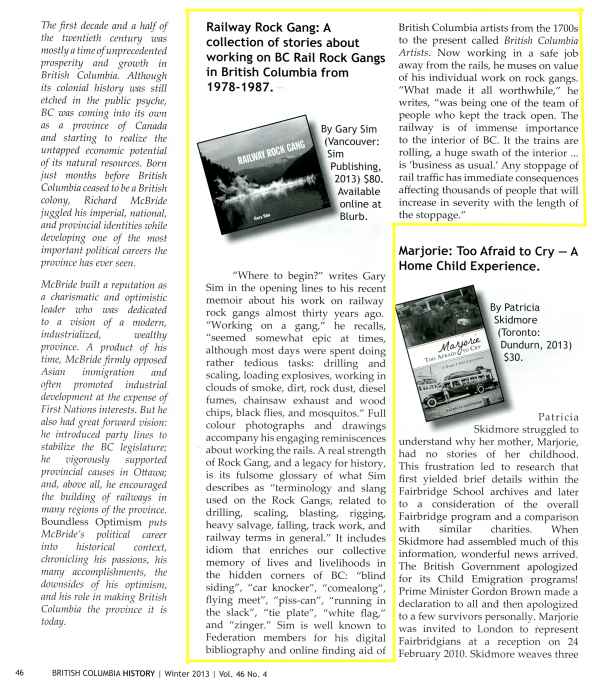 British Columbia History is the journal of the BC Historical Federation.
Reviewed by K. Jane Watt.
---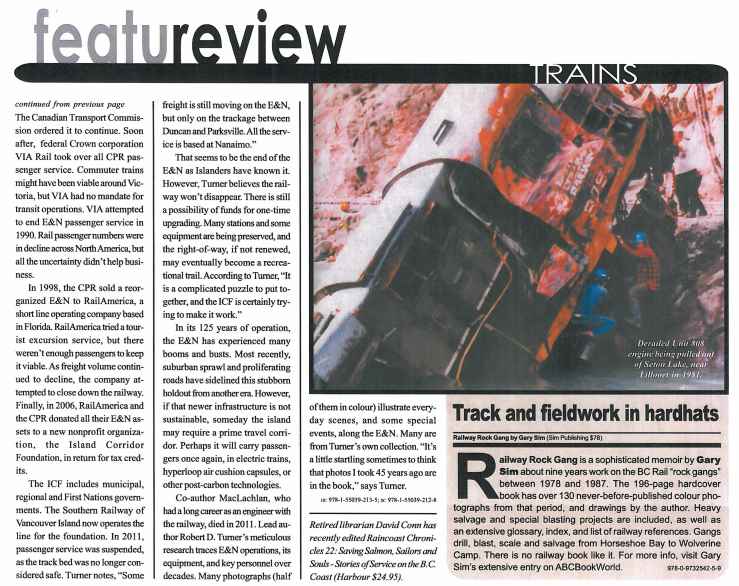 BC Bookworld, Winter 2013-2014.
Reviewed by Alan Twigg.
---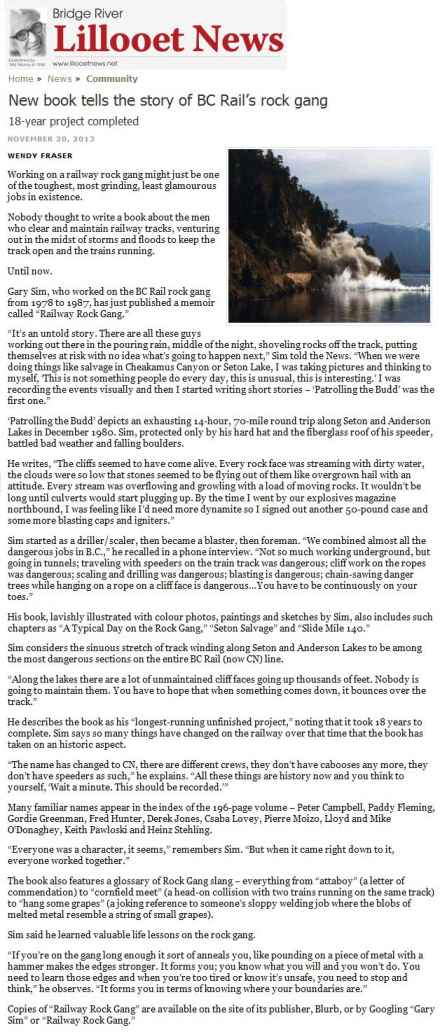 Bridge River-Lillooet News, November 20 2013.
Reviewed by Wendy Fraser.
---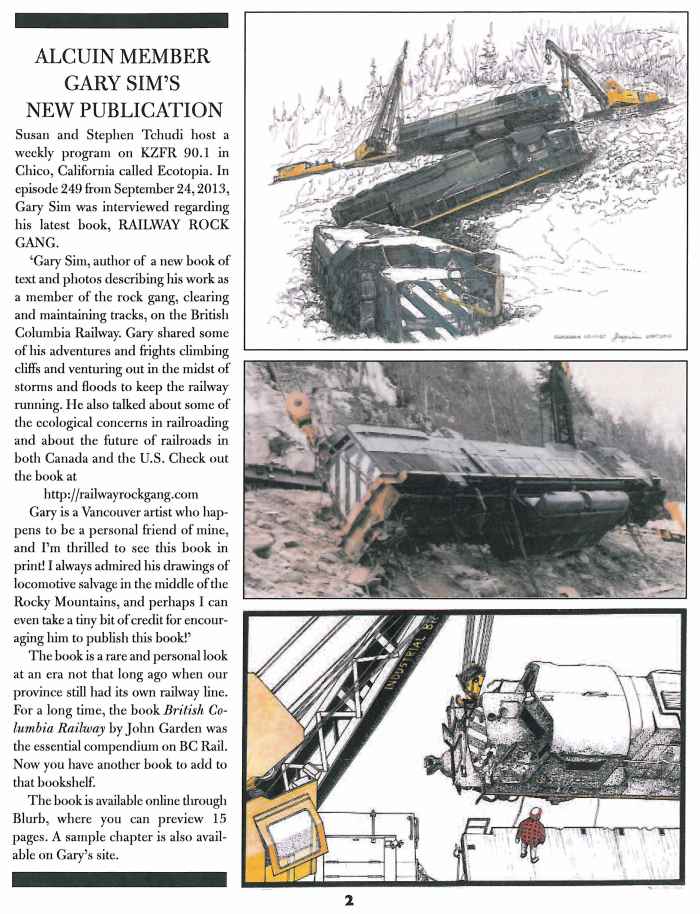 Alcuin Society digital newsletter, November 2013.
Reviewed by Jason Vanderhill. Designed by Robert Reid.
---
Home
Copyright 2014