SIM PUBLISHING
Home Publications Artwork News Links About
---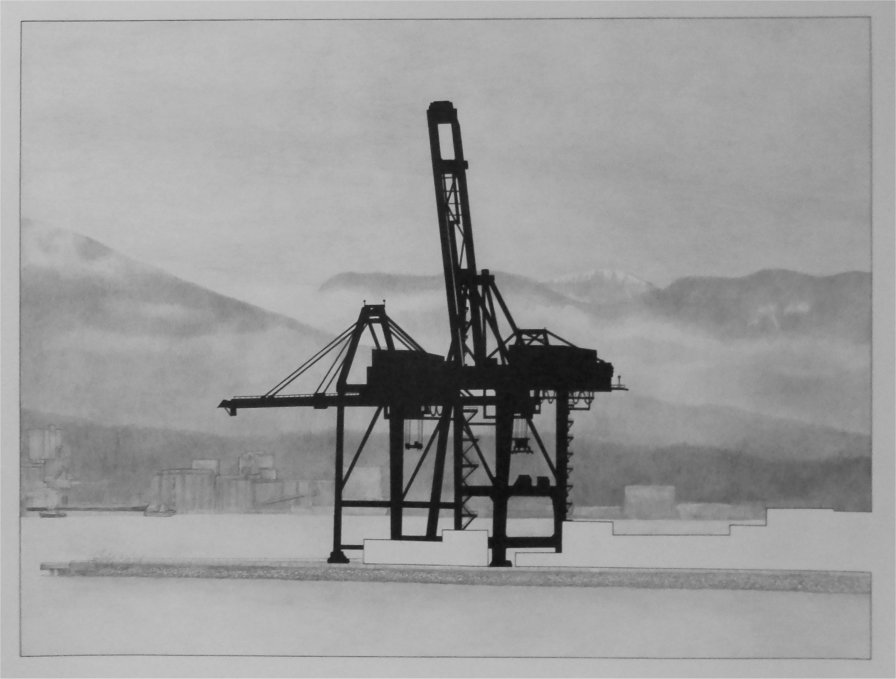 WAITING FOR MORE SHIPS FROM CHINA
Original pen & ink and pencil drawing issued April 2014
Image size 16" high by 20" wide (400 mm by 500 mm)
(Low resolution image illustrated)
I worked on this drawing off and on for the longest time. I wasn't sure how to finish it, originally the cranes were to be red. I finally decided to draw the cranes as black silhouettes, like a shadow-puppet show, and the shapes of the unloaded containers as blank white spaces. I have always been impressed with the engineering of these massive cranes - the two shown are much larger than the earlier models in my previous drawings. I decided to visualize these cranes as alienated from their surroundings, separate, alone, and without friends. The North Shore mountains in the distance don't seem to mind.

The drawing is archivally matted in Crescent 1607 4-ply matte, in an OPUS metal exhibition frame. The image is drawn with archival pigment ink and HB pencil on a 22" by 30" sheet of acid-free BFK RIVES 100% cotton print paper made in France.

Please refer to Artwork Price List for current price.
---
Home
Copyright 2016 - 2019