SIM PUBLISHING
Home Publications Artwork News Links About
MAYNE ISLAND TRIP
JUNE 2015

A fallow deer.
This species of animal, it's not exactly a deer, was introduced to the island many years ago. They got loose and bred prolificly, to the point where they are now a pest and being hunted to extinction. However, there are a lot of them, one of the five licenced hunters on the island supposedly shot 100 of them last year alone. The antlers grow into flat plates much like a moose's but smaller, and the animals are larger than deer.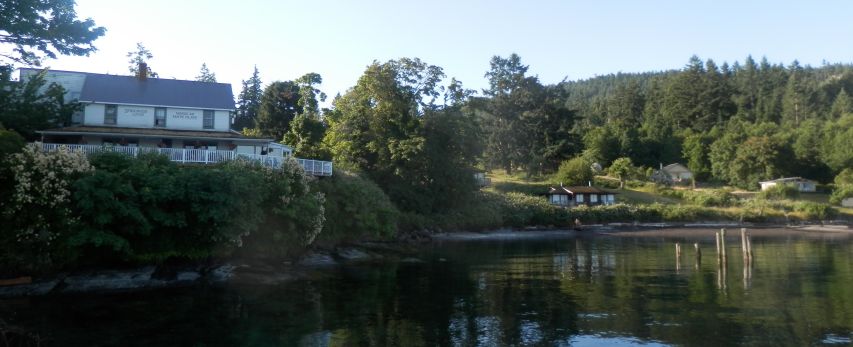 The Springwater Lodge and Miner's Bay.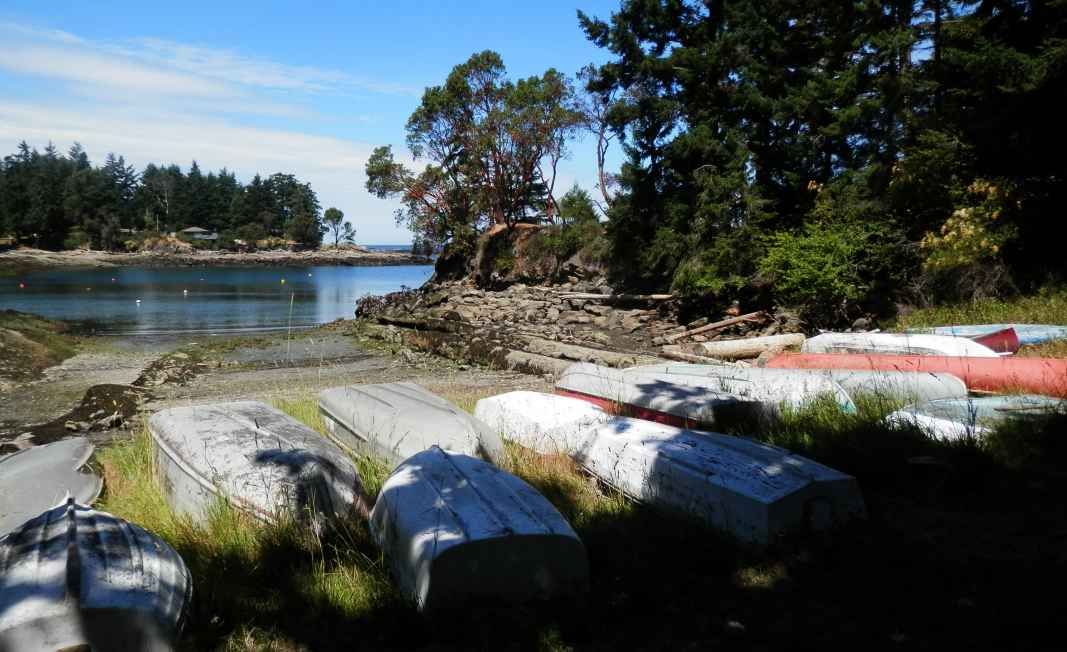 David Cove.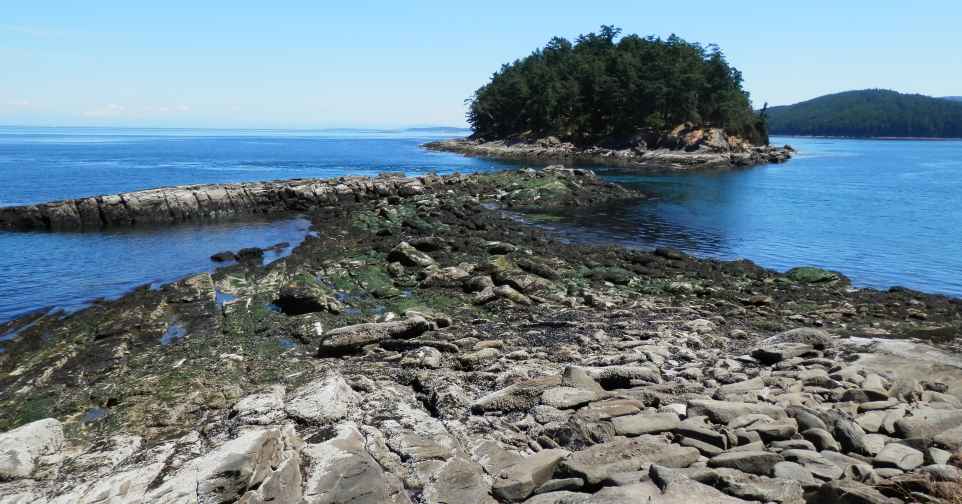 Campbell Point

The walk out to Campbell Point is simply lovely, and the view when you get there is spectacular. Far across the Strait of Georgia Mount Baker rises through the mists, arbutus trees drape themselves across sculpted sandstone, the ocean surges and flows between the islets.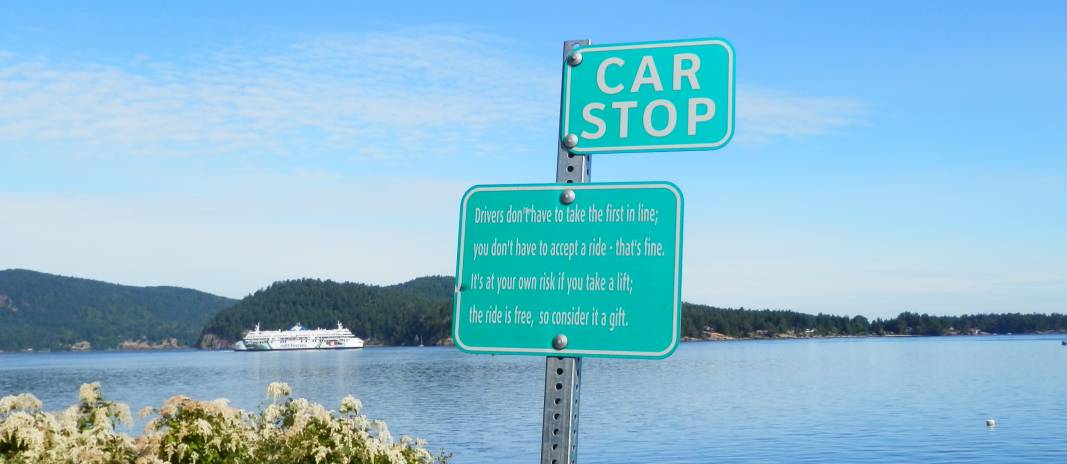 Car stop, Miner's Bay

Back to the 1970's, remember hitchhiking? It's alive and well on Mayne Island. There are a number of Car Stops near major intersections, and if you want a ride somewhere you can hang out there until someone picks you up. In any case, if you're just walking along the road you'll be asked by passing motorists if you need a lift.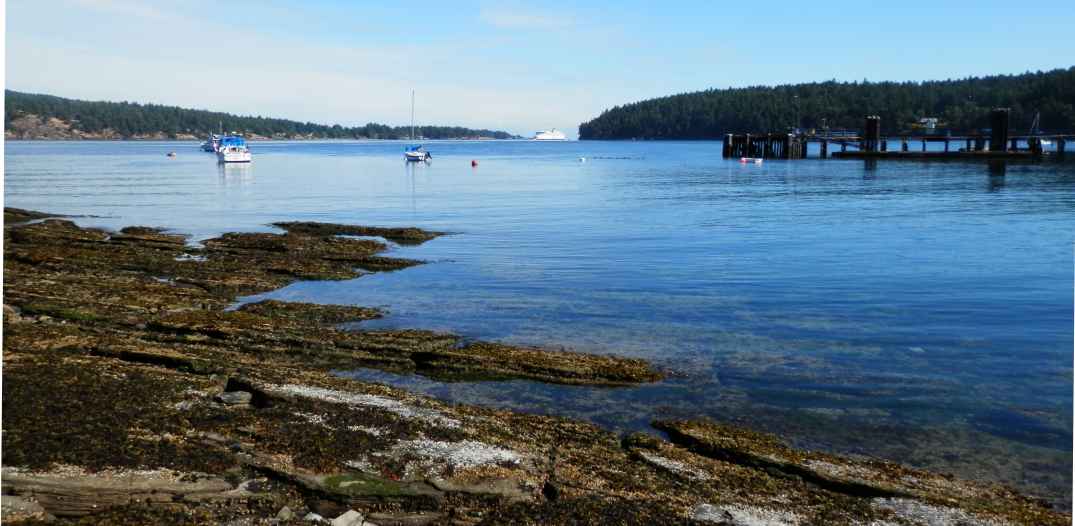 Miner's Bay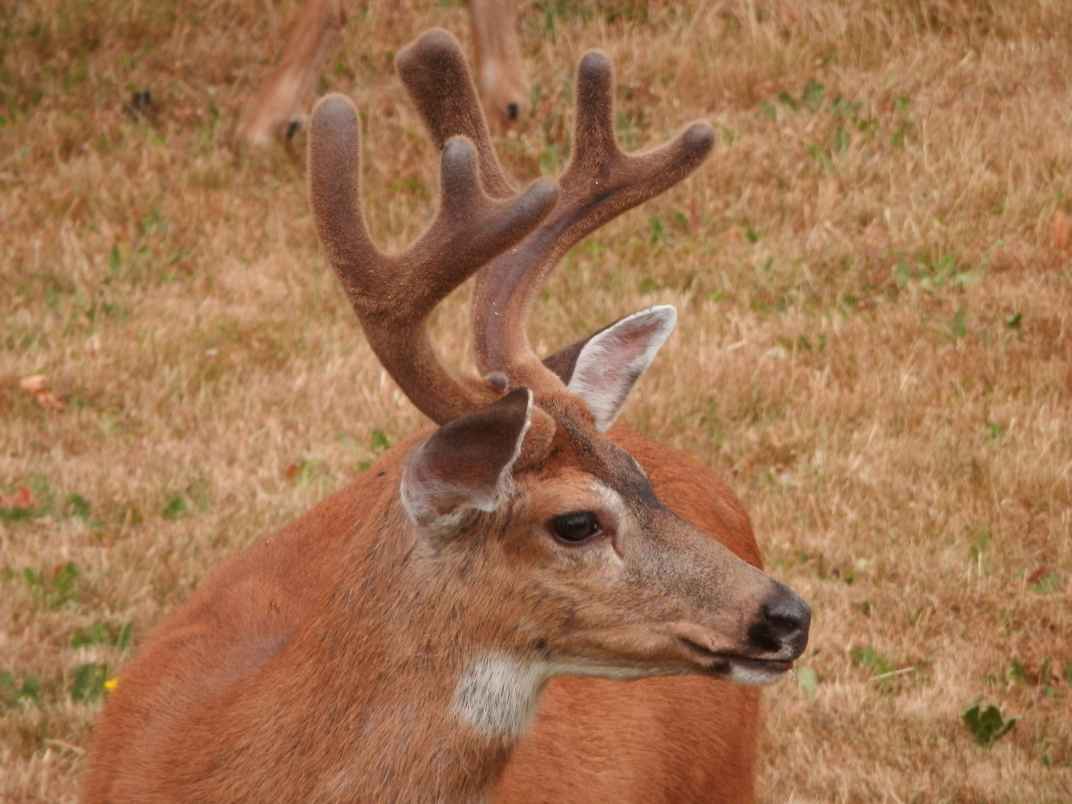 Columbia Blacktail deer in front yard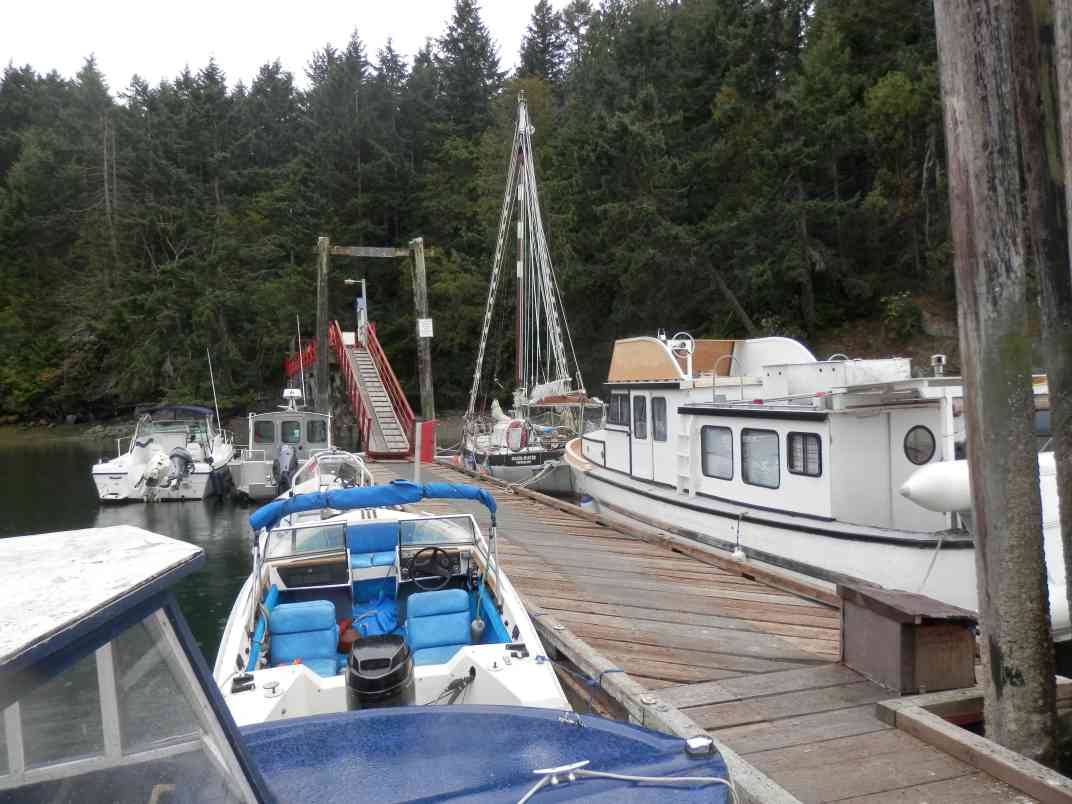 Horton Bay dock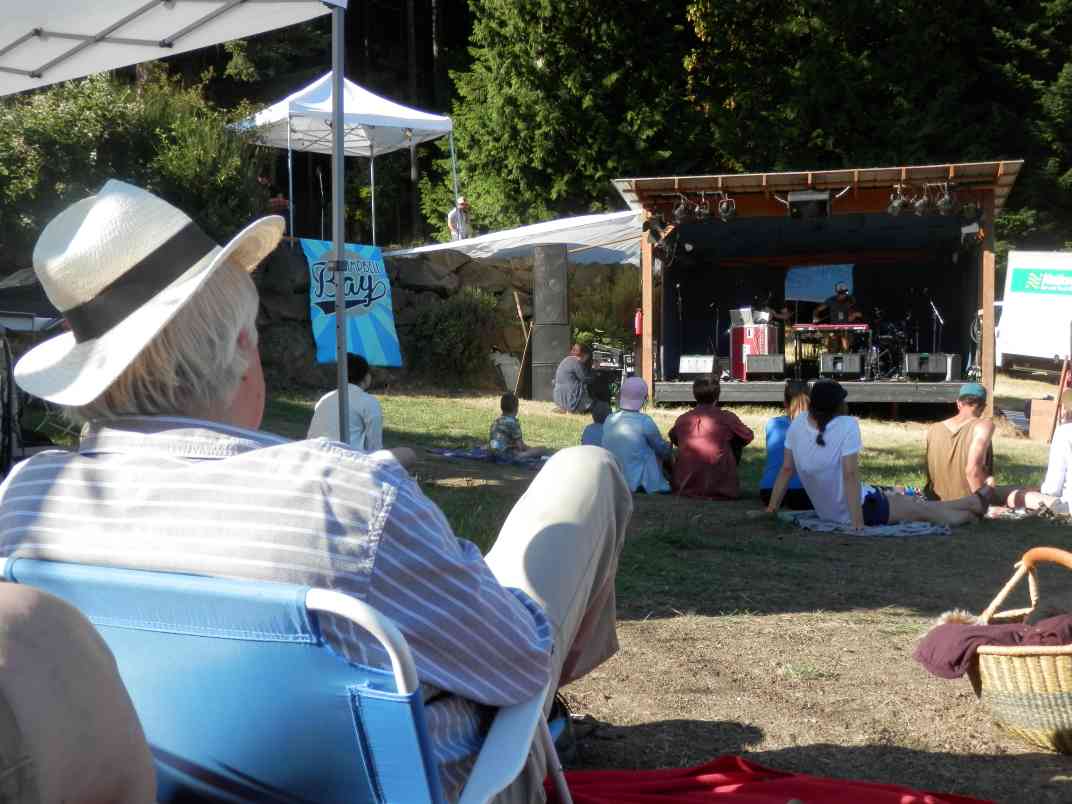 Campbell Bay music festival stages

I had no idea that there was a music festival on Mayne Island, let alone that I would be there when it happened. My friends were going to go, so I bought a ticket too. The whole thing is organized by the Iredale family who own the farm it's held on, this was the seventh annual event. They had two stages going for two days, with over 20 bands and acts performing continuously for over 12 hours per day. It was amazing. As well, performers from the festival also played at the local restaurant, and played all day at the Farmer's Market in Miner's Bay.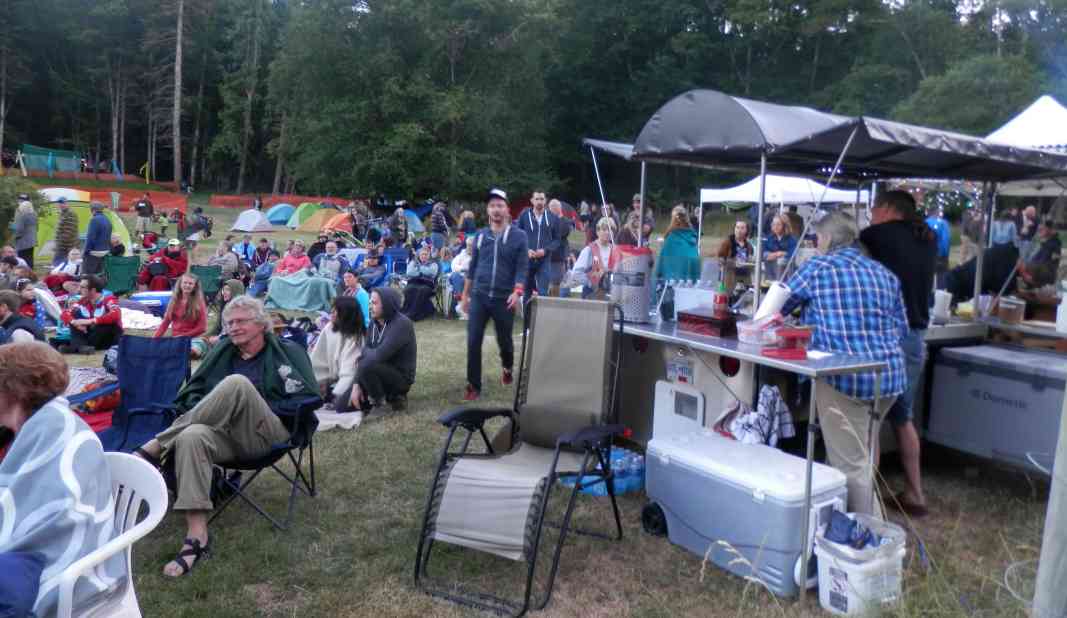 Campbell Bay music festival crowd and amenities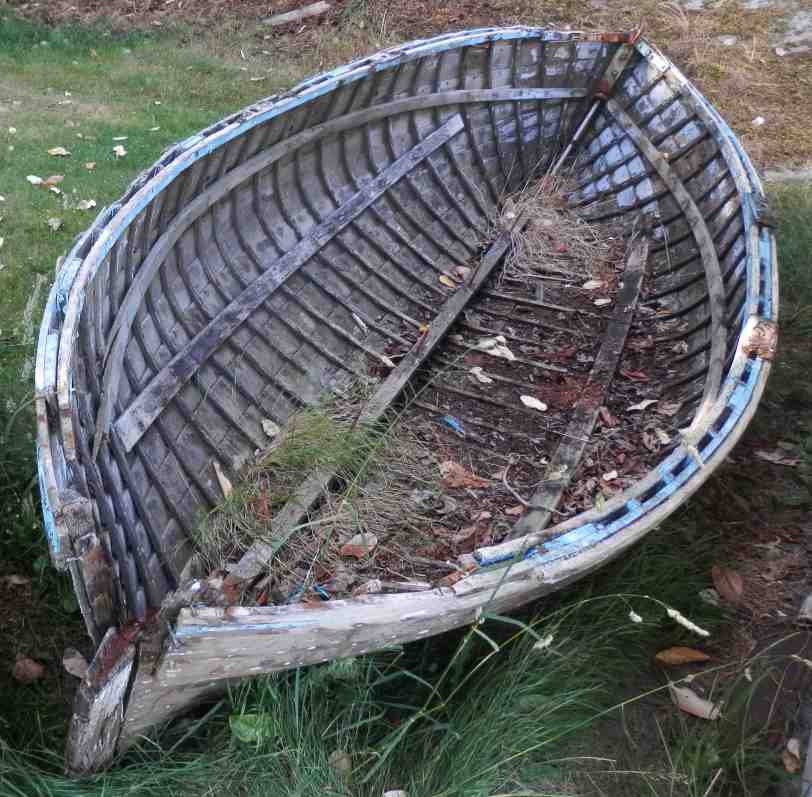 Old lifeboat, Georgina Point

A morning walk to Georgina Point, a national heritage park and lighthouse. It was a perfect day, sunny but cool and breezy. The tide was going out, so I was able to wander around on the sandstone formations taking pictures.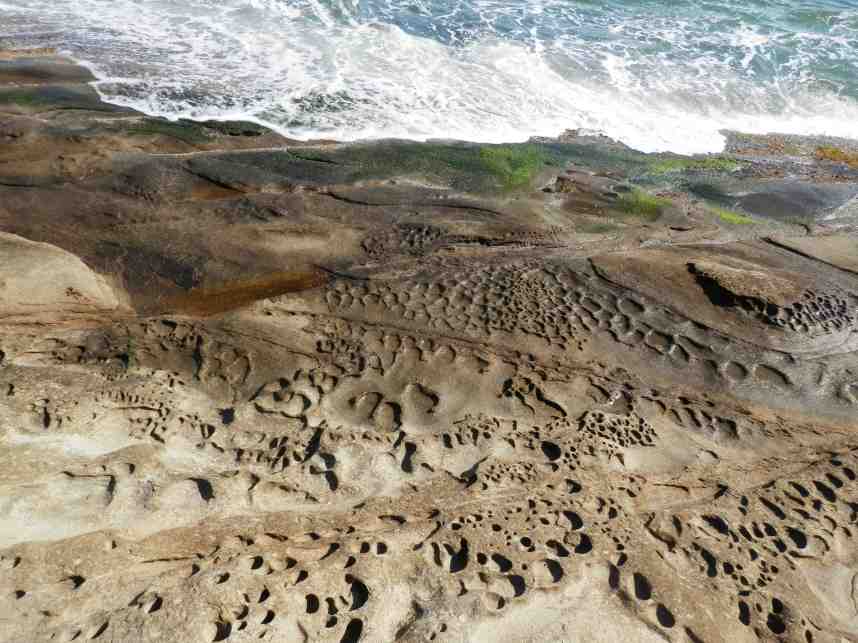 Rocks, Georgina Point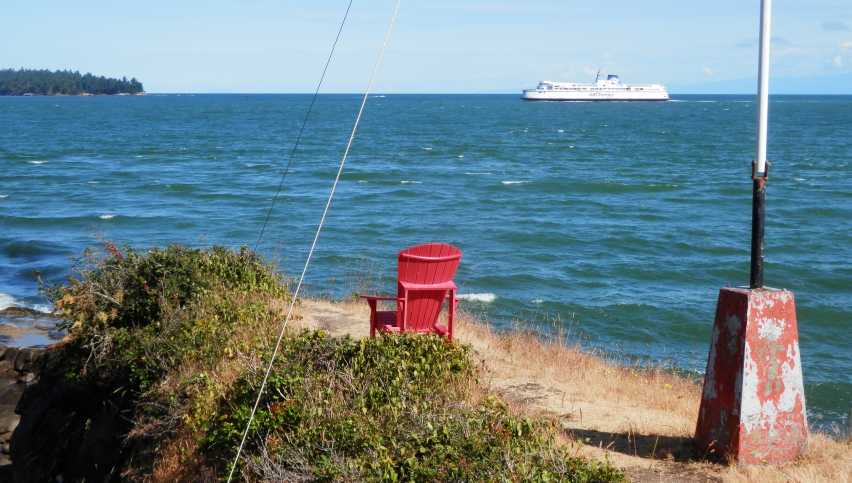 Viewing chair, Georgina Point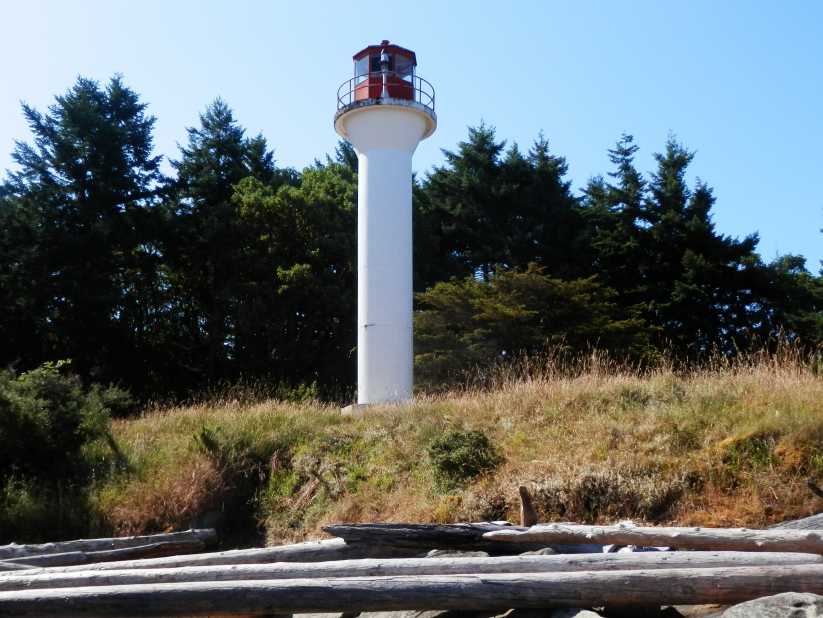 Lighthouse, Georgina Point

Saturday farmer's market

The farmer's market was excellent. Not only was there live music playing all the time, but the place was alive with summer visitors and garden produce. All kinds of vegetables, baked goods, preserves, jams and jellies, hot food, fruit skewers, cold drinks, artists and artisans ...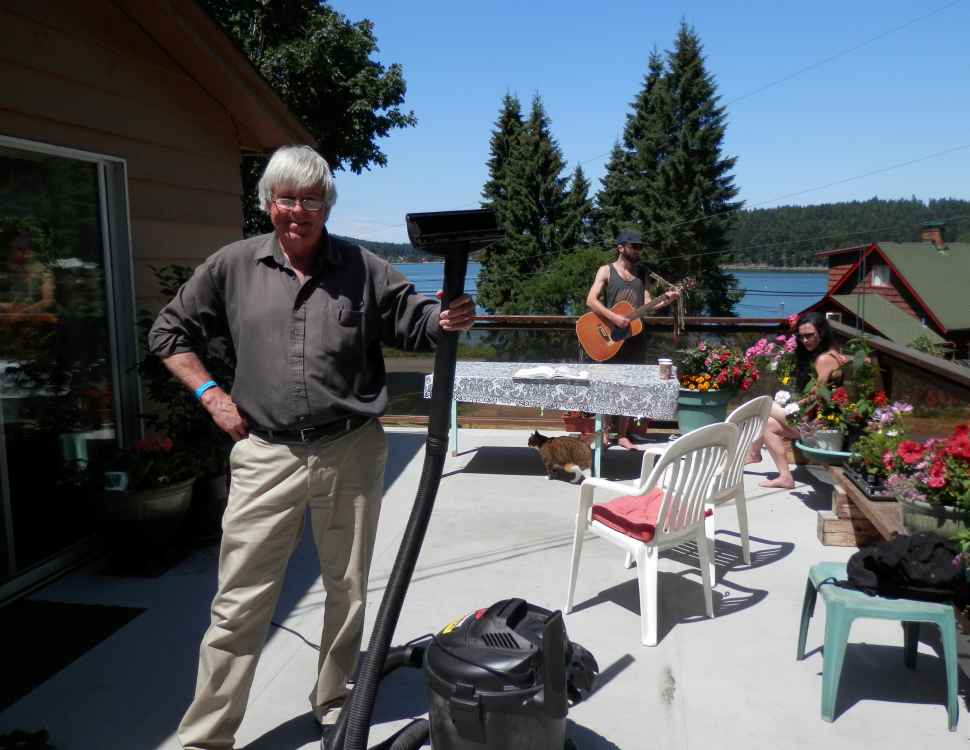 Jim on the deck for a wet spill cleanup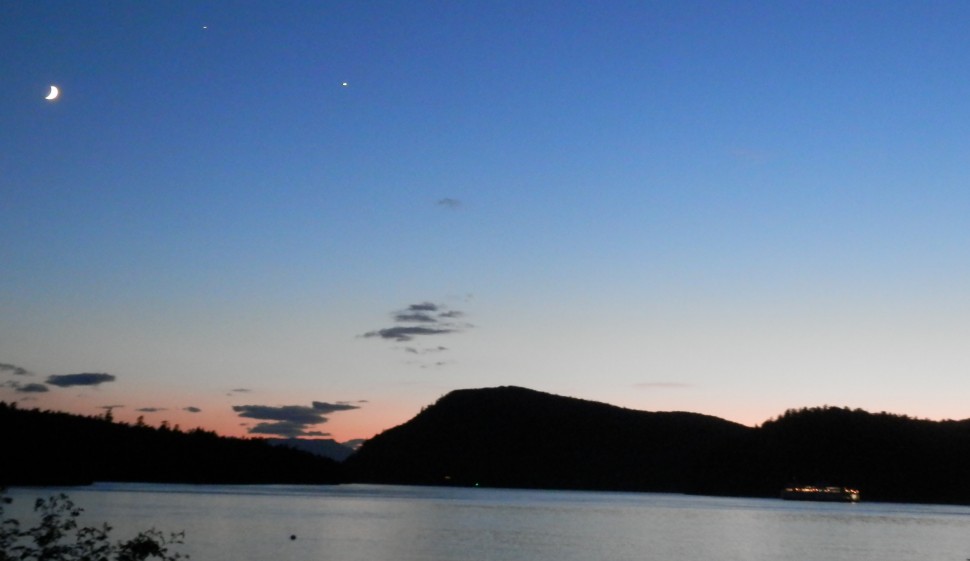 Moon, planets, night ferry, Active Pass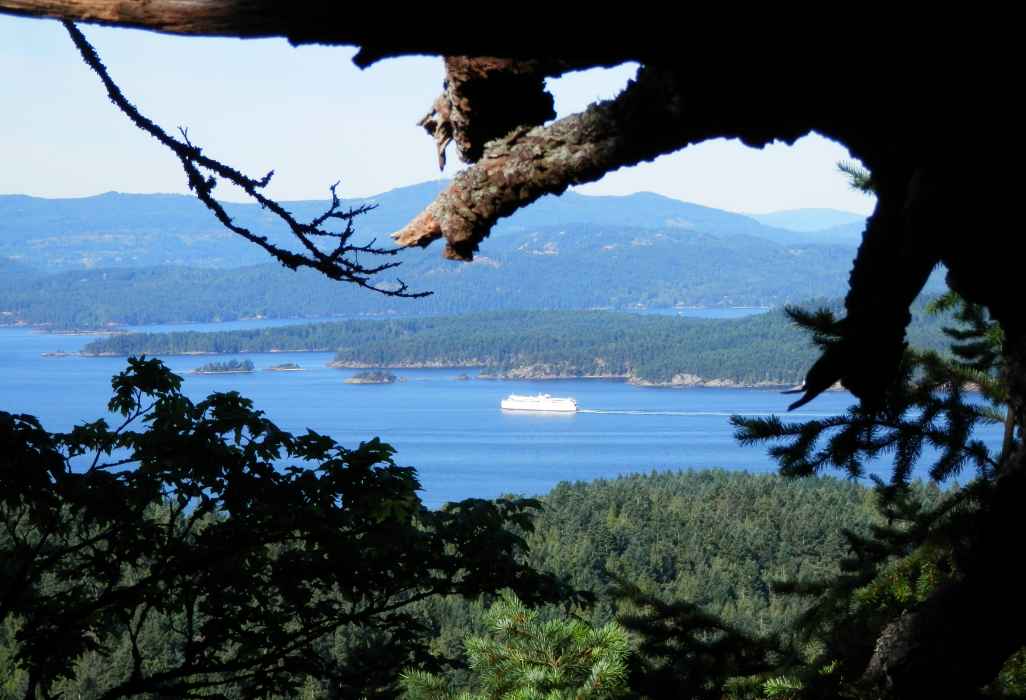 View from Mount Parke

I did a morning hike up to the top of Mount Parke, the highest point on the island. There are some good views to the south, west, and north, but not to the east. The path wanders right along the edge of a 500 foot high cliff, within a few feet at some places. The area below the cliff is known as the Red Zone, where nothing can be constructed, because occasionally a huge rock will fall off the cliff and roll down into the forest below. Further away from the cliff is the Yellow Zone, where people are allowed to build at their own risk.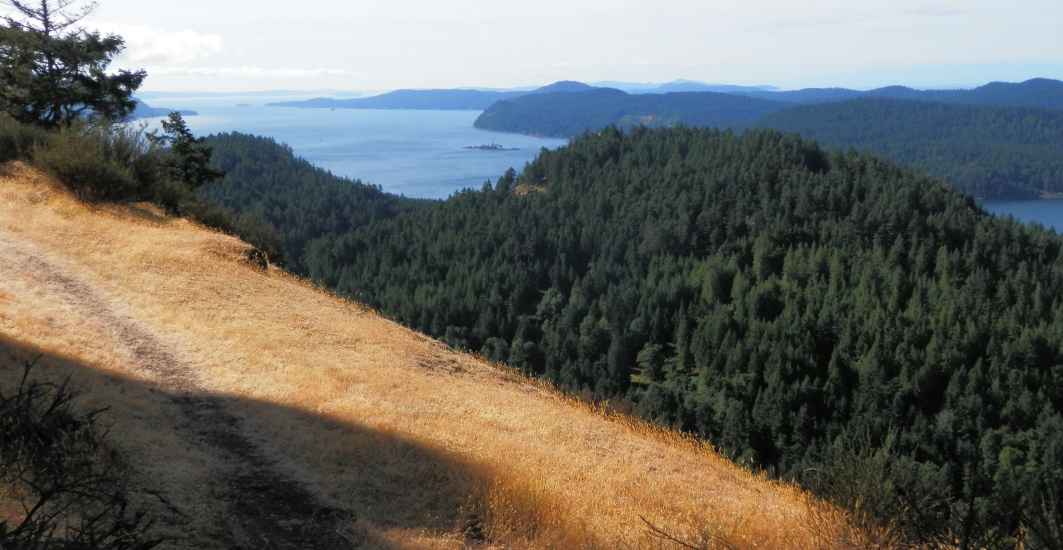 Cliffside path at Mount Parke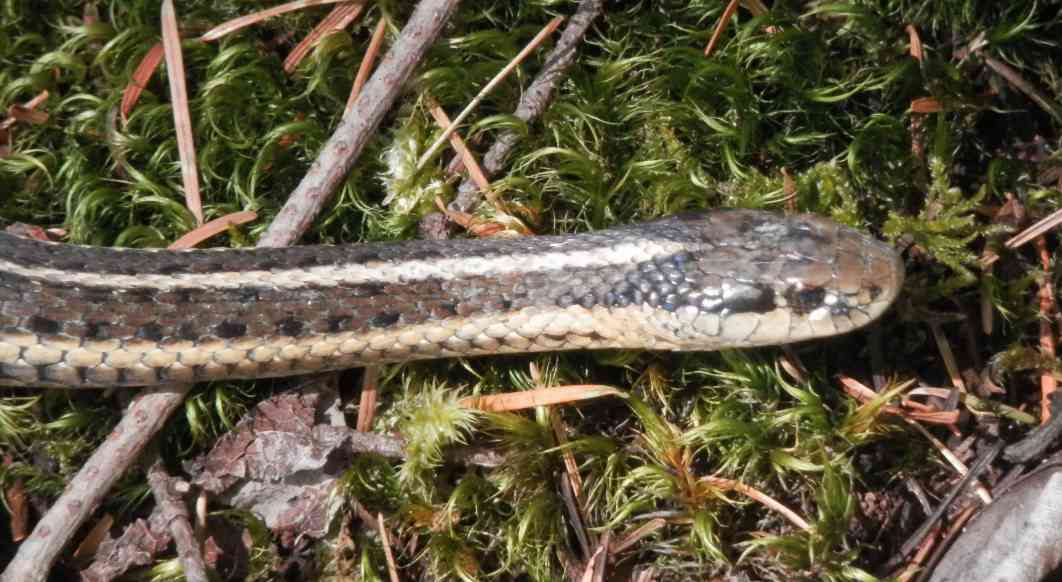 Garter snake on the path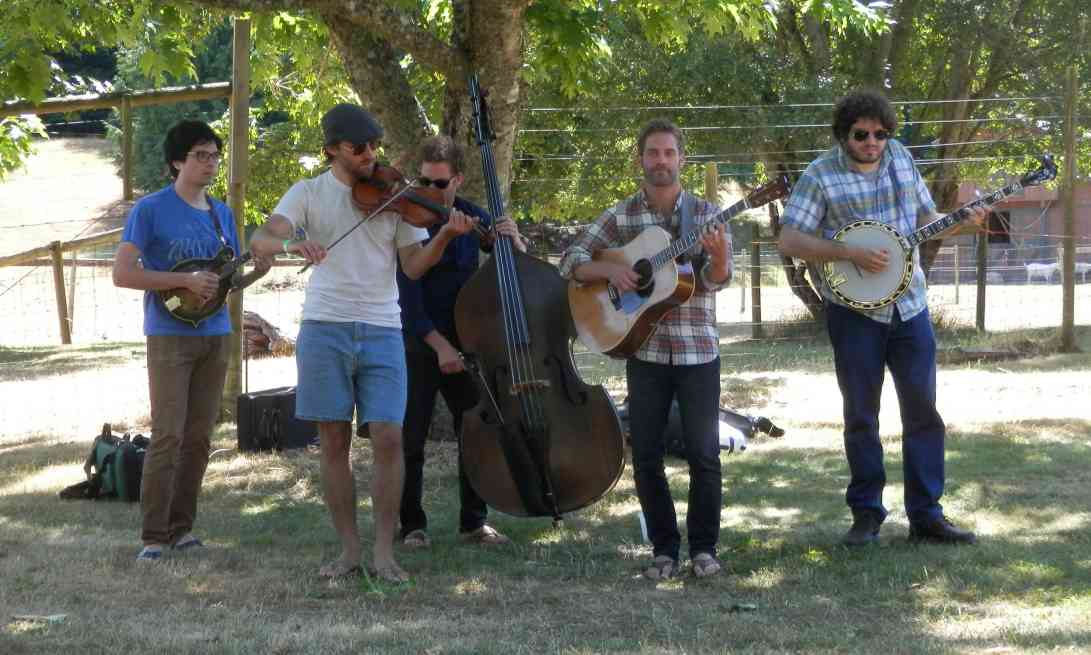 The Lonely Heartstring Band

We were invited to a private performance by this bluegrass band at a heritage farm off Gallagher Bay Road. They were really good, and it was a real pleasure to be able to hear them play in this lovely setting.


Home Copyright 2015