SIM PUBLISHING
Home Publications Artwork News Links About
---
NEWS ARCHIVE - 2016
2017 - 2015 - 2014 - 2013 - 2012 - 2011 - 2010 - 2009 - 2008 - 2007 - 2006 - 2005 - 2004
---
All text, photography and artwork is by GARY SIM unless noted otherwise.
---
Nov. 04: SIM PRINT IN BURNABY ART GALLERY EXHIBITION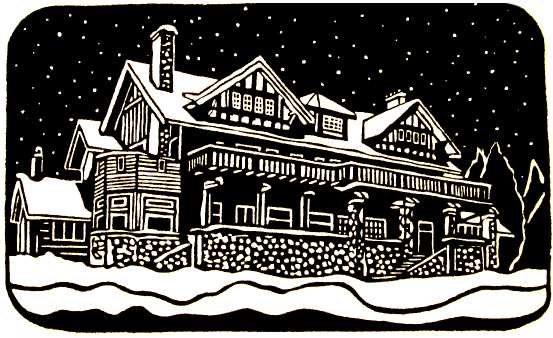 My limited edition print Gallery in Winter, commissioned in 2007 by the Burnaby Art Gallery for their Christmas card that year, will be on display in the gallery's Christmas exhibition SEASON'S GREETINGS, from November 4 to January 7, 2017. The exhibition will consist of "a selection of seasonal artworks as well as greeting cards by artists" and will include work by Alistair Bell, Lionel Lemoine Fitzgerald, William Kurelek, Walter J. Phillips, and H. Eric Bergman. The exhibition opening is on Thursday November 3 from 7 to 9 p.m.
---
Oct. 09: NOMAN HITS THE FRONT COVER OF BC MUSICIAN MAGAZINE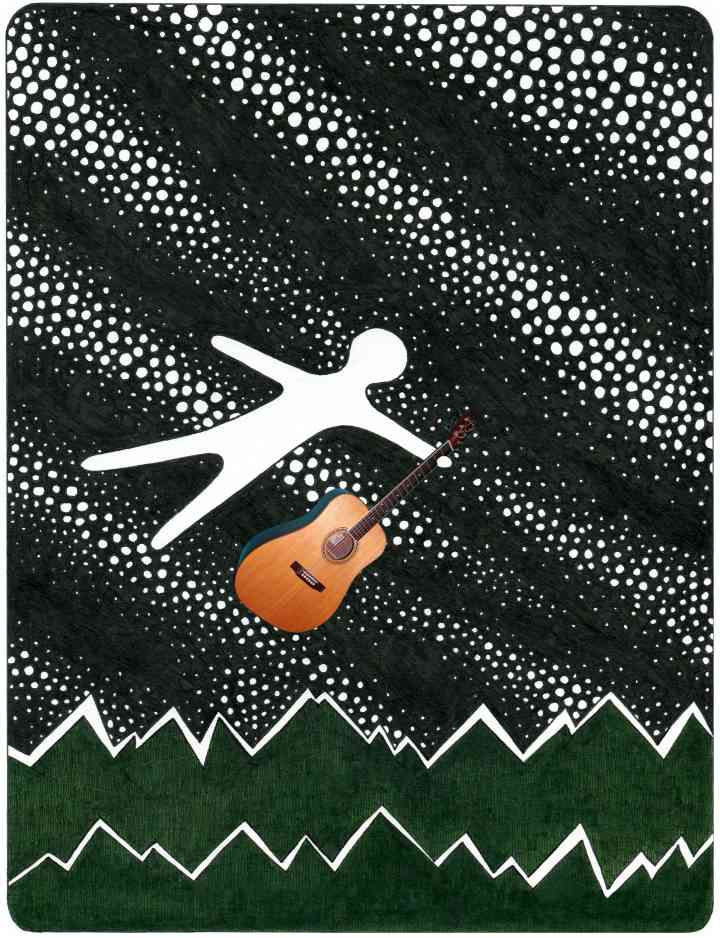 The NOMAN series of drawings continues. This recent drawing was modified a bit with the addition of a digital photo of my guitar. I had the idea to send it to friends who publish BC Musician magazine, and to my surprise they immediately wanted to use it as their next cover image! Issue 119 will be on the stands in early November, and includes a brief artist biography, as well as a half page advertisement for Sim Publishing that shows 14 artworks. Awesome!
The NOMAN series now includes ten drawings in Noman I, five in Noman II, and seven recent ones added as Noman III. Six are illustrated in the BC Musician advertisement, along with four Railway Rock Gang images and four limited edition prints. The long-term goal for the NOMAN series is to publish them all together as a graphic novel, and with twenty-two drawn it's well on the way.
---
Sept. 09: RESEARCH ONGOING FOR FEBRUARY LECTURE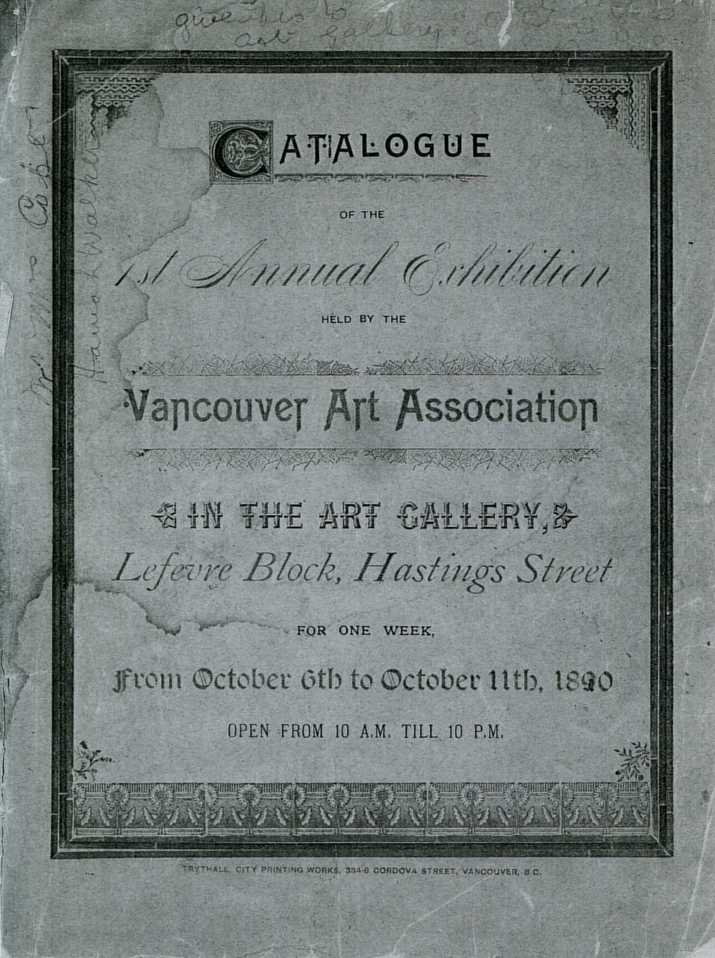 Research and writing continues for the February 23 lecture at the Vancouver Museum on behalf of the Vancouver Historical Society. The topic is early Vancouver art and artists, specifically from the mid-1880s until just before World War One. Accurate information about artists and their doings at that time must be gleaned laboriously from contemporary newspaper articles and advertisements, private journals, directories, and rare bits of ephemera that have survived.
The image above shows the lithographed cover of the 1890 First (and only) Annual exhibition of the Vancouver Art Association, provided courtesy of the Vancouver Art Gallery Library and Archives. Printed in Vancouver by Trythall City Printing Works on Cordova Street, it would be difficult to use more fonts and ornaments on a single page.
Two afternoons spent at the Vancouver City Archives produced a lot of information about the 1900 Arts and Crafts Society, including photographs of their exhibition and an original 1900 exhibition catalogue! A search for an 1894 exhibition catalogue or programme failed at the archives, but the programme was found by accident in my own collection, reproduced in a 1928 copy of Museum Notes (see below).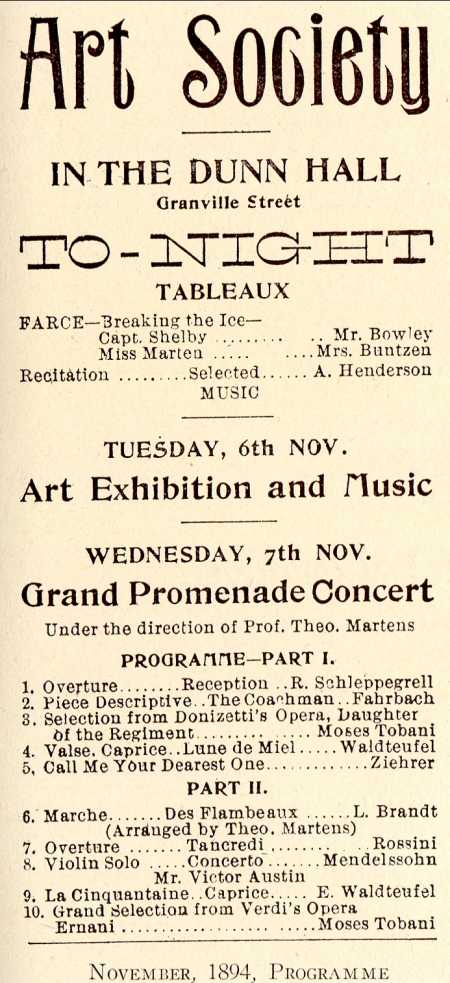 A 1900-1901 journal of the Arts and Crafts Society includes preliminary discussions about founding the group, its constitution and bylaws, and signatures of all founding members. Minutes from one meeting discuss artist Thomas Mower Martin's resignation from the group in protest of the review of his work in the Society's First Annual exhibition in 1900. The review was published anonymously in Canadian Architect & Builder (printed in Eastern Canada). The Society's journal provides the answer to the 116 year old mystery of who wrote the review (to be revealed at the lecture!).
---
Aug. 09: THE ADVENTURES OF NOMAN CONTINUE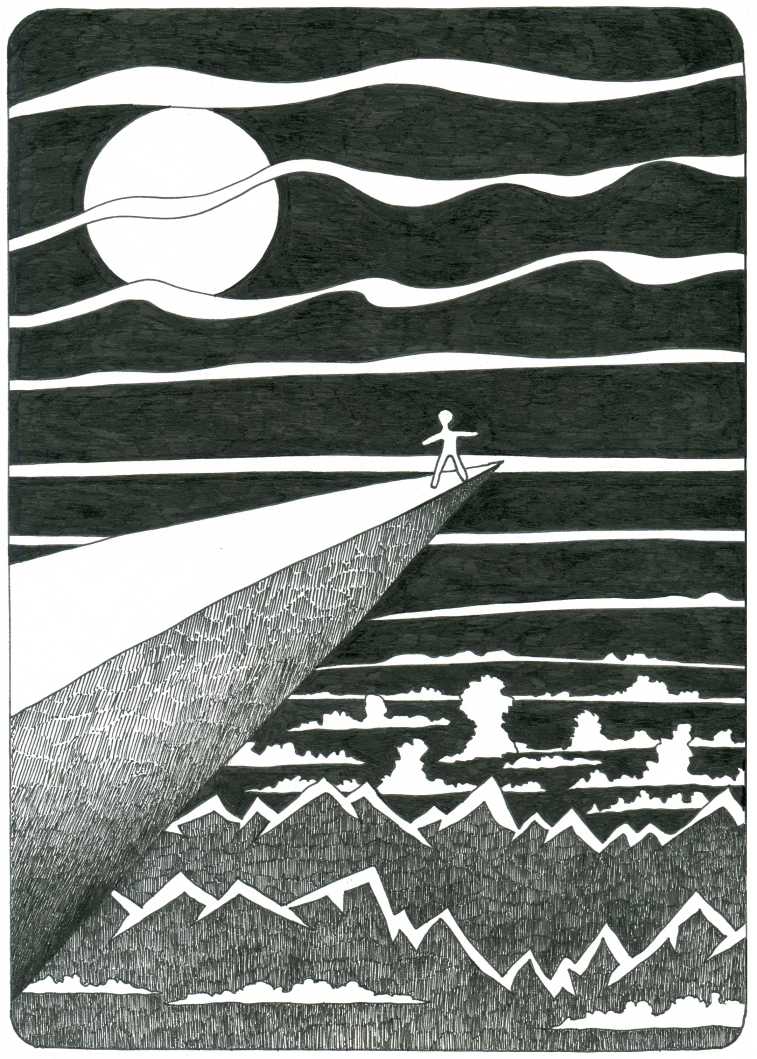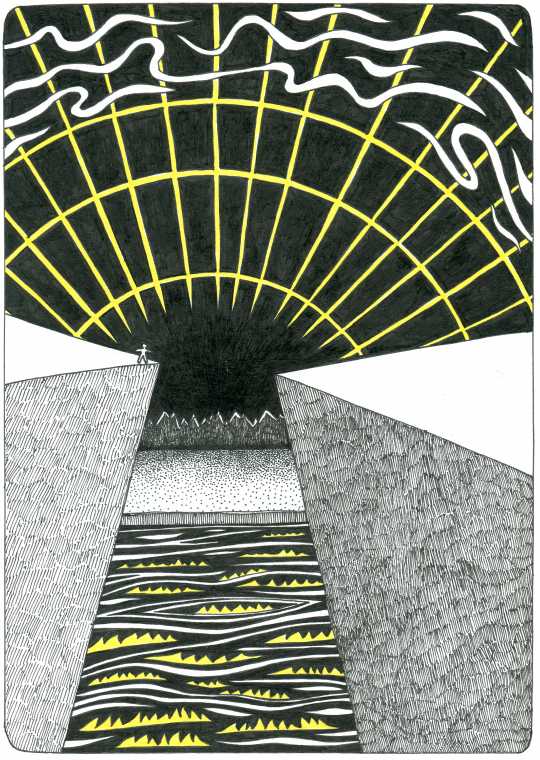 The NOMAN series of drawings is producing more images than I expected. To date, sixteen are finished and included in the portfolio, three are finished but not included, two are close to being finished, and about six more exist as pencil scribbles only.
I recently filled up the last blank sketchbook of the type I like to use now, and went to buy more at the store. Alas, they were no longer stocked. Looking up the manufacturer ECO-JOT online produced a web site from which I could order them, but the website wasn't working properly. An email to the company produced a response from the owner, who said that they had discontinued making the product because they couldn't compete with cheaper products from China.
That was disappointing, but to my surprise the owner also looked up recent orders that he'd shipped for the sketchbooks, and found a store in Manitoba that had 125 of them in stock! I purchased 10 of them immediately, ensuring that I would have them to use for a few years yet. I also got a good discount on them by doing so. It was great to have the ECO-JOT owner taking the time to help me out like that.
I had explained to him by email that the paper was exactly what I like to draw on: the right weight, the right smoothness, totally opaque, wrinkle free, easy to erase, not easily crinkled or accidentally folded, reworkable without disintegrating, and receptive to a number of different media. The sketchbook has a metal coil binding which allows it to lie flat or fold fully open, which is handy in the field.
---
July 16: BOOKBINDERS & ARTISTS GUILD EXHIBITION AT V.P.L.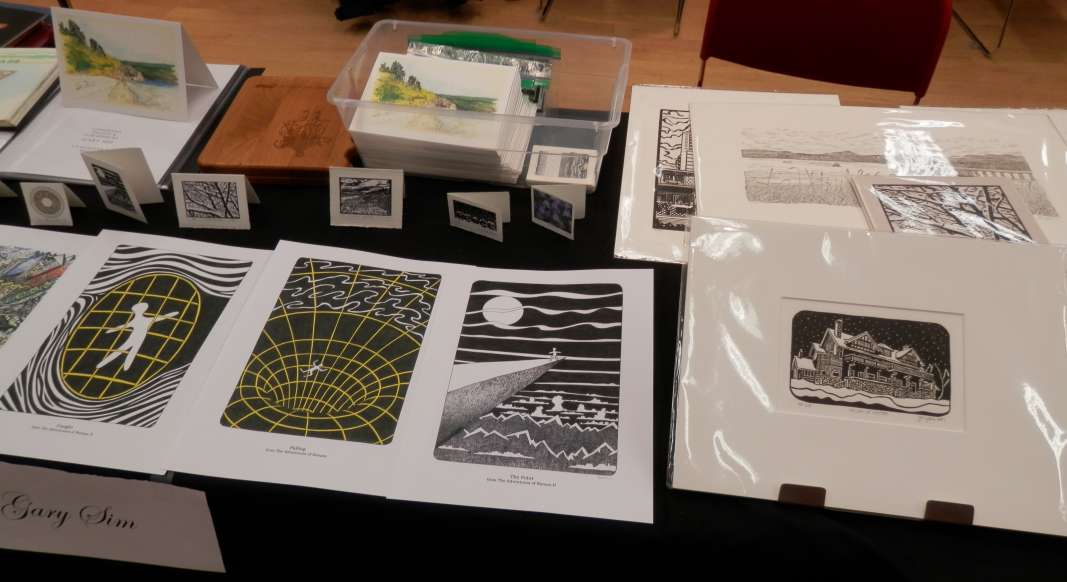 Sim Publishing table at the exhibition
The 4th annual exhibition by the B.C. Chapter of the Canadian Bookbinders and Artists Guild was successfully held on July 16, at the downtown branch of the Vancouver Public Library. A number of book artists showed their work or gave demonstrations, and as usual an amazing collection of work was on display. The Sim table held a great many new artist stamps, artist stamp cards, and artist cards, as well as limited edition prints and other Sim artwork.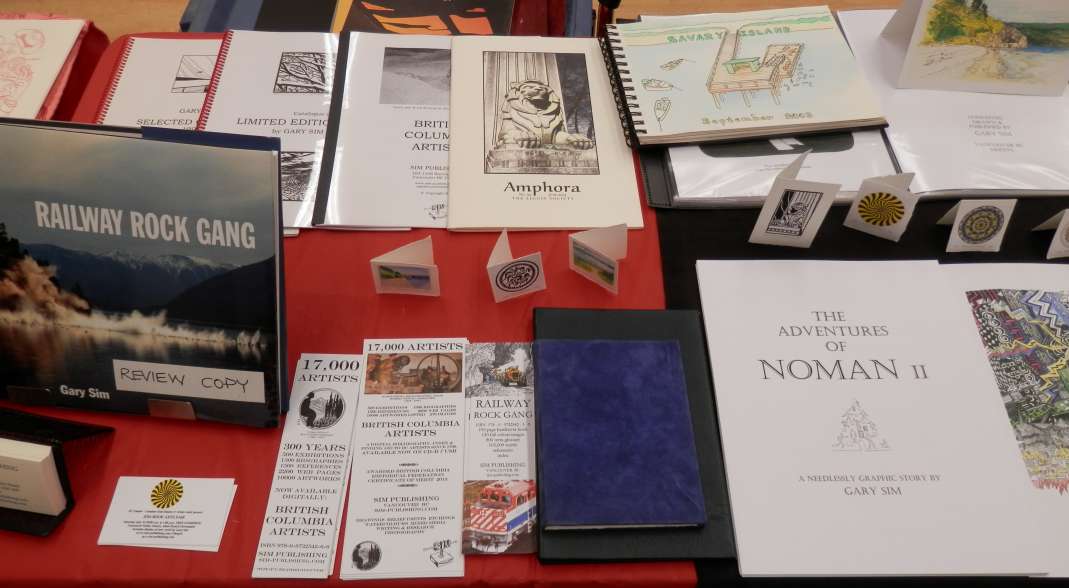 Sim Publishing table at the exhibition


A collection of artist stamp cards
---
May 08: ROCK GANG FINDS NEW HOME AT TIMBER


Railway Rock Gang book on display
I took a copy of RAILWAY ROCK GANG over to the Timber Sports Bar at 1300 Robson Street the other day, and so far have sold three copies to the staff! Sarah was so enthused that she got permission to put a copy on display at the bar ... it's funny in a way, much of the proof-reading of the book was done at bars, and many sales have been made at bars after I got to telling tales to anyone interested.
---
May 08: DAILY GRIND EXHIBITION CHANGED


BC Scenes by Maud Rees Sherman & Gary Sim
It has been a while since I changed the little art show at the Daily Grind Cafe, 1500 West Georgia Street (at Nicola). A friend suggested some coastal scenes, so I put up a mix of old and new BC artwork ... the old by Maud Rees Sherman (1900 - 1976) and the new by me.
Left to right: Mace Point, Sim, watercolour; Erratic Shoreline, Sim, pencil and ink; Desolation Sound, Sherman, watercolour; View from Landale's Porch, Sim, ink; South Beach, Sherman, watercolour; Forest Edge, Sim, watercolour; Mountain Scene, Sherman, watercolour. The three watercolours by Sherman are undated but were painted in the 1920s.
---
May 06: 2007 NATIONAL GALLERY PUBLICATION FOUND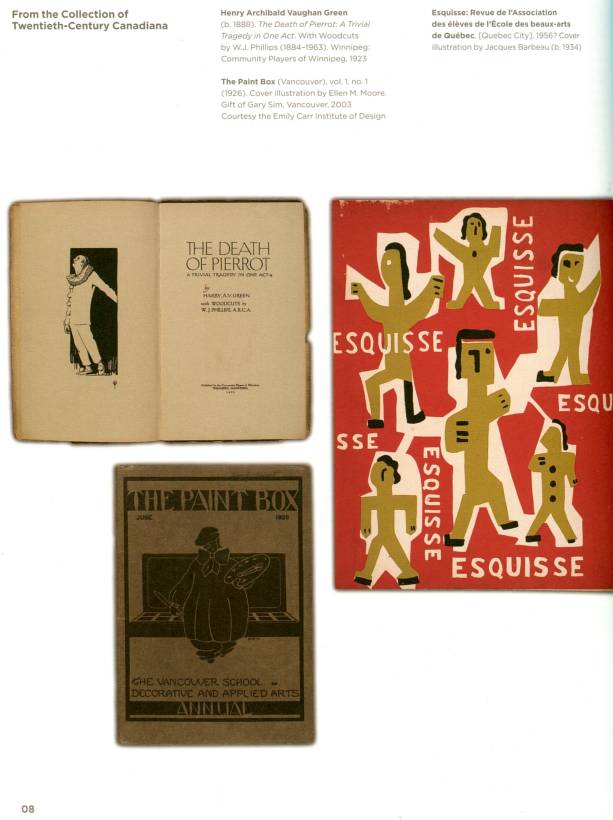 National Gallery of Canada - Library & Archives publication
I found a copy of this 2007 publication by accident at a book sale trolley at Emily Carr University Library last week. When I flipped through it and saw the illustration of The Paint Box I quipped that I gave them that ... correct: "Gift of Gary Sim, Vancouver 2003." I was also included on a list of donors who donated gifts valued at $1,000.00 or more to the National Gallery between 1990 and 2005. I hadn't seen this publication before, got it for 50 cents.
---
May 01: NOMAN UPDATE


Adventures of Noman (continued)
I finally scanned and printed some recent Noman drawings (the four on the right of the top row), photographed on my desk along with the first ten drawings in the series. A few completed drawings didn't "make the cut" and a few more are in progress in stages varying from primary pencil-scribbled idea to final inking, colouring, and details.
---


Okanagan wildflowers
April 02: DONATION UPDATE
Sim Publishing is pleased to announce the completion of my 2014 and 2015 donations to the National Gallery of Canada. Due to the size of the donation - over 900 books and catalogues - it took their bibliographers most of last year to accession, and this year the collection was appraised at a combined value of $30,000.00.

Another box of books was shipped recently as a donation for 2016, and to continue the relationship established with the Gallery and Library. Interestingly, the Library has created a unique bibliographic reference number for my donations, so that they can be looked up as a single collection despite the sequential series of annual gifts.

Yesterday I delivered a Richard Tetreault print Yellow Door to the Burnaby Art Gallery, as another of my continued donations to their collection of works on paper. Late last year I also donated to them a boxed set of six colour serigraphs Art Ex Machina, an important early collaborative effort done in 1972 between an international group of artists using programmable computers to create designs that were silk-screened by a fine art printer.

In the past two years, a total of $60,000.00 worth of donations has been made (and appraised) to recipients including:
National Gallery of Canada Library, Ottawa ON
Vancouver Art Gallery Library, Vancouver BC
Burnaby Art Gallery, Burnaby BC
Galt Museum & Archives, Lethbridge AB
Simon Fraser University Special Collections, Burnaby BC
Malaspina Printmakers Society, Vancouver BC
Alcuin Society, Vancouver BC
BC Historical Federation, Vancouver BC
Savary Island Heritage Society, Whonnock BC
---
April 01: SPRING BREAK
The reception for the NEW ACQUISITIONS exhibition at the Burnaby Art Gallery was very well attended, and a pleasant evening was had by all attendees. The show came down last week and two new shows are being hung at the gallery. Thanks to the gallery staff for selecting two of my prints for the exhibition.

I had my best idea in a long time a couple of weeks ago ... take a spring break! No vacation since last June, so I asked for this week off. I got lucky and had some fabulous spring weather for a "stay-cation" so puttered around the apartment, schmoozed around downtown, got my taxes done, and generally took it easy and recharged batteries.

Although trying not to spend money on books and art I was enticed to purchase a small collection of old books that came from the Sherman family library. A "picker" brought them in to Macleod's Books, and the owner called to offer them to me. The source of the books was apparently an estate sale somewhere in Vancouver. I went over and bought all but one of them, an expensive first edition of Kim by Kipling. The others are all signed or with bookplates from Maud Sherman and her father Ruyter Sherman, and include a Canadian first edition of Puck of Pook's Hill printed in 1906.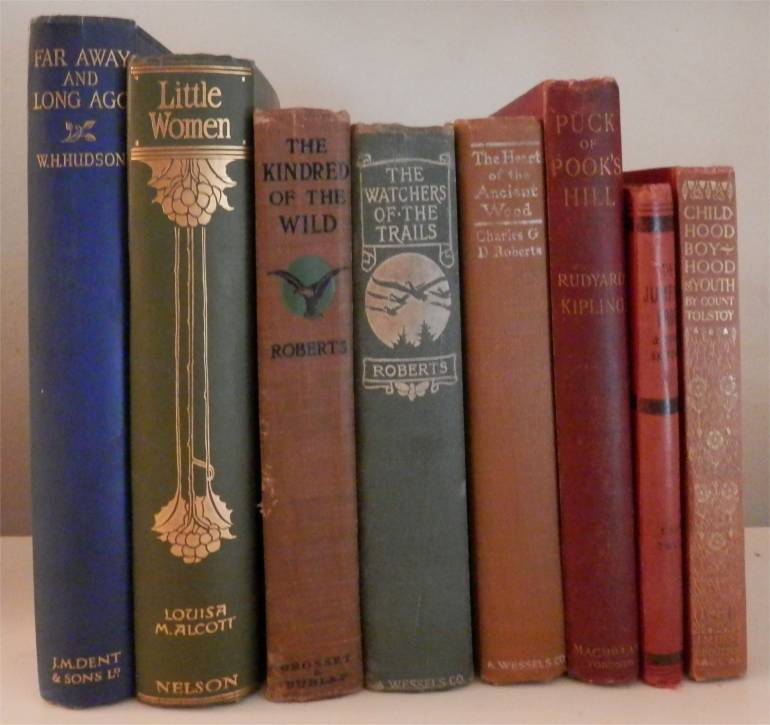 All of the book titles are noted in the Diary of Maud Rees Sherman, where Maud made a list of over 120 books in their family library, and another long list of her favorite books and stories. A few months after transcribing the lists from the donated diary, some of the actual books appeared on my bookshelf.
Work continues on hacking and hewing LOOKING FOR MAUD into its revised format. I've chopped a net total of almost 30,000 words and 100 pages already, while also continuously adding new information and images. The list of her exhibited works is almost complete. Chapters have been roughed out for her father, the two weathermen uncles, and historic photographer Stuart Thomson. Work continues on the bibliography, references, and index. It's still a daunting project trying to smithy it all together into an interesting and well told story.
I came home for lunch a few days ago and found that I had suffered a home invasion ... by plumbers. While renovating the apartment downstairs they'd found that the kitchen wall was "mushy" behind the upper cabinets. Further investigation revealed a leaking high-pressure water line cast into the floor slab under my kitchen sink. The plumbers were busy hacking out the old lines and replacing them, and also had replumbed both bathroom and kitchen sinks. I got them to fix the toilet too.
---
Jan. 16: RECENT NEWS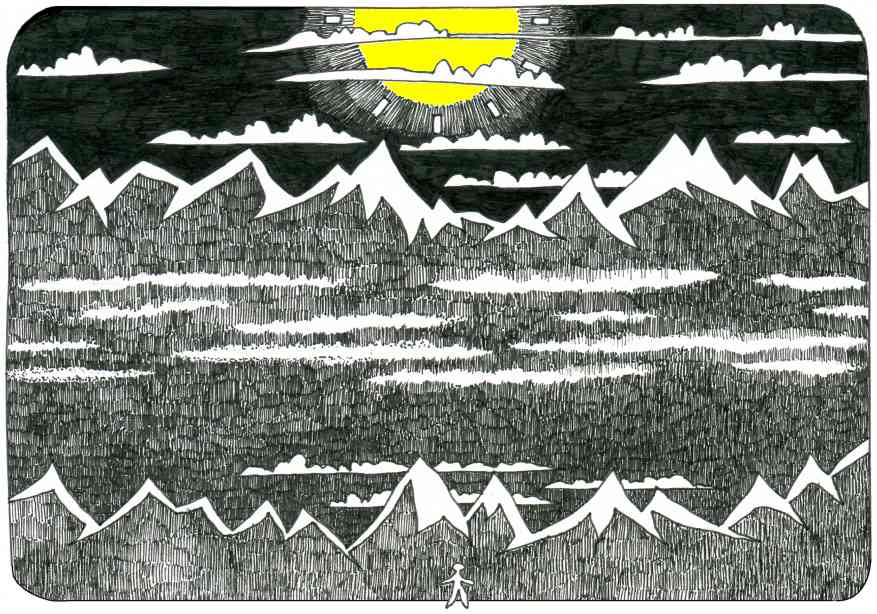 Best wishes for the New Year, and all of your ventures. Two SIM limited edition prints (Lions Gate and Otters on Savary Dock) will be on display at the Burnaby Art Gallery from Feb. 5 to March 27, selected for the gallery's NEW ACQUISITIONS exhibition. The reception is on Feb. 4 from 7 to 9 p.m., please join us at the gallery to celebrate the opening of this event. Refer to EVENTS page for details.
---
Jan. 01: 2015 IN REVIEW
Last year held a lot of challenges for me. Work on the Okanagan Corrections Centre resulted in 11 trips to site, and 3 trips to Spokane to review precast cells. At the same time, the Plaza 500 hotel conversion project was in full construction in Vancouver. Between the two projects there was a site meeting every week, and a billion contract administration documents to produce or review. In March and April I worked 60 days in a row trying to keep up. Finally, after about 450 hours overtime, I tuckered out and asked for my work load to be reduced to a manageable level. It took some convincing and some time but the workload finally tapered down.

A variety of donations were made or offered in 2015, including the donation of an early Edith Fanny Kirk watercolour to the Galt Museum; a collection of early computer art serigraphs to the Burnaby Art Gallery; more books to the National Gallery (see below); and four large artworks offered to City Opera.

A number of pen and ink drawings were created for a new series called THE ADVENTURES OF NOMAN. Ten drawings were selected, scanned, titled and laid out on a page for colour printing. 10 sets were produced in a limited edition portfolio combined with a title page and introduction.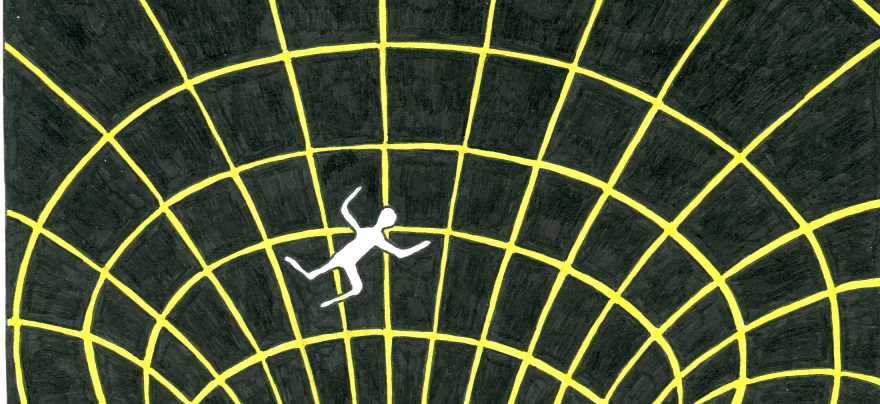 Detail from FALLING.
The gift of the Maud Rees Sherman diary last year spurred on a renewed interest in completing or re-working the book-in-progress LOOKING FOR MAUD. It's now almost twenty years since I started pecking away at it, and it is now my longest-running unfinished project. Recent Internet research has turned up a vast amount of information that wasn't available on-line when I started. For example, there are 20 more years of vital statistics listed, and the listings now frequently include a scan of the certificate in question (birth, marriage, death).
A fellow in Victoria acquired a number of early Sherman family photograph albums at an estate sale, and posted a number of them on his blog. I came across the website, contacted him, and he scanned and emailed me a number of very interesting and early photographs, going as far back as the mid 1890s in Ontario. They also included photos of Maud in 1913. In addition to all that, Daryl Duke's widow also apparently acquired an early journal, the 1914 summer diary of Maud's father Ruiter Stinson Sherman. She transcribed some excerpts which were published in the Savary Island News, including a description of Maud riding Prince, the white horse.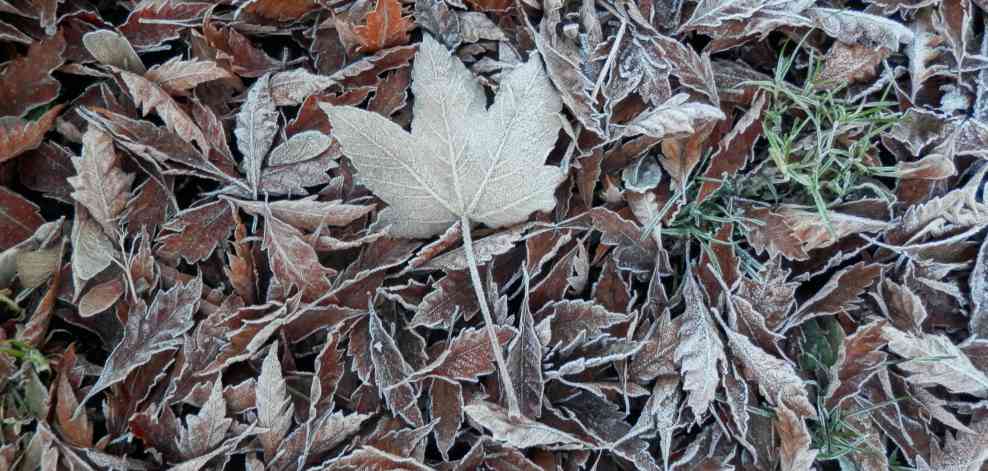 Winter Frost, Barclay Heritage Park, Vancouver
There are now numerous bits of information available on Thomas Stinson Shearman, Maud's uncle and Vancouver's first weatherman. He has turned out to be an important early Canadian astronomer, with an extensive background in telescope construction. Other documents found recently include a 1920 paper by R.S. Sherman on new species of Diptera, and a copy of his registration as an Ontario Land Surveyor in 1890, complete with an extensive list of the requirements. Many early birth, marriage, and death certificates have been acquired for members of the extended Sherman/Shearman family.
Other writing projects included a commission from the Burnaby Art Gallery to write the introduction for a Jack Wise exhibition. It will be included in the Gallery's 2017 publication celebrating their 50th Anniversary. For this I was asked to write a 100-word biographical summary of myself. The commissioned article was only 300 words! I also kept working on research for my story on Vancouver's first weathermen.
An ongoing project has been the purging of stuff from this apartment (where I have lived for almost 23 years now). It's amazing how much stuff can be piled into closets, infilled under furniture, piled in the hall, drawers filled, or put out on the balcony. While keeping a few samples for the record, as it were, hundreds of cassette tapes, VCR tapes, 5.25 and 3.5 inch floppy disks, CD's, DVD's, and all related manuals, warrantees, computers, connectors, and devices have been chucked out. The shredder purchased last fall continues to chew its way through documents both old and new. Two drawers and 4 plastic totes full of photographic prints and negatives were organized chronologically from early 1980s to 2005, and all unwanted or duplicate prints removed ... about 5,000 of them by weight (37 pounds). The remaining negatives and prints now fit into 2 of the plastic totes, leaving 2 drawers and 2 totes empty! Yippers!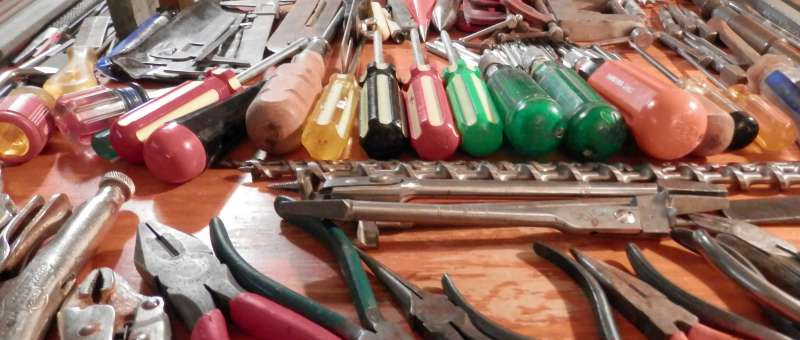 Some of the tools being sorted.
Tools were organized, fishing gear sorted out and reduced to the bare minimum of functional rods and lures, office supplies reorganized and compacted into one blue tote from two ... another empty tote! Old shirts and sweaters and t-shirts got seriously compacted, and goodbye to 2 or 3 old suits not worn in a quarter century, and a couple of ratty jackets. Ditto old shoes, socks, shorts, ties, belts. An old rainjacket that had been rolled up so long it had melted to itself. Broken umbrellas. Old art supplies. Dried up pens. The ironing board. Old calendars and daytimer refills. A broken construction stapler and the staples it used. The steel-toed felt-pack winter work boots most recently worn c1987.
The hall floor is now clear for the first time in a decade. I have some empty drawers and cupboards, and a bit of "fallow" shelving. One old bookcase and one old 4-drawer dresser were flattened and thrown out after being emptied. A number of other collections of stuff are now able to be sorted and compiled ready for processing. The art inventory needs a serious updating, financial records are in one drawer, marketing is in another pile, and research information for Looking For Maud has been put together for the first time.


A foggy morning in the harbour.
On the technology side, both of my internet providers ceased to support dialup last year, which was my only way of getting online at home. I still haven't gotten around to getting high speed installed, it will just take a phone call, I just can't seem to care. A new notebook allows me to do email or update my websites from anywhere there's wi-fi, so that's what I've been doing.
Looking forward to the rest of this year, I probably have just one more trip to make to the correction centre. The hotel conversion is supposed to be finished in July. In June I reach my 10th anniversary of working at DGBK Architects, and in September I hit 65 years of age and start sucking down Old Age Security and Canada Pension ... fat city. The BC Historical Federation annual conference is in Revelstoke in May, but will be expensive to attend, so no decision made yet. The Vancouver Historical Society has again invited me to speak on early Vancouver artists, and we have settled on a date in February 2017 (see EVENTS page for details). Oops, I need to smithy a hundred words about that for the VHS website ... time to get to work.
---
Dec. 10 2015: ONGOING DONATIONS TO NATIONAL GALLERY OF CANADA
After the large donation of books and catalogues on BC artists was donated by Sim Publishing to the National Gallery of Canada Library in 2014, another donation of 130 volumes was made in 2015. An additional collection will be donated in 2016. The representation of BC artists in the National Gallery Library continues to be expanded and enhanced by this series of large donations. Sim Publishing is pleased to make them on behalf of the artists of British Columbia.
---
Home
Copyright 2016