SIM PUBLISHING
Home Publications Artwork News Links About
---
NEWS ARCHIVE - 2017
2018 - 2017 - 2016 - 2015 - 2014 - 2013 - 2012 - 2011 - 2010 - 2009 - 2008 - 2007 - 2006 - 2005 - 2004
---
All text, photography and artwork is by GARY SIM unless noted otherwise.
---
December 21: BC ARTISTS EXHIBITION OPENS JAN. 23 2018 AT NATIONAL GALLERY
Sim Publishing is very pleased to announce that the National Gallery of Canada in Ottawa is sponsoring a bibliographic exhibition at the Gallery from January 23 to May 6, 2018. The title of the exhibition is BC ARTISTS - THE GARY SIM DONATION. A brochure is being produced for the show, which will highlight a number of books, exhibition catalogues, and ephemera donated by Sim Publishing to the National Gallery over the past 20 years.

This is quite an honour, and is a significant achievement and recognition for not only my donations but also for my BC Artists project itself. Earlier donations to the NGC were recognized when my name was added to the "125 YEARS OF DONORS" wall in the Gallery's entry promenade, as well as being listed in an NGC publication of significant donations to the Library and Archives over a ten-year period.

The head of NGC Library and Archives, Cyndie Campbell, asked me a few years ago about my interest in the idea, and of course I said yes, and my large donations of the past three years probably helped this show be approved. At least two or three people at the Gallery are working on the show, partly because the decision was made to open it quite soon. Now I have to decide: fly to Ottawa or not?

Refer to BC ARTISTS - THE GARY SIM DONATION for more information.
---
December 7: LECTURE TO CANADIAN ACADEMY OF INDEPENDENT SCHOLARS AT S.F.U.
Someone that I met at the Alcuin Wayzgoose events over the years, Mark Dwor, invited me to speak to the Canadian Academy of Independent Scholars (CAIS) at S.F.U. Although the topic could have been anything that I chose, it was agreed that I would talk about my BC Artists project. Although I had rather short notice for the talk, I re-tooled two earlier powerpoint presentations into a new one, and added a lot of new images. The talk went well, although for the first time I went over my allotted time. Afterwards we all had rum and eggnog, apple strudel, and christmas cake to celebrate the season. The CAIS branch in Vancouver is funded by the Wosk family, as are many programs of the Alcuin Society.
---
December 4: MAUD SHERMAN OIL PAINTING ACQUIRED AT AUCTION
A friend told me that a Maud Sherman oil painting was listed in an on-line auction at Levis Auctions, Calgary. I put in a bid for it, and managed to acquire the painting for $75.00. I have tentatively identified the painting as "Golden Ears" exhibited at the Vancouver Art Gallery in the 1939 B.C. Artists annual exhibition.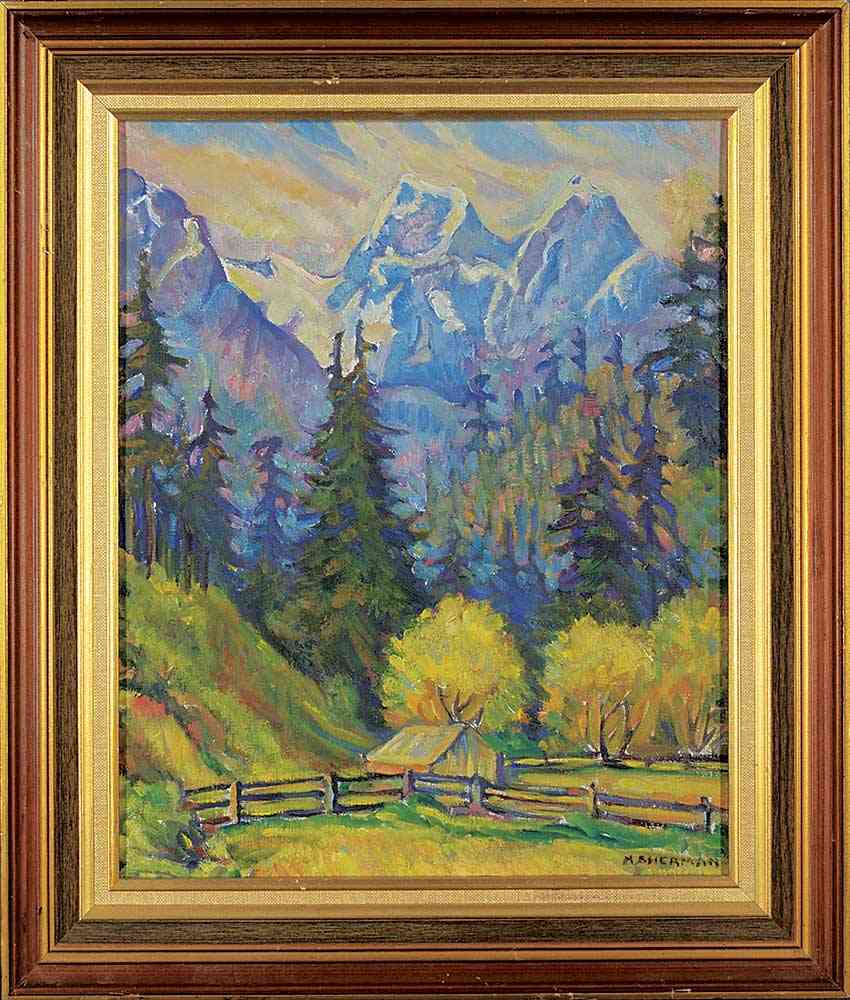 I also purchased a number of art books and catalogues, including a 1912 5th Annual for the Canadian Art Club, and a 1947-48 catalogue for the Canadian Group of Painters.
---
November 28: "SURFACE TENSION" SOLO EXHIBITION OPENS AT McGILL LIBRARY
My friend Bob MacIntyre, Preparator and Curator at the Burnaby Art Gallery, came by and picked up nine drawings for the SURFACE TENSION exhibition at McGill Library. He hung the show on November 28, and it is on exhibition until January 29, 2018. Refer to SURFACE TENSION EXHIBITION AT McGILL LIBRARY for more information.
---
November 15: WINTER GRASS LINOCUT SEASONS GREETING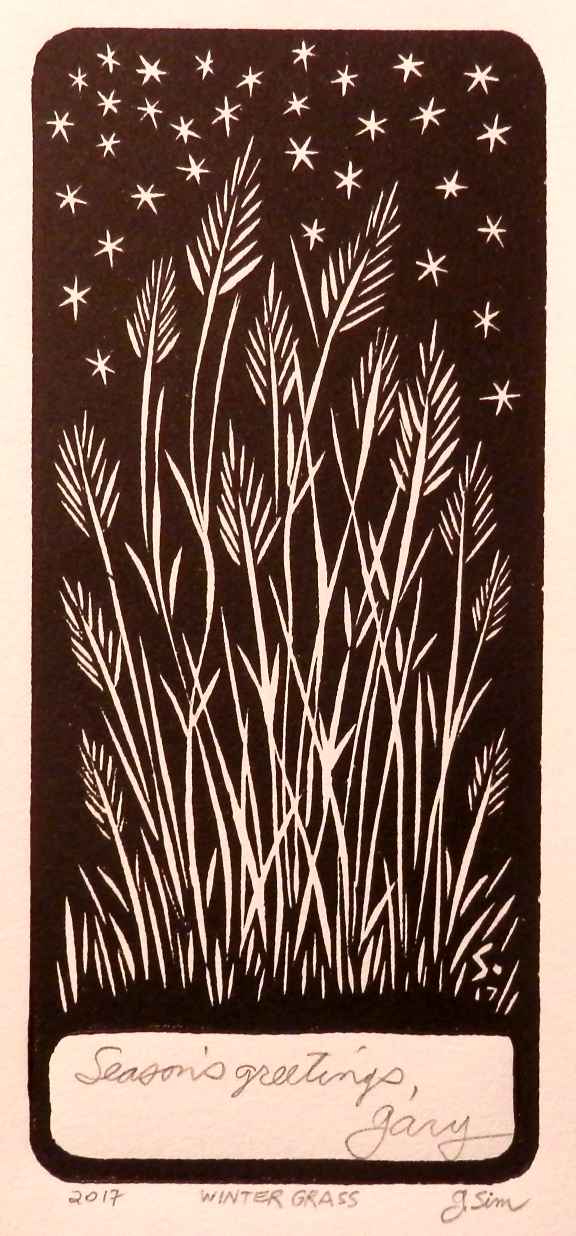 I ordered a variety of new lino-cutting tools this year, including two sets of gouges made in Japan. I was trying out some of them on a cut-off piece of linoleum, then realized that the resulting pattern looked like grass, so I carried on with that idea. A little while later it was finished, probably less than an hour, and I made a bunch of prints. The first run of 35 was on Kozuke Kozo Washi, a few on Unryu, then 48 on Arches Text Wove, all printed using Cranfield Caligo Safewash Ink.
---
November 11-12: TRAIN EXPO 2017
This was a 2-day long event, held at the PNE Forum, a building I haven't been inside for some decades. The event is about model trains and everything to do with them, as well as train books and other related ephemera and paraphernalia. I booked a double-wide booth, as I had been asked to do a printmaking demonstration during the show. Thus, one table for the press, paper, ink, tools, and the other table for showing prints, drawings, and copies of my Railway Rock Gang book.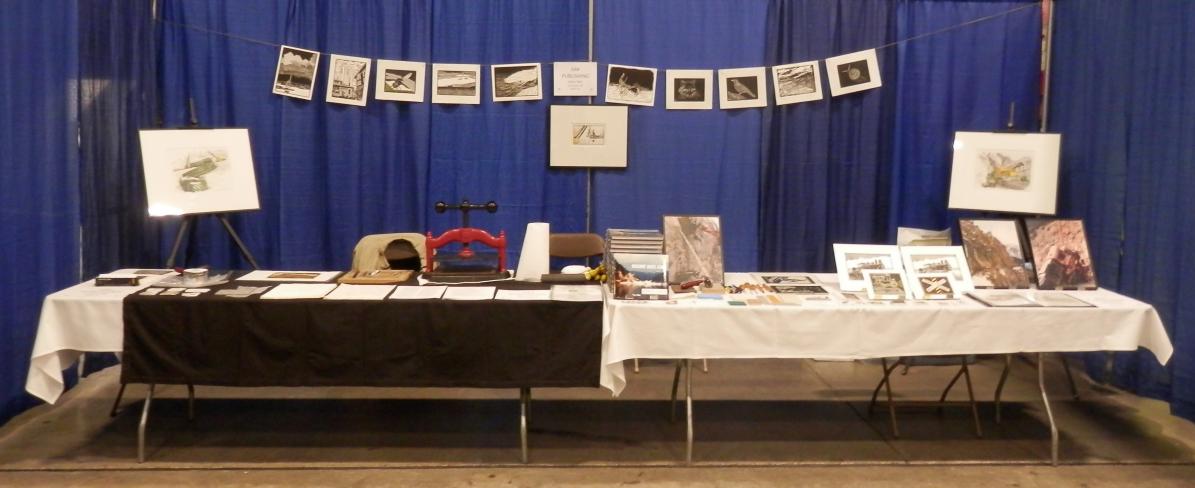 Set up and ready for business, second day.
Although the whole process of hauling everything out there and setting it up one day and hauling it all back home the next was quite tiring, the two days passed quickly, and a lot of people were very interested in the process of making prints. I had designed, cut, and printed some railway-themed relief prints for the show, including Brooks Mogul 2-6-0, Train 'A Coming, and Red to the Rear. I made a lot of prints in the two days. My friend Jen once again provided excellent assistance with everything.

Typical scene looking out from my booth.
---
November 4: ALCUIN WAYZGOOSE
Once again I was invited to have a display at the Alcuin Wayzgoose, the letterpress printing fair. This year I didn't do a printmaking demonstration, but simply showed a collection of my recent work in prints and publications, as well as a collection of tools and materials that I use in making prints.
---
October 24: BACK TO WORK IN ARCHITECTURE
After a month and a half off work, mostly spent making linocut relief prints and taking it easy, I emailed an application to Bingham & Hill Architects, Vancouver, inquiring about a position that they had advertised. I had an interview with them a couple of days later, and an offer of employment shortly after that. So, it was back to work, in this case doing construction administration on a new 40-storey residential tower in Surrey. An interesting but rather high-pressure project.
---
September 29: NEW LINOCUT PRINTS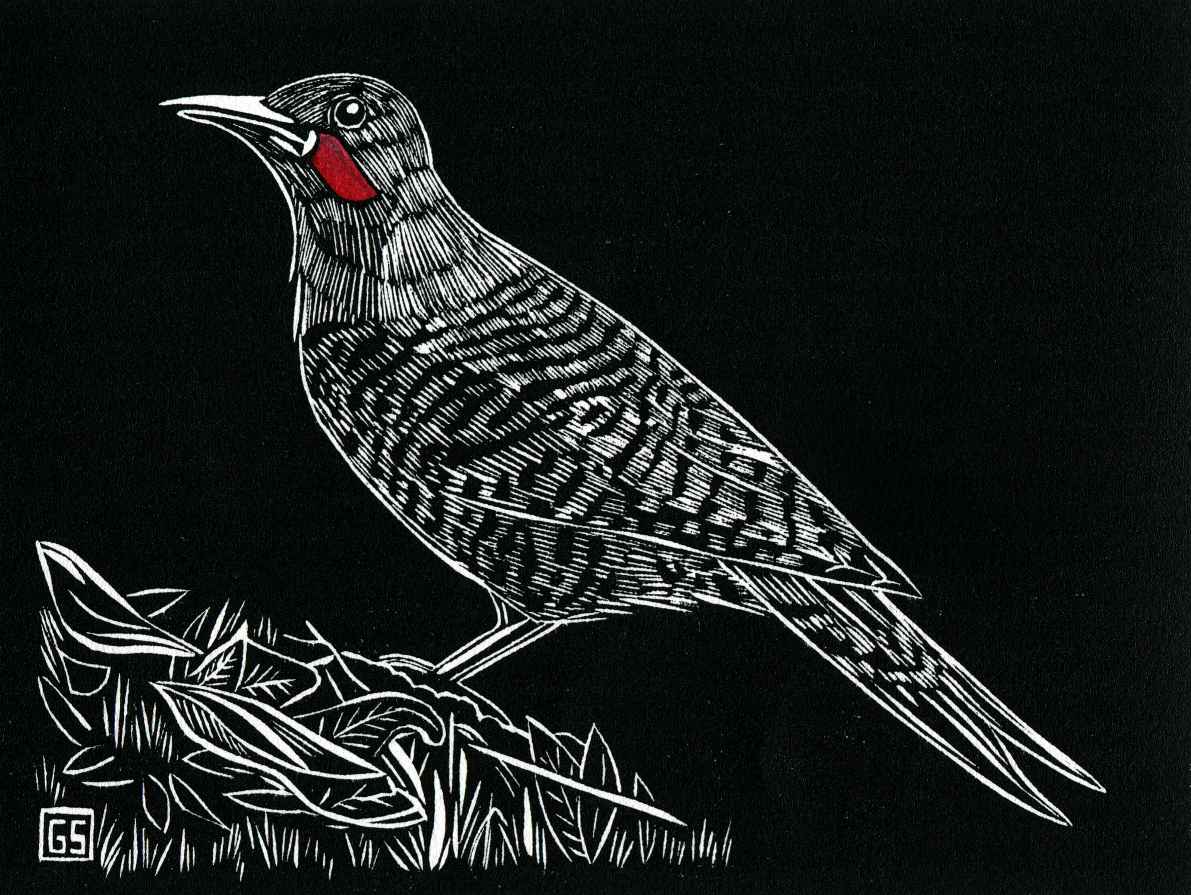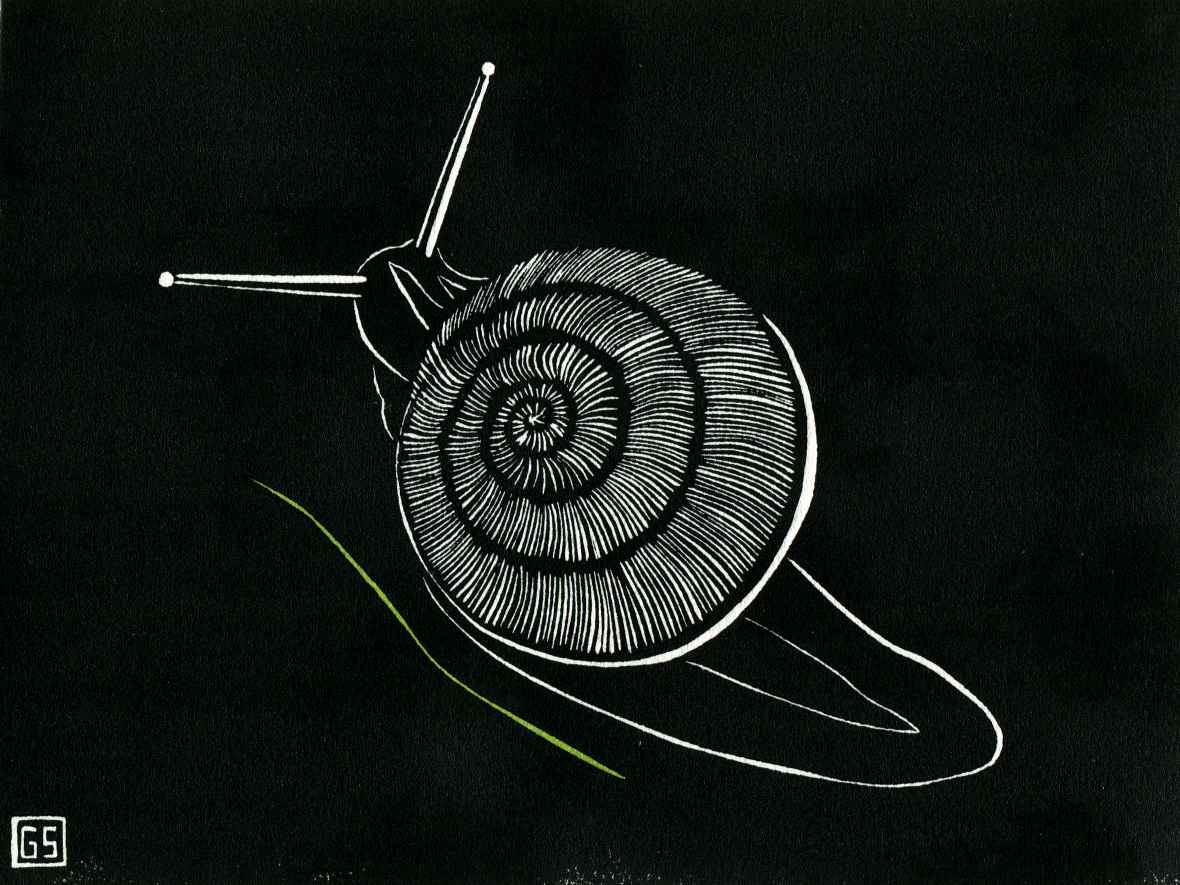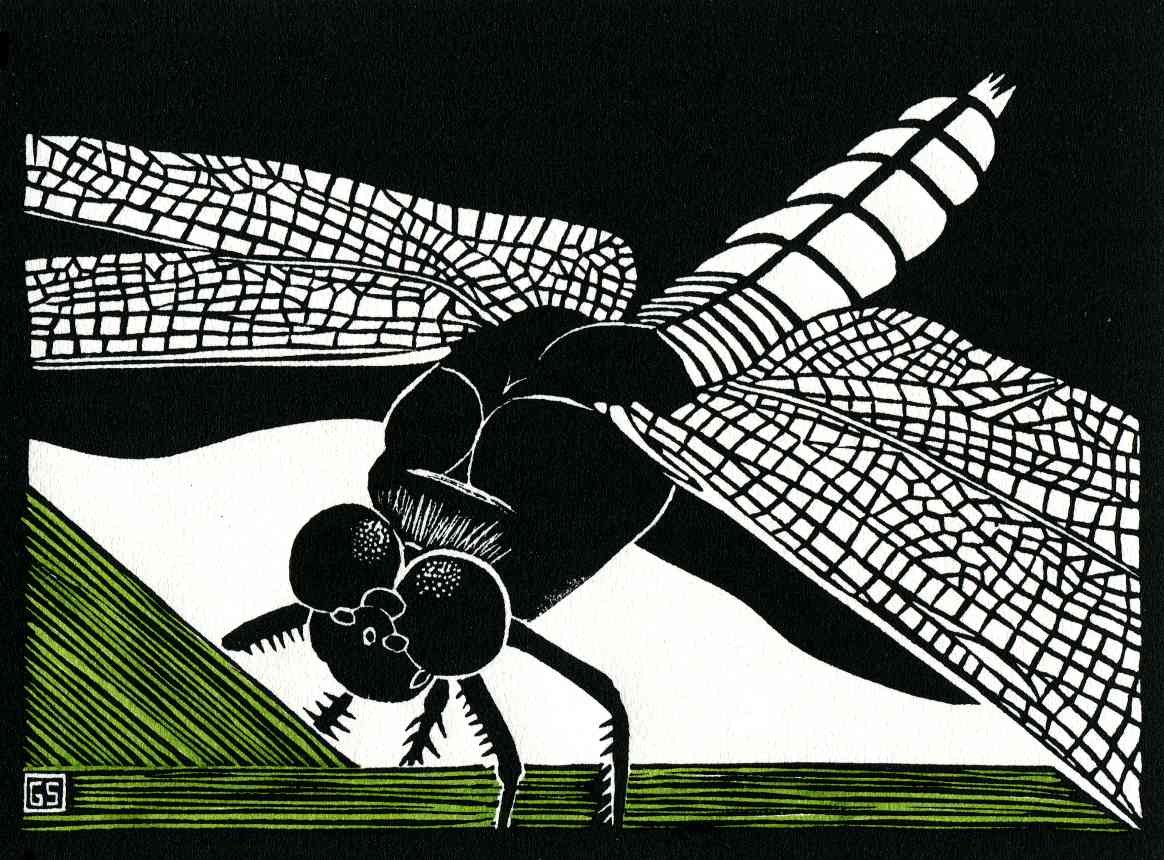 One thing about not going to work all the time is the amount of time now available to do creative work such as designing, cutting, and printing new linocut relief prints. The dragonfly at rest took the most time of these three new prints, the wings obviously taking a lot of care and attention whilst cutting. The snail and the flicker blocks, on the other hand, went quite quickly, each being finished in less than a day.

Refer to LIMITED EDITION PRINTS page for more information about each print.
---
September 26: NEW LINOCUT PRINT EXHIBITION AT DAILY GRIND CAFE


Taking advantage of some time off work, I took this little exhibition of my linocut prints down to the Daily Grind Cafe at 1500 West Georgia Street, Vancouver, and changed the exhibition that had been up for some time.

From left to right: Gallery in Summer, Brooks Mogul 2-6-0, Summer Rest, Looking Away, Between Tides.

All these prints were created this year except for Looking Away, cut in 2005. This print was not able to be easily printed using the ink I had at the time, but with the upgrade to Cranfield's Caligo Safe-wash ink the print can now be pulled successfully as intended.

Refer to LIMITED EDITION PRINTS page for more information about each print.
---
September 1: THE END OF ANOTHER ERA
Friday was my last day of work at DGBK Architects. After 10 years and 3 months of employment there I have been "restructured" out of the office. At least three others in the office joined me in the exodus, and in the past couple of years a number of others were let go or left on their own. It's been quite painful watching it slowly fall apart, and a 25% reduction in pay for the last four months didn't improve the general mood.

Elsewhere in architecture and construction, things are booming, and many job openings are being posted. I've had a couple of offers already, which is promising. In the meantime, it's Labour Day weekend, and I have lots of art to work on. The MOGUL block needs a little more work to be finished, and I have two more designs for train-related relief prints to be cut: a modified crossing sign, and a front view of GMD GF6C electric locomotive #6004 from Tumbler Ridge days. I'm working on the drawing for the latter, trying to figure out how to do it as a simple white-line exercise, so that the prints end up looking somewhat like a blueprint (expecially if printed with blue ink).
---
August 25: MORE FALL EVENTS LISTED
More art and related events have come to light in the past few weeks. Please see EVENTS page for more details on the following:
BLIND DATE SEALED BID ART AUCTION by Malaspina Printmakers Society
VANCOUVER RARE BOOK, PHOTOGRAPHY & PAPER SHOW
---
August 20: TRIAL PROOF OF NEW RELIEF PRINT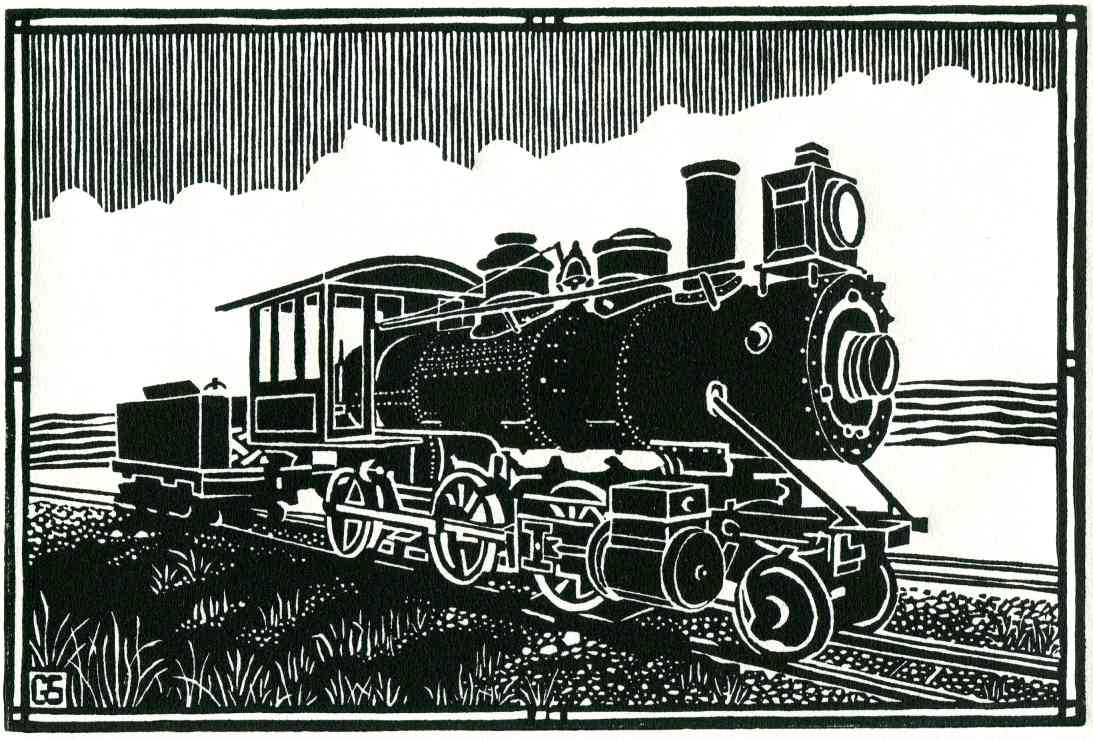 Trial proof of second state of MOGUL 2-6-0
Cutting the lino block for a new relief print is always an adventure of sorts. Trying to determine what's white and what's black is never easy. This is a scan of a trial proof from the second state. There is more work to do, but it's getting close. I'd rather take it slowly than cut away something that needs to remain. This print is intended for the Train Expo (see EVENTS), but when it is done I'm going to cut one or two more smaller blocks with train-related images than can also be printed at the Expo.
---
July 13: BURNABY ART GALLERY 50th ANNIVERSARY PARTY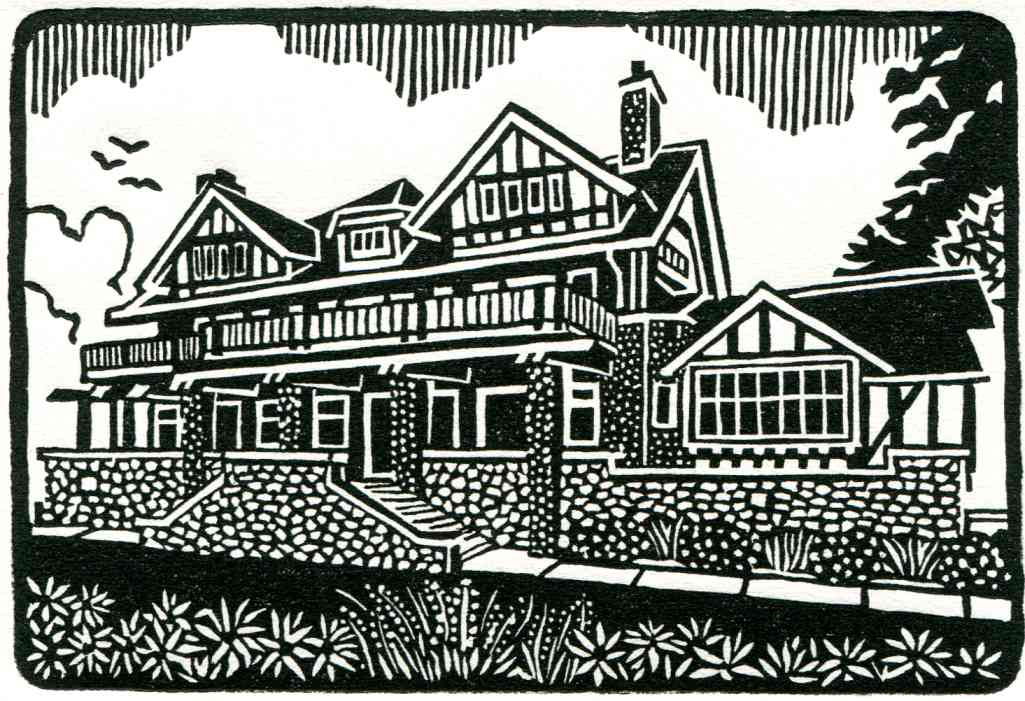 "Gallery in Summer" ltd. ed. print

After a couple of weeks of clear, sunny weather, it clouded over and rained on the morning of the Gallery's 50th anniversary party. Fear not, by mid-afternoon it was clear sunny skies again. A VIP reception was held from 5 to 7 for invited guests who were involved with the Gallery or with the production of the book The Ornament of a House, which was published and launched on the occasion. From 7 to 9 the party expanded with a public invitation.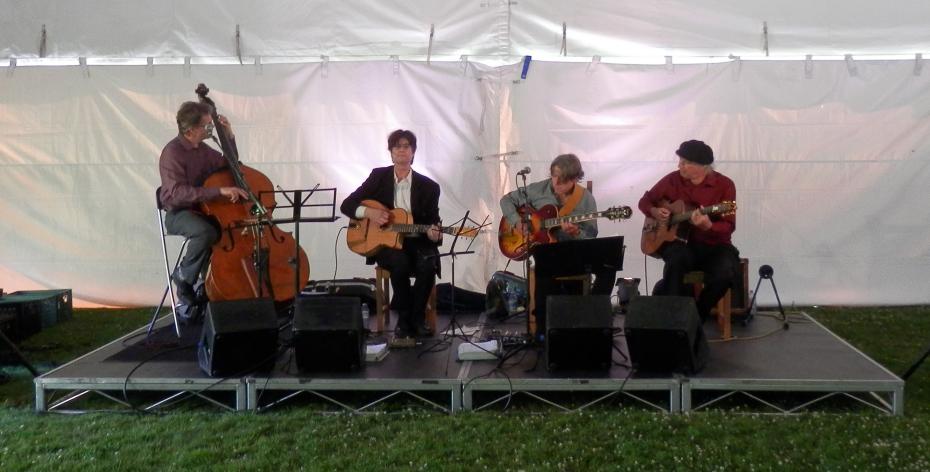 String band playing in the tent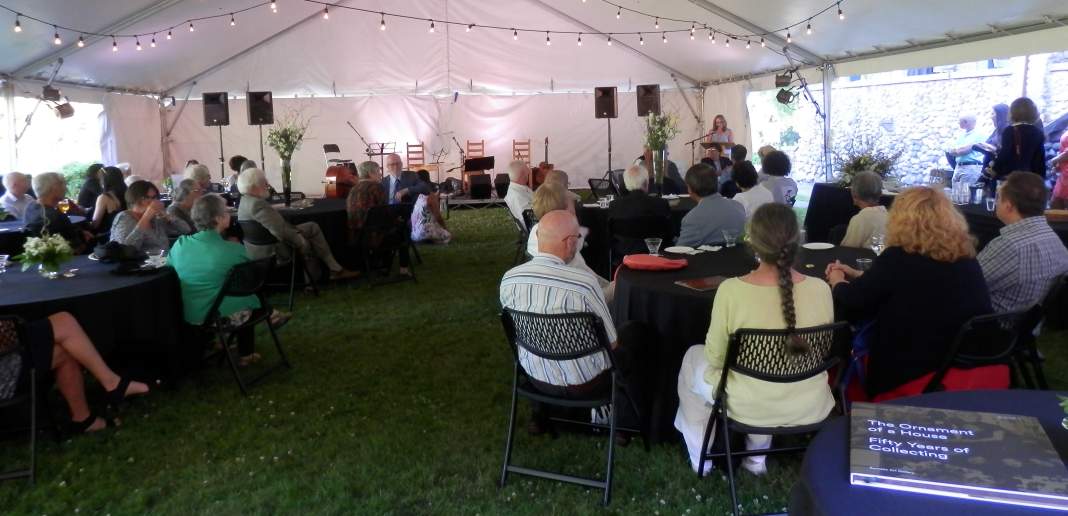 Opening remarks by Ellen van Eijnsbergen

Gallery Director Ellen van Eijnsbergen welcomed everyone in her opening remarks, and then speakers from the City of Burnaby Council also spoke a few words of introduction and thanks. A very tasty series of hors d'oeuvres was passed around by an efficient catering team, drinks were served, birthday cake was cut, and it seemed that a good time was had by all.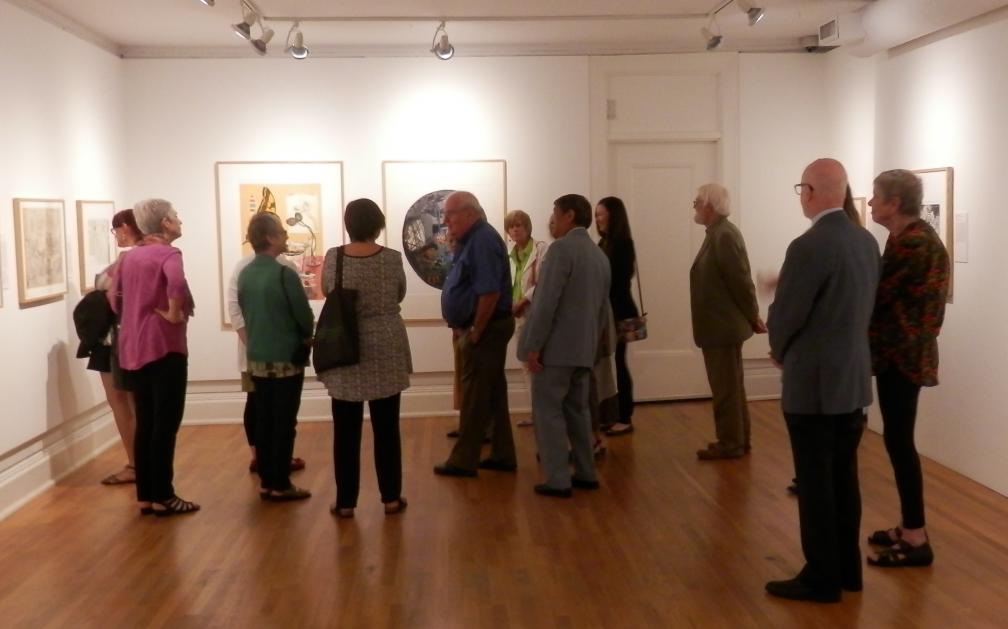 Gallery tour given by Roger Boulet (center)

Former Gallery Director and noted art historian Roget Boulet came down from Summerland to give curatorial tours of the 50th anniversary exhibition, which features 50 works from the gallery's permanent collection. A number of gift bags were given to VIP's and other friends of the gallery, consisting of a copy of The Ornament of a House, a copy of the limited edition print Gallery in Summer commissioned from me for the occasion, a greeting card, bottle of bubbly, and some chocolate. One of the limited edition prints was matted and framed and hung in the Fireside Room along with a few other works in the exhibition.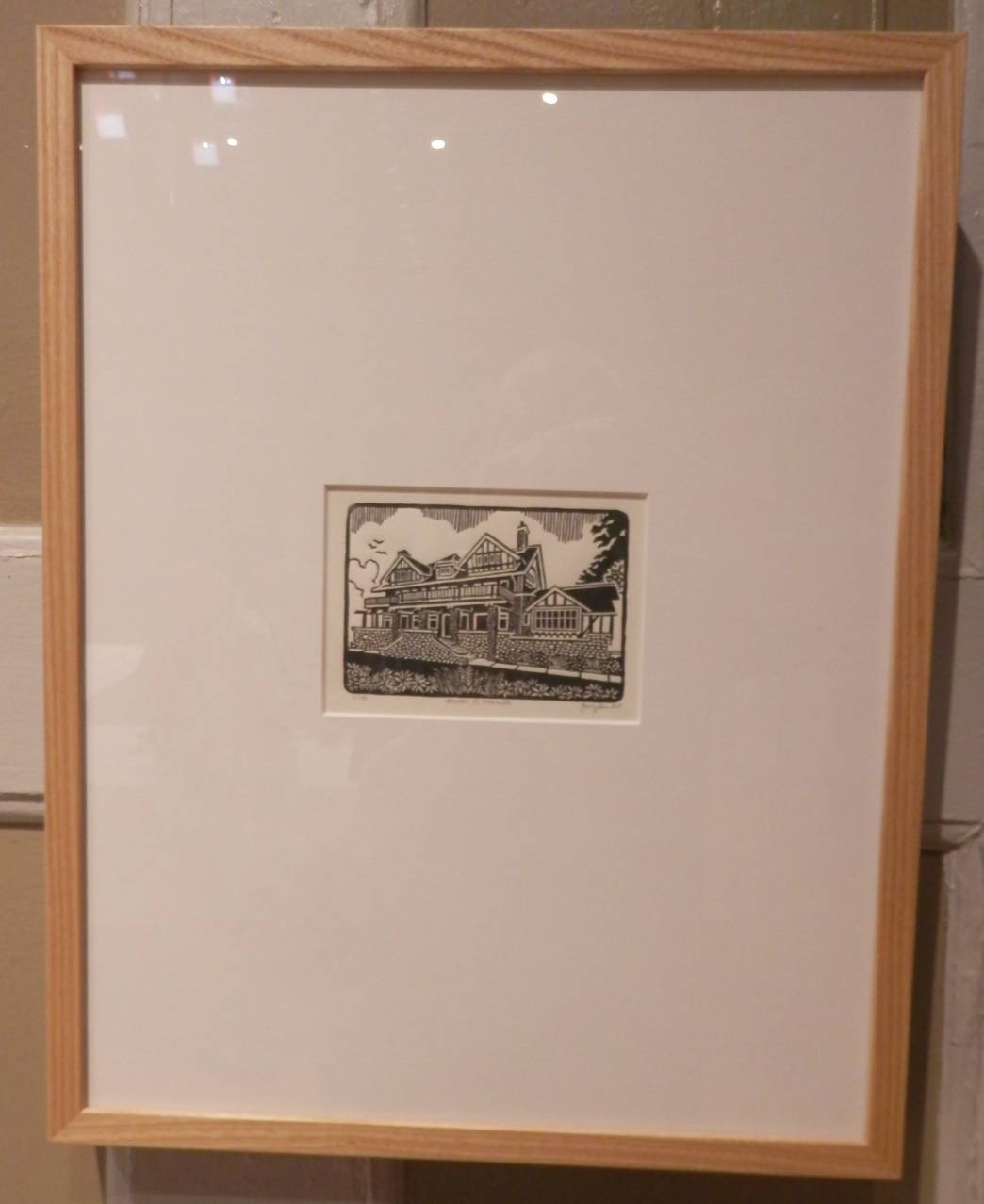 My print "Gallery in Summer" #1/100 is included in the exhibition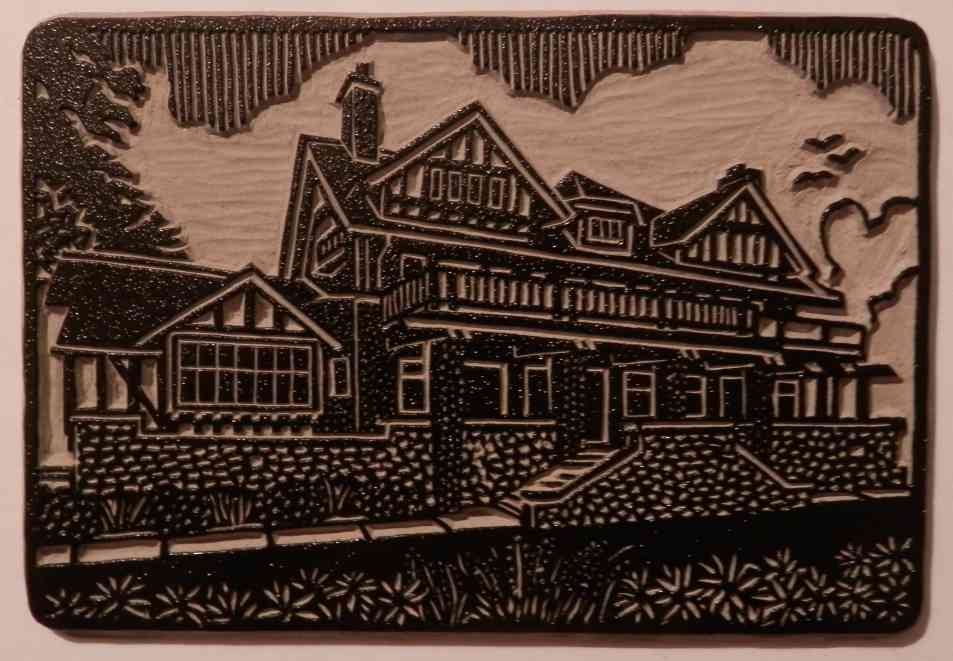 The linoleum block inked up for printing

A number of notable artists and others were spotted at the event, including artists Ross Bollerup, Arnold Shives, Avis Rasmussen, Torrie Groening, Pat Beaton, Susan Gransby, Joseph Therrien, and Irene McCutcheon; Darrin Martens (a former gallery director), Greer Attridge (Vancouver Art Gallery), Alan Bell (son of artist Alistair Bell), Gary Wyatt (Spirit Wrestler Gallery), and Ralph Stanton (formerly UBC Special Collections). No doubt there were many others there that I didn't know or get to meet.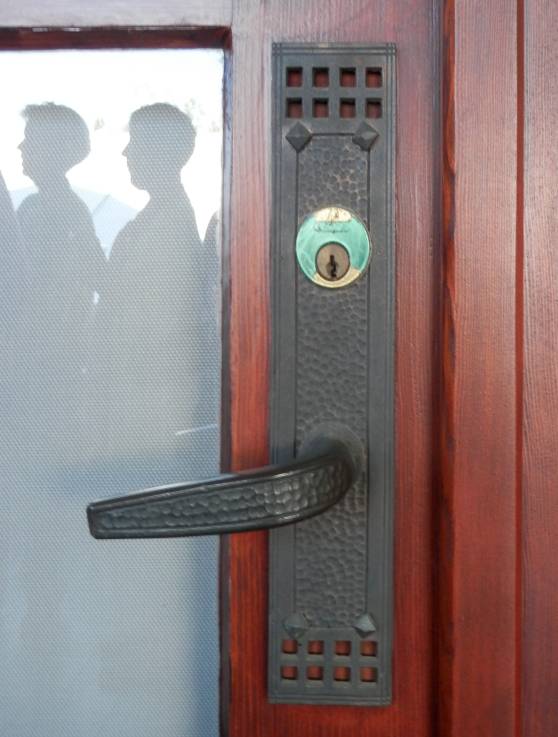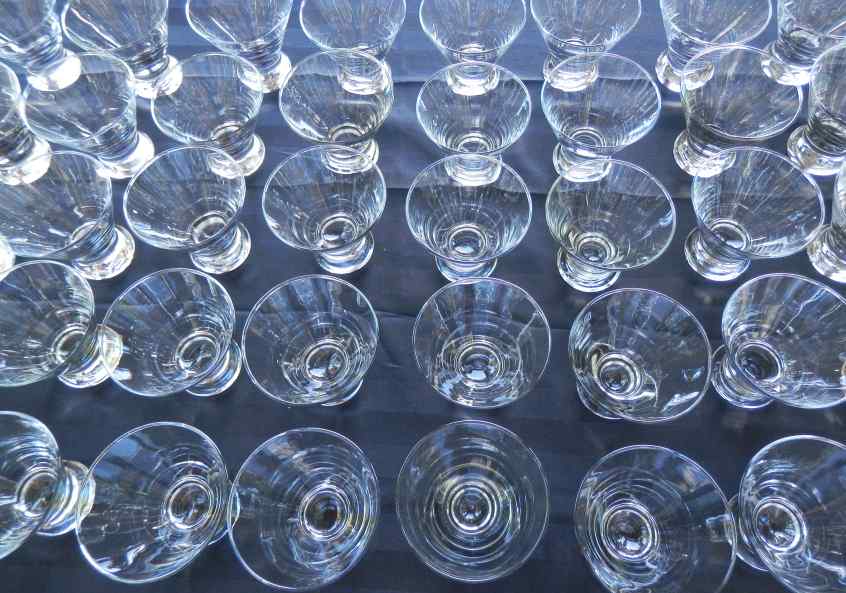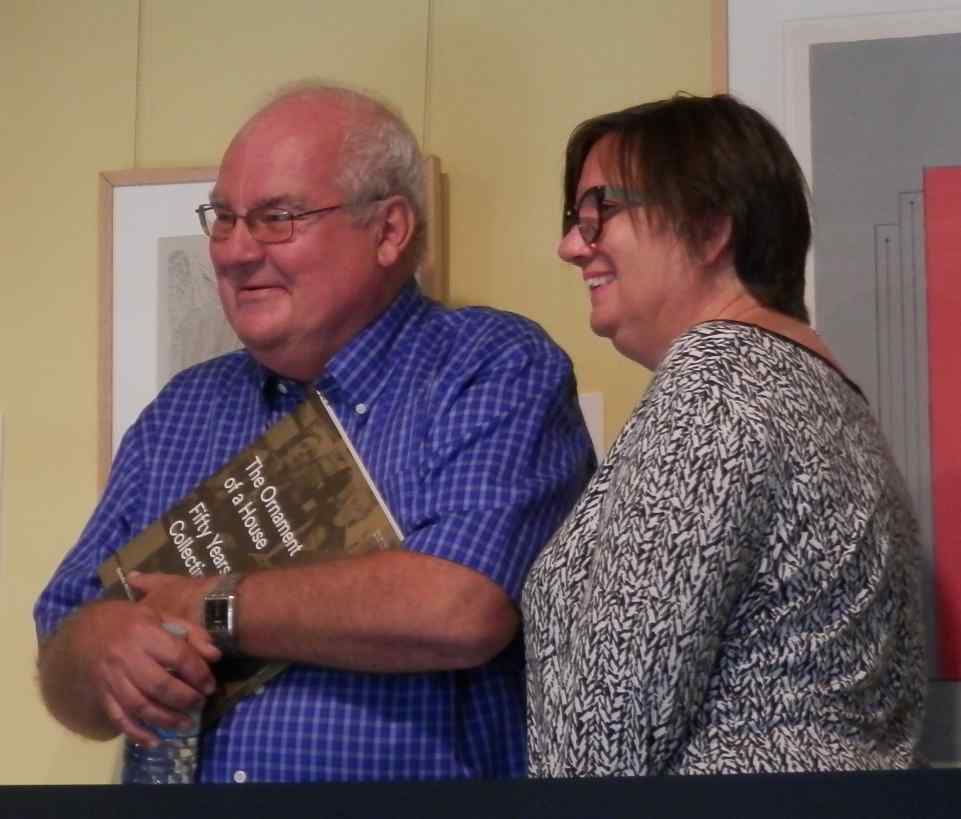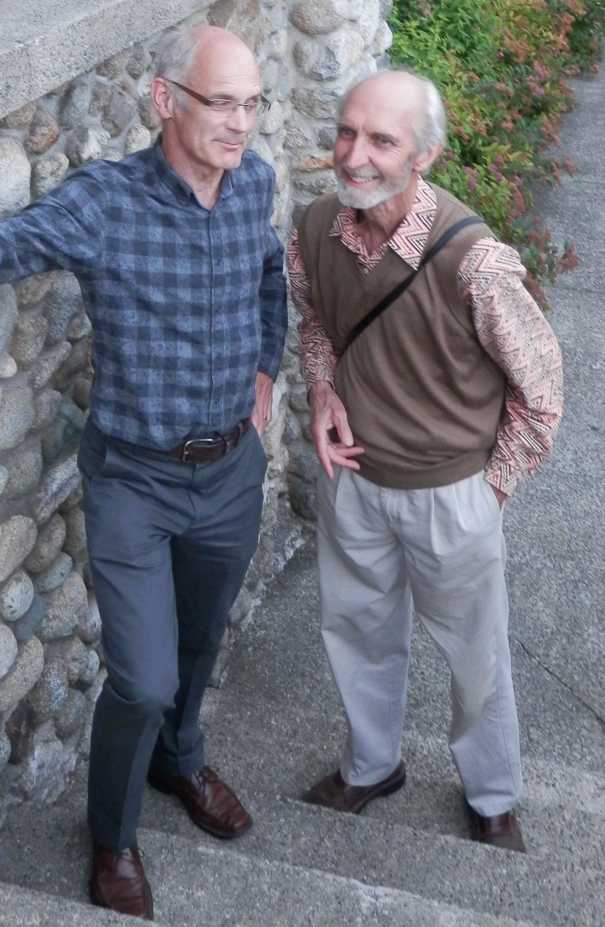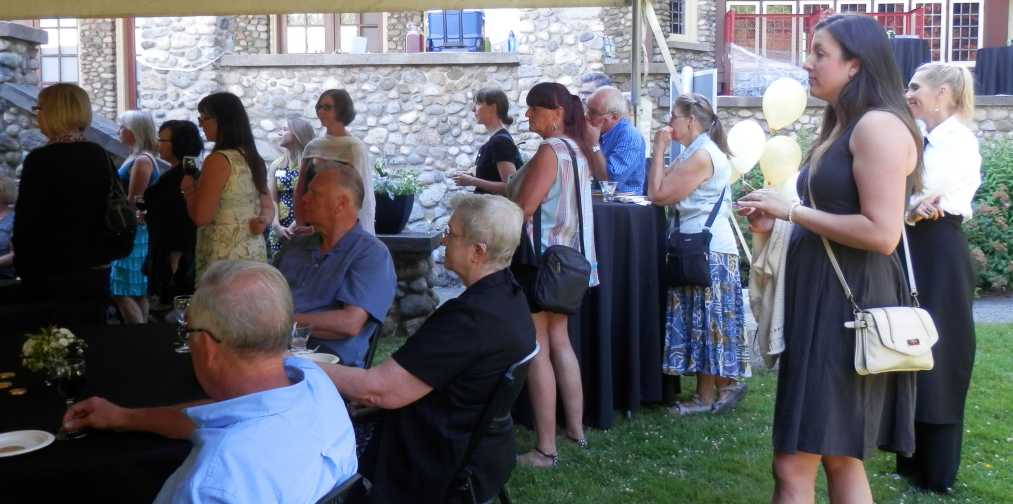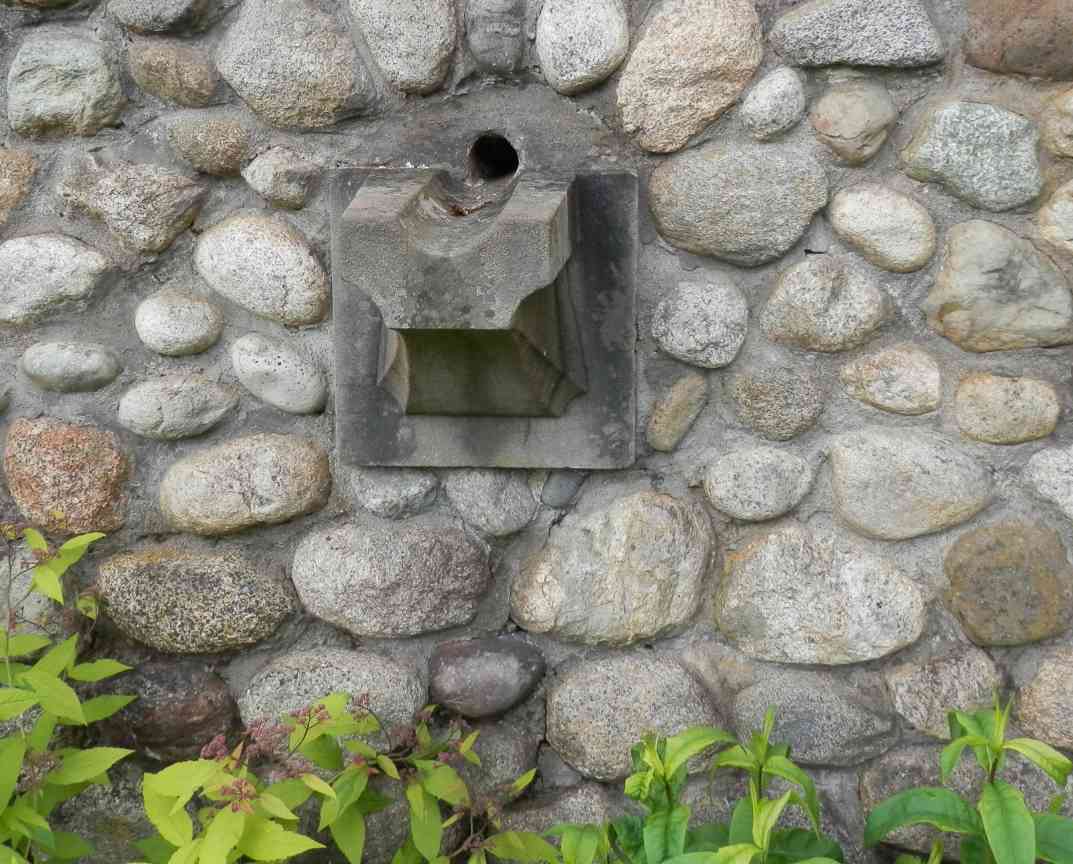 ---
July 8: BRITISH COLUMBIA ARTISTS UPDATED AGAIN
Sim Publishing's flagship project - BRITISH COLUMBIA ARTISTS - is being released in a new version this week. A significant amount of information has been added to the already massive collection of information in the digital project. The project now includes 2,600 web pages and 500 images, which together list and provide information on over 18,100 BC artists.
---
July 7: THE SUMMER BOOK REVIEWS ARE STARTING TO COME IN
Mona Fertig at Mother Tongue Pubishing emailed to say that some good reviews are starting to be published for The Summer Book, excerpts below:

"I was expecting The Summer Book to be light "summer reading," a kind of elegant grown-ups' version of those obligatory back-to-school stories about "what I did last summer." Instead, Mona Fertig has put together a masterpiece collection of finely crafted and evocative reminders of why summer is such a special season.
The charming artwork of Peter Haase, Briony Penn, and Gary Sim interspersed among the writing is also a valuable complement to it — though I would have liked to see the colours in Penn's glorious watercolours. It is a tribute to this fine book that either the stories or the images could have stood alone.
Placed together in this generous way, the stories, linocuts, and watercolours – all produced and edited with consummate care — are a precious monument to summer in Canada from some of B.C.'s finest writers.
This is a book for reading in the hammock in the summer and leaving on the bedside table when the winter rains return."
Howard Stewart, The Ormsby Review

"Separated by understated linocuts, watercolours, etchings, drawings and photos by Mona Fertig and contributors Gary Sim, Briony Penn and Peter Haas, in black and white, that contribute to the sense of scrapbook rather than artefact, the memoirs are more sketches than complete narratives. Together they form a collage, their edges touching and overlapping like waves on the beach."
Linda Rogers, Pacific Rim Review of Books
---
June 23: THE SUMMER BOOK LAUNCH AT SYLVIA HOTEL

It was a lovely sunny day at the Sylvia Hotel for the Vancouver launch of THE SUMMER BOOK. The rather small room was well attended by fans, writers, and their entourages, to the point where fresh air circulation became a bit of an issue. However, all went well otherwise, and Peter Haase opened the proceedings with a heart-felt rendition of Here Comes the Sun, which turned into a sing-along with the whole room.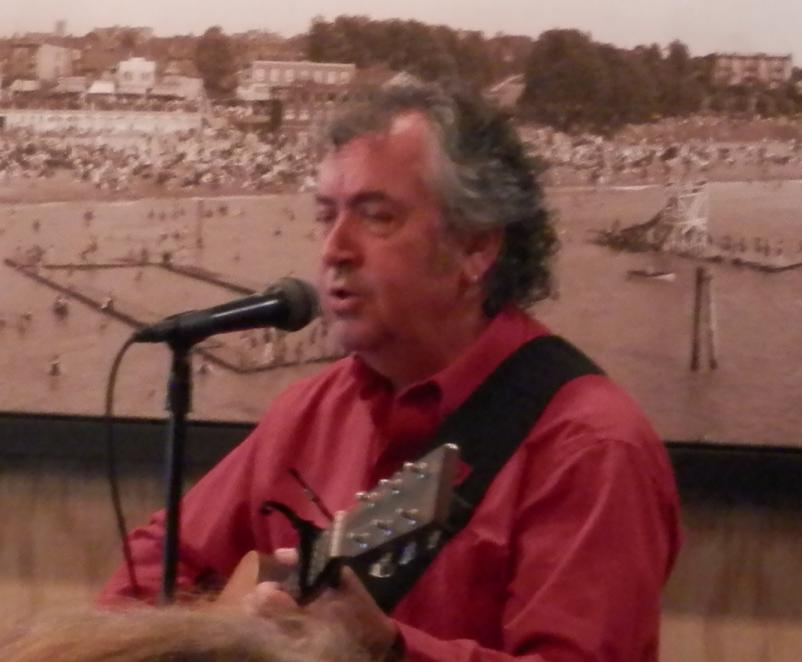 Peter Haase on guitar & vocals

After that, a number of writers read from their essays in the book, sometimes quite straight-forwardly reading the text, other times adding some additional colour commentary to the text. Following the reading there was a book-purchasing frenzy, after which folks "worked the room" looking for authors to sign a chapter. A few also nabbed me to sign as well, since there are 18 of my artworks reproduced in the book! A round of snacks and sandwiches was served, and room service was fairly prompt in providing cold drinks to sustain the activities.


Some notables, including Robert Reid, Peter Haase, Trevor Carolan, Grant Lawrence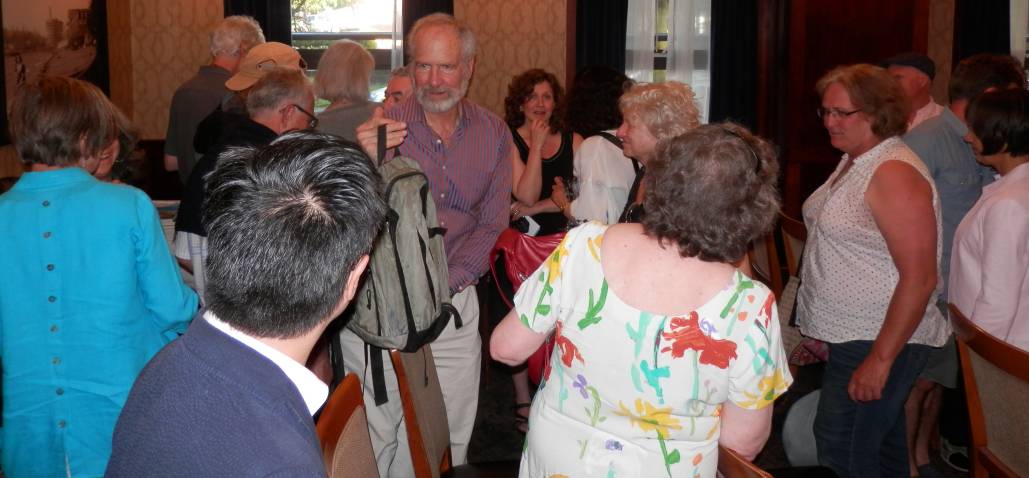 J.J. Lee, Michael Kluckner, Trevor Carolan (eyebrows only), the Cornwalls, Daniela Elza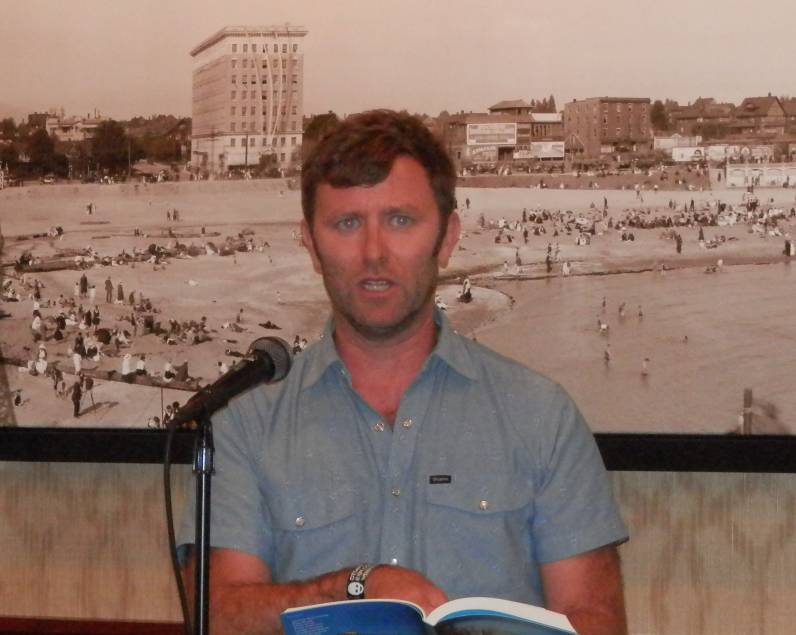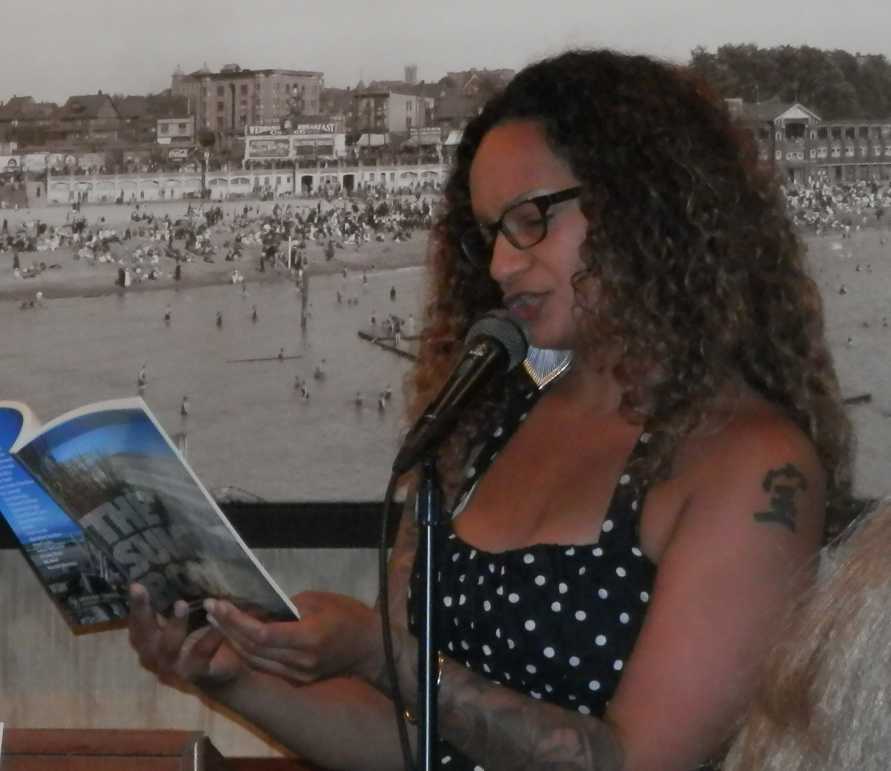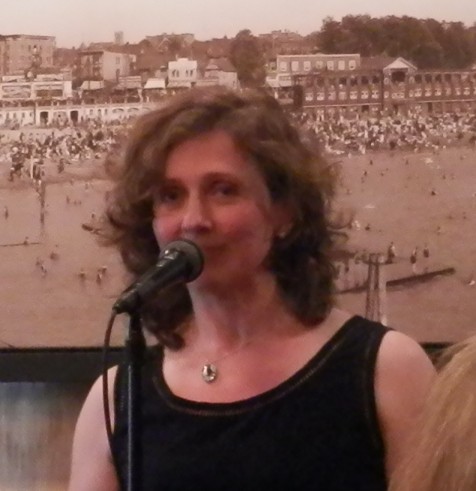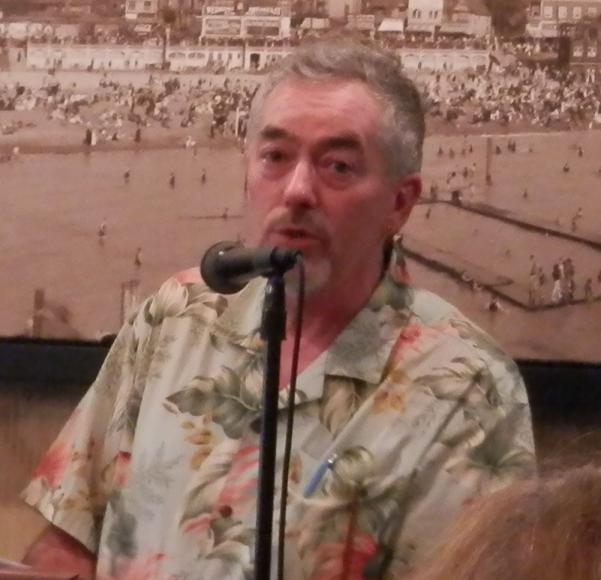 Readers included Grant Lawrence, Chelene Knight, Daniela Elza, Trevor Carolan
The room was only booked for a couple of hours, so a core group of folks packed up and headed to the lounge for further refreshments and tall tales. I ended up carrying 20 copies of the book home with me, for general distribution, gifts, marketing, the c.v., etc.
Please refer to Mother Tongue Publishing web site for additional information about the book, more forthcoming launches, reviews, and purchase locations.
---
June 19: BURNABY ART GALLERY TO CURATE SOLO SHOW AT McGILL LIBRARY
A couple of weeks ago, a Curator at the Burnaby Art Gallery proposed to put up a solo exhibition of my artwork at the McGill Library in Burnaby, one of the Gallery's outreach locations. They have previously shown my prints at the Prittie Library. The Curator confirmed today that I will have the exhibition from November 26 2017 to January 29 2018! That was great news, and only four months away. First thing is to provide them with an image for the promotional material, which is required by July 5. Then there's work to be done ... stay tuned ... !

The exhibition title will be SURFACE TENSION - Recent Work by Gary Sim.
---
June 15: GALLERY IN SUMMER COMMISSION COMPLETED
The edition of 100 prints was completed and delivered by hand, along with a colour test proof and the lino block itself. We met halfway at Juke Fried Chicken (very tasty) for lunch, then had a tour of the Ian Wallace exhibition at the Rennie Gallery. It was a rainy day, but all went well and we went our separate ways afterwards. Note that I am not showing any images of the actual print until after the Burnaby Art Gallery does.

I took the opportunity to take pictures of some older buildings in the area. The wood-frame building seen below is at the corner of Hastings and Columbia, and was considered some years ago as the second oldest wood-frame structure remaining in Vancouver. Perhaps by now it is number one. The entry stairs up to the second floor are on the right, screened by the tree.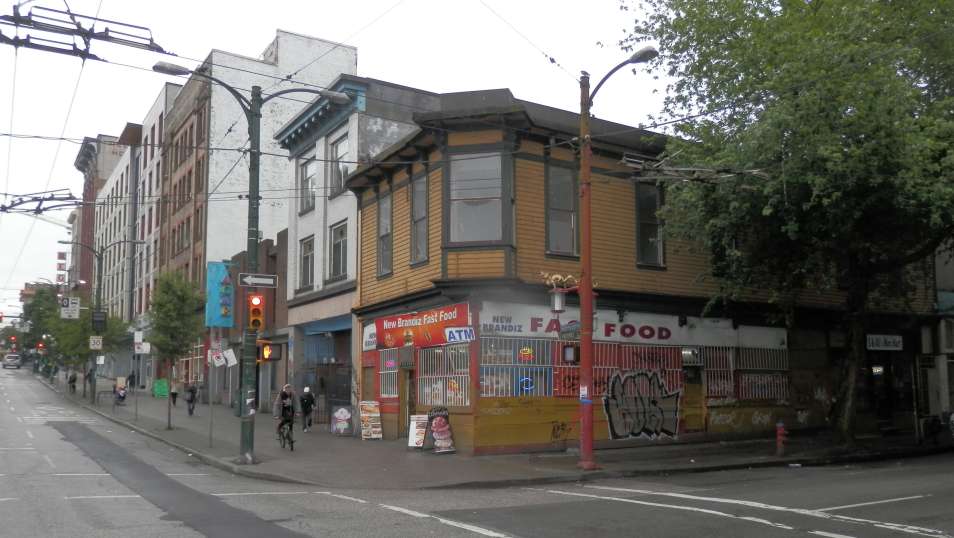 "New Brandiz Fast Food"
---
June 12: THE SUMMER BOOK ARRIVES IN TIME FOR SUMMER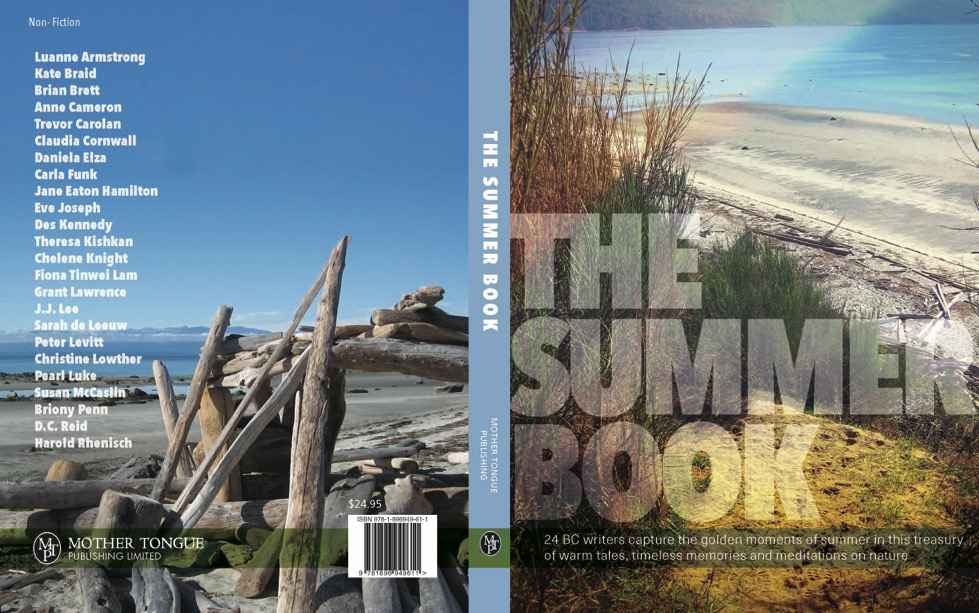 Front and back cover image for The Summer Book
I was very happy to get copies of this book in the mail, and eager to see how it turned out! The book looks great, the artwork reproduced really well, and the stories that I've read so far are quite interesting.
The Vancouver book launch is this Friday June 23 2017 at the Sylvia Hotel, Pendrell Room, from 4-6 p.m. Refer to MTP for more information.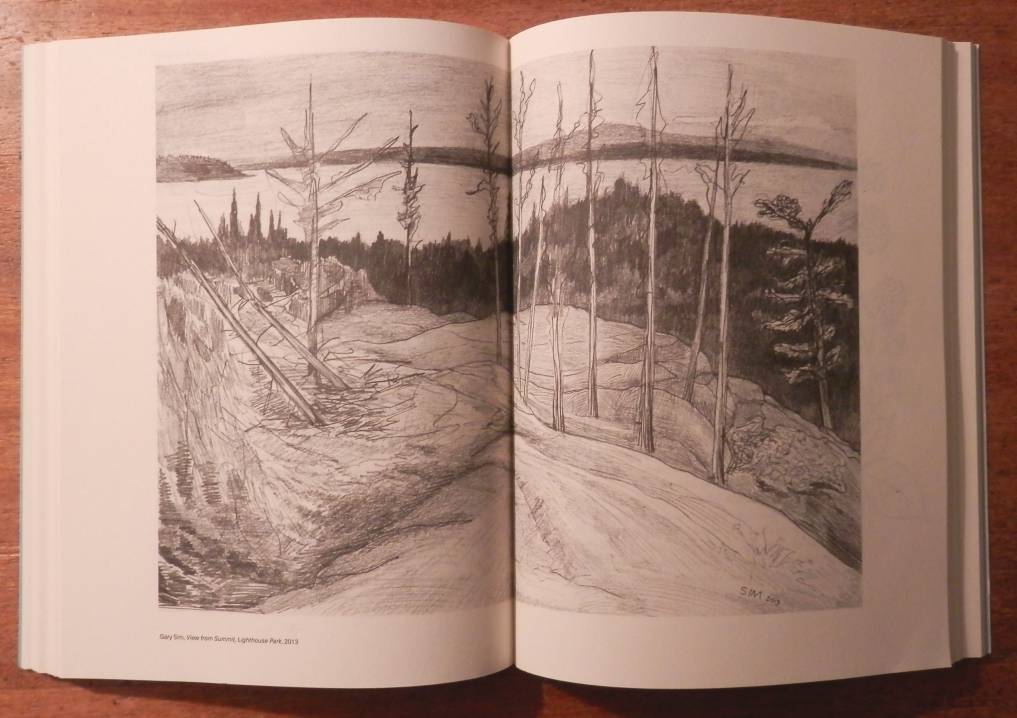 Pencil drawing "View from Summit, Lighthouse Park"
---
June 5: ALCUIN SOCIETY A.G.M. AT HYCROFT MANOR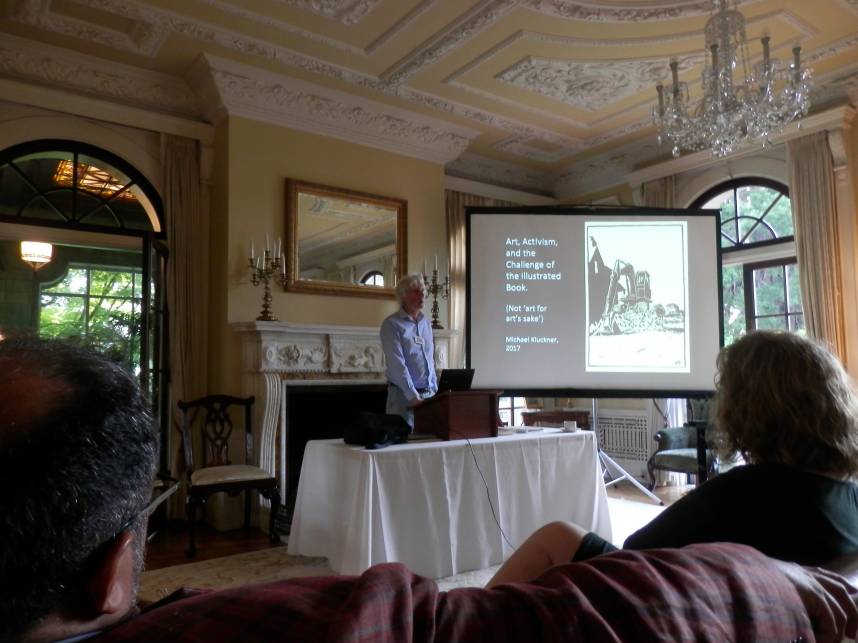 Michael Kluckner lecturing in front of the living room fireplace
The Alcuin Society, of which I am a Patron member, donor, exhibitor, print-making demonstrator, advertiser, and occasional author/illustrator in their journal Amphora, held their 2017 Annual General Meeting at Hycroft Manor, the lovely old mansion near Granville and 16th now owned by the University Women's Club.
It was a perfect evening, and the french doors to the patio were open to allow mingling inside and out. The obligatory functions of the Society were performed promptly, followed by a very interesting lecture by noted historian and artist Michael Kluckner titled "Art, Activism, and the Challenge of the Illustrated Book."
Having not yet received my copies of The Summer Book, I showed around my new print Between Tides and the Burnaby print in progress. Two visitors from Portland, Oregon, Ann and Andre Chaves, presented all attendees with beautifully printed multi-colour letterpress broadsides titled "Hope and Memory" and "The Many Side of William Morris - The Poet" printed at their Clinker Press for the occasion.
---
May 12: New limited edition print BETWEEN TIDES
This little print (4" x 6") was designed and cut as a warmup exercise for the Burnaby Art Gallery commission. As well, it was done to test an oil-based ink made in Wales that I hadn't used before, on a new block of linoleum, to see how the ink handled and printed. The results were excellent. The ink, Cranfield Caligo Safe Wash Relief ink (this one printed with furnace carbon black) is formulated so that it can easily be cleaned up with soap and water, but dries waterproof, which makes it ideal for my purposes.
The tugboat is the Seaspan Raven, seen loitering in English Bay offshore from Stanley Park, waiting for the next bit of work to do.
---
April 22: THE ADVENTURES OF NOMAN - CONTINUED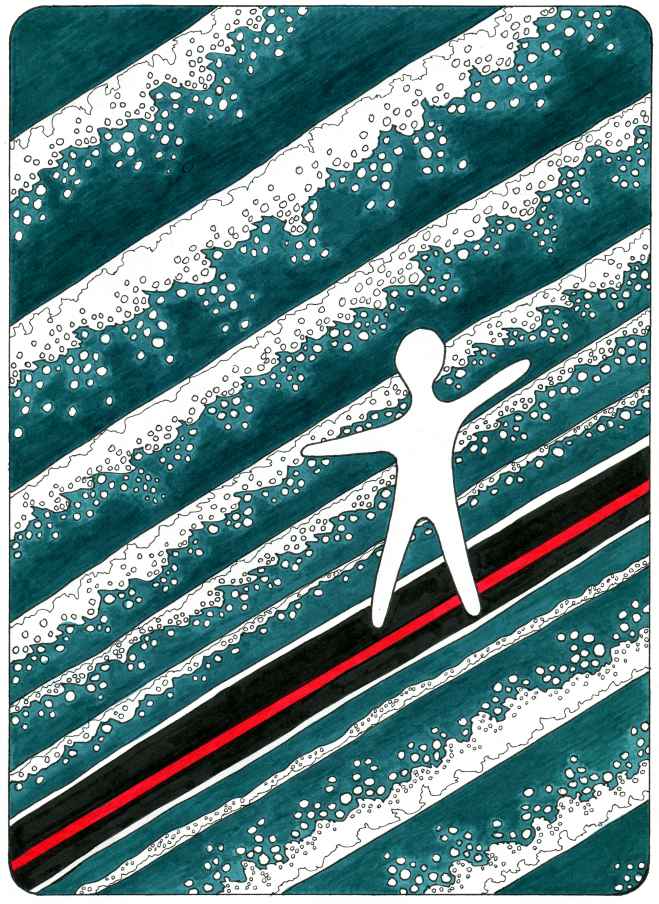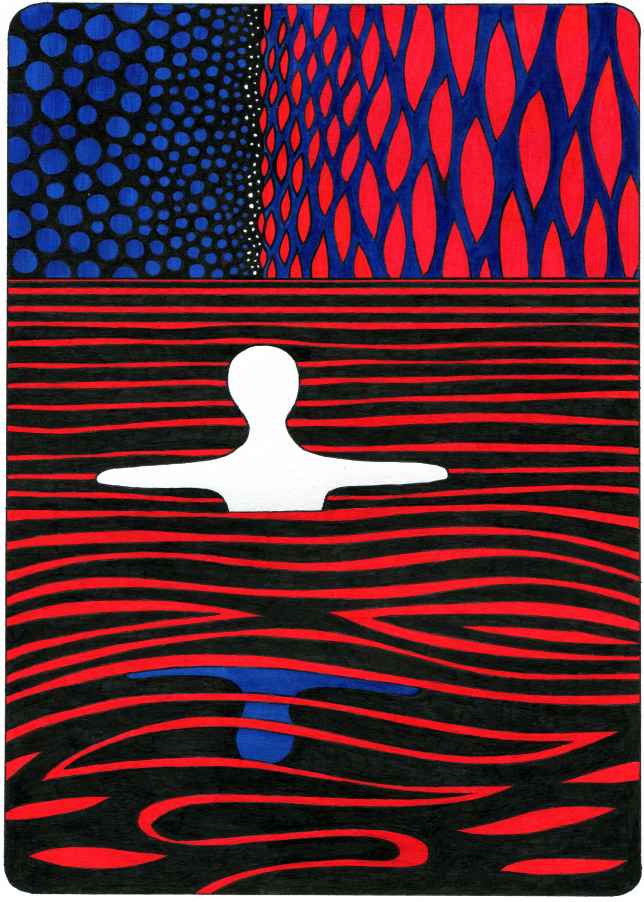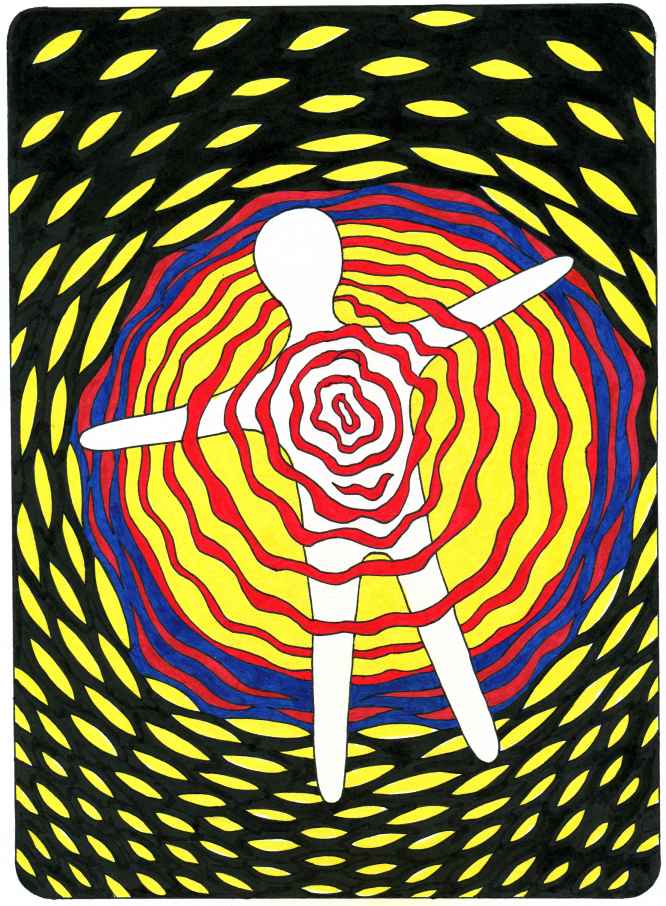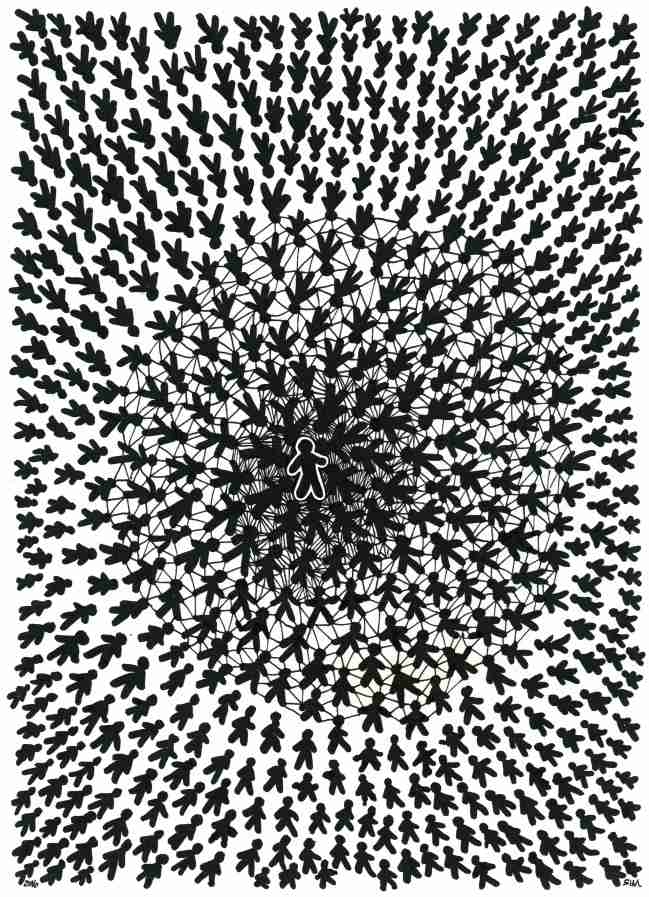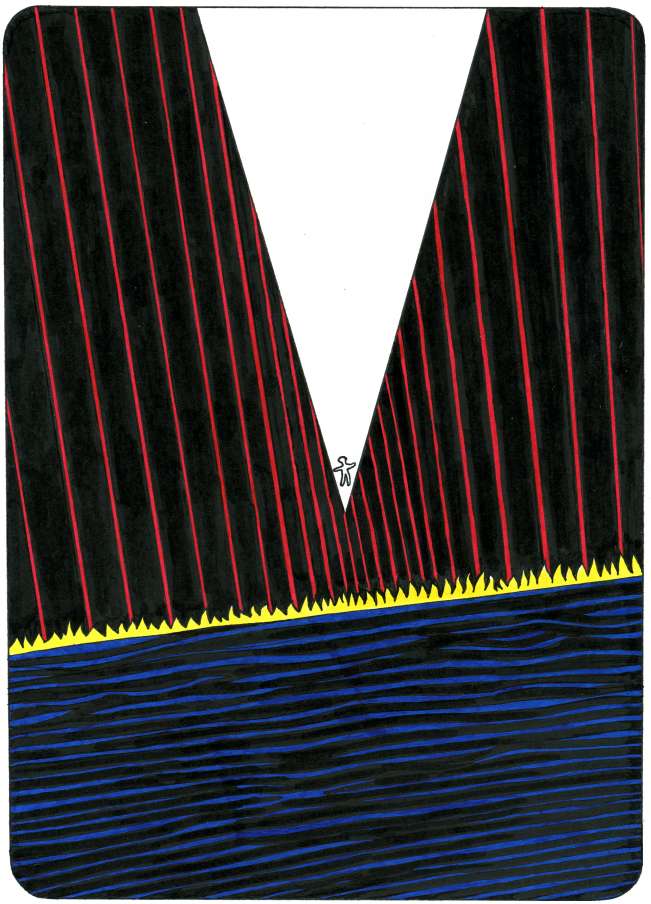 Red Rift / Baptism / Universolman
NomanamoN / Inclination
This has become the longest-running series of artworks done about a single theme and in a single format. More than thirty have been completed, and a number more are in various stages of completion ranging from the initial pencil scribbled-idea up to well-advanced pen & ink work.
Refer also to The Adventures of Noman series and Drawings for additional images.
---
April 18: UNEXPECTED TRIP TO THE YUKON


A DC-3 at the Whitehorse Airport (swings in the wind)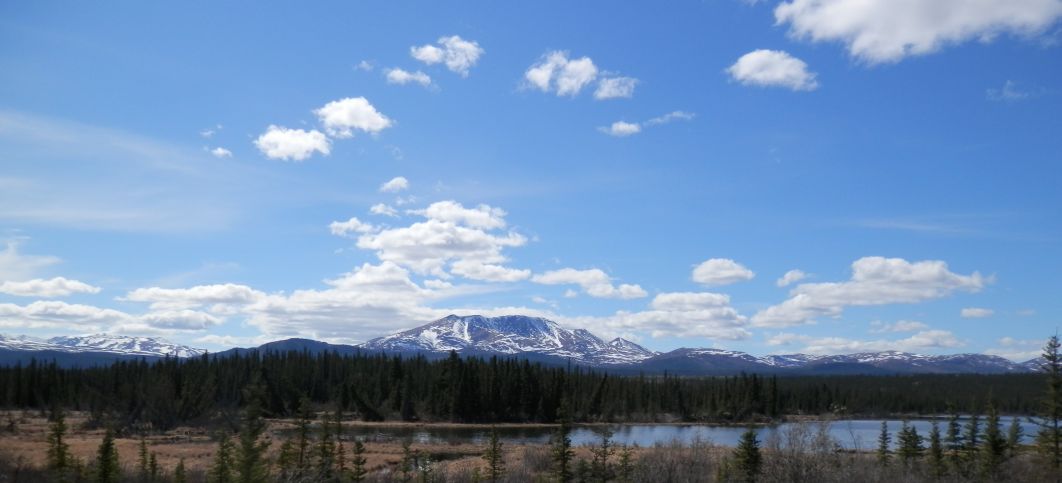 Driving north from Whitehorse to Carmacks
As is often the case, I was asked at work on Tuesday this week how soon I could get up to the Yukon to do a condition assessment of the Faro Air Terminal Building. Faro is about a 250 mile drive from Whitehorse, which is a 2-1/2 hour flight from Vancouver. I flew up on Thursday and drove to Faro, did the review Friday morning, then drove back to Whitehorse and took the return flight. 3,000 miles in 2 days. It was an interesting trip, but I was sick with a bad cold, so mainly suffered through it as best I could.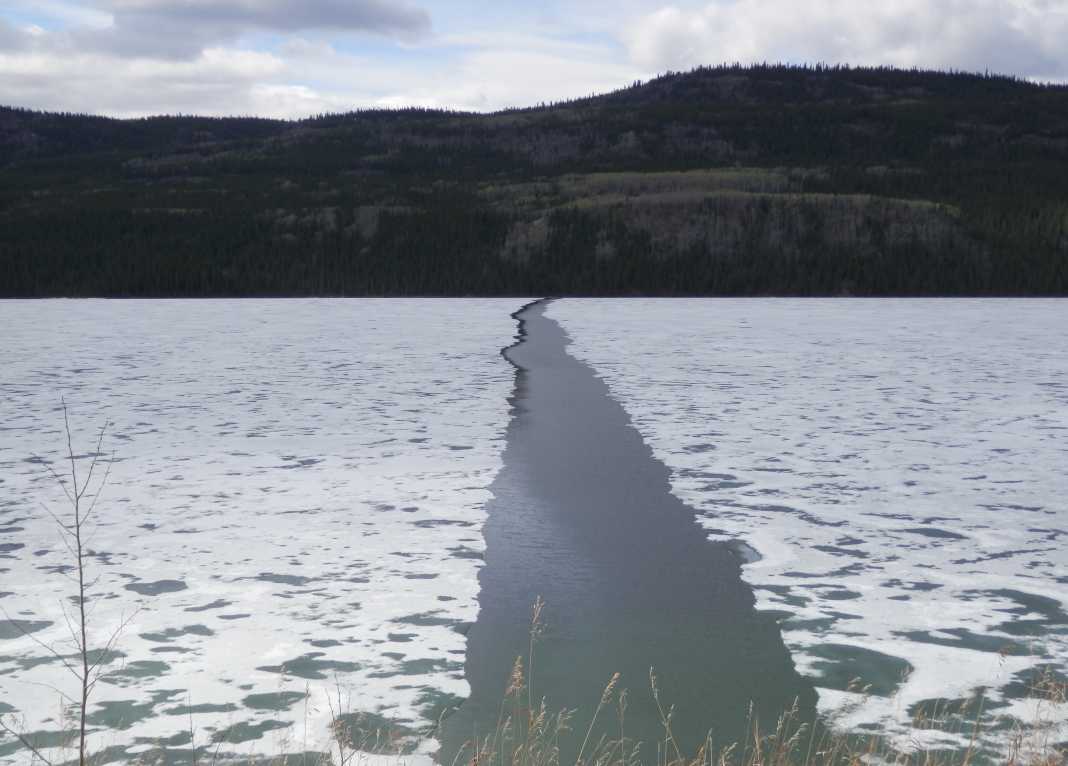 Spring breakup in progress on the lakes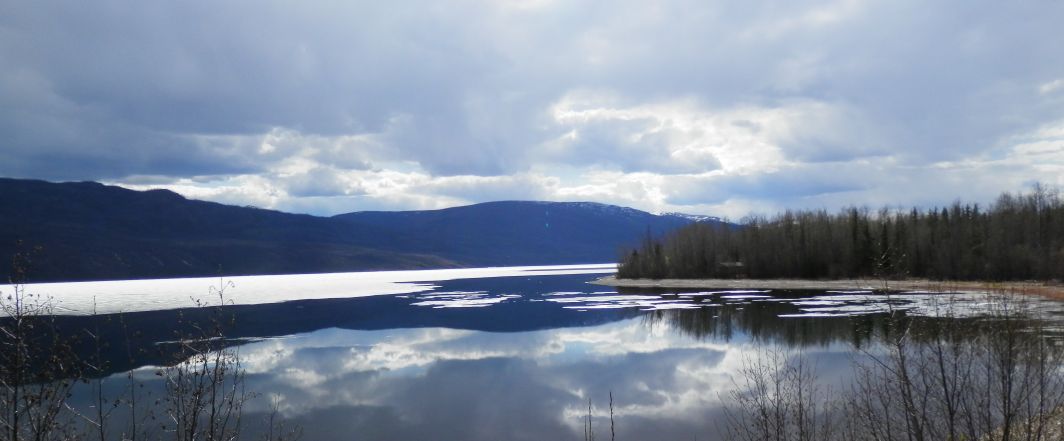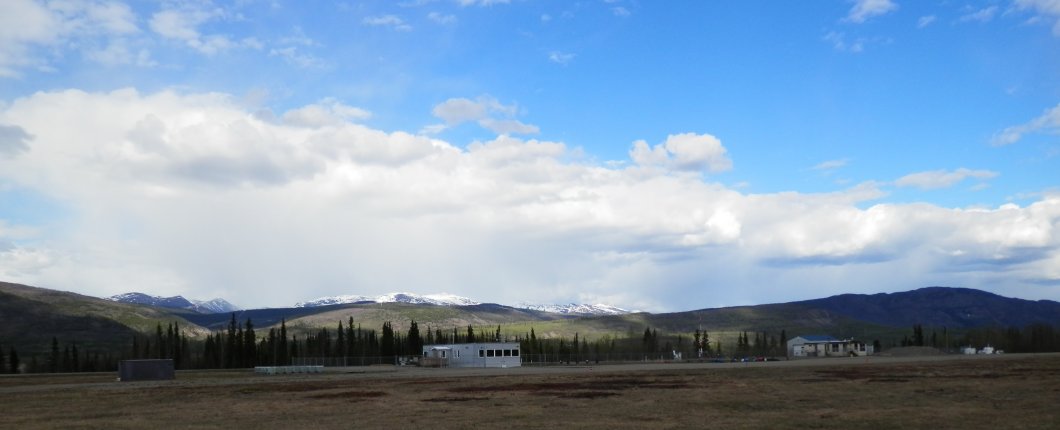 Faro airport looking north
---
March 16: BURNABY ART GALLERY COMMISSIONS RELIEF PRINT
The Director of the Burnaby Art Gallery has commissioned a limited edition relief print for their Fiftieth Anniversary celebrations this summer. It will be a view of the gallery from its front lawn in summer, and will pair with the print commissioned by the Gallery in 2007 (Gallery in Winter).

The edition of 100 is intended to be gifted to supporters and friends of the Gallery, along with copies of the book that is being published to accompany the celebrations. As noted in early news items, I have a short article on Jack Wise in that book, along with a shorter biography of myself.
---
March 14: MOTHER TONGUE TO PUBLISH SIM ARTWORK
Mona Fertig, Mother Tongue Publishing, asked me if she could use a number of my drawings and prints as illustrations in her pending book titled The Summer Book which is to be "launched" in June this year. Of course I said "yes" and was given a list of fourteen images to provide. Another four were requested as the book design was finalized. Each image has a full page to itself, which is great, and a number are being displayed as two-page spreads.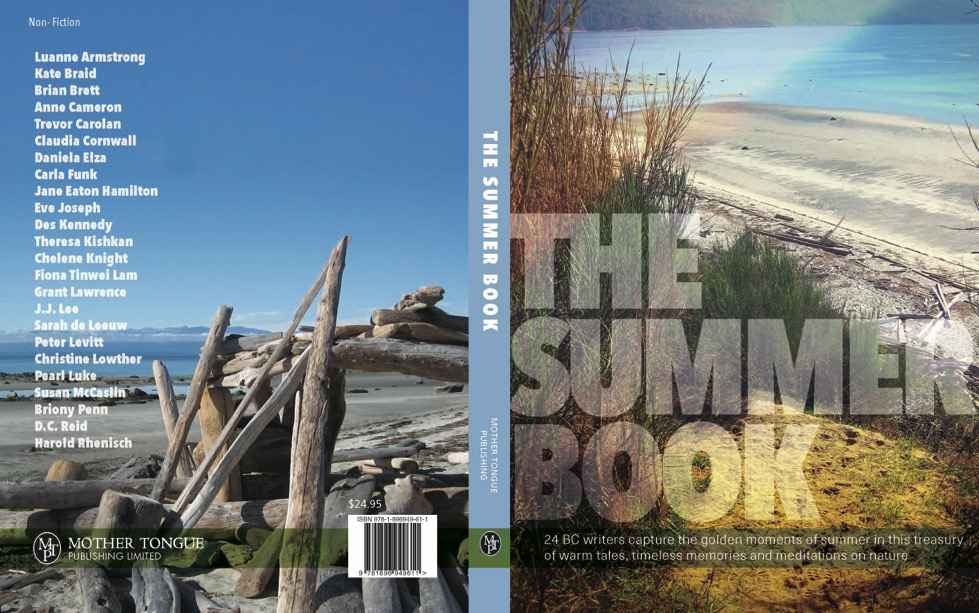 Front and back cover image for The Summer Book
Mona has selected an all-star cast of BC writers for the book, and after reviewing a proof copy of the book I have to say it is going to be a very nice and well-received publication. For more information please see EVENTS page, and MTP website at MTP.
---
March 2: TROLLEYS IN THE SNOW
The snow came and went for weeks and weeks this year. Every time it seemed like it was gone, another storm came down from the north and gave us another slippery gooey basting of slimy wet snow. The trolley busses came to a grinding halt for some reason, and sights like this were apparently common all over town. On a day when folks were deciding not to drive, the transit system failed. The skytrain also had difficulties.


Vancouver trolley-busses stuck in the snow on Robson St.
---
Feb. 23: SIM LECTURE AT MUSEUM OF VANCOUVER


Detail, "Vancouver C.P.R." Waitt's VIEWS BRITISH COLUMBIA & ALASKA
Refer to EARLY ART & ARTISTS IN VANCOUVER page.
Composite video and powerpoint presentation compiled by Elwin Xie.
---
Feb. 22: BC ARTISTS UPDATE ISSUED
Works continues on the ditigal bibliographic research project BRITISH COLUMBIA ARTISTS. Recent updates have been published as Release 1.7.2. A large amount of information on early artists was added as a result of research done for the Vancouver History Society lecture (see above).

A review of BC Directories (DIR) from 1886 to 1935 resulted in the addition of almost 100 artists not previously listed, expanding the DIR listing from 3 pages to 15 pages (so far, with 1919 to 1931 still to be input). A page by page review was completed for the seven volumes of Macdonald's Dictionary of Canadian Artists, with 480 BC artists noted of whom over 100 were new to BC ARTISTS. A review of Evelyn McMann's Biographical Index of Canadian Artists is underway.

Ongoing on-line searches at the Royal BC Museum & Archives vital statistics web page continue to provide additional information on artists. In particular, although the DEATH certificates are somewhat unhappy to read, they contain an excellent amount of information about the person, their life and family, that is otherwise almost impossible to find so easily.
---
Feb. 10: EMPIRE LANDMARK - FOR THE RECORD: No. 1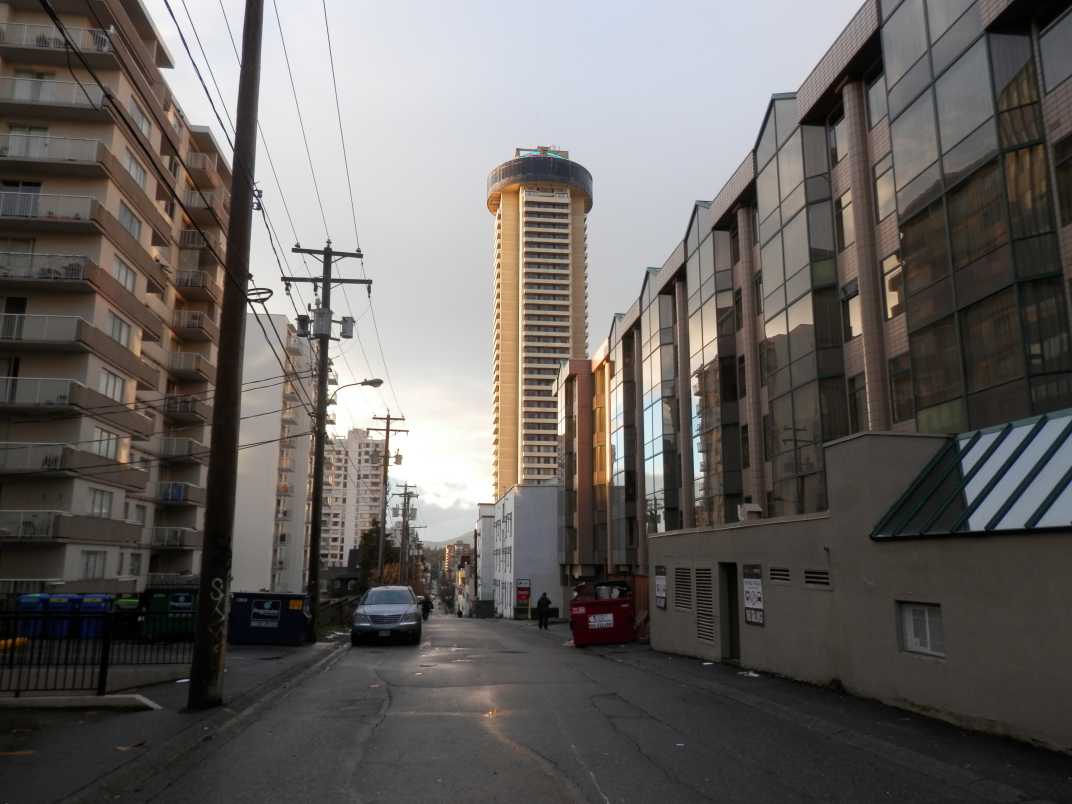 Empire Landmark seen from lane at 1300 Robson St., Feb. 10 2017
Given that the redevelopment signs have gone up around the now-named Empire Landmark (formerly the Sheraton Landmark) Hotel, it's only a matter of time before it gets knocked down. After all, it seems like those signs are just a formality, everything is already figured out.
In the meantime, I thought it would be fun to take some pictures of this long-time iconic and slender tower while it is still here. After the Sheraton hotel chain sold it to asian interests, a huge display of neon lighting was installed on top of the revolving restaurant, resulting in numerous complaints to city hall from residents of the West End. The lighting was modified but not removed, despite not having been done with a permit in the first place. Money keeps talking around town.
The tower will be replaced with two lower towers, each with larger floor plates, as the hotel's floor size is too small to be practical any more.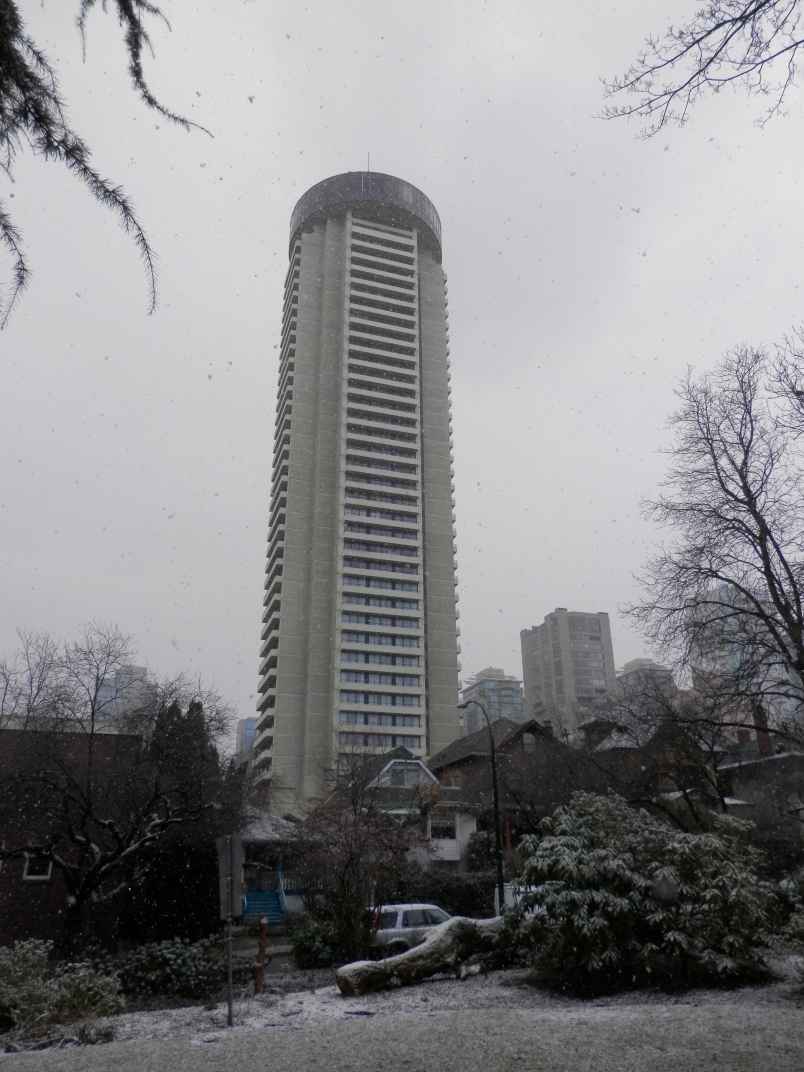 Empire Landmark seen from Barclay Park on Haro St., Feb. 28 2017
A view of the hotel from Barclay Park, 1400 Haro St., with a light powder snow falling. The tree trunk visible at lower right is what remains of a large weeping willow tree that just fell over by itself one night a few months ago.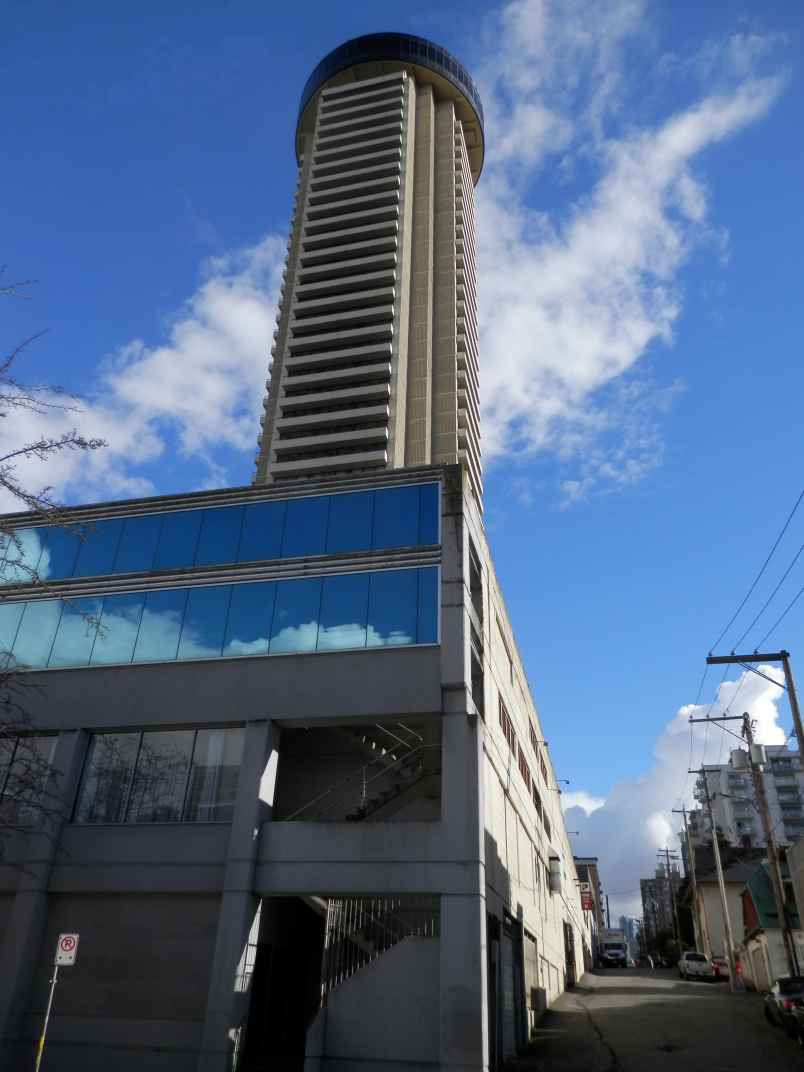 Empire Landmark seen from Nicola St., Feb. 22 2017
---
Home
Copyright 2017