SIM PUBLISHING
Home Publications Artwork News Links About
---
NEWS ARCHIVE - 2018
2019 - 2017 - 2016 - 2015 - 2014 - 2013 - 2012 - 2011 - 2010 - 2009 - 2008 - 2007 - 2006 - 2005 - 2004
---
All text, photography and artwork is by GARY SIM unless noted otherwise.
---
OCT. 6: UPDATE TO BC ARTISTS ISSUED


A 1919 advertisement in School Days magazine.

Sim Publishing is pleased to announce a new release of BC ARTISTS, the massive digital finding aid to more than 18,000 visual artists of British Columbia. More than 20 years of continuous research and work has gone into this project, which now consists of the following:
2,867 web pages
604 images
1,567 artist mini-biographies
18,846 artists listed in A to Z artist index
800 exhibitions listed
145 exhibition catalogues transcribed
10,000 individual artwork names, medium, prices
837 artist monographs listed
130 articles and reviews listed and transcribed
240 art-related groups and organizations listed
15 occasional papers on art-related subjects

The information has been gleaned from thousands of publications, documents, and photographs dating back to more than 125 years ago. A huge range of material has been researched for this project, including exhibition catalogues, personal correspondence, post cards, school annuals, historical newspapers, magazines, and journals, City and Provincial Directories, immigration records, vital statistics for births, deaths and marriages, and archive fonds for groups such as the B.C. Society of Fine Arts and the Vancouver Art Association.

Almost all of the published compilations on artists in Canada have been cross-referenced into BC artists, including the following:
MacDonald: Dictionary of Canadian Artists (8 volumes) (714 BC artists)
McMann: Royal Canadian Academy of Arts – Exhibitions & Members 1880 - 1979 (334 BC artists)
McMann: Biographical Index to Artists in Canada (1,144 BC artists)
National Gallery of Canada: Artists in Canada 1982 (2,273 BC artists)
BC Government: Visual Artists of BC 1977 (2,200 BC artists)
Art Gallery of Greater Victoria: BC Women Artists (750 BC artists)
Vancouver Public Library: BC artist clippings files (1,350 BC artists)

These references, and hundreds more, provide an encyclopaedic body of information for research into the history of visual artists of British Columbia. The project is of use to students, researchers, writers, historians, curators, gallery owners, collectors, auctioneers, appraisers, and to everyone interested in the history of BC.


A 1920 drawing by S.P. Judge in School Days magazine.
---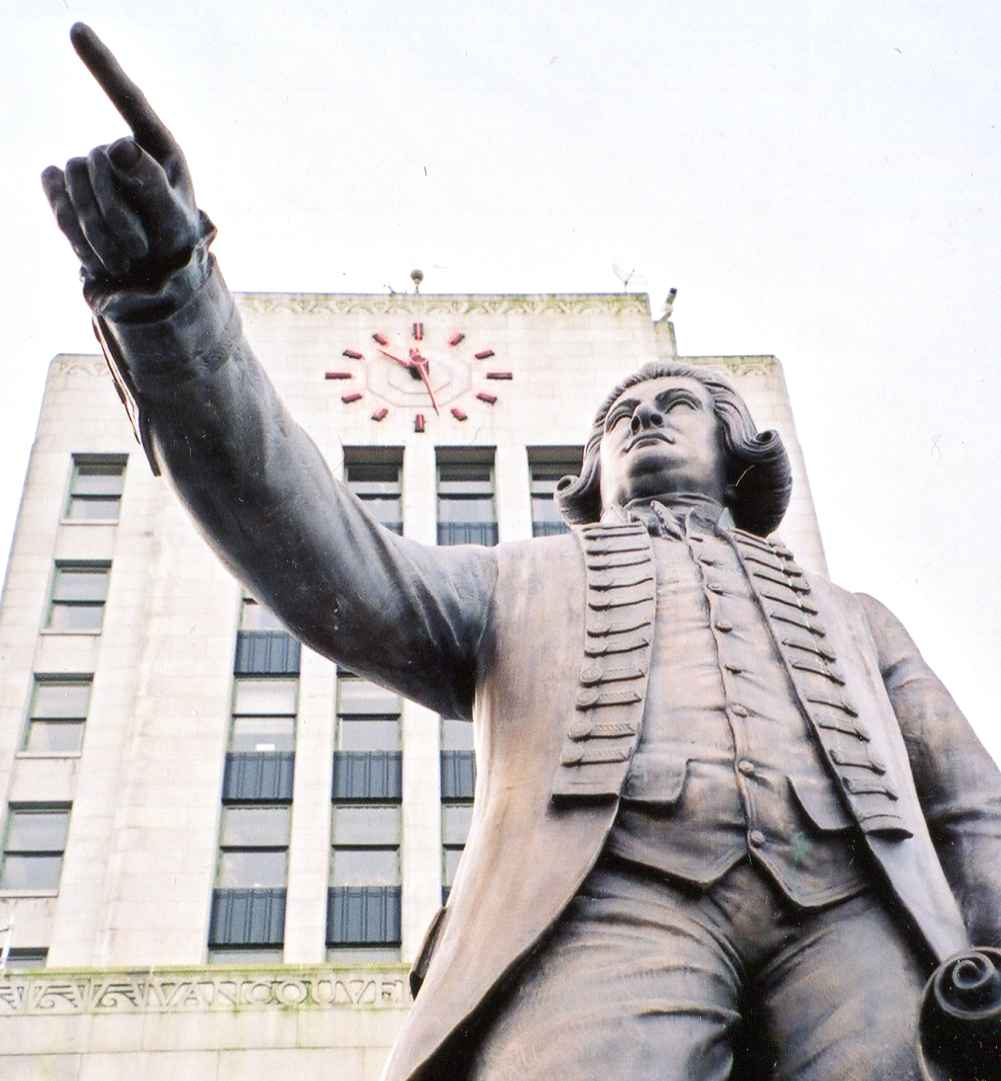 Statue of Capt. Vancouver at Vancouver City Hall by Carlos Sergison Marega
---
SEPT. 30: TWO VIEWS OF "LEASESTRASSE"


A couple of collages put together from photos taken recently in a 2-block stretch of Robson Street, showing some of the large number of empty storefronts for lease. You have to think something is wrong with the business model here ... since most of them are 2-storey buildings, it's fair to say that they will be demolished soon and some higher crap constructed with more empty storefronts. There were a lot more vacant storefronts that are not included in these pix.
---
SEPT. 22: END OF SUMMER UPDATE
Yes, the Daily Grind Cafe did close at the end of July, it was a sad day for Jin & Kim as well as myself, and lots of locals who patronized the cafe. The developers strike again. Soon to be a big hole in the ground after they noisily smash it flat and haul it away. That's the story of the whole neighbourhood these days. The Landmark is being very noisily demolished, and will be for months to come (six days a week, thanks), and the otherwise perfectly functional hotel across the road from it was smashed flat in a couple of weeks.

A fully functioning hotel last November ....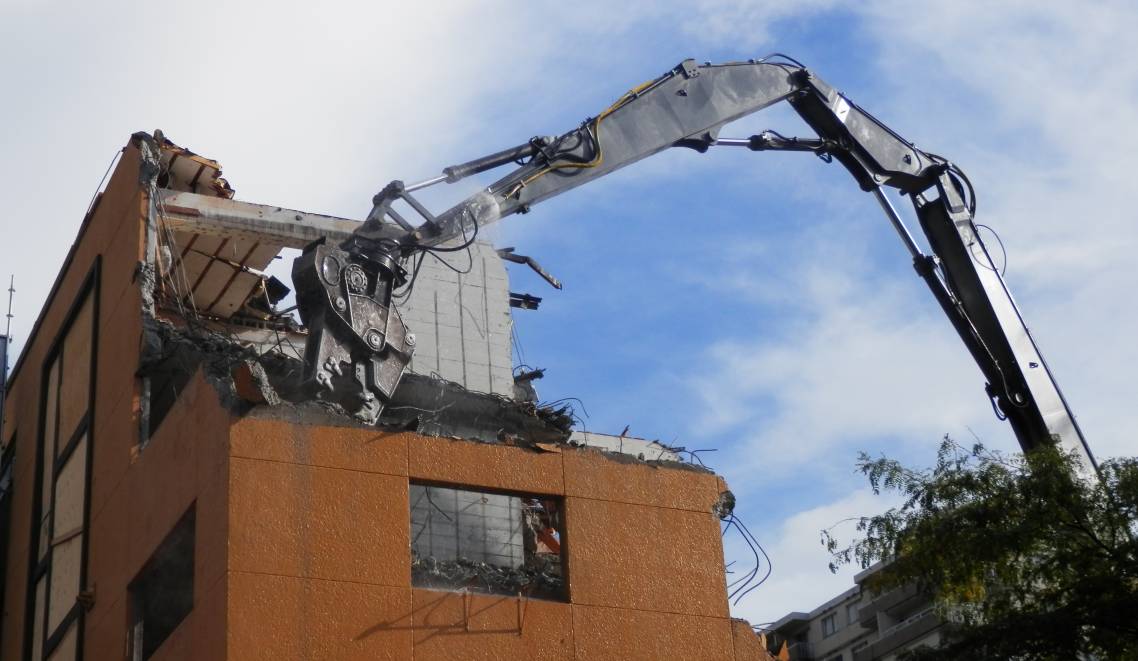 This thing is very good at crunching concrete.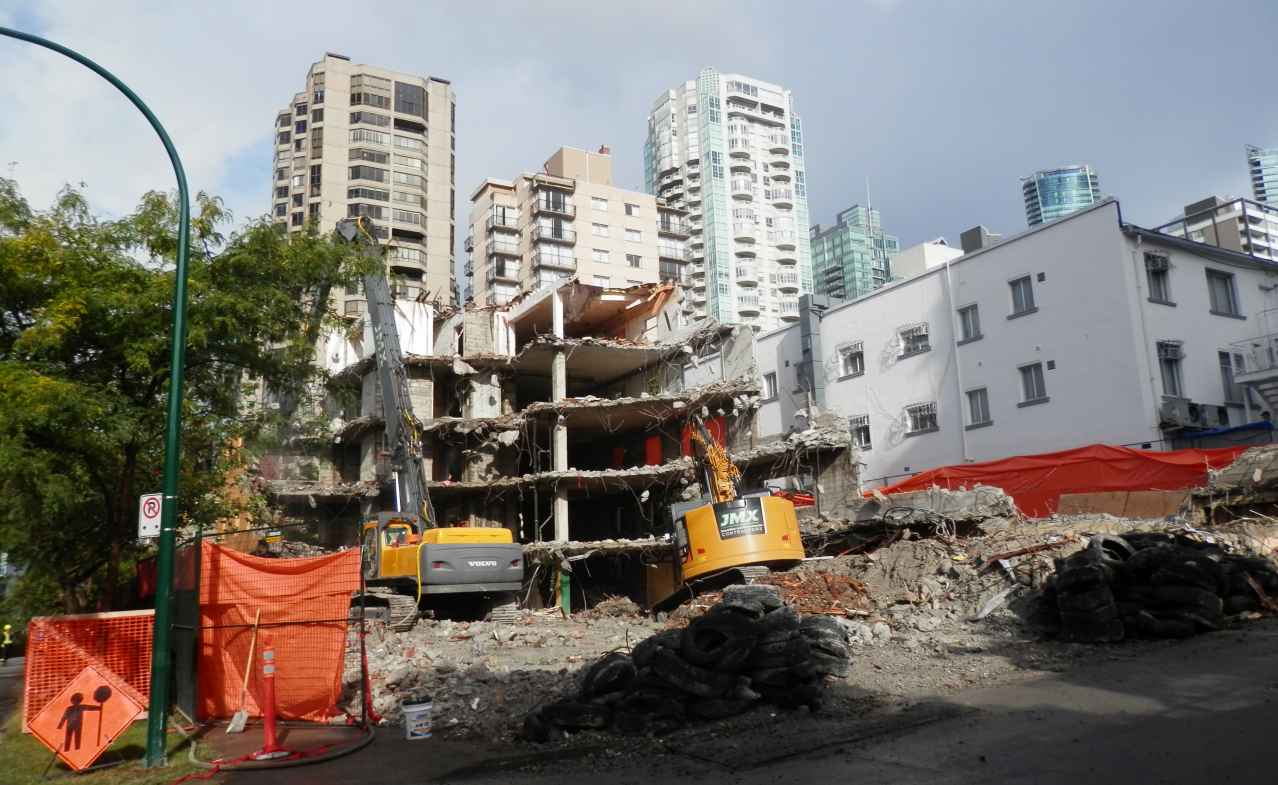 Guess which building is going to be smashed down next? ALL OF THEM!!!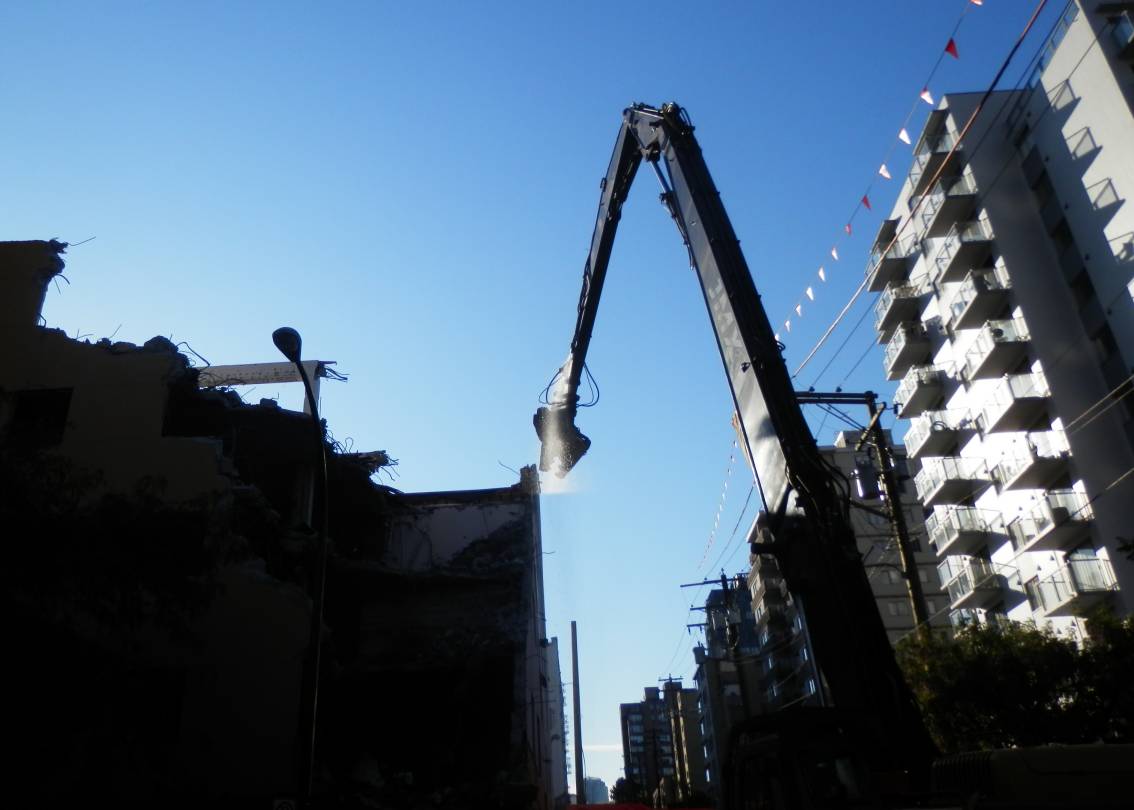 There goes the peace and quiet for hundreds of residents, from 7:30 a.m. to 8:00 p.m., six days a week.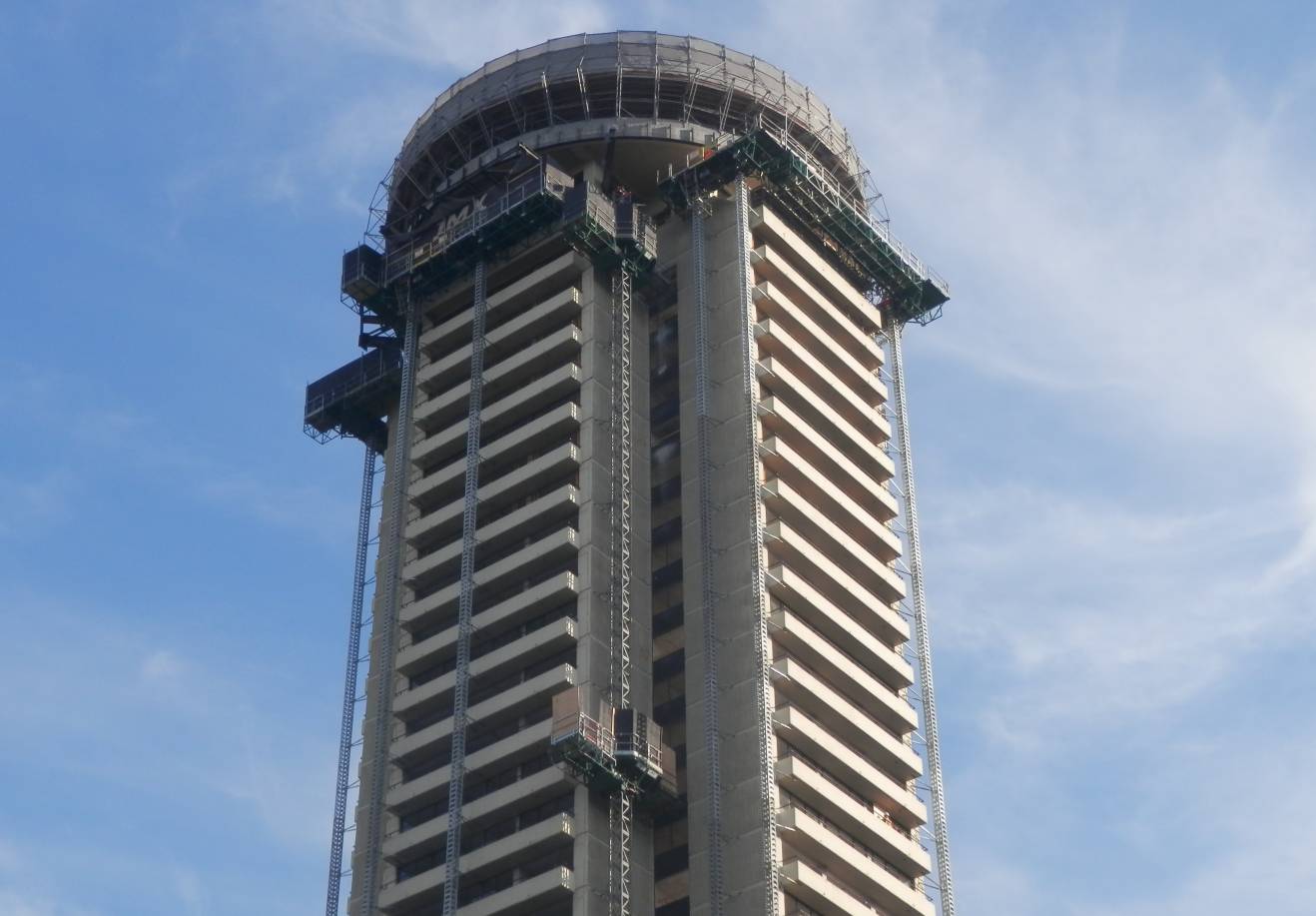 Meanwhile across the street, the insects eat ...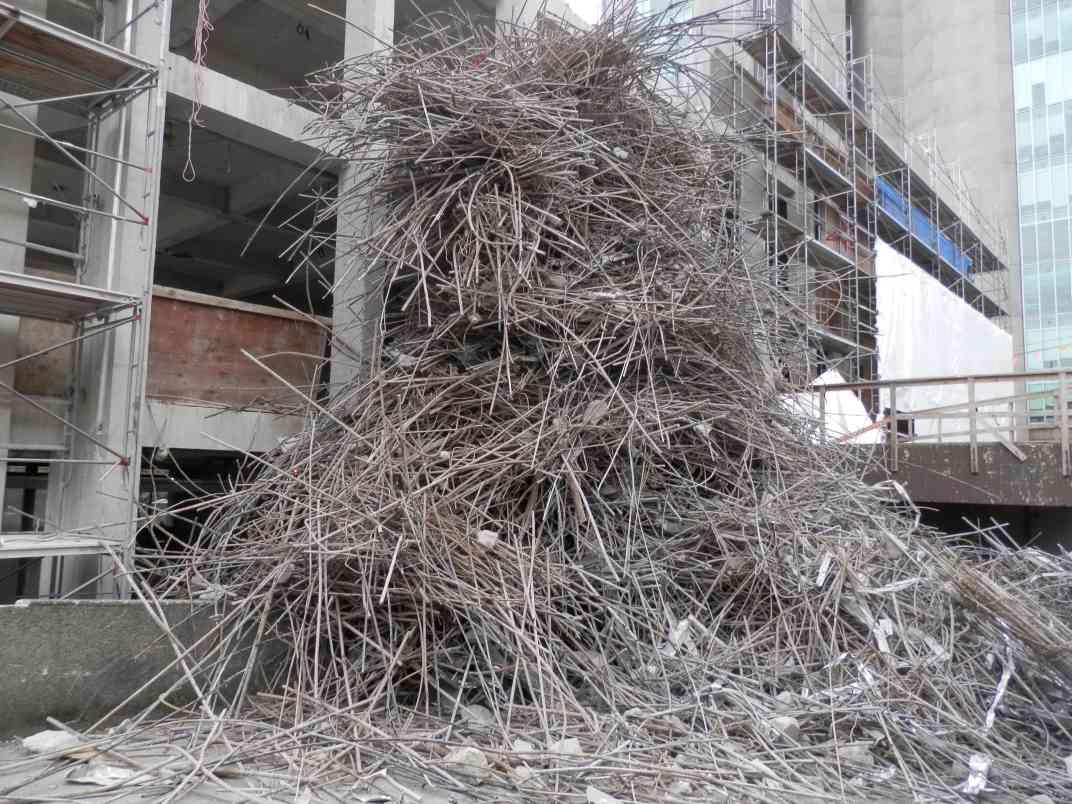 If this was art I could probably sell it for a million ...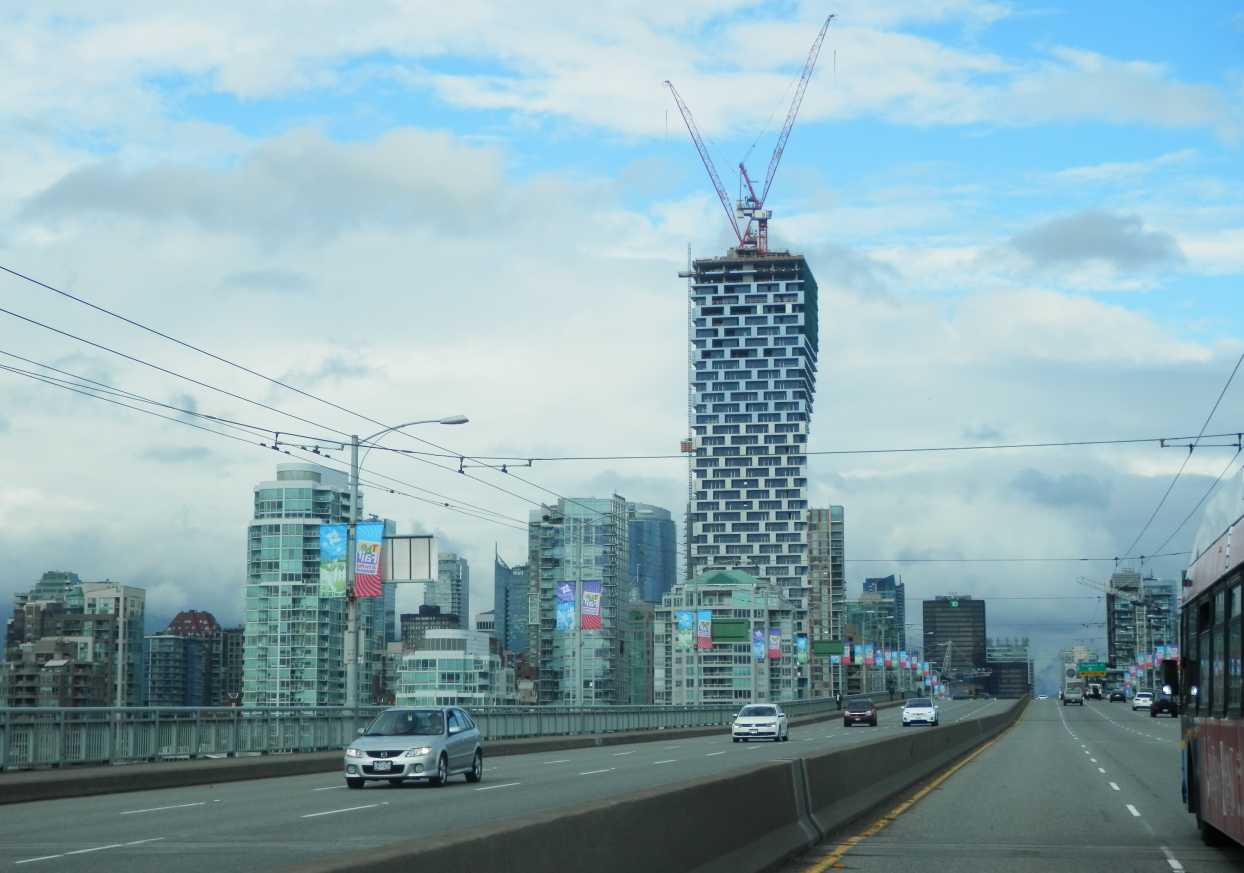 "Say goodbye mountain view, folks." (how high will this thing go?)

Citizens of Vancouver will hardly be able to tell what the weather is once the developers have filled the skyline with bloated projects like this. No, wait, the weather report will be "shady and windy, with numerous closed storefront businesses that couldn't make the rent, and a 100% chance of dogshit on the sidewalk." Any, hey, if you wanna see a mountain go to North Vancouver.

Anyway, that's pretty much the neighbourhood report for the summer. At least there's a civic election coming up. If anyone can figure out what any of the nominees will actually do if they get elected, please let me know. I'd vote for the woman advocating the removal of all bike lanes, but I'm one of the lawless and reckless pedestrians who'd be run over by drivers zooming around at freeway speed. I see the self-indulgent folks in city hall are busy passing as many zoning changes as humanly (are they really human?) possible before they get their asses kicked out. Pricks.

I would definitely support removal of all bike lanes that remove lanes of traffic on major arteries. Also all traffic calming measures, road closures, roundabouts, curb extensions, and the endless amount of crap the city has installed on city streets to fuck up drivers. We can't house the homeless, but we can build thousands of curb extensions. And keep the Georgia Viaduct, you idiots. You're insisting on putting up massive towers all over the place, each with hundreds of car parking stalls, but closing and restricting roads as much as you can at the same time. Duh?

Here's an electoral question: why do the cities of Richmond and Burnaby each have more than $$$ one billion dollars $$$ deposited in the bank, with interest being used for city improvements, and Vancouver owes money. A lot of money. Net $268 million in 2012, and a lot more now. Where does all the money go, mayor? With little more than one third the population of Vancouver, Burnaby is sitting pretty, with virtually identical construction and economic conditions as Vancouver. Richmond, with less than one third the population of Vancouver, and a far more difficult terrain for construction, has also been an able steward of their money. Why does Vancouver owe so much money? What is the difference? Where does all the money go?

Meanwhile, the whole city of Vancouver is being turned into a construction zone (south Cambie Street, south Granville Street, west Alberni Street, to name a few). If you aren't bought out and displaced, you're probably looking out the back window at a half dozen "laneway houses" being built, turning your block into another noisy, dirty construction zone over which you have no control, and doubling the population, adding to the lane traffic, the service requirements, the stray light, the new neighbours enjoying their view of your back yard. Any roads that aren't screwed by construction are being buggered up with bike lanes, such as Quebec Street from 2nd to 1st, or other nutball projects such as blocking access across Victoria Drive between Venables and Commercial.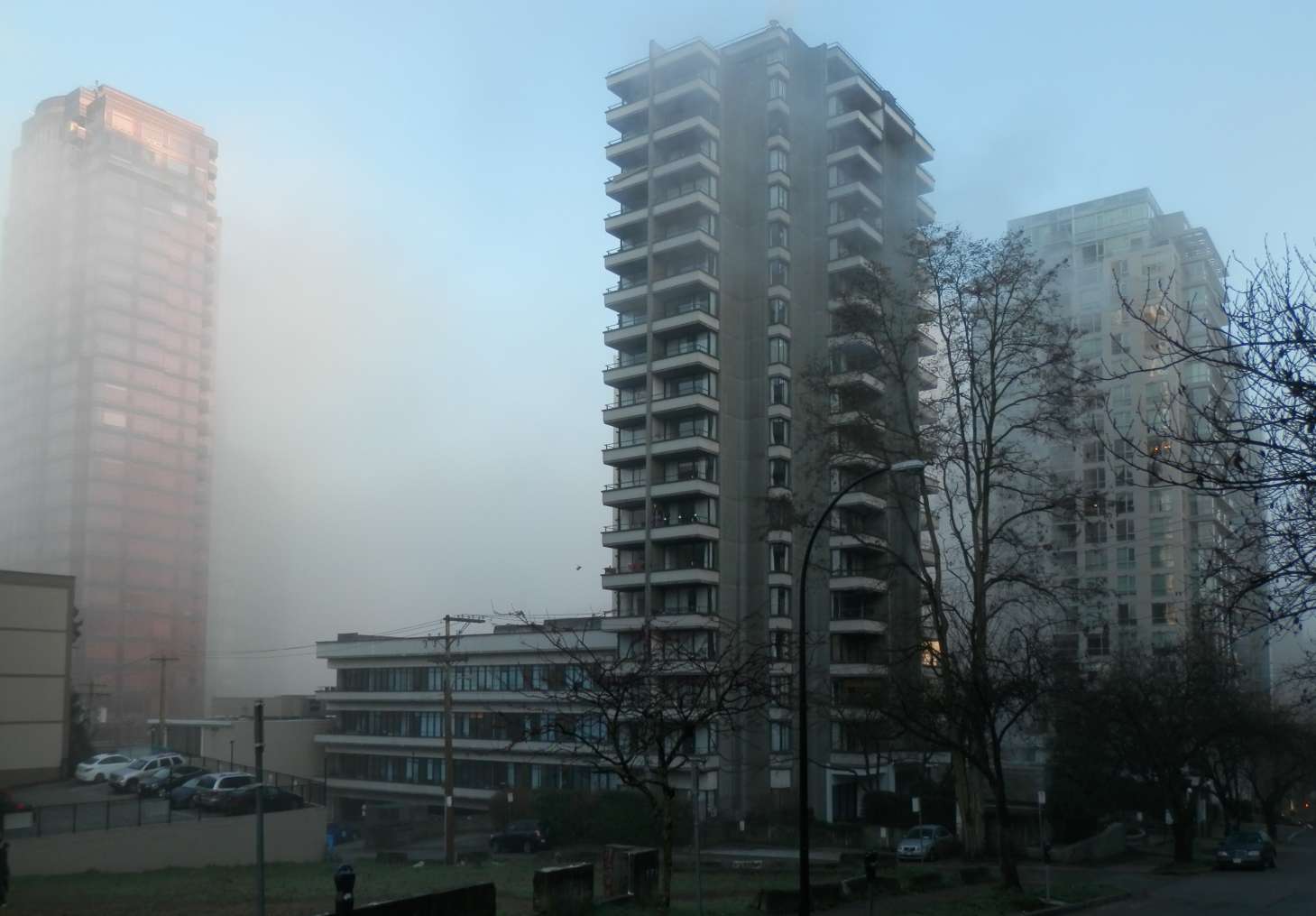 711 Broughton, 1444 Alberni, going going gone ....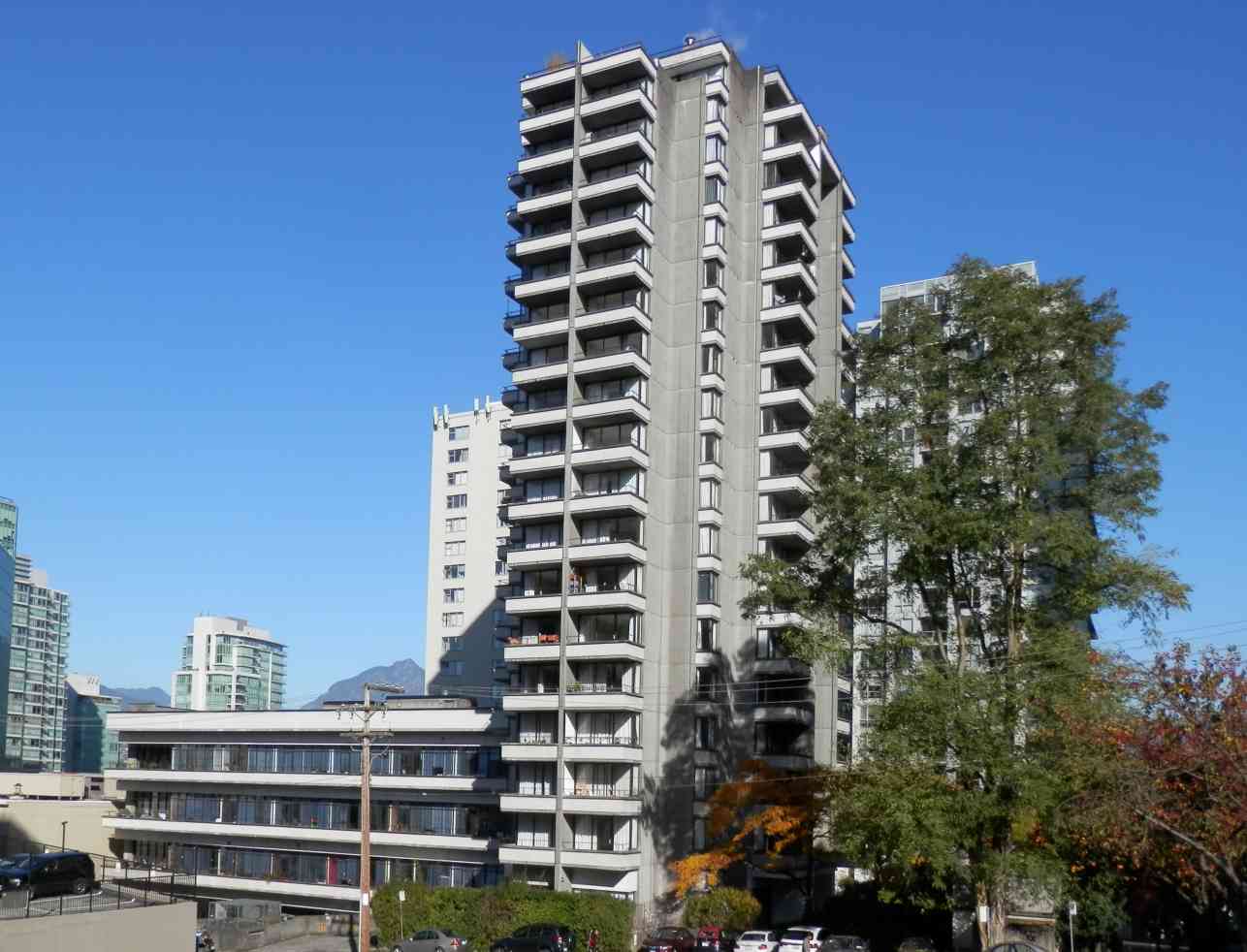 711 Broughton, 1444 Alberni, look, you can still see a bit of mountain ... some real trees ...

Entire high rise apartments are now beginning to be removed, 711 Broughton for example. Recently purchased by someone from elsewhere, then given to their kids to play with. The kids started evicting their tenants, while planning to make a DP application. I think there are 135 or so rental suites, plus a four storey office building attached, all intended to be demolished and replaced with two massive towers, hundreds of underground parking stalls. The outright evictions were stopped under protest, but now whenever someone moves out, that apartment is left vacant, which doesn't really help people find affordable housing in the city. The building is now about half empty, 65 empty suites, including the office podium. It's worthwhile noting how little the new owners cared about their residents, or the renters of Vancouver. Thanks, rich kiddies.

p.s.: when the two massive towers go up on this block in the near future, adding hundreds of new residents and their cars to the block, there's also going to be a new park! Oh boy! Where's the park? Oh no, the dipsticks are planning to close Nicola Street and put the park there ... there's no room in the re-building of an entire long city block, 1/12th of a mile, for a few feet of park ... sob, sniff. Actually, that width would simply be the sum of the current setbacks for the existing buildings on Nicola and Broughton, but there ain't no effing setbacks 'round here no mo' cuz the boys at city hall just give it all away, and keep tryin' to take more.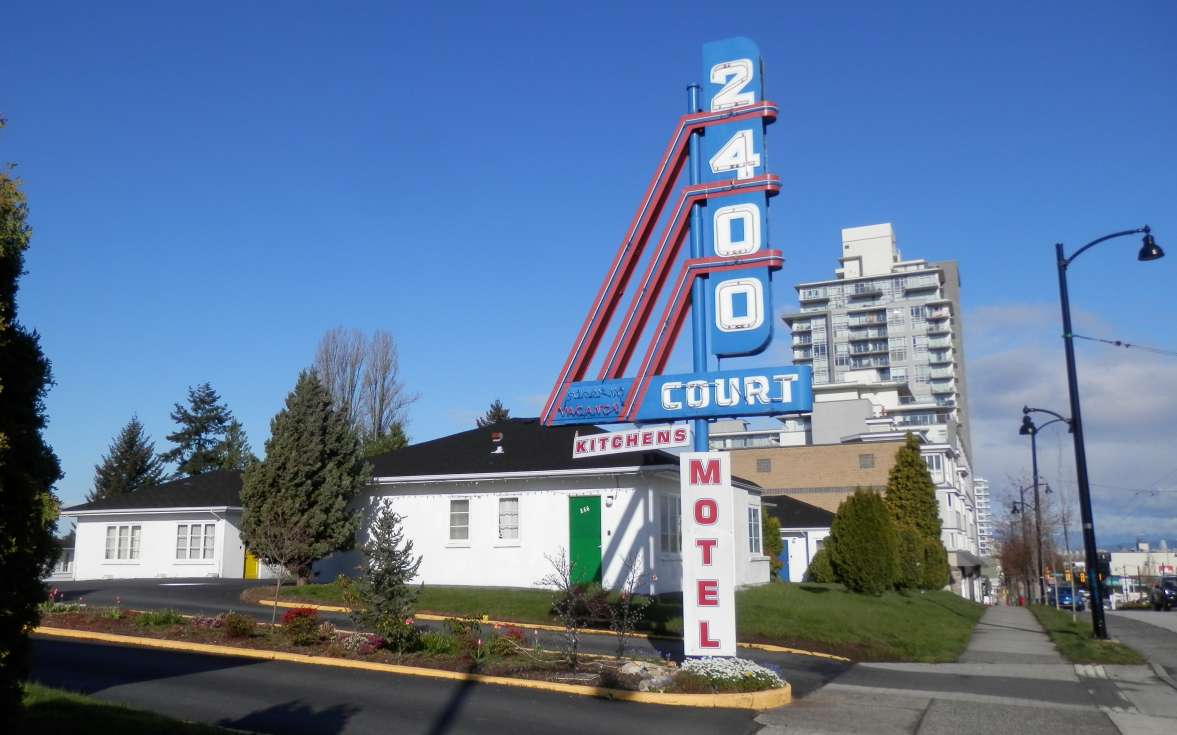 Goodbye to one and two storey buildings, trees, lawns, flower beds, gardens, character, history, the view, the sky ...
... the developers are coming, this street is zoned for miles of alucocrap towers like the one down the block.

Today I noticed a "development is permitted" sign up on the west end of 1500 block Robson Street, north side, the old Thompson Berwick Pratt Architects building. And across the road, the east half of 1500 block Robson was just fenced off for demolition. It's unclear if the JW's in the middle of the block will go, or hold out to the end ... how long until the Robson Market goes? there are blocks and blocks of development soft spots around here ... you can almost hear the money changing hands. Then years of demolition, construction and noise, followed by disappearing views, vanished sunlight, shade and wind in the expensive "canyons" ... populated by "for lease" signs and street beggars.
---
JULY 3: DAILY GRIND CAFE TO CLOSE AT END OF JULY
The Daily Grind Cafe, at 1500 West Georgia Street, Vancouver, is closing at the end of July after many years. The developers have struck again, the east end of the 1500 block is scheduled for demolition shortly afterwards. I have been curating visual art exhibitions at the cafe since June 2004, slightly more than fourteen years. The opening exhibition was a solo show of nine original Sim pen & ink drawings, and was on display from June 21 to July 30 2004. At that time the Owner of the cafe didn't want the wall filled with holes from me pounding nails into it to hang art on, so I designed, made, and installed a picture hanging rail at the top of the wall, with slots every two inches to hang pictures through. The system worked quite well for a long time, but recently it hasn't made any difference how many holes I put in the wall.

For the first while I tried to do an exhibition every month or two, then extended the shows to be three or four months long. Eventually I started leaving shows up for a year or so, and swapping out an artwork or two if needed. It was perhaps a wasted opportunity to show more work by myself or others, but it seemed like it was getting to be time to wrap it up. Also, over the course of time the cafe's owners had slowly filled in either side of the exhibition wall with storage on the right, and new coolers and freezers on the left. Finally there was only about twelve feet left out of over thirty feet of wall space that I started with.


Gary Sim inaugural exhibition June - July 2004

LIST OF EXHIBITIONS:

Gary Sim, pen & ink drawings, June - July 2004 (inaugural exhibition)
John Steil, watercolour crayon drawings, August - September 2004 (see photo above)
Famous Empty Sky, Party of the Century collage, September - October 2004
Arlene Byrne, Australian landscape diptychs, October - November 2004
Eight B.C. Printmakers (Andrea Taylor, Gary Sim, Michael Kluckner, Maisie Robertson, George Kuthan,
Gordon Kit Thorne, W.P. Weston, Pat Davitt), December 2004 to January 2005
Branislav Vrbaski, Vancouver photographs, January - March 2005
Aaron Zacharias, paintings, April - May 2005
Agatha Teodorowicz, May - July 2005
Maud Sherman, Places to Sketch, historic watercolours, July - December 2005
Christmas Group Show (Famous Empty Sky, John Steil, Gary Sim), December 2005 - January 2006
Gary Sim, B.C. Sketches, January - June 2006
Eric Allen Montgomery, Memory Boxes, June - September 2006
Gary Sim, Transient Moorage, September - November 2006
Christmas Group Show (Gary Sim, John Steil, Andrea Taylor), November - December 2006
Donna Mair Photography, City Scapes, January - March 2007
Ships Ahoy Group Show (Aubrey N. St. John Mildmay, B.C. Binning, Alistair Bell, Vahid Dastpak, Gary Sim), March - June 2007
Mountains Group Show (Ann Vicente, Bessie Fry Symons, Barbara Leighton, Maud Rees Sherman, Gary Sim), July - September 2007
Christmas Group Show (Gary Sim, John Steil, and Donna Mair), December 2007 - January 2008
Gary Sim, Vancouver Drawings, August - November 2008
Donna Mair Photography, Spring, January - May 2009
Gary Sim, Experiments in self-generating visual rules, drawings, May - July 2009
Gary Sim, On the Inland Sea, hand tinted relief prints, July - September 2009
Thom Kline, Digitally altered photographs, 2010
Gary Sim, Recent Drawings, 2011
Gary Sim & Maud Sherman, BC Scenes, 2016
Gary Sim, Recent Linocut Prints, September 2017 - June 2018

Refer also to DAILY GRIND EXHIBITIONS for more information and photographs of exhibitions.
---
JUNE 17: UPDATE ON LANDMARK DEMOLITION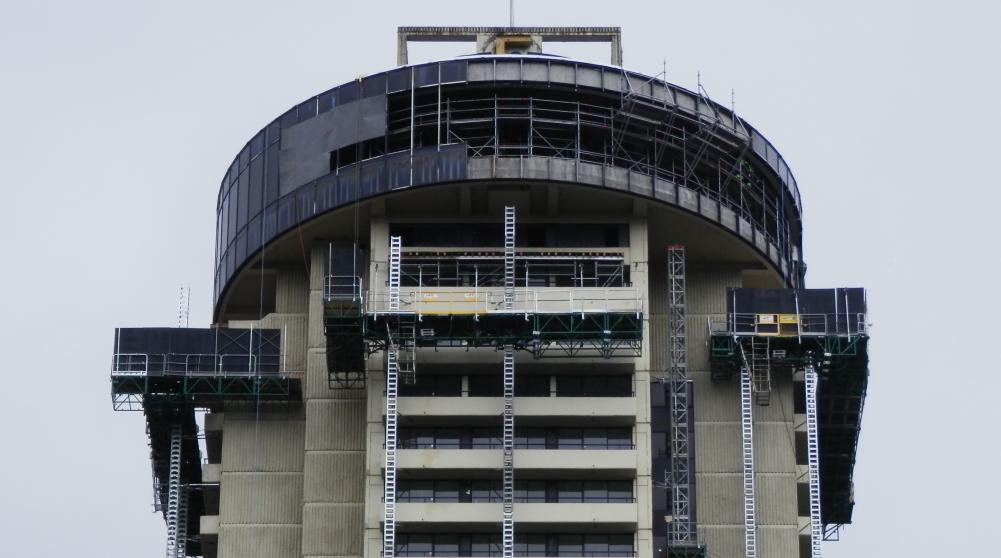 Top-down demolition of the Landmark on Robson is now underway. Some very large pieces of demolition equipment have been brought to site, and the west podium has already been chewed to bits. My earlier complaints about the neon lights on top of it can now be put to rest, at least until the two huge towers taking this one's place get lit up. Meanwhile, the whole neighbourhood is "alive" with construction at least six days a week. Even if a project is not near you, your road will be getting dug up soon for sombebody else's power, water, and sewer.


A block away on Alberni Street, the war is almost over for this building.

---
May 9: CANADIAN BOOK BINDERS & ARTISTS GUILD B.C. - BOOK FAIR MAY 26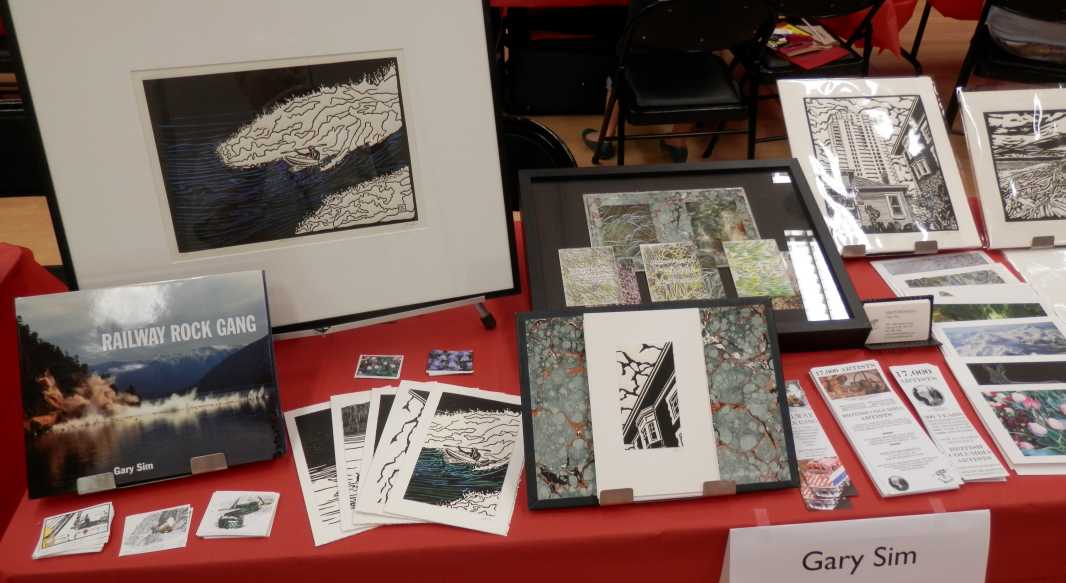 Sim table at the 2014 book fair.

Sim Publishing was asked once again to display work at the bi-annual Book Fair held by the Canadian Book Binders & Artists Guild. The event will be held Saturday, May 26, 2018, from 10am to 3pm, at the Vancouver Public Library (Central Branch) at 350 West Georgia Street, in the Alice Mackay Room, lower level.

Book Fair (click on "Book Arts Fair 2018")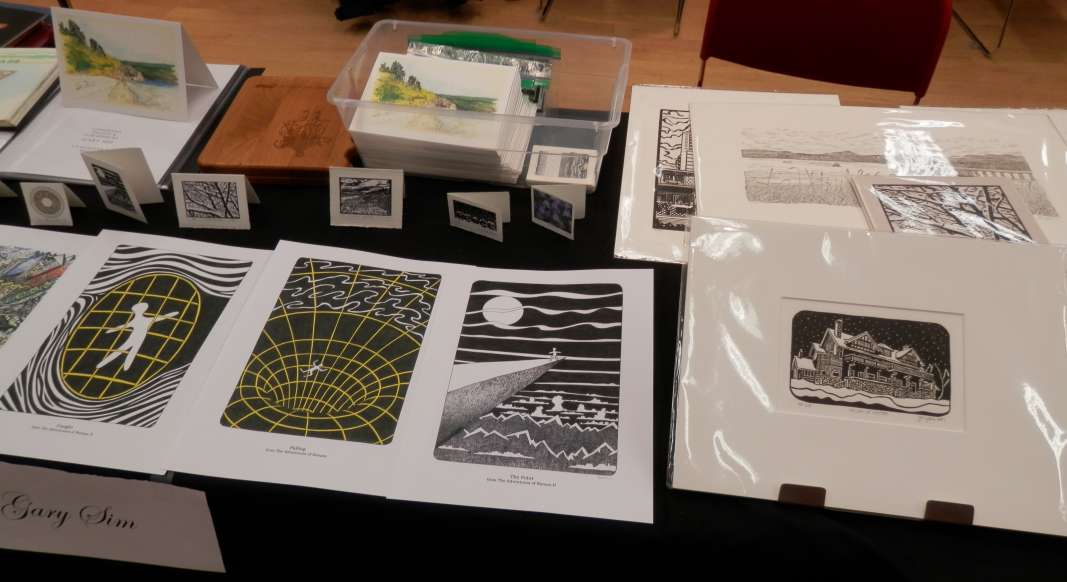 Sim table at the 2016 book fair.
---
May 6: BC ARTISTS EXHIBITION CLOSES AT NATIONAL GALLERY


A view of the exhibition.
Photograph courtesy of the National Gallery of Canada

The bibliographic exhibition B.C. ARTISTS - THE GARY SIM DONATION, that was based on donations to the National Gallery of Canada Library & Archives, has now closed after over three months on display. In addition to a printed catalogue, with both an English and a French version published, the Gallery posted a web page article about the exhibition in their online journal:

Vibrant story of the dynamic art scene in British Columbia: Gary Sim's collection

The author of the online article noted: "The current exhibition, B.C. Artists: The Gary Sim Donation, allowed curator Katherine Stauble to shine a spotlight on a significant, recent donation by collector Gary Sim of almost 1000 publications. "Over the past twenty years, Sim has assembled an outstanding collection of books, periodicals and other publications related to the artists of Western Canada, particularly British Columbia," Stauble writes in her essay about the exhibition. "With documents dating back to 1907, his library recounts the history of art and craft in that province, from frontier times to today, documenting both little- and well-known artists." Stauble says she chose the material based on value or rarity; importance to the NGC collection; significance to BC art history; as well as significance to the Gary Sim collection itself."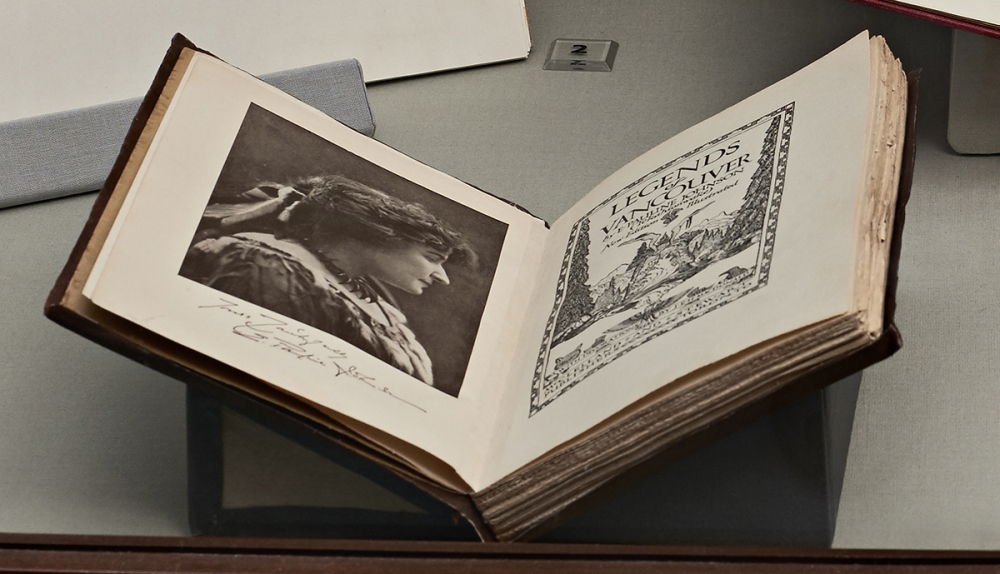 An early edition of Pauline Johnson's Legends of Vancouver
Photograph courtesy of the National Gallery of Canada
---
February 24: A VANCOUVER SNOWMAN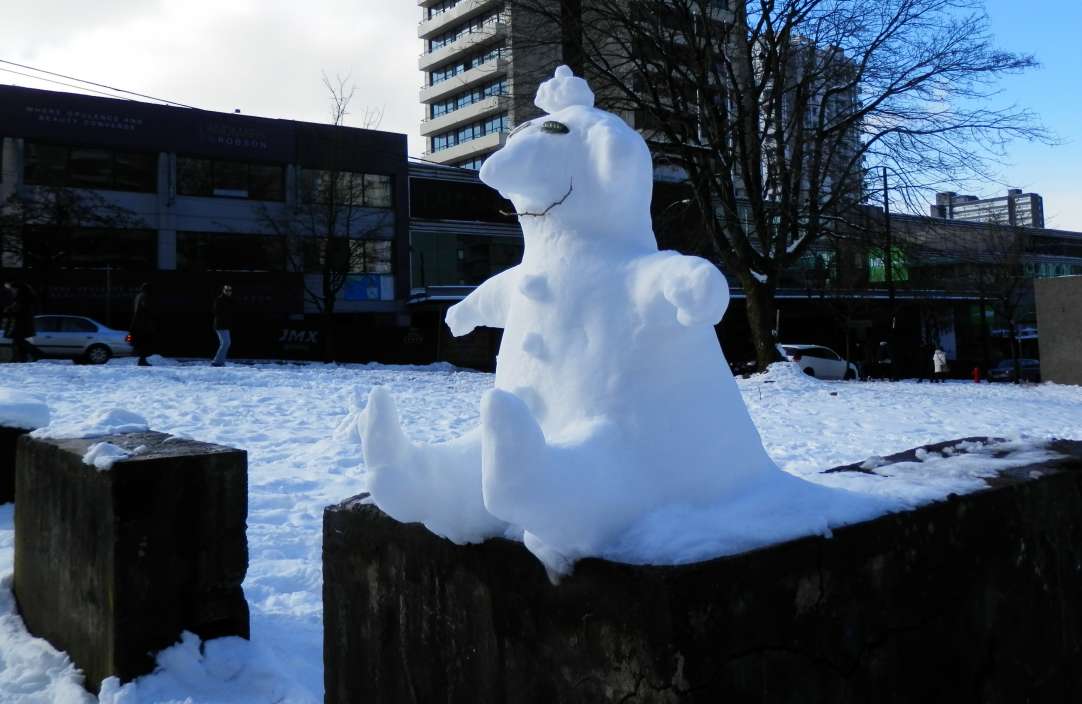 Alas, this nice bit of work didn't last very long.
---
January 23: BC ARTISTS EXHIBITION NOW ON AT NATIONAL GALLERY
Sim Publishing is very pleased to announce that the National Gallery of Canada in Ottawa is sponsoring a bibliographic exhibition at the Gallery from January 23 to May 6, 2018. The title of the exhibition is BC ARTISTS - THE GARY SIM DONATION. An exhibition catalogue has been produced (in English and French) for the show, which will highlight a number of books, exhibition catalogues, and ephemera donated by Sim Publishing to the National Gallery over the past 20 years.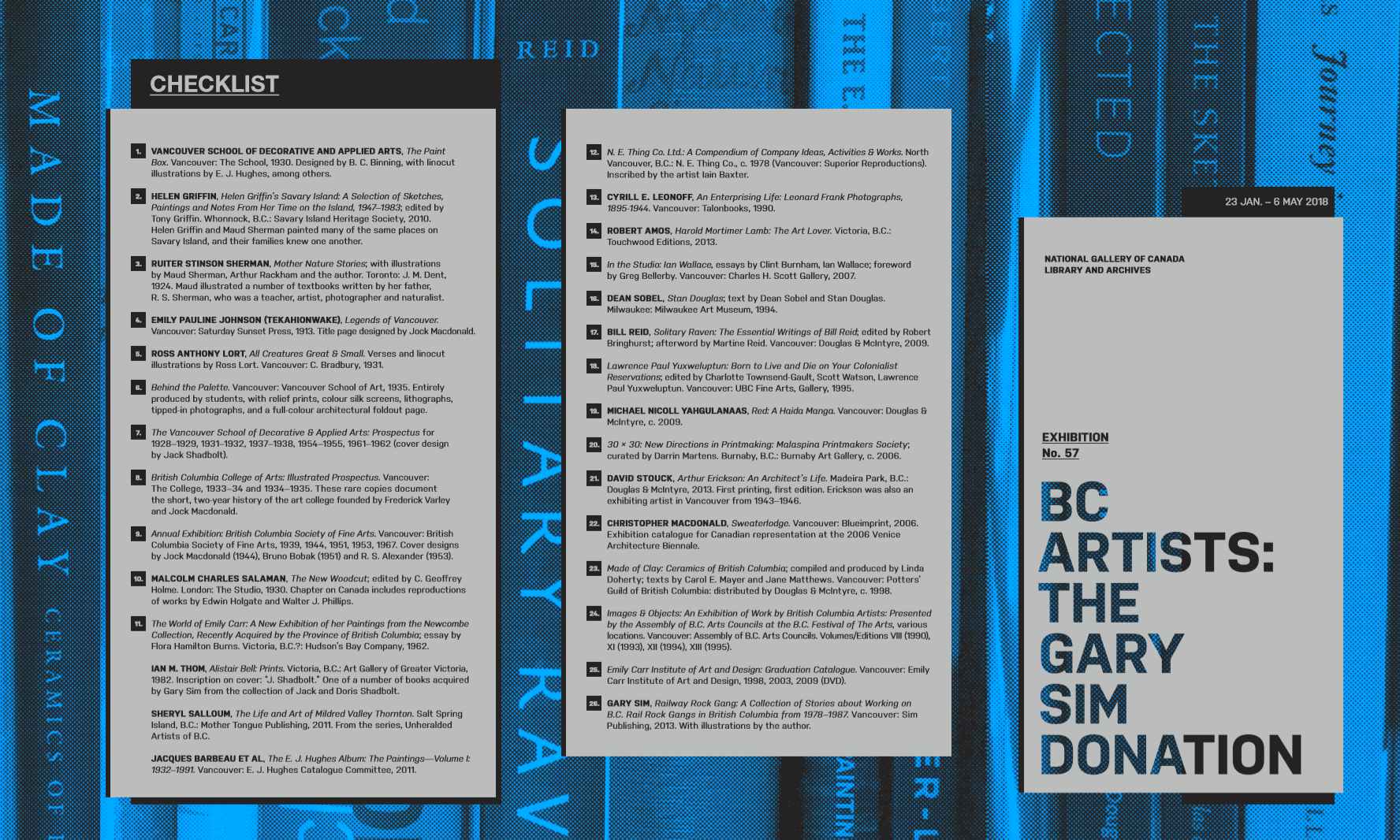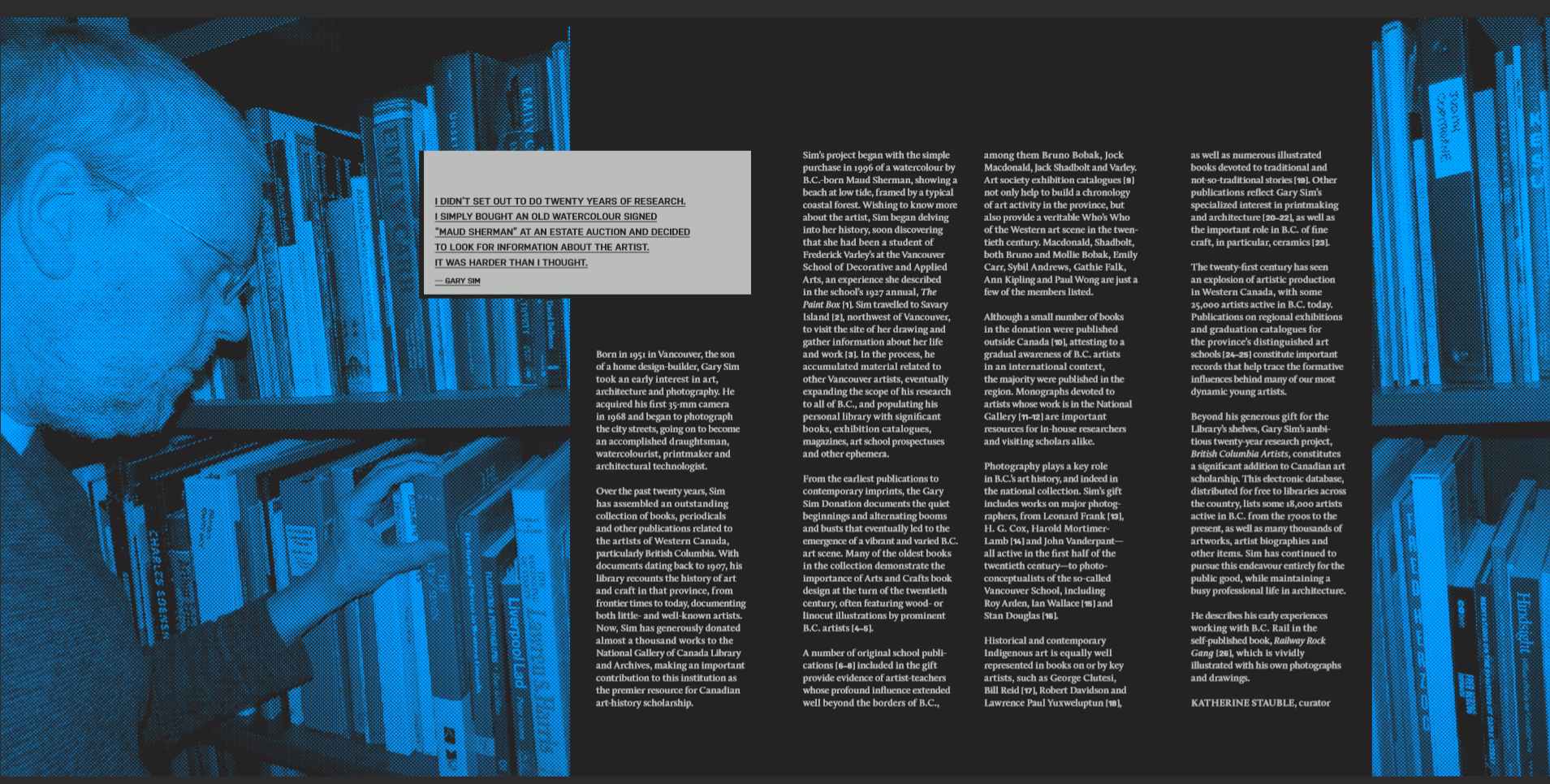 Catalogue courtesy National Gallery of Canada Library & Archives

This is quite an honour, and is a significant achievement and recognition for not only my donations but also for my BC Artists project itself. Earlier donations to the NGC were recognized when my name was added to the "125 YEARS OF DONORS" wall in the Gallery's entry promenade, as well as being listed in an NGC publication of significant donations to the Library and Archives over a ten-year period.

The head of NGC Library and Archives, Cyndie Campbell, asked me a few years ago about my interest in the idea, and of course I said yes, and my large donations of the past three years probably helped this show be approved. At least two or three people at the Gallery worked on the show, partly because the exhibition was scheduled to open quite soon after the decision was made to put it on. Now I have to decide: fly to Ottawa or not?

Refer to BC ARTISTS - THE GARY SIM DONATION for more information.
---
Home
Copyright 2018