SIM PUBLISHING
Home Publications Artwork News Links About
---
NEWS ARCHIVE - 2008
---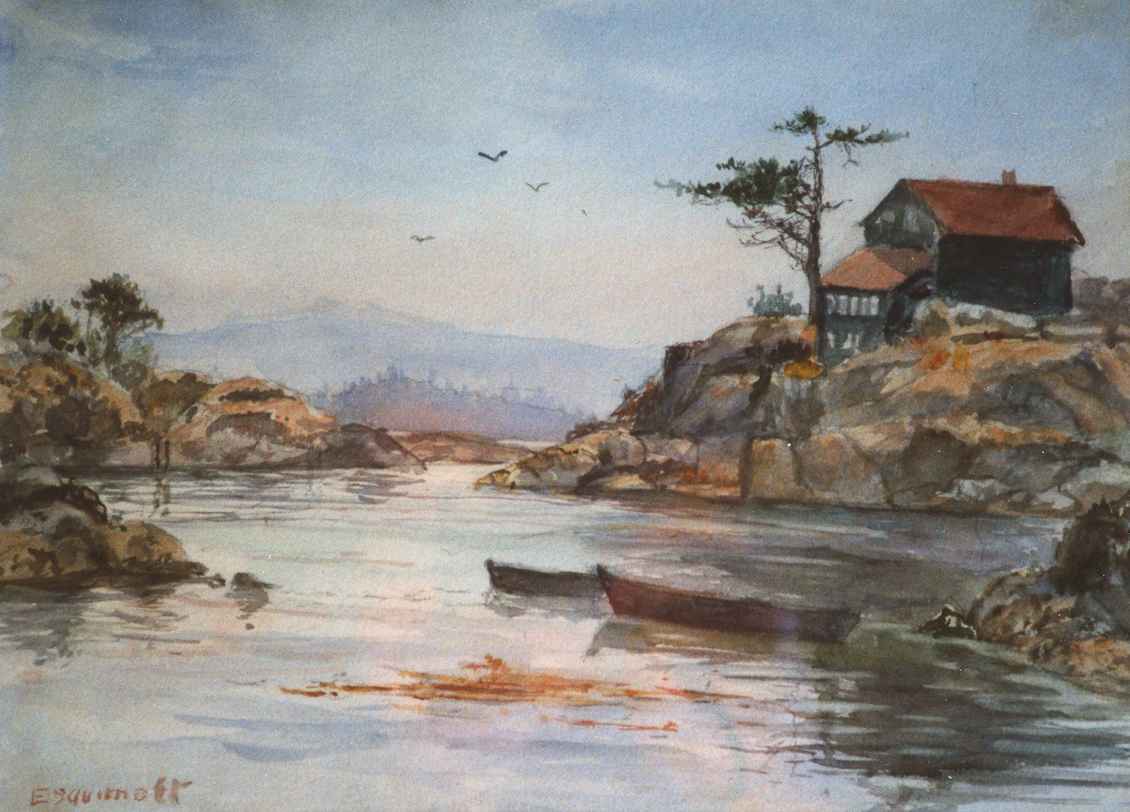 October 3 2008 - Sim gives paper at Montreal art history conference
The Inaugural conference of the Canadian Women Artists History Initiative was hosted by Concordia University in Montreal from October 1 to 3, 2008. Sim was one of the presenters at the conference, and gave a paper titled From "Looking For Maud" to "Art & Artists in Exhibition: Vancouver 1890 - 1950". The paper was a condensed version of how Sim started to research artist Maud Sherman and then went on to put together a comprehensive index / dictionary of artists exhibiting in Vancouver prior to 1950.

The paper was well received, and sparked a number of conversations during the conference. There were almost 40 papers presented over the three days, and a very interesting time was had by all. It was great to see all the different projects that people were working on, including some work by Jaleen Grove that was very similar to Sim Publishing's Art & Artists project, except that the focus of her project is Canadian Illustrators.

Many thanks are due to the art history staff at Concordia University for all their work in arranging the conference, and ensuring that everything went well.
---

Another two updates to ART & ARTISTS IN EXHIBITION: VANCOUVER 1890 - 1950 have been published. Release 1.25b was issued August 5th, with additional artist biographies and artworks listed. A small number of additional "tweaks" were made leading up to issue of Release 1.25c, which was taken to Montreal for the Canadian Women Artists History Initiative inaugural conference.

The image above shows a partial screen capture of a three-dimensional CAD drawing, an initial study to reviews ways of visually presenting exhibition records. In this case, each block floating in space represents an artwork exhibited in a given year by one artist, in this case Maud Sherman. Presented like this, the artist's exhibition record is instantly understood, and can be compared to other artists exhibiting work at the same time, or aligned so as to compare exhibition records when the artists were at the same age. This is one of the methods under consideration for extracting statistics from ART & ARTISTS IN EXHIBITION: VANCOUVER 1890 - 1950 in an upcoming release.
---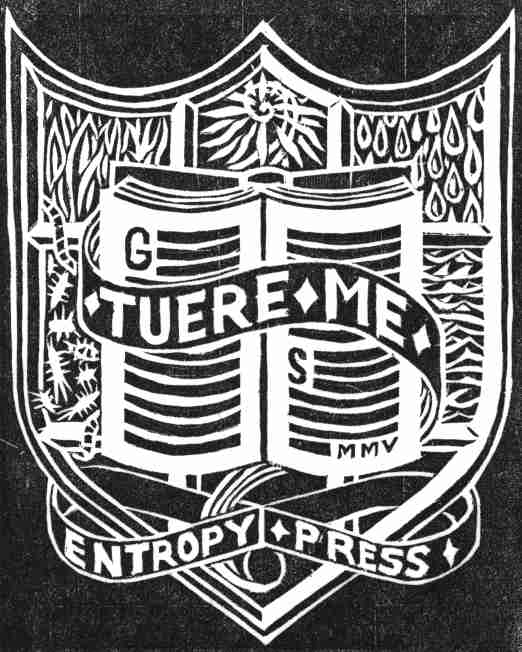 August 2008 - Sim wood engraving published in AMPHORA
Three years after being commmissioned to do a Printer's Mark engraving for the Alcuin Society, a project inspired and funded by the noted Vancouver philanthropist Dr. Yosef Wosk, the print was issued in AMPHORA, the journal of the Alcuin Society. The engraving was printed by Barbarian Press in an edition of 500, and tipped into each copy of AMPHORA along with a description of the meaning of the printer's mark, as well as an extremely short biography of the artist.

This print is the fourth in a series of commissioned engravings. Although the first three prints in the series were each featured full-page in the centre of the journal, with a page of text facing, this print suffered greatly at the hands of a poor editor. It was stuffed onto the bottom of a single back page, with the hacked-down text crammed above it on the same page. Ironicallly, this didn't seem to be necessary due to lack of space - the issue was one of the smallest ever printed by the Society (in over 40 years), and another page or two would have been grand. Even a larger font would have made it easier to read and fluffed it up a page or two. Perhaps a lack of ideas precludes a meatier and more interesting journal from this editor.

Unfortunately, the editor did not give the artist the opportunity to sign any of the prints, which the others artists in the series had a chance to do. The only ones to suffer from this stupidity are the members of the Society who would have otherwise received a signed print tipped in to their AMPHORA, although it is also a needless slap in the face to Dr. Wosk. The whole presentation of this print in the series is poorly done, especially given the mandate of the Alcuin society. I am happy to hear that the self-inflated editor (a.k.a. the "shadow over Amphora") will soon pass for good from that position.

On the bright side, the prints were done beautifully by the folks at Barbarian Press, and the few I've been able to see (and sign) so far looked great! Thank you Jan and Crispin! If anyone reading this has a copy of the print that they'd like signed, please contact me regarding the simplest way to do so.

Special thanks are due to Dr. Wosk for his generosity and vision, and for giving artists this opportunity to be creative.
---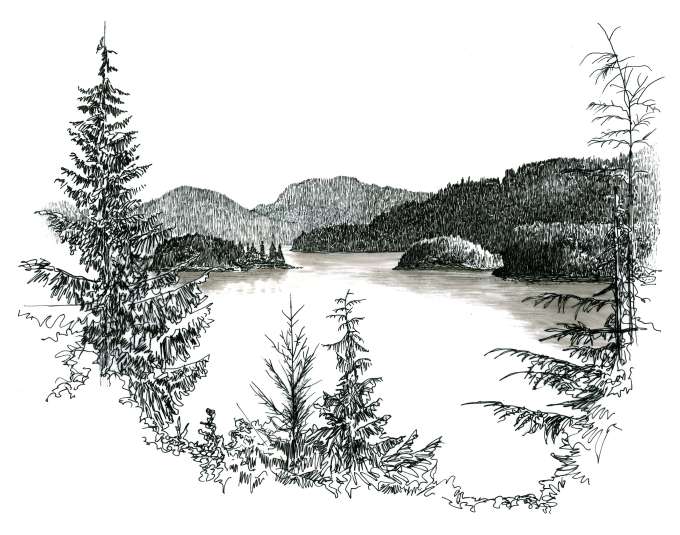 July 2008 - three new drawings completed
In preparation for sending some artwork up the coast to the Flapping Fish Gallery at Egmont, three new pen and ink drawings were completed. Refer to Drawings for images of these drawings.
---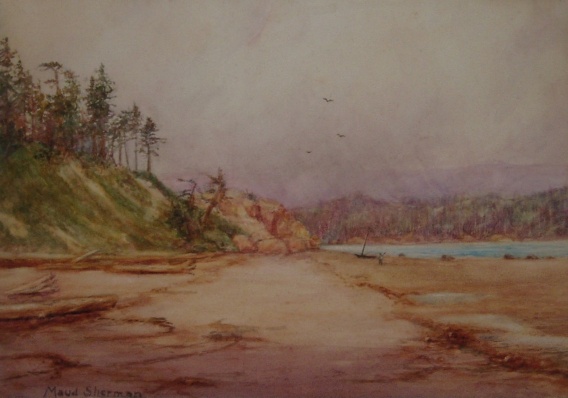 July 2008 - Burnaby Art Gallery to host show of Maud Sherman paintings
An exhibition of original artworks by early Vancouver artist Maud Sherman (1900 - 1976) is being planned by the Burnaby Art Gallery. The show is expected to be on display at the Prittie Library (Burnaby Library main branch at Metrotown) from November 2009 to January 2010.
---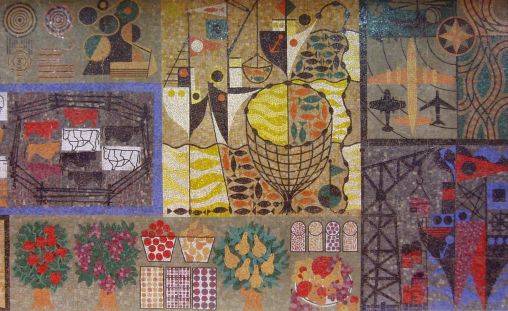 A major update to ART & ARTISTS IN EXHIBITION: VANCOUVER 1890 - 1950 was issued on March 15th. A number of copies have already been mailed or delivered to existing owners of the project.

A large amount of additional information was added in the past three months, including a number of exhibition catalogues listing over 1,100 artworks, 120 new artist biographies, and numerous clippings, references, and images. Refer to ART & ARTISTS IN EXHIBITION: VANCOUVER 1890 - 1950 for more information about the project.
---
January 2008 - Sim Publishing donates AMPHORA to Alcuin Society
To aid on the ongoing good work of the Alcuin Society, Sim Publishing donated an almost complete set of the Society's journal AMPHORA to the society. A large number of the issues were acquired by Sim Publishing as research material for the commissioned article on the journal's history, published in the 40th Anniversary issue.

The value of the collection was appraised at $1,100.00. The Alcuin Society sells back issues of the journal individually, or as a complete set if possible. This donation will allow them to easily put together another complete set for sale.
---
January 6 2008 - Best wishes for a happy New Year!
Best wishes to you and yours in this New Year, and all success for your projects and endeavours!
---
December 2007 - January 2008 - Books and Printing exhibition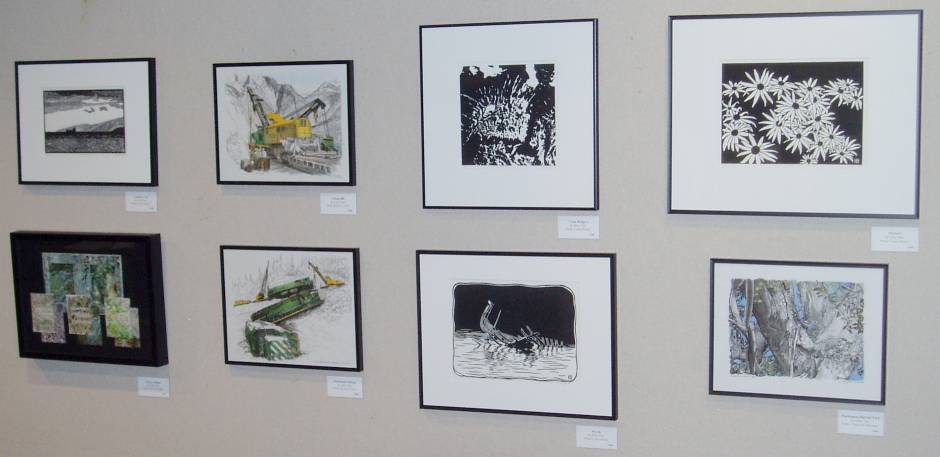 The West Vancouver Memorial Library 2nd Annual Books and Printing exhibition was taken down January 4th. Instead of the original 1 or 2 artist books originally intended for the exhibition, space was allowed for Sim to display one artist book, four limited edition prints, three original drawings, and the original cover art for The Canadian Industrial Reader from 1928.

Seen above in the photograph are
left to right, top row: Looking Away, Lifting 808, Coast Range, Flowers
left to right, bottom row: Savary Haikus (artist book), Cheakamus Salvage, Wreck, Eucalyptus.

The exhibition was curated by The Alcuin Society.
---
December 2007 - January 2008 - Malaspina Printmakers Society Christmas exhibition
Malaspina Printmakers Society annual Christmas exhibition is down on January 6th. Sim had three prints displayed in this exhibition, Flowers, Coast Range, and Snow On Elms.
---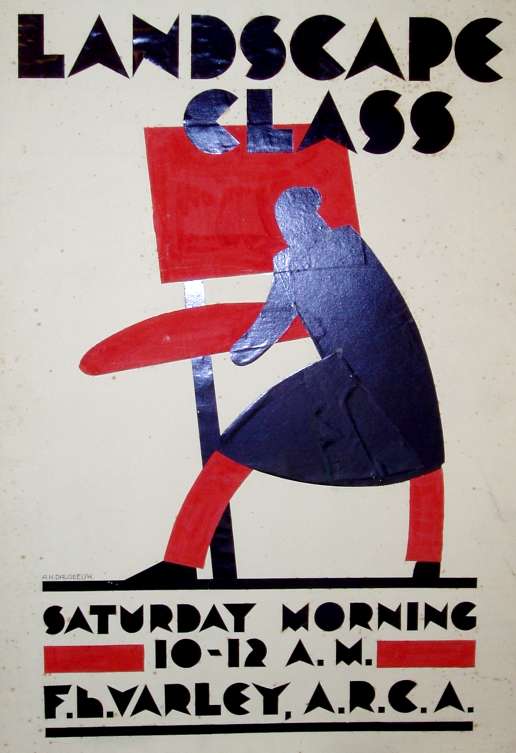 Sim Publishing has been adding more information to its flagship project ART & ARTISTS IN EXHIBITION: VANCOUVER 1890 - 1950. More than 150 files are new or updated since Release 1.24 was issued in July 2007. Additions include 6 more transcribed exhibition catalogues listing over 360 artworks, numerous new artist biographies, and various other updates including more images and references.

It is intended to issue Release 1.25 of the project when another few exhibition catalogues have been transcribed.

Please refer to ART & ARTISTS IN EXHIBITION: VANCOUVER 1890 - 1950 for more information about this project, which is available only on CD-ROM for $249.00, directly from the publisher.
---
December 15 2007 - Angleman Christmas card published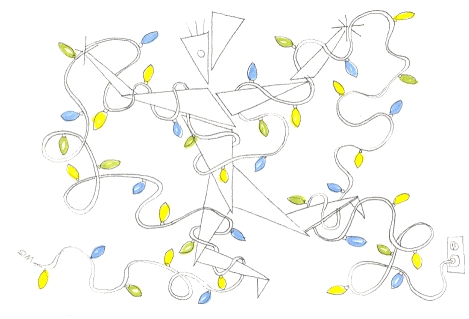 Following the completion of the Burnaby Art Gallery Christmas card, we didn't have much time for the annual Sim Publishing card design. The idea for this card was sketched in 2001, but was not used then. Production of the card went quite quickly, with colouring the lights by hand on each card being the most time consuming part of the project.
---
December 10 2007 - Burnaby Art Gallery Limited Edition Christmas card completed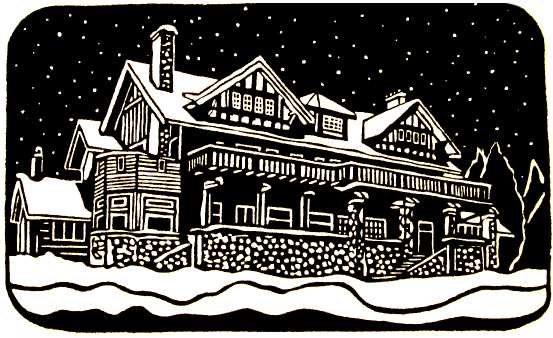 The limited edition block print Christmas card commissioned by the Burnaby Art Gallery has been successfully cut, printed, and delivered to the Gallery. The edition of 50 prints will be sent by the Gallery to their Patrons and the Artists who exhibited at the Gallery in 2007.
---
Home
Copyright 2011