SIM PUBLISHING
Home Publications Artwork News Links About
---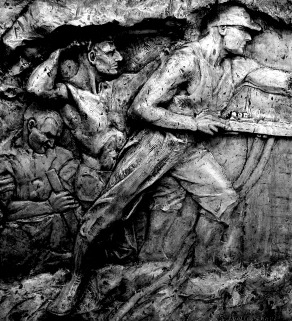 Detail, Spirit of Mining, Beatrice Lennie 1929
Collection of the B.C. Museum of Mining, Britannia, B.C.
ART & ARTISTS IN EXHIBITION VOL. ONE: VANCOUVER 1890 - 1950
First issued January 2004
---
AAEV has been merged into the expanded project BRITISH COLUMBIA ARTISTS. The information it contains, per below, is completely linked into the new project. AAEV can still be used by itself, or used through the new artist index to biographies and other files.
---
ART & ARTISTS IN EXHIBITION: VANCOUVER 1890 - 1950 is a digital compilation of information about art, artists, and art exhibitions in early Vancouver, British Columbia. There are currently 1,900 separate web pages in the project, containing an index of 1,830 artists who exhibited in Vancouver between 1890 and 1950; 1,250 artist mini-biographies; a list of 330 art exhibitions with 100 exhibition catalogues completely transcribed detailing over 8,500 individual artworks; an index of over170 arts-related groups, with numerous articles on them; and also numerous reviews, artists' statements, letters, and other information. An extensive list of references is included, as well as a number of "occasional papers" on various art related matters.
The information is valuable to a wide range of people including students, teachers, researchers, historians, collectors, appraisers, auctioneers, gallery owners, and antiquarian dealers. It is by far the largest, most inclusive, and highly detailed compilation of information on this topic and time period in existence, and contains much rare and hard to find information. It is the result of twelve years of ongoing research and eight years of writing and input.
---
Home
Copyright 2004 - 2012