SIM PUBLISHING
Home Publications Artwork News Links About
---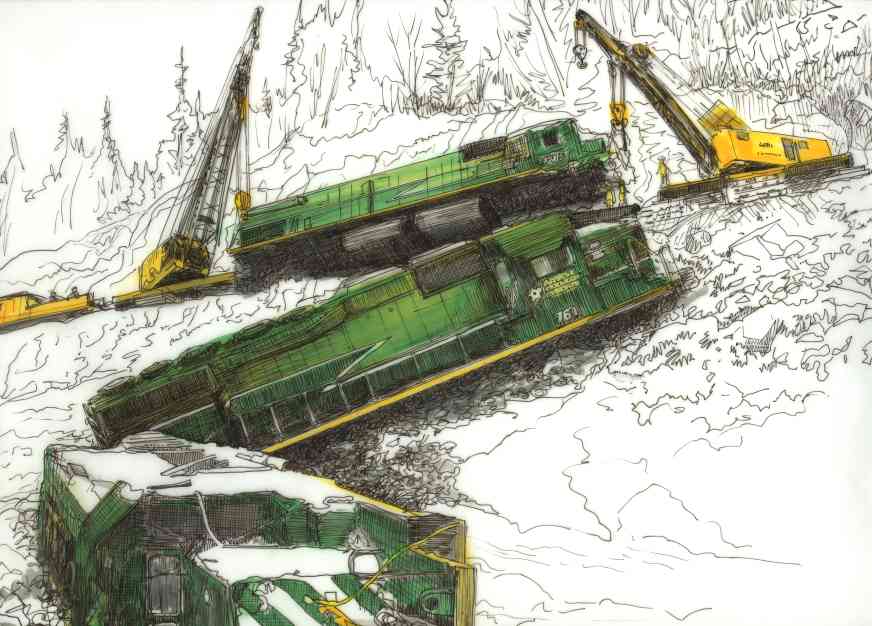 CHEAKAMUS SALVAGE
Original pen & ink drawing issued September 2006
Image size 10" high by 13" wide (250 mm by 275 mm)
(Cropped low resolution image illustrated)
This drawing shows a critical point in a difficult salvage job done while I worked on the BC RAIL Rock Gangs. Three locomotives derailed at Mile 63. The Rock Gang was called in to blast the cliff face back so that the wrecking cranes could swing, and to drill in rock anchors for installation of pulleys to drag the engines up the slope. All three units were successfully salvaged and returned to service.

The image illustrated is a cropped version of the actual drawing. It is drawn with Pilot DR pigment ink pens and india ink brush pen on translucent vellum. The drawing is in a 12" x 16" OPUS black metal exhibition frame.

Please refer to Artwork Price List for current price.
---
Home
Copyright 2007 - 2011