SIM PUBLISHING
Home Publications Artwork News Links About
---
NEWS ARCHIVE - 2021
2020 - 2019 - 2018 - 2017 - 2016 - 2015 - 2014 - 2013 - 2012 - 2011 - 2010 - 2009 - 2008 - 2007 - 2006 - 2005 - 2004
---
All text, photography and artwork is COPYRIGHT by GARY SIM unless noted otherwise.
---
DEC. 10: AIRPLANE PHOTOGRAPHS THROUGH THE YEARS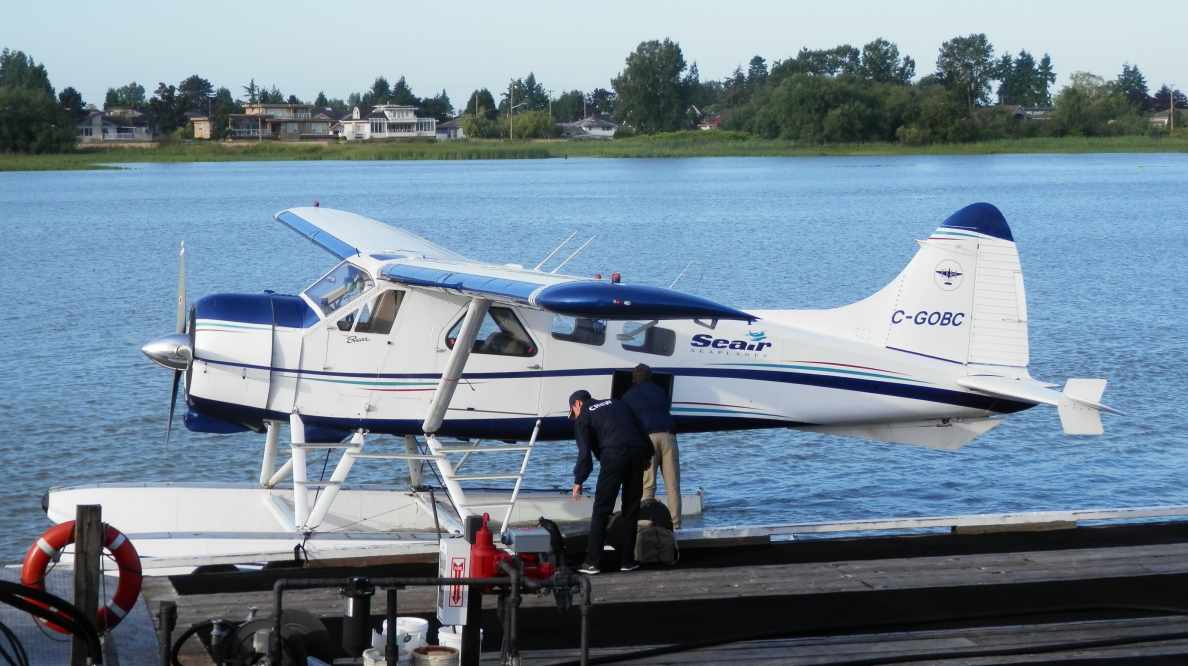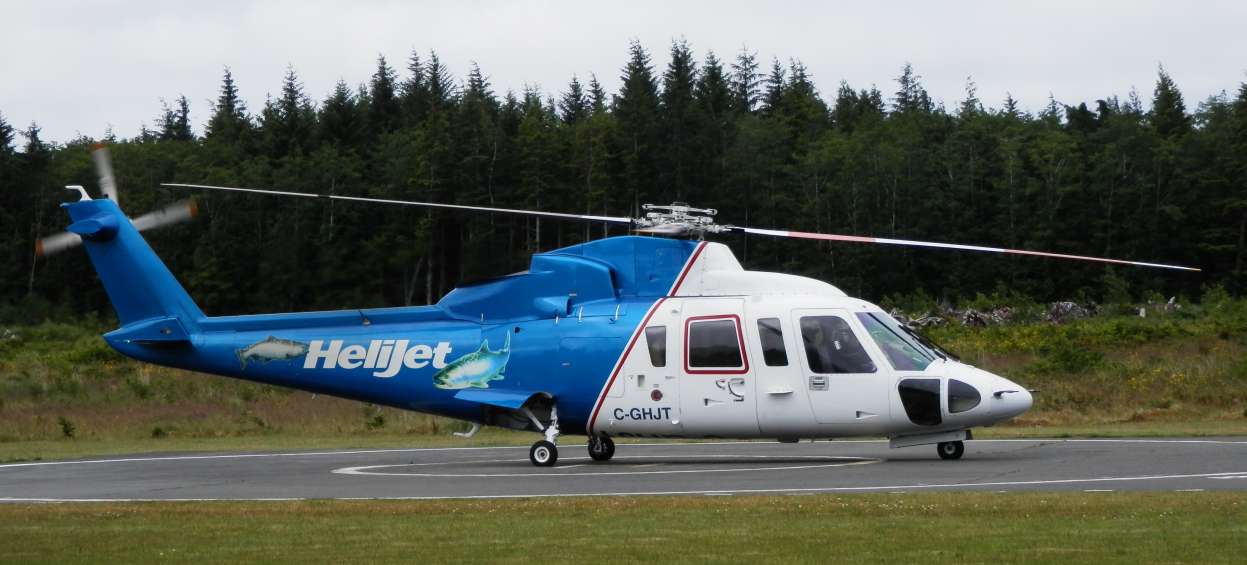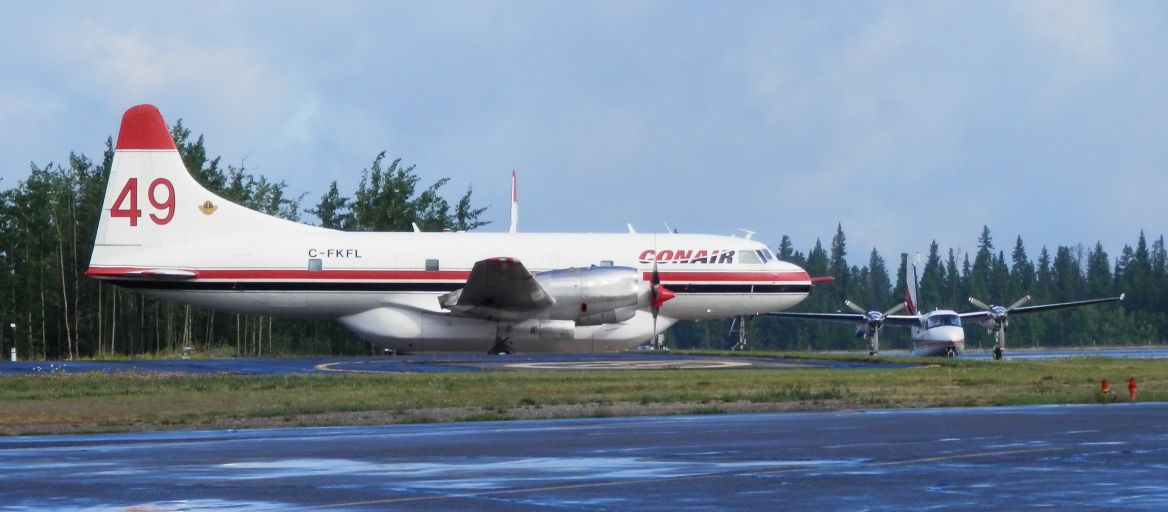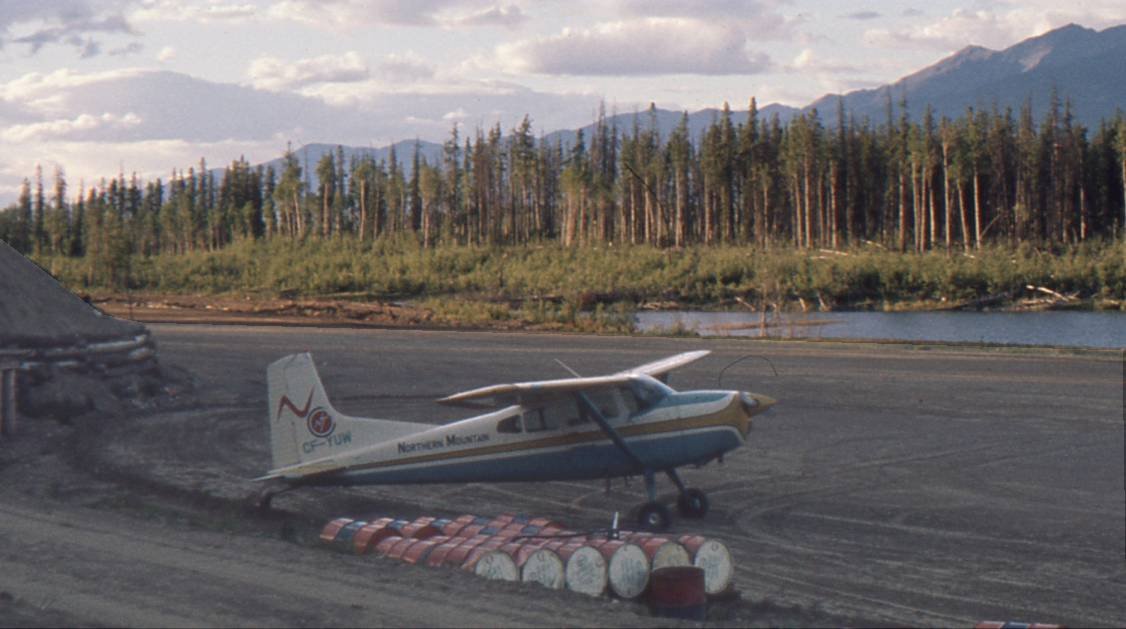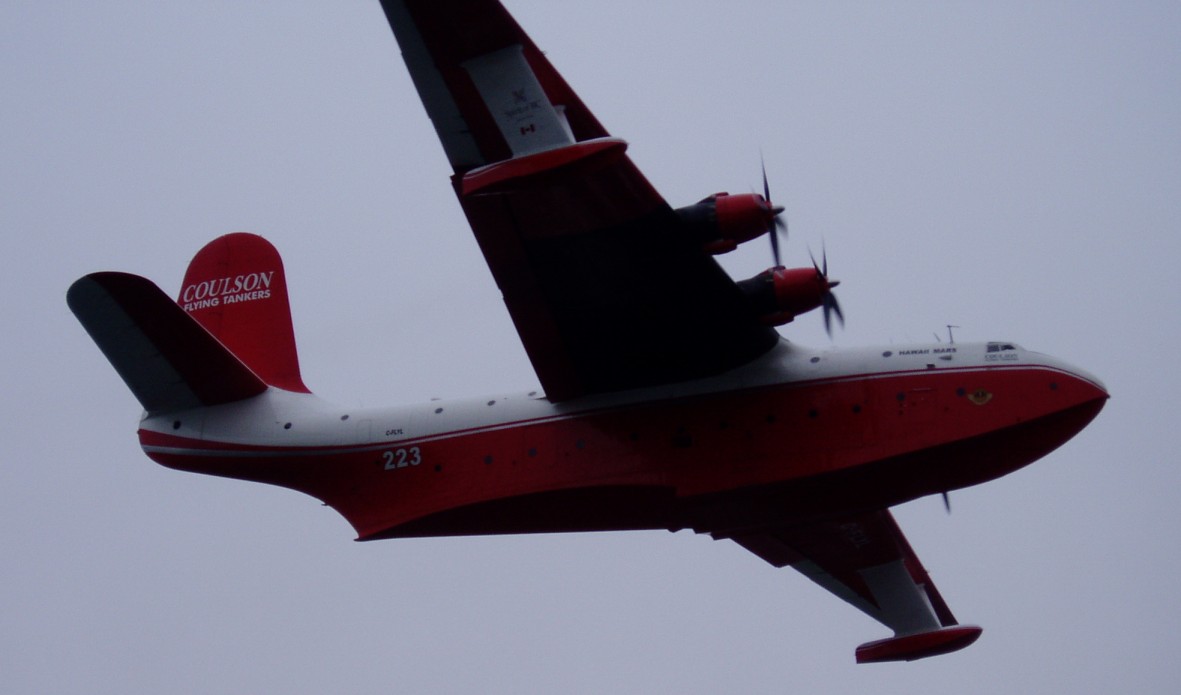 Whenever I travel I take a camera with me. Whenever I fly, I try to take photographs of the planes that I'm flying in, or that I see when I am at the airport. I've been taking pictures like this for fifty years, so it seemed like it was time to collate a few of them from my photo archives and post them on-line.

There are some planes that I regret not having photographs of. For example, the old B-17 bomber that carried freight from Mackenzie to Ingenika Forks in 1972. I flew in the co-pilot seat on one trip, and it looked like we were going to hit the trees at the end of the runway. We actually clipped the top off one tree, the pilot said "that's how we keep them trimmed down." The control panel was full of holes where the military equipment had been removed long ago.

One day a guy landed at Ingenika airstrip in a World War One open cockpit biplane! Wooden propellor, the works. He fuelled up while we admired it, then quickly took off without paying. Said he was going to Alaska. Another day Gordon Shrum landed in a Mitsubishi turboprop, I have a photo somewhere ... In 1996 I was doing some work at Canadian Airlines headquarters, and got to have an extensive tour of 777-X2, which Boeing had flown in on a sales trip. And so it goes.

Generally speaking, each make & model of plane is identified, its call number is given if known, the plane's owner is noted, and the location and date of the photograph is given.



---
DEC. 3: ART GALLERY LIBRARY CLOSES INDEFINITELY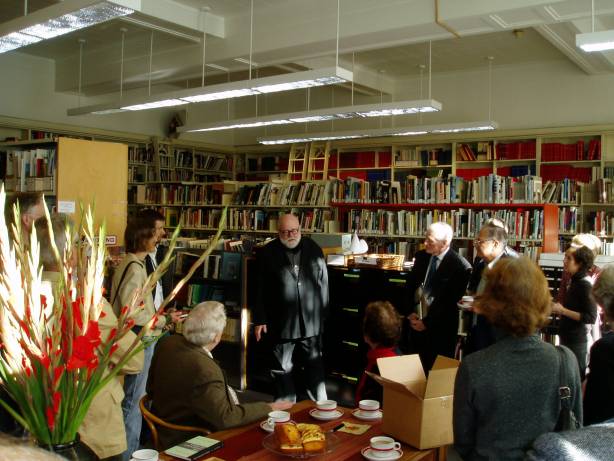 Celebrating a 2010 book launch at the Library

I was very sad to receive an email recently from the Chief Librarian at the Vancouver Art Gallery Library, announcing their departure to a position at UBC. As well, the Library will be closed to the public indefinitely from now on. One staff member will linger on at 0.2 FTE to tidy up loose ends, then retire in a few months. I spent hundreds of pleasant hours there over a span of more than twenty years, doing research for my BC ARTISTS project, working through their archives and collection. I think I am the only researcher who has gone through the A.S. Grigsby exhibitions archive page by page, box by box. I am still adding information from this research.

Without the help of the Librarian and Staff, and free access to their Library and Archives, BC ARTISTS could not possibly have succeeded. Hundreds of original archival documents are only available there, and thousands more are compiled into artist files, representing NINETY years of collecting and cataloguing. The room is the former Law Library for the courthouse, and it is complete with rolling ladders for tall shelves (two can be seen centre top in the above photograph), a leather-covered research table, and huge opening windows that look out onto the plaza. It is not well known to the public, so visiting was more like being in a private library, with other researchers occasionally dropping by.

Not knowing of the impending closure, my last visit to the Library was on November 9 to complete my research on the BC Artists and the B.C. Society of Fine Arts annual exhibitions. It was another productive day, and somewhat ironically I was given a 90th anniversary pencil as I left the room for perhaps the last time. Thank you for all of those years, thank you.

90th anniversary pencil
---
NOV. 24: BEETS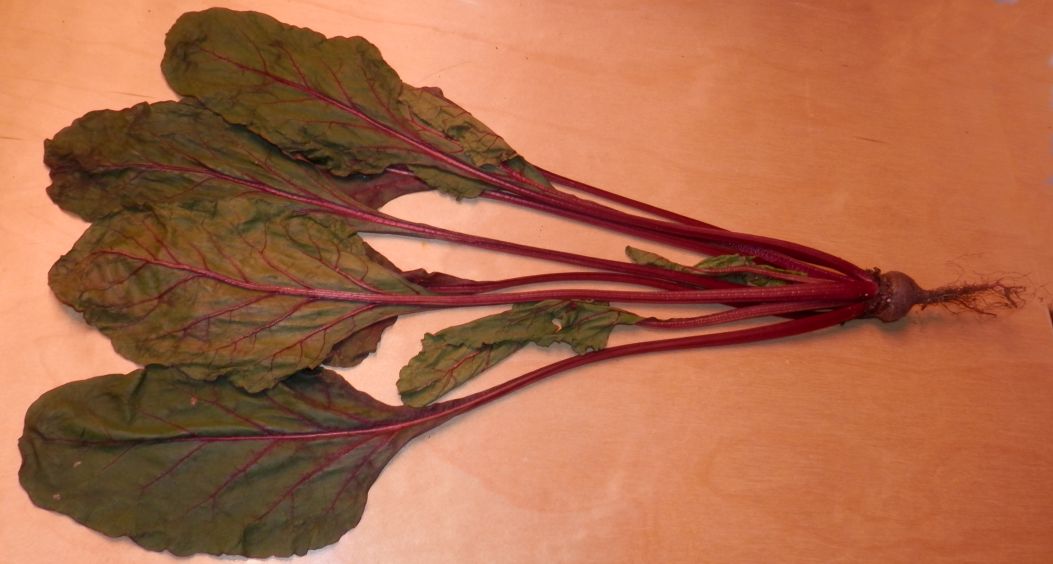 My beet harvest for 2021

This is the biggest and best of about eight beet plants that I grew this year in what I am now calling "my demonstration garden." The leaves on this one are over 15" long, but the pathetic little beet is less than 1" in diameter. Hard to find a canning jar that small. The beets had early difficulties when they were transplanted into a larger container, but this one grew well, so I had hopes for a good-sized beet. At least it was quite attractive while it was growing. The remaining plants in the garden are now just 2 small pots of Italian basil, and a larger one of white sage. The Pothos plants are growing out of control.



---
NOV. 19: DOUGLAS DAY
November 19th, 1858 was the day Governor James Douglas signed the document at Fort Langley that created the Province of British Columbia, and Douglas Day was created to commemorate that event. It has been quite an interesting time since then. Refer also to BC HISTORICAL EVENTS TIMELINE for art-related events in that 162-year history.



---
NOV. 18: STORM OF THE CENTURY
Scenes of the damage resulting from two days of record rainfall Nov. 13 - 15 are slowly becoming available as the rain clouds go away and roads re-open. Apparently highways are completely washed out in over 20 locations, another 20 or so are just buried by mud slides. Amazingly the human death toll so far stands at one person, although thousands of farm animals are expected to have perished in the floodwaters. All I had to do was sit at home and look out the window at the rain falling. If I was still working for the railway I would have been out in the rain starting last Saturday night.

What was amazing was how quickly the rain stopped in the West End and the clouds blew away. At 12:10 Monday it was raining hard, at 12:20 the wind picked up and the rain tapered off, by 12:30 there were only scattered clouds being blown east, and the sun started to come out. It was really windy for the next while. An empty chip barge in English Bay ran aground at Sunset Beach, there were fears that it was going to ram the Burrard Bridge.

Anyway, it's now a State of Emergency, the military has been called in to help, road and bridge contractors are mobilizing, but the floodwater is apparently still rising in Sumas Prairie, and more rain is predicted over the next few days. Best wishes for the health and safety of everyone who has to deal with the aftermath of the storm.



---
NOV. 8: SWARMED BY RACCOONS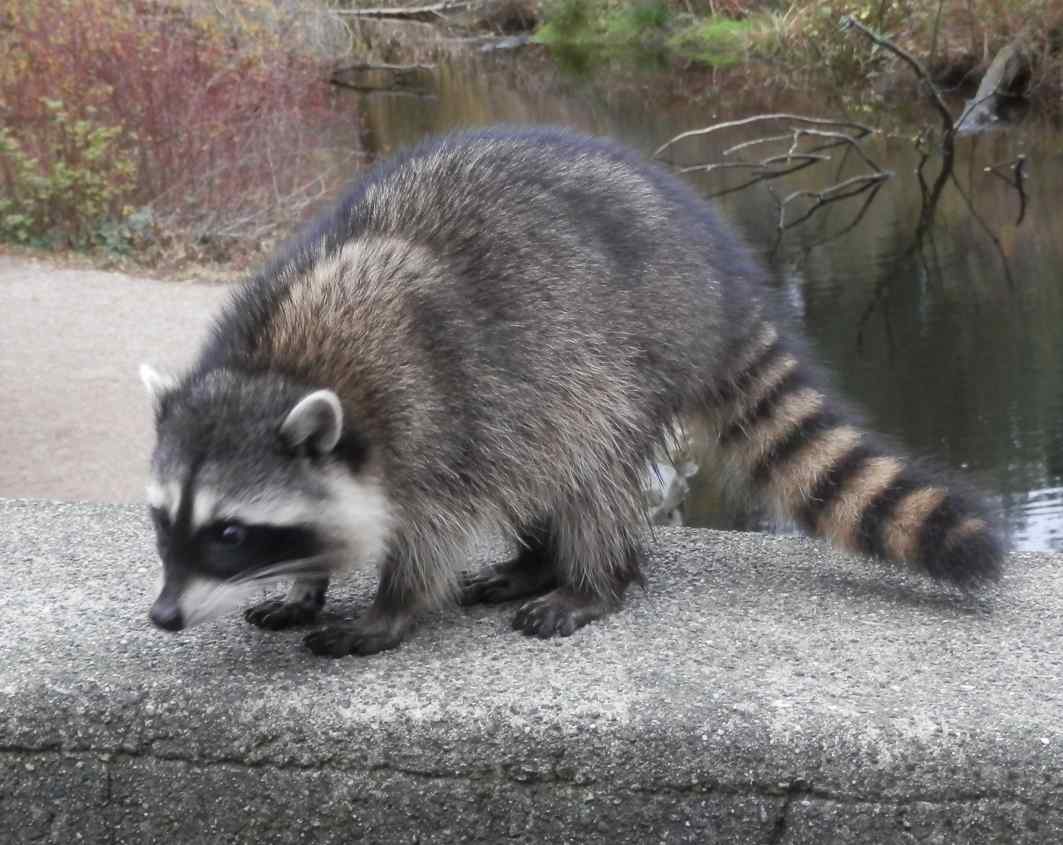 Young raccoon at Stanley Park

Now that the coyote attacks have apparently stopped and Stanley Park is open to the public again, I went for a walk down to Lost Lagoon. Not many birds around, there were some dead carp rotting on the shoreline, a few crows picking at them. There was fresh snow on the north shore mountains, a cold east wind. I was talking to a friend on the arched bridge west of the Lagoon, when five or six young raccoons came swarming onto the bridge. It was quite funny, they were mooching for food. Of course they're cute, and they were all in good condition, but they are still wild animals.


North shore with new snow
---
OCT. 26: WEBSITE STATISTICS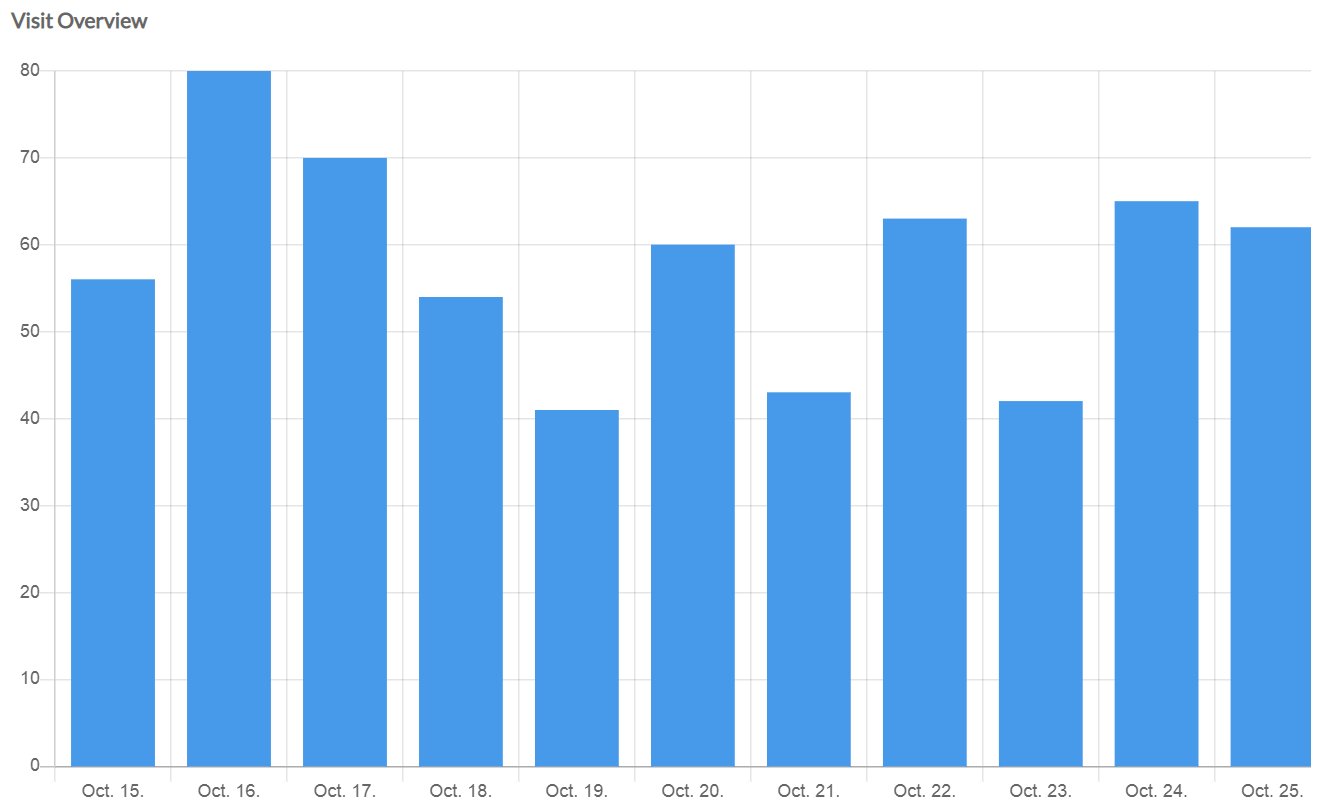 Website visits October 15 to 25

It's been a while since I had access to statistics about my web site, but I resolved that issue two weeks ago. In 11 days there have been 651 visitors to my website, who looked at a total of 2,083 pages. Most visitors are "from" Canada, next is the United States, then England, and then a number of countries with a few visits, including France, Spain, Netherlands, Sweden, Belgium, Brazil, Iran, Norway, Romania, Russia, Thailand, China, New Zealand, Germany, Mexico, Ukraine, and Australia. Welcome visitors from around the world! The vast majority of visitors are looking at my BC ARTISTS project. Most visitors apparently came directly to my website, and the rest found my website through one version of Google or another. Since I am only occasionally contacted by a website visitor, it's nice to know from the statistics that quite a few people are looking at the site.



---
OCT. 21: 20,000 BC ARTISTS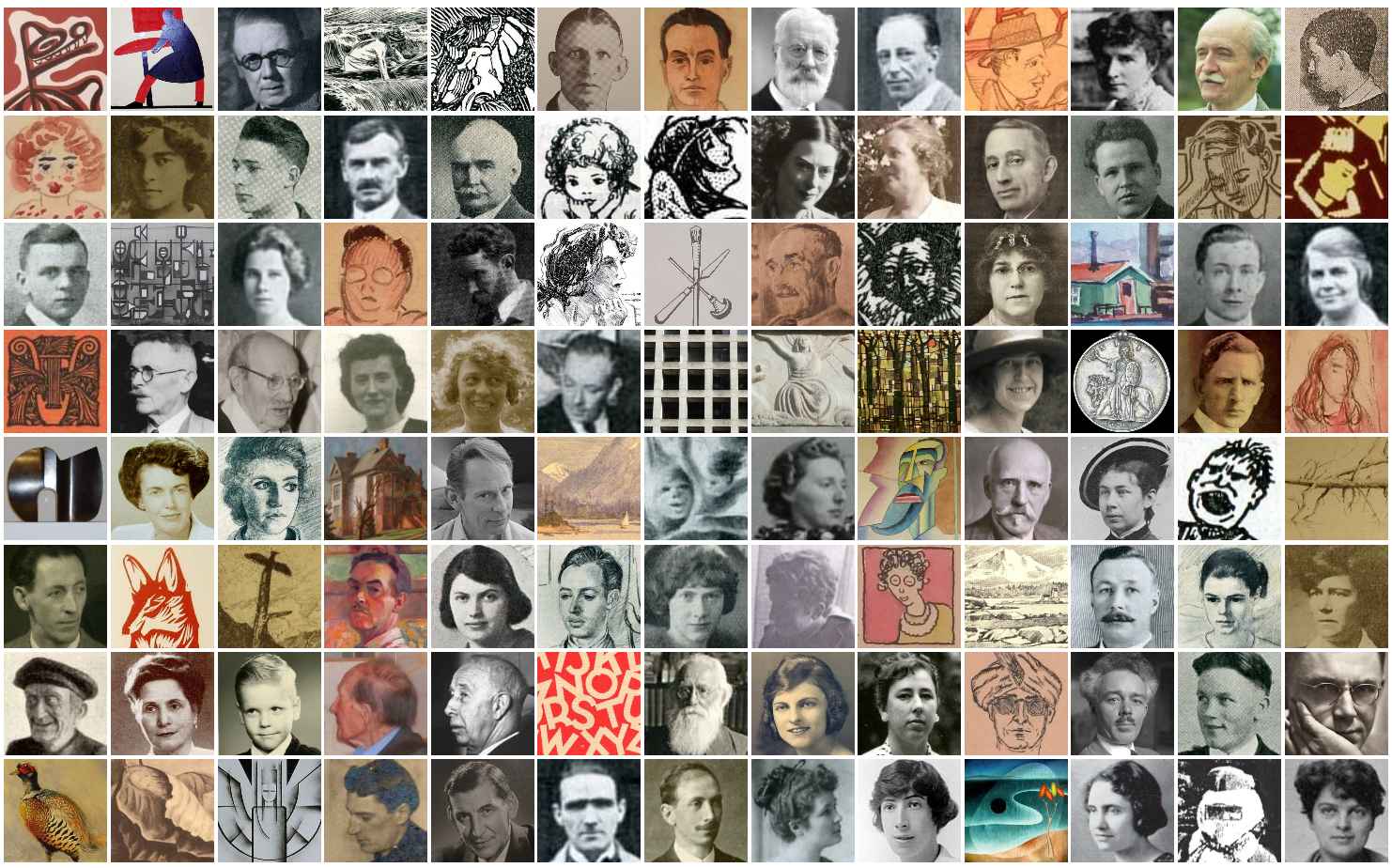 BC artists' birthday collage (click image for live web page)

With the recent addition of 110 craftspeople from the Island Arts and Crafts Society exhibition catalogues, the BC ARTISTS project has finally passed a total of 20,000 visual artists listed. Of these, 1,800 have individual mini-biographies. As a celebration of reaching this benchmark after twenty-five years of research and work, I have created 107 thumbnail images representing individual artist birthdays, and have presented them as a one-page collage (click above) and as a 12-month calendar (see below).



---
OCT. 14: INTERESTING UPDATES TO BC ARTISTS PROJECT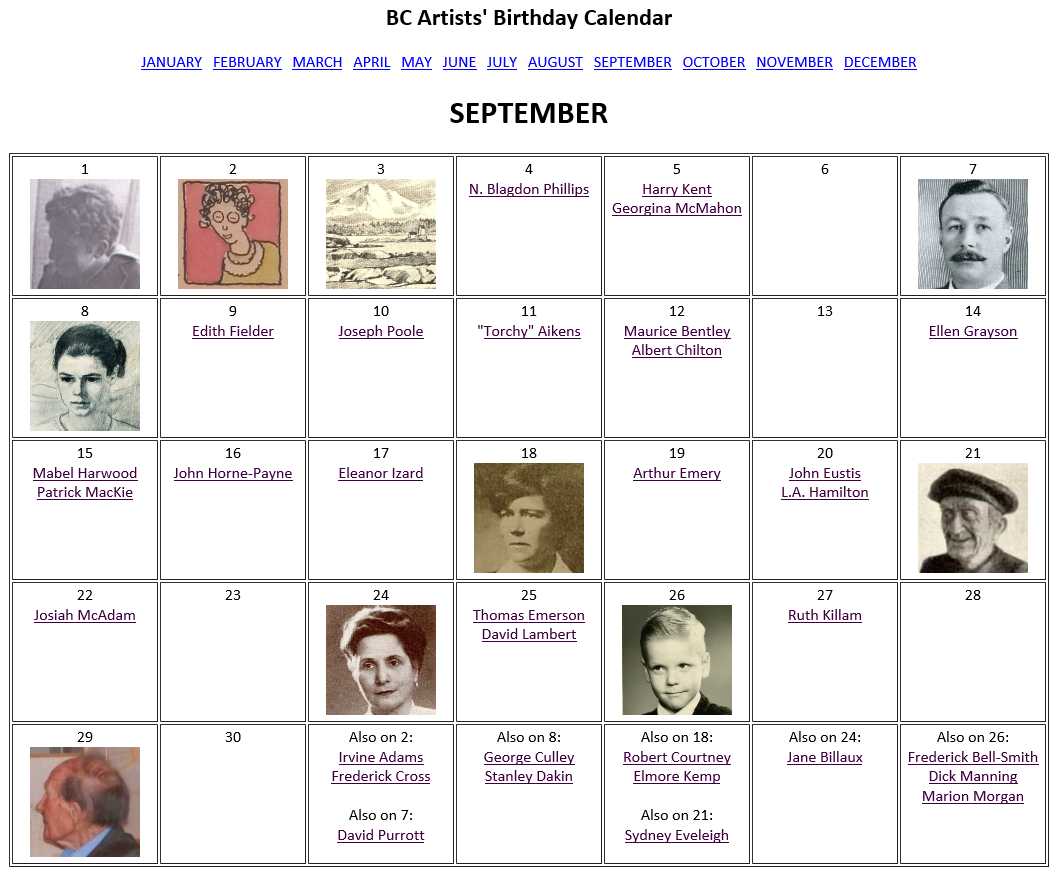 Screen capture of calendar (click image for live web page)

I thought it would be interesting to see if I could put together a calendar of BC artist birthdays. The screen capture above shows one month of the resulting 12-month calendar. This is the result of three days of smithying the htm code, adding images and artist links. 284 days of the year have artist birthdays on them. There are 343 links-only for artist birthdays, and 114 artists have images. All images and links "click" directly to the artist's biography file. This prompted me to do an on-line witch-hunt for more artist birthdates, and so far quite a few have been found. Images were selected (in order of preference): photographs of the artists; portraits of the artists; portraits (of anyone) by artists; artwork by artists. It seemed like a fun idea, like an advent calendar for artists, or a "know your BC artists" game!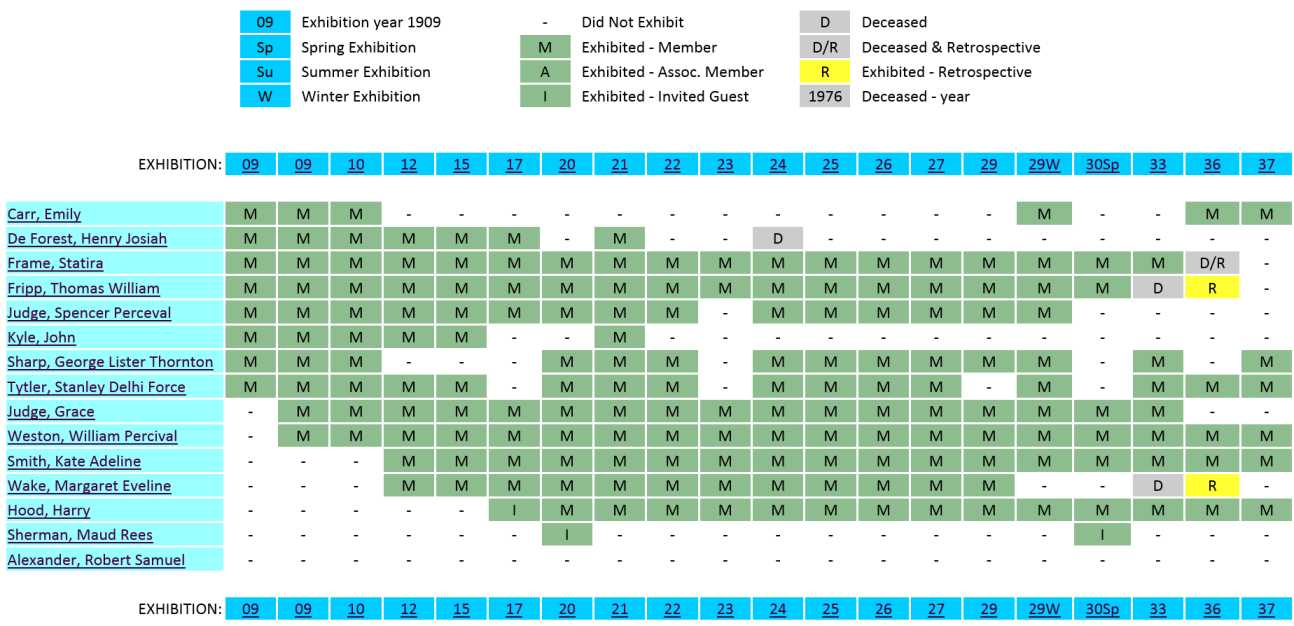 Screen capture of BCSFA exhibitors

This was another idea, a way to visualize some of the vast amount of information now contained in BC ARTISTS. Here we have a selection of the more prominent exhibitors with the B.C. Society of Fine Arts, seen here from 1909 to 1937 (the timeline goes to 1967). Artists are listed based on the date of their first exhibition with the Society. Note: this is a work in progress.

Screen capture of BC Artists at War

This screen capture shows part of a web page that looks at BC artists through the lens of war. There are an amazing number of artists who went off to war, in one capacity or another. We had heroes, we had spies, we had the maimed and wounded, the survivors, and we had the dead. This list goes from the Zulu Wars through to World War Two. Lest We Forget.



---
SEPT. 18: IMAGES RECEIVED FROM EXHIBITION IN BERLIN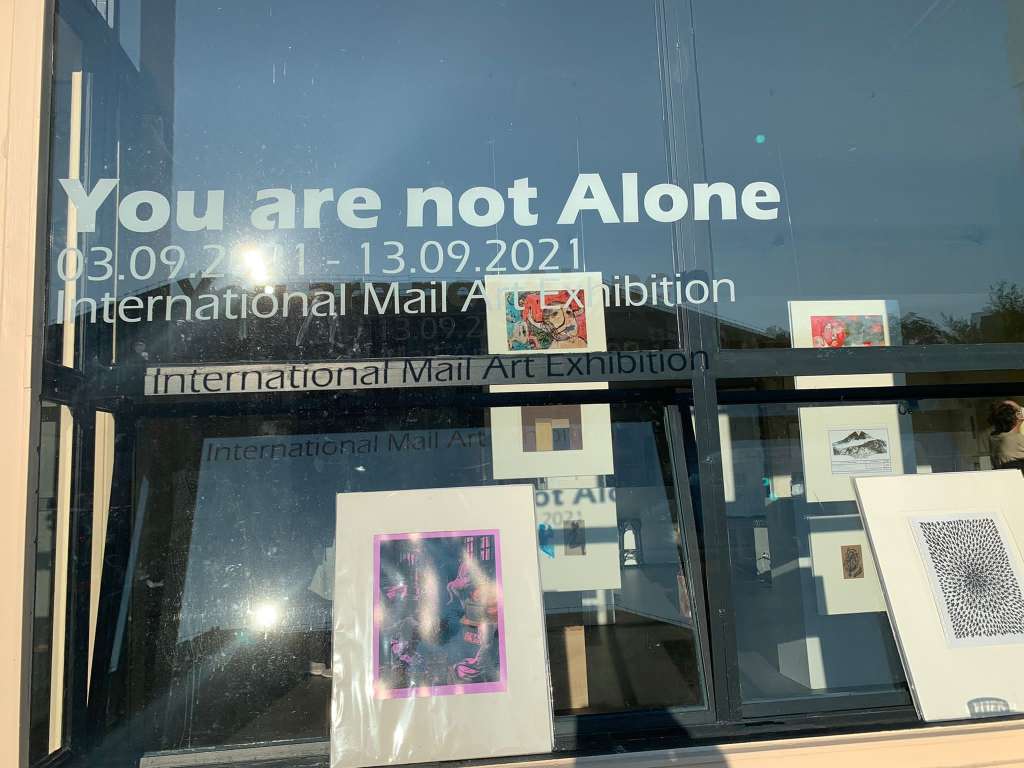 Photo courtesy Humam Alsalim

The YOU ARE NOT ALONE exhibition in Berlin, Germany, has closed. It would have been fun to be there! Luckily, the Curator of the exhibition sent a dozen photographs of the exhibition which allow a little taste of the show and the venue. Since there were so many artworks accepted into the show, I looked closely to see if I could find mine, and I did!!! My drawing is in the lower right corner of the photograph above, posted in the window and available for sidewalk viewing 24 hours a day. It is also just barely visible in the exterior photo below.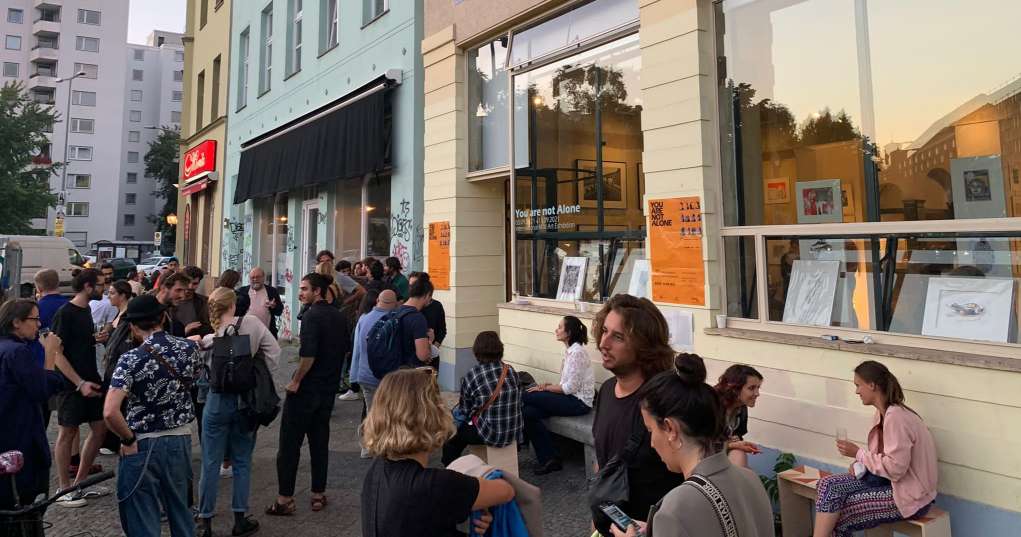 Photo courtesy Humam Alsalim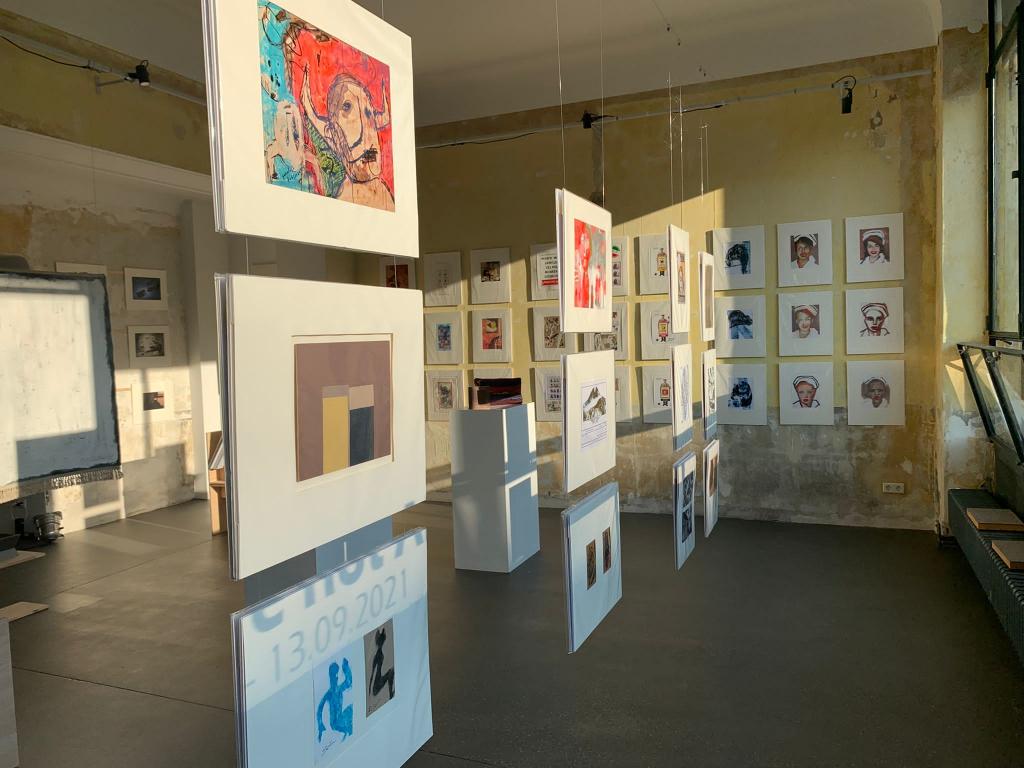 Photo courtesy Humam Alsalim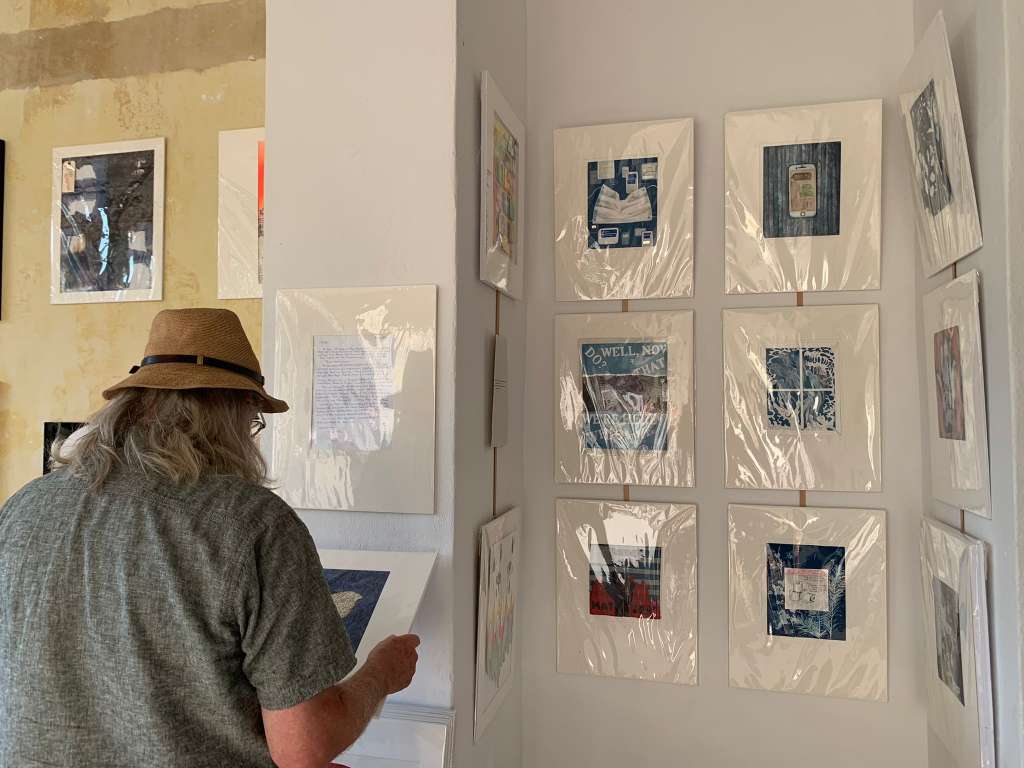 Photo courtesy Humam Alsalim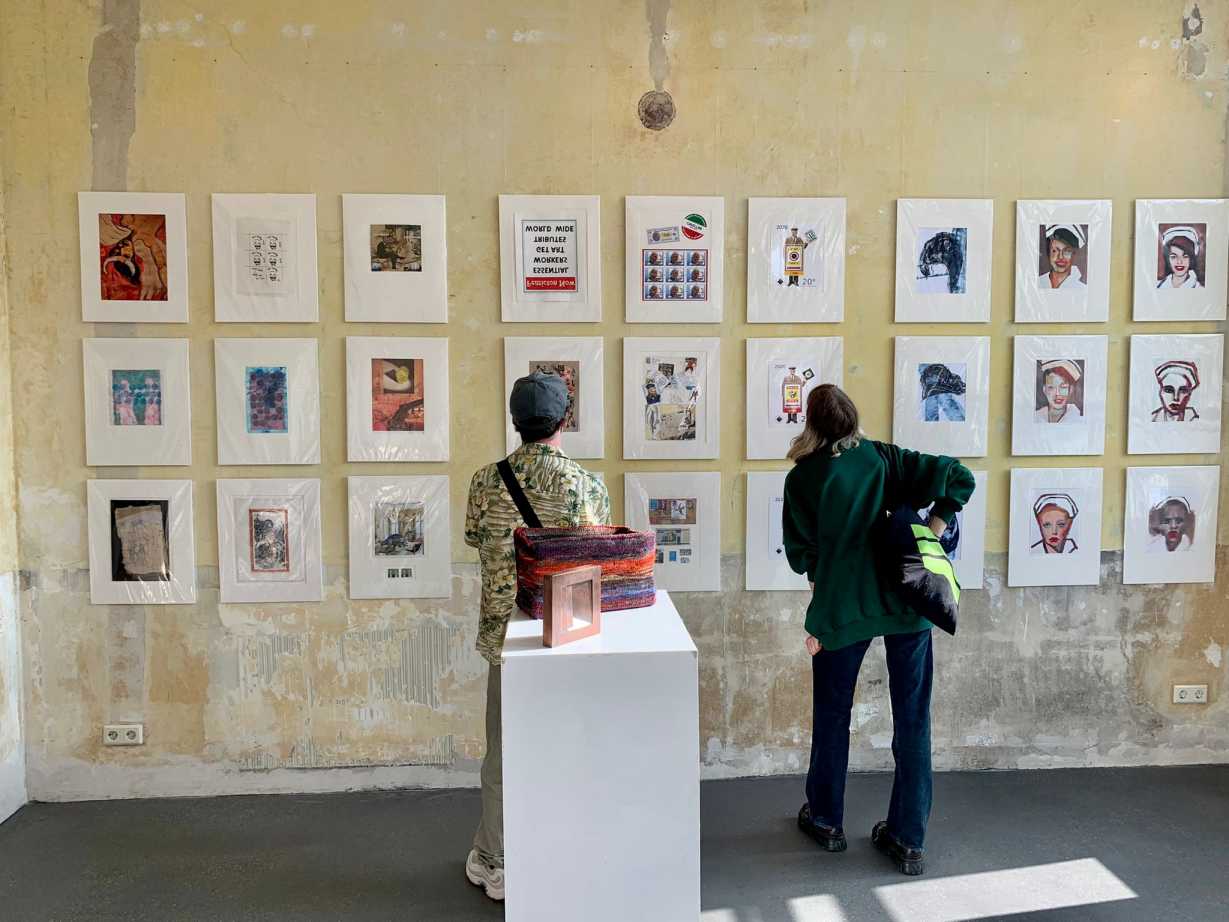 Photo courtesy Humam Alsalim
---
SEPT. 6: UPDATED LAYOUT FOR BC ARTISTS HOME PAGE
I was trying to think of ways to make the BC ARTISTS home page look a little nicer. I extended the green bar at the top to match the image width, and revised the bottom line of text to be inside a green bar as well. I recently also revised the "REFERENCES" link to be on its own line, and the other links below it. I like the result, the page seems more organized and balanced now, and the hierarchy of the importance of links is more obvious. I've made six banner images that I change once in a while, and intend to create one or two more for variety.



---
AUGUST 28: MEMORY CARD ON CAMERA FILLED UP
I was taking some digital pictures the other day, and the camera suddenly reported "OUT OF MEMORY" ... crikey. The memory card is 16 gigabytes, which allows for over 4,000 high resolution photographs. So, in my spare time, I've been moving them to the computer, and sorting them into various directories to make it easier find them. I also deleted quite a few that didn't turn out or aren't useful. The basic folder on the computer for IMAGES now has 5,337 pix, but the 2 terabyte backup drive has a lot more.

Various folders created include:
Miscellaneous photographs around the apartment (167 photographs)
Miscellaneous around the West End and Downtown (422)
Various walks around Stanley Park (891)
Printing limited edition prints (289)
Pictures of limited edition prints (354)
Demolition of the Landmark Hotel on Robson (152)
Art research photographs (1,186)
My indoor/outdoor gardening attempts (785)
ETSY mockup photographs (248)
Kumiko lattice design and construction (360)
Model of 3-masted ship construction (120)
Sewage backup & restoration work (450)




---
AUGUST 24: GROUP EXHIBITION TO OPEN IN BERLIN, GERMANY IN SEPTEMBER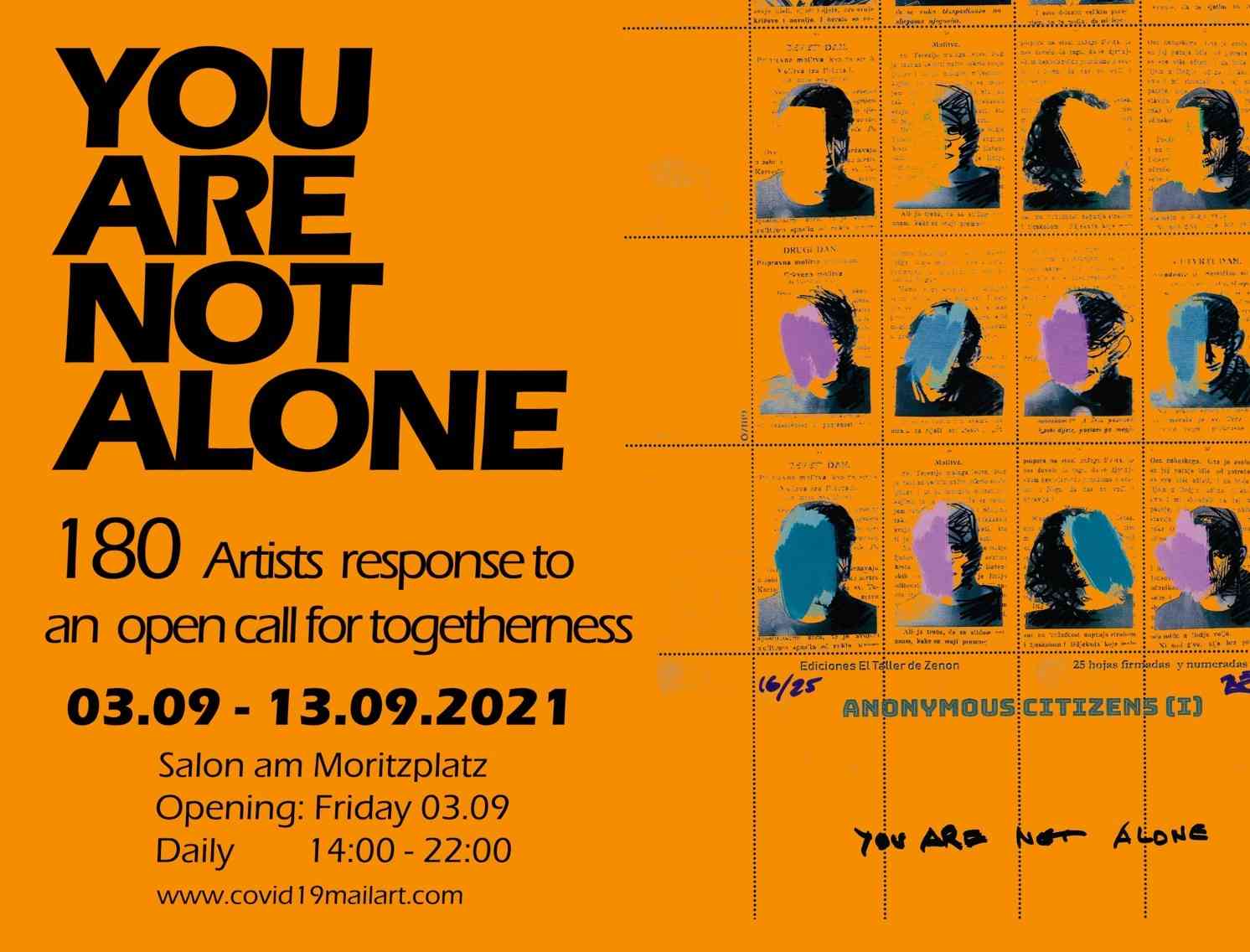 (a compacted version of the exhibition image)

One of my "Adventures of Noman" drawings CONNECTIONS will soon be on exhibit in Berlin, Germany! The exhibition will be open from September 3 to 13 at the Salon am Moritzplatz. After Berlin, the exhibition will travel to Nice, France, where it will be shown in 2022. This is the first time my artwork has been exhibited outside of North America, and only the second time outside of Canada.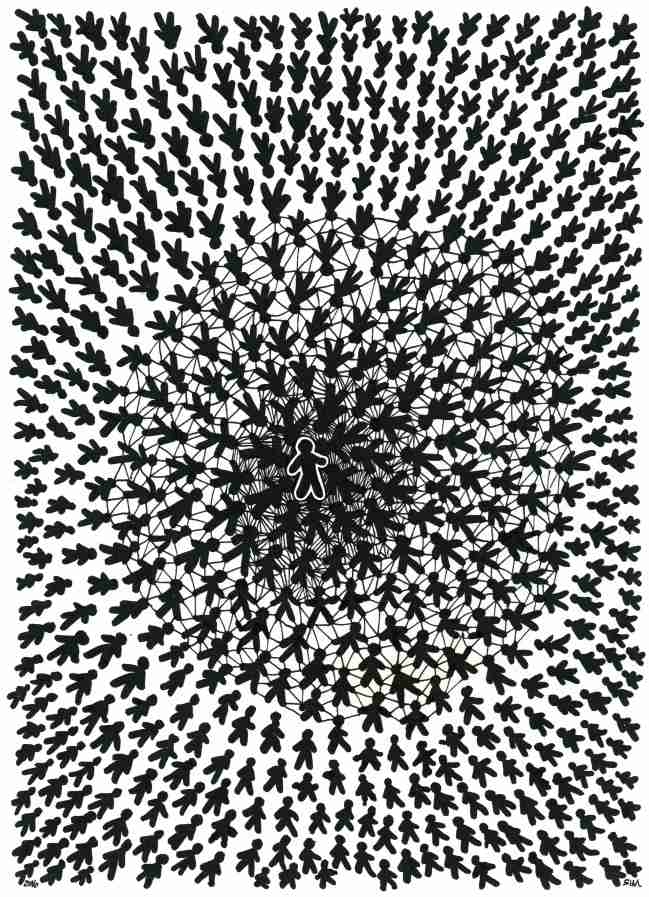 The Adventures of Noman - CONNECTIONS by Gary Sim, 2016
Pen & ink, india ink brushpen on paper.
---
AUGUST 10: SEWER BACKUP RESTORATION COMPLETED AFTER EIGHT WEEKS
It seemed like it took forever! Tradesmen tromping in and out of my home on a regular basis, leaving garbage behind, making a mess, nails and drywall screws all over the floor, drywall mud and drywall dust in mounds alongside the repaired walls ... the new carpet doesn't come close to matching the colour of the existing carpet, the paint is close but not quite right ... yesterday i was able to rebuild my bedroom at last, and slept in my own bed for the first time since June 15. Restoration work is still ongoing in the elevator lobby and the main floor lobby, as well as in adjoining suites.


How do you like the colour match for the new carpet? Does that look like a straight line?

It suddenly seems that there is a lot more space in my living room, with the entire contents of two large closets back where they belong (coats, jackets, shirts, pants, shoes, boots, towels, books, boxes, art, photographic equipment, empty 3-ring binders, etc. etc.) as well as my bedding and mattress off the living room floor and onto the bed at last. I can now access my planholder drawers again after two months, and reach one of my main bookshelves without doing gymnastics. Two ongoing tasks were stopped dead in their tracks for the duration, and can now proceed. The whole sewage episode was a multi-dimensional f***-up to put it mildly.



---
AUGUST 1: SNAP PEAS AND FLOWERS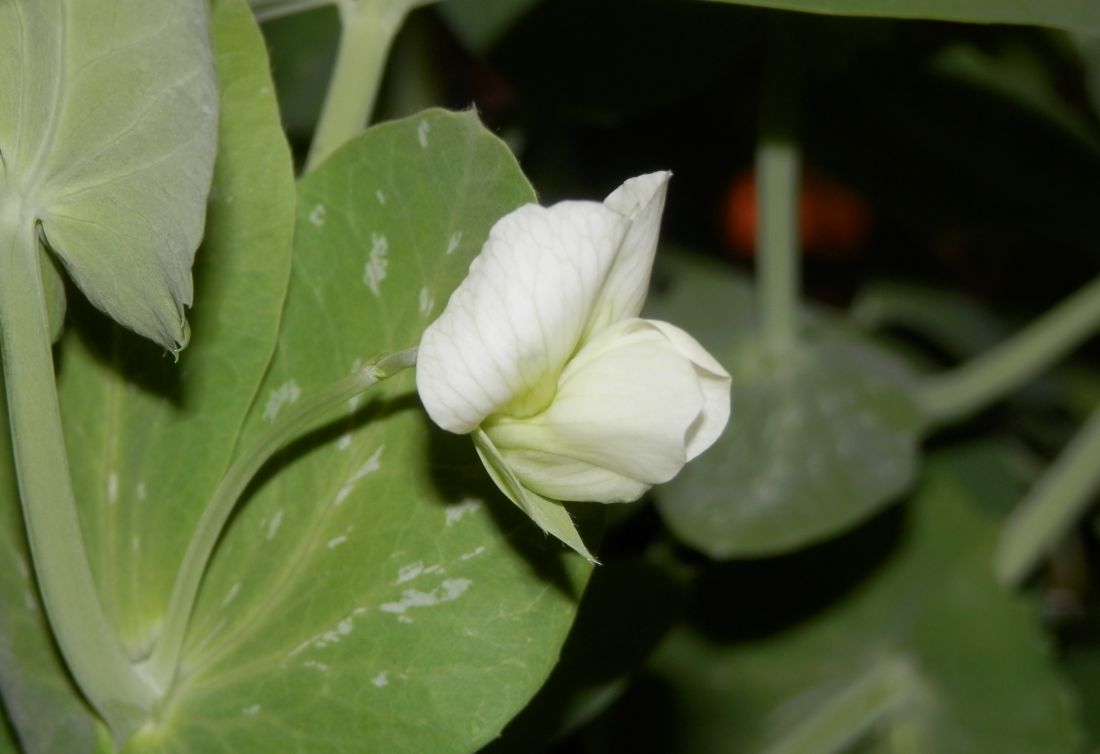 A pea blossom.

The snap peas didn't seem to be doing very well, and were behind the growing schedule noted on the seed package, so I went to pull them up and plant something else. When I started to do that, I noticed that the peas were actually flowering and that there was one pea pod already growing! So, I decided to leave them and see what happened. So far, there are a growing number of flowers and pea pods emerging, but perhaps not enough for a feast. All of this indoor gardening may seem like a waste of time, but it is interesting to have different plants and see how they grow. I'm also getting a good collection of dried and frozen basil leaves, and just harvested another crop. The garlic chives are slowly growing larger and with more leaves, and the White Sage plant is getting very leafy. I put it out on the porch, it seems to like it there. All of the plants are certainly going through a lot of water!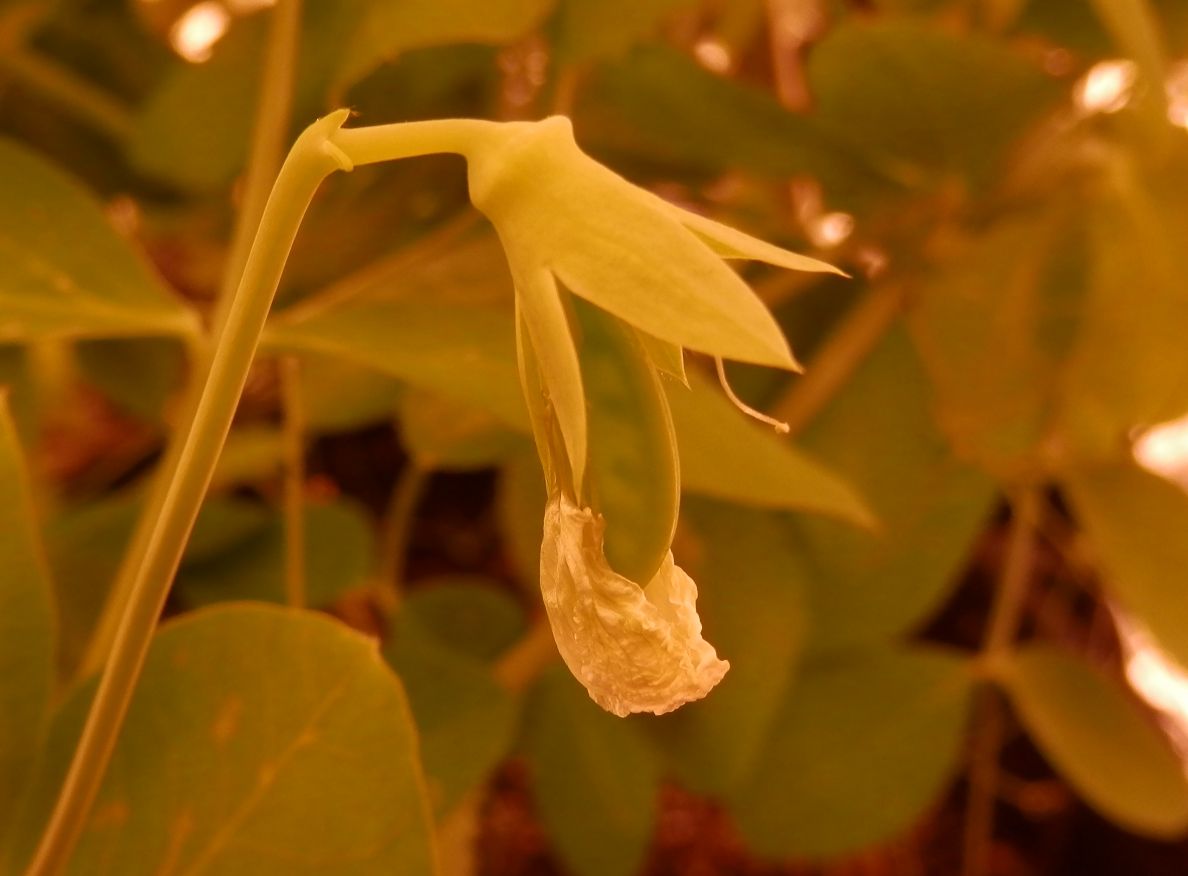 A pea pod on the way.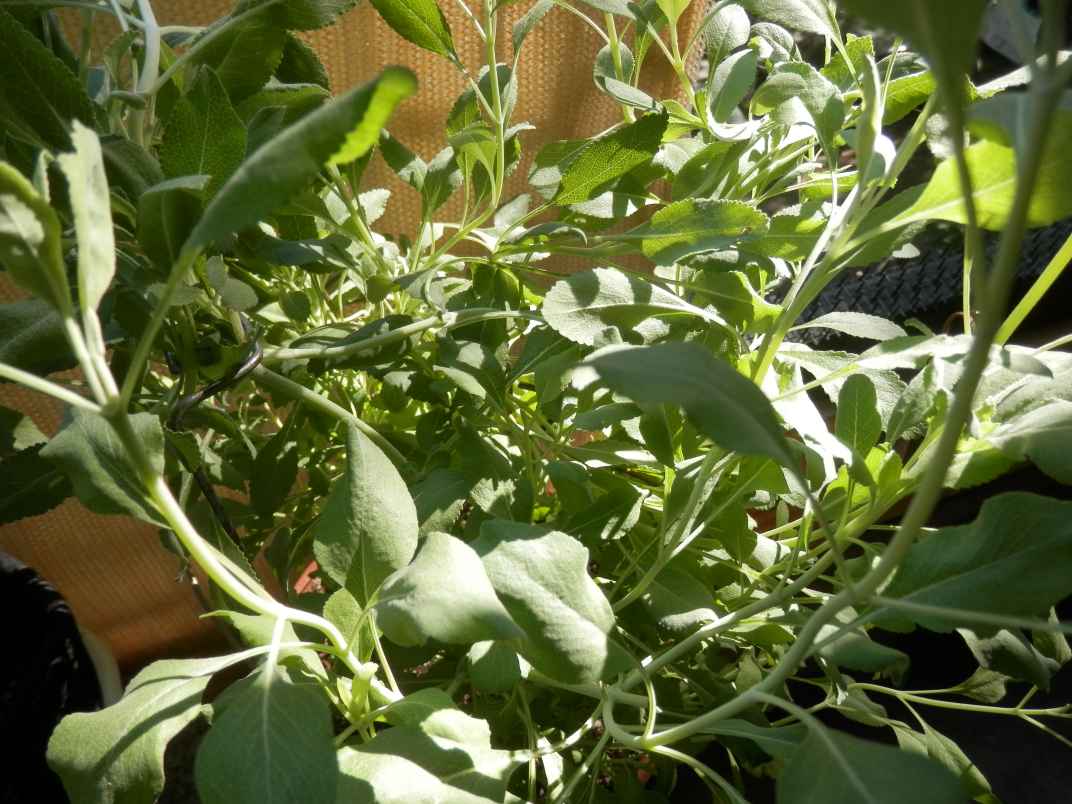 White Sage enjoying the morning sunshine.
---
JULY 29: JAZZ RETURNS TO BARCLAY PARK

Part of the crowd enjoying the live music

I was at home on Thursday July 29 when I heard music outside. When I went out on the balcony to check it out, I realized that it was live music, coming from Barclay Park. I went right over to listen, it's been a while since they had the series of concerts. There was a really good crowd, more people than I've ever seen at one of the events, which was great to see. The Winston Matsushito Trio was good, the weather was perfect, and it was a very enjoyable break from the usual routine. There should be another concert there on Thursday August 19th.

Website: https://roeddehouse.org/website/index.php/en/featured-events/jazz-concert-series



---
JULY 23: SAYONARA COAST RESTAURANT
I've enjoyed dining on sushi made by Chef Max Katsuno. He's the sushi Chef at Coast Restaurant, along with Chef Yoshi Ando. I've been going to Coast for about three years, but always sat at the round bar in the main room. Max and Yoshi have a small sushi bar off to one side. When the restaurant re-opened after the COVID closure, the round bar had been retro-fitted with plexiglass screens, which were not very helpful for chatting with anybody. The sushi bar was more open, and many fewer people able to sit there (so less risk), and I began sitting there whenever I went in. Max figured out what I liked to eat, tested my limits with various Japanese food items, and started making custom dishes for me like the poke bowl pictured below.

Poke bowl with marinated salmon, rice, salad, sprouts, cucumber, mango, avocado, bonito flakes, potato crisps, sesame seeds, dressing

The sushi side doesn't have a POS, so they are unable to actually put orders into the system for billing. At some point during a visit, usually after I asked for the bill, a bartender would poke their head into the sushi side, and ask what to bill me for. Max would name some item, and the bartender would go away to finish the bill. Eventually, I found out that "management" thought that I was getting free food, or was at least being underbilled for food. One manager or another would prowl by where I was sitting and eyeball the food. One day recently the bartender actually argued with Max right in front of me about what I was being billed, and even told Max that the manager thought that I wasn't being billed for all of my food. He even pointed to my plate and asked "what's that?" since Max hadn't named it. I thought it was quite offensive. After the bartender departed I said to Max: "For all the money I spend here on booze, the food should be free." Never mind my (then) standard tip of 20% for whatever was on the bill. Sayonara Coast! Future bill plus tip = $0.



---
JULY 21: BC ARTISTS RE-FORMATTING PROJECT FINALLY FINISHED
A three month long project to format all of the BC ARTISTS web pages identically was finally finished today. Over 3,500 files were updated during the process. 340 Vital Statistic documents were researched and added to artist biographies, as well as numerous links to artist websites, memorial websites, online obituaries, and newspaper articles. Many hyperlinks were also added for navigation to and from pages that were more recently created. A number of spelling and formatting errors were found and fixed, but more were probably made in the process.

Now the plan is to take a break from BC ARTISTS and concentrate on another project. The question is, which project? The main two contenders are 1.) completion of the chapbook series planned for my autobiography A BC LIFE; and 2.) completion of LOOKING FOR MAUD, which is the summation of my research into the life and times of Vancouver artist Maud Rees Sherman and her very interesting family.



---
JULY 15: RESTORATION STARTS WITH DEMOLITION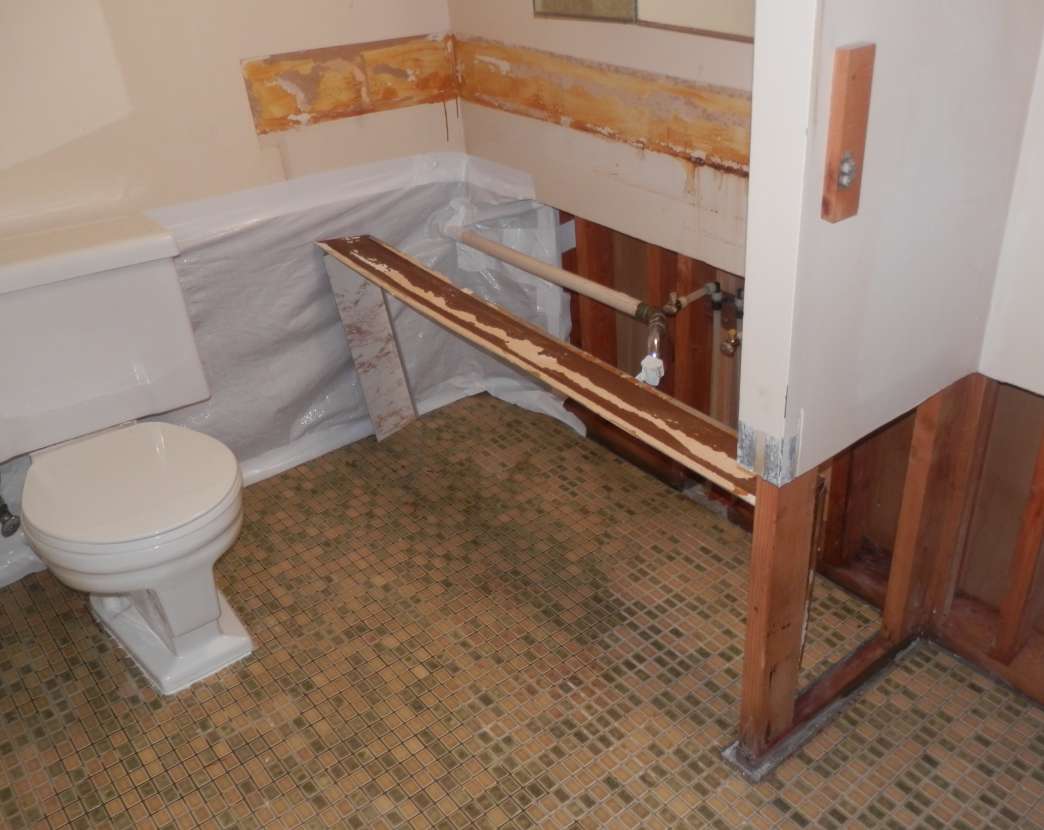 Demo work in bathroom

To remove the bottom two feet of drywall in the sewage affected areas, the toilet and vanity had to be removed, as well as the closet door and all contents in the closet. Mercifully the toilet was reinstalled. I was banned from my apartment all day due to "hazardous material abatement" which was supposedly asbestos. They also removed all the protective covering on the bare concrete floor where carpet was removed, and didn't bother to replace it.



---
JULY 14: ETCHINGS ON DISPLAY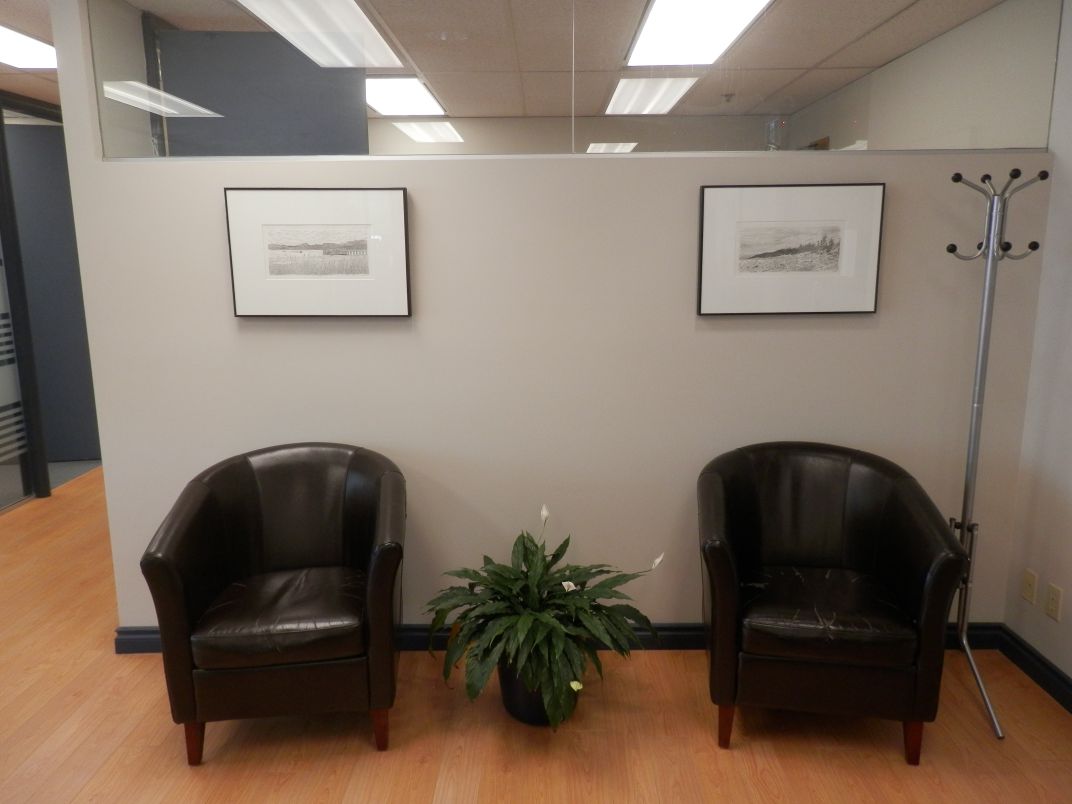 Water Taxi and Looking West etchings

I hadn't visited my lawyer's office for a number of years, so was quite pleasantly surprised this week to see my two etchings on the wall in the reception waiting area.



---
JUNE 30: SEWAGE FLOOD AGAIN
Exactly two weeks later, my apartment was AGAIN FLOODED WITH SEWAGE on June 29. It was the exact same cause: more kitty litter flushing. Most of the damage occurred to other suites, but once again my bathtub was full of sewage which once again slowly drained to leave a layer of crap in the tub. Dehumidifiers were set up in my suite and the hallway to dry things out again.



---
JUNE 27: SEWAGE FLOOD
I was looking forward to summer, but wasn't expecting to have my apartment FLOODED WITH SEWAGE on June 15, just after i posted the news item on snap peas.

Apparently, somebody stupid upstairs flushed kitty-litter down the pipes, and it not only plugged the line but turned to concrete in the line. It took 3 crews of plumbers almost 20 hours to find and fix the problem.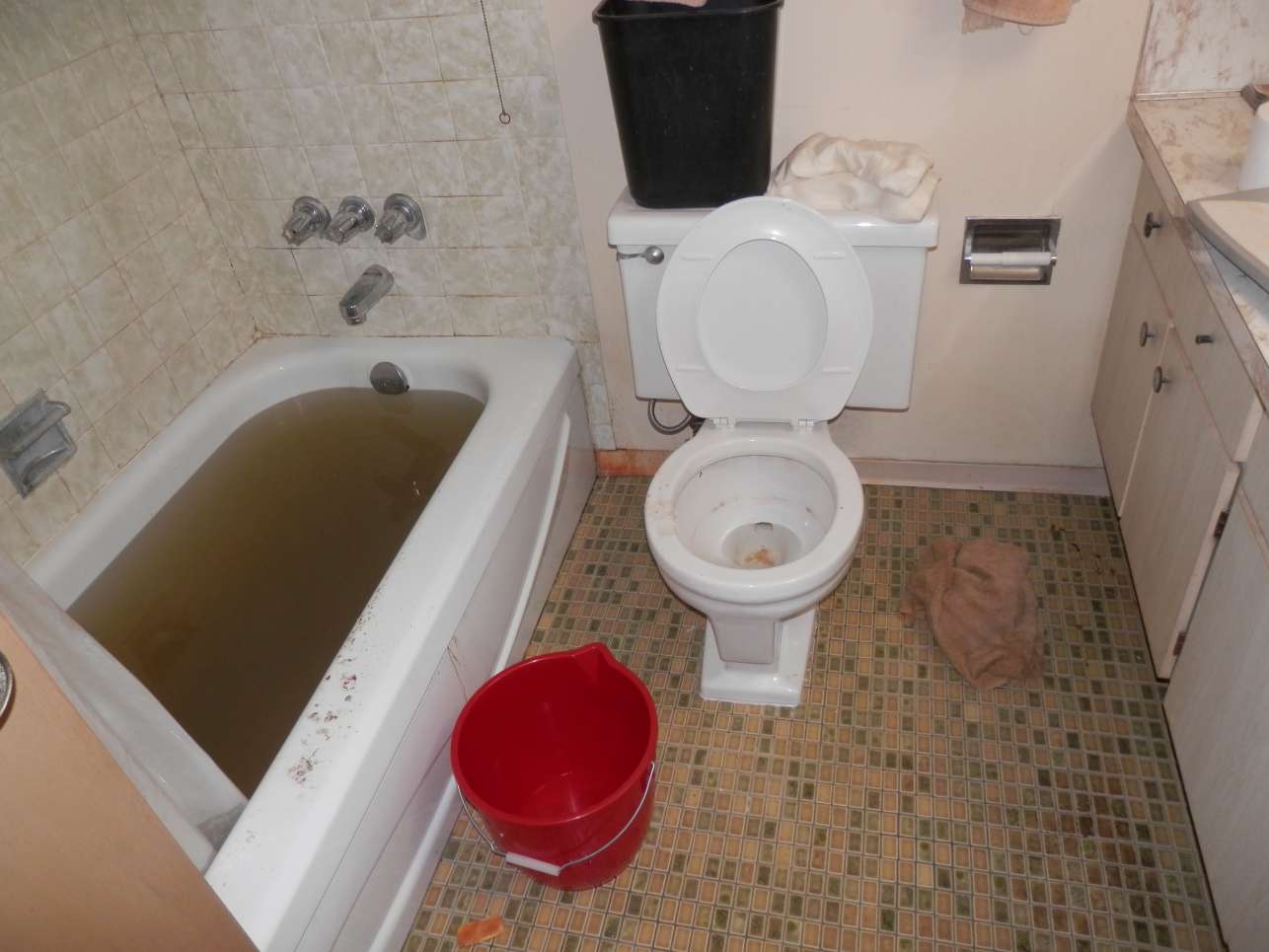 High tide in the sewage pond in my bathroom

During that whole time my bathtub and toilet were filled with sewage, including a used condom floating in my toilet as a garnish. Charming. The mess overflowed into my hallway and bedroom, as well as into the suite next door and the elevator lobby. The Assistant Resident Manager and I took turns hauling buckets of sewage and dumping it into my kitchen sink to prevent more flooding and related damage. By coincidence (apparently) the ownership of the building had changed title at NOON that day. Welcome to Faulty Towers, new owners.

Low tide in the sewage pond in my bathroom

When the sewage finally drained out of the bathtub, the restoration crews just left the excrement sludge there and went off to do other things. I had to clean it up myself, or just leave it there. Gross.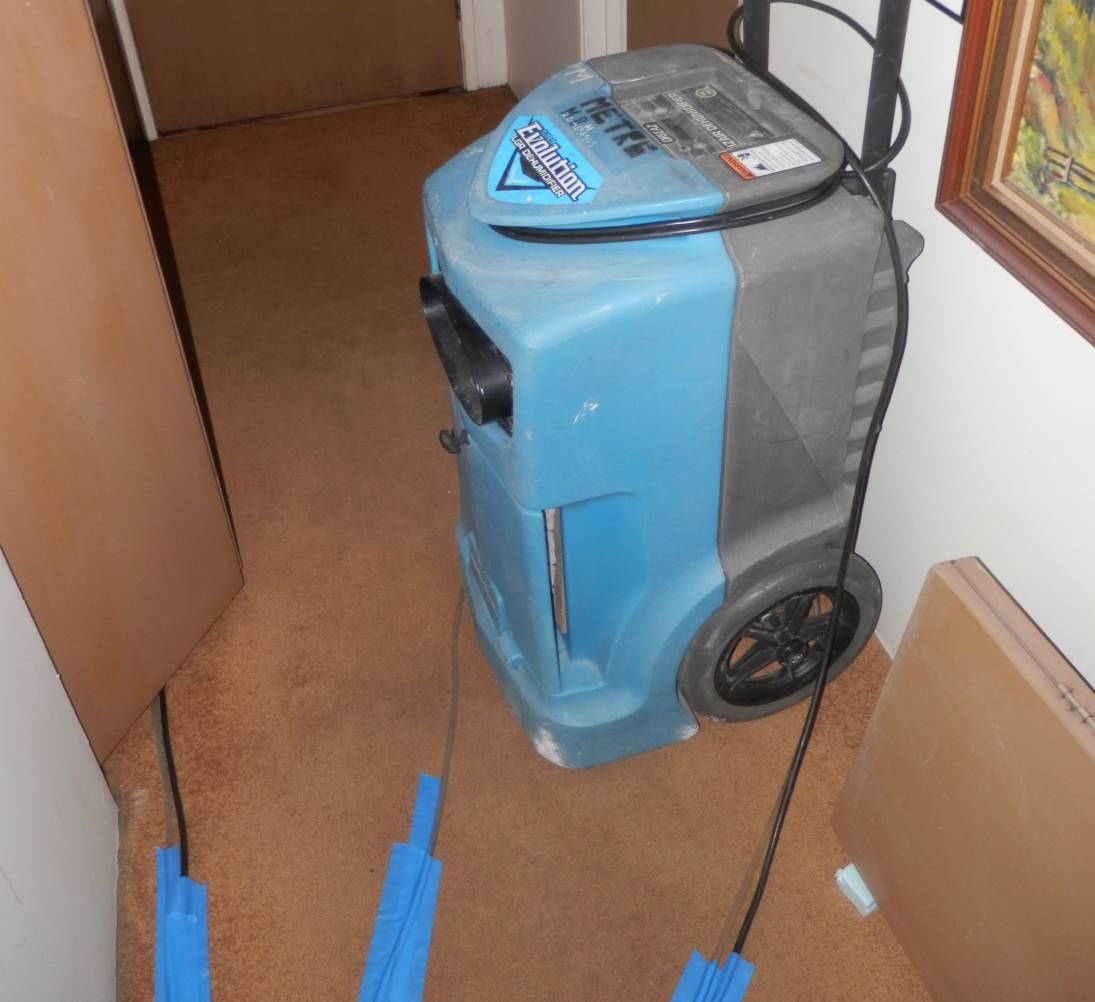 One of 3 dehumidifiers that ran 24x7 for the next 10 days.

The 3 dehumidifiers pump out heat to create evaporation, and my apartment's room temperature reached over 85 degrees! That was first thing in the morning with the sliding door to the balcony open wide 24 hours a day. The machines are also pumping collected "liquids" into my kitchen sink, and are also using my electricity to do their work. Somehow I just don't feel like cooking at home these days. Supposedly they will be removed tomorrow, after I complained about them.



---
JUNE 15: SNAP PEAS AND FORGET-ME-NOTS
I planted some snap peas 2" deep on June 6th, they emerged in four days, and are now six to eight inches high, growing like crazy! I planted 40, and amazingly 40 peas emerged from the soil. I had to thin them out yesterday.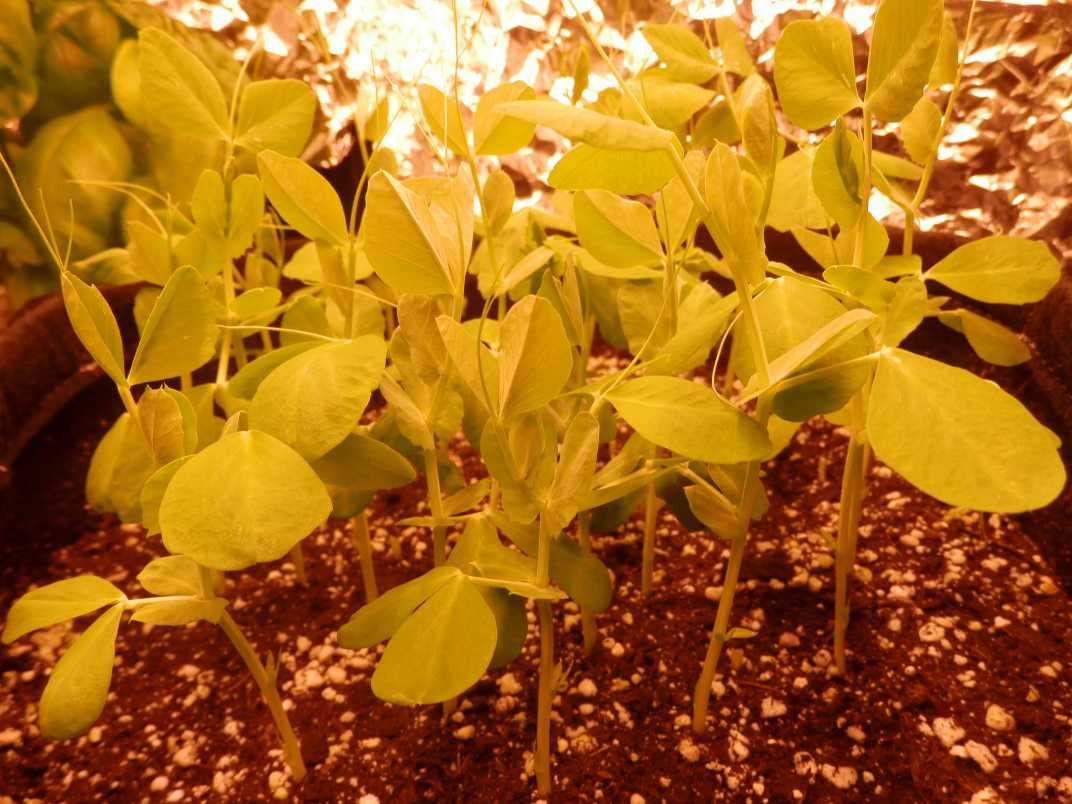 Sugar Ann snap peas 12 days after planting

Lee Valley sent me a packet of Forget-me-not seeds with a recent order, so I planted a couple of little pots to see what would happen. They also sprouted quickly and in great numbers.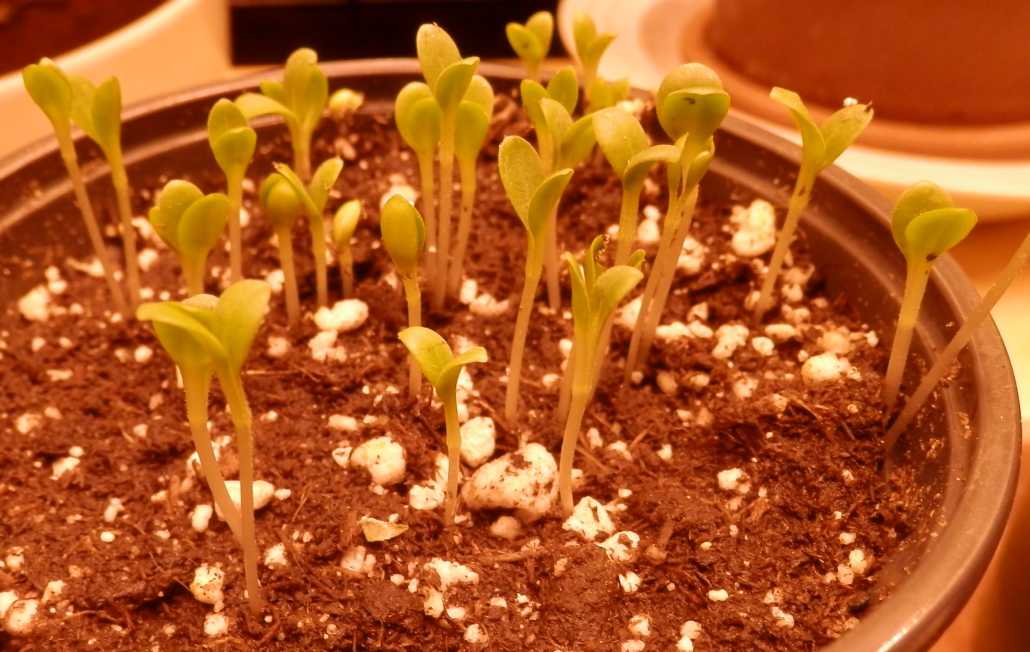 Forget-me-nots

I now have four LED strip grow lights, each two feet long, emitting 800 lumens and consuming 0.1 amp. The marvels of modern science. I hung them on the gridwall system with coat hanger wire, each of which is easily moveable left to right and up and down as plants grow or pots are re-arranged. The plants love them! I know that the tinfoil is a bit tacky-looking, but I have thought up a "fix" that I haven't had time to implement.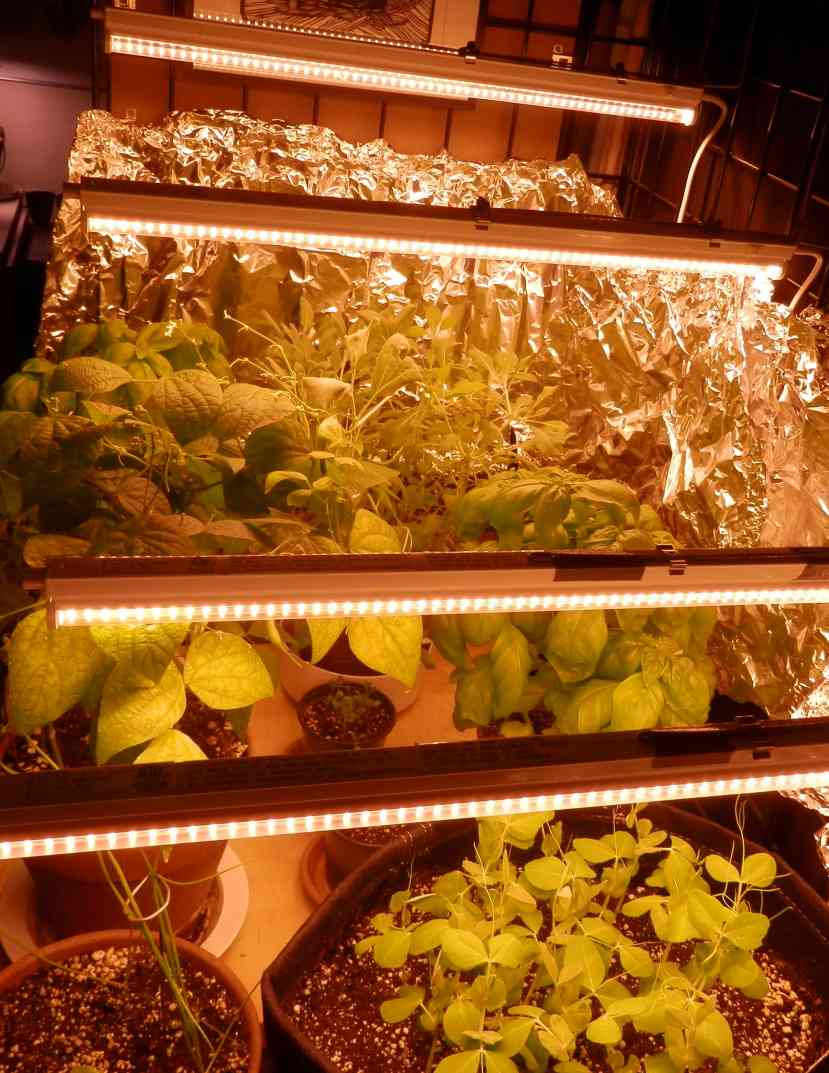 Garlic chives, snap peas, bush beans, basil, white sage, forget-me-nots
---
JUNE 6: HISTORICAL WEBSITE AWARD NOT AWARDED
I submitted my on-line historical database project BC ARTISTS to the BC Historical Federation as an entry for their annual "Best Historical Website" award. My project completely qualified for all of the entry requirements. After the Federation AGM closed, and I'd heard nothing about the award, I emailed them to inquire who or what won the award. To my surprise, I was advised that "There was no winner under the Best Website category this year. The committee felt that there were not enough applications submitted to be able to make an award."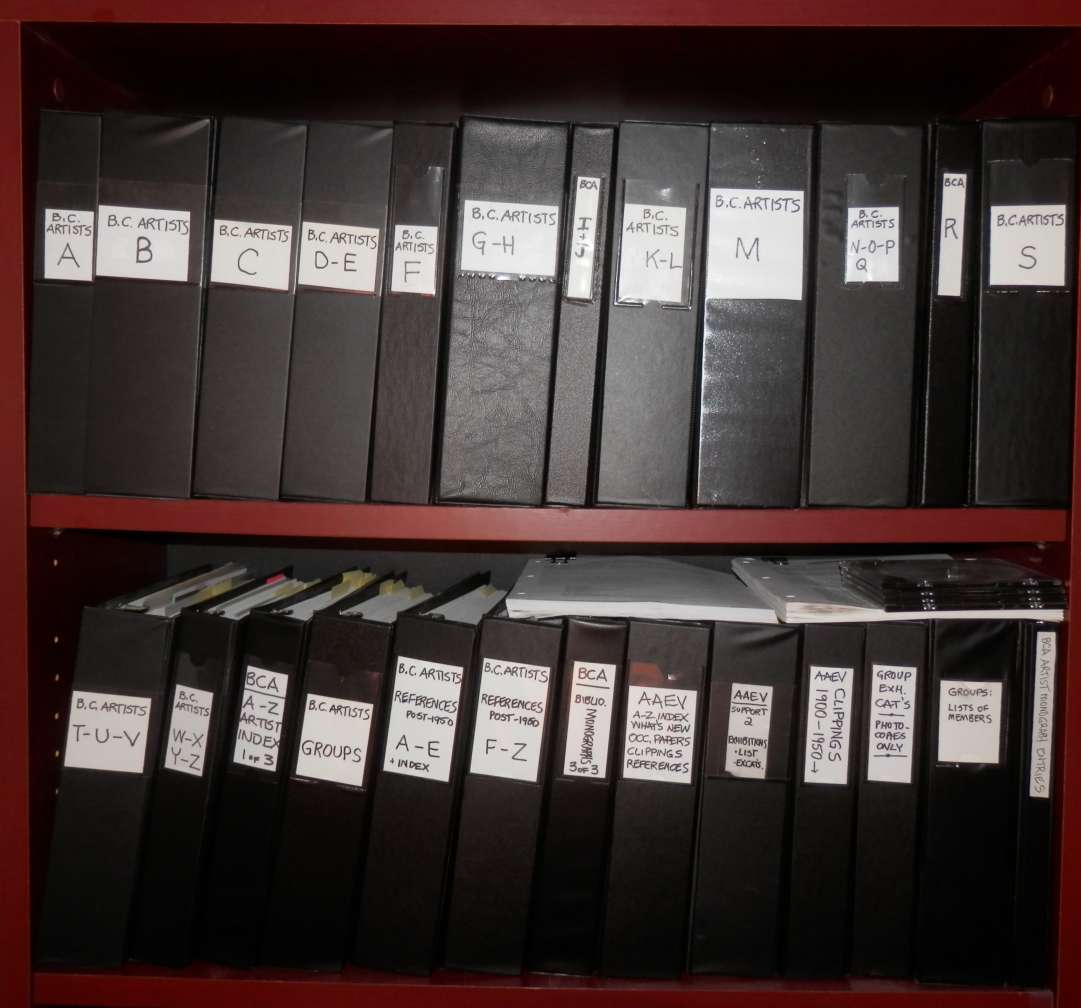 All the binders that it takes to hold a printout of BC ARTISTS (each binder is stuffed full, and each shelf is three feet wide)

While the committee was putzing around doing nothing and hopefully not getting paid for it, I updated 1,380 web pages in BC Artists, found and added information from almost 300 vital statistics records for artists, found and added scores of links to biographical and memorial websites for artists past and present, and added numerous images. The project now consists of 3,600 web pages and over 1,000 images, and contains references to almost 20,000 BC visual artists. A complete printout of the project takes over 5,000 pages (see photo). It is hard to believe that it wasn't considered because of a lack of competition. Under those rules, who would ever receive a Nobel Prize if they were the only person to solve cold fusion, cure cancer, or find the secret to living forever? It would be "sorry, not enough competitors to choose from ..."



---
MAY 29: IRENE & R.S. ALEXANDER COLLECTION DONATED TO EMILY CARR UNIVERSITY
An important donation of art ephemera and related material has been donated to the ARCHIVES at Emily Carr University of Art + Design. It consists of a large number of Vancouver School of Art Prospectii dating from 1932 to 1958; BC Artists exhibition catalogues from 1936 to 1966; B.C. Society of Fine Arts exhibition catalogues from 1937 to 1967; numerous other exhibition catalogues; and a large collection of ephemera, including correspondence, photographs, marketing material, news clippings, grant applications, and pamphlets.

The collection was created or collected by Vancouver artists Irene Catelle Porter and Robert Samuel Alexander. Robert graduated from the art school in 1947, and the couple were highly engaged in the local art scene. Most of the exhibition catalogues in the collection include listings of artwork created by the couple.

The collection passed to one of their daughters, who contacted me about ten years ago to discuss the material. This year, after compiling it all together, she gave it all to me. I started adding the material to BC ARTISTS and to her parent's biographical files in the project. However, the collection is something that I decided I could not keep, so I began looking for an institution that would accept it. The logical choice was Emily Carr University, partly because of the art school Prospectii in the collection, but also because Robert Alexander graduated from and also taught at the school.

An agreement has been reached, the collection will be accessioned to the University Archive in its entirety, and an appraisal is pending. Another successful donation nears completion! I'm still busy scanning photographs and other interesting material, and finalizing an inventory of the contents.



---
MAY 18: SAVARY REFLECTIONS - A NEW BOOK
I just received a copy of SAVARY REFLECTIONS hot off the press, it is a new book of stories about Savary Island, subtitled "Twenty-six Islanders Share Memories," edited by Ruth White, and published by the Savary Island Heritage Society. The book is well illustrated with black & white and colour photographs. It is a good size at 11" high x 8.75" wide, and has 134 pages including a 3-page index. ISBN 978-0-9739209-2-5.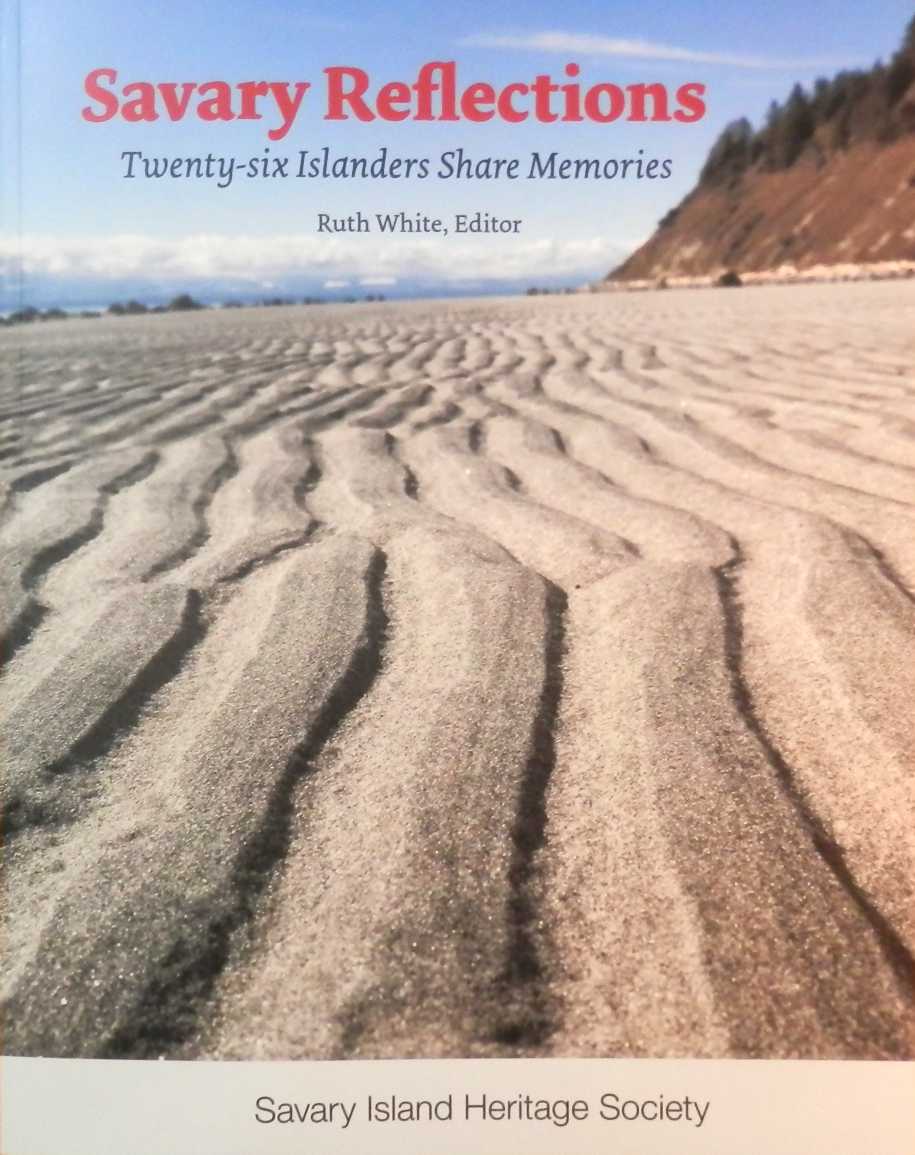 The front cover

The stories are divided geographically into parts of the island: Mace Point at one end and Indian Point at the other, with Savary Shores and Mid-Island in between. Well-drawn key plan maps show locations of the various dwellings and features of the island. The photographs range from historic pictures of the Royal Savary Hotel to recent family get-togethers, and show a wide range of dwellings and events through the years. It is a very interesting mosaic of life on the island, selected from many different family albums and memories.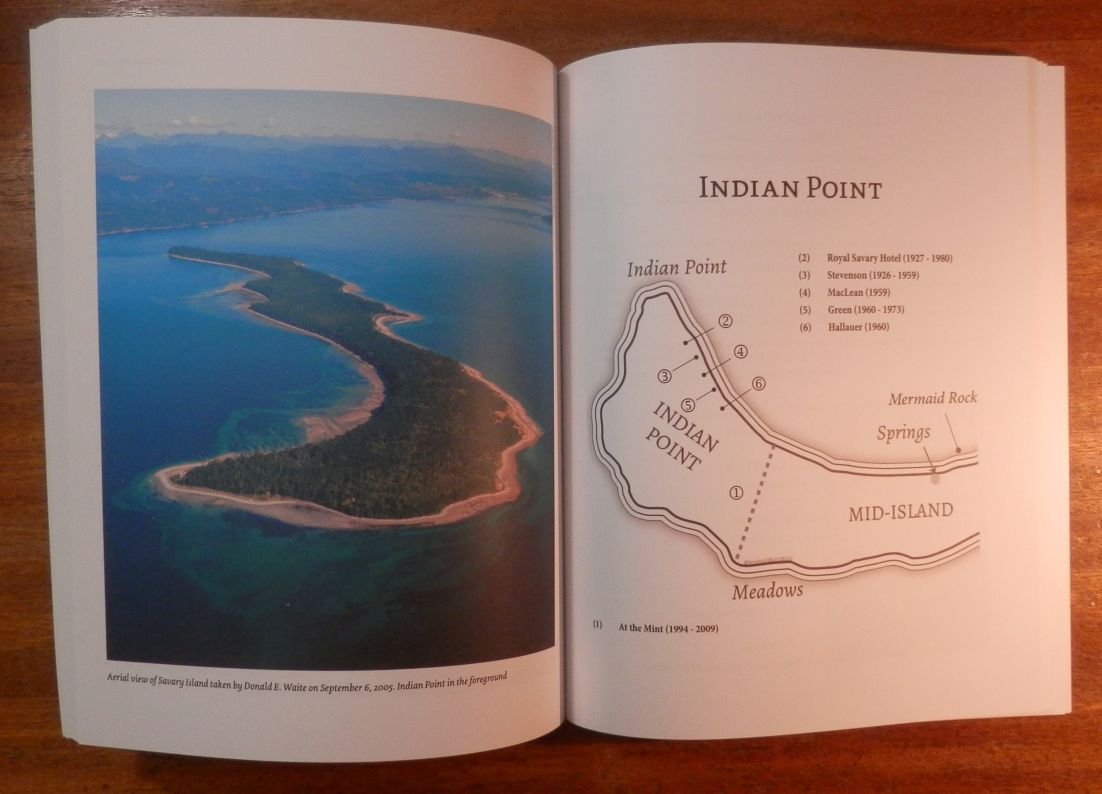 Indian Point key plan

The book is available from the Savary Island Heritage Society for $40.00. They can be contacted by mail at PO Box 120, Whonnock BC V2W 1V9, or by email at savaryheritage@gmail.com.



---
MAY 17: ATTACK OF THE ITALIAN PESTO BASIL
The two clay pots of Italian pesto basil have been quietly doing quite well at the back of my living room garden area. I pulled them out today to give them a good, deep watering. It also seemed like a good time to cut them back, not only to provide some leaves for the kitchen, but also to encourage them to branch. Some of the leaves grew quite large, and aromatic is the word! The plants are just under three months old.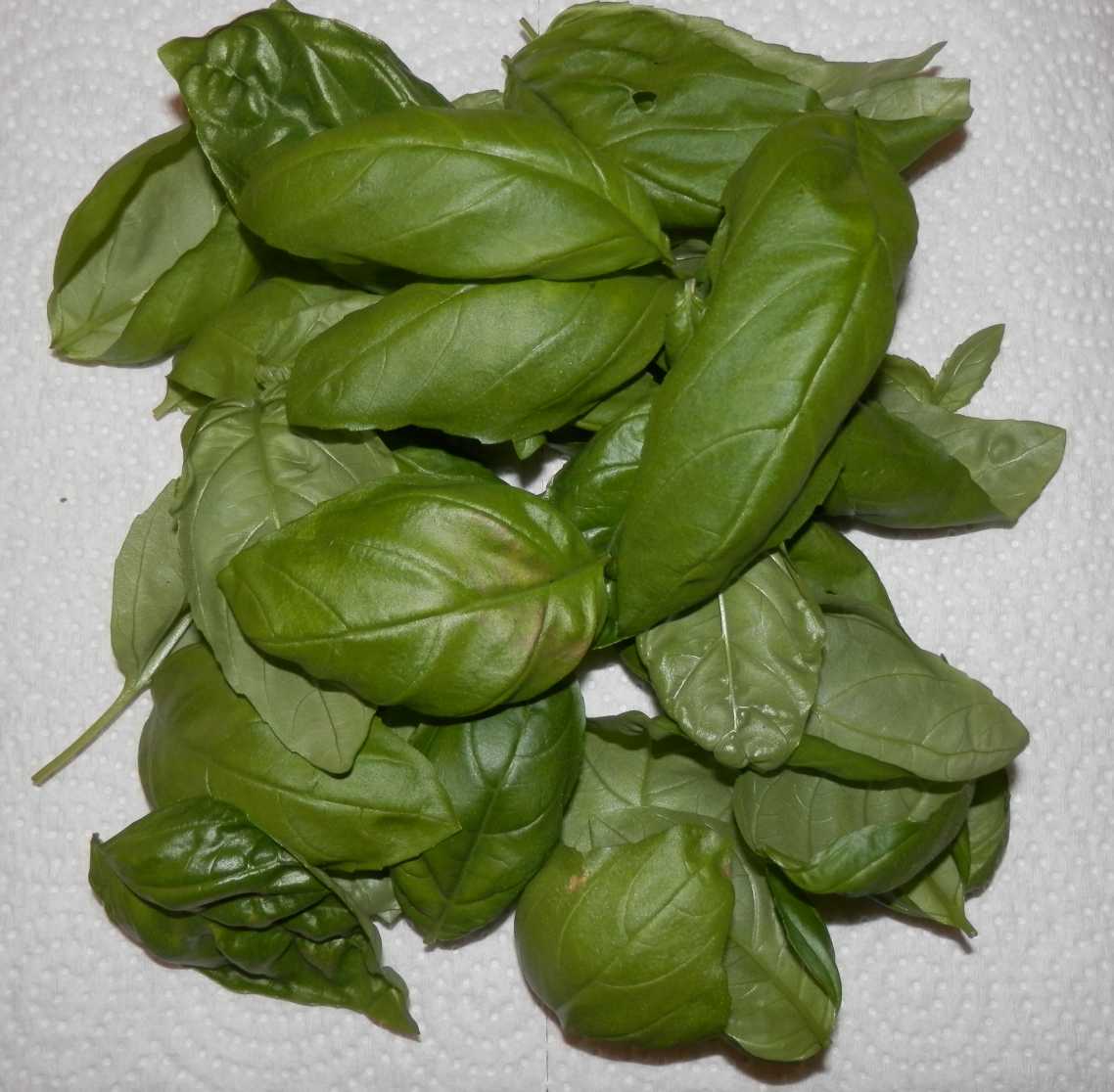 A harvest of leaves plucked for the kitchen
---
MAY 3: BEANS FOR DINNER!
The French Mascotte bush beans have been flowering and sprouting beans with great abandon. I don't know how big the beans get, but the package says to harvest them while they're young and sweet. These were all 3 to 4 inches long, and were quite tasty. It's only been two weeks since I noticed the first two beans growing.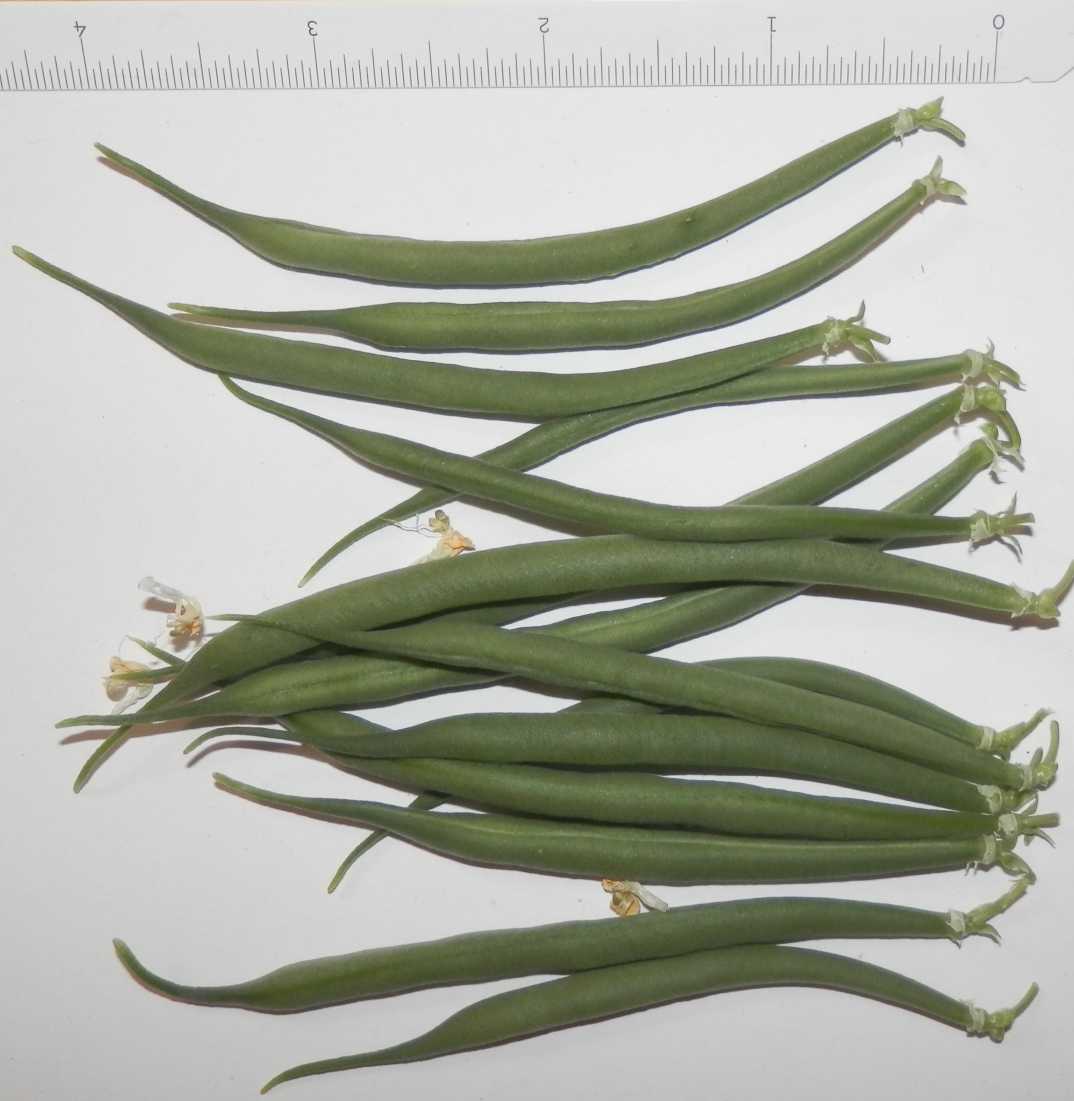 The first harvest
---
APRIL 30: TWO INVENTION IDEAS MOVING FORWARD AT LEE VALLEY
I have been a fan of Lee Valley Tools almost since they opened over 40 years ago. I have been doodling invention ideas for even longer. A few weeks ago I merged the two and sent three invention ideas to Lee Valley for their review. This morning I received an email from them saying that the first review of the ideas was complete, and that two of them were approved to proceed to the next round of approvals!


The idea not accepted, not to scale

That's great, it would be fun to see my ideas actually manufactured. The third idea was not accepted due to anticipated cost and manufacturing difficulties, and the market for what they referred to as rulers. It is more than a (very) short ruler, it is intended as a size gauge for 3mm, 6mm, and 100mm gaps and openings in door and window frames. These are dimensions required by the building code. I may submit it to Starrett Tools of Athol, Massachusetts for their consideration.



---
APRIL 29: A SUCCESSFUL DONATION TO THE ALCUIN SOCIETY
I have been a member of the Alcuin Society for quite a few years now. Actually, since 2004, after I was selected to be the feature artist in Issue 135 of their journal. The Alcuin Society presents the prestigious annual Alcuin Canadian book design awards, holds events such as the Wayzgoose letterpress printing fair and the Antiquarian Books Roadshow, and publishes numerous books and ephemera in addition to holding seminars and other special events related to the promotion of "finely wrought books among booklovers around the world."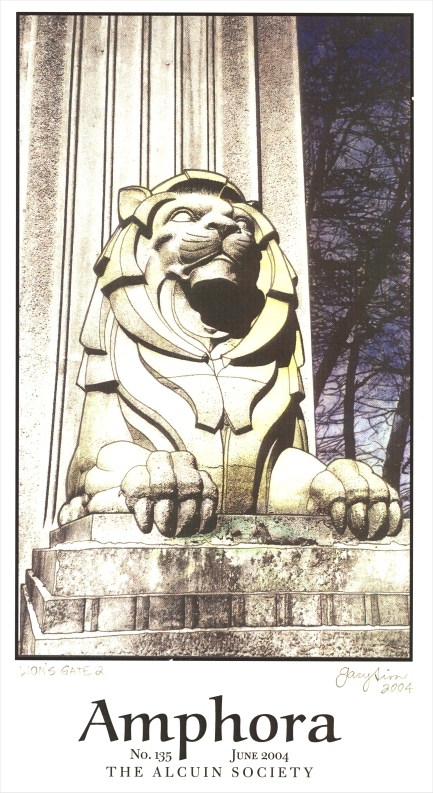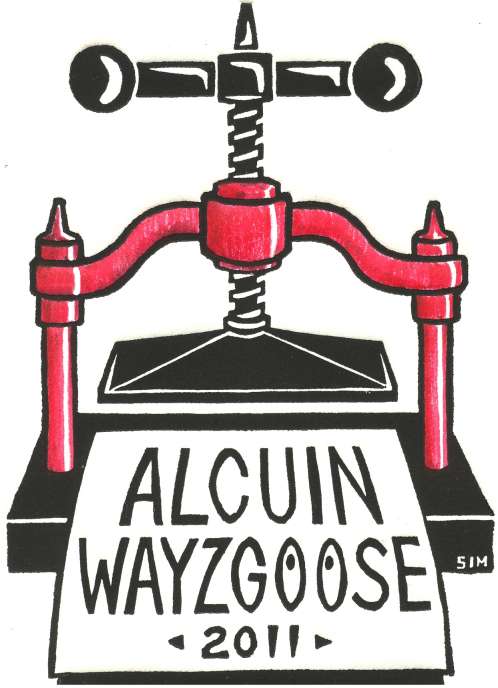 Cover image for my featured artist issue; two letterpress Wayzgoose keepsakes

One of the perks of membership is receiving their journal AMPHORA, and the catalogue for the annual Canadian book design competition winners. Various bits of ephemera piled up along the way as well. As part of a "deep" spring cleaning, I filled a box with 46 issues of AMPHORA, 13 book design award catalogues, over 50 items of ephemera including a newsletter series, and 22 original letterpress prints that I designed and produced for the 2011 and 2019 Wayzgoose events. The Alcuin Society was delighted to receive this gift, it turned out to be immediately useful to them in at least two ways, which was great. Dr. Richard Hopkins was kind enough to drive by and pick up the box, thank you!



---
APRIL 25: WORKING THROUGH BC ARTISTS UPGRADES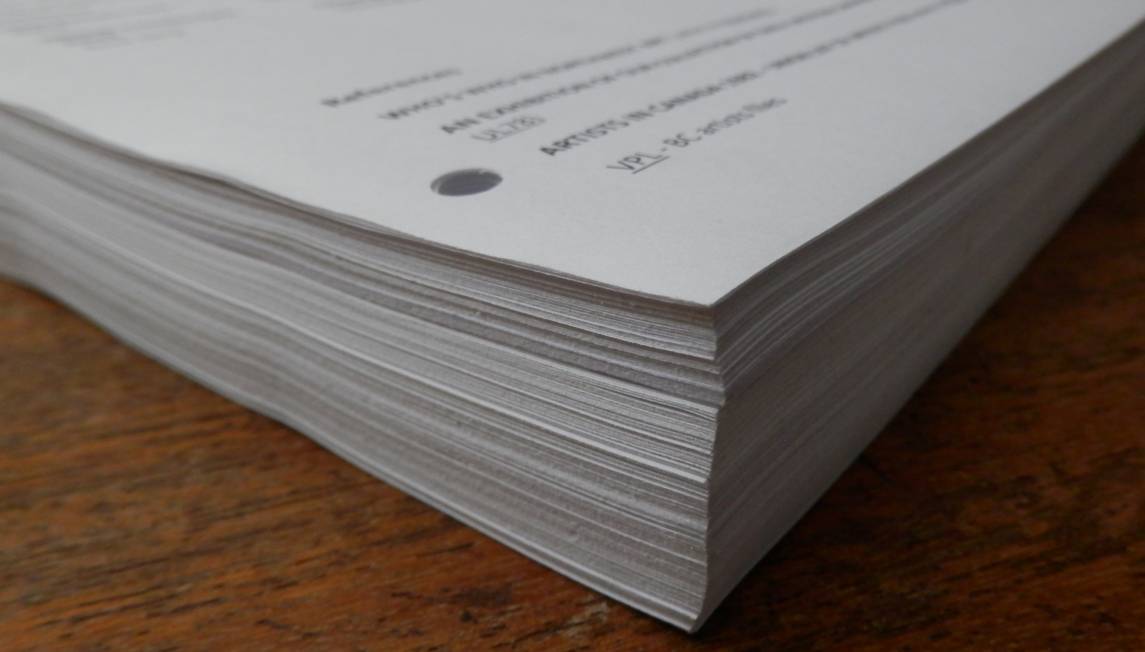 Printout of artist biographies for last names starting with B

For some time I've been planning to update all of the BRITISH COLUMBIA ARTISTS project files to the same format. It's easy enough to do, the problem is that there are hundreds and hundreds of files to update. Anyway, I started working my way through the artist biographies (of which there are 1,745 files) and have made it into the letter E.

It is slow going because I am also seeking additional information on the artists as I update the biographies, and so far have found 120 additional vital statistic documents. Once all the files are updated I print them out, as per photograph above, and replace the previous version in the index binder. It's going to take a lot of paper before I'm done!



---
APRIL 20: GOOD GRIEF, TWO BEANS!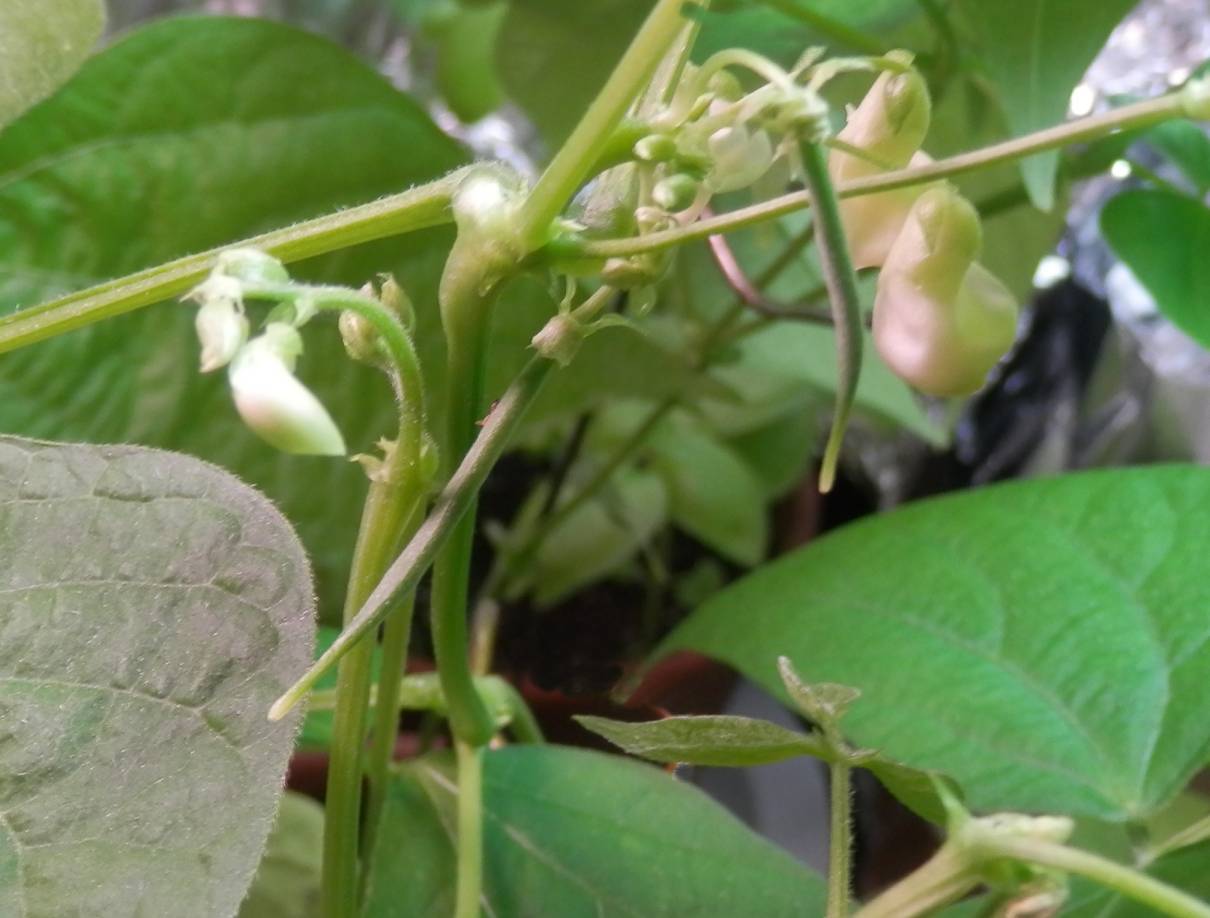 French Mascotte bush beans

I was watering and tending the bush bean plants yesterday, and discovered to my surprise that I already have two beans growing! On closer inspection, it seems that the beans grow inside the little flowers, and then when they're long enough they push off and detach the outer flower petals. The first two beans are growing 1cm a day, so far they look like thin little green carrots.



---
APRIL 8: A SUCCESSFUL DONATION TO WEST VANCOUVER ART MUSEUM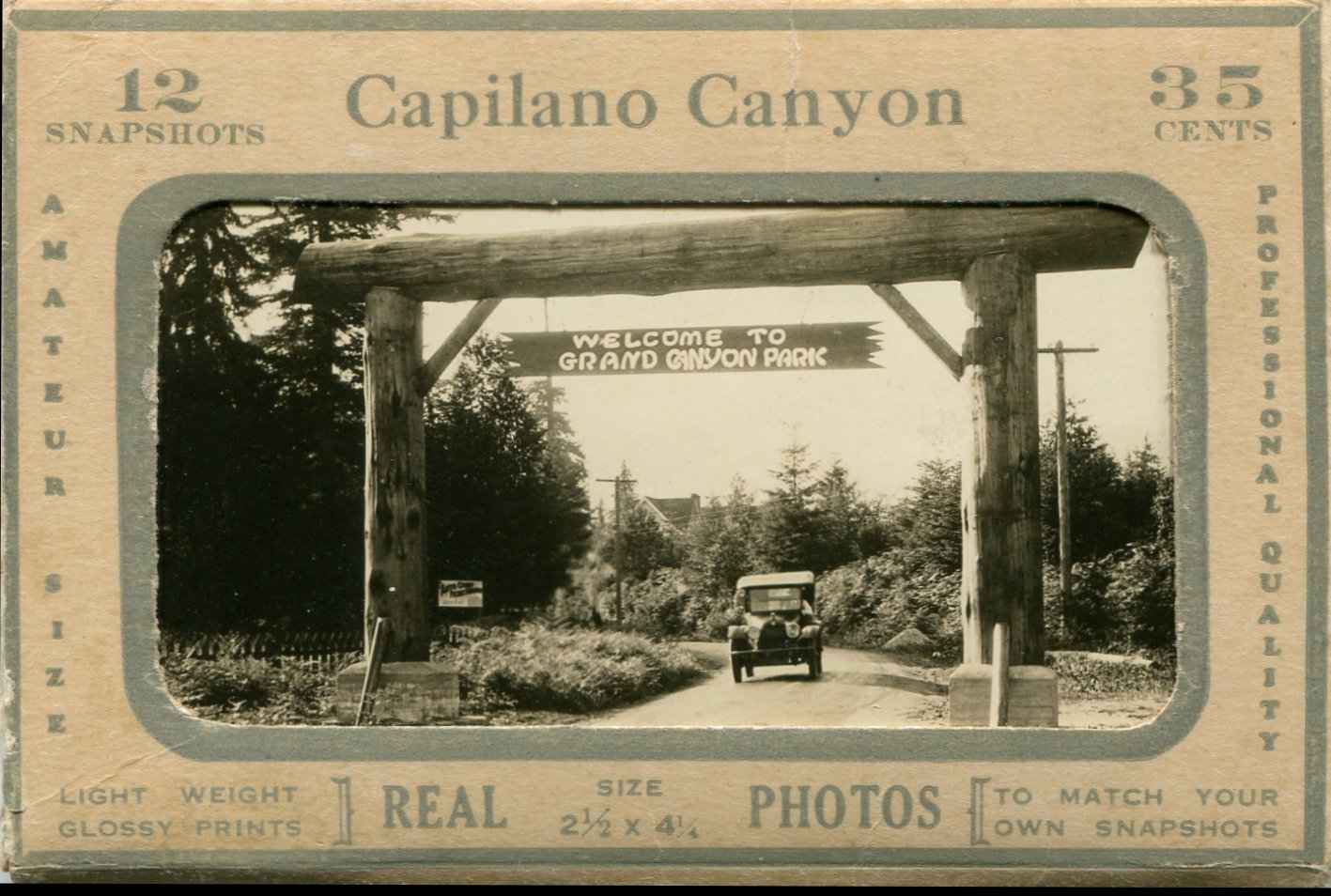 Photo set by Gowan & Sutton

For some years I've been buying the occasional postcard or tourist photo set that I came across and found interesting. Many of them are of West Vancouver, such as this set of 12 photographs of "Grand Canyon Park" and its facilities. Today I asked the Archivist at the West Vancouver Art Museum if they would like to receive them as a gift, the answer was a very prompt "yes" ... a package will go in the next mail. It will include 20 other postcards, including two Leonard Frank cards from the 1920s, some black & white and hand coloured cards, and an accordian card. Total number of images is around 50. The flume shown below was over 7 miles long, and was used to float cedar shingle bolts from up in the canyon down to the ocean. There's a story that kids used to ride the shingle bolts down the flume, that would have been a lot of fun! (even swimming down the flume would have been fun!)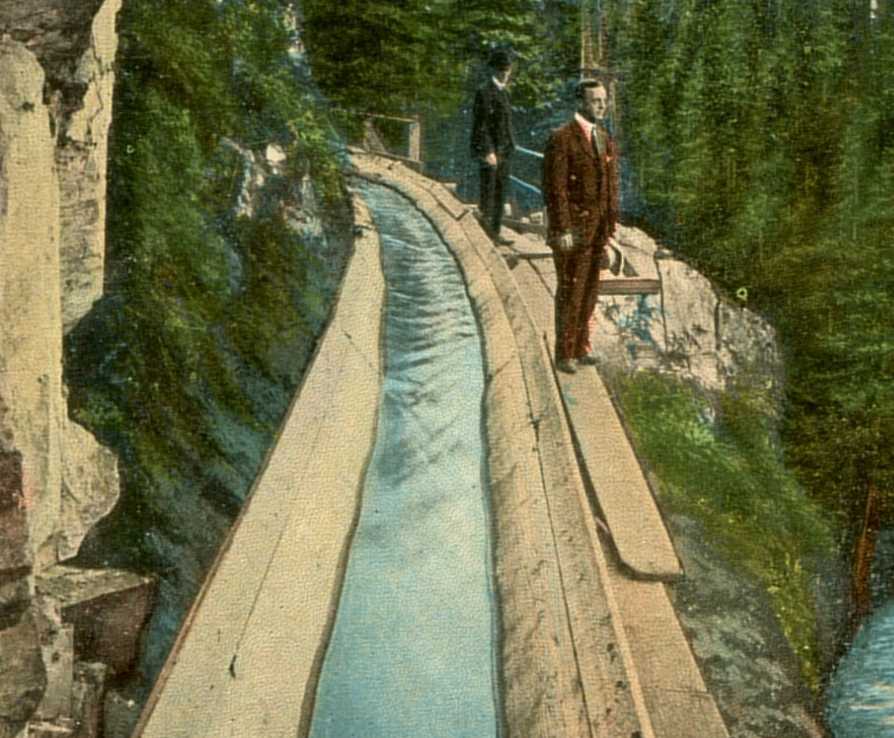 Don't worry about falling, there's a nail in the end of the plank (image by Coast Publishing, the image is cropped)
---
APRIL 7: IT'S HARDER TO GIVE THINGS AWAY THAN YOU THINK
Well, after waiting since January to hear back regarding my proposed donation of over 900 publications to U.Vic. Library, estimated value almost $30.000.00, today I finally got the answer: no thank you. That was disheartening, to say the least. So it is on to the next most likely recipient: the National Gallery of Canada Library and Archives. That will give me a chance to continue a long string of donations to them that started twenty years ago, all of which have furthered representation of BC visual artists in eastern Canada, and earned me a place on the National Gallery's 125 YEARS OF DONORS recognition wall.

Interestingly, as I was writing this sorrowful ditty, an Ontario researcher emailed me seeking information on a 1994 Tom Burrows exhibition in Japan that I have listed in my BC Artist monographs web page. I still have the catalogue on my shelf, it not having been donated, so I said that I would give it to them. I love helping people find information about artists!



---
APRIL 5: FOR PATIENTS OF DR. TED (YEE TAK) WONG, VANCOUVER BC
A few years ago, my GP changed specialties and my medical files ended up with Dr. Wong, at 4132 Main Street, Vancouver. I tend not to see doctors, but last summer I wanted to renew a prescription for an asthma puffer due to all the forest fire smoke and pollution in the air. When I called Dr. Wong I got an error message saying that the number was not in service. I ended up getting the prescription at a walk-in clinic.

Now, I see on the internet that Dr. Wong has apparently ended his practice without telling his clients, according to one complaint. He certainly didn't let me know. The person who complained about this said the patient files are supposedly now stored with a business called DOCUDAVIT. I found them online, physically located in Toronto, Ontario, operating an Electronic Document Managing System:

docudavit.com
I called their 1-800 number:

1 888 781 9083

A very friendly woman answered the phone and said that they have the medical records of Dr. Wong. They are sending me a release form so that I can get my medical records. So, if you need this information for yourself or your family, this is where it is now stored. Stay healthy! Please note, there is a minimum/maximum processing fee to access your records.



---
MAR. 29: BC RECOVERY BENEFIT

I accidentally found out about this website and the benefits available on it by way of a forwarded email from an acquaintance. It's not often the government gives away money, let alone tax free. I checked out the website, and discovered that I qualified for the $500.00 tax-free payment! Unfortunately it took half an hour to get through the website's security system, which is the stupidest software I've ever had the misfortune to use. Eventually perserverance paid off, and after I finally gained access I was registered and done in about five minutes. I highly recommend that you have a look and see if you qualify! (sorry, BC residents only)



---
MAR. 22: SEA TRIALS IN LOST LAGOON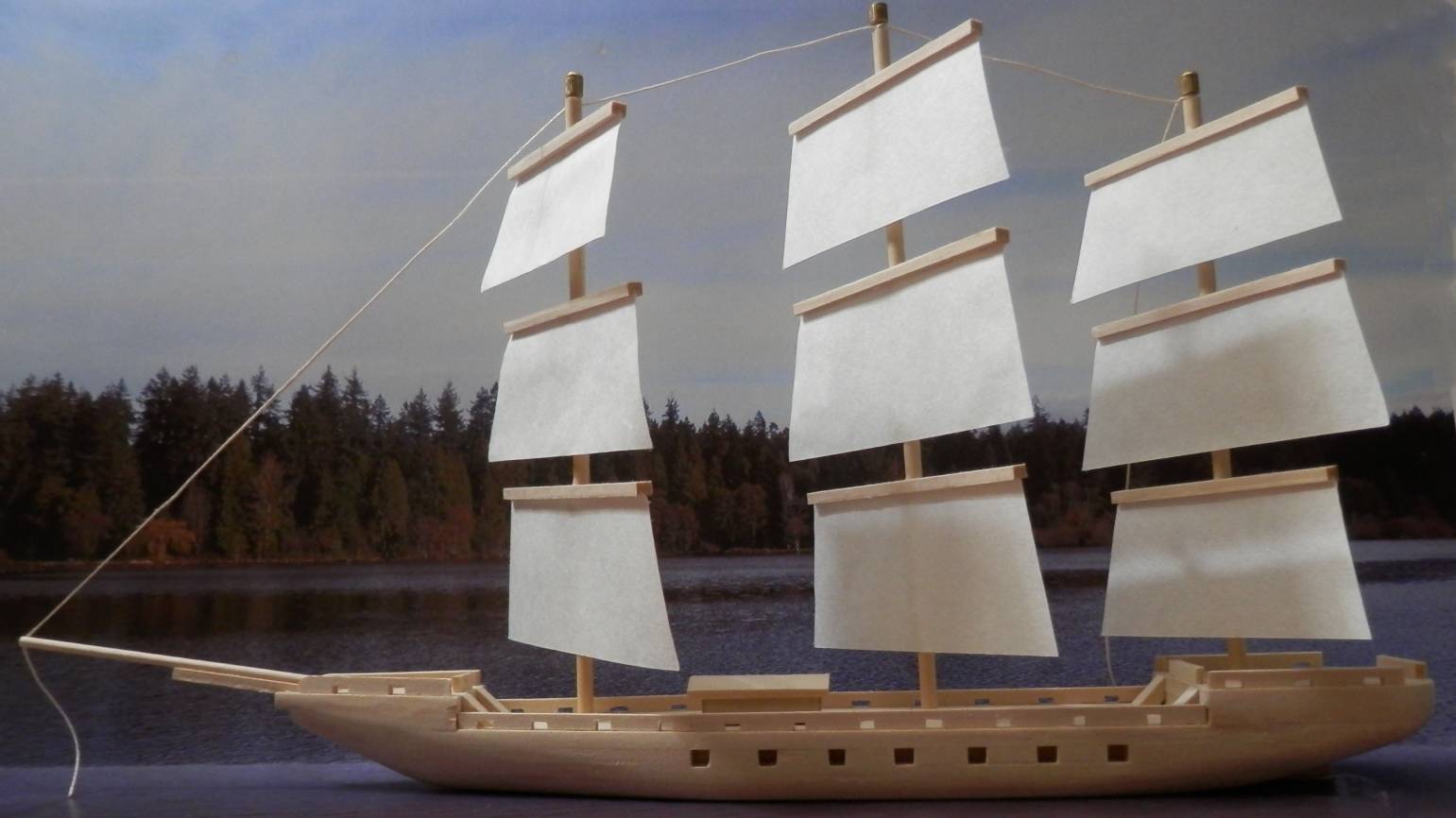 Posing the model on a photo of Lost Lagoon.

The ship model is slowly being finished. Lots of little details still to do: add binnacle, a wheel, finish rigging, add a flying jib, glue down the forecastle, install the 14 cannons on the lower deck, and so on (a bit of sanding, add my Admiral's flag, fluff the sails). However, the model came along nicely and seems worth the effort. I've decided to make a four inch deep custom wood and glass case for it that can be hung on a wall or placed on a flat surface. Yesterday morning I took pictures at Lost Lagoon to use as a backdrop for the model when it's in the case, and printed some copies at Staples this morning (45 cents each from my USB, cheap and easy!). This photo shows more or less what it will look like when the case is finished.

I spent quite a while trying to find a realistic looking rigging material. Lee Valley 45-pound test braided nylon was a contender, but too thick. Armature wire was the right diameter but didn't look right. Nylon fishing line was too modern. I was looking through a drawer for some sewing thread when I came across a package of book-binding thread I'd acquired years ago. Perfect! It is light, strong, natural colour unbleached acid-free linen, see photo for preliminary test rigging. I decided to split the bowsprit to slide the thread into, and managed to saw a slot into the end of the 1/12 inch diameter birch rod. Another thread for the flying jib will also go into the slot.



---
MAR. 20: SPRING ! ! !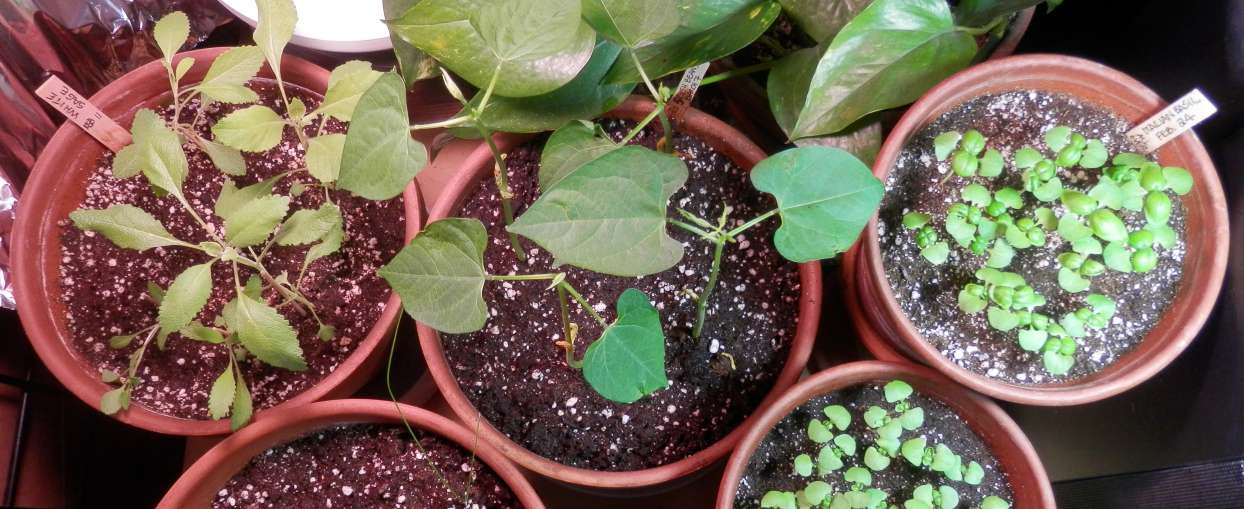 Indoor gardening.

Since it was dark and raining when Spring started this morning, hopefully this will work as a substitute. Indoor gardening progress: white sage on left, 4 fast-growing French Mascotte bush bean plants center, and Italian pesto basil in the 2 pots on the right. The plant pot at lower left has a tall but spindly garlic chive growing in it.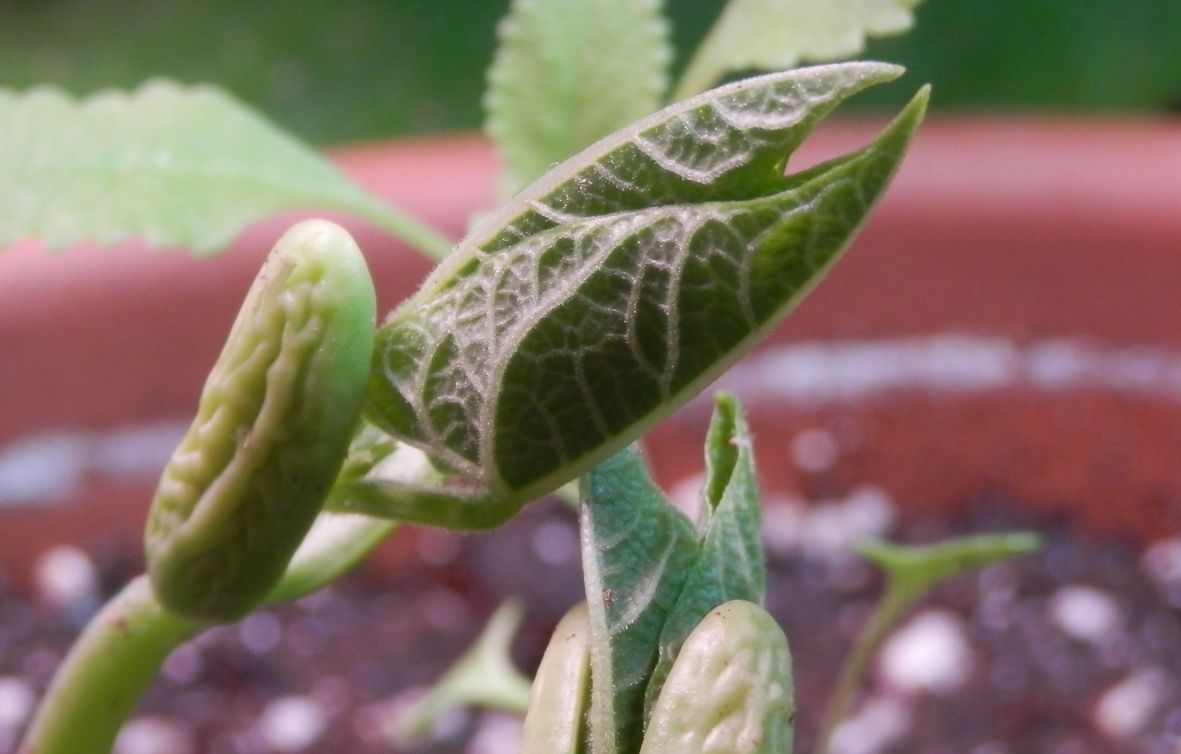 Mascotte bean leaves unfolding.

The Mascotte bean plants came out of the ground incredibly quickly. 13 days after planting the beans 1" underground they are now 8" high. The first pair of true leaves unfolded out of the bean/cotyledon leaves ready to open up and start gathering light. It was very interesting to watch, an organic engineering marvel! The little bean-leaves are now drying up and falling off the stem, their work is done.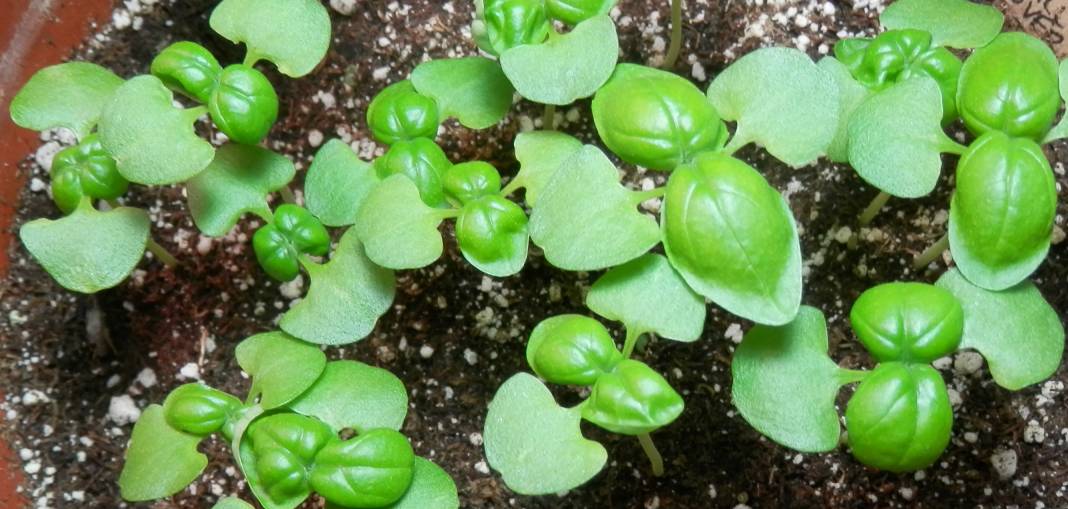 Basil planted February 24.
---
MAR. 19: SHIP AHOY! A DIFFERENT TYPE OF WOODWORK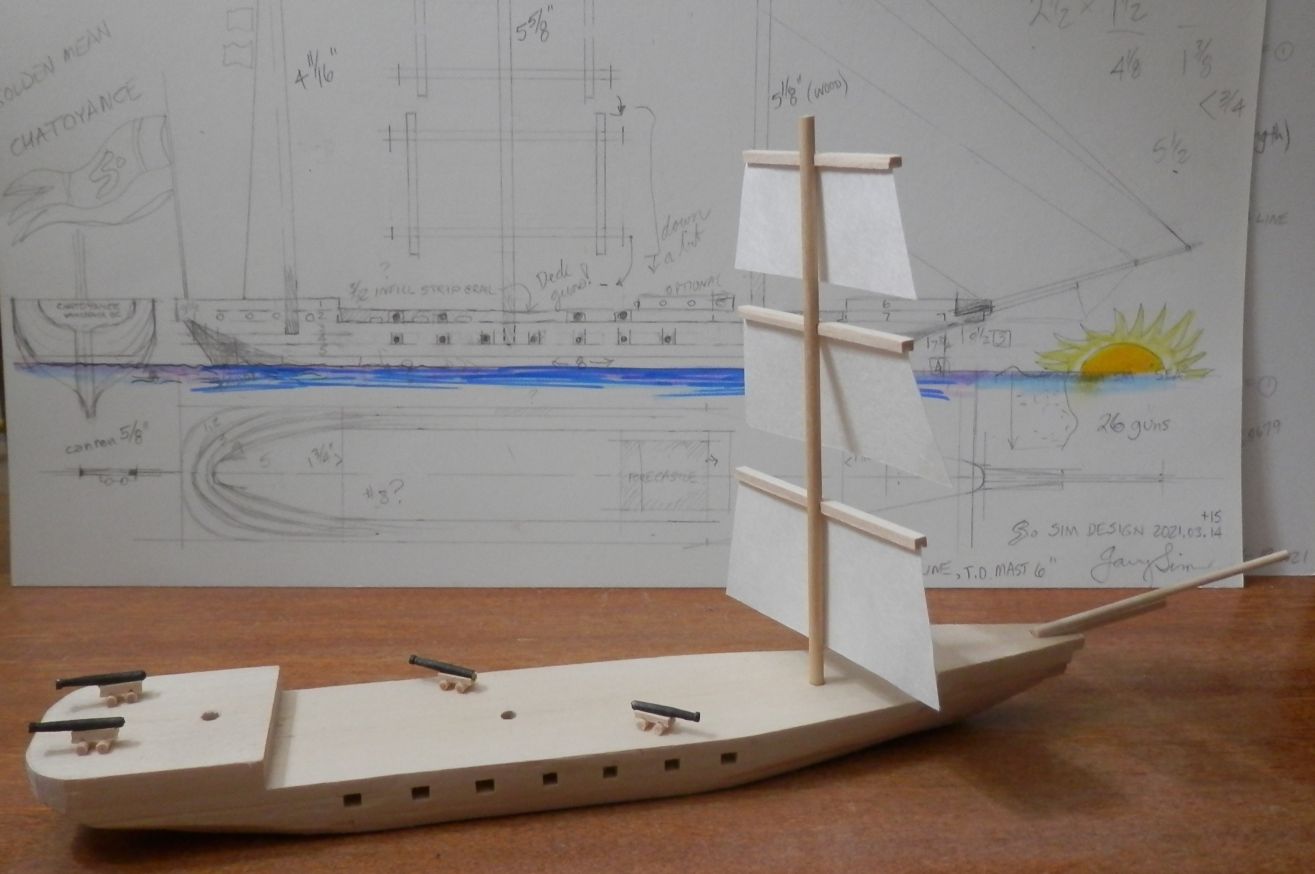 Trying out new sails, checking out the deck cannon.

I've never built a model ship from scratch, just put together some plastic kits when I was a kid. With the opening of the Windjammer Pub (see news item below) I thought to make a little model sailing ship. It's taking a lot longer than expected. I've re-designed the sails twice, the masts once, the cannons twice, and made a couple of errors with the hull. Oh la, hopefully it is clear sailing from here. Carry on! My copy of the 1931 British Admiralty Manual of Seamanship has been very helpful for designing the ship. (SHIP is a vessel with 3 masts, square rigged on all masts, and CARRY ON is to make all sail at risk while blowing fresh)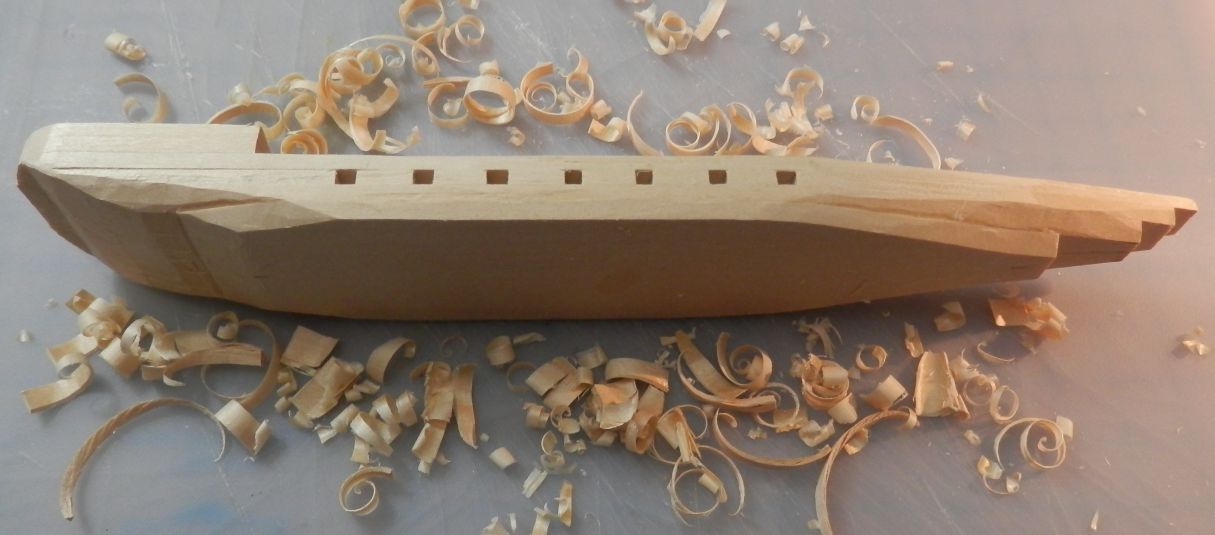 Carving the hull with a Japanese flat gouge.

Some time ago I bought a set of six Japanese gouges for doing linocutting, but some of them were the wrong profile for that purpose. However, the 5/16" wide flat gouge proved to be the perfect tool for shaving down the ship's hull. The gouge was razor sharp, since I had not used it, and produced a lovely clean cut on the basswood.

Chokokuto Powergrip gouge, by Mikisyo Hamono Honpo.
---
MAR. 6: GREATER VANCOUVER ART GALLERY WEB PAGE UPDATED

A sketch of the Vancouver Art Gallery.

After a lot of work, I have finally finished updating the list of Greater Vancouver Art Galleries. The original 2012 list from SFU had about 330 galleries. I updated those listings with current addresses and websites, added over 200 galleries, and listed more than 1,200 exhibitions. The exhibitions - both solo and group - are included to give an idea what kind of work each gallery exhibited.

GREATER VANCOUVER ART GALLERIES



---
MAR. 5: ITALIAN PESTO BASIL PLANTATION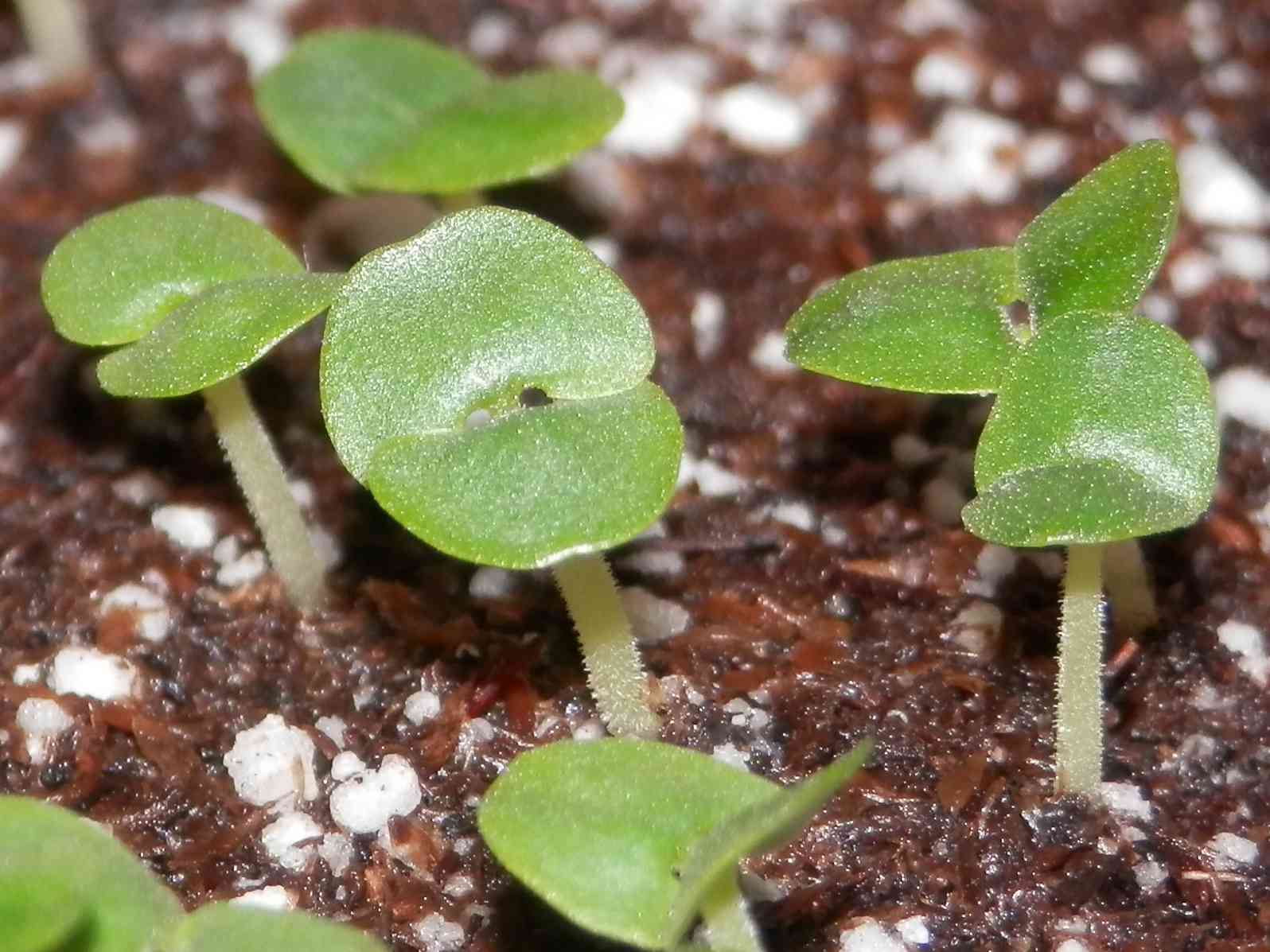 The first planting of basil.

These little plants are quite attractive, and are growing quickly. I thinned out a few closely spaced plants, they have roots going down over one inch, and already have the basil aroma!



---
MAR. 3: AN OCTAGONAL LATTICE IN THE WORKS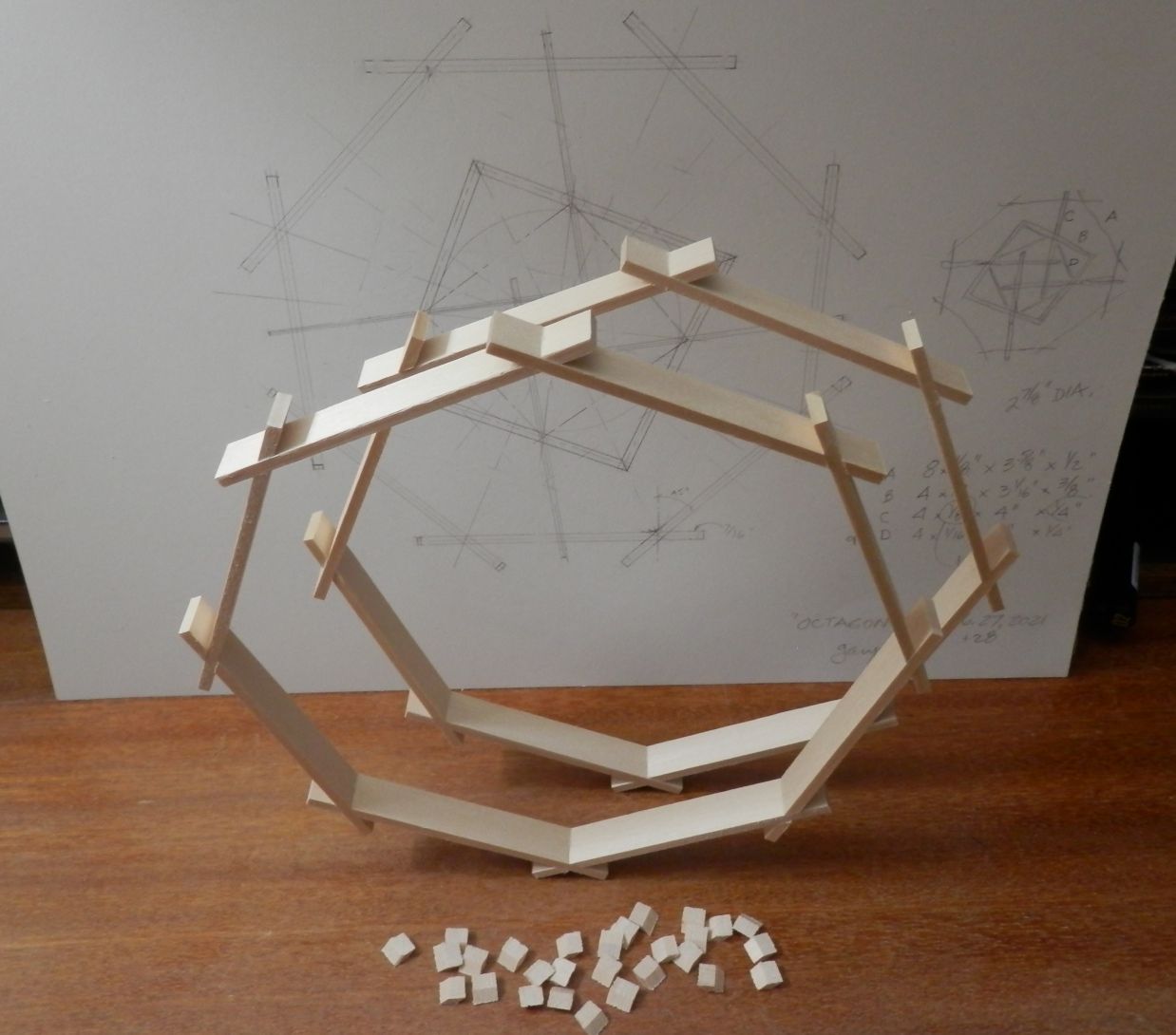 2 frames for the inner spinning kites

Working my way through the geometric solids: triangle, square, pentagon, hexagon, and now an octagon. Don't worry, I'm going to try a septagon too. This one should look good with the Islamic spinning kite pattern suspended in the middle, as shown in the design drawing. These two frames by themselves took 64 small cuts to make 32 notches for assembly. The miter box makes this easy and accurate.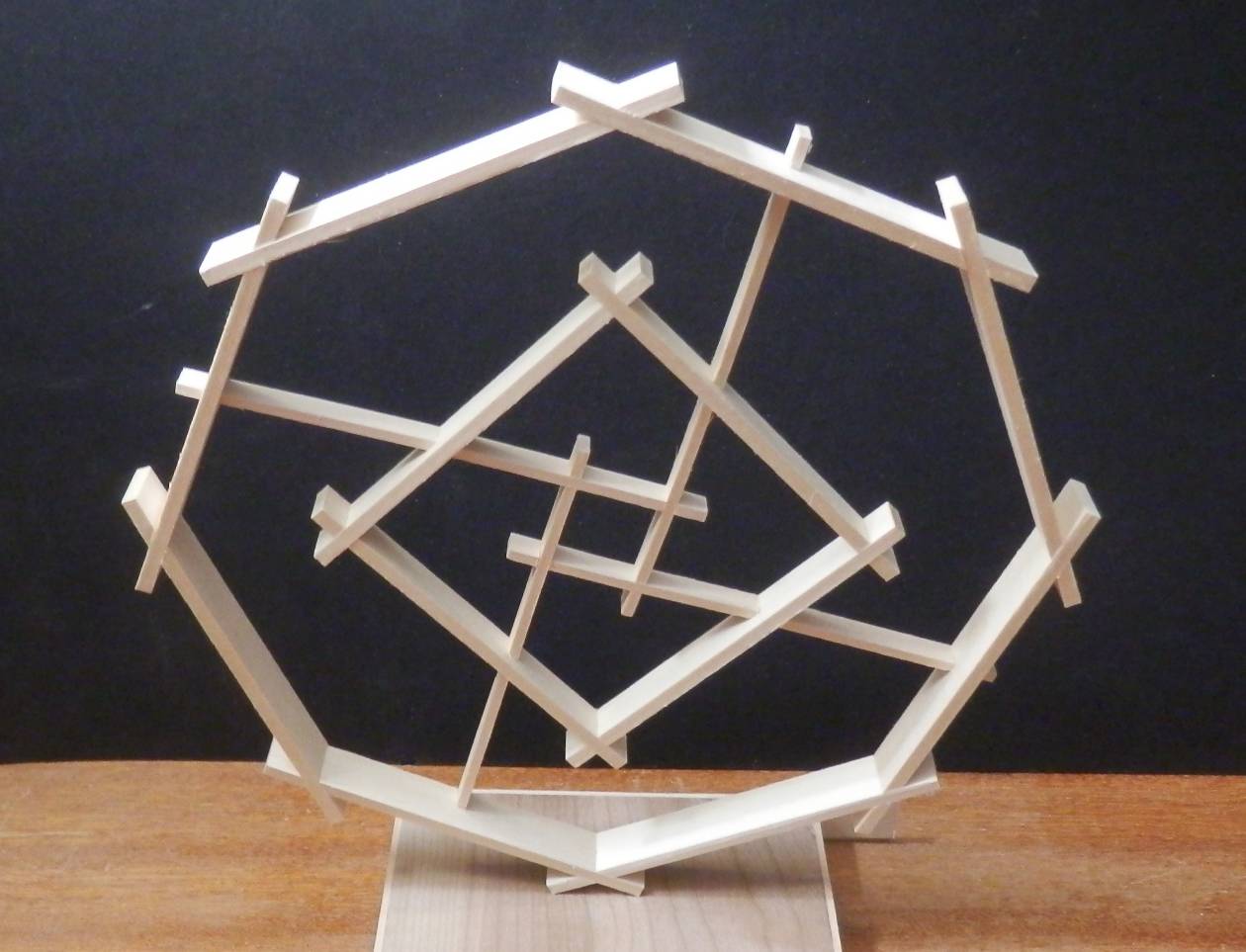 Completed design study
---
MAR. 1: THE SQUARERIGGER PUB NOW OPEN FOR BUSINESS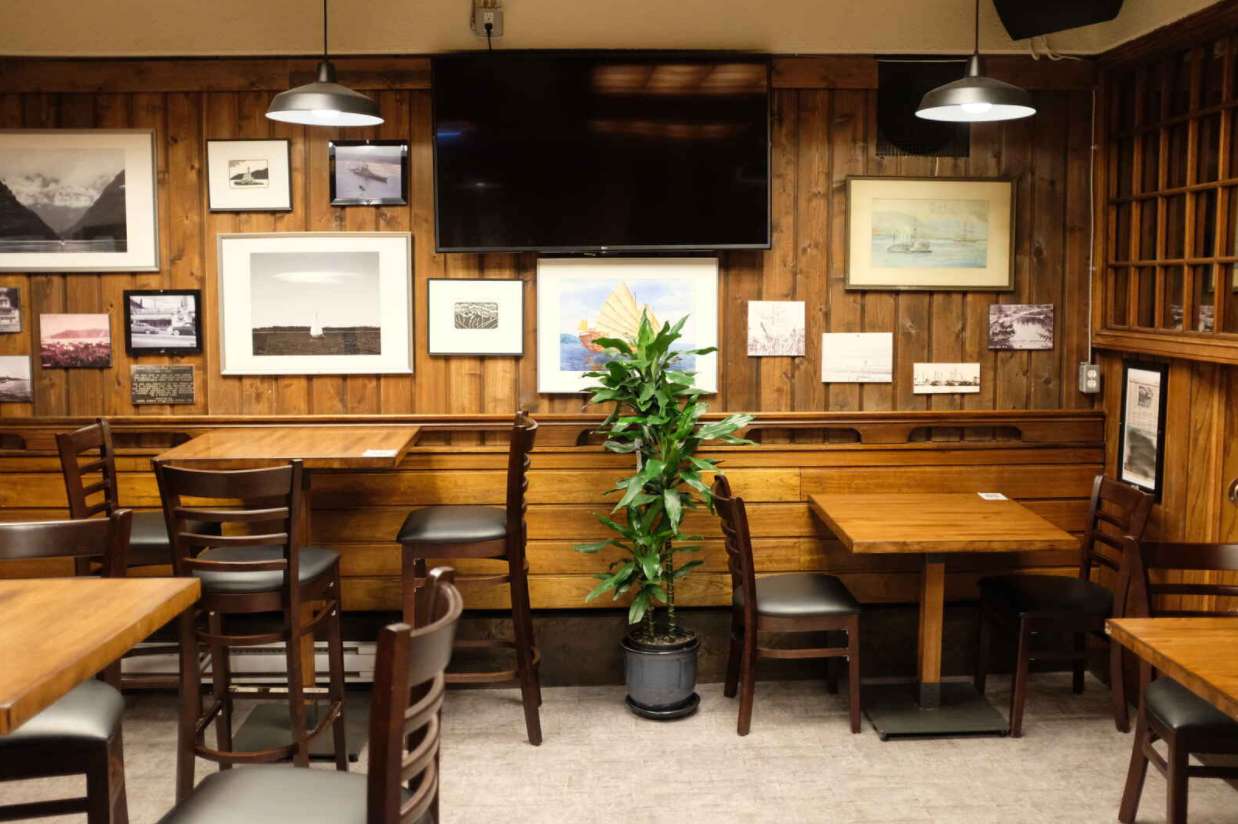 A view of the upper floor area, photo courtesy The Squarerigger Pub

My friend Dave Crilly has been renovating this pub for the past few months, and it is now re-open for business. I have loaned a number of artworks to the pub for their use, and the photo above shows two of my prints: Between Tides and Lions in Summer. Also, the watercolour of Vancouver harbour top right is from my collection, it is by artist Sir Aubrey Neville St. John Mildmay, and is dated 1919.

The pub is located at 1425 Marine Drive, West Vancouver, in a little mall just off the corner of 14th and Marine. It is open 7 days a week from noon to 10 p.m. Happy hour is from 3 to 6 p.m. The pub's website is:
www.thesquareriggerpub.com

Many years ago this was the location of The Downstairs Gallery, here's one of their framing labels: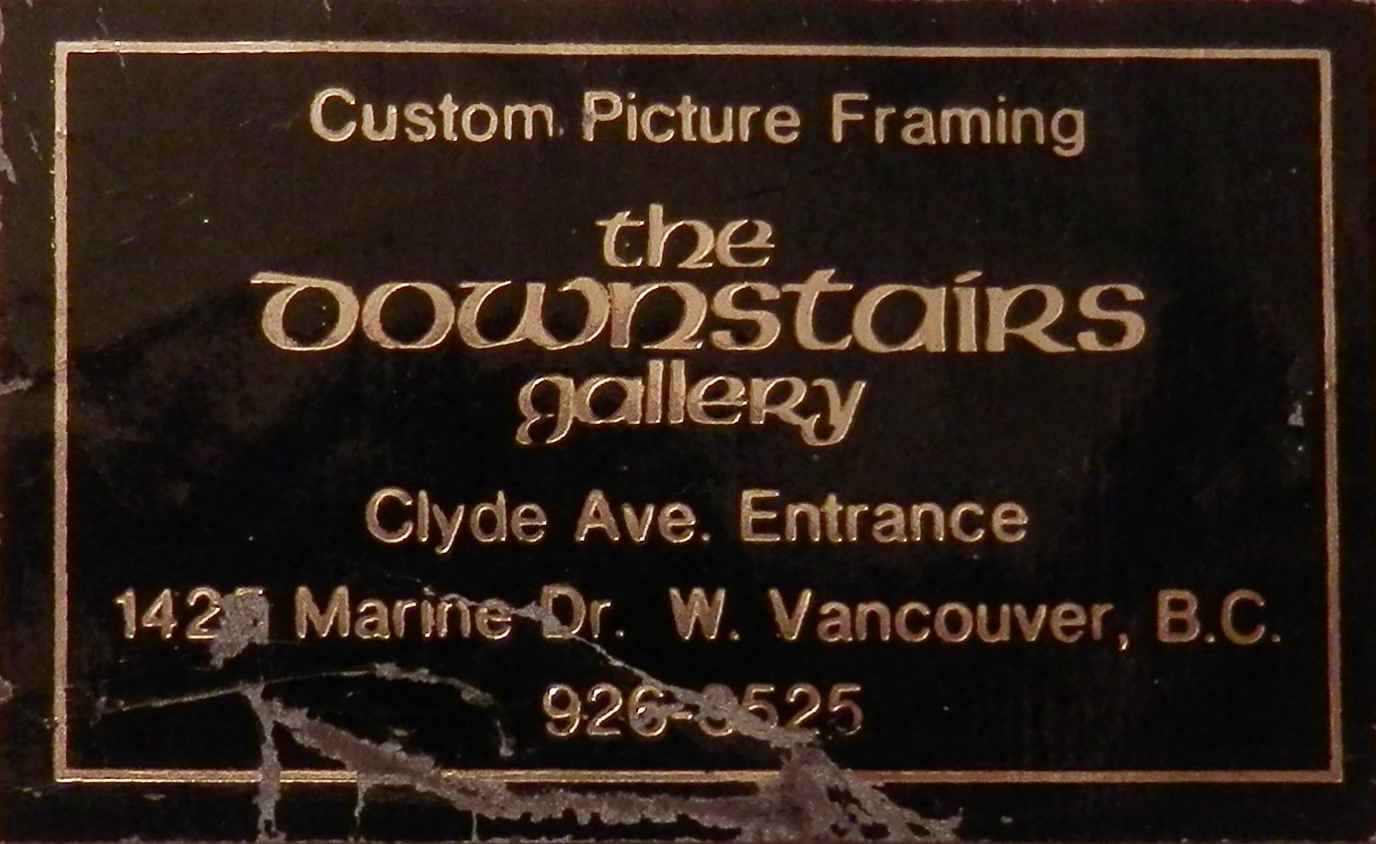 ---
FEB. 25: INDOOR GARDENING PROGRESS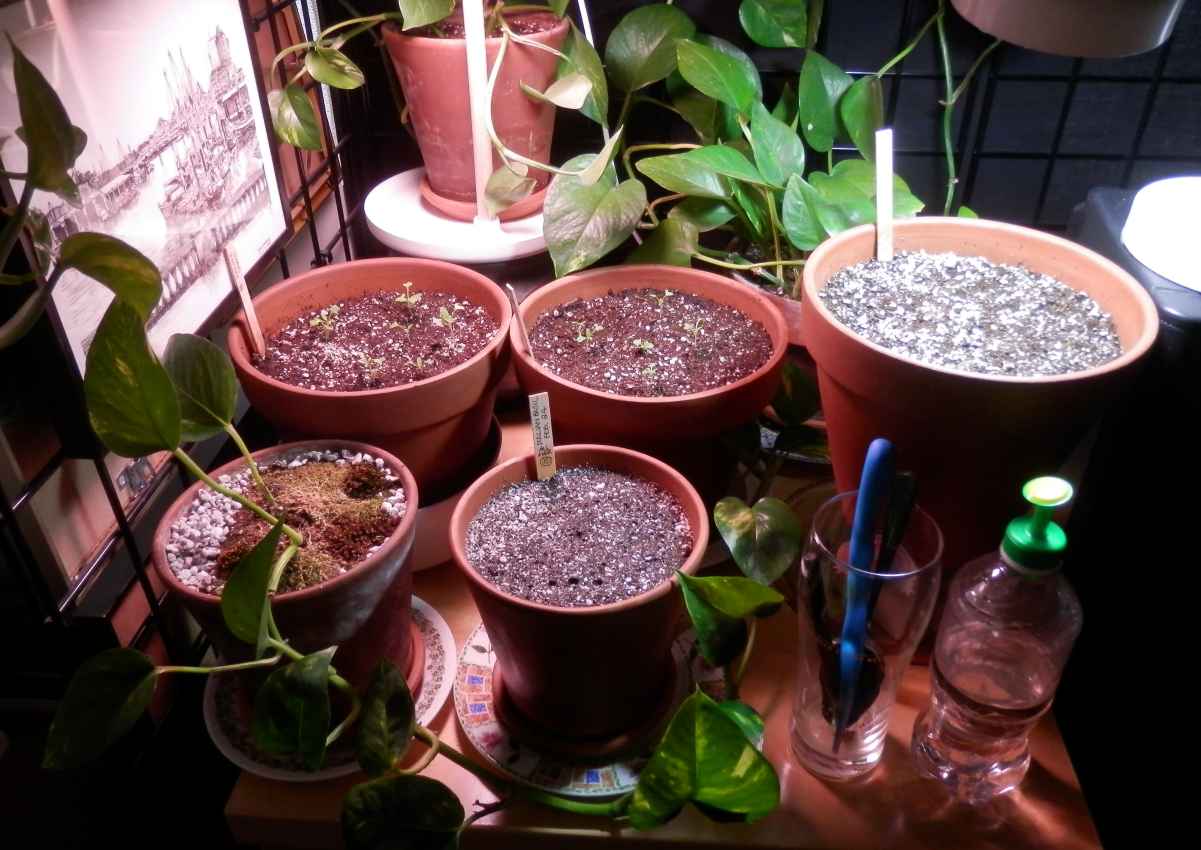 Indoor gardening

Last year I grew Pothos plants and moss gleaned from my balcony. This year I have added 2 pots of White Sage which are already well out of the ground, another pot with about 5 Garlic Chive seedlings showing and more to come, and a smaller pot that I've just seeded with Italian Basil. The Pothos and assorted varieties of moss continue to prosper.



---
FEB. 25: KUMIKO DESIGN STUDIES ON THE WALL


Kumiko "on the line."

I built the pentagon design study, but had trouble getting the precise angles correct for cutting the wood. I got another saw and a miter box yesterday from Lee Valley and built the hexagon today. Much tighter and more accurate joints. The golden mean rectangle, third from the right, is a recovery of the original interior for the assembly second from the right.



---
FEB. 22: MORE KUMIKO DESIGN STUDIES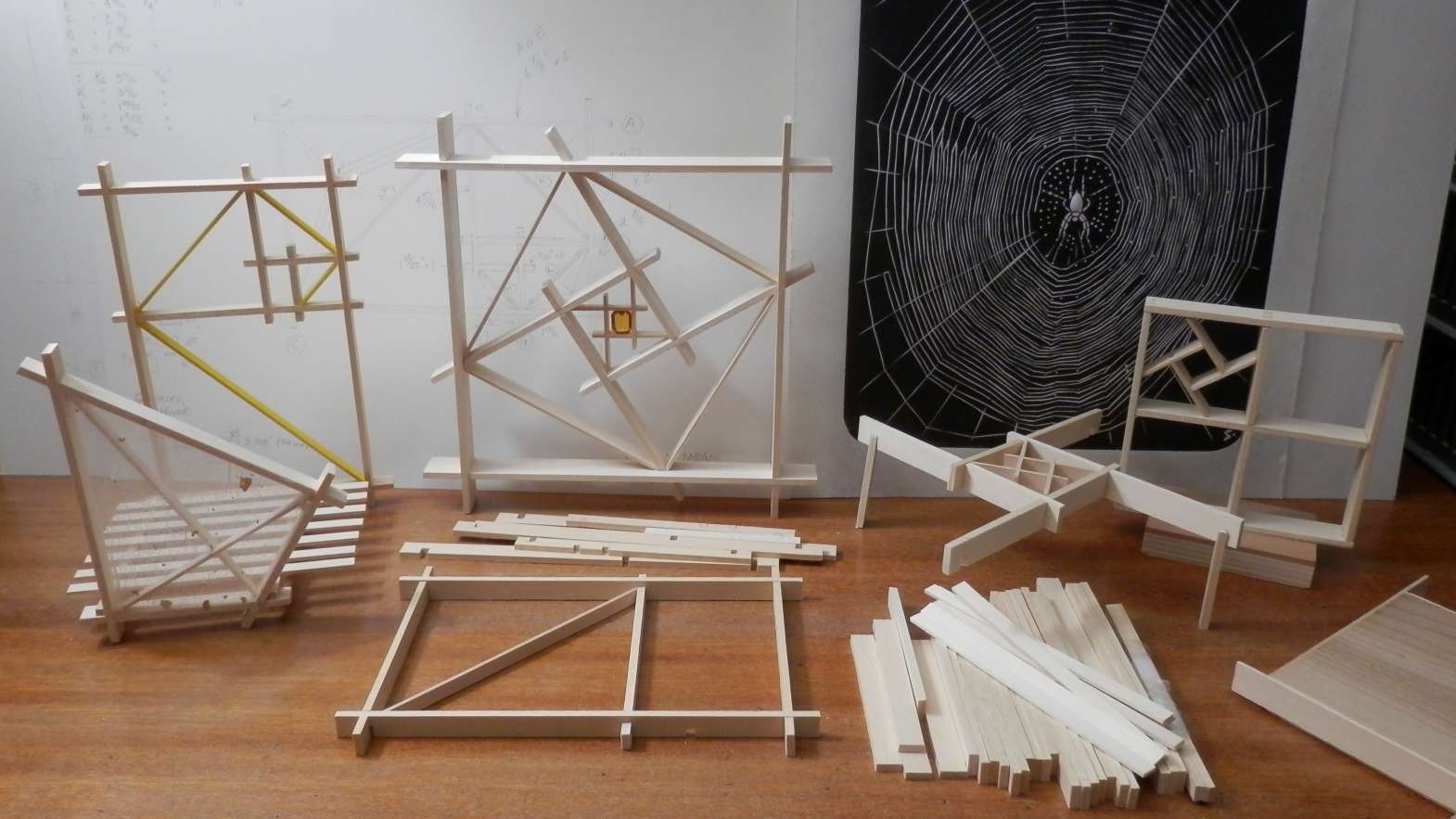 The collection to date.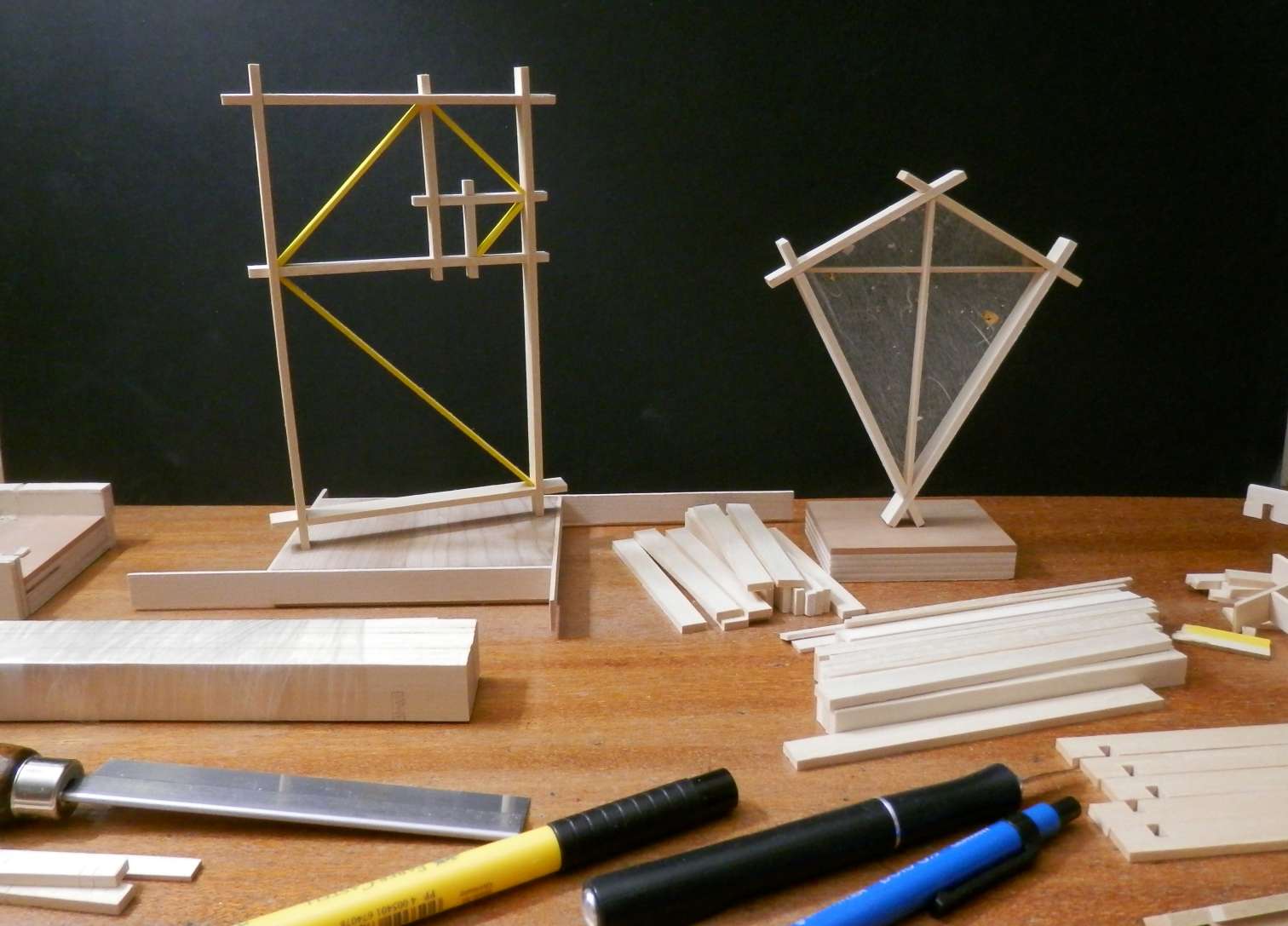 A golden mean rectangle, a kite on its own, and the "lumber yard".

Continuing to work out designs for wood lattices, I added a golden mean rectangle, reduced four times, and a kite shape on its own. Today's mission is to make a new design using a pentagon and the golden mean. The design drawing is done, it's just a matter of cutting, sawing, and fitting the pieces together.



---
FEB. 16: MODIFIED SECOND ATTEMPT AT KUMIKO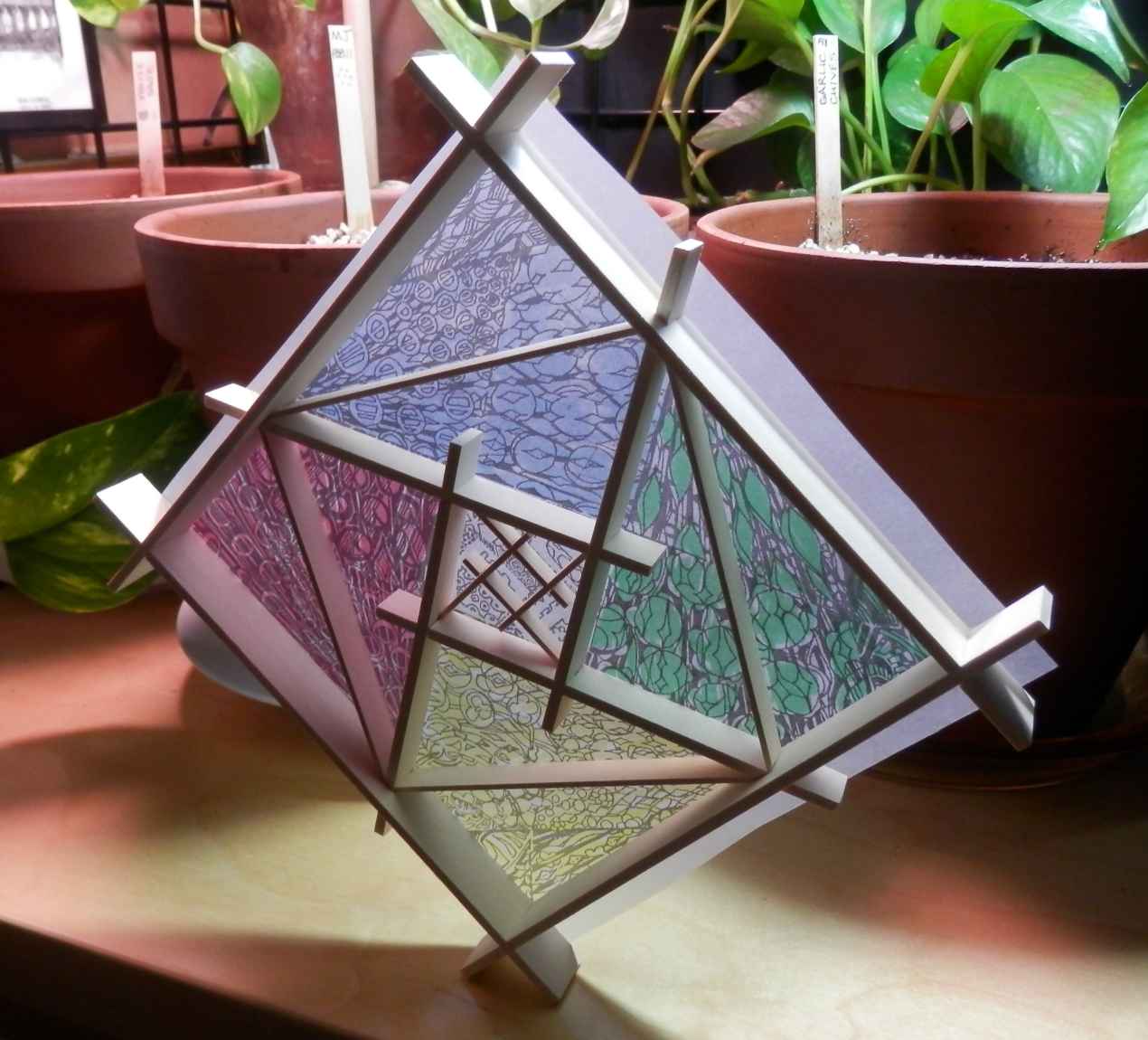 Revised assembly with trace paper backing.

I thought that the version of this wood lattice, as seen immediately below on this web page, needed a bit of tweaking. I extended the ends of the rotating kite shape, and reduced the depth of the small central square from half inch to a quarter inch. As a test, I laser printed my original drawing onto drafting trace paper, hand coloured it with Pitt pigment ink pens, and stuck it on the back of the lattice to simulate the look of a Japanese shoji screen.

The screen is seen here in front of my indoor garden. I recently planted the large pots with herbs, and the pot on the left has - in 5 days - already sprouted seven White Sage seedlings.



---
FEB. 14: SECOND ATTEMPT AT KUMIKO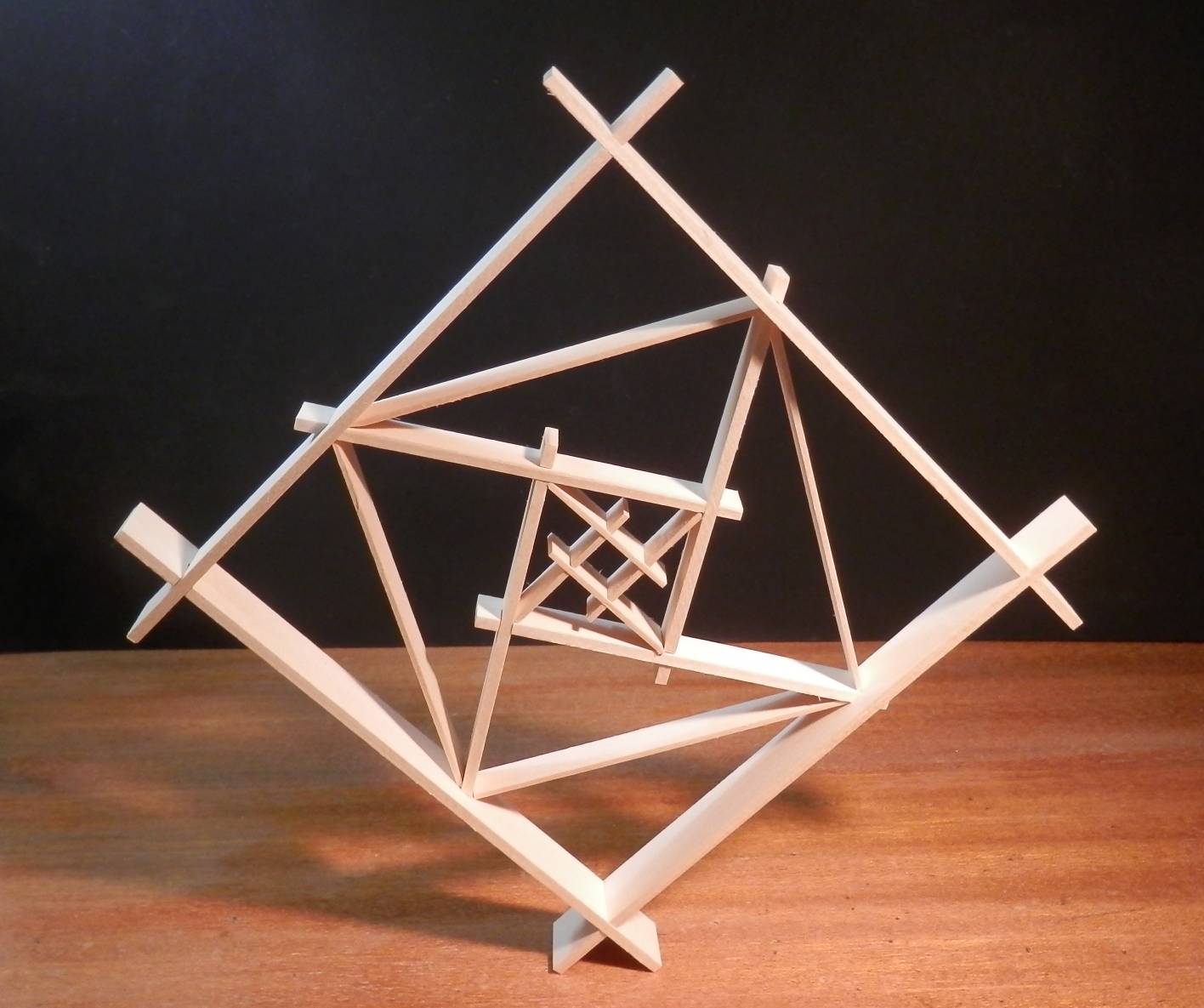 A photograph of the completed assembly.

I ordered a razor saw from Lee Valley, it arrived this week. I promptly used it to cut the notches for a second wood lattice assembly. Using the basis of a classic Islamic design - 4 symmetrical kites in a square - I have created a design which has three squares rotating inside an outer square, each at a 30 degree angle to the next.

As a working prototype I think it is quite successful. It is completely assembled by friction fit, no glue or fasteners. Modifications based on this model will include extending the ends of the kite-shape pieces 1/4 inch further past their connections, and making the central square thinner so that it recesses into the wood around it by 1/4 inch, to give more visual depth. Another option would be to infill the four outer triangles in the large square each with three pieces of thinner wood. Another design option would be to make the outer frame a little deeper, then put two kite assemblies into it, front and back, with one set of kites rotating clockwise, the other counterclockwise.



---
FEB. 10: UNIVERSITY OF VICTORIA DONATION UPDATE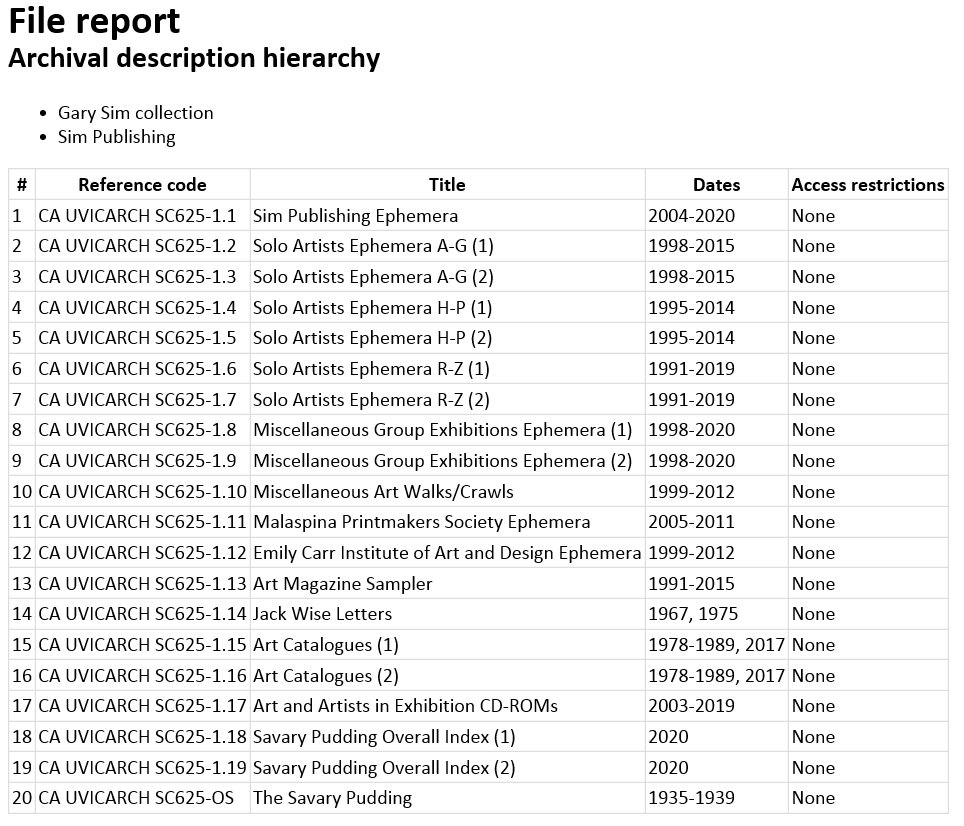 Screen capture of the donation listings to date.

The other day I came across a web link to a University of Victoria web page for my recent donations to them. I clicked on the link, but didn't have access. The Archivist was kind enough to send me a stand-alone web page that shows what they have listed so far as a draft. They have separated the archival material into 20 different reference titles. The Maud Sherman watercolours have been accepted, but not yet listed. It is quite interesting (to me, at least) to see how the donations have been subdivided.



---
JAN. 31: FIRST ATTEMPT AT KUMIKO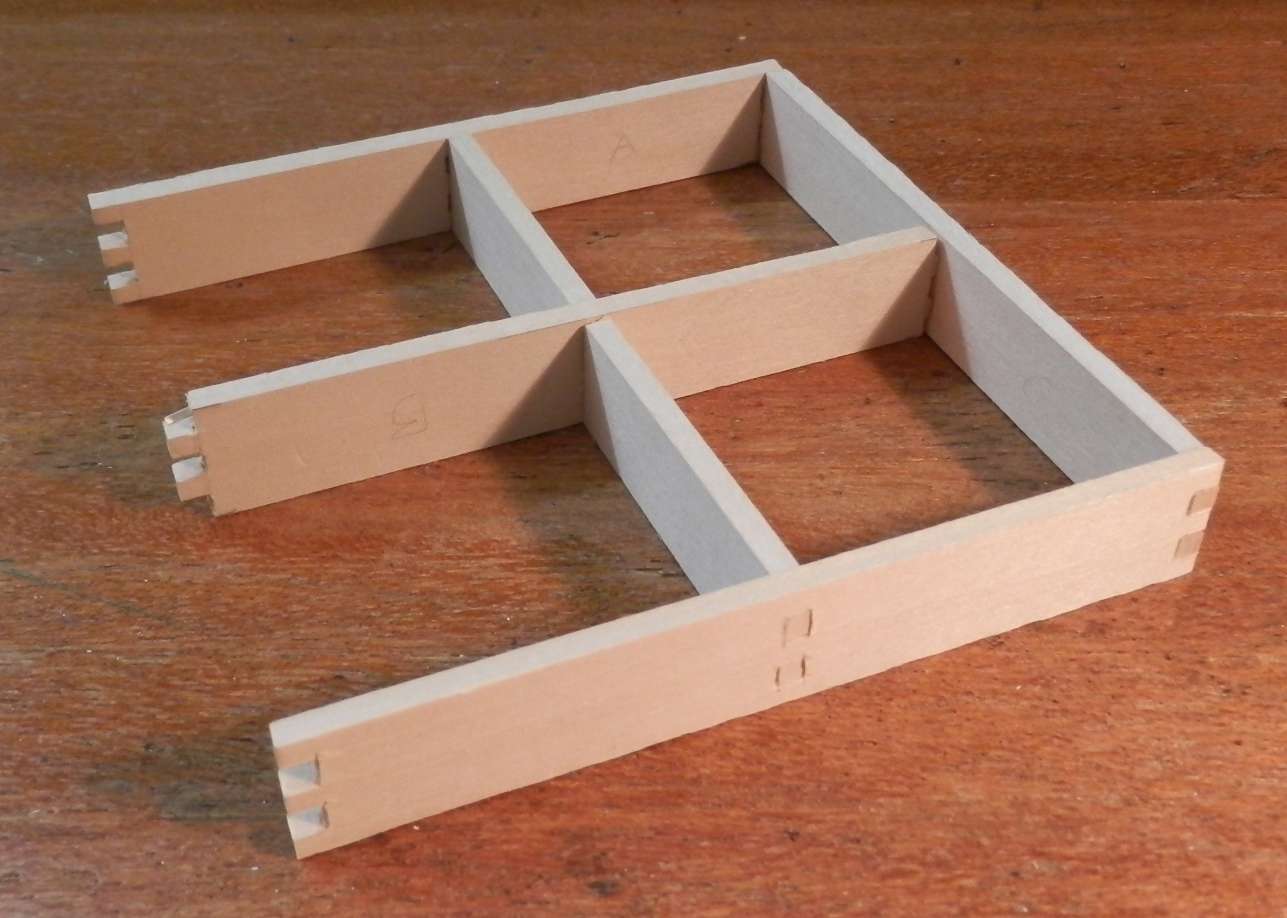 A test kumiko assembly in progress, 4" by 4" by 5/8" high

A recent Lee Valley catalogue listed a book about making kumiko lattices. That is a traditional Japanese form of decorative construction, used in a wide variety of ways such as lamp construction, dividing screens, insets for furniture, or simply as a decorative item for a shelf, window ledge, or wall hanging. I had the idea to design one myself, and chose a small 2 x 2 square assembly to start with, into which a repetitive kite pattern based on an early Islamic design will be inset. Cutting those pieces correctly and setting them in place might be a bit tricky. The art of kumiko does not allow for mechanical fasteners to be used, so no nails or screws. A piece of 1/8" thick model-making basswood was the perfect material to start with. As it turned out, my first attempt was not actually kumiko, but a combination of box joints and mortise and tenon construction. However, this will be the base for further exploration.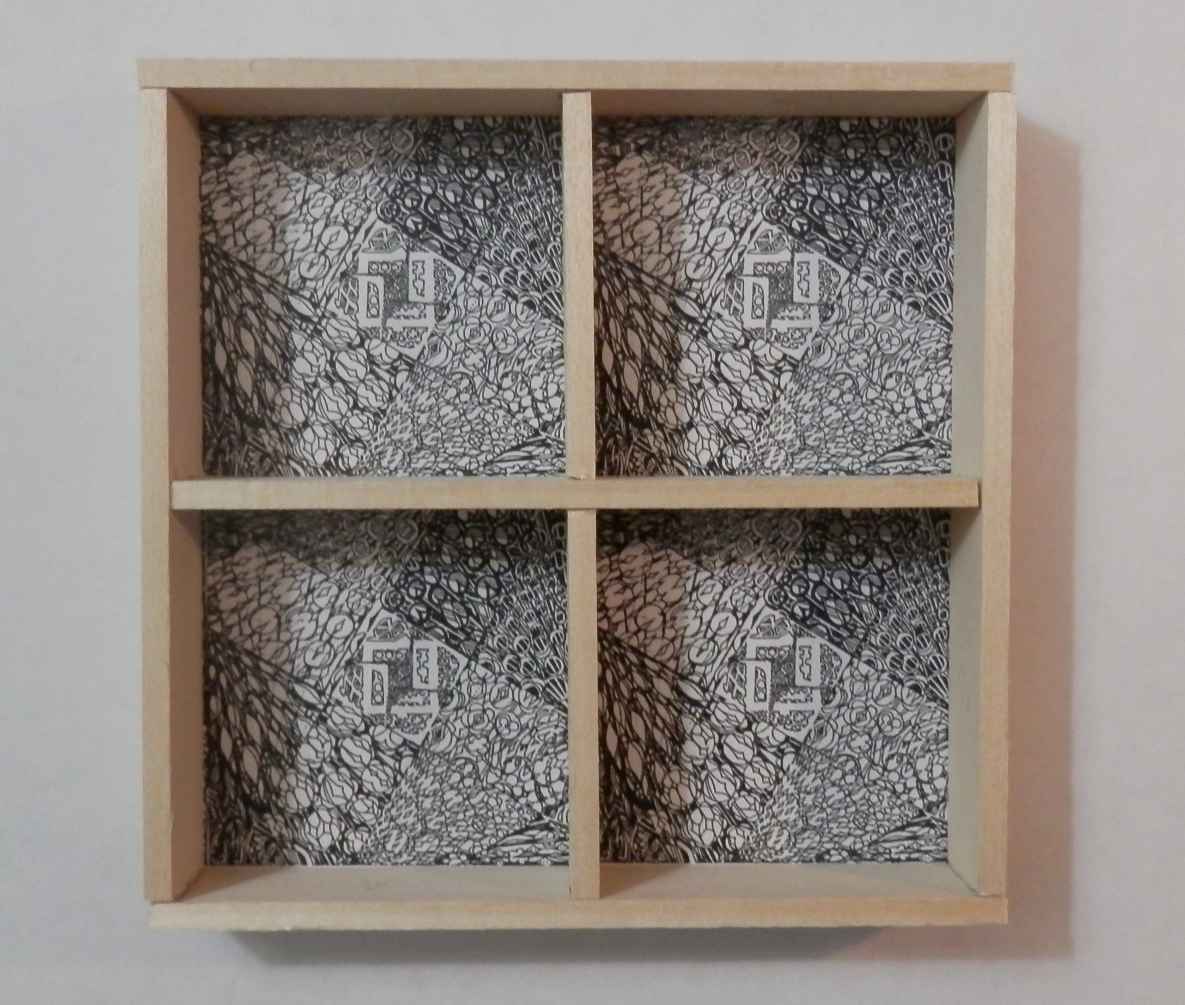 Advancing the concept with the Islamic pattern

Here is the 2 x 2 box, loose fitted prior to sanding and cleaning, sitting on top of a laser print of the Islamic pattern. I did the original pen & ink drawing quite a few years ago, and thought it would be interesting to use for kumiko. Until I did the printout, I'd intended to use more 1/8" thick bass for the kites, the same height as the 2 x 2 box. Now I think I'll use 1/16" thick bass at half the height of the box (or less), then glue a printout of the drawing onto the back.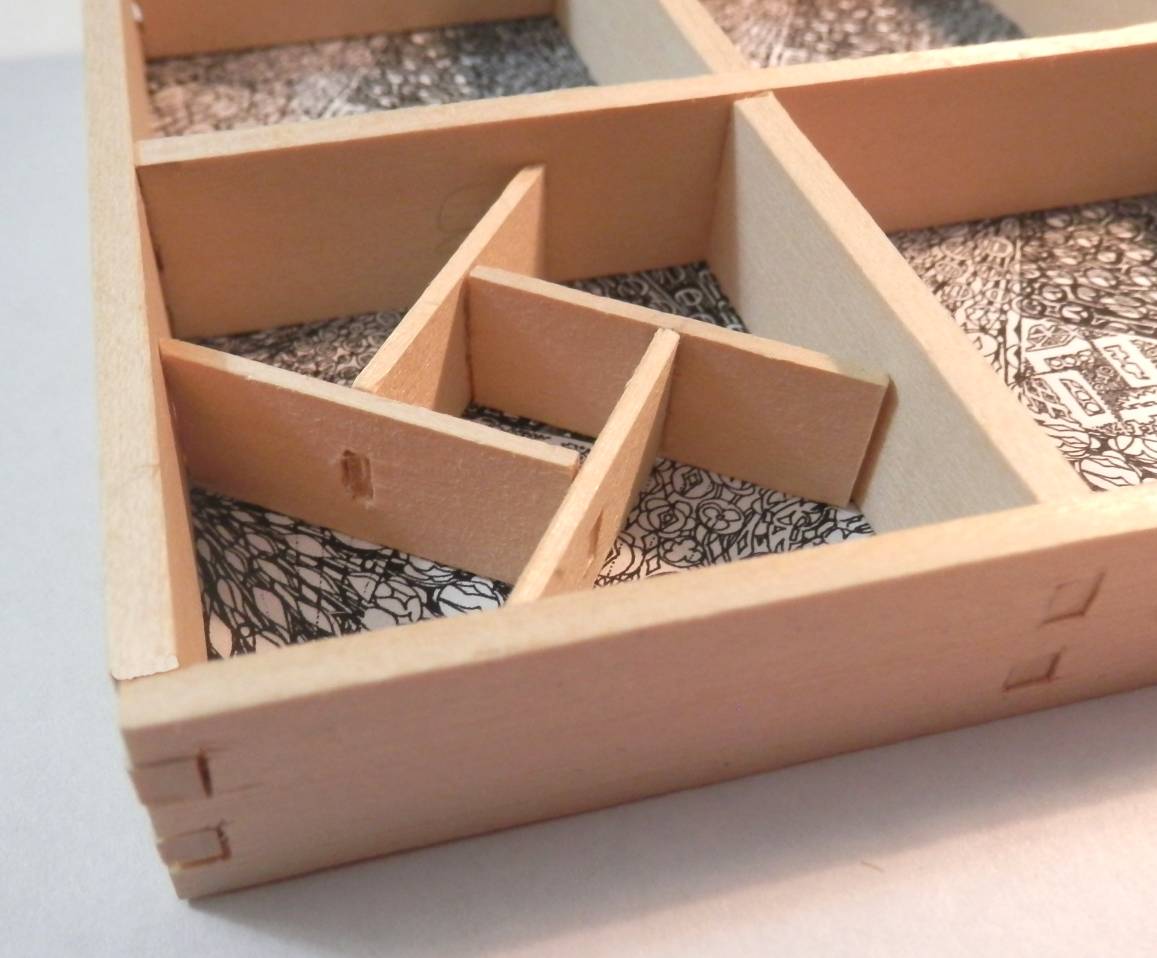 Test fitting the first four kite pieces. After this I flipped them to go clockwise.

NOTE: if you use the link below to go to ETSY and search for "kumiko" you will see a huge assortment of designs and finished products, and some amazing craftsmanship.



---
JAN. 28: GARYSIMSTUDIO ON ETSY UPDATED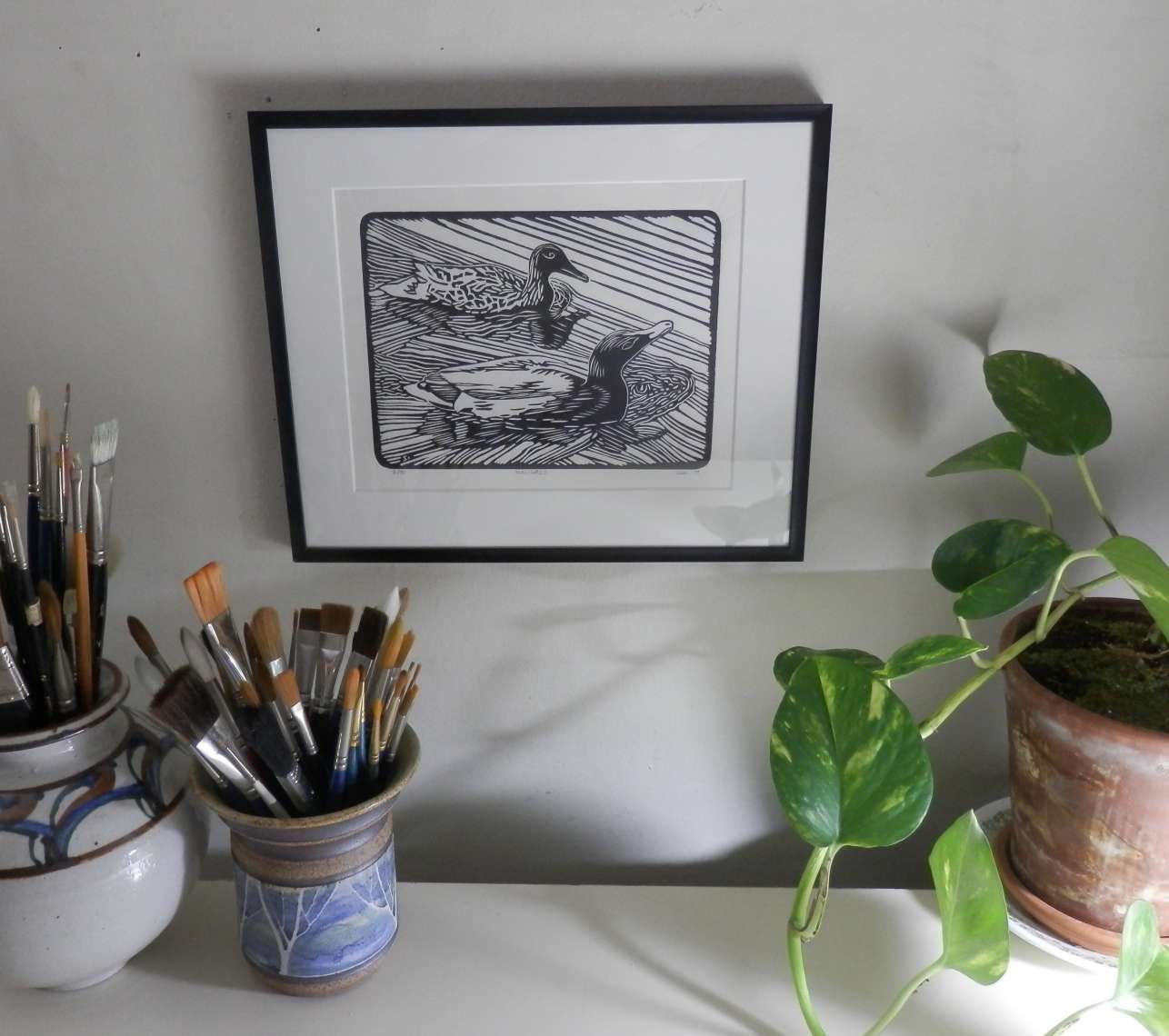 A "mockup" for linocut relief print MALLARDS.

This week I was offered a free half-hour optimization session with an ETSY support person. Kim (in Ottawa) and I "met" online using Google Meet, and ended up spending forty minutes going through my ETSY store and reviewing ways to optimize it. These included simple things like adding a banner to the store, which I didn't have, and producing a number of "mockups" for the artwork I have listed, showing what they would look like matted and framed and hanging on a wall. Other suggestions included changing the titles being used for items and adding more tags and descriptions to improve search results, and posting more photographs for each item. A number of updates have been posted as a result, and a few new items. More is on the way!



---
JAN. 24: HISTORY MOMENT - PROSPECT POINT LIGHTHOUSE

The lighthouse in 2020

The current Prospect Point lighthouse is seen here in late 2020. It was built on the site of an earlier wooden lighthouse, which also had a lifeboat station. The lifeboat station was built on the shoreline between the two large rock formations on either side of the stairs leading down to the shore. The lifeboat was moved from the boathouse down to the water on a pair of steel rails, which are still visible on the shoreline in this picture, at the low tide line, more than 100 years later. The signal light on the West Vancouver side of the First Narrows was a manned lighthouse for many years before the automated signal was installed.



---
JAN. 22: HISTORY MOMENT - 1892-93 VICTORIA BUSINESS LEDGER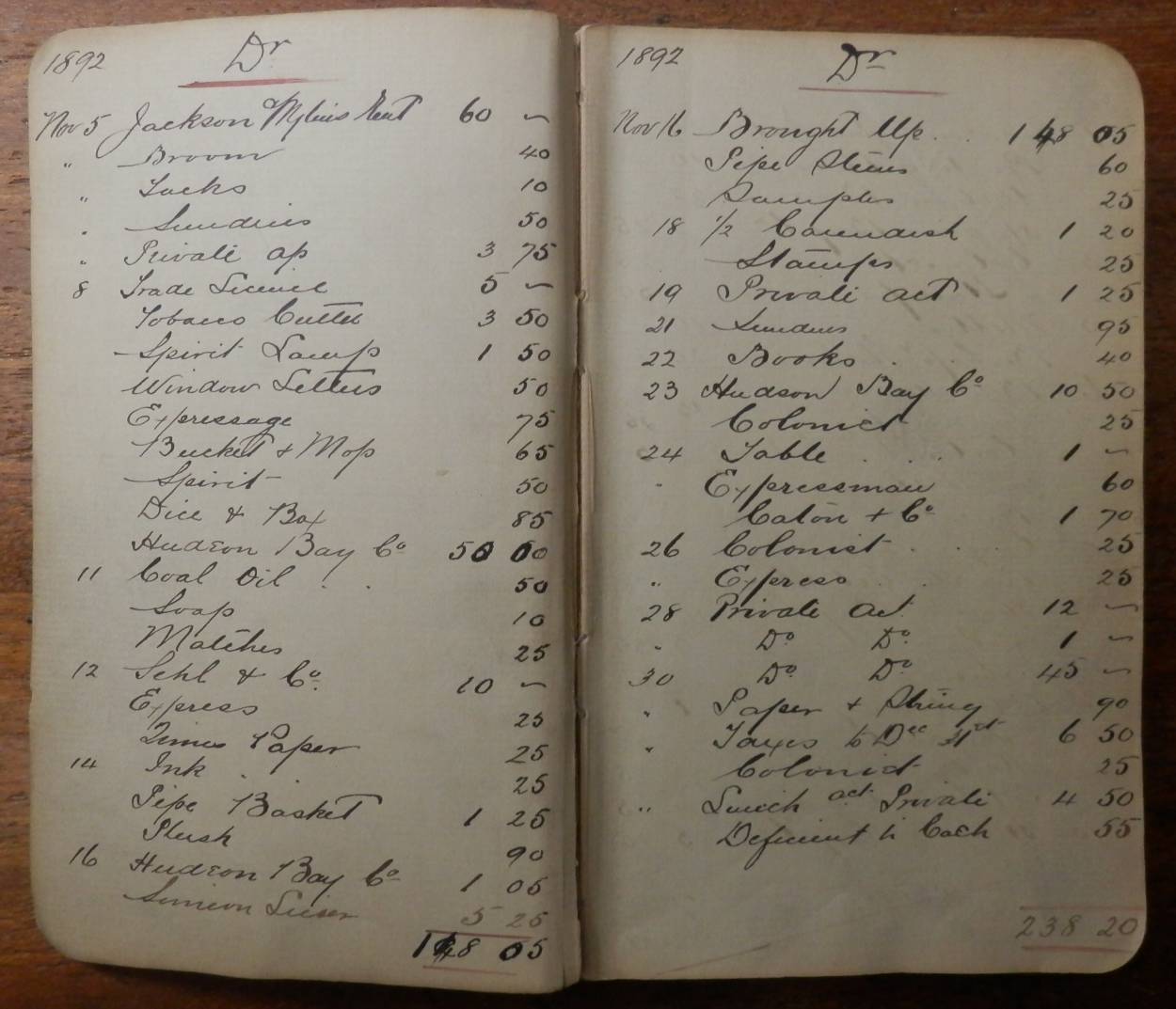 A page of accounts from 1892

I acquired this 1892-93 business ledger out of curiosity at an estate auction a number of years ago. I found that there was a lot of information about Victoria from a long time ago. Although I attempted to identify the ledger's owner, I did not confirm anything. There are a lot of entries related to smoking, such as purchases of pipes, pipe stems, pipe racks, tobacco, tobacco cutter, and cigars. Regular business expenses included "advertising Chinaman" for 50 cents, sending a messenger for 15 cents, and hiring a watchman for 50 cents. They purchased window signs and "tickets," a printing press for $10.00, dice and box for 80 cents, and 500 manila envelopes for $1.15. One day they purchased salmon for $5.30. There are a number of entries for purchases of either "Caton amber" or "amber Caton" for $1.25, and I went online to try and hunt that down. A company in Catonsville, Maryland manufactured ginger ale and sold it in an amber coloured bottle, with the name "CATON" embossed on the bottle.


A hydro payment from 1893

There were a few entries for "electric light" bill payments. This image shows a payment for two months, not one. Almost 130 years later my own electric bill is only twice what this one was, despite the addition of all my modern conveniences: frig, stove, range hood, microwave, toaster, tv, stereo, computers, printers, scanner, telephone, answering machine, electric fan, and so on. I have donated this ledger to the City of Victoria Archives for their collection.



---
JAN. 19: FIRST SALE ON ETSY
I opened an on-line store on ETSY last August, and although I posted 28 artworks at quite reasonable prices, I wasn't getting any purchases. Even posting discounted sales over Thanksgiving and Christmas didn't seem to help. However, the number of visitors to my store kept going up, and the number of views kept increasing. The store, as well as a number of individual artworks, have been "favorited" a number of times. As of today 256 visitors have viewed 409 artworks, and I recently had my first sale! That was a relief, I admit.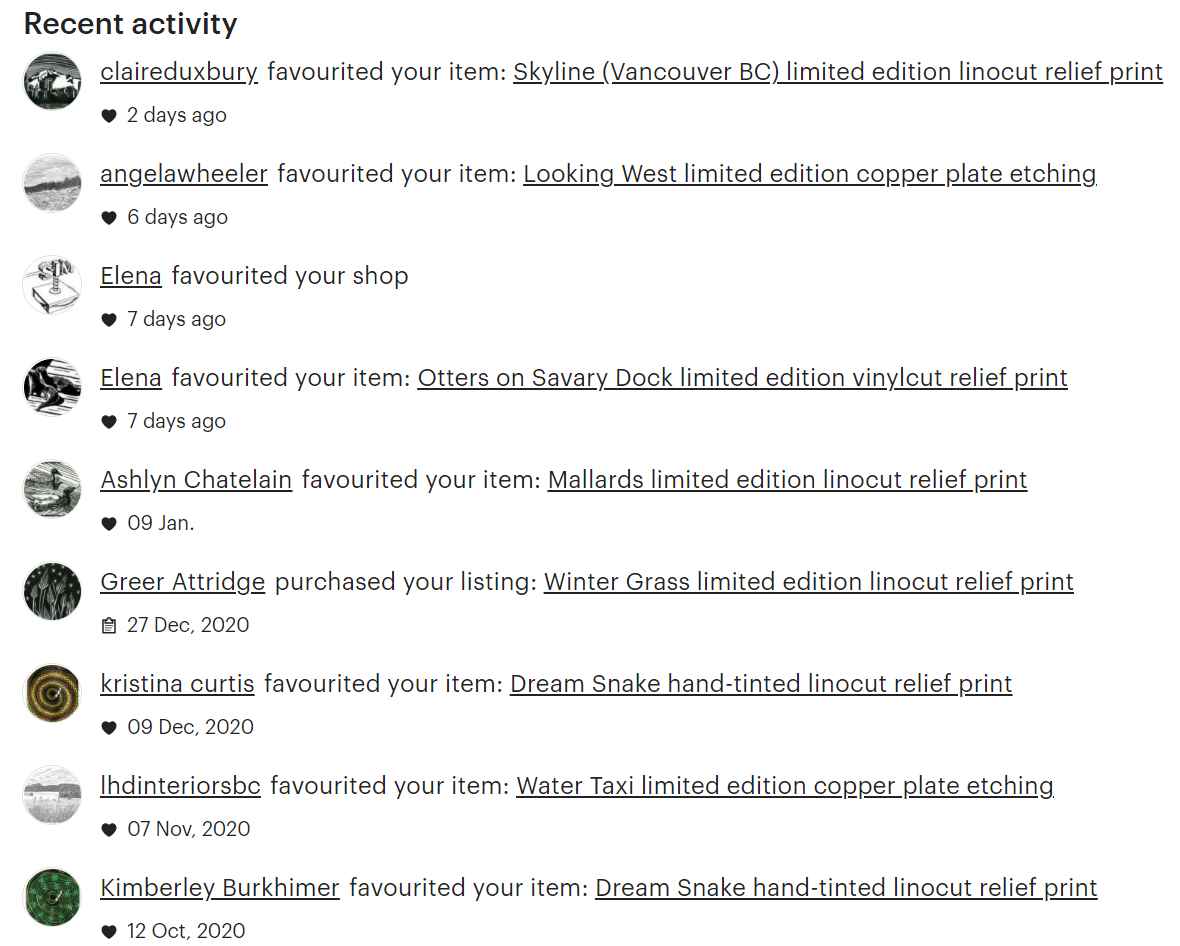 Some of the recent favorites

I spent some time yesterday updating my store, including adding the limited edition print Northern Lights, and reducing prices on two etchings and a print. I need to keep working on the store, and will be posting copies of my book Railway Rock Gang, and perhaps some early art (by others) from my collection.



---
JAN. 18: LIMITED EDITION PRINT PRICES REDUCED
| | |
| --- | --- |
| PRICE REDUCED JANUARY 2021 | |

In an ongoing effort to increase art sales and revenue, as well as reduce inventory, I am pleased to offer reduced prices on selected limited edition prints and etchings. Please see the artwork price list, revised prices are highlighted as per above colour.



---
JAN. 18: UNIVERSITY OF VICTORIA WEB CRAWL & DONATIONS
The University of Victoria Archives and Special Collections has agreed to archive both BC ARTISTS and SIM PUBLISHING web sites, and add them to their collection of digital information. This is an honour, and will help to permanently preserve the information - and my work in putting it all together.

U.Vic. web archiving – crawled sites are currently linked from the library's digital preservation/web archiving page:
About web archiving

U.Vic. currently has 41 archived projects:
Index of archived digital projects

A number of incremental donations to U.Vic. from my BC ARTISTS project are in the works. So far, three packages have been shipped to Victoria, and additional donation offers are being reviewed by the Library and Archives. My long-term goal is to get the majority of my research work and related library into permanent collections.



---
JAN. 17: HISTORY MOMENT - BUTTON BUTTON, WHO'S GOT THE BUTTON?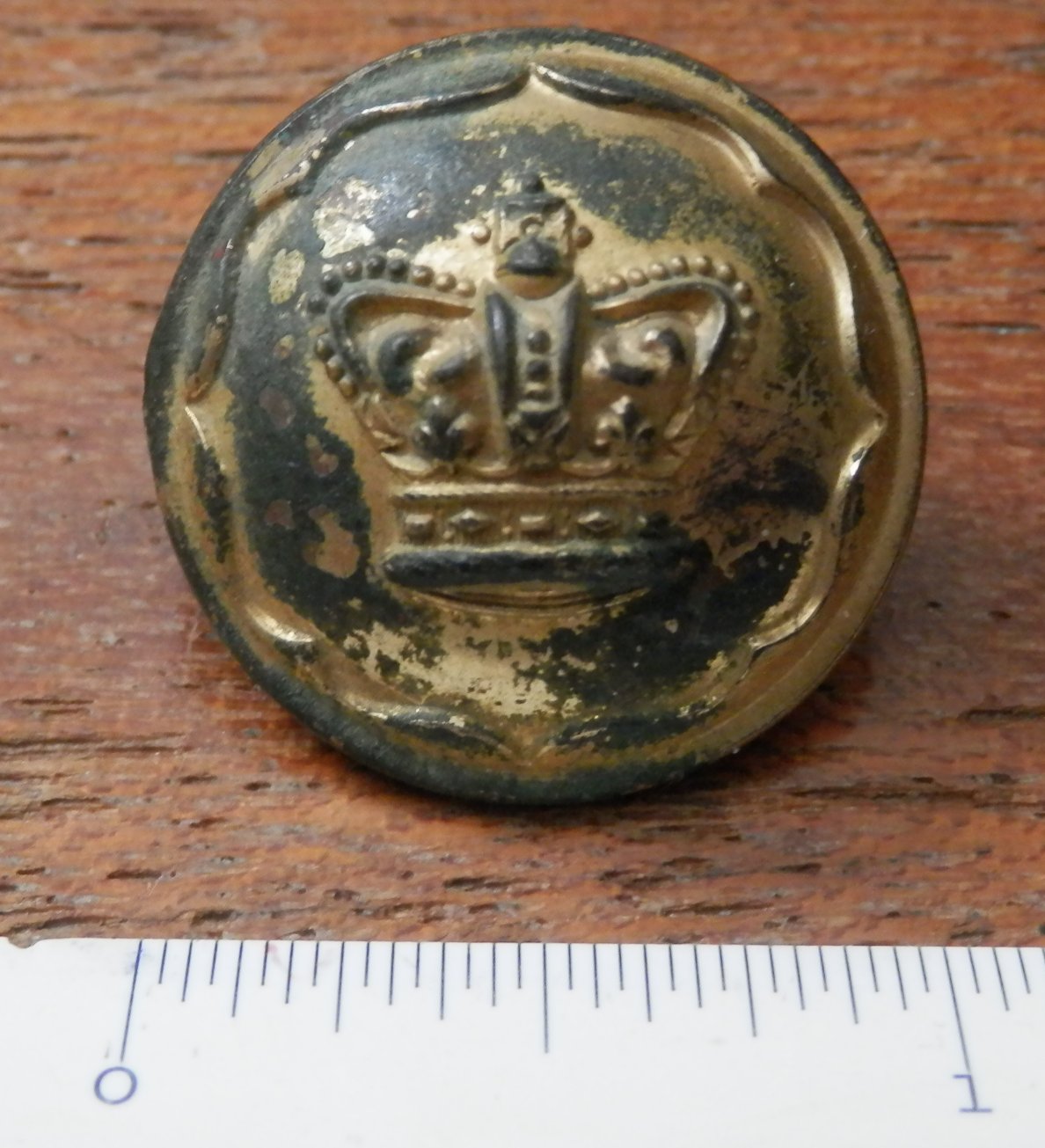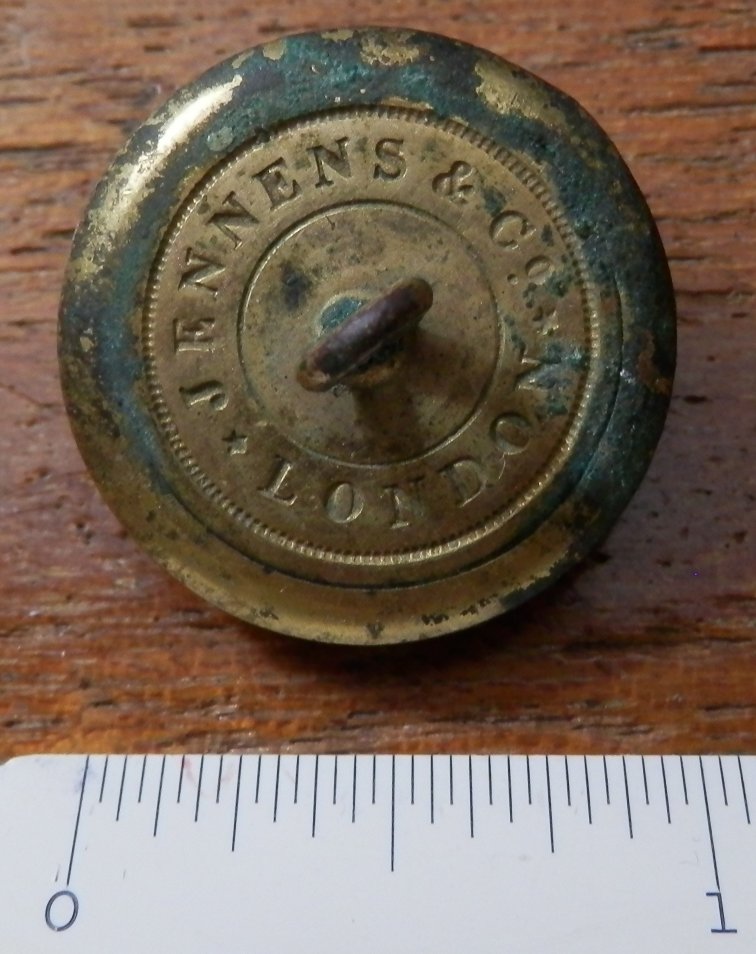 Jennens & Co. brass button c1832-1860

I found this brass button about 50 years ago. I had gone up to North Bend, and taken the cable ferry across the Fraser River, intending to look for soapstone on the banks of the Nahatlatch River. I found some nice pieces to bring home, and also wandered along the west bank of the Fraser just south of the confluence of the Nahatlatch. At that location, the river bank was a black rock bench a little ways above the river, but within high water mark. The solid rock bench was covered with another layer of rock, broken up into small rocks but essentially still in place. In between these rocks was just enough space to put my feet down to the solid rock so that I could walk safely.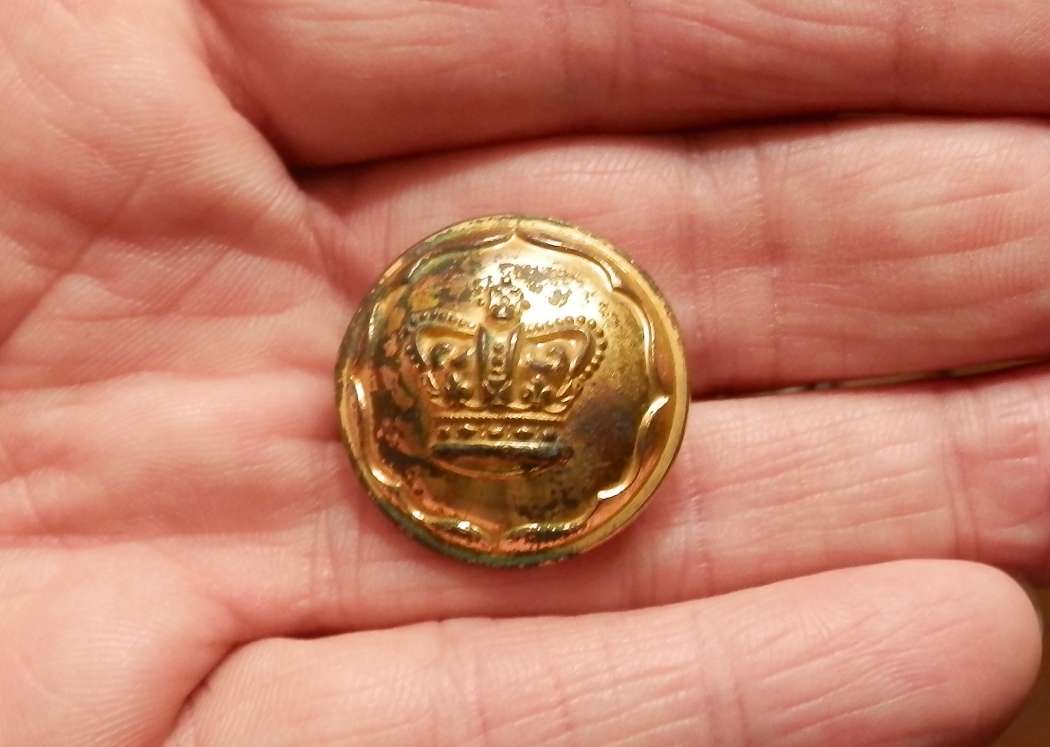 Jennens & Co. brass button c1832-1860

I caught a flash of gold in between the small rocks as I walked, and picked up this button. It definitely seemed like an unusual find, and appeared to be in good condition. I took it home, and it sat around in one drawer or box or another over the years. Every so often I'd look at it and think about identifying it. Of course there was no Internet 50 years ago!

Anyway, I came across it again recently, and decided to see what I could find out. I discovered a web site in England that has an extensive list of button-makers and their back-marks. Since my button has the text "Jennens & Co. London" on the back, I quickly found it in the list. Although this button maker began business as Messrs. Jennens & Co. in 1800, and is still active today as J.R. Gaunt and Son, the text on my button was only used on buttons made between 1832 and 1860. The button is solid brass, and weights 7.7 grams. All of the 100 year old dirt on the button could be removed, it's actually in excellent condition.

So, the button may have been sitting on the bank of the river for 110 years when I found it, and in any case it is now between 160 and 190 years old! My original theory was that it is a button from the British Royal Engineers, who worked to build the Cariboo Road through the Fraser Canyon in the 1850s. Now that the date of manufacture is confirmed to be contemporary with the Engineers in B.C., it's just a matter of confirming what uniform this button would have been attached to. Identification of the crown might narrow down the date range of manufacture.

Perhaps there is an Engineer's journal somewhere that notes "Drat, lost one of my uniform buttons today alongside the Fraser River, but couldn't find it and had to keep going."

UPDATE: I got in touch with the Royal B.C. Museum in Victoria, and I will be sending this as a donation to them. It turns out they have a very limited collection of Engineer's uniforms, in fact the only original one they have is Joseph Pemberton's own uniform.

ANOTHER UPDATE: In October 2021 I received a letter from the Museum, thanking me for my donation. Enclosed with the letter was a tax receipt for the button's appraised value of $100.00. Holy smokes, that's an expensive button!



---
JAN. 5: A NEW YEAR BEGINS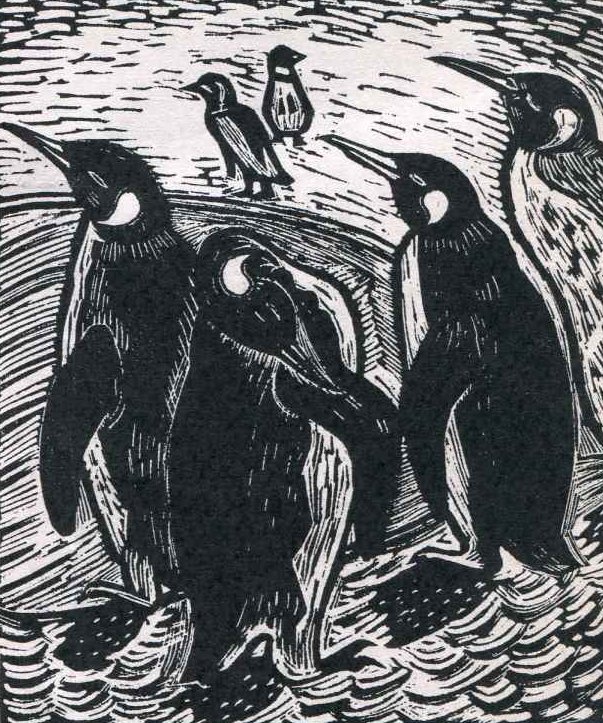 A woodcut by Alistair Bell
for 1952 Annual Exhibition of the B.C. Society of Artists
( "What, no polar bear swim this year ... ???" )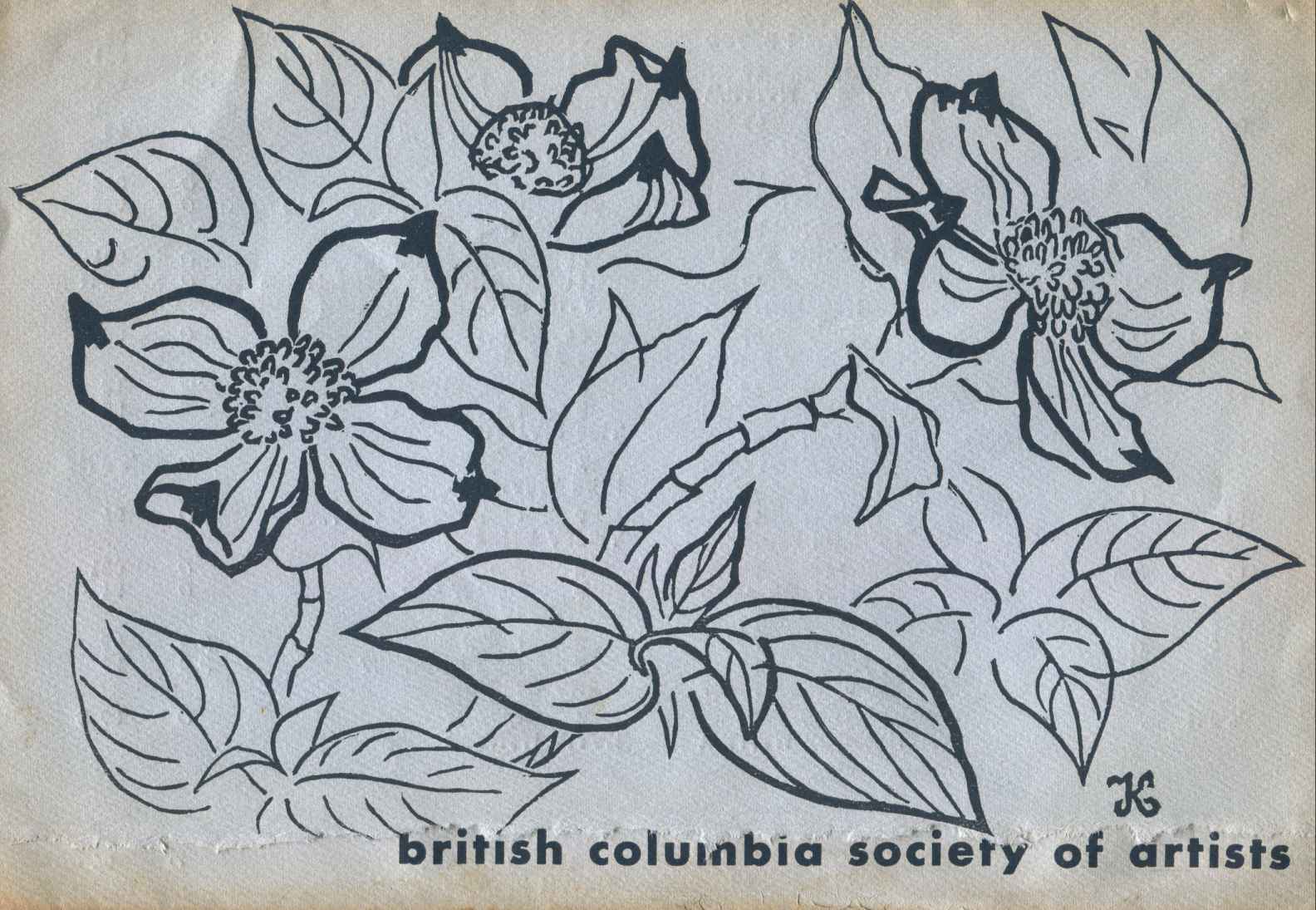 A 1956 linocut by George Kuthan for exhibition catalogue

These lovely images graced the covers of the Annual Exhibition catalogues of the B.C. Society of Artists in 1952 and 1956. They are two of a number of historic images in a large collection of art material donated to me last year. I am scanning and adding the material to BC ARTISTS, and recently posted more than 100 new images. The majority of the images are for catalogues from the following two series of exhibitions:



There are 27 new scans for the B.C. College of Arts:




There are new scans for the Vancouver Technical School annual: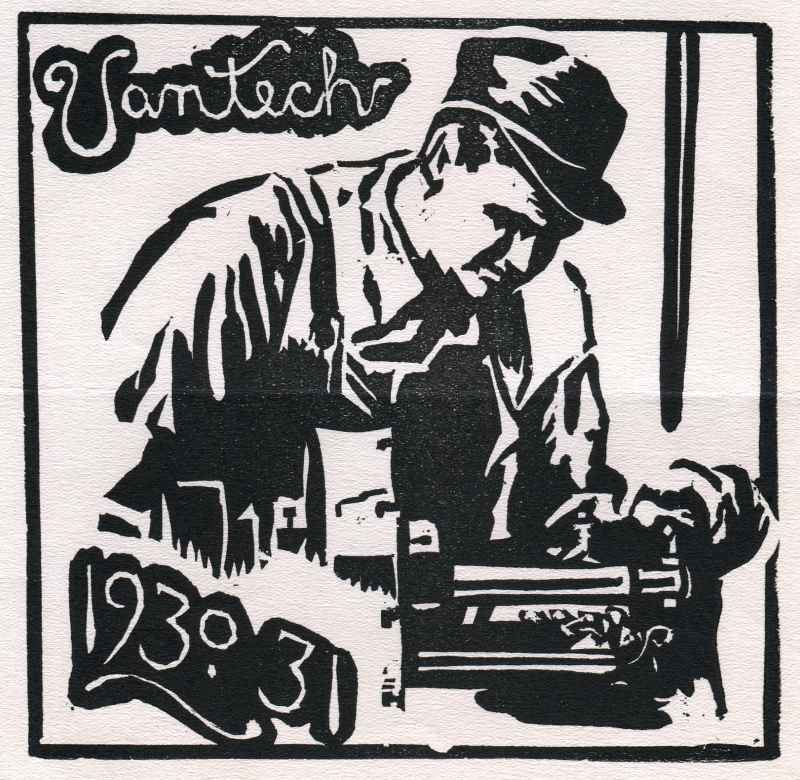 A 1931 linocut from the VANTECH school annual
---
JAN. 1: NORTHERN LIGHTS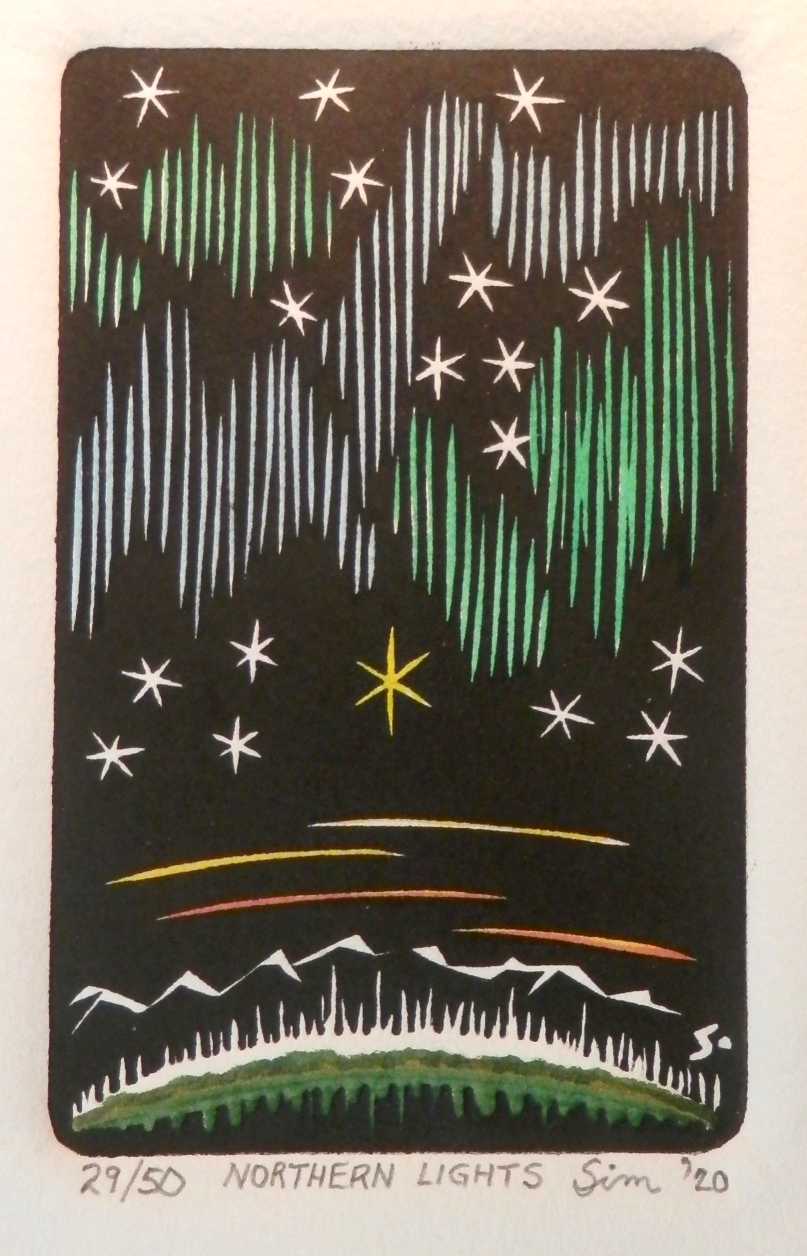 Northern Lights hand-tinted linocut print
---
DEC. 20: SOLSTICE UPDATE


RGBK(Y) Mandala, Frosty Window, First Winter, West End in Winter, Tangled, Snow on Elms


Angleman & the Lights Tangle, Twin Trees in Winter, Decorated Tree, Peace, Snow, Universolmas
---
Home
Copyright 2021