Robert Samuel Alexander
August 25 1916 - April 20 1974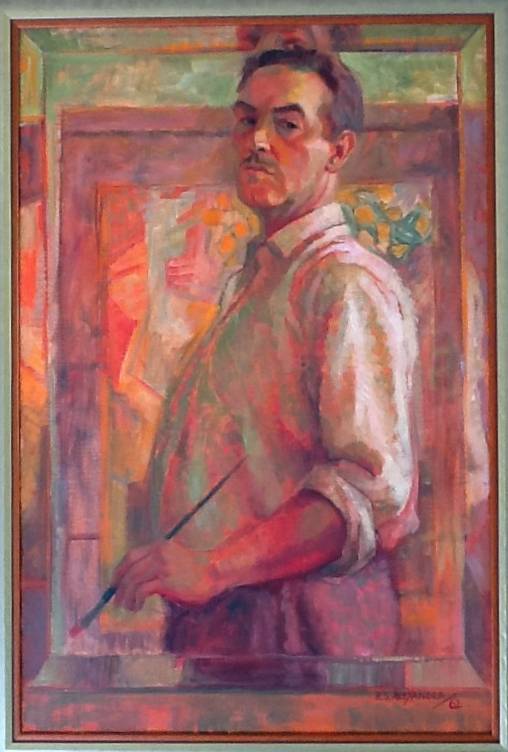 Self Portrait, 1962

Robert Alexander was born in Vancouver, B.C. in 1916, and died in North Vancouver in 1974. He was married to Irene Cattelle Porter, who was also an artist.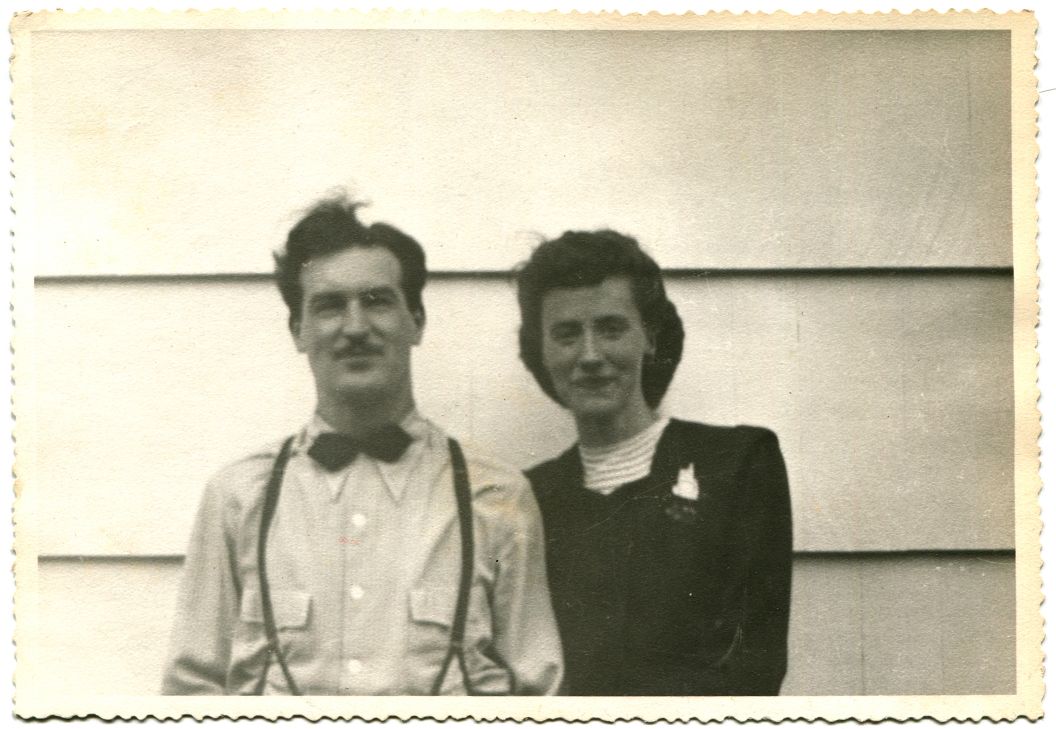 R.S. Alexander and Irene Cattelle Porter, 1949

Who's Who in Northwest Art noted that he was a painter, and had "experimented extensively with fresco (secco) using casein as an emulsion". He designed cartoons for fresco panels for the "new" (now the only) Hotel Vancouver using Indian legends as the theme, and also did murals for the now-demolished Grosvenor Hotel on Howe Street in Vancouver. He designed street and building decorations for the visit of King George and Queen Elizabeth in 1939. He also worked for the David Hall Sign Company from at least 1939 to 1949.

In 1941 he had work in the RCA's 62nd Annual exhibition, held at the Art Association of Montreal.

Alexander was elected as a member of the B.C. Society of Fine Arts in 1942, and exhibited in a number of their Annual Exhibitions.

Portrait of W.P. Weston by R.S. Alexander, courtesy Renee Alexander.

He graduated with honours from the Vancouver School of Art in 1947, winning a scholarship, and taking further studies at the Art Students' League in New York c1954-55. He did portraits, figures, murals, and illustrations.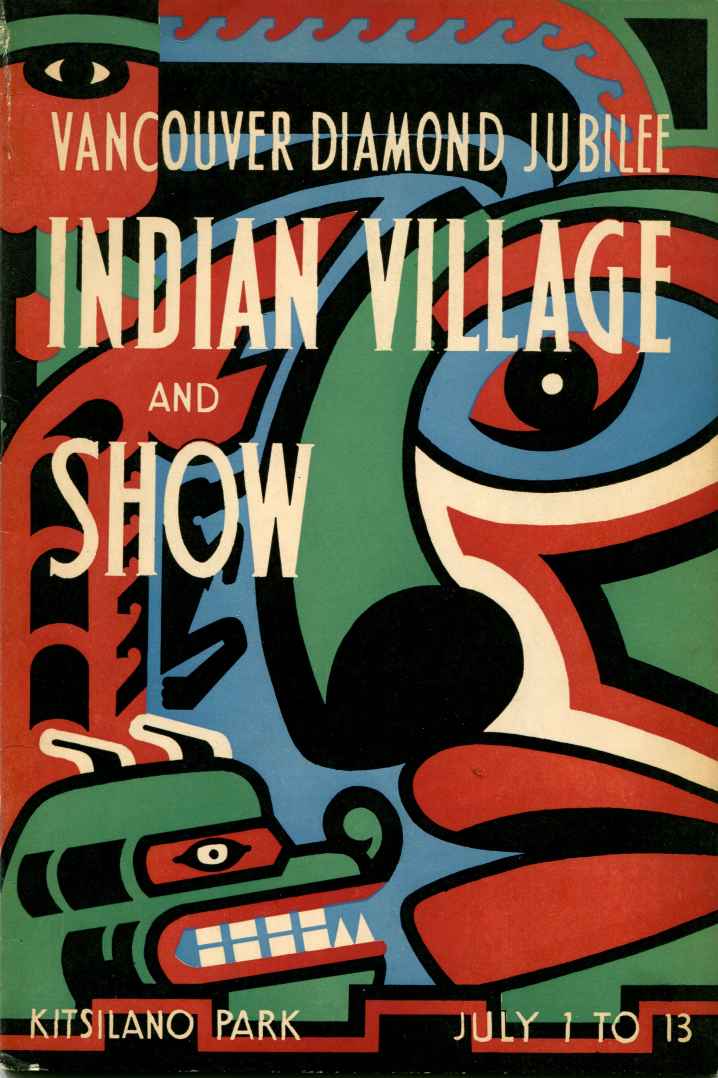 Brochure cover, 1946

One of his specialties was portraits, and he did them for subjects in Toronto, Ottawa, Regina, Victoria, Vasar, New York, and Tokyo, Japan, as well as numerous portraits in Vancouver (including two portaits of the artist W.P. Weston).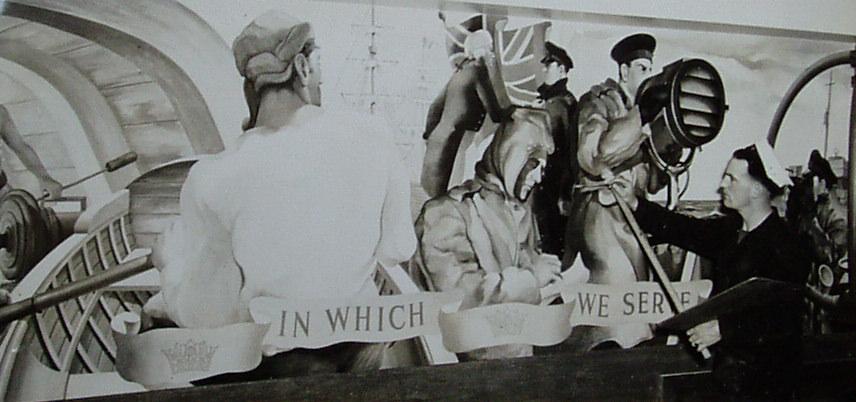 He completed large mural commissions for the Officer's Mess at HMCS Discovery, Vancouver, and for the Penticton Airport. The latter mural has been restored and relocated into the Penticton Civic Centre.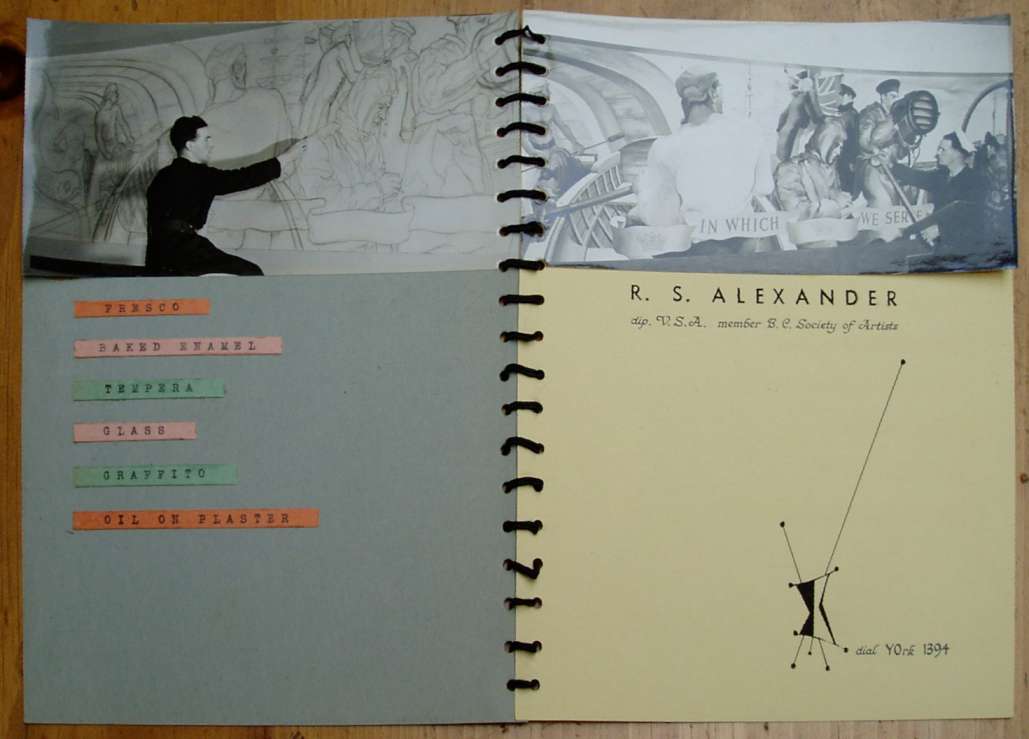 In 2013 I arranged to visit HMCS Discovery to view the mural, which had survived since 1945. Renee Alexander, the artist's daughter, also came along on the visit. The mural is above two pairs of double doors to the Officer's Mess.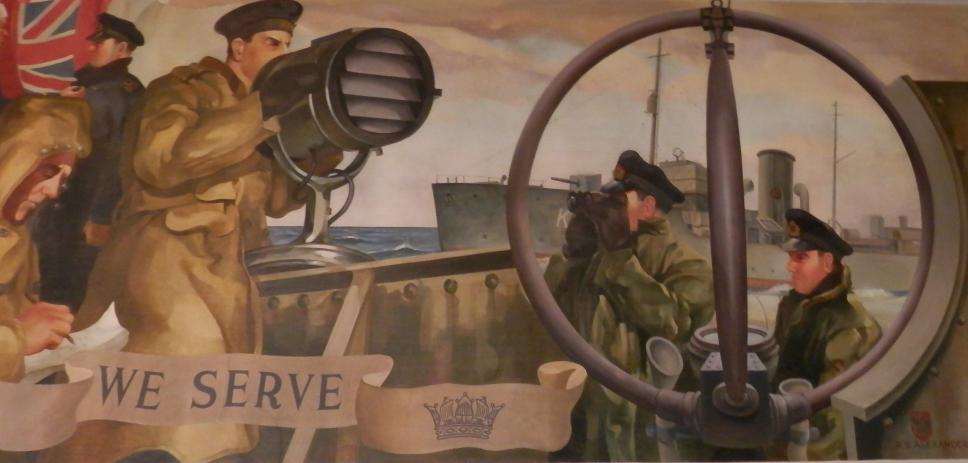 Mural detail, right side.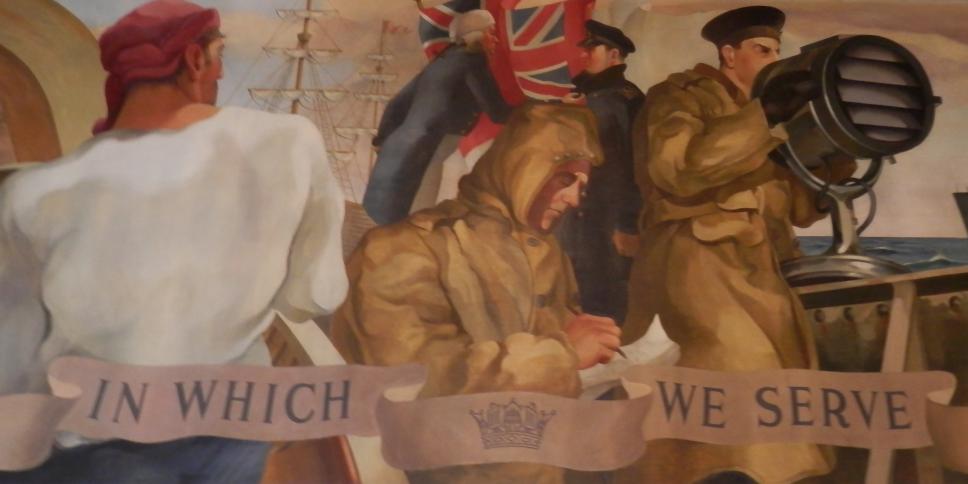 Mural detail, center.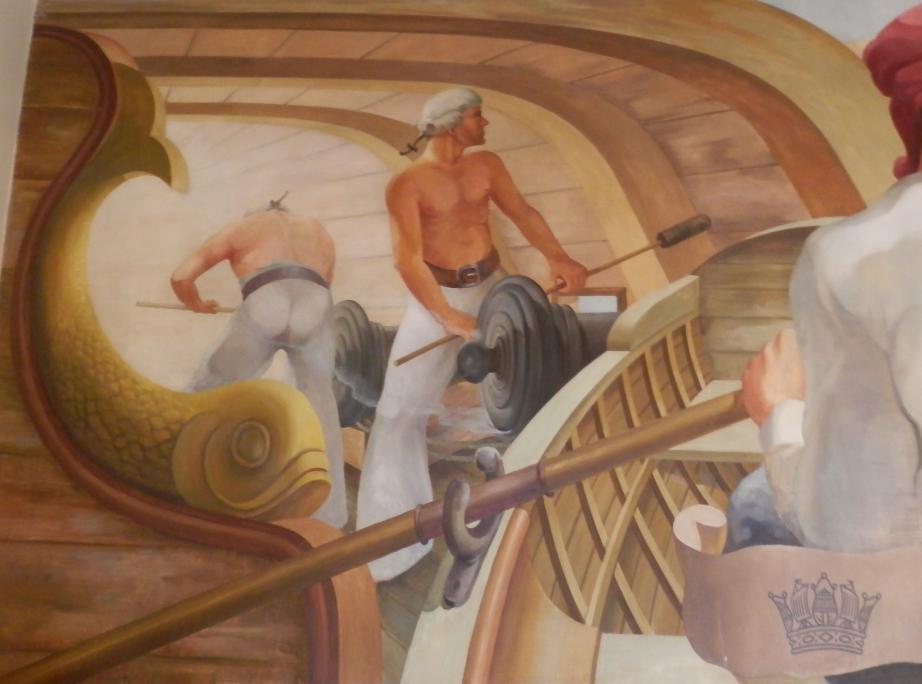 Mural detail, left side.

He illustrated school text books for W.J. Gage and Prentice-Hall Publishers. He taught at the Vancouver art school and opened a studio workshop in Vancouver in 1954 with his wife. A letterhead from the time noted "Irene Catelle Porter - R.S. Alexander - Commercial and Fine Arts, Studio 23 - 441 Seymour St., Vancouver, B.C." Another letterhead had a studio address in the 1400 block West Broadway.
He exhibited with the Royal Canadian Academy in 1941 and 1954, one picture per exhibition. He also exhibited work at the Edmonton Museum of Arts, and in the Northwest Artists exhibitions in Seattle.

Cartoon for Grosvenor Hotel mural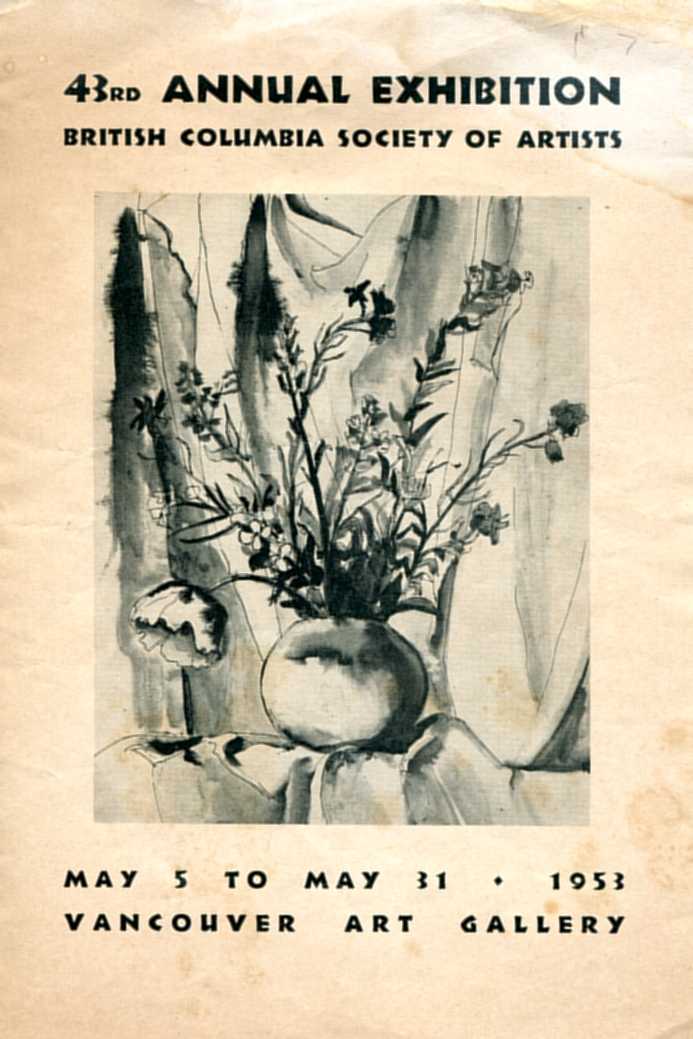 Catalogue cover image by Alexander

One of his paintings was selected as the front cover image for the 1951 43rd Annual Exhibition catalogue of the B.C. Society of Fine Arts.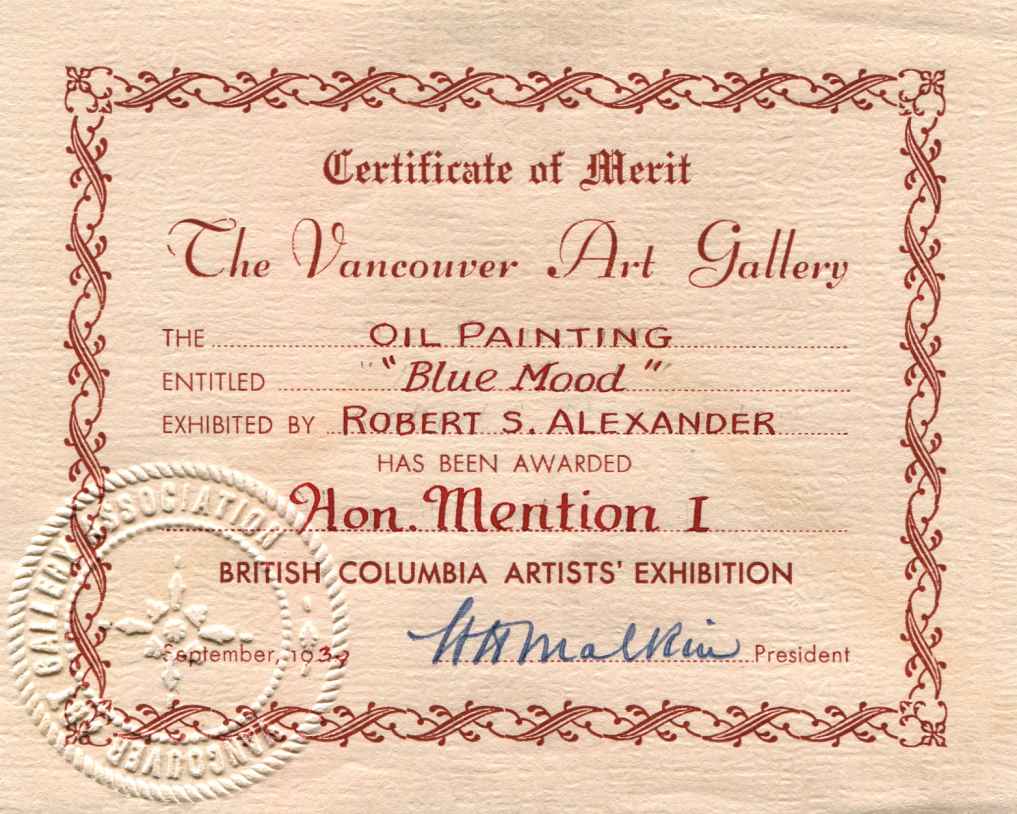 Honorable Mention, 1939 B.C. Artists' exhibition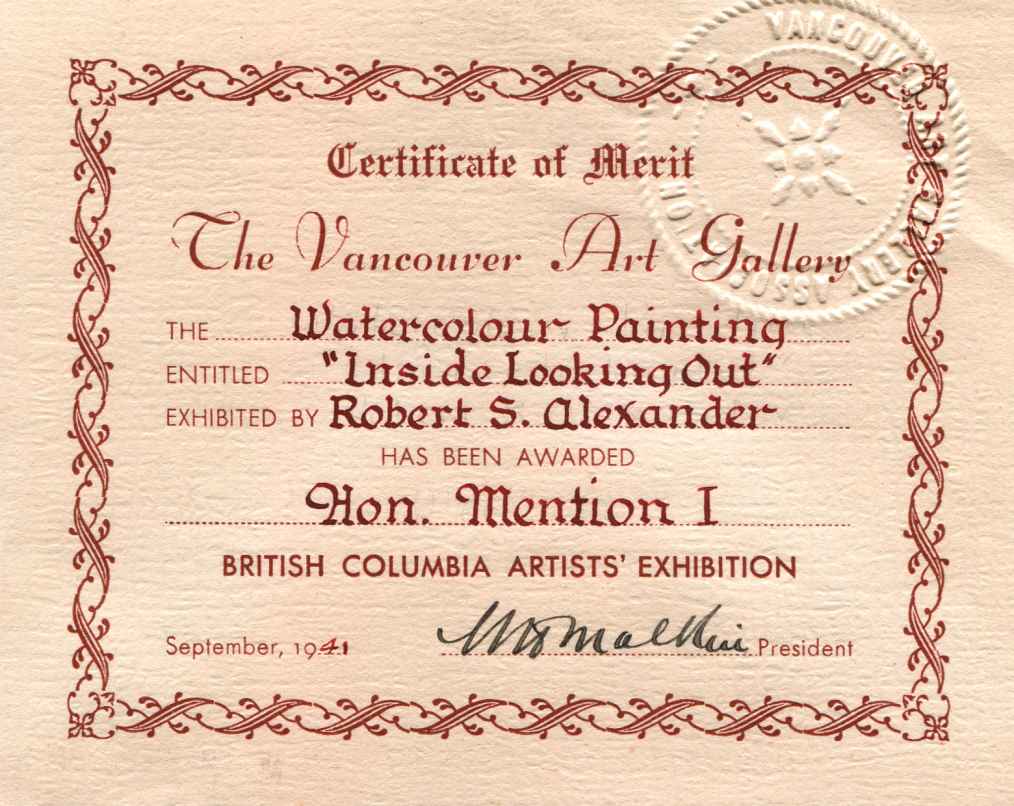 Honorable Mention, 1941 B.C. Artists' exhibition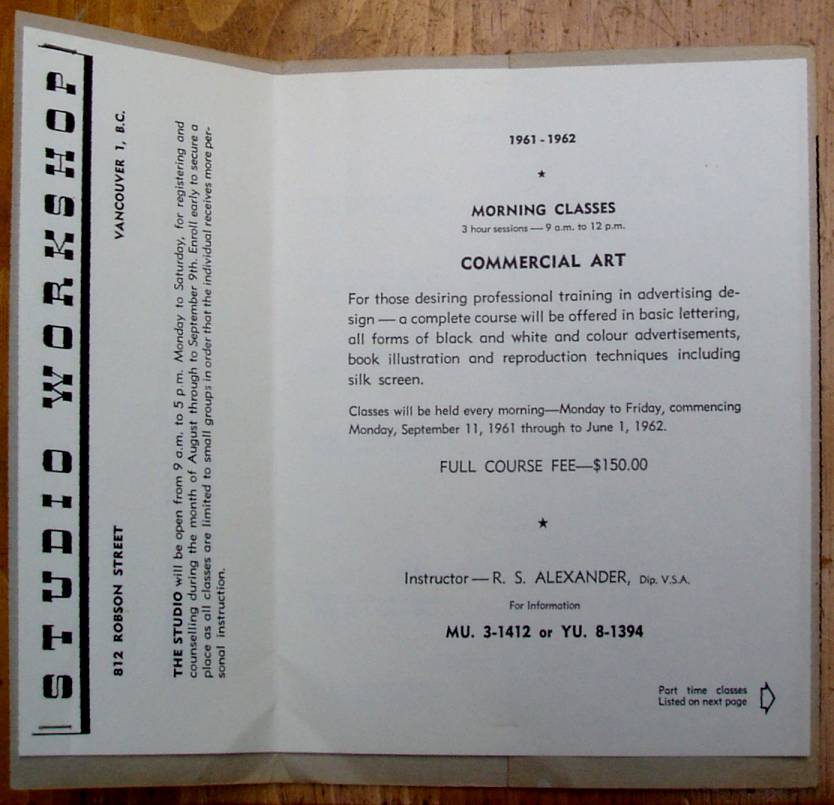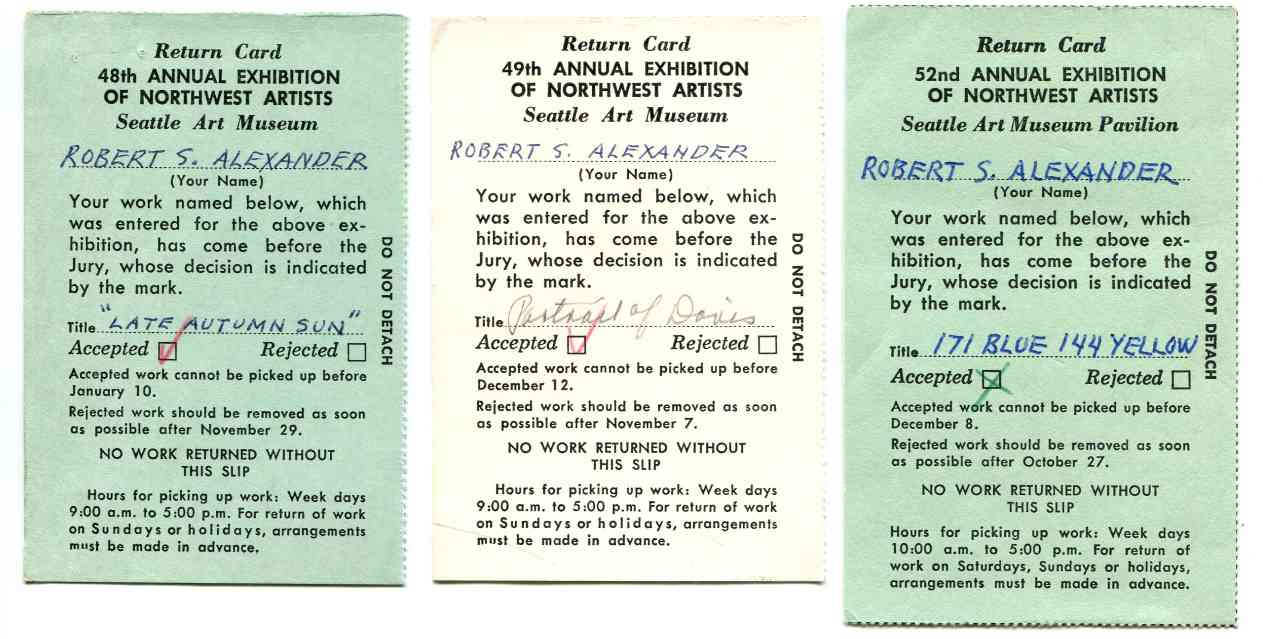 1960s Northwest Artists entry forms

Also, per card file at Vancouver Art Gallery Library:
B.C. Society of Fine Arts 1944; 1946-48; 1950-54; 1956-62
VAG annual B.C. Artists' exhibitions: 1953-58; 1961; 1965-66; 1968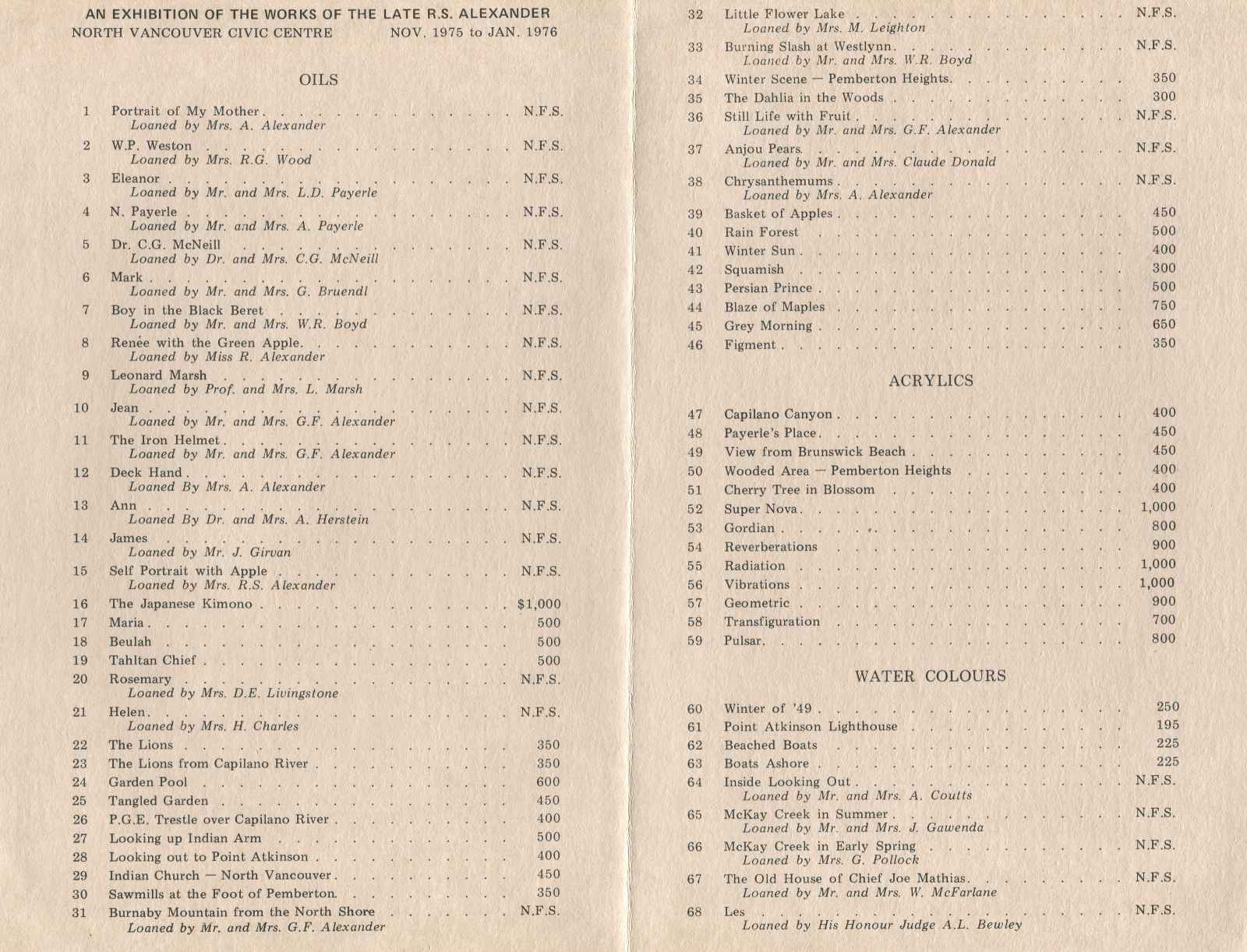 1975-76 memorial exhibition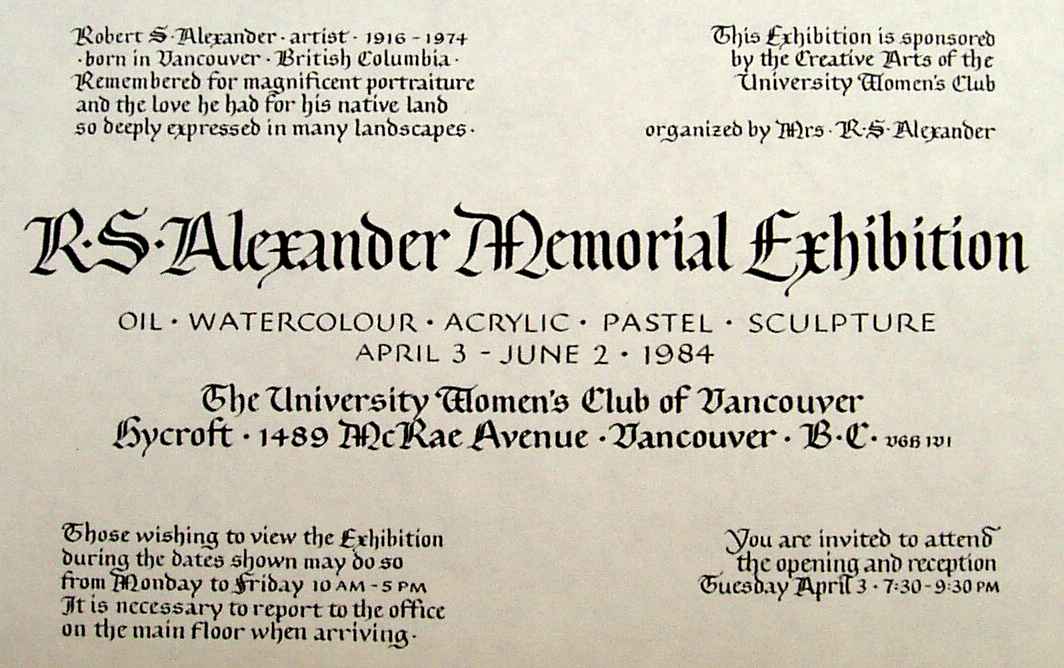 1984 memorial exhibition
Exhibitions
SOLO EXHIBITIONS
GROUP EXHIBITIONS

References - BIBLIOGRAPHY
Refer to BIBLIO.
References - GROUP EXHIBITIONS
100 YEARS OF B.C. ART (refer to VAG58)

B.C. PAINTINGS BURNABY 58 (refer to BAG58)

B.C. ARTISTS 27th ANNUAL (refer to BCA58)

SEATTLE ART MUSEUM - NORTHWEST ARTISTS EXHIBITIONS 1914 - 1975
Refer to NWA BC artists by exhibition
Refer to NWAA BC artists alphabetically

SOME PAINTERS OF THE B.C. MAINLAND (refer to AGGV66)

PAINTING '66 - VANCOUVER CENTENNIAL AWARD EXHIBITION (refer to BCA66)
References - GENERAL
WHO'S WHO IN NORTHWEST ART (refer to WWNA41)

ROYAL CANADIAN ACADEMY OF ARTS -
EXHIBITIONS & MEMBERS 1880 - 1979 (refer to RCA81)

ARTISTS IN CANADA 1982 - UNION LIST OF ARTISTS' FILES (refer to AIC82)

A DICTIONARY OF CANADIAN ARTISTS (refer to M)
Brief biography, includes info from 1961 "document from artist".

BIOGRAPHICAL INDEX OF ARTISTS IN CANADA (refer to BIAC03)
5 references cited for Alexander.

VANCOUVER PUBLIC LIBRARY - B.C. ARTISTS FILES (refer to VPL)

GREATER VANCOUVER ART GALLERIES 1954-2020 (refer to GVAG20)
2 references to Alexander

Email correspondence with Renee Alexander, daughter, November - December 2010.

Interview with Renee Alexander, daughter, North Vancouver, December 15 2010

Interview with Renee Alexander, daughter, North Vancouver, March 2 2011

Visit to HMCS Discovery March 22, 2013

Gift of R.S. Alexander and Irene Cattelle Porter collection from Renee Alexander, 2021
Clippings
"A striking portrait study of a young, fair-haired man in a blue shirt is the work of R. Alexander ... "
From "400 B.C. Pictures in Jubilee Art Show"
Vancouver Sun, August 15 1936

"Special Show at Art Gallery"
Vancouver Sun, July 6 1939

"Other works accepted include: ... a self-portrait in oils by R.S. Alexander ..."
From "Western Artists Capture Interest At Toronto Show" by Palette
Vancouveer Province, November 20 1941

" ... together with oil and watercolour paintings by ... R.S. Alexander ... all contribute much to this extraordinary show."
From "B.C. Society of Fine Arts Display Sets New High Mark" by Palette Vancouver Province, May 16 1942

"Well-known Vancouver artists recently elected (BCSFA) members include ... R.S. Alexander ..."
From "B.C. Artists' Display To Calgary For Exhibition" by Palette Vancouver Province, May-June 1942

"Portraits this year are numerous and unusually effective. R.S. Alexander has painted in dashing colors a large composition of a girl, lacking in pictorial structure but carried out with gusto and the glow of exuberant youth."
From "Colorful Display Presented In Exhibition By B.C. Artists" by Palette
Vancouver Province, September 19 1942

"Marjorie Harford (sic) and A. Alexander (sic) contribute portraits in oil which rank high in general proficiency."
From "B.C. Artists Evading War's Responsibility" by Mildred Valley Thornton
Vancouver Sun, September 26 1942

"Among other prominent exhibitors are ... R.S. Alexander ... "
From "Summer Show at Gallery Major Event for Art Lovers" by Palette Vancouver Province, July 7 1943

"Other artists showing creditable work are ... R.S. Alexander ... "
From "Notable Exhibits of Artists' Work" by Mildred Valley Thornton Vancouver Sun (presumed), May 1944

HOME