Irene Cattelle Porter (incorrectly Catelle)
(m Robert Samuel Alexander)
May 24 1922 - November 21 2015
Atelier Sketch Club
Royal Heraldry Society of Canada (Fellow, 1985)
Westcoast Calligraphy Society (Founding member)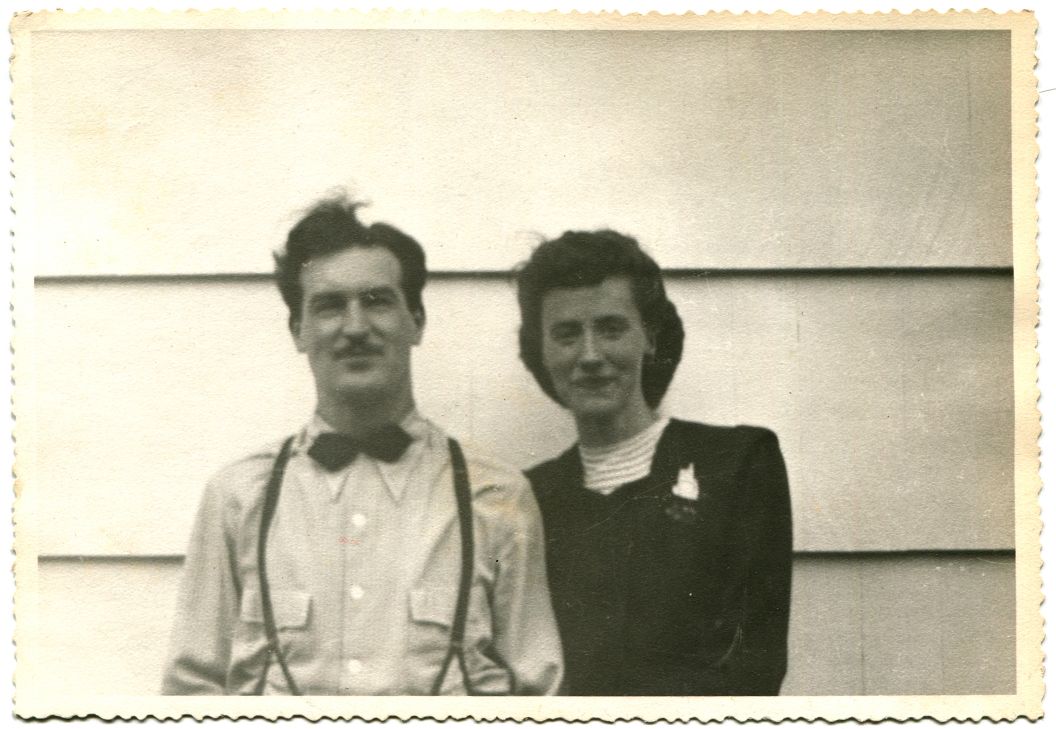 R.S. Alexander and Irene Cattelle Porter, 1949

Irene Cattelle Porter was born in Montreal in 1922. Her family moved west, first to Toronto, then Winnipeg, Saskatchewan, and finally to Vancouver in the 1930s.

She won a scholarship while in her teens and attended first year at the Vancouver School of Art (year not confirmed) where she studied under Grace Melvin. Her father "would not allow her to continue and told her to go out and get a job." Porter started work at Woodward's department store, when she was seventeen, and became their head show card artist. She also designed their trademark brushstroke W logo.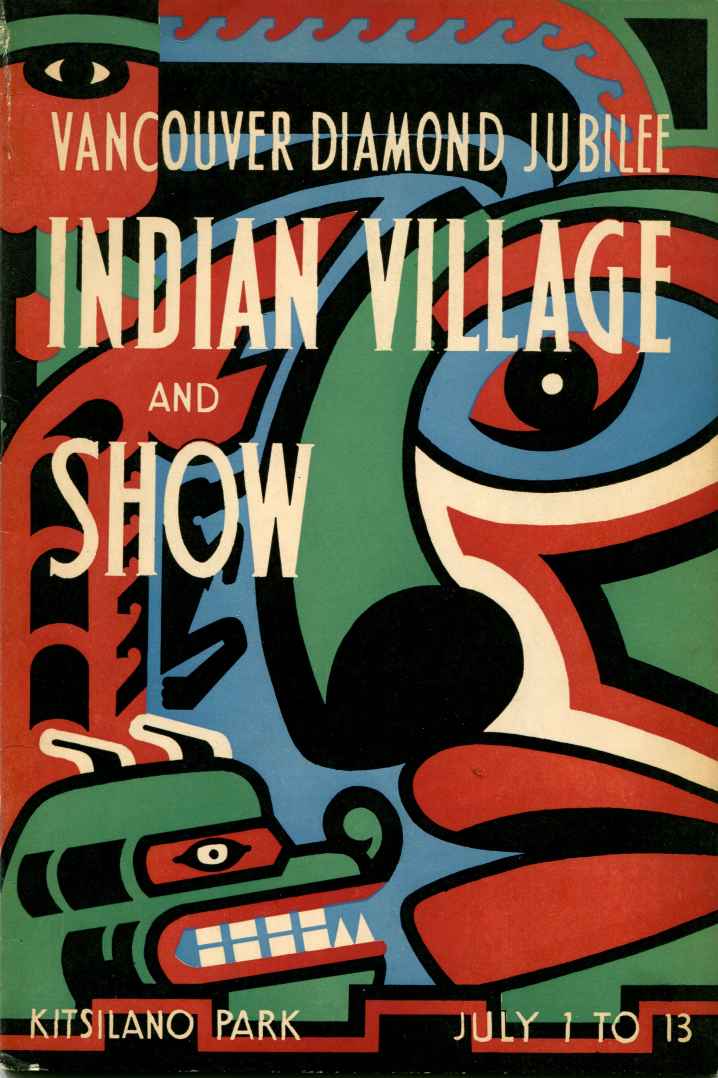 Brochure cover, 1946

When Porter married R.S. Alexander in 1949 she had to quit work at Woodward's due to company policy. She freelanced after that as a self-employed calligrapher, and did the Woodward's retirement scrolls. She and Alexander also did the City of Vancouver "Freedom of the City" scrolls that were presented to dignitaries.

She was a member of the Atelier Sketch Club, a group formed by art students taking Evening Classes at the Vancouver School of Art. The group put together an exhibition at the Vancouver Art Gallery in 1940.

She exhibited her work in a number of B.C. Artists annual exhibitions, from 1940 to 1949 inclusive.

She exhibited work in the 1945, 1953, and 1954 annual exhibitions of the B.C. Society of Fine Arts.

Porter was on a list titled "Leading Vancouver Artists," provided to the Labour Arts Guild on April 10, 1946 by the Vancouver Art Gallery to assist in the Guild's call for entries to the second annual B.C. At Work exhibition.

Porter drew maps illustrating the school text book CANADA, A NEW LAND published in 1965. The book was also illustrated by her husband R.S. Alexander.



EXHIBITIONS
SOLO EXHIBITIONS
GROUP EXHIBITIONS

| | | |
| --- | --- | --- |
| DATE | EXHIBITION | ARTWORK |
| | | |
| 1940 April 2 - 14 | Atelier Sketch Club Group exhibition | Nita |
| | | Calla Lily Design |
| | | Ballerina |
| | | Black and White |
| | | Portrait Study |
| | | Scales and Arpeggios |
| | | Jana |
| 1940 Sept. 20 - Oct. 13 | VAG B.C. Artists 9th Annual | Mei-Lan Woo |
| | | Self Portrait |
| 1941 Sept. 26 - Oct. 19 | VAG B.C. Artists 10th Annual | My Sister Edna |
| | | Mac |
| | | Conte Sketch |
| | | Derelict |
| 1942 Sept. 25 - Oct. 18 | VAG B.C. Artists 11th Annual | Amaryllis |
| | | Balinese Mood |
| 1943 Sept. 25 - Oct. 20 | VAG B.C. Artists 12th Annual | The Arbutus Trees |
| | | Wisp of Savary |
| 1944 Sept. 23 - Oct. 22 | VAG B.C. Artists 13th Annual | Still Life with Apple Blossoms |
| 1945 May 18 - June 10 | BCSFA 35th Annual | Fish Motif in Turquoise Glaze |
| 1945 Sept. 22 - Oct. 21 | VAG B.C. Artists 14th Annual | Symphony |
| | | Chartreuse Vase |
| 1946 July 2 - 28 | VAG Jubilee Exhibition | Arbutus Trees on Savary Island |
| 1946 Sept. 21 - Oct. 13 | VAG B.C. Artists 15th Annual | North Shore Derelicts |
| | | Booming Grounds |
| 1946 Oct. ? - ? | FCA 40 Selections from 15th BCA | North Shore Derelicts |
| 1947 Sept. 20 - Oct. 12 | VAG B.C. Artists 16th Annual | Lac Marie Farm, Salt Spring Island |
| 1948 Sept. 18 - Oct. 10 | VAG B.C. Artists 17th Annual | Spindle-Back Rocker |
| | | Victorian Motif |
| 1949 Oct. 8 - 30 | VAG B.C. Artists 18th Annual | Rocks and Trees |
References
CANADA, A NEW LAND by Edith Deyel
n.d. (1965), W.J. Gage schoolbook
Illustrated by R.S. Alexander, maps drawn by Irene Cattelle Porter.

BIOGRAPHICAL INDEX OF ARTISTS IN CANADA (refer to BIAC03)
1 reference cited for Porter.

ATELIER SKETCH CLUB - LIST OF MEMBERS

MY RECOLLECTIONS OF GRACE MELVIN

Email correspondence with Renee Alexander, daughter, November - December 2010; April 2020.

Interview with Renee Alexander, daughter, North Vancouver, December 15 2010

https://www.heraldry.ca/content/bios/bio_alexander.htm
Clippings
"Congratulations are due to the Atelier Sketch Club for their ambitious exhibition. This self-organized group of evening school students are meeting every Friday in the Holden building and an invitation is extended to all students to join."
From "Evening School" by Fred Amess
Behind The Palette, Vancouver School of Art Annual 1939-40

"Atelier Sketch Club Takes A Bow"
News Herald, April 3 1940

"Art Group, Youth Share City Gallery"
Vancouver Province, April 4 1940

"Among the pastels there are ... Irene Catelle Porter's "Symphony," good in tone but somewhat cramped in feeling."
From "Graphic Arts and Sculpture Place in Gallery Exhibition" by Palette
Vancouver Province, September 24 1945

HOME