SIM PUBLISHING
Home Publications Artwork News Links About
---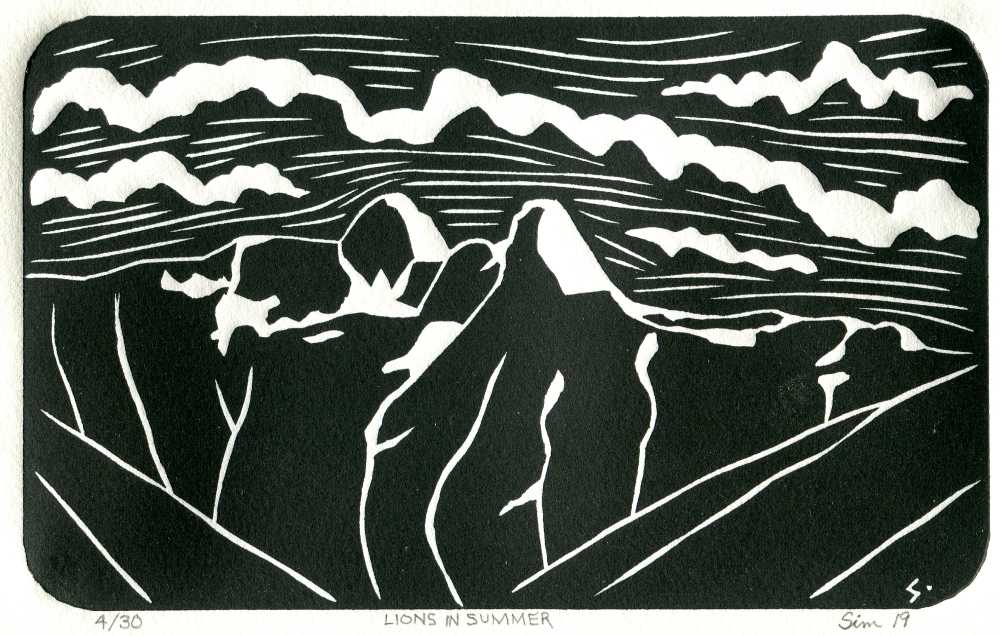 LIONS IN SUMMER
Original Limited Edition Relief Print issued October 2019
Image size 4" high by 6.5" wide (100 mm by 170 mm)
(Low resolution image illustrated)
This print was created from a digital photograph that I took of the Lions, on Vancouver's North Shore, during a long hike up Capilano Canyon (and back) in early July, 2019. I hadn't been up to the Cleveland Dam for a long time, it was a lovely sunny morning. When I was growing up in Vancouver, there was always snow or ice on the Lions, even in summer, but not now. The clouds shown are imaginary, but I like the way my printing process "puffs" them up out of the plane of the paper, making them three-dimensional.

The edition consists of 30 prints on Arches Text Wove paper, 120 gsm, hand printed by the artist with Caligo Safe Wash Furnace Carbon Black relief printing ink, using an antique nipping press. All prints are editioned, titled, signed and dated by the artist in pencil, and monogrammed in the image: S-.

Please refer to Artwork Price List for current price.
---
Home
Copyright 2019