SIM PUBLISHING
Home Publications Artwork News Links About
---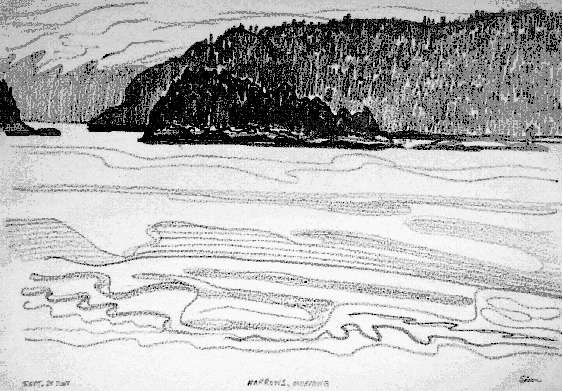 NARROWS, MORNING
Original pencil drawing issued 2007
Image size 8" high x 10" wide (200mm x 250mm)
(Low resolution image illustrated)
This is an drawing that I did "en pleine air" ... sitting beside the sea sketching with one hand and swatting mosquitoes with the other. It is a view of the narrows leading to Sechelt Inlet, on the outgoing tide. The swirls of water show the leftover turbulence from the whirlpools a mile away up the Narrows.

It is drawn with a fat graphite pencil, 5.6mm lead, on sketchbook paper. The drawing is matted with acid free 4-ply matteboard and liner, in an aluminum frame.

Please refer to Artwork Price List for current price.
---
Home
Copyright 2011