SIM PUBLISHING
Home Publications Artwork News Links About
---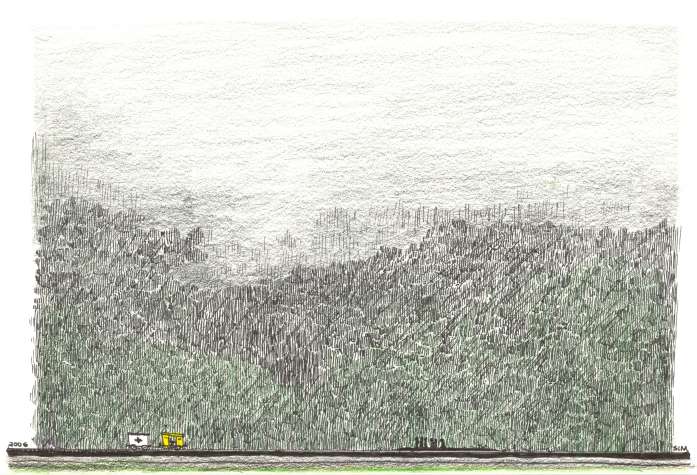 THE LAST TRIP OF FRENCHY'S WIFE
Original pen & ink drawing issued 2006
Image size 5" high by 7" wide (125 mm by 175 mm)
(Low resolution image illustrated)
This is an image drawn from memory of a very unusual day in my life. While working on the BC RAIL Rock Gang, we were asked by Roadmaster Derek Jones if the Rock Gang could come into Lillooet by speeder from Seton Portage, and take the coffin containing Frenchy's wife down to Mount Currie. The weather had been terrible for weeks, and all of the roads were washed out. We agreed, and made the long trip north to Lillooet, south to Mount Currie, and back to Seton. This drawing shows our arrival at the train station in Mount Currie, with the coffin bearers waiting in the rain for our arrival.

It is drawn with Pilot DR pigment ink pens and pencil, on high quality drawing paper. The drawing is matted with acid free 4-ply matteboard and liner, in an aluminum frame.

Please refer to Artwork Price List for current price.
---
Home
Copyright 2011