SIM PUBLISHING
Home Publications Artwork News Links About
---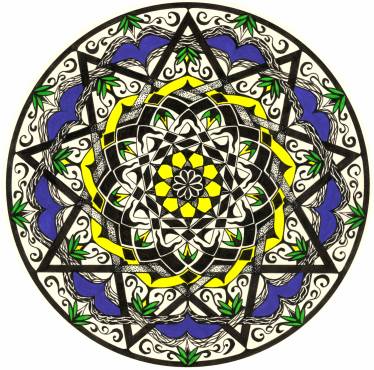 WEDDING MANDALA
Original pen & ink drawing issued 1975
Image size 7" diameter (175 mm)
(Low resolution image illustrated)
This is an early drawing of mine that was given away in 1975, and given back a number of years later. I hate having presents returned. The drawing is simply based on three triangles rotated in a circle, thus nine points, and decorative elements arising from this arrangement.

It is drawn with Staedtler-Mars technical ink pens and brush-applied liquid acrylic, on bristol board. The drawing is matted with acid free 4-ply matteboard and liner, in an aluminum exhibition frame.

Please refer to Artwork Price List for current price.
---
Home
Copyright 2011