SIM PUBLISHING
Home Publications Artwork News Links About
---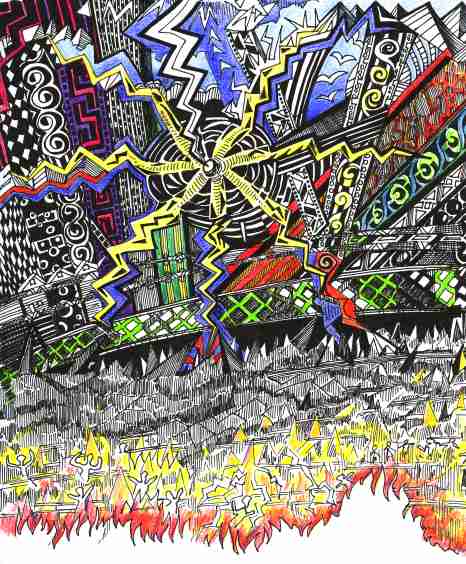 Seventh Day
Original Pen & Ink drawing issued 2010
Image size 11" high by 8" wide (275 mm by 200 mm)
(Low resolution image illustrated)
An extended doodle, thinking about the supposed creation of light on the supposed seventh day, and how that would have looked as it came to pass, to whoever or whatever was already there in the darkness ... this drawing didn't turn out the way i thought it was going to, but then it was a difficult concept to explore ... the black night of darkness lower middle burning into flames as the light strikes across the unlit landscape for the first time, the hideous structures and designs of man exposed in the pitiless glare of the new light ... an "on" button is suggested for lighting the universe ...

The drawing in done in pigment pen and ink and Prismacolour pencils on 110lb. bright white acid free paper from Canada. It is archivally matted in Crescent 1607 4-ply matte, in an OPUS metal exhibition frame.

Please refer to Artwork Price List for current price.