Gordon Kit Thorne
August 21 1896 - November 9 1982

Gordon Kit Thorne was born in England in 1896. He took art training at the Vancouver School of Decorative and Applied Art. He was a painter in oil, watercolour, and pastel, and a printmaker (etching).

He "arrived" in Vancouver in 1908, according to an exhibition entry form filled out by the artist for a B.C. Artists exhibition at the Vancouver Art Gallery. He exhibited in the B.C. Artists annuals beginning in 1932, and in 1933, from 1938 to 1950, and in 1952 and 1953. He had his first solo exhibition at the Vancouver Art Gallery in 1936, and another in 1939, eventually having ten solo exhibitions at the Gallery. He also exhibited in the 1945 B.C. At Work exhibition, noted as living in Mission City at the time.

He won prizes for his work in 1922, 1923, and 1924, and a first prize for etching at the Provincial Exhibition in 1928. He had a solo exhibition at the Curry Art Emporium, Toronto, in 1930. He was employed as a commercial artist at David Hall Signs, Vancouver BC.

He married Ivy Emma Taylor in Vancouver on December 22, 1937. Thorne was a 41-year old widower at the time, and she was a 28-year old widow.

He showed work in the 1944 and 1945 British Columbia At Work exhibitions at the Vancouver Art Gallery.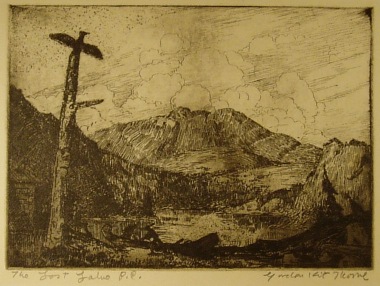 He was on a list titled "Leading Vancouver Artists," provided to the Labour Arts Guild on April 10, 1946 by the Vancouver Art Gallery.

He had work in the 1948 Stanley Park in Pictures exhibition at the Vancouver Art Gallery.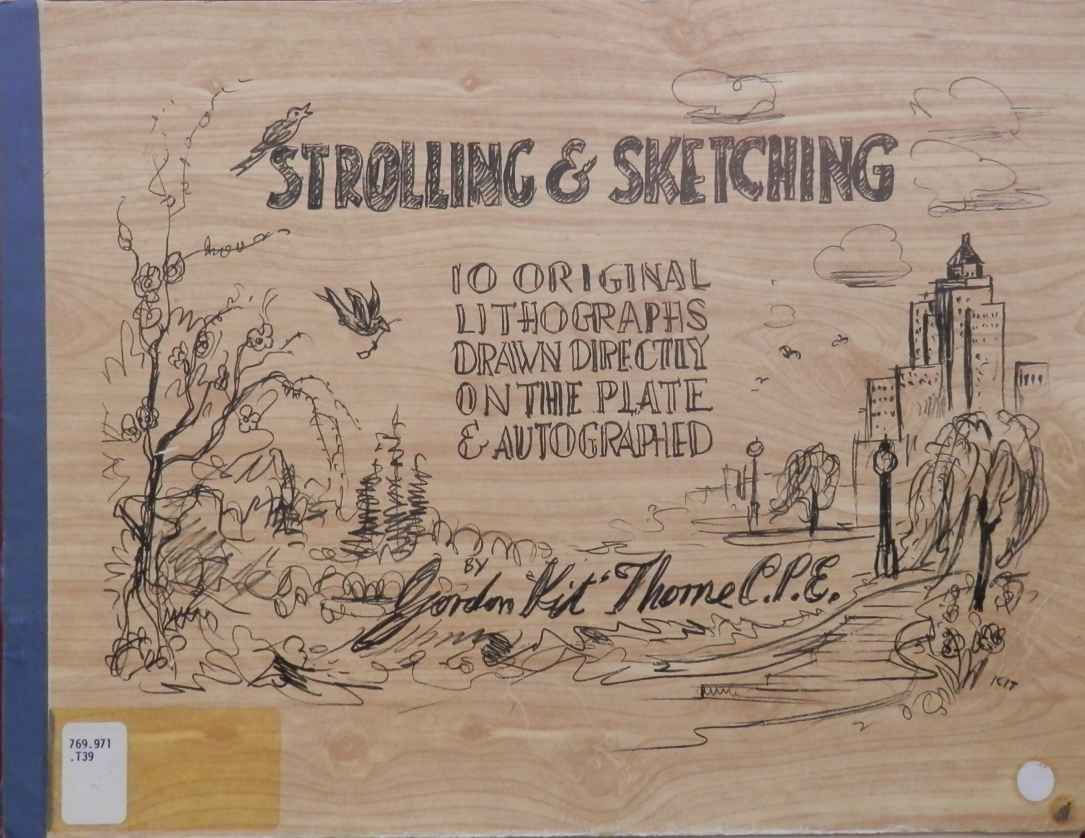 He exhibited with the B.C. Society of Fine Arts in their Annual Exhibitions. From 1945 to 1950 he was invited to exhibit, then he became as Associate Member, and in 1961 he bacame a full Member of the Society.

He submitted four works to the 1949 B.C. Graphic exhibition at the Vancouver Art Gallery, one of them was selected for the exhibition.

In 1977 the artist was living in Vancouver.

Thorne was an extremely prolific artist, painting literally thousands of watercolours over the years, sometimes many in one day. As a result, the overall quality of his later work seemed to suffer, and the paintings have sold for very low prices at auction. The Editor was at one estate auction where bundles of Thorne's watercolours were selling for just a few dollars. He died from cancer in Vancouver in 1982 at the age of 86. He had been living on Nelson Street in Vancouver's West End with his son G. Peter Thorne.
Exhibitions
SOLO EXHIBITIONS
| | | |
| --- | --- | --- |
| DATE | EXHIBITION | LOCATION |
| | | |
| 1936 April 3 - 13 | Solo show | VAG |
| 1939 April 18 - 30 | Solo show | VAG |
| 1940 April 9 - 21 | Drawings & Prints | VAG |
| 1942 May 12 - 24 | Solo show | VAG |
| 1943 May 14 - 27 | Solo show | VAG |
| 1944 Jan. 11 - April 30 | Solo show | VAG |
| 1945 April 9 - May 27 | Solo show | VAG |
| 1946 June 25 - July 14 | Oil paintings | VAG |
| 1947 July 8 - 27 | Prints & Drawings | VAG |
| 1948 (?) | Folk Tales of the Pacific Northwest Coast | The Gables, U.B.C. |
| 1949 Aug. 2 - 21 | Solo show | VAG |
GROUP EXHIBITIONS

| | | |
| --- | --- | --- |
| DATE | EXHIBITION | ARTWORK |
| | | |
| 1932 May - July | VAG All Canadian Exhibition | The Lost Lake |
| 1932 Oct. 5 - 30 | VAG B.C. Artists 1st Annual | Horne Lake, V.I. |
| | | Golf Links, Stanley Park |
| | | Totem Factory, B.C. |
| | | The Hunter's Return |
| 1933 Sept. 22 - Oct. 15 | VAG B.C. Artists 2nd Annual | Up the Fraser Valley |
| | | Summer Camp |
| | | Farm at Rosedale |
| 1933 Dec. 1 - 17 | VAG B.C. Artists Christmas Exhibition | Drift, Under Cambie Bridge |
| | | Sunset (From Burrard Bridge) |
| | | Expelled |
| 1934 Sept. 21 - Oct. 14 | VAG B.C. Artists 3rd Annual | Waterfall, Lynn Creek |
| 1935 Sept. 20 - Oct. 15 | VAG B.C. Artists 4th Annual | Dr. Hwa Ho, Chinese God of Medicine |
| | | Ravine in Stanley Park |
| | | Stuffed Owls |
| | | The Swimming Hole |
| 1936 Sept. 18 - Oct. 11 | VAG B.C. Artists 5th Annual | Shady Nook, Stanley Park |
| 1936 Oct. 15 - 20 | VAG B.C. Artists Chilliwack Exhibition | Shady Nook, Stanley Park |
| 1938 Sept. 16 - Oct. 9 | VAG B.C. Artists 7th Annual | Far, Far Away |
| | | Beside the Track (New Westminster) |
| 1939 Sept. 15 - Oct. 8 | VAG B.C. Artists 8th Annual | Tired Mother |
| | | The Art Gallery At Night |
| 1940 Sept. 20 - Oct. 13 | VAG B.C. Artists 9th Annual | West of West |
| | | Building Grain Bins |
| | | On the Nicomaci, B.C. |
| | | In the Park |
| 1941 Sept. 26 - Oct. 19 | VAG B.C. Artists 10th Annual | V for Victory |
| | | Styles |
| | | The Mill at Night |
| | | Switching Grain Cars |
| 1942 Sept. 25 - Oct. 18 | VAG B.C. Artists 11th Annual | The Gossip |
| | | In Stanley Park |
| | | Non-Objective Drawing |
| | | Old Book Shop |
| 1943 Sept. 25 - Oct. 20 | VAG B.C. Artists 12th Annual | Outside Stalingrad |
| | | New Guinea Epilogue |
| 1944 Sept. 23 - Oct. 22 | VAG B.C. Artists 13th Annual | Flight of the Bumble Bee |
| | | Flitting the Summer Away |
| | | Convalescent |
| 1944 Nov. 21 - Dec. 10 | Labour Arts Guild 1st B.C. At Work | Saturday Afternoon |
| | | Boilers |
| | | Night Shift |
| 1945 May 18 - June 10 | BCSFA 35th Annual | Spring Comes to Victory Square |
| 1945 Sept. 22 - Oct. 21 | VAG B.C. Artists 14th Annual | V-Day, Flag Vendor |
| | | An Artist in Coquitlam, B.C. |
| 1945 Nov. 13 - Dec. 2 | Labour Arts Guild 2nd B.C. At Work | White and Brown Bread Dough |
| | | Boom Men at Marpole |
| | | Shingle Bolt Mill |
| 1946 May 31 - June 23 | BCSFA 36th Annual | Pioneer Vancouver, 1886 |
| 1946 July 2 - 28 | VAG Jubilee Exhibition | The Habitant |
| 1946 Aug. 13 - 25 | VAG Stanley Park in Pictures | The Nine O'Clock Gun |
| | | The Black Squirrels |
| | | The Pavilion in Winter |
| 1946 Sept. 21 - Oct. 13 | VAG B.C. Artists 15th Annual | Pain |
| 1947 July 8 - 27 | VAG B.C. Artists Summer Exhibition | Pain |
| 1947 Sept. 20 - Oct. 12 | VAG B.C. Artists 16th Annual | Kitsilano Moon Maid |
| | | Frost |
| 1948 July 27 - Aug. 15 | VAG Stanley Park in Pictures | Rhythm at Siwash Rock |
| 1948 Sept. 18 - Oct. 10 | VAG B.C. Artists 17th Annual | Fingal's Cave by Mendelssohn |
| 1949 May 3 - 22 | BCSFA 39th Annual | Autumn Flowers |
| 1949 July 12 - July 31 | VAG Stanley Park in Pictures | Totem Pole Carvers |
| 1949 Oct. 8 - 30 | VAG B.C. Artists 18th Annual | X-Ray Hand Treatment |
| 1949 Nov. 22 - Dec. 11 | VAG First B.C. Graphic | The Hunters Return (rejected) |
| | | St. Anne's, New Westminster |
| | | Gathering for the Potlatch (rejected) |
| | | The Toquit Dancer (rejected) |
| 1950 April 25 - May 14 | BCSA 40th Annual | Quiet Evening |
| 1950 Nov. 28 - Dec. 17 | VAG B.C. Artists 19th Annual | Window Shopping, Self Portrait |
References - GROUP EXHIBITIONS
3rd BC GRAPHIC & CANADIAN SOCIETY OF GRAPHIC ART (refer to BCG57)

SPRING EXHIBITION - FCA - BC REGION (refer to FCA64)

Federation of Canadian Artists - Winter Exhibition 1977 (refer to FCA77)

PRINTMAKING IN BRITISH COLUMBIA 1889-1983 (refer to AGGV83)

DAILY GRIND EXHIBITIONS (refer to DG04)
References - GENERAL
WHO'S WHO IN NORTHWEST ART (refer to WWNA41)

VISUAL ARTS BRITISH COLUMBIA (refer to VABC77)

ARTISTS IN CANADA 1982 - UNION LIST OF ARTISTS' FILES (refer to AIC82)

BIOGRAPHICAL INDEX OF ARTISTS IN CANADA (refer to BIAC03)
3 references cited for Thorne, including WWNA above.

THE FECKLESS COLLECTION (refer to FECK18)

GREATER VANCOUVER ART GALLERIES 1954-2020 (refer to GVAG20)
1 reference to Thorne

VANCOUVER PUBLIC LIBRARY - B.C. ARTISTS FILES (refer to VPL)

B.C. VITAL STATISTICS ON-LINE (refer to BCVS)
Clippings
GORDON KIT THORNE.
"Mr. Thorne is a Vancouver artist who has contributed to the annual B.C. Artists' Exhibitions on numerous occasions. A native of England, the exhibitor has studied painting at the evening classes of the Vancouver School of Art, and The Goldsmith's College of Art in London, together with individual tuition from Harold Speed, R.O.I., and Stanley Anderson, A.R.A., R.E. This is the second exhibition staged by Mr. Thorne in the Gallery."
Vancouver Art Gallery Bulletin, Vol. 6, No. 5. January, 1939

"City Artist Gives One-Man Exhibition" by E.N.B.
Vancouver Daily Province, April 18, 1939

"Kit Thorne Interprets B.C." by (unknown)
Vancouver Daily Province, April 9, 1940

"Kit Thorne Sketches on View at Gallery" by (unknown)
Vancouver Sun, April 10, 1940

"Six shows in Gallery During April" by (unknown)
News-Herald, April 9, 1940

"The last display at the art and cultural centre included a number of watercolor gouache paintings by Gordon Kit Thorne based on the theme of "Folk Tales of the Pacific Northwest Coast." The entire series has been acquired for the permanent collection of the Vancouver Museum."
From "Vancouver Sculptor's Work On Display Soon", by Palette
Vancouver Daily Province, April 8 1948

HOME