Provincial Exhibition
Also New Westminster Exhibition, Westminster Fair
1889 - 1929

The Provincial Exhibition was founded in New Westminster in 1889. The Royal Agricultural and Industrial Society of British Columbia was created in 1890 to organize and manage the annual exhibitions in Queen's Park. The exhibition was primarily agricultural and industrial, typically held in the fall when the harvest was in.

It was feared that the opening of the Vancouver Exhibition at Hastings Park in 1910 would spell the end of the New Westminster exhibition, but a strengthened fair circuit resulted, including Victoria on the island, with increased entries and exhibits. The Vancouver Exhibition had taken care to hold their exhibition in late August to prevent any conflicts with exhibitors or visitors to the New Westminster fair.

The exhibition began exhibiting displays of art at least as early as 1920, for the 1928 exhibition catalogue was titled Eighth Annual Salon of Fine Art and Pictorial Photography - under direction of the Provincial Exhibition of British Columbia Canada. Sections inside the catalogue included a loan exhibition of paintings; the First Annual International Salon of Water Colors; and the Eighth Annual International Salon of Pictorial Photography. The jurors for the watercolour salon were Charles John Collings, Bessie Adelaide Fry, Charles H. Scott, and John Vanderpant.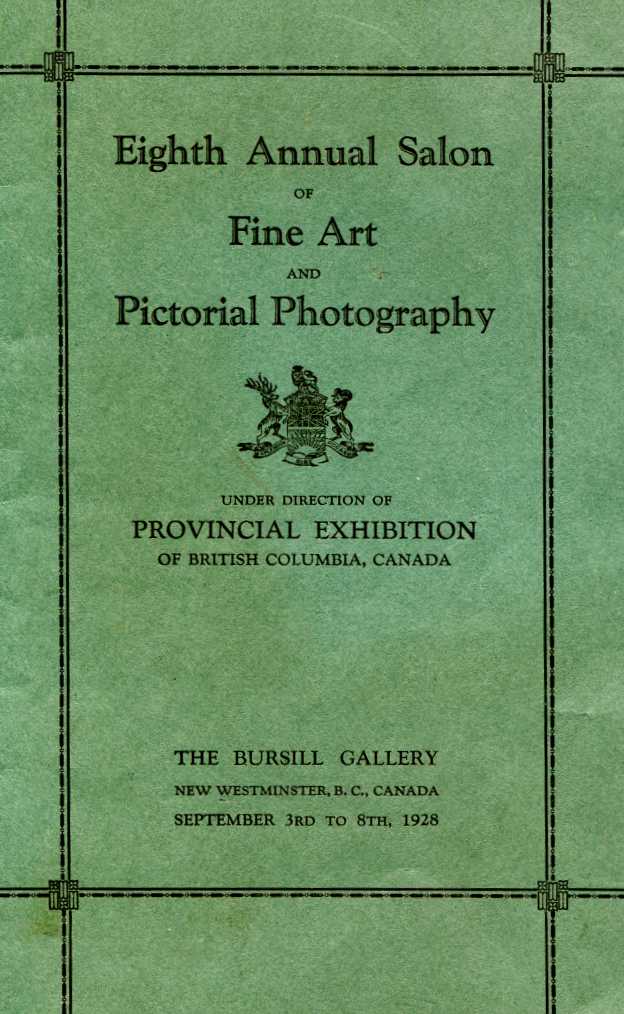 The 1928 art display was held in conjunction with the fifty-ninth annual Provincial Exhibition. The loan exhibition listed in the catalogue included a list of pictures on loan from the National Gallery of Canada; pictures loaned by the Group of Seven; and paintings loaned "by the artists", mostly eastern Canadian artists with the exception of Margaret Lougheed, who showed three landscapes and a group of etchings.

The dedication to the 1928 exhibition catalogue ended by expressing hopes that "all who have exhibited this year may meet again on the walls of the Art Building at the 1929 Salon for which preliminary work has already started." Unfortunately, most of the buildings of the Provincial Exhibition at Queen's Park were destroyed by fire in 1929, and the mantle of Provincial Exhibition passed on to the Vancouver Exhibition.

The Royal Agricultural and Industrial Society of British Columbia still carries on today, and is currently involved with the Samson V Maritime Museum, as well as in supporting other cultural and heritage activities in New Westminster.



Exhibitions
Editor's note: the following list is not necessarily complete.
| | |
| --- | --- |
| DATE | TITLE |
| 1921 | First Annual Salon of Fine Art |
| 1922 | Second Annual Salon of Fine Art |
| 1923 | Third Annual Salon of Fine Art |
| 1924 | Fourth Annual Salon of Fine Art |
| 1925 | Fifth Annual Salon of Fine Art |
| 1926 | Sixth Annual Salon of Fine Art |
| 1927 | Seventh Annual Salon of Fine Art |
| September 3 - 8, 1928 | Eighth Annual Salon of Fine Art & Pictorial Photography |
References
The Pacific National Exhibition - An Illustrated History
David Breen and Kenneth Coates
1982, U.B.C. Press, ISBN 0-7748-0167-0, 122 pages, illustrated

Vancouver's Fair - An Administrative & Political History of the The Pacific National Exhibition
David Breen and Kenneth Coates
1982, U.B.C. Press, ISBN 0-7748-0161-1, 192 pages, illustrated
Includes index; notes; statistics; bibliography

The Group of Seven - Art For A Nation
1995, Charles C. Hill, National Gallery of Canada, ISBN 0-7710-6716-x
Includes exhibition list, with G7 shows in Western Canada
Clippings
HOME