Lilet (also Lillet, Lilette) Caroline Julia Mahon
(nee Lilette C.J. Rebbeck)(Mrs. Edward Mahon)
March 20 1889 - April 16 1956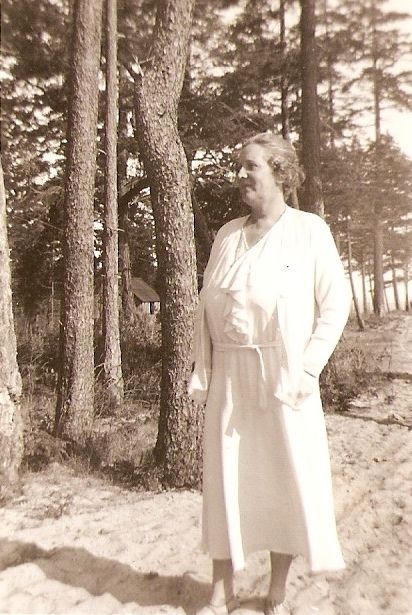 Lilette Mahon, Savary Island 1935

Lilette Rebbeck was born in Macao, where her father was working as a mechanical engineer and naval architect. He moved the family to Wiltshire, England, then went looking for opportunities in British Columbia. He decided to stay, and Lilette and her mother joined him in Vancouver on October 29, 1893.

In 1897 the family moved to Victoria, where Lilette took Saturday Morning art classes from Emily Carr.

A portrait titled "Miss Lilette Rebbeck" by Mrs. Bampfylde Daniell was exhibited in the 1909 BC Society of Fine Arts exhibition in 1909.

Lilette married Edward Mahon in Vancouver on April 26, 1911, according to B.C. Vital Statistics on-line, although Mahon was twenty-six years older than she was.

She attended a 1935 art school summer sketching camp held on Savary Island, according to a letter to the editor of British Columbia History magazine, Spring 2016 issue.

She graduated from the Vancouver School of Decorative and Applied Arts in 1947. She wrote an article titled "Saturday Morning Classes with Emily Carr" that was published in the 1946-47 issue of Behind the Palette, the art school's annual.

She exhibited in the 1944 British Columbia At Work exhibition and in the annual B.C. Artists exhibitions at the Vancouver Art Gallery in 1945-48, and 1951-52.

After her husband died, she commissioned archited Ned Pratt to design and build a home for her and her son on Southwest Marine Drive, Vancouver. They moved there in the summer of 1941.

After her son moved to Seattle to work for Boeing, he built a new house on Mercer Island on Lake Washington. Lilette moved there in May 1953, where she died in 1956. A memorial exhibition of her watercolours was held at the Vancouver Art Gallery in 1956 from October 9 - 28. A document at the gallery also provides a biographical sketch of the artist, which is not referenced here.
EXHIBITIONS
SOLO EXHIBITIONS
| | | |
| --- | --- | --- |
| DATE | EXHIBITION | LOCATION |
| | | |
| 1956 Oct. 9 - 28 | Memorial Exhibition | VAG |
GROUP EXHIBITIONS

| | | |
| --- | --- | --- |
| DATE | EXHIBITION | ARTWORK |
| | | |
| 1944 Nov. 21 - Dec. 10 | Labour Arts Guild 1st B.C. At Work | McCleery Farm |
| | | Wartime Harvest |
| 1945 Sept. 22 - Oct. 21 | VAG B.C. Artists 14th Annual | Sunflowers |
| | | |
| 1946 Sept. 21 - Oct. 13 | VAG B.C. Artists 15th Annual | All Cats are Grey at Night |
| | | Fishing Village |
| 1946 Oct. ? - ? | FCA 40 Selections from 15th BCA | Fishing Village |
| 1947 Sept. 20 - Oct. 12 | VAG B.C. Artists 16th Annual | The McCleery Farm, Vancouver |
| 1948 Sept. 18 - Oct. 10 | VAG B.C. Artists 17th Annual | The Old Orchard |
| | | The Orchard |
| 1949 Nov. 22 - Dec. 11 | VAG First B.C. Graphic | Newcomers, Stanley Park (did not come in) |
| | | Newcomers, Stanley Park (did not come in) |
| | | Doorway (did not come in) |
| | | Doorway (did not come in) |
References
Attendee at the 1935 Vancouver School of Art Summer Camp
(refer to SUMMER SKETCHING CAMP - SAVARY ISLAND)

THE SAVARY PUDDING folio by Frederick A. Amess, private collection.
Original drawings, paintings and text by Amess, C.H. Scott, Grace Melvin,
H. Mortimer Lamb, Plato von Ustinov, and other students and visitors.
June 1935 (various dates), June 1939 (various dates)
52 loose 12"x18" sheets of brown sketch paper

ARTISTS IN CANADA 1982 - UNION LIST OF ARTISTS' FILES (refer to AIC82)

BRITISH COLUMBIA WOMEN ARTISTS 1885-1985 (refer to AGGV85)

VANCOUVER CENTENNIAL BIBLIOGRAPHY by Vancouver Historical Society
1986, Compiled by Linda L. Hale; cartobibliography by Frances M. Woodward.
Four Volumes (Set ISBN 0-9692378-0-4)
One reference to Mahon: number 5879: Lilette Mahon Memorial Exhibition

ARTISTS IN CANADA (refer to AIC)

THE GREEN NECKLACE - THE VISION QUEST OF EDWARD MAHON
By Walter O. Volovsek, 2012, published by Otmar Publishing, Castlegar BC
ISBN 978-0-9880163-0-9, softcover, 282 pages, illustrated black & white
Includes extensive biography of Lilette and Edward.
Also references to Emily Carr, Nancy Bakewell, Florence Barr.

B.C. VITAL STATISTICS ON-LINE marriage (refer to BCVS)

https://westendvancouver.wordpress.com/biographies-a-m/biographies-m/mahon-edward-1862-1937/
Clippings
" ... occasionally Mrs. Mahon would join the troubadour in singing duets in French."
From "B.C. ARTISTS DISCOVER SAVARY ISLAND" by Noel Robinson
Vancouver Province, June 30 1933 page 41

"Remembering golden days of these ten spaces of work and revel - of this high house touching the sky - it is difficult to speak - seeking through art to obtain immortality we have reached for the clouds, the green rush and the pine - who knows when we will meet again - under this sheltering roof? But to our own hearth fire, we take a whole universe of beauty."
From "Mahon Speaks in Chinese Manner"
Savary Pudding, Vol. 2, 1935

"Savary Island" by Walter O. Volovsek, Castlegar BC
British Columbia History, Vol. 49 No. 1 Spring 2016 issue
Letter to the Editor with information about Mahon, photo, and list of attendees.

HOME