Maxwell (Max) Singleton Maynard
December 30 1903 - November 23 1982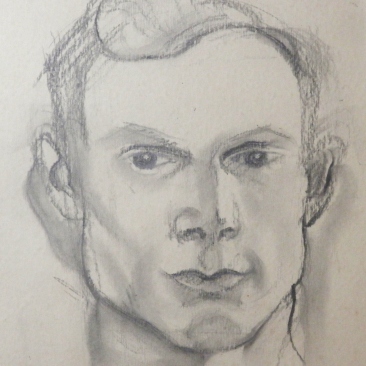 1939 portrait by Unity Bainbridge


Max Maynard was born in Madras, India in 1903. Both of his parents were from England. He exhibited with the Island Arts and Crafts Society between 1928 and 1932.

He exhibited in the Seattle Art Museum's annual Northwest Artists exhibition in 1930.

Maynard married Evelyn Wheeler in Victoria on March 24 1932. His occupation was noted as "teacher."

He won the Beatrice Stone medal in the 5th B.C. Artists exhibition in 1936 for his painting "Cowichan Lake Landscape".

He exhibited with the B.C. Society of Fine Arts in their annual exhibitions in 1937, 1938, and in 1942. He remained a Member of the Society until 1946.

He died in Victoria in 1982 at the age of 78, his occupation noted as "Professor." He was divorced from Fredelle Bruser. A memorial exhibition was held at the Art Gallery of Greater Victoria in 1983.
Exhibitions
References - BIBLIOGRAPHY
Refer to BIBLIO.
References - GROUP EXHIBITIONS
SEATTLE ART MUSEUM - NORTHWEST ARTISTS EXHIBITIONS 1914 - 1975
Refer to NWA BC artists by exhibition
Refer to NWAA BC artists alphabetically

CONTEMPORARIES OF EMILY CARR IN BRITISH COLUMBIA (refer to SFU74)

PRINTMAKING IN BRITISH COLUMBIA 1889-1983 (refer to AGGV83)
References - GENERAL
ISLAND ARTS AND CRAFTS SOCIETY - LIST OF EXHIBITORS

ARTISTS IN CANADA 1982 - UNION LIST OF ARTISTS' FILES (refer to AIC82)

ART BANK CATALOGUE (refer to AB87)

A DICTIONARY OF CANADIAN ARTISTS (refer to M)

BIOGRAPHICAL INDEX OF ARTISTS IN CANADA (refer to BIAC03)
1 reference cited for Maynard: Macdonald above.

GREATER VANCOUVER ART GALLERIES 1954-2020 (refer to GVAG20)
1 reference to Maynard.

VANCOUVER PUBLIC LIBRARY - B.C. ARTISTS FILES (refer to VPL)

B.C. VITAL STATISTICS ON-LINE marriage, death (refer to BCVS)
Clippings
"With the exception of Miss Carr and Max Maynard, of Victoria, who is doing very individual work both in color and black-and-white, nearly all our present painters of any distinction are also teachers."
From "BRITISH COLUMBIA ART - Significance of First "All British Columbia Show" by Harold Mortimer Lamb
Saturday Night, December 10 1932

"Max Maynard shows strength in his landscapes around Tzouhalem."
From "B.C. Society of Fine Arts Display Sets New High Mark" by Palette Vancouver Province, May 16 1942

"Well-known Vancouver artists recently elected (BCSFA) members include ... Max Maynard ..."
From "B.C. Artists' Display To Calgary For Exhibition" by Palette Vancouver Province, May-June 1942

"Among other prominent exhibitors are ... Max Maynard ... "
From "Summer Show at Gallery Major Event for Art Lovers" by Palette Vancouver Province, July 7 1943




HOME