Lionel Arthur John Thomas
April 3 1915 - May 6 2009

Lionel Thomas was born in Toronto, Ontario, in 1915.

He exhibited in the Seattle Art Museum's annual Northwest Artists exhibitions in 1943 and 1952.

Thomas has solo exhibitions at the Vancouver Art Gallery in 1942 and 1948. He exhibited in the B.C. Artists annuals from 1942 to 1947, and from 1950 to 1952.

He was on a list titled "Leading Vancouver Artists" provided to the Labour Arts Guild on April 10, 1946 by the Vancouver Art Gallery to assist in the Guild's call for entries to the second annual B.C. At Work exhibition.

Thomas exhibited with the B.C. Society of Fine Arts in their annual exhibitions from 1942 to 1953, including 1942, 1943, and 1949. His artwork was used as the cover image for the 1948 exhibition catalogue.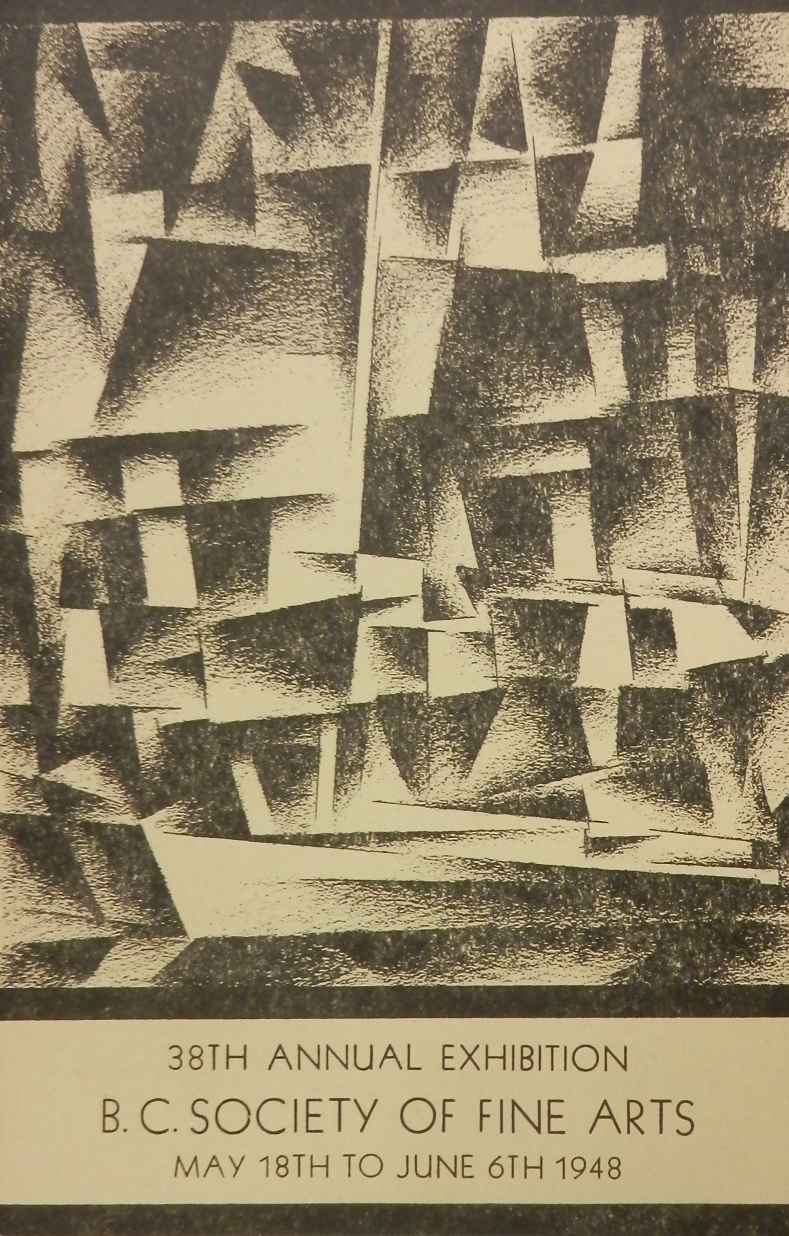 He showed work in the 1944 British Columbia At Work exhibition at the Vancouver Art Gallery. He submitted four works to the 1949 B.C. Graphic exhibition at the Vancouver Art Gallery, two of them were selected for the exhibition.

Lionel and his wife Patricia completed a bronze and light sculpture for the Vancouver Public Library at Burrard and Robson Street titled "Symbols of the Cuneiforms." The sculpture was retained when the building was re-purposed many years later. Lionel also completed a mosaic for the Library titled "Runic Symbols a.k.a. Origin and Evolution of the Alphabet." A contractor told me that this mosaic was not retained, and was destroyed by being scraped off the concrete wall with a Bobcat.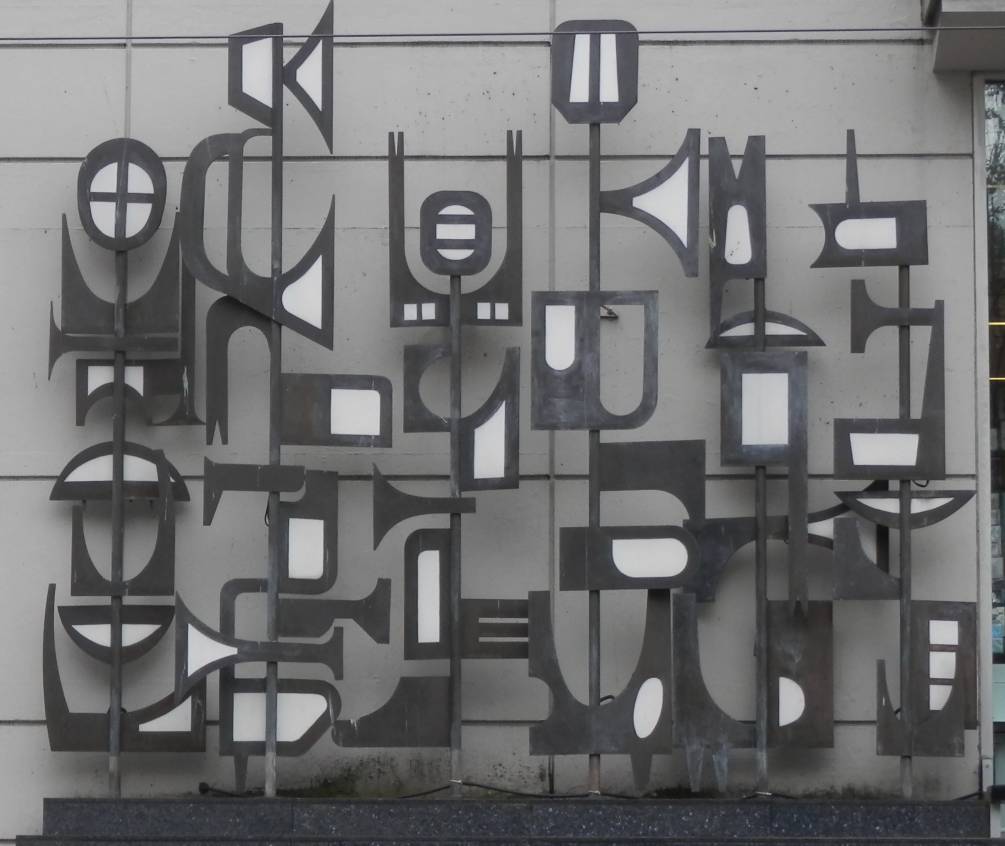 Symbols of the Cuneiforms, photo Gary Sim July 16 2021

Thomas had work in Royal Canadian Academy of Arts exhibitions in 1960 and 1970.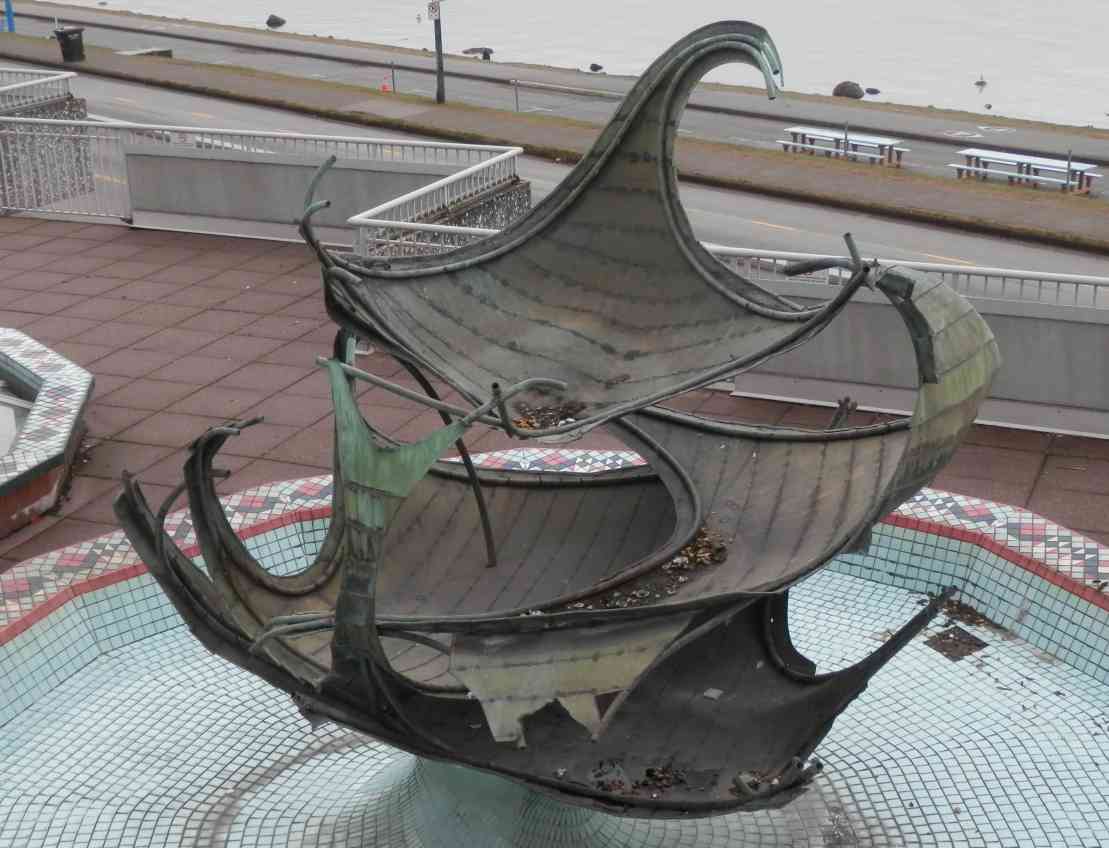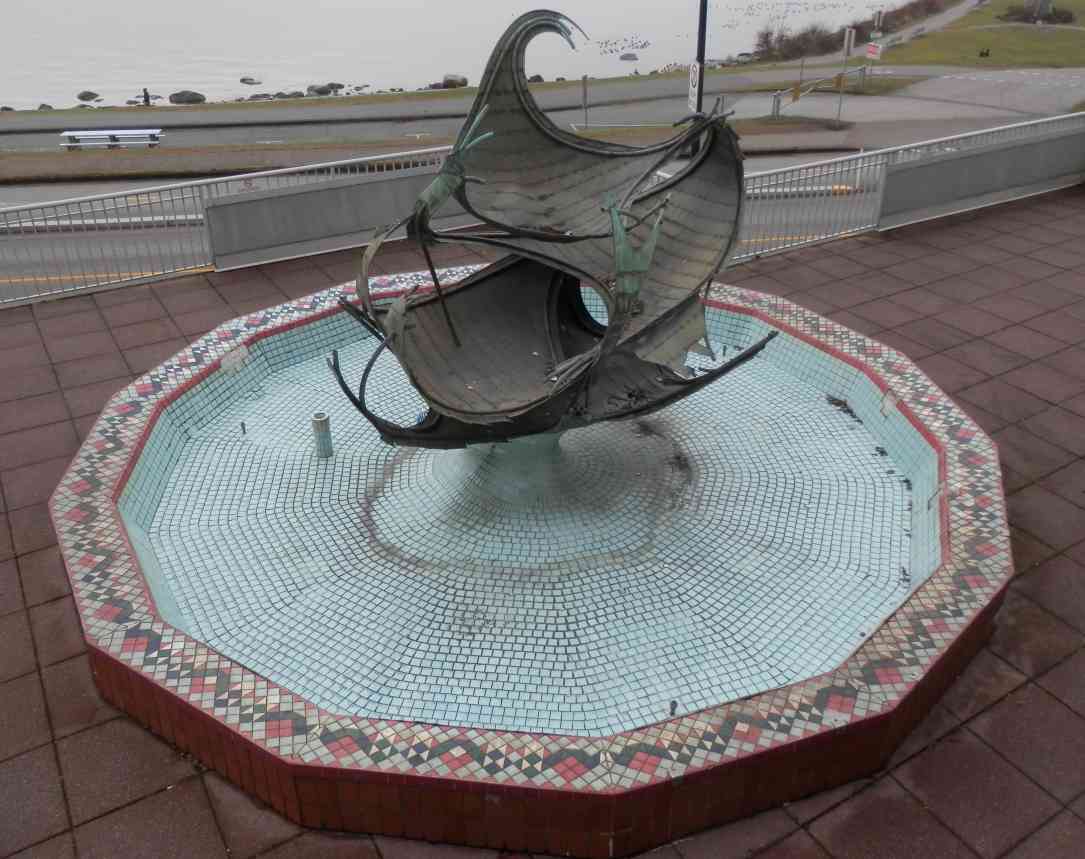 Sculptural fountain, Beach Towers, photo Gary Sim Jan. 16 2022

Thomas died in Vancouver in 2009.
EXHIBITIONS
SOLO EXHIBITIONS
| | | |
| --- | --- | --- |
| DATE | EXHIBITION | LOCATION |
| | | |
| 1942 January 6 - 18 | Solo exhibition (27 pictures) | VAG |
| 1948 Nov 16 - Dec 5 | Solo exhibition (27 pictures) | VAG |
GROUP EXHIBITIONS

References - BIBLIOGRAPHY
Refer to BIBLIO.
References - GROUP EXHIBITIONS
SEATTLE ART MUSEUM - NORTHWEST ARTISTS EXHIBITIONS 1914 - 1975
Refer to NWA BC artists by exhibition
Refer to NWAA BC artists alphabetically

SOUVENIR CATALOGUE OF EXHIBITIONS OPENING
THE NEW VANCOUVER ART GALLERY (refer to VAG51)

SUMMER BUBBLE (refer to BAG70)

VANCOUVER: ART & ARTISTS 1931 - 1983 (refer to VAG83)

A MODERN LIFE: Art and Design in British Columbia 1945-1960 (refer to VAG04)

RICHMOND ART GALLERY 25:25 - 1980-2005 (refer to RAG05)

VISIONS OF THE WEST COAST - ROBERT ALLER & HIS COMMUNITY (refer to UVIC05)

CROSS CONNECTIONS (refer to LAG10)
References - GENERAL
BRITISH COLUMBIA - A CENTENNIAL ANTHOLOGY (refer to BCCA58)

CREATIVE CANADA - Volumes One & Two (refer to CC71)
Includes 1-1/3 columns of information about Thomas.

PUBLIC ART IN VANCOUVER (refer to UBC72)

ROYAL CANADIAN ACADEMY OF ARTS -
EXHIBITIONS & MEMBERS 1880 - 1979 (refer to RCA81)

A GUIDE TO SCULPTURE IN VANCOUVER (refer to GSV80)

ARTISTS IN CANADA 1982 - UNION LIST OF ARTISTS' FILES (refer to AIC82)

MONTREAL MUSEUM OF FINE ARTS -
SPRING EXHIBITIONS 1880 - 1970 (refer to MM88)

A CENTURY OF SCULPTURE (refer to SSBC98)

BIOGRAPHICAL INDEX OF ARTISTS IN CANADA (refer to BIAC03)
8 references cited for Thomas.

PUBLIC ART IN VANCOUVER - ANGELS AMONG LIONS (refer to PAV09)

VANCOUVER PUBLIC LIBRARY - B.C. ARTISTS FILES (refer to VPL)

THE LIFE AND ART OF HARRY AND JESSIE WEBB (refer to MTP14)

GREATER VANCOUVER ART GALLERIES 1954-2020 (refer to GVAG20)
6 references to Thomas.

https://m.facebook.com/vancouverpubliclibrary/posts/from-the-vault-750-burrard-sttoday-a-book-of-architectural-renderings-submitted-/10153563152536566/
Clippings
" ... together with oil and watercolour paintings by ... Lionel A. Thomas ... all contribute much to this extraordinary show."
From "B.C. Society of Fine Arts Display Sets New High Mark" by Palette Vancouver Province, May 16 1942

"Portraits this year are numerous and unusually effective. ... Lionel Thomas also takes a full stride ahead with his warm colors and rich virile interpretation of "Reservist Cpl. Ramsey." "
From "Colorful Display Presented In Exhibition By B.C. Artists" by Palette
Vancouver Province, September 19 1942

"Among other prominent exhibitors are ... L. Thomas ... "
From "Summer Show at Gallery Major Event for Art Lovers" by Palette Vancouver Province, July 7 1943

"Summer University courses "Painting for Pleasure" have been followed during the past month with enthusiasm by an evergrowing number of amateur painters. The instructors are B.C. Binning, Orville Fisher, J. MacDonald, and Lionel Thomas."
From "Stanley Park Paintings On Exhibition at Gallery" by Palette
Vancouver Province, August 2 1947

"In the same field of expression but using richer and more violent colours are ... Lionel Thomas ... "
From "Lively Spirit Pervades B.C. Artists' Exhibition" by Palette
Vancouver Province, May 3 1949

"Steel Scaffolding for Mural Artist" by Palette
Vancouver Province, September 8 1954

"Library Board Balks at $7,500 Sculpture Outlay"
Vancouver Sun, March 15 1958

"'Indescribable' Sculpture to Adorn City's Public Library" by Frank Walden
Vancouver Sun, December 9 1960

"Library's Odd Sculpture Finding Friends and Foes"
Vancouver Sun, December 10 1960

"Another Triumph for the Thomases" (Brock Hall mosaic, UBC)
UBC Alumni Chronicle, Winter 1960

"Artist Builds Place to Pause, Urges More of Them in City" (UBC)
Vancouver Sun, April 21 1961

"A Free Standing Illuminated Sculpture" by Elizabeth B. Marshall
Arts Council News, December 1961

"Rathie Opens Royal Bank's New Branch" (Underwater Forms)
Vancouver Sun, September 18 1963

HOME