Art & Artists in Exhibition: Vancouver 1890 - 1950
Ronald Threlkeld Jackson
1902 - 1992
Ronald Jackson was born in Hamiota, Manitoba.

He was on a list titled "Leading Vancouver Artists," provided to the Labour Arts Guild on April 10, 1946 by the Vancouver Art Gallery to assist in the Guild's call for entries to the second annual B.C. At Work exhibition.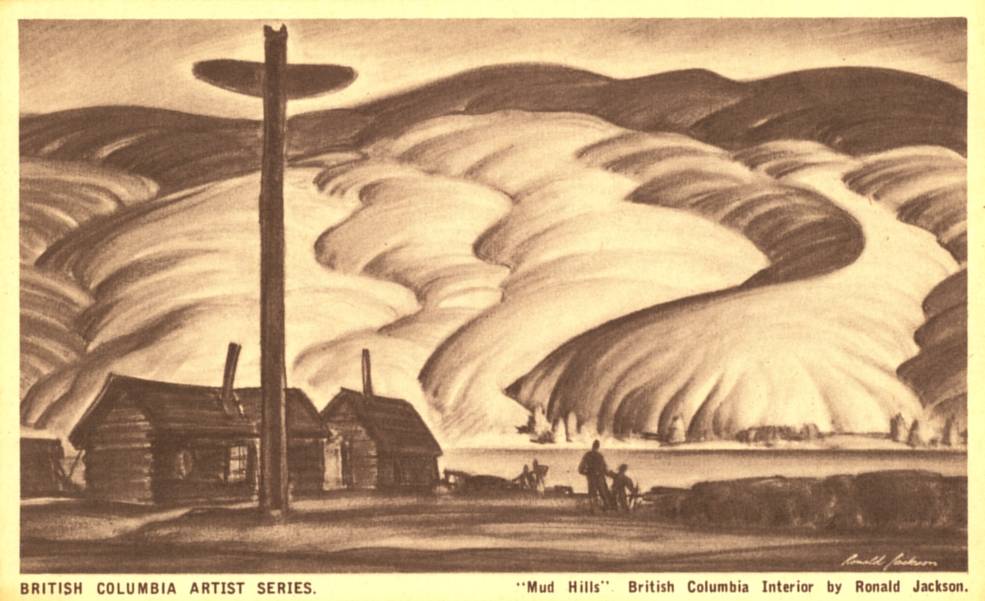 He exhibited with the B.C. Society of Fine Arts intheir 39th Annual Exhibition in 1949, as well as in 1941, 1944, 1954, and 1956.

He also exhibited at the annual B.C. Artists exhibitions in 1934, and from 1936 until 1943, held at the Vancouver Art Gallery.

In 1977 the artist was living in Vancouver.
Exhibitions
| | | |
| --- | --- | --- |
| DATE | EXHIBITION | ARTWORK |
| | | |
| 1934 Sept. 21 - Oct. 14 | VAG B.C. Artists 3rd Annual | The Spinnaker Run |
| | | Shimonoseki, Japan |
| 1935 Sept. 20 - Oct. 15 | VAG B.C. Artists 4th Annual | Widgeon |
| | | Pintail |
| 1936 Sept. 18 - Oct. 11 | VAG B.C. Artists 5th Annual | Drake, Canvas Back |
| | | Mallards |
| | | Rising Widgeon |
| 1936 Oct. 15 - 20 | VAG B.C. Artists Chilliwack Exhibition | Rising Widgeon |
| 1937 Sept. 17 - Oct. 10 | VAG B.C. Artists 6th Annual | Startled Widgeon |
| | | Gentle Flight |
| 1938 Sept. 16 - Oct. 9 | VAG B.C. Artists 7th Annual | Nicola Valley |
| | | Up-Country |
| 1939 Sept. 15 - Oct. 8 | VAG B.C. Artists 8th Annual | Mountain Mass |
| | | Driftwood |
| | | The Lighthouse |
| 1940 Sept. 20 - Oct. 13 | VAG B.C. Artists 9th Annual | Kamloops Lake |
| | | The Church in the Wood |
| 1941 May 10 - June 1 | BCSFA 31st Annual | Clayoquot, B.C. |
| | | Sumas Sunlight |
| 1941 Sept. 26 - Oct. 19 | VAG B.C. Artists 10th Annual | Kamloops Country |
| | | Mud Hills on the Thompson River |
| 1942 Sept. 25 - Oct. 18 | VAG B.C. Artists 11th Annual | Up Country |
| | | Ashcroft Hills |
| 1943 Sept. 25 - Oct. 20 | VAG B.C. Artists 12th Annual | Up Coast |
| 1944 May 13 - June 4 | BCSFA 34th Annual | Ring Bills Coming In |
| | | Widgeon |
| | | Black Geese, Gulf of Georgia |
| 1944 July 4 - Aug. 30 | VAG B.C. Artists 3rd Annual Summer | Clayoquot |
| 1946 July 2 - 28 | VAG Jubilee Exhibition | Up Country |
| 1949 May 3 - 22 | BCSFA 39th Annual | Ashcroft Country |
| | | Spence's Bridge |
| | | Bonaparte Valley |
References
VISUAL ARTS BRITISH COLUMBIA (refer to VABC77)

ARTISTS IN CANADA 1982 - UNION LIST OF ARTISTS' FILES (refer to AIC82)

ARTISTS OF BRITISH COLUMBIA (refer to ABC86)

ALEXANDER HARRISON GALLERIES (refer to AHG95) retrospective

A DICTIONARY OF CANADIAN ARTISTS (refer to M)

BEYOND THE CANVAS - Artists, Stories and the Sea by Jennifer Breckon and James P. Delgado
Featuring the Mary and Bill Everett Family Collection
2000, ISBN 0-9695221-4-2; exhibition at the Vancouver Martime Museum; illust. in colour
Includes Foreword by Patricia E. Bovey, Introduction by James P. Delgado; list of works
Essay A Collector Recollects by Bill Everett
Exhibition included work by Jackson

BIOGRAPHICAL INDEX OF ARTISTS IN CANADA (refer to BIAC03)
2 references cited for Jackson, including Macdonald listed above.

VANCOUVER PUBLIC LIBRARY - B.C. ARTISTS FILES (refer to VPL)

GREATER VANCOUVER ART GALLERIES 1954-2020 (refer to GVAG20)
1 reference to Jackson
Clippings
"Artists represented in the group comprise the following ... Ronald Jackson ... (continues)
From "Maritime Art Association" Vancouver Art Gallery Bulletin, November (?), 1939

"Ronald Jackson has taken to painting wild life, and his studies of birds on the wing are very satisfying in an academic sort of way."
From "Notable Exhibits of Artists' Work" by Mildred Valley Thornton Vancouver Sun (presumed), May 1944

"However, one can not omit mentioning ... pictures by ... Ronald Jackson, ... (continues)"
From "Lively Spirit Pervades B.C. Artists' Exhibition" by Palette. Vancouver Daily Province, May 3 1949