Marion Aird Morham
(Mrs. A.S. Grigsby)(m. A. Dance)
June 12 1902 - June 20 1984

Marion Aird Morham ws born in London, England, in 1902. She was a pupil of the Willesden School of Art, and the Polytechnic School of Art, in London, England. She also studied at the University of London, and received a teaching diploma from the London Board of Education in 1926. She exhibited with the Sketch Club in Rotherham, England in 1927, and at the Laing Art Gallery in Newcastle-on-Tyne in 1930 and 1931. Her artwork included drawing, watercolour painting, modeling, and crafts.

MORHAM, Marion Aird
Born in London, England; daughter of the late John Aird Morham; educated in London, Willesden School of Art; Polytechnic School of Art, Regent Street; University of London; studied drawing under Harry Watson, A.R.C.A.; design and illustration under H. Theaker, A.R.C.A.; modelling under H. Maryon; taught in Art and High Schools for six years; came to Canada 1932 and lived in Northern British Columbia; taught Indians at Hazelton, B.C.; came to Vancouver, B.C. 1935; is teacher of drawing and painting to deaf children at School for Deaf and Blind; teacher of Life and Composition at the Canadian Institute of the Associated Arts; exhited at Laing Art Gallery, Newcastle-on-Tyne; Northumberland Handicraft Guild; Sketch Club, Rotherham, Yorks; Sketch Club, Barrow-in-Furness; International Exhibition, Vancouver, B.C.; Pacific Coast Exhibition, Vancouver B.C.; member, Art Gallery Association; Church of England; Recreation: swimming, camping, motoring. Residence: 2264 Cornwall St., Vancouver, B.C.

WHO'S WHO IN BRITISH COLUMBIA 1937-38-39 (see below)

After arriving in Vancouver she exhibited her work in the annual B.C. Artists exhibitions in 1931, 1938, 1939, and from 1941 to 1946, all held at the Vancouver Art Gallery. She had a solo exhibition at the Gallery in 1938, of Watercolours, drawing, sculpture, and prints, and another solo exhibition in 1948. She also exhibited work at the Gallery in the 1944 British Columbia At Work exhibition.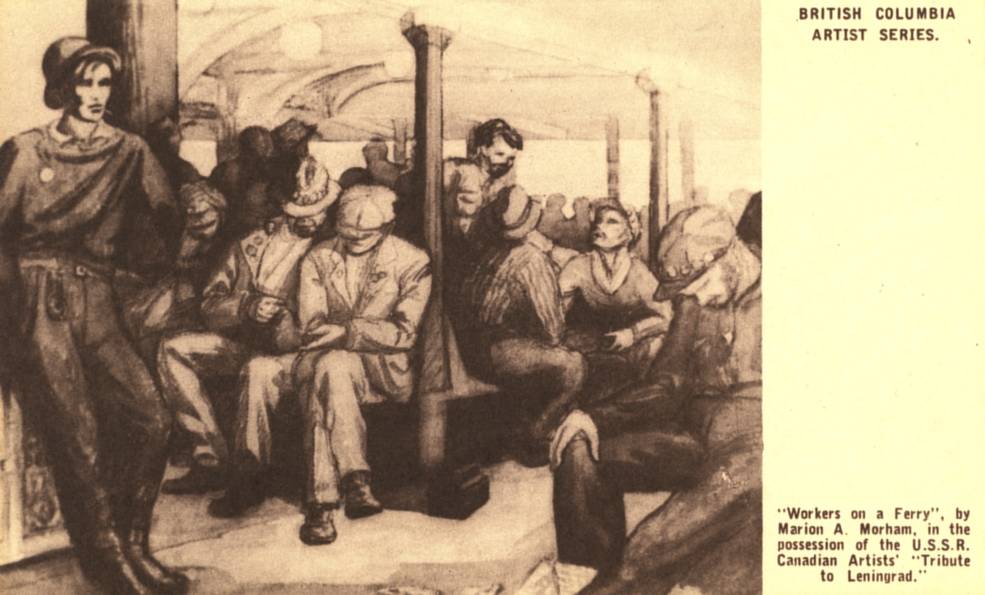 She showed her work with the B.C. Society of Fine Arts in 1938, 1944, and 1945.

She was on a list titled "Leading Vancouver Artists," provided to the Labour Arts Guild on April 10, 1946 by the Vancouver Art Gallery to assist in the Guild's call for entries to the second annual B.C. At Work exhibition. Morham was married to A.S. Grigsby, the Art Gallery's Business Manager, at the time.

She submitted three drawings and a linocut to the 1949 B.C. Graphic exhibition at the Vancouver Art Gallery, only the linocut was selected for the exhibition.

She was a member of the West Vancouver Sketch Club from 1948 to 1976. In 1977 she was living in Winfield, B.C. Vital Statistics On-line provides the information that a Mary Ayrd Grigsby died in Kamloops on June 20, 1984, at the age of 81, presumably the artist.
Exhibitions
SOLO EXHIBITIONS
| | | |
| --- | --- | --- |
| DATE | EXHIBITION | LOCATION |
| | | |
| 1938 June 28 - July 10 | Solo Show (73 artworks) | VAG |
| 1948 April 20 - May 9 | Solo Show (20 artworks) | VAG |
GROUP EXHIBITIONS

References
WHO'S WHO IN BRITISH COLUMBIA 1937-38-39
A Record of British Columbia Men and Women of Today
S. Maurice Carter Editor & Publisher
Copyright 1939, printed by The Robson Printers, Vancouver B.C.
208 pages, hardcover; name index (8 pages), biographies (196 pages), obits. (4 pages)

WHO'S WHO IN NORTHWEST ART (refer to WWNA41)
Brief reference to Morham.

VISUAL ARTS BRITISH COLUMBIA (refer to VABC77)

ARTISTS IN CANADA 1982 - UNION LIST OF ARTISTS' FILES (refer to AIC82)

BRITISH COLUMBIA WOMEN ARTISTS 1885-1985 (refer to AGGV85)

A CENTURY OF SCULPTURE (refer to SSBC98)

BIOGRAPHICAL INDEX OF ARTISTS IN CANADA (refer to BIAC03)
1 reference cited for Morham: WWNA above.

WEST VANCOUVER SKETCH CLUB - LIST OF MEMBER 1947-1977 (refer to WVSC)

B.C. VITAL STATISTICS ON-LINE (refer to BCVS)
Clippings
"Miss Morham is a teacher of art who received her training at the Willesden School of Art, the Polytechnic School of Art and The University of London. She has studied under noted teachers in the Old Country including the study of teaching methods under Miss Marion Richardson of the London County Council of Schools, distinguished pioneer in the field of child art education. Miss Morham has exhibited at a number of galleries in England and her work has also been shown in the Annual B.C. Artists' Exhibitions. The exhibition will be on view from May 20th to June 3rd."
From Vancouver Art Gallery Bulletin, Vol. 5 No. 9 May 1938

"Art Gallery Re-opens after Month's 'Sit-down' "
Vancouver Province, June 1938

"Honourable Mentions were accorded as follows: Miss Marion Aird Morham ("Portrait Study")"
From "Medal Awards in B.C. Artists' Exhibition"
Vancouver Art Gallery Bulletin Vol. 6 No. 2 October 1938
Information provided courtesy Joanna Spurling, VAG Library & Archives

"Artists represented in the group comprise the following ... Marion Dance ... "
From "Maritime Art Association" Vancouver Art Gallery Bulletin, November (?) 1939

" ... Among those contibuting paintings and drawings are: ... Marion Morham ... "
From "Noted Artists Offer Paintings For Red Cross" Vancouver Province (presumed), November 1942

"Among other prominent exhibitors are ... Marion A. Morham ... "
From "Summer Show at Gallery Major Event for Art Lovers" by Palette Vancouver Province, July 7 1943

"Other artists showing creditable work are ... Marion Morham ..."
From "Notable Exhibits of Artists' Work" by Mildred Valley Thornton Vancouver Sun (presumed), May 1944

"Incidentally, we have a thriving clay modelling department in the Sketch Club now, working with Marion Grigsby in her Taylor Way studio."
From "Painter's Colic" by E.L.
The Lions Gate Times, March 11 1948




HOME