Miriam Louise Peck
November 24 1900 - 1978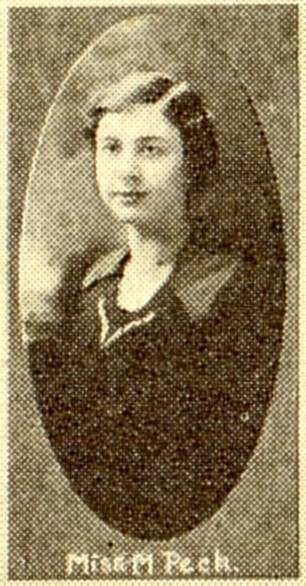 Class photograph 1918-19.


Miriam L. Peck was born in New Westminster on November 24 1900, according to BC Vital Statistics online. Her father was Gaius La Forest Peck, who worked as a Commisary and General Timekeeper for the Department of Public Works. Her mother's maiden name was Maria Louise Swain.

There were six children in the family. Gaius served overseas in World War One, and was finally invalided after being hit by shrapnel in the head. He returned to BC where he was noted as a Civil Engineer.

Peck is listed as a member of Class VI at the Provincial Normal School, in the annual for the school year 1918 - 1919, page 25. The annual notes her address as New Westminster, and includes a small poem about her:
Miriam is Miss Coney's choice;
Modesty has charmed her voice.

Peck studied art at the Vancouver Art School (referenced in the art school's 1927-28 Paintbox and the Prospectus for the 1928 - 1929 school year), and received a B.A. and M.A. from the University of Washington, majoring in art. She taught art in the Vancouver Public schools and later at the University of Manitoba, before moving to Washington State.

She exhibited in the B.C. Artists annual exhibitions at the Vancouver Art Gallery from 1940 to 1946, and in the 1944 British Columbia At Work exhibition.

She joined the B.C. Society of Fine Arts in 1944, and exhibited in the society's annual exhibitions from 1942 to 1953.

As of June 2021 BC Vital Statistics had only the birth information listed for Peck. She apparently died in Bellingham, Washington State, in 1978.
EXHIBITIONS
SOLO EXHIBITIONS
| | | |
| --- | --- | --- |
| DATE | EXHIBITION | LOCATION |
| | | |
| 1944 August 29 - Sept. 17 | Watercolours | VAG |
| 1948 Mar 30 - Apr 18 | Textile designs (19) | VAG |
GROUP EXHIBITIONS

References
ARTISTS IN CANADA 1982 - UNION LIST OF ARTISTS' FILES (refer to AIC82)

BRITISH COLUMBIA WOMEN ARTISTS 1885-1985 (refer to AGGV85)

A DICTIONARY OF CANADIAN ARTISTS (refer to M)

BIOGRAPHICAL INDEX OF ARTISTS IN CANADA (refer to BIAC03)
1 reference cited for Peck - Macdonald above

B.C. VITAL STATISTICS ON-LINE birth (refer to BCVS)

VICTORIA CROSSES ON THE WESTERN FRONT
Written by Paul Oldfield, published 2021.
Clippings
" ... together with oil and watercolour paintings by ... Miriam L. Peck ... all contribute much to this extraordinary show."
From "B.C. Society of Fine Arts Display Sets New High Mark," by Palette Vancouver Daily Province, May 16, 1942

"Current exhibitions at the Gallery include ... the Miriam Peck remarkable show of woven textile designs attracting much attention among the fair sex ... "
From "Vancouver Sculptor's Work On Display Soon", by Palette
Vancouver Daily Province, April 8 1948

HOME