Leonard (Leon) Wilbur Lacey Manuel
March 17 1903 - April 26 1998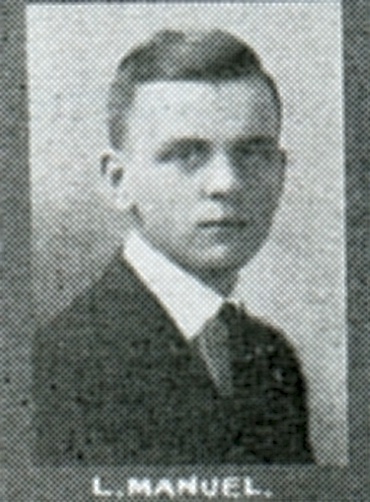 Manuel portrait 1921-22


Leonard W. Manuel was born in 1903 at Eburne, on Lulu Island (now Richmond), B.C. He was a student at the Provincial Normal School in Vancouver in the 1921-22 school year. The class list noted that he was a resident of Chilliwack, and had the following verse about him:
When Leon Manuel passes by,
Most wildly rolls each female eye.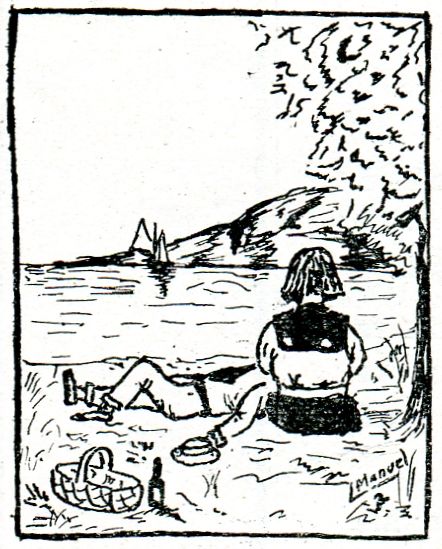 Manuel cartoon 1921-22

He studied art at the University of California, California School of Arts and Crafts, University of Washington, Queen's University, and the Royal College of Art in Edinburh, Scotland. He took night school for nine years at the Vancouver School of Art under Varley and Macdonald.

He exhibited in a number of the the annual B.C. Artists exhibitions at the Vancouver Art Gallery.

He was on a list titled "Leading Vancouver Artists," provided to the Labour Arts Guild on April 10, 1946 by the Vancouver Art Gallery to assist in the Guild's call for entries to the second annual B.C. At Work exhibition.

He joined the B.C. Society of Fine Arts in 1943, later becoming Vice-President and President of the society, and he exhibited in many of the annual exhibitions, from 1940 to 1950, 1951, 1954, 1956, 1958, and 1960.

Manuel was married to Rhetta Hope Barber, and living in North Delta when he died in Vancouver in 1998 at the age of 95.
Exhibitions
| | | |
| --- | --- | --- |
| DATE | EXHIBITION | ARTWORK |
| | | |
| 1940 May 17 - June 2 | BCSFA 30th Annual | Surprise Valley, Jasper, Alta. |
| 1942 May 15 - 31 | BCSFA 32nd Annual | Along the Rudeau (sic?) |
| | | Barriefield |
| 1942 July 7 - Sept. 2 | VAG B.C. Artists 1st Annual Summer | Barriefield |
| 1943 May 15 - June 6 | BCSFA 33rd Annual | Caledon Hills |
| | | Credit River Valley |
| | | Semlin Ranch |
| 1943 July 2 - Aug. 25 | VAG B.C. Artists 2nd Annual Summer | Caledon Hills |
| 1944 May 13 - June 4 | BCSFA 34th Annual | Mountains, Pitt Meadows |
| | | Hills, Cache Creek |
| 1944 July 4 - Aug. 30 | VAG B.C. Artists 3rd Annual Summer | Mountains, Pitt Meadows |
| 1945 May 18 - June 10 | BCSFA 35th Annual | The Maples |
| | | Up the Pitt |
| 1945 July 3 - Aug. 26 | VAG B.C. Artists 4th Annual Summer | The Maples |
| 1945 Sept. 22 - Oct. 21 | VAG B.C. Artists 14th Annual | Okanagan |
| 1946 May 31 - June 23 | BCSFA 36th Annual | Clay Banks, Penticton, B.C. |
| | | Swan Lake, Vernon, B.C. |
| 1946 July 2 - 28 | VAG Jubilee Exhibition | Clay Cliffs, Penticton |
| 1947 May 9 - June 1 | BCSFA 37th Annual | Sketch, Kalamalka Lake, B.C. |
| 1947 Sept. 20 - Oct. 12 | VAG B.C. Artists 16th Annual | Sketch - Serpentine Flats |
| 1948 May 18 -June 6 | BCSFA 38th Annual | Serpentine Valley |
| 1949 May 3 - 22 | BCSFA 39th Annual | Up the Alouette |
| | | From Grandview Flats |
| | | South Okanagan Sketch |
| 1950 April 25 - May 14 | BCSA 40th Annual | Surprise Valley |
| | | South Okanagan |
References
A DICTIONARY OF CANADIAN ARTISTS (refer to M)

BIOGRAPHICAL INDEX OF ARTISTS IN CANADA (refer to BIAC03)
1 reference cited for Manuel - Macdonald above.

B.C. VITAL STATISTICS ON-LINE death (refer to BCVS)
Clippings
" ... Leon Manuel's vigorous watercolors ... all contribute much to this extraordinary show."
From "B.C. Society of Fine Arts Display Sets New High Mark," by Palette Vancouver Daily Province, May 16, 1942

"Well-known Vancouver artists recently elected (BCSFA) members include ... Leon Manuel ..."
From "B.C. Artists' Display To Calgary For Exhibition," by Palette Vancouver Daily Province, May-June 1942

"Among other prominent exhibitors are ... L.W. Manuel ... (continues)
From "Summer Show at Gallery Major Event for Art Lovers," by Palette Vancouver Daily Province, July 7, 1943

"However, one can not omit mentioning ... pictures ... Leon Manuel, ... (continues)"
From "Lively Spirit Pervades B.C. Artists' Exhibition" by Palette. Vancouver Daily Province, May 3 1949




HOME