Mary Riter Hamilton
(m. Alexander H. Hamilton)
1873 - April 5 1954

Mary Riter Hamilton was born Mary Riter in Teeswater, Bruce County, Ontario in 1873. She married Alex Hamilton at age 18, but she was widowed five years later. She travelled to Europe to study art, and began her studies in Berlin in 1896. She spent a year and a half in Berlin, then travelled to France, Italy, Spain, and Holland. She painted and exhibited in Paris for some years before returning to Canada first for a year in 1906. She was a pupil of Amelie Blance, Mercon, Gervais, George Reid, and Wyly Grier, Toronto. She returned to paint and live in France again before moving back to Canada around 1912, living first in Eastern Canada and then in Victoria.

In 1912 Hamilton was living in Winnipeg, and that year exhibited nine paintings with the Art Association of Montreal in the spring exhibition.

By this time Hamilton was a renowned Canadian artist, having had numerous paintings hung in European salons starting in 1905. The outbreak of World War One and the subsequent devastion of her beloved French countryside had a major effect on Hamilton's life. She was unable to return to France during the war, and traveled there as soon as she could after it ended. In perhaps one of the most amazing stories of artistic and human willpower in Canadian art history, Hamilton stayed there for the next three years - amidst the devastion, pestilence, gangs of looters and marauders, rotting corpses, unexploded ordinance, barbed wire, flooded trenches and shellholes - and painted the smashed countryside of France as it began to recover from the destruction.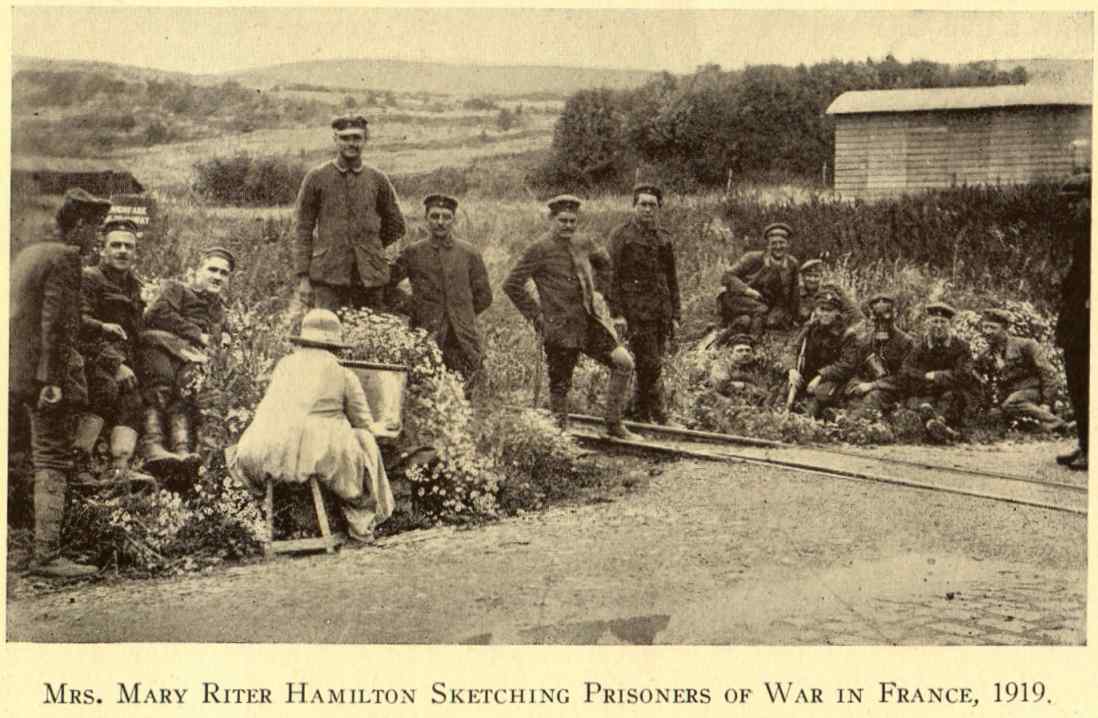 Hamilton painting German prisoners-of-war in France, 1919

Hamilton subsequently donated 219 of those paintings to the National Archives as a permanent record of what she'd seen, and what the armies had done to each other and to the land around them. Hamilton exhibited her work at the San Francisco World's Fair in 1913-14.

In 1920 the first Vancouver exhibition of her battlefield work was held in the Navy League Hall, consisting of pictures commissioned as illustrations by the Gold Stripe magazine. Hamilton was still in France, and was having difficulty raising enough money to return to Canada with all her artwork. Fund-raising efforts by friends at home eventually helped her travel home in 1926.

In 1929 the Art, Historical and Scientific Association of Vancouver was proud to announce that the City Art Gallery had purchased their first "salon" painting - Hamilton's, "Les Pauvres". The Society published an article by Mrs. W. Garland Foster titled ""Les Pauvres" and Its Artist" in the June 1929 issue of Museum and Art Notes. The article includes a brief history of the Society's collection and an "incomplete" list of pictures sold by Hamilton, and their owners at that time.

She received the Palmes Academique, Paris 1922, and a Gold medal in the British Section, Exposition Internationale et Industrielle Moderne, Paris, 1924-25. She exhibited one painting in the 1930 Spring Exhibition of the B.C. Society of Fine Arts, a portrait of the Lieutenant-Governor Patterson in pastel.

She had a solo exhibition at the Vancouver Art Gallery in 1938, with thirty works on display, including watercolours, drawings, and oil paintings. She had a solo retrospective exhibition from January 18 to February 6, 1949, with eighteen works on display.

Hamilton died at Essondale, B.C. in 1954, at the age of 84.
Exhibitions
SOLO EXHIBITIONS
GROUP EXHIBITIONS

References - BIBLIOGRAPHY
Refer to BIBLIO.
References - GROUP EXHIBITIONS
ISLAND ARTS & CRAFTS CLUB 5th ANNUAL EXHIBITION (refer to IACS14)

100 YEARS OF B.C. ART (refer to VAG58)

BRITISH COLUMBIA WOMEN ARTISTS 1885-1985 (refer to AGGV85)
References - GENERAL
THE GOLD STRIPE - VOLUME TWO
1919, May. Published by the Amputation Club of B.C., Vancouver
220 pages (including text, advertisements and photographs)
5 illustrations by Hamilton and a biographical article.

THE GOLD STRIPE - VOLUME THREE
1919. Published by the Amputation Club of B.C., Vancouver
Colour and black & white illustrations of Hamilton's work.

"LES PAUVRES" AND ITS ARTIST"
1929, June; by Mrs. W. Garland Foster
Museum and Art Notes, published by the Art, Historical, & Scientific Association of Vancouver.

WHO'S WHO IN NORTHWEST ART (refer to WWNA41)

THE FINE ARTS IN VANCOUVER, 1886 - 1930 (refer to THOM)

ISLAND ARTS AND CRAFTS SOCIETY - LIST OF EXHIBITORS

ARTISTS IN CANADA 1982 - UNION LIST OF ARTISTS' FILES (refer to AIC82)

MONTREAL MUSEUM OF FINE ARTS -
SPRING EXHIBITIONS 1880 - 1970 (refer to MM88)

A DICTIONARY OF CANADIAN ARTISTS (refer to M)

BY A LADY, CELEBRATING THREE CENTURIES OF ART BY CANADIAN WOMEN by Maria Tippett
1992, Viking, ISBN 0-670-84458-6
226 pages, illustrated in colour and b&w, list of illustrations, index
Biographical information on Hamilton, work illustrated pages 47 and 59

BIOGRAPHICAL INDEX OF ARTISTS IN CANADA (refer to BIAC03)
6 references cited for Hamilton including MM and WWNA above, but not Macdonald.

TAMING THE FRONTIER: ART & WOMEN IN THE CANADIAN WEST 1880 - 1920
July 2005; by Virgina G. Berry, copyright Margaret Berry and Julie Berry Melynk.
188 pages softcover; illustrated, footnotes, bibliography, index
Centered on Winnipeg, but has early references to Hamilton.

"A WOMAN'S PLACE", edited by K.A. Finlay
Art and the Role of Women in the Cultural Formation of Victoria, B.C. 1850s-1920s
2006; ISBN 1-55058-288-7; 130 pages, softcover, illust. in colour and black and white
Published by Maltwood Museum and Gallery, University of Victoria
Includes information on numerous early B.C. women artists, including Hamilton

INDEPENDENT SPIRIT - EARLY CANADIAN WOMEN ARTISTS by A.K. Prakash
2008; ISBN 978-1-55407-417-4; hardcover, 410 pages
Published by Firefly Books, Richmond Hills ON. Extensively illustrated
Includes biographies, index of early Canadian women artists, list of illustrations, index
Includes information and works illustrated for Emily Carr, Sophie Pemberton, Mary Riter Hamilton.
Clippings
"Mary Riter Hamilton comes out well in her picture "Les Sacrifices" - a girl with geese who is apparently saddened by the thought of their prospective fate. In harmonious tone and drawing this picture attains a large measure of success."
From "Local Work is on View" by Bernard McEvoy
Vancouver Province, October 2 1919

"In the three pictures by Mary Riter Hamilton we have specimens of the work of a Canadian artist who has studied for many years in Europe, where her talent was well recognized, the canvas "Les Pauvres" having been hung in the Salon in Paris in 1909."
From "The City Art Gallery" by G.H. Lardner
Museum and Art Notes, Vol. IV, No. 1. March 1929

" ... and Mary Riter Hamilton, another Vancouver artist who has long been prominent in art circles, has a portrait in pastels."
From "400 B.C. Pictures in Jubilee Art Show"
Vancouver Sun, August 15 1936




HOME